What is Digital Marketing?
Digital marketing, also known as online marketing, is an umbrella term that refers to all types of internet-based marketing. Businesses use digital marketing to reach their target audiences through online channels like:
Organic search
Social media platforms
Email
Digital marketing is a great first step in any marketing campaign. 
Why? 
Because it's quick to deploy, adaptable to suit different objectives, and allows for granular targeting.
What Are the Benefits of Digital Marketing?
Digital marketing offers unparalleled exposure to a vast network of potential customers. It's also cost effective, specific, measurable, and versatile.
It Allows You to Reach a Global Audience
Unlike offline marketing, digital marketing's potential reach is almost limitless. Online marketing campaigns have no geographic borders or physical limitations.
Almost 65% of the world population—i.e., 5.19 billion people—use the internet. And the average person spends more than six hours online every day.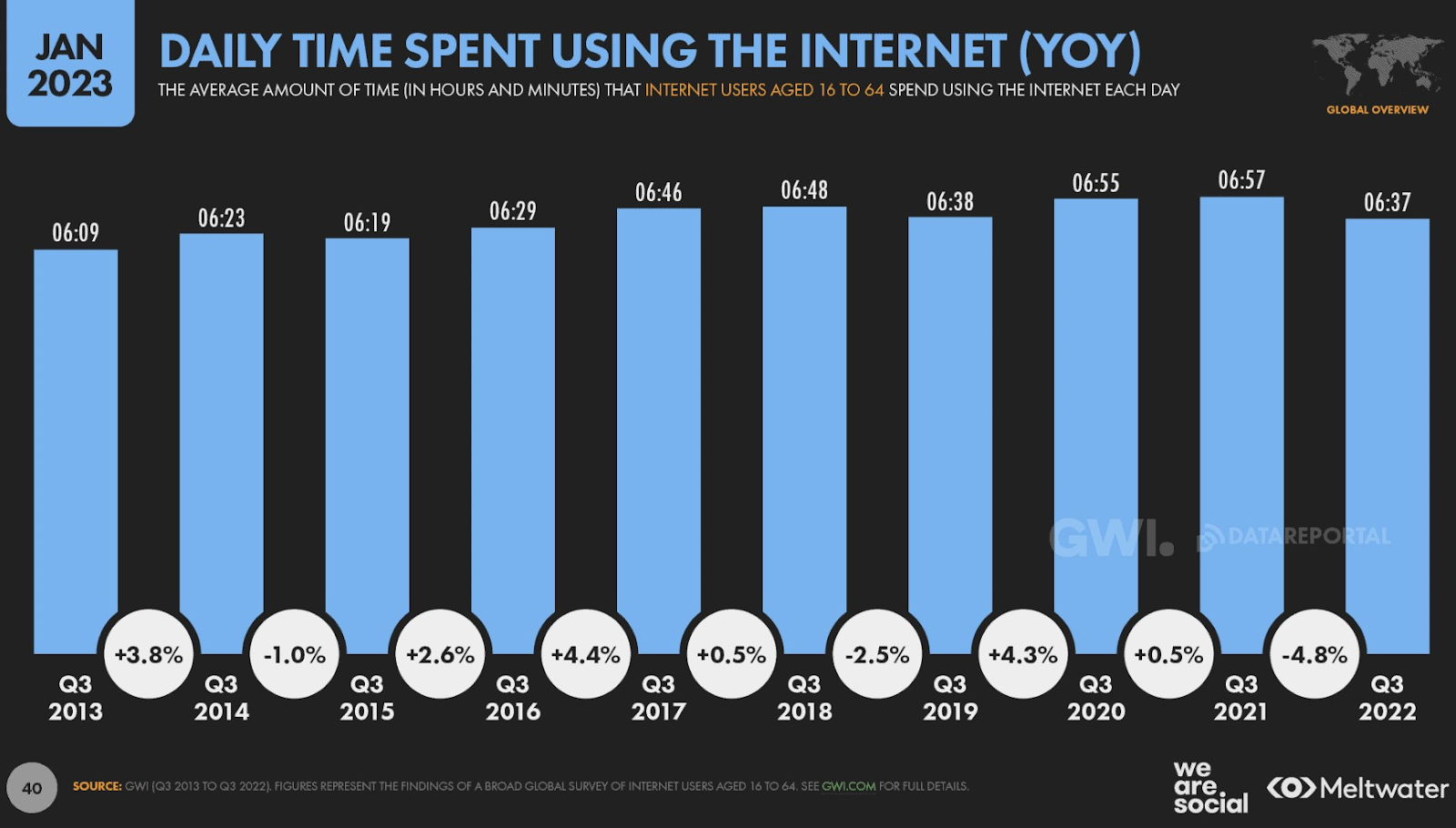 Image Source: Datareportal
Internet users represent every demographic. Which means your campaigns can reach anyone you want.
It Lets You Target Your Audience at Specific Buying Stages
Despite the large audience, digital advertising channels allow for granular user targeting based on demographics and buying stages.
This means you can reliably get your message in front of the right people at the right times.
Here's how.
The modern customer journey has three buying stages:
Awareness stage: The consumer becomes aware of their problem and starts to do research
Consideration stage: The consumer knows what their specific problem is and starts looking for solutions
Decision stage: The consumer knows how to solve their problem and looks for the best available solutions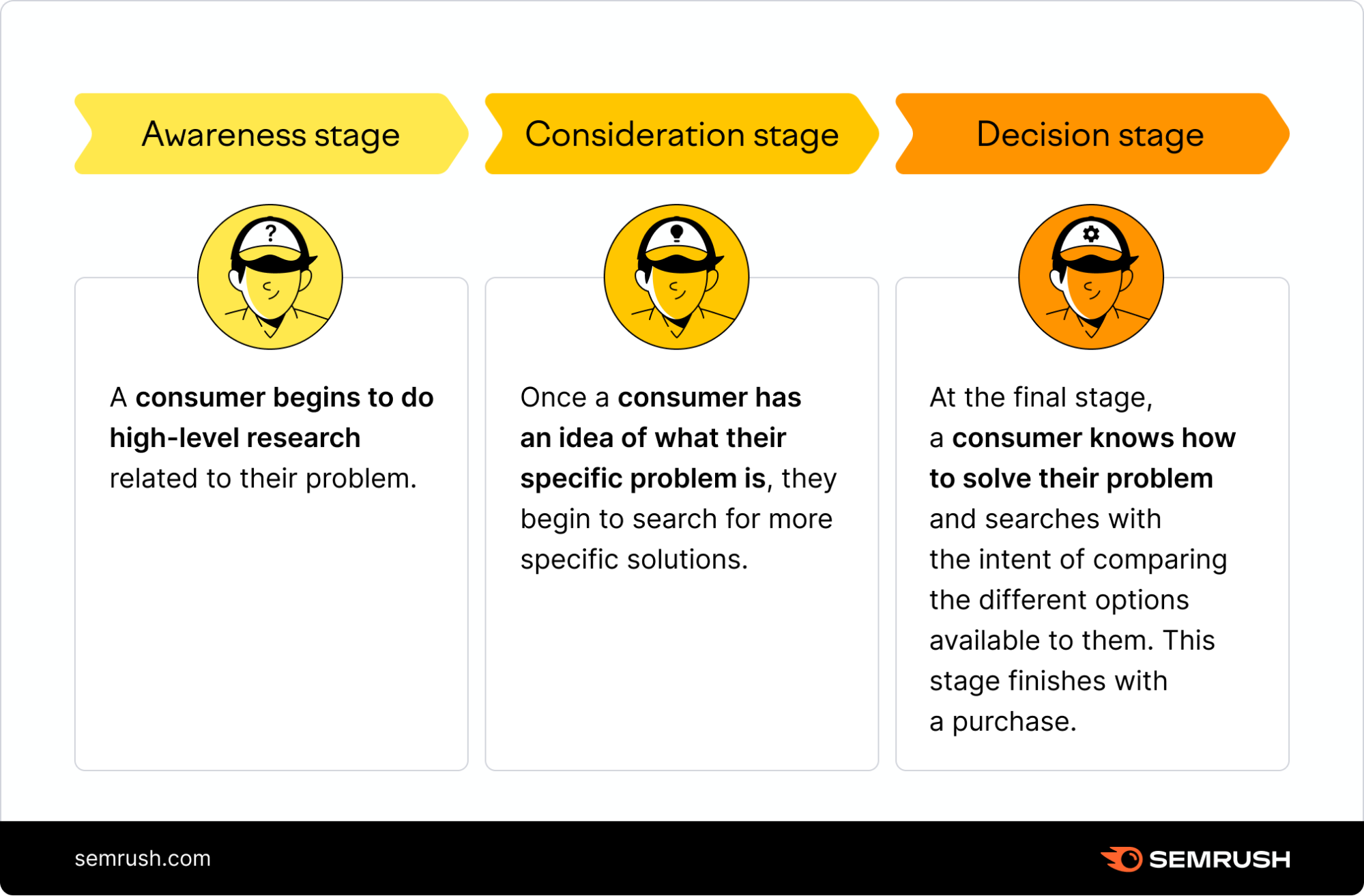 With traditional marketing, you can reach anyone and everyone. But that's not necessarily a good thing. For example, if you put up a billboard, everyone who drives by will see it. No matter what buying stage they're at—or if they even need your product.
Digital marketing allows for highly specific targeting. You can create content for specific stages of the buying journey.
For example, you might engage first-time visitors to your website (i.e., people at the awareness stage) with chatbot messages and web push notifications. Or target shoppers who abandon carts (at the decision stage) with follow-up emails.
You can also use paid tactics like pay-per-click (PPC) ads or sponsored social media posts to target people based on demographics—location, occupation, interests, and more. As a result, you can maximize your returns.
It's More Cost-Effective
Digital marketing's precise targeting and flexibility also make it more cost-effective than traditional methods like TV, radio, and print.
For example, you could promote your brand using a TV ad. You may be able to choose a time slot and channel but, as with our billboard example earlier, you have no control over who sees your message.
Instead, you could use online ads, which allow you to target users based on demographics, interests, behavior, and more. It means you reach a smaller group of people who are more interested in your product. This way, you're almost certain to achieve a better return on investment (ROI).
Digital marketing is also scalable, which suits small businesses with limited resources. You can start with a budget that suits your business size and gradually increase spending as you see results.
With some channels, you'll even pay based on performance. For instance, with pay-per-click (PPC) advertising, you pay when someone clicks on your ad. Your budget is used more efficiently as you're not just paying for exposure.
It's Measurable and Adaptable
Digital marketing is more measurable than traditional marketing. You can learn from data in real time and make changes to improve campaign performance.
There are numerous tools you can use to monitor and analyze data. Free platforms like Google Analytics and Google Search Console demonstrate how users reach and interact with your website.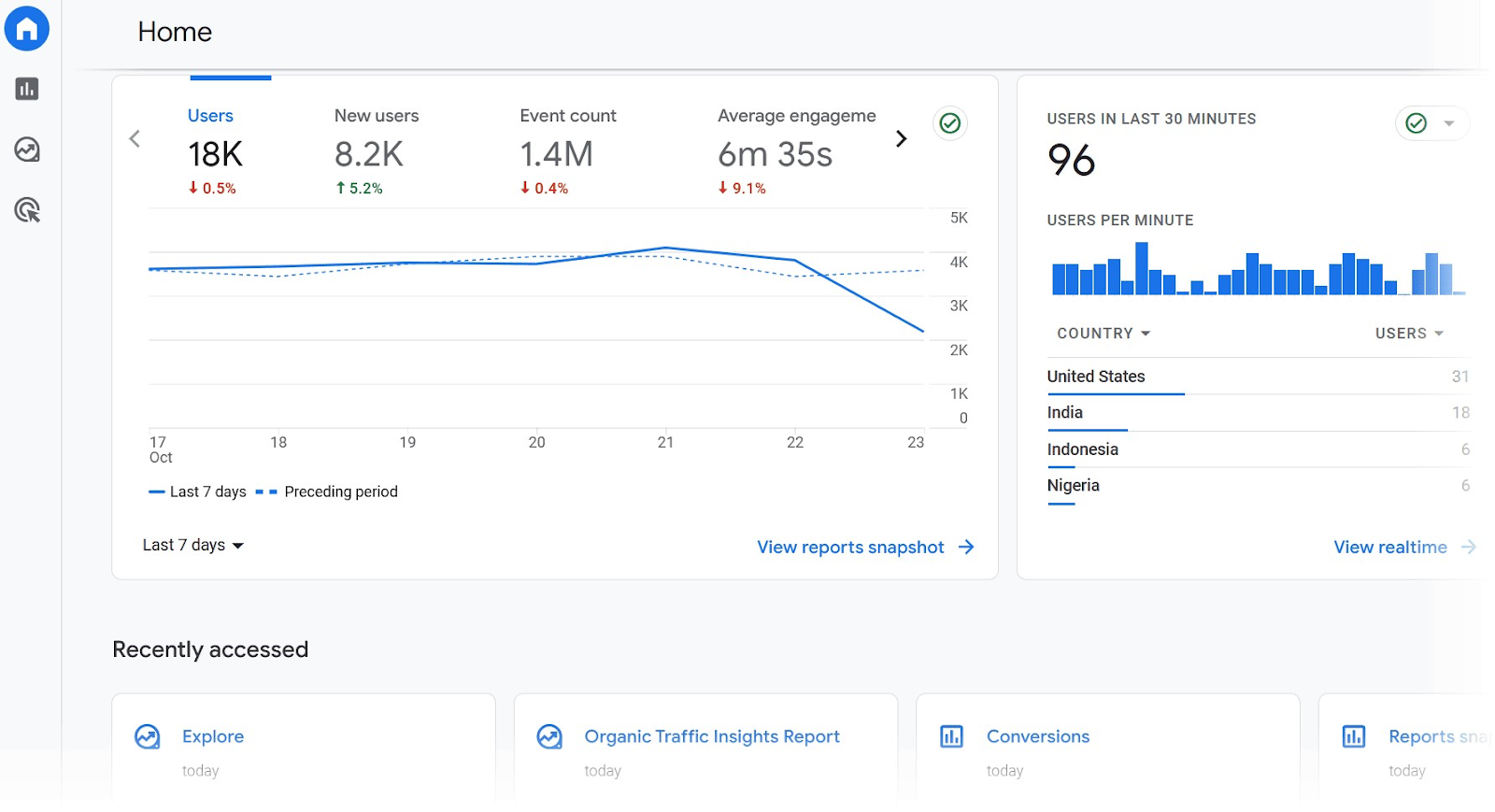 These can integrate with tools like Semrush so that you can find more keyword opportunities and do competitor research. With data from both sources, you can uncover data-led insights that drive better results.
For example, you might check Google Analytics data to identify your top-performing content over the past quarter, then use similar topics and formats in your next strategy. 
Note: To enrich your analysis, connect Google Analytics and Google Search Console with your favorite Semrush tools. Follow the instructions in this guide to connect with Position Tracking, SEO Dashboard, Site Audit, and more.
Types of Digital Marketing
Any form of marketing that uses an online channel counts as digital marketing. Here are some of the most popular types:
Search Engine Optimization (SEO)
Search engine optimization (SEO) is the process of improving a website's visibility on search engines (e.g., Google). Its ultimate objective is to attract more organic traffic.
It matters because, on average, the top five links on the first search engine results page (SERP) receive >50% of all clicks. SEO is about getting into those prized ranking positions by strengthening your website to suit users and search engines.
Optimization involves a range of different techniques, including:
On-page SEO: Optimizing each individual page on your website, targeting specific keywords (the terms people use in search queries) with relevant content
Off-page SEO: Improving your website's "authority" by pursuing backlinks (links from other sites to yours) from other websites
Technical SEO: Ensuring your website is well organized, mobile-friendly, fully crawlable, and fast to load
There are plenty of tools designed to support SEO strategies, such as Semrush. Our Keyword Research, Site Audit, and On-Page SEO features are particularly useful to start with.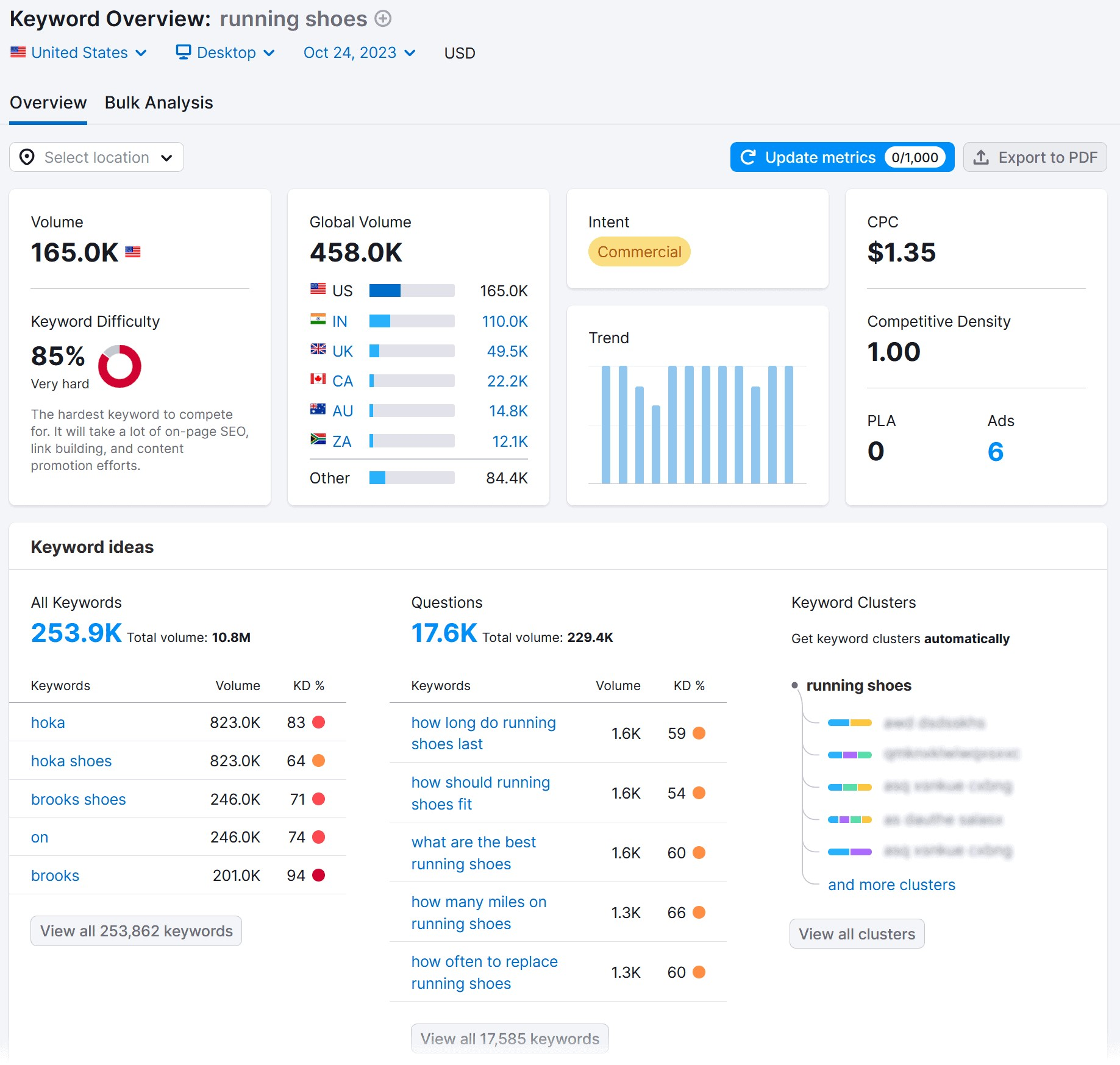 Pay-Per-Click Advertising (PPC)
Pay-per-click (PPC) advertising is a popular paid digital marketing technique. It involves deploying ads on a model where you pay for clicks generated rather than for the placement itself. 
Many digital platforms offer PPC advertising models, including:
Google Ads
Facebook
Microsoft
LinkedIn
X (formerly Twitter)
Ads on these platforms often appear alongside organic content, giving them incredible potential reach.
They can also take a variety of forms, including text ads, visual banners, product listings, and videos. These diverse options make PPC a versatile form of social and search engine marketing (SEM).
Effective PPC offers a compelling return on investment (ROI). You can optimize various factors to decrease cost-per-click (CPC) and increase ROI. They include:
Ad creative
Bid strategy
Targeting parameters
Finding the right keywords to target is the first step to launching a PPC campaign. You can use platforms like Semrush's Keyword Magic Tool to get started.
Here's how to set it up.
Enter a seed keyword, like "electric bicycle," and click "Search:"

The tool will generate tons of keyword ideas like "electric bicycle for women" and "offroad electric bicycle," along with each keyword's average CPC. 
At the top, you can toggle between "Broad Match," "Phrase Match," "Exact Match," and "Related" keywords.
Say you wanted to see words that are similar to your seed keyword. Select "Related" and get some alternative ideas.
Select the keywords you might want to use and click the "+ Add to keyword list" button. You can export or print your list to consider for your next PPC campaign.
Content Marketing
Content marketing refers to the use of digital media and content as marketing tools. It can involve blog posts, ebooks, whitepapers, newsletters, infographics, and more. 
The aim is to grow brand awareness, increase website traffic, and/or generate leads. And you achieve that by engaging people with high-quality, relevant, and useful information at various stages of their buying process.
To do it effectively, you need to know who your audiences are, which online channels they use regularly, and the types of content that resonate with them.
It's also important to understand how content fits into a broader buying journey. You can use content marketing strategies to build funnels that provide answers to increasingly specific questions.
Done right, this can drive users all the way down to the point of making a purchase decision.
Start by finding topics to write about using a research tool like Semrush's Content Shake AI.
The tool uses AI to help you create relevant, unique content for your audience. 
You can enter any keyword related to your business and choose one of the suggested topics. Alternatively, you can choose "My own idea."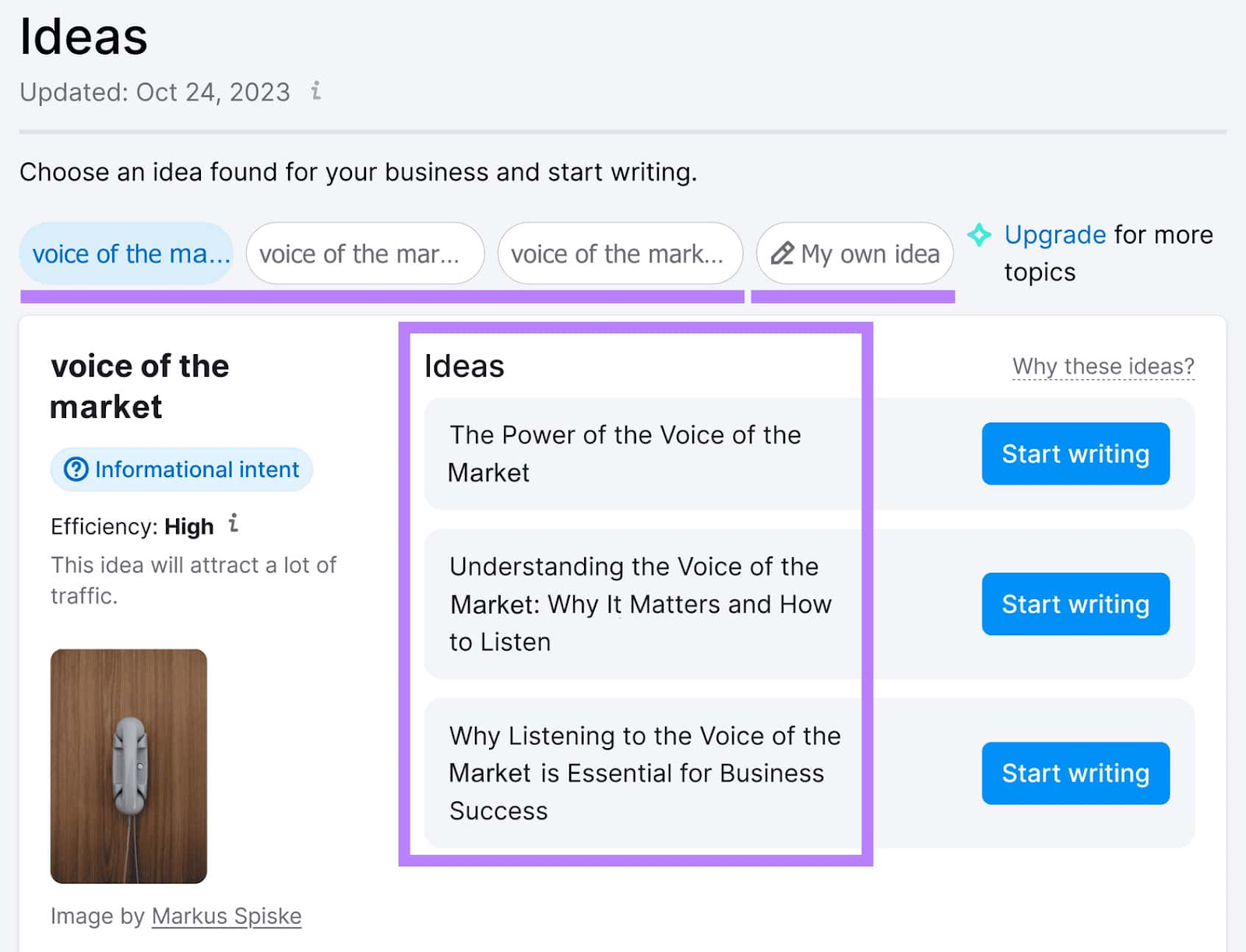 Once you've found your favorite idea, click "Start writing" and the tool generates a full article.
In the "Improvements" column, click "Edit targets" and you'll also see a list of recommended keywords for your content.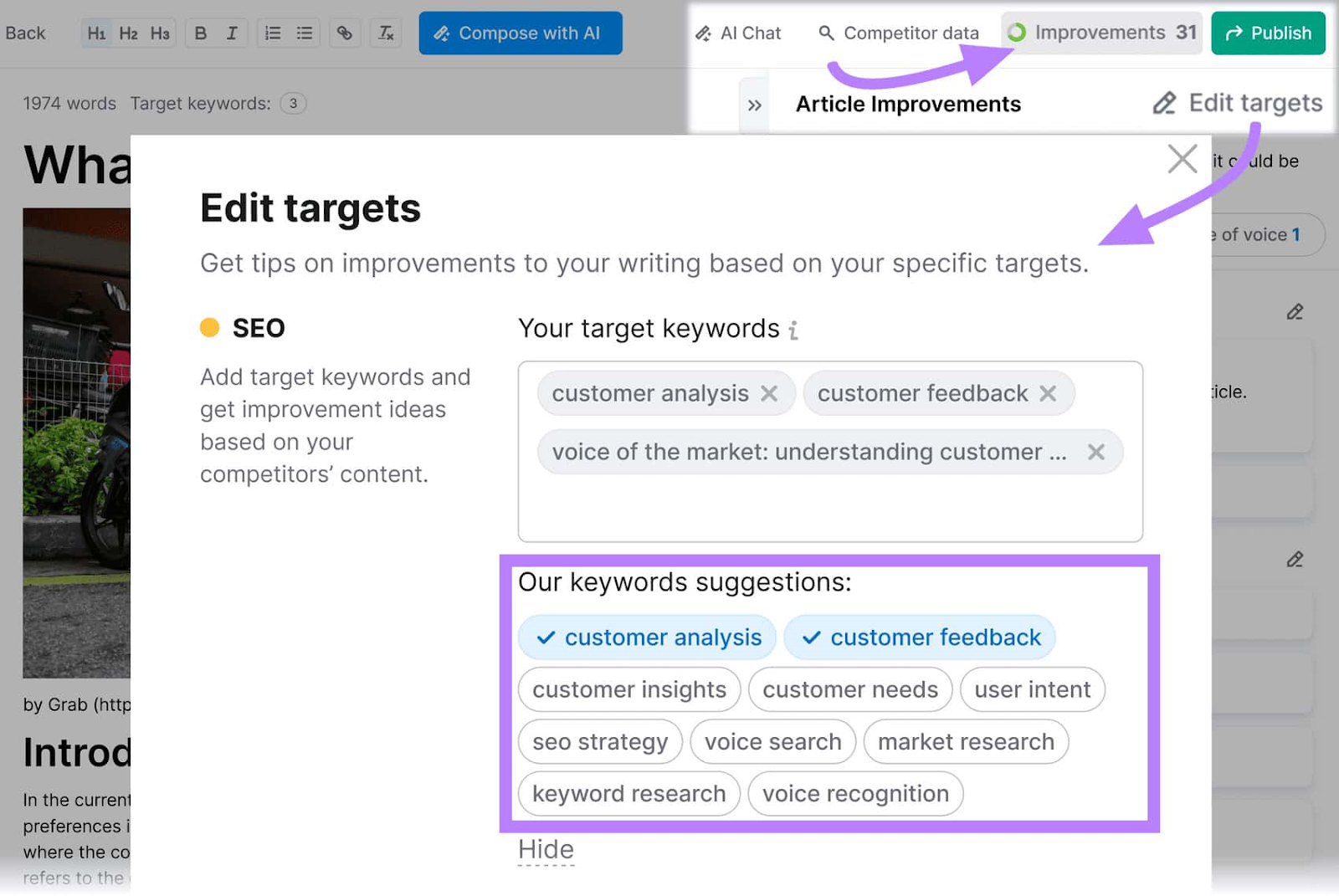 You can learn more about content marketing and how to use Semrush tools to create content that resonates in our guide.
Further reading: The Ultimate Guide to Content Marketing Strategy
Social Media Marketing
Social media marketing is the use of social media platforms as part of a digital marketing campaign.
There are two main types: organic social and paid social. The former is typically used to build an audience while the latter can drive immediate conversions.
There are over 4.5 billion social media users—and each one is a potential customer. Social media marketing works to engage these users, make them aware of your brand, and compel them to make a purchase.
Popular social media marketing platforms include:
Facebook
X (formerly Twitter)
Instagram
LinkedIn
TikTok
Reddit
Snapchat
Pinterest
Each of these channels offers a great environment for nurturing audiences. You can use text, images, videos, ads, and more to reach users, build your following, and generate positive engagement.
Social media management is much easier when you have the help of a tool. Semrush has a suite of social media tools, including:
Social Media Poster to automate post scheduling
Social Tracker to analyze competitor performance
Social Analytics for engagement and post-performance analysis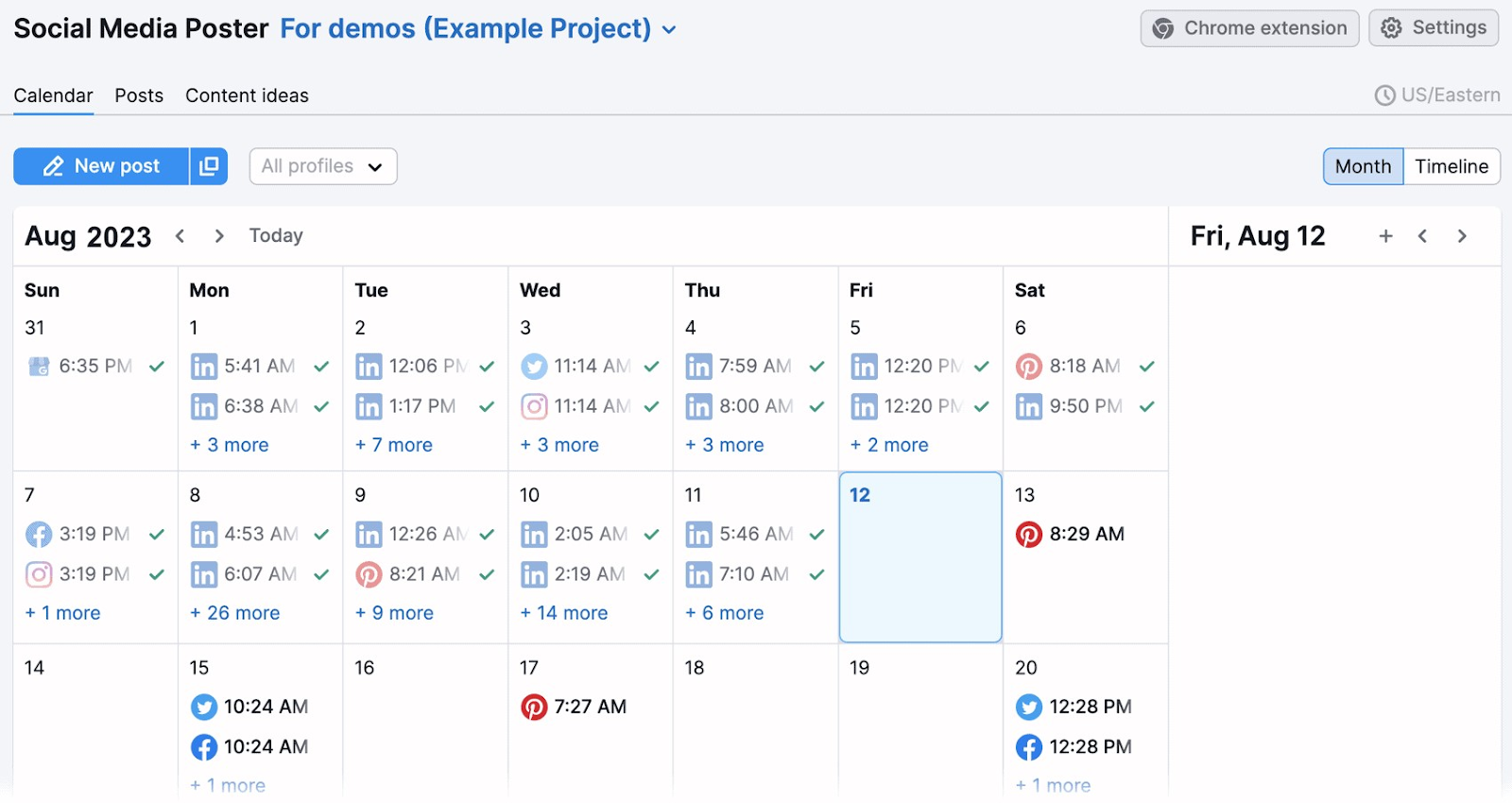 Email Marketing
Email marketing can reach current and future customers—right in their inbox. You can use it to promote content, broadcast offers, welcome new customers, and more.
It's powerful because of its directness. 
Here's a great example from beverage company Juvee: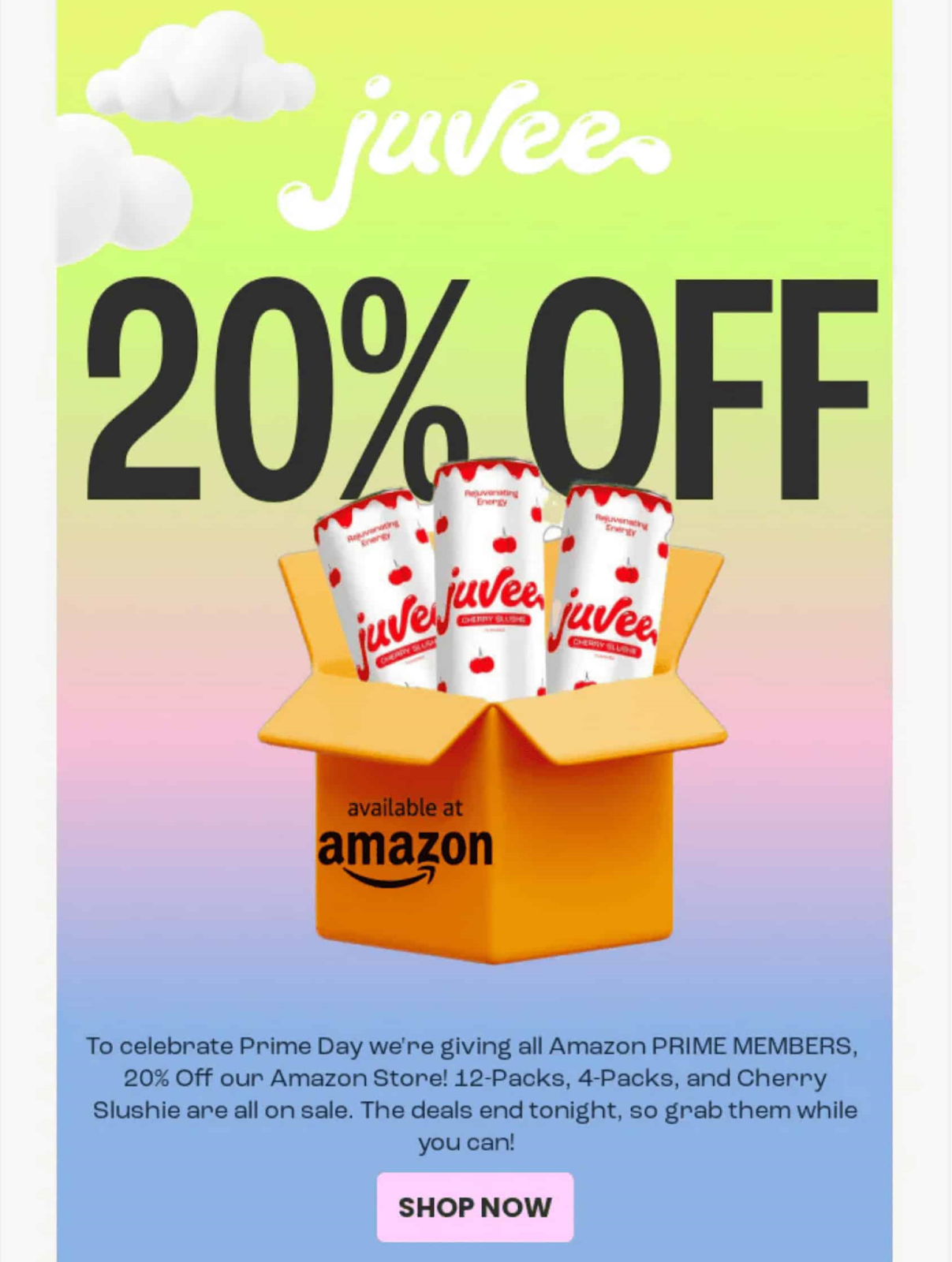 Image Source: Really Good Emails
Email is one of the oldest digital channels, but its capabilities have grown over time. You can now use various tools to:
Segment audience lists
Optimize your content for impact
Analyze performance
As well as helping generate new business, Email is the perfect channel for building customer loyalty. Retention-focused campaigns aim to keep hold of current customers, while reactivation campaigns can bring old customers back for more.
Affiliate Marketing
Affiliate marketing involves paying someone else to promote your products through links in their content. You typically pay based on the number of clicks, leads, or sales the placement generates.
You can reach out to individuals or specific businesses to organize an affiliate campaign, but it's more common to use an established affiliate program. Popular platforms include:
These programs give you easy access to ready-made audiences. You can choose an affiliate partner based on the demographic makeup of their audience and promote content or products that will resonate with those people.
Affiliate links have tracking embedded, so you can easily analyze your placement's success and get a clear picture of the amount of revenue you generate.
Influencer Marketing
Influencer marketing is a modern off-shoot of affiliate marketing. It involves sponsoring high-profile individuals to promote your products or services online.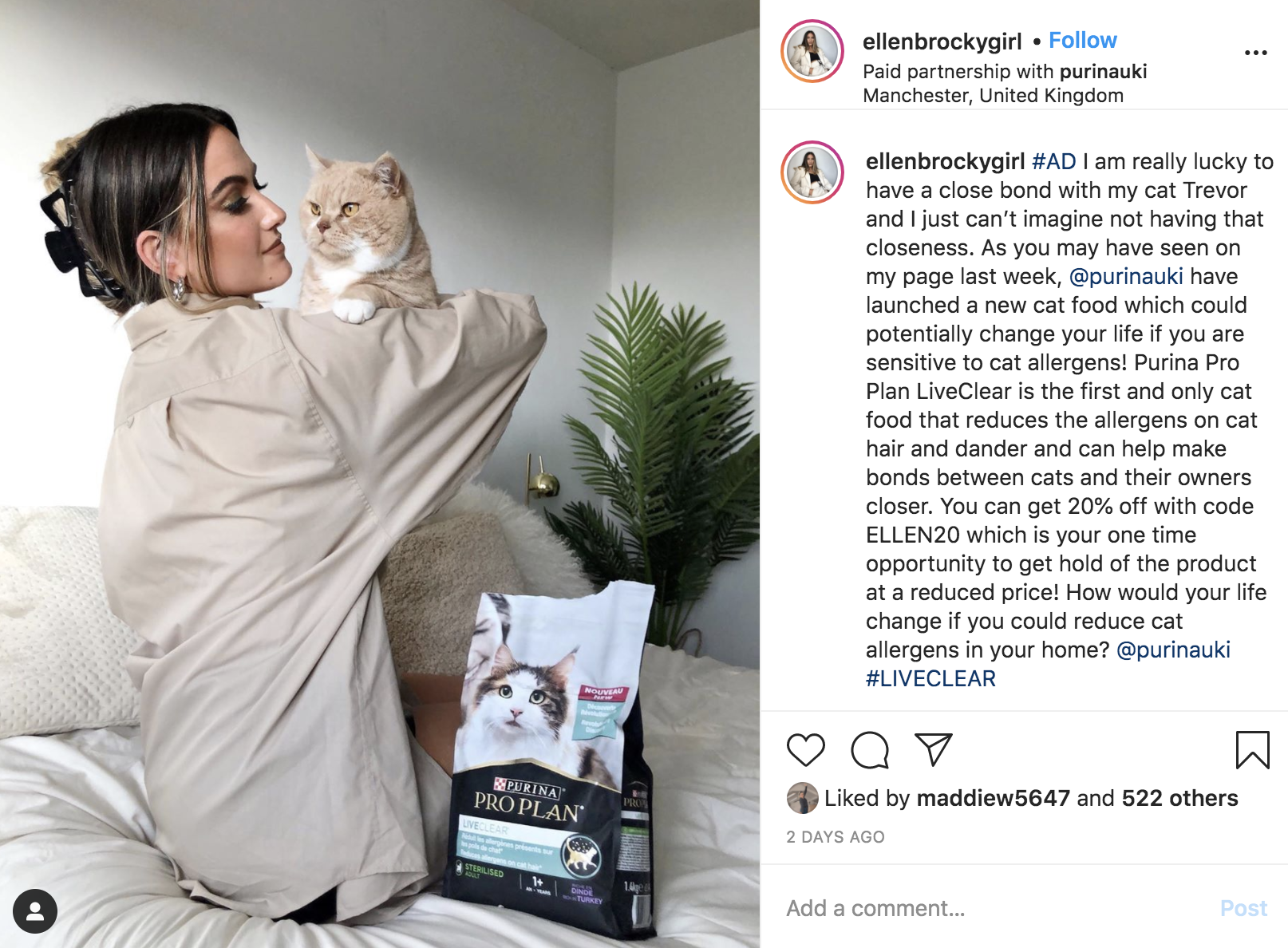 Influencers are typically social media personalities with large, faithful followings. 
Building a following on social media is a long, difficult road and influencer marketing is a way of bypassing it. You can use these collaborations to expose your brand to vast audiences who you otherwise might not reach, and borrow trust to create more sales opportunities.
Audio and Video Marketing
Audio and video marketing is the practice of using audio or video content to promote your business and strengthen customer relationships.
It involves posting entertaining, educational, or promotional clips on your website or social media platforms. The aim is to reach and engage your target audience organically.
There are a range of platforms to consider, but YouTube is by far the largest for video, with more than 2.5 billion monthly global active users. These users are searching for all sorts of videos, from how-to guides to product reviews.
Podcasting is the most popular form of audio marketing. Brands can distribute stories, insights, and how-to guidance via platforms like Spotify, Google Podcasts, and Acast.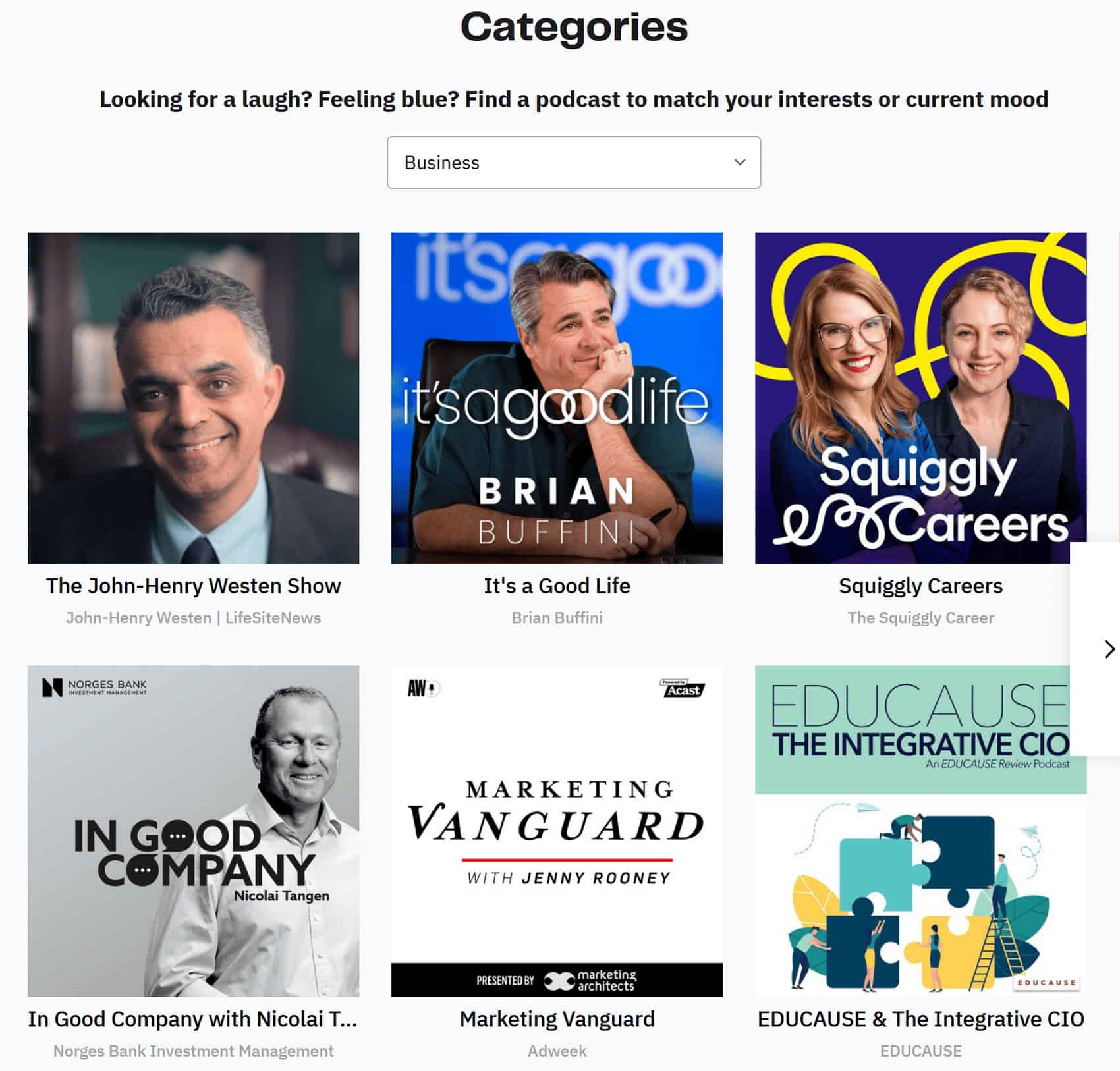 Producing video and audio content gives you an opportunity to get in front of people when they're looking for advice or guidance. In much the same way as SEO, content marketing, and social media marketing, this can help to build awareness and authority in your target market.
SMS Marketing
SMS marketing is the use of text messages to promote your brand. It works like email, giving you direct access to customers.
You can use SMS to share news, offers, product information, and more. And plan and run campaigns using text marketing services or software, like ClickSend, Emotive, and Attentive.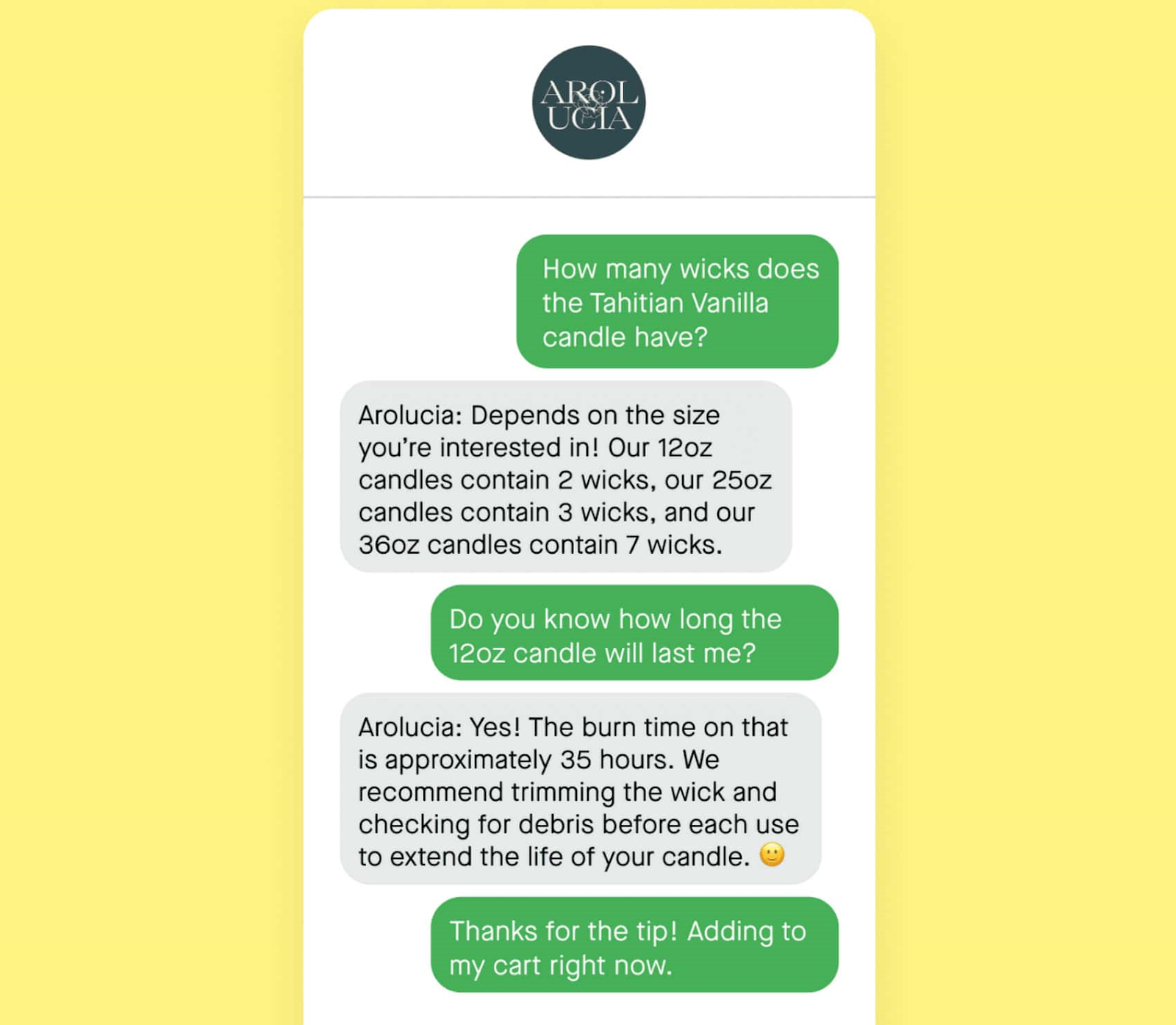 Image Source: Attentive
SMS marketing is subject to the same limitations as email in that you must legally collect contact information before you can engage in it.
Gain consent using lead magnets (content that encourages website visitors to give their details) and web forms. Like the one we use to collect email addresses on the Semrush website: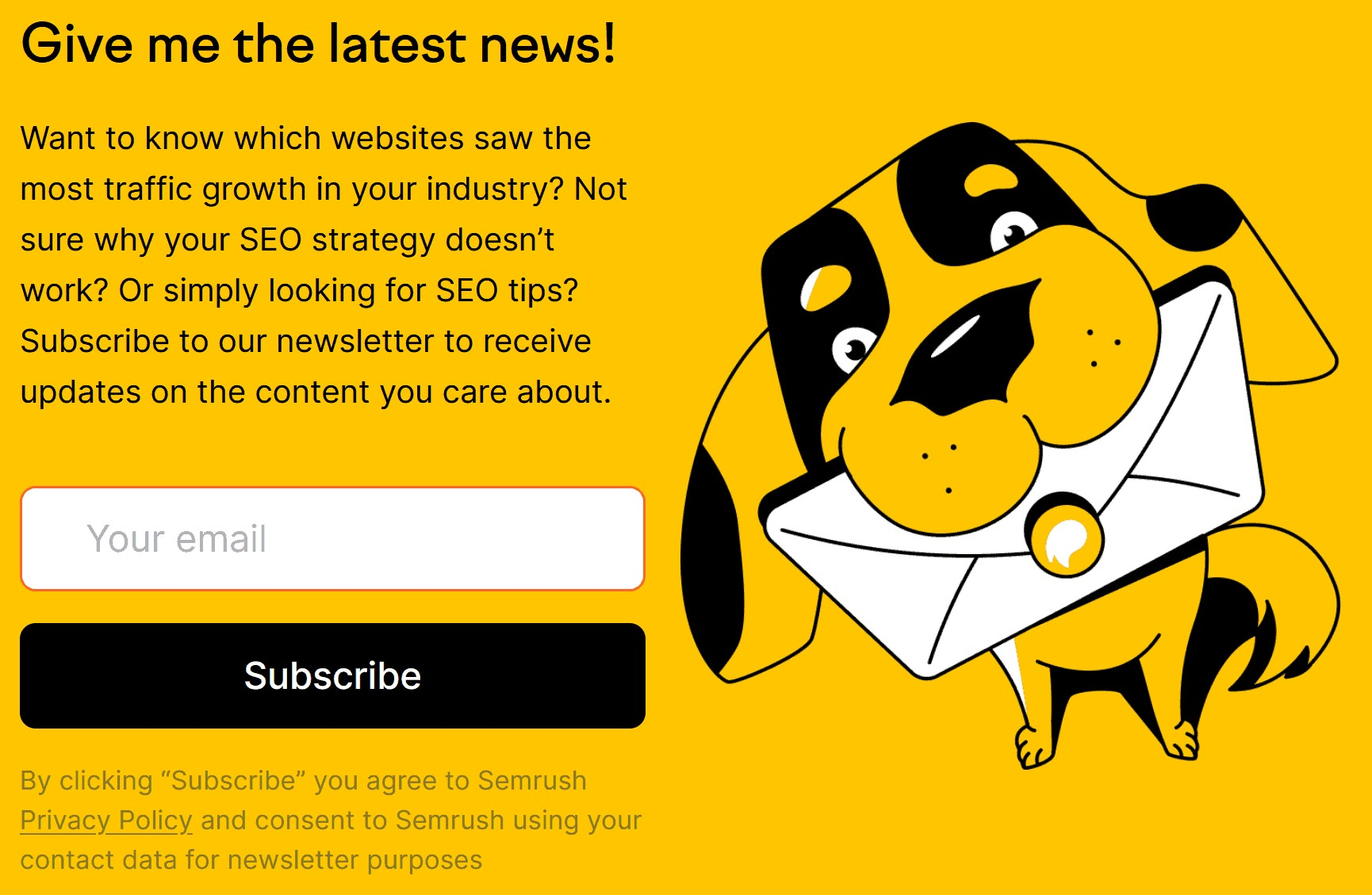 The bottom line is that with the right approach, SMS marketing can be a simple and cost-efficient way to keep your audience engaged and boost sales.
Mobile Marketing
Mobile marketing allows businesses to reach and engage customers through mobile devices like smartphones and tablets.
It involves creating and delivering messages, ads, and content that are specifically designed to be viewed on smaller screens and fit the mobile experience.
Like this: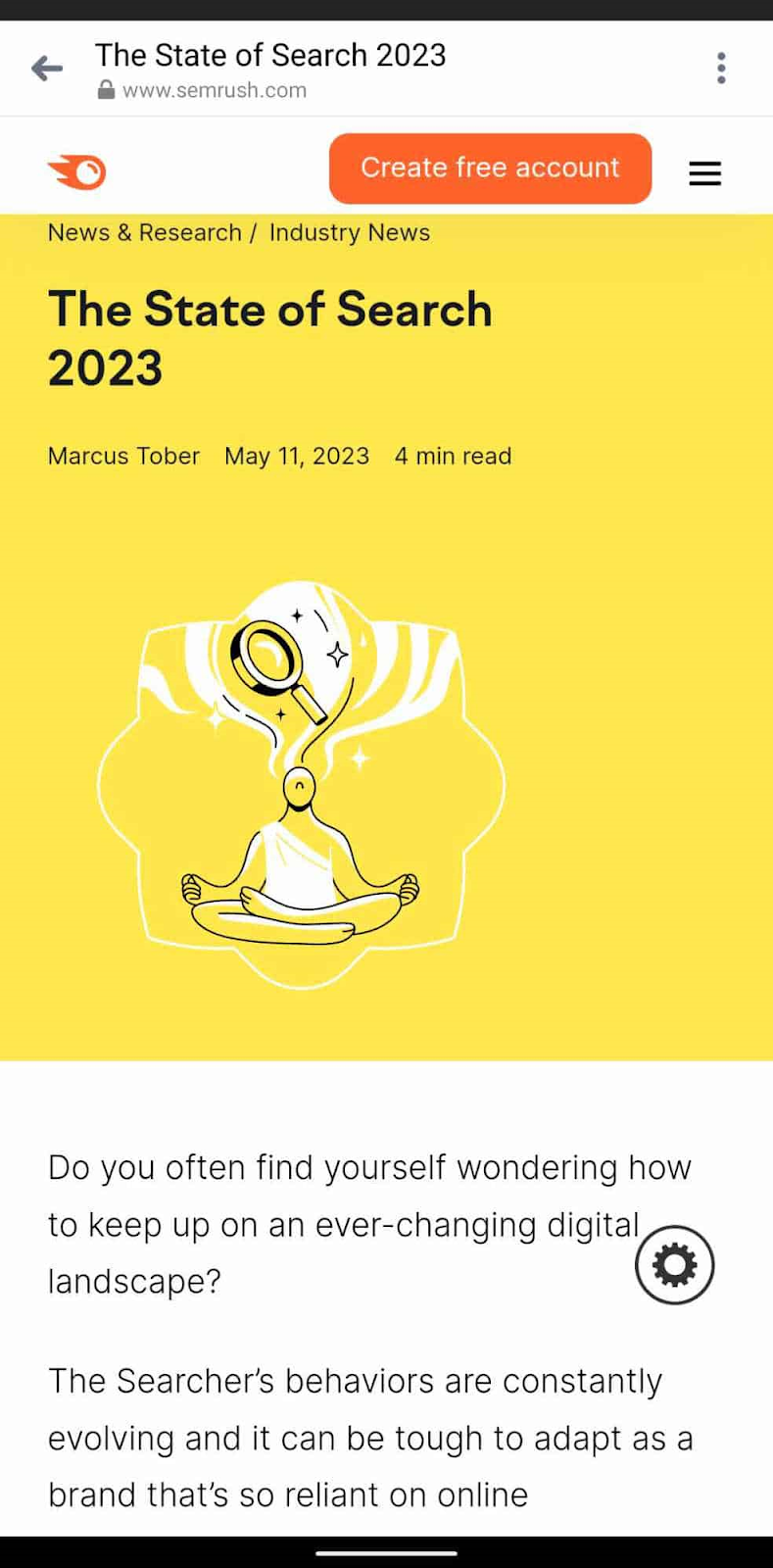 On top of SMS, mobile marketing includes:
Push notifications (from websites and apps)
Mobile-optimized website and email content
Mobile apps
Location-based marketing
Mobile marketing's biggest advantage is reach. Pew Research data shows that 97% of US adults own cell phones and 85% own smartphones. Chances are, you can easily reach your target audience on mobile.
Mobile marketing is also a direct and personal channel. Many people check their devices regularly. Which means they're more likely to consume mobile marketing content than walk past a billboard or hear a radio ad.
Here's how to start with mobile marketing:
Understand your audience: Research your target audience to understand their mobile habits, preferences, and needs. For example, Google Analytics can tell you which device types are popular among website visitors.
Optimize for mobile: Ensure your website, emails, and content are easy to navigate on small screens. Large images may cause slow loading speeds, damaging the user experience.
Use mobile apps: Consider creating a mobile app to provide a seamless and interactive experience for your customers.
Set up SMS and push notifications: Send relevant and timely messages directly to customers' phones.
Connect on social media: Be active on social media platforms that your audience frequents and optimize your content for mobile consumption.
Target by location: Use mobile location data to provide personalized offers and information when customers are near your business.
Measure and adapt: Track the performance of your mobile marketing campaigns and adjust your strategies based on the data you collect.
Further reading: Learn everything you need to know about smartphone and tablet ads with our full Guide to Mobile Advertising.
The Difference Between B2B and B2C Marketing
Most businesses fall into one of two categories: business-to-business (B2B) or business-to-consumer (B2C).
B2B marketing involves targeting customers acting on behalf of businesses. For example, a company that rents out office spaces will target other businesses.
B2C marketing addresses individual consumers who are making purchases for themselves. For example, a jewelry retailer selling engagement rings aims to target people who are planning a proposal.
The category your business fits into will dictate which digital marketing tactics to focus on.
The following table sums up the key differences between these two customer types:
| | | |
| --- | --- | --- |
|   | B2B customers | B2C customers |
| Goal | To make efficient purchasing decisions that will drive ROI. | To buy things that meet their immediate needs or desires. |
| Needs | Functionality, efficiency, and cost-effectiveness. | Convenience, personalization, and emotional appeal. |
| Buying process | Typically long and complex, involving multiple stakeholders. | Generally shorter and simpler, driven primarily by individual research. |
| Drivers | Educational content, case studies, and product demonstrations. | Reviews, social proof, and comprehensive product imagery. |
| Relationship | More interpersonal communication with sellers, often resulting in long-term relationships. | Transactional communication, with short-term relationships. |
The general rule of thumb is that B2B customers need more personalized nurturing during their buying journeys. B2C customers can self-serve so long as you provide the right content.
How to Create a Digital Marketing Strategy
No two digital marketing campaigns are the same. There are many approaches and tactics to consider, and it's up to you to choose how much you invest in them.
That said, most digital marketing strategies tend to follow similar planning and deployment processes. Here's how to build one:
1. Set Your Marketing Goals
A digital marketing strategy goal is your marketing team or campaign's overarching objective. It should tie back (and contribute) to broader business goals.
A clear goal will guide your digital marketing strategy. And will help you stay on track, identify failures, and see successes easily.
For example, if your goal is to generate more traffic, your strategy will focus on traffic-generating tactics. If traffic is increasing, your strategy is successful. If traffic is stagnant, then you need to change something.
We recommend setting SMART goals—meaning they're Specific, Measurable, Actionable, Relevant, and Time-bound.
Some examples of goals for your campaign include
Ranking in the top five Google search results for a specific keyword by June 2024
Increasing website traffic by 25% over the next three months
Building an email list of 1,000 subscribers before the end of 2023
After you've set your goals, move on to identifying who your target audience is.
2. Identify Your Target Audience
Your target audience is the group (or groups) of people who are most likely to be interested in and benefit from your products or services.
People within these groups share common characteristics, needs, and preferences that make them the prime recipients of your marketing messages.
To ensure your digital marketing efforts target these people in the right way, you need to do some audience analysis—essentially gaining a better understanding of your target market.
Your research should focus on factors like demographic makeup, purchasing behaviors, and content preferences.
Your understanding of your target audience will impact your campaign's strategy and ultimate success. It'll help to determine what channels you use, how you position your content, and more.
Creating ideal customer profiles (ICPs) can help this process. 
An ICP describes the perfect buyer for your business. It's the person who would love and benefit most from what your business offers. The profile describes who they are, what they like, what they need, and how they act.
To create your ICP, you first need to gather data. There are several ways of doing this, including:
Primary research through online surveys and focus groups
Analysis of internal marketing and sales data to understand existing customers
Social listening to gauge trends and challenges prevalent among your audience
There are a range of tools you can use to make these steps easier to manage. For primary research, consider polling tools like SurveyMonkey and Qualtrics.
You can also use Semrush's customer profile template to organize and visualize your data.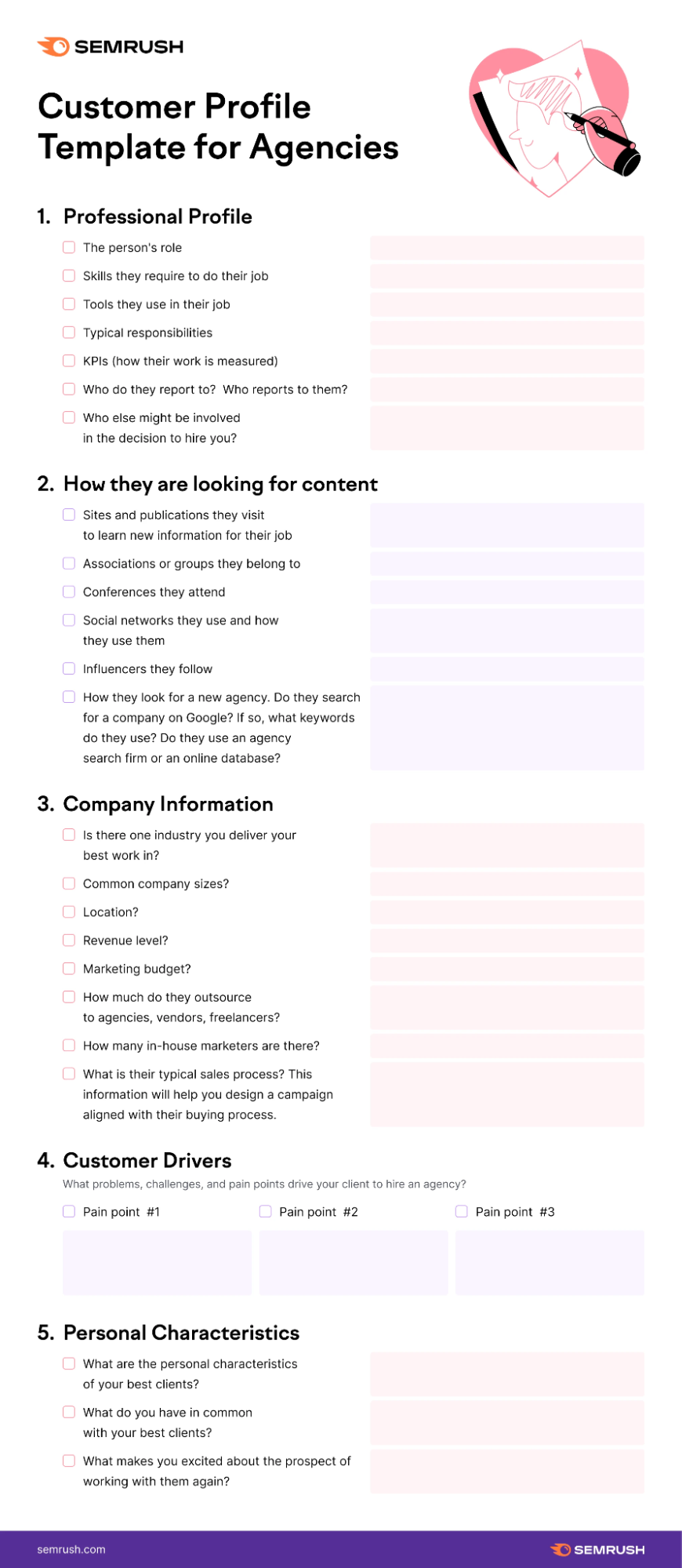 With the right information, you'll better understand how your target market thinks, feels, and acts. Use these insights to inspire your marketing plan and future strategic decisions.
3. Choose the Right Marketing Channels
As we've established, there are different types of marketing channels—but you don't want to use all of them. Just the ones that make sense to your business.
Using multiple channels for marketing can help amplify your results by getting your business and offer in front of more people in more places. This is called multichannel or omnichannel marketing, depending how you approach it.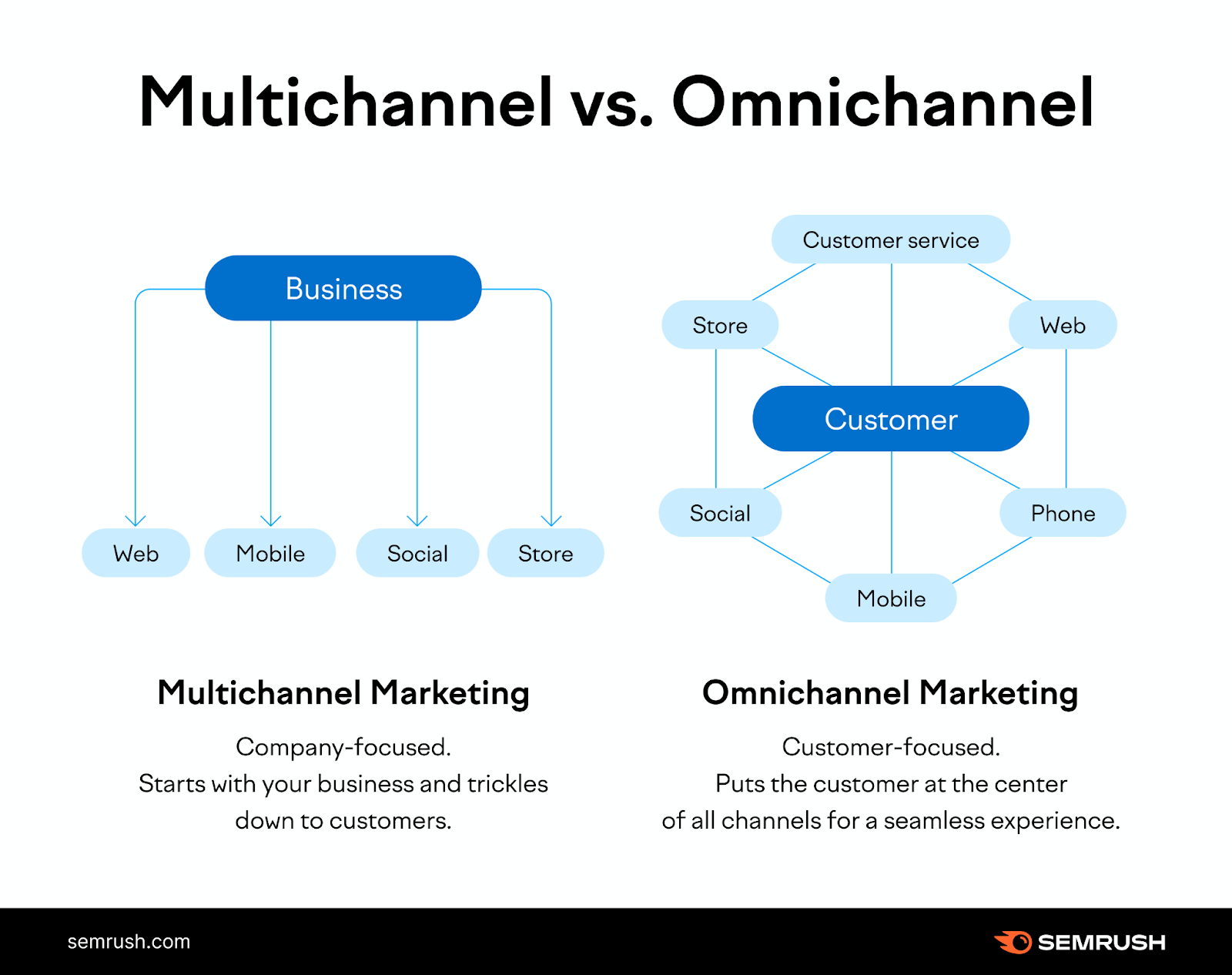 Lean on the research you've done so far when building your strategy. Your marketing goals, the audience you're targeting, and your budget will all influence what combination works best for you.
The bottom line is: be where your ideal customers are.
For example, a software company selling marketing automation tech might want to focus on SEO, paid LinkedIn ads, and content marketing. That way, the company can engage its target audience of B2B buyers who typically:
Start their research on Google
Use LinkedIn more than other social channels
Value the ability to research products alone
Remember, choosing your channels doesn't mean you're stuck with them. Digital marketing is adaptable by nature, so don't get caught up trying to nail the perfect combination the first time around.
Further reading: What Is Omnichannel? (+ Tips to Create Seamless Experiences)
4. Set Your Budget
A digital marketing budget is the amount of money a business allocates to its online marketing efforts. 
Set your budget too low and you may struggle to achieve your objectives or get noticeable results. Set it too high and you'll pull funds away from other areas of your business unnecessarily.
Start by understanding your overall business objectives. Are you aiming to increase brand awareness, close more sales, or nurture existing customers? Your goals will influence your strategy and determine how much you'll need to spend.
Consider allocating a percentage of revenue to marketing. This is a common method. Although the percentage varies depending on factors like industry, company size, and growth stage, around 5%-15% is typical.
Or, for a more accurate idea, research industry benchmarks to understand what your competitors spend on digital marketing. It shouldn't be the sole basis for your budget, but it provides useful context.
Break your budget into campaigns as some channels, such as social media ads, require more up-front spending than others, like SEO content creation.
Account for variable costs, too. 
Let's say a performance-based influencer marketing campaign does much better than you expected. While that'll likely increase sales in the long run, you'll still need to pay your collaborators.
Finally, invest in marketing analytics tools to keep using your budget wisely. Regularly monitor your digital marketing key performance indicators (KPIs) to focus on the most effective tactics and ditch those that don't work.
5. Generate and Distribute Content
Once you know your aims, target audience, and marketing channels, you'll be ready to create content tailored to suit your strategy. This can mean producing blog posts, social media posts, PPC ad creative, newsletters, and much more.
To ensure the content you create effectively anchors your campaign, consider the following:
What content your competitors have and how successful it is (Semrush's Competitive Research tools make this easy)
How well your content addresses your audience's needs
Whether your content is coherent with your brand positioning and tone of voice
Best practices vary depending on what channel the content is for. Here are some tips for creating some popular types of content:
No matter the format, everything you produce should aim to either engage or educate your target audience.
If you're writing for SEO, using a tool like Semrush's On Page SEO Checker can help you to optimize your content so it's ready to rank.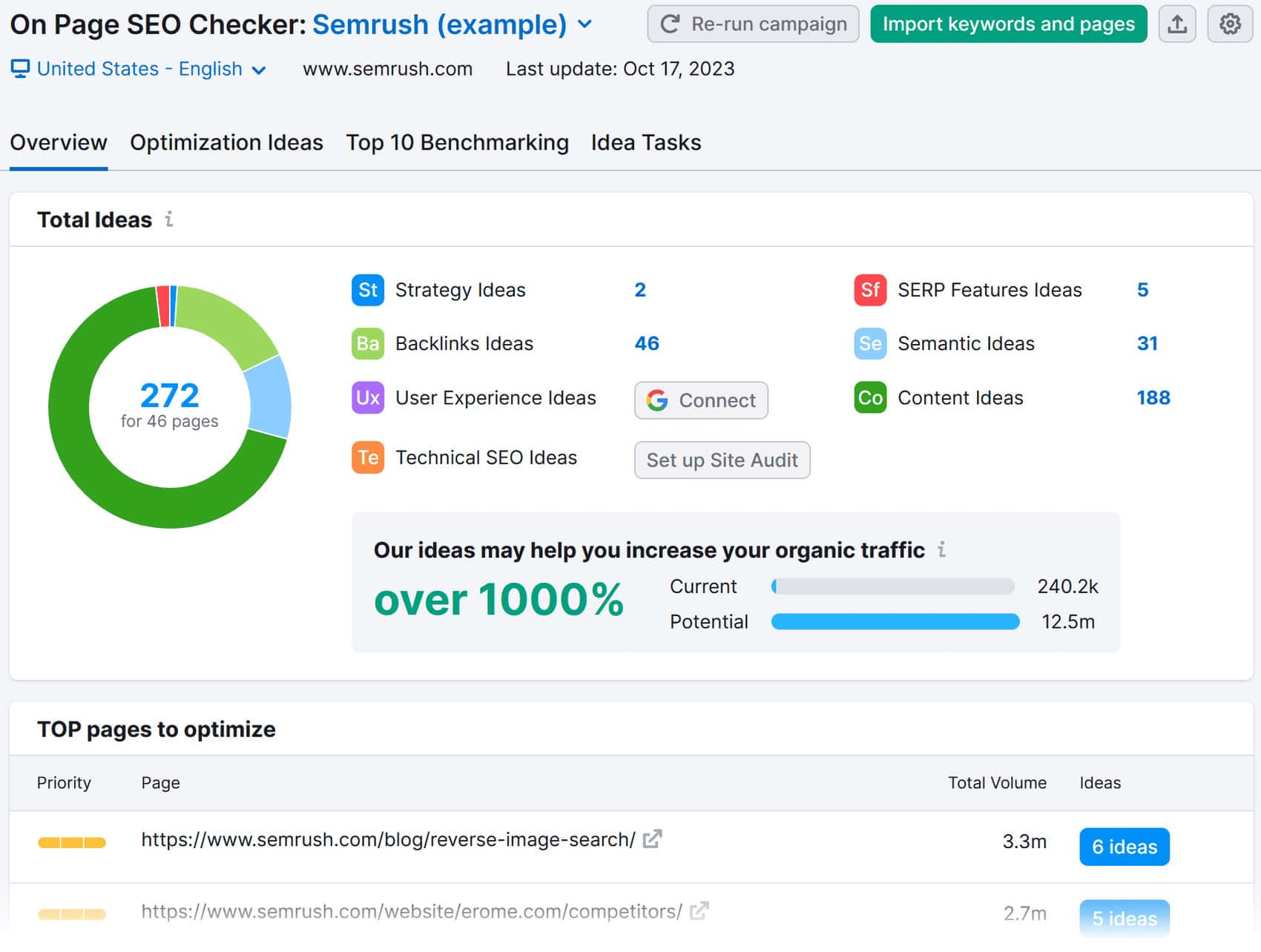 It's also important to consider how your content fits together.
Ideally, you'll be able to create topic clusters—where one piece leads naturally to another, and so on. This can help to keep users engaged and make it more likely that they'll remember your brand.
Topic clusters also establish your authority on a subject to both readers and search engines. By creating "pillar pages" and linking content to and from them, search engines like Google will understand how your content is related.
6. Gather Results and Refine Your Strategy
Once you've created your content, you can deploy your campaign and start monitoring results. This is an ongoing process that involves constant learning and tweaking.
Analyze your performance data using software like Semrush, Google Analytics, and Google Search Console. Then adapt your marketing tactics based on what you learn.
For example, Semrush's Position Tracking tool lets you monitor your site's rankings for targeted keywords, so you can see whether your SEO efforts are paying off or not.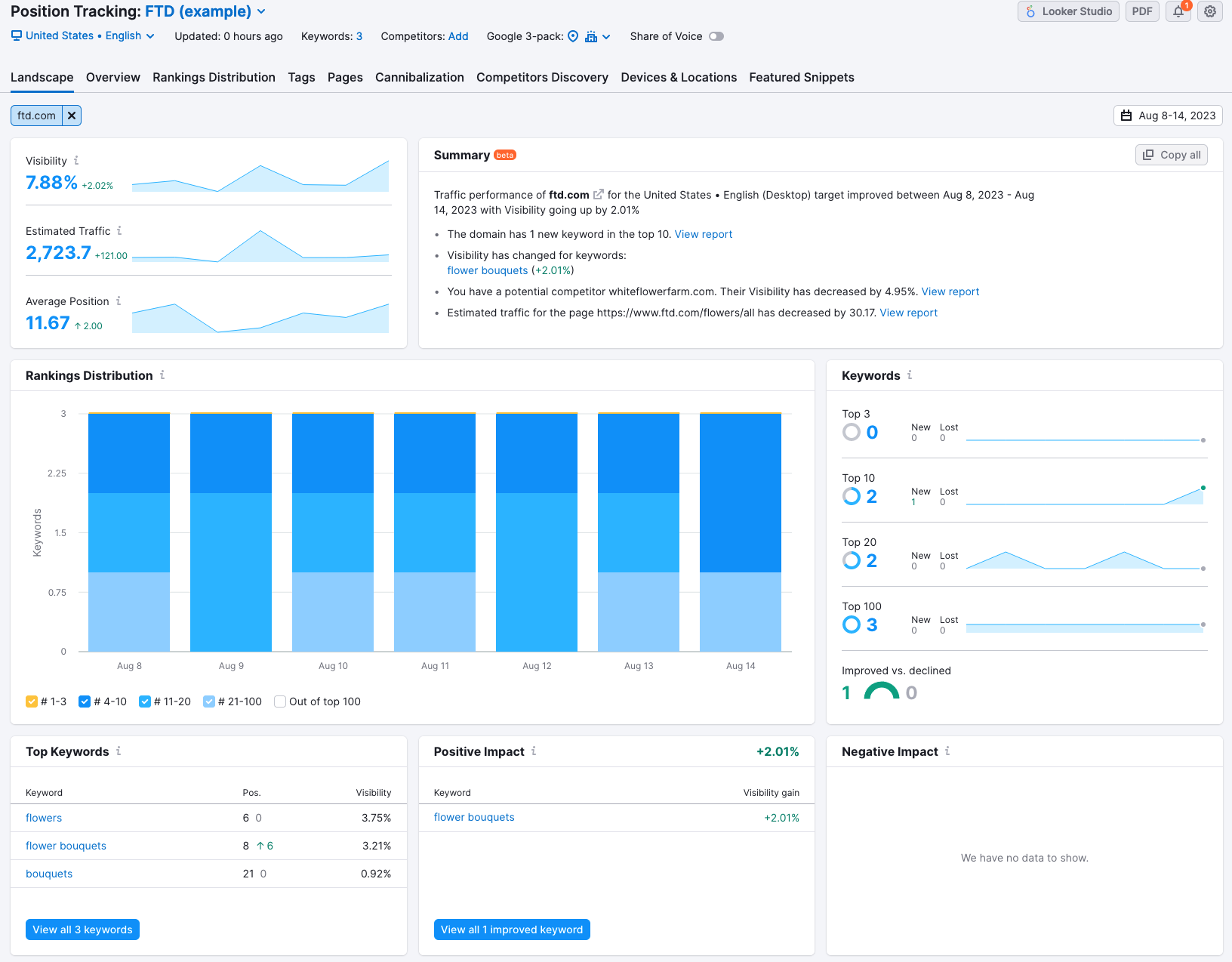 If you notice you're getting better results in certain topic areas, you might focus on those to make the best use of your budget.
Or, if your aim is to drive more website traffic using paid search ads, you could check Google Analytics' Traffic Acquisition report to see if sessions from this source are up or down, and how they compare with other channels: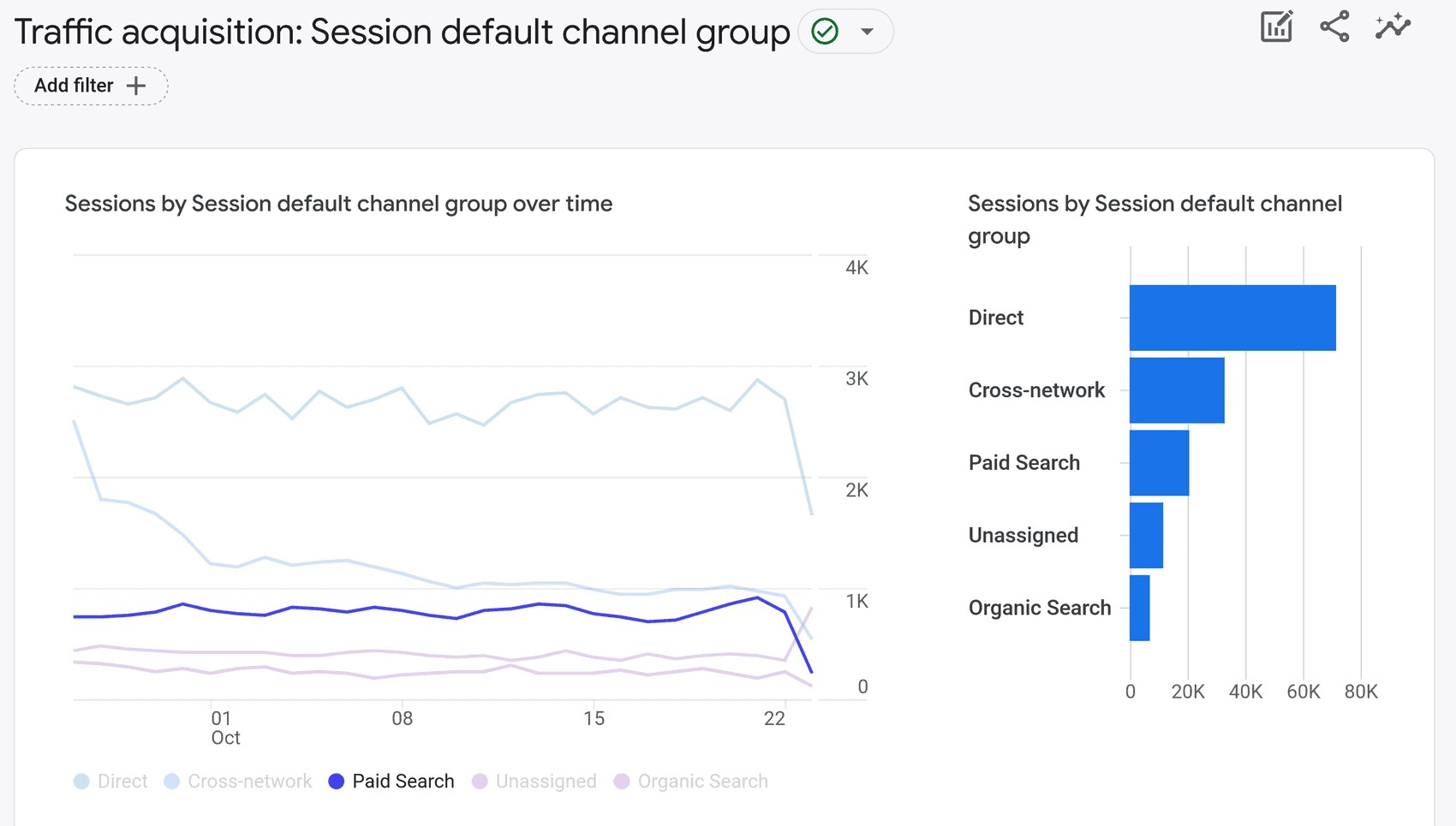 If there's little change or a decline in traffic, you'll know the campaign isn't delivering. As a result, you might target different keywords or switch to a different channel.
In time, this continuous refinement will result in highly-tuned campaigns that consistently deliver positive results.
Set Yourself Up for Digital Marketing Success with Semrush
Digital marketing is the cornerstone of practically any modern marketing strategy.
The benefits it offers, from unprecedented audience reach to granular targeting capabilities, can drive material business growth. And, with so many effective digital marketing channels to choose from, there's a combination that suits any business model.
Better yet, you can use Semrush to help you out as you build, deploy, and improve your digital strategy. If you're ready to get started, sign up for your free trial today.
Source link