What Is Gated Content?
Gated content is any type of content that prospects can only access after they've shared their contact information and other details (like their name, job title, and company). Usually through a lead capture form. 
Like this example from the Stripe website: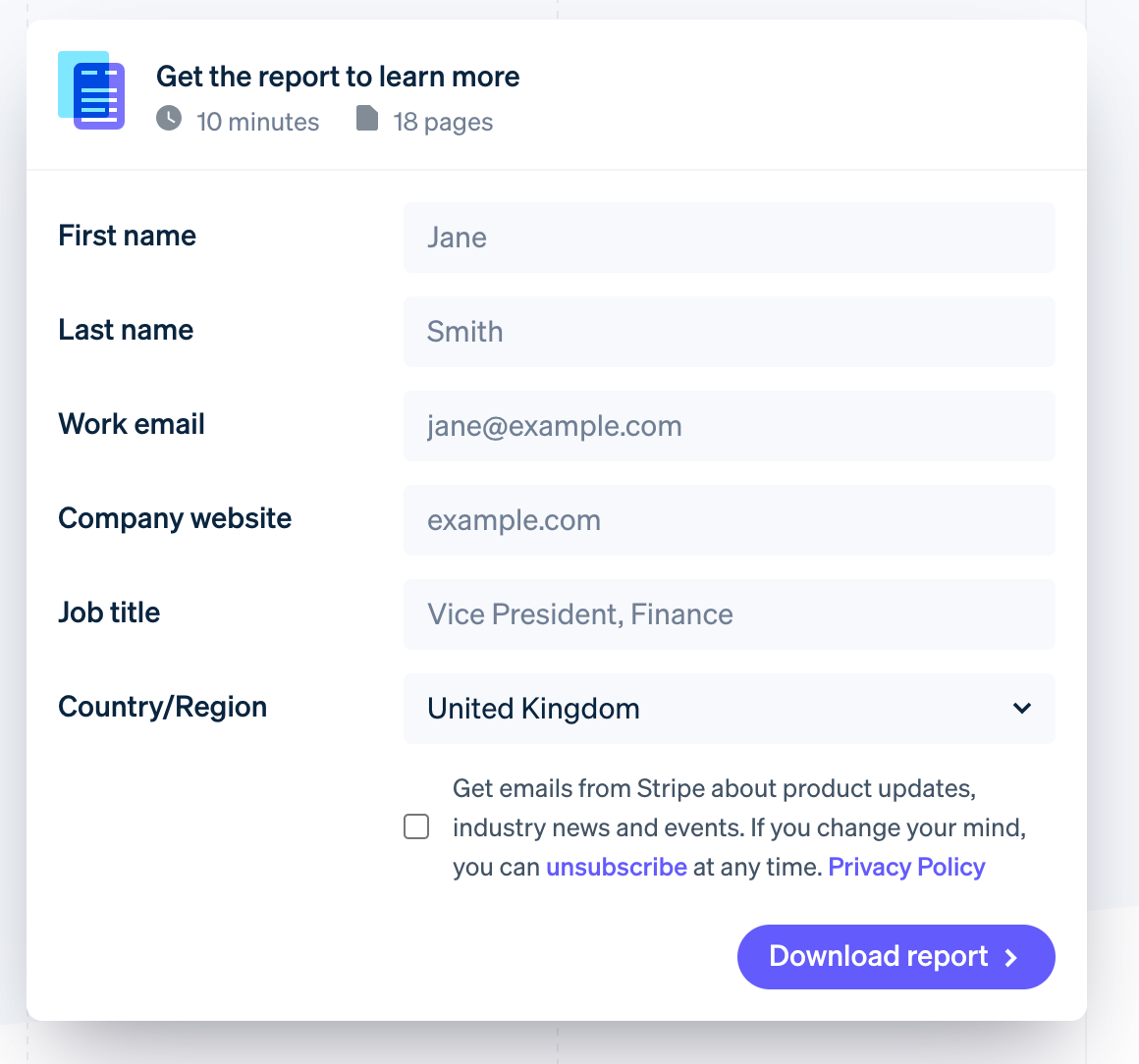 Gated content includes interactive reports, webinars you can watch live or replay later, and downloadable white papers and ebooks.
Marketers like this tactic because high-quality content can be a compelling lead magnet. Meaning users are so eager to access it that they're willing to share their contact information and agree to hearing from the company in the future. 
In fact, 17% of marketers and business owners said gated content was their top-performing content in our 2023 State of Content Marketing Report. 
Gated vs. Ungated Content
Ungated content is content that's available to everyone without restriction. Most webpages are ungated and accessible to both users and search engines. 
Is one better than the other?
It depends on your goals. 
Gated content is designed to generate leads who you can nurture relationships with. But ungated content can meet many goals since there are no barriers to accessing it. 
For example, ungated content can be a powerful tool for increasing visibility through search engine optimization (SEO) because it can be indexed by search engines.
That's a big contrast to gated content, which typically blocks site crawlers from reading what's behind the form. This means that while the landing page can be indexed, the gated asset won't be.
Time offers a particularly interesting example of ungated content. The publisher has made every issue of the magazine (dating back to 1923) available to all users.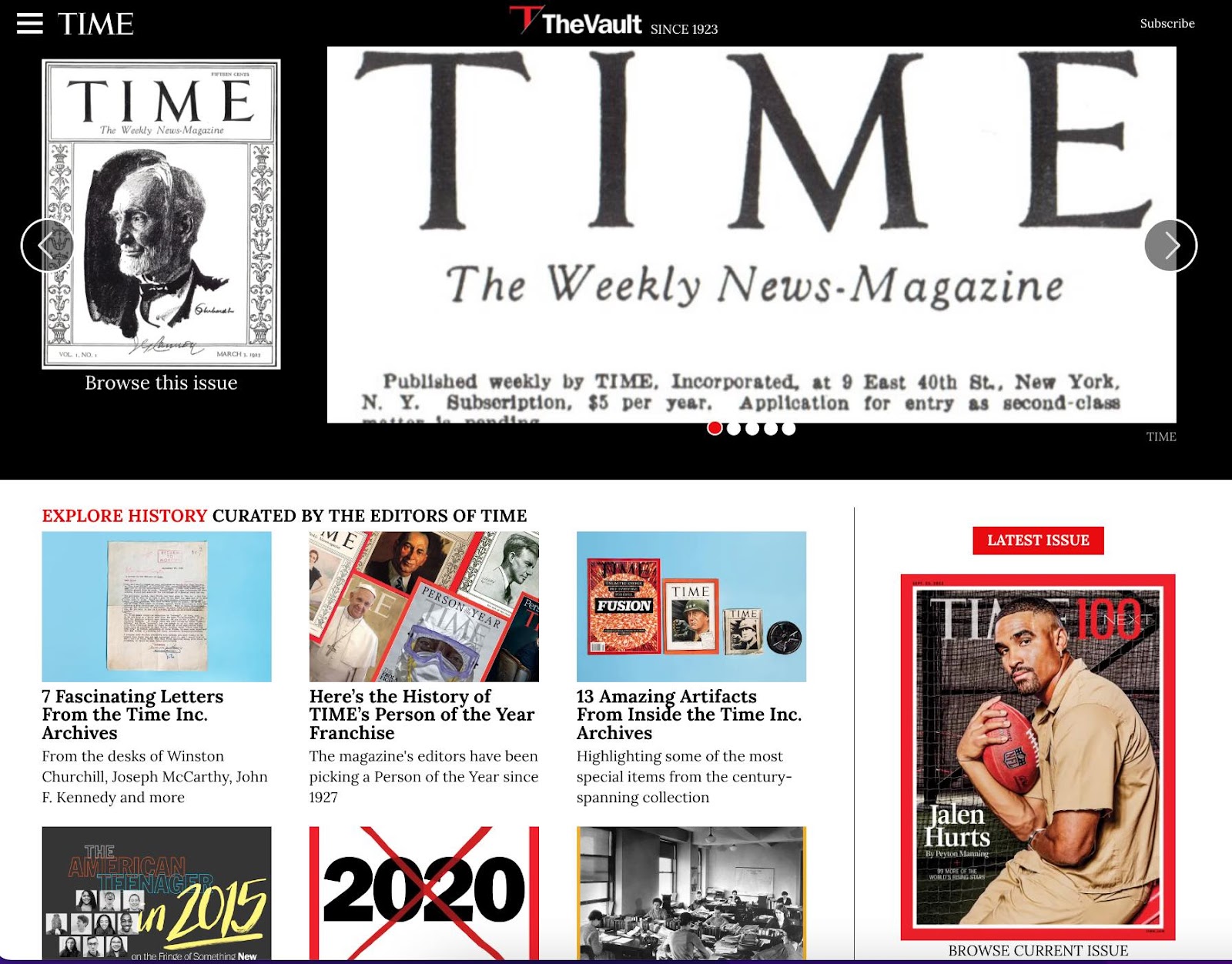 Pros and Cons of Gated Content
Choosing whether to gate your content isn't as simple as knowing if you want more leads. 
You need to balance the pros and cons of using gated content to make sure you choose the right approach.
Pros
It can quickly generate leads once the content is live
It will build your email list and give you enough information to segment and target your future communications
It provides data to help you measure performance across all gated assets to refine your strategy in the future
Cons
It requires a lot of time to get right
It has a limited reach because the content can't be indexed by search engines
It can prevent you from getting accurate information on each lead since not everyone will complete the lead capture form properly
Examples of High-Performing Gated Content 
Almost anything can be gated content if it sits behind a lead capture form. But some types perform better than others. 
Here are a few examples that tend to do well:
Free Templates or Tools
Gated tools and templates aim to save prospects time or money. And make their lives easier by giving them something they can use to streamline their work. 
Some of the most popular gated templates and tools include:
Calculators
Accounting and budgeting spreadsheets
Presentation templates
Workbooks
Document templates in specific formats, like CVs or cover letters
The marketing software company HubSpot does this by offering free ebook templates.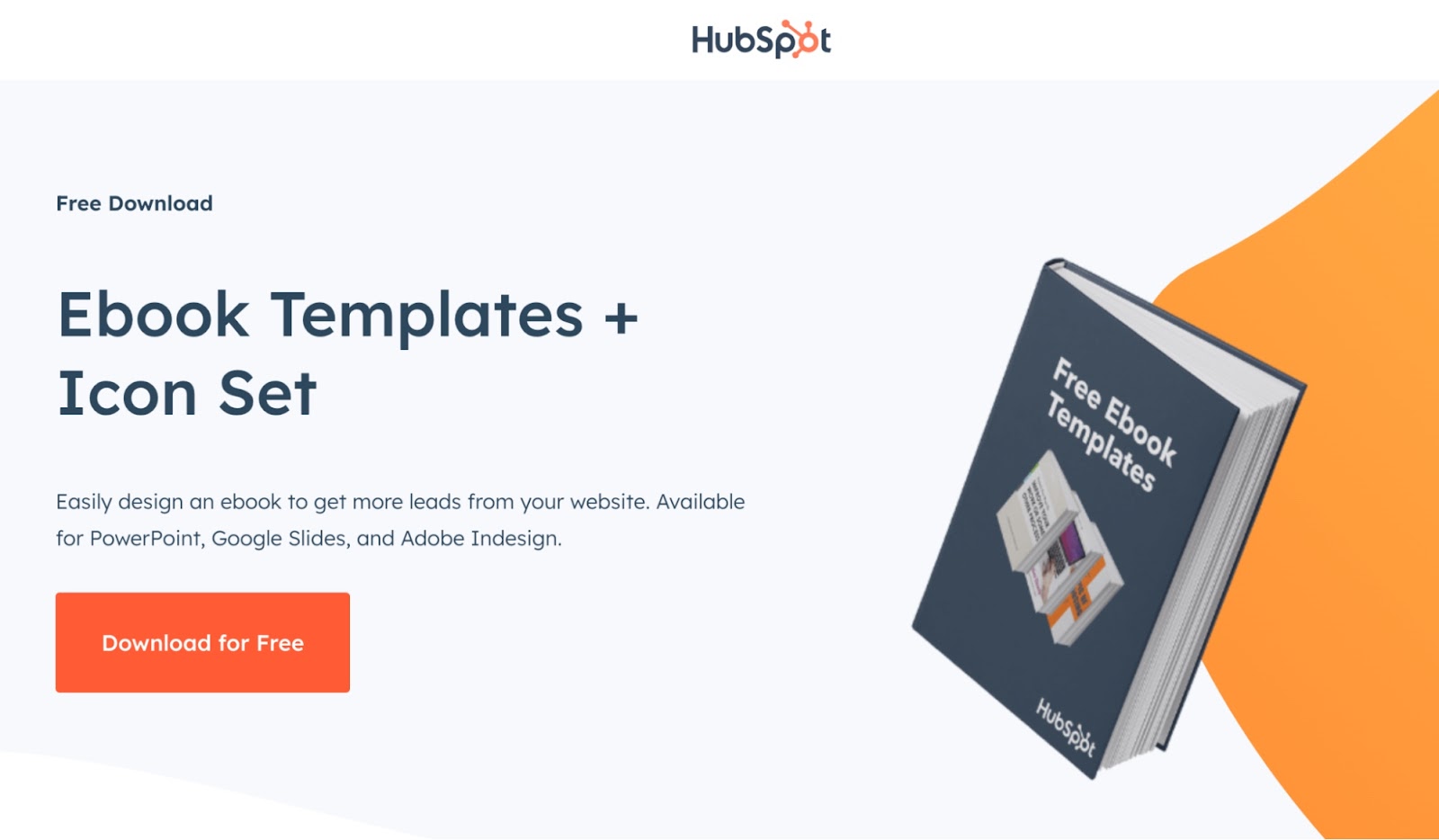 White Papers, Ebooks, and Reports
White papers, ebooks, and reports often include original research or insights that users won't find anywhere else. Making them great gated content candidates.
Let's take a closer look at these three formats:
A white paper is a document that educates a prospects about technical or complex topics and proposes solutions
An ebook is usually longer than a white paper and may be less technical in content. But it typically covers a topic much more extensively.
A report is a research-based piece of content that presents the data itself as well as an analysis of the findings
You need to ensure that your white papers, guides, and reports provide genuinely insightful information that users can't find elsewhere. Because that's what makes them valuable enough to persuade people to share their contact information.
These formats are particularly popular with B2B marketers. Nearly 60% of surveyed B2B content marketers say they used ebooks and white papers from July 2021 to July 2022, according to a B2B content marketing survey from the Content Marketing Institute. 
That compares to just 43% of B2C marketers during that same time range, according to the Content Marketing Institute's B2C-focused survey. 
Asana is a B2B company that frequently publishes gated reports and ebooks. Which you can see on the resources section of their website:
When you click through to a gated piece, the landing page outlines what you'll find in the ebook or report. And asks for your contact information in order to access it: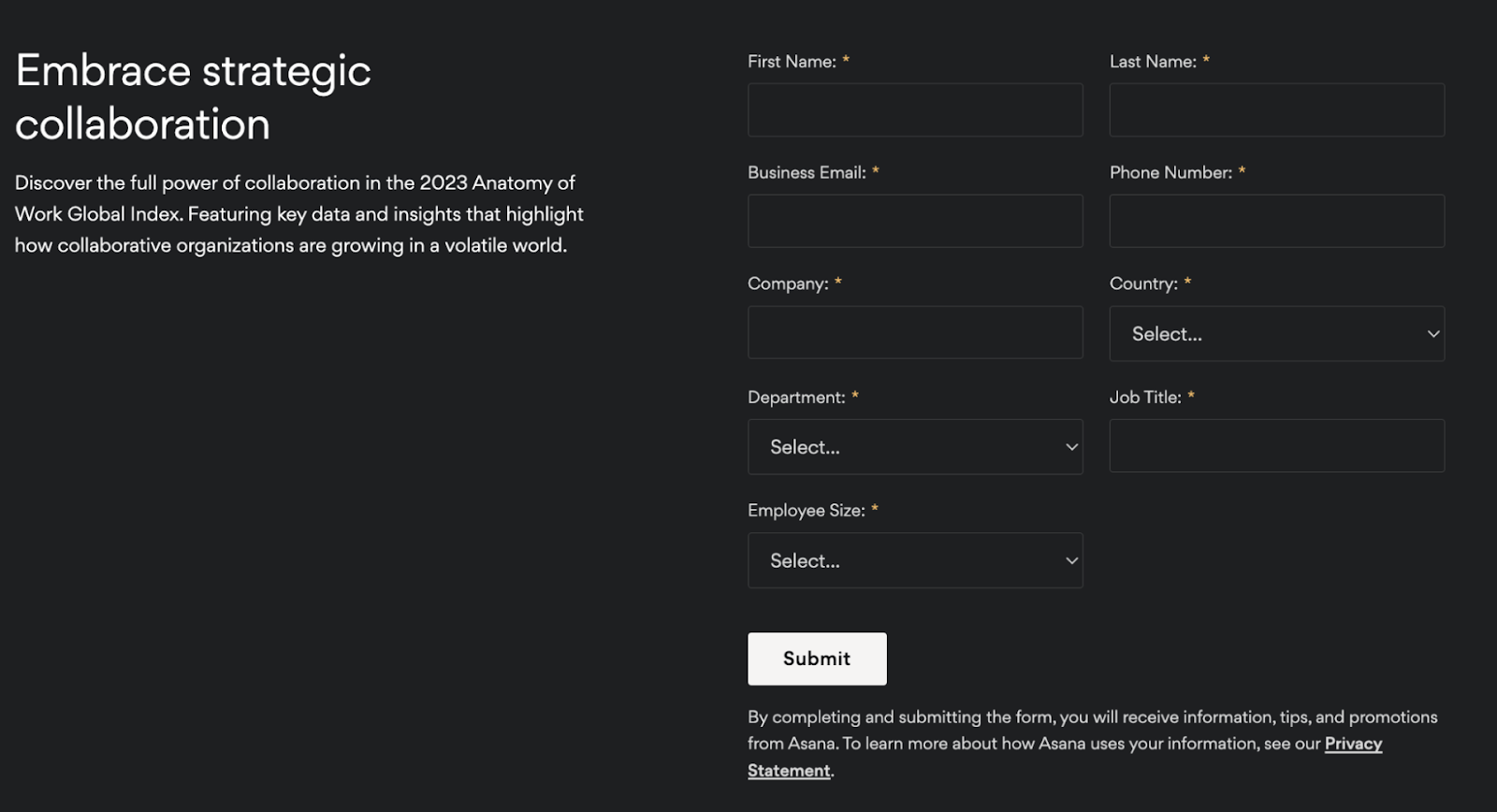 You'll notice that there are a fair number of fields related to the prospect's company. And Asana can use that information in their future marketing efforts. 
Webinars
Webinars allow you to speak directly to prospects and interact with them via a chat function (if you have one enabled) or a question-and-answer session. And that can be great for engagement.
This kind of gated content puts you in front of an audience in real time. So, they might be more receptive to calls to action (CTAs) throughout the webinar. 
And you can gate this type of content multiple times.
The first is when you create a form to gather information about leads ahead of the live event. And the second is when you make the recording available to prospects to watch on demand after the event has passed.
It's no wonder that webinars are used by 62% of B2B content marketers, according to the Content Marketing Institute's annual B2B content marketing survey.
You can even take a more strategic approach to your registration form. For example, we use our webinar registration forms to ask what the user is hoping to learn from the session.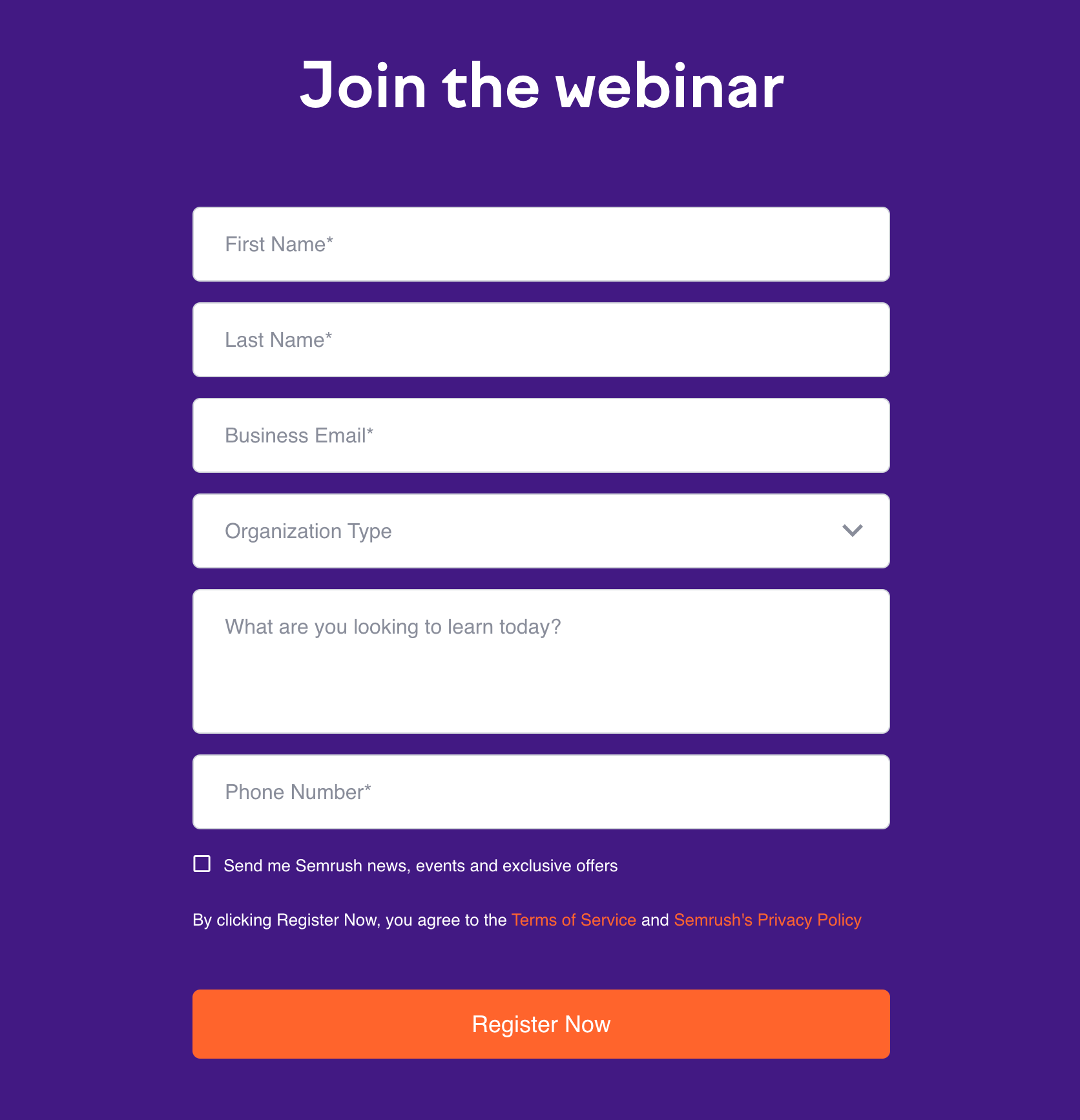 This helps us learn more about what prospects want. And enables us to refine future content. 
Subscriber-Only Emails
Newsletter content that you only make available to your subscribers is another great example of gated content. 
Allowing users to sign up for this content will build your email list—and engaged subscribers will likely reward you with high open and click-through rates. Which can translate to more revenue over time.
Remote Insider is a good example of a subscriber-only email. It's a weekly email full of exclusive content like summaries of the top remote work stories and roundups of interesting content.
The signup page outlines the benefits of subscribing to entice users. And there's a testimonial from an influencer to provide social proof:
Product Demos
Another example of gated content that's used by software companies is to walk leads through a free demo. It allows a sales team member to connect directly with a lead. 
This can be quite beneficial for nurturing relationships and convincing prospects to take the next step.
Zoom is one of the many companies that allows prospects to sign up for a free demo by submitting their contact information:
Gated Content Best Practices
If you ask a user to share their personal information, you need to ensure what they receive is worth it. 
Here's how:
Identify the Topic and Format
Because gated content can take many forms, you need to determine which topics and formats you should focus on. Your gated content needs to be excellent, and that starts by figuring out what your prospects need and how you can help. 
Some of that depends on your resources and capacity:
Do you have an eloquent expert who's comfortable presenting? Consider a webinar.
Do you have a lot of original research that can be analyzed? A report would be wise. 
Do you have a development team who can create something that lets users solve a problem? If so, a free tool could be really valuable. 
But it's also wise to consider what your competitors have done. And which of their pieces have gained a lot of traffic.
You can do this using Traffic Analytics.
Open the tool and enter a competitor's domain. And click "Analyze."

You'll now see a high-level look at their traffic metrics. Like the total number of monthly visits their site receives and the average number of webpages a user sees per visit.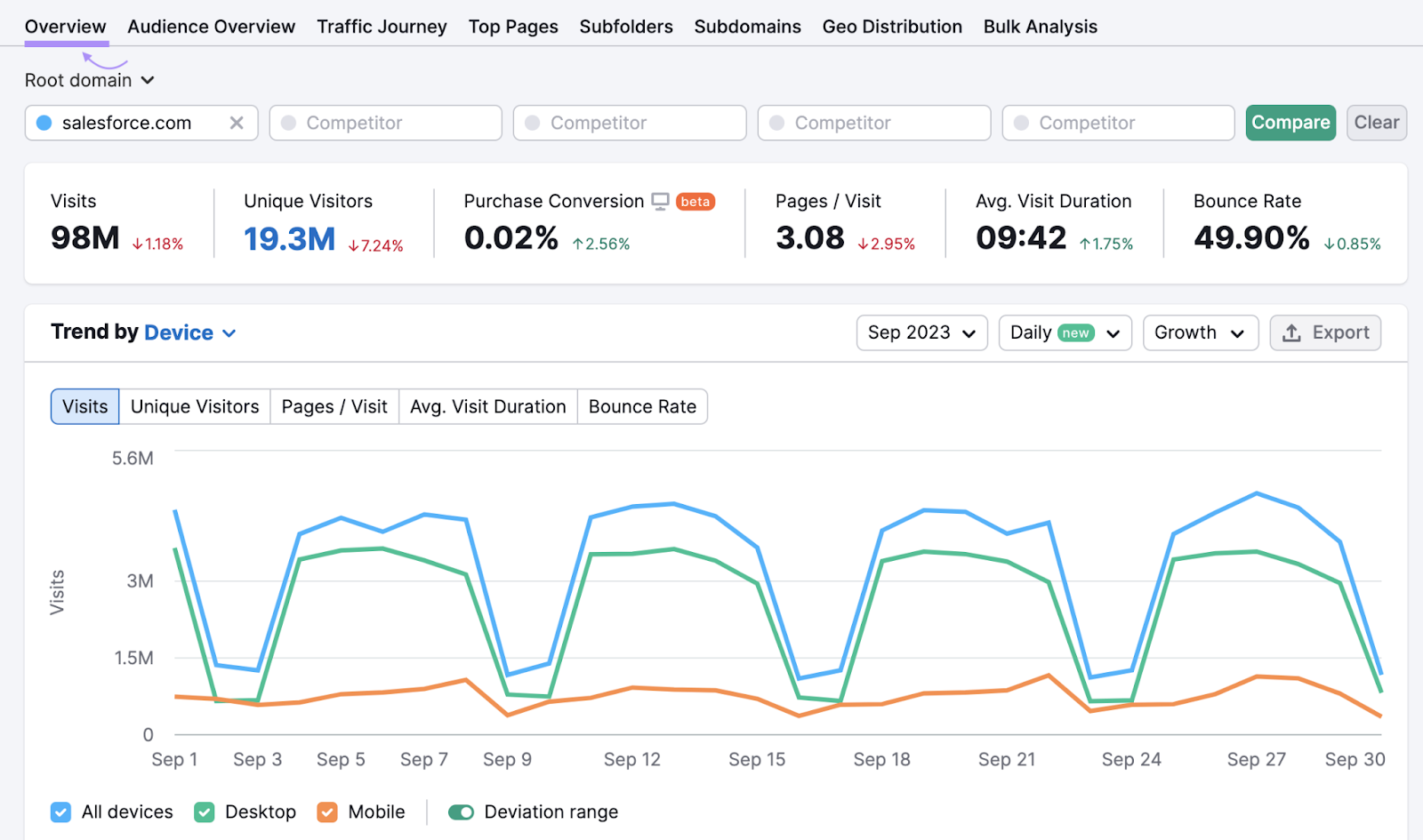 Next, click the "Top Pages" tab to see which of their webpages see the highest number of unique visitors.
Keep in mind that most of the traffic to gated content comes from paid channels. So, it's a good idea to click on one of the columns like "Paid Search" to sort the table by pages that get most of their traffic from that paid channel.

You can then click the arrow icon next to the listed URLs to visit the corresponding page. 
This lets you find gated content landing pages that have gained a lot of visits. And you can study them to learn more about the content topics and formats you may want to consider. 
Tailor Gated Content to Each Funnel Stage
One of the most important gated content best practices is to tailor content to each step of the funnel. To make your sales funnel convert better.
For example, Shopify uses a gated business plan template to target top-of-funnel prospects: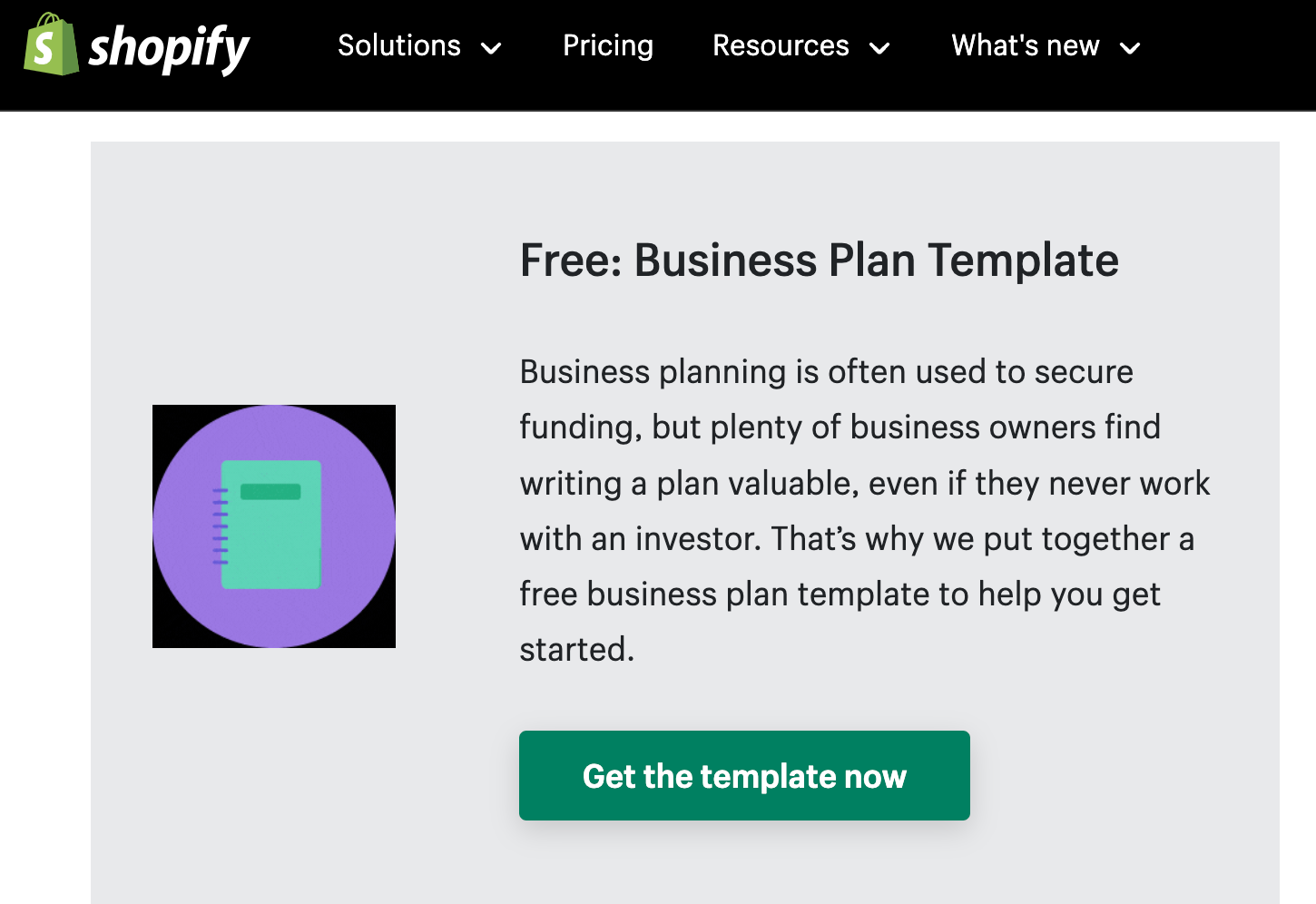 It's aimed at people who are starting to think about launching their own business and need some guidance for writing up a business plan. 
Meaning they're becoming aware of the problems they may face as they get closer to starting the business.
Shopify only asks for an email address at this stage: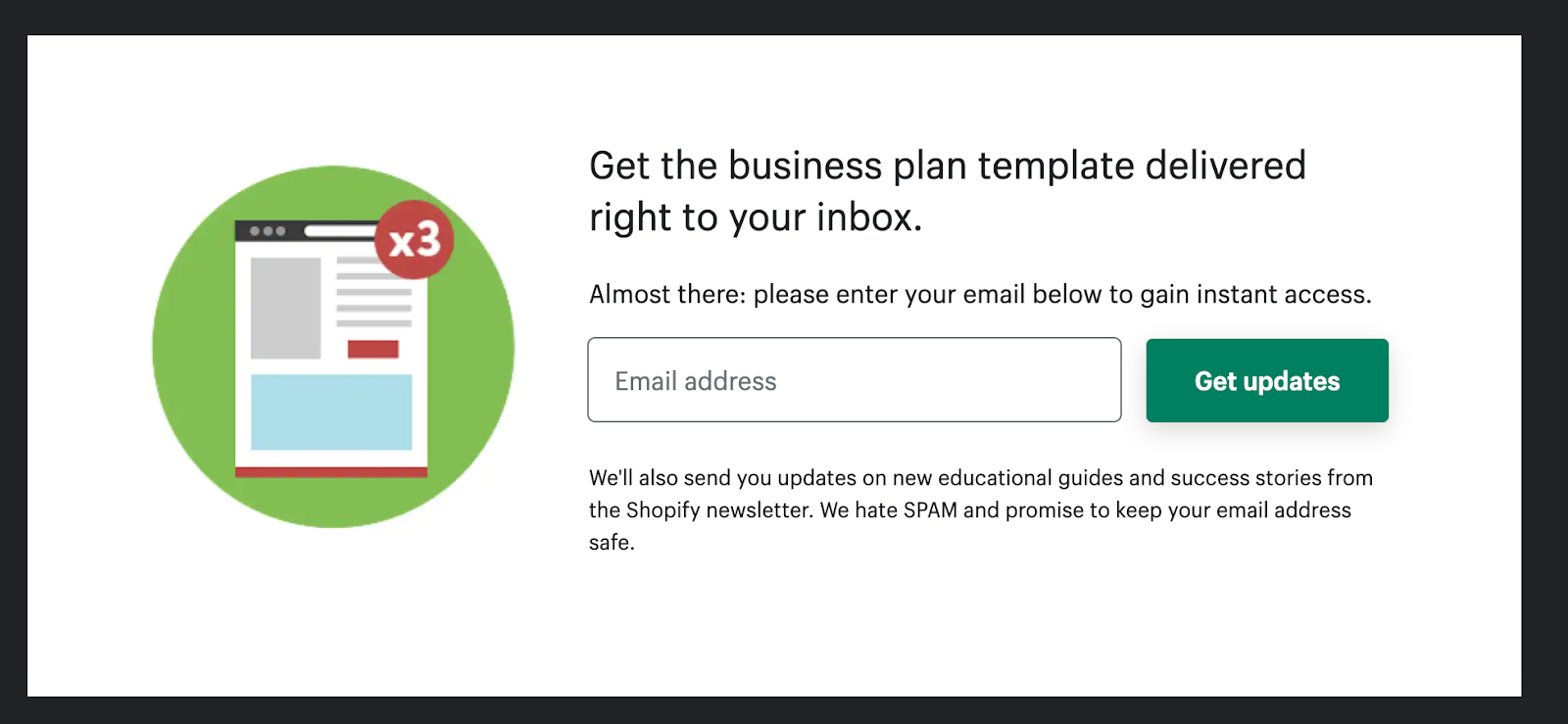 The user will then receive an email that allows them to download the template: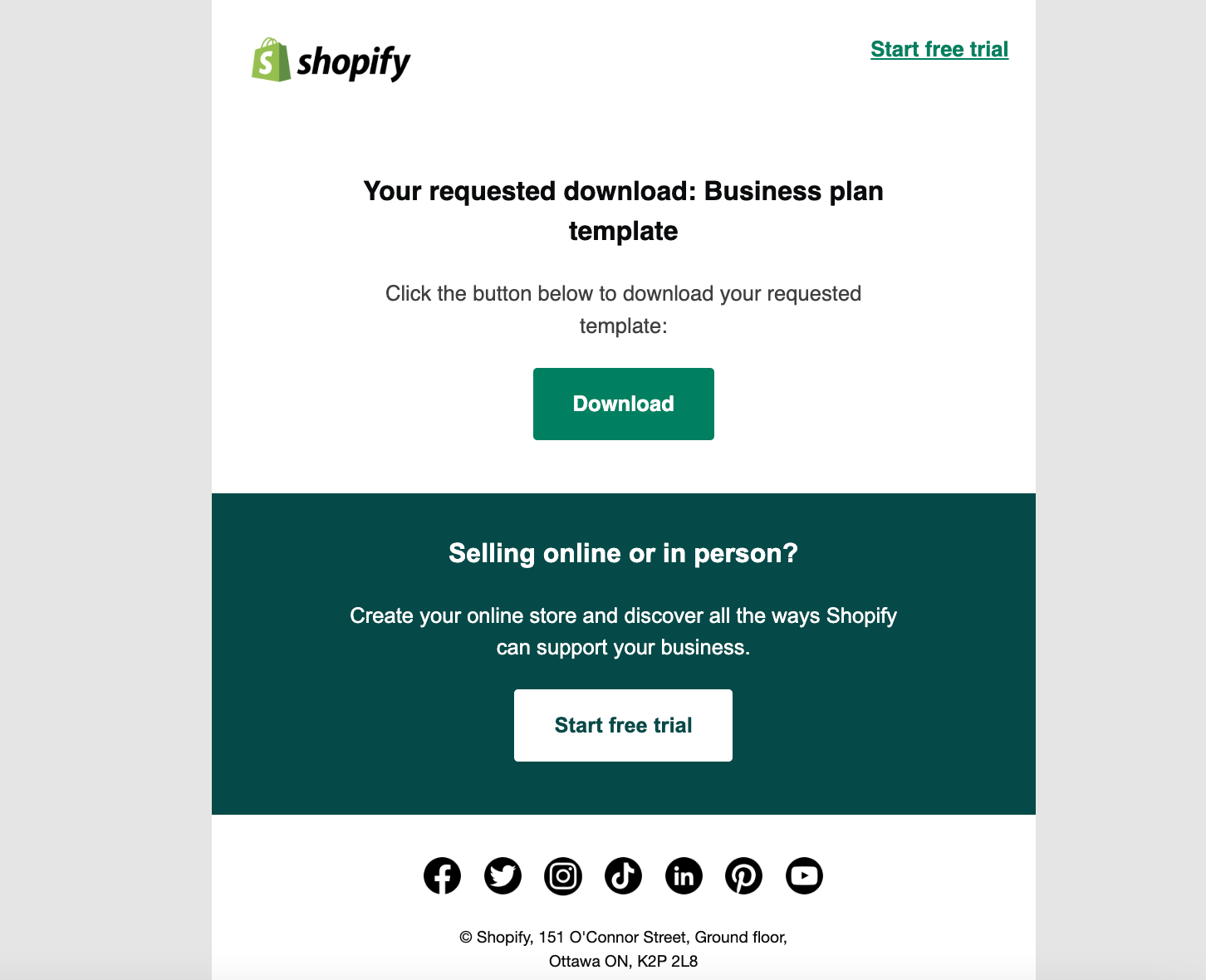 They're then able to make a copy of a Google Doc that they can customize.
This is very different from how you'd target a user in the middle of the funnel—when users are actively seeking solutions to their problems.
No-code website builder Webflow targets the middle of the funnel with an on-demand webinar that discusses how to choose the right content management system (CMS) for scaling enterprises.
Their gated content landing page asks for contact information and some additional details: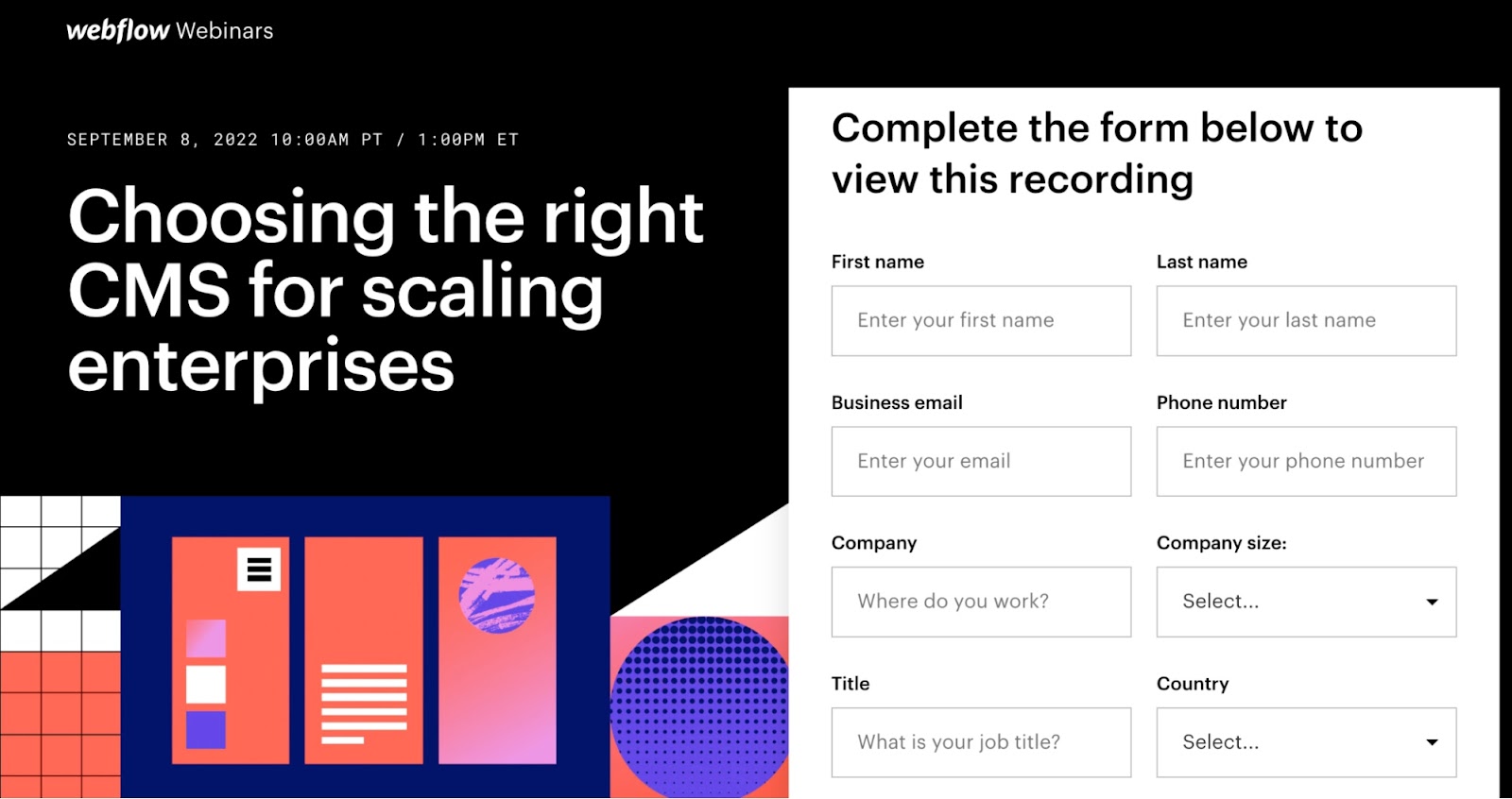 Then, users are taken to the replay page:
The webinar begins by outlining the challenges of requiring website developers to create a site. And communicates the benefits of a no-code CMS. 
They also bring in a customer to tell the audience why they chose Webflow, give a walk-through of how the software works, and then answer questions at the end. 
When a prospect reaches the bottom of the content marketing funnel, they're ready to decide on a solution. This is when gated content like demos can prove most powerful. 
Create and Optimize Your Landing Page
A good landing page compels users to take action. And minimizes distractions. 
It's a good idea to make sure your gated content landing page:
Has an attention-grabbing headline that explains exactly what the value proposition is
Includes a subheading that provides additional context
Uses succinct copy to explain the features and benefits
Uses engaging imagery to help catch prospects' eyes
Includes social proof to help persuade the user to convert
Explores possible objections lower down on the page
Includes a lead capture form above the fold (meaning users don't have to scroll to see it) that also asks the user to opt-in to future communications from you
Creating effective landing pages is simple with Landing Page Builder.
Open the tool and click "Create your first landing page."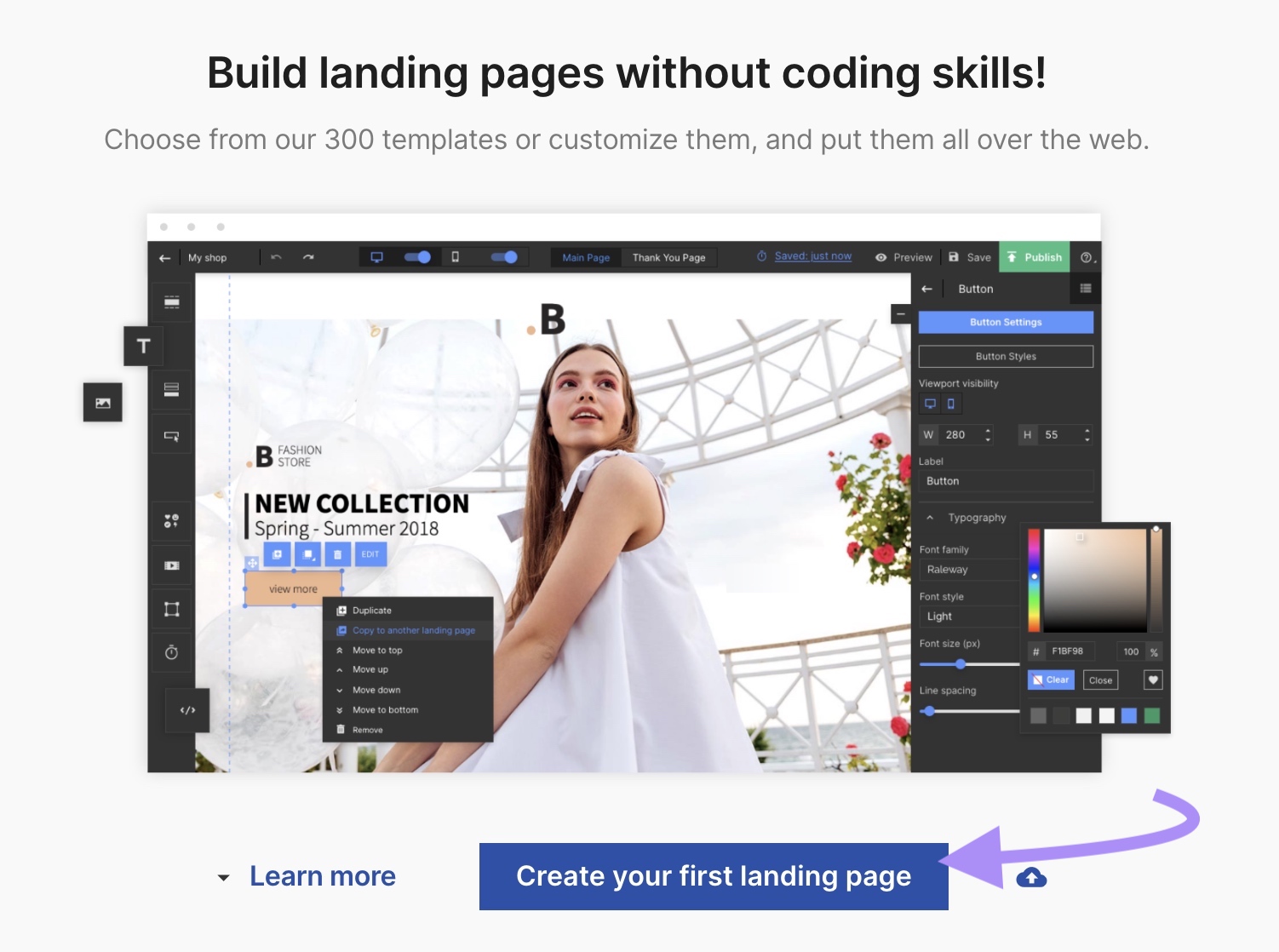 Next, choose your landing page goal in the column on the left. And select a template by clicking "Use template."

Enter a name for your landing page and click "Start editing."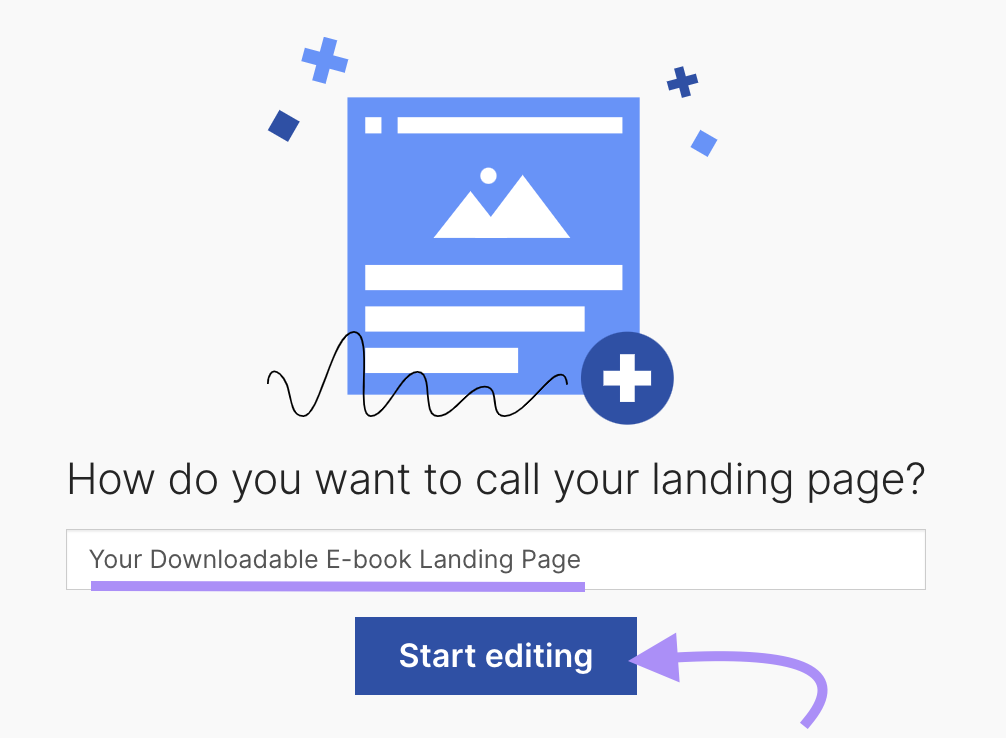 You can customize each element by clicking into it. And even add links to documents to enable users to download a piece of gated content.
You can easily publish the page when you're done. And then start monitoring performance.
And don't forget that landing pages can be indexed by search engines. If you'd like search traffic to reach your landing page, you'll want to follow on-page SEO best practices: 
Strategically incorporate your keywords in the title tag, meta description, and throughout the content 
Write click-worthy meta descriptions and titles
Structure your page with subheadings 
Optimize your images by including alt text
Build internal links pointing to the page 
Optimize Your Form
A well-optimized form will reduce friction for users. And help them convert
You have to balance your business requirements with how much information users want to give away. 
Quick, simple forms that ask for a name and email address to achieve higher conversion rates may not be appropriate if you're trying to qualify leads.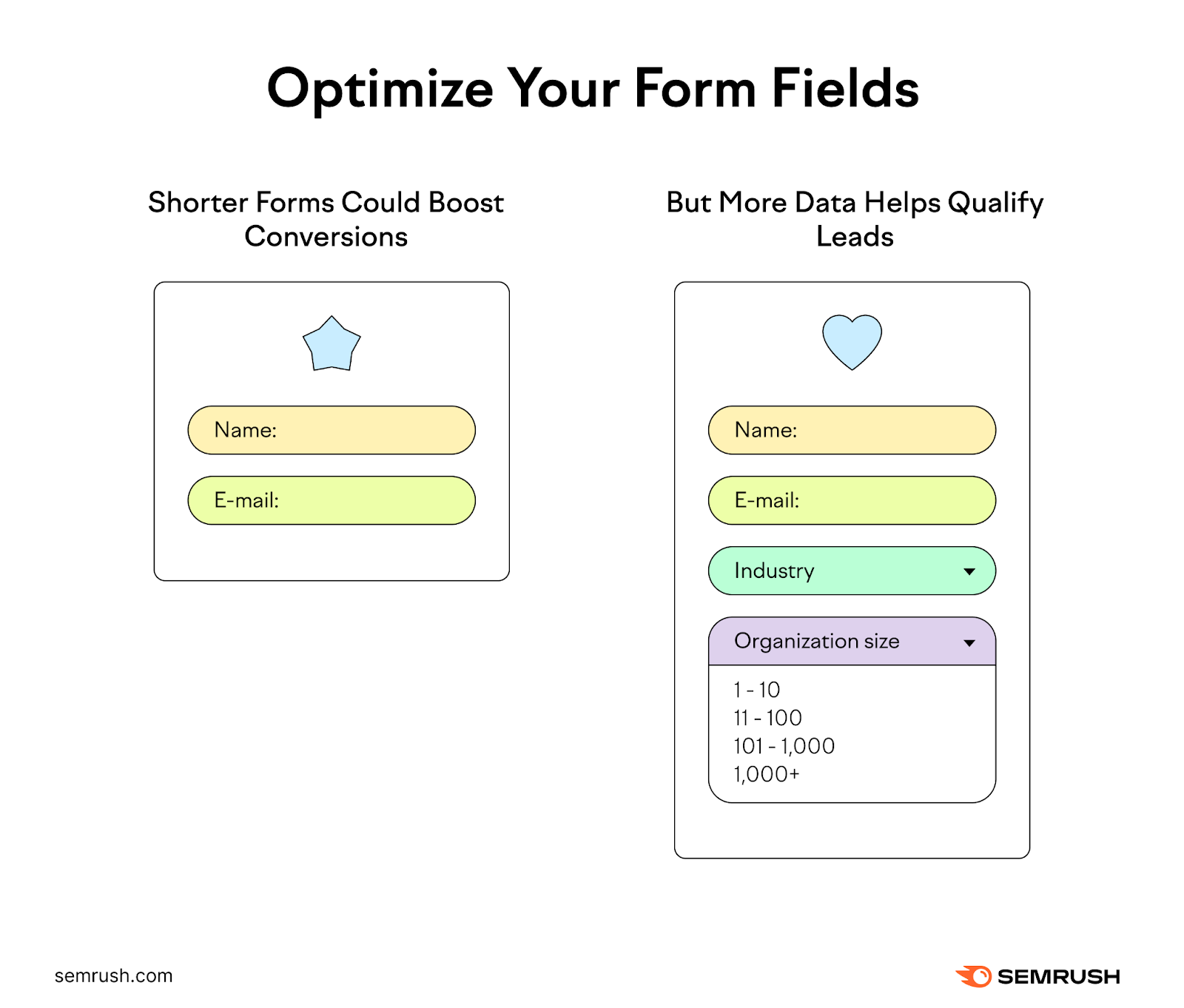 Knowing what part of the funnel you're targeting can help with this decision: top-of-funnel gated content tends to ask for fewer details. And bottom-of-funnel content can ask for more because the user is typically more invested. 
You can easily create your own on-page forms with the Lead Generation Forms app.
Open the app and click "Create New Form."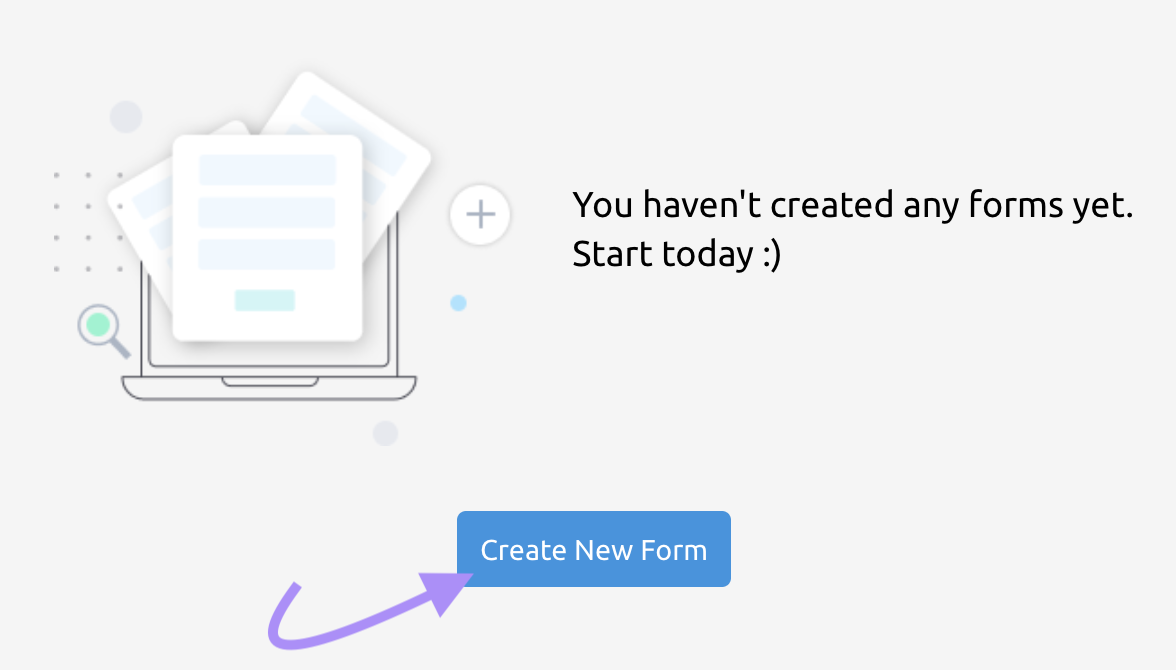 Give your form a name and click "Next."
Then, click "Create Blank Form."
You can then drag and drop elements from the left-hand menu into the form builder itself.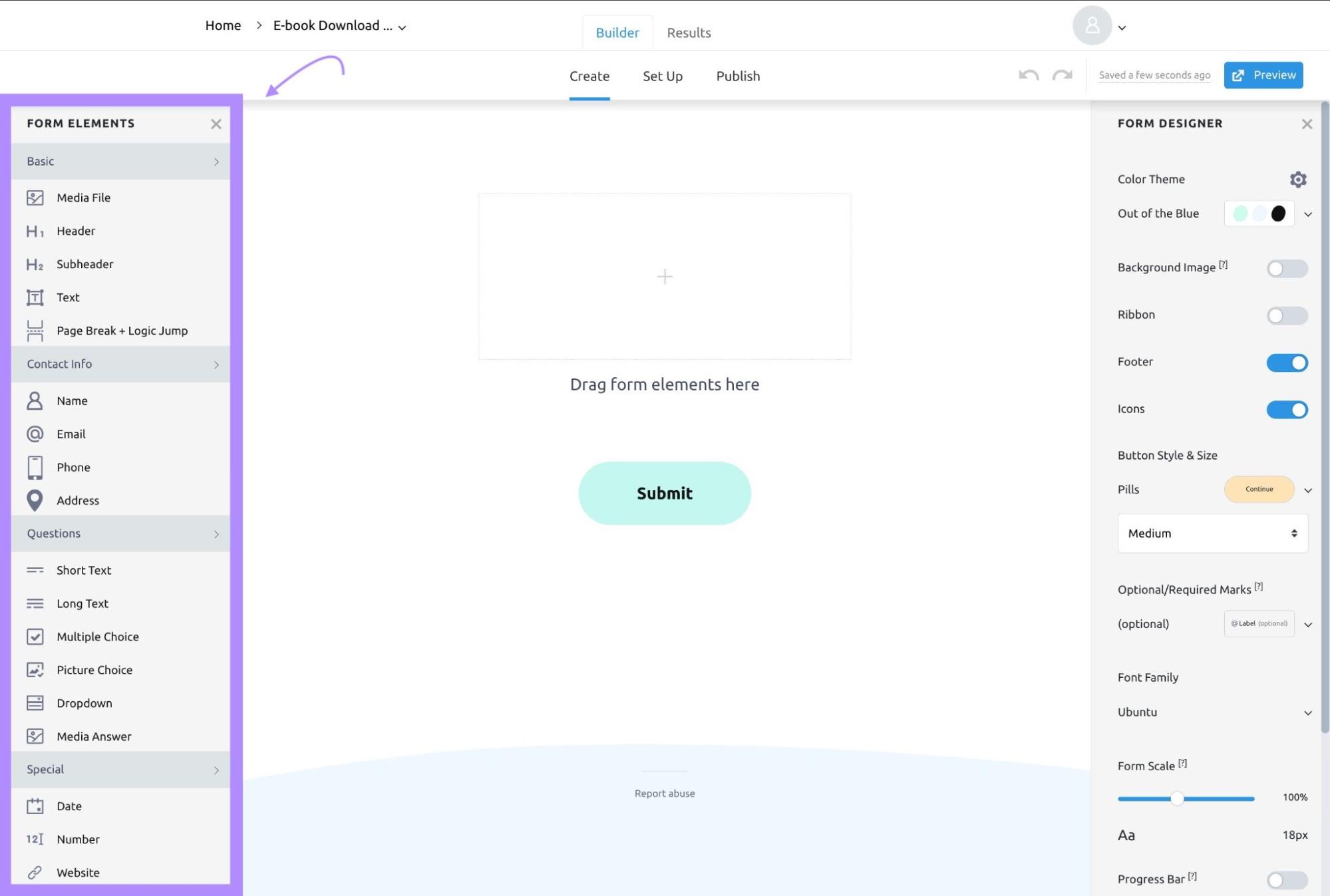 When you're ready to preview, just click the "Preview" button to view the form as it will appear.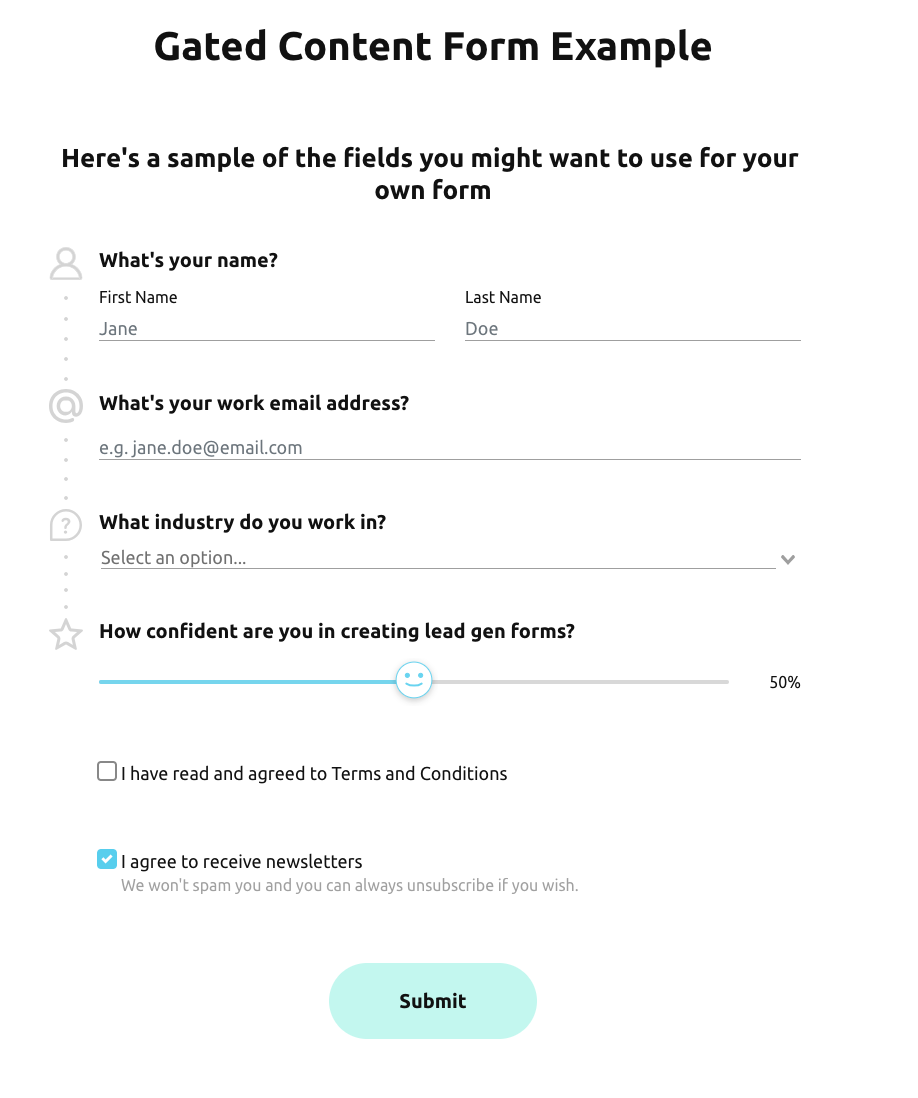 Once the form has been created, you need to switch to the "Set Up" tab to configure all of the settings.
And when you're happy, you can go to the "Publish" tab to get the form live.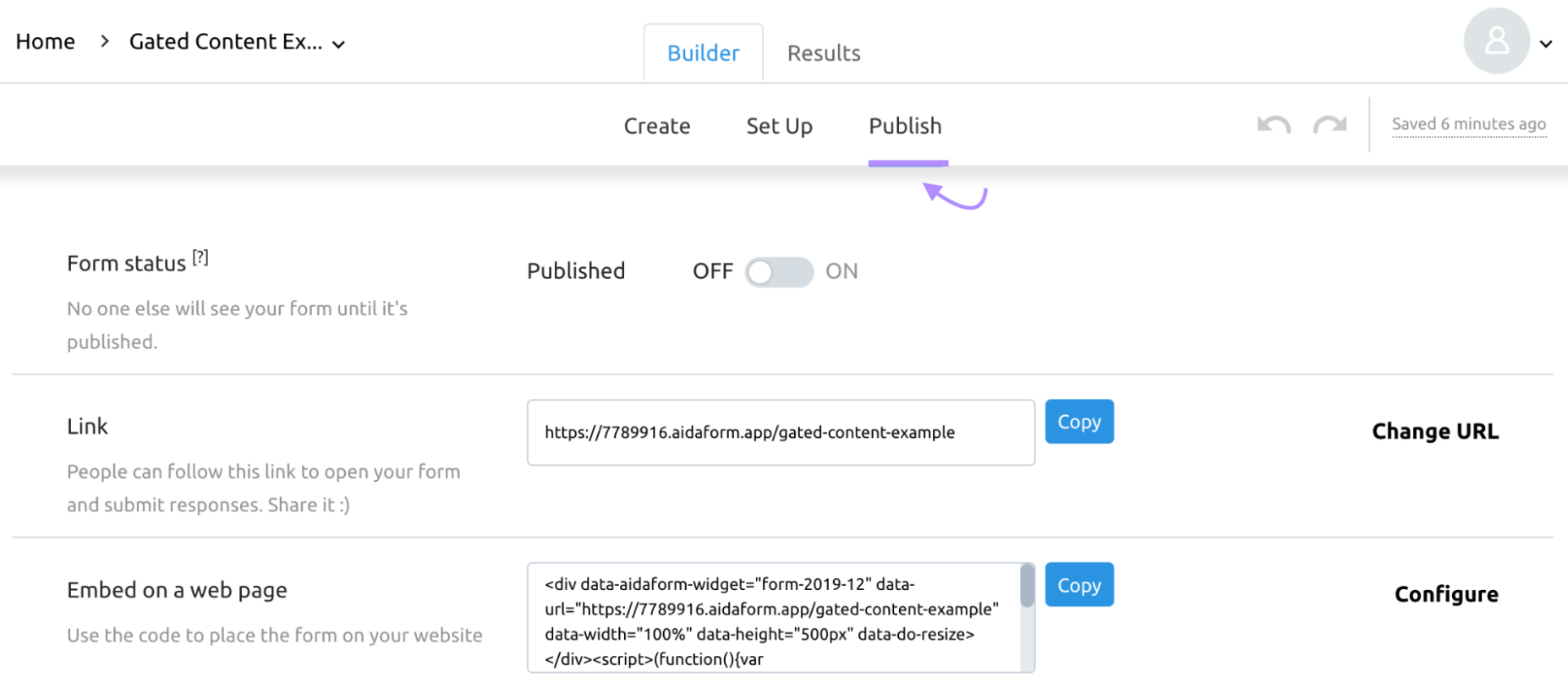 You can even copy the code to embed it on your landing page. 
Promote Your Gated Content
Promotion is a big part of how you'll drive prospects to your gated content. 
Depending on your budget, there are multiple ways to promote your gated content (outside of traditional SEO):
Online advertising will drive traffic quickly, but it can be costly. Ensure you target the right audience so you don't waste money advertising to the wrong people. Organic social posts can help you reach prospective customers without investing in paid efforts
Email marketing is an excellent way to make your current contacts aware of the new content asset
Here's an example of a social post we used to promote one of our own gated pieces: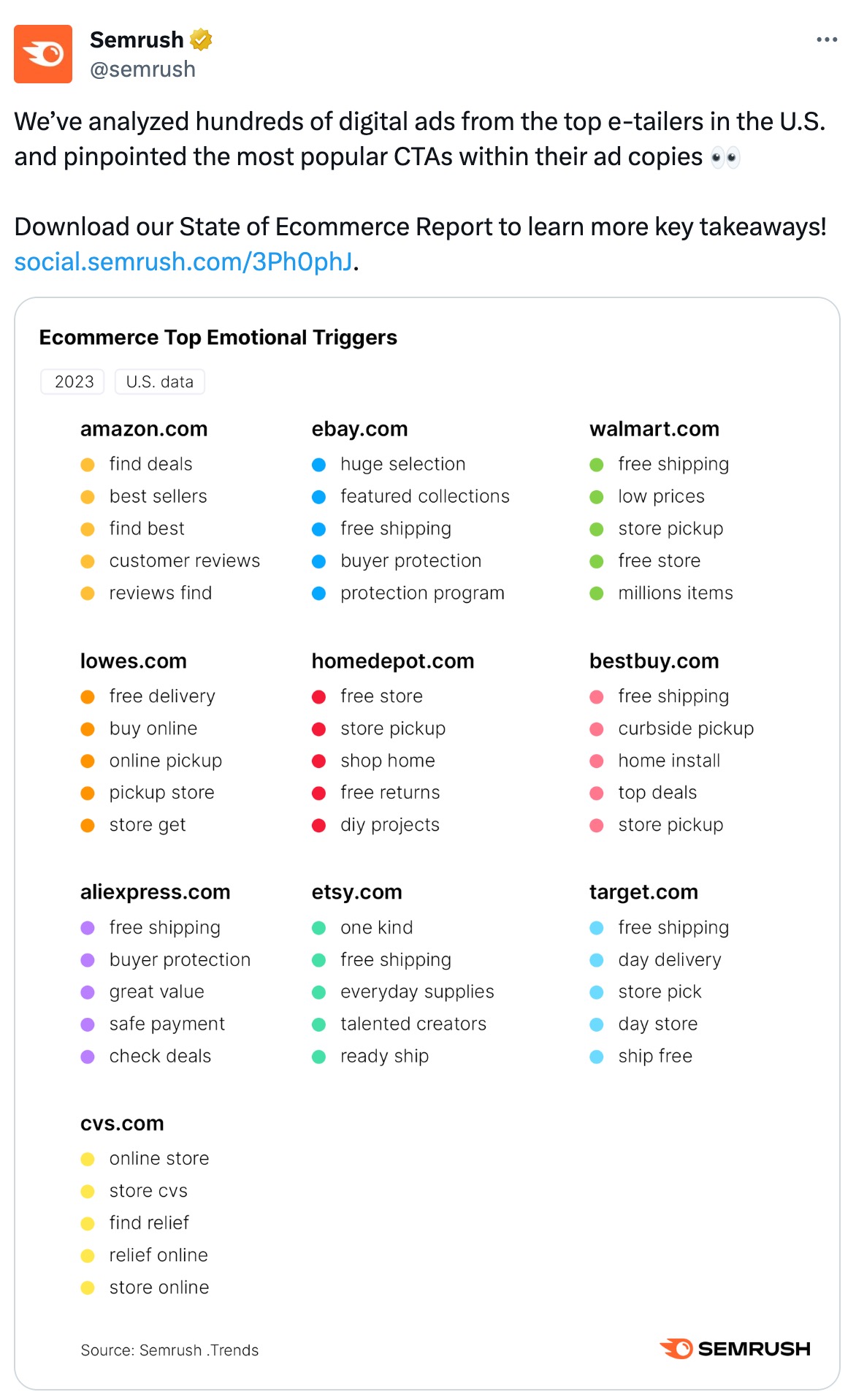 Plan How to Follow up with Leads
Because the primary goal of gated content is to generate leads, you need a plan for how to follow up with the leads you generate with your gated content. 
It's common to send an automated email. But don't stop there.
You need a proper plan for following up with leads. And it can vary depending on which stage of the marketing funnel you're focused on.
Top-of-funnel prospects need the most nurturing since they aren't likely to convert soon. So, consider adding them to your newsletter list (as long as they've opted in to receiving communications from you).
New leads in the middle of the funnel may be receptive to more targeted information. Like nurture emails designed to push them through the funnel. 
Bottom-of-funnel leads are those that are most likely to convert. So direct outreach via your sales team may be appropriate.
Measure Performance and Refine
After your gated content has been published and promoted, you need to keep an eye on how it performs. To identify what's working and what isn't.
Remember: 
The primary goal of gated content is to generate leads. So that's a good way to gauge performance.
And you can easily do this if you're using Lead Generation Forms.
Simply navigate to the "Results" section and select the "Completion Stats" tab. 

The "Summary" box at the top shows you how many people have completed the form. As well as how many people abandoned it. 

If you're noticing a high number of people abandoning the form before submitting it, that's a sign you may need to adjust your landing page. Or perhaps simplify your form. 
Start Generating Leads with Gated Content
Done right, gated content can consistently drive leads at every stage of your funnel. To help you meet your business goals.
If you're ready to try gated content, focus on creating the most effective lead forms you can. (On top of creating an amazing gated asset.)
Creating great forms is far simpler if you have a tool like Lead Generation Forms. Which allows you to quickly create forms and embed them on your landing pages.
Source link