Digital advertising has become an everyday reality for businesses of all sizes. If you want to expand your brand and sell your products or services beyond your local area, now is the time to embrace it. 
Unfortunately, many people trying online marketing for the first time feel a little overwhelmed. There are lots of approaches, channels, strategies, and tactics to learn about.
But all is not lost! In this guide, we'll cover everything you need to know to get started, clarify your concerns, and put you on the path to success in digital advertising.
What Is Digital Advertising?
First, "digital marketing" is the umbrella term that describes any online activity by a business that aims to gain followers, website visitors, emails, or other key information about the target market. 
Digital advertising is the "sharp end" of digital marketing. It's principally aimed at generating leads or sales. But just like other marketing efforts, it is a way of showcasing and promoting your company, brand, products, or services online.
You can see digital advertising in action on a huge range of channels. These include social media, search engines, and websites, as well as via email, apps, videos, podcasts, and more. 
As a marketer, your aim is to target your audience with relevant, timely messaging that encourages them to click through to your website or marketplace page to make a purchase. 
Why Is Digital Advertising Important for Small and Medium Businesses (SMBs)?
Digital advertising (and marketing) is hard to ignore for smaller businesses, especially during a possible economic downturn. But it's in times like these that it's most important to remain top of mind, build brand awareness, and reach new customers. 
Yet, regardless of the economic situation, online marketing and advertising have proven to be far more cost-effective than traditional advertising (think TV, radio, and print ads)—especially for SMBs. 
It's also much easier to target the right audience at the right time through digital advertising.
If you've ever tried running an ad online, you'll have seen that social media and search advertising platforms have incredibly detailed audience-building and targeting tools. These help you be sure you are reaching the right people with the right messages—and at the right time. 
On top of this, it allows you to reach far more people than you would through word of mouth or a half-page ad in your local newspaper. 
And, being digital, online marketing makes it far easier for you to track progress, measure and attribute results, and improve on your marketing campaigns as you go. 
Digital Advertising Channels for SMBs
Digital marketing channels are the online platforms, websites, and apps where you deploy your marketing campaigns. Below we've listed the channels you're most likely to use with your own digital marketing ads and content campaigns.
Company Website
When it comes to digital media advertising, beginning with your own online presence is essential. Think of your website as your office, shop, or digital premises. It's where your customers come to learn more about you, browse (and purchase) your products and services, and get more information. 
All your social media channels, content, and ads should funnel your audience toward your website (if that's where you sell your products and services). 
If you haven't already developed a website for your business, there are lots of content management systems (CMS) and platforms you can use to do so. These platforms mostly host content for websites and other online services.
Local Listings
Once you have a website, it's worth listing it on local directories. These not only help improve your SEO but also let people find you via the platforms themselves. 
Our own Listing Management tool helps you add your business name, address, and phone number to a huge variety of these types of directories (including Google, Yelp, Facebook, and Alexa) and keeps the information updated across all the directories at once. 
PPC (Pay-Per-Click) Advertising
If you engage in PPC advertising, you pay for ads on search engines, social media, or websites. In all cases, it can be a great way to get your ads in front of audiences who care about your product or service, but there are a few key points you should be aware of:
Digital marketing PPC ads: When you run search ads, you optimize them by keywords. This means that when someone searches for a term that relates to your ad, it may appear above the search results. 
Generally speaking, if a person is searching for a term that closely matches your product, they are interested in purchasing it—so it's a good idea to run ads (as long as they are cost-effective). 
However, it's important to be sure that your keywords are specific and that you avoid some of the pitfalls involved, like bidding on terms that are in some way irrelevant to your own offer. 
The Semrush PPC Advertising Toolkit can help you run these ads effectively.
Social media PPC ads: When you run social media ad campaigns, it's important to recognize that your audience is less likely to be in a "buying" frame of mind. 
When they are browsing through their friends' posts or exploring videos, viewers aren't necessarily thinking about purchasing your special widget. 
Nevertheless, you can use social media ads to target their interests very accurately. The trick is to catch their attention and get engagement. You can then potentially bring them to your website and show them what you have to offer. 
Alternatively, you can retarget people who have visited your website with ads. This audience is a little warmer as they are already aware of your product or service.
Apps like AdClarity can help you look under the hood of competitor advertising and see what's working and what's not. You can even see how much they spent and on what channels.
Google Display Network Advertising
Many marketers opt to run ads on the Google Display Network. This means that your ad will appear in context on a related website. Visitors are naturally attracted to ads that speak to their challenges, news, or goals, so this is also an effective way to find new customers. The 
Google Display Network ad formats include:
Responsive ads
Video ads
Website banner and video ads
YouTube ads
Mobile app ads
Video Advertising 
Whether placed on social media or via the Google Display Network, video ads can be an effective way to showcase your products and services. Done well, these ads can capture attention more than simple text or image ads. 
Video ads on social media can be targeted to audiences by location, demographics, job position, or interests. They can also be retargeted at users who have previously visited your website. 
Sponsorship is another viable option for small businesses looking to tap into the audiences of non-competing brands. Brands often sponsor relevant podcasts, influencers, newsletters, or even blogs.
It's possible to write and share sponsored guest posts, which share valuable information for your target audience but also promote your product in a more organic way. Many publications and blogs derive a significant part of their income from these types of sponsored guest posts. 
Email Marketing
Email marketing is quite a personal type of advertising, because you are stepping into a person's private space. 
If you have permission to send a person marketing emails (you'll have to follow local and international data protection regulations), they can be very effective. 
Bear in mind that compelling subject lines, engaging content, and personalized offers are essential. Conversely, irrelevant offers and spammy mail-outs are likely to get you sent to the junk folder.
Consider sharing:
Loyalty deals
Product update information 
Seasonal deals and discounts
Personalized messages
Influencer Marketing
Although it might seem like working with influencers is only for big brand marketers, small and medium businesses can certainly benefit from partnering with people who have relevant followings. 
An endorsement from the right person can improve your reach and brand awareness, and it could even increase sales if you are promoting an offer or new product.
Affiliate Marketing: Closely Related to Influencer Marketing
Affiliate marketing means joining forces with other businesses or people to share and promote your products. The affiliates then earn a commission on each sale or lead (depending on your agreement).
4 Steps to Designing a Digital Advertising Plan for Your Business
Here are the steps you need to follow to establish a solid digital marketing or advertising plan. 
1. Understanding your audience
When setting out in digital marketing, you have to know your audience inside and out. It's really the only way to build a targeted and effective strategy. 
With the right approach, you'll ensure you are reaching the right people and sharing relevant information with them. 
You'll also get to know which audience segments are the most profitable—helping you improve your marketing return on investment (ROI).
Start by looking at your current customers to understand who is likely to be interested in buying from you online. Build a picture of their:
Demographics (age, gender, location, etc.)
Interests (and how this intersects with your brand)
Behaviors (how often do they buy, how much do they spend, how do they interact with you, etc.)
Then start researching the market. Tools like Semrush Audience Insights can help you understand your future customers. Our Market Explorer tool can also show you what other brands in your niche are doing and who they are targeting. 
Next, create realistic and data-driven profiles of your audience segments to help you direct your marketing efforts. Known as buyer personas, customer avatars, or marketing profiles, they cover all of the above information and include:
Goals
Challenges
Reasons to buy your product (or service)
Possible objections
And more
Once you've done your research, you can use our Free Buyer Persona Template Builder to make your own.
2. Setting goals
You've now got a good idea of the different channels available to you and a firm understanding of your audience. But there's no strategy or direction without a set of business goals. 
You'll need to consider exactly what you want to achieve and by when. This will give all your digital marketing and advertising plans a measurable direction.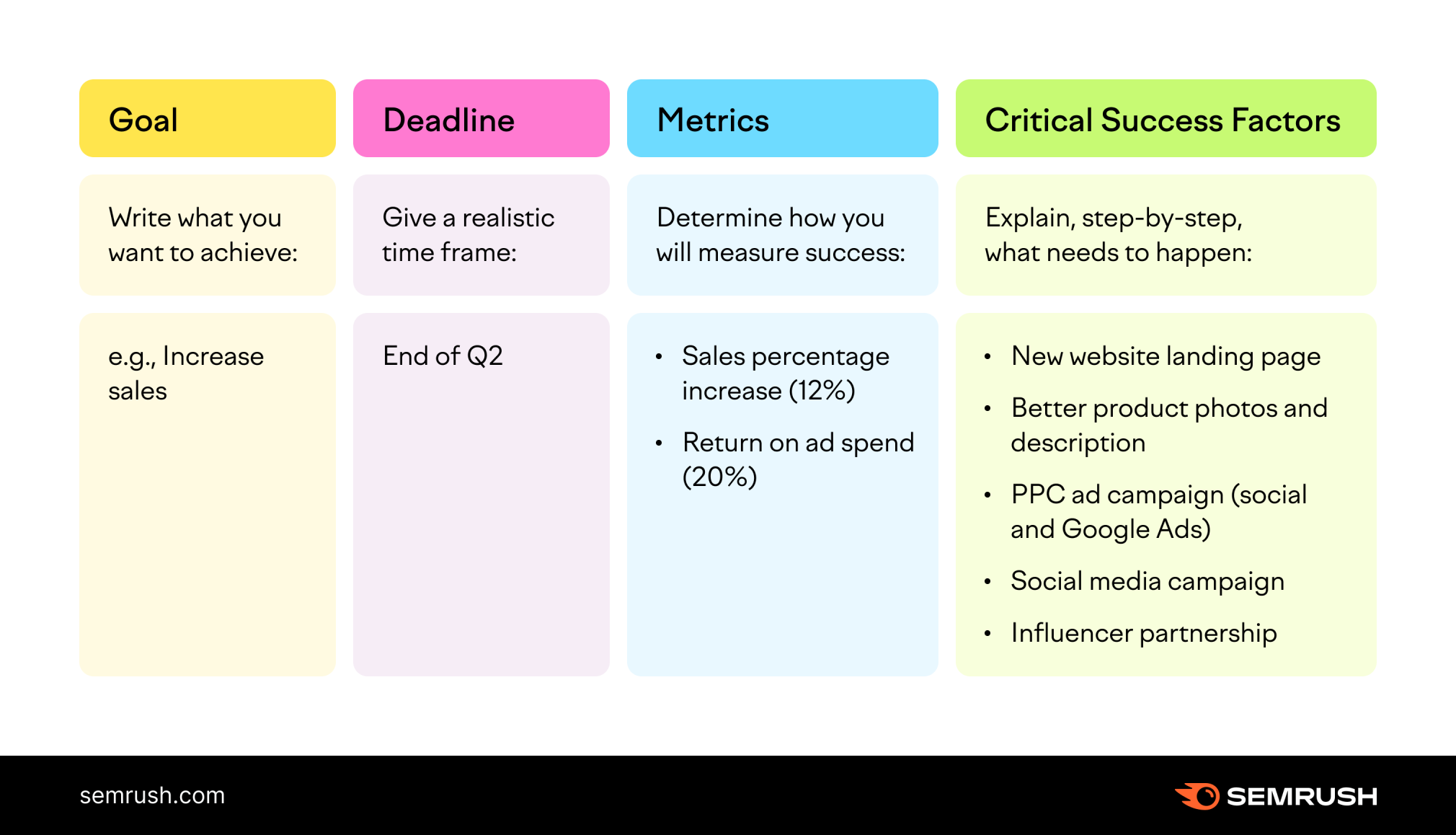 3. Deciding on your channel mix
There's an old expression in business, "Don't boil the ocean." In other words, it's important to focus on one thing at a time and avoid taking on too much, because it won't work. 
Instead, you need to carefully consider how you're going to achieve your goals, reach your audience, and roll out your marketing campaigns. 
This is where your channel mix comes in. 
Based on your goals, budget, and people, determine which of the channels will be the most effective. By all means, run experiments to see what works best rather than putting all your eggs in one basket. 
Your budget and human resources will be determining factors. How much can you spend, and who will help you run your ads and marketing? 
A few well-run campaigns on the right channels are much more effective than a disjointed effort that doesn't speak to anyone. 
4. Measuring campaign results
As the famous consultant Peter Drucker once said, "You can't manage what you can't measure." Equally, you can't run any sort of digital marketing campaign without thinking about what you need to track to stay on target. 
Here are the most common metrics digital marketers optimize for: 
Return on ad spend (ROAS) 
Usually easier to calculate than return on investment (ROI), ROAS refers to the revenue generated from all your advertising spend. 
Cost per impression (CPM) 
CPM is simply the cost per thousand impressions. 
Click-through rate (CTR) 
This measures the percentage of times a person has clicked on an ad or link and gone to the desired website or landing page.
Cost per click (CPC) 
This is the average cost of each click your ads receive. You have to balance your CPC very carefully to ensure you're not paying too much for each lead. 
Conversion rate 
This refers to the percentage of people who make a purchase after clicking on an ad. Or, alternatively, a conversion can refer to a desired action taken by a user (i.e., download a brochure or sign up to a mailing list). Understanding how many people convert and become paying customers helps you know how much you can spend on customer acquisition. 
Engagement rate 
This is the percentage of people who engage in some way with your ad, relative to the number of impressions you've had. Generally, the higher the engagement rate, the more impressions you receive and the lower your CPC—so it's worth looking at!
Throughout the guide, we've mentioned a number of Semrush tools that can help get your digital advertising efforts off the ground and running successfully. Here's a roundup of the best:
AdClarity: This tool allows you to see what your competitors are doing. Track their campaigns, learn from their successes and failures, see how much $$$ they spent, understand their channel mix…and more. 
Audience Intelligence: Understand your audience's online behavior using traditional analytics, market and consumer research, and social media data.
Listing Management: Add your business name, address, and phone number to a huge variety of types of directories all at once—and keep them updated if your details change.
Instant Banner Generator: Whether you need social media banners or display ad banners, this tool makes creativity simple and fast. 
Headline Optimizer: Your headlines have to be catchy and effective. This tool gives you Google Ads headline suggestions and helps you test them on an audience of over half a million real, U.S.-based testers! These testers are paid for their work and share honest, unbiased opinions. 
Google Analytics AdCost Import: Google Analytics AdCost Import helps you analyze your campaign performance and understand the all-important ROAS.
PPC Optimizer for Amazon: Amazon sellers can use our PPC Optimizer to automate Amazon ad campaigns. It brings together insights and helps you make the right bidding decisions.
Running Your First Digital Advertising Campaign
We hope this guide has given you some food for thought and shown you that you don't have to do everything at once. Using our tools (start with the free trials!) and suggestions will help you start small, with a manageable budget. 
If it's time to run your first campaign, there's nothing like doing something to crystalize your ideas and set a benchmark for future success.
Good luck—here's to a mighty ROAS!
Source link