What Is Content Intelligence?
Content intelligence refers to the use of software powered by artificial intelligence (AI) and machine learning to learn more about how your content is performing. And how you can further optimize your content to make it resonate better with your target audience.
Content intelligence tells you about:
Content trends
The efficacy of your current content
How your target audience interacts to your content
The best voice and style for your content
You can use content intelligence data to guide your content marketing strategy. And get an idea of how to produce high-quality, optimized articles, landing pages, and other content assets, specifically for your target market.
Why You Need Content Intelligence
Most marketers use content marketing in their campaigns. But they often forget to set objectives, consider opportunity cost, and predict potential impact.
Content intelligence uses data-driven market and competitor analysis to propel an effective content strategy.
Some benefits of using content intelligence include: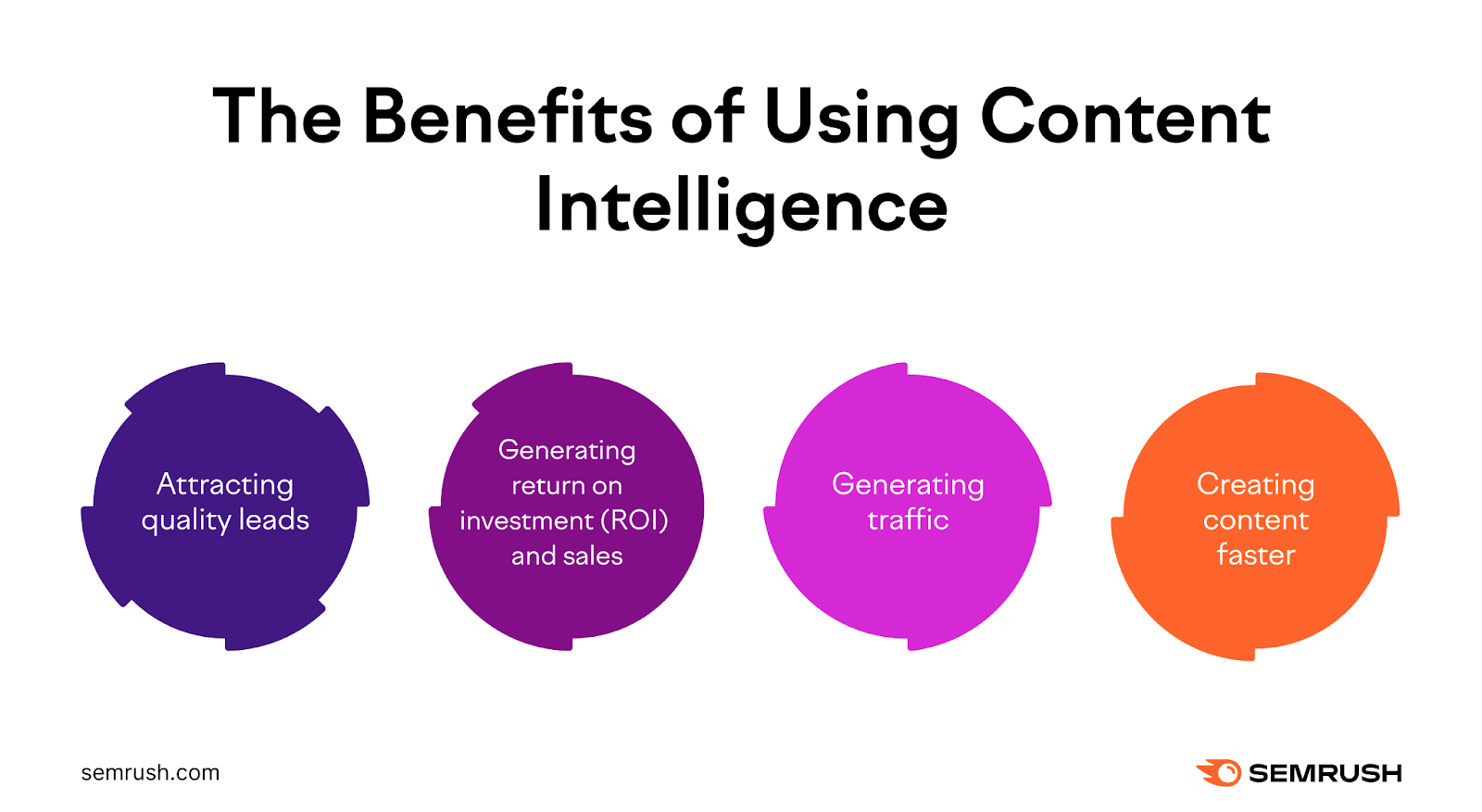 Attracting quality leads 
Generating return on investment (ROI) and sales
Generating traffic
Creating content faster
Which are also the most common content marketing challenges.
In addition to those benefits, content intelligence also helps you:
Find out what types of content your audience enjoys based on previous data and competitor analysis
Predict your content's performance based on audience and competitor data
Measure the impact of your content with real-time data
Create higher-quality content that addresses your audience's search intent
Automate the content creation process with AI insights
In short, content intelligence can help you get more from the time and effort you spend on content marketing.
You can use it to gain a comprehensive understanding of your audience's needs. Which means making better strategic decisions and creating high-quality content that reaches the right people.
Features to Look for in a Content Intelligence Platform
Ready to choose a content intelligence platform? Here are some features to look out for: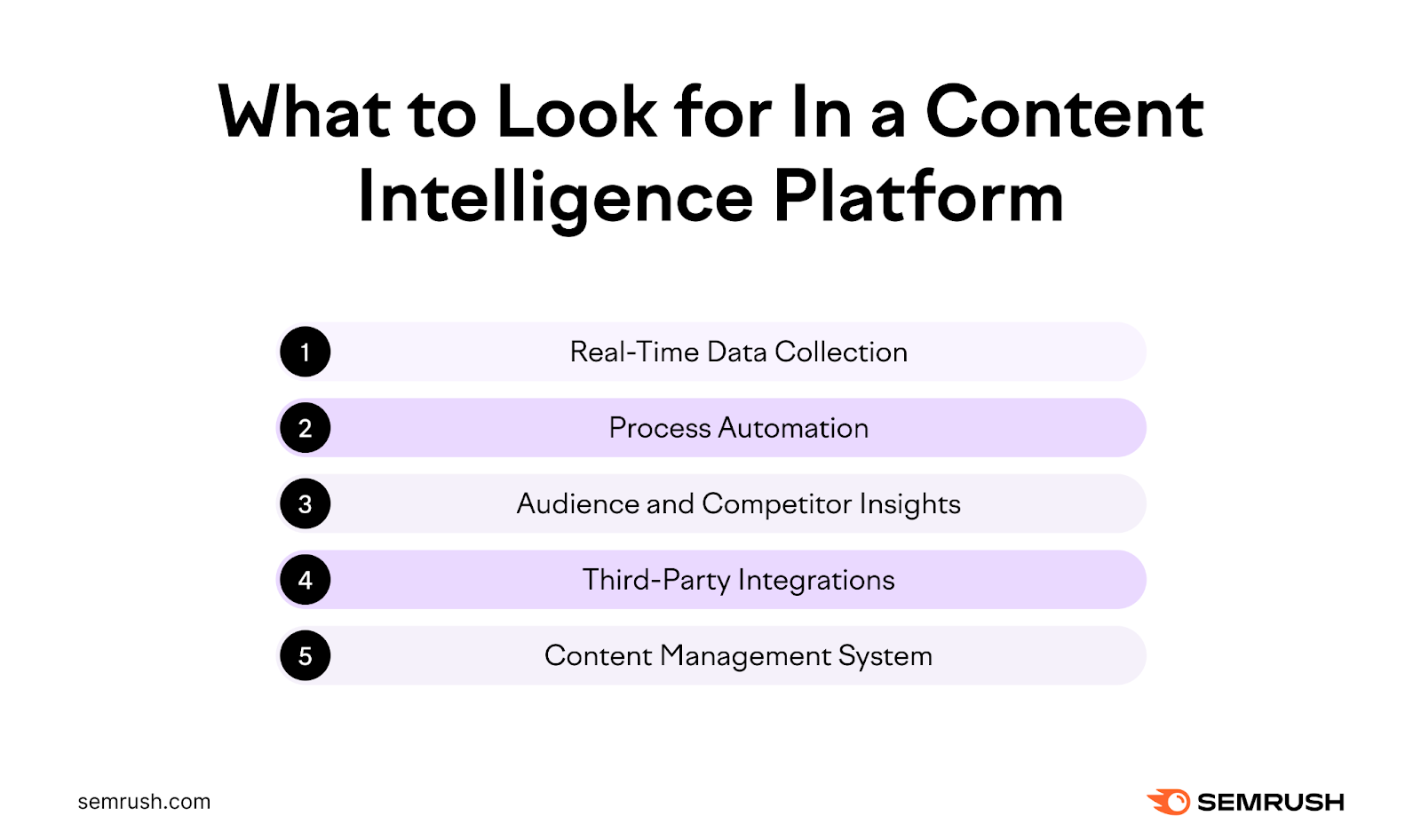 Real-Time Data Collection
Content intelligence platforms need to collect and analyze data in real time. That ensures you're up to date with the latest market trends and audience preferences.
Why is this important?
The content marketing landscape is changing constantly. If your content intelligence platform feeds you data on a delay, you can lose your competitive edge. 
Real-time data tracking allows you to learn from insights as they occur. As a result, you can apply your learnings to new content faster. 
That helps you stay one step ahead of competitors by delivering the type of content your audience wants when they want it.
Process Automation
A content intelligence platform should help you roll out effective content strategies at scale. That makes choosing one with sophisticated automation features important.
Look for content intelligence tools that can automate processes like:
Market and competitor research
Audience segmentation
Keyword research and clustering
Traffic and ranking analysis
Content performance reporting
By automating some of these processes, you can reduce the amount of time and effort it takes to create a piece of content. This way, you can increase your output and focus on quality control or more complex tasks. 
Audience and Competitor Insights
It's not enough to analyze how well your content performs. You also need to learn from your audience and competitors to improve your content marketing results. 
The best content intelligence tools make this process easier. So look for a platform that makes collecting and analyzing external data more accessible. 
You want insights into the performance of existing competitor content and how your audience engages with it. This is far more useful than relying on your own historical data.
Third-Party Integrations
It's rare for content marketers to only use one tool in their production process. A good content intelligence platform should integrate with your existing marketing technology stack.
Most content intelligence systems are compatible with Google Analytics and Google Search Console. But the best ones will also be able to integrate with your keyword research tool, CMS, and more.
Pay attention to what integrations the content intelligence platforms you're considering offer. Look out for compatibility with the software you use most.
Content Management System
Content intelligence software offers a range of features, but you won't need them all. 
Don't get distracted by novelties. Focus on the platforms that will streamline your content creation process.
In practice, this means looking for a tool that will help you carry out your existing processes more efficiently. Avoid options that will distract you from creating powerful content to meet your audience's needs.
6 Best Content Intelligence Tools to Use in 2023
Ready to embrace AI, and machine learning as part of your content marketing process? A content intelligence platform is the best way to do it.
Here are some of the best options on the market in 2023:
1. ImpactHero
ImpactHero is an AI-powered content marketing tool. It highlights impactful content at each stage in the customer journey. It's designed to give you "big picture" insights into the performance of your existing content.
ImpactHero first provides a top-level data analysis. Interactive graphics then break down channel performance.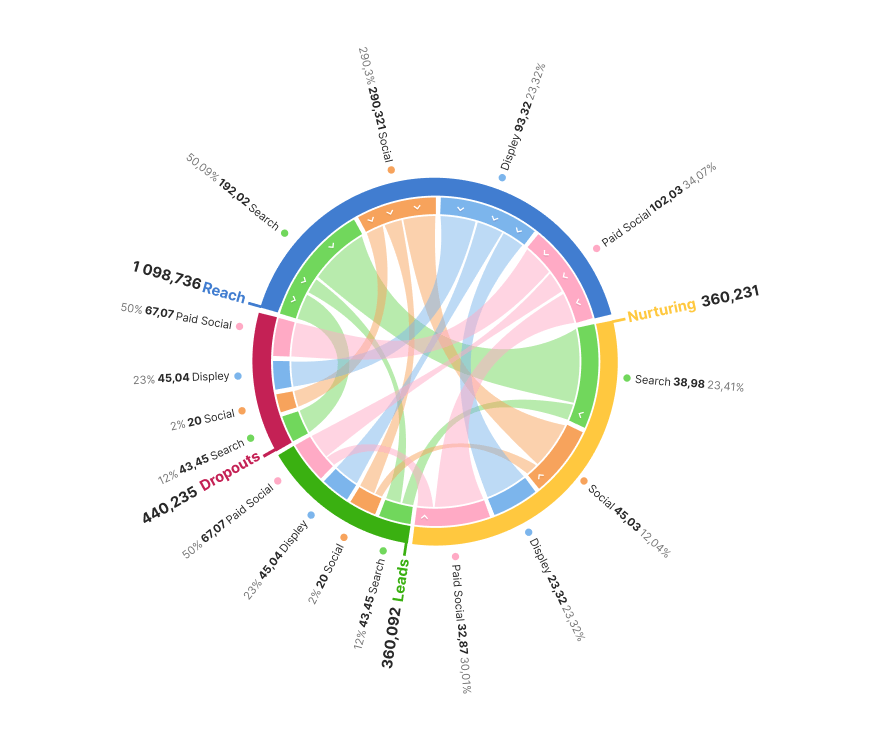 You can dive deeper into each segment and learn what content works best. Custom reports highlight the best-performing content lengths and types.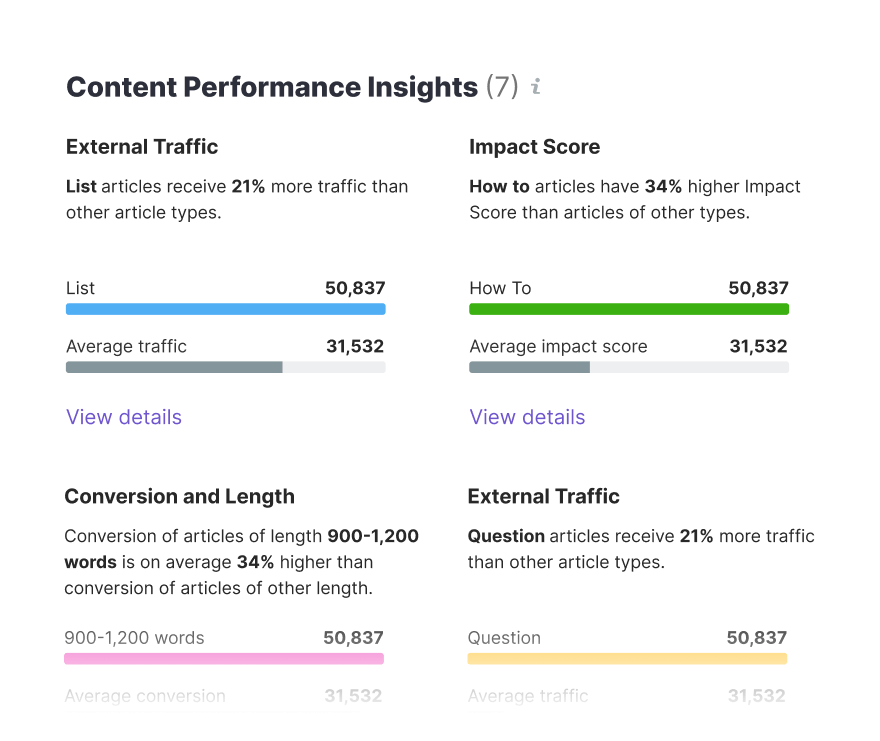 It's perfect for improving the content you already have on your website, providing an "Impact Score" for each page. This feature can highlight both the top and worst-performing content.
The former can help inspire new ideas. Knowing what approaches have worked in the past makes it easier to replicate their success
In the latter case, you can analyze low-performing pages and generate improvement suggestions automatically. These tailored tips will give your content a better shot at success. 
ImpactHero's other helpful features include a report that shows where in the buying journey your audience drops off. That makes it easier to identify and improve weak links in your content funnels.
2. Semrush Toolkit
Semrush is an all-in-one SEO and content marketing platform. It contains plenty of content intelligence tools that can elevate your campaigns. 
For example, check out who you're up against with Market Explorer. Get specific data on your industry and target audience by entering your competitors' domains, your domain, or your niche.
Explore your dashboard to see your market size and share among your competitors.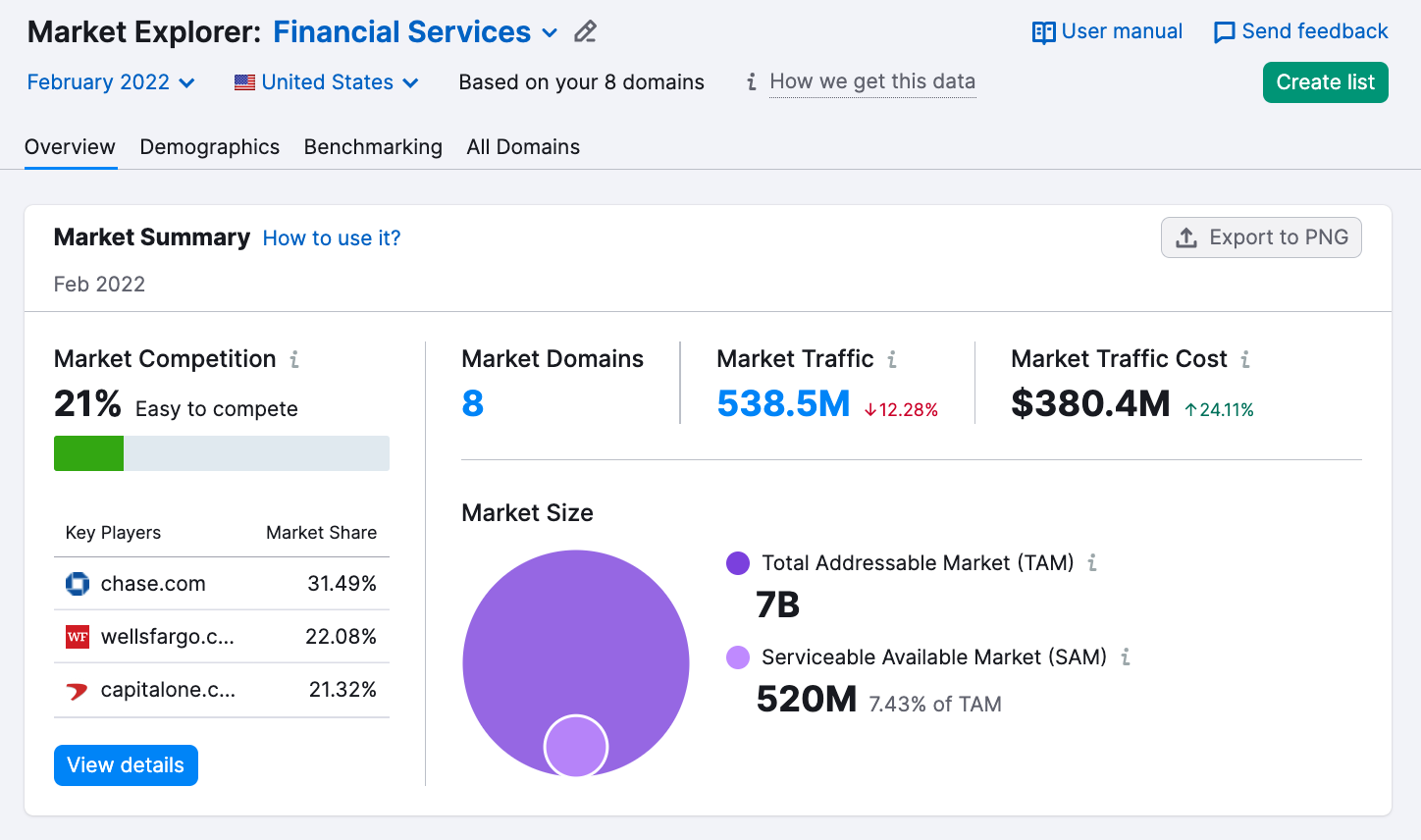 In addition to market research, Semrush also offers a content marketing toolkit that can assist you at every stage of the process.
Here's how.
You can use Topic Research to generate new ideas based on top-performing content. Look up a topic and you'll get a list of relevant, related ideas, including ideas that are currently trending.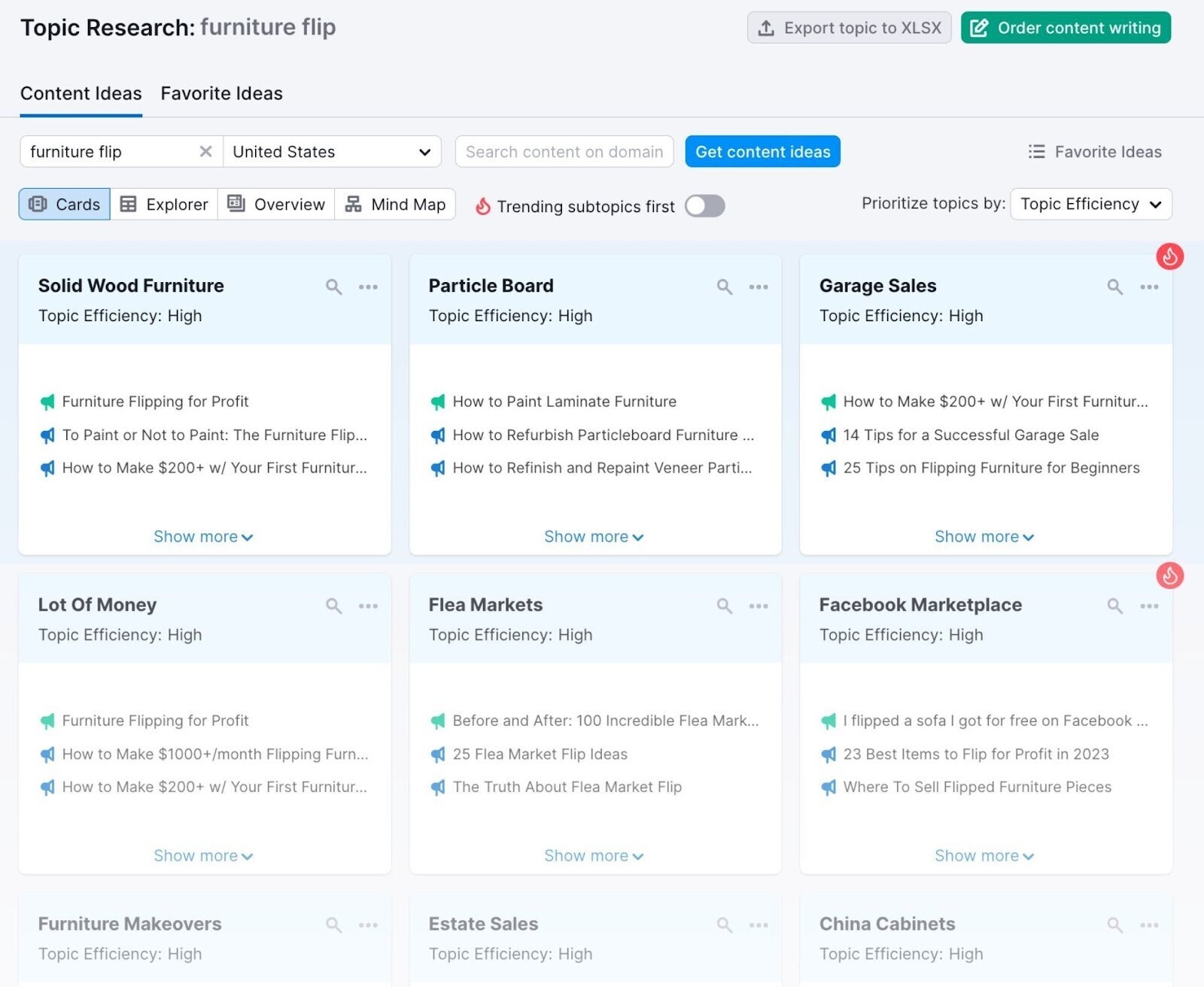 Clicking on an idea will show you more specific details: related trending headlines, questions, and searches.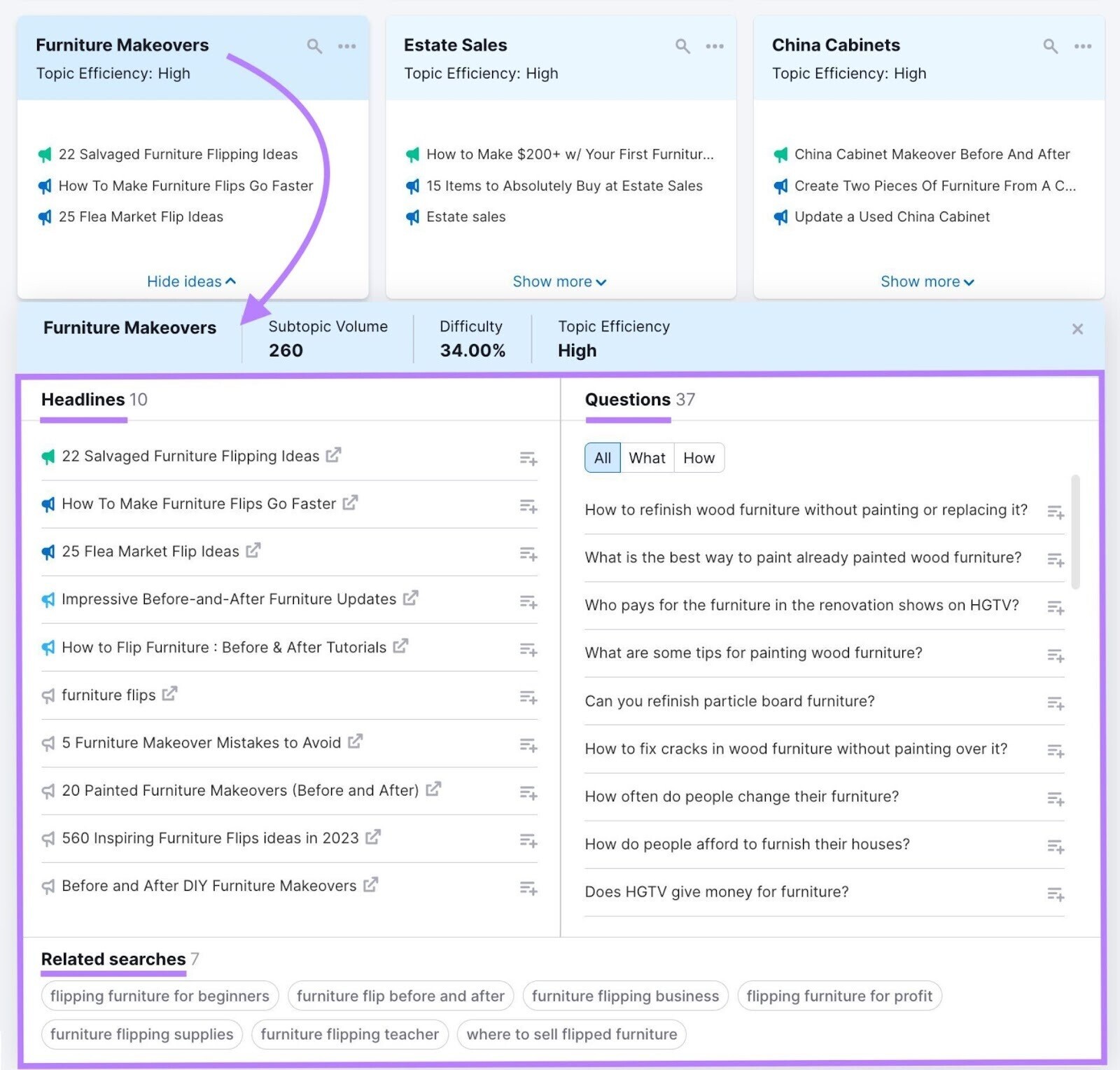 After you've chosen a topic, use the SEO Content Template to get a full content brief.
Simply plug the topic you want to create content for into the tool. In this case, we want to create content for "Furniture Makeovers."

The tool will do the following for you:
1. Analyze the top 10 search results per keyword to give you key SEO recommendations (e.g., article length, semantic keywords to include, etc.).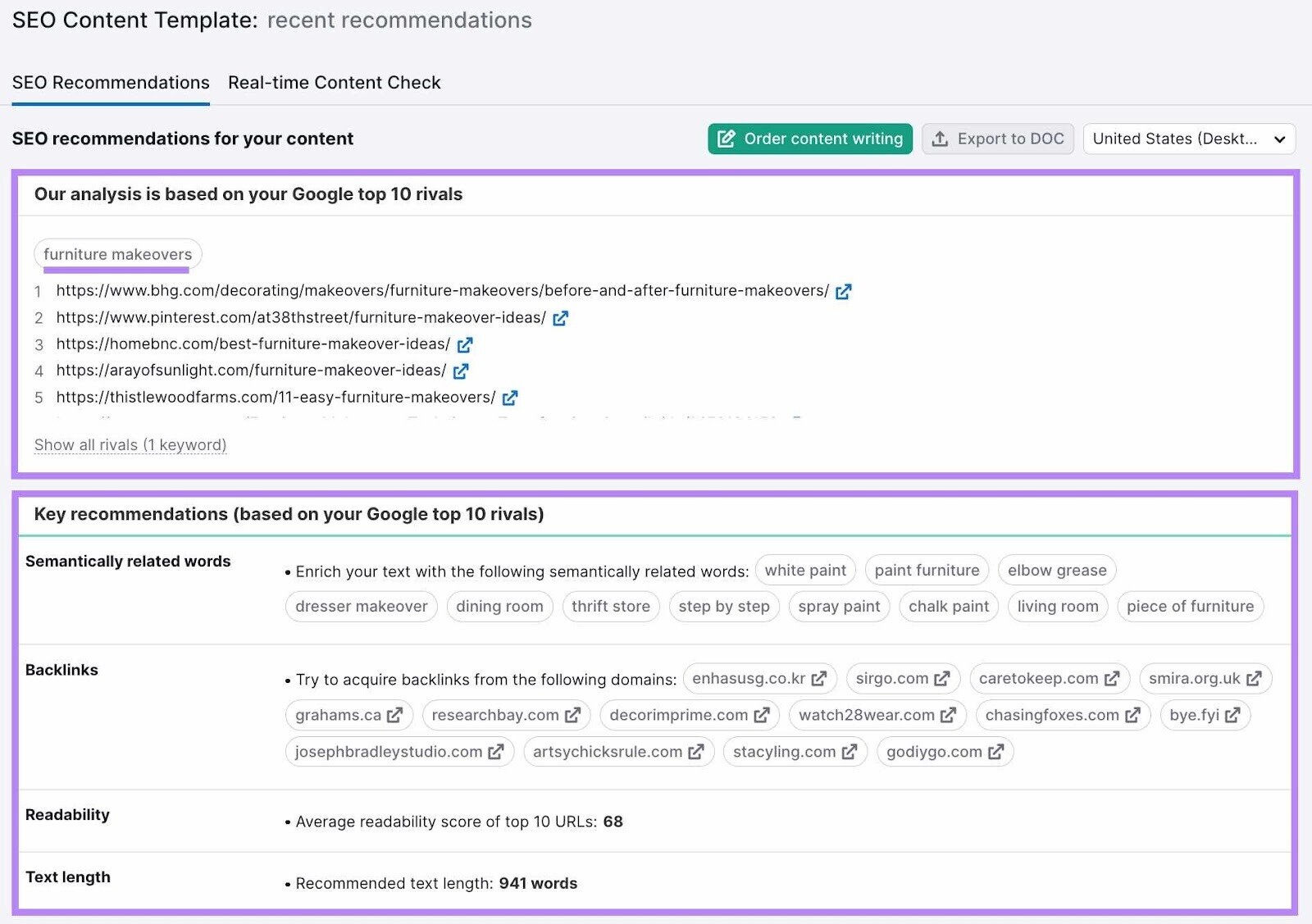 2. Analyze your competitors' ranking content and give you more recommendations.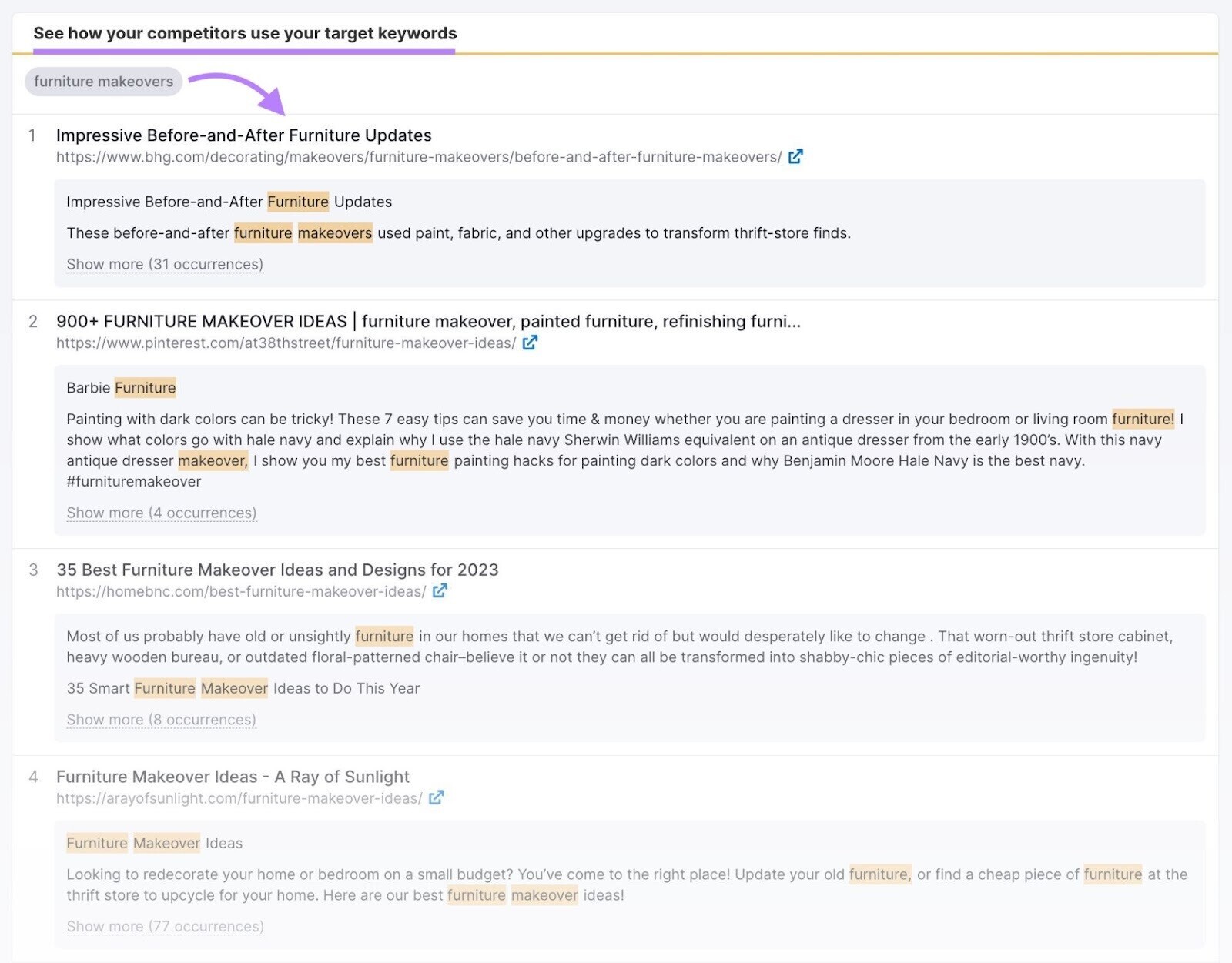 3. Give you more basic recommendations.
But we're not done yet! The last thing you need to do is create your content.
And we can help!
Scroll back up and click on the "Real-time Content Check" tab. And click on the "Open in SEO Writing Assistant" button.

The tool will have generated tips like which keywords to include in your writing. And how long your article should be.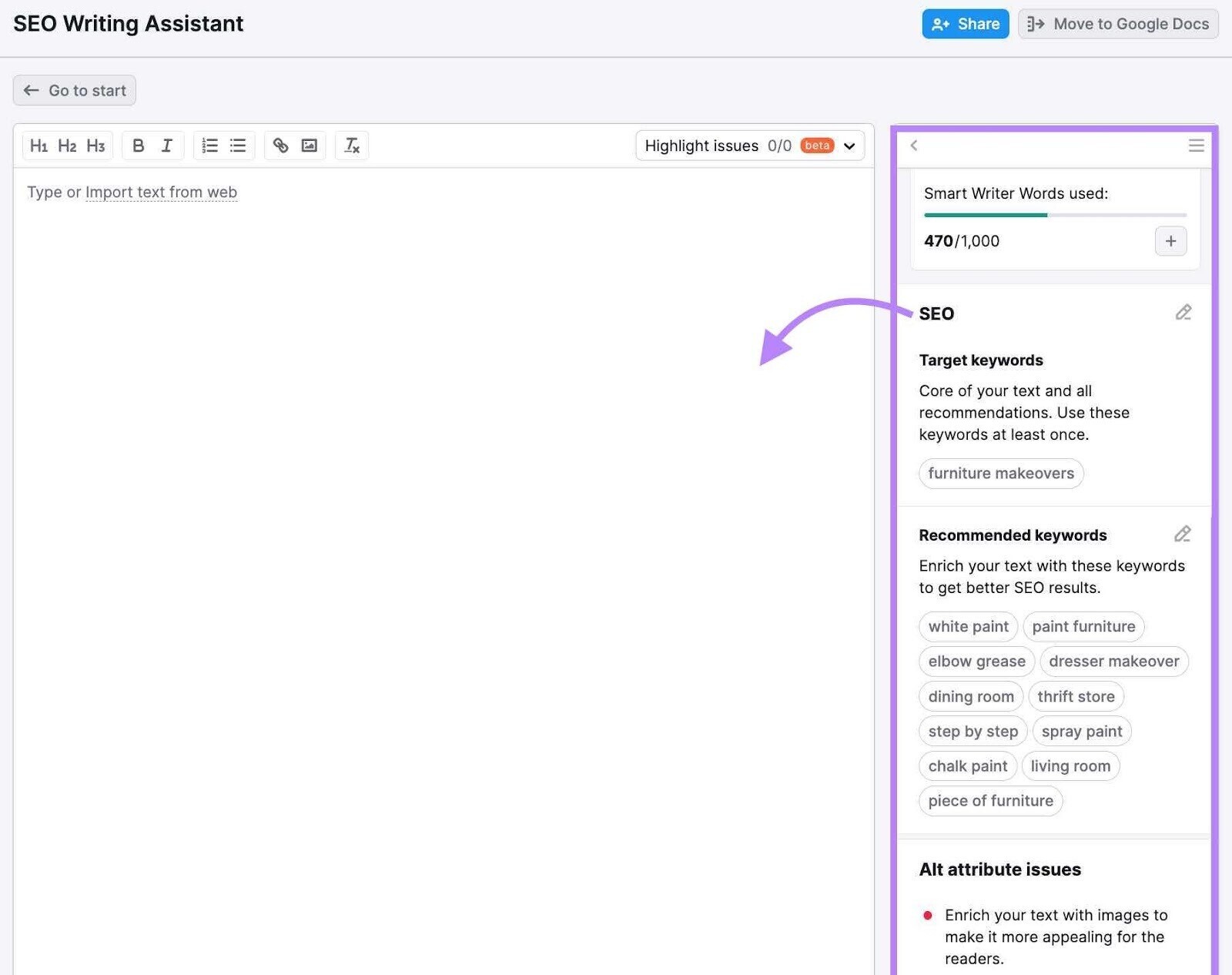 Pro tip: If you feel stuck at any point, use the SEO Writing Assistant's Smart Writer, powered by AI to rephrase or compose content.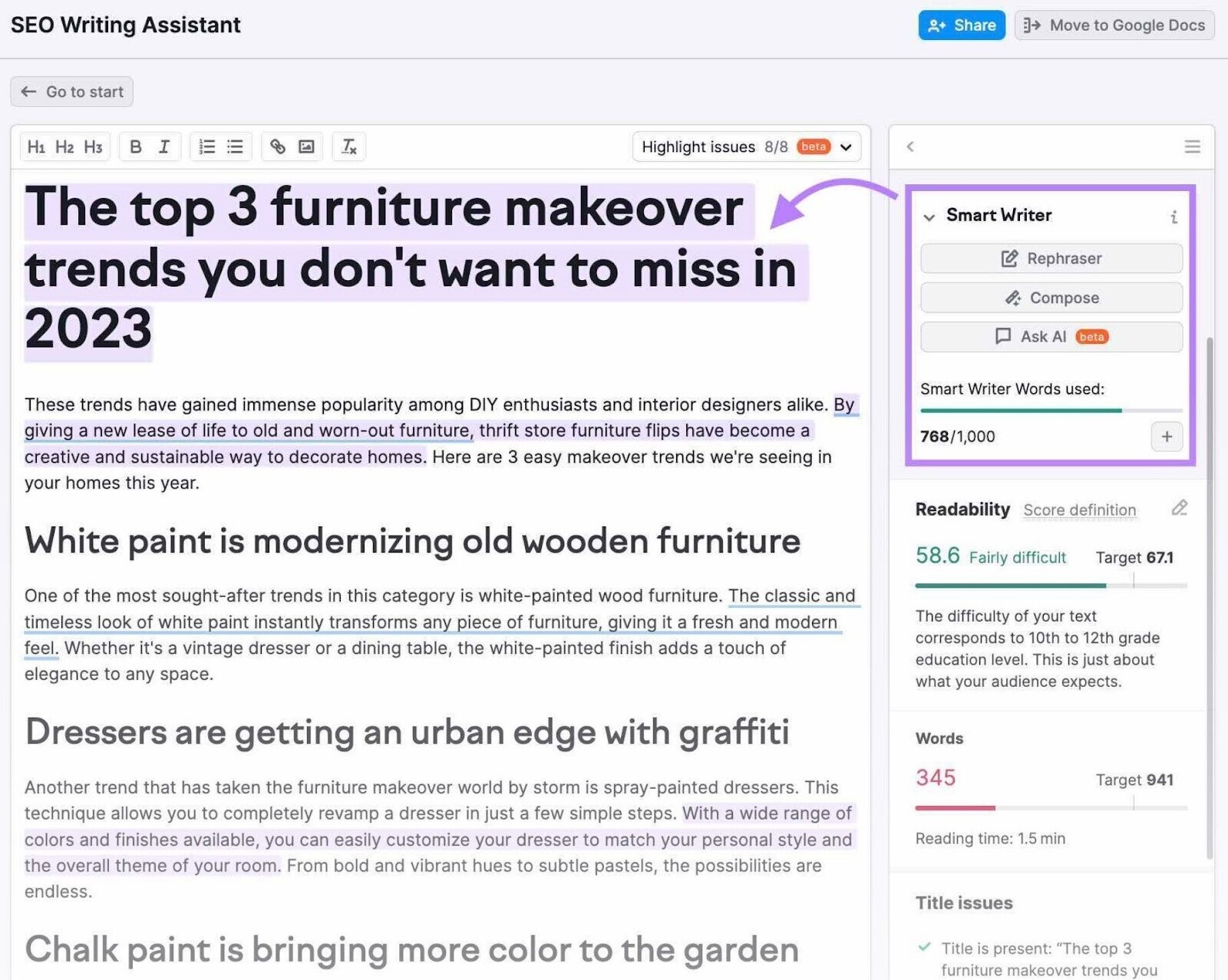 As soon as you add content into the space provided, the tool will automatically start checking your text for readability, SEO, tone of voice, and originality.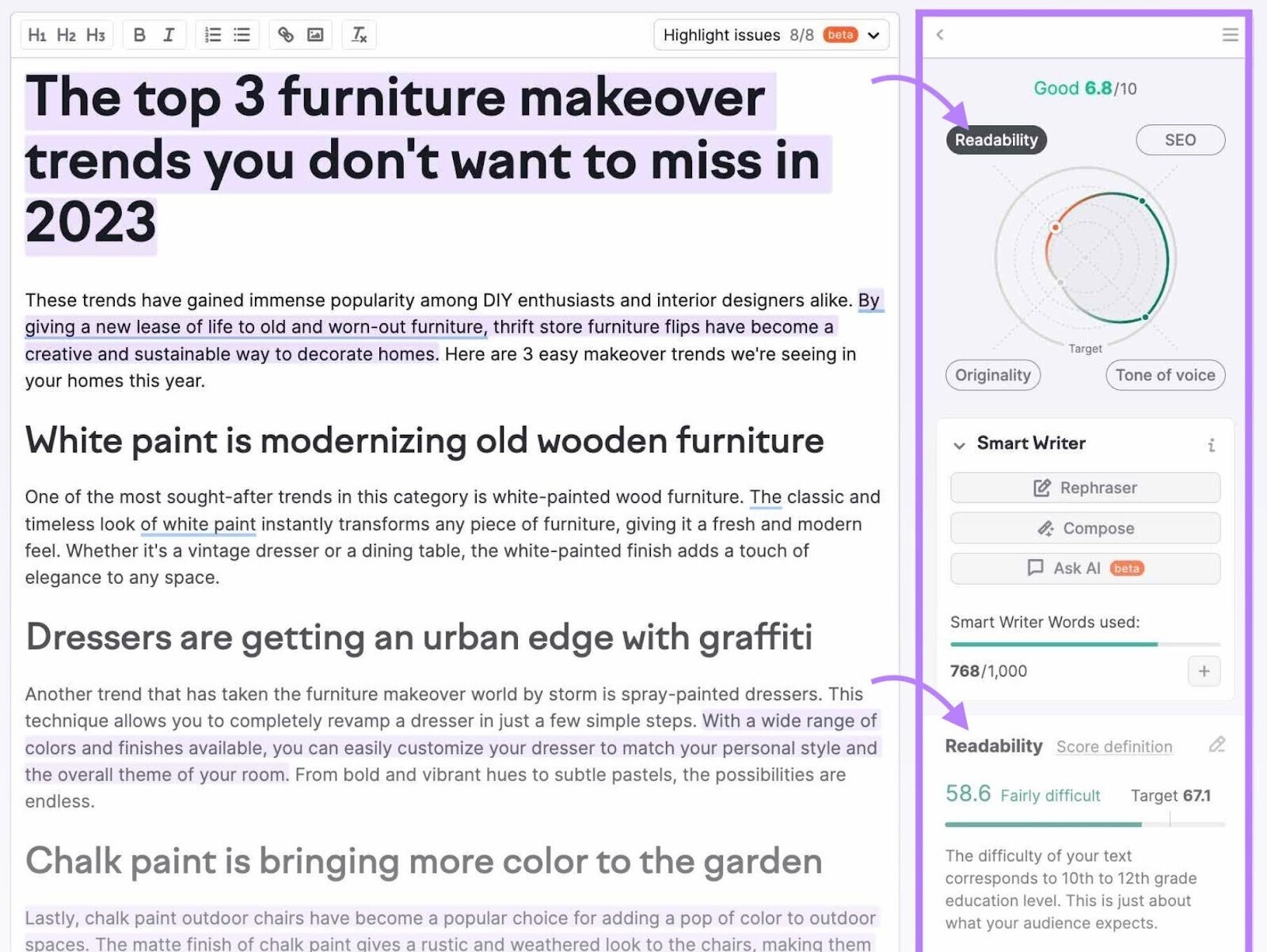 And highlight sections that you need to edit.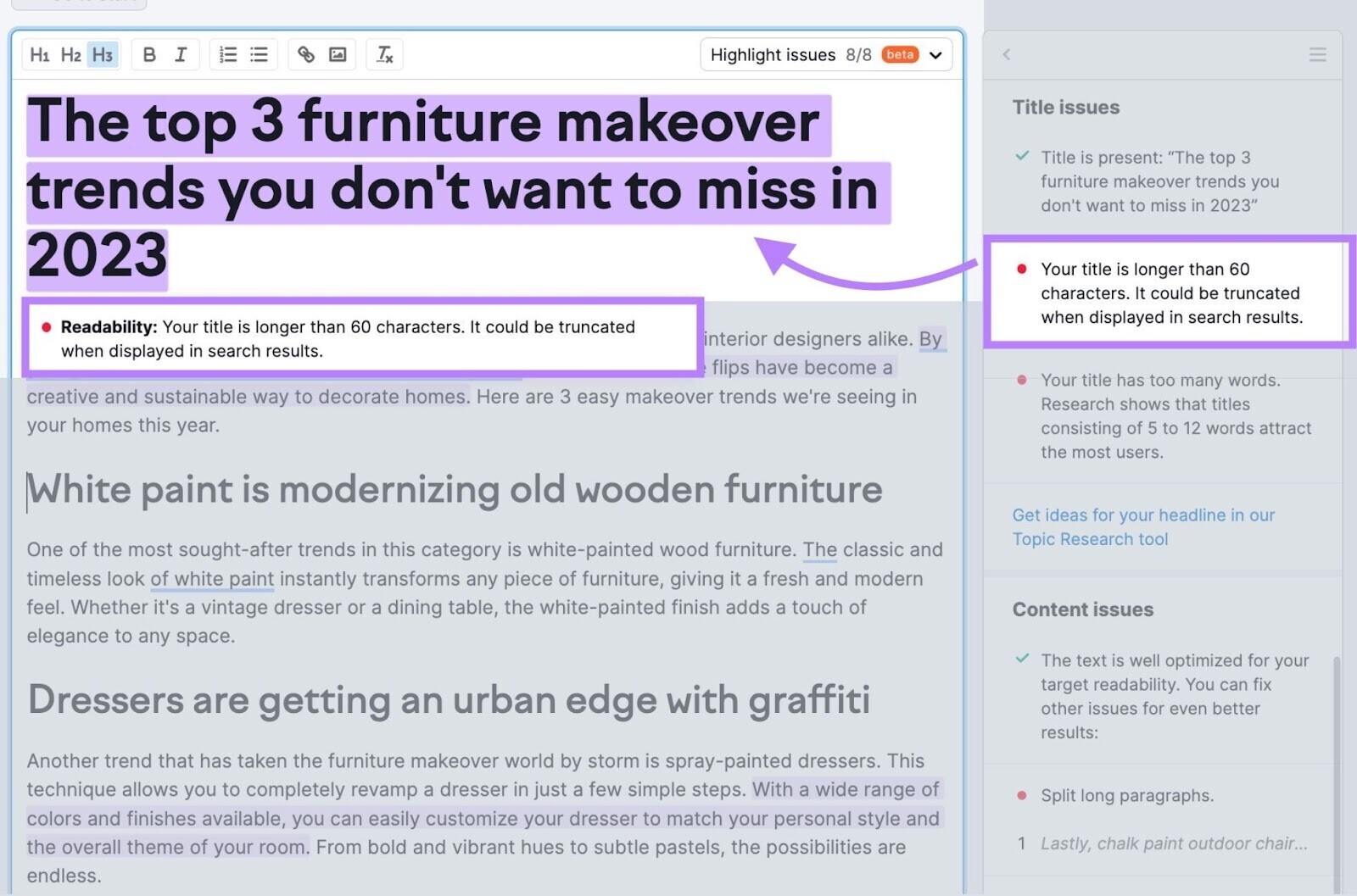 Pro tip: Use the Marketing Calendar to plan out your campaigns to keep your strategy consistent. And use the Site Audit tool to check if your website and content have any errors.
3. ContentShake
Another tool to consider is ContentShake—an AI writing tool that will generate text and optimize your article using keywords.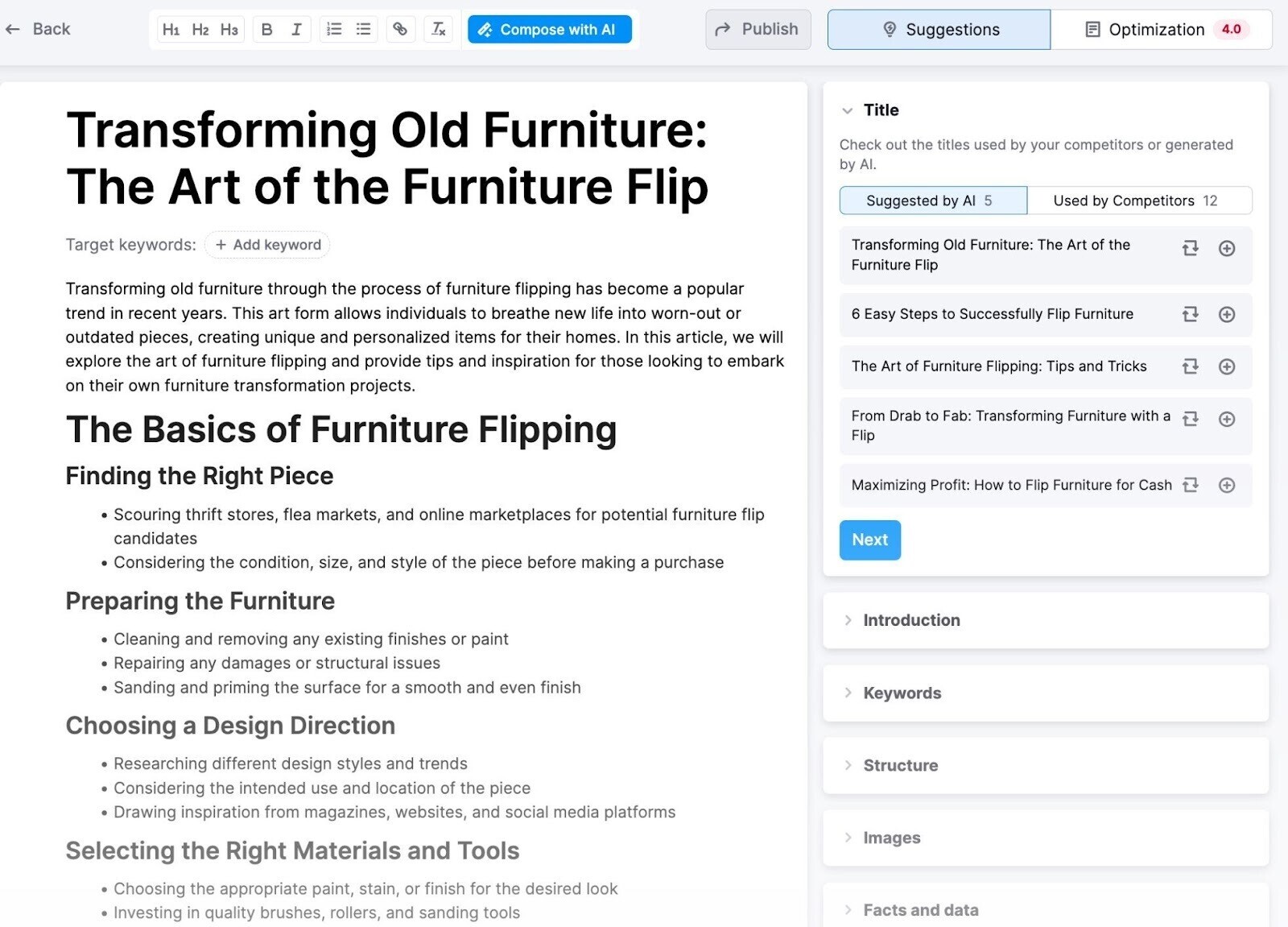 Edit the content. Then click on the "Optimization" tab on the right side of your screen to see how your article holds up against your competitors.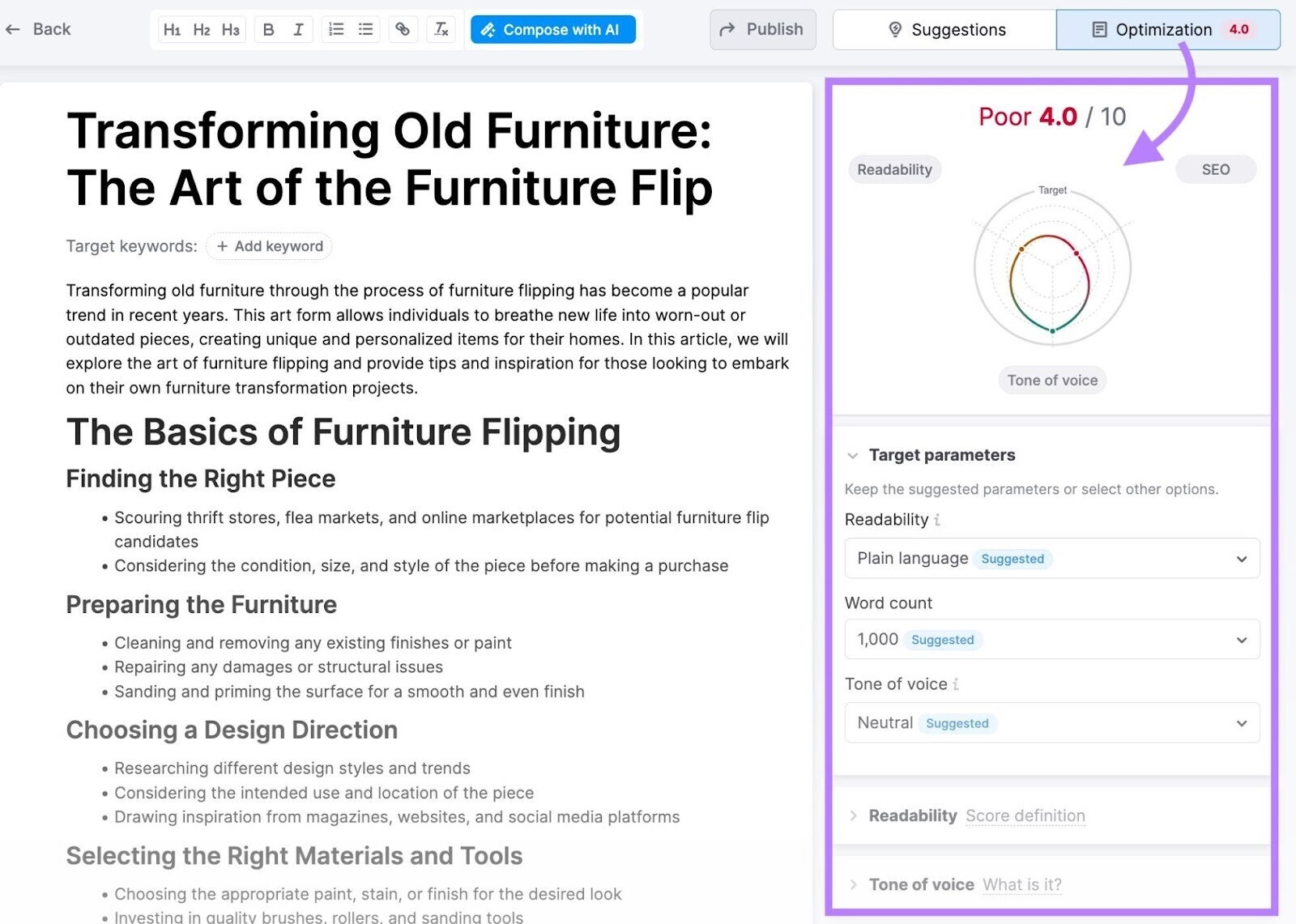 If you want more manual control over your content, use the SEO Writing Assistant. You can manually add your content into the space provided. And it'll check your content for readability, SEO, originality, and tone of voice.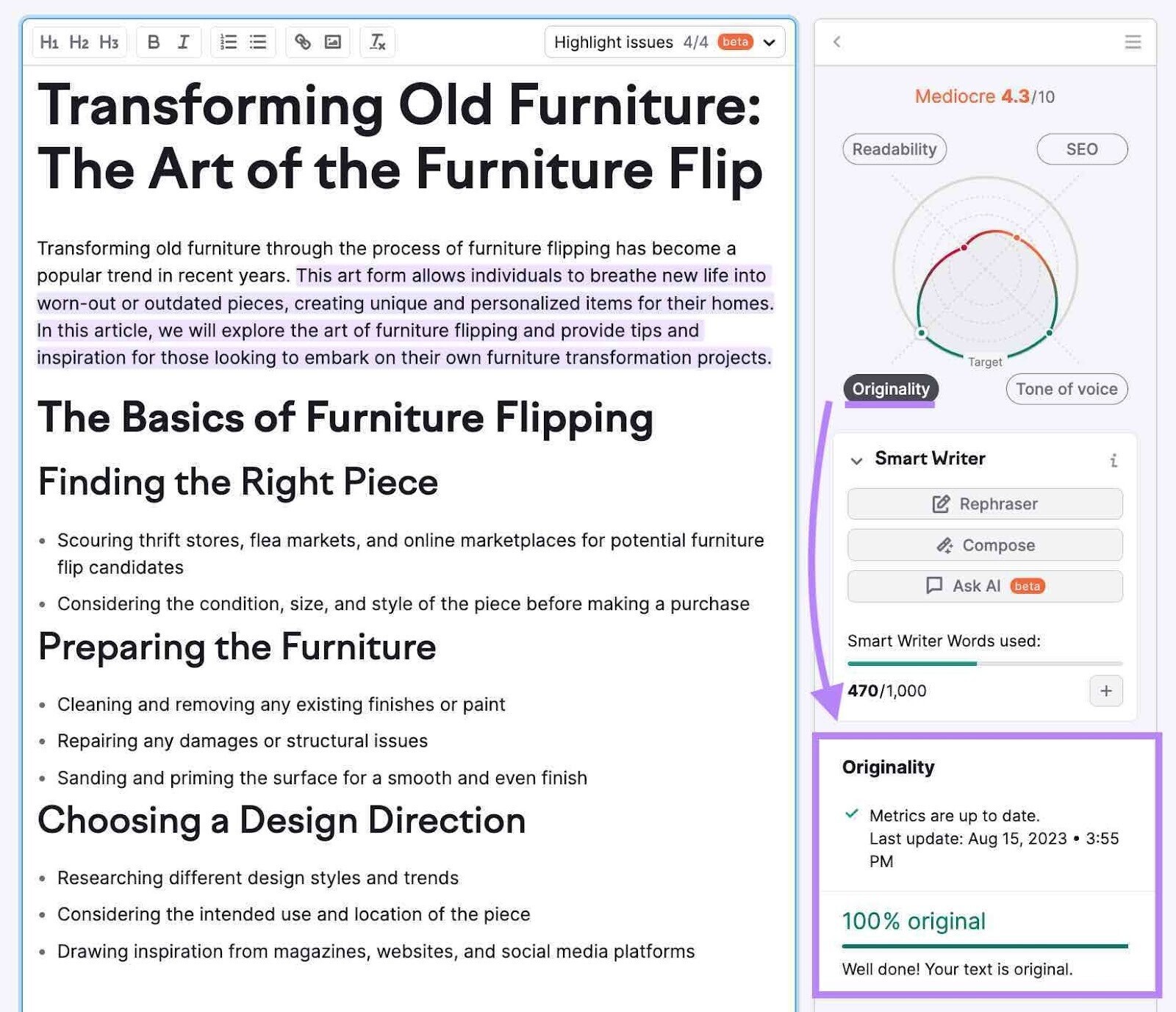 4. Curata
Curata is content curation software. You can use it to uncover great content ideas that suit your audience.
It analyzes content from across the web using metrics like social shares, pageviews, and revenue generated. Whatever your aims are, Curata will help you make stronger content strategy decisions.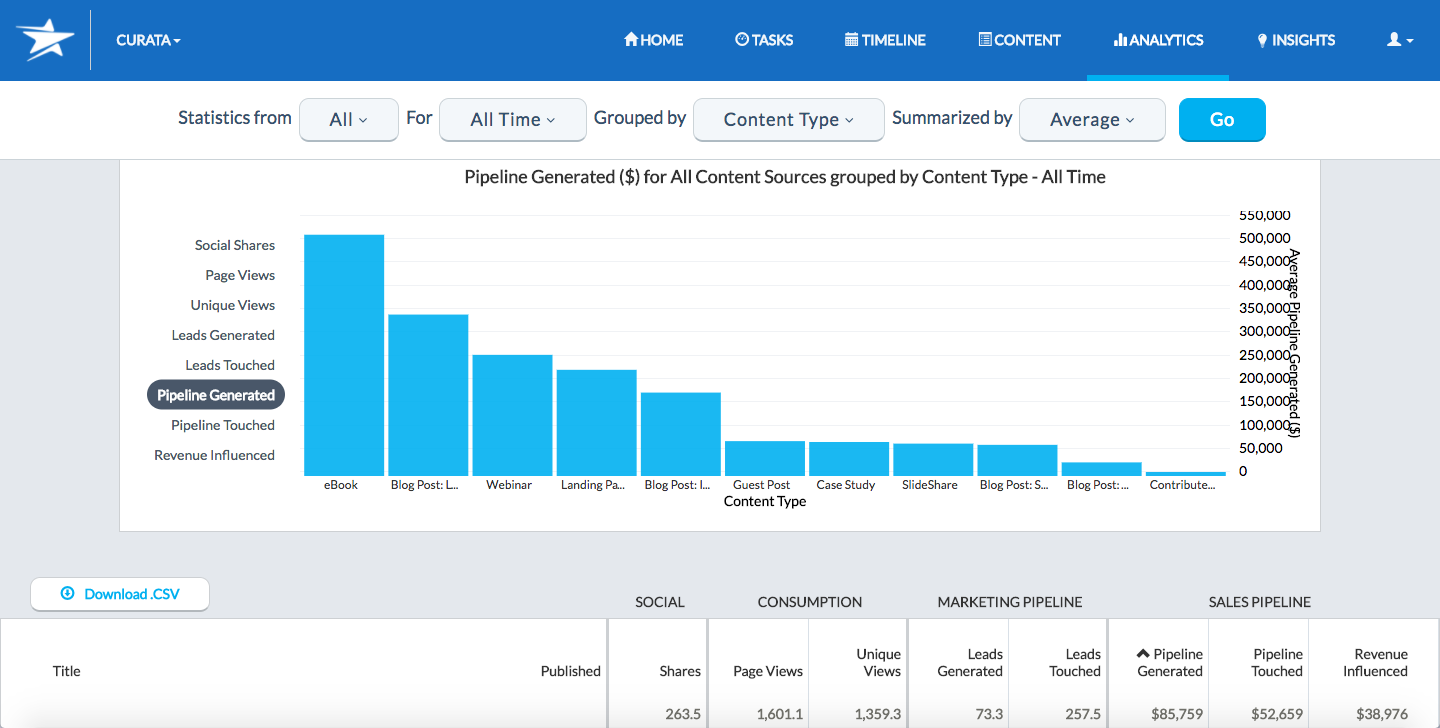 There are a range of other features that make it a great part of any content marketing toolkit, including:
A custom report builder to track specific metrics
CMS and marketing automation tool integrations
Content publishing features built into the platform
A social media content discovery engine
Best of all, Curata uses machine learning to adapt to your preferences and behavior. As it learns, the content it curates for you will become more relevant to your needs. It'll therefore be more useful as you plan new content marketing strategies.
5. Contently
Contently is an enterprise-level content intelligence platform. It's built to facilitate the creation, distribution, and tracking of large-scale content marketing projects.
It's got a comprehensive feature list, but you can start out by reviewing its "SEO Story Ideas." These are topics recommended based on their potential for success and fit with your specific content strategy.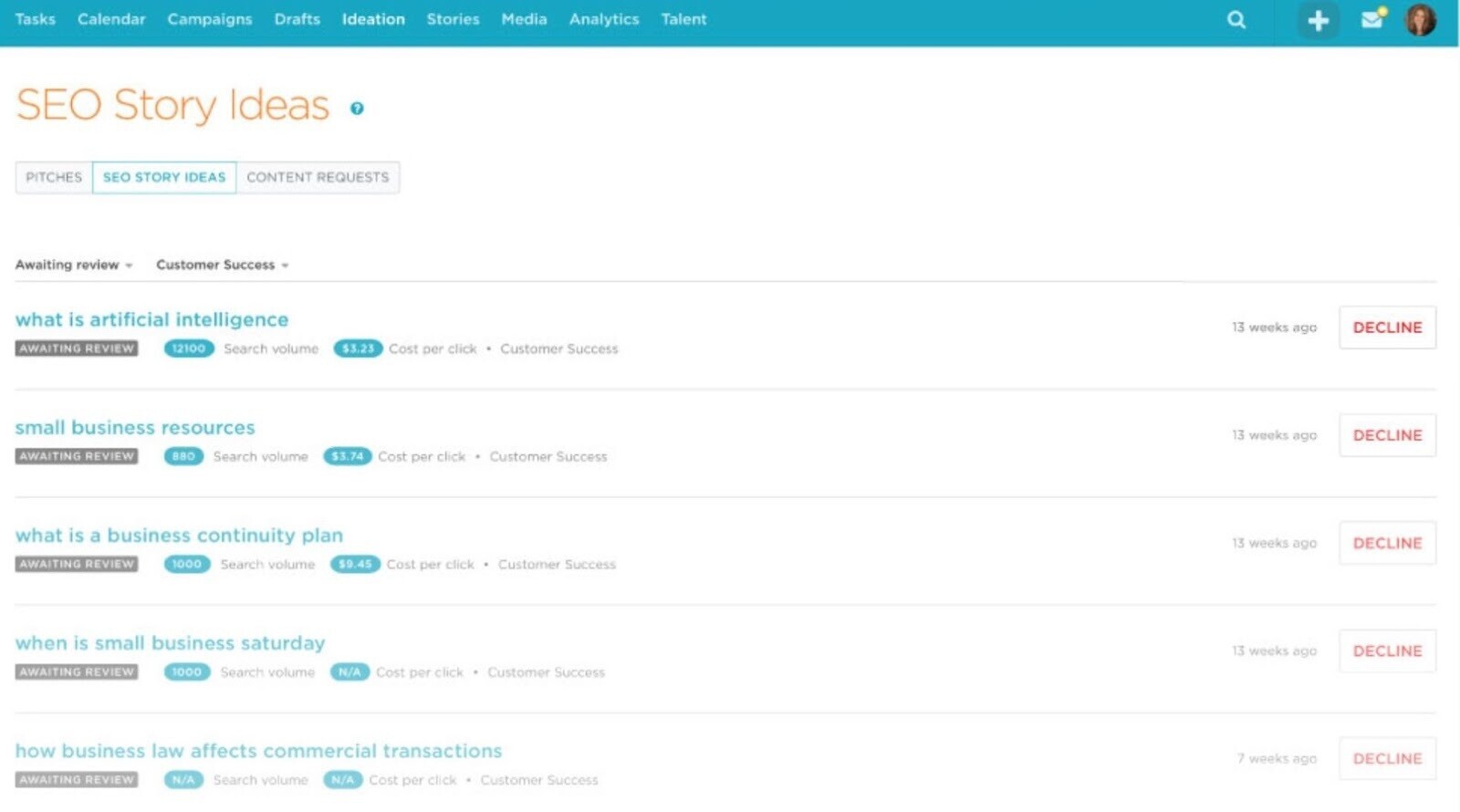 Contently's real utility comes as you start to create content. It has a built-in job board that you can use to publish specifications for expert content marketers. You can also create, improve, and publish multimedia content in the integrated editor. 
There's even an AI suggestion engine powered by IBM Watson that can help refine your content's tone and strengthen its SEO.
The analytics side of Contently is also powerful. It offers a range of tools that track the returns your content marketing pieces are generating. They include an SEO dashboard, engagement metric visualizations, and a breakdown of content performance by channel.
6. Optimizely
Optimizely is part CMS, part content intelligence platform. It's another product targeted at enterprise businesses. And it's packed with features designed to make content marketing easier and more effective.
You can start by using it to audit your existing content, getting a top-down view of which topics drive high-value conversions. That can guide your strategy and give you a data-driven push in the right direction.
There's also a built-in content calendar, digital asset manager, content editor, and task manager. Each tool is interoperable with the others. That means you can use Optimizely as a single destination for all your content marketing needs.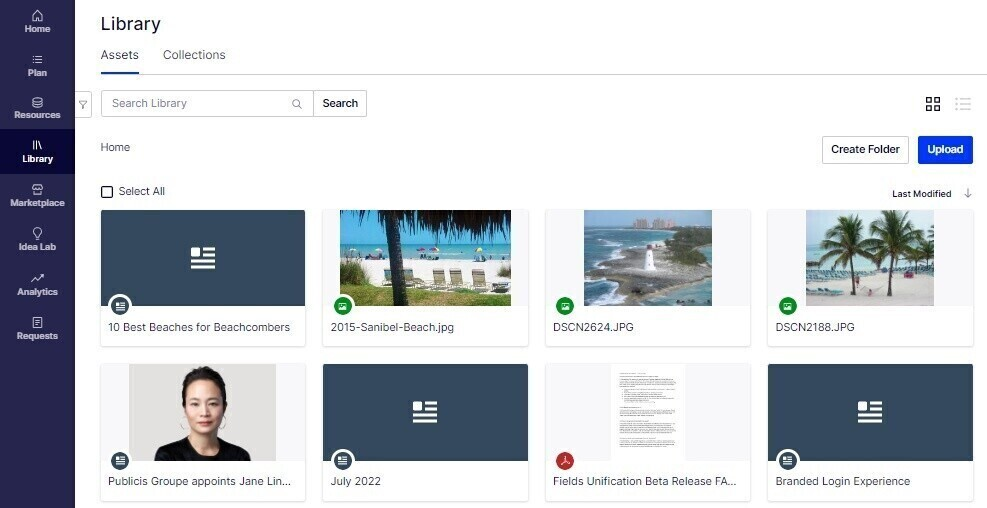 Optimizely can track and analyze your new content marketing efforts too. A feature dedicated to performance analytics makes it easier to attribute revenue to content marketing campaigns. And you can get cross-campaign insights that will fuel even more ideas.
Use Semrush's Content Intelligence Tools to Grow Your Business 
Content intelligence platforms save you time by automating repetitive tasks. 
They also make your content better with AI suggestions. Which improves your ability to track and analyze your output.
Get started today with Semrush's Market Explorer to size up your competition. 
Then dive into the Topic Research tool to automatically generate thousands of content ideas from your findings.
After that, head to the SEO Content Template and ContentShake when you're ready to start production.
Source link