There are many misconceptions about LSI keywords in SEO.
This guide will help you separate fact from fiction. So you can optimize your content more effectively. And earn higher Google rankings.
What Are LSI Keywords in SEO?
LSI (latent semantic indexing) keywords are words or phrases that are conceptually related to a target keyword. So if you wanted your page to rank for "credit cards," then LSI keywords would be "money," "credit score," and "interest rate."
However, it's more accurate to refer to these as semantic keywords.
Why?
Google has said that it does not use latent semantic indexing to rank search results. But it does use other forms of semantic analysis to understand what your content is about.
This means that using semantically related keywords is good for SEO. Because it helps Google understand your content's topic and scope.
You'll learn how to find semantic keywords later in this guide.
What Is Latent Semantic Indexing (LSI)?
Latent semantic indexing (LSI) is an information retrieval method that considers the semantic relationships between words (as determined by latent semantic analysis) rather than keyword matches alone. In an attempt to deliver more relevant search results.
Let's say someone searches "wall street."
A search engine that relies only on keyword matching might return an article about murals. Because it uses the terms "wall" and "street."
Whereas a search engine that uses latent semantic indexing or a similar technology might favor articles that also contain the term "finance." Because "finance," "wall," and "street" often appear together in the LSA dataset.
Authors of the seminal paper on latent semantic indexing, published in 1988, described it as "a new approach for dealing with the vocabulary problem in human-computer interaction."
As a reminder, Google has said it does not use latent semantic indexing.
What Is Latent Semantic Analysis (LSA)?
Latent semantic analysis (LSA) is a mathematical method for finding conceptually related words in textual data. In other words, it's how you find LSI keywords.
Put simply, LSA involves analyzing text to identify meaningful patterns between words.
This allows computers to develop an artificial understanding of synonyms (words that can share the same meaning). For example, "income" and "earnings" are often used in similar contexts.
It also allows computers to develop an artificial understanding of polysemous words (words with multiple meanings). For example, "bank" often appears alongside words like "finance," "savings," and "rates" or words like "river," "erosion," and "sediment."
Search engines like Google use other methods to understand relationships between words. 
Here's why:
Why Google Doesn't Use Latent Semantic Indexing
Google doesn't use latent semantic indexing because it's old technology. And it was developed as a method for finding results in smaller document sets—not the entire web.
That's why LSI keywords and LSI SEO aren't strictly real.
That said, Google does care about semantics.
In addition to looking for keywords on a page, Google uses various forms of semantic analysis. To understand search intent (what the searcher wants) and the overall topic of a page.
When you search for 'dogs', you likely don't want a page with the word 'dogs' on it hundreds of times. With that in mind, algorithms assess if a page contains other relevant content beyond the keyword 'dogs' – such as pictures of dogs, videos or even a list of breeds.

— Google
Instead of latent semantic indexing, Google uses things like:
Knowledge Graph: Google's Knowledge Graph is a semantic network. It stores information about entities (like people and places) and the relationships between them.
Natural language processing (NLP): Google uses NLP to identify entities in content and search queries. And distinguish between subtle variations in meaning.
AI and machine learning: Google uses various AI systems to map words to concepts, understand context, and analyze text as a whole (rather than a sum of its parts).
For example, despite their similarity, Google recognizes the difference between queries and pages about "lax to nyc" and "nyc to lax."
How to Find Semantic Keywords
Using semantic keywords (thematically related words) in your content can help Google understand what your content's about. And match it with relevant search queries.
Plus, semantic keywords help you create quality content. Because they encourage you to cover relevant subtopics and angles (e.g., interest rates in an article about credit cards).
All of these factors can lead to a higher quantity and quality of organic traffic to your site.
Finding semantic keywords is easier than finding LSI keywords. There's no need for mathematical analysis—Semrush tools can do the hard work for you.
Here's how to find semantic keywords for new and existing content:
Find Semantic Keywords for New Content
To find semantic keywords for a new piece of content, enter your target keyword or keywords into Semrush's SEO Content Template. 
(If you need help, check out our keyword research guide.)
Choose your target location and device. Then, click "Create content template."

The tool will analyze the top 10 results for your target keywords. To provide a variety of insights and suggestions.
You'll find semantically related words in the "Key recommendations" section.
When you're ready to start writing, click "Real-time Content Check" then "Open in SEO Writing Assistant."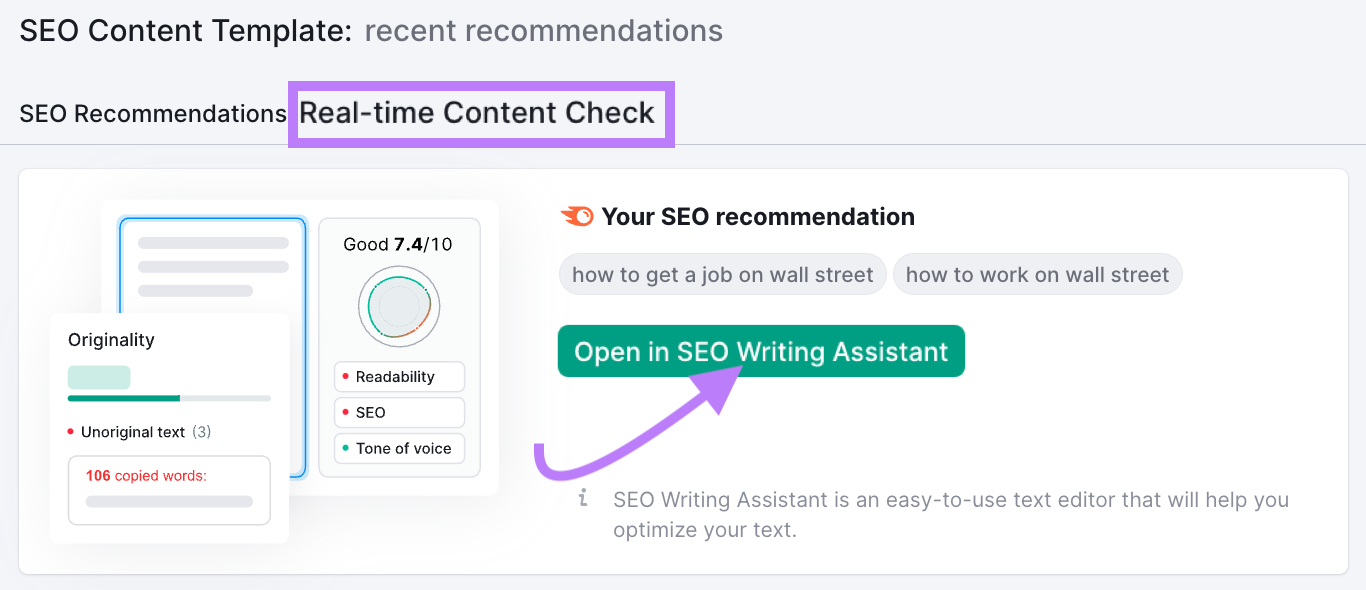 Then, start writing your content in the SEO Writing Assistant.
Keep track of semantic keywords to include in the "SEO" section of the sidebar.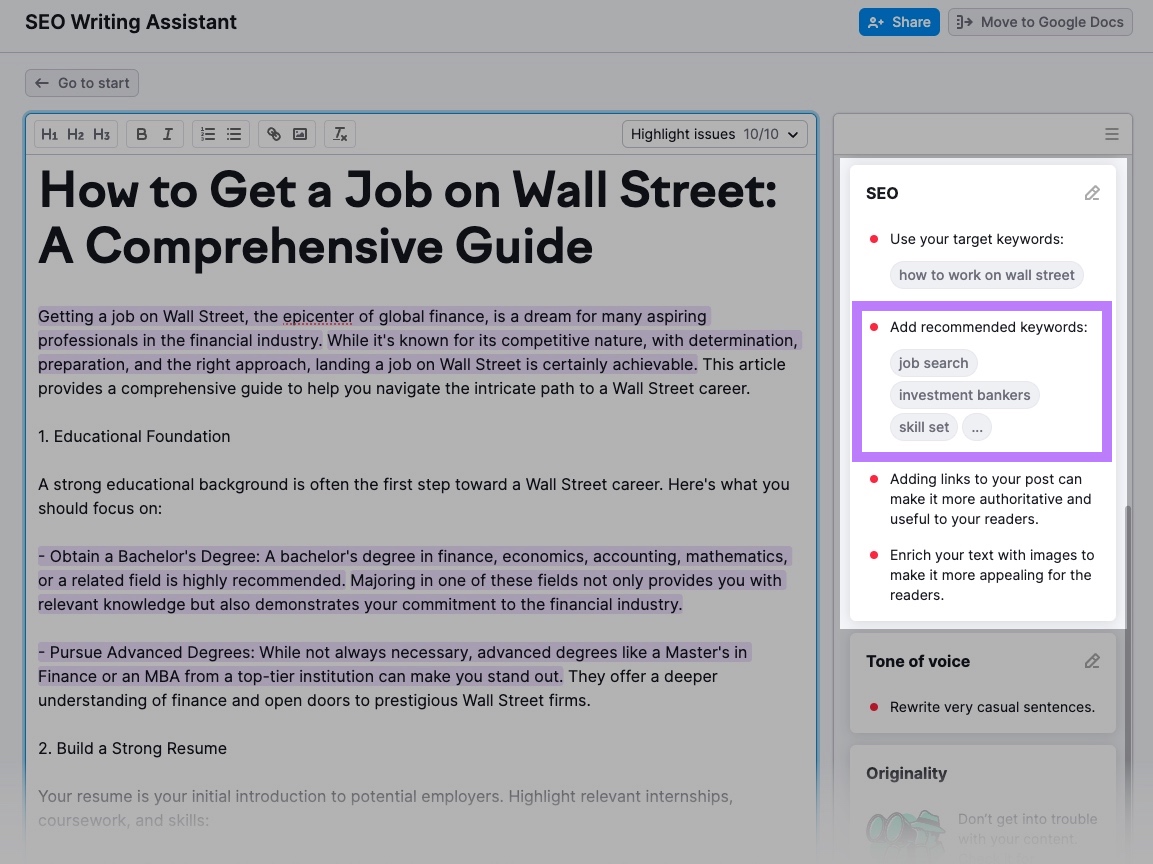 The tool will also provide other recommendations. And help you monitor your progress through a score chart.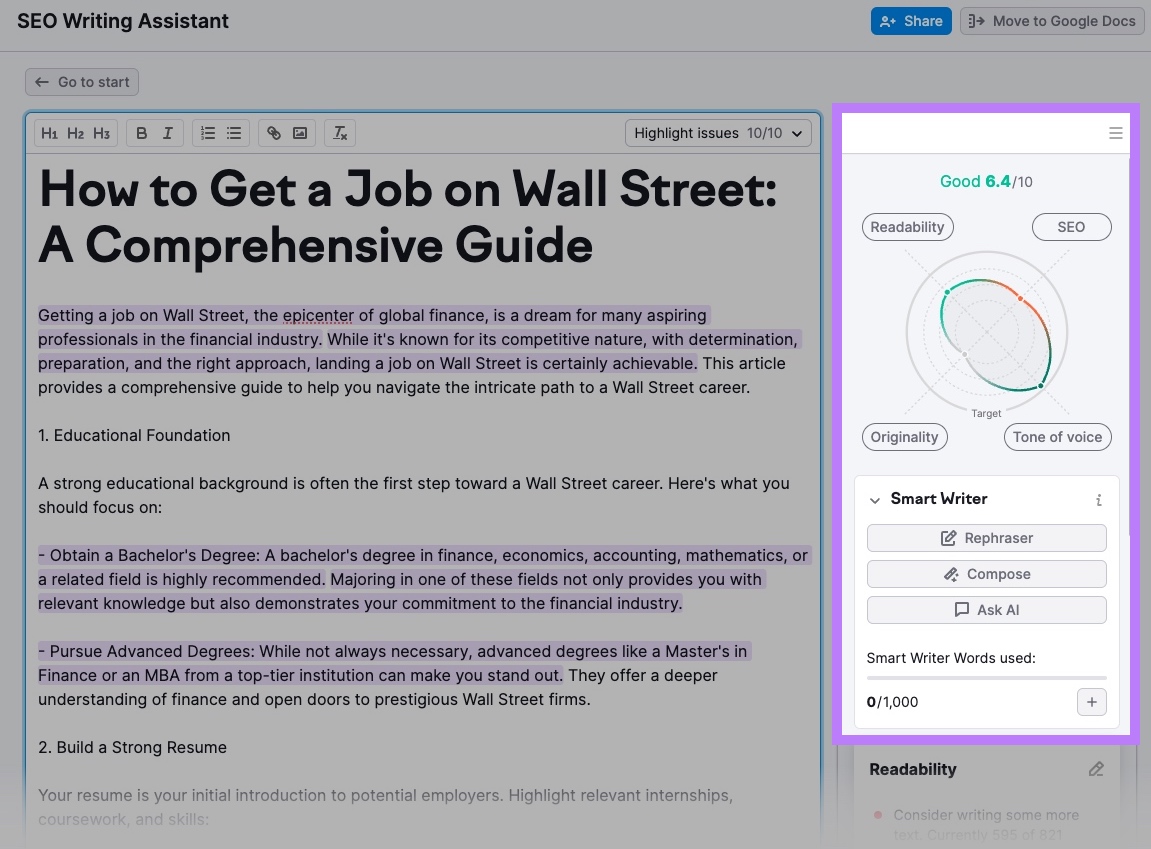 After completing your draft, check for accidental plagiarism.
Like this: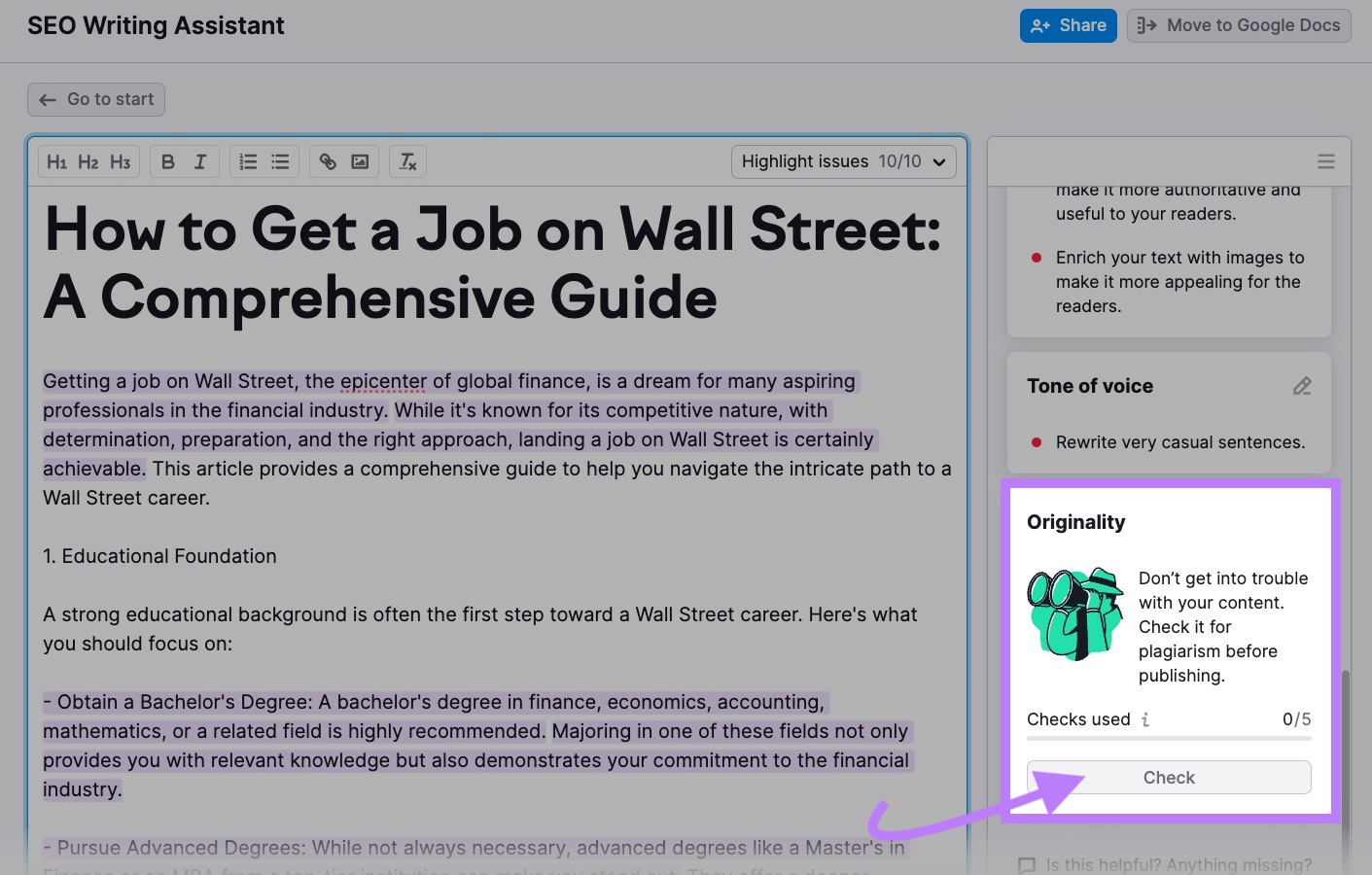 Then, you should be ready to publish your post. And start ranking for keywords Google deems relevant.
Add Semantic Keywords to Existing Content
Check if semantic keywords are missing from existing content with Semrush's On Page SEO Checker.
During configuration, submit the pages you want to analyze and their target keywords. (Use the "Auto Import" option to make things easier.)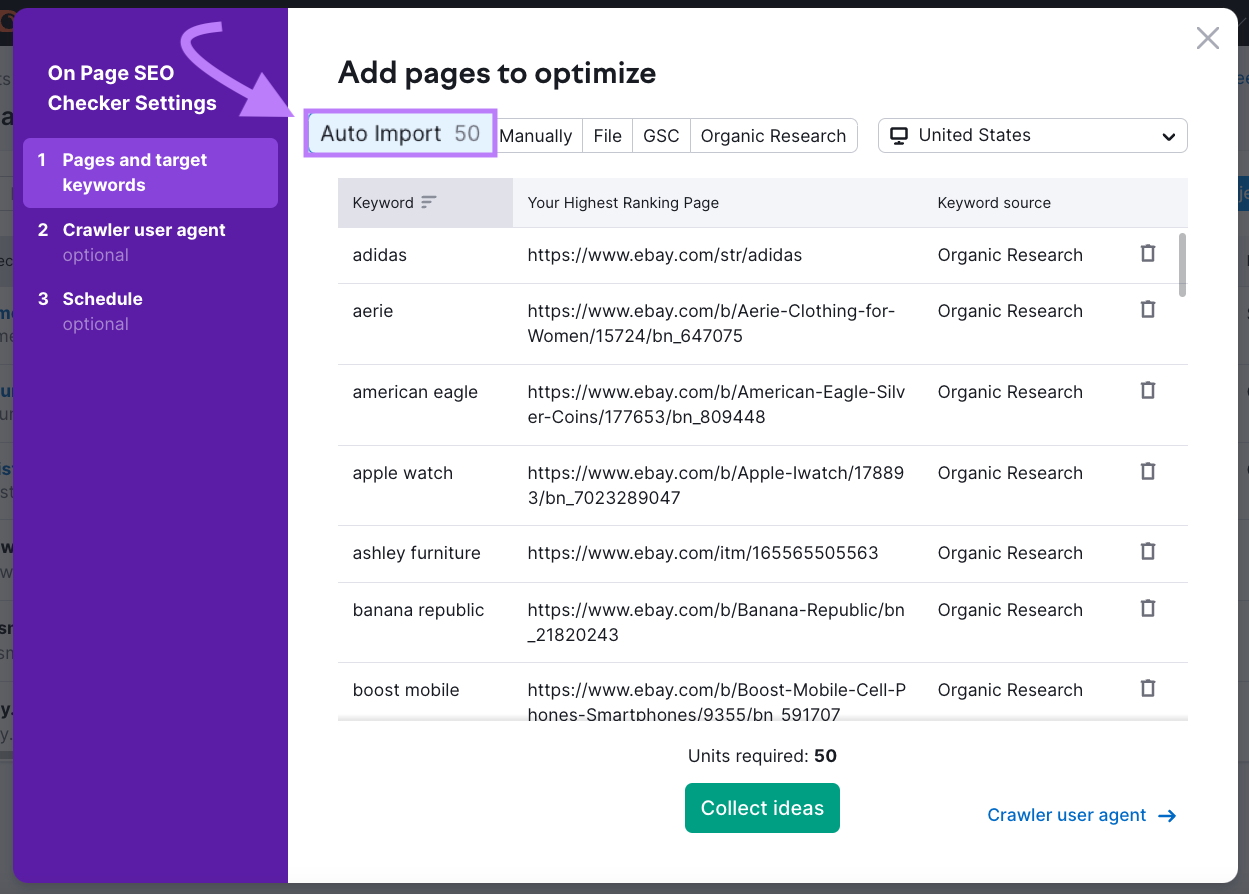 Once setup is complete, the tool will analyze the top 10 Google results for each keyword and see how your pages compare. To provide a list of optimization ideas.
Click the "# ideas" button to see the breakdown for any page.
In the "Semantic" section, you'll find semantic keywords that rivals use but you don't. 

Explore the other ideas, too. Which may relate to SEO strategy, backlinks, user experience, technical SEO, SERP features, and content.
To keep your task list updated, click "Re-run campaign." Or click the cog icon to schedule a weekly update.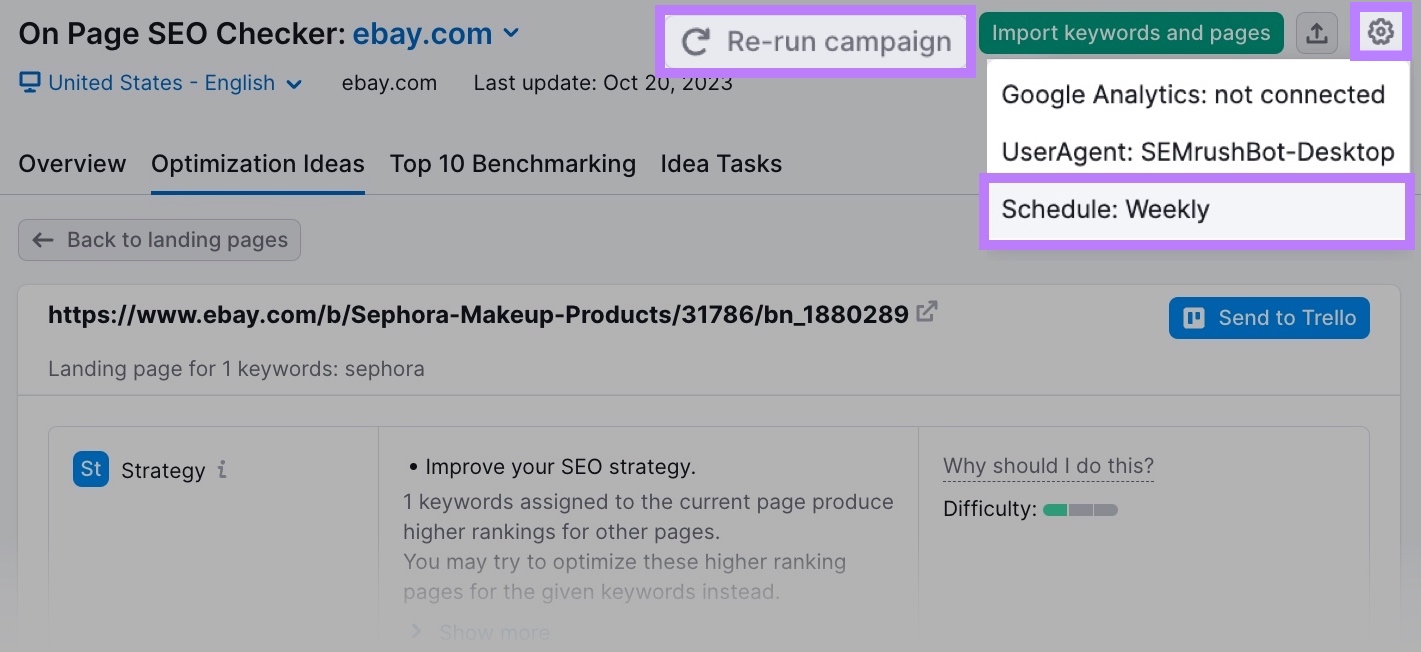 Source link