Keeping one eye on your competition at all times is easier said than done considering you're already worrying about your own website. But, if you could spot exactly where their SEO is performing well or losing steam, wouldn't it be worth it?
The Position Changes report in Semrush's Organic Research tool has long been a part of the core Semrush toolkit. 
Today, this report got a facelift, making it easier to find insights and takeaways so you can take action.
In just a few clicks, you can now get an easy-to-digest overview of organic traffic changes, as well as an advanced look into the specifics of when and where the changes occurred. You'll see:
When a traffic change took place

Which keywords and URLs started generating more/less traffic

Whether a domain got into/dropped out of SERP features
This tells you if a competitor is running a successful SEO campaign or if they're slipping behind after a Google update. 
Plus, you can use this report to understand your own site's changes in organic traffic.
What's New in the Position Changes Report?
Today, the report makes it easier to find takeaways with a few added widgets. This makes it easier than ever to keep an eye on your competitor's traffic.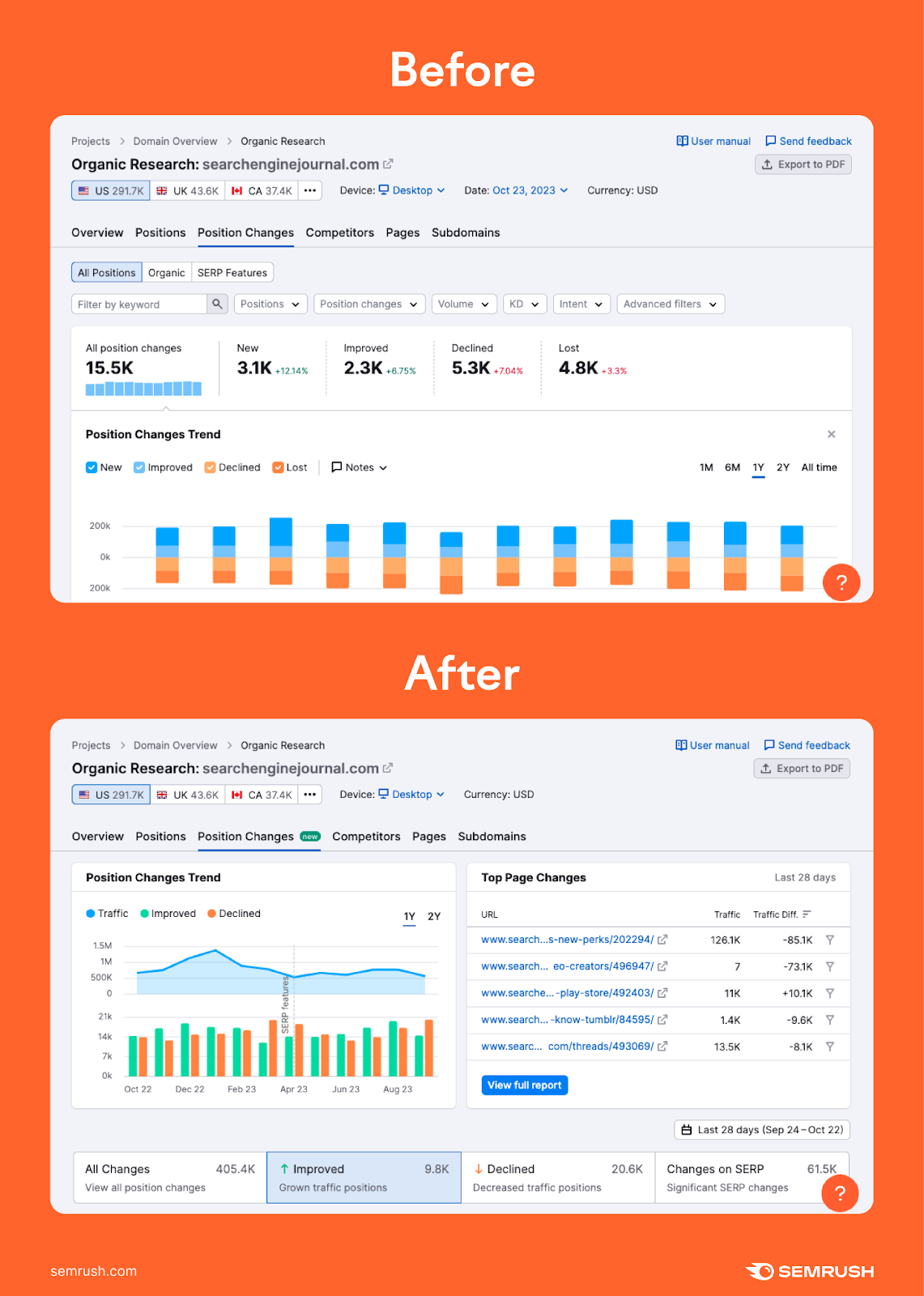 We've added a few improvements:
Two new preview widgets: Position Changes Trend and Top Page Changes

Easy preset filters that show position changes that made impacts on estimated traffic 

A filter to identify significant SERP changes that cause a change in estimated traffic

More options to filter by date range & create reports 
These make it easier to spot exactly when and where a particular website is experiencing its ups and downs on Google.
Let's go over what you can do now with the new and improved report.
1. Identify a Site's Most-impacted Pages
The first feature to look at with this update is the Top Page Changes widget. This makes it instantly clear which pages on a website have been most impacted in a time period in terms of estimated traffic difference.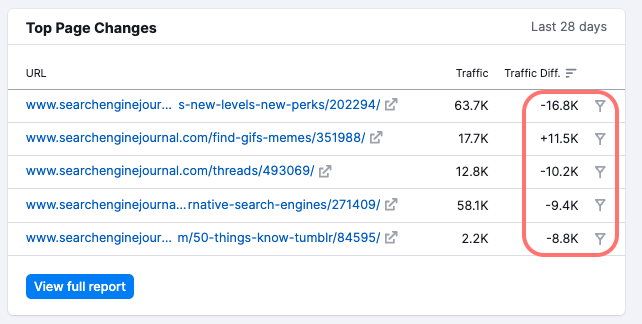 This widget has a built-in filter that only shows you changes that are significantly impacting your chances at traffic. This means any major shakeups on the first few organic results or any new SERP features that could impact organic traffic.
For example, your ranking could remain the 3rd organic position but if Google adds a new instant answer feature at the top of the SERP, this would impact your estimated traffic. 
So, if you want to drill down on the pages that are seeing the biggest rise or drop in estimated traffic, look no further than the pages listed under Top Page Changes.
Click on the filter icon next to a URL to dive into the specifics and see all of the keywords that the page is experiencing position changes. 
If you're looking for areas to start optimizing on a website to launch a campaign, this report will show you your best starting points. Just look for the pages that are experiencing the biggest traffic losses and you'll see which keywords they're failing to optimize for.
Then, you can audit the content to plan SEO improvements.
As you work on your SEO campaign and need to follow along how a certain page is performing over time, this report also makes it easy. Just set your desired custom date range, and export the report to get a spreadsheet with the position changes and estimated traffic impact.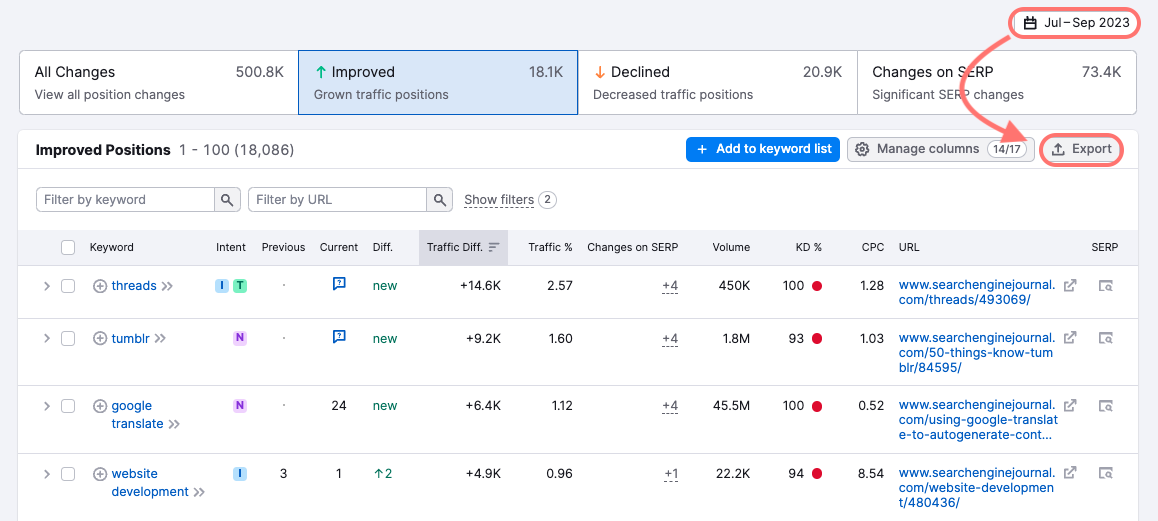 2. Spot New Organic Traffic Opportunities
Next, look into a competitor's site and identify where most of their new estimated traffic is coming from.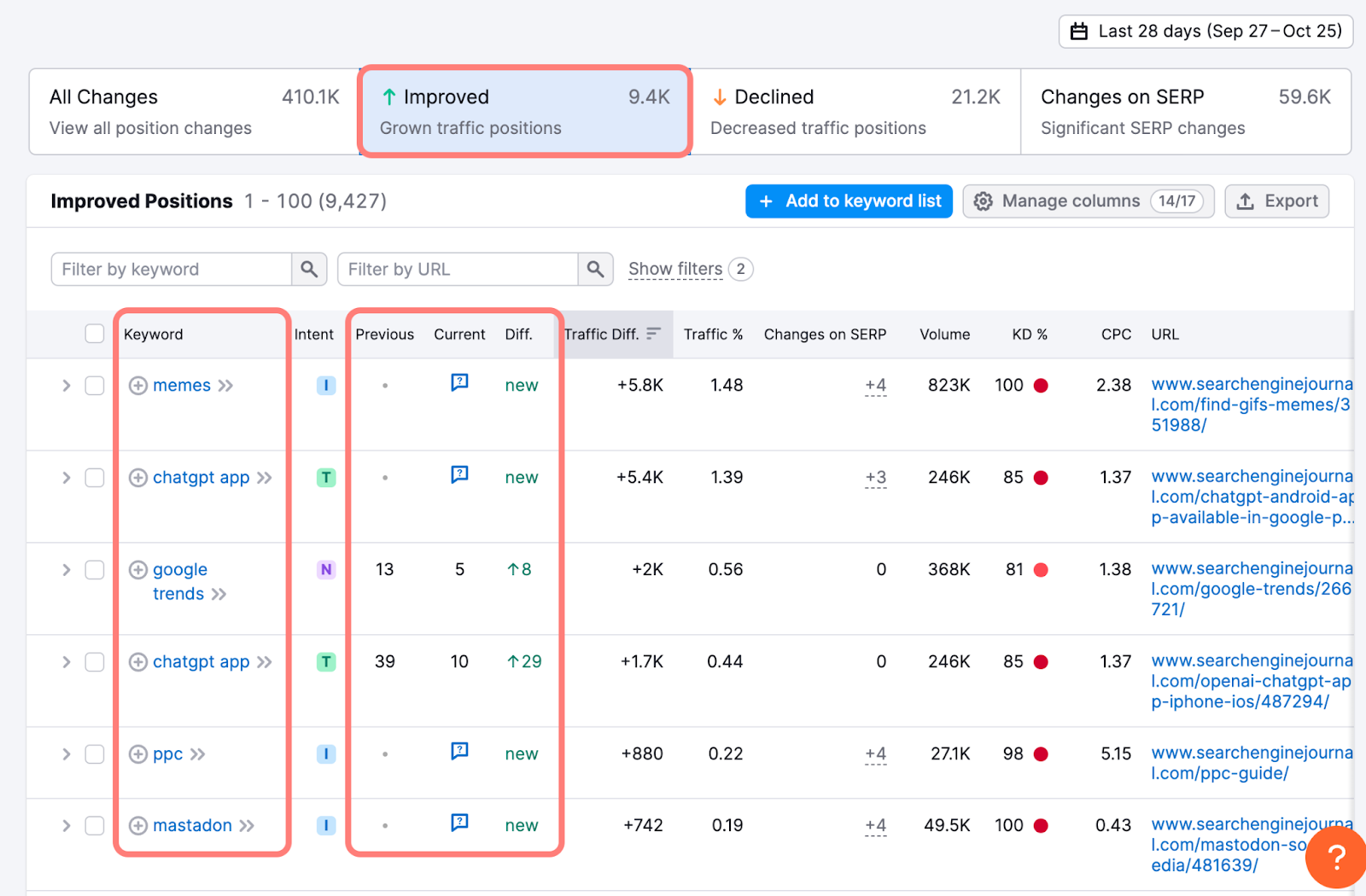 In this screenshot, we can see the keywords where searchenginejournal.com has recently gained positions in Google's top 10 results and prominent SERP features. 
For example, the [?] icon in the "Current" column shows that the site now has its URL in the People Also Ask box (seen below).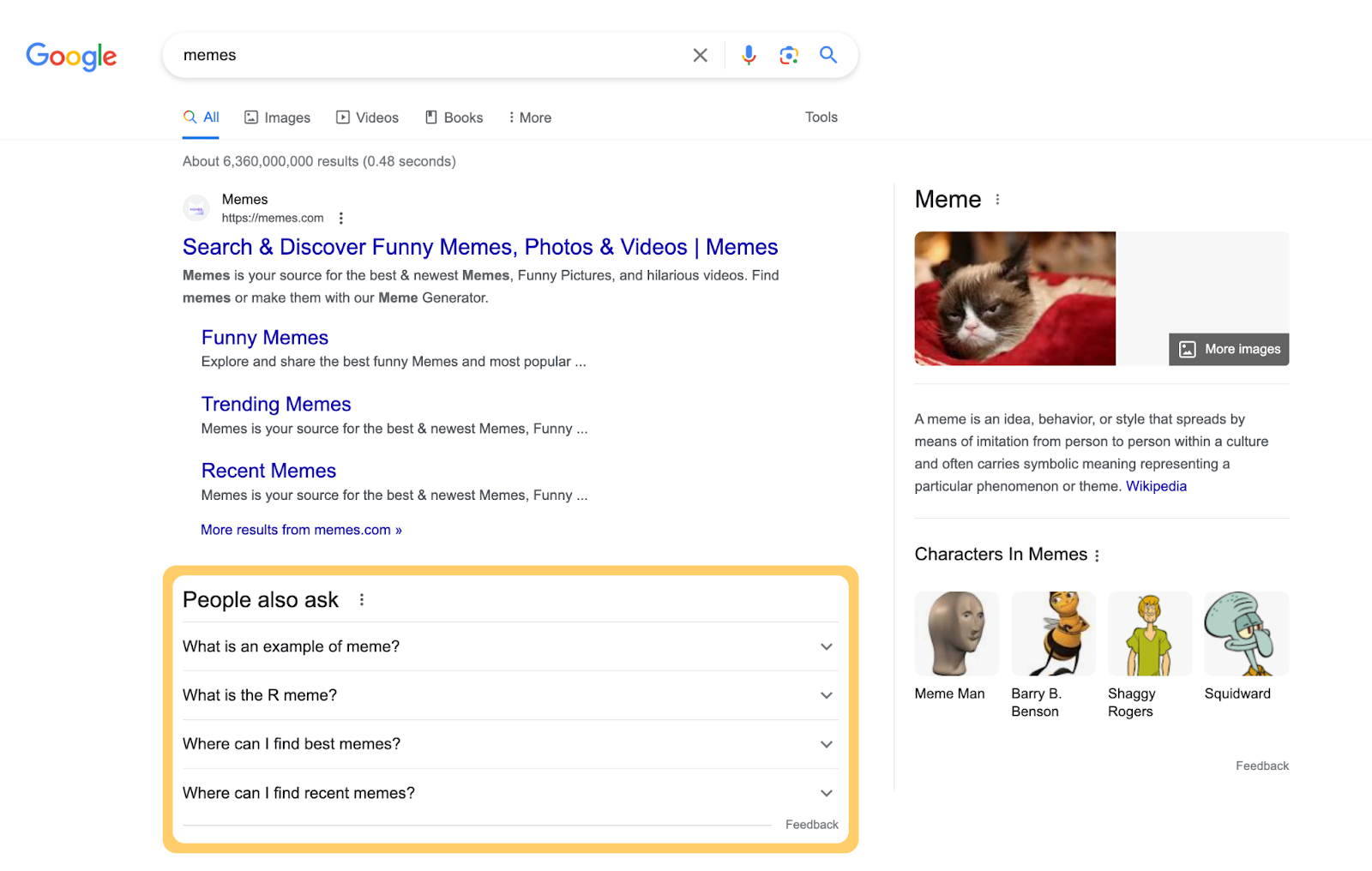 These indicators show you where the site is seeing some SEO success. If they were your competitor, you could think of targeting similar keywords and out-doing their content to outrank them and find similar success.
See Your Competitor's Organic Traffic Trend
For a more big picture view, you can look at the overall trend of a site's organic traffic overlaid with their position changes.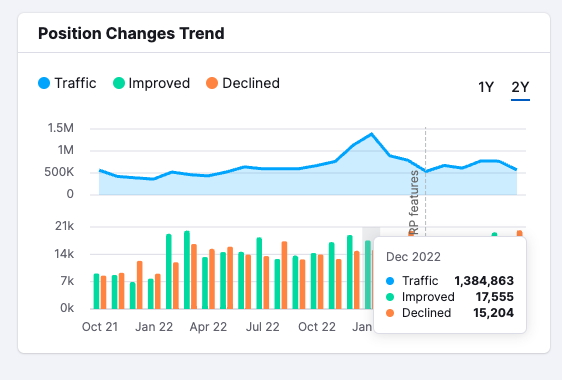 By looking at the numbers on each of the four main filters, you can tell how many keywords in this site's keyword portfolio were impacted.

This lets you hone in on a specific month to see when their biggest SEO wins and losses were. 
3. Monitor Your Own Site Traffic Changes
A second use for this revamped report is to quickly check on your own site's organic traffic fluctuations.
For example, you can see all of the keywords where you've lost positions in a given month. This will be reflected in the Previous and Current columns, showing what position (or SERP feature) your site had that now is changed. 
Here's an example of some SERP features that searchenginejournal.com lost and an estimate of how much organic traffic those losses led to.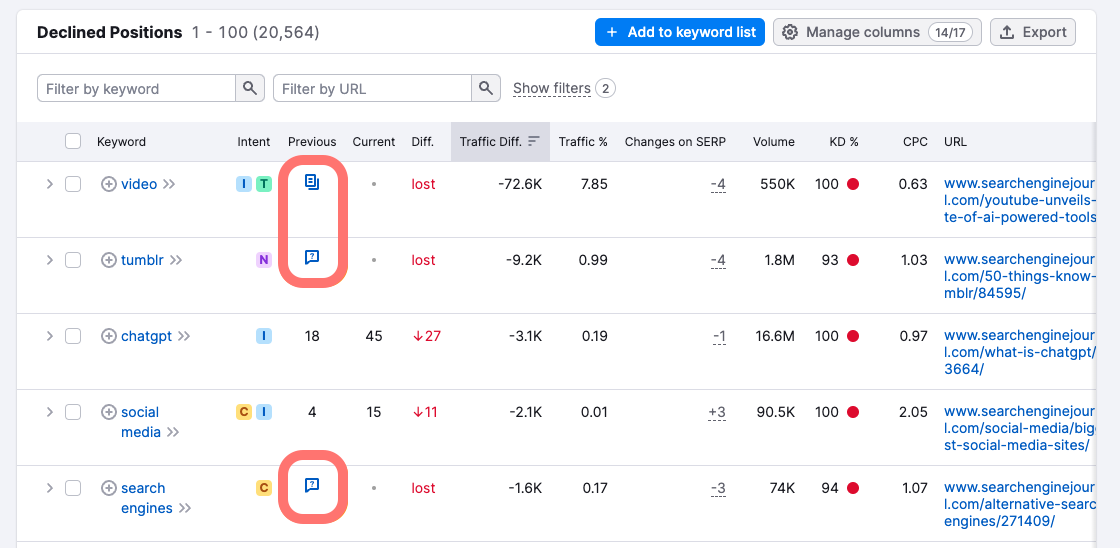 If you identify a traffic drop based on a keyword or SERP feature, you can:
Check the

Semrush Sensor

to verify if there was volatility in your country or industry. If so, it could mean there's a Google algorithm update happening.

Scroll to the right and click on the SERP column where you'll be able to view a snapshot of the results page. From there, you can

analyze the SERP

and see what the changes look like.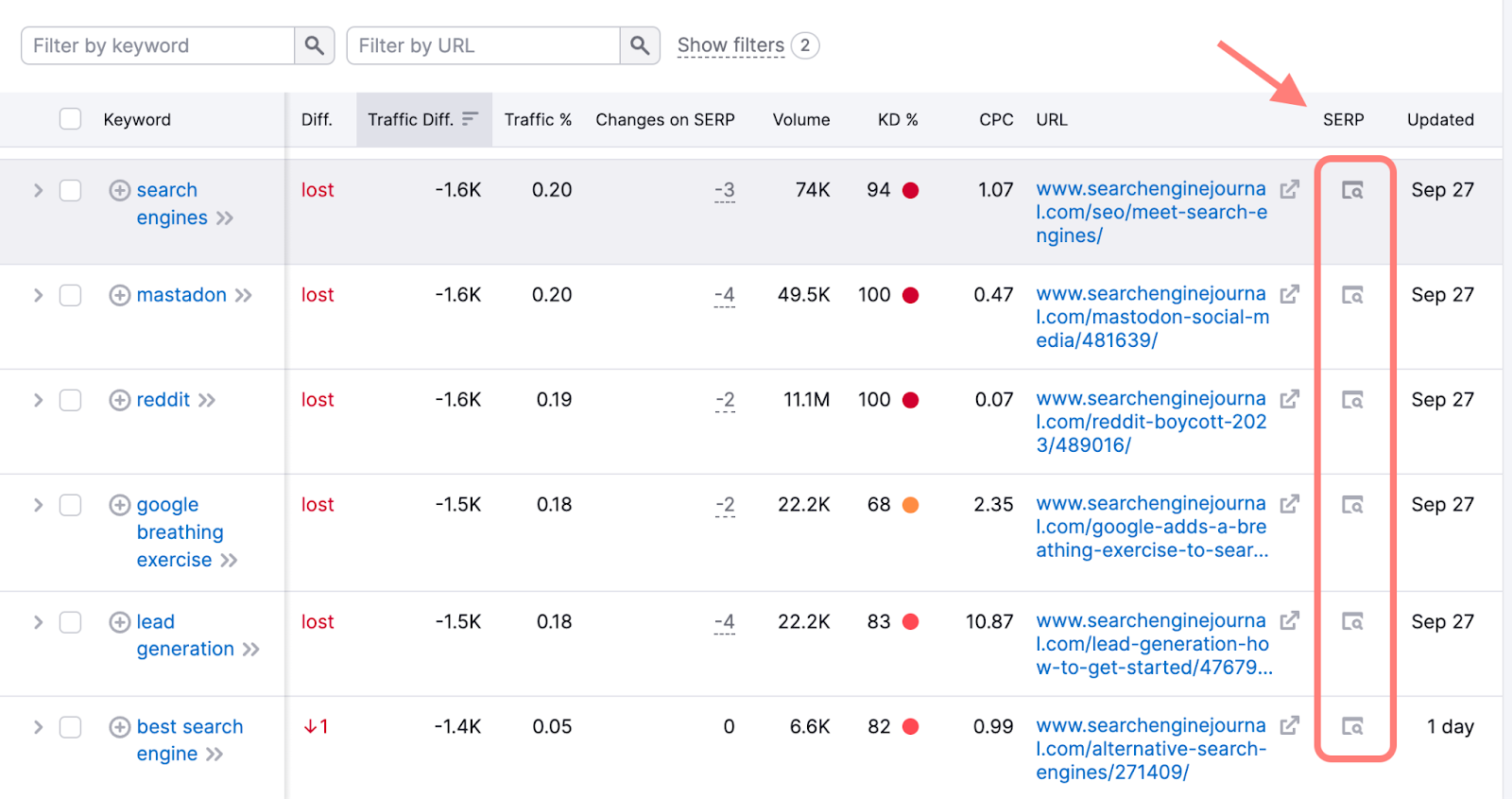 4. Investigate Changing SERPs in Your Niche
With the "Changes on SERP" filter, you can see the keywords where the SERP changed with new or lost SERP features. This could happen at any time as Google rolls out features like instant answers and featured snippets that can strongly impact where the traffic from this keyword goes.
Click on this filter and scan the table to see where your competitor is increasing or decreasing its traffic. For example, here's a look at worldwildlife.org's recent position changes.
As you move your mouse over the "Changes in SERP" column, you can see exactly what's new.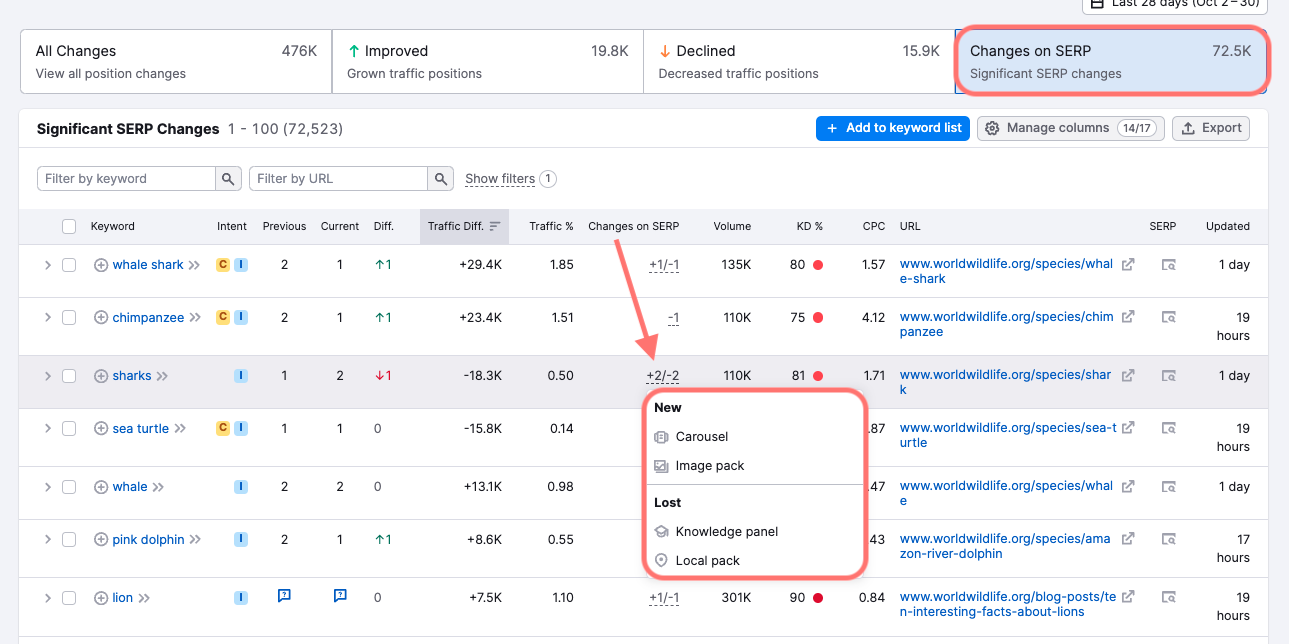 In this example, we can see all of the top keywords where the site is seeing an increase or decrease in traffic while the SERP changes. 
In this screenshot above, we can see that the SERP for "sharks" added a carousel and image pack and lost a knowledge panel and local pack in this time period. At the same time, worldwildlife.org went from position 1 to 2 which is estimated to lose them 18.3k monthly organic visits.
How can you use this information for your own SEO?
You can identify two main opportunities for growth by targeting SERP features:
Your competitor's keywords where they've gained SERP features and traffic

Your keywords where you've kept the same position but lost traffic to a new SERP feature
In either case, you can analyze the ranking SERP feature – whether a featured snippet, people also ask box, or image pack, and restructure your content to target that feature. 
You can restructure your content to fit the featured snippet, add more FAQs to get into the people also ask box, or add original and optimized images to get in the image box.
5. Plan a Traffic Recovery Campaign
If you have a client who recently lost traffic, you'll need to find the source and plan a way to get it back. 
This report makes it really simple. Just enter their domain, find the Declined filter, and choose the date range you're analyzing.
You can choose one of the preset options or a custom date:
Last 28 days

Last 14 days

Custom days

Last 3 months

Last 6 months

Last 1 year

Custom months
Now, you can select these keywords and export the report to save this data. 
Being able to report on a custom date range is one of the new features added in this update and allows you to report on your SEO work and the exact time range when your SEO campaign went into place. 
If you want to hone in on a specific week, or date where you made your SEO changes, you can use the custom days filter: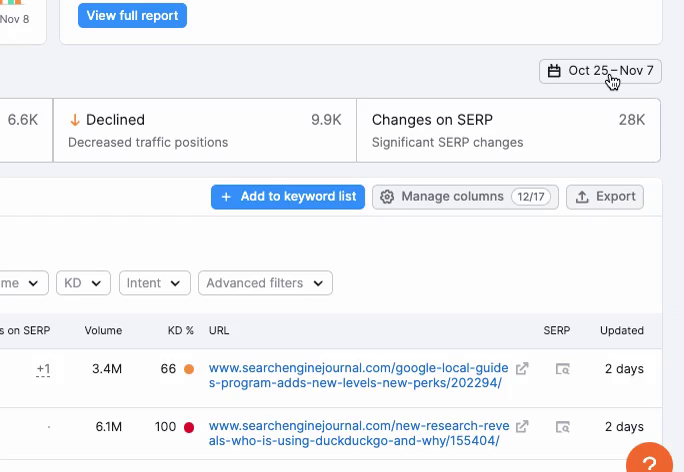 The list of pages in the URL column should be pages that you look to improve with a campaign to bring back the SEO rankings and traffic. 
When looking at your website's content that lost its positioning, ask:
Why would Google consider the top ranking page to be the best answer to this search?

Does my page fully satisfy the

search intent

of the keyword?

Can I improve this content by being more helpful, more thorough, or easier to understand?

Did I promote this content with channels like social media, advertising or email to drive visitors to the page? 
After evaluating these pages with those questions, you can plan your campaign to win back some of the lost traffic. 
This could look like:
Editing the content on the page to be more helpful, thorough, or clear

Split-testing

SEO elements like the title or description

Repurposing the content

from this page into more formats like video, graphics, or social media posts that could be re-distributed to reach new audiences

Launching a campaign to

distribute the content

through channels like email or social media
Once you make changes, you can track the keywords that were lost with a Position Tracking campaign.
This will give you a more granular daily tracking update, whereas the Position Changes report shows monthly changes. 
Details to Know
This report is found under Organic Research and the data updates on a daily basis, following

this cycle

. 

From this report, you can highlight and send keywords to an existing keyword list in

Keyword Manager,

or create a new list

You can export the data in the table to Excel, CSV, or CSV semicolon files

Historical data

for this report can go back to January 2012

This report can be accessed with any Semrush subscription – Free, Pro, Guru, or Business
Stay on Top of Changes in Your SEO Niche
With a quick look in the new Position Changes report, you can stay on top of any shake-ups in your SEO niche. 
Watch your competitors with a close eye to spot their traffic losses, and use the same report to investigate your own site if you notice a loss in traffic.
For more details on how to use this report, visit our Knowledge Base. 
Source link