Content is a vital part of most marketing strategies. 
But without the right tools, trying to create compelling, effective content can feel like a slow and frustrating game. One that eats into time and money better spent on more efficient strategies.
In this article, you'll learn about the best content marketing solutions for creating an effective content strategy, generating assets, and driving higher returns on campaigns.
How Content Marketing Solutions Help Drive Business Growth
Content marketing is all about building awareness, securing conversions, and turning one-time customers into loyal advocates.
How? 
By publishing material they find valuable, like: 
Blog posts
Landing pages
Infographics
Ebooks
Videos
And more.
Content marketing solutions streamline the processes of planning, creating, distributing, and analyzing these materials.
The right tools help you work faster, understand your target audience better, and effectively measure your campaigns' impact. 
They enable you to make data-backed decisions that increase your return on investment (ROI), which directly contributes to your company's sales and growth.
But which tools will help you most? Let's find out.
Best Overall: Semrush
Semrush is an all-in-one online visibility and content marketing platform with over 55 powerful tools included in the suite.
The Content Marketing Platform helps you plan, implement, and measure inbound marketing campaigns.
It saves you time by making valuable data easily accessible. 
That data boosts returns by enabling better strategic decisions.
Here are four of the best Semrush tools for content marketers:
Here's how they help you create stellar marketing content. 
Keyword Overview
Keyword Overview gives you access to the largest keyword research database on the market: one with insights into more than 25 billion keywords. It helps you choose which terms to target with your digital marketing strategy. 
By selecting the relevant words and phrases people search for most often and weaving them into your content, you'll put your brand in front of your target audience on Google. This helps attract more clicks and ultimately gain more opportunities to sell.
To get started, open Semrush and click "Keyword Overview" under "Keyword Research."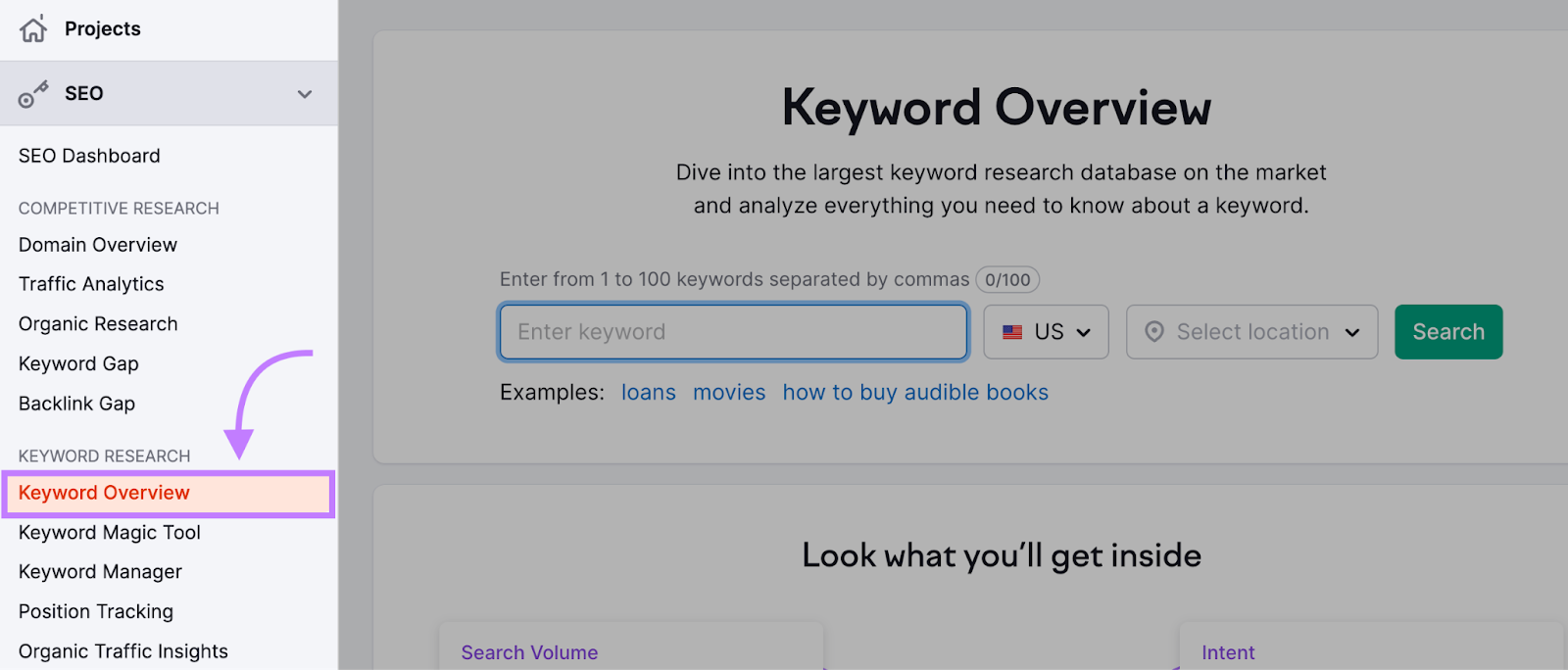 Enter a keyword in the search bar. Select your location using the drop-down menus. Then click "Search." 
We'll use "running shoes" as an example.

On the "Overview" tab, you can access useful data for that keyword like:
Volume: The average number of times users searched for the term on Google per month
Keyword difficulty: An estimate of how easy it would be to rank for this keyword organically
Intent: The typical purpose of users' search queries for this keyword (e.g., informational, navigational, transactional, or commercial)
Trend: The level of interest searchers showed in this keyword in the past year
Results: The number of URLs displayed in organic search results for this keyword
You'll also see a few paid ads metrics. These include cost per click (CPC), competitive density, and the top pay-per-click (PPC) ads on your keyword's search engine results page (SERP).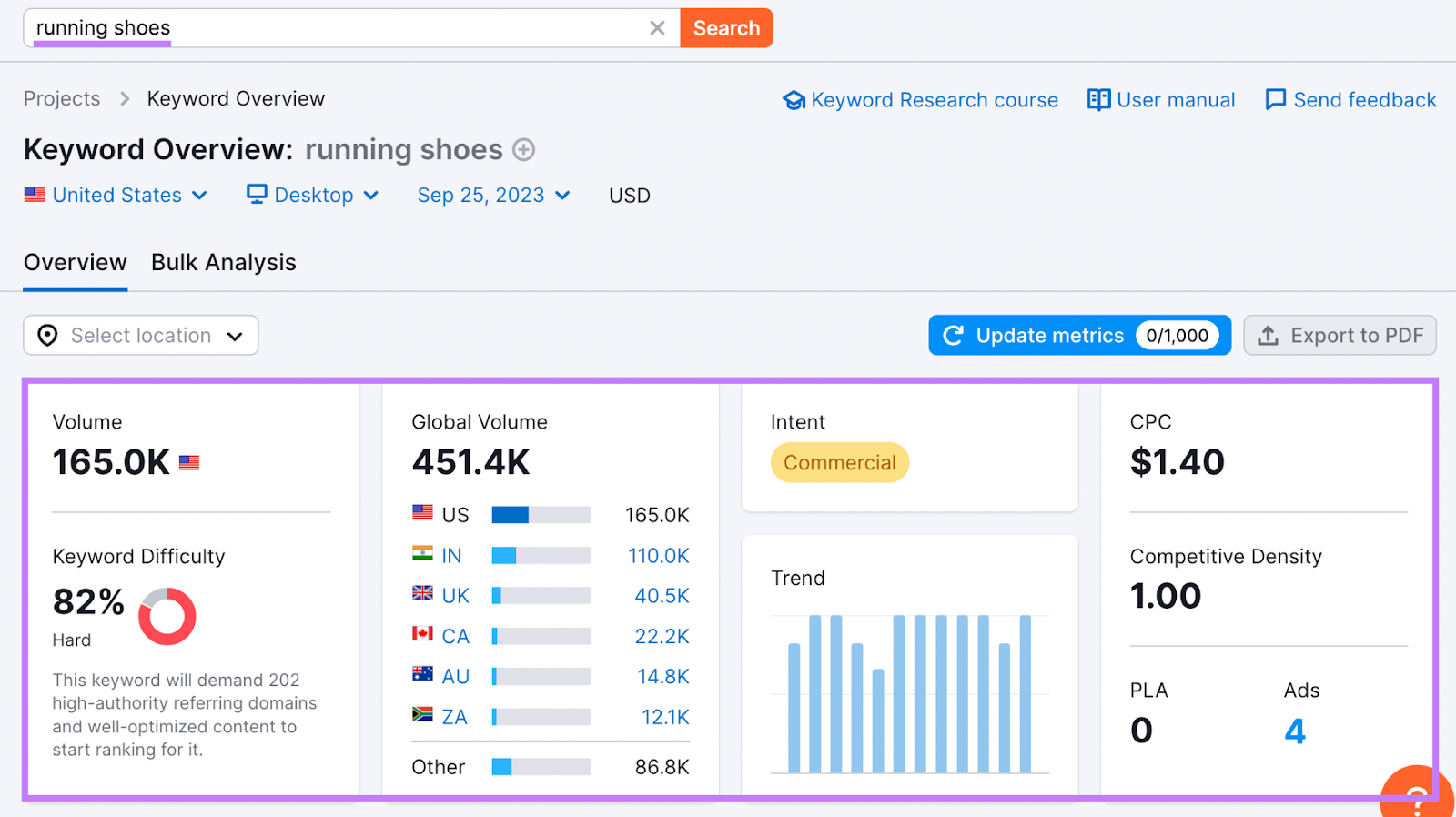 Explore each metric by hovering over the relevant widget. 
Data from this tool can help you suss out keyword value relative to your goals. It can also help you select an appropriate channel for promoting your content—e.g., paid or organic search.
Topic Research
To help you decide what types of content to make, the Topic Research tool generages relevant ideas based on trending topics and Google rankings within your industry.
How does it work? 
Open Semrush and click "Content Marketing." Then click "Topic Research." 
Enter a broad topic idea—or even just the name of your niche—in the search bar. Select your location in the drop-down menu. Add your website domain if you want to. Then click "Get content ideas."
We'll use "running shoes" here too. 
Topic Research displays suggestions in four ways:
Cards
Explorer
Overview
Mindmap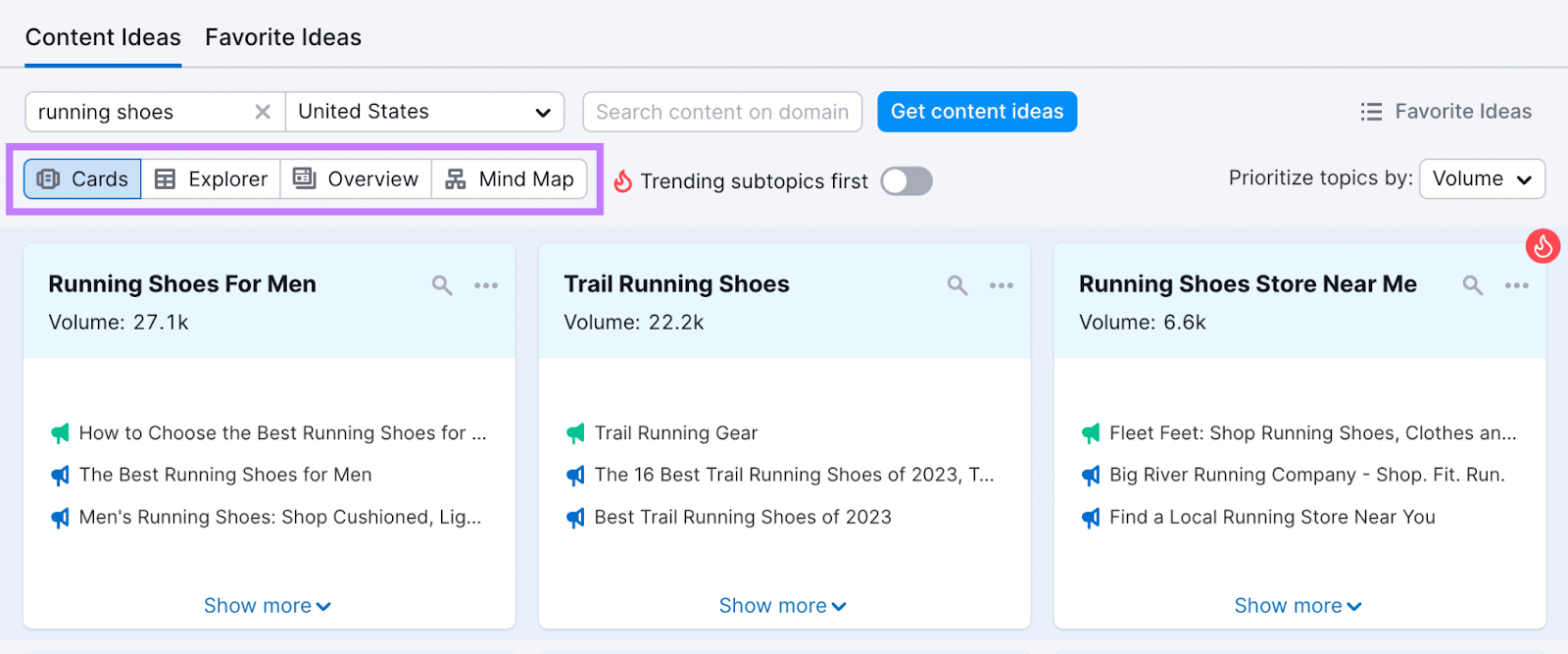 Click around the various views to explore your suggested content ideas. 
For each idea, you'll see topic volume, an audience resonance rating (as measured by the number of backlinks), an estimated ranking difficulty rating, and a content efficiency rating.
Clicking into topics will get you suggested headlines and a list of questions searchers are asking about the topic. The questions are great for inspiring "how-to," "what is (topic)," and FAQ content.
You can also toggle to see trending subtopics first. Or use the drop-down menu to prioritize results by topic volume, difficulty, or efficiency.
Use the information you find to inspire blog posts, ebooks, webinars, podcasts, and social media content.
Using our example, we might choose to write a blog reviewing the best women's running shoes with wide toe boxes. It's a trending topic, it's the least competitive trending topic listed, and it has a high topic efficiency rating.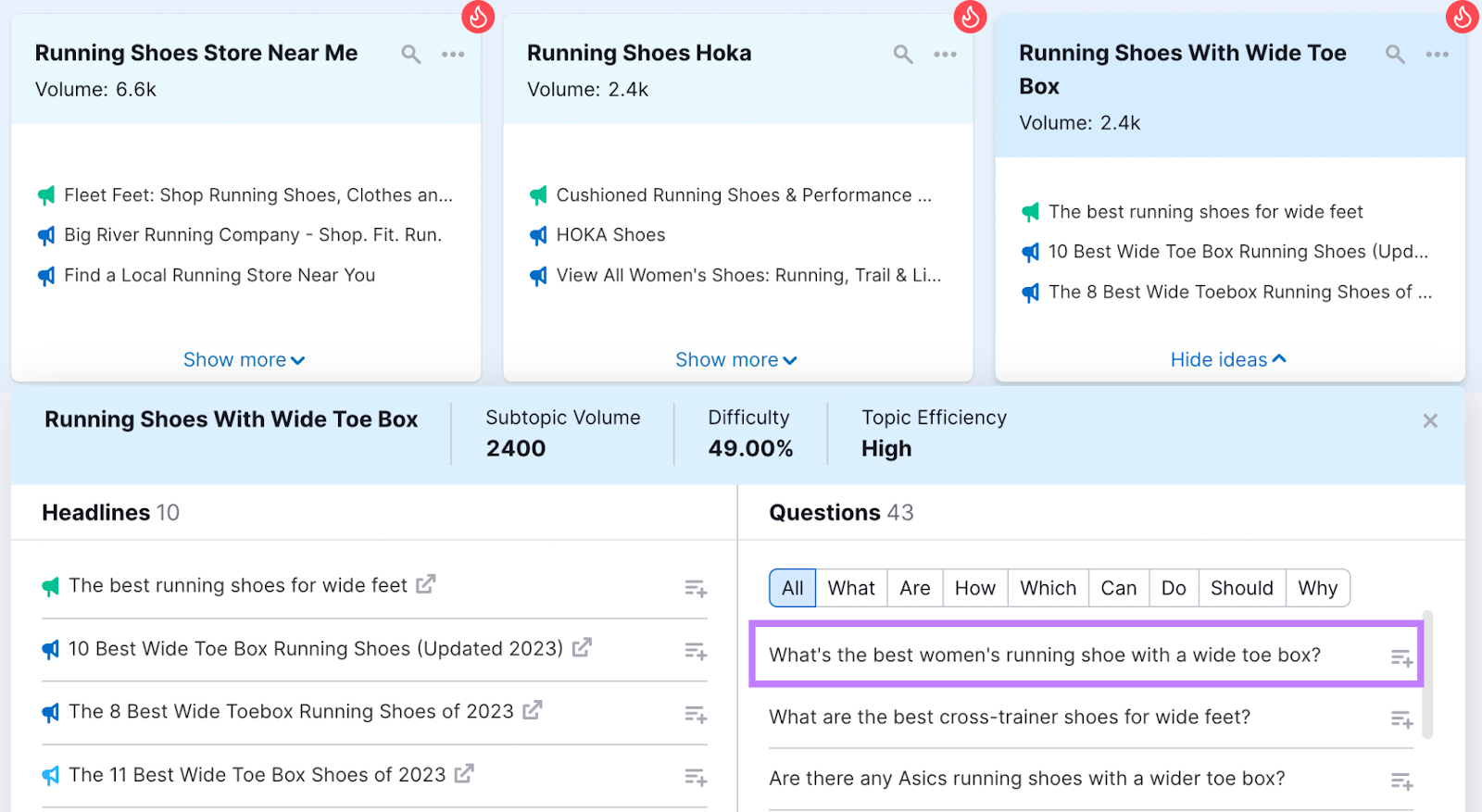 SEO Content Template 
To help kick off your content creation process, the SEO Content Template tool can automatically generate actionable briefs for SEO-friendly asset creation. 
This makes content planning a breeze and handoff to your content writers a cinch. 
To use the tool, open Semrush and click "Content Marketing." Then click "SEO Content Template."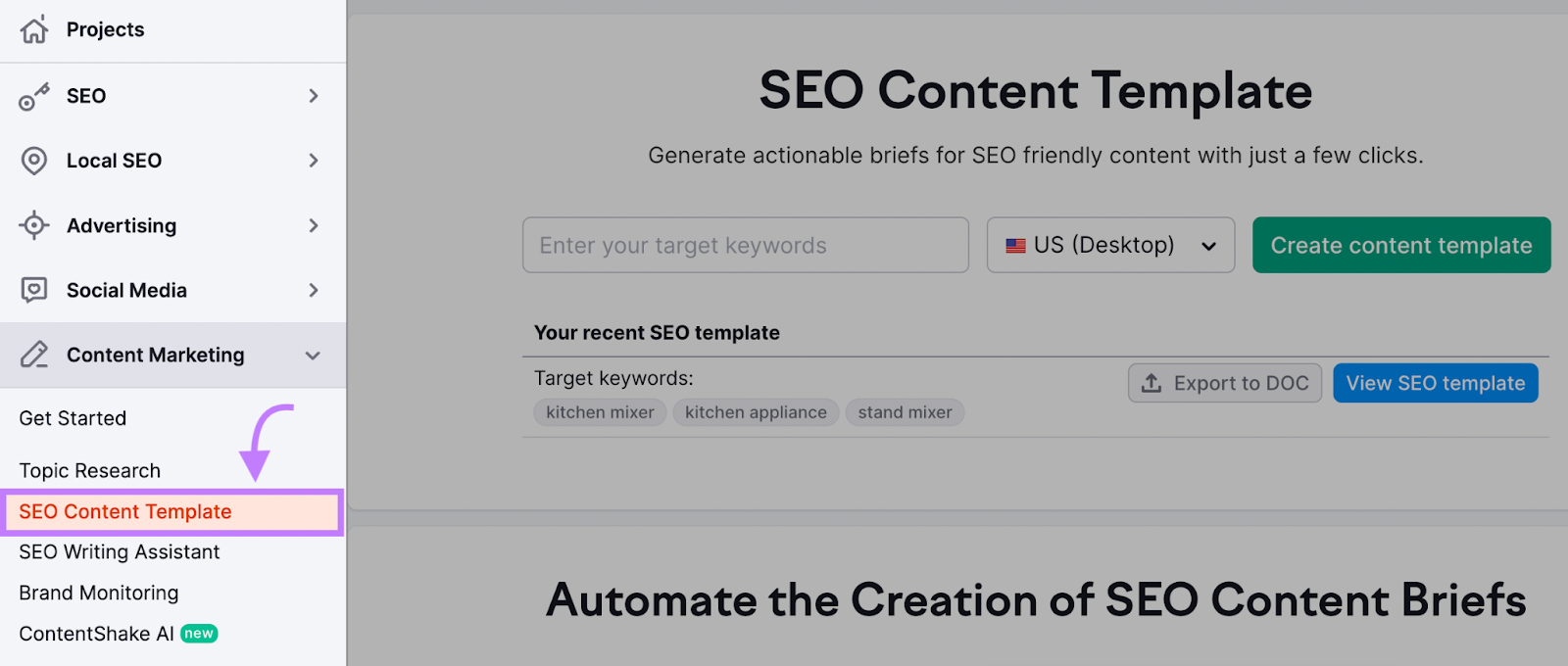 Enter the keywords you want to target in the text field. Select your location in the drop-down menu. Then click "Create content template."
As an example, we will create a brief for that article about women's running shoes with wide toe boxes.

The SEO Content Template tool will show you your top competitors for this content.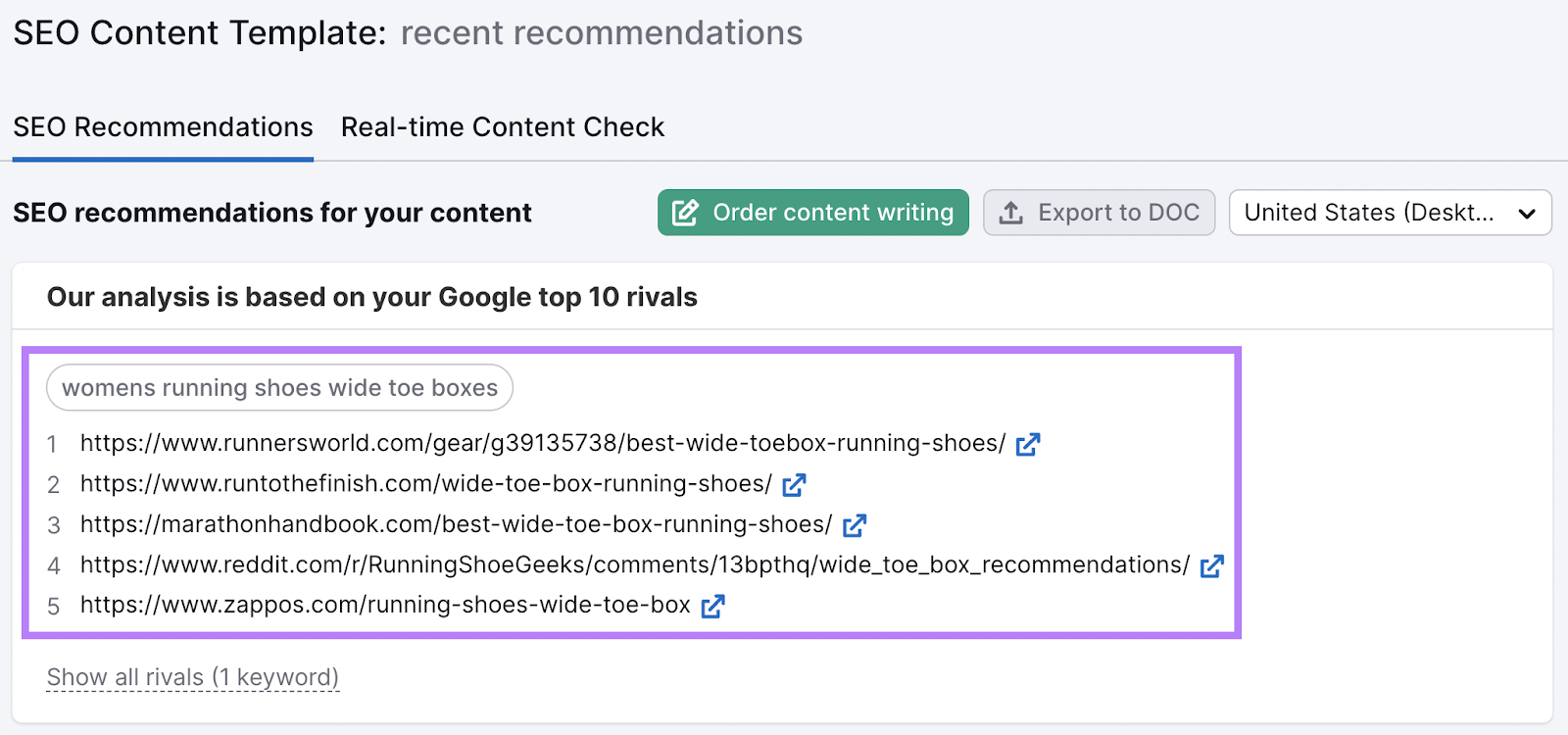 You'll get a list of recommended keywords to include in the content.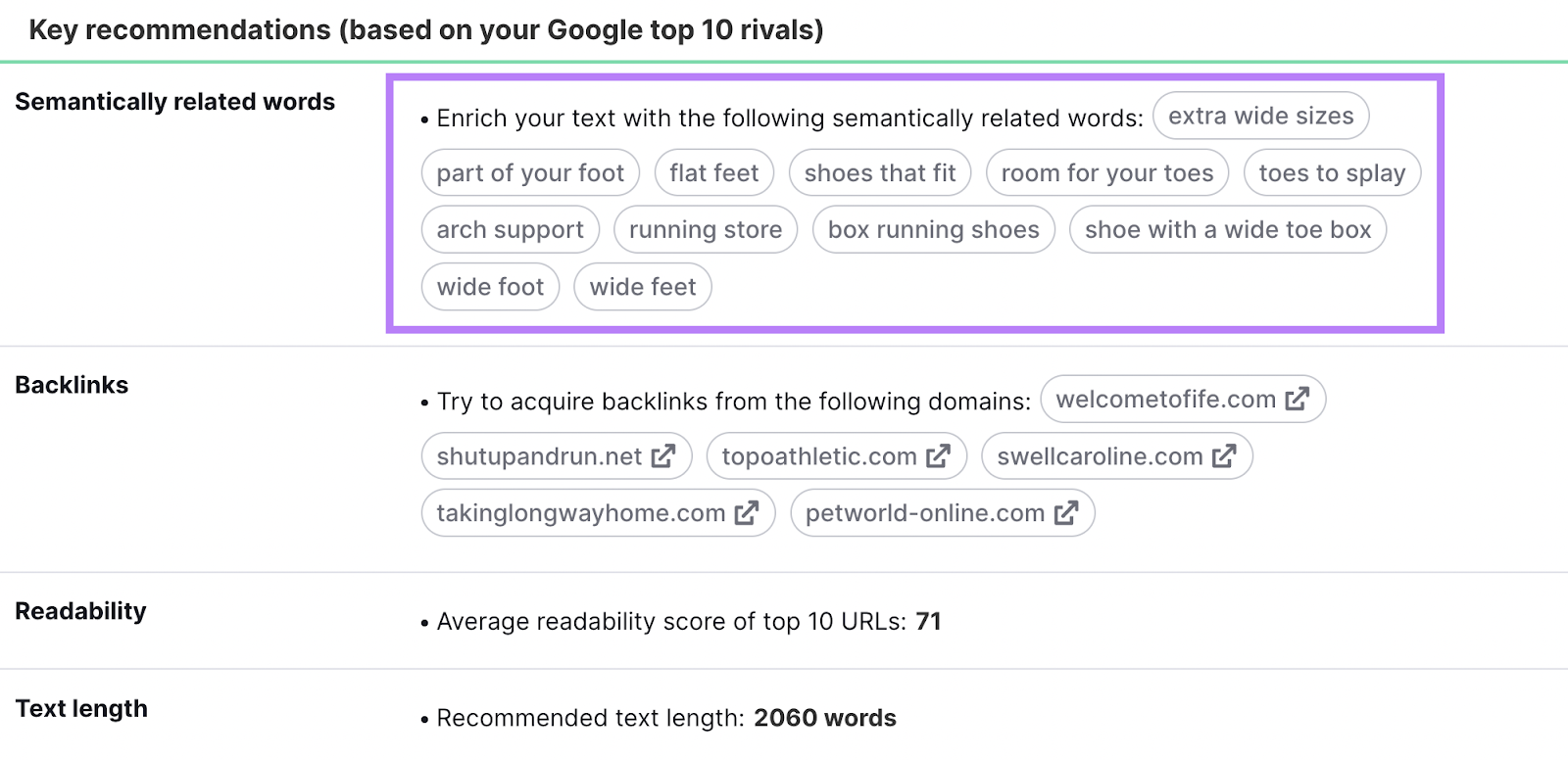 You'll see how competitors are using those keywords.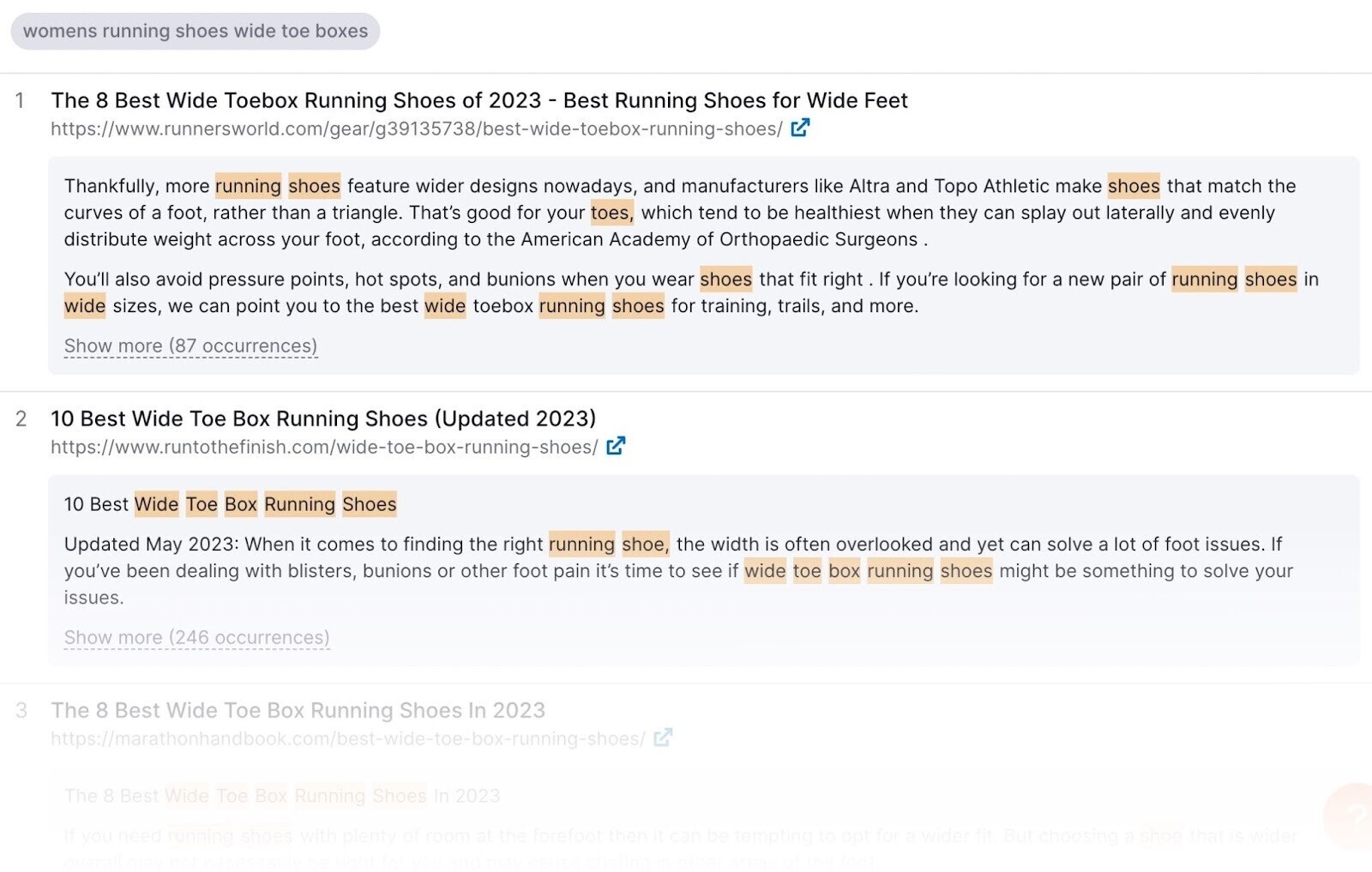 And you'll get some basic recommendations for writing your piece.

You have the option to "Export to DOC" at the top of the page. This makes handoff to your content writer a breeze.
SEO Writing Assistant
The SEO Writing Assistant uses four factors to analyze and grade written content in real time:
Readability
SEO
Originality
Tone of voice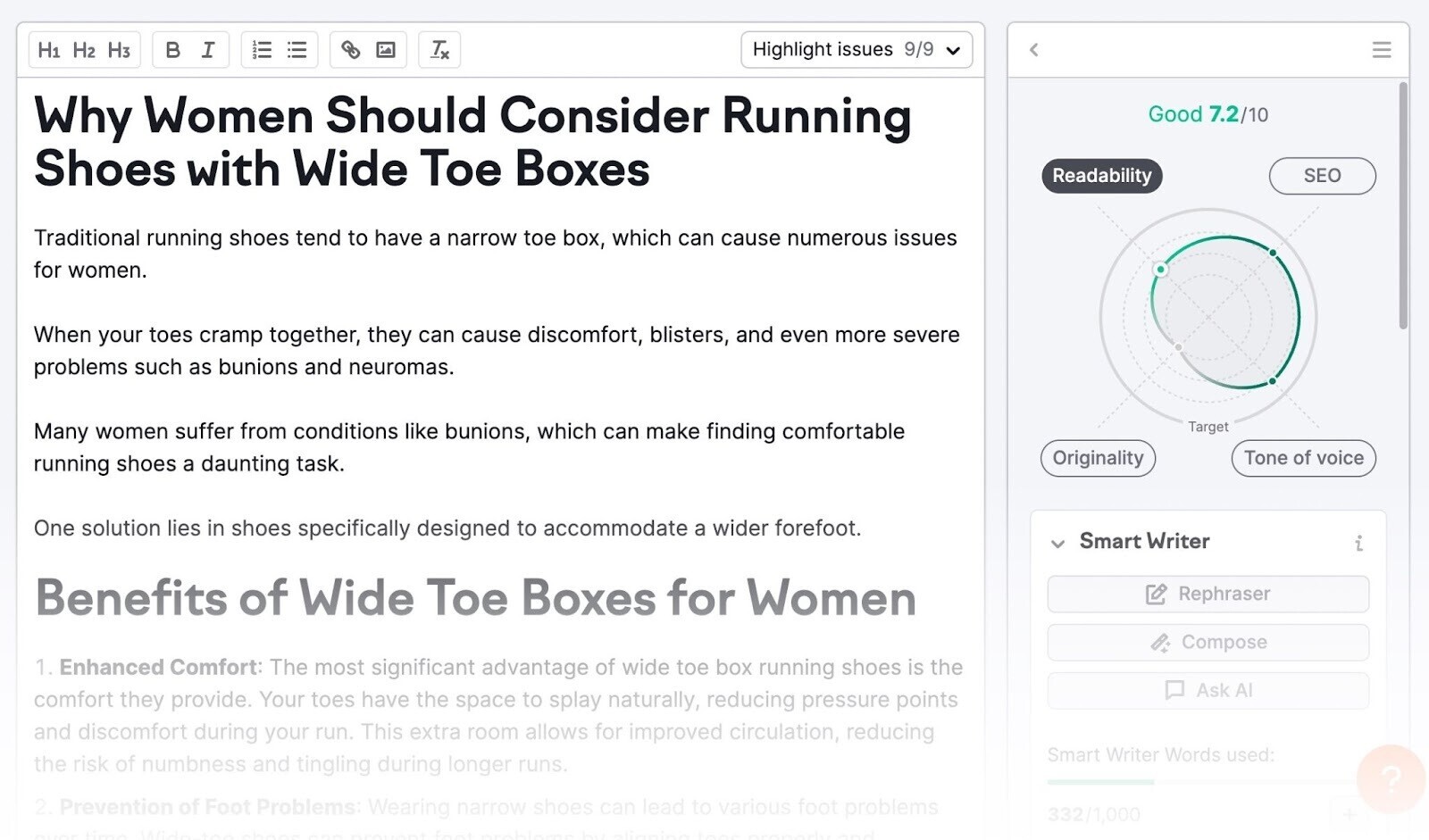 It can check the SEO ranking potential of your content and provide general writing recommendations.
You can use the SEO Writing Assistant to:
Keep your brand's tone of voice consistent across all your content
Optimize your copy for your target keywords (i.e., the terms you researched using the Keyword Overview tool)
Improve overall readability 
Spot potential plagiarism issues
Rewrite or expand ideas with the Semrush Rephraser Tool
To use the SEO Writing Assistant, you can either import published text from the web or write new content directly in the tool. It'll provide live scores and recommendations as you type.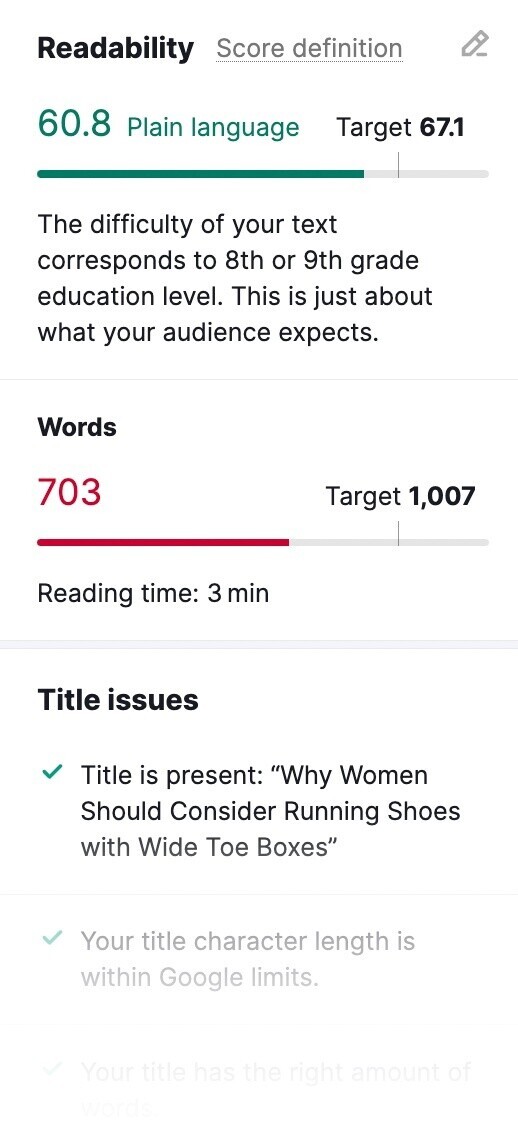 Access the SEO Writing Assistant from your Semrush account. Or integrate it with Google Docs, WordPress, or Microsoft Word.

Ready to learn about the ways Semrush can help supercharge your content marketing efforts? Explore the available third-party integrations. Pricing starts at $129.95 per month (there is a discount for paying annually). Or you can try Semrush free for 7 days.
Best for Lead Generation Content Creation: Outgrow
Outgrow helps marketers create personalized lead-generation content like quizzes, assessments, forms, calculators, surveys, polls, and competitions. 
The app's biggest selling point? You don't need any coding or design skills to use it.
Choose from a library of 1,000+ templates, insert your content, and add your branding. Poof, you're ready to share the content via social media, email, or your website.
Looking for inspiration? The Outgrow site features some examples to help you get started, including this Tesla cost calculator: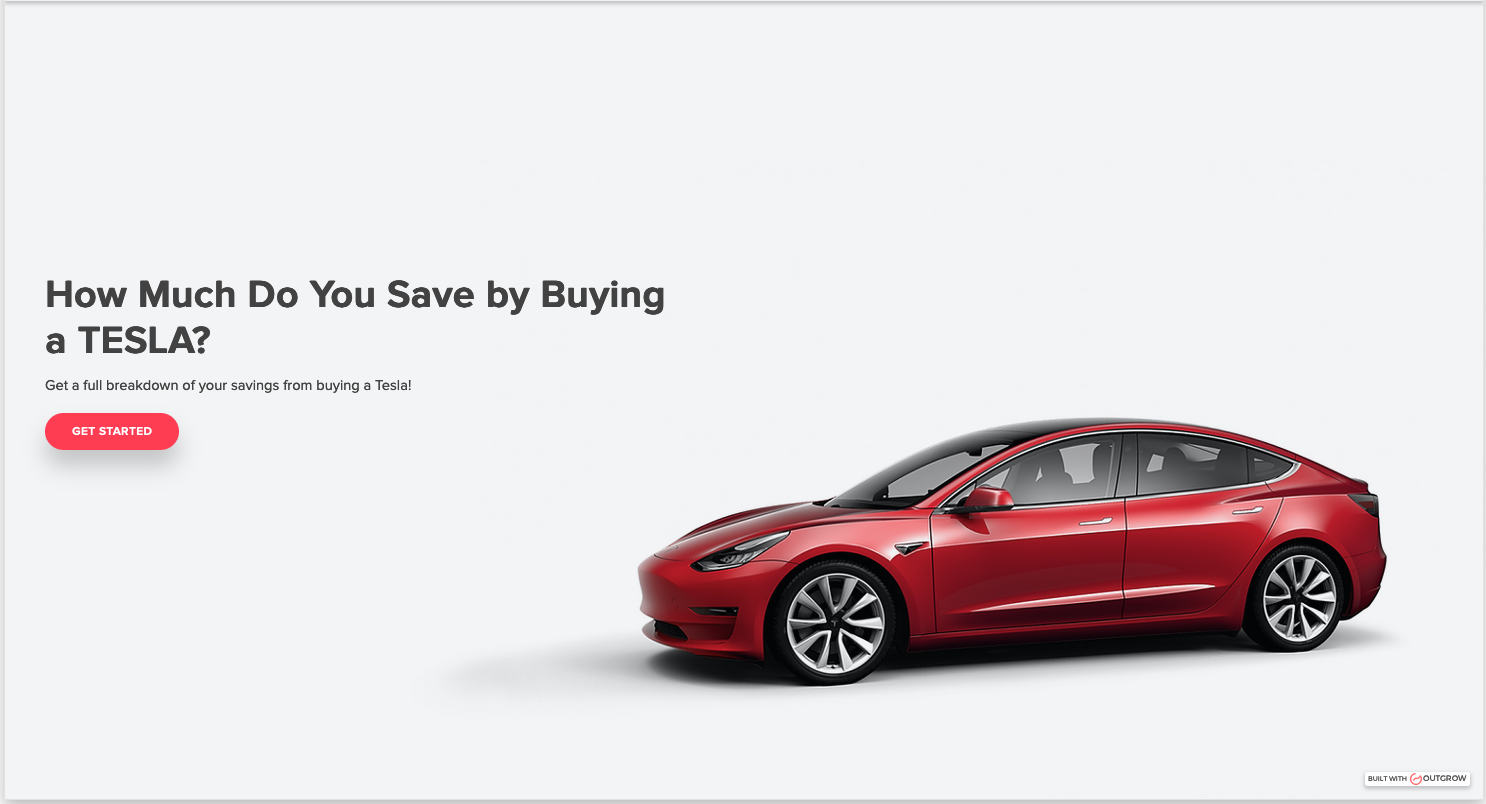 Play around with the mix of custom content to see what's possible for your brand.
Outgrow helps you create interactive content that's ideal for generating and engaging leads. But once you capture those leads, you must manage and nurture them on your own. 
Thankfully, you can share Outgrow lead data with more than 1,000 other marketing tools using the app's Zapier integration. It enables compatibility with customer relationship management (CRM) systems, email marketing software, and spreadsheets.
Plans and pricing: The basic Freelancer plan is $22 per month for one user and includes five pieces of content and up to 3000 yearly leads. Add users and ease limitations by opting for a Freelancer Pro ($45), Essentials ($115), or Business ($720) package. 
Outgrow offers discounts for paying annually. There are also custom plans targeting startups and small businesses.
Alternatives: Involve.me, Jotform, Ion
Best for Startup Content Management: WordPress
Every content marketer and business owner needs a content management system (CMS). This software allows you to upload, store, edit, and organize your marketing assets.
There are plenty of options, each suiting different needs and circumstances.
WordPress is one of the best for small businesses due to its simplicity and flexibility. 
Note: There are two versions of WordPress—WordPress.org, a self-hosted API for creating websites, and WordPress.com, a hosted blog platform. WordPress.org offers more creative freedom while WordPress.com is easier and faster to set up.
WordPress is user friendly for non-developers and has a vast library of customizable themes and plugins for quick personalization.
WordPress has a range of content marketing features like social media and blog plugins, along with newsletter tools.
Plans and pricing: WordPress.org is open source and free to install and use. So is the basic version of WordPress.com, but five pricing tiers cover hosting and additional features: Personal ($9 per month), Premium ($18), Business ($40), Commerce ($70), and Enterprise (from $25,000 yearly).
Many small businesses manage on the Free tier. But spending a little each month unlocks helpful speed, support, and domain benefits that could improve your visitors' site experience. 
Alternatives: Shopify, Google Sites
Best for SMB Content Management: Drupal
If you manage the high-traffic domain of a small-to-medium-sized business (SMB), Drupal might be a more suitable CMS.
Its advanced customization options allow users to tailor the platform to more complex needs. 
That's useful for: 
Publishing different types of content (rather than predominantly text and images)
Pushing content out to less traditional devices like apps and kiosks
Meeting super-specific branding requirements
Drupal also has a reputation for being reliable and secure. Once you're over the learning curve and in the swing of general site maintenance, you shouldn't have to worry about crashes, bugs, or hacks affecting your user experience.
Before settling on Drupal as your CMS, ensure you have the technical expertise to benefit from its developer features. You could hire a freelance developer to help maintain your site, but that'll add to your costs.
Plans and pricing: Drupal is open-source software and free to use. As with all CMSs, you'll still need to pay for hosting and domain registration.
Alternatives: WordPress.org (see above), Joomla, Adobe Experience Manager Sites
Best for Reporting: Klipfolio
Klipfolio is a business intelligence (BI) and analytics tool that can centralize and create visualizations for insightful data from near-countless sources. 
You can pull real-time data from various marketing tools, some of which you may already use. Handy integrations for content marketers include: Google Analytics, Google Ads, HubSpot, Facebook, and Mailchimp.
With all that data in one place, you can:
Track the performance of content campaigns
Keep stakeholders up to date on your content marketing programs
Create more effective content marketing strategies
What does this look like in practice? Say your Growth Metrics dashboard shows a spike in trial signups. But the win-rate metric shows you're not gaining any new paying customers. 
This implies users aren't getting enough from their trial experience to convert. That's the drop-off point.
To increase conversions, you could extend the trial period, make different features accessible to trial users, or refine your ideal customer profile (ICP) to ensure you're generating the right leads. 
Bottom line: Klipfolio's customizable, metric-filled reports and dashboards will help keep your business on the most efficient growth path.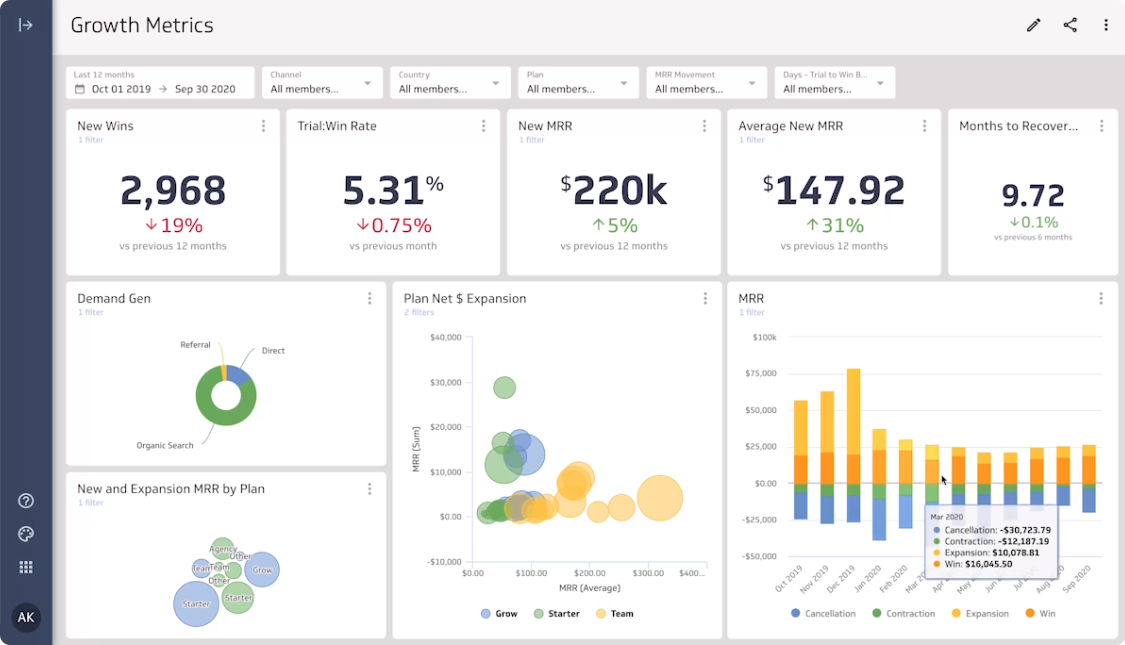 Plans and pricing: Klipfolio has four pricing tiers: Free, Plus ($139 per month), Pro ($299), and Business (from $799). 
Plus is suitable for most small companies. It comes with five dashboards, four editor-level users, unlimited viewer users, and downloadable PDF reports. 
Klipfolio also offers discounts for paying annually.
Alternatives: Geckoboard, Funnel
Best for Organization: Airtable
Airtable is a collaboration tool that allows businesses to unify their in-house data and workflows. It's ideal for managing ongoing content and SEO campaigns.
Marketers can use Airtable as a single source of truth for tracking:
Project briefs and statuses
Editorial calendars and content plans
Intake requests
Team and business goals 
Budgets
Capacity
Centralizing data like this keeps teams and their members aligned. With access to consistent, accurate information, everyone can work toward the same objectives and make sure projects are delivered on time and on budget.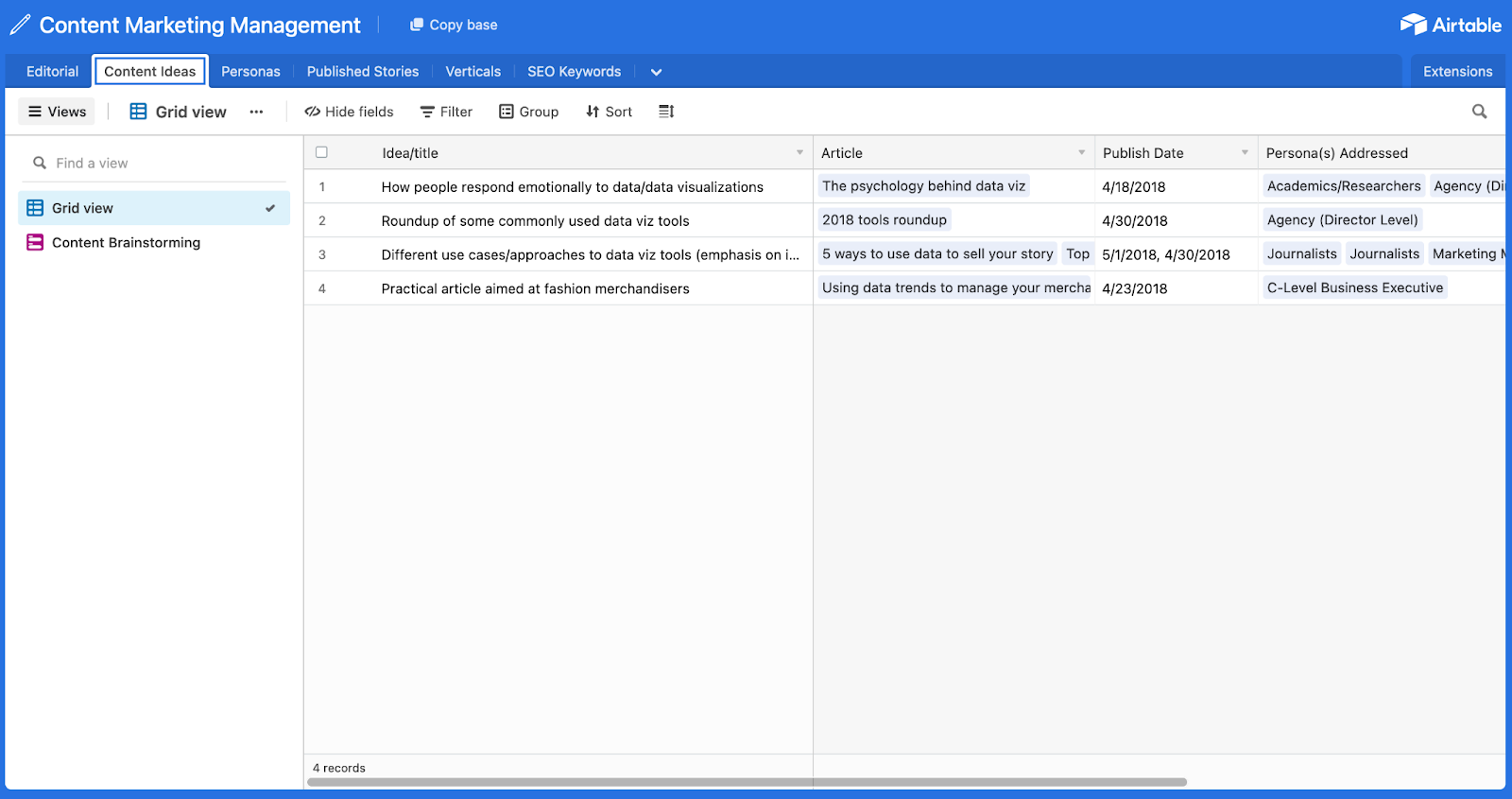 Plenty of project management and collaboration tools are available to content marketers, so why choose Airtable?
It's versatile. Store any kind of data and view it in the way you find most accessible (e.g., grids, calendars, forms, galleries, or Gantt charts)
It eliminates admin. Streamline marketing and other workflows by setting up simple or complex automations, like triggering notifications and creating records 
It integrates with other tech. Connect Airtable to your entire marketing services stack—think Google Calendar, WordPress, Instagram, and more
Plans and pricing: Airtable's Free plan targets individuals and "very small teams." To unlock more extensions, integrations, customization, and file storage, you'll need the Plus ($12 per seat, per month), Pro ($24), or Enterprise (price on request) package.
Airtable offers discounts for paying annually.
Alternatives: Trello, ClickUp, Notion, Asana
Best for Non-Designers: Canva
Canva helps non-designers create high-quality visual assets like logos, explainer videos, infographics, and business cards. 
It's especially useful for social media posts. The speed and simplicity allows you to publish often without sacrificing quality.
And with a target audience of freelancers, startups, and small businesses, Canva specializes in enabling resource-limited teams to compete with bigger rivals.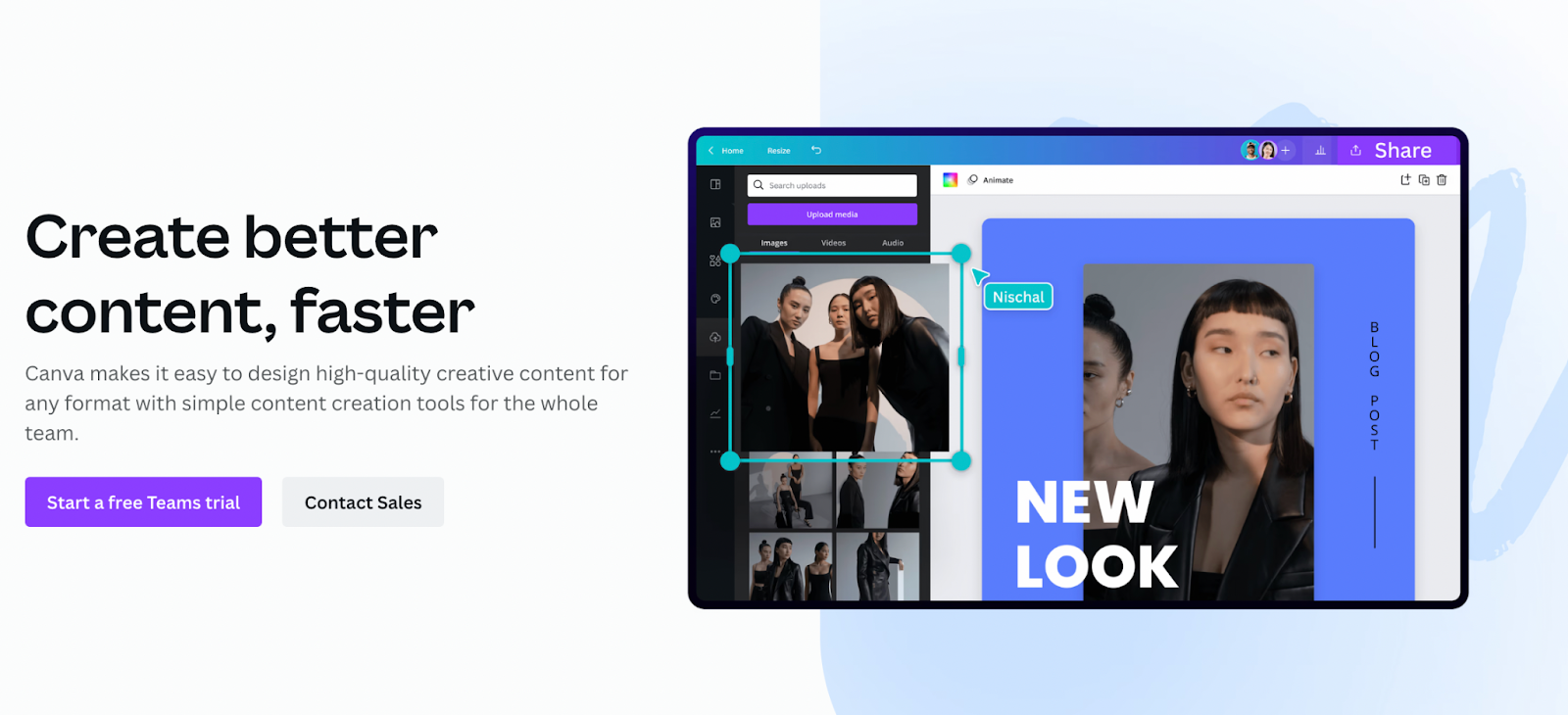 The platform's highlights include:
Thousands of customizable templates
Sharing features for collaboration, approvals, and feedback
The ability to download, schedule, and print content
You can also connect Canva with other apps to source content for your drag-and-drop creations. Helpful integrations include Google Drive, Dropbox, Instagram, and YouTube.
Check out Canva's template library for ideas of what's possible.
Plans and pricing: Canva's Free plan is ideal for individuals but has limitations. The Canva Pro tier includes more imagery, premium templates, and 1TB of cloud storage for $12.99 per user per month. Canva for Teams starts at $14.99 per month for two or more users.
Like others, Canva offers discounts for paying annually.
Alternatives: Venngage, Adioma
Best for Faster Brief Creation: Narrato
Narrato aims to simplify the content brief creation process using artificial intelligence (AI). Its focus on streamlining the workflow makes it ideal for small teams running fast-moving content campaigns.
The software combines SEO data (e.g., relevant keywords and questions) with user input (e.g., style guides, reference points, and notes) to create semi-automated briefs for writers.
One of the more appealing features is an embedded AI-powered grammar checker that is designed to make your content more readable.
It recommends fixes for long paragraphs, redundant words, and complex sentences. The result is less friction for readers, meaning higher engagement and better campaign outcomes. 
It checks for plagiarism concerns too.
Narrato's brief creation tool is a great case study for AI. It doesn't attempt to replace human input fully, but complement it. Its automation saves time, allowing you to get faster results and maximize your digital marketing investments.
Plans and pricing: Narrato has a free plan for individuals and marketing teams just getting started with content marketing. You'll need the Pro ($13 per user per month) or Business ($25) package to unlock more content items, custom workflows, and developer options.
Narrato offers discounts for paying annually.
Alternatives: SEO Writing Assistant, Content Harmony
Time to Build a Content Marketing Toolkit
Effective campaigns demand more than one tool. You'll need a mix of trusted content marketing solutions to plan, execute, and measure your campaigns effectively.
Luckily, there are plenty of viable options, many of which integrate with each other to support your entire content operation.
Prioritize connectivity, ease of use, support, and flexibility to build a high-quality content marketing toolkit. Your campaigns, calendar and customers will thank you for it. 
Tip: Looking for a best-in-class content marketing tool to get started? See how small businesses use Semrush to stay dynamic with templates, automations, and more.
Content Marketing Solution FAQs
1. What problems does content marketing solve?
Content marketing solves challenges like low brand awareness, poor audience engagement, and limited lead generation. 
Consistent creation of valuable, relevant content attracts and retains customers, enhances brand reputation, and drives conversions.
2. What are the 4 Cs of content marketing?
The 4 Cs of content marketing are: 
Creation
Curation
Circulation
Conversion
Creating compelling content, curating existing valuable content, effectively circulating it among your target audience, and ultimately converting prospects into loyal customers.
3. What problems do content marketing solutions solve?
Content marketing solutions (i.e., tools or software) solve problems related to content creation, distribution, and measurement. 
They streamline workflows, improve collaboration, and enable data-driven decision-making to enhance campaign effectiveness.
4. What is content marketing SaaS?
Content marketing SaaS (software-as-a-service) refers to cloud-based software that assists businesses in planning, executing, and measuring their content marketing efforts.
Cloud software is typically more cost-effective, scalable, and versatile than on-premise software (tools that are physically installed and hosted at users' premises).
Source link