What Is an AI Email Assistant?
An AI email assistant is a specialized software tool that uses artificial intelligence to manage and optimize your email tasks. Like summarizing long threads, categorizing inboxes, and drafting emails.
You can use AI email assistants to simplify the often overwhelming task of inbox management and to automate routine actions.
Take Klart's AI Mail Assistant as an example. 
It can generate responses, summarize lengthy email threads, translate emails, and improve your writing.
The best part is that AI tools are constantly learning—but not in a "they're going to take over the world" sort of way.
AI email assistants use natural language processing (NLP) and machine learning (ML) to improve over time, offering more accurate and personalized support.
Further reading: You can learn more about how AI works in our article: How Does ChatGPT Work? (Simple & Technical Explanations)
What does AI learning mean for email management?
Generally, you can expect fewer errors over time. And more contextually appropriate suggestions as the technology learns your specific writing style, making your email management more efficient.
Plus, many AI assistants have robust security measures like encryption to ensure your email data stays private.
This is key for everyone, especially businesses that promise to keep clients' and customers' sensitive information secure.
What Can an AI Email Assistant Help You With?
Email has been a staple in business communication as far back as the mid-1980s. 
It's seen some upgrades since then, like scheduling sending and compartmentalizing inboxes. But now, email is in for a transformational shift. 
AI is shaking up the way we manage our inboxes.
And plenty of startups are out there building the tools to do it. (The list in this article is just the tip of the iceberg.)
AI acts as your personal assistant, taking over mundane email tasks and transforming email management into a streamlined, efficient process.
Here are some of the ways AI email assistants can help you (so far):
Process and summarize email content: Processing emails is a game-changer for busy professionals. An AI email assistant can summarize lengthy texts by highlighting the key points so you can take action without reading the entire email.
Extract data from buried emails: Almost everyone has been frustrated by their email service provider's search function. AI assistants can scan your inbox for crucial information like dates, invoice numbers, and contact details. Then, they can add it to another tool like a CRM or a calendar.
Generate responses: AI email assistants draft contextually appropriate replies that align with the tone and style of the incoming email. This ensures your replies feel genuinely human, not like they're churned out by a machine.
Organize your inbox: AI tools can categorize, tag, and prioritize your emails, turning your cluttered inbox into a well-organized command center. This way, you'll know exactly where to find that urgent email when you need it.
AI Email Assistant Limitations
While AI email assistants are incredibly versatile, they're not a one-size-fits-all solution for every email challenge. Certain nuanced tasks and delicate situations need human judgment.
In an interview with AI Business, the head of data platform product at Mailchimp, John Humphrey, compared generative AI to an intern:
The mental model I would use here is like having a smart intern. You would never necessarily let them hit 'send' on a campaign without taking at least some sort of peek at it. But by and large, they're going to get a good first iteration.
Here are a few of AI email assistants' limitations (for now):
Emotional intelligence: While AI can analyze text, it can't grasp emotional nuances the way a human can. This becomes particularly important for marketers managing customer relationships or conducting outreach campaigns, where the wrong tone could turn a potential lead cold or damage brand reputation.
Complex decision-making: AI can sort and analyze data, but cannot interpret it in the context of broader business goals or interpersonal relationships. Human expertise is irreplaceable for decisions that require a deep understanding of context.
Crisis management: In situations like a PR crisis or a product launch gone wrong, every email sent can either mitigate the issue or fuel the fire. AI email assistants aren't equipped to handle the subtleties of crisis communication strategies, such as crafting carefully worded statements.
Fact-checking: AI tools are known for "hallucinating," where they make up facts, like running being invented in 2022.
Ethics: There are currently very few regulations around how AI is trained or what it can do. Plus, AI has been known to amplify biases, so always check the outputs.
Despite these limitations, AI email assistants can still be game-changers for your inbox. They offer time-saving features and organizational benefits that can free you up to focus on tasks that require your unique human touch.
Top Picks for AI Email Assistants in 2024
We've handpicked a selection of AI email assistants, each offering time-saving features that can transform how you manage your emails.
Best for Writing Emails: AI Writing Assistant
AI Writing Assistant is the best AI email assistant for marketers who need to run efficient email campaigns.
Whether you're welcoming new subscribers, re-engaging existing ones, or even reaching out to cold leads, this tool ensures your messaging is compelling and finely tuned to your audience's needs.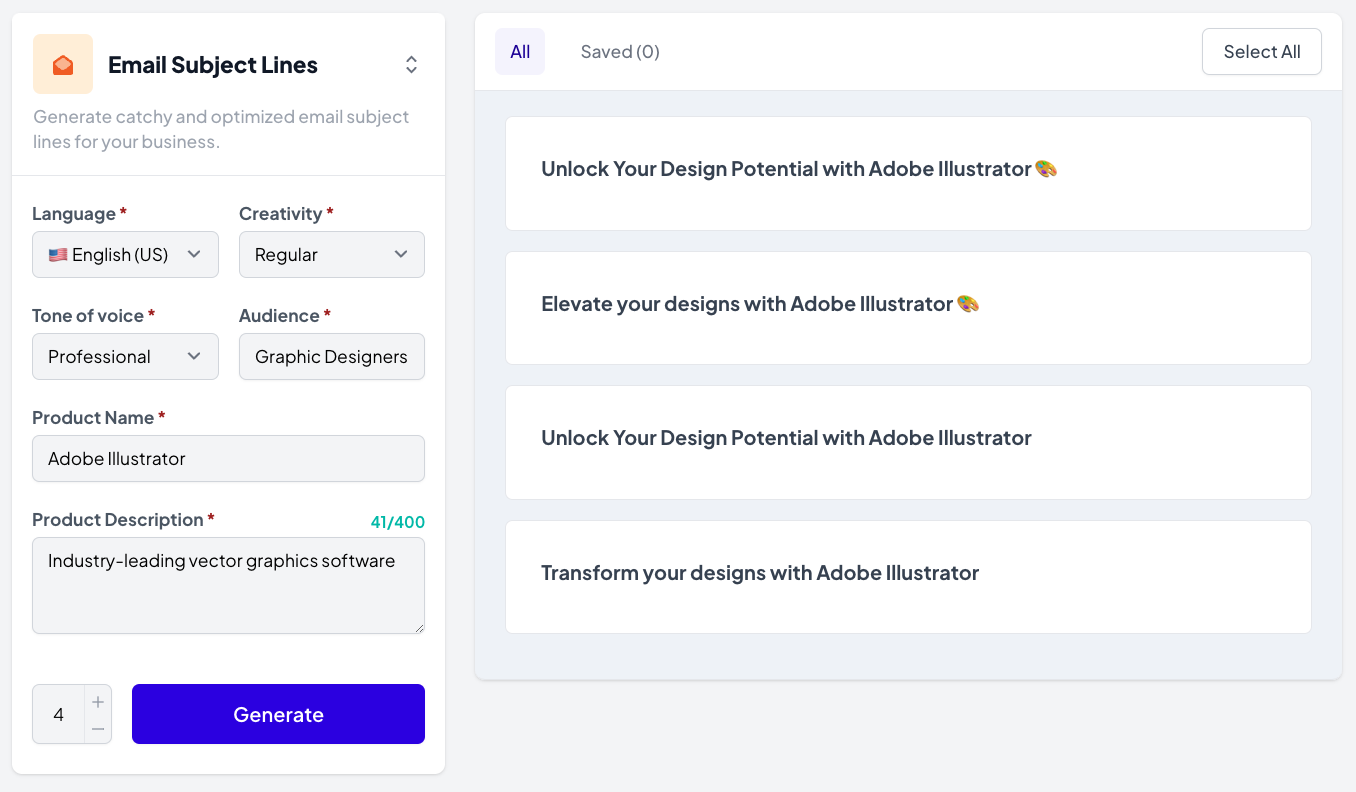 Semrush AI Writing tool comes with several key features.
Email subject line generator: Generate eye-catching subject lines that align with your campaign goals. You can use the generated subject line as is or adjust it to your liking.
Confirmation emails: Reassure users after they've signed up for a service, purchased your product, or updated their profile information.
Cancellation emails: Send targeted emails triggered by a user's decision not to renew a subscription. You can use this as an opportunity to offer alternatives or incentives (like a free month or discount) to win back the customer.
Welcome emails: Create welcome emails that greet new subscribers and guide them to the next steps in their customer journey.
Follow-up emails: Write an email to engage with your leads in response to their actions, like free trial sign-ups or meeting attendance.
Cold emails: Initiate contact with cold leads in a way that's personalized and aligned with specific business objectives, increasing the likelihood of a positive response.
Generating any type of email content with the AI Writing Assistant is quick and easy. All you need to do is provide details like the language, creativity level, tone of voice, who your audience is, and the name of your product or service and its description.
Once you feed the AI tool with these details, choose how many variations you'd like the tool to come up with, and click the "Generate" button.
Let's craft a friendly follow-up email to salespeople who have seen a demo of Decipad, a tool that creates interactive data presentations. 
With Semrush AI, you get personalized draft suggestions tailored to your audience.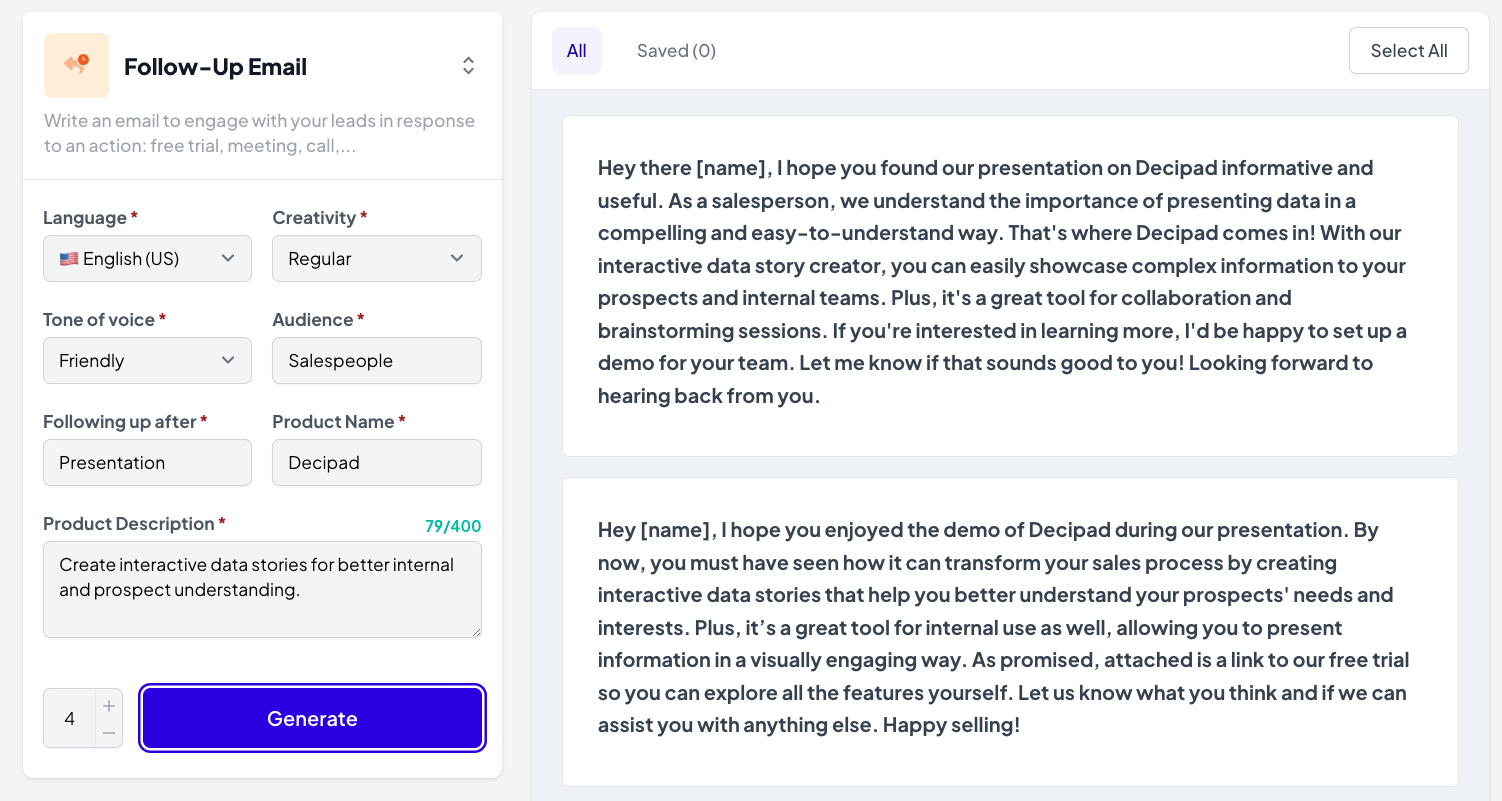 You can pick your favorite draft from suggestions and use it as it is. Or tweak it to fit your unique voice.
Crafting emails is one part of the job, but you also need a signature that ties together your messaging and allows you to share your contact details.
Email Signature Generator adds that final touch, making each email uniquely yours and memorable to the recipient.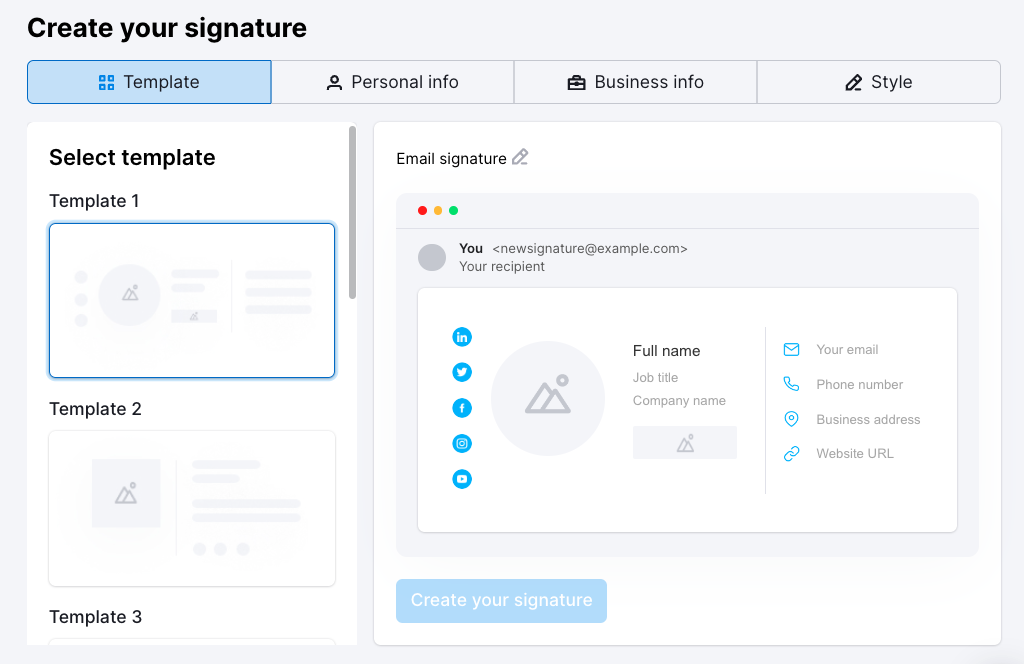 Simply choose your preferred signature template, add your personal and business information, and adjust colors to create a compelling email signature.
Pricing
If you want to try Semrush AI Writing Assistant, it offers a free trial with a 1,500-word limit. It's enough to kickstart several emails and get the feel of the tool.
And for $25 a month, you get unlimited app usage and access to its more than 75 content creation tools.
Best for Summarizing Emails: Klart AI Mail Assistant with ChatGPT
We'd be remiss if we didn't include in this list a tool that uses ChatGPT for emails. ChatGPT can help you understand context through summarization. You can harness the technology in your inbox using integrated apps like Klart's AI Mail Assistant.
Klart uses ChatGPT to create a Gmail AI assistant, minimizing the time spent pulling meaning out of long emails, helping you get to the point—fast.
If you receive a lot of pitches or lengthy emails, a summarizing tool could save you a lot of time. It can give you the highlights and even generate replies, such as accepting or declining meetings.
Perhaps you prefer to write out your responses, but spend way too much time editing them to perfection. 
AI Mail Assistant can take your draft response and improve it. It corrects any grammatical errors and refines unclear language, so you're sure you're sending concise, error-free messages.
AI Mail Assistant's features include:
Email summarization: Save time by summarizing email threads with a single click, allowing you to respond without sifting through endless conversations
Response generation: Craft quick and accurate replies to emails based on their content
Grammar and writing improvement: Fix grammar and style issues in your drafts with just one click
Email translation: If you receive email in a foreign language or want to send one, ChatGPT can translate emails into 13 different languages. This helps you break down language barriers in international email communications.
Ethical and tone analysis: ChatGPT for Gmail will scan your emails for ethical issues, ensuring your communication is not only clear, but also respectful
Ask ChatGPT: You can ask ChatGPT questions directly from Gmail, even if you don't have an OpenAI account
Here's how to integrate ChatGPT into your Gmail Workspace:
Install ChatGPT for Gmail from the Google Workspace Marketplace
Select your email account
Grant the necessary permissions
To start using the tool, open the email you need assistance with and click the Klart logo on the right-side menu. Then, choose the action you want the AI to perform.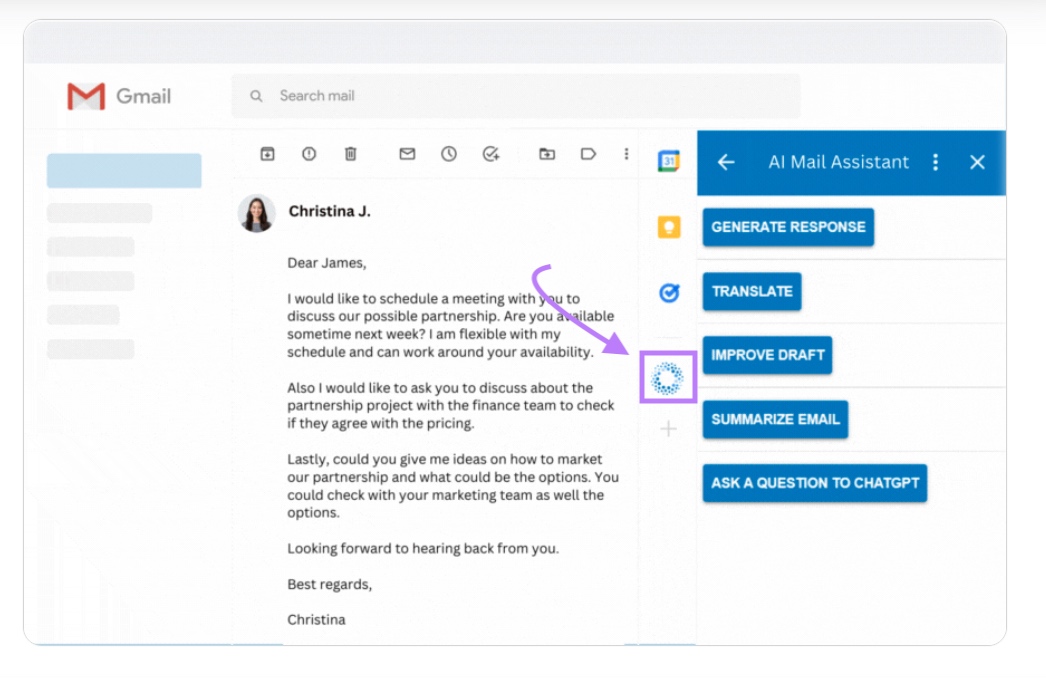 Pricing
Klart offers a free plan to get five queries per day using ChatGPT version 3.5. If you'd like unlimited AI responses and to use the more powerful ChatGPT 4.0, upgrade to a paid plan starting at €4.99 per user, per month (around $5.30 at the time of this writing).
Best for Team Collaboration: Missive
Missive uses AI to support teams that need to collaborate on email management. It's particularly useful for customer support teams handling a high volume of customer queries.
Missive's AI email management assistant suggests the most relevant email responses based on the conversation history, saving countless hours deliberating over the best way to word an email.
To ensure your communication is always on point, the AI learns your company's voice and uses that knowledge to craft personalized, professional replies.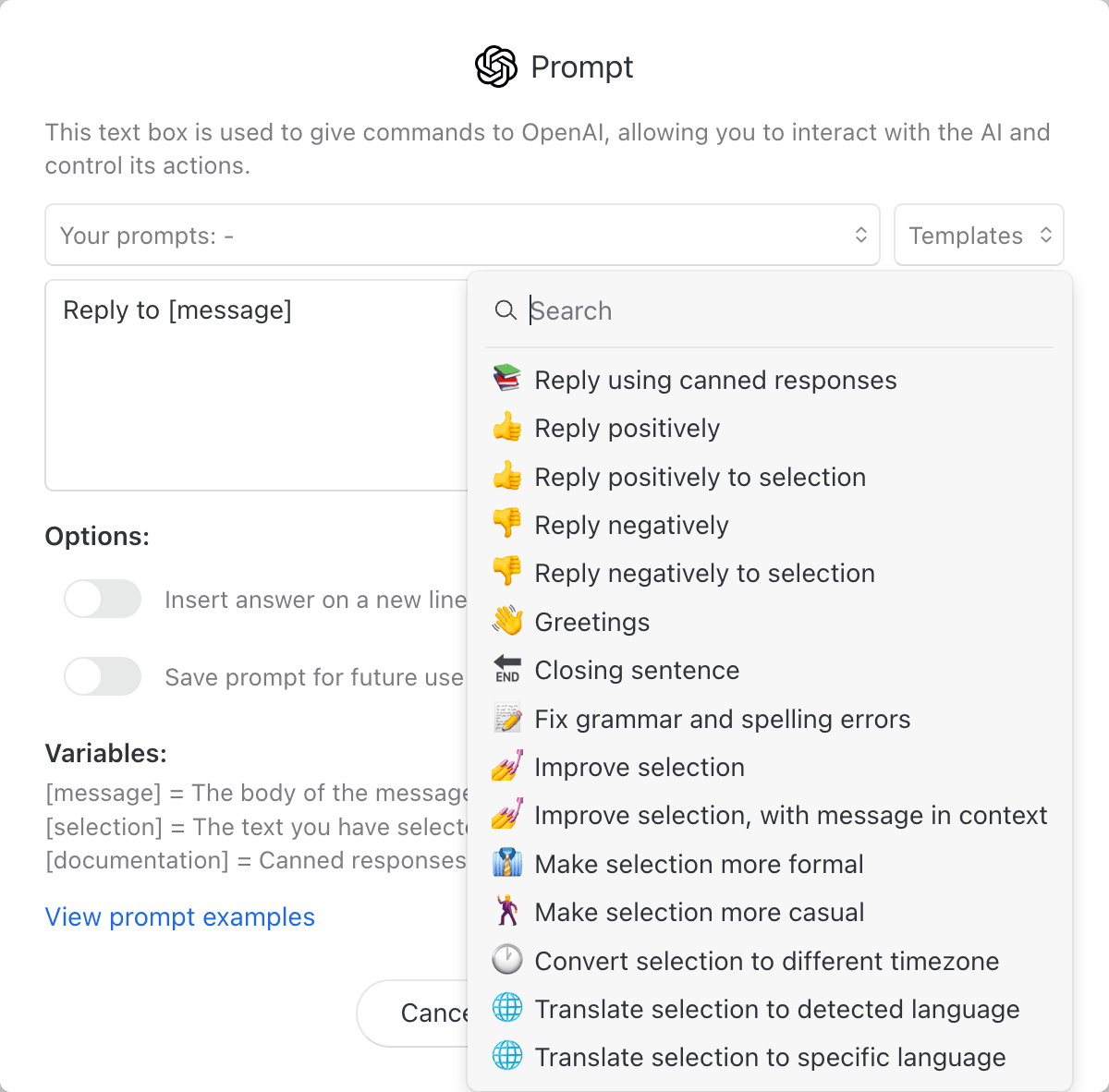 Missive features include:
Quick email generation: Using OpenAI's power, you can draft emails or replies in a snap. The AI understands the context of the conversation, allowing for relevant and timely responses.
Canned responses: The AI can access your pre-set canned responses, using them as a knowledge base to reply to messages
Message translation: If the customer emails you in another language, Missive will translate it to English for you. It can then help you generate responses in the recipient's language.
Improve your emails: Missive will correct your grammar, spelling, and the structure of your sentences.
Change tone: Say you've written a new email, but you want to change your tone from formal to casual. Missive can do it in seconds.
To start using Missive's OpenAI integration, you'll need to create an OpenAI account, generate an API key, and enter it in Missive's integration settings.
Once set up, you'll see the OpenAI icon in your email composition window, giving you quick access to AI-powered features.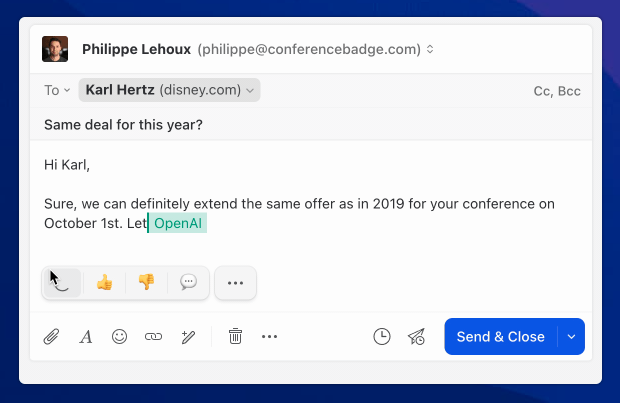 Pricing
Missive subscription plans are available for free, without OpenAI integration for $14 per month, per user, and with OpenAI integration for $18 per month, per user.
Best for Personalization: Warmer.ai
Warmer is an AI-powered email personalization tool that customizes every aspect of your emails, aiming to increase engagement and sales.
Warmer uses AI algorithms to scan and analyze data from various sources like LinkedIn profiles, websites, or CSV files. Based on this data, it crafts personalized elements of your emails, such as subject lines, body copy, and calls to action.
For example, if you insert your prospect's LinkedIn profile link, Warmer will search the profile and scrape pertinent information.
Say your prospect mentions on their profile that they got into programming at age seven.
Warmer will incorporate this information and start your sales email with a highly personalized compliment.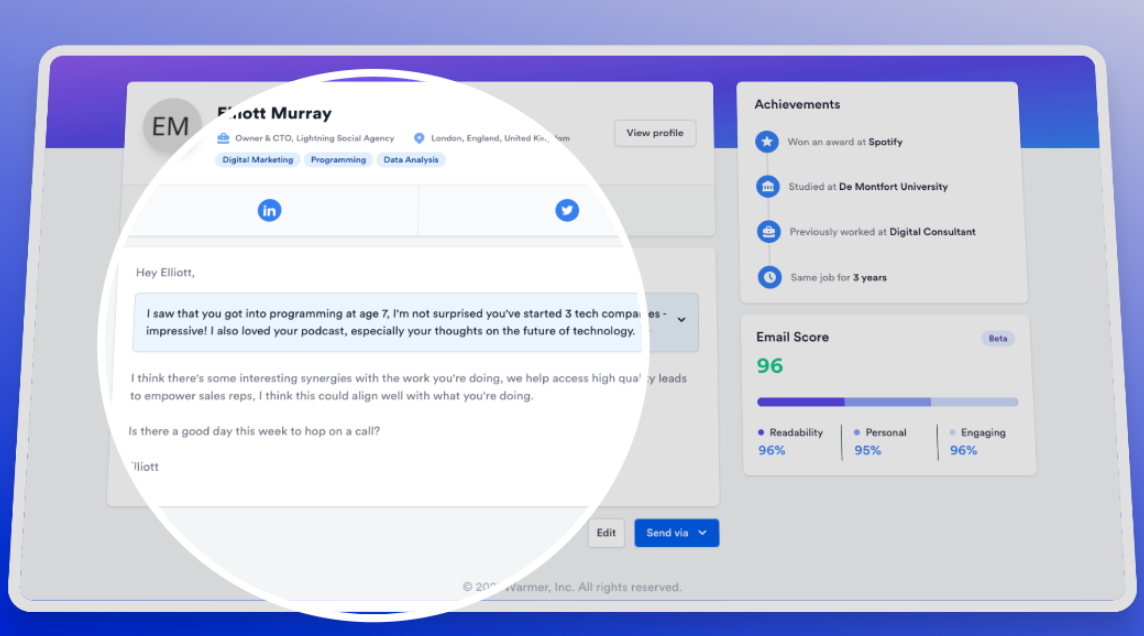 This level of personalization ensures that each email is relevant and highly engaging for the recipient.
Most importantly, it saves you the time you would otherwise have spent manually browsing your prospects' LinkedIn profiles or websites.
Warmer features include:
LinkedIn and website analysis: The AI scans your prospect's LinkedIn profile or website to create highly personalized emails. It can even process lists of multiple people, making it ideal for targeted email campaigns.
Automated personalization: It's a time-saving feature that eliminates the need to manually edit each email. The AI personalizes the content based on the data it gathers, saving you time and effort.
Crafting objective-based emails: Choose your email's objective, like booking a meeting or driving website traffic, and Warmer tailors the content accordingly
Warmer.ai is a standalone tool that doesn't require installing any apps or integrating into your email client.
Simply enter a LinkedIn profile or website URL, or CSV file, and the AI takes it from there, generating personalized emails you can export and send using your preferred email client.
Pricing
When you sign up for Warmer, you'll get 10 credits to try it out. You can provide 10 prospects, and Warmer will help you write 10 cold emails.
When you run out of credits in your free plan, you can upgrade to a paid plan. The lowest subscription starts at $59 per month and includes 500 credits, renewed each month.
Best for Contact Management: Mailbutler
Mailbutler is an email AI assistant that's good for small business owners and marketers who need to manage a growing list of contacts and a busy task schedule.
Mailbutler's Contacts feature is a robust solution for managing your Gmail, Outlook, and Apple Mail contacts. It allows for easy importation of your existing address book.
Once imported, Mailbutler provides detailed information on each contact whenever you select an email from them. You can edit this information manually and even add custom fields for any extra details you want to keep track of.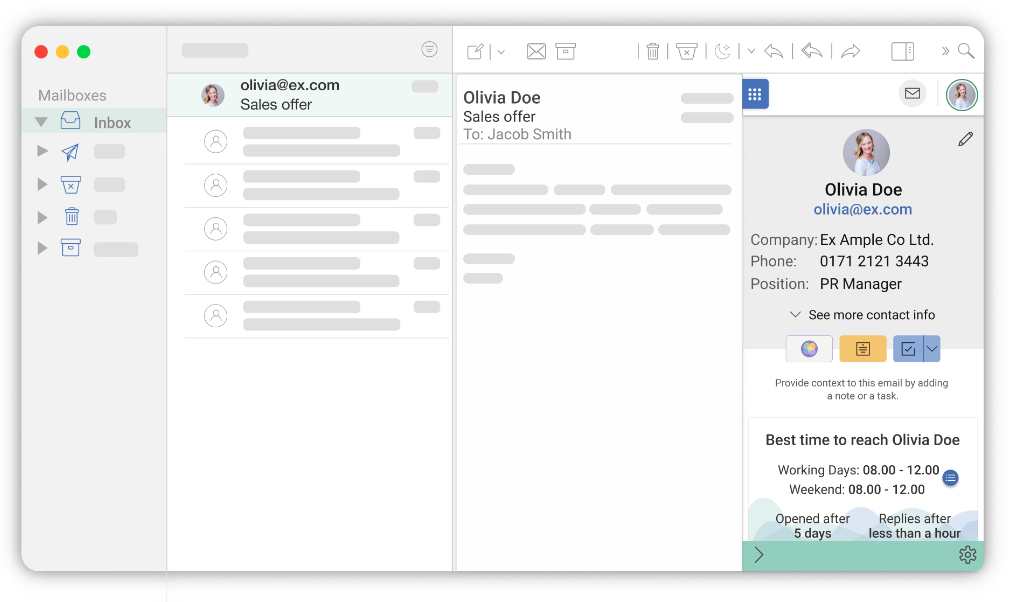 This feature turns your inbox into a dynamic CRM, making it easier to keep track of important customer details.
Not only can you see basic contact details, but you can also view interaction history, such as past emails and attachments exchanged. And you can add lead sources and last purchase dates, giving you a 360-degree view of each contact.
This is particularly useful for small business owners who need to recall specific conversations or agreements with clients and leads.
Mailbutler integration works in different ways for different email clients.
Apple Mail (desktop version): Download the Mailbutler app, open Mailbutler from the downloads folder, and follow the instructions to install
Outlook: Download the Mailbutler AI email app from Microsoft AppSource. Once installed, click the "…" in the upper toolbar or next to the Reply and Forward buttons. Then, click the Mailbutler logo to open the Sidebar. You can then use Mailbutler in Outlook's browser version or in the Outlook app.
Gmail: Download the Mailbutler Chrome extension, go to your Gmail inbox, and open the Mailbutler sidebar in the Gmail navigation on the right
Pricing
Mailbutler pricing starts at $4.95 per month, and you can try out its features with its 14-day free trial.
How to Choose the Right AI Email Assistant
Choosing the right AI email assistant can be a game-changer for your email management and email marketing efforts. But with plenty of options out there, each boasting unique features and capabilities, making the right choice can feel overwhelming.
One of the top concerns when selecting an AI email assistant is data privacy and security.
According to IBM, 83% of companies they researched have experienced more than one data breach.
The consequences go beyond financial loss, potentially extending to long-lasting reputational damage.
Given these stakes, choosing an AI email assistant with comprehensive security measures is important. Look for end-to-end encryption to ensure your data is unreadable to unauthorized parties, and GDPR compliance for strict data protection.
Always read the privacy policy for specifics on data use and storage. For added peace of mind, some tools offer local data storage options, allowing you to keep sensitive information on your own servers.
In addition to data privacy and security, here are more factors to consider:
Compatibility of AI with your email client: Check whether the AI email assistant integrates with your email client (e.g., Gmail, Outlook, etc.). While some tools support multiple platforms, others only support certain ones. This is crucial because you don't want to change your entire email setup just to accommodate one new tool.
Feature set: AI email assistants have various capabilities, ranging from email summarization and data extraction to CRM integration and personalized content creation. Identifying which features are most relevant to your needs and workflow is essential. Create a checklist of these key functionalities, and use it as a guide when evaluating different options.
Free trials: Many businesses—especially small ones—have budget constraints. Many tools offer free trials or freemium versions, allowing you to take them for a spin before committing to monthly or annual fees. This is an excellent way to gauge whether the tool fits into your workflow and delivers on its promises.
Ready to Take Control of Your Email?
Once you've incorporated an AI email assistant into your marketing strategy, use Semrush's Marketing Calendar to keep track of email campaigns and other activities.
Source link