What Is Shopify SEO? 
Shopify SEO involves optimizing your Shopify store to rank higher in search engine results, increasing organic traffic and sales.
It relies on strategies like:
Conducting keyword research to identify terms potential customers are using
Optimizing on-page elements like title tags, alt tags, and product descriptions
Building high-quality backlinks from reputable sources 
Enhancing mobile page speed and mobile friendliness 
Monitoring and analyzing site performance using analytics tools
Utilizing smart SEO tools can enhance your Shopify ecommerce SEO efforts. They take the guesswork out of the equation and provide actionable insights for improvement. 
It doesn't matter if you're running a dropshipping store or selling handmade goods. These tools can help you with keyword analysis, backlink strategy, and content optimization. 
Let's dive into our picks for the best Shopify SEO apps and tools.
Keyword research is essential to SEO strategy. Choosing the right tools can improve your search engine rankings and drive more organic traffic to your Shopify store. 
1. Semrush Keyword Magic Tool
Semrush's Keyword Magic Tool helps you discover new keyword ideas that'll help bring traffic to your ecommerce store. 
Even if you enter just one seed keyword, you can build an entire keyword roadmap around it. 
It also has the largest keyword database on the market. Over 24 billion keywords across 142 international databases.
To get started, open the tool and enter your seed keyword (a broad term related to your business). For this example, we'll use "insurance."
Then, select your preferred database location and click "Search." 
You'll see thousands (or millions) of keyword ideas in seconds.
Here's an example: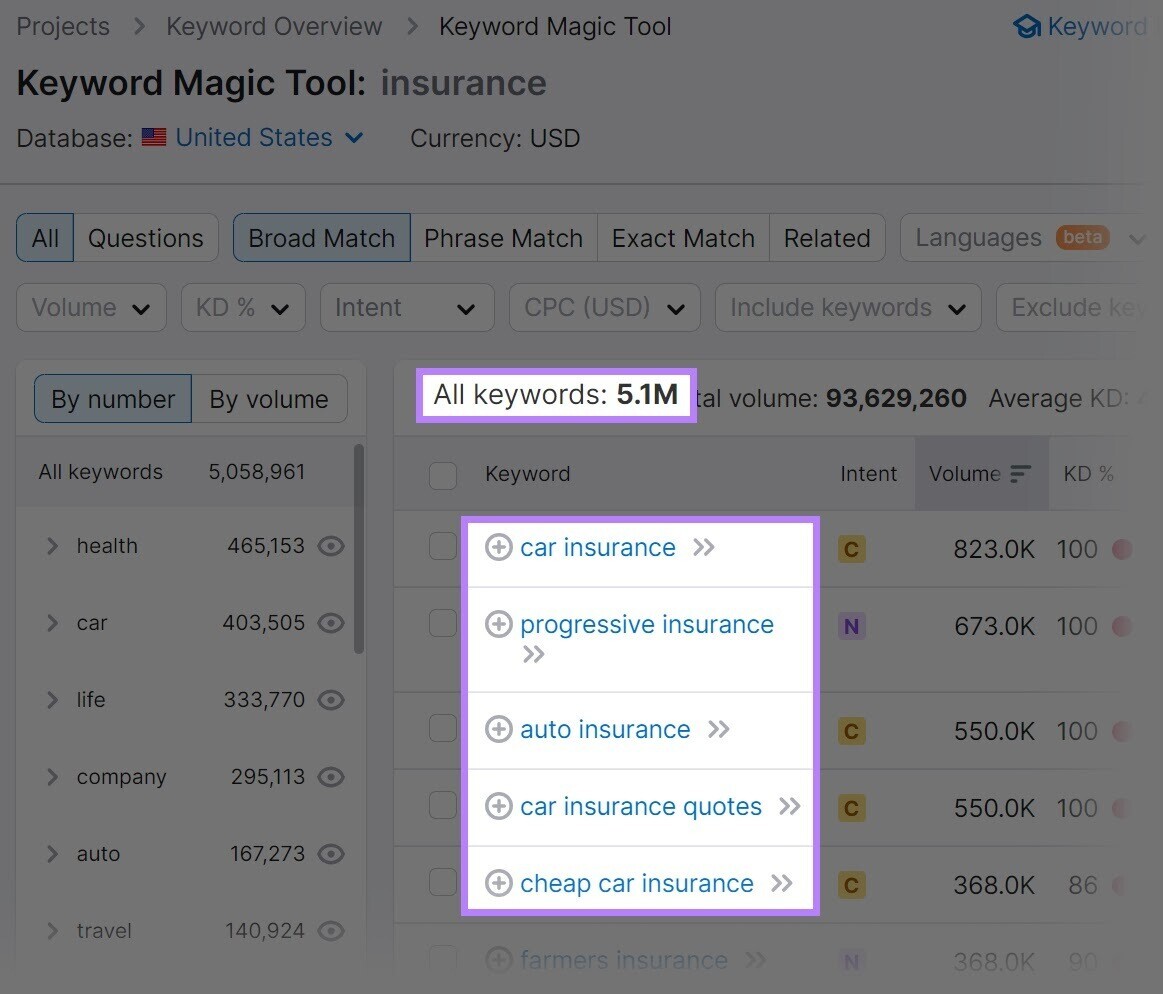 Want to narrow down your results? 
You can apply the following (and more) filters:
Questions: See keyword ideas in the form of questions
Broad Match, Phrase Match, Exact Match, Related: See different variations of your seed keyword
Languages: Look for keywords in different languages
Volume: Search for keywords that fall under a specific search volume range, like 101-1000, 1001-10000, etc.
KD%: See keywords that have a specific keyword difficulty level for ranking, like "Easy," "Hard," "Very hard," etc.
Intent: See keywords that reflect a specific search intent, like "Informational," "Navigational," "Commercial," or "Transactional"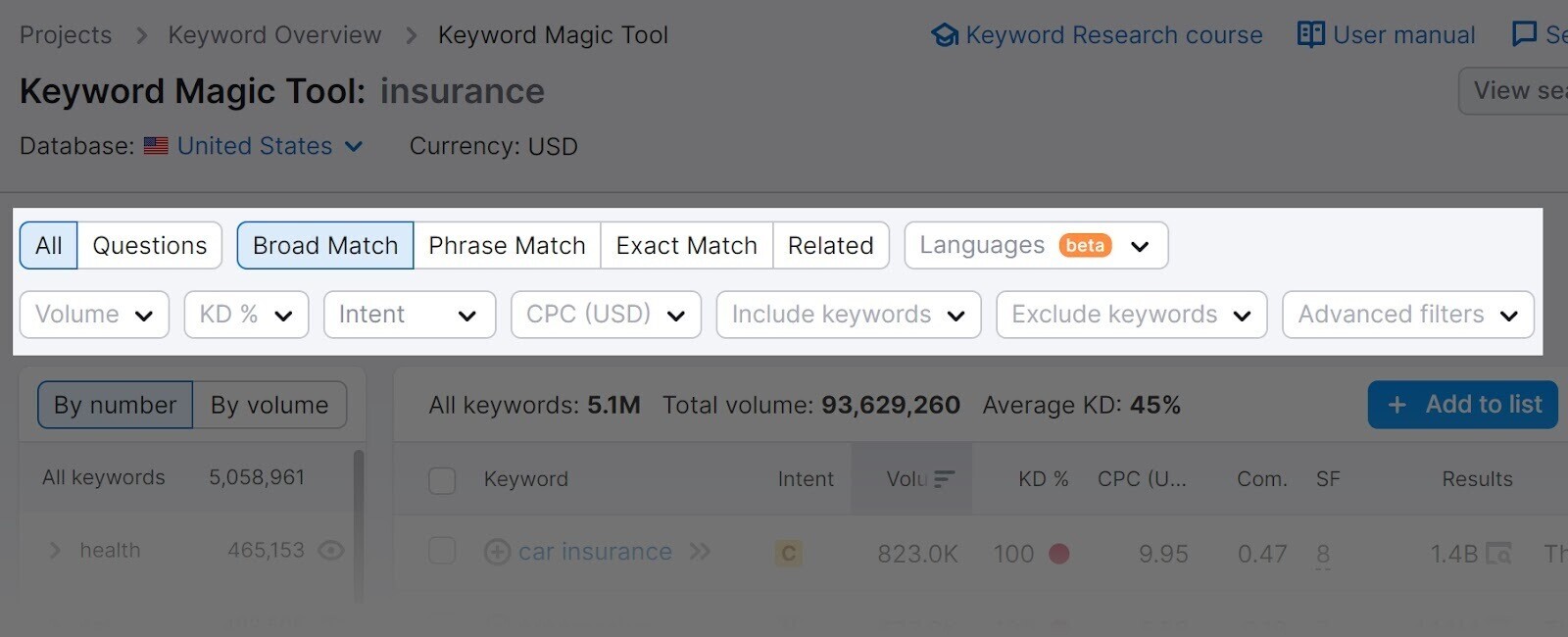 Select the filters to narrow your results. 
Like this: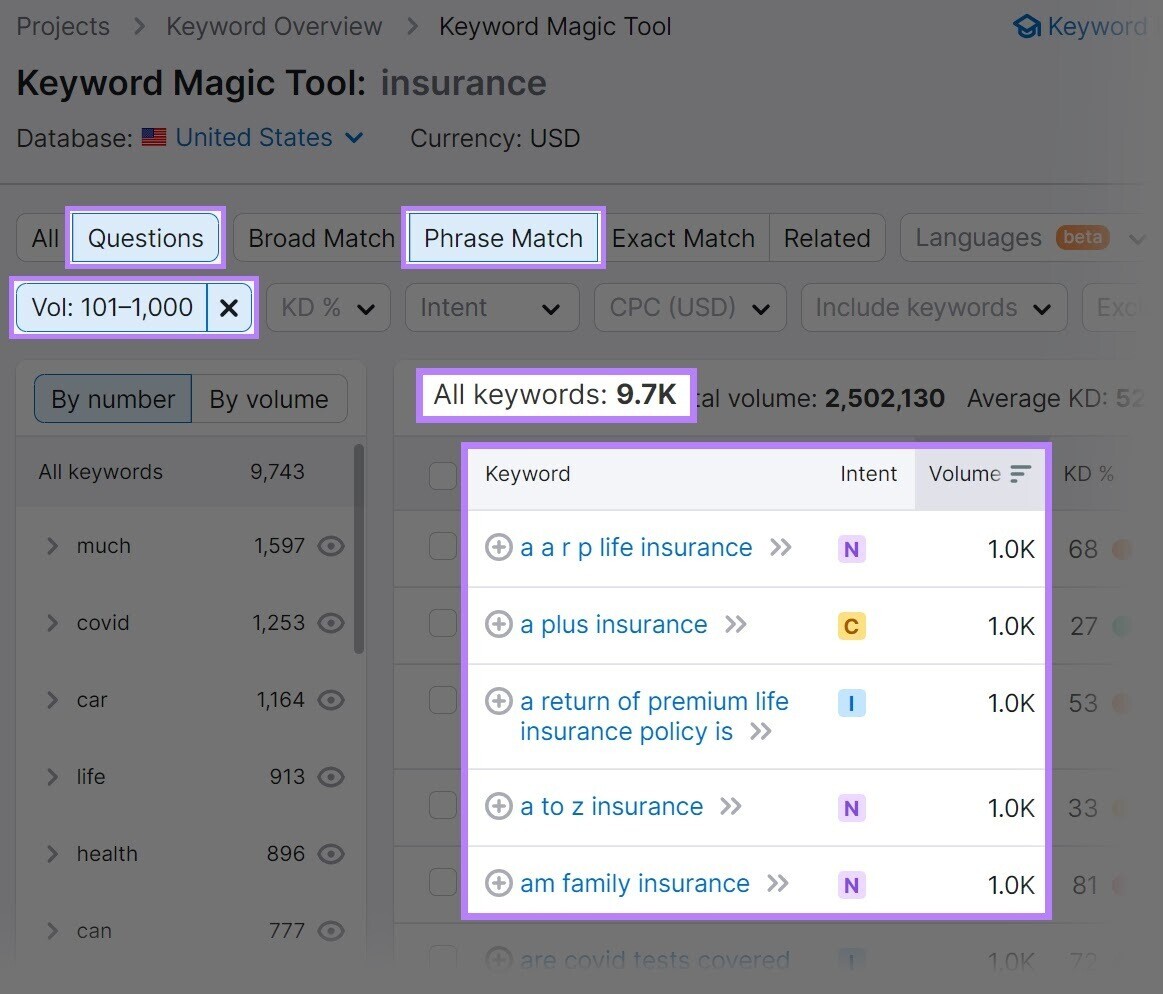 Adding filters to the original search cut down the number of keywords significantly.
Who It's Best for
The tool is perfect if you're looking for a treasure trove of keyword ideas for optimizing content and driving traffic. 
Price: Included with Semrush subscription.
2. Google Keyword Planner
Google Keyword Planner is a free tool that helps store owners research and analyze keyword data. It also helps you optimize your SEO strategy by identifying high-potential search terms.
You can access the tool after you set up a Google Ads account. 
Running ad campaigns on Google Ads does require a budget. 
But here's the good news: You can set up a free account just to access the tool. 
Google Keyword Planner provides insights into monthly search volumes for specific keywords and tracks their performance over time. 
You can also check how the order of words in a phrase affects Google search results.
This level of granularity allows you to fine-tune your keyword strategy. And understand how potential customers are searching for similar products.
Who It's Best for
Google's Keyword Planner is a great entry-level tool. It offers foundational insights into keyword search volumes, competition levels, and potential ROI.
Price: Free with Google Ads account
Further reading: Check out our complete guide on Google Keyword Planner for more comprehensive info.
3. WordStream by LocaliQ Free Keyword Tool 
WordStream's Free Keyword Tool identifies relevant keywords, assesses search volumes, and analyzes competition. Its user-friendly interface and comprehensive data make it easy to discover high-impact keywords.
Enter a keyword or website URL to find keyword results tailored to your industry and location.
For example, say you want to research the keyword "pet toys."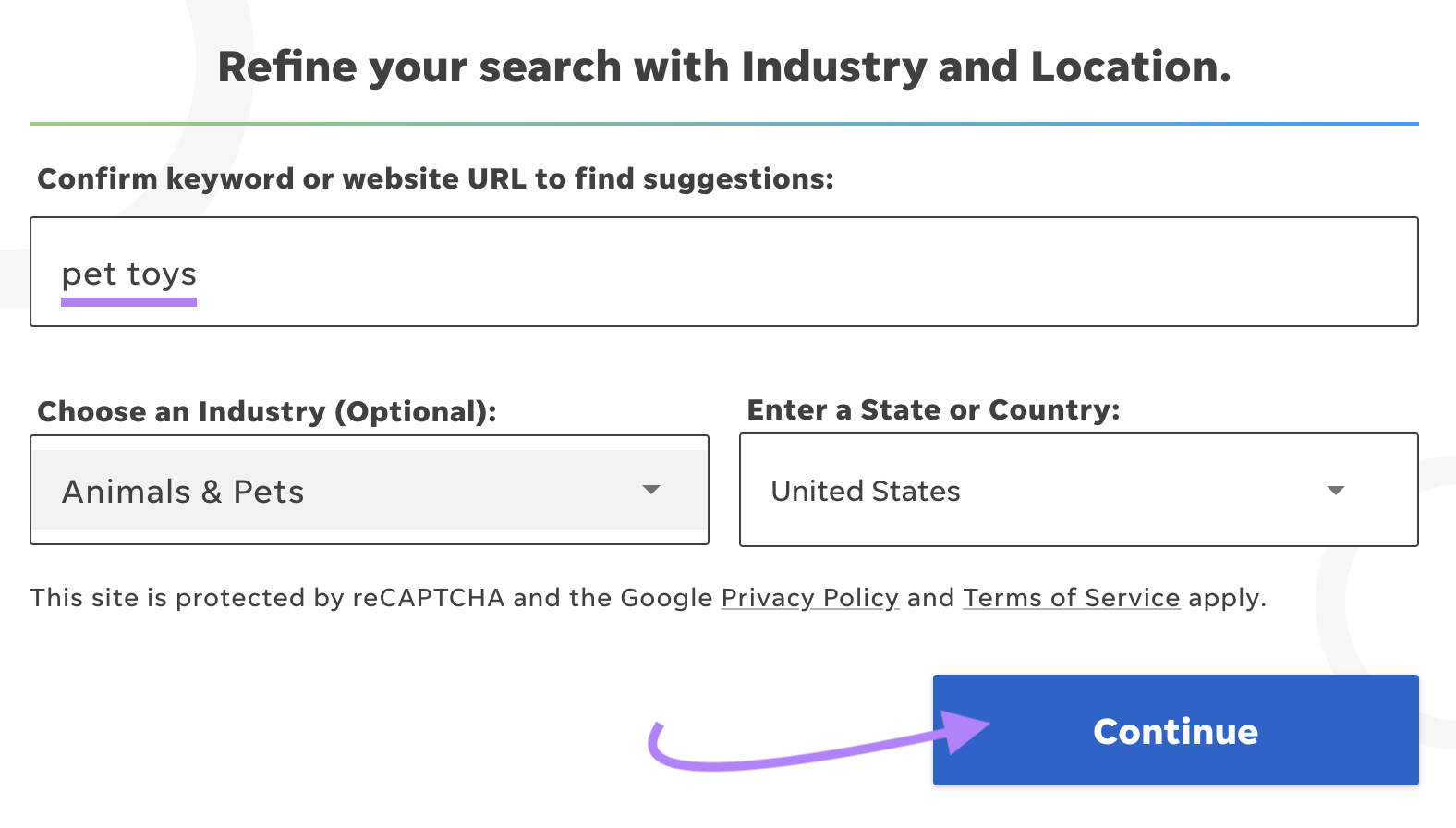 You get keyword suggestions with other data like monthly search volume, competition, and cost-per-click (CPC) data.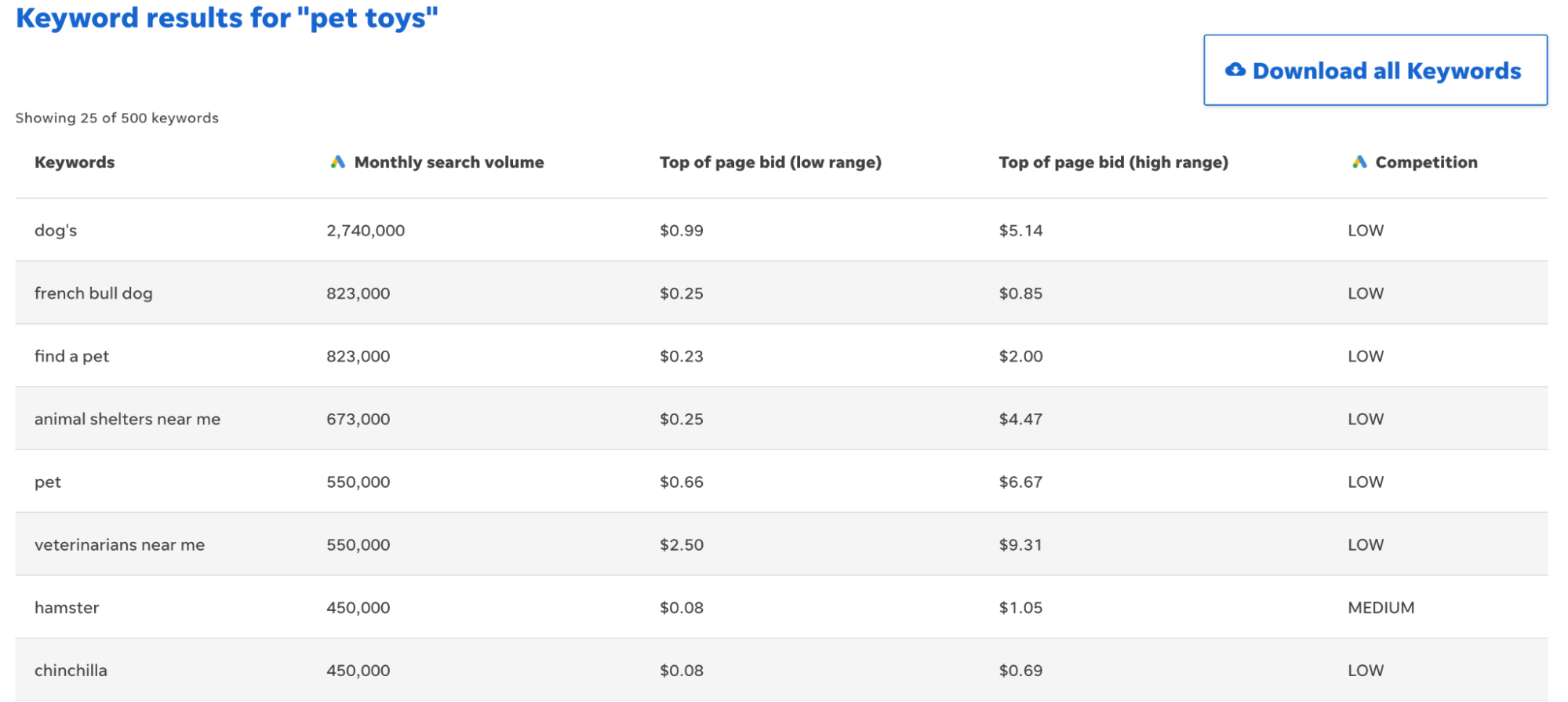 You can also download the keyword list and integrate it into your existing SEO strategy. Or, share it with your marketing team. 
Who It's Best for
This tool's keyword suggestions and data analytics are a great option for Shopify store owners on a budget.
Price: Free
4. Ubersuggest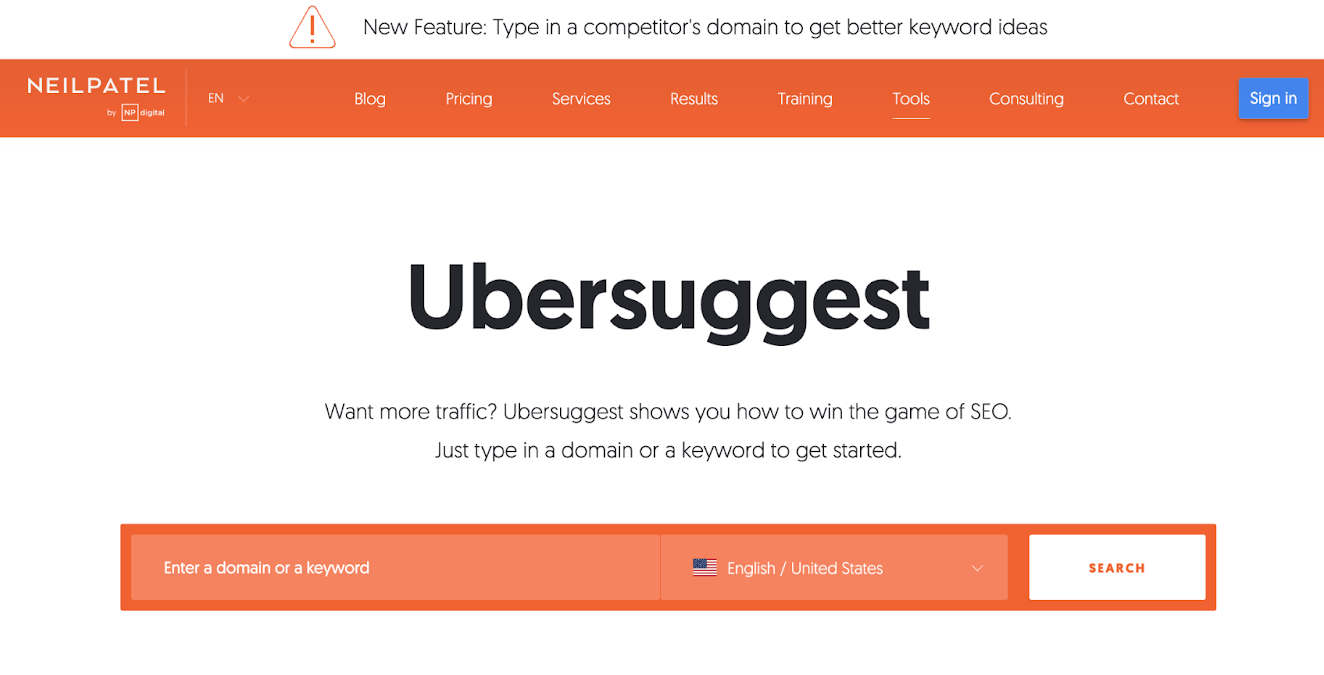 Ubersuggest by Neil Patel includes features like keyword suggestions, content ideas, and competitive analysis in a user-friendly interface. 
The free plan limits you to one search per day. The paid plan offers unlimited searches, deeper data analytics, and advanced tracking.
The keyword results give you a lot of info to get started. Let's stick with the "pet toys" theme.

Pay-per-click (PPC) metrics like cost per click and paid difficulty help store owners identify profitable keywords for campaigns.
The keyword suggestions let you make your product titles, descriptions, and meta tags more search engine-friendly. And more relevant to your audience.
You can also generate content ideas based on the keywords you enter.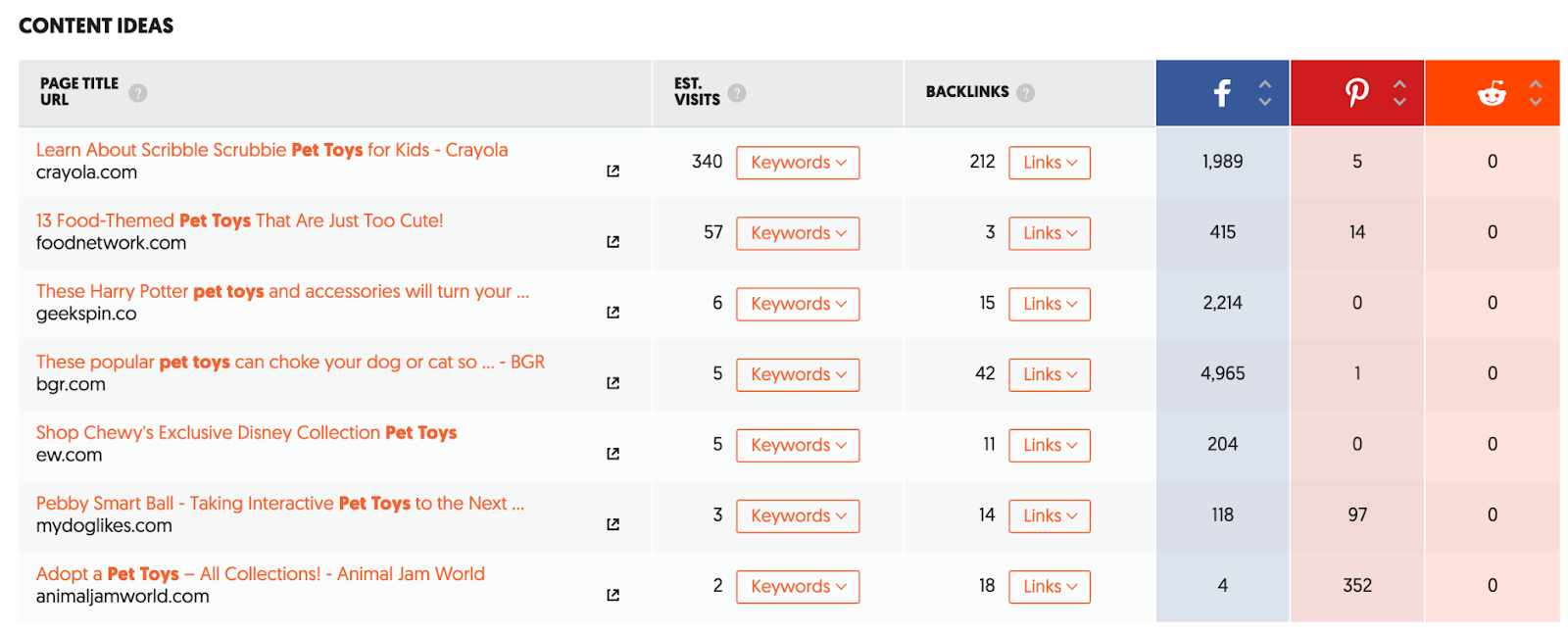 Who It's Best for
It can be invaluable for Shopify store owners looking to build a content marketing strategy alongside SEO.
Price: Paid plans range from $29-$99 a month.
5. Answer the Public 
Answer the Public is a search listening tool, meaning it crawls Google looking at autocomplete searches. 
It then generates a wide range of questions, prepositions, and related search terms people are using around your keyword. 
For example, here are some results for the keyword "pet toys":
Answer the Public's audience-focused approach gives Shopify store owners a unique lens into potential customers' queries and concerns. 
It offers an opportunity to create highly relevant and engaging content that addresses these questions. Which improves SEO and the user experience (UX).
For example, you can use questions people are asking to create FAQ sections, blog posts, or even product descriptions that directly address consumer concerns. 
Answer the Public can also help you understand the landscape of the keyword or topic. In addition to questions around your keyword, it provides a list of related searches.
These searches broaden your view of potential keywords you may have missed during your initial search.
Who It's Best for
Answer the Public is a comprehensive platform for understanding your audience and developing a content strategy.
Shopify store owners who want to create customer-centric content will benefit most from this tool.
Price: Paid plans range from $9-$199 a month.
6. Keywords Everywhere 

Keywords Everywhere is a browser extension that displays keyword search volume, cost-per-click, and competition data right in your browser. 
As you browse the web, the extension shows you how keywords perform on search engines and across other platforms like YouTube, Amazon, and eBay. 
Its real-time nature checks the performance of a keyword or phrase and helps you adjust your strategy as needed. 
Say you're a lifestyle brand selling gym clothes for women.
You notice that a keyword relevant to your niche is gaining search volume but has low competition. You can create content around that keyword to attract organic traffic. 
Likewise, say you see that a certain keyword's competition is too high. You can pivot your strategy to focus on other phrases that are easier to rank for.
Here's what else you can do with Keywords Everywhere:
Optimize product listings: Use relevant, high-volume keywords in your product titles, descriptions, and meta descriptions to improve visibility on search engines
Do competitive analysis: Learn which keywords are highly competitive so you can either compete for them or focus on less competitive long-tail keywords
Who It's Best for
Keywords Everywhere gives Shopify store ownersreal-time, actionable data they can immediately apply to their SEO and PPC marketing efforts.
It's an excellent tool for both SEO beginners and experts looking for a convenient way to make data-driven decisions without leaving their browsers.
Price: Paid plans range from $1.25-$80 a month.
Best SEO Tools for On-Page and Technical SEO
Both on-page SEO and technical SEO enhance your website's visibility and search engine performance. The right tools can streamline your workflow and help you identify areas for improvement.
1. Semrush Site Audit
Semrush's Site Audit tool allows you to improve your site health and address technical issues.
Start by configuring basic settings. For this example, we'll use petsmart.com.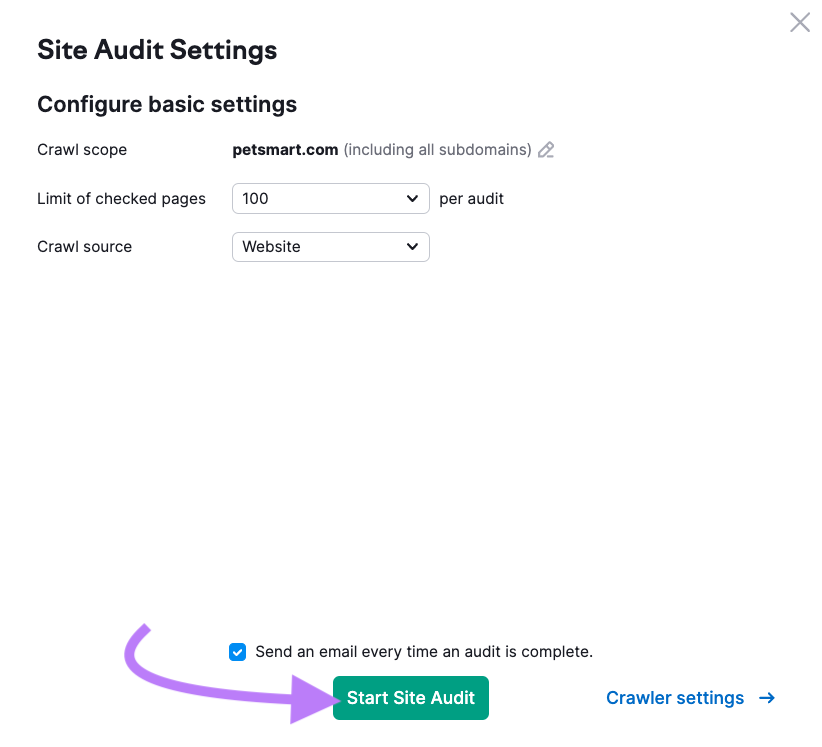 Once the project is ready, an update will appear on the Site Audit homepage.

Click on the campaign to see an overview of Site Health, Crawlability, and Core Web Vitals. Along with errors, warnings, and notices you need to address.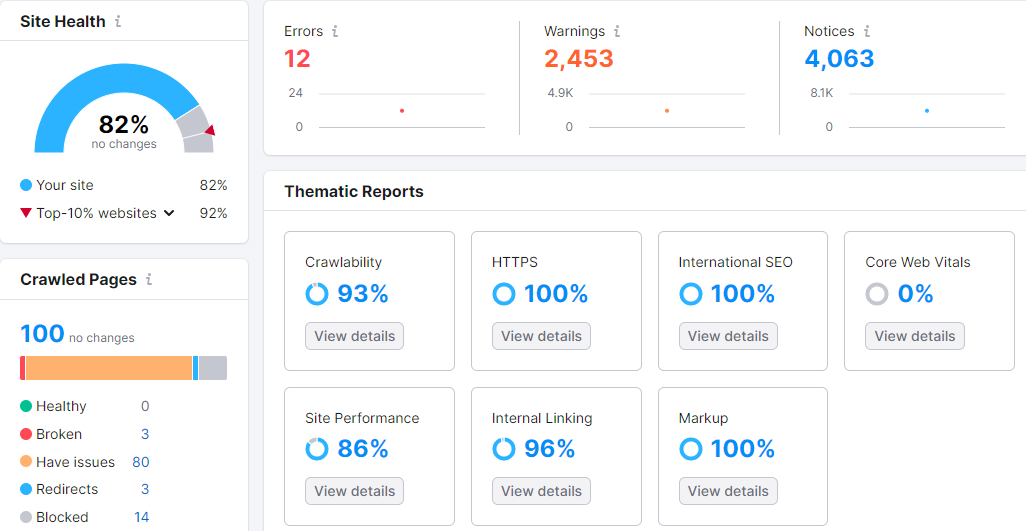 You can click on each report for details about the specific issue. Fix these problems to strengthen your site's technical SEO.
Who It's Best for
This tool works best for users who want an in-depth look at their store's site health and guidance on how to fix issues quickly.
Price: Included with Semrush subscription
2. Semrush On Page SEO Checker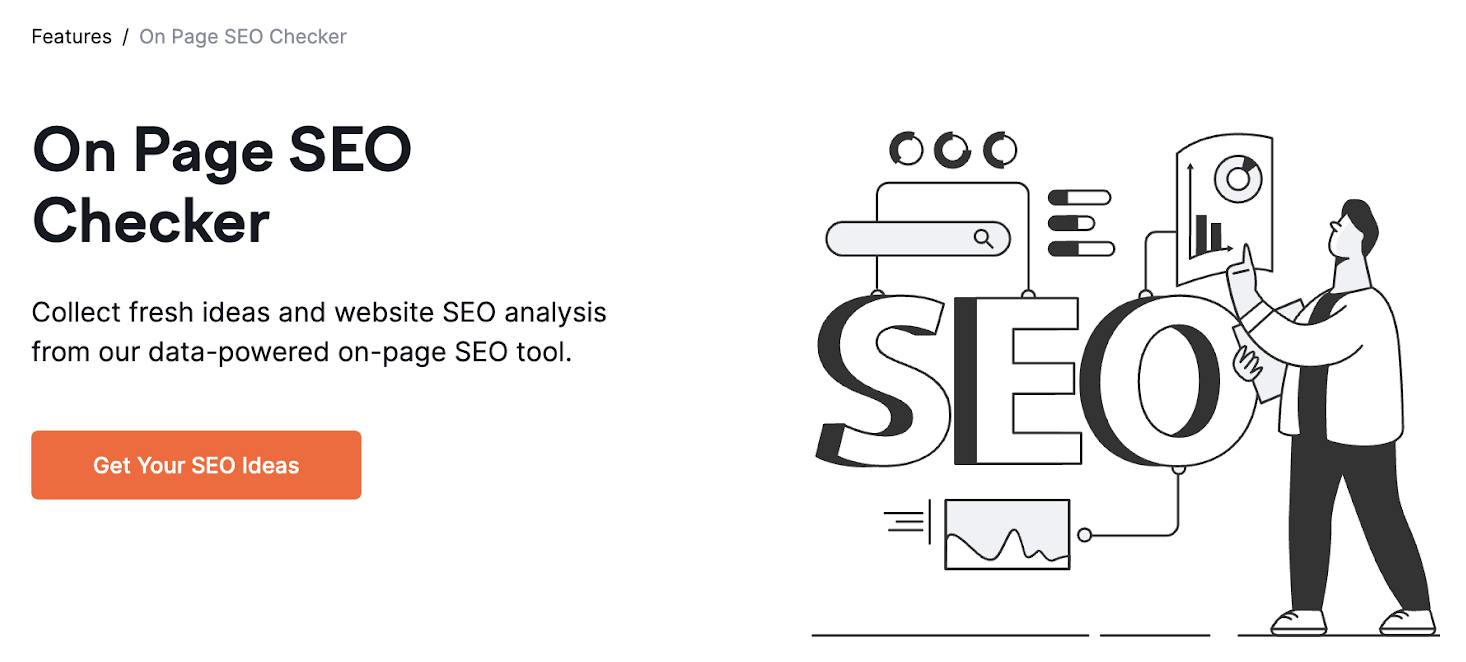 Semrush's On Page SEO Checker offers a complete, structured list of ways to improve page rankings on your website. 
It shares on-page SEO ideas and semantically related words to include on your webpages. It will also give you data on target content length, readability, and backlink prospects. 
Start by configuring the tool for your site.
Once you complete the setup, you'll see a page that looks like this. Our example is a jewelry brand: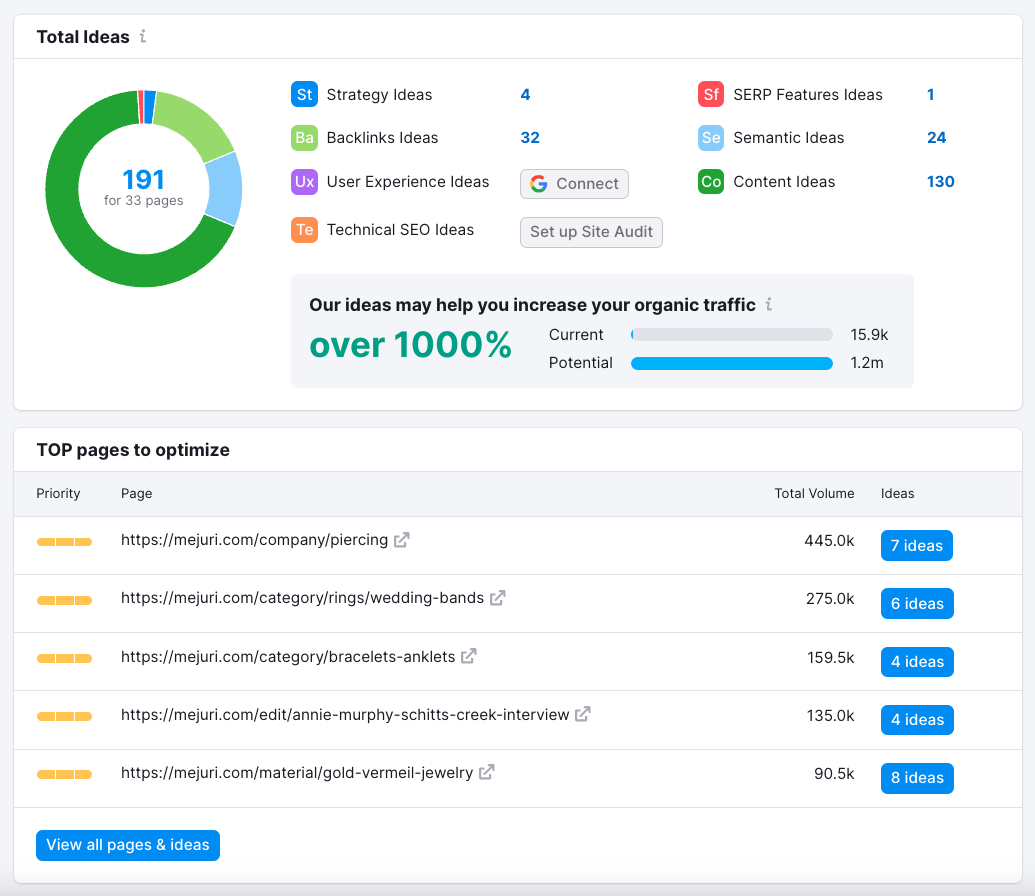 You can click on a specific page from the recommended "TOP pages to optimize" list. Or review the "Optimization Ideas" tab for a complete overview.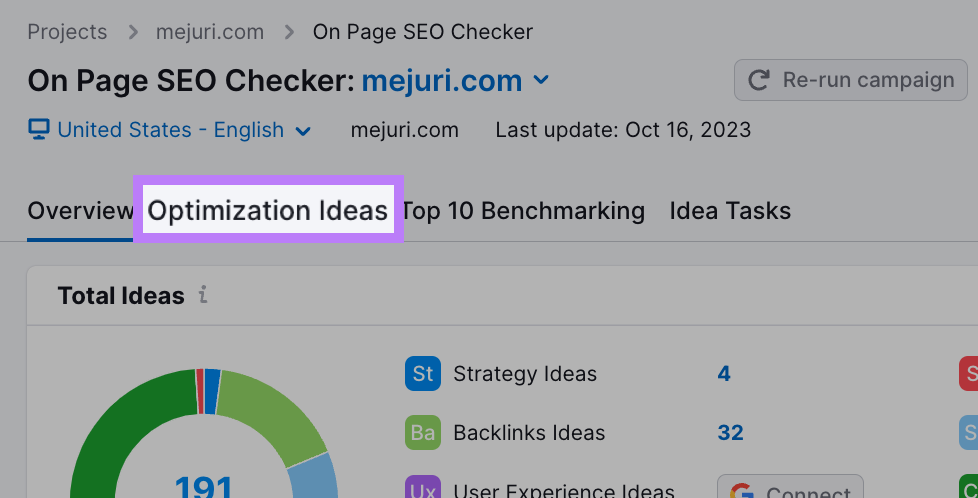 Click on the "X ideas" blue button to see recommendations on how to improve your SEO.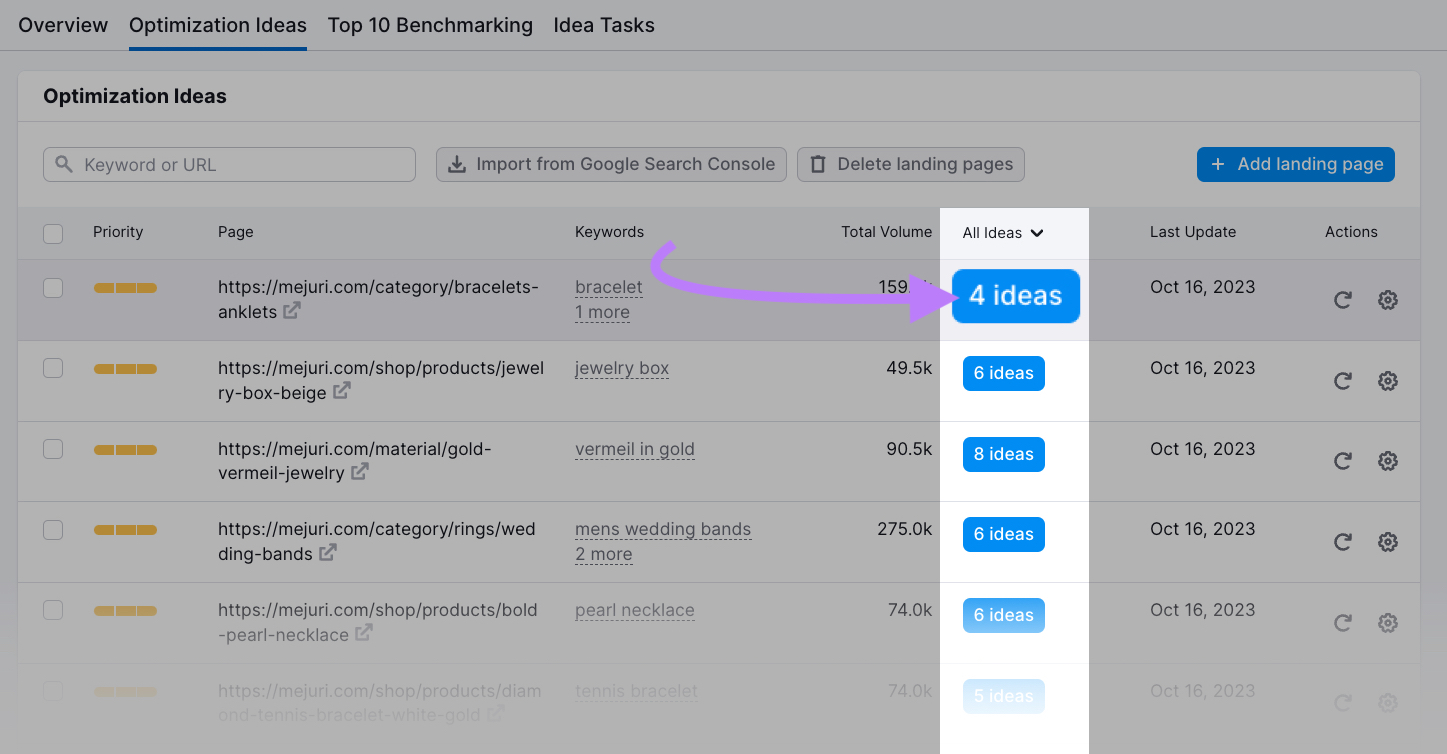 If the tool does detect issues, it will provide recommendations like this: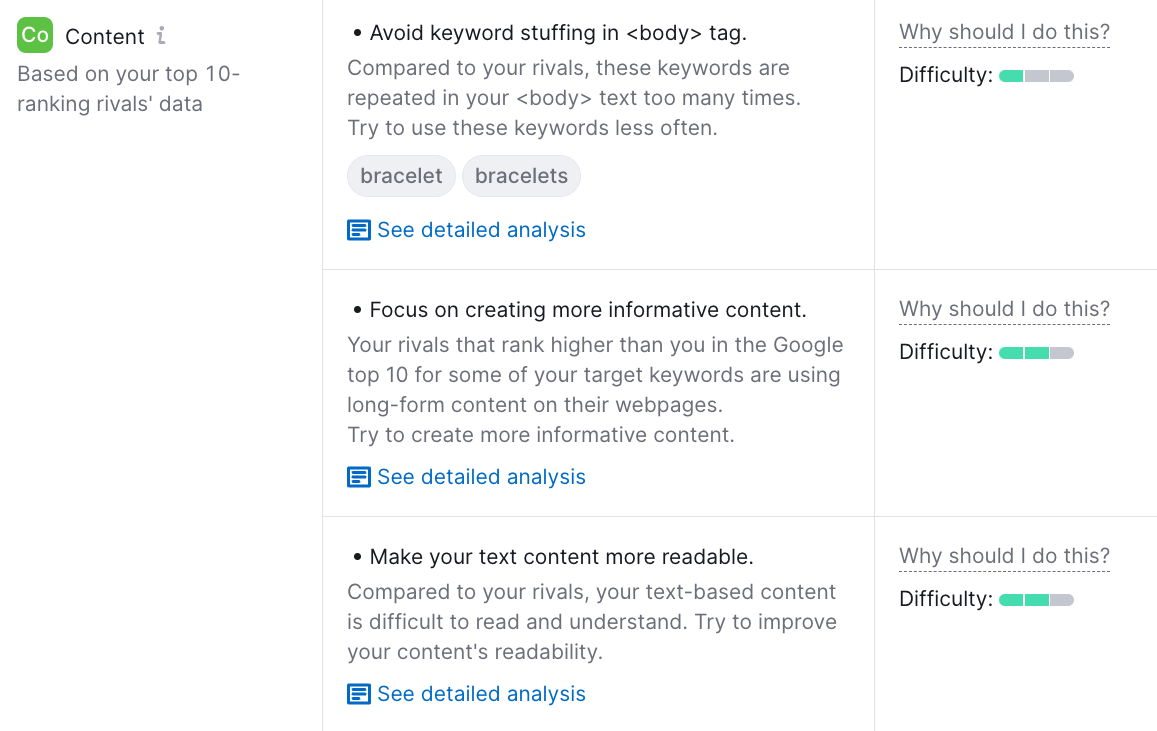 Implement those to instantly improve your website's on-page SEO.
Who It's Best for
Semrush's On-Page SEO Checker is ideal for Shopify store owners who want a comprehensive, easy-to-follow roadmap for optimizing each page on their website.
Price: Included with Semrush subscription
3. Yoast SEO for Shopify
Yoast SEO is a plugin that helps your site perform better in search engines. 
It reviews a wide range of on-page and technical SEO features like meta descriptions, title tags, HTML sitemaps, and schemamarkup (also called structured data). 
The plugin's user-friendly interface makes it easy to use. So, Shopify store owners can optimize their content for search engines without diving deep into code.
Yoast's real-time content analysis provides automatic feedback on keyword usage and readability as you create or edit product descriptions and blog posts. 
The result? 
Your Shopify store can rank better. And better readability also translates to an improved user experience. 
Customers will find it easier to navigate through your store, understand your product descriptions, and ultimately make a purchase.
Yoast also removes conflicting code in your Shopify theme files. This is particularly important for Shopify store owners with limited technical knowledge.
Conflicting or redundant code can slow down page loading times. It can also create indexing issues. 
Both can hurt the user experience—and your site's SEO.
Who It's Best for
Yoast makes SEO approachable. Its user-friendly interface and real-time content analysis make it especially useful for small-to-medium businesses that may not have a dedicated SEO team.
Price: Yoast is free, but a premium plan costs $99 annually.
4. Plug In SEO
Plug In SEO is an automated tool that continually scans your online store and provides alerts and fixes to improve your site's search engine performance.
Think common SEO issues like missing meta descriptions, broken links, and poor heading structures. 
Plug In SEO removes the stress of manual checks. It offers proactive solutions to ensure your store stays optimized.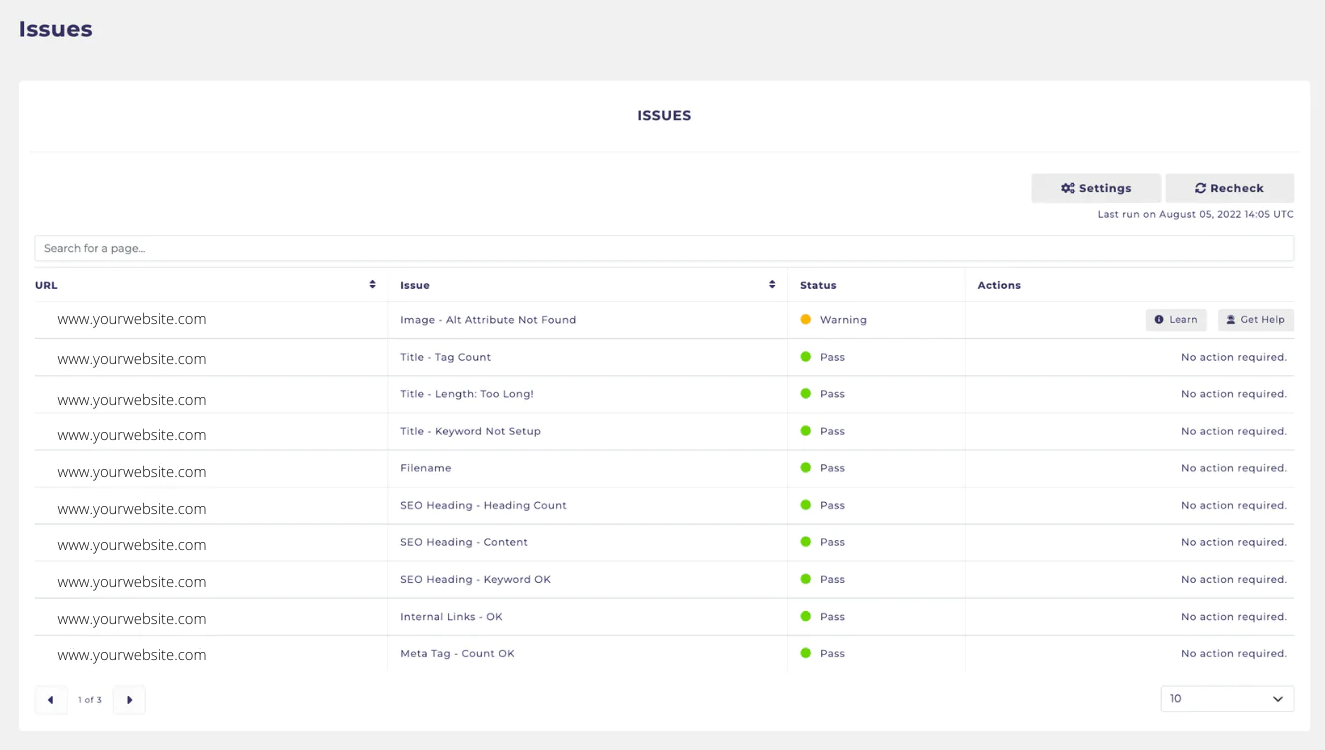 It also provides simple step-by-step instructions to help you fix these problems.
These instructions make it easy for anyone—regardless of SEO expertise—to optimize their site.
Plug In SEO also supports JSON-LD structured data.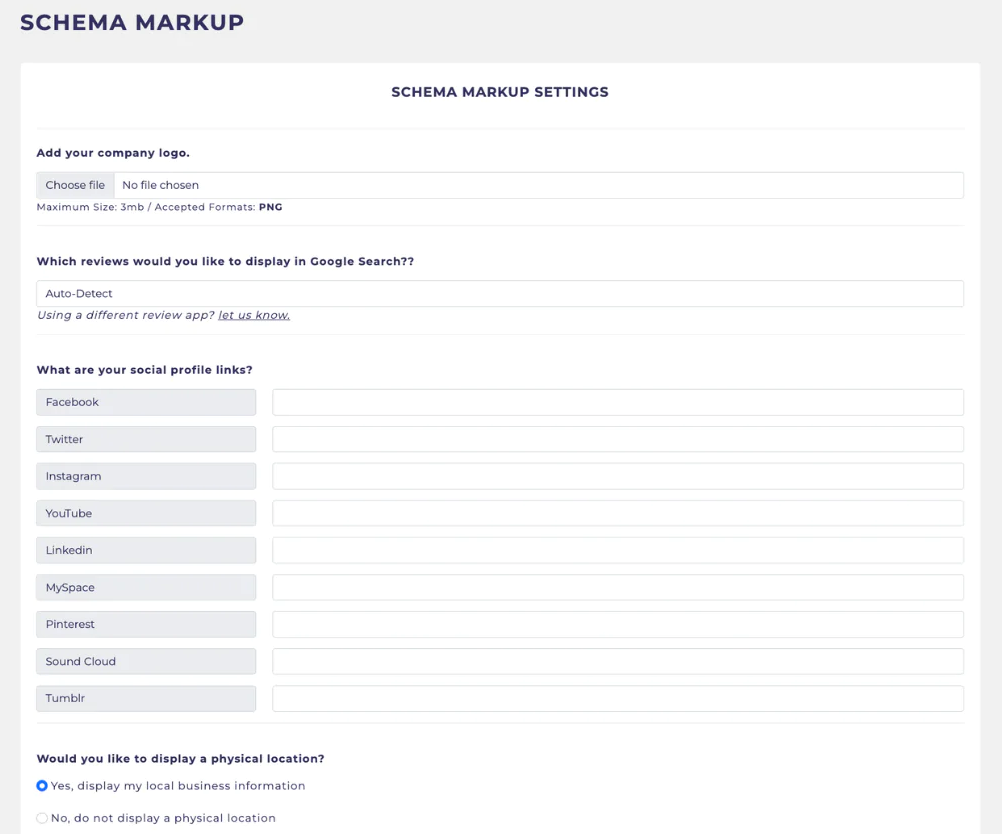 What's that? 
A powerful feature that improves your website's machine readability. 
Machine readability helps search engines understand the content and structure of your website better.
This directly contributes to your visibility on SERPs. Including the potential for rich snippets that capture user attention. (These are additional information like product ratings, prices, and availability right below the website link.) 
Let's say you search apple cider donut recipes for the fall. This rich snippet shows the recipe has a high rating.

Plug In's SEO templating feature also helps you rank for your targeted keywords on both your blog and product pages.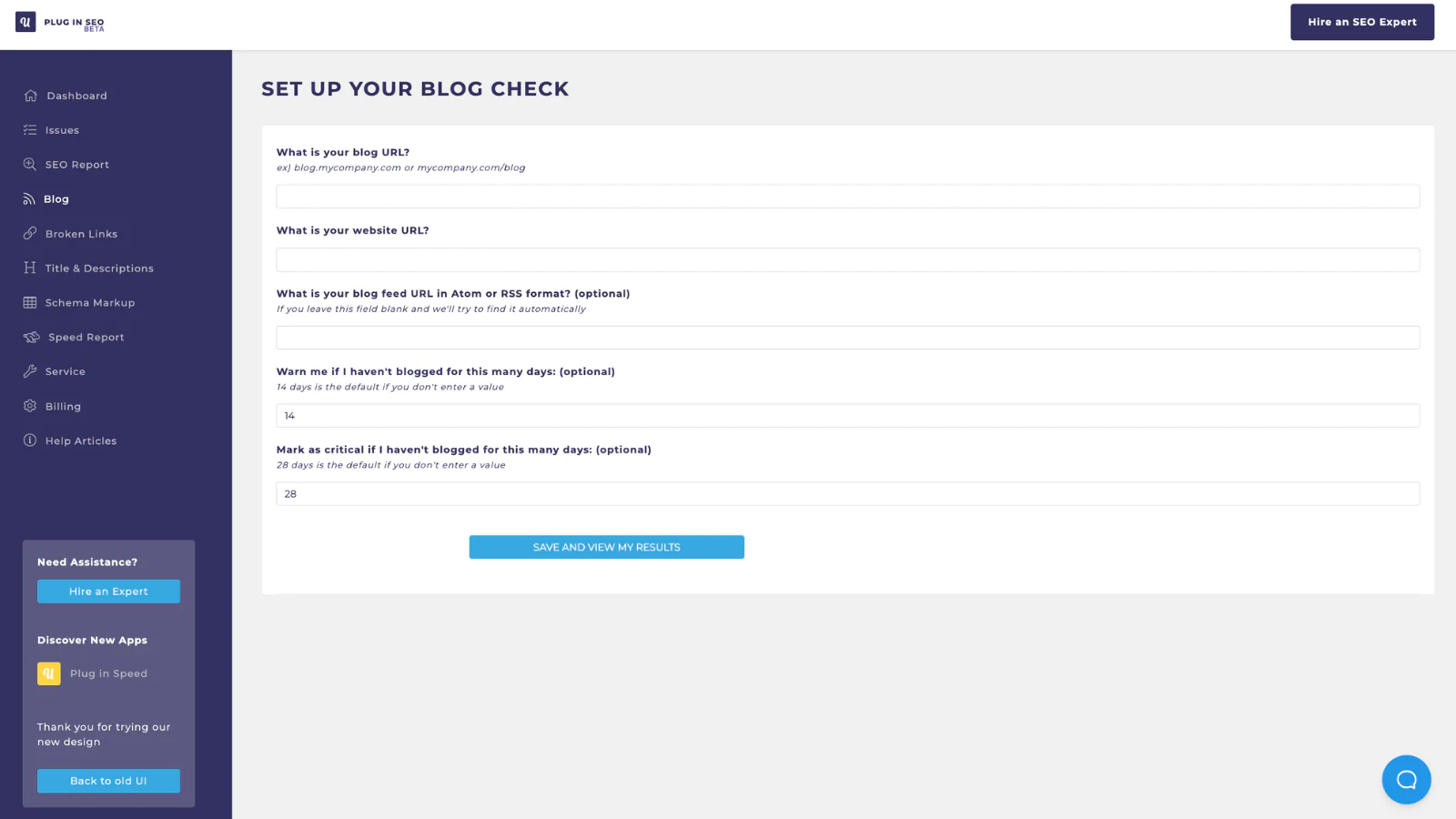 This ensures you don't miss out on any opportunities to attract organic traffic.
Who It's Best for
Plugin SEO is an ideal solution for new businesses just starting with SEO. 
Its educational resources and customer support make it quite accessible. And empower even SEO novices to improve their online store's performance right from the get-go.
Price: Plug In SEO starts at $29.99/month after a 14-day free trial.
5. SEO Suite Image Optimizer by Avada
Avada's SEO SuiteImage Optimizer is a Shopify-specific tool that enhances your online store's image SEO, meta tags, and Google structured data.
High-quality images help potential customers better understand your products. They build trust in your brand and improve the overall shopping experience.
But they can also slow down your site. Which affects both user experience and SEO since site speed has been a ranking factor since 2010.
SEO Image Optimizer uses an algorithm to compress your images and resize them. Without sacrificing their quality.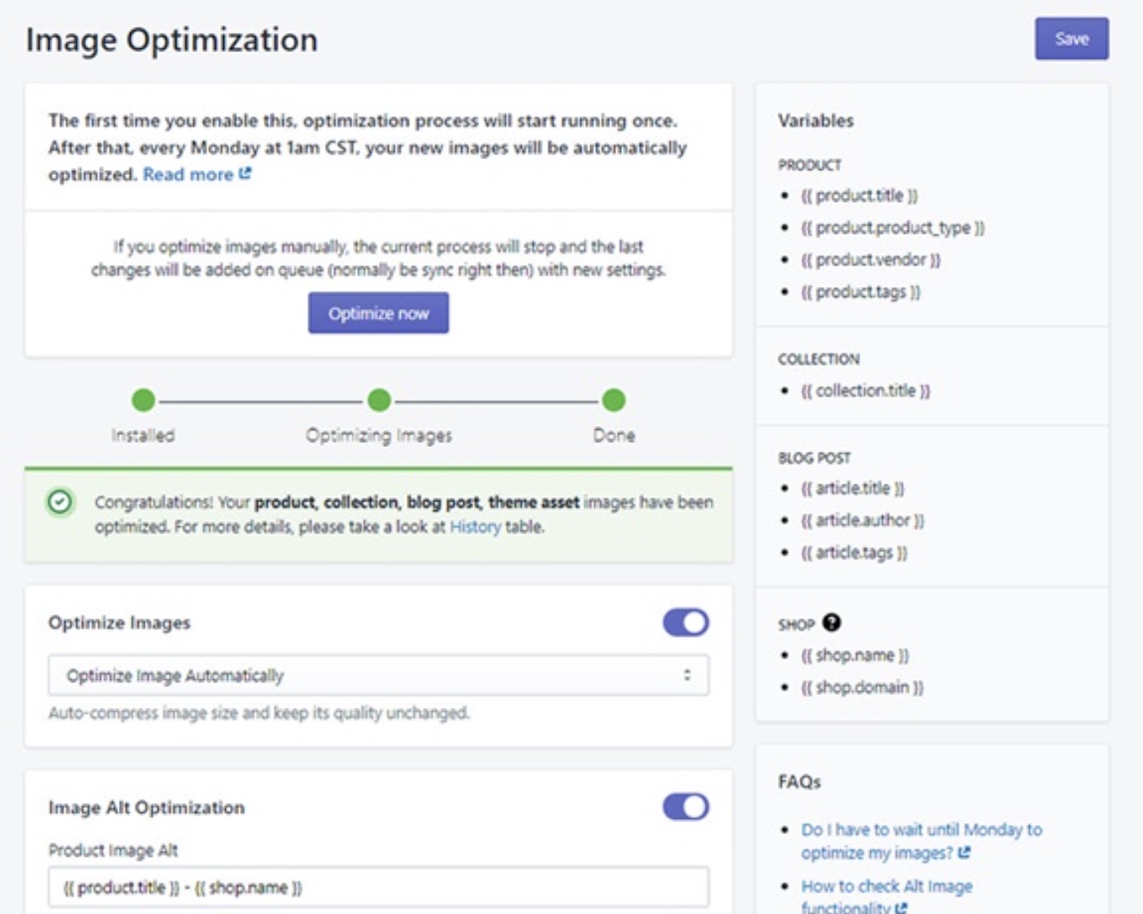 Image Source: Avada
The result? 
Faster page load times and a better-optimized website.
The tool also provides advanced meta tag management features. Its dashboard allows you to easily update and optimize meta titles and alt text.
This enhances your site's SEO. It can also improve click-through rates by making your pages more appealing in search engine results.
The tool also supports structured data to help you generate rich snippets in search engine results.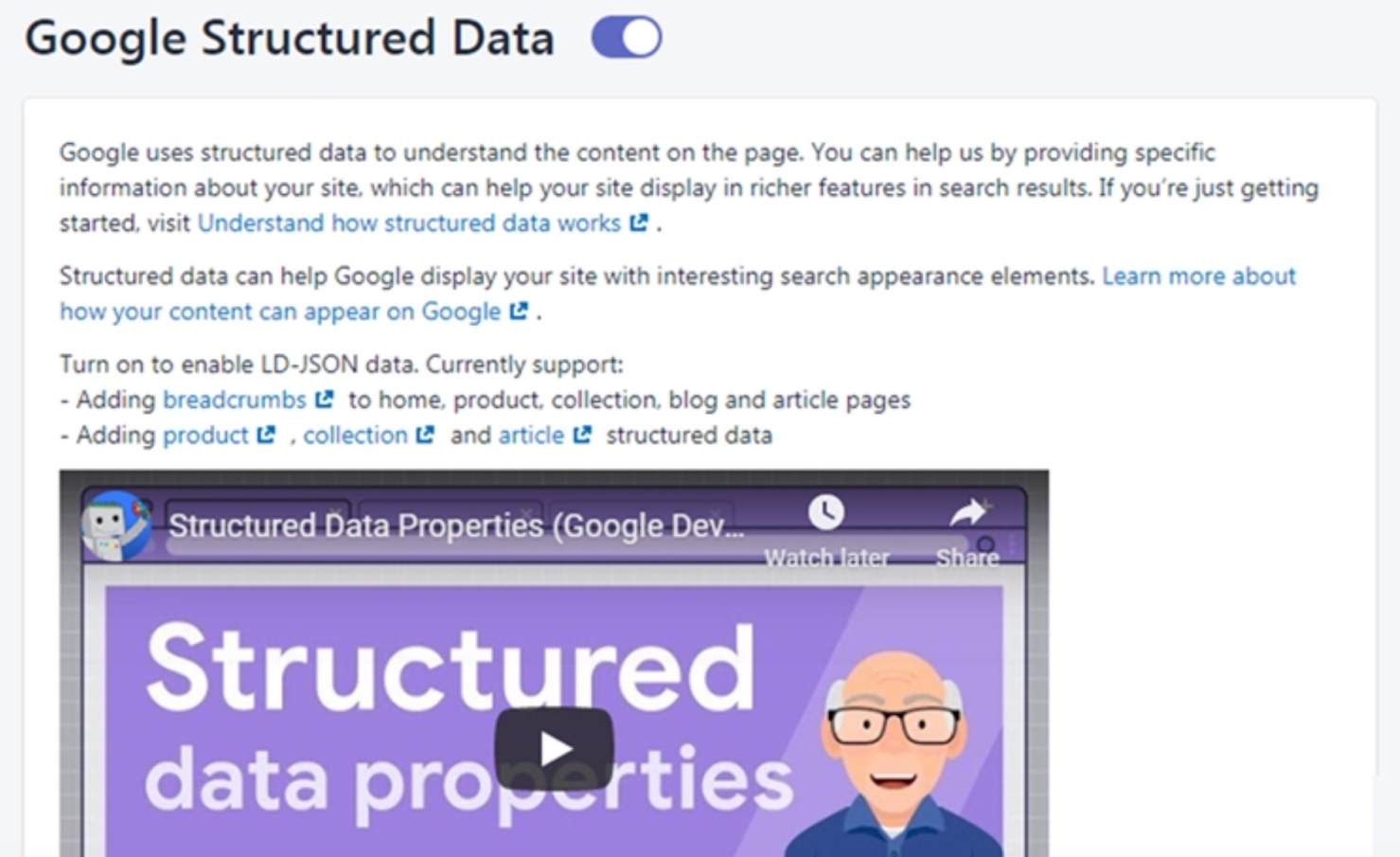 Having snippets in the search results can boost your site's visibility and credibility. 
What does this mean for you? 
Higher click-through rates and potentially increased sales.
Who It's Best for
Image Optimizer is especially useful for ecommerce businesses that rely on visual storytelling. It ensures your images aren't just stunning—they're also SEO-friendly.
Price: Avada has free plans available and a 14-day free trial.
6. Screaming Frog SEO Spider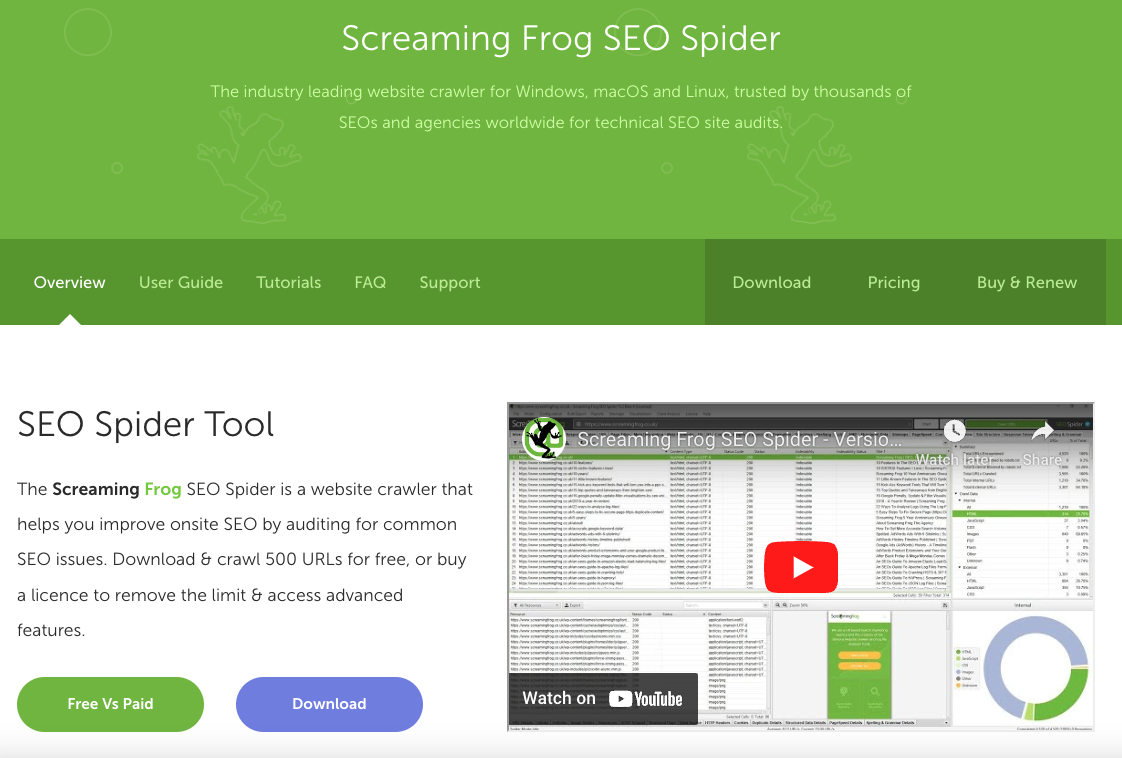 The Screaming Frog SEO Spider is a website crawler that helps you improve onsite SEO by auditing for common issues. It gives you a complete snapshot of your website's SEO health.
It can help you:
Find broken links, errors, and redirects: Quickly identify and fix these issues, which could be harming your SEO efforts
Analyze page titles and metadata: Review and optimize the title tags and meta descriptions to ensure they are SEO-friendly
Review meta robots and directives: Check whether specific directives or robots tags are blocking search engines from crawling parts of your site
Site visualizations: Get a bird's-eye view of your site's architecture to understand and optimize the site structure
Screaming Frog gives end-to-end technical SEO suggestions and errors in one dashboard. 
It updates in real time and shows you how many URLs it's crawled and how many remain at the bottom of the screen. 

Image source: Screaming Frog
Who It's Best for
The Screaming Frog SEO Spider works with large and small sites. Making it a handy tool for technical SEO checks for any ecommerce business. 
Price: Screaming Frog has both a free version and a paid plan that costs $288 annually.
Building and maintaining a strong backlink profile is a cornerstone of effective SEO for any Shopify store.
Why?
That increases your ranking on the SERPs for target keywords, which ideally leads to increased traffic and conversions. 
The right backlink analysis tools can help you identify opportunities for high-quality links. They'll also let you assess the quality of existing links and keep an eye on what your competitors are doing. 
1. Semrush Backlink Gap Tool
Semrush's Backlink Gap tool allows you to compare your backlink profile with up to four of your competitors.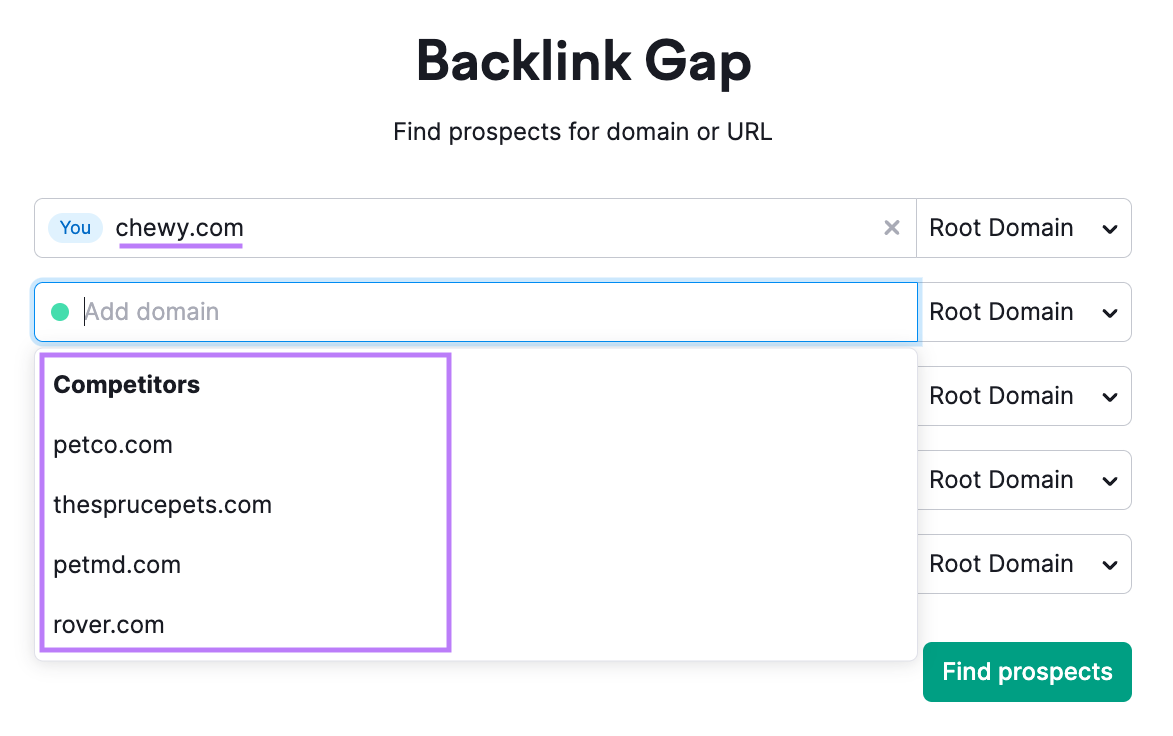 Once you enter your domain, the tool auto-suggests a list of your competitors to get you started.
It analyzes your competitors' backlink profiles. Then, it generates a list of sites that link to your competitors—but not to you, under the "Best" prospects.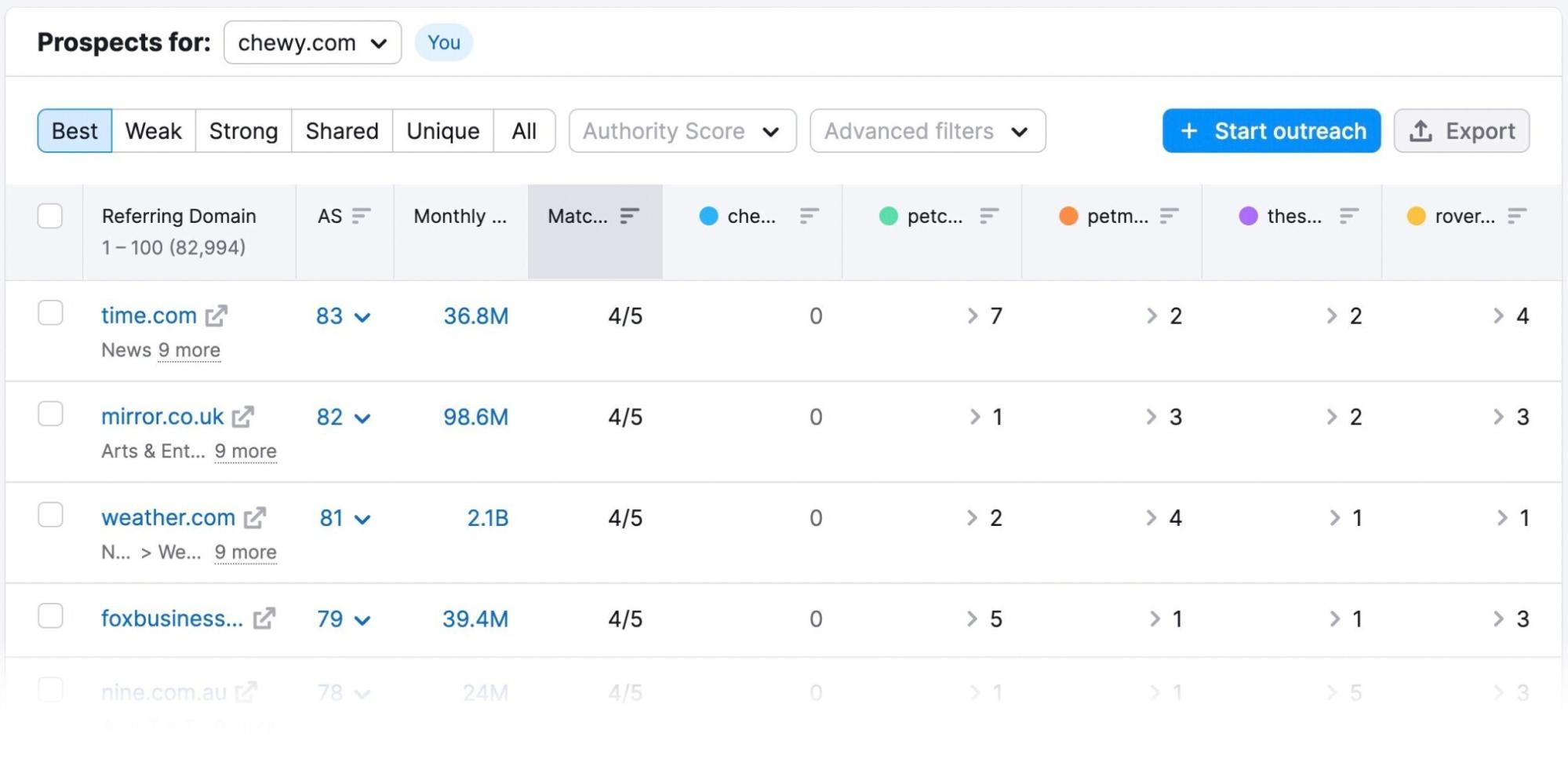 Let's pretend you're Chewy, an online pet shop. The first line in the chart above shows you that Time.com links out to all of your competitors.
Clicking the arrow beside the numbers will show you the specific articles linking to your competitors.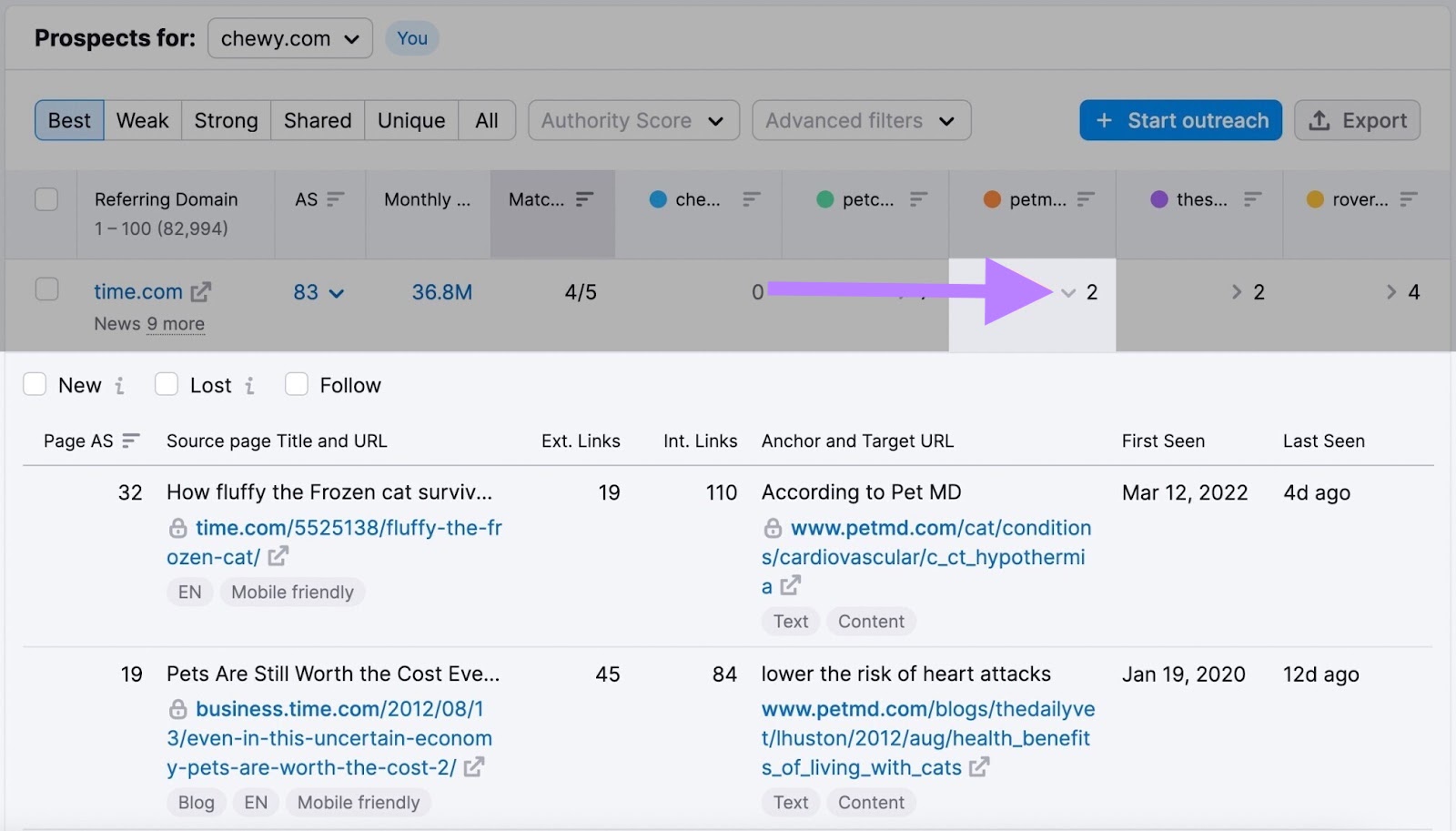 You can compare the content to your offerings and gauge whether you could benefit from a backlink from that same site.
The Backlink Gap tool goes beyond mere data collection. It helps you turn that data into an actionable plan. 
Combine it with our Backlink Analytics and Link Building tools to get a robust suite of resources for developing and refining your backlink strategy. 
Who It's Best for
Semrush's Backlink Gap tool is perfect for Shopify store owners who want to capitalize on missed backlink opportunities. 
Price: Included with Semrush subscription
2. MozBar SEO Toolbar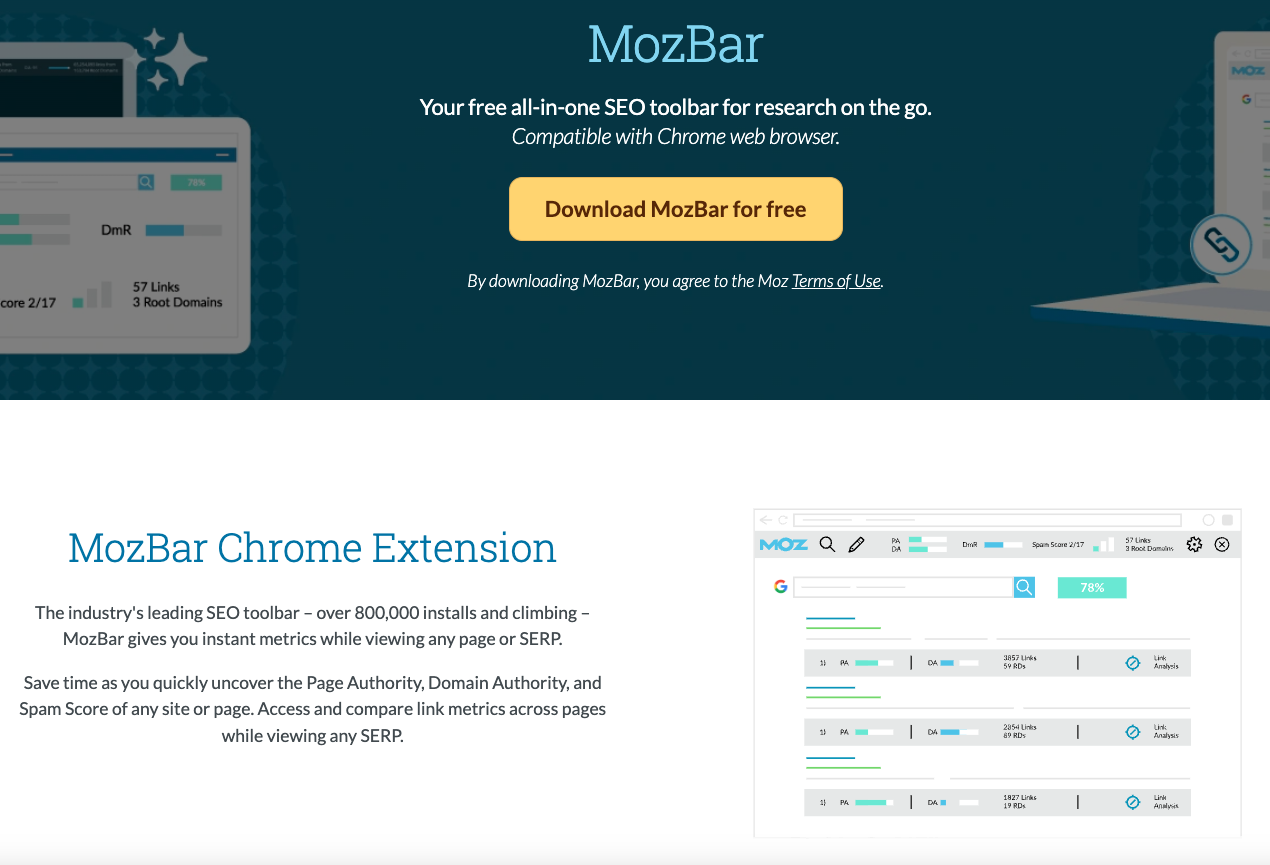 The MozBar SEO Toolbar is a browser extension that provides instant, real-time SEO metrics and backlink analyses. 
It helps Shopify store owners evaluate their own site as well as competitors' sites to optimize for search engine performance.
You can access and compare link metrics across multiple pages while viewing any search engine results page (SERP). The below results are for wool socks.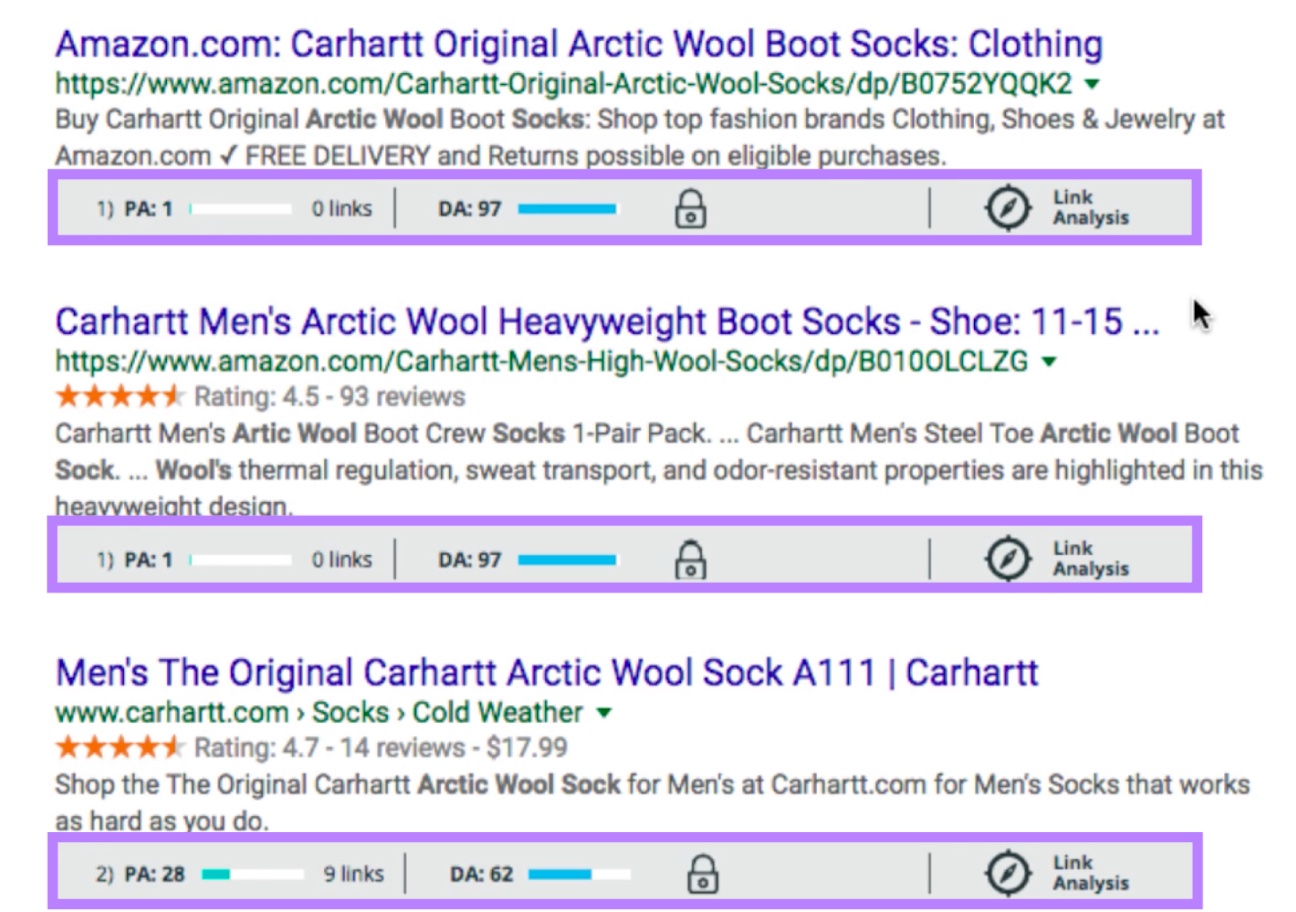 This makes it easier to perform competitor SEO analysis. And identify new backlink opportunities.
For example, let's say you notice that a competitor's page ranks better than yours for a certain keyword. 
Using MozBar, you can quickly assess why that might be the case. It lets you examine their domain authority (DA), page authority (PA), and types of backlinks they've secured. 
This information can help you craft a more targeted backlinking strategy for your own site.
MozBar also differentiates links by type, whether they're follow, no-follow, external, or internal. 
Why is this important?
Differentiating between these types of links allows you to better assess a page's link equity. 
For example, follow links pass on "link juice" (SEO value) to your site. That means they can boost your own page's authority and ranking potential. 
Knowing which links are follow versus no-follow ensures you focus on the most impactful link-building opportunities.
Who It's Best for
The tool is perfect if you want quick, on-the-fly insights into your SEO metrics and backlink profiles. 
Price: You can download MozBar for free.
3. Ahrefs Backlink Checker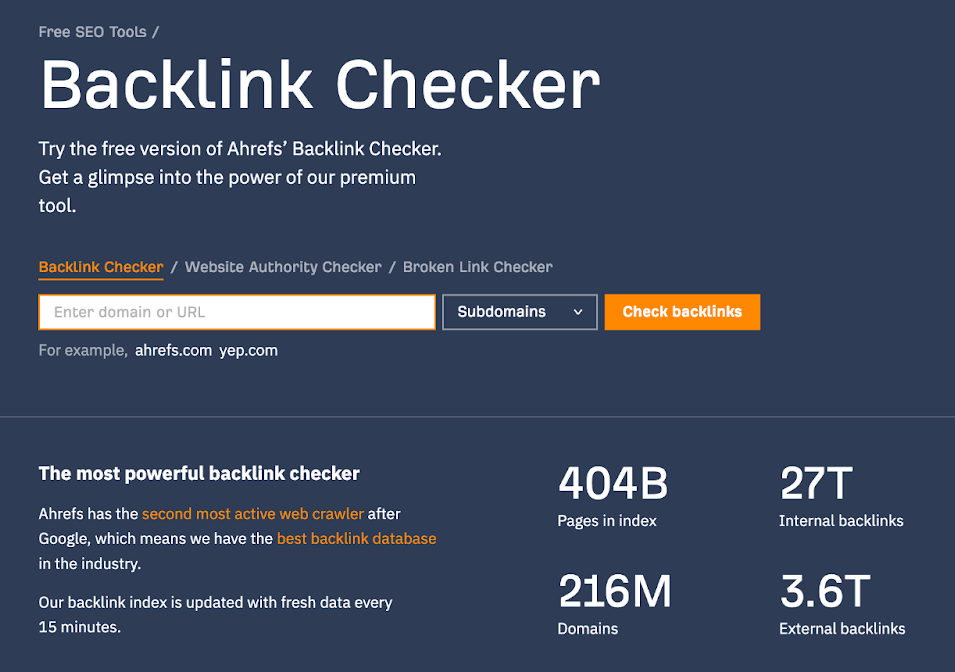 Ahrefs Backlink Checker offers comprehensive backlink analysis to help identify linking opportunities. It also lets you evaluate the strength of both your own and competitors' backlink profiles.
Ahrefs has the second most active web crawler after Google. Plus, it updates its backlink index every 15 minutes. 
Why does this matter? 
Simple: It means you always get fresh insights.
At a glance, you get essential SEO metrics like
Number of referring domains
Number of backlinks
Domain Rating (DR)
Ahrefs Rank (AR)

Image source: Ahrefs Backlink Checker
You can also track the progress of your backlink profile over time. And get an interactive view of referring domains and pages.
Image source: Ahrefs Backlink Checker
This helps you monitor both the growth and decline of your backlink profile. Which allows you to make timely adjustments to your SEO strategy. 
Whether you're launching a new campaign or fine-tuning an existing one, these real-time updates empower you to act based on the latest data.
Ahrefs also offers an exhaustive breakdown of your target's backlink landscape.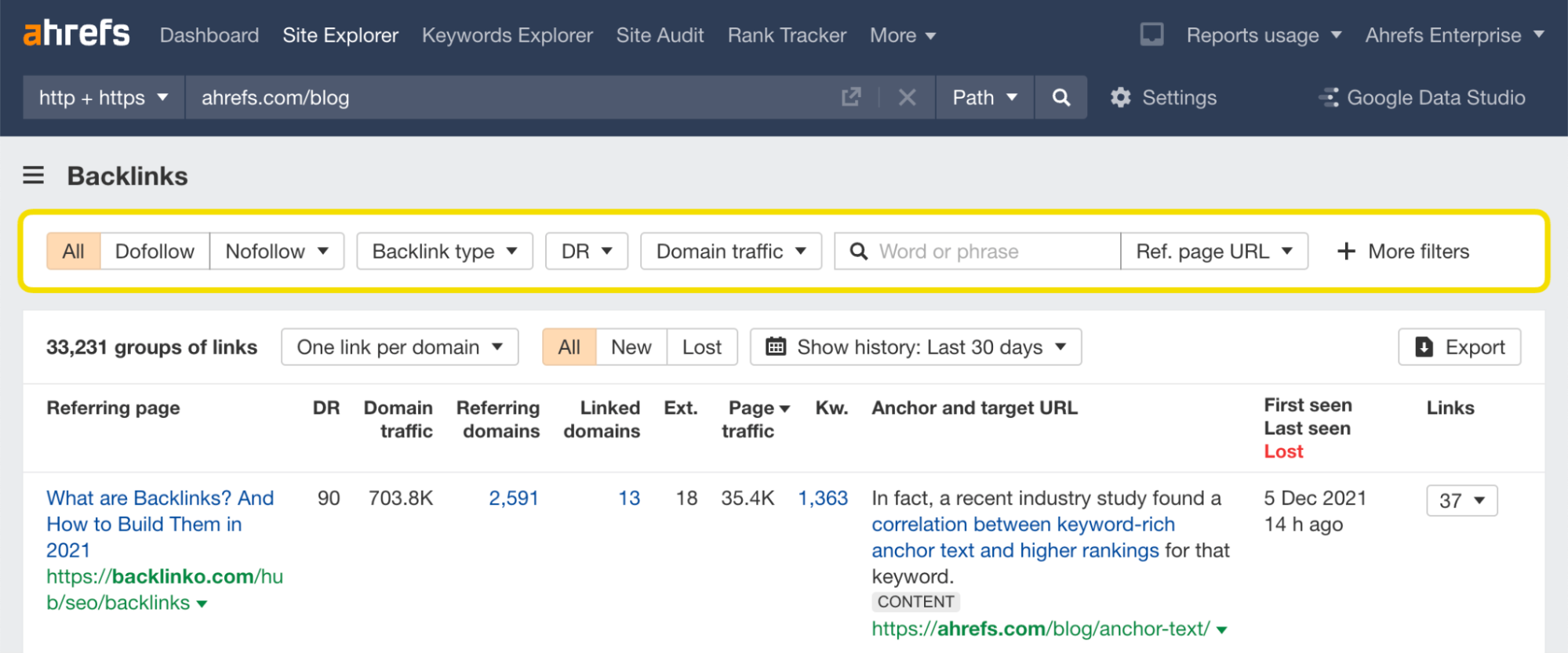 Image source: Ahrefs Backlink Checker
You can see every page linking to your target and employ filters to dive deeper into specific data. This data includes:
Link type ("dofollow" or "nofollow")
Platform
Domain Rating 
URL Rating
Referring domains
Ahrefs Backlink Checker is a versatile tool that helps you identify valuable linking opportunities. And keep an eye on your competitors. It brings a data-driven approach to your SEO strategy.
Who It's Best for
Ahrefs Backlink Checker is great for Shopify store owners who are serious about building a robust backlink profile. It can help them gain a competitive edge through detailed link analysis.
Price: Free
The right analytics and monitoring tools provide invaluable insights into your site's performance. They also help you refine your SEO strategies over time.
1. Google Search Console
Google Search Console lets you monitor and optimize your website's performance in search results.
You can diagnose SEO problems with real-time data.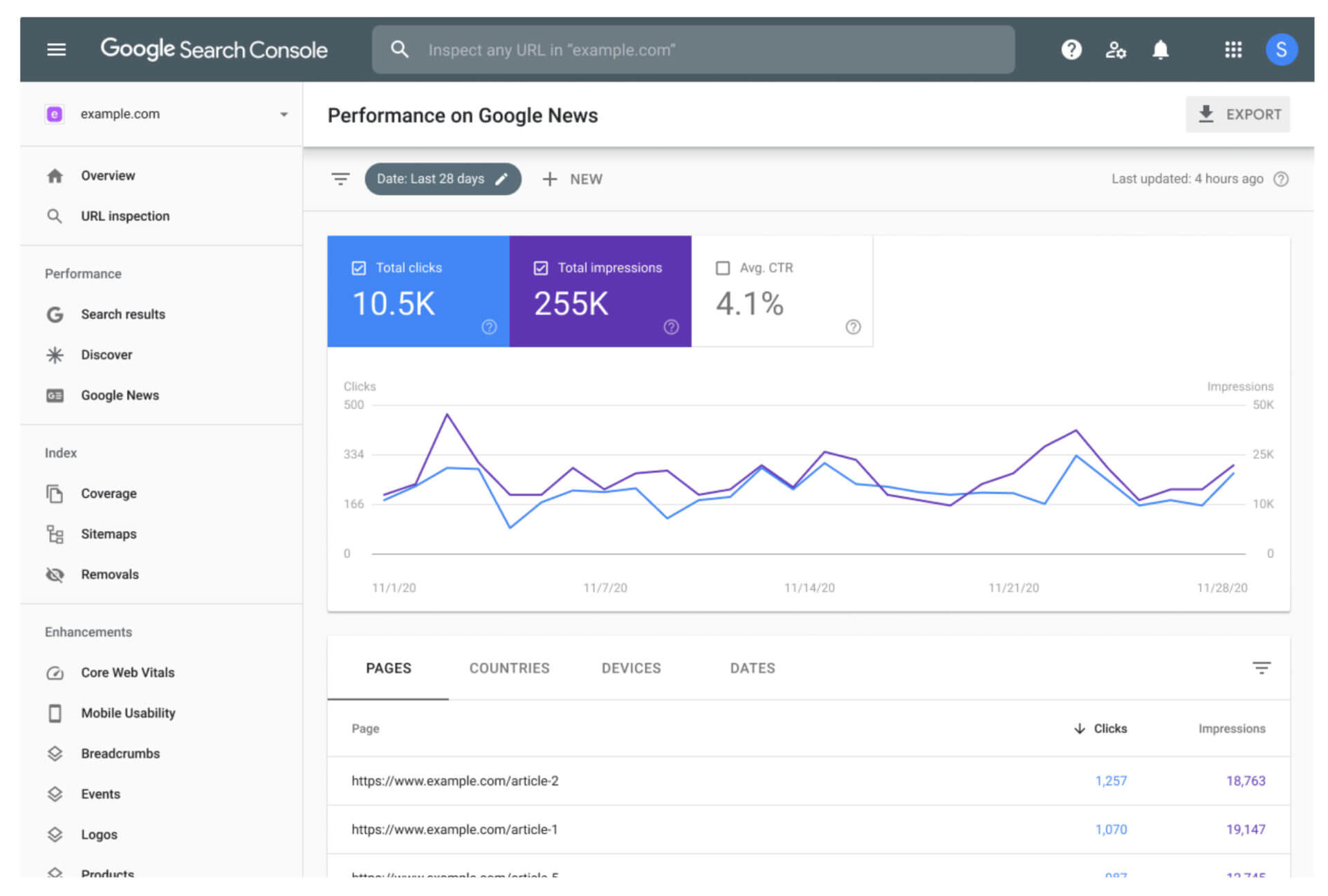 Image source: Search Engine Land
It offers the following SEO reports and tools to help you track performance: 
Further reading: Google Search Console: The Ultimate Guide for 2023
Who It's Best for
Google Search Console is essential for Shopify store owners of all sizes and niches—from new businesses to well-established stores.
Price: Free
2. Google Analytics
With Google Analytics (GA4), you can track your website's visitors, their activities, and behaviors.
It collects comprehensive data and generates reports that help you make data-driven decisions. 
The insights will help you improve user experience. And optimize your site for better conversion rates. 
Get a complete picture of your website performance by identifying trends, tracking user paths, and analyzing marketing campaigns.
Here's what the main dashboard looks like: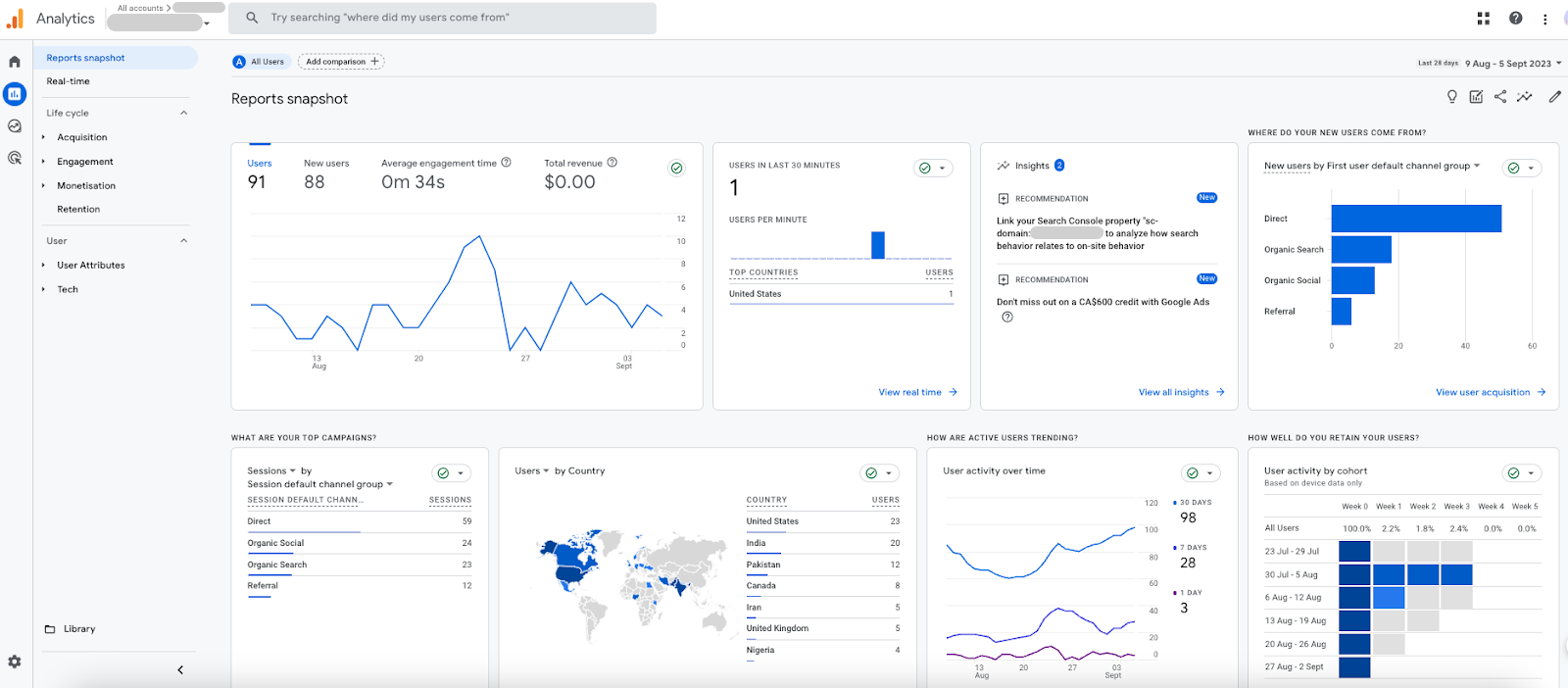 Here's a crash course on where to find SEO performance data in Google Analytics 4: 
From the menu on the left side of the main dashboard:
Go to "Acquisition" > "Traffic Acquisition" to view your organic search traffic 
Navigate to "Engagement" > "Landing Pages" to see which pages receive the most organic traffic and which have the highest bounce rates
Use "Acquisition" > "Traffic Acquisition" > "Referrals" to see which external sites are driving traffic to your website
Check "Tech" > "Overview" to understand the split between mobile and desktop traffic
Who It's Best for
Google Analytics uses precise, real-time data directly from Google which makes it indispensable for any Shopify store. 
No matter how big or small your online store, Google Analytics offers valuable insights for SEO and marketing.
Price: Free
3. Bing Webmaster Tools 
An alternative to Google's suite, Bing Webmaster Tools provides analytics and reporting features.
What's the difference?
This comprehensive suite offers multiple features that will help improve your store's visibility on Bing's search engine. 
You can use its keyword research tools to find high-potential keywords to target. Plus, backlink analysis tools help you monitor the quality of inbound links to your site.
Bing Webmaster Tools also offers detailed SEO reports. 
Image source: Bing Webmaster Tools
These reports:
Provide an overview of all the errors found across your site
Rank all issues by severity to help you prioritize your efforts
Coupled with this is the Site Scan feature. 
It's an on-demand SEO audit tool that crawls your Shopify store, checking for common technical SEO issues. It searches for issues like broken links and missing meta descriptions.
Make Bing Webmaster Tools a part of your SEO toolkit to ensure you're not missing out on valuable Bing traffic. 
Who It's Best for
Bing Webmaster Tools is ideal if you want to diversify your traffic sources and not rely solely on Google for organic search visits. 
Bing has 100 million daily active users. So optimizing for Bing allows you to tap into a different audience and capture traffic your competitors may miss.
Price: $149 per year
SEO requires a lot of attention to detail. Backlinks, on-page elements, keyword research, technical SEO—miss one, and your rankings could suffer.
That's why an all-in-one SEO tool like Semrush can be a game changer. 
Semrush offers a range of features and functionalities—all under one roof. 
This not only saves time. It also ensures that all aspects of your SEO strategy are well coordinated. 
Plus, you no longer need to subscribe to multiple services or juggle various platforms. 
Get a free trial of Semrush today and make the most of your Shopify store's online presence.
Source link