Coming up with an efficient local SEO strategy and executing it well is a tough challenge. To help you succeed, we're offering this checklist to give you some structure. 
The steps in this article can help you optimize a strategy that will attract and gain local customers from your target audience.
Editor's note: If you want to start with some local SEO basics, head to our guide on What is Local SEO.
Our checklist breaks down your local SEO tasks into four main steps: 
Setting up Google Business Profile

Optimizing Your Website for Local SEO

Watching Your Online Reputation

Tracking Your Local SEO Performance
Let's talk about each point on our checklist in more detail.
Google Business Profile
The first thing you should check off your local SEO checklist is setting up your Google Business Profile. 
Why is setting up Google Business Profile important for local SEO?
A Google Business Profile lets you be more visible on Google search and Google Maps where your potential customers can find your info.
You'll have your own profile where you can add your business's information, photos and showcase reviews right in the search results.
To set yours up, either add your business or claim the existing business on Google Maps. Google offers instructions with a helpful video here. 
Choose the Best Business Category
One important step in this process is to choose the most relevant category for your business.
In terms of SEO, choosing this category is like choosing your site's main target keyword that describes your product or service.
As of 2023, there are close to 4,000 categories you can choose from to label your business.
You'll want to choose a category that applies to your business and is a popular search term.
For example, if you have a summer fishing camp, you could choose either "Fishing Camp" or "Summer Camp."
Suppose you punch these two terms into Semrush's Keyword Overview tool. In that case, you'll see (image below) that the "Summer Camp" got many more national searches versus "fishing camp" (1.9 thousand vs. 49.5 thousand monthly searches in the United States, on average). 
But you can get even more specific than that. The Keyword Overview tool is now equipped with a local metrics filter to help you determine what people are searching for in your chosen location.
The tool can narrow your keyword research down to a state, county, region, or even municipality of your choosing.
Alt text: Once you have your keyword, type it into the Keyword Overview tool and select the specific target area you want metrics for. 
Once you have your keyword all you need to do is type in the location you are looking for.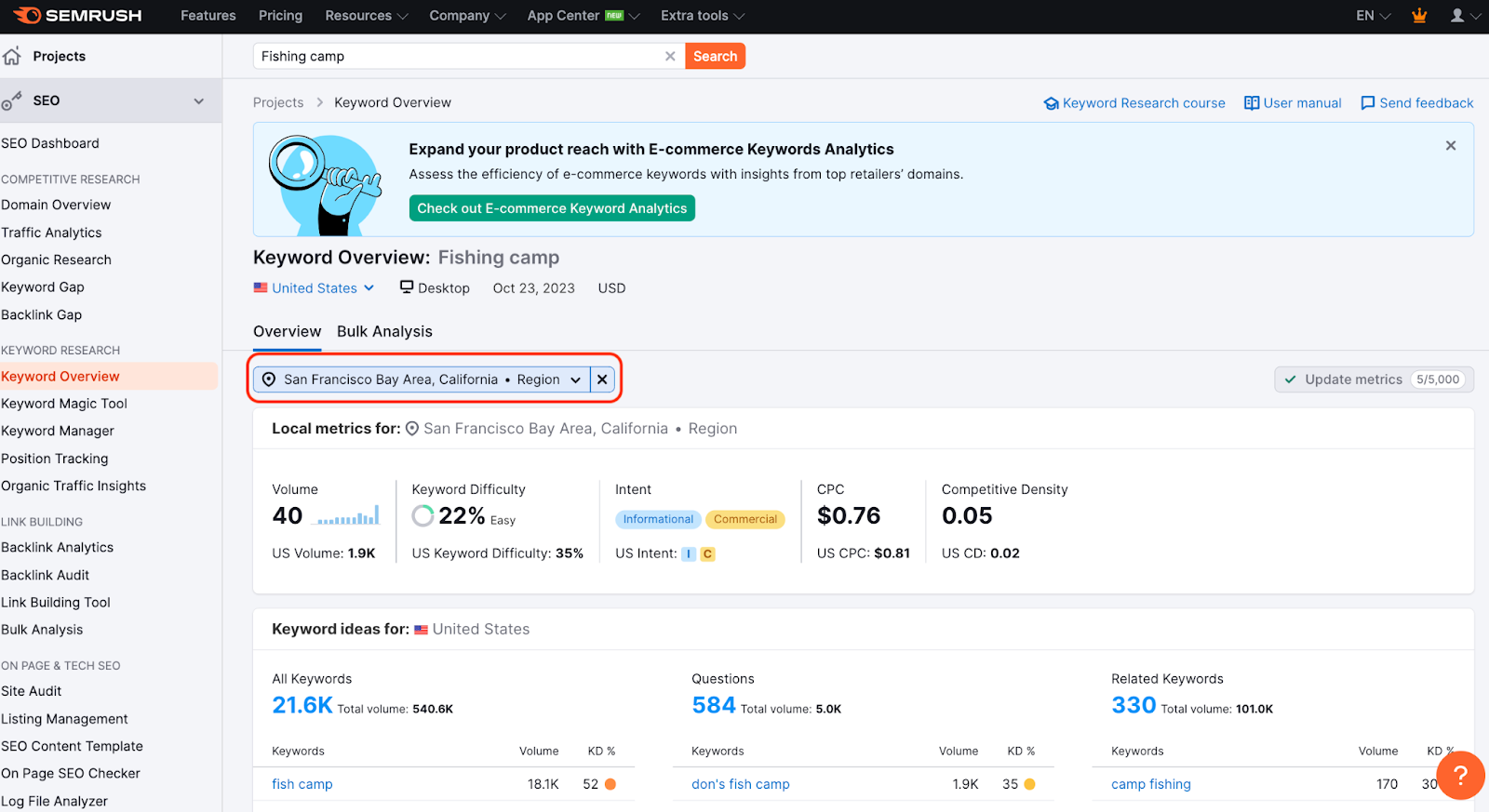 Alt text: The red box shows you the dropdown menu you can use to narrow your keyword research down to a very specific area. 
The local search metrics of these popular keywords will help you determine if you've picked the right category for your chosen location. 
Note: Some widgets in the Keyword Overview tool will only yield national results.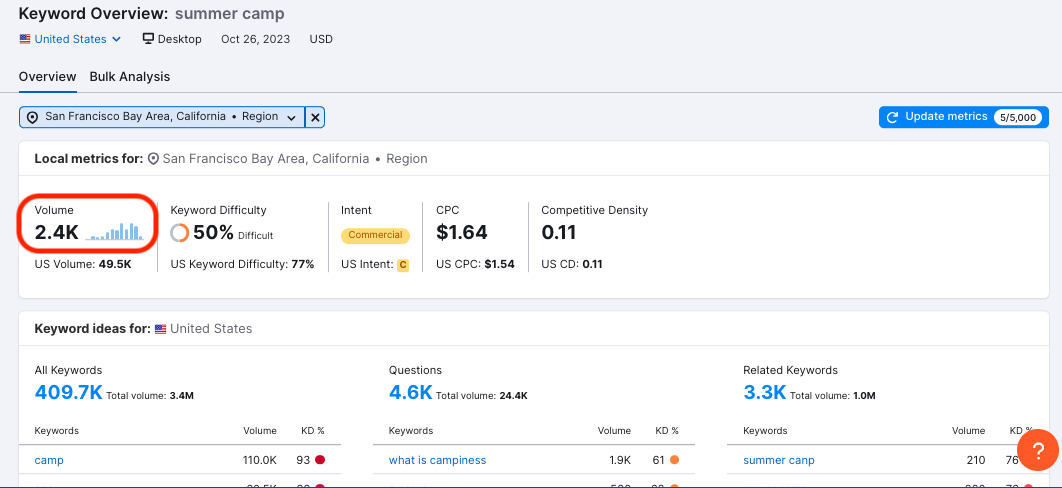 Alt text: The local metrics filter gives you a side-by-side comparison of the data for your specific area versus the national data. 
There are tons of ways to further optimize your business listing, which we cover in our Ultimate Guide to Google Business Profile. 
The details you add to your profile will be appreciated by potential customers searching online, as it could help answer some of their questions or concerns about choosing your business.
In conclusion, your checklist for GBP is:
Create your page

Claim/add/verify your profile

Choose the category that suits you

Optimize your profile with images and info all about your business
Website Optimization 
Now, how can you optimize your local business website for local SEO?
Generally, you'll need to follow the basics of SEO like any other website: 
Creating high-quality content 

Optimizing your pages for target keywords 

Build links to those pages 
Then, there are a couple of ranking factors that become more important for local SEO like Citation Management and mobile-friendliness. 
Citation management is important because it will help Google trust your business when it sees more consistent citations of your business name, address, phone number, and other info.
You can save hours updating relevant local business directories with this information by using our local citation software to automate the process.
Mobile-friendliness is important because of how many people search for local services while on their smartphones. 
You can get started by unifying your citations with Listing Management and checking your technical SEO with Site Audit.
Citation Management
First, display your business information clearly on your home page or footer so visitors will easily find it. This means your NAP (name, address, and phone number) and other important info. 
This information must be consistent with every citation in order to send trust signals to search engines. Conflicting info about a business can negatively impact your SEO. 
This issue can be fixed with citation management.
To manage your local citations on Semrush, you can use our local SEO services Listing Management tool.
Alt text: The Listing Management makes it easy to monitor and optimize business listings. 
Just enter your business information and Semrush will do the rest to make sure your business info appears consistently on every major citation site on the web (including Facebook, Google Business Profile, Yellow Pages, and more)
Technical SEO Audit
Next, you'll need to identify your websites' technical issues that could be impacting Google's ability to find your web pages. 
To do this, run the Site Audit tool to receive a list of top errors, warnings, and notices as well as instructions on how to fix each issue.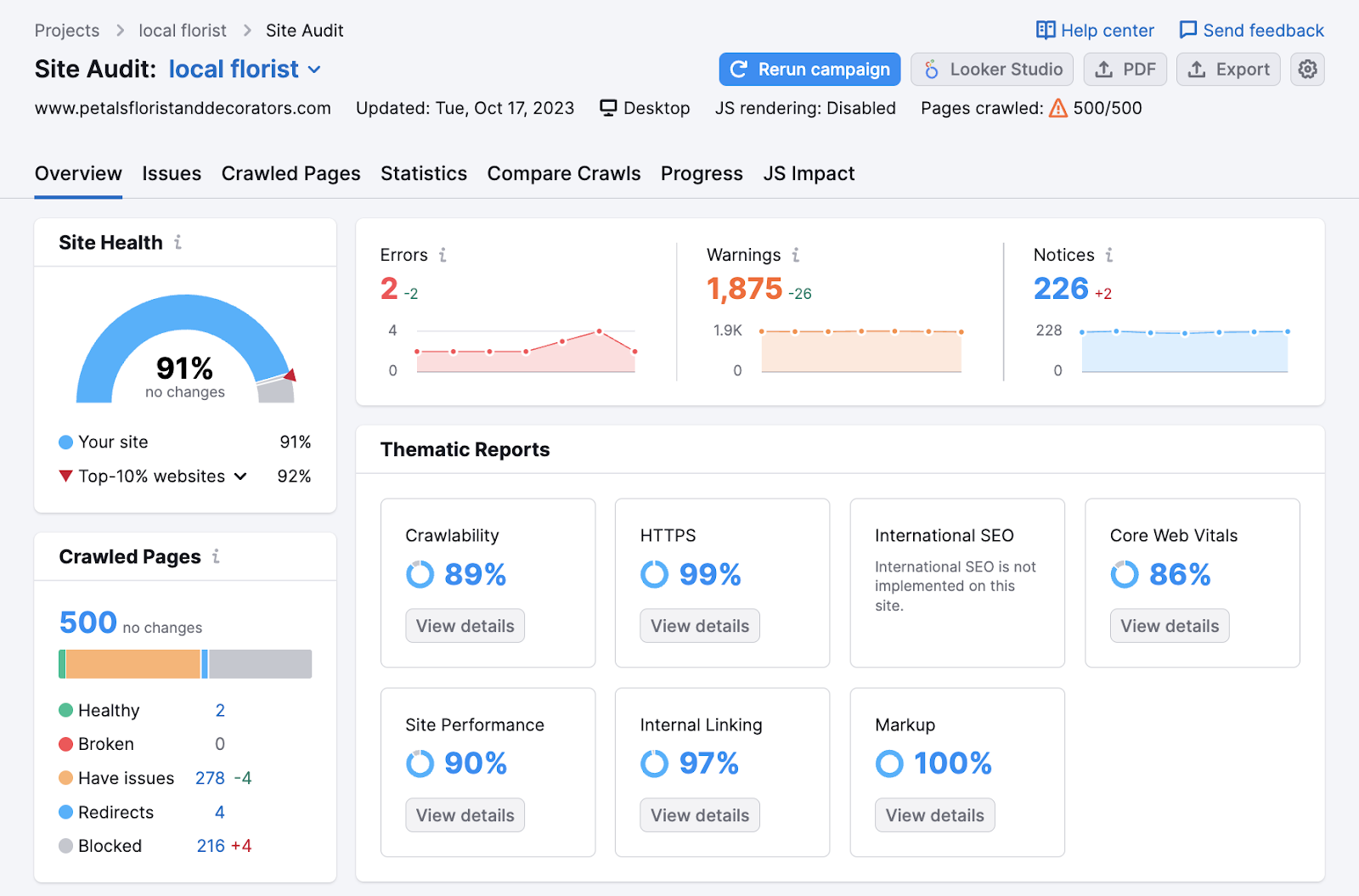 Simple things like fixing any broken pages, writing title tags and meta descriptions, and having optimized internal links will go a long way towards future SEO success.
To audit how well your site is optimized for mobile, simply choose to crawl the mobile version of your site in the configuration settings. 
For more tips on mobile SEO, check out our Beginner's Guide.
Local Link Building 
So, you've set up Google Business Profile, managed the rest of your citations, and now have a list of technical issues to address to improve your site. What else can you do? 
The basics of link building come down to simply making connections. Can you make connections in your local community and in turn receive links from other websites? 
Can you create content that other sites in your niche will want to link to?
Getting linked-to from local blogs, neighboring businesses, or other websites about your specific niche or industry could go a long way in boosting your SEO.
In Semrush, you can set up the Link Building Tool to gather prospects for your domain to which you could reach out to in order to build new links. 
Read this blog post to learn more about how to build links.
Schema Markup for local SEO
Schema markup can help a local business show up and appear in special SERP Features like carousels and answer boxes. 
For example, here are some schema markups relevant to local business:
These markups help search engines better understand and trust your site.
You can see how much of your website (if any) is using any markups in the Markups report of our Site Audit. This report also tells you if any of your markups are currently invalid. 
To learn more about getting started with schema, check out this Beginner's Guide to Structured Data.
In conclusion, your checklist for Website Optimization is:
Fix citations with

Listing Management

Perform a

Site Audit

(NOTE: Make sure you're mobile-friendly)

Obtain locally relevant backlinks

Add structured data markups
Online Reputation
Your online reputation is a huge factor in winning over potential new customers that are searching for local services online. 
You can manage your reputation in a few ways:
Gather positive reviews on Google, social media, and review platforms.

Engage customers on social media.
How to Use Review Management for Local Business
The first thing you can do to get more online reviews is to simply ask for them from your customers. 
Google actually offers a Marketing Kit where you can get free stickers, posters, and more to encourage people to review you on Google.
When you start to get reviews, respond to show you are engaged with your customers. Let them know you appreciate their positive reviews and have an answer or apology for any negative reviews.
You can review all of your online reviews within the Listing Management tool on Semrush if you go to the Reviews tab.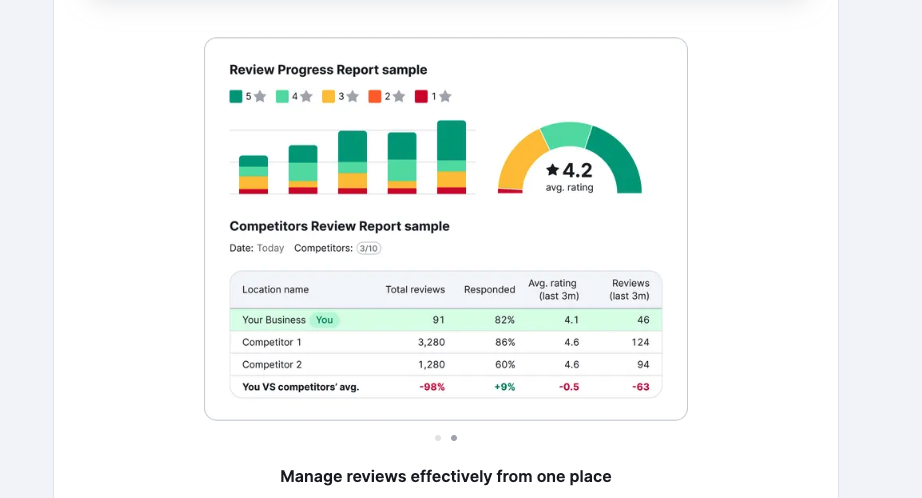 If you have a Premium location set up, you can even reply directly to those reviews on GBP and Facebook from Semrush! 

How to Manage Reputation by Engaging with Customers on Social Media
Social media gives you a great chance to connect with the local market and speak directly to customers. 
But — managing your representation on multiple channels is not an easy job. 
To make things easier, you can use a scheduling tool like the Social Media Poster to plan out your posts in advance and stay ahead of the curve:
Plan out questions and polls on Twitter to get suggestions from your customers. 

Share happy hours or deals on Facebook. 

Post images of your store/service/friendly staff on Instagram.

Start a following on Pinterest if you operate a visually appealing business.
All of these channels can be managed and analyzed with the Social Media Toolkit on Semrush, which features 3 tools:
Social Media Poster 

Social Media Tracker 

Social Media Analytics
In conclusion, your checklist for local online reputation is:
Ask your customers for reviews in person

Reply to reviews on GBP and Facebook

Engage your social media audience with a scheduling tool
Tracking
Lastly, you'll need to track the impact of your efforts, namely your visibility on Google search and Google Maps, as well as in the local packs and hotel packs, and other SERP Features that are on your target SERPs. 
To set up a tracking campaign, go to Position Tracking, and configure the tool to track your target keywords in your target area. Options for targeting include country, state (in the US), city, and even zip code. 
Depending on the level of your account, you can track multiple device types and locations in the same Project. 
Your campaign will update daily with current positions of your site as well as competitors so you can never miss a change in anyone's positions.
Once your Position Tracking campaign is set up, you can filter the report to find the keywords with SERP Features.
Filters can include local packs, hotel packs, images, featured snippets, and other special results that you could target with (remember: schema markups can help with this!).
Finally, if you want to track your positions in Google Maps, you can do so with a premium location in Listing Management. 
Once your location is set to premium you can configure your heatmap with your desired radius size (miles or km) and grid size (3×3, 5×5, or 7×7). 
This map will update your positions every month. This lets you see how you rank in very precise locations within your area and how your visibility grows. 
Both of these tracking methods offer great visuals and reports to find growth points and areas that still need improvement throughout the course of your SEO campaign. 
In conclusion, your local tracking checklist is:
More Checklists
Did you find this checklist useful? If so, we have a few more checklists for SEOs that you can check out now:
Source link