Do you often find yourself wondering how to keep up on an ever-changing digital landscape?
The Searcher's behaviors are constantly evolving and it can be tough to adapt as a brand that's so reliant on online performance. There are, however, two reasons you might rest a little easier with this reality: (1) you're certainly not the only one in such a position, and (2) you've found the Search study to end all Search studies. We've published the State of Search, Semrush's annual 360-degree analysis of Google updates, search behaviors, and SEO activities—you'll find the full report in our State of Search 2023 infographic.
The study leveraged our vast array of tools and reports, including data from the Semrush Sensor database, Domain Analytics, Traffic Analytics, and more, to help you optimize your SEO strategy and outmaneuver the competition. Our analysis highlights trends by using recent search data, but also comparing 2022 to 2021 to unpick how people searched, industries performed, and SERPs changed across the world. Here's a taster of our discoveries before you dive into the infographic.
What Were This Year's Traffic Trends?
We calculated the total traffic trend in 2022 based on the top 100,000 domains in the US from the Semrush .Trends Rank and Traffic Analytics (Clickstream data). On average, these websites received about 140 billion visits per month and, with the mid-year recession in mind, the traffic trend appeared to follow economic activity in 2022. There was a slight decline in the middle of 2022, and a recovery by the end of the year.
The Search traffic trend of the same domains followed a similar pattern and made up around 18% of the total traffic for the year. Be sure to check out the State of Search 2023 infographic to explore the data, including Search traffic for some of the world's biggest websites.
What Were 2022's Industry Trends?
We also analyzed Search traffic trends for selected industries to uncover how the landscape might have changed from one brand to the next. 
Some industries were seemingly directly affected by geopolitical and economic crises throughout the year, including Media, Retail, and Service and Technology. Others appeared to have been more impacted by seasonal shifts in consumer demand, but one particular industry took a nosedive after a peak in July—take a look for yourself in the infographic.
Even though the world was affected by global economic changes and crises, most industries had shown growth and regained their levels of online Search traffic by the end of 2022. We can see the year-on-year (YoY) changes per industry that occurred from December 2021 to December 2022 here: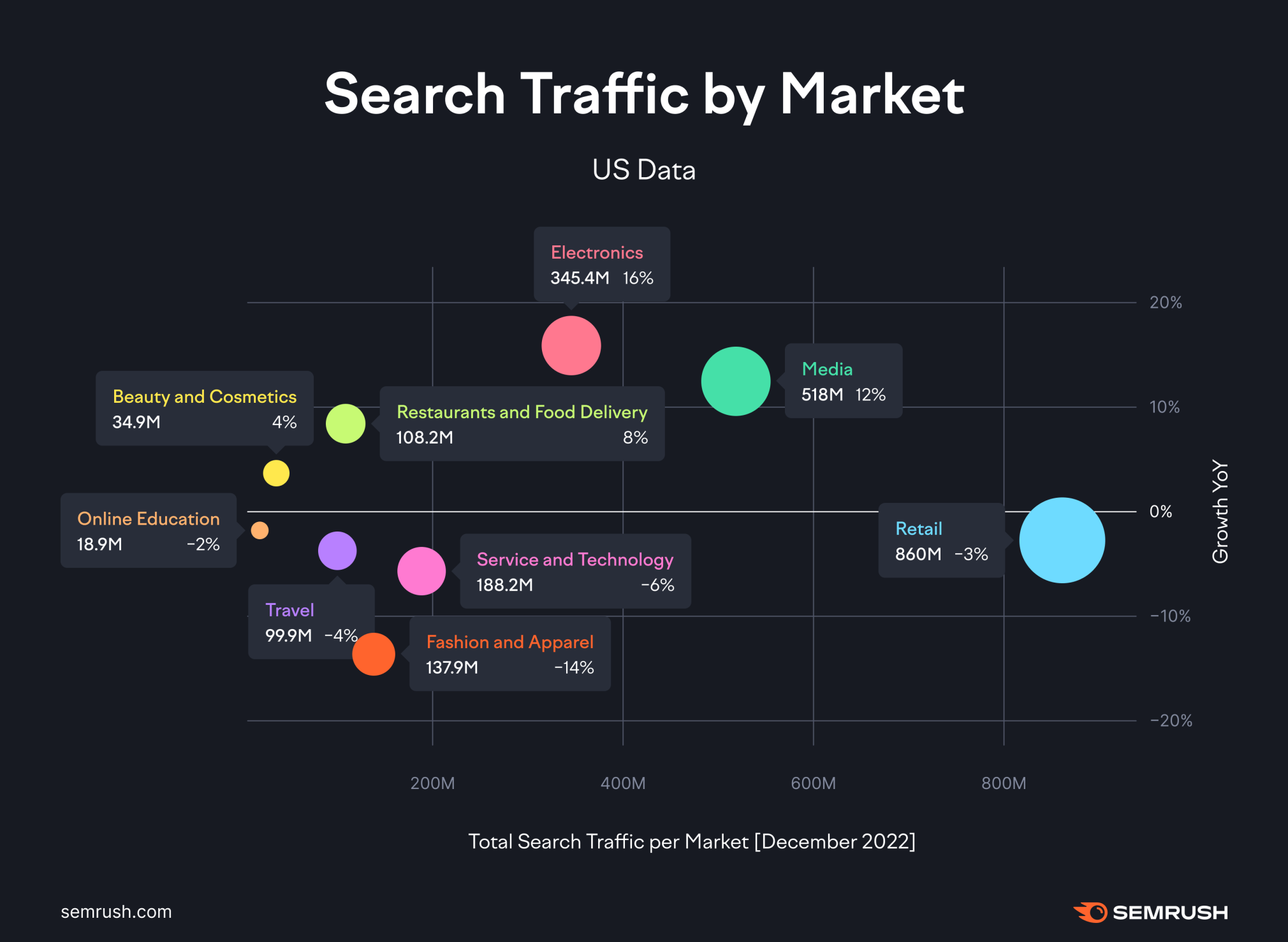 The Electronics, Beauty, Media and Food industries all grew YoY
The Retail, Online Education and Travel industries shrank in terms of traffic, but not dramatically
The Service and Technology and Fashion industries experienced more significant drops in traffic in 2022.
What Happened with Google Updates and SERP Volatility Trends?
There were 10 confirmed Google updates last year, which was slightly fewer than in 2021, but the State of Search study showed that the yearly average seems to have been on the rise since 2017.
Part of our analysis involved estimating the effect of Google updates over time. You might be surprised to see from the data that the impact of these updates appeared to be comparatively low in 2022. Discover which updates had the least significant impact of all in 2022 right here.
In terms of volatility, it was actually higher in 2022 than it was in 2021, despite lower readings on the Semrush Sensor from July onwards. This might be due to a change in how Google is diversifying the way updates are developed and released. All updates in 2022 were less impactful than 2021, but the last Core update in March 2023 had a huge impact, which contradicts the theory that Google is changing to a more continuous algorithm update. Maybe the March 2023 update was bigger due to the impact that ChatGPT has had on Google…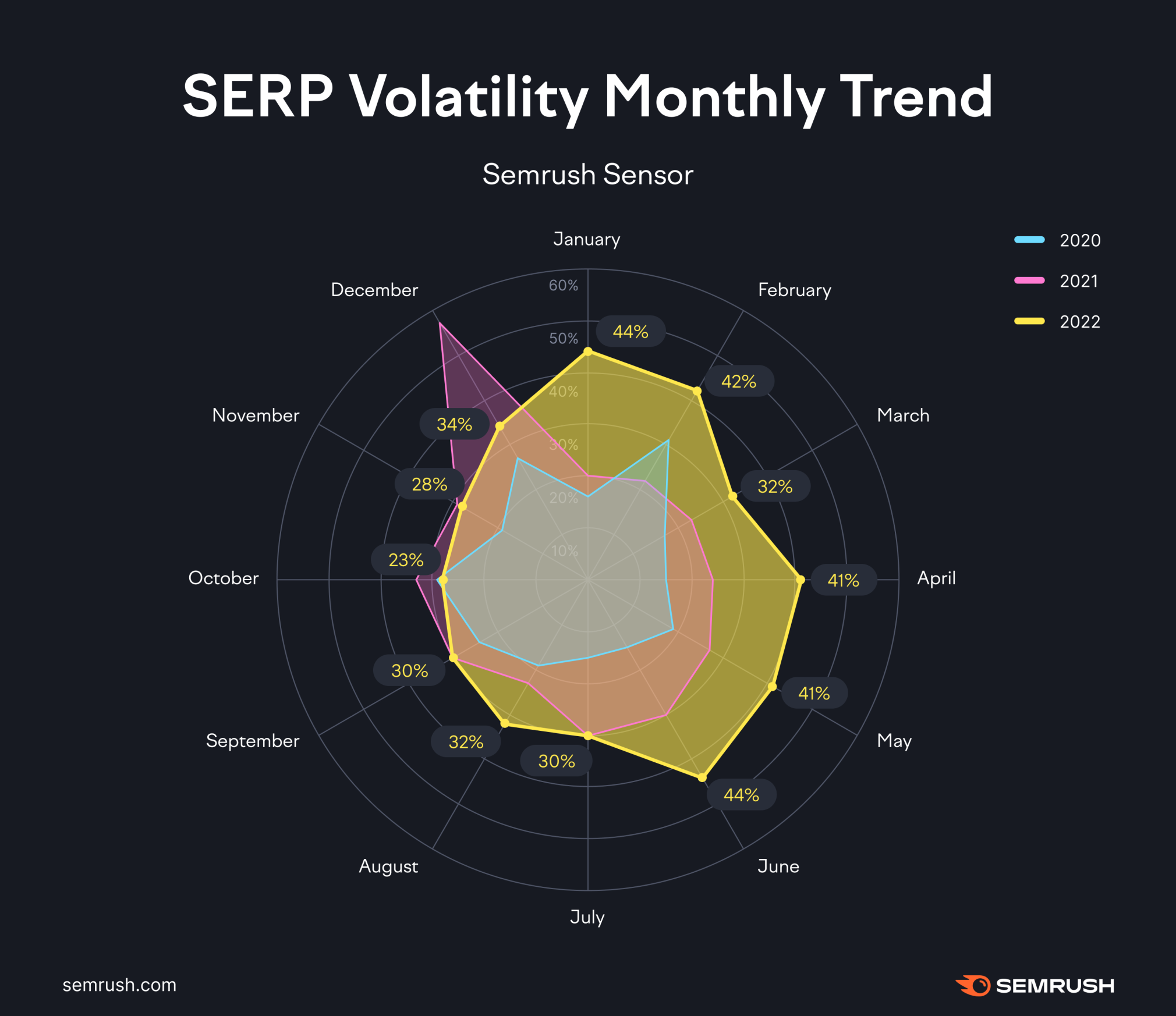 How Did Search Intent Change in 2022 vs 2021?
We wanted to estimate how the distribution of numbers and search volumes of keywords changed by search intent in 2022, so we called upon the Semrush Domain Analytics database, which constantly tracks 159 million desktop keywords in the US.
Our analysis unearthed a curiously positive trend for two particular keyword groups, while the other two went in the opposite direction. Google has clearly changed the balance of the SERPs and started diverting the searcher's attention away from purely informational results—explore the data in the infographic to find out more.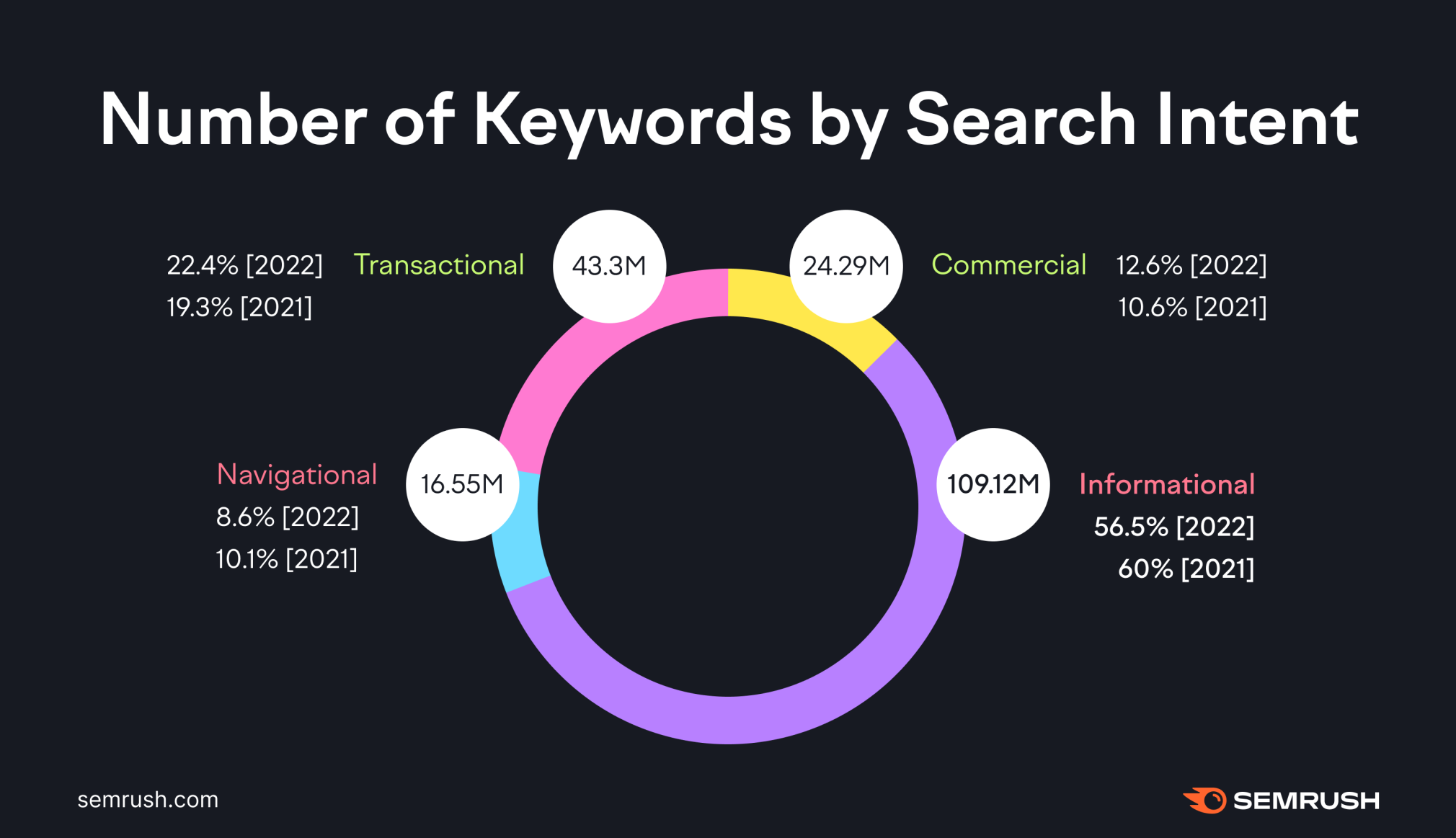 As a follow-on from our Zero-Clicks Study in 2022, you can also explore how CTRs played out in Google's SERPs in the full report for this year's State of Search. How many searches led to a click on the first result? How did mobile perform compared to desktop? Have Google's changes reduced clicks further still by providing more ad-based results?
More related insights can be found in Backlinko's CTR Study, too, which was updated based on the same data.
What Were 2022's Website Trends?
Last year actually marked a three-year downward trend in the number of ranking domains, according to our State of Search data. This may be due in part to some of the indexing issues Google faced last year, or the likelihood that it's better than ever at fighting spam and removing irrelevant domains from its index. We also have to consider the possibility that more of the domains that were created at the start of the pandemic have now been abandoned, while more authoritative brands have grown into ranking for more keywords with fewer pages.
The importance of having a robust digital strategy with high-quality content is obvious here, putting businesses under greater pressure to invest in SEO and content. This could put small businesses at greater risk if they are not able to compete with the superior budgets of bigger brands.
It wasn't all bad news for such websites, though. We still found a significant amount of new websites appearing in Google's search results in 2022—28% more domains appeared on top of the ones we already tracked in our database. This percentage was lower in 2022 than in 2021, but still higher than it was in 2020: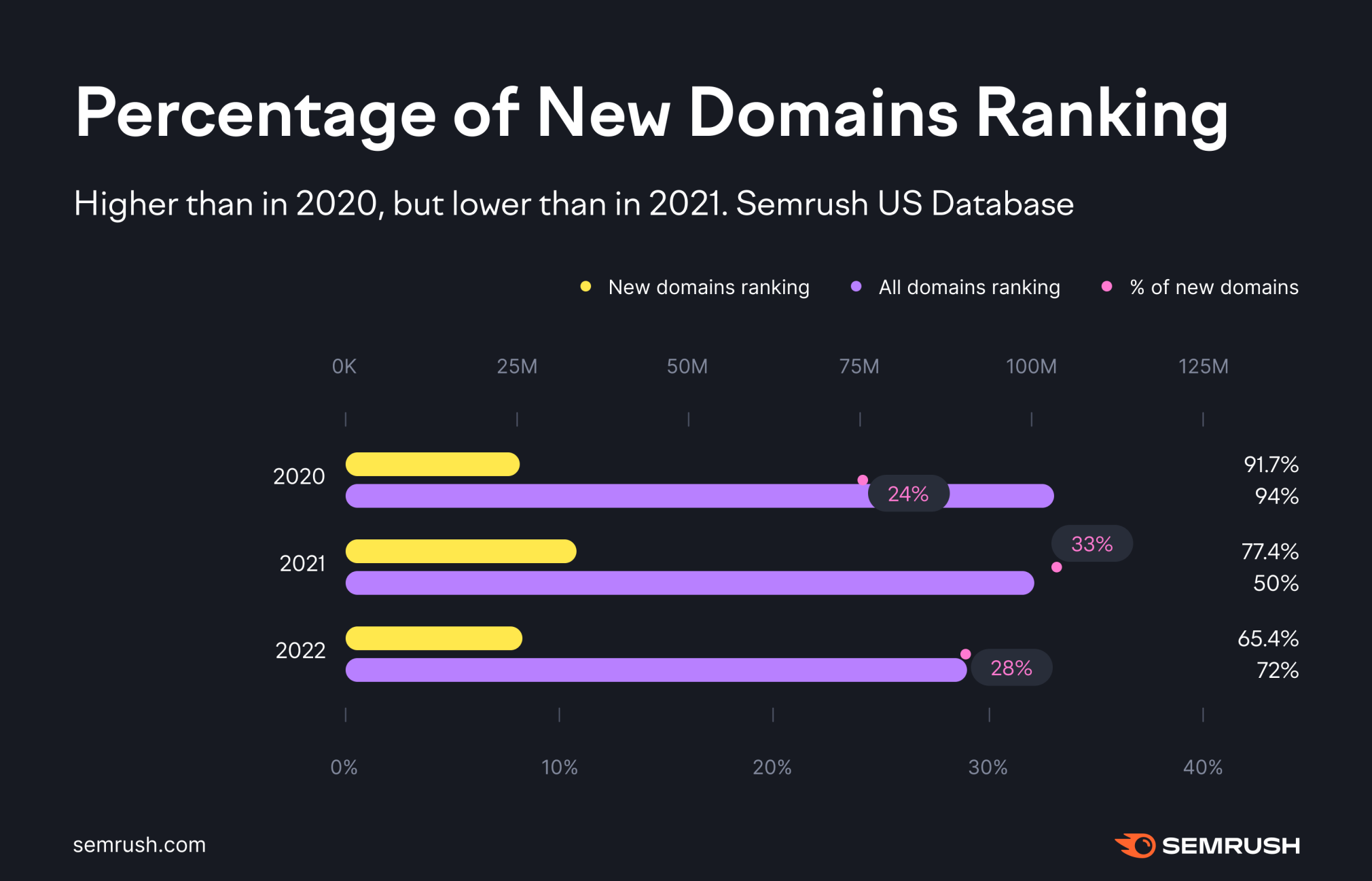 What Will You Make of the State of Search 2023?
Our findings from this State of Search 2023 study have shown that last year was certainly a challenging one in terms of online traffic. There were clear winners and losers, but almost every industry appears to have been affected by changes to the SERPs and the way Google ranks.
Dive into the data for yourself and let us know your thoughts on how mobile fared vs desktop and what recent updates might tell us about Google. Will those industries that lost out in 2022 adapt and fight back stronger in 2023? Will Google keep us guessing about the frequency of its updates? Will the State of Search change shape yet again in 2024?

Source link