It's 11 p.m., and you're craving a burrito. You should really be sleeping, you tell yourself, but you know that laying in bed counting sheep will be futile with burritos on the mind. So what do you do? You pull up Google on your phone and type "burrito store open near me."
There won't be any rabbits hopping out of hats or sparkle dust, but from the moment you start your search, magic has just happened; the magic of local search engine optimization (SEO).
For those well versed in magical lore, this type of magic inhabits realms far more exotic and complex than Hogwarts or Middle Earth. Local SEO magic exists in its own fast-paced and ever-expanding universe – the Internet.
In this article, we'll examine the importance of local SEO and how it shapes the business landscape. Continue reading to learn more!
The importance of local SEO
Why should you, as the consumer (now toeing the desperate line between hunger and rage) care? After all, searching for a business near you takes approximately 10 seconds and is easier than the actual drive to pick up the food.
Simply put, this ease of use is exactly why you should care as a consumer. When utilizing a search engine such as Google or Bing, you place your trust in the hands of the search engine to deliver you the most accurate results possible. Nobody would use Google to search if there wasn't a feeling from the consumer that the results appearing were of good quality.
So, that same ease of use that you feel as a consumer when utilizing a search engine can be anticipated by businesses and leveraged to showcase their brand, products, and services.
Now, let's pretend that instead of desperately seeking a burrito at 11 p.m., you're a burrito vendor who is equally as excited about seeking late-night customers.
When done correctly, you can take advantage of a number of Local SEO ranking factors that can get your business showing up higher in search engine results when users search for applicable location-based queries.
How does local SEO work?
Straight down to its core, a local SEO search works like any other search. Once you enter your search phrase, Google will scan its index to provide you with the most quality results possible for your query.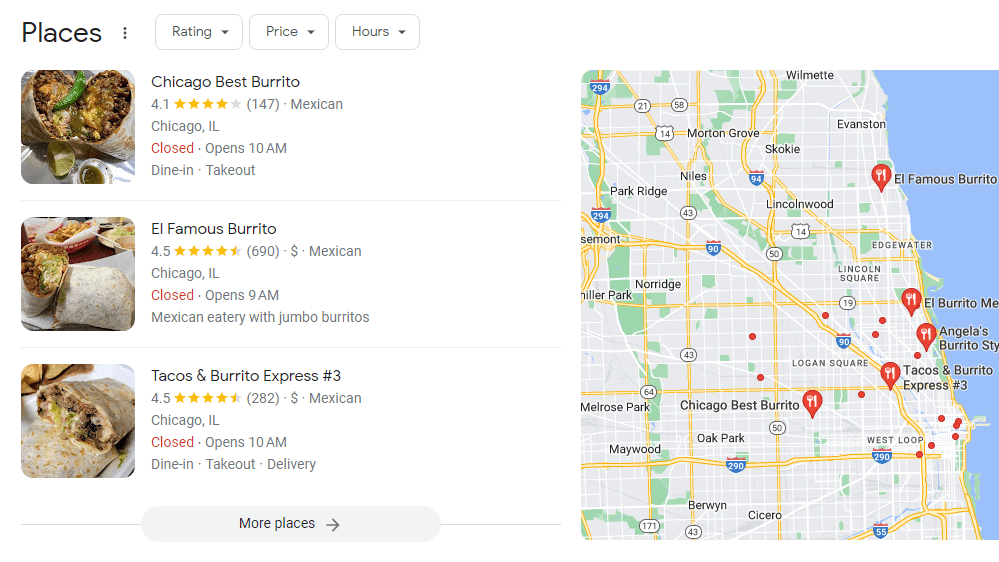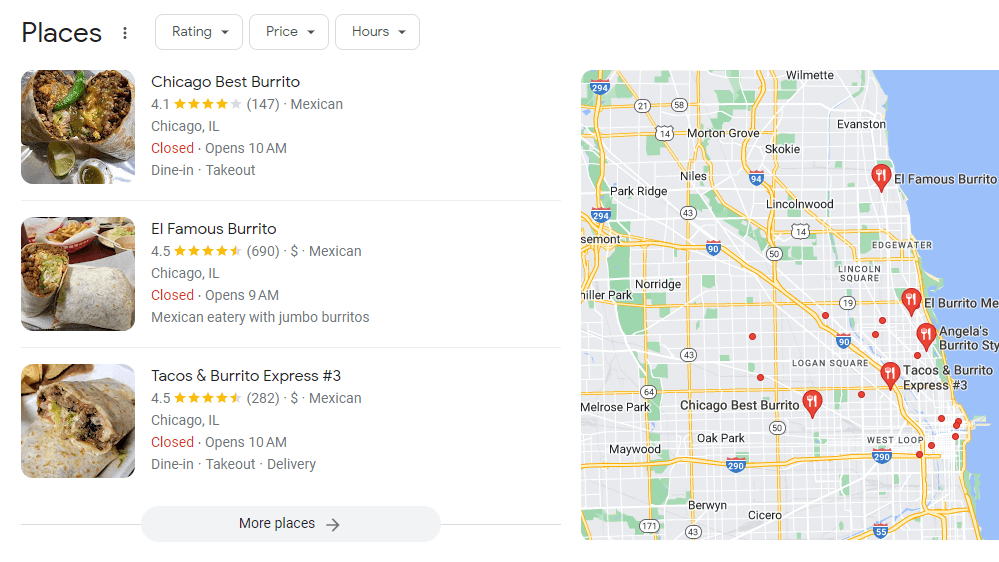 But here's where things get just as spicy as that burrito you've been craving!
A local SEO search is unique from other searches in that Google utilizes a different set of ranking factors than that of a normal search.
Some of these factors include the location that the consumers are searching from, keywords used on a business's site or local listing, and the presence of quality local citations that showcase the business's name, address, and phone number (NAP).
3 ways local SEO shapes and grows businesses
Now that you know the importance of local SEO, let's dive into how it can shape and grow your business.
Here are three exciting benefits of local SEO:
1. Local SEO increases local brand awareness
Let's start with the obvious: One of the most crucial aspects of turning a profit for your business is getting people in the door. You don't need a Master's of Business Administration to know that there is a direct correlation between the number of people in your store and the more products and services you sell.
Now, let's look at the not-so-obvious: How do you get people into your store? Right about now, that MBA could come in handy. Before anybody actually steps foot in your storefront or even clicks on your website, they must first be aware of your existence.
This is where local SEO comes into play. If you optimize your business's online presence for local search intent, you position your business to be more visible to potential customers. In other words, if you focus on increasing your online visibility within a specific geographical area, you'll attract more people in your area who are interested in what you're selling.
Just like how a billboard on a highway guides cars to roadside businesses, an effective local SEO strategy aims to steer online traffic toward local businesses.
This is made possible due to search engines prioritizing businesses that have utilized local SEO strategies such as location-based content, location-based keywords, and optimized online local citations. Moreover, a business can anticipate the intent of a searcher nearby to better show up in their search results.
Let's check back in on our friendly burrito vendor for a second. This business could add location-based keywords to its website to better rank for searches utilizing these keywords.
For example, if the burrito vendor is in Chicago, then they could strategically place location-based keywords on their site, blog posts, and local listings so that a Chicagoan hungry for a burrito would see this vendor appear on Google when they search for "burritos in Chicago."
But what sets local SEO apart from other forms of marketing? After all, you could theoretically take out an ad in the local newspaper to gain some local traction, right?
The reason that local SEO increases brand awareness more effectively over other, more traditional methods of advertising is that it fulfills a user's desire to have a question answered (i.e., "where can I purchase a burrito near me?" or "what burrito places are open at 11 p.m. in Chicago?") and pairs that question with an answer, thereby satisfying a consumer's need.
Nearly 50% of all searches on Google are location-based, meaning that a potential customer base for your business is right there and only a click away on their phone.
Not only that, but 76% of consumers who search for something local on their phone visit a related store later that day, and 97% of people learn more about a local company online than anywhere else.
Local SEO marketing brings consumers directly to businesses by satisfying a need and answering a question. If you can get your business in front of searchers through an effective local SEO strategy, there's a solid chance they will walk into your store later in the day.
2. Local SEO creates a connection with a target audience
Unfortunately, just getting your business in front of potential customers isn't always enough to get them to convert into driving sales. An effective local SEO strategy will aim to create a connection with your target audience in addition to just being seen.
A completed purchase is the final step in a relationship between two parties — the buyer and the seller. Just like any relationship, whether romantic or platonic, this bond can be strengthened or weakened by actions taken by either party. As a business, the strength of the relationship largely depends on the connection you make with potential customers before they end up purchasing from you.
Think of it like speed dating. You wouldn't marry the first person who sits across from you simply because they were the first to sit down. Likewise, a consumer won't necessarily make a purchase from a business just because they appeared first in the Google search results.
However, if, when speed dating, you can make a quick connection with the person seated across from you, chances are that you'll have more success in getting a second date than somebody who appears to be uninteresting.
In marketing, a business can utilize local SEO services to strengthen that connection with potential customers and position themselves as the "most interesting date in the room" (talk about the ultimate wingman!). In other words, you've created a connection with a searcher, motivating them to continue deeper into the sales funnel.
This connection can be strengthened in a few ways from a local SEO perspective. You can utilize local SEO services to improve your business's reputation through review building. Reviews are beneficial in strengthening a connection because they are written by other customers, making them more trustworthy with searchers. The more positive reviews a potential customer sees about your business, the more likely they are to work with you.
Additionally, you may be able to build trust and increase your credibility with searchers by building local backlinks — links from other sites that point to your website. These backlinks showcase to search engines that your site is trustworthy, which helps your business listings appear higher in search results.
3. Local SEO gives you a leg up over the competition
The good news is that you now have your potential customers' attention. The bad news is that some of your competitors also have their attention. So, how do you gain a competitive advantage and "steal the hearts" of your potential customers?
Imagine that your burrito business and the competitor down the road have employees out front twirling signs. These employees are tasked with holding a large sign to point roadside traffic to your respective storefronts.
Your competitor's employee simply stands by the side of the road and holds a sign that says their business name.
Your employee, on the other hand, doesn't just stand by the side of the road. He actively seeks out people in the city asking for a good burrito shop and attracts them by twirling the sign over his head while somersaulting…through a ring of fire!
These employees represent two different strategies. The competition's employee represents a strategy that does not focus on local SEO and only focuses on the bare minimum.
People can see his sign, but nothing forms a connection between him and onlookers. These people may not even be hungry for burritos, so many keep driving by without stopping.
Your employee represents a marketing strategy that utilizes effective local SEO services. Not only does he attract attention in a meaningful way, but he also points people actively seeking your services in your area right to your business's door. Which strategy would you prefer?
By implementing an effective local SEO strategy, you may be able to appear higher in local search results and above the competition in the Local Pack (the top three local search results on Google for a location-based query).
Like any form of marketing, one of the primary goals of optimizing for local SEO is to help make your brand appear at the forefront of customers' minds over your competitors.
Local SEO strategies such as review building can not only increase user trust in your business, but they can also demonstrate how you are better than your competitors.
For example, if you have 400 five-star reviews on your Google Business Profile listing, and your main competitor only has 100 five-star reviews, searchers may feel that you are the right choice to do business with because of your high positive review count.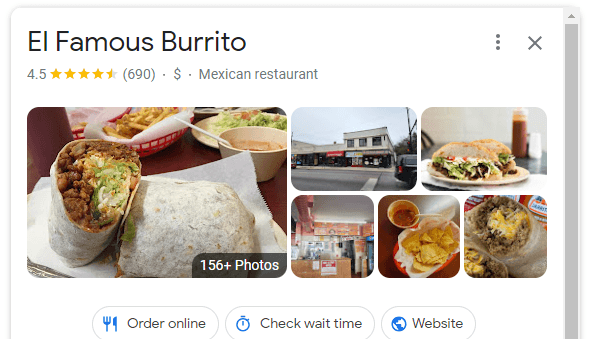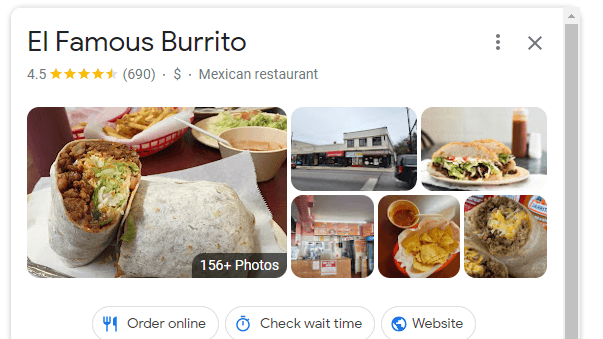 Additionally, through backlink and citation building, users may see your business in other areas than your site or social media, which grows awareness of your brand.
For example, a customer that utilizes a platform such as Angie's or YellowBook may see your optimized citation and choose you over a competitor because of brand recognition and the comfortability of your services.
Learn more about the benefits of local SEO
Whether you're eating a burrito or selling a burrito, a properly curated local SEO strategy benefits not only the business utilizing the strategy but also the users who are searching for accurate information online. For more information about the importance of local SEO and its benefits for businesses like yours, just check out our blog!
Source link