What Is Keyword Mapping?
Keyword mapping is an SEO strategy that involves tactically assigning target keywords to pages on your site. And documenting your decisions in a keyword map.
Like this: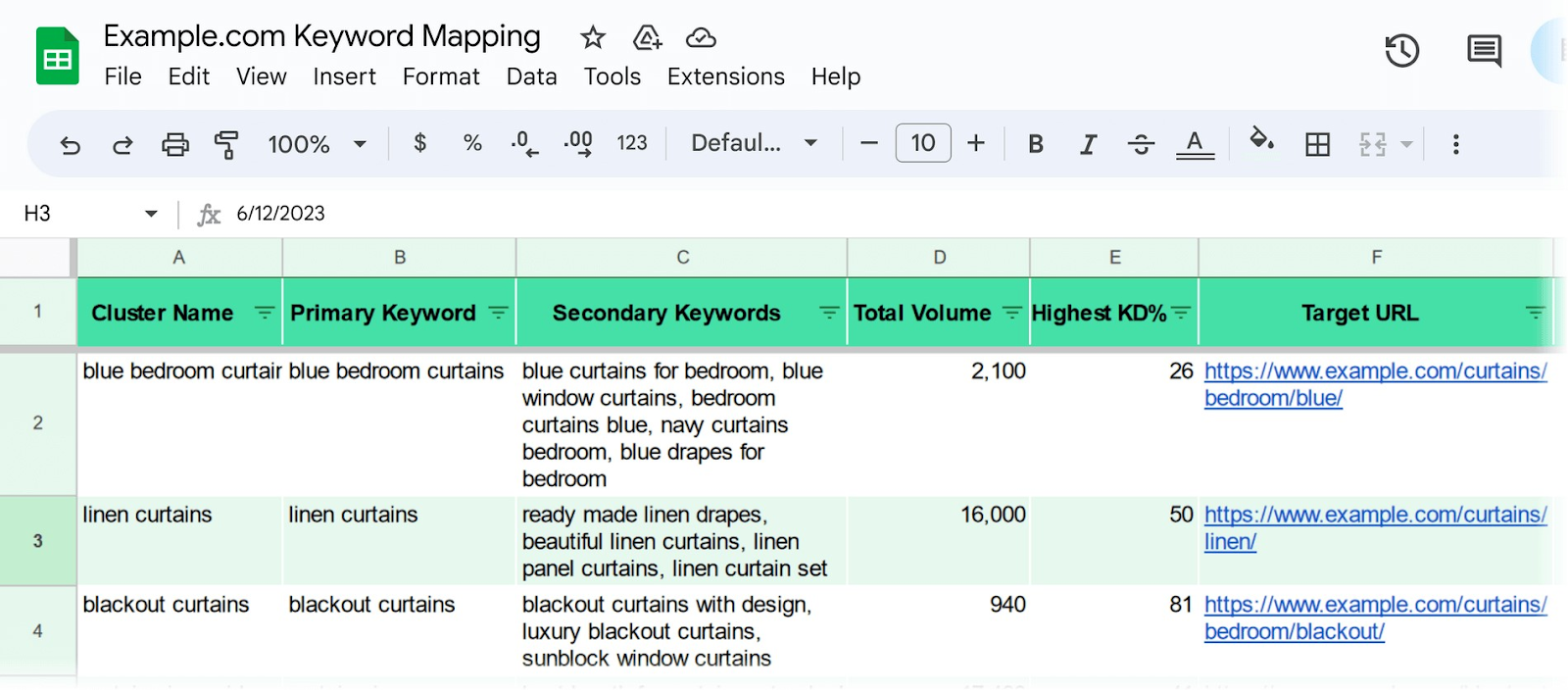 The goal is to match each keyword with the page that best satisfies search intent—i.e., what the searcher is looking for.
Because this is the page that stands the best chance of ranking highly in search engine results pages (SERPs).
Why Is Keyword Mapping Important in SEO?
Keyword mapping is important in SEO because it helps you optimize your site structure and content.
Google looks for keywords (or search terms) on your page to determine whether it's relevant to the user. 
If Google doesn't find the keyword on your page, you might find it harder to rank.
If Google finds the keyword on multiple pages that serve a similar purpose (i.e., duplicate or near-duplicate pages), it might struggle to identify the best result. This issue can lead to keyword cannibalization, which can harm your ranking potential.
By mapping keywords to their most relevant pages (or creating new pages accordingly), you can:
Optimize pages for the most relevant keywords
Prevent keyword cannibalization
Identify and fill content gaps on your site
Ultimately to gain higher visibility in relevant SERPs.
How to Do Keyword Mapping
Here's how to do keyword mapping in three steps:
1. Download the Keyword Mapping Template
Open our keyword mapping template and click "Make a copy."
(You must be signed into Google first.)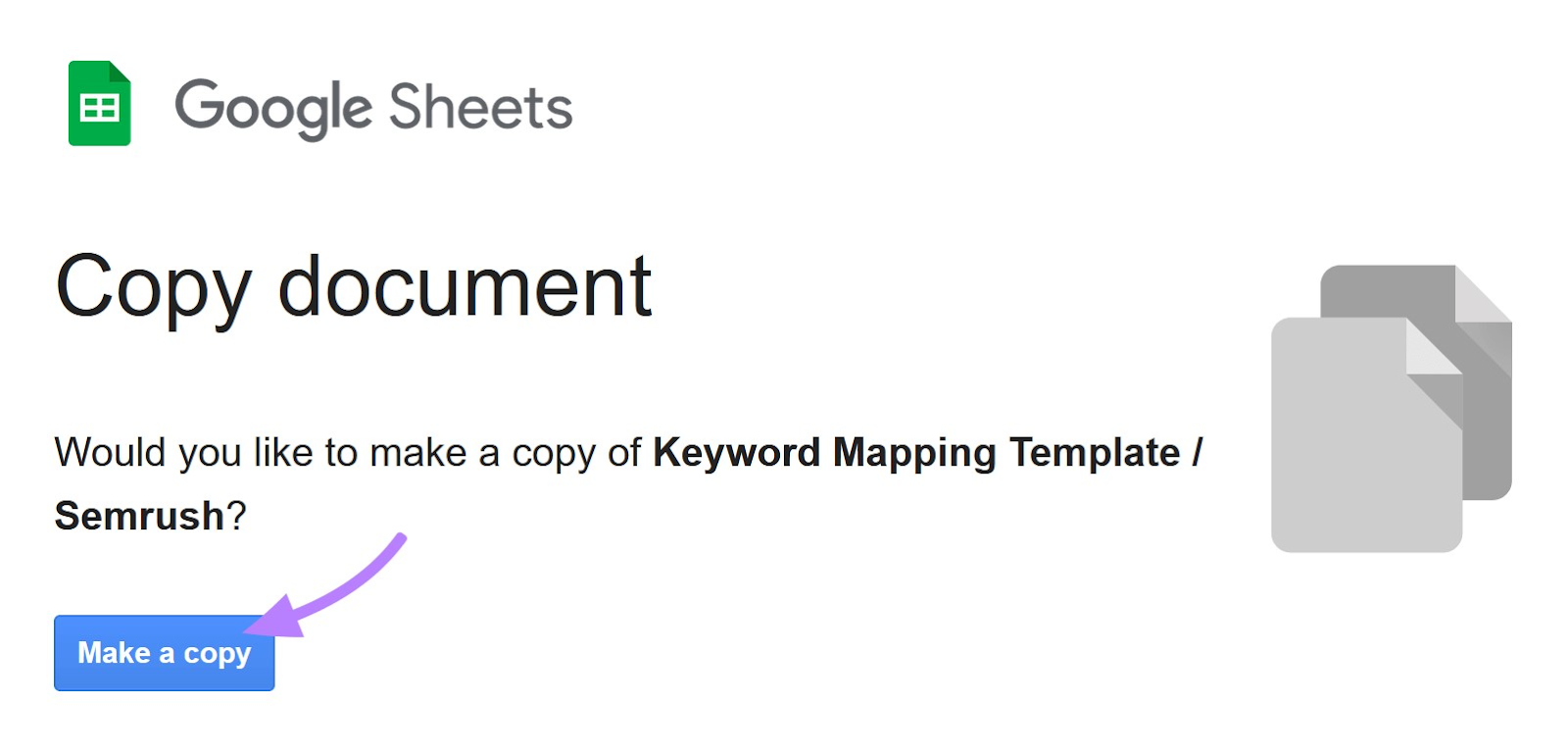 The button will automatically create a copy of the template in your Google Drive. 
Rename your keyword map in the upper left.
You're now ready to populate the spreadsheet with keywords.
2. Create Keyword Clusters
Keyword clusters are groups of similar keywords that satisfy the same search intent. 
For example, "curtains for bedroom" and "bedroom curtains" bring up similar search results: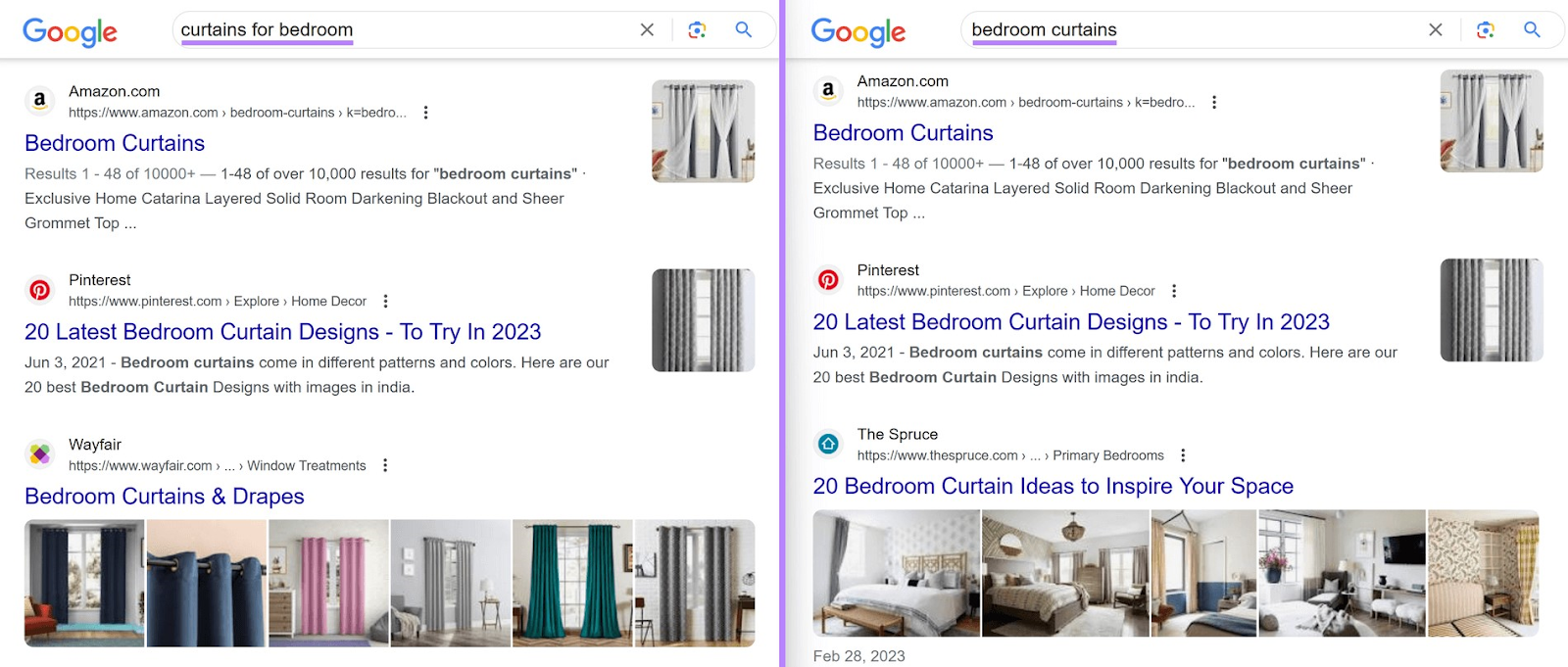 So they likely satisfy the same search intent.
When doing SEO keyword mapping, it's important to assign pages to keyword clusters rather than individual keywords. 
This strategy: 
Reduces the risk of optimizing near-duplicate pages
Helps you optimize (and therefore rank) for a wider variety of keywords
Provides a fuller understanding of each topic's search potential
You can find target keywords (keywords you want to rank for) using various keyword research methods. Then, create keyword clusters manually. 
Semrush's Keyword Manager tool simplifies the entire process.
To start, click the green "Create list" button.
Enter up to five seed keywords to base your search around.
For example, "bedroom curtains," "linen curtains," and "blackout curtains."
Then, enter your domain and click "Create list."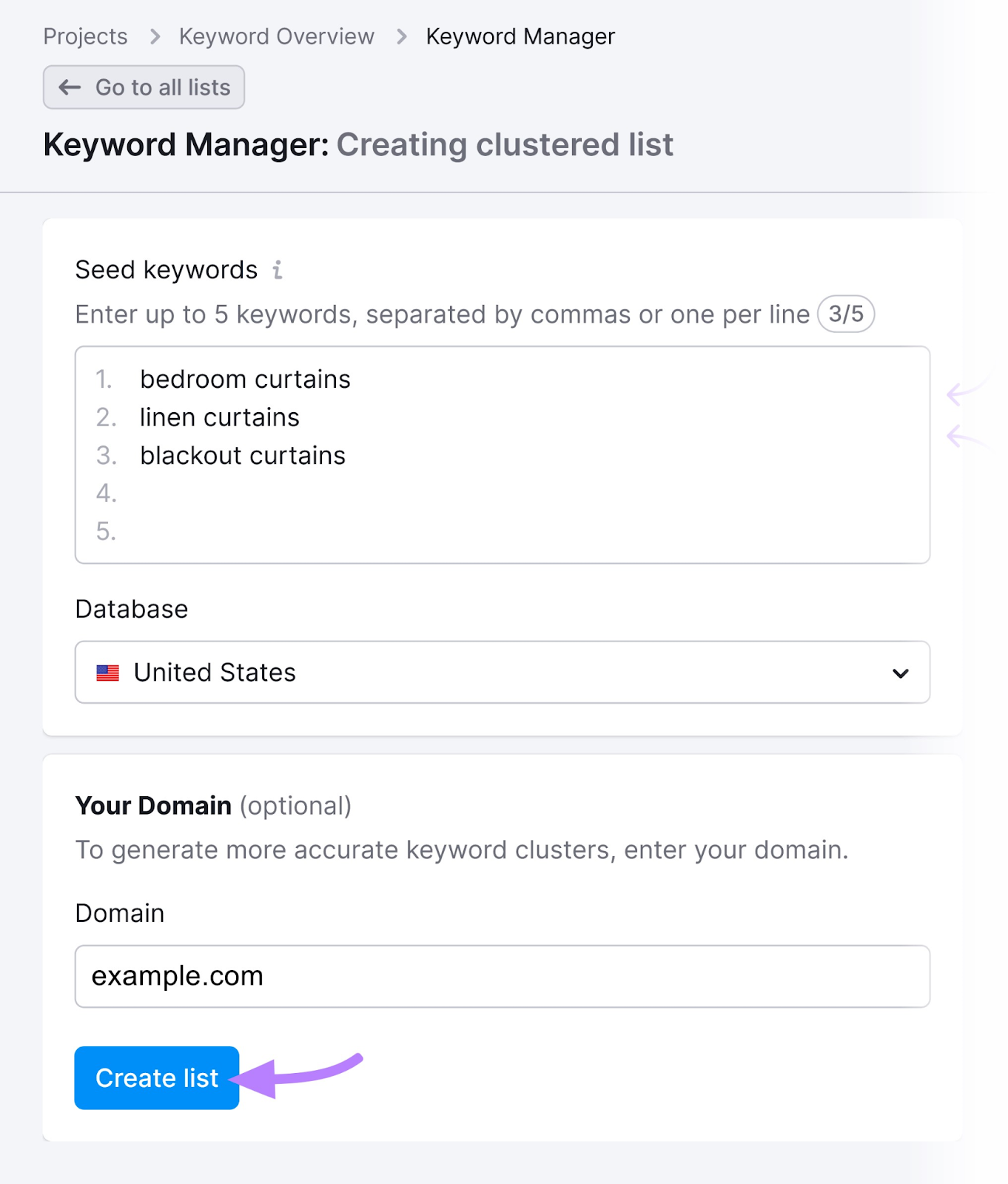 In the "Clusters" tab, you'll find a list of recommended clusters. Along with useful data: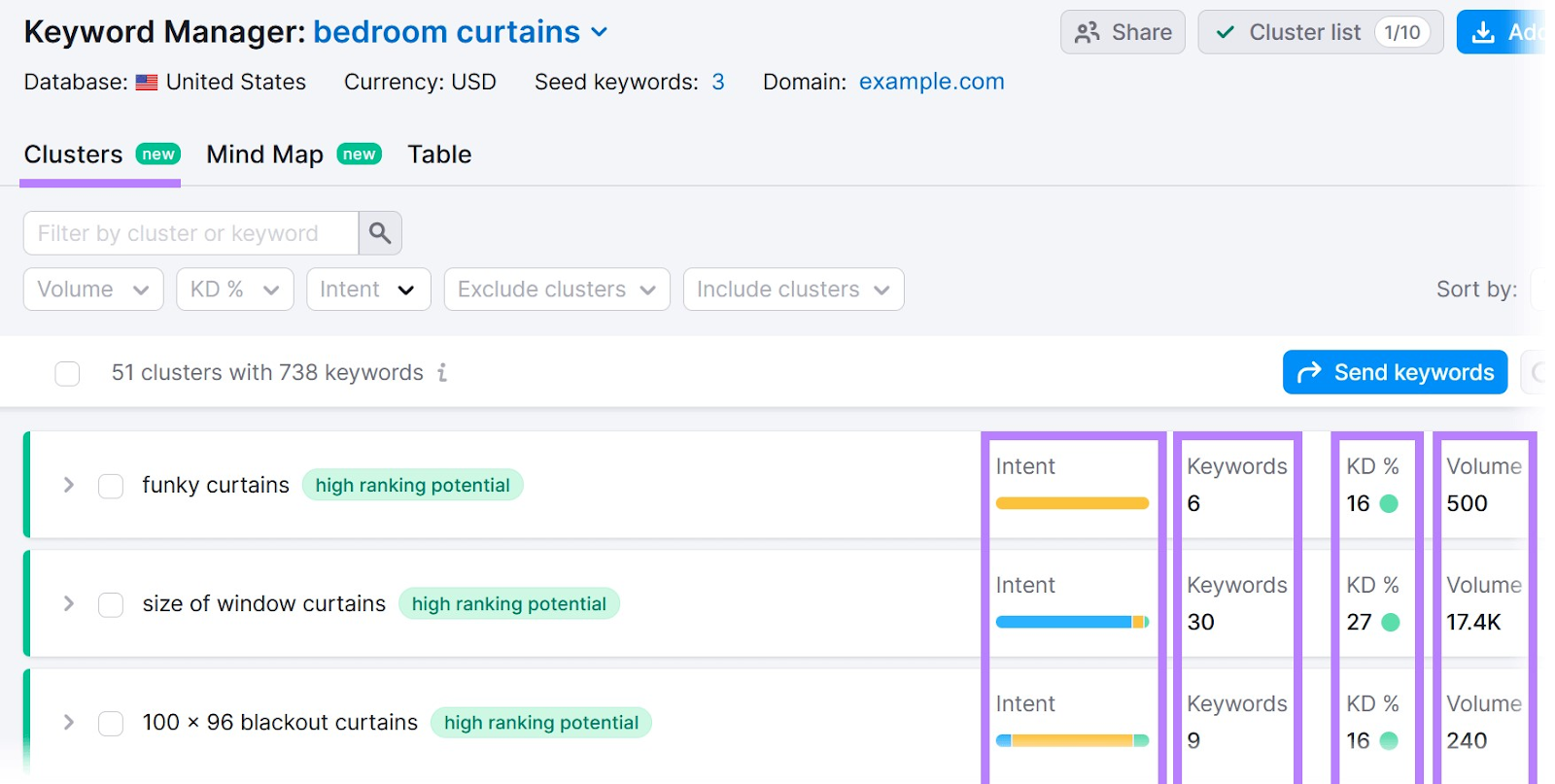 Review each cluster to see if it's relevant to your website and target audience. And therefore worth adding to your keyword map.
Click the drop-down arrow to view the keywords in a cluster (and their individual metrics). 
And view the content references on the right to see what type of page you'd need to succeed.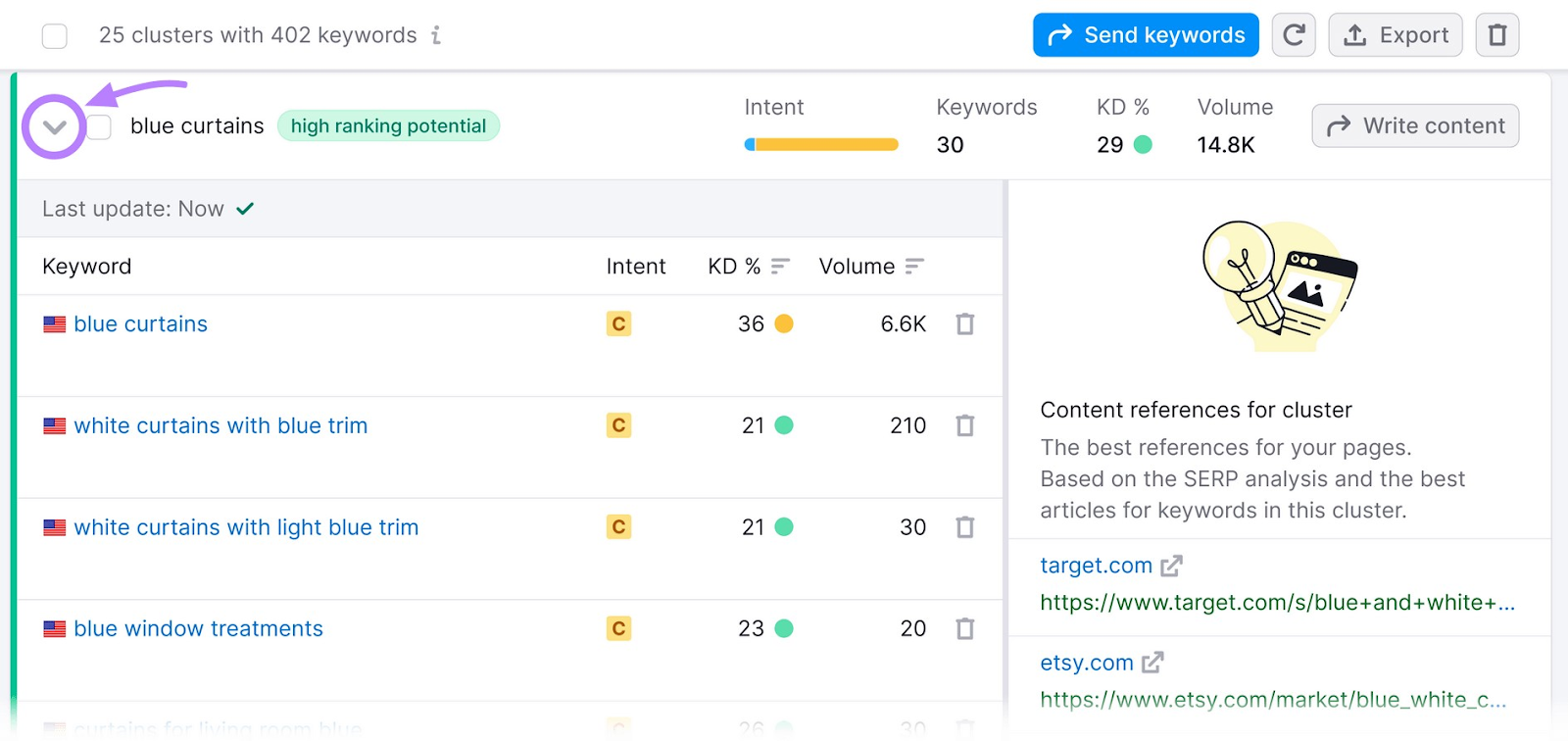 For example, the top ranking pages for "blue curtains" all look something like this: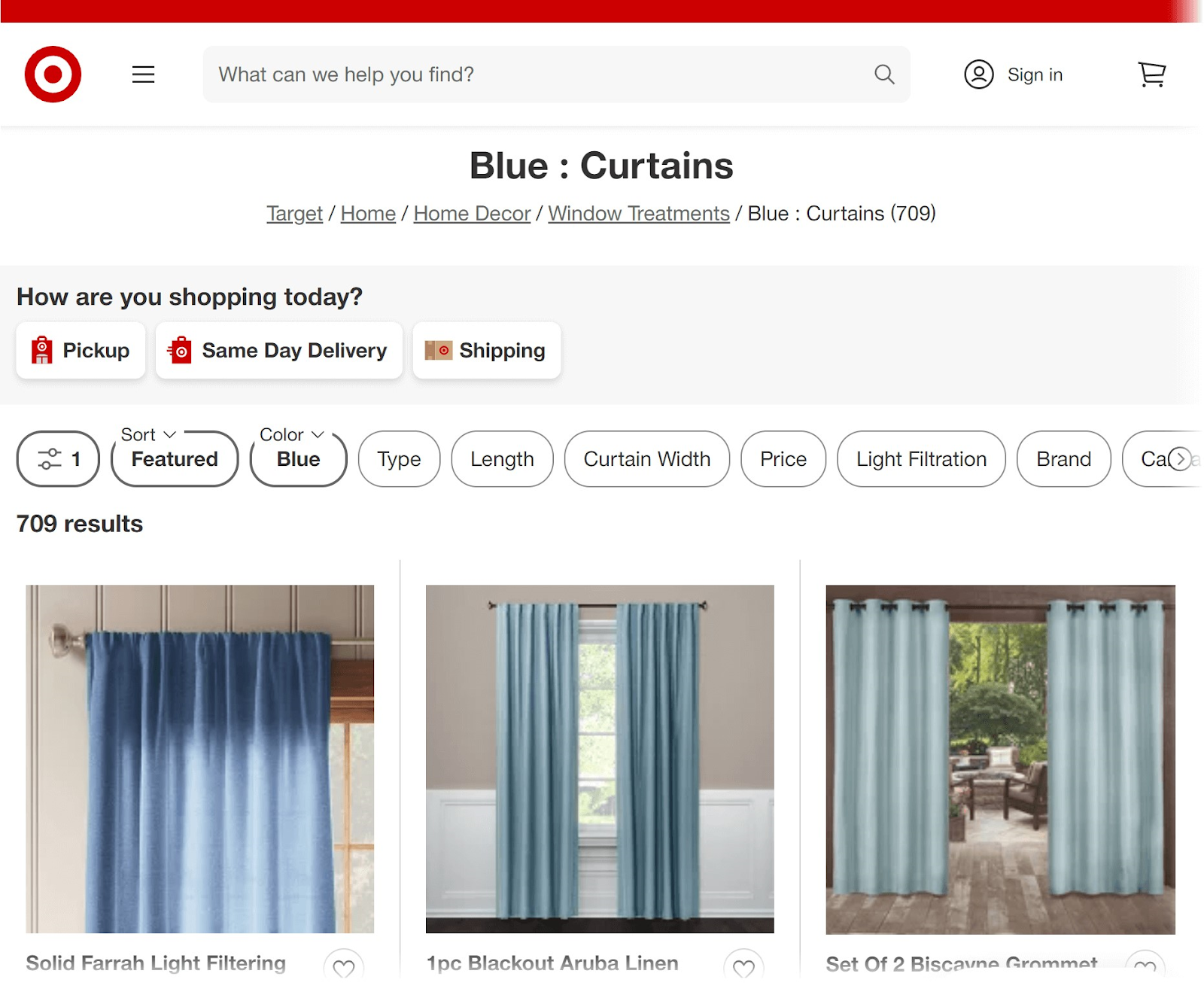 If you want to target a cluster, transfer the following information into your keyword map:
Cluster Name: just for your reference
Primary Keyword: the main keyword you want to rank for
Secondary Keywords: other relevant keywords in the cluster
Total Volume: the combined search volume of keywords in the cluster
Highest KD%: the highest keyword difficulty score (or use the primary keyword's score)
Tip: You might find it easier to export your Keyword Manager data to a spreadsheet and copy it from there.
For example: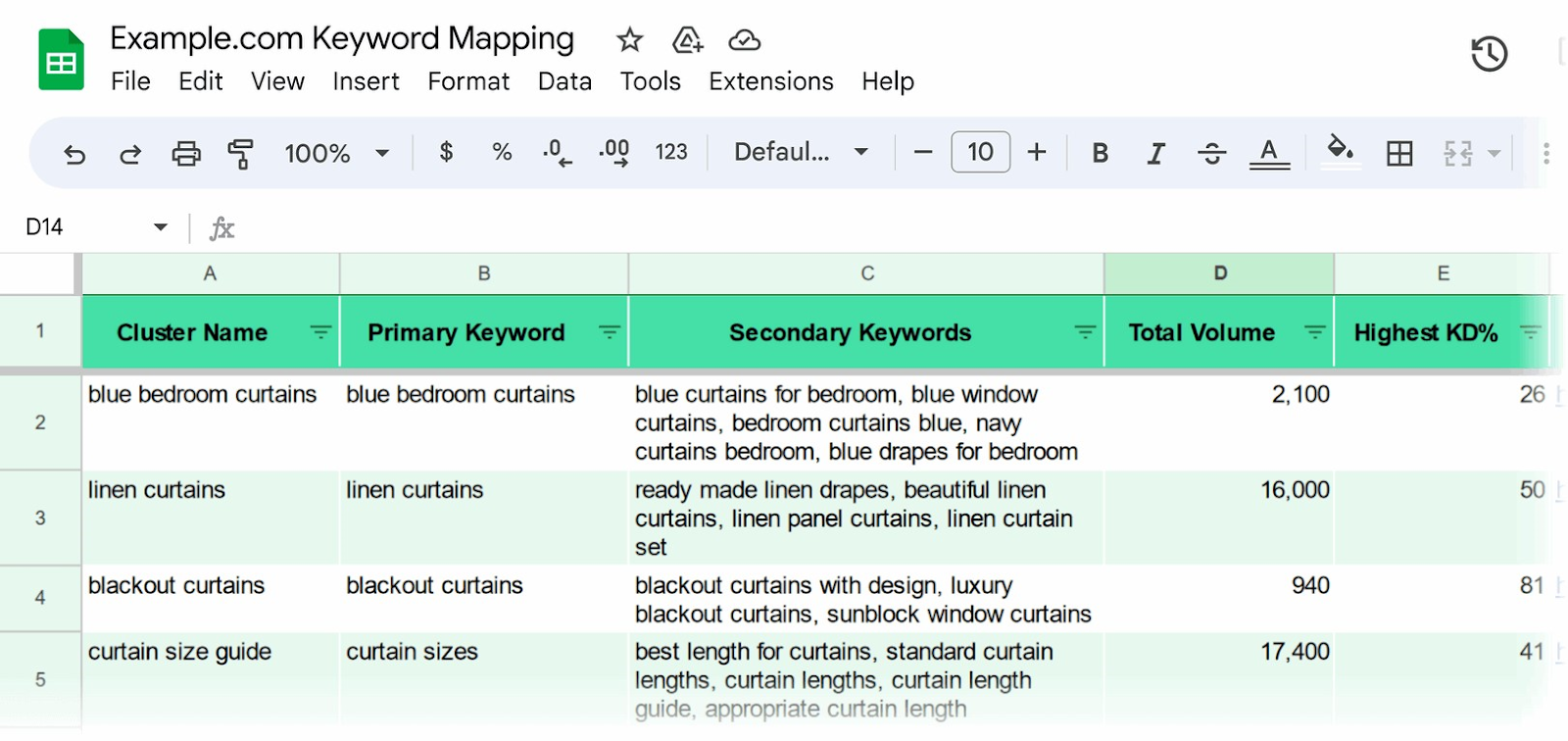 Repeat this process until you have a comprehensive list of target keyword clusters.
You'll fill out the other columns in the next step.
3. Assign Pages to Clusters
The next step is assigning a target URL to each cluster in your keyword map. This represents the page you want to rank for that group of keywords.
Review each cluster and identify the page on your site that best satisfies search intent. (Consider the content references in Keyword Manager as a guide.)
Then, enter the page's URL into the "Target URL" column. 
And choose "To optimize" in the "Status" column.
For example:

If you don't have a page that satisfies search intent, you've found a content gap. An opportunity to expand your site with a new, relevant page.
In this case, enter a placeholder URL. 
And select "To create" in the "Status" column.
Like this:

Note: The "Target URL" column should not contain duplicates. If it does, combine the overlapping clusters or review your targeting strategy.
Continue until you've completed your keyword map!
How to Use Your Keyword Map Effectively
Now that you know how to create a keyword map, learn how to use it effectively.
Optimize Pages for Target Keywords
Typically, the biggest priority after creating a keyword map is optimizing existing pages. 
Content optimization is quicker and easier than creating new content. And it gives you a solid foundation for building an SEO strategy.
To view all the URLs you've flagged to optimize, click the filter icon next to the "Status" header.
Untick everything except "To optimize" and click "OK."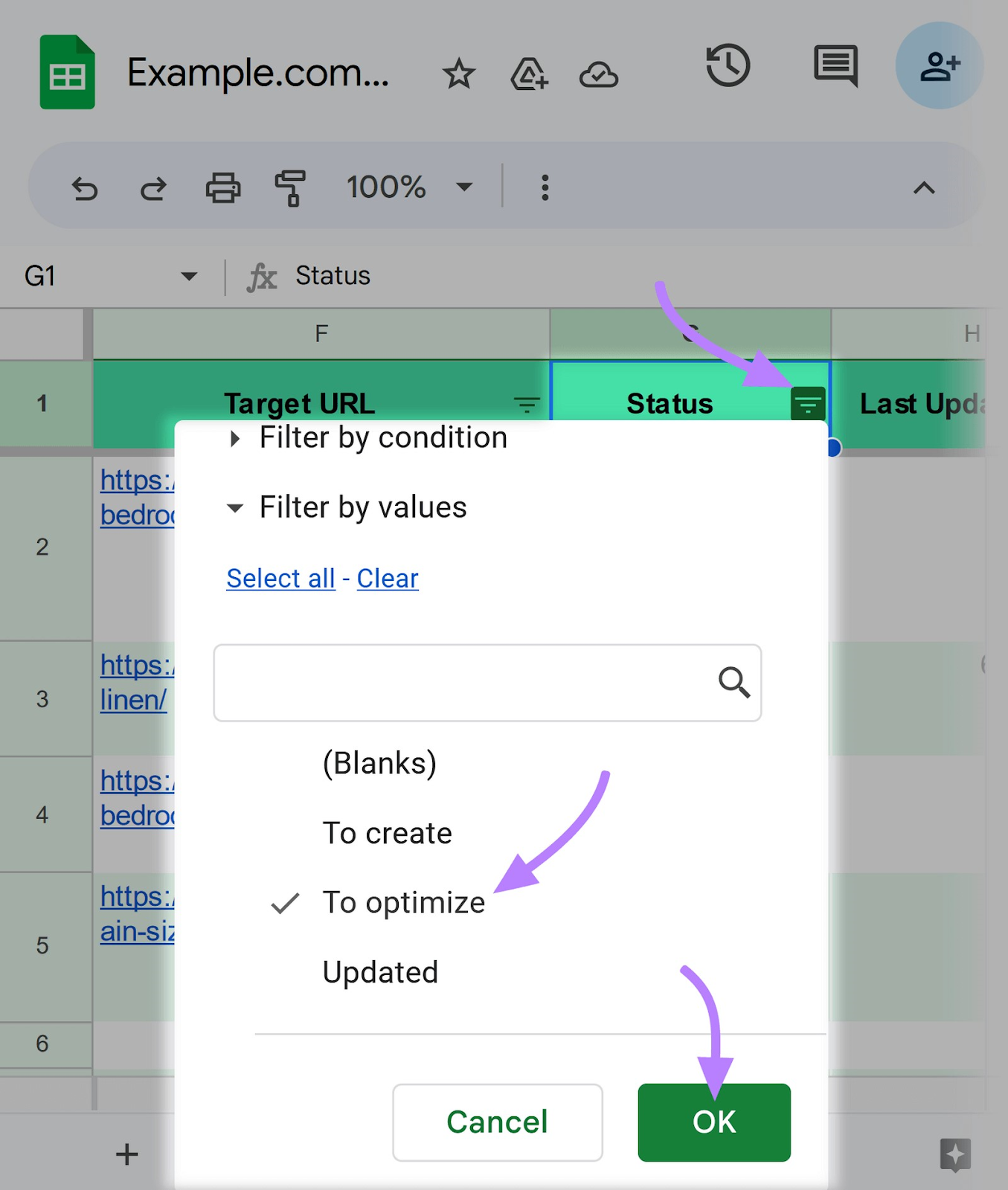 Prioritize your efforts with Semrush's On Page SEO Checker. 
The tool lets you know which pages have the most room for SEO improvement. Based on how they compare to their top 10 rival pages.
Enter your domain and click "Get ideas" to start.
Then, select your target location and click "Continue."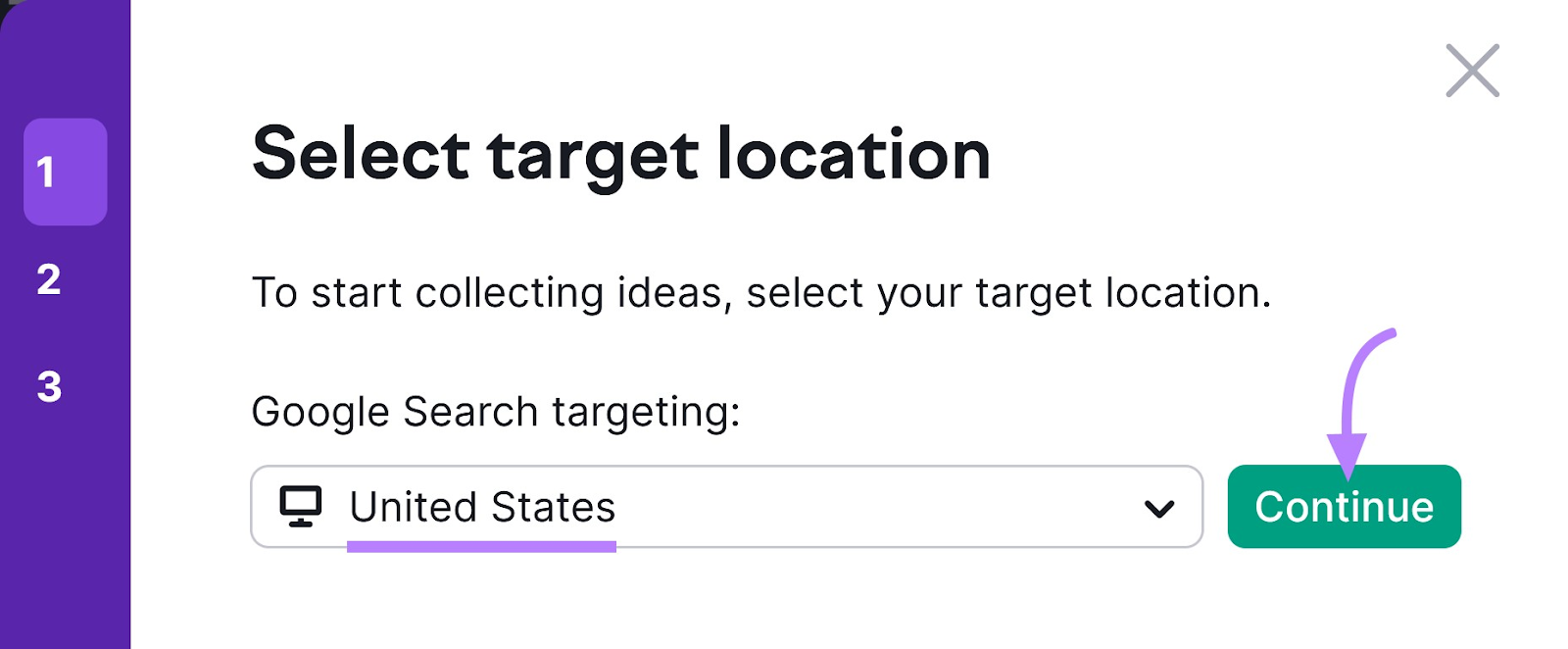 To import data from your keyword mapping spreadsheet, choose "Manually" or "File" and follow the instructions.
Note: Each keyword and page pairing uses one SEO Ideas Unit, so consider importing only primary keywords.

Once setup is complete, go to the "Optimization Ideas" tab.
The tool prioritizes your pages based on the total volume and number of optimization ideas.
Click on the "# ideas" button to view all the ideas and start taking action.
You might see ideas relating to content, backlinks, technical issues, and more.
When you're ready to optimize a page, apply on-page SEO techniques. 
Start by using the primary keyword in the following elements:
Title tag (the title that appears in search results) 
Meta description (the page description that can appear in search results)
H1 tag (the title that appears on the page)
Body content
Also use secondary keywords (other keywords from the cluster) naturally throughout the body content. Subheadings make particularly good locations for keyword variants.
For more advice, check out our on-page SEO checklist.
Tip: Make sure to update the "Status" and "Last Updated" columns in your keyword map after updating a page. So you know when it might be due for another refresh.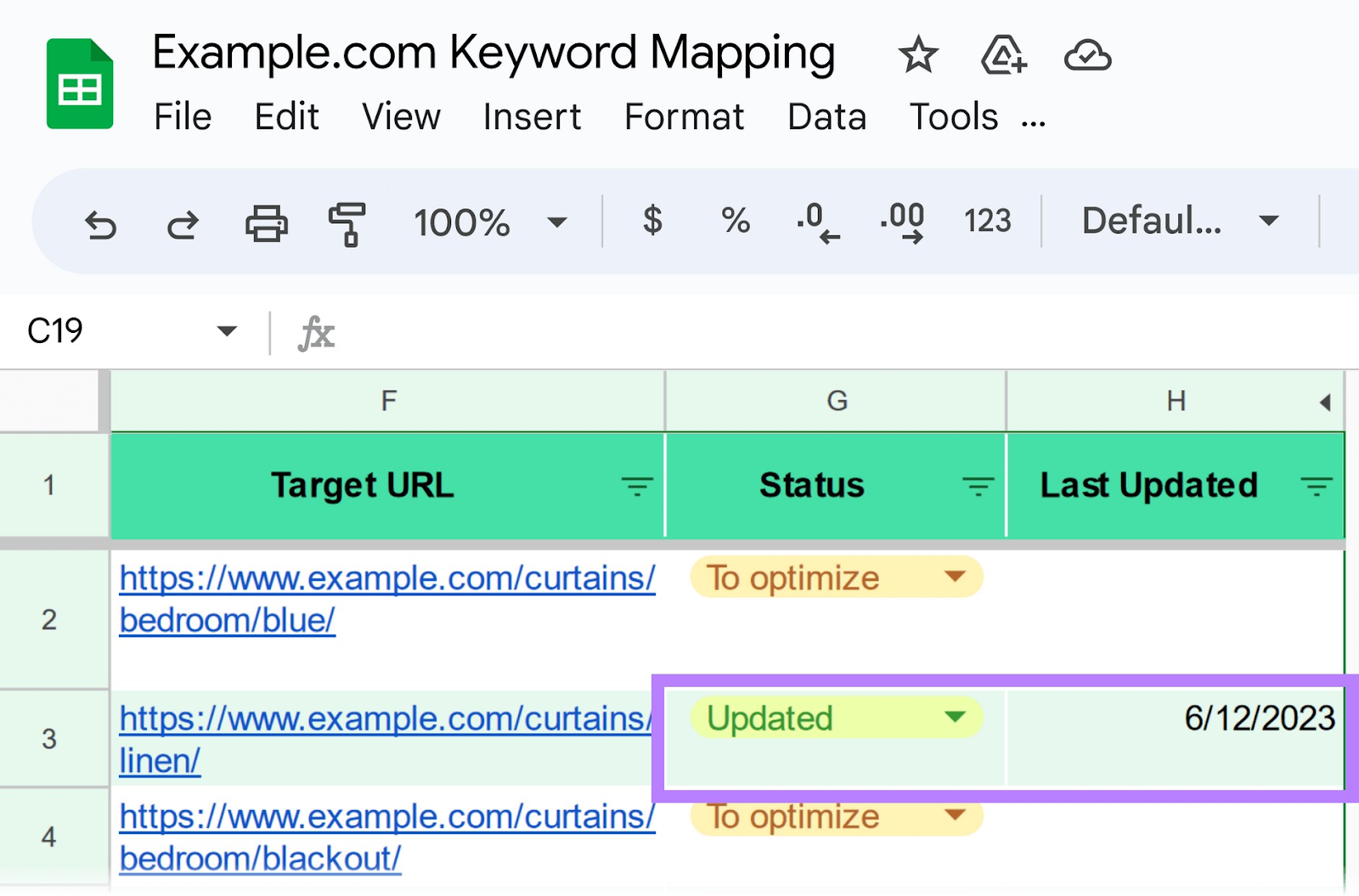 Fill Content Gaps with New Content
After optimizing existing pages, fill content gaps. By creating quality content that's tailored to your target audience—and optimized for search.
Filter the "Status" column in your keyword map to focus on URLs you flagged "To create."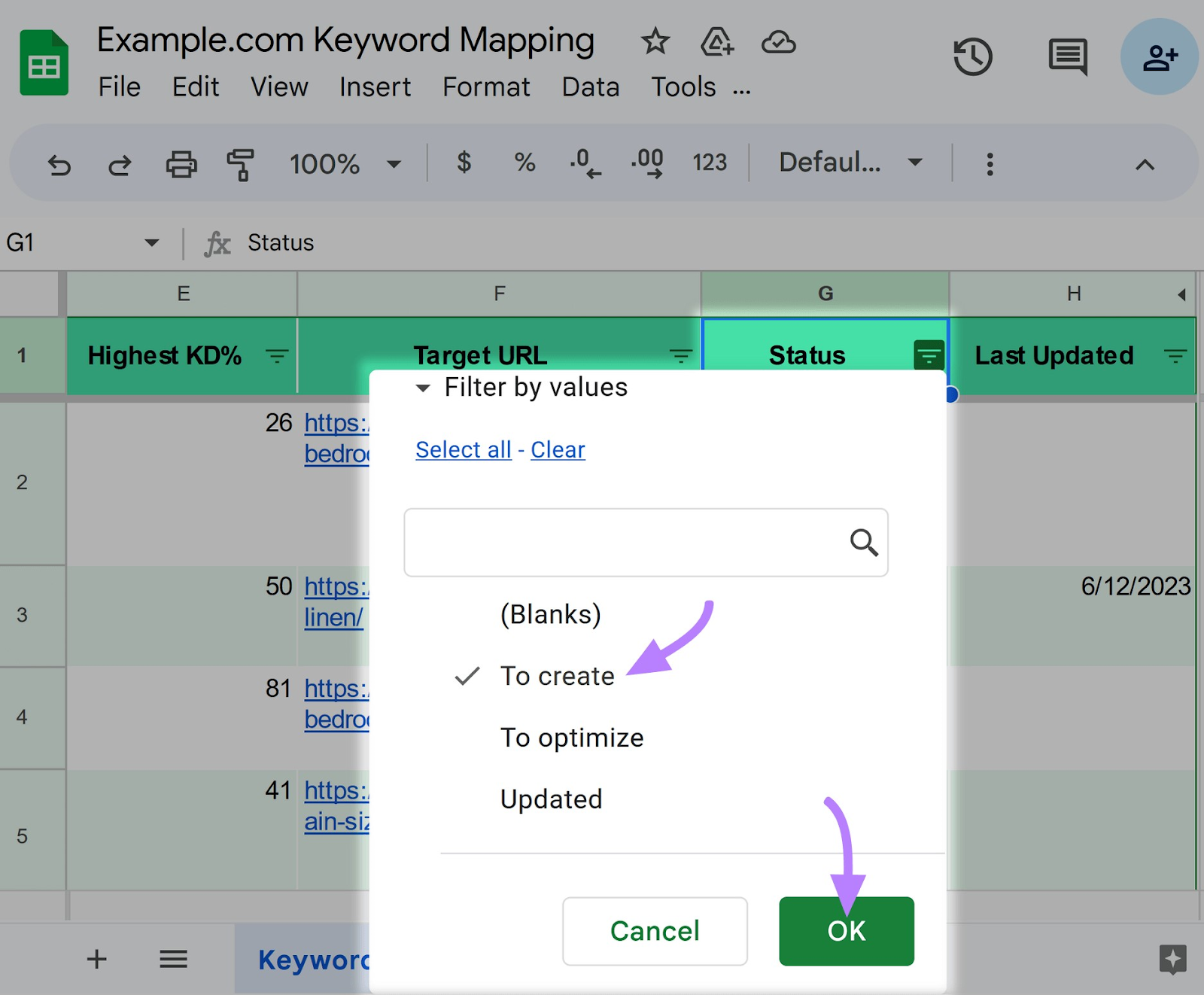 Consider prioritizing your efforts based on total search volume, keyword difficulty, and other factors. 
For help creating a search-optimized page, use Semrush's SEO Content Template.
Simply enter the target keywords from your cluster. Choose your country, language, and device settings. Then, click "Create content template."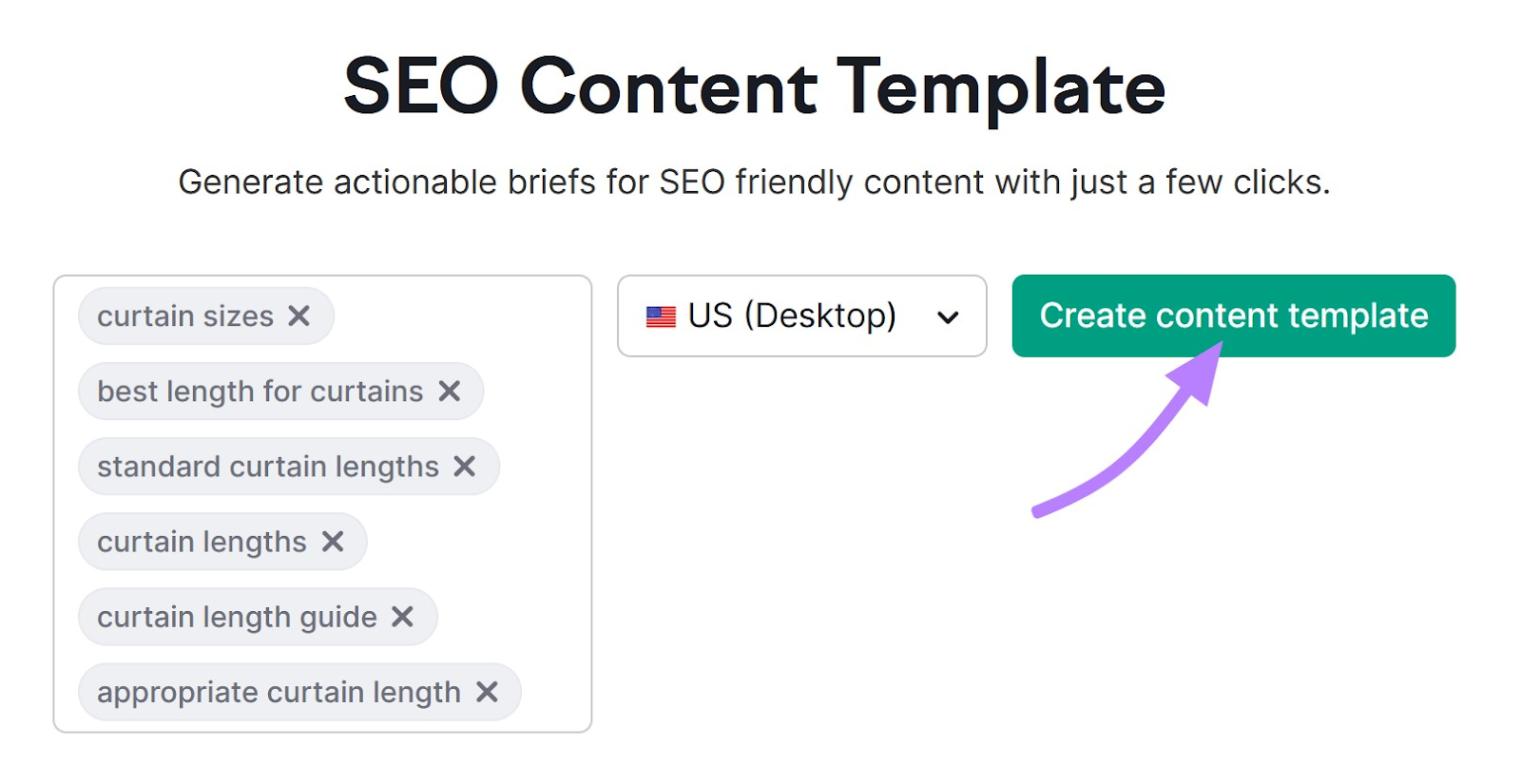 Once the template is ready, click "View SEO template,"
The tool provides suggestions based on the top 10 results for your target keyword(s). 
You can see:
When you're ready to start writing, go to "Real-time Content Check" > "Open in SEO Writing Assistant."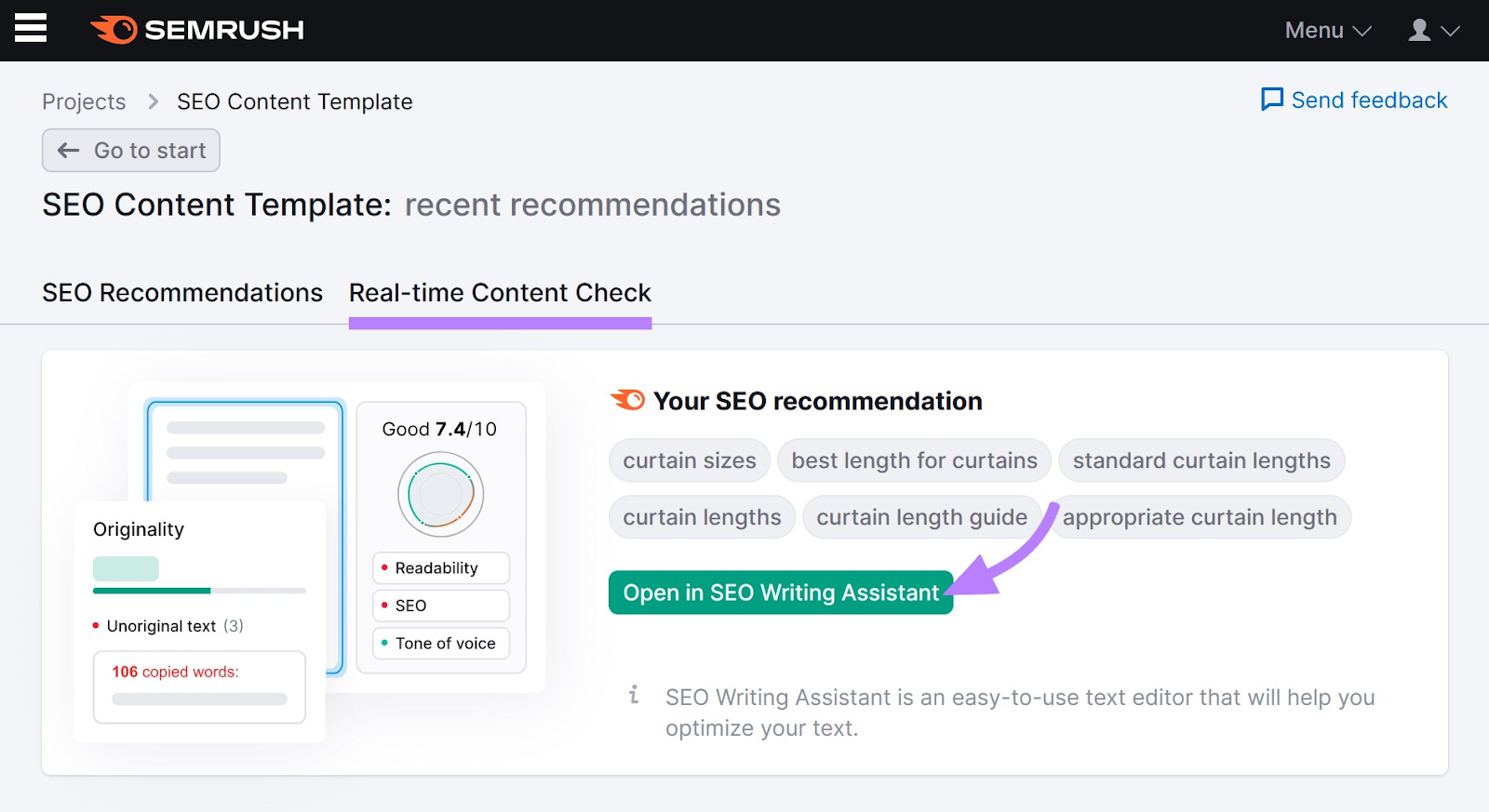 The SEO Writing Assistant evaluates your content's SEO, readability, originality, and tone of voice in real time. And provides suggestions to improve your score.
If you get stuck, the Smart Writer tools can help.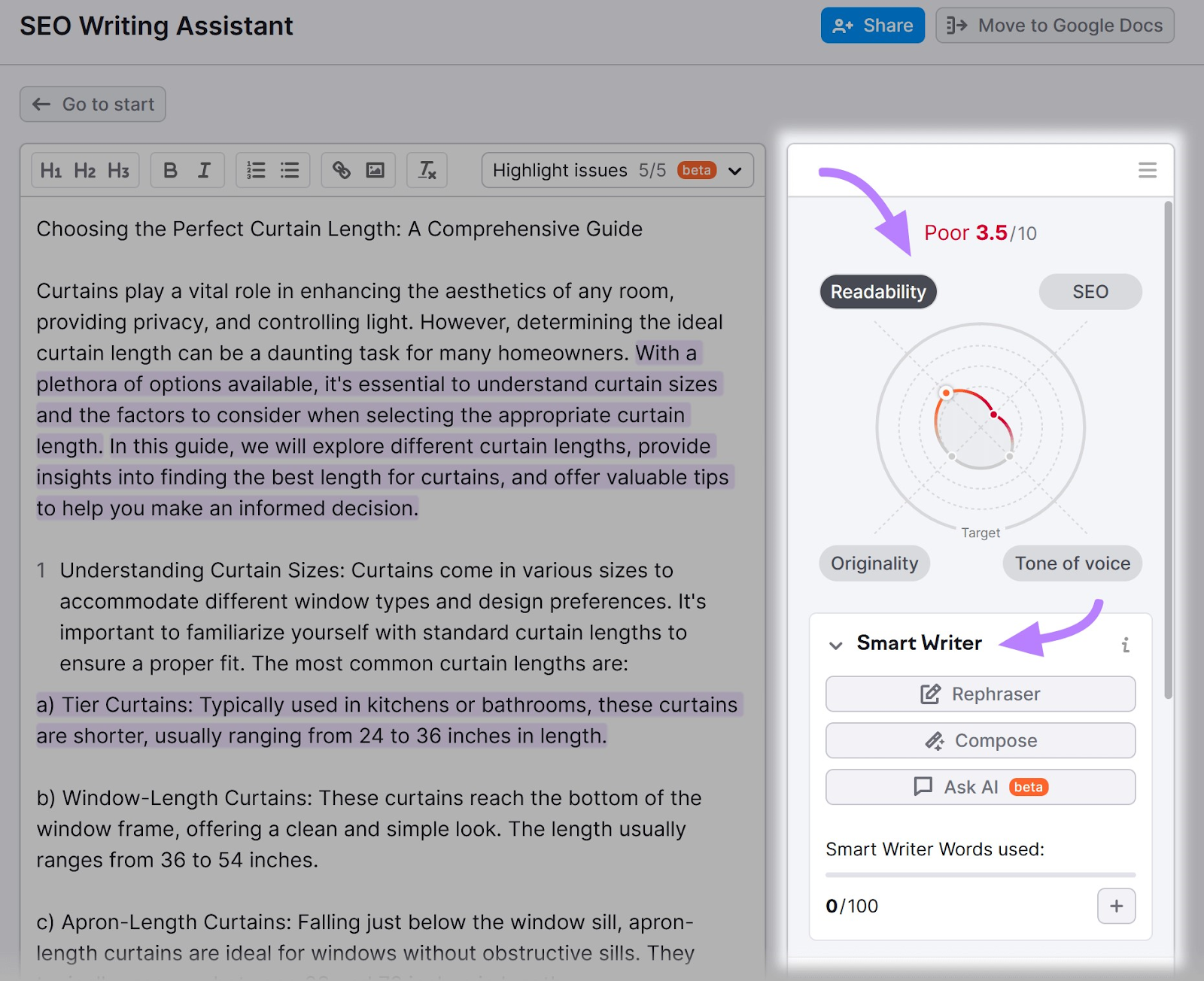 Tip: Update the "Status" and "Last Updated" columns in your keyword map after publishing a page. So you know when it might be due for a refresh.
Use Keyword-Rich Anchor Text
Google uses anchor text (the text that links are attached to) to understand what linked pages are about.
So, keyword-rich anchor text can help you establish relevance for target keywords. And get higher rankings.
Reference your keyword map when building internal links on your website (i.e., links from one page on your website to another). And optimize your anchor text accordingly.
For example, when linking to "/curtains/linen/," try to use the anchor text "linen curtains." Or a secondary keyword, such as "linen curtain set."

Keyword-rich backlinks (links from other sites) can be even more helpful for SEO. Especially if they come from relevant, high-quality sites.
However, it's important to follow Google's link spam guidelines when link building.
For example, Google states that users should not pay for links with optimized anchor text. 
Tip: Semrush's Backlink Audit tool allows you to review your backlinks' anchor text. And take corrective action against any potentially harmful links.
Keep Your Keyword Map Updated
As your website grows and the search landscape changes, keep your keyword map up to date.
To avoid duplicate content issues, take advantage of new content opportunities, and maximize your SEO performance.
Here are some top tips for staying organized:
Track your Google rankings to ensure your strategy is working (and adjust if not)
Update your keyword map every time you optimize or publish a page
Perform keyword research every quarter or so to identify new opportunities
Add any new target clusters to your keyword map
Check your map for overlap before creating new pages
Update your keyword map every time you adjust your targeting
Source link