Keyword research is one of the most critical steps in the SEO process. 
Google Search Console is best known as a tool to measure site performance and fix issues. But you can also use it for keyword research. It's free, intuitive, and easy to access with your Gmail account. 
Ready to start? Here's all you need to know.
What Is Google Search Console and What Can It Do?
Google Search Console (GSC), formerly Google Webmaster Tools, is a free SEO tool that lets you track, maintain, and optimize your website's visibility in Google search results.
That visibility matters since Google is the most-used search engine. It has a 92% market share of mobile and desktop searches. So it's likely one of the first places your ideal customers look for information on your business, products, or industry.

Image Source: StatCounter
GSC offers insights on search queries, click-through rates, and website indexing. That allows you to:
Track your site's search performance so you can measure your SEO efforts
Discover optimization opportunities so you can gain more organic traffic
Resolve technical issues to ensure your website is represented well in Google's search index
Of course, its keyword data will also help you find the perfect terms to target in your SEO and content marketing strategies.
Targeting relevant keywords will help your business appear in your ideal customers' search results.
Why Use Google Search Console for Keyword Research?
Google Search Console isn't technically a keyword research tool. But there are compelling reasons to use it as one:
It's free: No usage limits make GSC a great starting point for fast, easy, high-level keyword research. No cost means less risk.
It's user-friendly: GSC's interface is intuitive, and plenty of support information is available. Plus, you can log in with your existing Gmail account.
It integrates with other tools: Slot GSC into your tech stack alongside tools like Semrush to speed up tasks and keep data accurate. Connecting GSC and Google Analytics to Semrush puts all your website data (i.e., not just search data) into a central location.
It's a helpful gateway into GSC: Some basic keyword research will familiarize you with GSC's data, reports, and features. You can apply these to other parts of the SEO process.
Further reading: Once you've perfected Google Search Console keyword research, explore the tool's other features and reports with help from our Google Search Console Ultimate Guide.
How to Find Keywords Worth Targeting in GSC
Looking at the many queries driving traffic to your site may feel overwhelming. Here are three methods to try when using Google Search Console for keyword research. 
Method 1: Find High-Value Keywords to Keep in Your Strategy
Start by identifying keywords with high impressions and click-through rates. These search terms are already driving traffic to your site. Keep them in your strategy to continue benefiting.
A quick reminder:
Impressions are the number of times your website or content shows in search engine results pages (SERPs) for a certain search query (i.e., keyword). Impressions count whenever an item appears in the current page of results. That's the case even if the user doesn't scroll down to see that item. As long as they don't click "See more" or move to another SERP, the impression sticks. 
Your click-through rate (CTR) is the percentage of people who click on your website's link in the SERPs out of the total number of times it appears.
From the GSC Overview page, select the "Search results" tab on the left.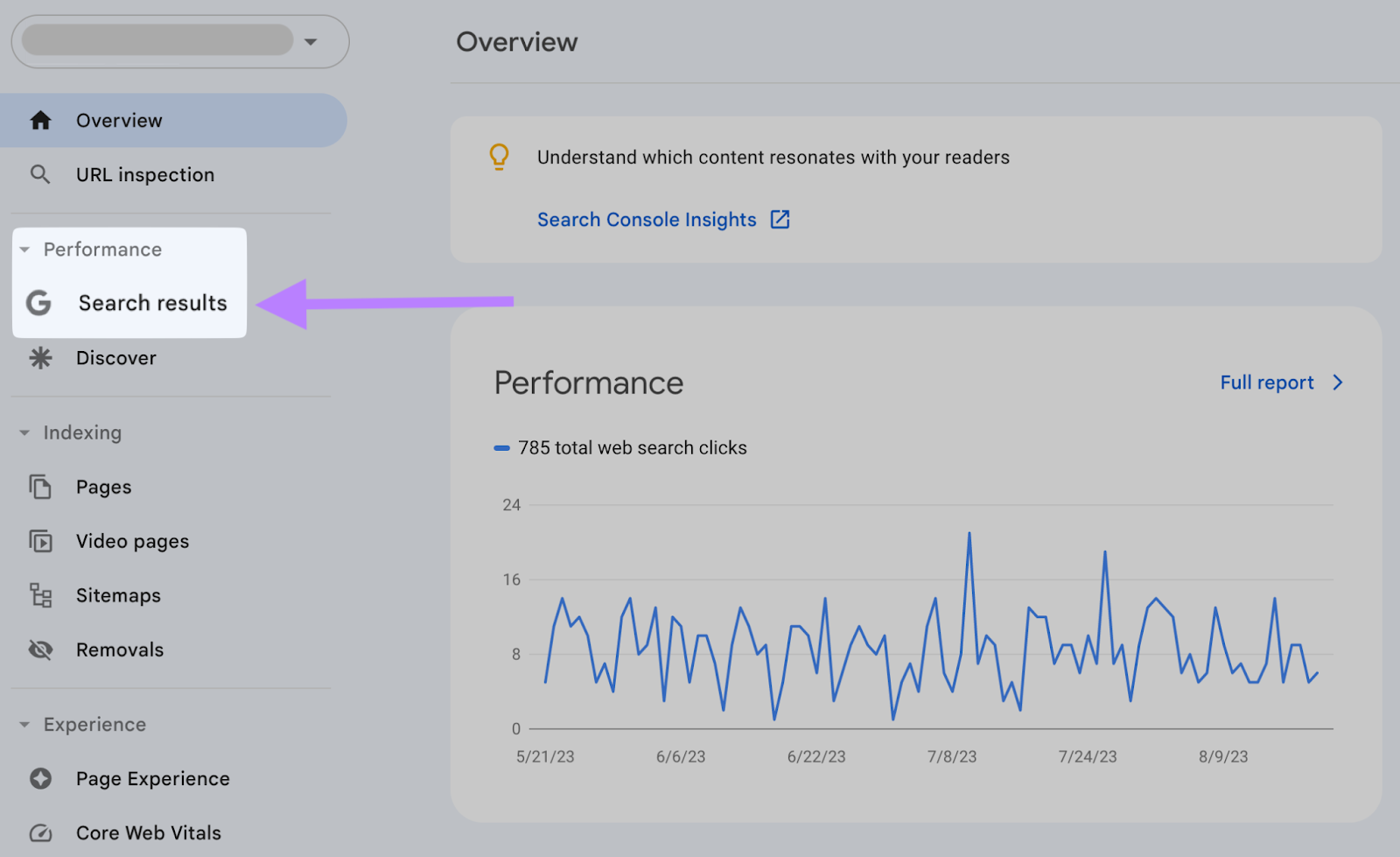 You'll see the number of clicks and impressions your site got from organic search over the past three months.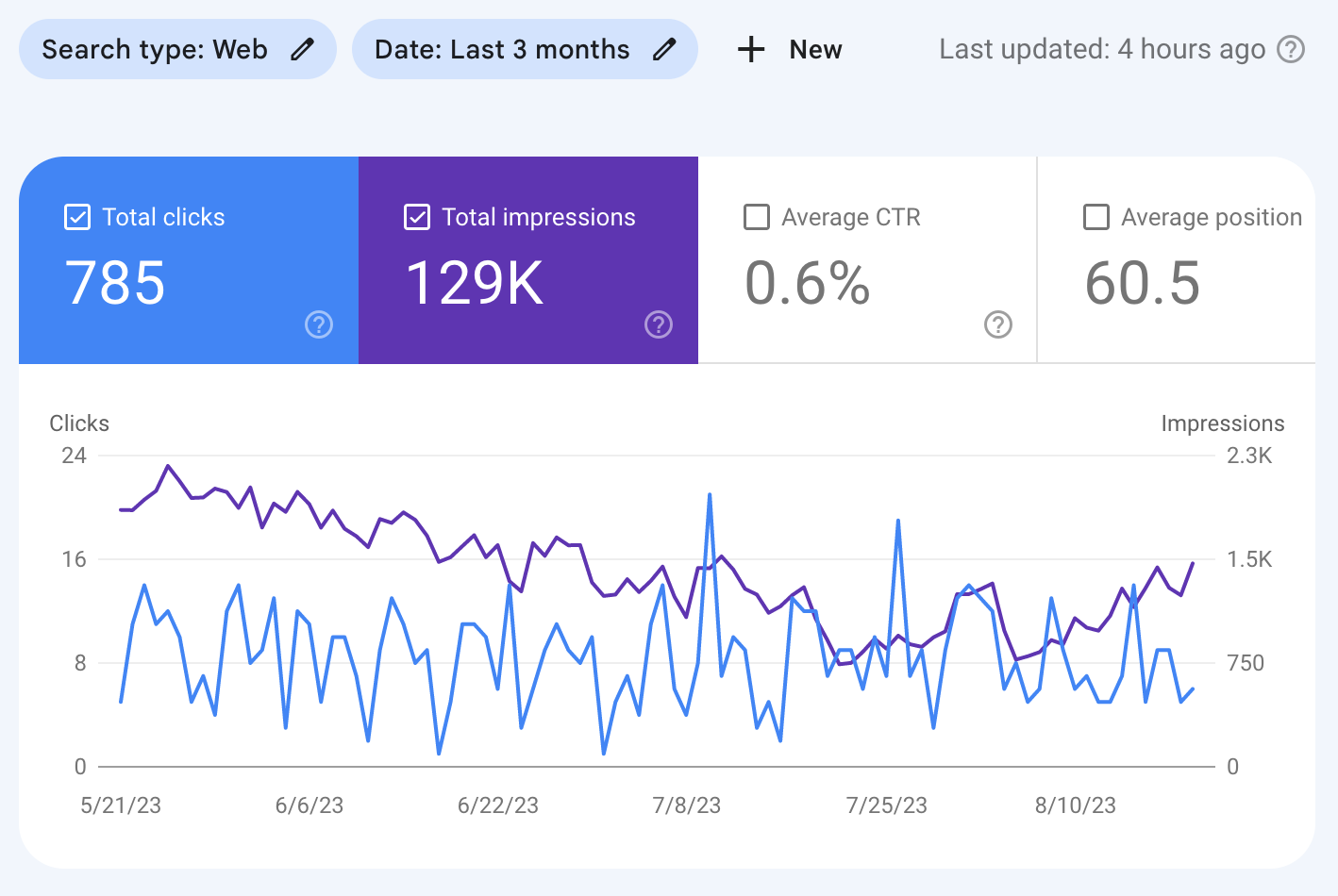 You can change the date range to fit your needs by clicking the "Date" button.
In this case, we're after a big-picture view of our top-performing keywords. So 12 months is more helpful: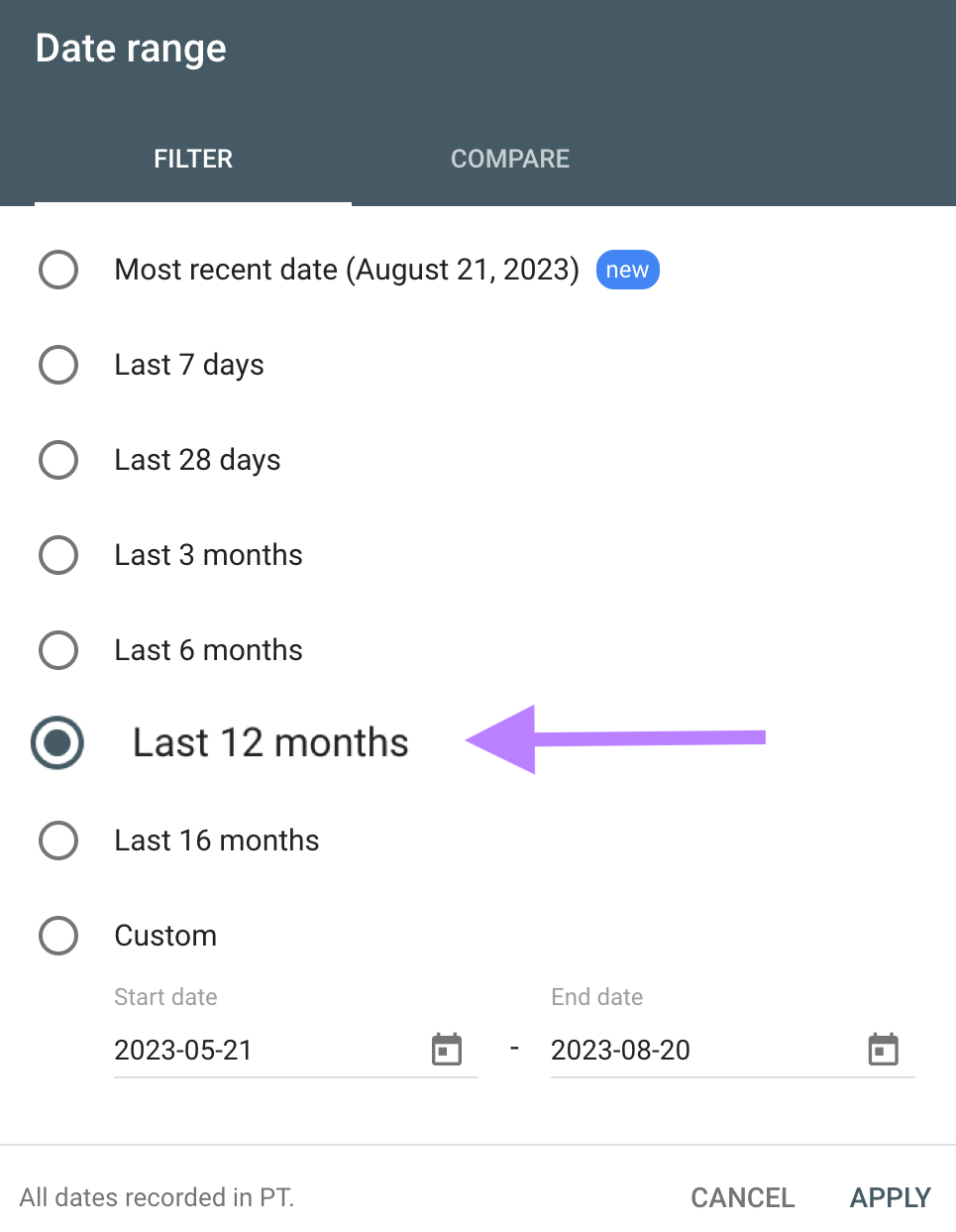 Below the initial chart, GSC breaks the traffic into specific queries. Sort these by "Clicks" to see which terms drive the most traffic to your site.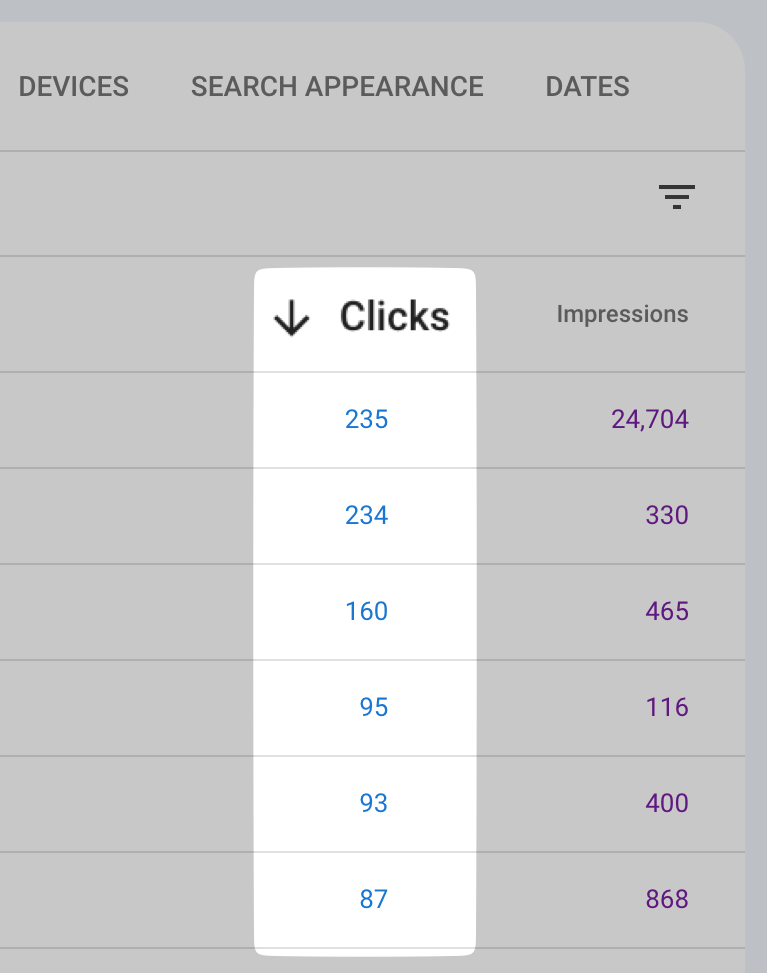 Branded queries (from users who searched for your site on Google) are important to be aware of, but not the goal of this exercise.
Instead, look for other high-performing keywords and topics to keep in your strategy. 
In our example, the domain's pages appeared in search results 465 times for "headspace marketing strategy," and resulted in 160 clicks.

That means content on this topic drove organic traffic to our site. We could capitalize on its popularity by:
Creating similar content: If you know this traffic comes from a single piece, consider creating a follow-up article. Or use the same format to target related keywords (e.g., "audible marketing strategy").
Amplifying related content: Use social media and other online channels to help high-performing content reach a larger or more targeted audience. Repost to your followers—some may have missed it the first time around.
Linking to other pages: Add internal links (links to other pages on your website) that keep new visitors from bouncing back to the search results. This will also help Google understand your site structure.
Further reading: Online advertising, influencer partnerships, email marketing, and guest posting all get more eyes on your site. Learn more in our Guide to Content Amplification.
Be mindful of keyword cannibalization when writing about one topic multiple times. That's an SEO issue where different pages on one site compete with each other for the same keyword rankings. It can harm your search performance and conversions.
Cannibalization only occurs when two pages satisfy the same search intent. So factor that in when planning follow-up content.
For example, if a publisher gets traffic for a news article about new restaurants in Milan, it could create a new page listing the best restaurants in Milan without cannibalizing. The two pieces meet different needs—the first is a factual update, the second offers helpful guidance.
If a keyword has high impressions but low CTR, that suggests you're ranking for the term but too far down the SERPs to win searchers' attention.
Finding these terms in GSC will help you identify existing content that needs optimizing. A few on-page tweaks could help you rank higher so you can generate more traffic to your site.
How do we know? 
Because consumers are using search engines 20% more year-over-year and over two-thirds (68.7%) of their Google clicks go to the top three organic search results.
To find keywords that need work: 
Select "Search results" below the "Performance" tab on GSC's overview page.
Choose a timeframe at the top of the page. 
We'll go for three months this time so we can see what's performed well recently. 
If we choose a longer period, the data might include content that performed well in the past but is no longer relevant.
Now sort the list of keywords by "Impressions" in descending order.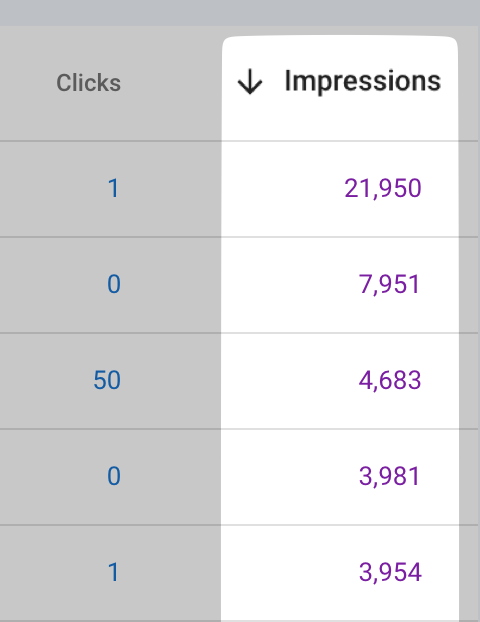 At the top, you'll see terms you're showing up in the SERPs for, but not getting any traffic from. Some will be too broad and competitive, like "content marketing agency" and "content marketing company."

The more niche terms with high impressions will be easier to rank for because they have lower keyword difficulty scores, which you can check in Semrush's Keyword Overview tool. 
For example, we could revisit existing content relating to the "saas seo" keyword.

This content might need updating to become more relevant. Even if it's technically well-optimized, a "2017 Guide to SaaS SEO" is less likely to get clicks than a "2023 Guide to SaaS SEO" because the title immediately suggests the piece is older and less likely to be relevant.
Or it could be missing a keyword from its meta description or URL.
You can use plenty of simple tweaks to push underperforming content up the SERPs. Learn more in our guide to on-page SEO.
Method 3: Find Easy Wins (Low-Hanging Fruit)
Easy win keywords are the queries that unoptimized pages on your site show up for naturally. 
Once you know what those queries are, you can target them. Then you're likely to rank even higher and gain more traffic.
From the "Search results" Performance page, click the "Pages" tab:

You'll see a list of pages with their CTR and impressions data. Select the one you want to optimize to see its performance report.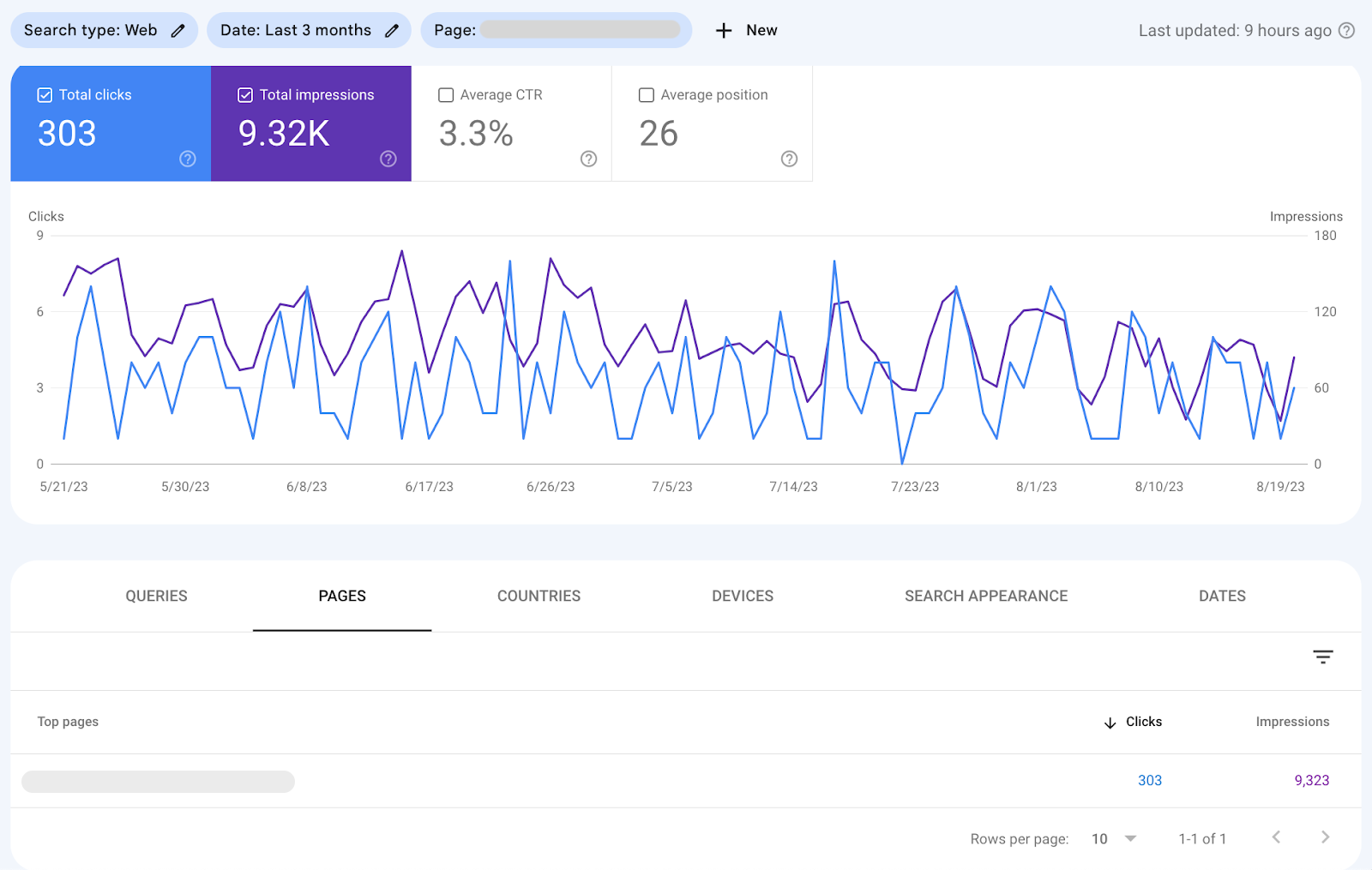 Then switch back to the "Queries" tab.
You'll see all the terms relevant to your page. And the number of impressions and clicks they've generated in the SERPs.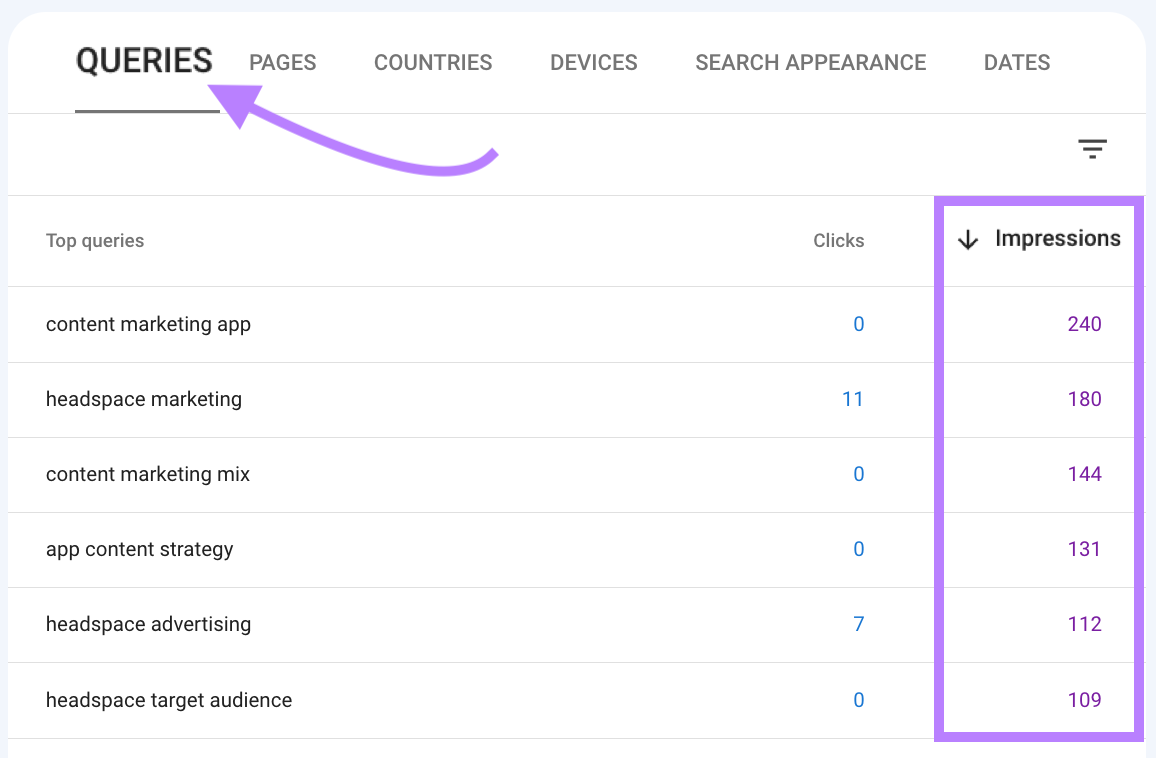 Look for terms with high impressions that you can use as the primary keyword for your on-page SEO efforts.
One crucial element when deciding on keywords to target is search volume, or the number of times users search for a term, on average, per month.
GSC doesn't provide this data because (per Google Support) it doesn't use a common server to track searches for SEO purposes. It only tracks them for advertisers who use keywords to promote their businesses on Google Ads. 
To get a better idea of search volume, use Semrush for keyword research. You can use the Keyword Magic tool to indicate search volume: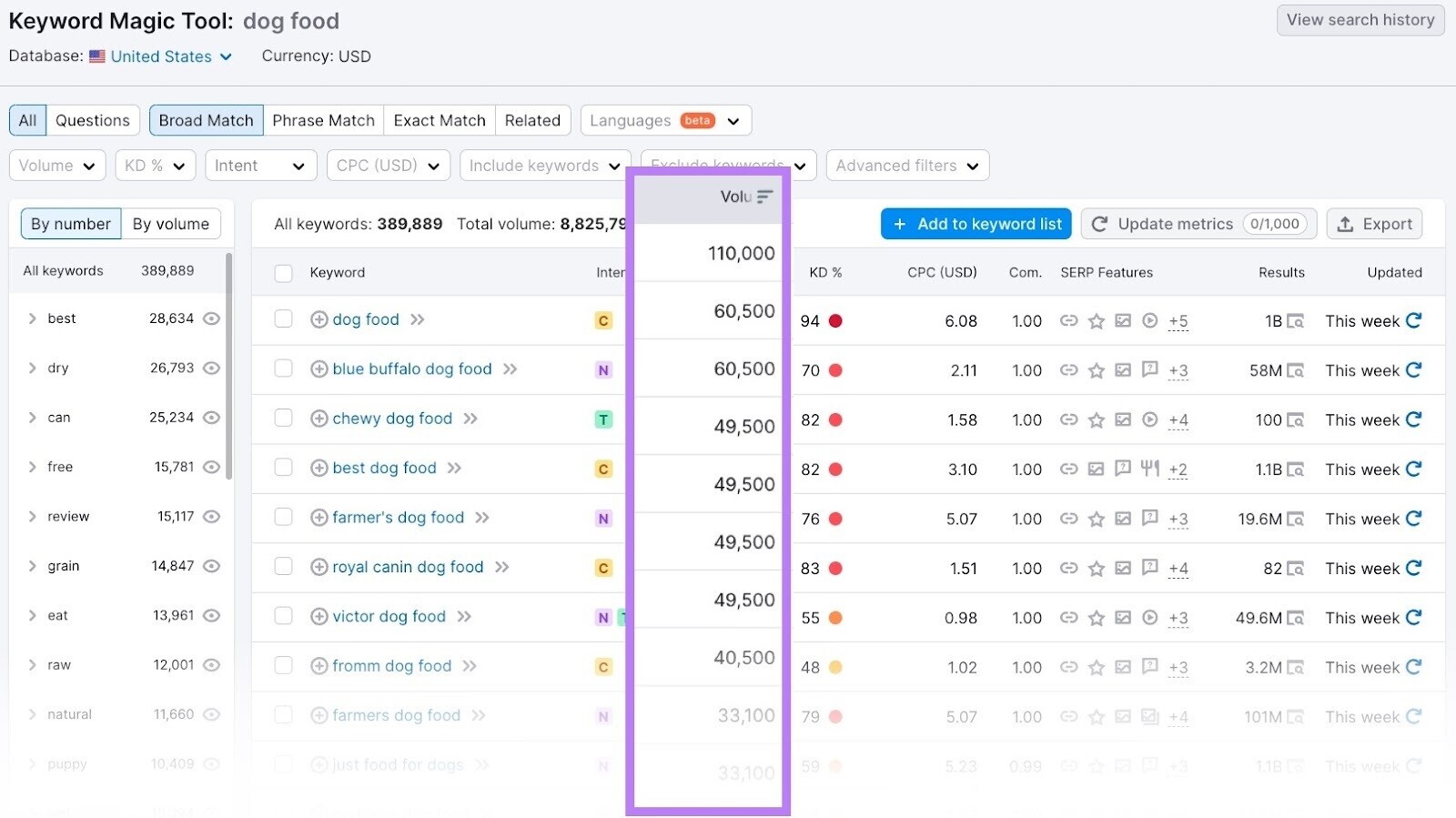 You can also see which keywords your competitors are ranking for using the Organic Research tool. 
First, type in the URL. Let's use imdb.com for this example:

You'll first see a dashboard showing previews of key info, such as number of keywords, site traffic, keywords organized by search intent.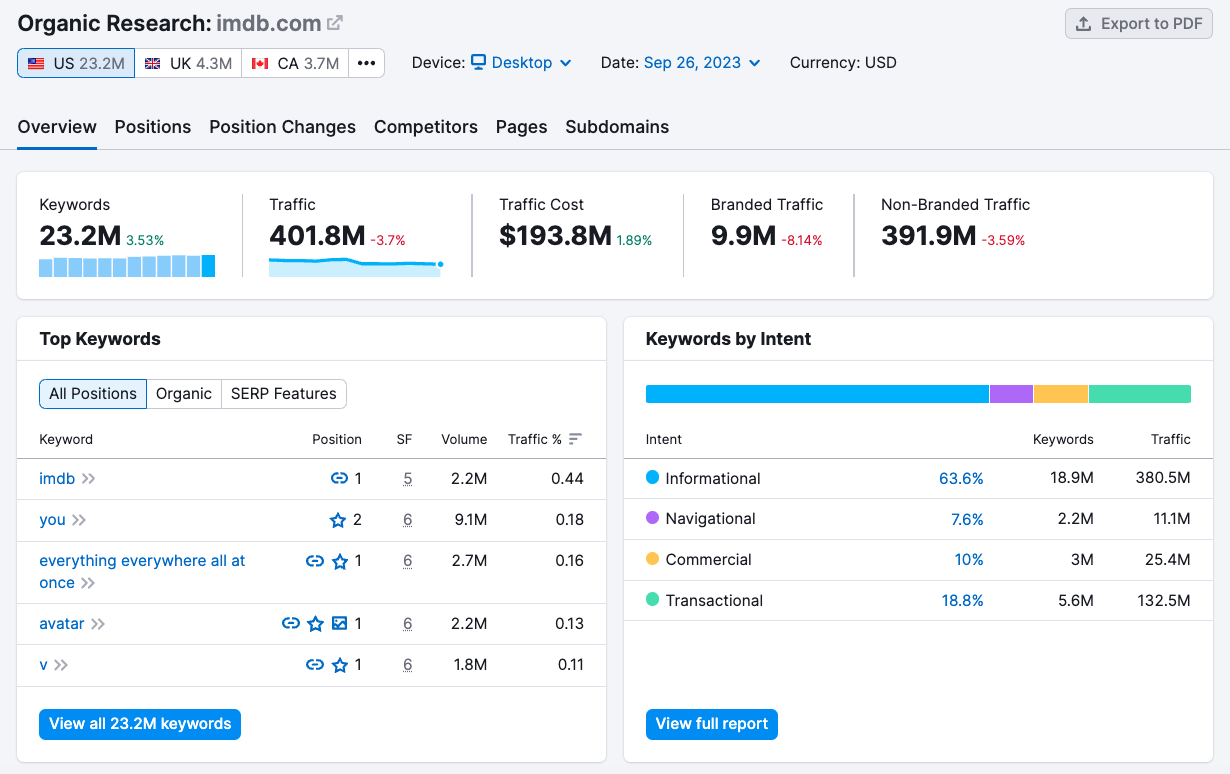 Then. you can dive deeper to show the top keywords and keywords by intent. You can see many metrics, including search volume, and view more in-depth reports.
Ensure the keyword you choose relates closely to the page you want to optimize. Otherwise, you risk making unnatural tweaks that decrease the content's relevance—and potentially damaging your SEO performance.
In the Headspace example above, "content marketing app" has high impressions, but zero clicks. We can capitalize on that opportunity by creating fresh content around content marketing apps and linking to it from our original piece on Headspace's marketing campaigns.
But "headspace marketing" is a more relevant primary keyword to target with any significant on-page changes. Like tweaking the URL, meta description, or title.
How to Measure Keyword Research Outcomes on Google Search Console
Once you know how to use GSC for keyword research, the next step is measuring your outcomes. Then you can do more of what works to keep improving your site's visibility—and ditch any tactics that don't deliver.
The first and most obvious place to check is the "Performance" chart on GSC's "Overview" page. 
It shows your total web search clicks over the past three months. So you can see if your SEO and keyword research efforts translate into organic traffic growth.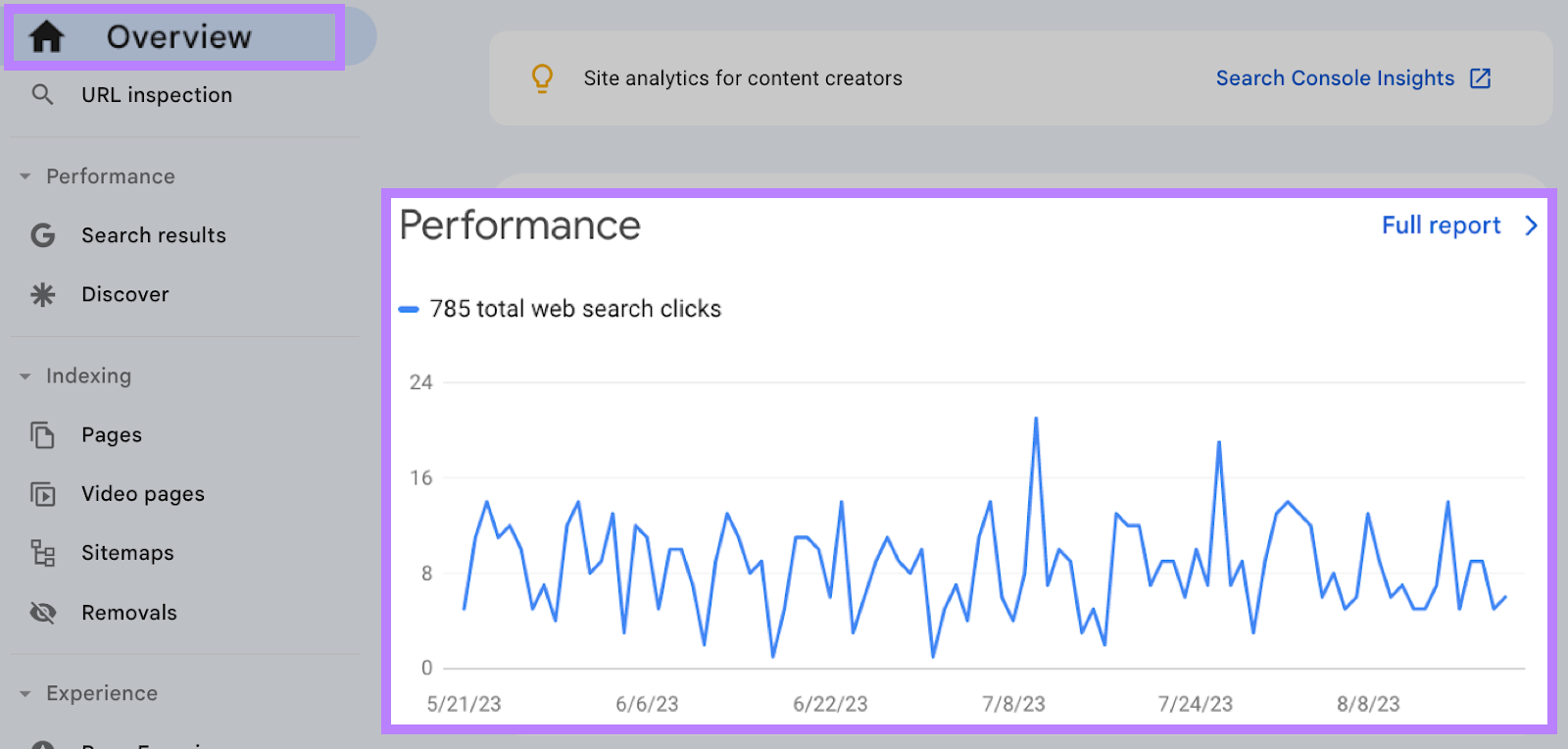 Click "Full report" for a more detailed version that includes impressions and clicks.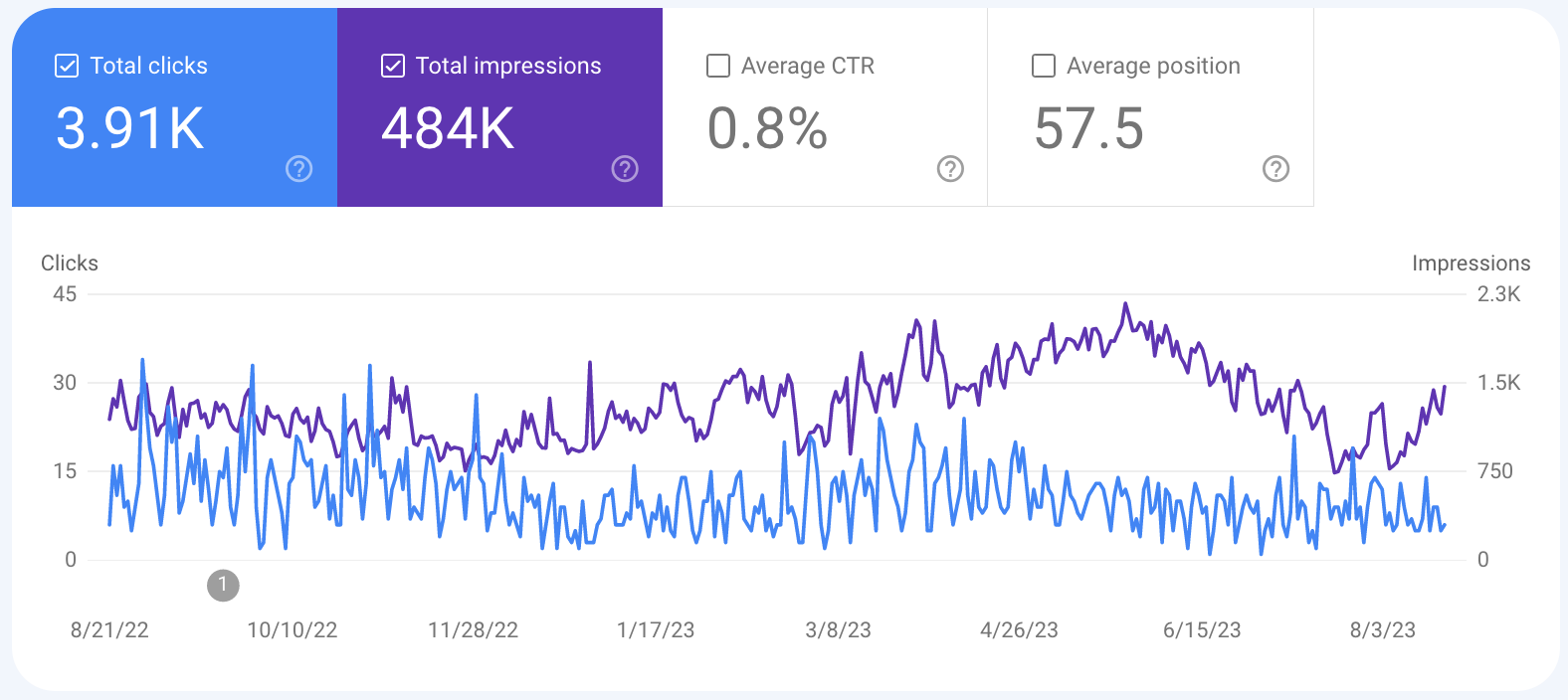 Check whether these are up or down since you started using GSC for keyword research. Increases show your tactics work. Decreases mean you must revisit your strategy.
Shorten or extend the period using the "Date" button above the chart. This time, the ideal period will depend on when you started trying to improve search performance. 
Change the chart's data by selecting the relevant check boxes at the top. 
GSC shows "Total clicks" and "Total impressions" by default, but you can also see "Average CTR" and "Average position" (i.e., average ranking).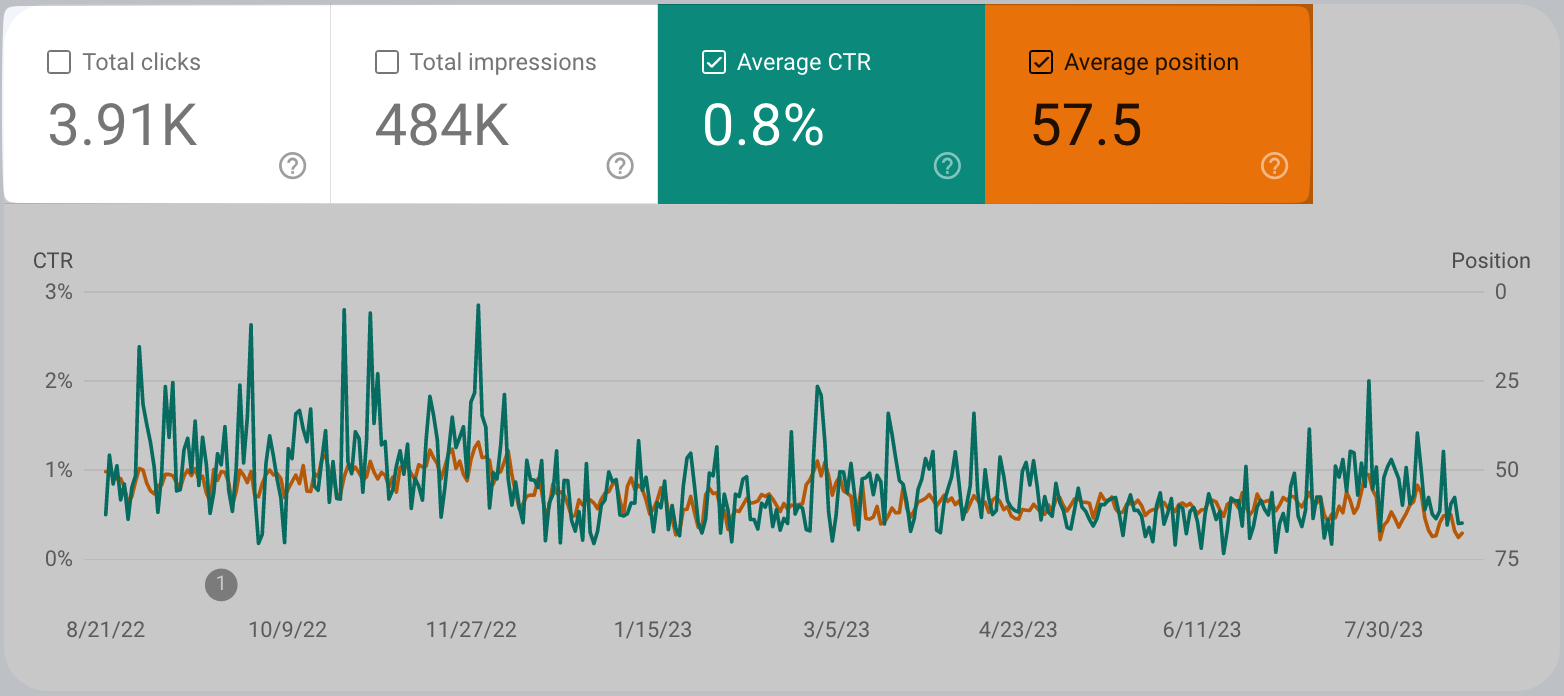 Different metrics suit different objectives. 
If you want to grow visibility, "Total impressions" and "Average position" are your best markers. 
If you were already ranking but not getting much traffic, pay closer attention to how "Total clicks" and "Average CTR" change over time.
You can check the same metrics for individual queries and pages to see whether your content optimization efforts (i.e., on-page SEO tweaks) work.
From the "Search performance" page, select the appropriate tab under the main chart: "Queries" or "Pages."

Then click the relevant search term or URL to assess its performance.
You'll see a new graph with data relevant only to your keyword or page. In this example, we can see impressions and clicks for our page peaked in March before leveling gradually.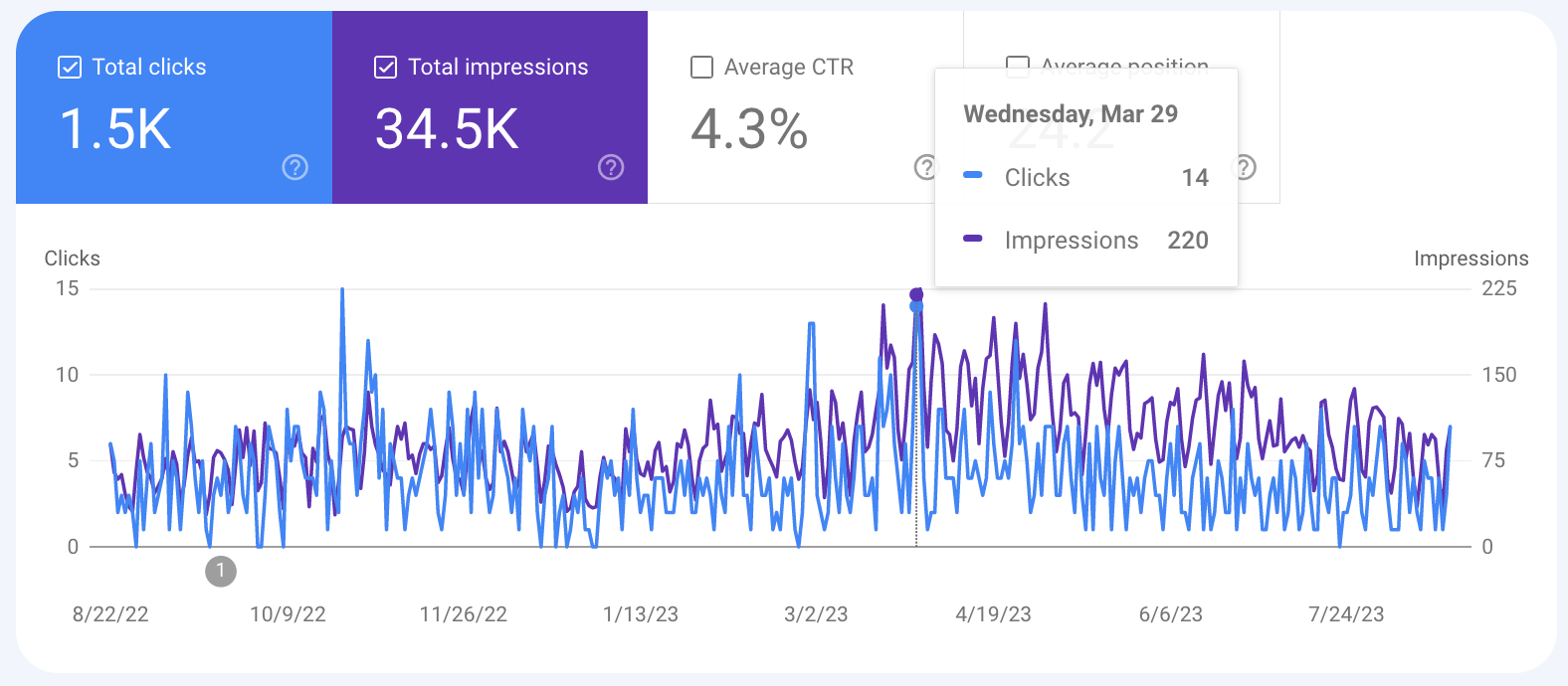 That tells us the on-page SEO changes we made at the end of January (when clicks and impressions were low) increased visibility and traffic. We could do the same with other pages performing poorly.
Supercharge Semrush with Data from Google Search Console 
Google Search Console is great for free, easy, and basic keyword research. 
But Semrush offers more comprehensive keyword analysis and search performance tracking. Our database contains data on more than 25 billion keywords, 43 trillion backlinks, and 808 million domain profiles.
You can connect GSC to six Semrush tools to make both tools more powerful. There are details about all six in our Google integrations guide. 
But for now, the most useful GSC integrations for keyword research are Organic Traffic Insights, On Page SEO Checker, and the SEO Dashboard.
Here's what each can do and how to set them up.
Connecting Google Search Console to Organic Traffic Insights
Organic Traffic Insights combines your Google Analytics (GA), Google Search Console, and Semrush data into a single dashboard. 
Allowing these tools to share information gives you a list of keywords that drive organic traffic to your top-performing pages. 
With GA alone, you'd see "(not provided)" in this column.

Here's how to set it up:

Click on "Connect Google Account".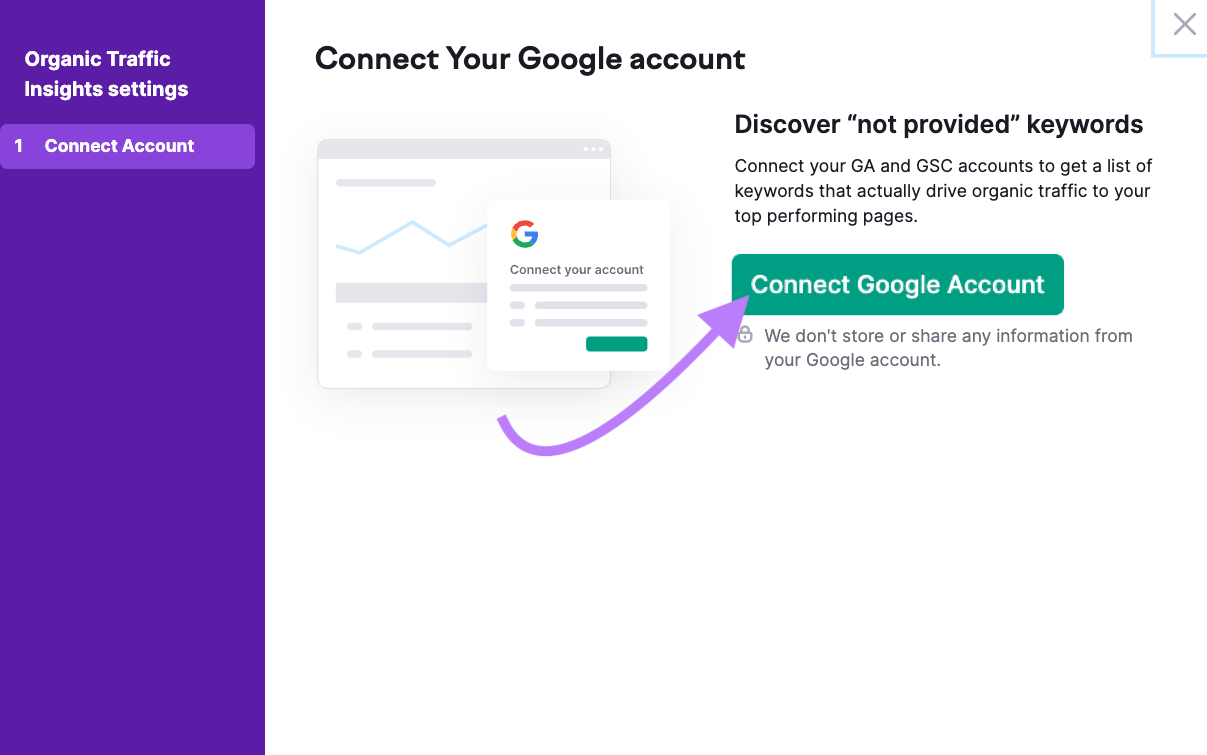 Then choose or enter your Google account details.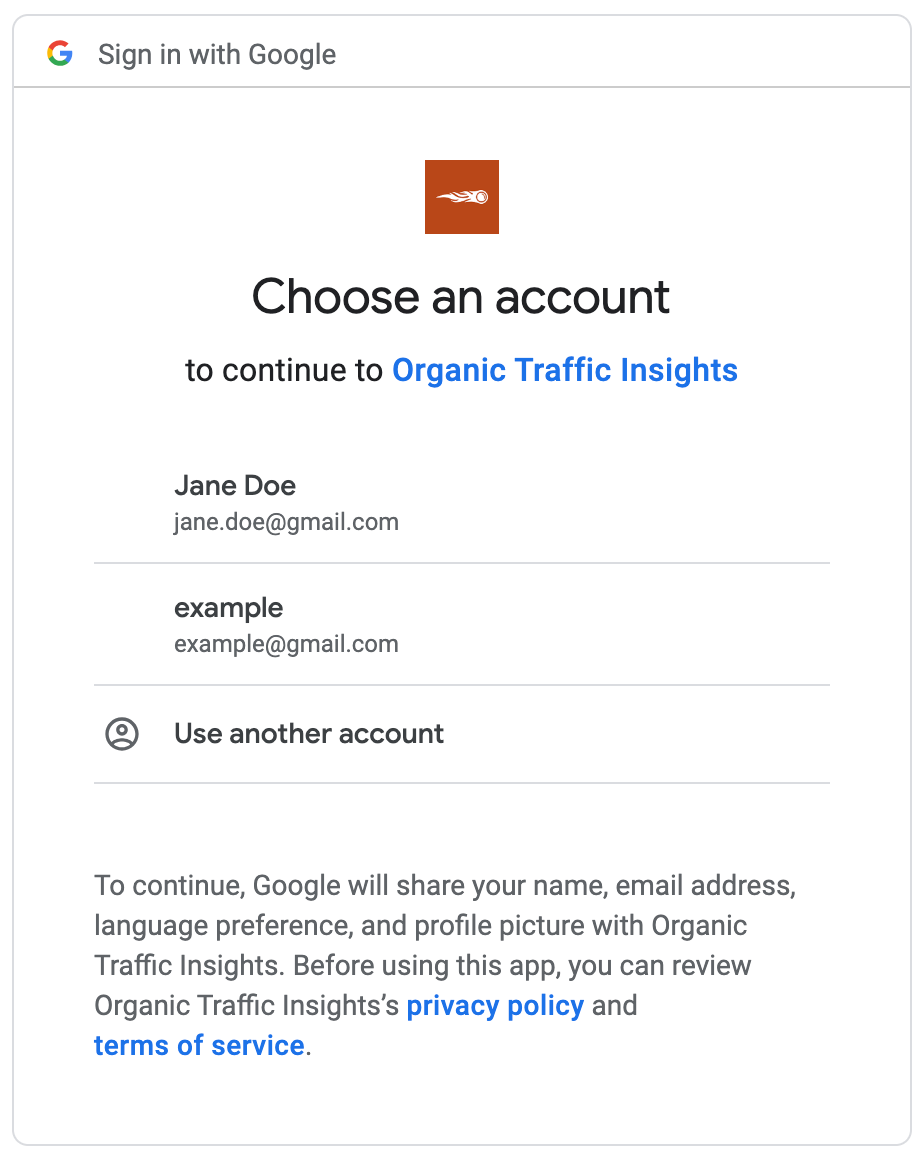 Click "Allow" to let Semrush access data from your Google accounts. Remember this part of the process since you'll need to do it each time you integrate a Google account with Semrush.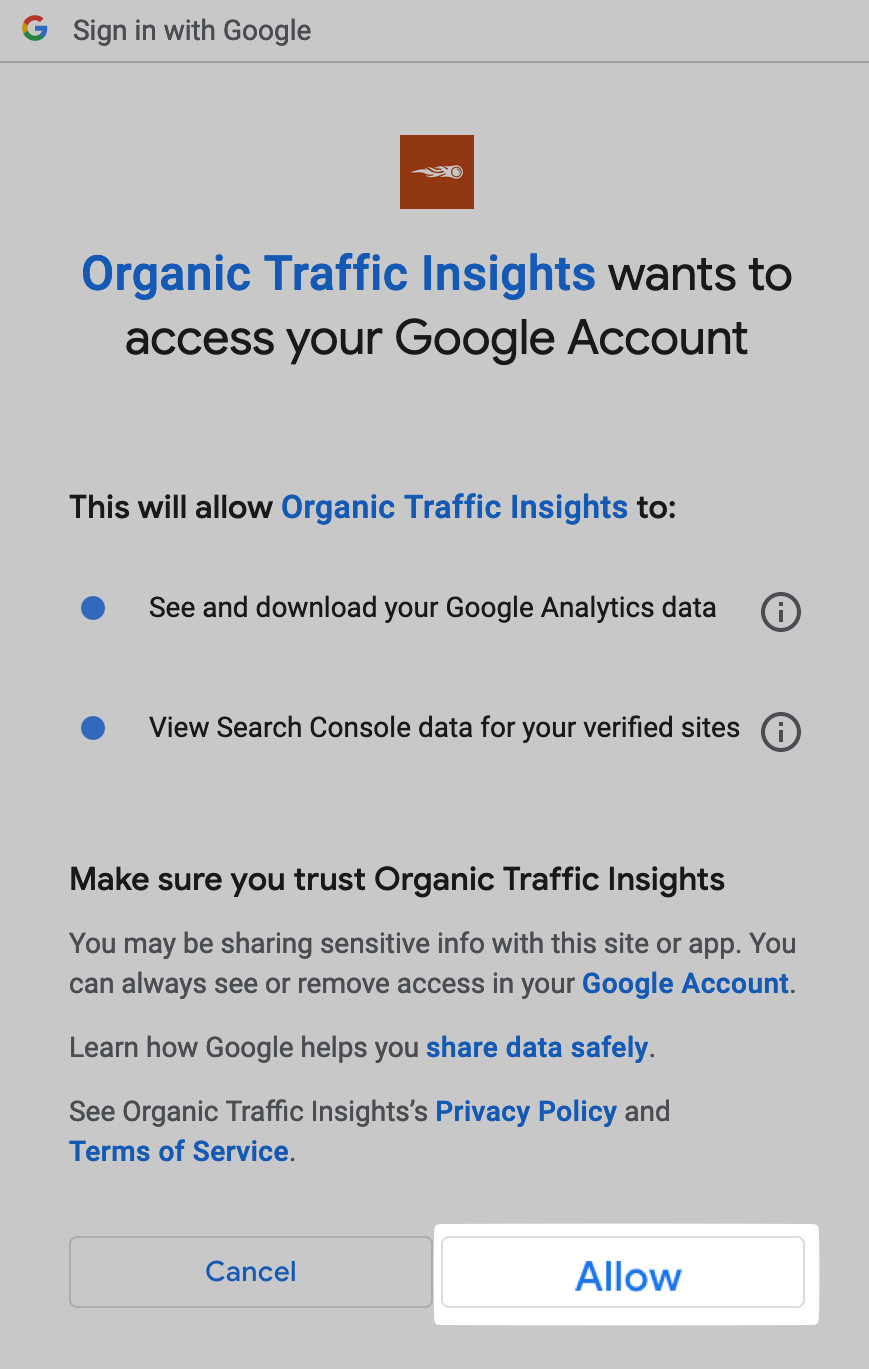 In the next window, you can choose which properties to link to your Semrush Project.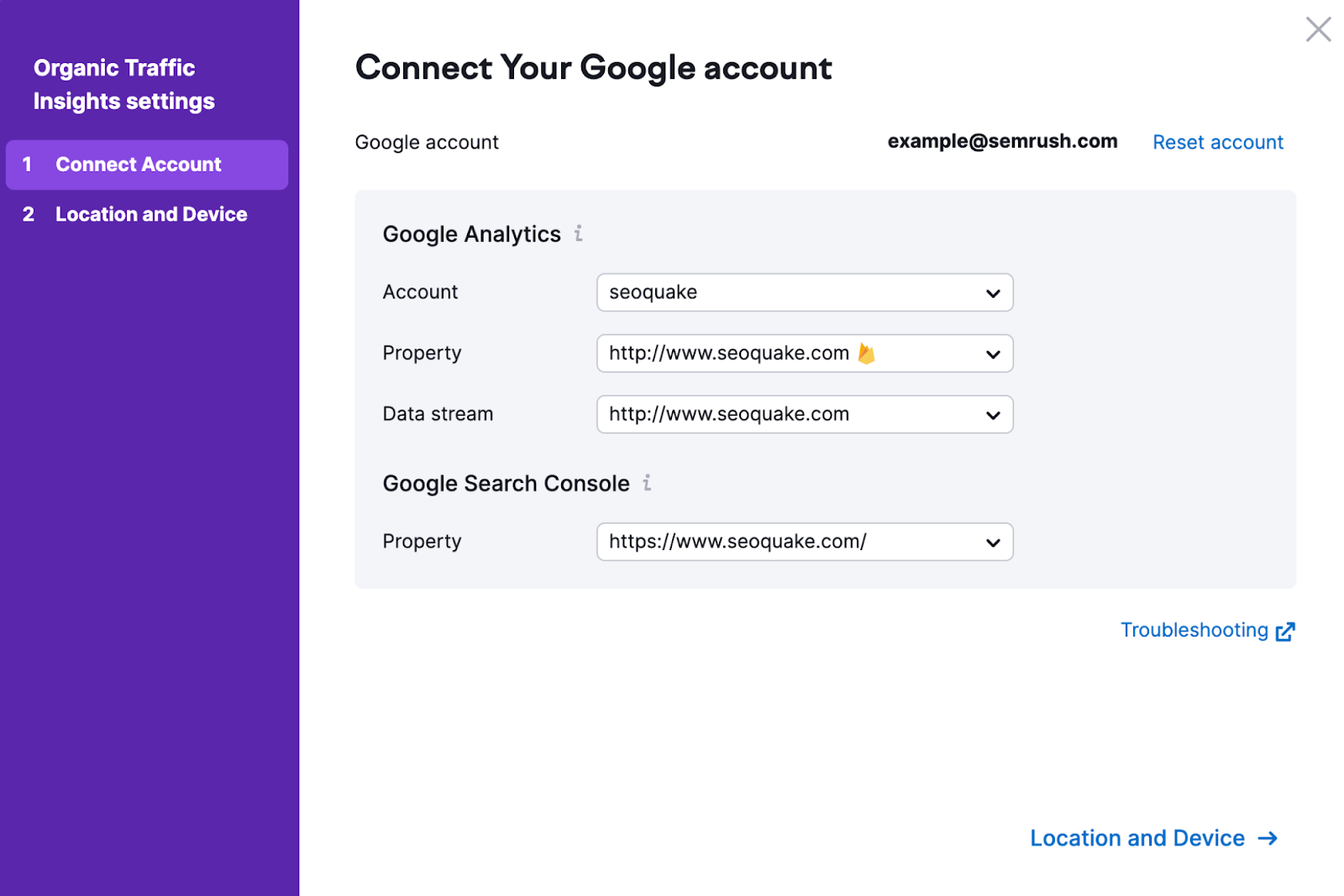 After connecting GA and GSC and choosing your properties, your Organic Traffic Insights campaign will be able to house all your valuable keyword performance data.
Connecting Google Search Console to On Page SEO Checker
On Page SEO Checker offers advice for optimizing webpages based on the current SERPs, so you can rank higher for target keywords.
Connecting GSC to On Page SEO Checker lets you import the keywords your site is ranking for automatically.
You can do this through the configuration wizard when you create your campaign in Semrush. 
The tool will request pages to optimize and you can choose where to import them. Select "From GSC" and hit the "Connect" button under "Connect Google services."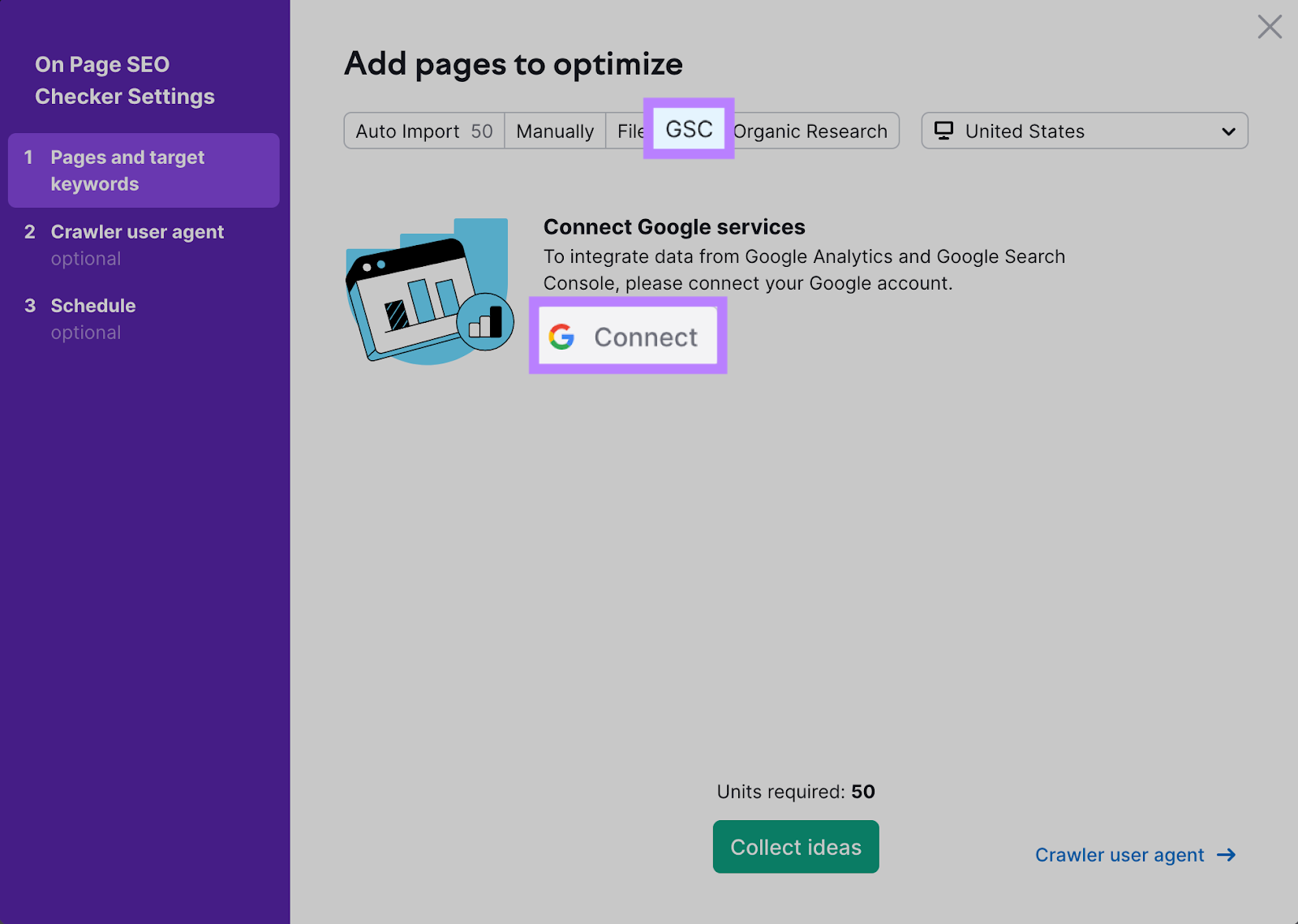 Enter your Google details to connect your GSC account to Semrush and start importing data. You can also add information straight from the On Page SEO Сhecker interface.
Note: Make sure your property's URL in GSC matches the project's domain in Semrush so the two tools can communicate properly.
Connecting Google Search Console to SEO Dashboard
The SEO Dashboard gives you a single view of your site's search performance.
Connecting GSC adds the following data to that report:
Top queries by the number of clicks
A line graph of total clicks, impressions, average CTR, and average position
In other words, it'll tell you, from a high level, whether your keyword research is fruitful.
Here's how to connect.
Click on the gear icon in the top right corner of your SEO Dashboard, then choose "Google account setup."
As before, sign in with your Google account.
Once through, you'll see a "Manage Google services" window, where you can choose the Property you want to add data for.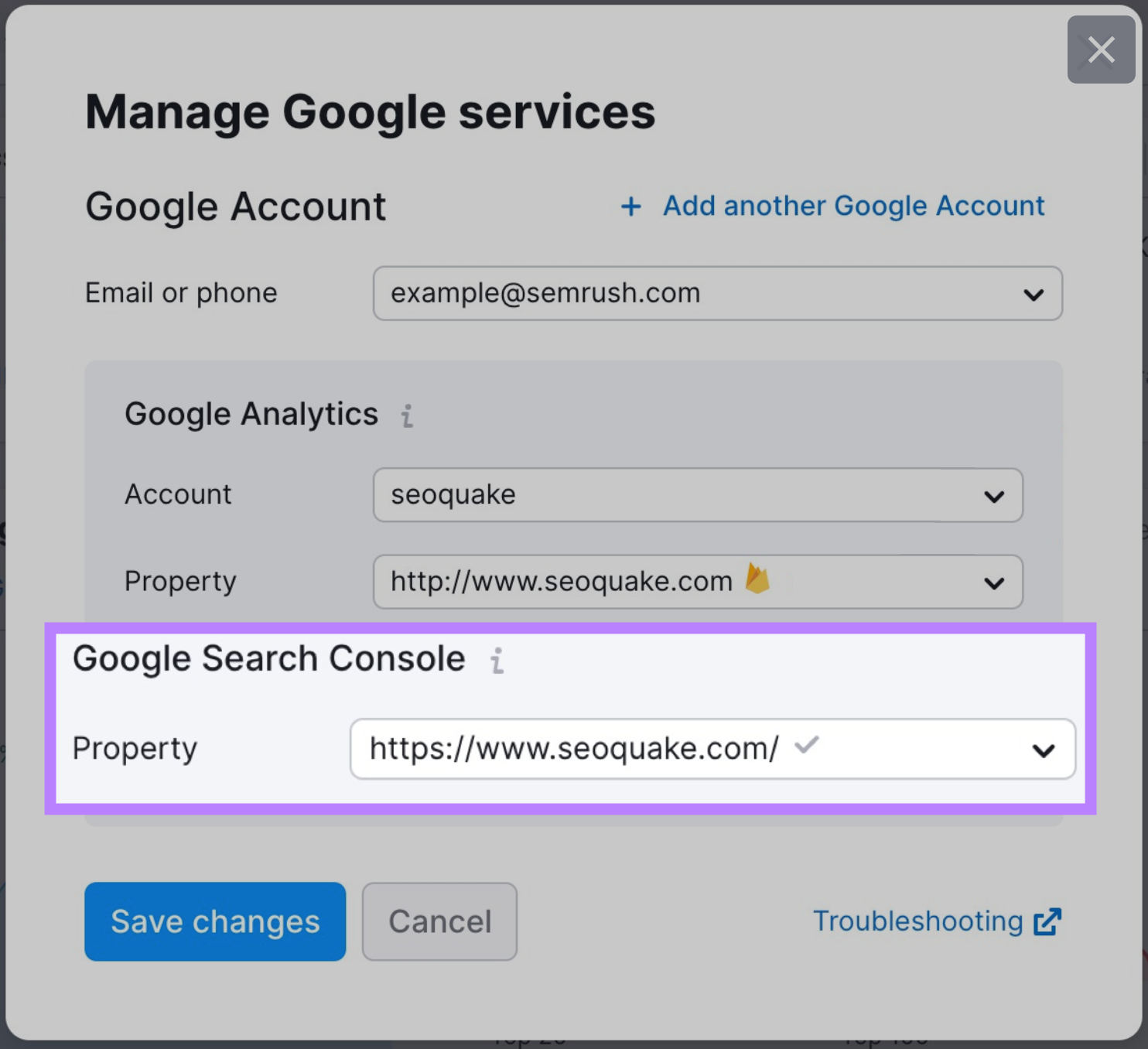 Once you've connected GSC, you'll see your site's total clicks, total impressions, average CTR, and average position in an interactive graph.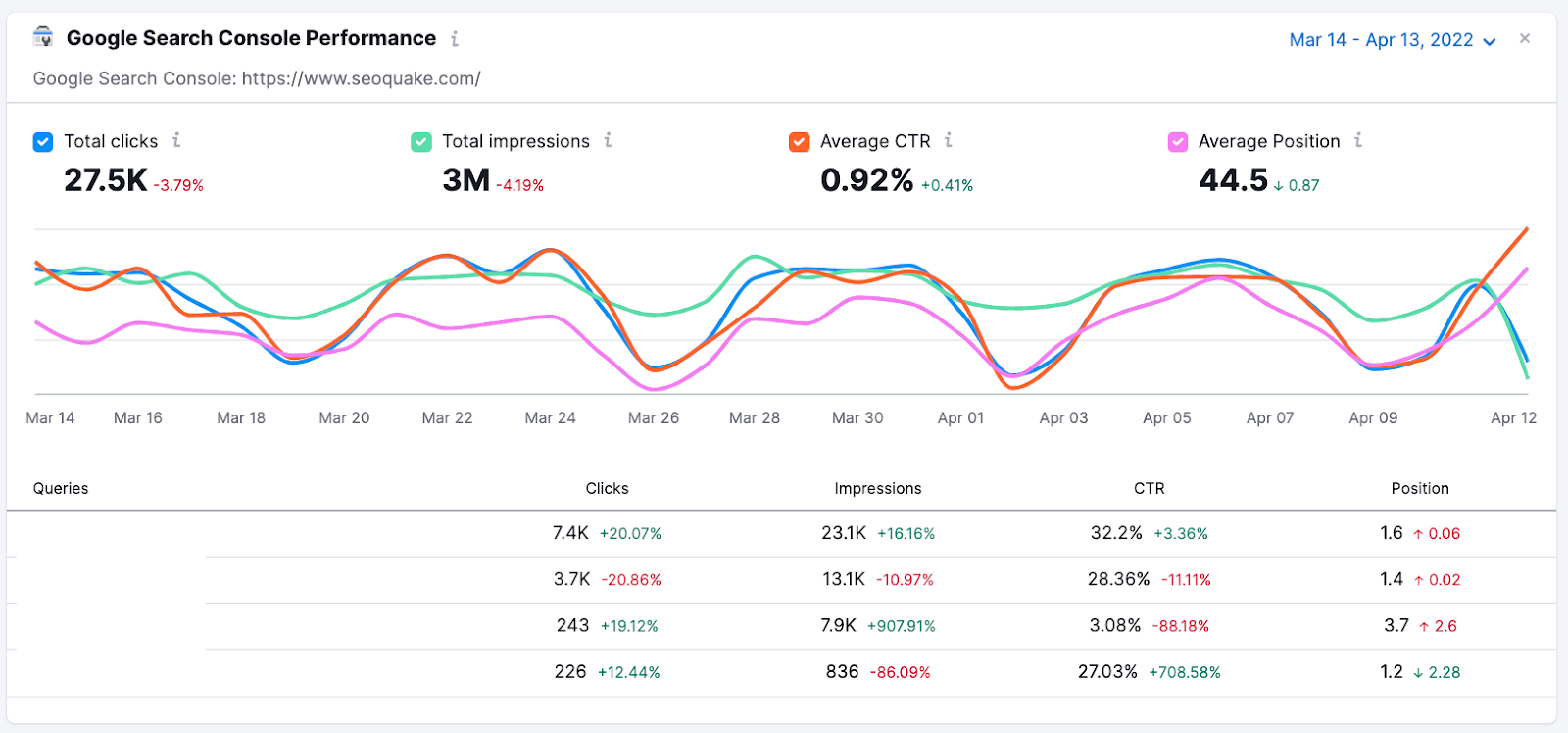 Note: Semrush won't store data from your Google accounts. The integration simply makes viewing the information more convenient.
Find Valuable Keywords and Climb the Rankings with Semrush
Connecting GSC and GA to Semrush makes keyword research even easier.
What's more, the Semrush toolkit offers you several other ways to gather the best keywords for your SEO and content strategies.
Learn more in our guide on How to Use Semrush for Keyword Research. Follow along by signing up for a free 7-day trial.
Source link