When you search for something on Google, you'll likely see a list of HTML webpages in the results. 
But Google can also help you find non-HTML files. Such as PDFs, spreadsheets, presentations, Adobe files, and more.
Let's see how.
How to Search Google by File Type 
Search Google by file type using the "filetype:" search operator. This operator narrows the search results to a specific file type.
For example, a search for "filetype:pdf health" will show PDF files that contain the word "health."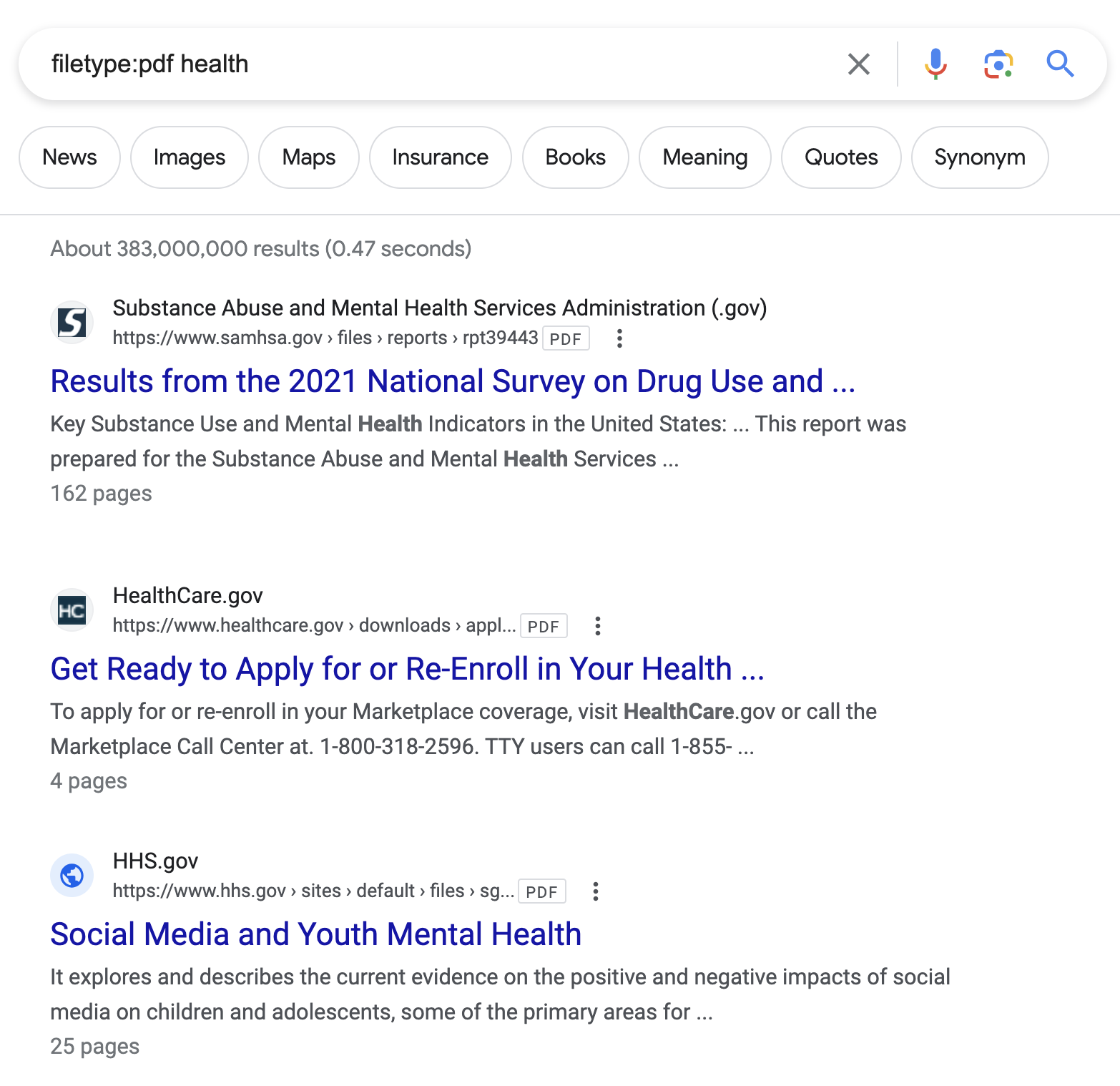 A search for "filetype:ppt travel" will show presentations related to travel.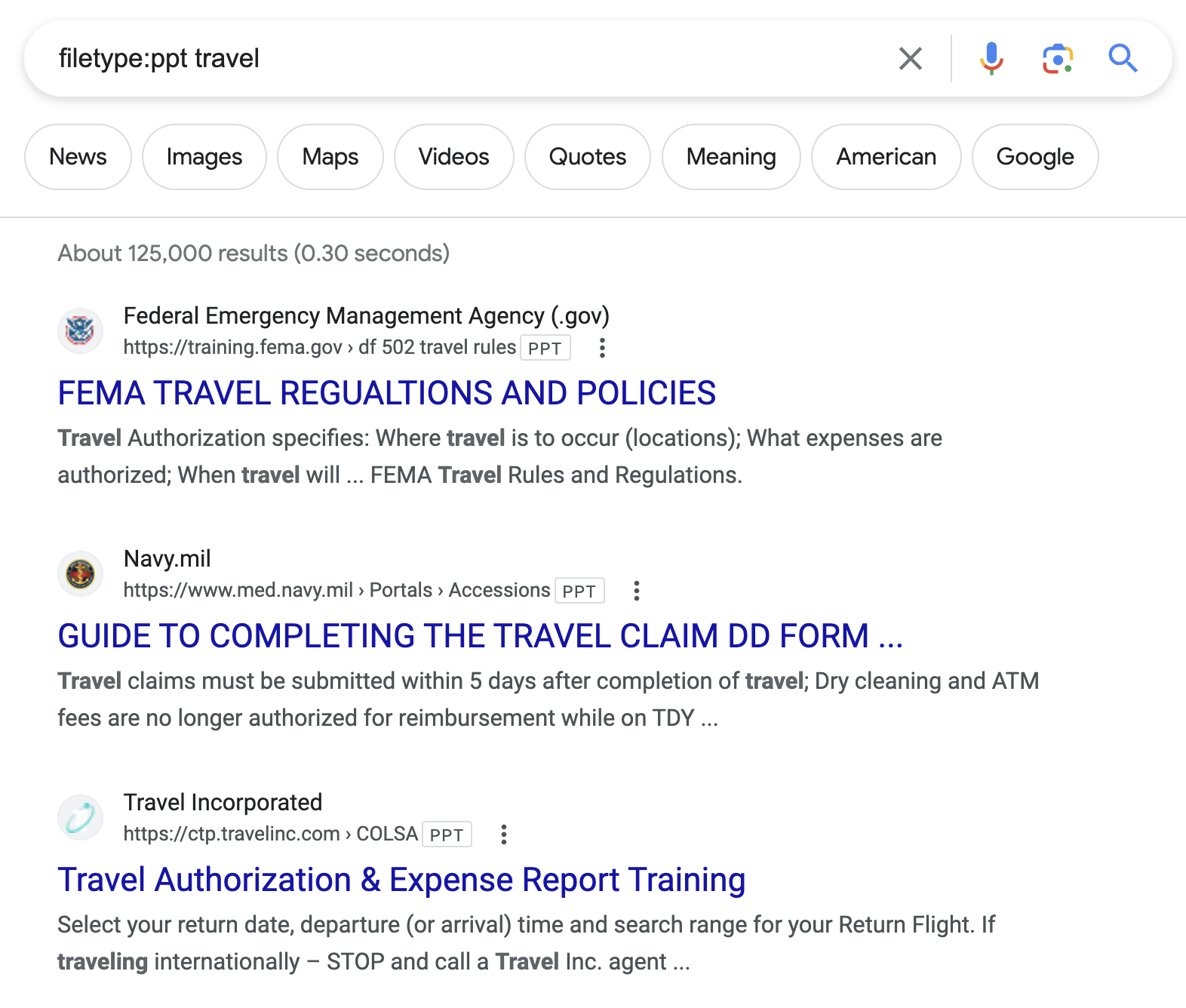 This is possible because Google is able to crawl and index different types of files. 
Files Types Available on Google
Here is a complete list of file types you can find on Google:
| | |
| --- | --- |
| Format | File Extension |
| Adobe Portable Document Format | pdf |
| Adobe PostScript | ps |
| Autodesk Design Web Format | dwf |
| Google Earth | kml, kmz |
| GPS eXchange Format | gpx |
| Hancom Hanword | hwp |
| HTML | htm, html |
| Microsoft Excel | xls, xlsx |
| Microsoft PowerPoint | ppt, pptx |
| Microsoft Word | doc, docx |
| OpenOffice presentation | odp |
| OpenOffice spreadsheet | ods |
| OpenOffice text | odt |
| Rich Text Format | rtf |
| Scalable Vector Graphics | svg |
| TeX/LaTeX | tex |
| Text | txt |
| Basic source code | bas |
| C/C++ source code | c, cc, cpp, cxx, h, hpp |
| C# source code | cs |
| Java source code | java |
| Perl source code | pl |
| Python source code | py |
| Wireless Markup Language | wml, wap |
| XML | xml |
You can search Google for different types of files because Google supports the use of search operators.
What Are Search Operators?
Search operators are special commands you can use on Google to narrow the focus of your search.
For example, if you want to search for results only from a specific site, you can use the "site:" search operator.
Just append the website URL to the "site:" operator, followed by your keyword. 
Let's say you want to find articles about SEO on semrush.com. Type "site:semrush.com SEO" into Google.
This will show you results related to SEO from semrush.com only.
For more information on search operators and how they work, check out our complete guide to Google Search Operators.
Ensure Your Files Get Indexed in Google
If you have content in different file types (e.g., xls, pdf, ppt, etc.), you probably want Google to crawl and index them.
So they appear in search results and bring more traffic to your site.
Google can't index these files if they have been mistakenly blocked from indexation with the X-robots-tag noindex directive.
Use Semrush's Site Audit tool to find files that are "noindexed" by mistake.
Open the tool, enter your website URL, and click "Start Audit."

Configure the audit settings and click "Start Site Audit."
After the audit is complete, navigate to the issues tab and search for "X-robots-tag."

If you find certain files are noindexed, review them and assess whether the "noindex" directive is needed.
If your files and webpages are blocked from indexation by mistake, remove the "noindex" directive. 
So they can be indexed by Google. And rank in search results.
Key Takeaways
You can use Google to search for more than just your standard HTML webpages. The "filetype:" search operator allows you to search for non-HTML files.
Google can crawl and index different kinds of files. For example, xls, ppt, pdf, txt, etc.
Ensure Google is able to crawl and index your files with the Site Audit tool
Source link