What Is Franchise SEO?
Franchise SEO is the process of optimizing your online presence to boost visibility and increase local traffic for your franchise business. 
You're making your offline business (e.g., a store or services) known to local searchers by optimizing your online presence.
SEO for a franchise typically involves tasks like: 
Prioritizing local keywords
Optimizing your Google Business Profile
Creating locally relevant content
Removing or updating duplicate content
Any franchise business with a physical location or delivering services in a particular area can benefit from franchise SEO.
Optimizing your franchise's online presence can mean increased visibility that results in more calls, website visits, bookings, and sales.
However, it's not as simple as including your location in your page titles.
Let's take a look.
What Are the SEO Challenges for Franchises?
Franchise owners who want to improve their visibility online for a local audience face some unique challenges.
Duplicate Content
Duplicate content is text that completely matches or is similar to text on another page.
It's also one of the most common issues with franchise websites. 
Here's an example of two search results on page one for a Starbucks coffee blend: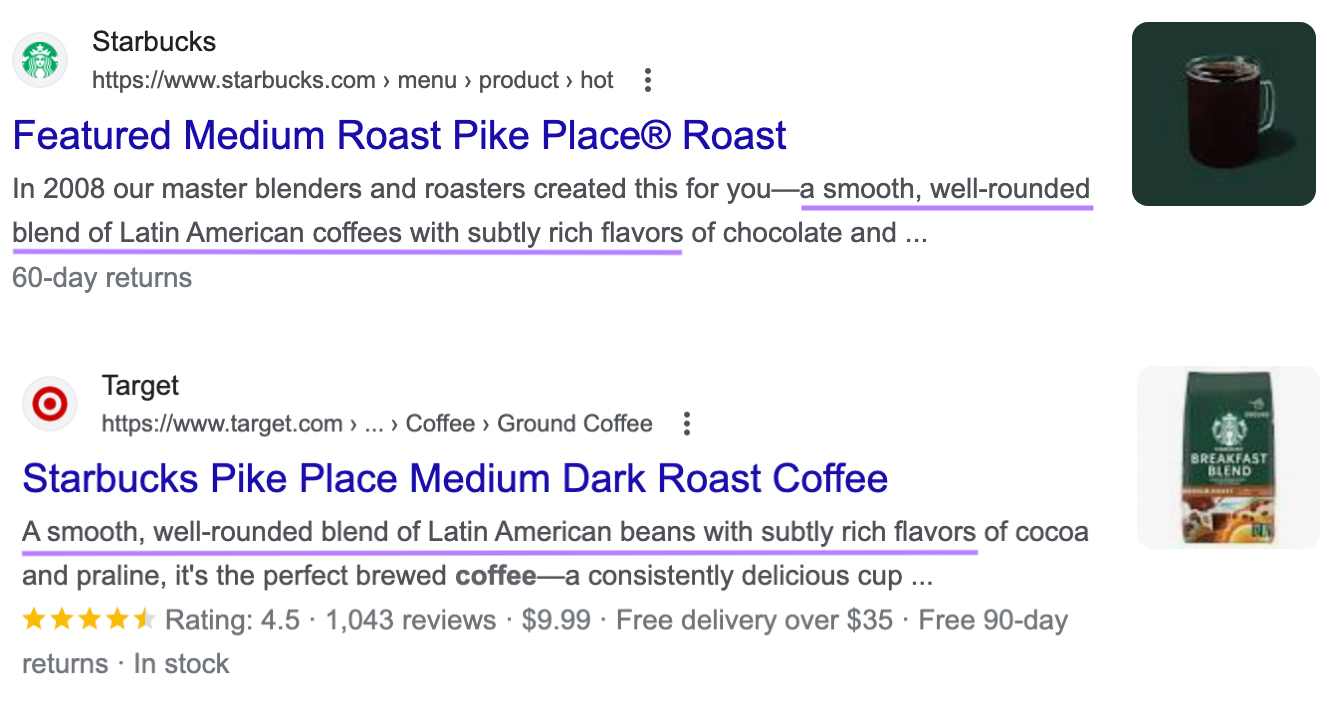 When you offer the same licensed products or services as other businesses, duplicate content can be challenging to avoid.
Franchises must maintain consistent branding and a similar user experience to meet customer expectations. Naturally, their content shares the same tone and characteristics. 
Unfortunately, pages created with the same content won't help your search rankings, even if you own separate franchise websites. 
That's because Google tries to index and show web pages with distinct information. 
If you have pages on your site with templated content that appears on others, it can hurt your search engine rankings, resulting in: 
Less organic traffic
Fewer pages indexed in search engine results pages (SERPs)
The wrong version of pages showing up in search results
Localized Content Creation
To compete with businesses in your area, you have to create content for local audiences.
Google's local search algorithm ranks businesses on:
Relevance to the search query
Distance between the company and user when they search
Prominence among competitors 
This puts small businesses on a more level playing field with large organizations. 
For example, search for "plumbers in Dallas" and corporate franchises like bluefrog Plumbing + Drain get outranked by well-optimized local competitors.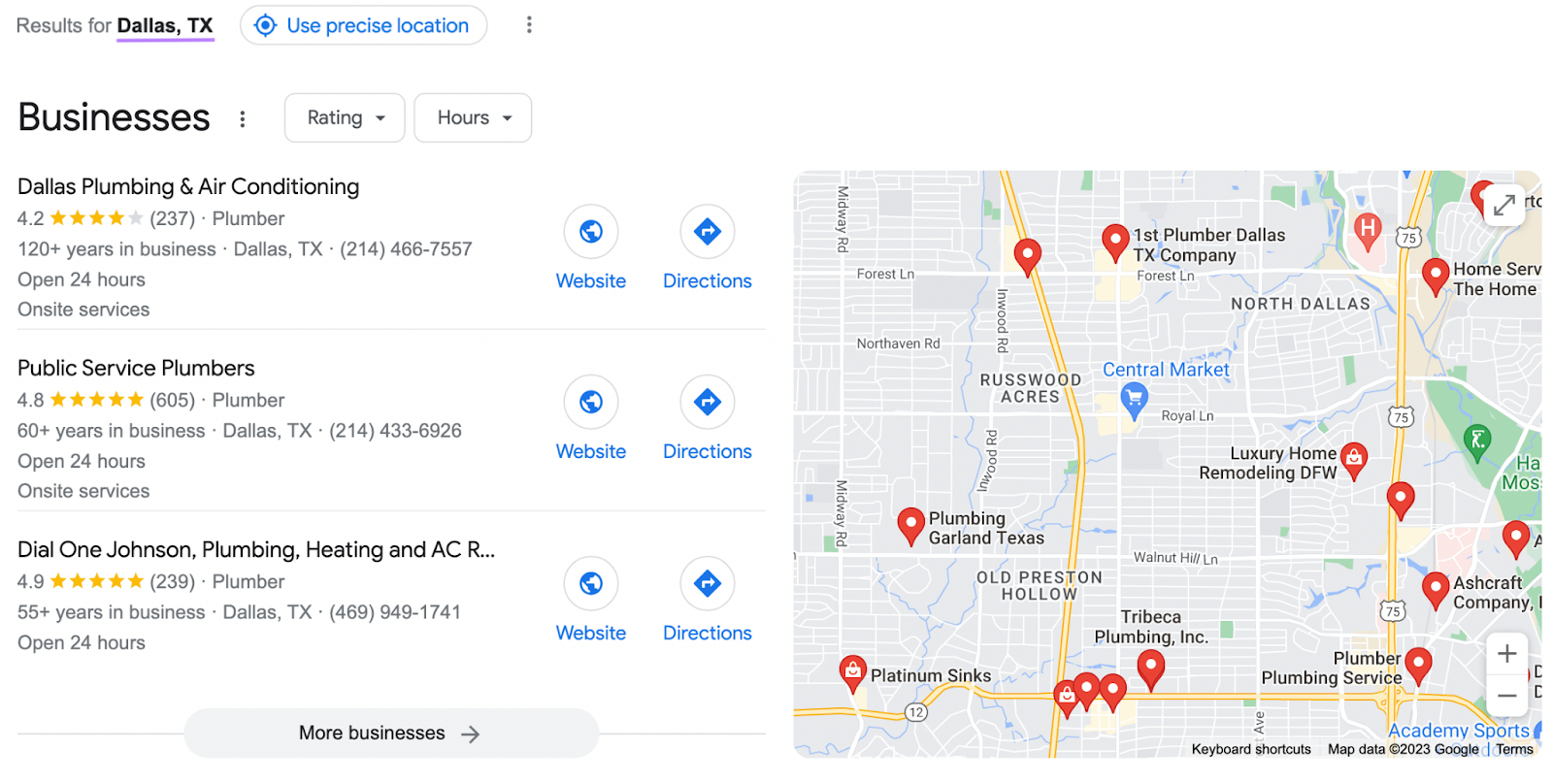 This means you can't rely on the authority of a main franchisor website to drive traffic to a franchise location website.  
Maintaining Brand Consistency
To benefit from brand recognition, every franchise location has to deliver what customers expect. 
Franchisees have the advantage of brand recognition. For example, customers know what to expect when they see Burger King in the "fast food near me" search results.
Choosing Burger King can feel less risky than an unknown local fast food restaurant.
But if a customer walks into a Burger King and sees the branch has a wildly different brand experience, it can create confusion or frustration. This reflects poorly on the Burger King brand.
If franchisees are marketing dozens of franchise locations, this can be difficult to enforce.
To avoid local websites drifting away from the franchise's mission and values, the franchisor must have:
A primary content marketing guide that's accessible to all franchisees 
Training or documentation to help franchisees improve their SEO 
Brand guidelines in place to ensure consistency across websites
How to Optimize Your Business for Franchise SEO
The goal of SEO for franchises is to rank for searches that have local intent. 
Whether you're a franchisor or a franchisee, achieving this involves the same approach. 
Thankfully, you don't need to be an SEO expert to get started. 
Here are eight SEO tips to running a successful search campaign for franchise location websites.
1. Find Local Keywords
Keyword research for local franchise SEO is the process of finding search terms people use when looking for businesses like yours. 
Ranking for these keywords drives targeted traffic to your website, ultimately leading to more customers. 
A quick way to gather keyword ideas is to use Google autocomplete. 
Google uses this feature to predict what people are going to search for. And it's a great way to find long-tail keywords. 
Start typing relevant keywords to see local suggestions. 
For example, if you run a plumbing franchise, type "plumbing services [your location]."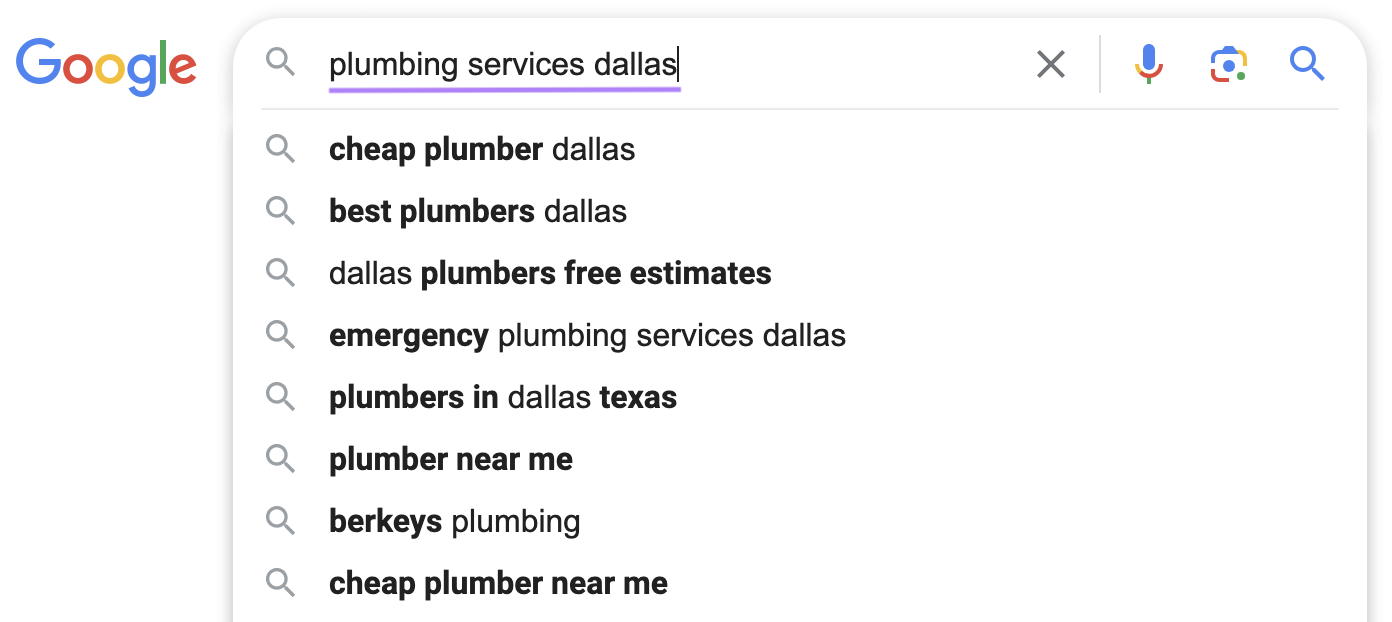 Try different combinations of keywords related to your products or services to get a list of target keywords.
Next, supplement this list by researching keywords your competitors are targeting. You can do this with Semrush's Organic Research tool.
To get started, enter a competitor's URL and hit "Search."
Click on the "Positions" tab to see their top keywords.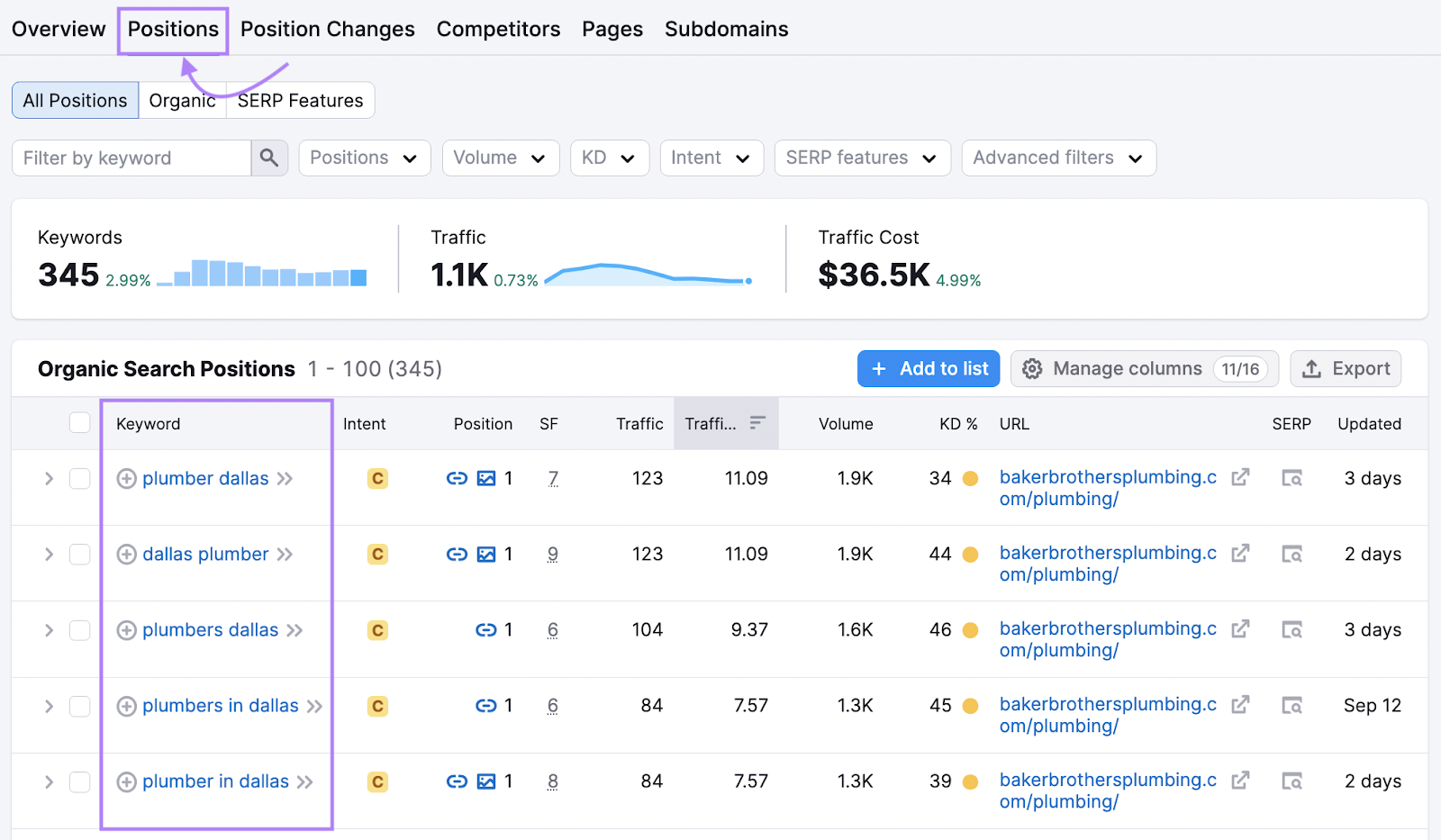 Look for keywords with high search volume and low keyword difficulty (KD%). 
This means searchers use these terms, but you can more easily rank for them with quality content. It should give you a good list of keywords to work with. 
If you want more ideas, type a high-volume competitor keyword into Semrush's Keyword Magic Tool. 
Click the "Related" tab to uncover variations of popular terms to use in your content.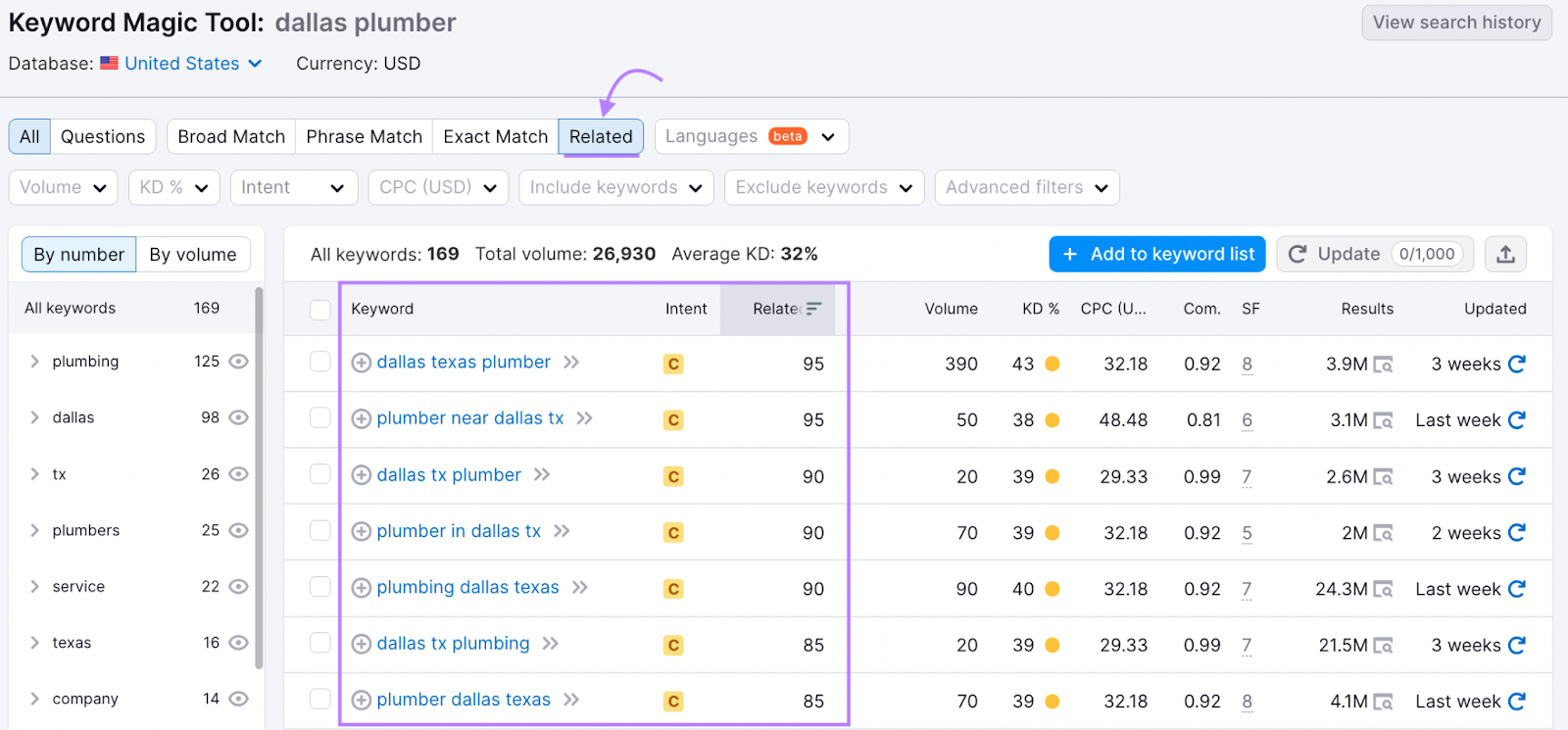 2. Localize Your Website Content
Localizing your website means optimizing its content to help it rank higher in organic search results.
A quick way to build locality into a franchise website is to add unique business information: 
Location address and embedded Google Map
Email address and contact phone number
Directions (if local customers can visit)
Hours of operation
Images of your local team
Local testimonials
For example, Springfield Assist 2 Sell separates itself from the Assist 2 Sell brand website with owner bios and reviews:
It also includes the owner's contact details and the communities it serves: 
This additional localization helps make the website feel more personal and relevant to searchers looking for a realtor in their area.
Another way to increase online visibility and brand awareness is to place local keywords strategically in these areas:
This helps Google gain context about the page. It also lets users quickly tell whether the page matches their search intent. 
You can find the best local landing pages to improve with a tool like Semrush's On Page SEO Checker. 
Here's a guide on how to configure the tool for your site.
Once you've completed the setup, you'll see an overview of different on-page ideas to optimize: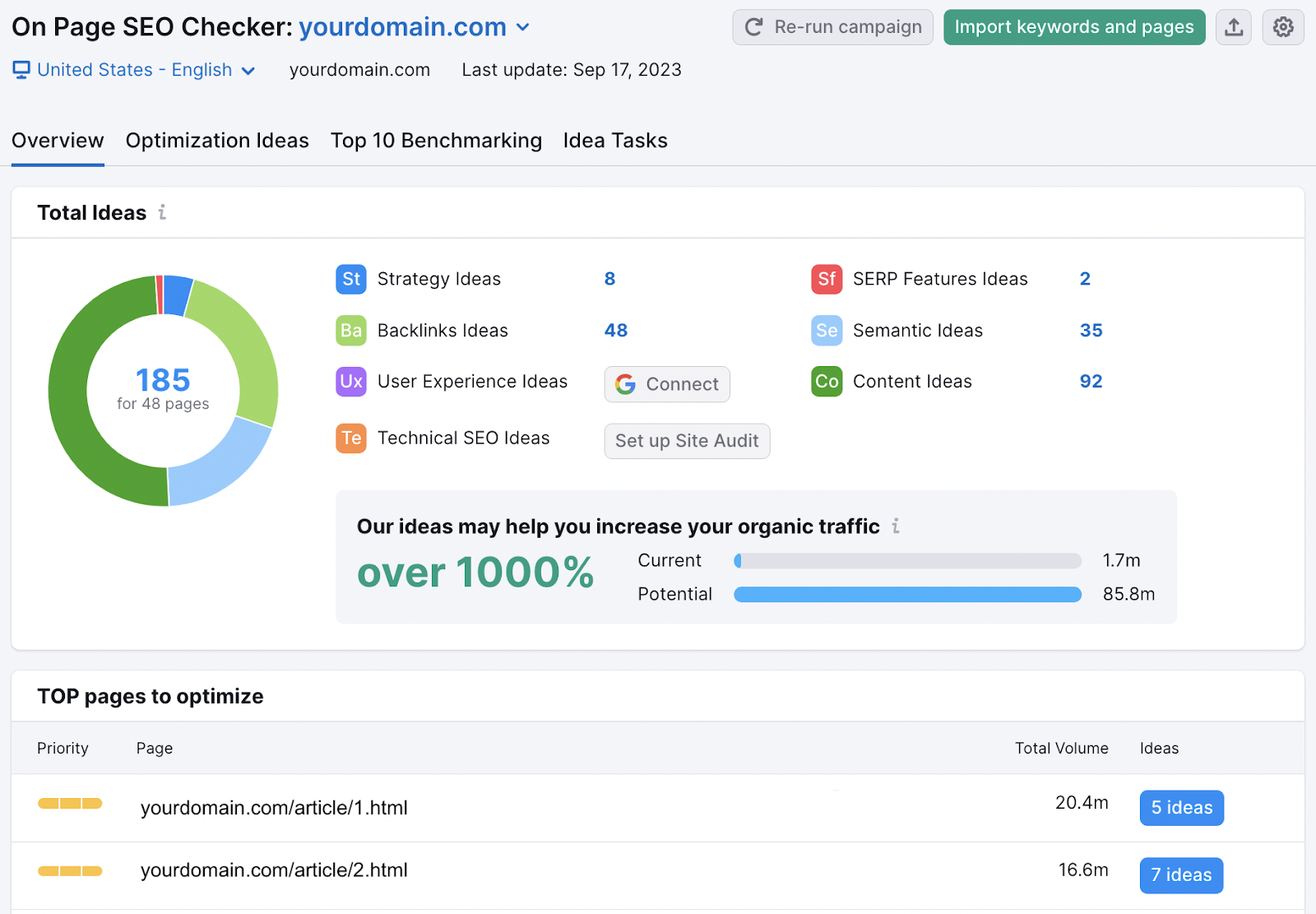 Scroll down to find your top pages to optimize. These pages have the best chance of ranking highly in search results. 
Click on the "X ideas" button to see recommendations and find out if you're using keywords in the right places.
3. Claim Your Google Business Profile
A Google Business Profile (GBP)—formerly Google My Business—is a free business listing that lets you connect with potential customers, share updates, and list products or services.
Here's what a GBP looks like:
A GBP is the most important ranking factor for local SEO and something you need if you want to rank in the local pack. 
This is because Google uses business information to help deliver relevant local results in Search and Google Maps. 
For example, if you own a coffee shop franchise with a GBP, your business might appear in search results for "coffee shops near me" or "coffee shops open now" because you provided your address and hours.
You can claim your GBP by following the steps on the Google Business Profile website. 
Our guide to setting up your Google Business Profile walks you through the process and includes tips on how to optimize your profile:
Enter complete contact information, such as name, address, and phone number (NAP)
Write a helpful description that includes details on products, mission, and history
Add photos of your business, products, work, and team
Share business updates, events, and special offers
Request and respond to online reviews
Add frequently asked questions and answers
Highlight unique aspects of your business (e.g., accessibility or service options)
4. List Your Business in Local Directories
Up-to-date listings in local business directories such as Yelp or a Facebook Business Page are beneficial for two reasons:
1. Google uses them to confirm your business information is accurate
2. Directories can rank highly in local search results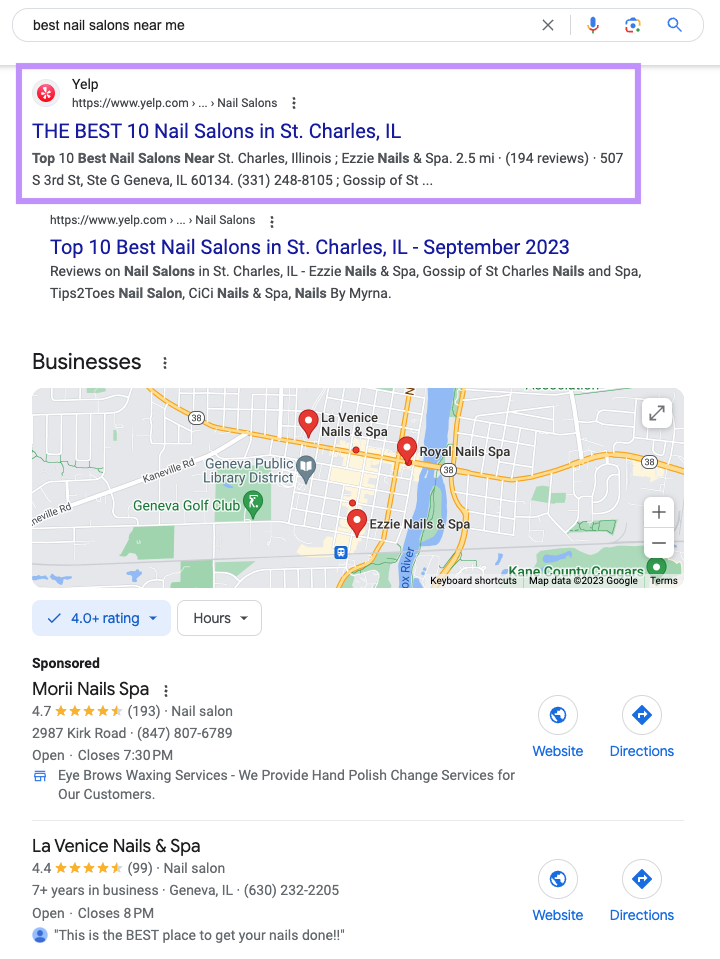 So, it's important to get listed in as many reputable places as possible. 
An easy way to do this is with Semrush's Listing Management tool. 
In the Overview tab, you'll see all of your listings, the business directories they're in, and their statuses.
To help you improve existing listings, the tool shows what's wrong with your current profile. For example, it may have the incorrect business name or phone number.
It also lists relevant directories and social media platforms you're not present on.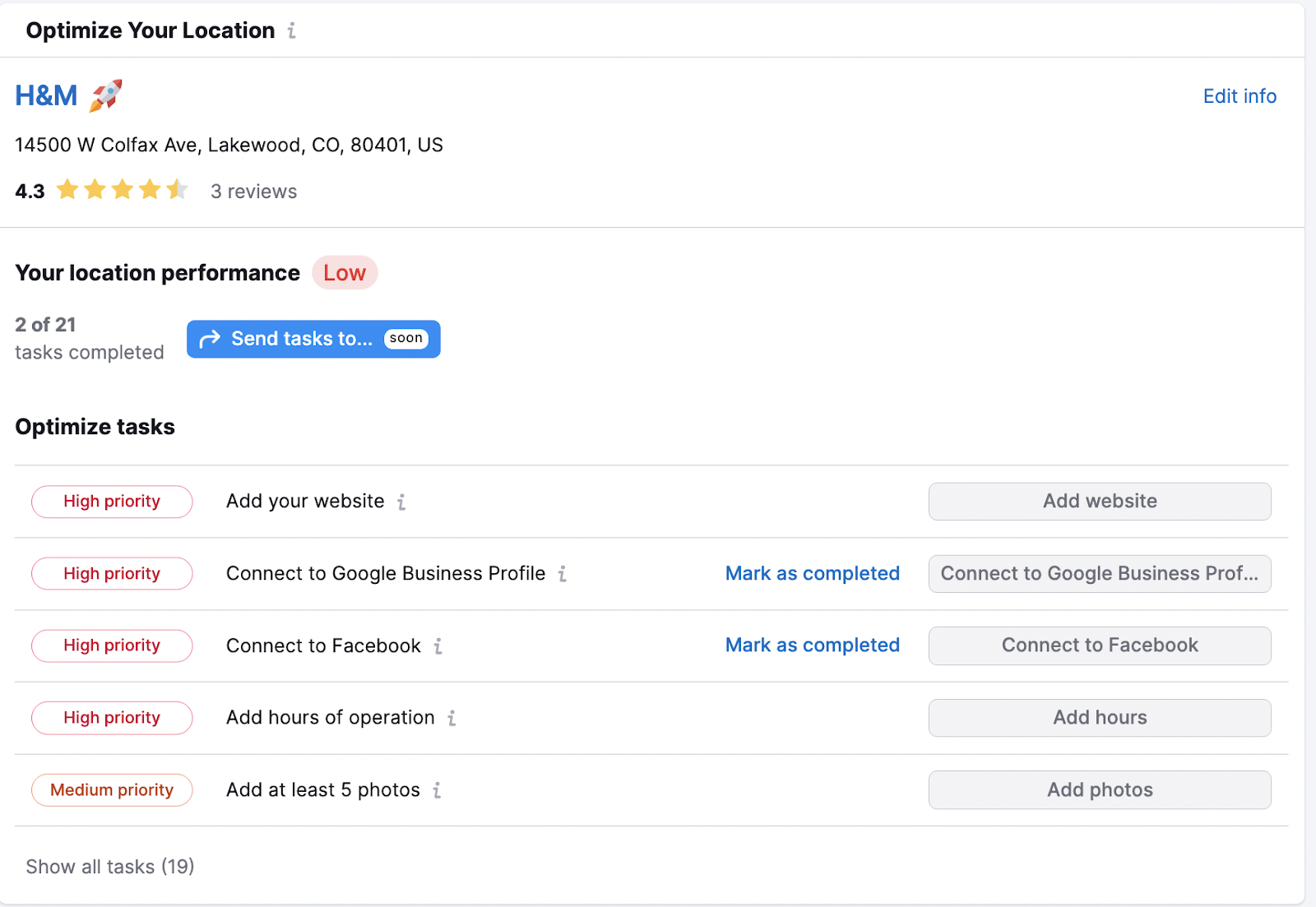 Use this information to expand your coverage and boost your visibility. 
When you create a new listing, make sure: 
All NAP information is consistent across every directory
The directory is reputable and relevant to your industry and local area
With a paid Semrush subscription, you can distribute your details to all listed directories within the platform. 
From a single dashboard, you can also manage profiles, monitor reviews, remove duplicate listings, and track local keywords.
5. Improve Technical SEO
Technical SEO is the process of optimizing your franchise website for search engines and user experience. 
Tasks include:
If your website isn't accessible to search engines, your pages won't appear in search results. 
And if it loads slowly or doesn't work properly on mobile devices, visitors may get frustrated and leave. The result is less traffic and potential revenue loss for your business. 
Technical SEO isn't a one-off thing. New issues will pop up that affect your search performance. 
This means it's important for franchisors and franchisees to monitor technical health regularly. You can do this with Semrush's Site Audit tool. 
To get started, enter your URL and hit "Start Site Audit."
The tool scans your site for over 140 technical issues. When the report is ready, click the "Issues" tab to highlight the top errors, warnings, and notices. 
Errors are priority issues to address immediately
Warnings are issues of medium severity
Notices are suggestions to improve search performance
Next to each issue, Semrush explains what it is and how to fix it. 
Click "Send to" to forward the issue directly to a CRM or project management tool as a task for your marketing or web development team.

To keep on top of website issues, run a site audit every quarter or whenever you make big changes to your website (e.g., a redesign or content refresh). 
6. Monitor and Remove Duplicate Content
If your pages follow a template with little variation in content, it's critical to review your site for duplicate content issues. 
With the Site Audit tool, you can quickly find duplicate content in the "Issues" tab.
Type "duplicate content" into the search field to filter issues. 
Click the link under each category to view individual issues. The tool offers advice on how to fix the problem.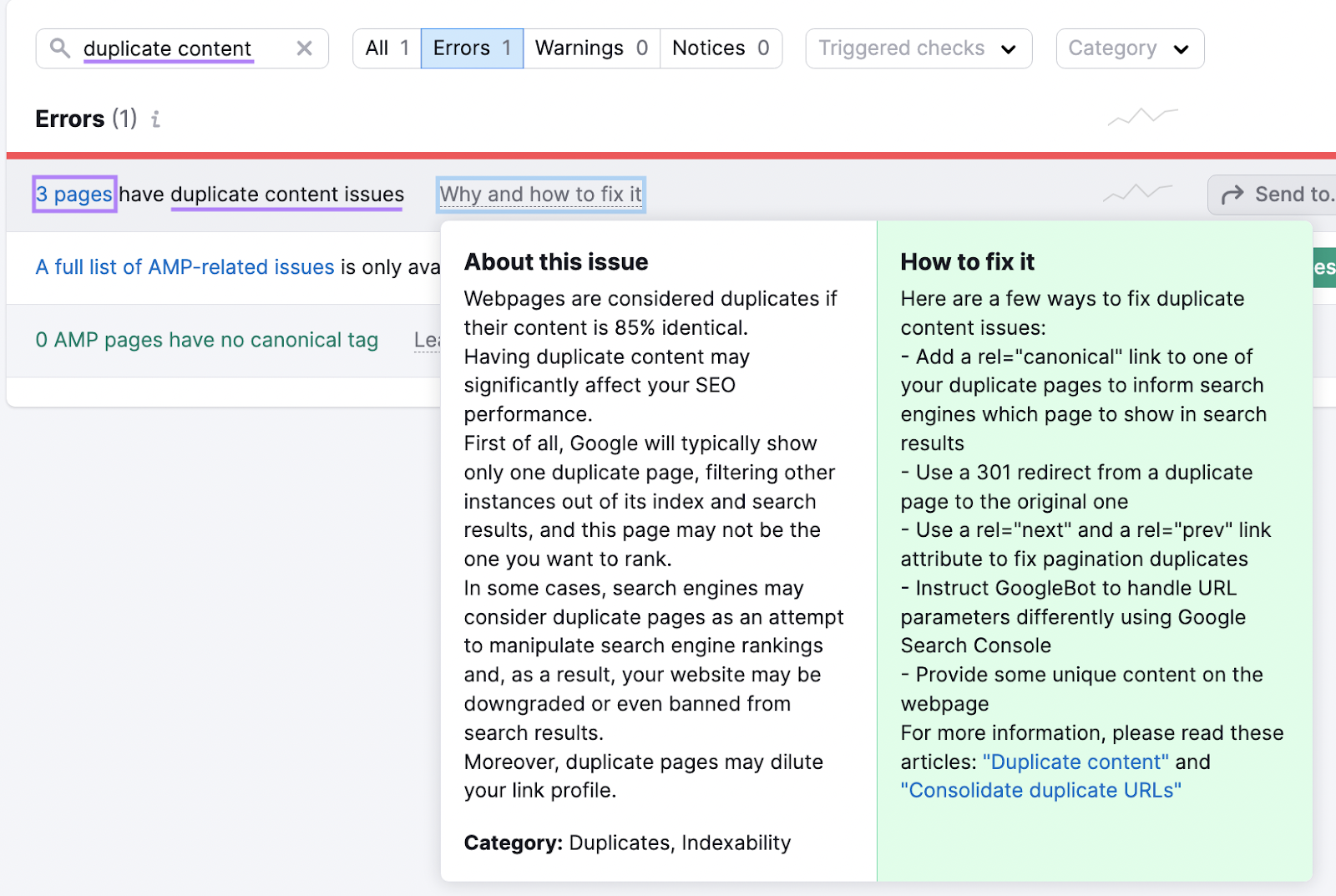 Google Search Console (GSC) can also help you find pages impacted by duplicate content.
Further reading: If you're new to the Google Search Console, read our guide on what it is and how to set it up.
Go to "Indexing" > "Pages" and look at "Why pages aren't indexed." 
Review pages that are "Crawled – currently not indexed" and "Discovered – currently not indexed."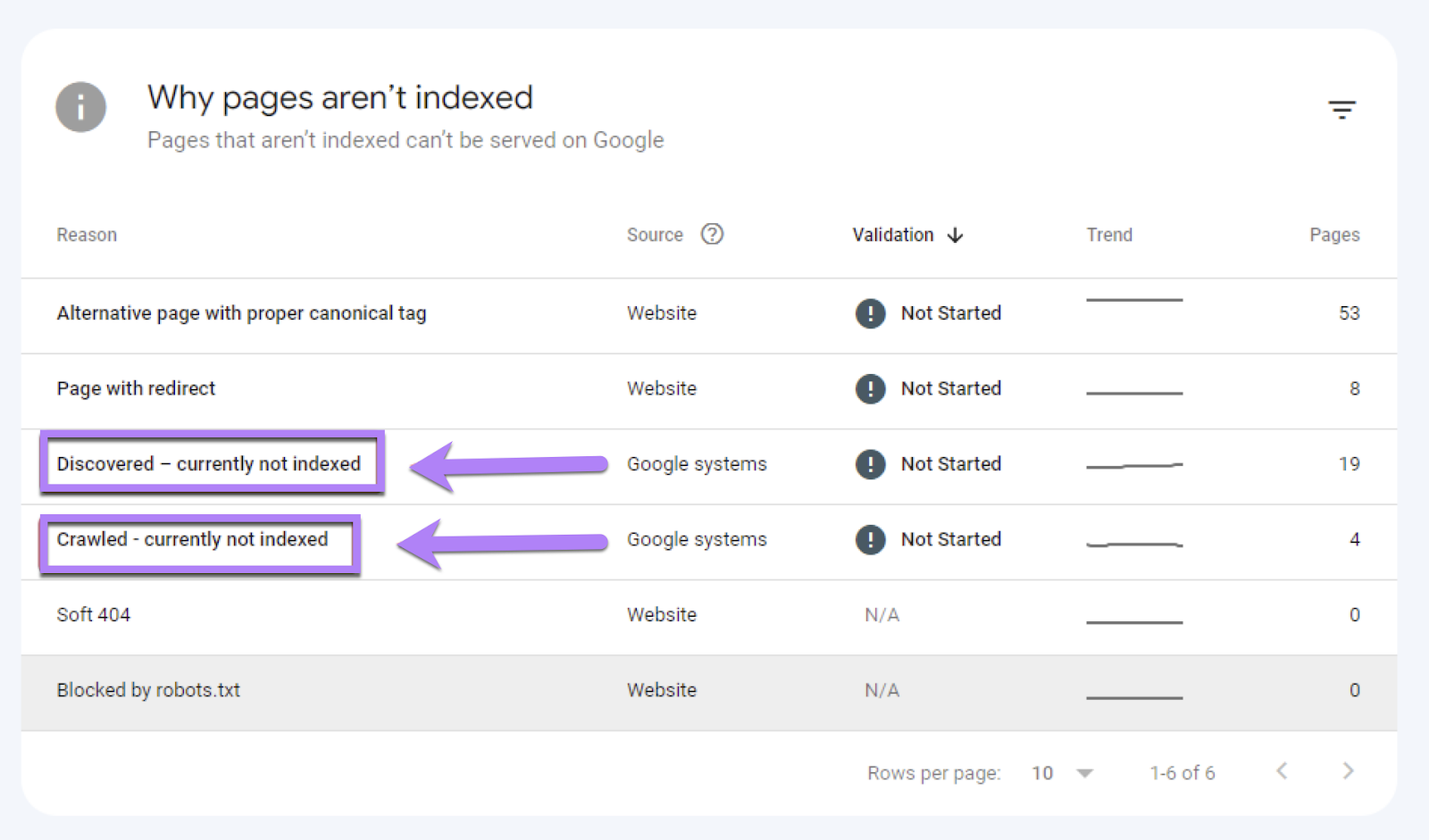 If you see template pages flagged, there's a chance it's due to a duplicate content issue. 
It's worth noting that Site Audit and GSC only check duplicate content on the domain. 
To check your content against other franchise sites, use a plagiarism detection tool like Copyscape. 
Rewrite duplicate content pages to create valuable content that ranks. A good way to do this is to assign a new writer to rework pages. 
For the best results, don't show the writer content that needs rewriting. Instead, let them start from scratch with a fresh brief.
This will ensure the new copy is unique. 
7. Create E-A-A-T Content
E-A-A-T stands for Experience, Expertise, Authoritativeness, and Trustworthiness. These are the four components Google wants content to deliver.
Why? 
Because these are the hallmarks of what Google calls "helpful, reliable, people-first content."
Experience: demonstrates your first-hand knowledge and opinions
Expertise: shows you have the credentials to give reliable information
Authoritativeness: shows you're a reputable name in your industry
Trustworthiness: lets readers know content is honest and factually correct
E-A-A-T isn't a direct ranking factor, but it is part of Google's Search Quality Rater Guidelines. So, it's important to your franchise SEO strategy. 
Plus, a high level of E-A-A-T improves user experience and trust, which leads to more conversions. 
E-A-A-T content should address the needs of your target audience. This means answering questions, providing advice, and leaving readers feeling better informed or satisfied. 
Semrush's Topic Research tool can help you find content creation ideas. 
Enter a keyword related to your business and click "Get content ideas."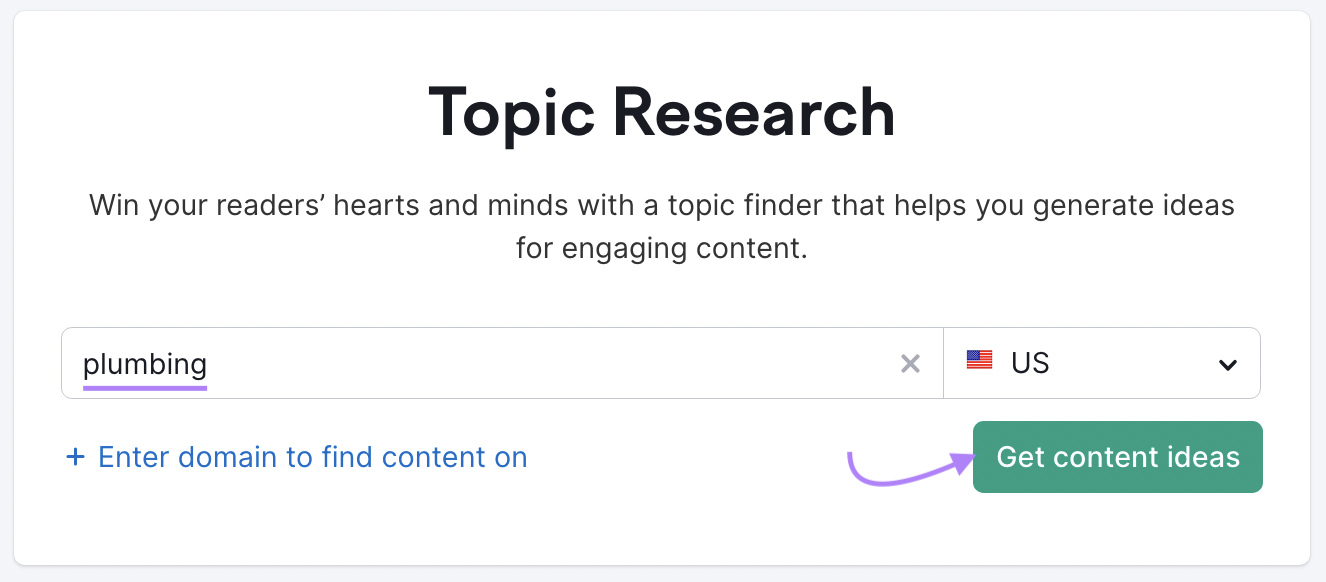 When the analysis is complete, you'll see a board of popular content ideas you can explore.
Trending topics have a flame icon next to them. 
Click on any card to explore related headlines, questions, and searches.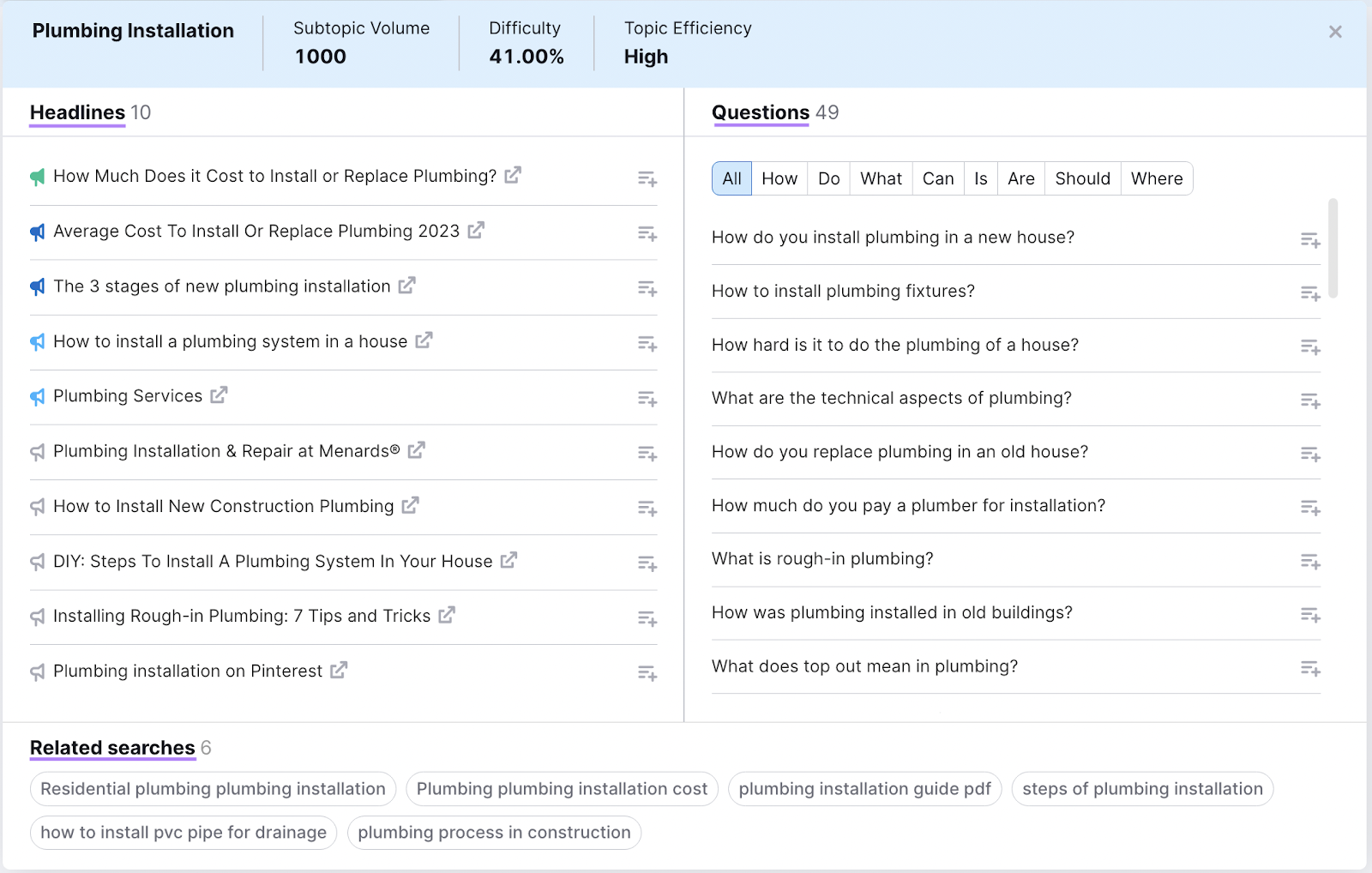 Use this to create valuable content with a local slant. 
For example, if you have a plumbing franchise, you can talk about how your area's climate or hard water affects pipes and offer solutions. 
Our guide to E-E-A-T includes more tips on how to improve your SEO:
Provide author/team info and transparency
Use credible source citations in your content
Respond to good and bad reviews to create a positive brand reputation
Leverage user-generated content such as reviews and testimonials
Get backlinks from reputable websites
8. Build Local Backlinks
Backlinks are links to your website from other sources. Google views backlinks as votes of confidence. 
They're signs that other sites vouch for your business. And it's a crucial component of any franchise marketing strategy.
In the example below, Insider links to bluefrog Plumbing & Drain.
Because Insider is a respected media company, earning a backlink from them is a big stamp of approval.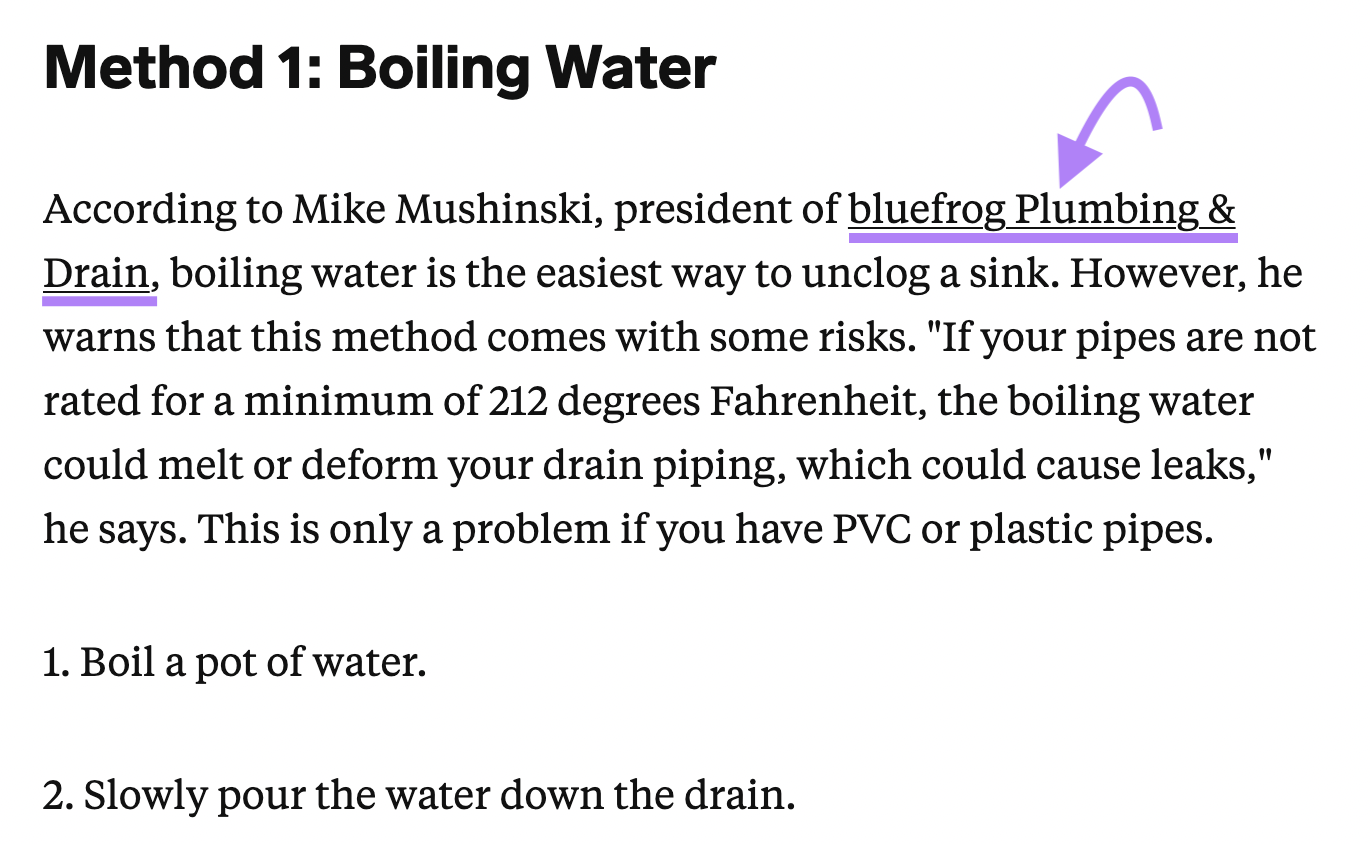 The more high-quality backlinks you have, the higher your website will rank in search results. 
There are many ways to earn backlinks. A good way to start is by creating high-quality content that other websites want to link to, such as:
Original industry-related local research
How-to guides for topics in your niche
Video tutorials
Infographics
Once you have a linkable asset, reach out to local publications to see if they will link to your content. 
You can find websites that might link to yours using Semrush's Link Building Tool. 
Type your URL and hit "Start Link Building."

Enter local keywords you want to rank higher for and some local competitors. Then, hit "Start Link Building."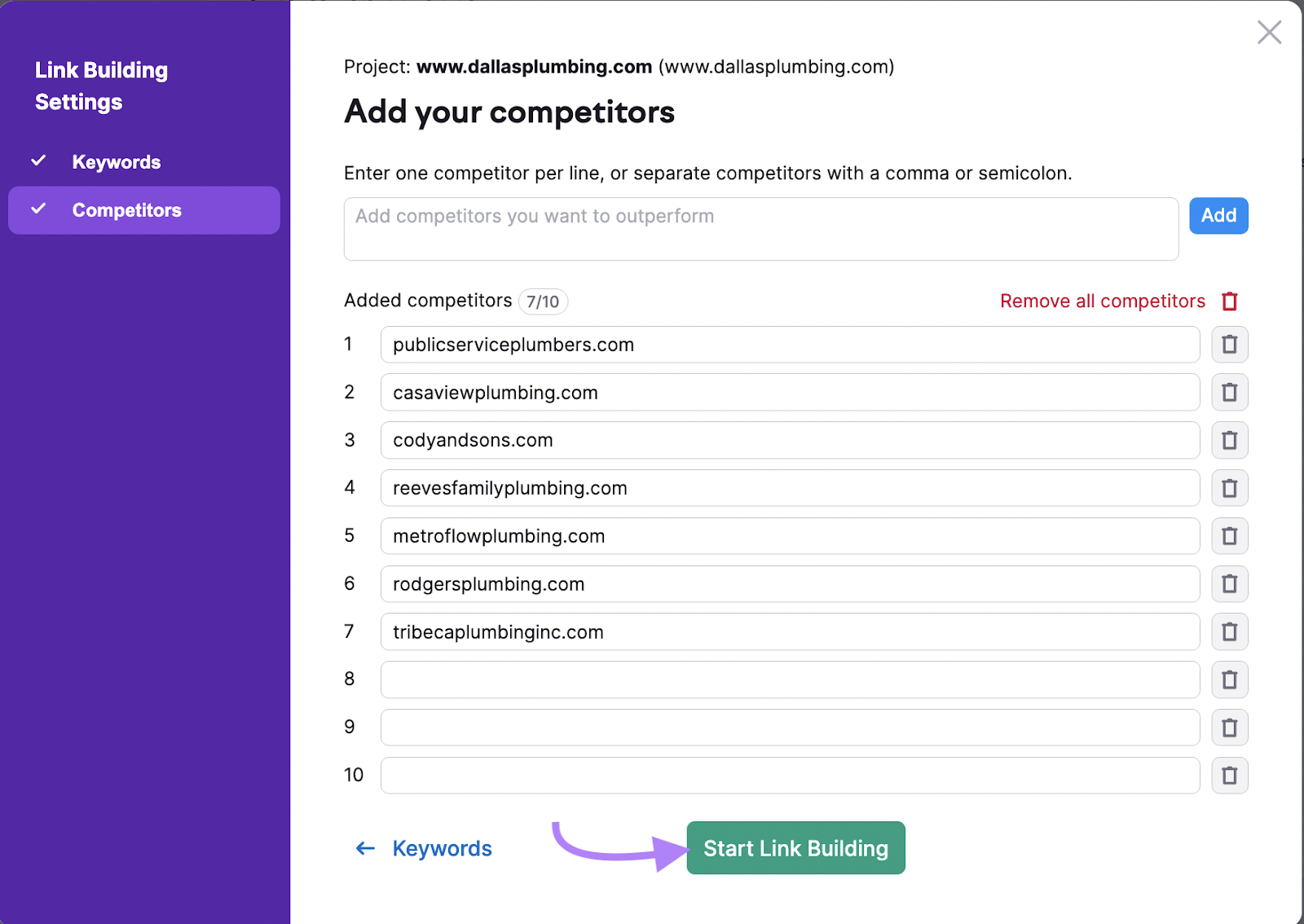 When the Link Building Tool has finished analyzing data, click the "Prospects" tab to see a list of sites to link to. 
Look for domains with a high Authority Score (AS) and Rating. 
AS is a signal of how reputable a website is. Rating measures the quality and accessibility of a link. 
The higher the rating, the more valuable a link is—and the easier it is to acquire. 
Learn how to use the Link Building Tool to manage the link building process.
Here are some other tips for building local backlinks: 
Reach out to local non-competitor businesses for links 
Get featured in local trade papers
Sponsor local events such as festivals or conferences
Support local organizations, schools, and charities
Manage Franchise SEO Campaigns with Semrush
Franchise SEO helps your franchise business rank locally. This allows you to build awareness, increase engagement, and get more conversions.
To keep improving, view SEO as an ongoing process. Use Semrush to help you out along the way.
Monitor your website's health with the Site Audit tool, use Listing Management to boost your presence in top directories, and keep pages optimized with the On Page SEO Checker. 
Source link