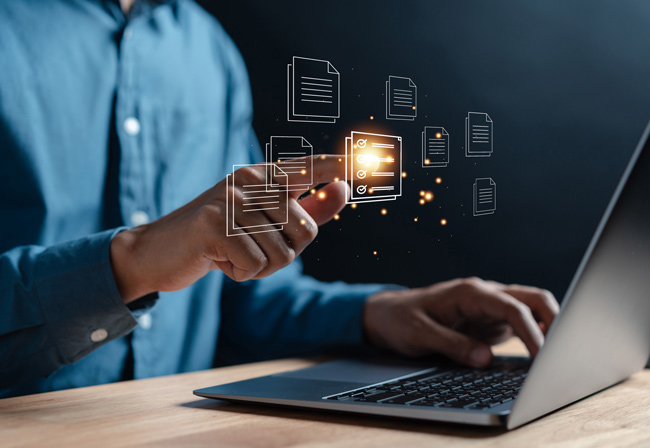 Bing finally rolled out its XML Sitemap Coverage Report in Bing Webmaster Tools, which is a great addition for site owners. Using the report, you can check indexing levels based on the urls being submitted via XML sitemaps. This is similar to what Google offers in its Coverage reporting, but it's great to have another major search engine provide this data.
Hello "Content Quality" flag:
When I first dug into the reporting, I quickly started checking urls excluded from indexing across sites. Like Google, Bing provides a number of categories for urls being excluded,  including noindexed, redirected, 404s, and more. But one of those categories really struck me – "Content Quality". With "Quality" being the most important thing that site owners should focus on, understanding when a major search engine believes you have quality problems, and surfacing those specific urls, is pretty awesome.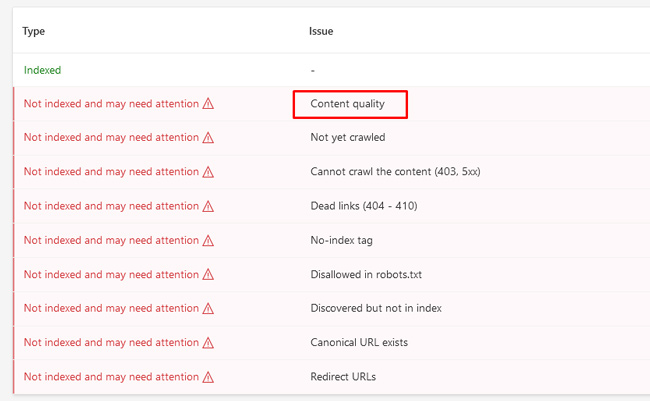 And once you click the "Content quality" category, you can view all of the urls from that sitemap that were flagged as having content quality issues: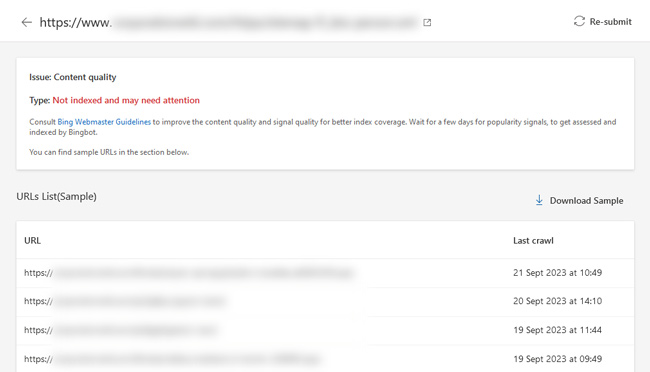 Bing is not Google, but Bing is a major search engine: And will Google follow?
With major algorithm updates evaluating quality on several levels, having this information from Bing could potentially help site owners surface and improve lower-quality content. And with Google's broad core updates, reviews updates, and now helpful content updates, digging into urls flagged as lower quality could help jumpstart a site owner's analysis. Sure, Bing is not Google, but the content that Bing is surfacing in its Sitemap Index Coverage reporting could be a proxy for what Google also believes is lower-quality content. You don't want to take that at face value, but it's definitely worth investigating…
And maybe a bigger question is… will Google follow Bing here and provide a "Content Quality" category in its own Coverage reporting? I know Google has toyed with this idea in the past, but never officially rolled out a content quality category in Search Console. To be honest, I'm not sure that would ever happen, since it could reveal a bit too much of the secret sauce. I know they don't want to provide too much link data either based on that happening.
I mean, imagine waking up one day and seeing this in Google Search Console. 🙂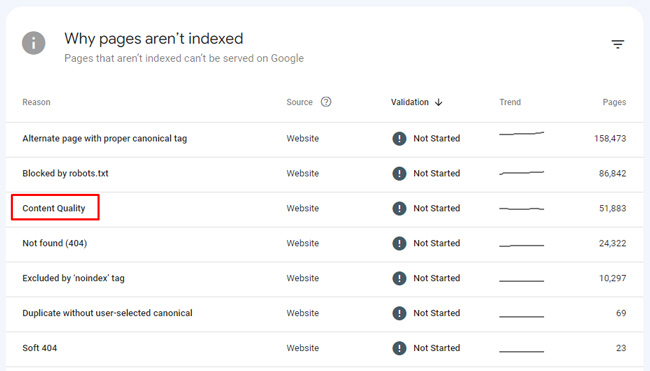 Finding the Index Coverage reporting in Bing Webmaster Tools:
If you have at least 10K urls indexed in Bing, then you should be able to see the index coverage reporting for your site in the Sitemaps reporting. But, based on what I'm seeing, a number of sites do not have that option. If you don't see the option, then I would make sure you are submitting xml sitemaps in BWT or including a reference to them in your robots.txt file.
For example, here is a large-scale site with sitemaps in BWT, but the index coverage option isn't available.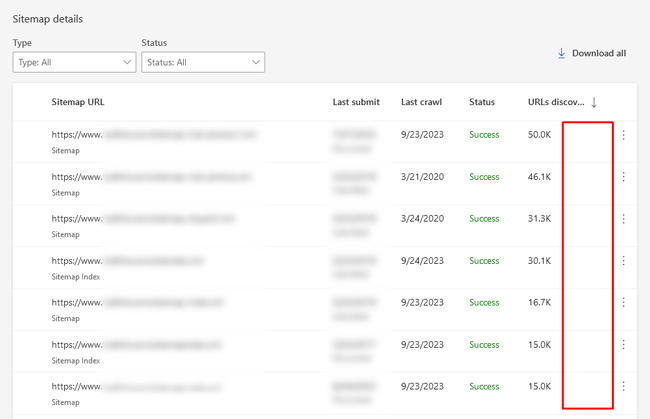 Maybe the Index Coverage reporting is still rolling out to more sites… I'll reach out to Bing's Fabrice Canel to see why those sites don't have index coverage reporting and then update this post with more information.
Reviewing content quality problems across sites: Were the urls actually low quality?
I was eager to investigate the "Content Quality" category across sites to see what types of content were surfaced there. So I dug in across several sites, and across several verticals. I'll quickly cover what I found below.
First, although many of the urls were ones that I would consider lower-quality or thin, not all were. Do not take Bing's word blindly… you definitely need to review the urls yourself. Some were exactly what I would surface as lower-quality, while others seemed ok for users (they were not great, but not terrible either)…
For example, I found the following types of lower-quality urls in the reporting across sites:
Short and unhelpful Q&A posts.
Thin press releases.
Thinner and dated news articles.
Spider traps. Little content leading to more thinner pages.
Ultra-thin business or organization listing pages.
Lower-quality content focused on sensitive categories (YMYL).
Thin video pages covered in ads.
Low-quality "reference" content.
Thin user profile pages.
Thin tutorials.
And more…
More Ways To Find Content Quality Problems in BWT:
After tweeting about this the other day, and thanking Fabrice Canel from Bing, he replied with an interesting note. Fabrice explained that the Index Coverage reporting wasn't the only place you can surface content quality problems in Bing Webmaster Tools. He explained you can also see this when inspecting specific urls and via Site Explorer.
When checking the link he provided, I noticed that Site Explorer was filtered by "URLs with other issues". So it seems that category means the same thing as "Content Quality" in the Index Coverage reporting for sitemaps. In other words, it won't say "Content Quality" in Site Explorer, but it means the same thing.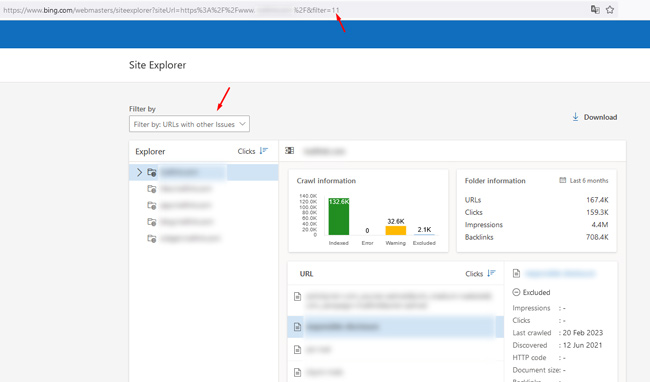 And when inspecting specific urls that were flagged as lower quality in the Sitemap Index Coverage reporting, I typically saw other categories appear for why the urls weren't indexed. It did not say "Content Quality". Fabrice did say the data might not be in sync and there could be a 1-2 day lag there between the tools, but it's worth noting.
For example, a url that was flagged as "Content quality" in the Sitemap Index Coverage reporting actually yielded "Discovered but not crawled" when inspecting that url. That category can signal quality problems too, but it doesn't say "Content quality".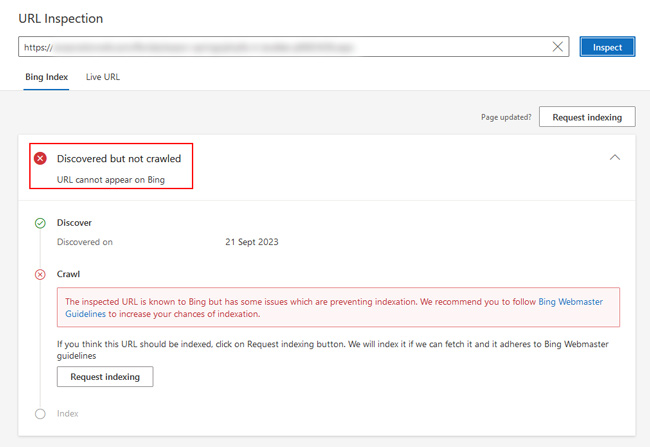 Summary – "Content Quality" is being flagged by a major search engine. Dig in there…
Again, I was pretty excited to see Bing Webmaster Tools provide a flag for content quality. With so much emphasis on "quality" from the major search engines, it's great to dig in and analyze urls being surfaced as having quality issues. The reporting will never be perfect, and I would not blindly act on what's being surfaced there, but it's a nice starting point for site owners trying to understand content quality issues across their sites. I highly recommend digging in there. 🙂
GG