What Is Influencer Marketing?
Influencer marketing is a tactic that involves businesses partnering with individuals who have large, engaged social media followings. With the goal of increasing brand awareness and reaching new audiences.
For example, clothing brand Love, Bonito partners with local influencers worldwide.
And it's really paid off.
According to Traffic Analytics, they get around 88,200 organic visits every month from social media. That's 12.62% of their total website traffic!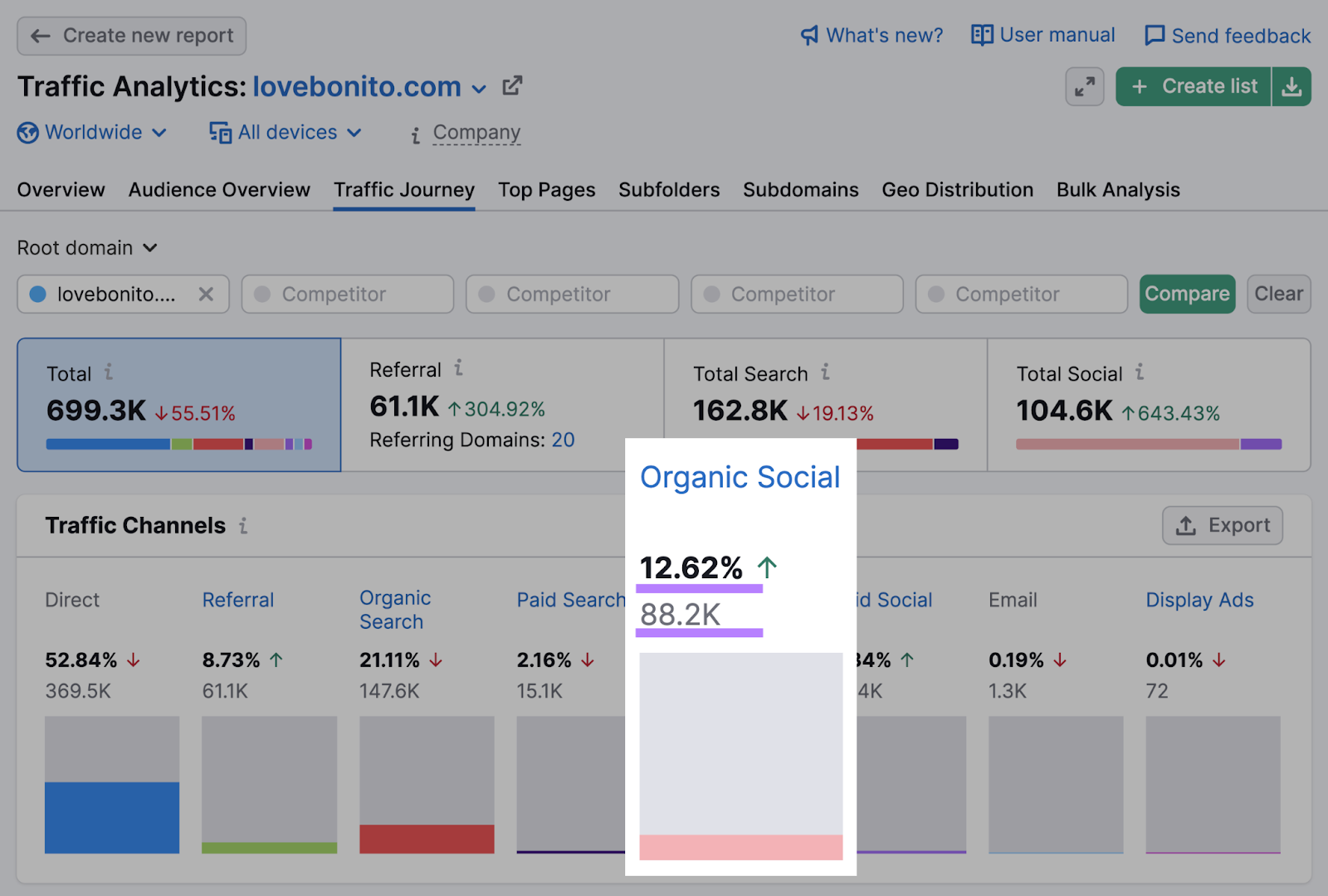 Influencer marketing is most effective when brands find the right influencers for their campaign.
Meaning you need to find influencers whose followers are your target audience
That's where we come in. Use this guide alonside Influencer Analytics to find the perfect influencers for your brand.
Why Finding the Right Influencers Is Essential
The biggest benefit of working with influencers is that they can help you reach the right audience.
Let's say you own a small Korean restaurant. And want to reach Korean food lovers in the downtown Los Angeles area.
Partnering with a food vlogger who has thousands of followers on Instagram can help you reach that audience.
Apart from reaching the right audience, other benefits of choosing the right influencers include:
Increasing your credibility: When an influencer that's trusted by their audience partners with you, they're telling their followers you're also credible and trustworthy
Increasing brand awareness: By working with influencers, you're reaching new potential customers and spreading the word about your business
Increasing sales: When the right influencer promotes your products or services, you're likely to see an increase in sales following the campaign
But not all influencers are perfect for your brand.
For example, a partnership with Kim Kardashian probably doesn't make sense for a small Korean restaurant.
Yes, she has a large following. But her fees are probably too expensive and her content is mostly about the Kardashian family, makeup, and clothing. Not Korean food recommendations.
In other words, her followers probably aren't your target market.
Here are other things you need to be careful of when working with influencers:
Fake followers and bots: Some influencers use bots to get fake followers to appear attractive to potential partner brands
Too much sponsored content: Influencers who only post sponsored content start becoming less interesting to their followers. And end up losing engagement.
Working with untrustworthy influencers can damage your brand reputation and end up hurting your sales.
Choosing the right or wrong influencer can make or break your brand. That's why it's important to do thorough research before partnering with them.
Types of Influencers
Influencers are typically grouped by the size of their following. Here are the five main types of influencers and how much they usually cost to work with: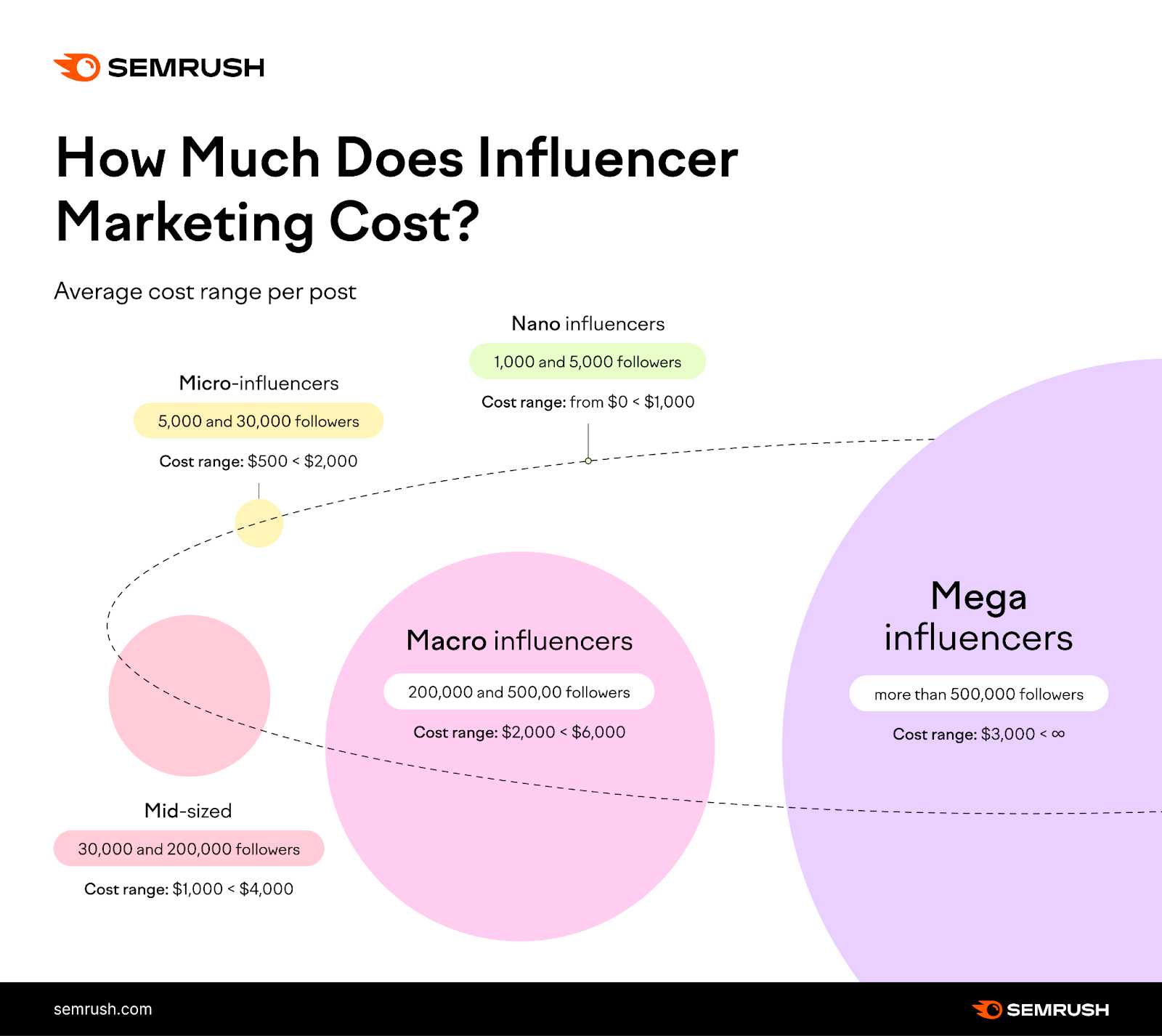 1. Nano Influencers
Nano influencers have between 1,000 and 5,000 followers. These types of influencers are very engaged with their followers, responding to almost everyone's comments.
And their following is usually composed of a small, tight-knit community that is very interested in the specific niche they're talking about. People who already trust their recommendations.
For example, Tanin Kayvan is a travel and adventure TikTok nano influencer.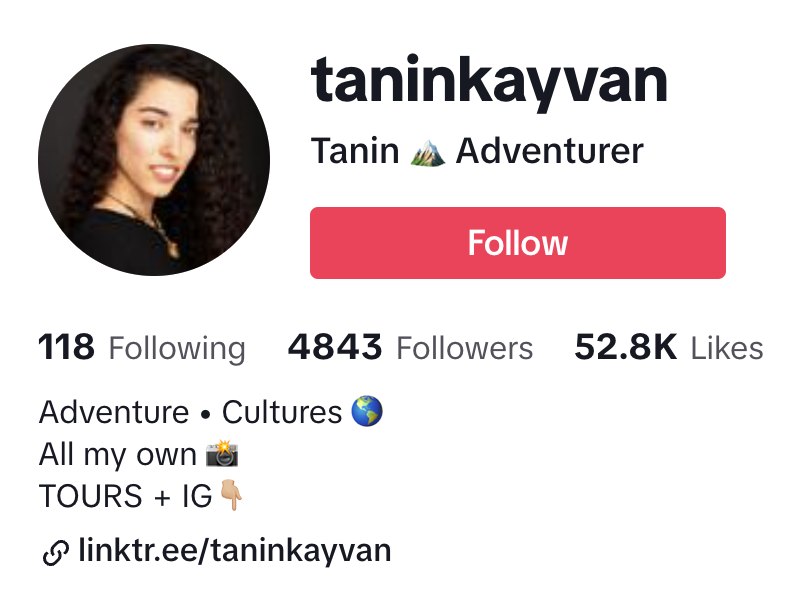 With around 5,000 followers, Tanin is in a great position to partner with brands in the travel industry.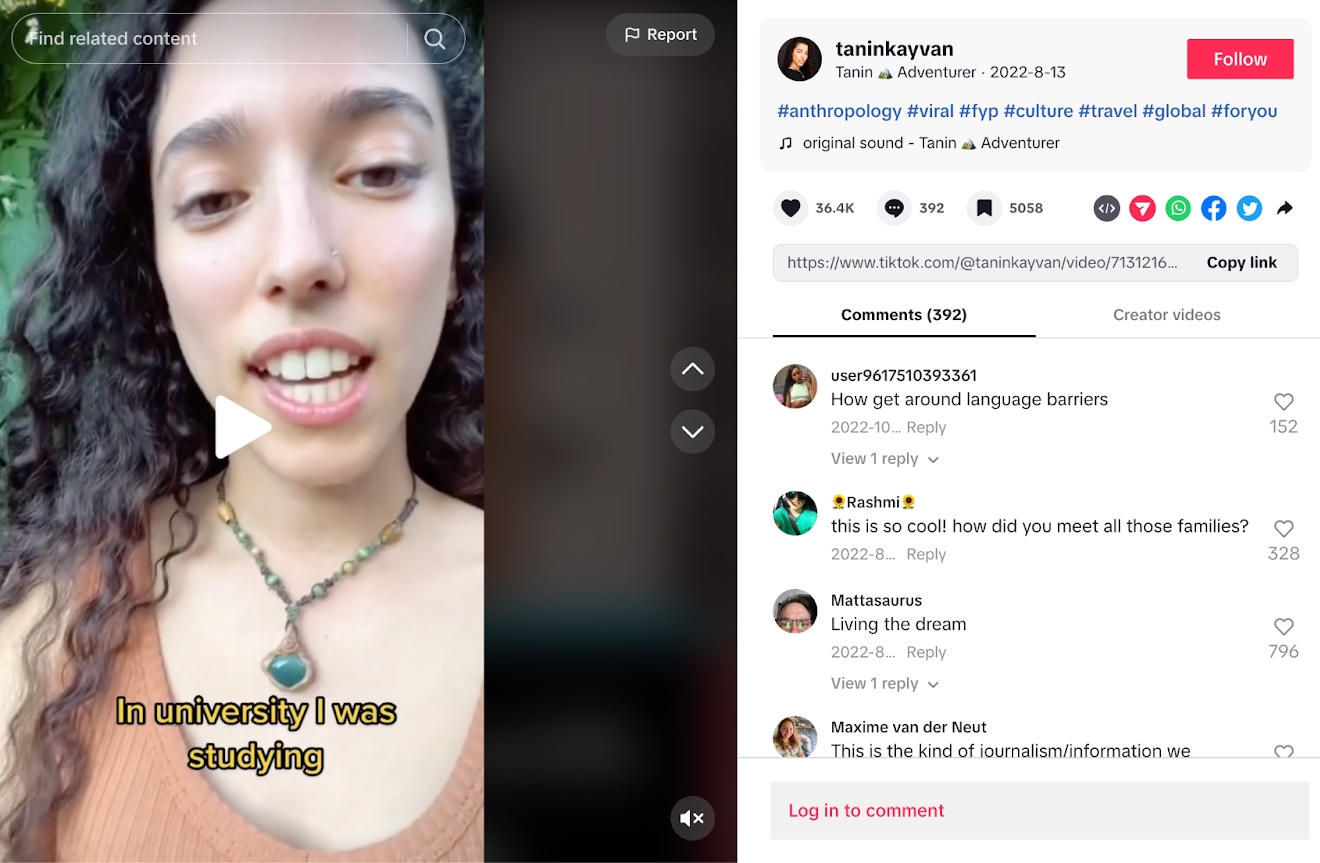 Working with a nano influencer can be beneficial for your brand if:
You target a very specific and small niche market
You have a small budget (nano influencers usually charge $0 to $1,000 per post)
You want to target a specific location or a region where a nano influencer has an engaged audience
2. Micro Influencers
Micro influencers generally have between 5,000 and 30,000 followers.
These influencers usually focus on one or two specific topics. They're often considered to be experts in their niche.
For example, Petar Klovar is a freediver, freediving world record holder, and instructor.
With 15,000 followers interested in this sport, Petar could be a great fit for companies that produce freediving gear.
Working with micro influencers can be beneficial for your brand if:
You want to collaborate with niche experts
You'd like to work with an influencer who has a larger audience than a nano influencer but still has a high audience engagement rate 
You are looking for a cost-effective solution (micro influencers typically charge between $500 and $2,000 per post)
3. Mid-Sized Influencers
Mid-sized influencers have between 30,000 and 200,000 followers. These influencers have been creating online for a while. And have a well-established online reputation and audience.
Compared to smaller influencers, mid-sized ones often have experience working with different brands. That can make collaborating with them smoother.
For example, Alanah Pierce is a mid-sized gaming influencer on Twitch.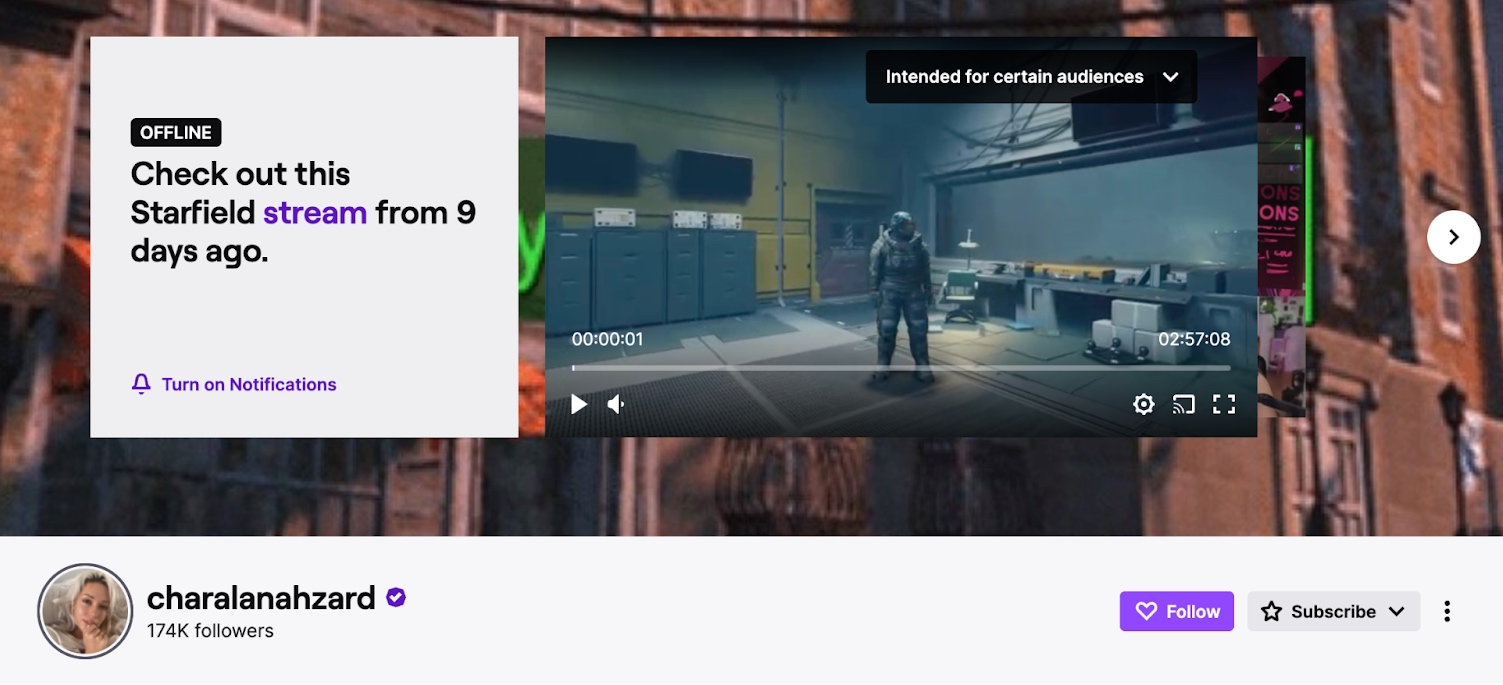 With almost 175,000 followers, Alanah is in a great position to partner with companies in the gaming industry.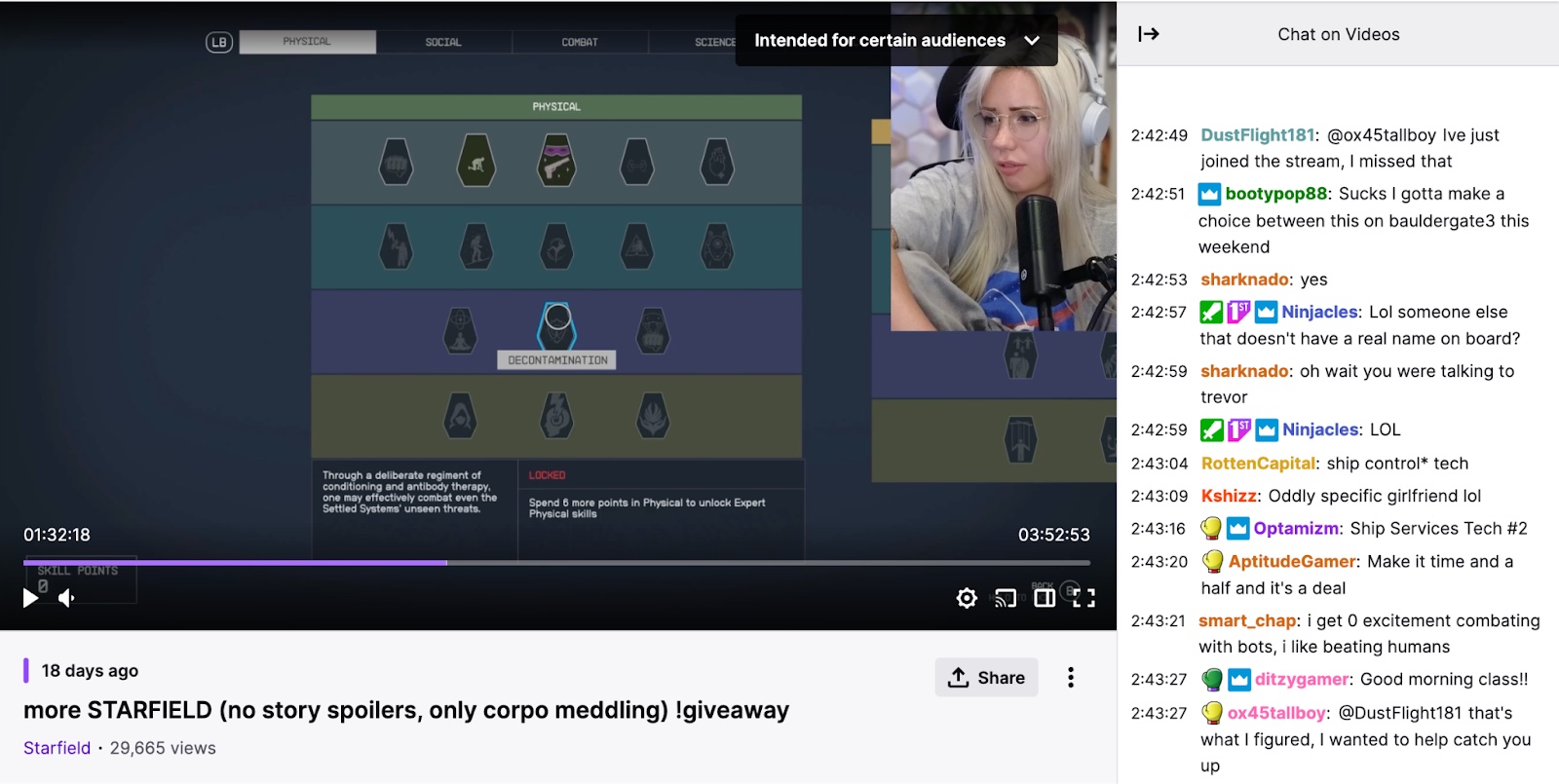 Working with mid-sized influencers can be beneficial for your brand if:
You want to reach a wider audience
You'd like to work with influencers who have worked with bigger brands before
You want to have a balanced cost while ensuring the reach of your campaign (mid-sized influencers usually charge between $1,000 and $4,000)
4. Macro Influencers
Macro influencers usually have between 200,000 and 500,000 followers.
These influencers have a larger audience and significant experience in creating and running influencer marketing campaigns. This means they know how to create content that will evoke a reaction from their followers. And get you the results you're looking for.
For example, Hailee Catalano is a food influencer with 325,000 followers on Instagram.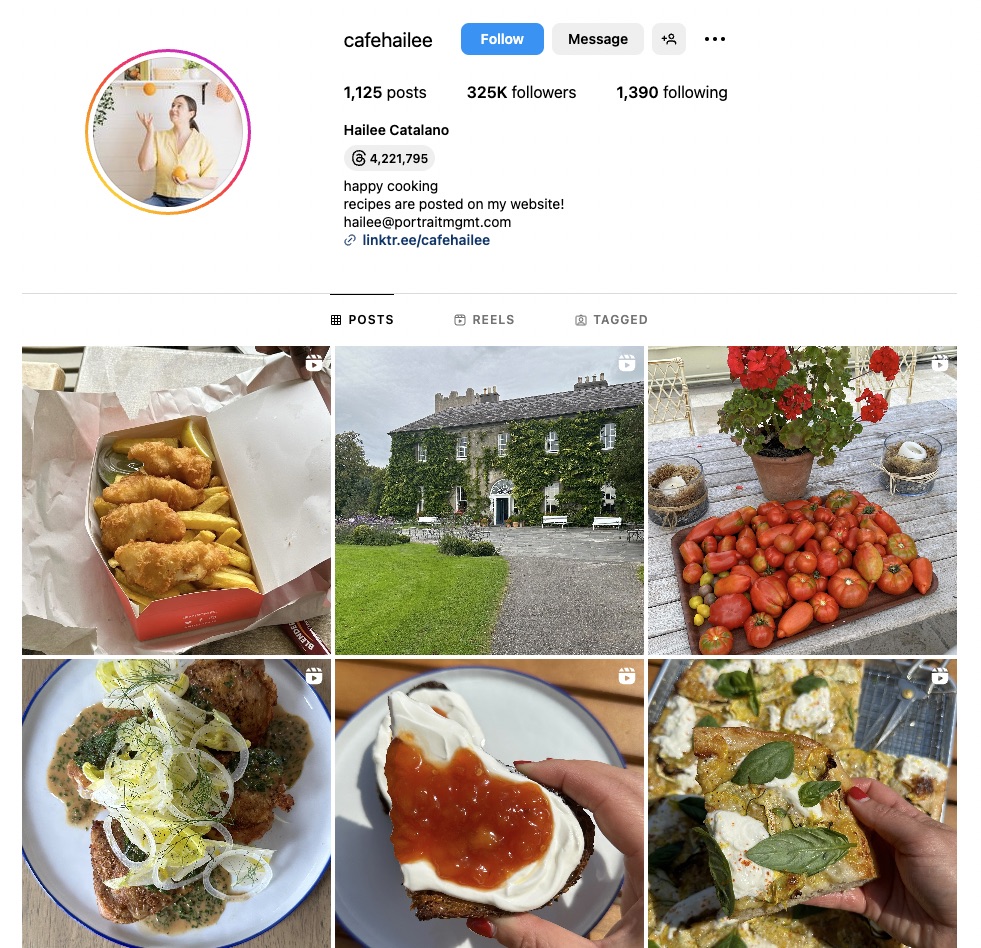 Hailee partners with food and kitchenware brands.
Working with macro influencers can be beneficial for your brand if:
You have experience working with influencers and are ready to work on a larger campaign
You're ready to invest more in influencer marketing (macro influencers usually charge between $2,000 and $6,000 per post)
You'd like to have a vast reach and reach a new market
5. Mega Influencers
Mega influencers typically have more than 500,000 followers.
This group of creators includes celebrities, such as actors, singers, sports figures, and more. Mega influencers often have large teams that handle their brand partnerships and content creation.
For example, Graham Stephan is a mega YouTube influencer who covers topics like personal finance and real estate.
Graham often collaborates with companies in the personal finance niche and real estate niche on YouTube.

Working with mid-sized influencers can be beneficial for your brand if:
You have significant experience in influencer marketing and know what's working well for your brand
You want to have a massive, global reach
You'd like to get an endorsement from a specific influencer/celebrity
You're ready to invest time, money, and effort into your influencer marketing campaign (mega influencer rates start from $3,000 but can be significantly higher than that)
How to Find Influencers on Instagram, YouTube, and Other Platforms
Here are seven ways you can find influencers that you can trust to present your brand to new audiences.
1. Use Influencer Discovery Tools
The easiest way to find the perfect influencers is through influencer discovery tools like Influencer Analytics.
Influencer Analytics saves you time and money by helping you find trustworthy influencers. 
The tool can also detect fraudulent activities on influencers' accounts. Which protects you from getting scammed.
Instead of manually searching for influencers, look through the tool for vetted creators in just a few simple steps.
Go to Influencer Analytics. And click on "Influencer Discovery" in the navigation menu.

Then choose your platform from the drop-down menu that appears. We chose "YouTube."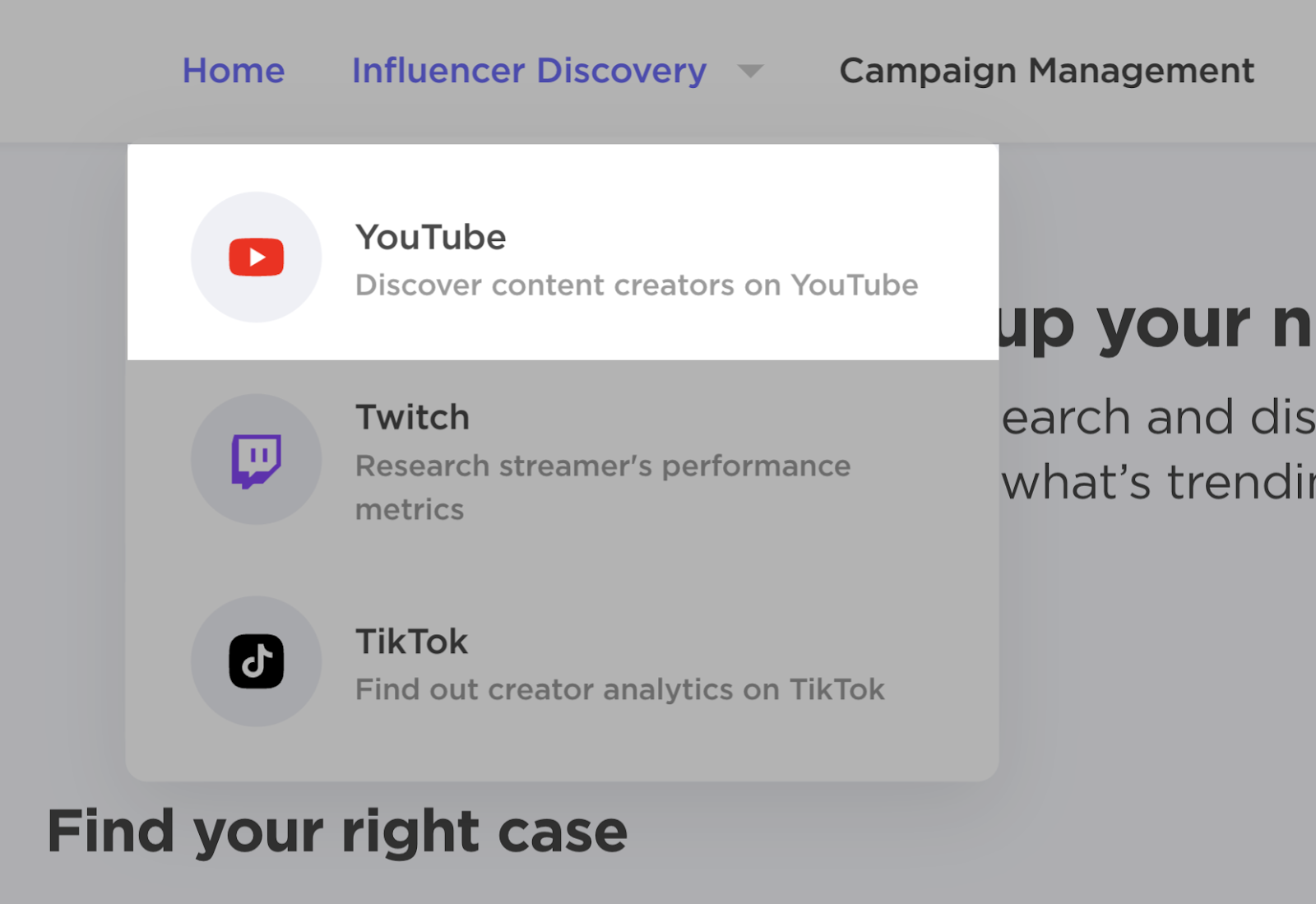 Once the Influencer Discovery tool opens up, click on the "Filters" button.
Let's say you're looking for a mega influencer in the automobile niche.
Once the filters open up, specify what you're looking for to narrow down your search results.
You can filter the results based on data like the number of views and subscribers, publication date, price range, country, and broadcast language.
When you fill out all the relevant filters, save your settings for future searches. By clicking on the "Save selection" button.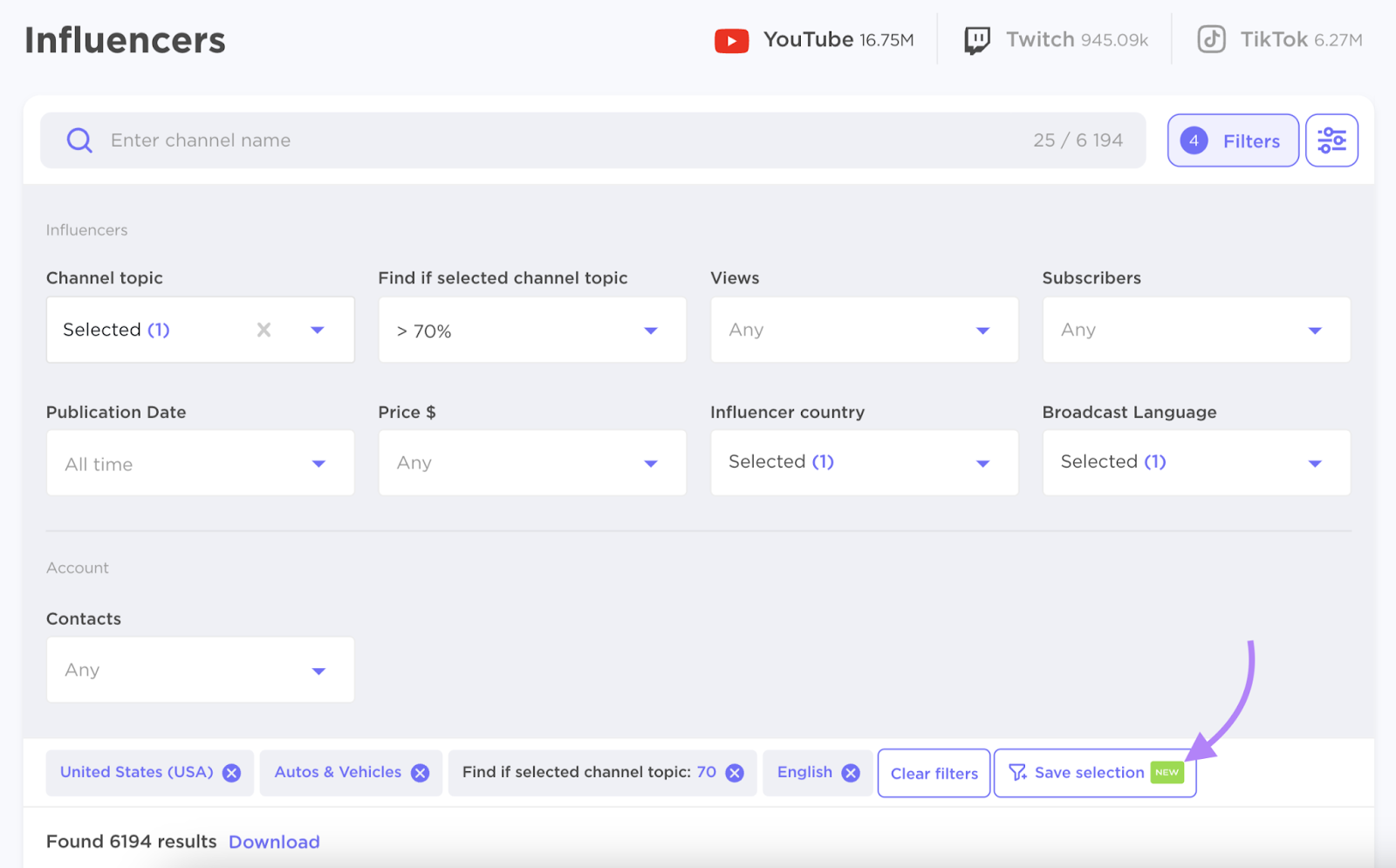 Give your selection a name. And click "Save."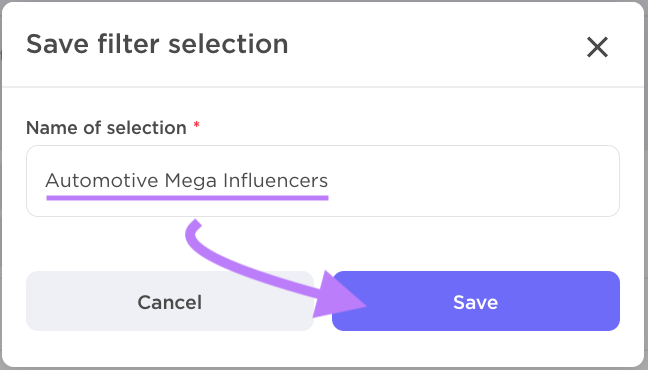 Scroll down to see the list of influencers who fit your search criteria.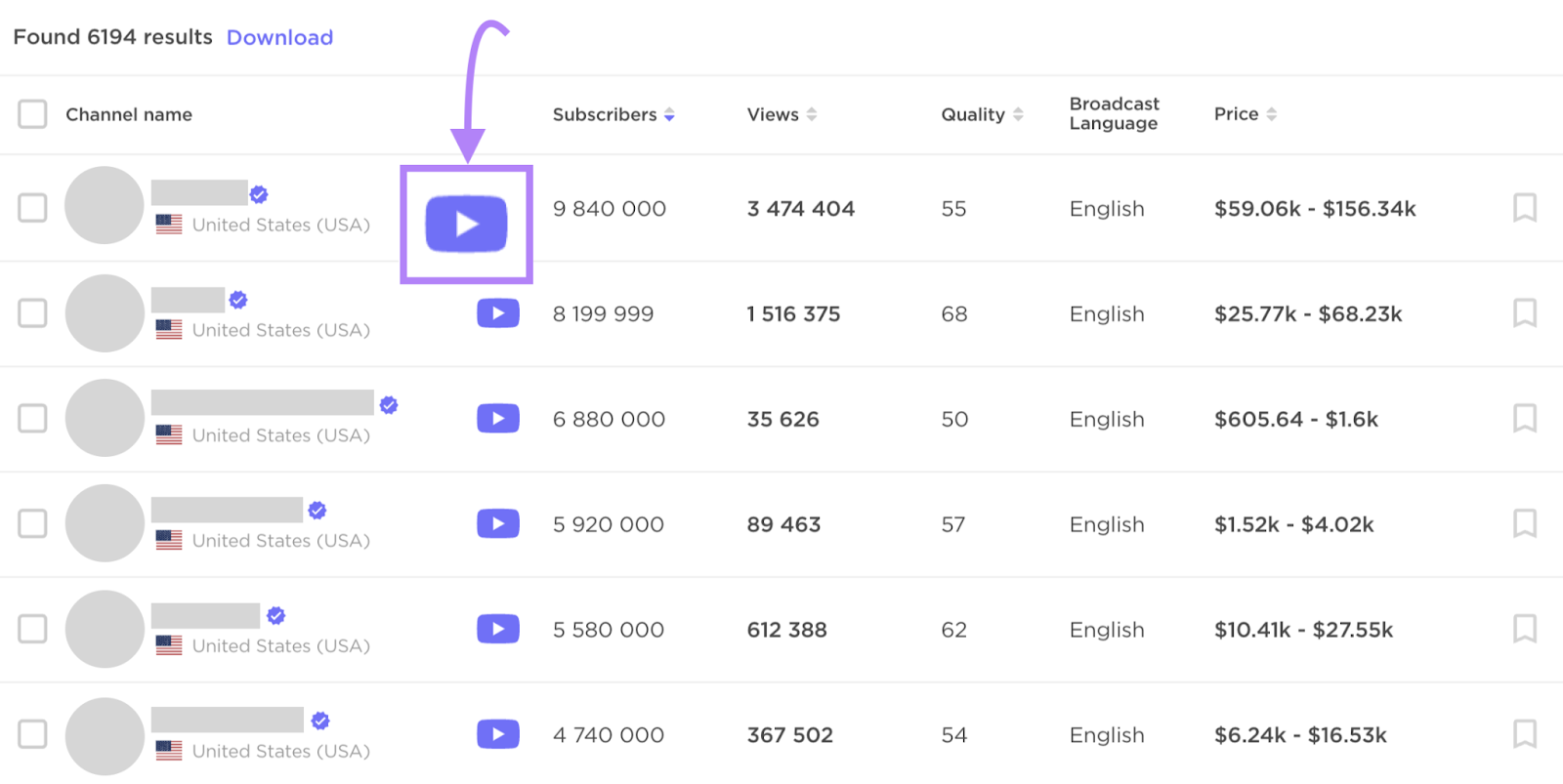 Click on the YouTube logo that appears to the right of each account name to see each creator's YouTube page.
Influencer Analytics will show you specific metrics to help you find the right influencers for your brand, like:
Number of subscribers or followers
Number of views
Channel quality score
Broadcast language
Price
Date of last video
Select the YouTubers you like. Click on the "Add to lists" button.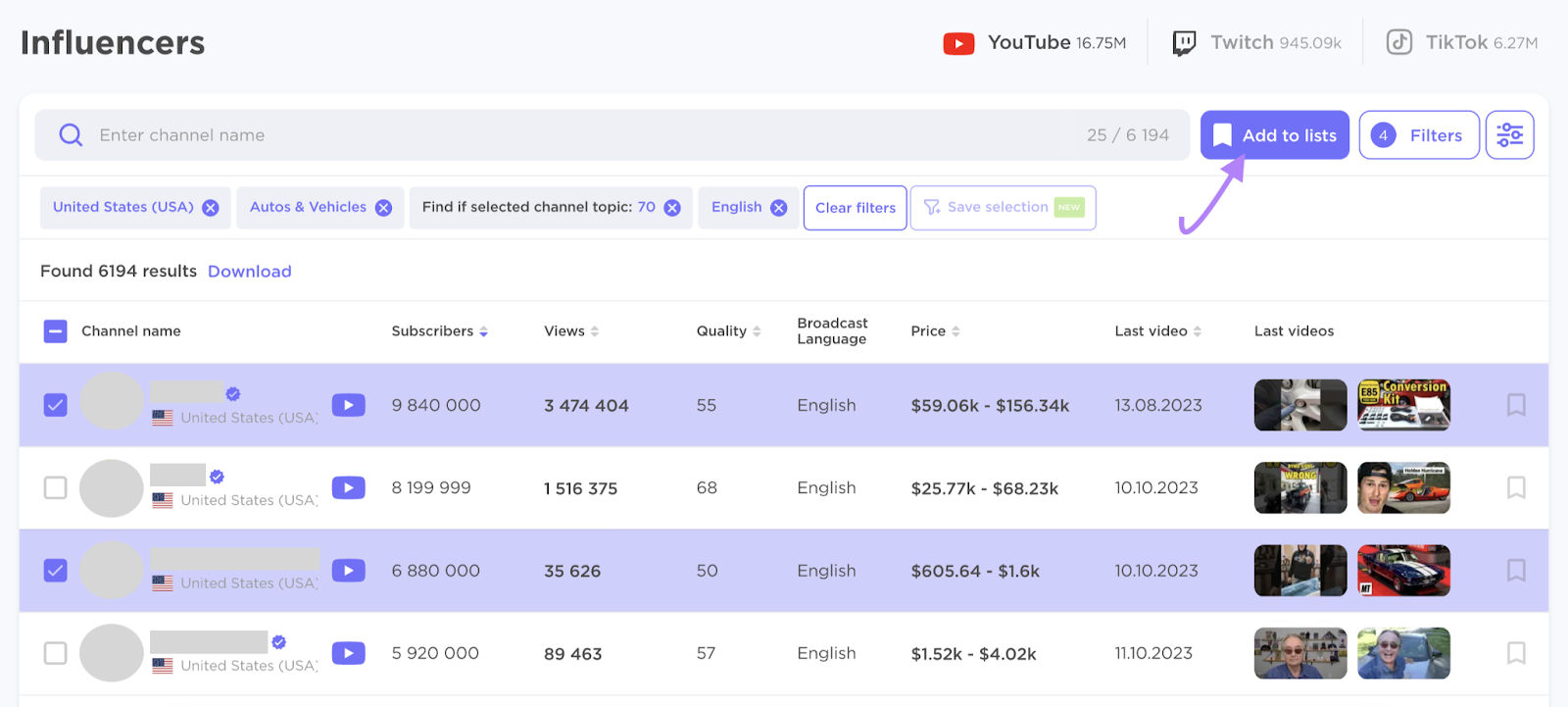 Click on "Create new list."
Name your list, and write a descriptive explanation your team will understand, too. Click on "Save" to create the list.
Then, click on "Done" to save the influencers to your new list.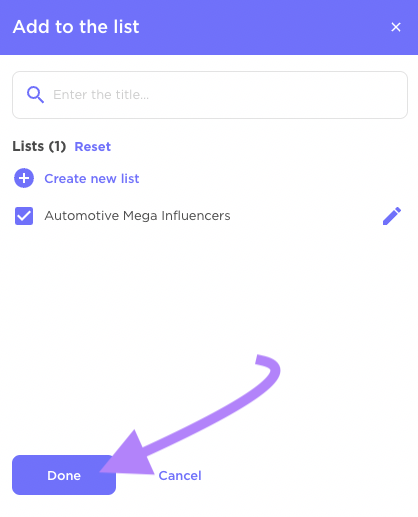 You can see your lists by clicking on the "Lists" tab in the top menu.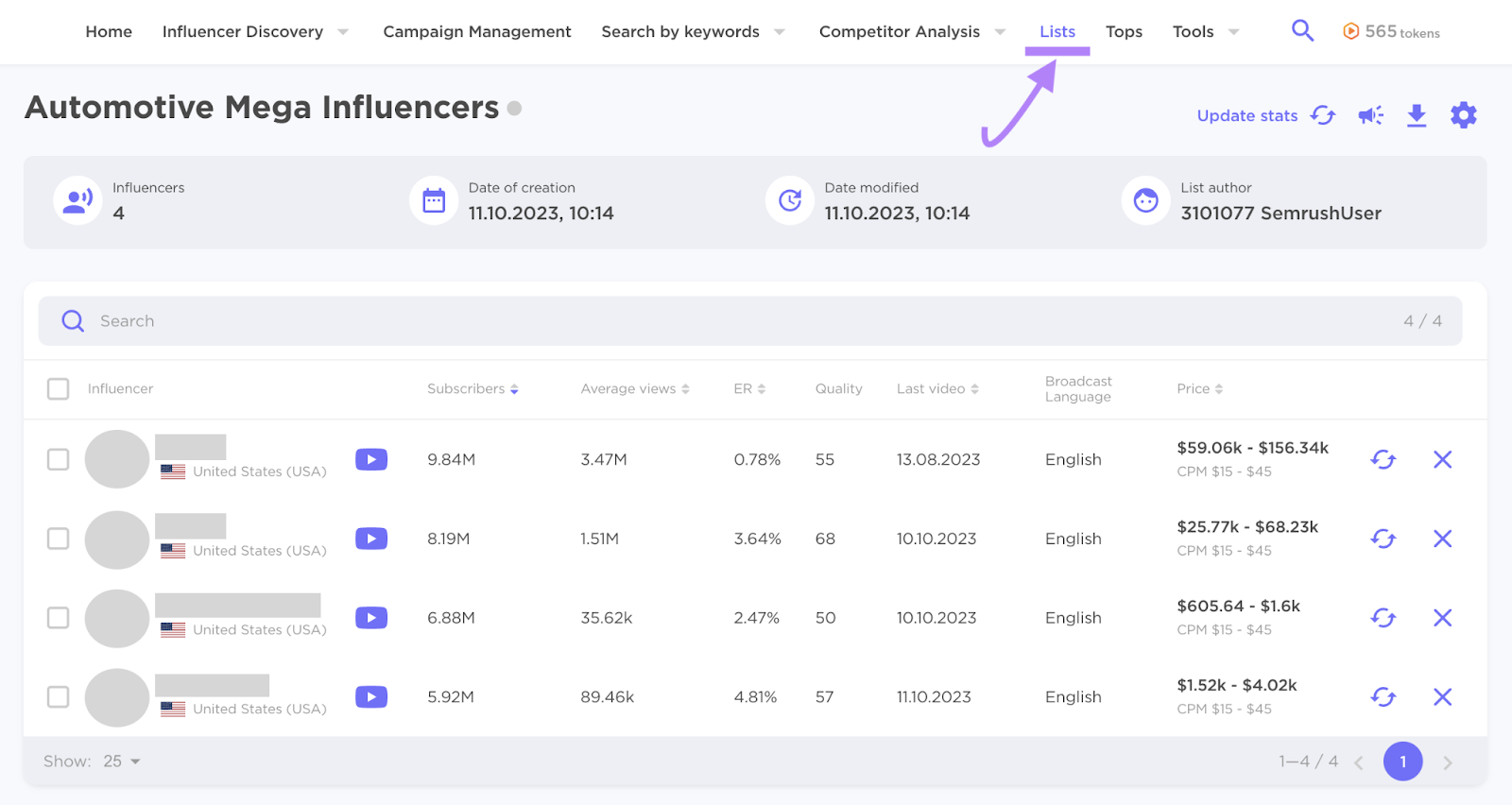 Besides YouTube, you can use Influencer Analytics to find influencers on TikTok and Twitch.
2. Use Branded Hashtags to Find Relevant Creators
To find social media influencers that mention you, search for your branded hashtags on your chosen platform.
For example, searching for #semrush on LinkedIn results in posts that mention the company.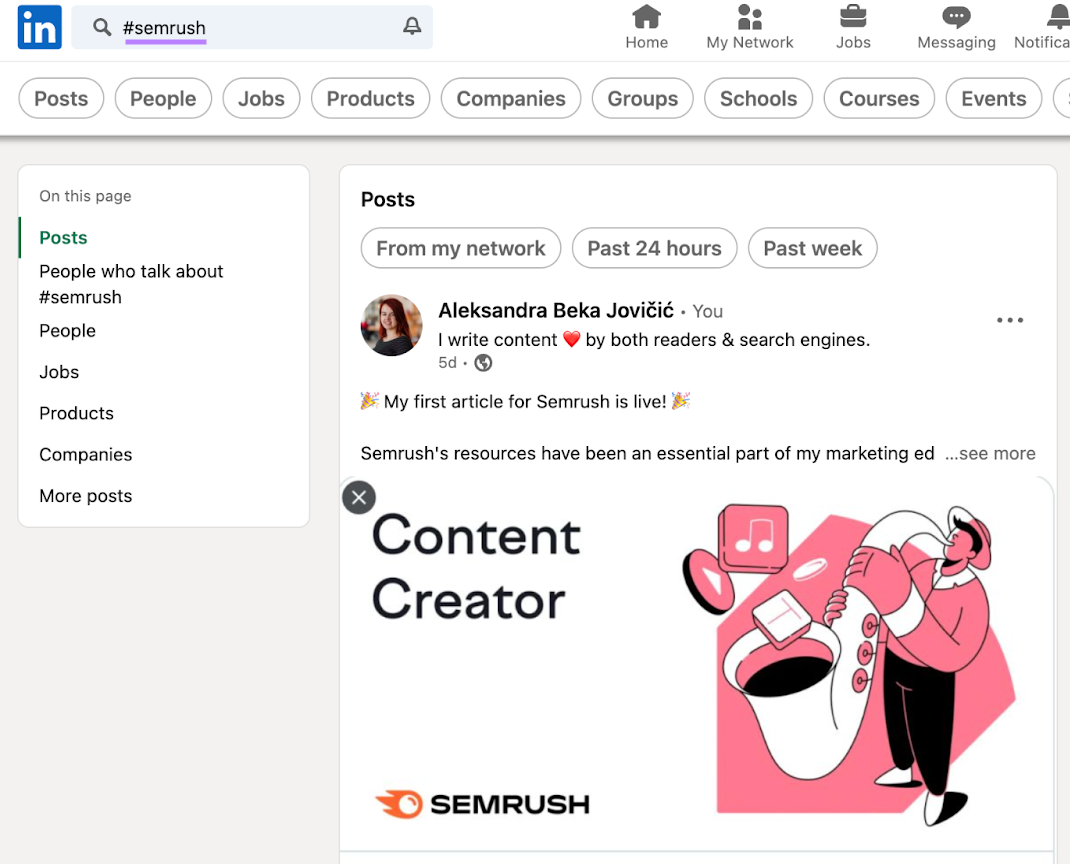 You can also find people who talk about your brand (along with their follower count) by clicking on "People who talk about #semrush" in the menu to the left.

You can do this on other social media platforms, as well.
For example, if you search for #semrush on Instagram, and you'll see a list of posts that use the #semrush tag.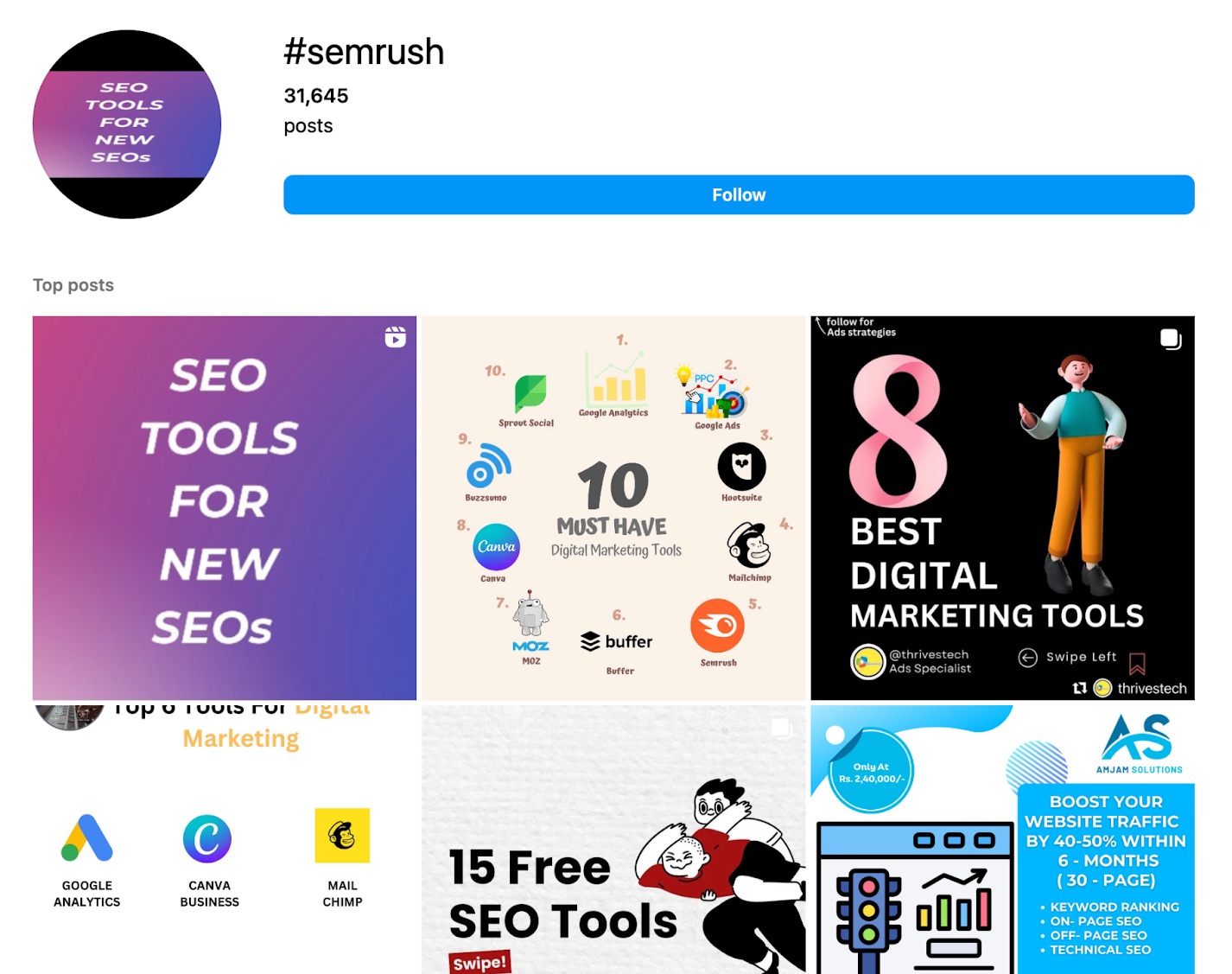 You could then look through the posts and find an Instagram influencer. Based on your current business needs and goals.
3. Search Through Industry Relevant Hashtags
Another way to find influencers is by searching for posts that use hashtags relevant to your industry.
But first, you need to know which industry-specific hashtags will perform well for your business.
Go to Social Tracker.
If you're using the tool for the first time, follow these instructions first, then come back to this article.
Choose a platform for which you'd like to explore hashtags.
In this example, that's "Instagram."

Find and click on the "Hashtags" tab.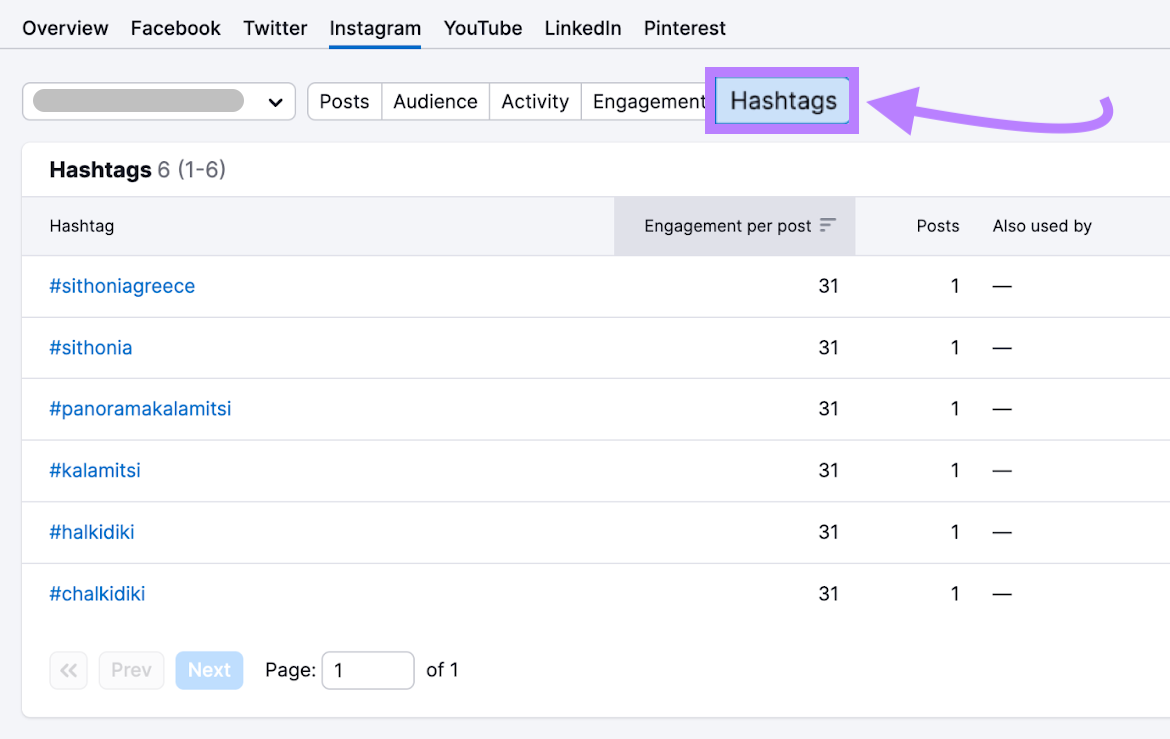 You'll see a list of hashtags that other accounts in your niche use.
You can now go back to Instagram. To find influencers who've published content on these topics before.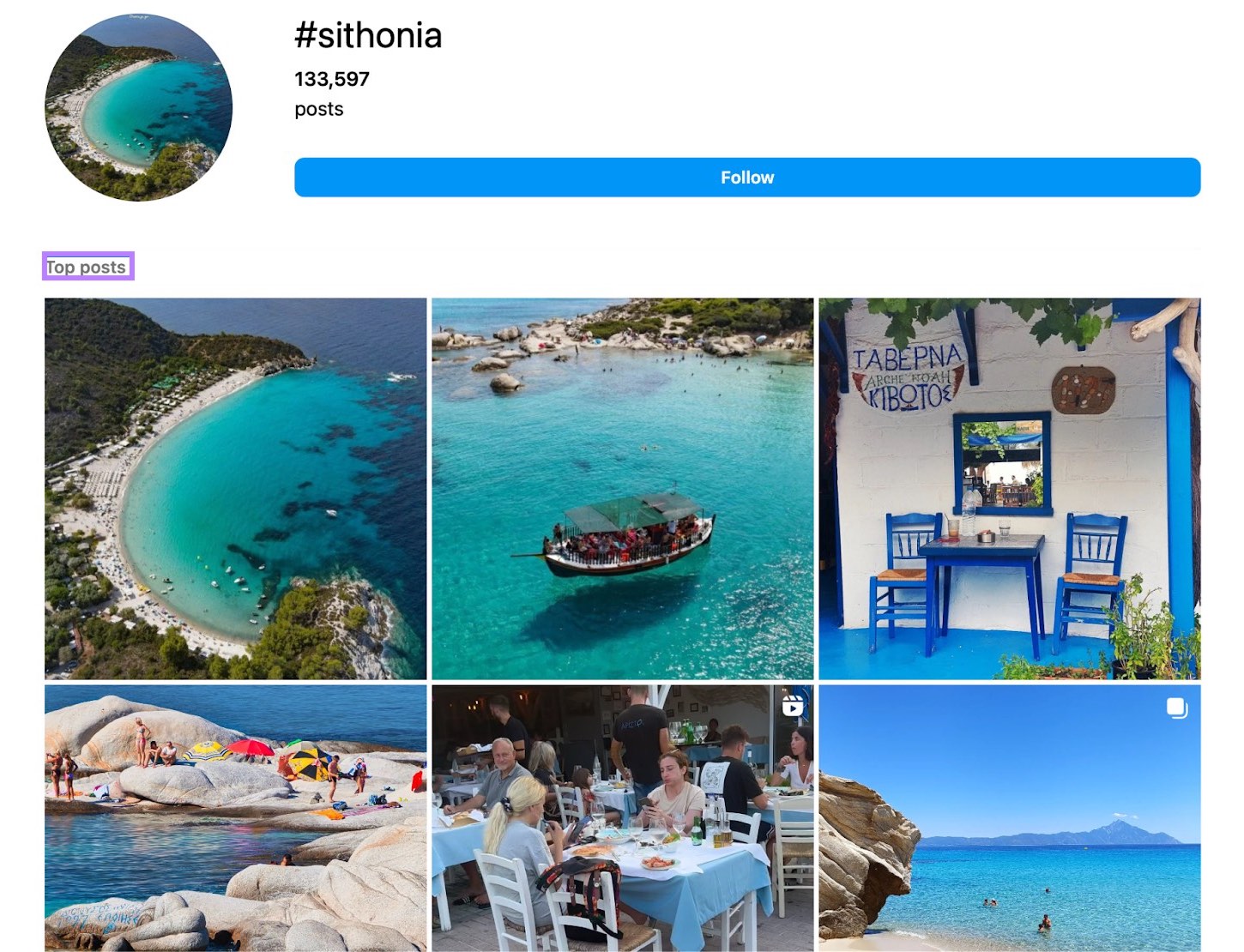 Look through the posts that use this hashtag.
Once you find the influencer that you like, explore whether you have a connection with them.
Does your company's page already follow them? Do they maybe follow you or some of your competitors?
All of these could be indicators of how involved they are in your industry and whether they might be interested in a collaboration with you.
Go through their posts and check if they have content that's advertising other brands.
Look for hashtags #ad or #sponsored in their posts or for a "Paid partnership" type of post. Here's what one of those posts looks like: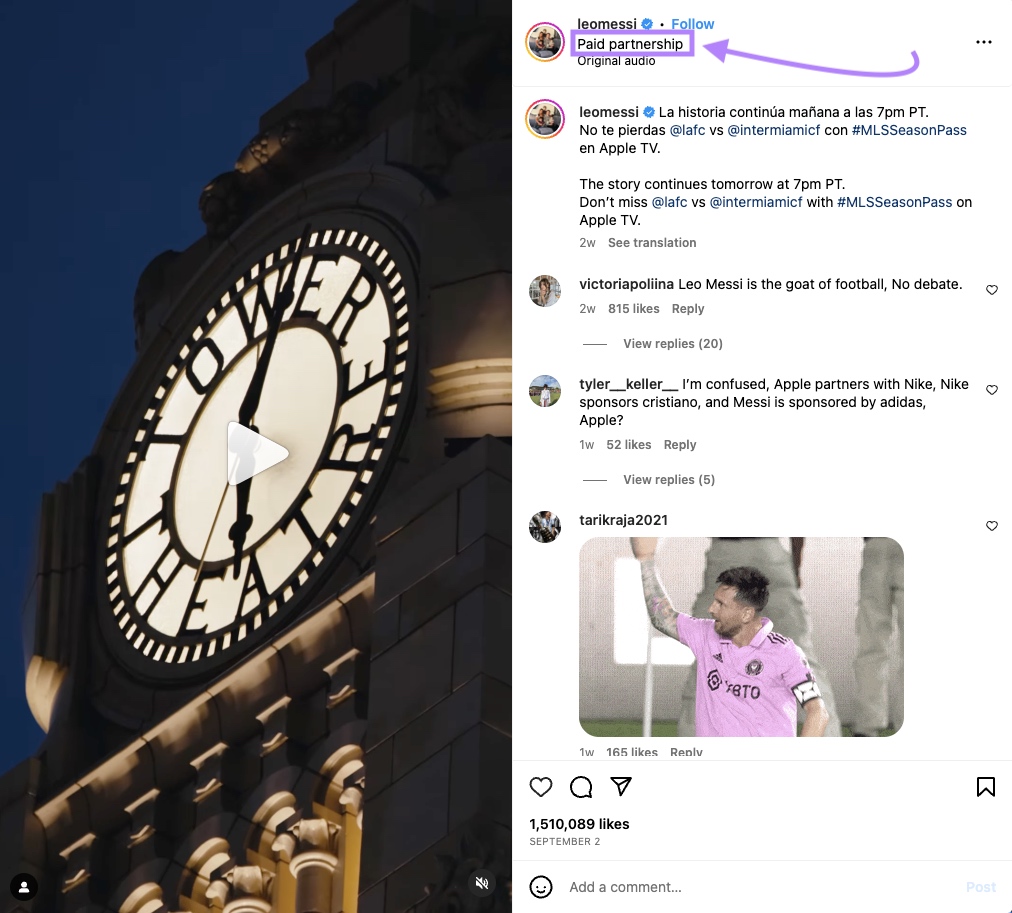 4. Search Through Google
Google search operators can help you find influencers.
(Google search operators are commands you can use to find some specific information.)
To find brand mentions, here's a simple command you can use:
brand name -yourwebsite.com
This command allows you to see where your company was mentioned outside of your website.
Let's see what that looks like with an example.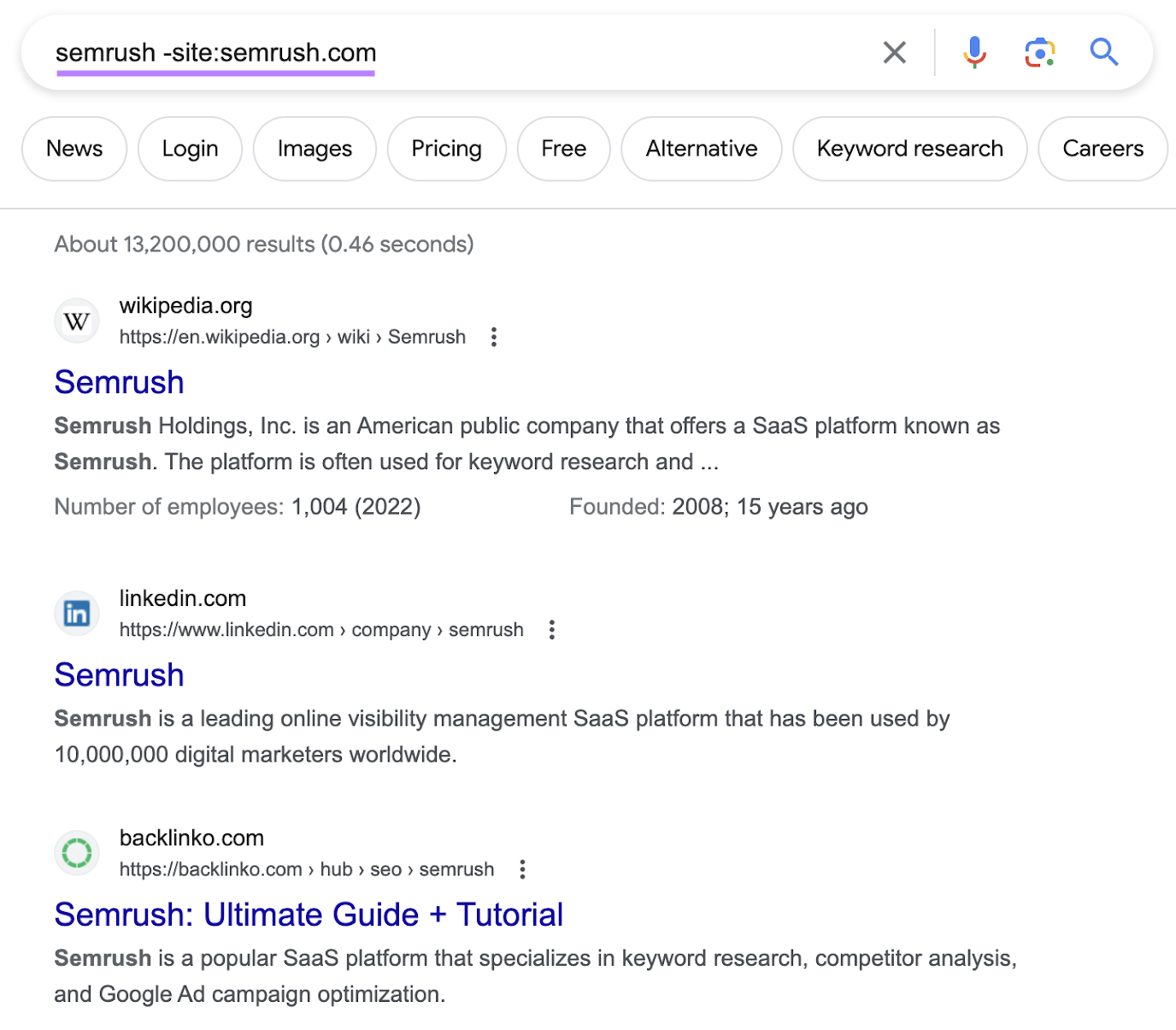 Once you search with this command, you'll see a list of the websites that mentioned you.
It might be time-consuming to go through everything, so you can narrow your search.
Click on the "Tools" button.
Click on "Any time," and select a more narrow time frame. For example "Past week."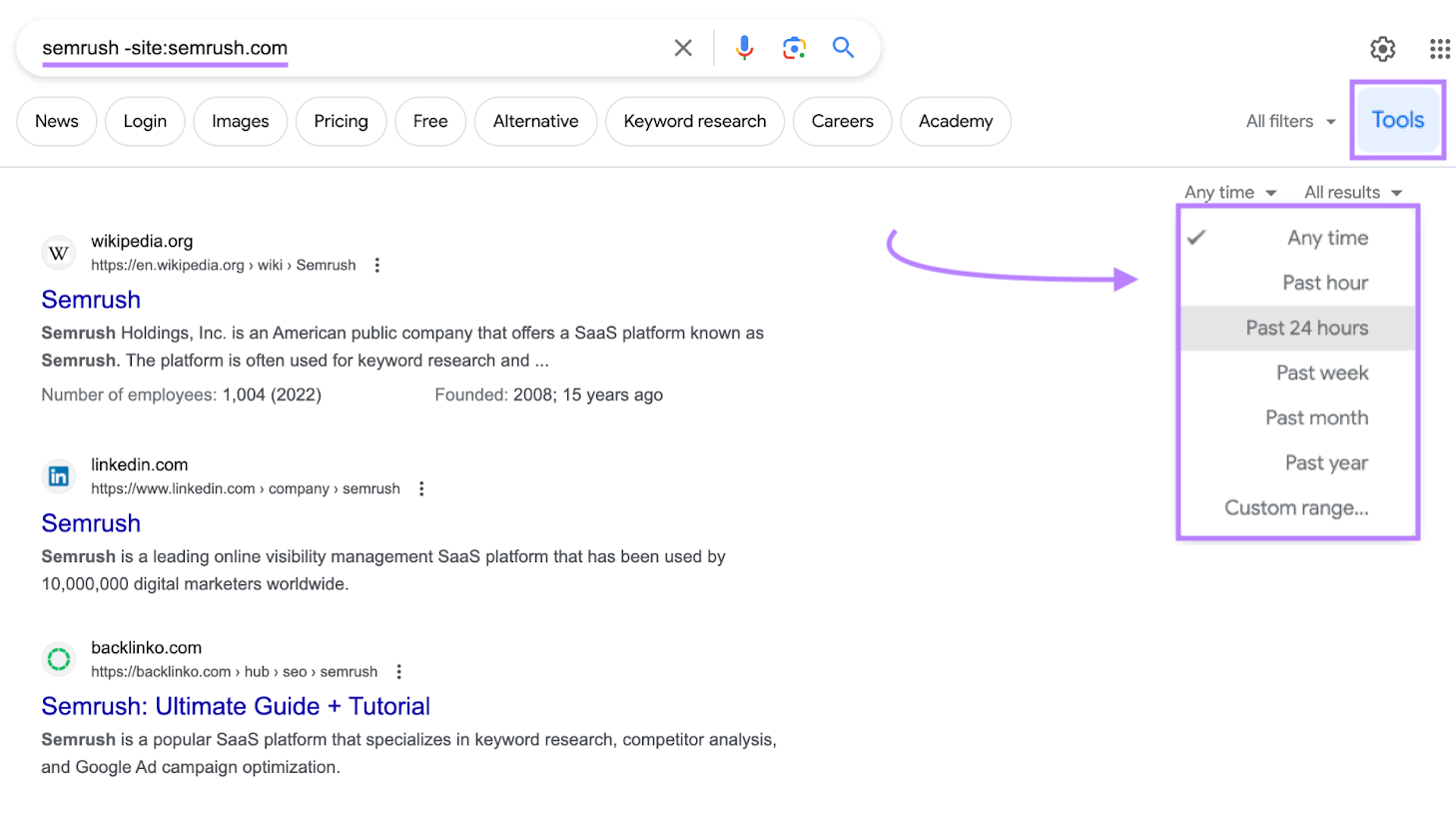 Once you do this, you'll see in the search results webpages that mentioned you in the previous week.
Look through the list of websites and take note of those that mention your brand a lot.
Then, find out if those websites link to social accounts and check those out, as well. The website owners might be great influencers for your brand.
5. Monitor Brand Mentions
Websites and influencers that mention you in a positive light are already aware of your brand and its value.
That's why they may be the perfect choice for a collaboration.
You can keep track of these mentions through tools like Semrush's Media Monitoring tool, Google Alerts, and Backlink Analytics.
Let's learn how you can set them up.
Get Alerts Through the Brand Monitoring Tool
Log into your Semrush account.
In the "App Center" menu select "Brand Monitoring."
Click "Get started."

Choose "Brand" from the drop-down menu to create a monitoring query.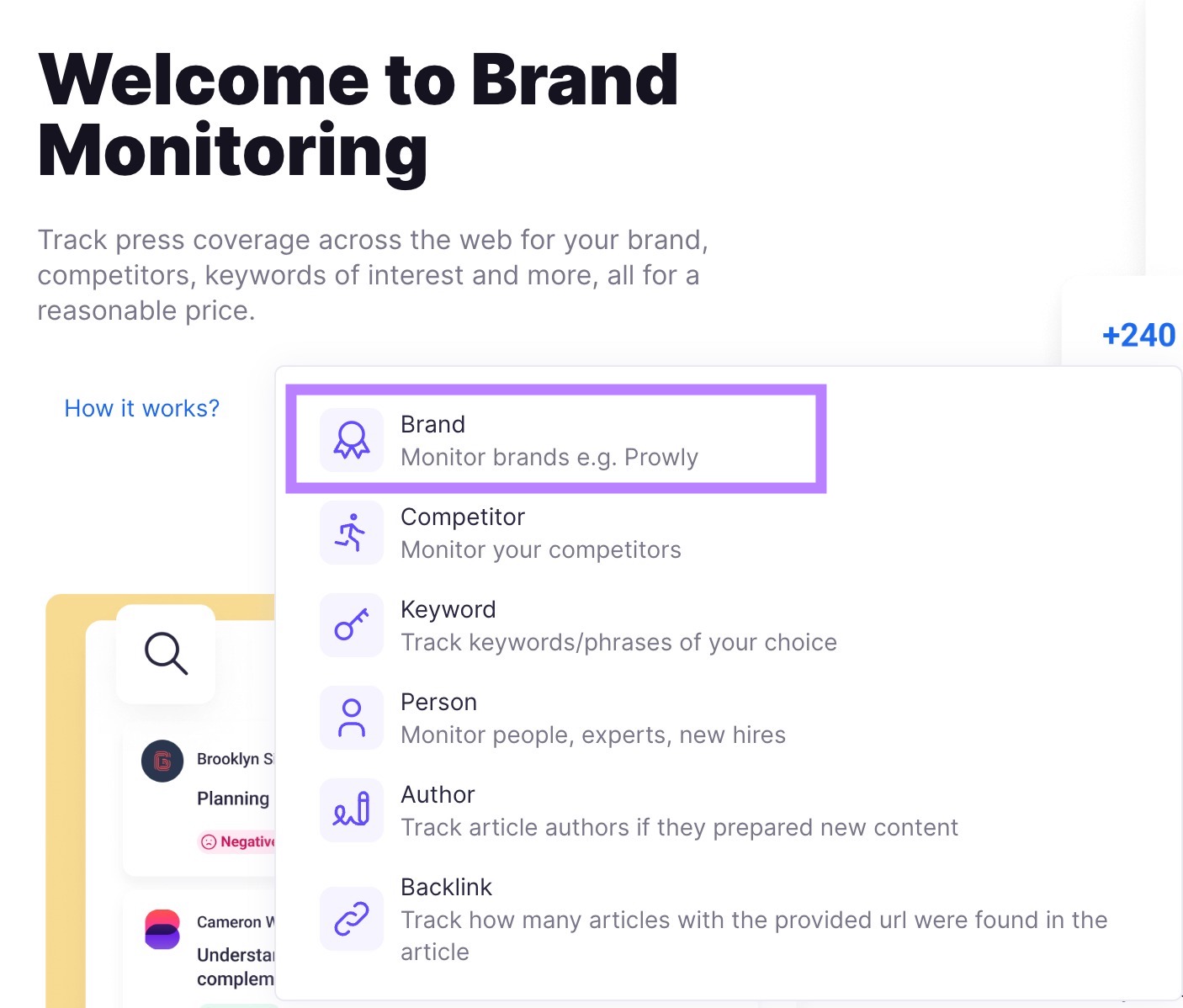 Enter your brand's name.

Scroll down to see a preview of the mentions.
Click "Create query."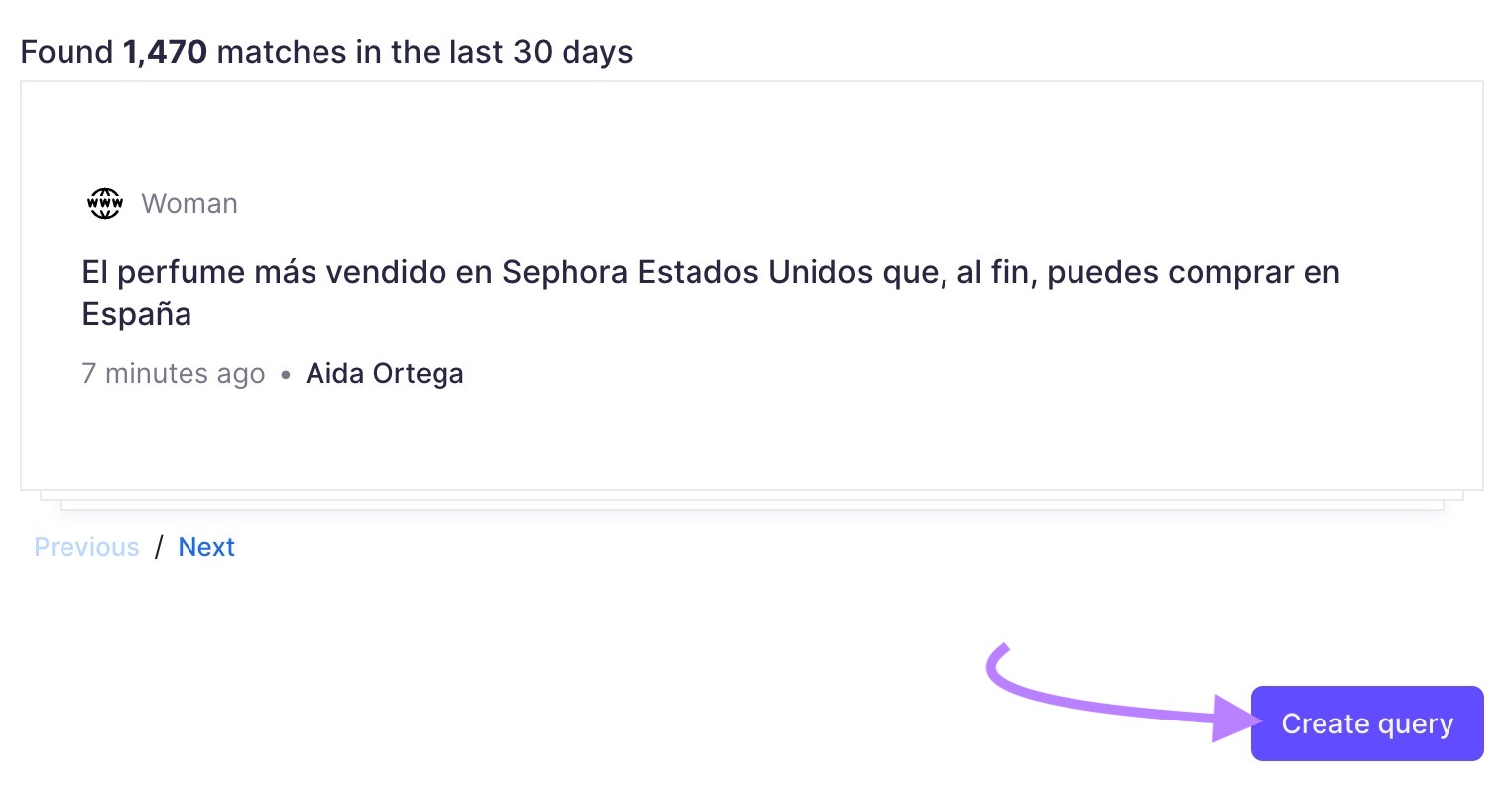 You'll see a list of your brand's mentions across online publications and social media.
Below each mention, you'll see a note about the sentiment. So that you can easily find those that support you—marked with "Positive."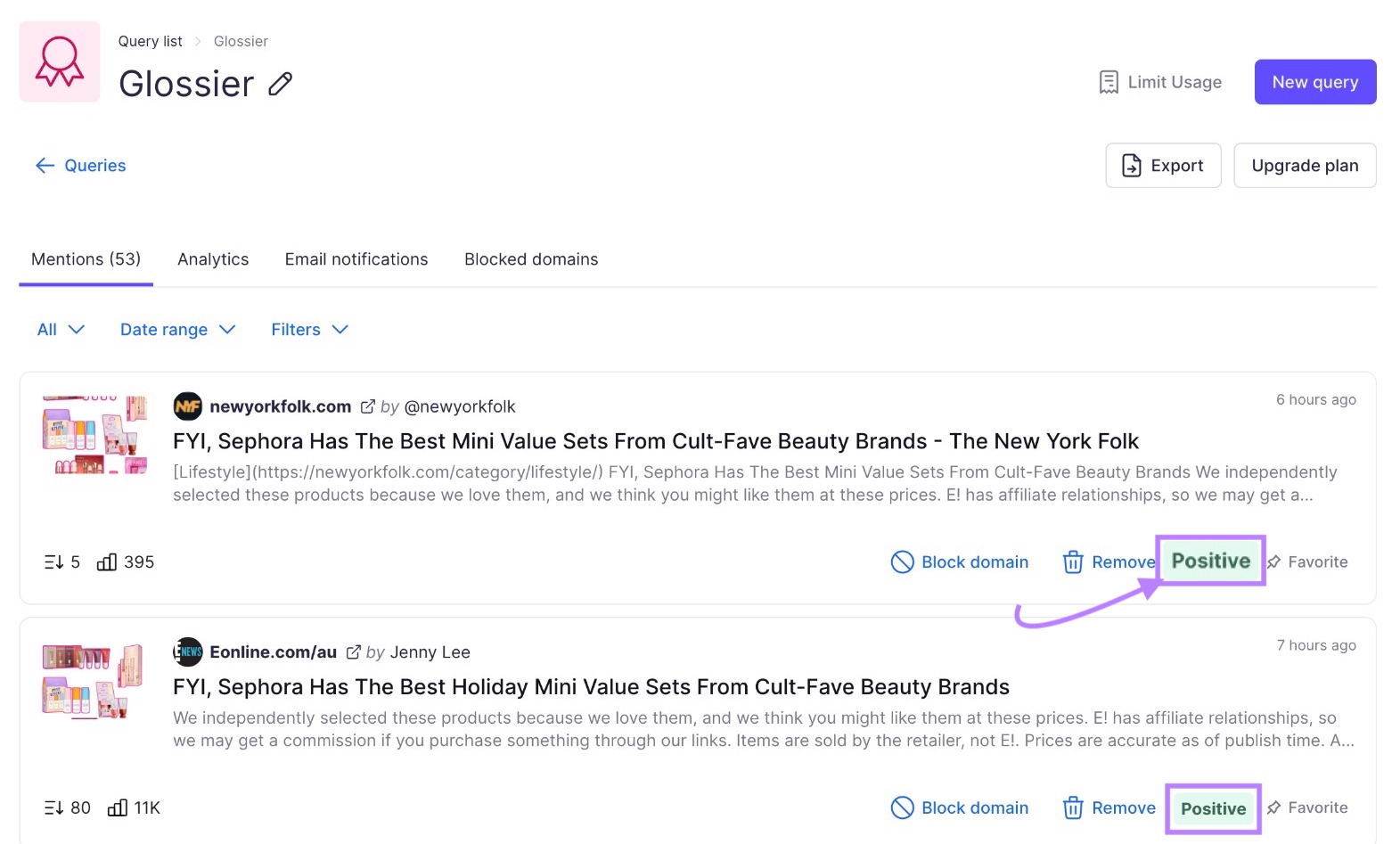 Every time the tool sources a new mention, you'll see it here.
You can also set up an email alert and get daily or weekly updates.
Click on the "Email notifications" tab.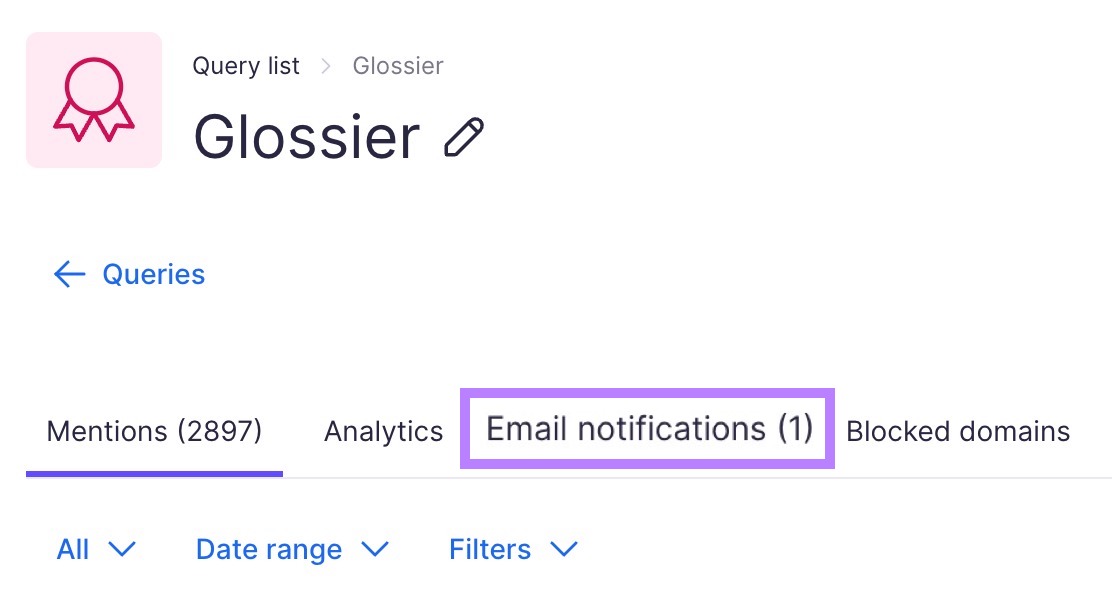 Click "Set up email notifications."
Let's say you want to set up a daily alert with positive mentions. So that you can keep an eye out on potential collaborators.
Select "Daily digest."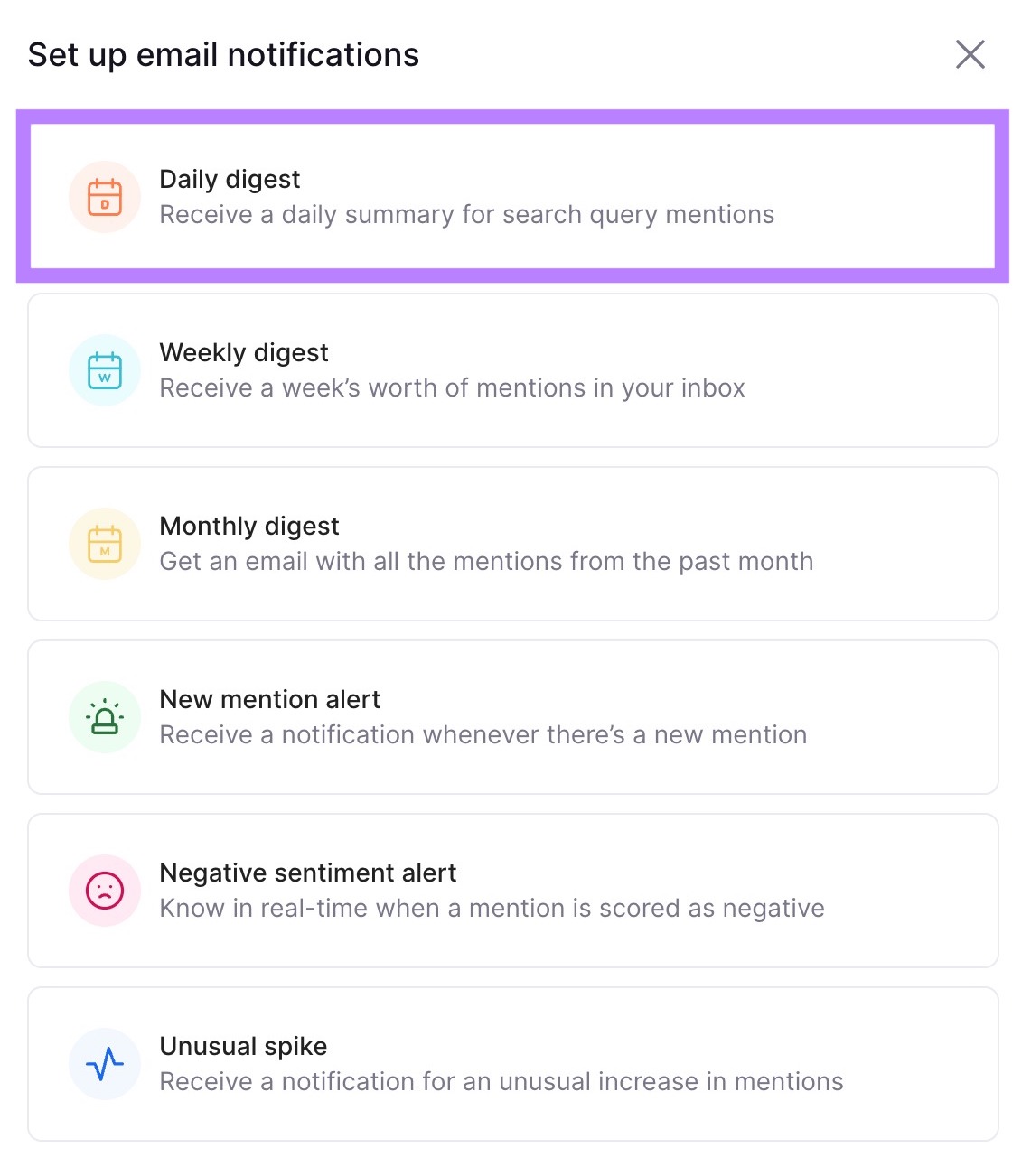 Name your alert.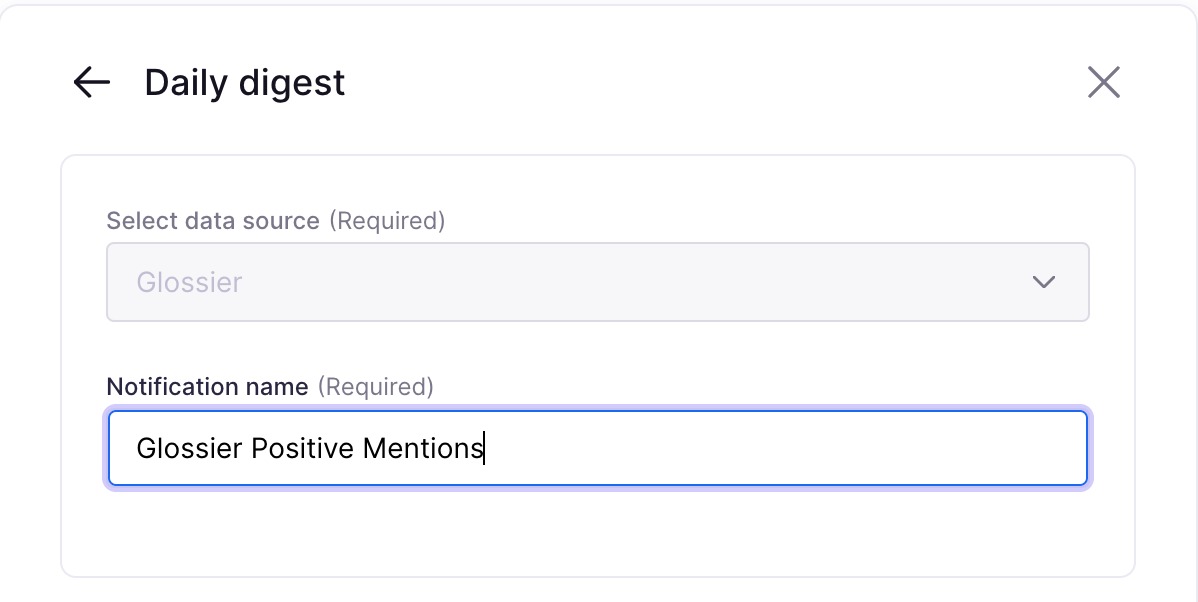 Scroll down to specify where you want to receive the email and click "More filters."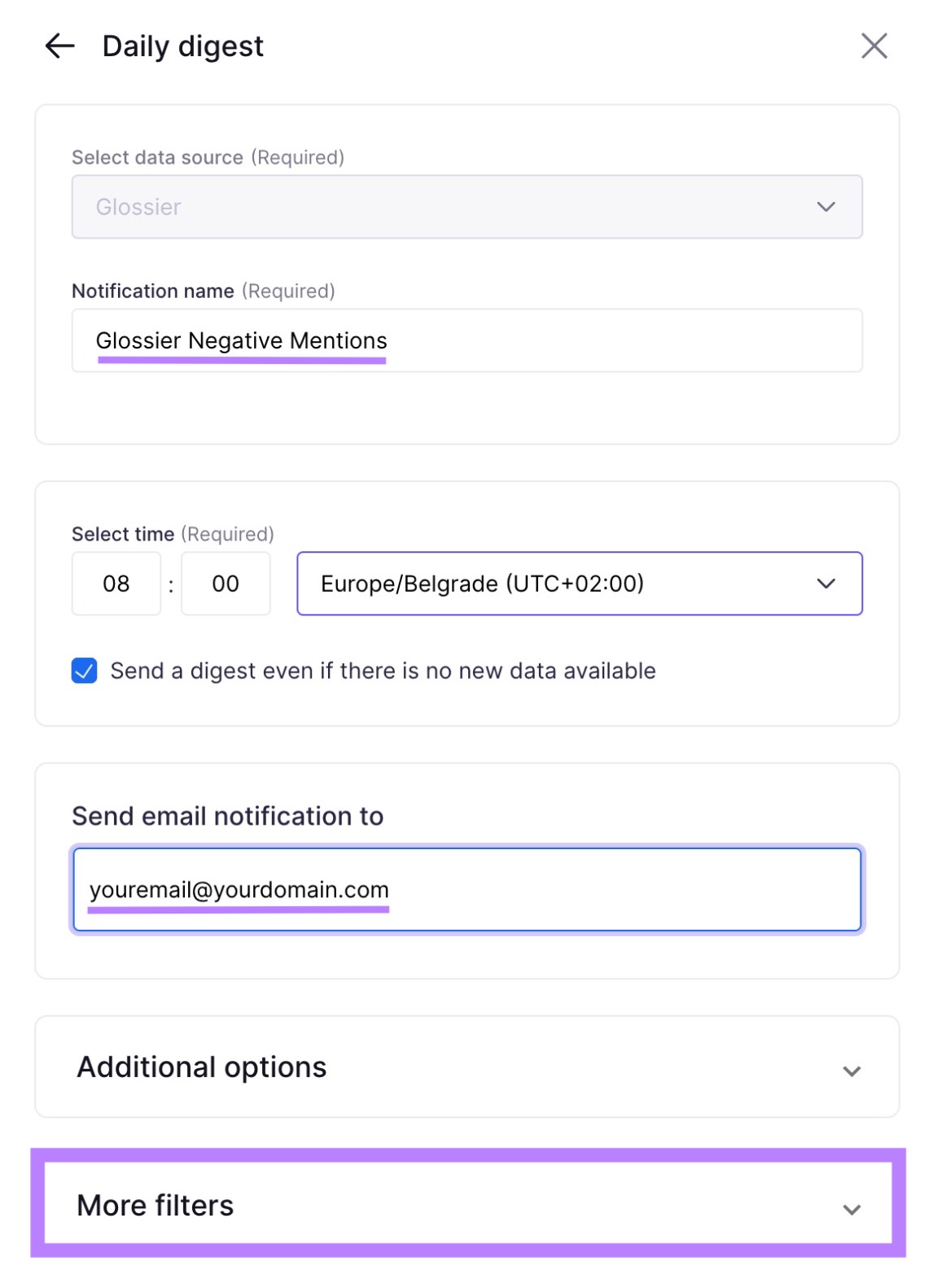 Click "Add filter."

Choose "Article sentiment" from the filters menu.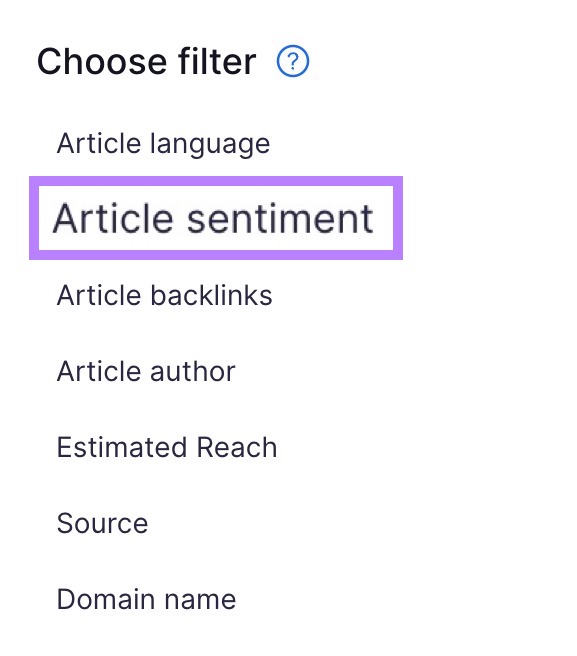 Select "positive" to receive only mentions labeled as positive.
Click "Select."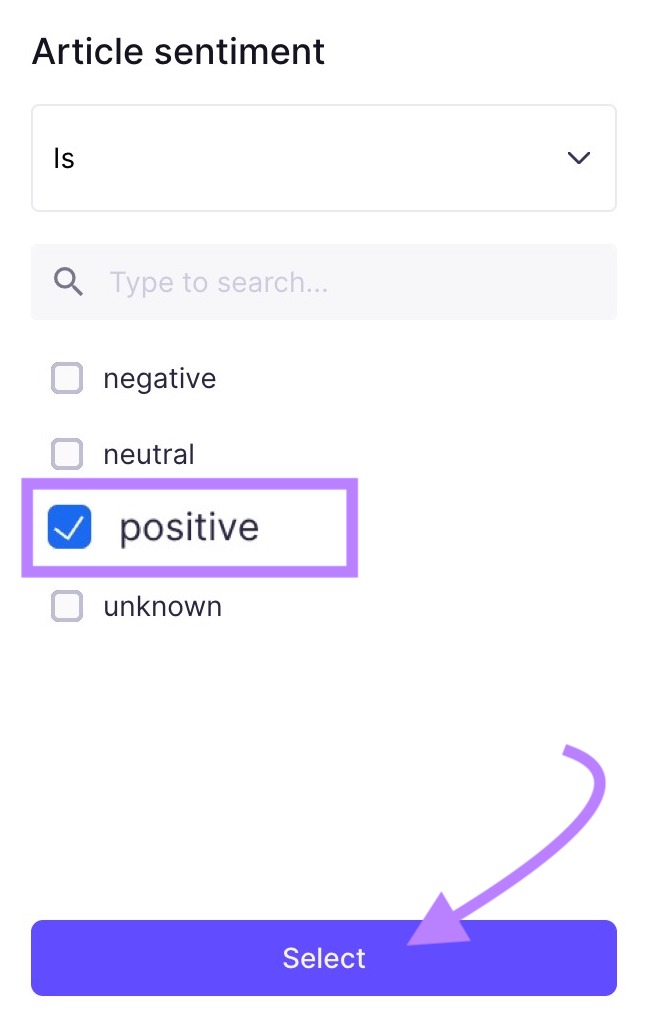 Click "Save" to create an alert.
You'll now receive positive mentions of your brand daily.
And you can reach out to the authors of these mentions to explore potential collaboration opportunities.
Set Up Google Alerts
Go to Google Alerts.
Enter your brand's name.

Click on "Show options" to personalize your alert.
You can choose how often you want to receive alerts, along with the type of sources, language, region, and where you want it delivered.
Based on your preferences, you'll be receiving emails with brand mentions as they happen, once a day, or once a week.
This is what that alert will look like:
Find Creators Who Link to You with Backlink Analytics
When someone links to your website, that can already mean they're a fan of your brand and your content.
That makes a great starting point for a successful collaboration.
Let's see how you can find bloggers who are already linking to you.
Go to Backlink Analytics.
Enter your domain name.

Click on the "Backlinks" tab.

Scroll down to the "Backlinks" section.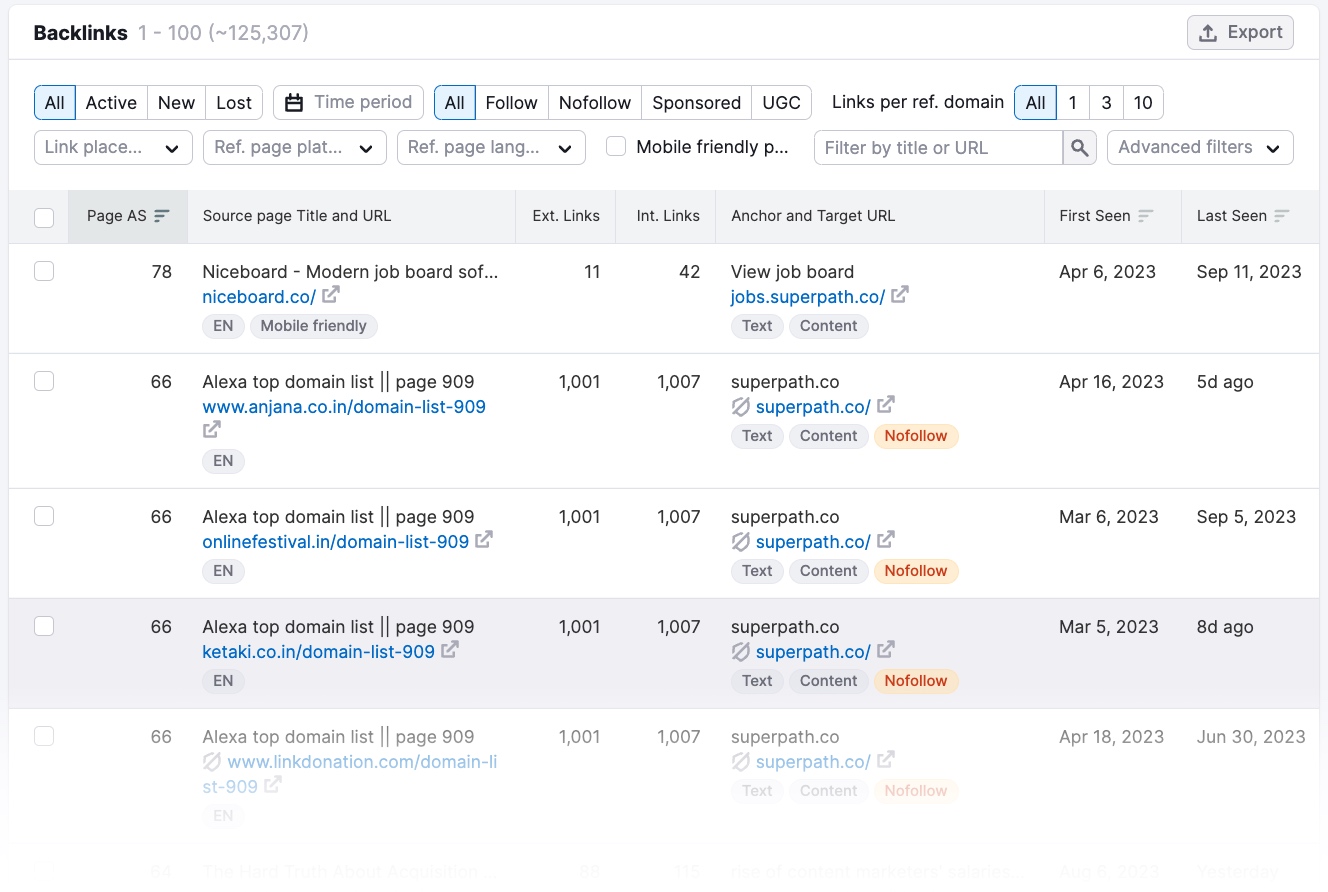 In the "Link placement" section, select "Content."
By selecting this option, you'll see who's linking to you from their content.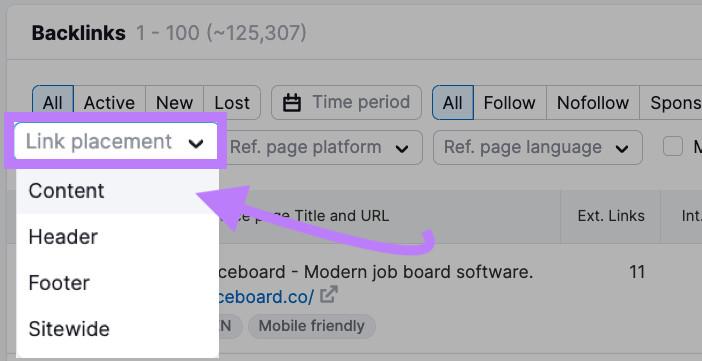 Look through the links, and explore who's linking to you.
Let's have a look at one example—a backlink coming from a website called Zulie Writes to the website Superpath.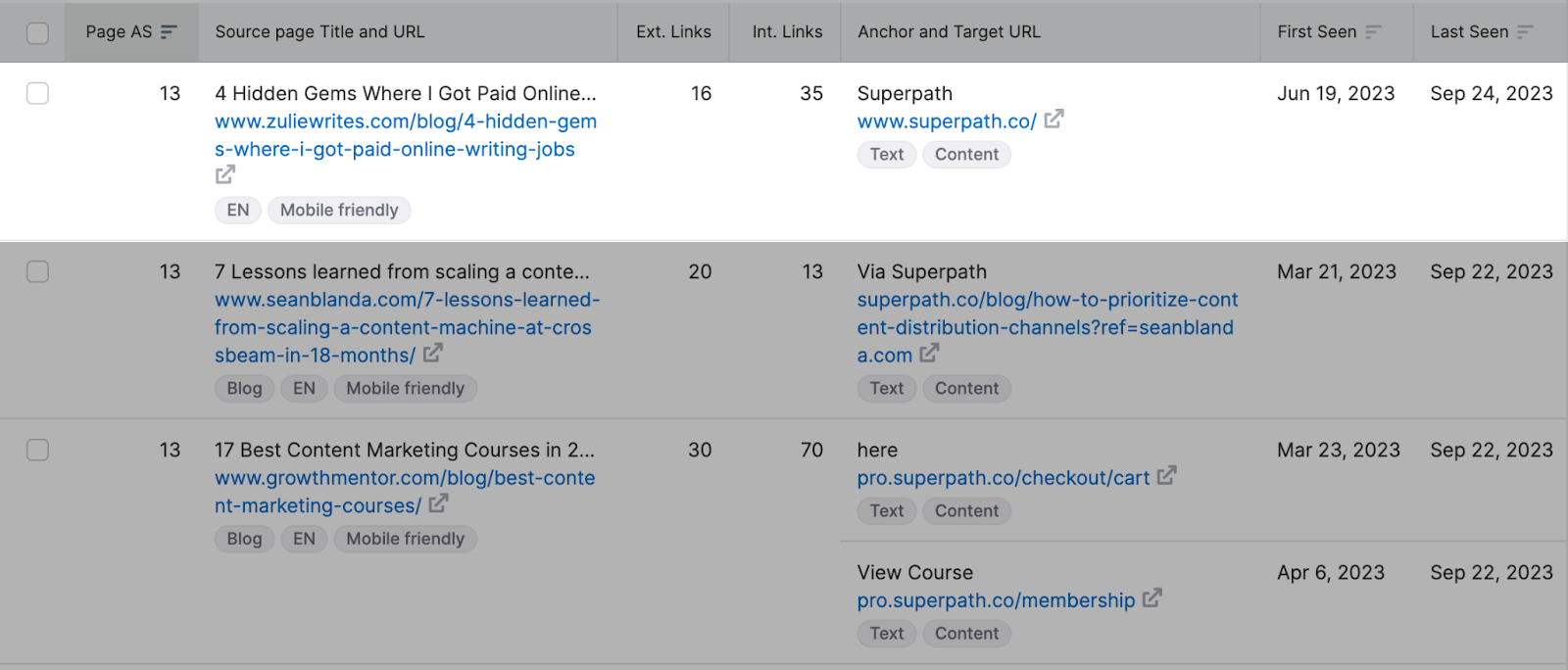 Once we visit this website, we'll learn that Zulie is a content writer.
With a significant following on YouTube and Medium.
Keeping in mind that Zulie already linked back to Superpath's content, there's a chance that they could be interested in partnering with Superpath.
Once you find these opportunities, you can reach out to creators to start establishing a relationship with them.
6. Do Keyword Research
Keyword research is the process of identifying keywords your potential website visitors use to research your niche.
It's a great way to find influencers because you'll find creators who are already active in your industry. And if they're ranking well, it could be an indicator of a significant audience.
You can start your research by identifying popular keywords in your niche.
Once you know what the popular keywords are, you can go on and explore bloggers, influencers, and other content creators who are ranking highly for those keywords.
Let's walk you through the entire process.
Imagine you're a travel company that wants to promote a destination in Spain.
Go to Keyword Magic Tool.
Enter a relevant, but broad keyword. Like "visit spain."
Click on "Search."

You'll get a list of relevant keywords, sorted by the most popular ones.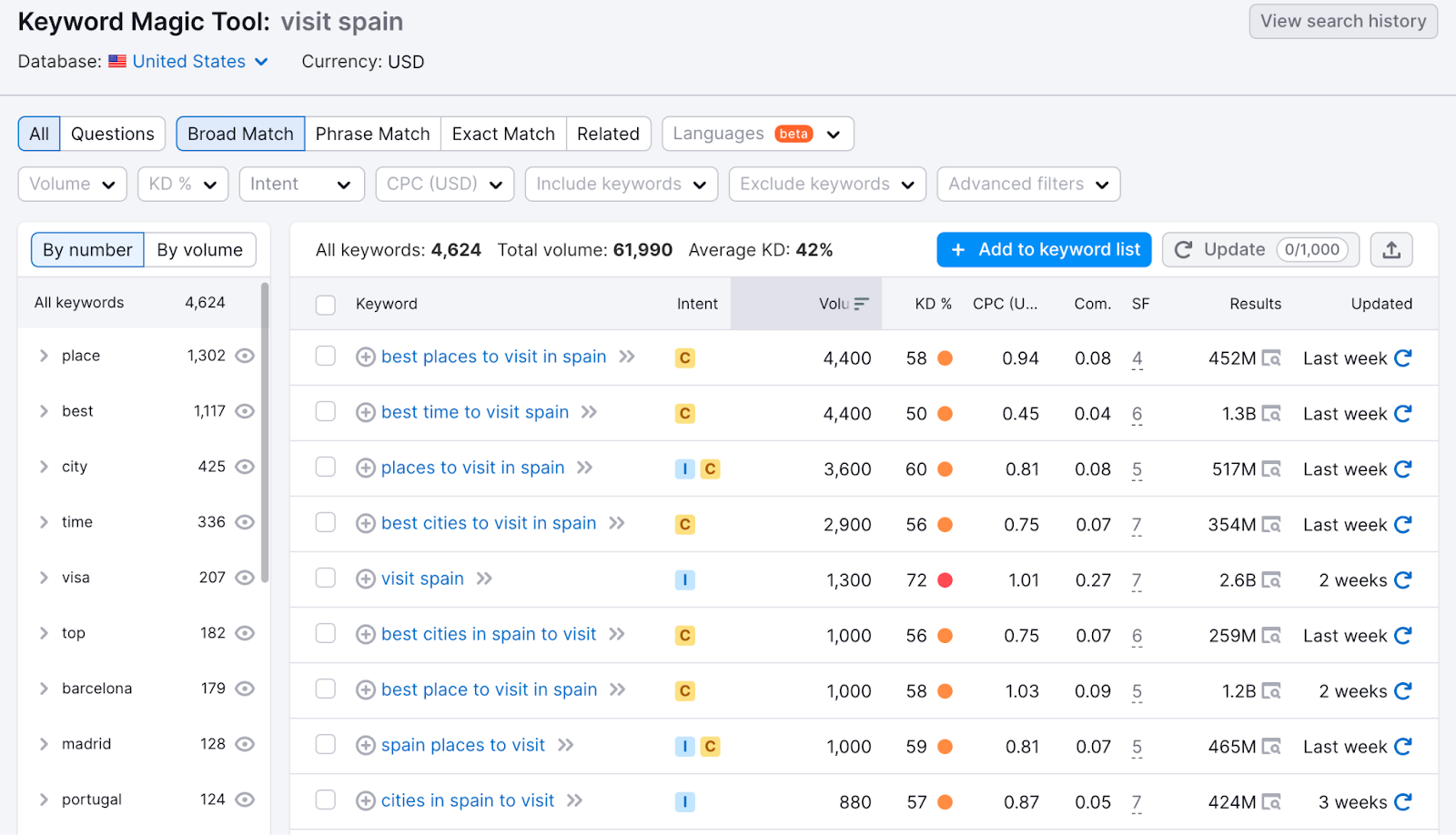 Click on the keyword you'd like to explore.
We'll have a look at the "best places to visit in spain."
When you click on the keyword, you'll be taken to the Keyword Overview.
Scroll down to the "SERP Analysis" section.
Start exploring the search results until you find individual bloggers and content creators.
Click on the website you'd like to analyze further.
Let's look into the Eternal Expat blog (number nine on the list) by clicking on the icon beside the link.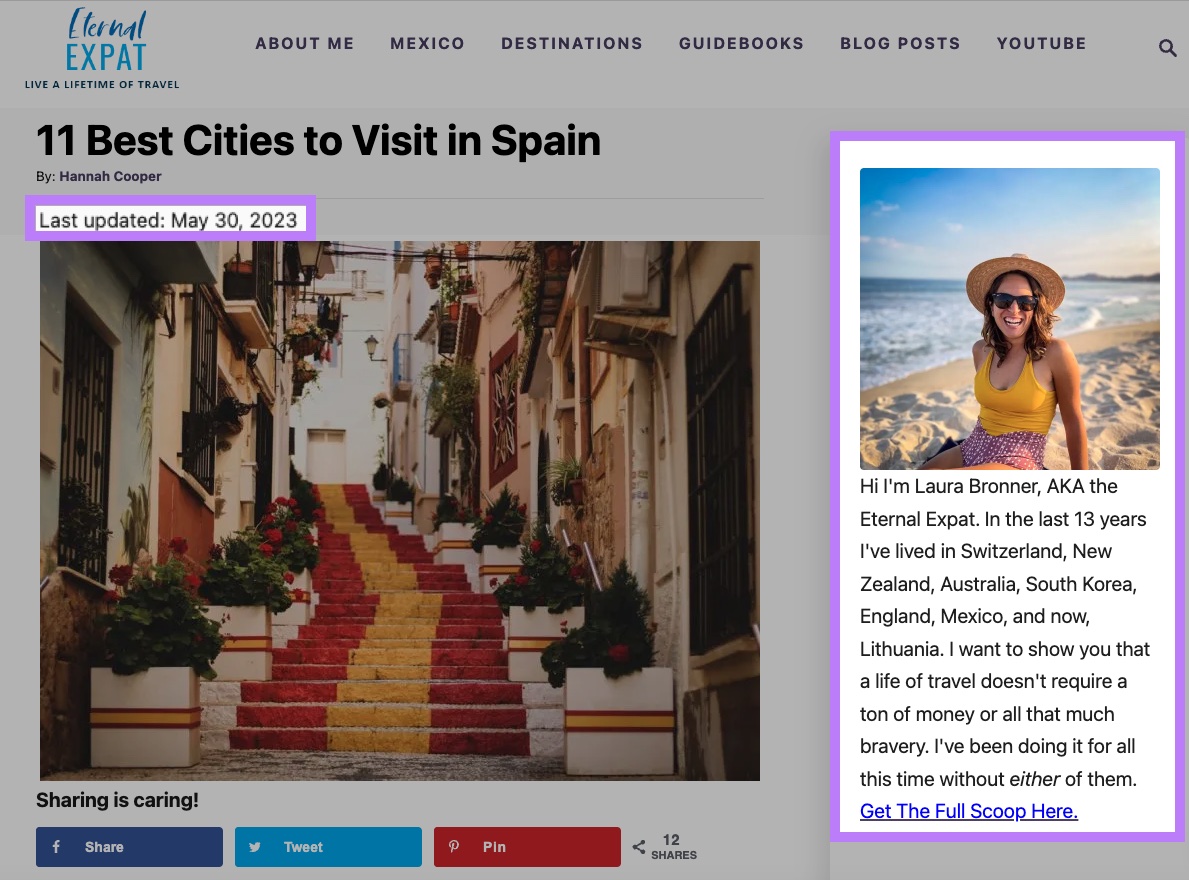 An individual creator owns this website. And they recently published an article, which means they're still active.
Now, let's look for social channels. In this case, Eternal Expat has a link to their YouTube channel right in the navigation menu.
Laura Bronner's YouTube channel publishes new content regularly. And gets good engagement.
So if you were looking for YouTube influencers, this might be a great fit.
Rinse and repeat this process for other keywords you think influencers might be using to refer to either you or your competitors.
7. Follow Bloggers, Podcasters, and Other Creators
By following creators, you'll get a front seat to what kind of content they create and who they partner with.
There are many benefits of this approach. 
You can engage with their content regularly and put your brand on their radar. And you'll have a chance to read, watch, and listen to their content. 
This can give you a great overview of what and how they create. If you decide to do a campaign with them, you'll already know what they're capable of.
Not only that, but they may inspire you. And help you come up with some fresh ideas you didn't think about before.
Influencers often collaborate.
By staying connected to the content they publish, you'll probably get a chance to find new influencers who are similar to the ones you like already.
Kickstart Your First Influencer Campaign with Influencer Analytics
Once you identify the right influencers for your next project, it's time for you to plan out your next campaign.
Reach out to the influencers you chose. And start your collaboration.
To keep track of your projects, use Influencer Analytics' Campaign Management.
The tool will help you keep track of all of your campaigns from start to finish, monitor the results and cost in real time, and assess your performance.
Source link