What Is Keyword Clustering?
Keyword clustering is the process of grouping similar keywords based on search intent—i.e., what exactly the searcher is trying to achieve. 
For example, people searching "king size mattress" and "king mattress" are shopping for the same type of product. And Google displays similar search results.
Keyword clustering is important in SEO because users can search for the same page in different ways. Identifying all relevant terms helps you optimize (and therefore rank) for a wider variety of keywords.
You want each page to rank for its primary keyword. But you also want to target related secondary keywords, such as:
Synonyms (e.g., "king size mattress" and "king mattress")
Long-tail variants (e.g., "king size mattress with box springs")
Mattress Firm's king mattress category page ranks for more than 1,800 keywords. And attracts an estimated 197,800 organic (unpaid) U.S. visits per month from Google alone.

You don't need to optimize pages around keyword clusters to get multiple rankings. But it can certainly help.
Plus, using related keywords in your content may inspire you to cover subtopics you hadn't considered before. And should make your content read more naturally. (Because you're not repeating the same keyword over and over.)
Both of these factors can improve content quality. Which can lead to better rankings and engagement.
Keyword categorization also gives you a fuller understanding of SEO potential. 
For example, you might look at one keyword and find that the volume (average number of monthly searches) is low. So you decide it's not worth your time.
But when you take related keywords into account (and combine their search volumes) through keyword clustering, you find that the search demand is far greater.
How to Do Keyword Clustering
Learn how to do keyword clustering, step by step:
Step 1: Build a Keyword List
To do keyword clustering, you need a list of relevant keywords. 
Create this list by performing keyword research. 
First find keywords by topic. Then fill gaps with competitor research.
Find Keywords by Topic
Perform keyword research using Semrush's Keyword Magic Tool. A free account provides 10 free searches (with up to 10 results each) per day.
To start, enter a seed keyword—a broad term to base your search around. This should be a topical term your target audience uses. Keep it simple to maximize the number of keyword results.
Then, choose your target country and click "Search."

The tool provides "Broad Match" results by default. These contain your seed keyword or a close variant. For example, "sleep" would return keywords containing "sleep," "sleeping," and "sleeps."
Switch to "Phrase Match" for results that contain your exact seed keyword(s). Or use "Exact Match" for results that contain your exact seed keywords in the exact order.
Tip: Filters can narrow your search. But be careful not to exclude useful results. At this stage, gather as many relevant keywords as possible.
On the left-hand side, you'll see a list of the most common keyword modifiers (words that appear alongside your seed keyword). 
Click a modifier to focus on results including that term.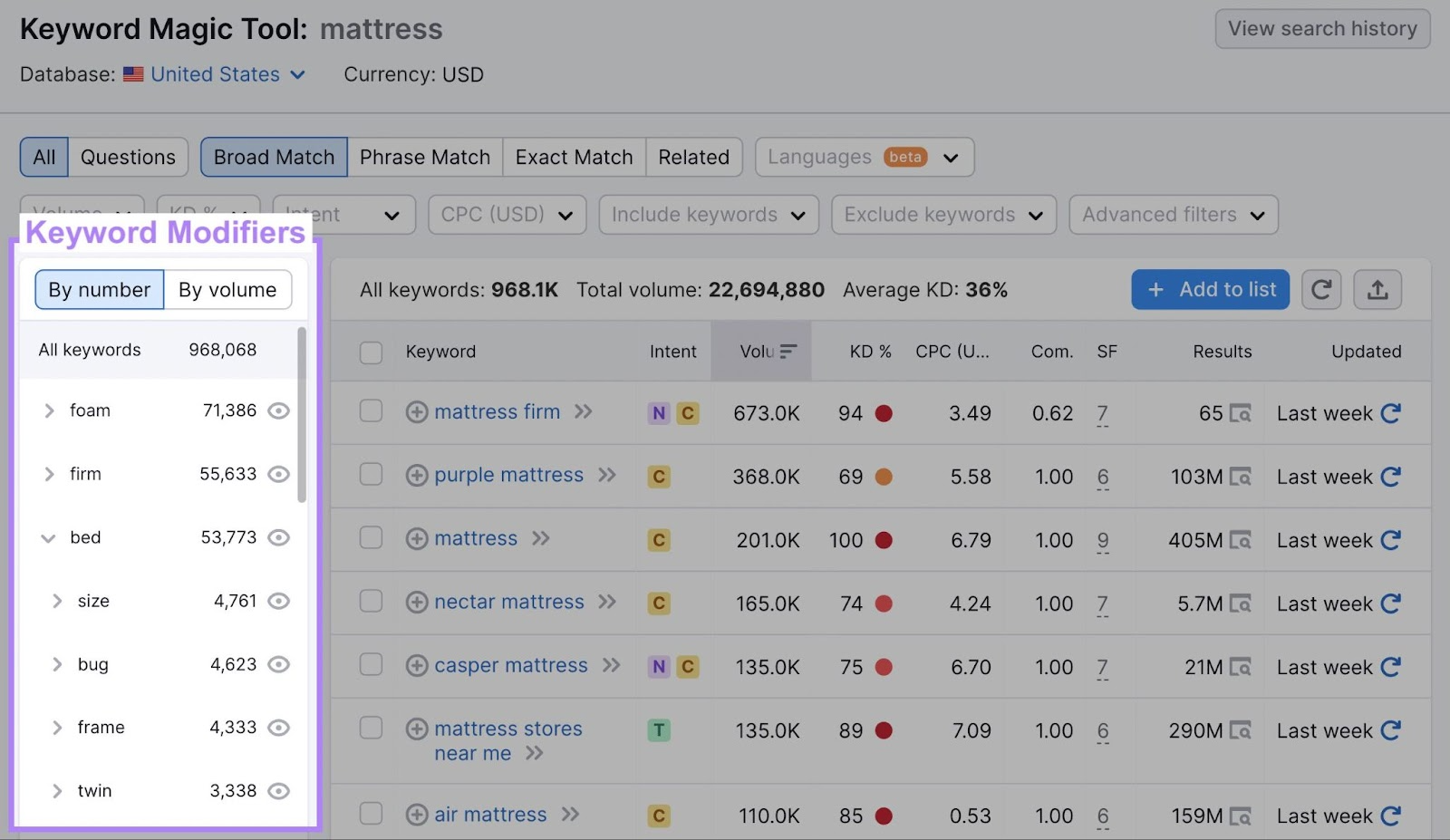 To exclude irrelevant results, click on the eye symbol alongside the modifier.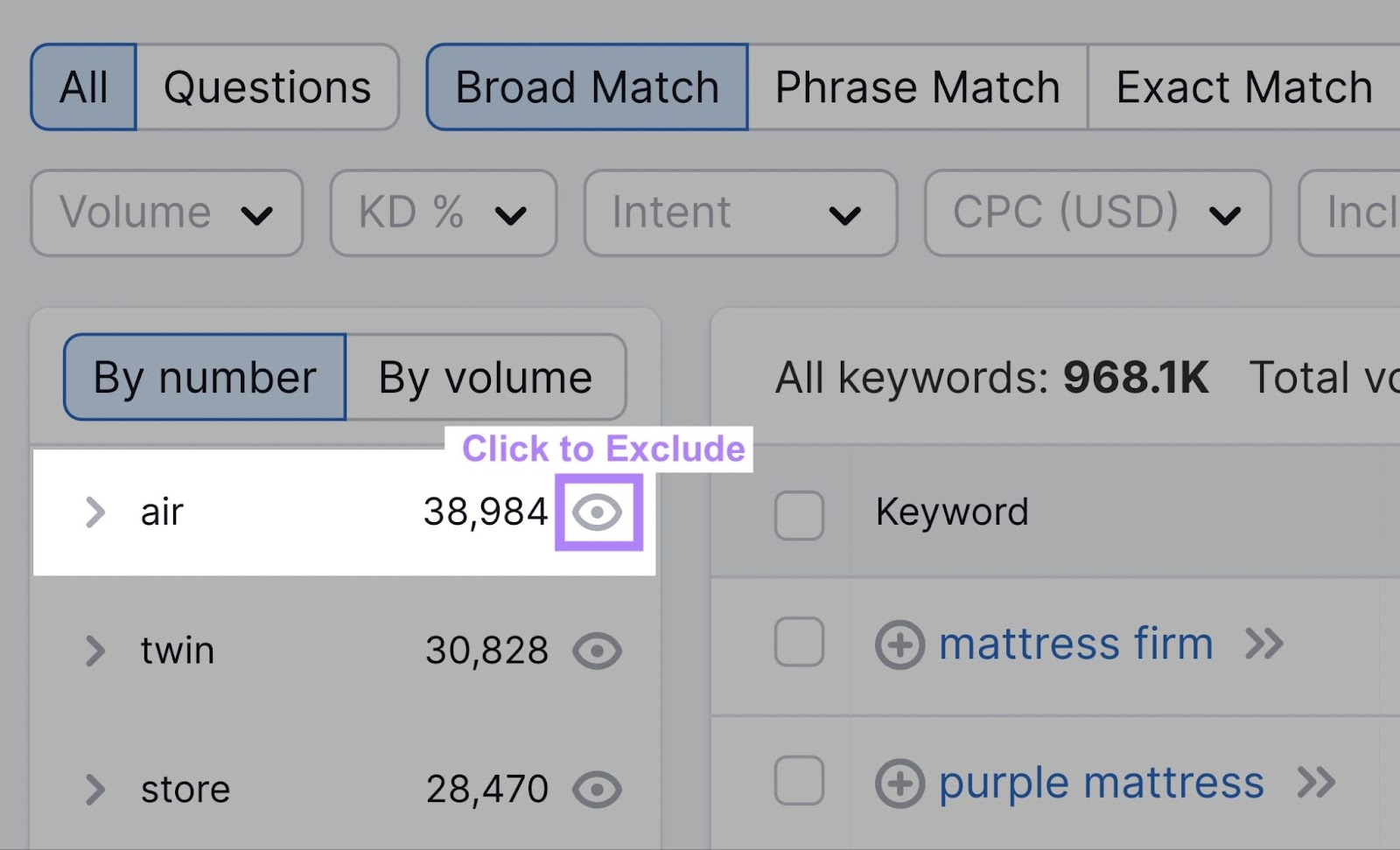 Save any target keywords. These are relevant keywords that your target audience uses and you want to rank for. 
Tip: Unsure whether a keyword is relevant? Use the "View SERP" icon to see what pages rank in the top 10 search results. If you have a similar page—or could create one—it's a target keyword.
If you have a Semrush trial or subscription, select target keywords using the check boxes on the left-hand side. Then click "+ Add to keyword list" to save your keywords to Keyword Manager.
Stay organized by creating a separate list for each topic or subtopic.
Alternatively, note relevant keywords in a spreadsheet. Making sure to include the following data:
Intent: The type of search intent (informational, navigational, commercial, or transactional)
Volume: The average number of monthly searches
KD %: Keyword difficulty score, a measure of how hard it will be to rank organically in the top 10 Google results
Add and complete a "Category" column, too. So you can start the keyword grouping process.
Then, repeat this step for other seed keywords (e.g., "sleep," "bed," and "pillow").
Fill Gaps with Competitor Research
Researching key topics can help you find the bulk of relevant keywords. But there are likely outliers—i.e., target keywords that don't contain any of the terms you looked at.
The easiest way to find additional keywords is to look at rankings of major competitors. Semrush's Organic Research tool makes it possible.
Enter the domain of a rival, select your target country, then click "Search."
Tip: Analyzing top performers should yield the best results. Research competitors that perform well for your highest-difficulty keywords. Or learn how to find your top competitors with Semrush. 

Then, go to the "Positions" report to see your competitor's keyword rankings.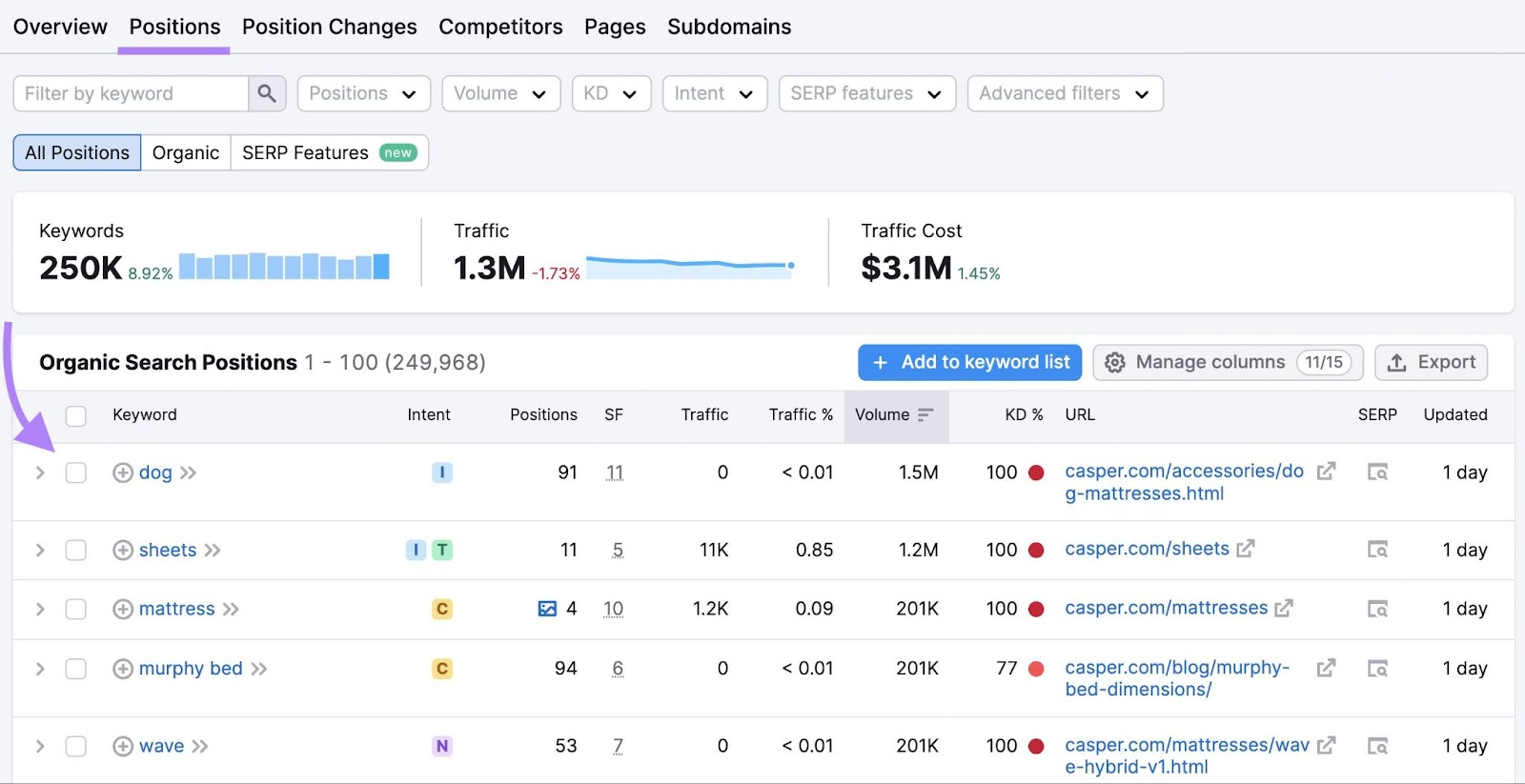 To exclude keywords you've already added to keyword clusters, go to "Advanced filters." Then apply the following condition for each seed keyword from earlier: "Exclude Keyword Containing [Seed Keyword]"
Like this: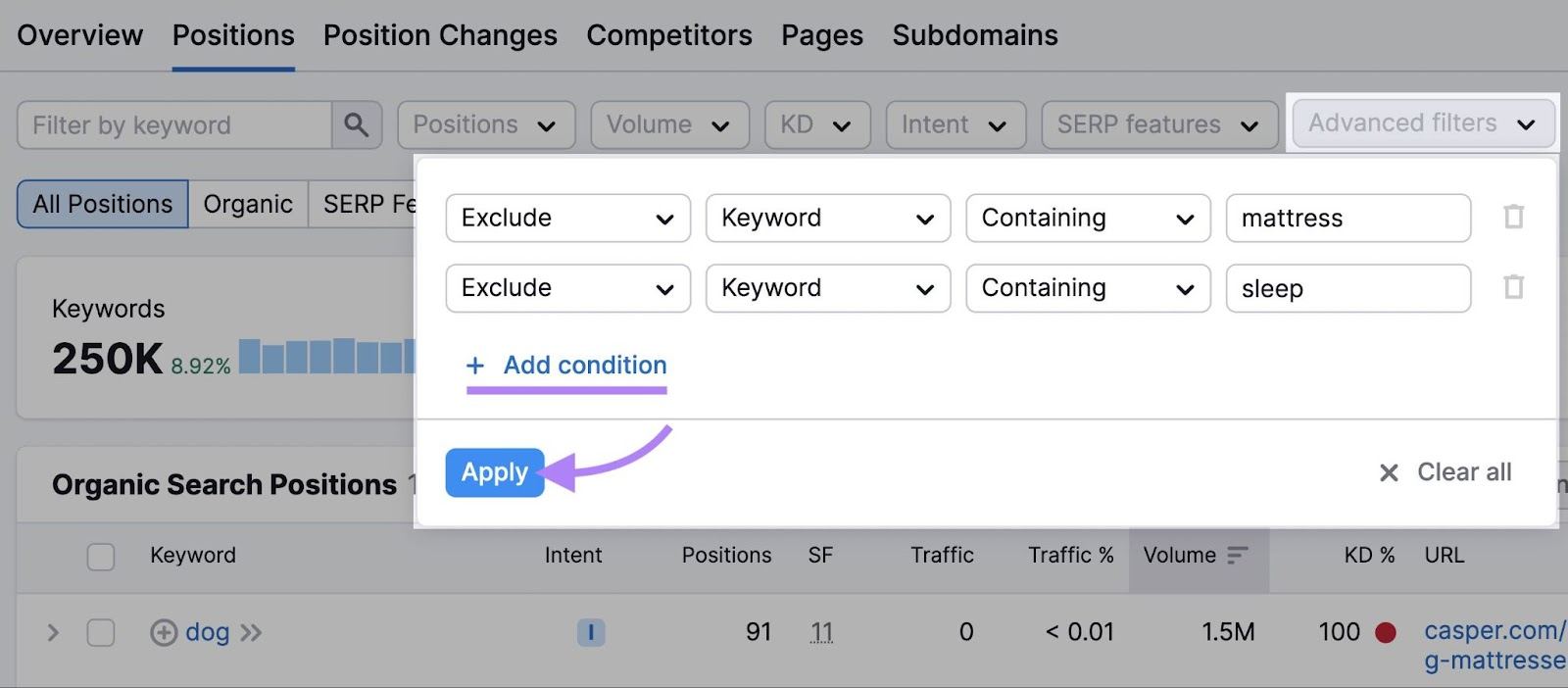 Add any relevant results to your keyword list. This should plug most of the gaps, but you can repeat with as many competitors as you like.
Step 2: Categorize Your Keywords
Before learning how to do keyword clustering, first understand what makes an effective keyword cluster.
Most importantly, grouped keywords should have the same search intent. 
You may have an intuitive understanding of search intent. But it's not always clear. Start by looking at the keyword's search engine results page (SERP). And referencing the search intent type:
Informational: Users want to learn more about something (e.g., "mattress dimensions")
Navigational: Users want to find a specific page (e.g., "Ikea mattress")
Commercial: Users want to do research before making a purchase decision (e.g., "best mattress")
Transactional: Users want to complete a specific action, such as a purchase (e.g., "buy mattress")
For example, notice the subtle difference between "king mattress size" and "king size mattress." The first searcher is looking for measurements (informational intent).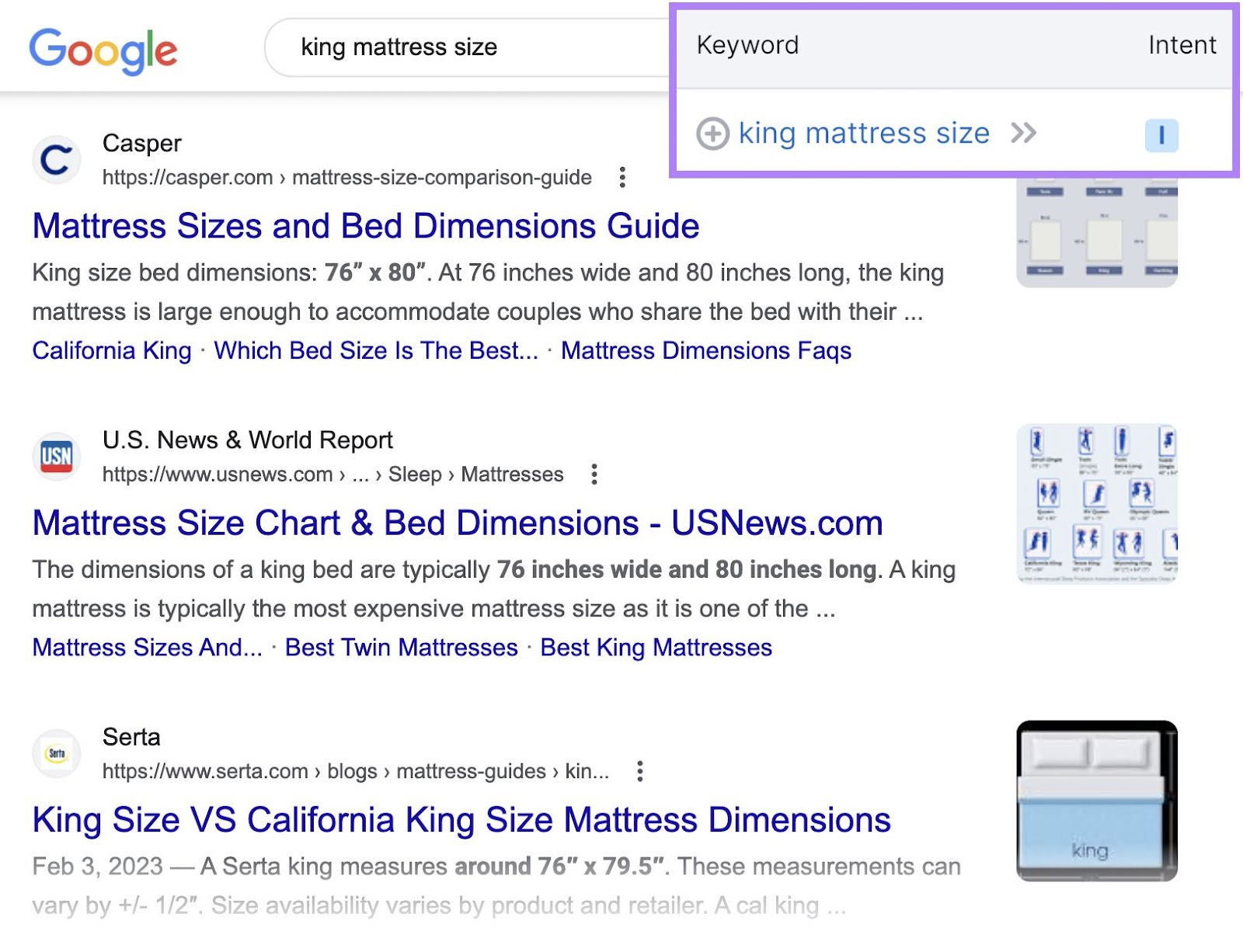 The second is looking for products (commercial intent).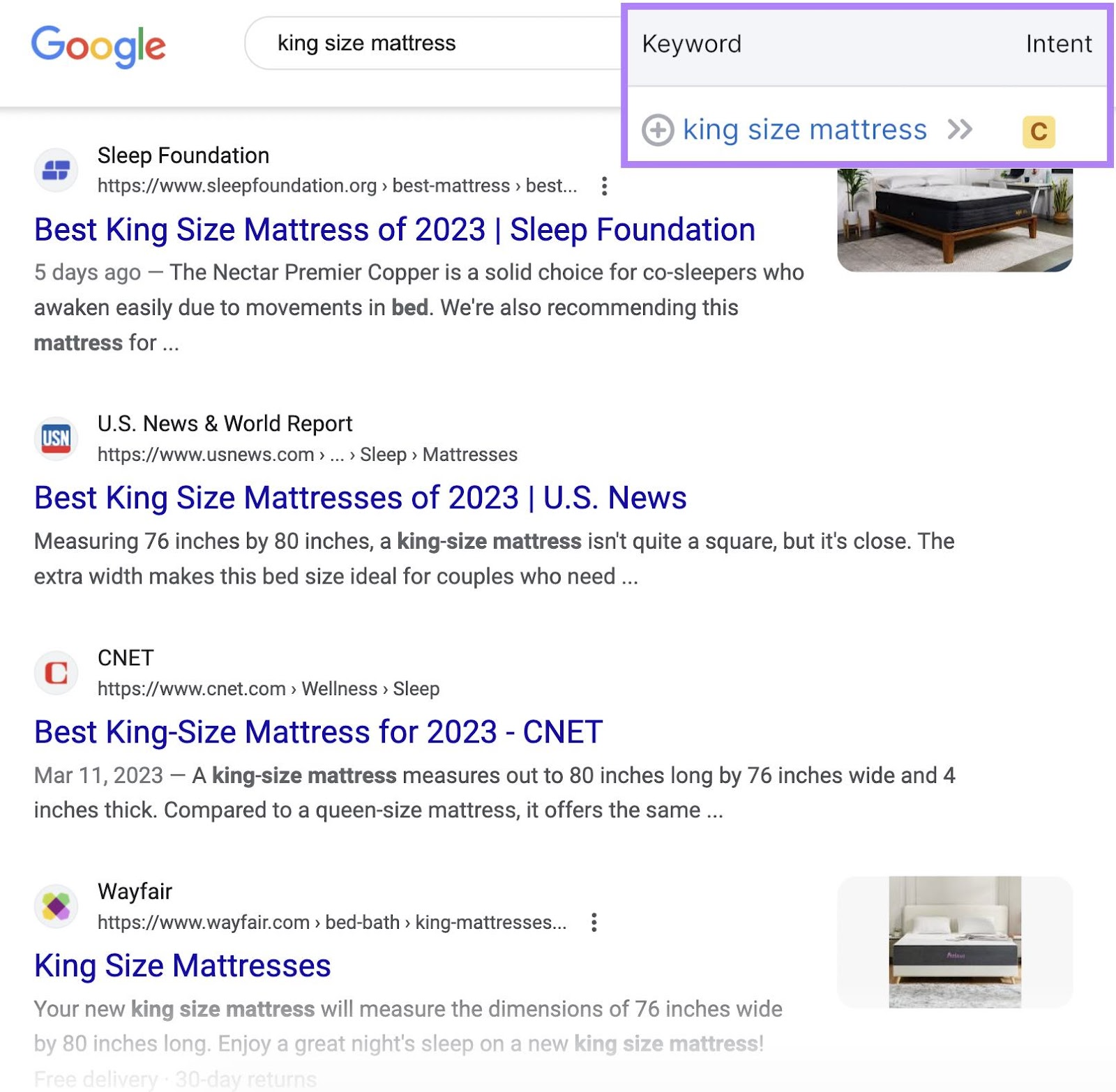 Google's natural language processing algorithms can pick up on these kinds of nuances. You should, too.
Sometimes, it's difficult to know how much segmentation is required.
For example, should you combine "king mattress dimensions" and "queen mattress dimensions" into the same cluster? What about "king mattress" and "king memory foam mattress"?
To determine the best approach, consider three factors:
SERP similarity: Do the same pages rank well for both keywords? If so, it's probably best to cluster the keywords.
Content quality: Could you create high-quality content for both pages? If separate pages would be too thin, combine the keywords. If a combined page would be too broad, separate them.
User journey: Will the average user want to explore both topics at the same time? If so, keep all the content on one page.
Now, let's begin the keyword clustering process.
Pick any keyword from your list, categorize it, then build your first keyword cluster around it.
Let's use our "king mattress size" keyword to start a "king measurements" cluster.
In Keyword Manager, you can categorize keywords using tags. Hover over the keyword and click "+ Add tag."
Then, enter a tag name (e.g., "king measurements") and click the check icon.

If you're using a spreadsheet instead, create a "Category" column.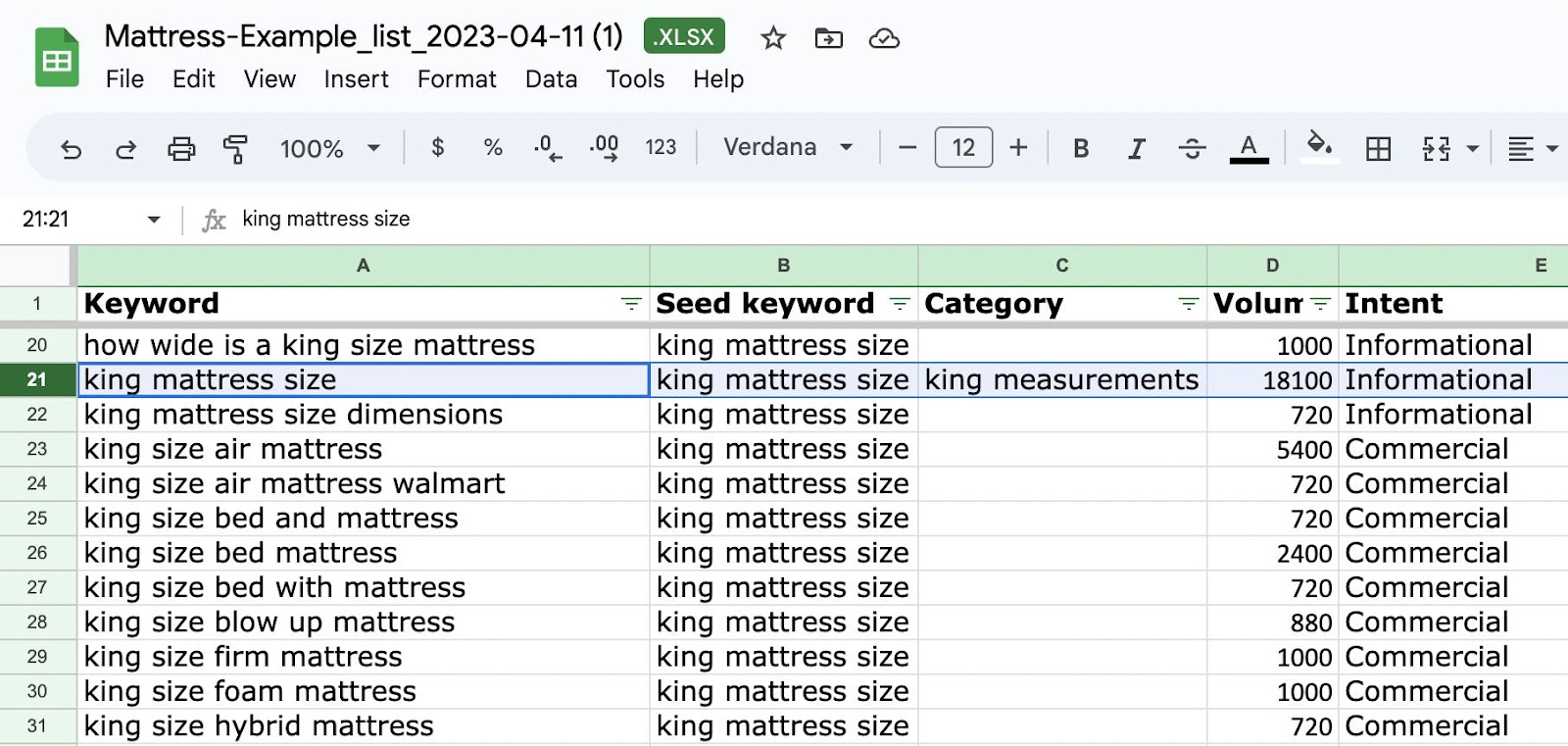 Next, find other terms to join this keyword cluster—terms with the same search intent.
Use filters to your advantage. In this example, look for keywords that contain the term "dimensions."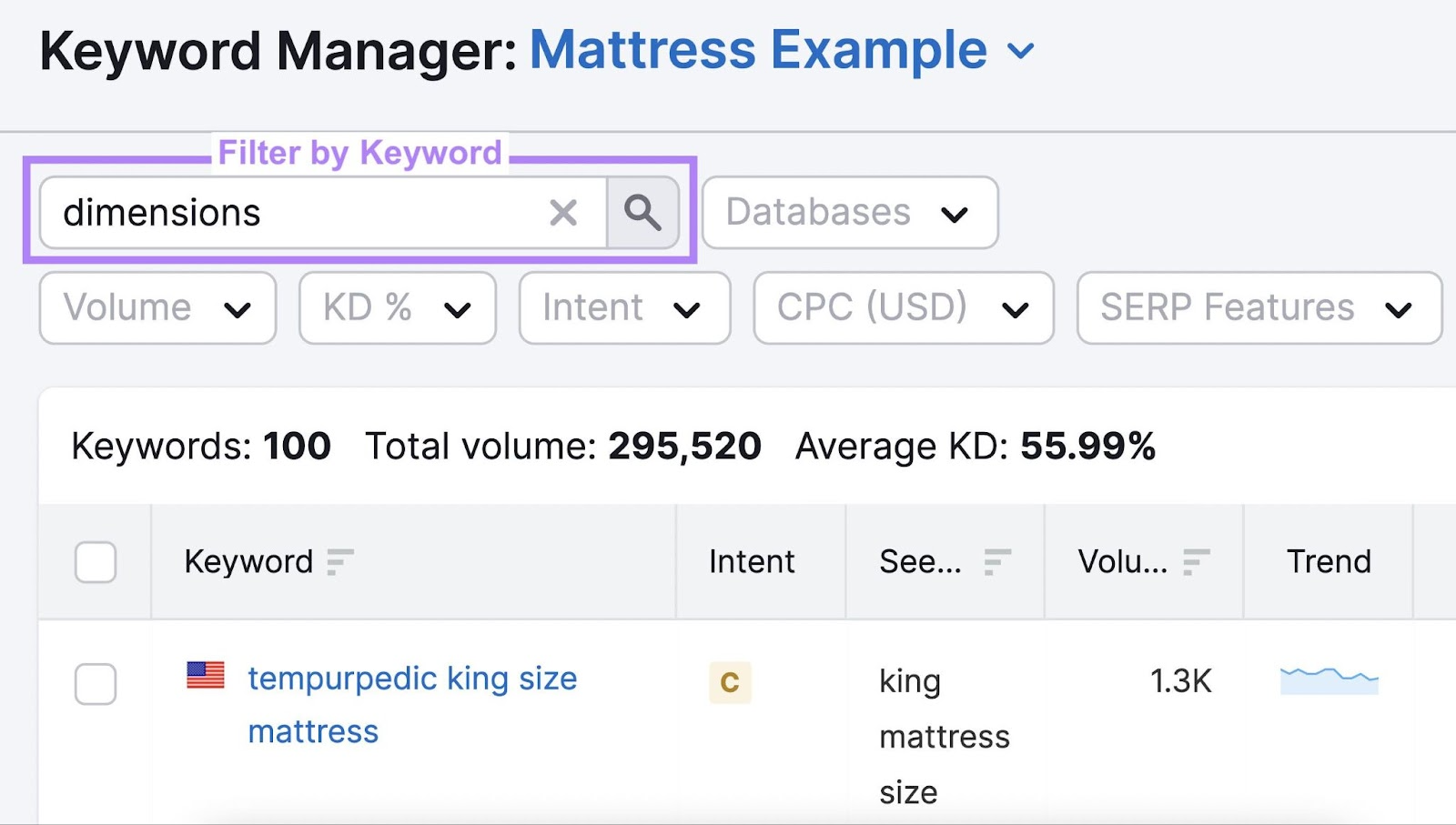 Add the relevant keywords to your group using your tag.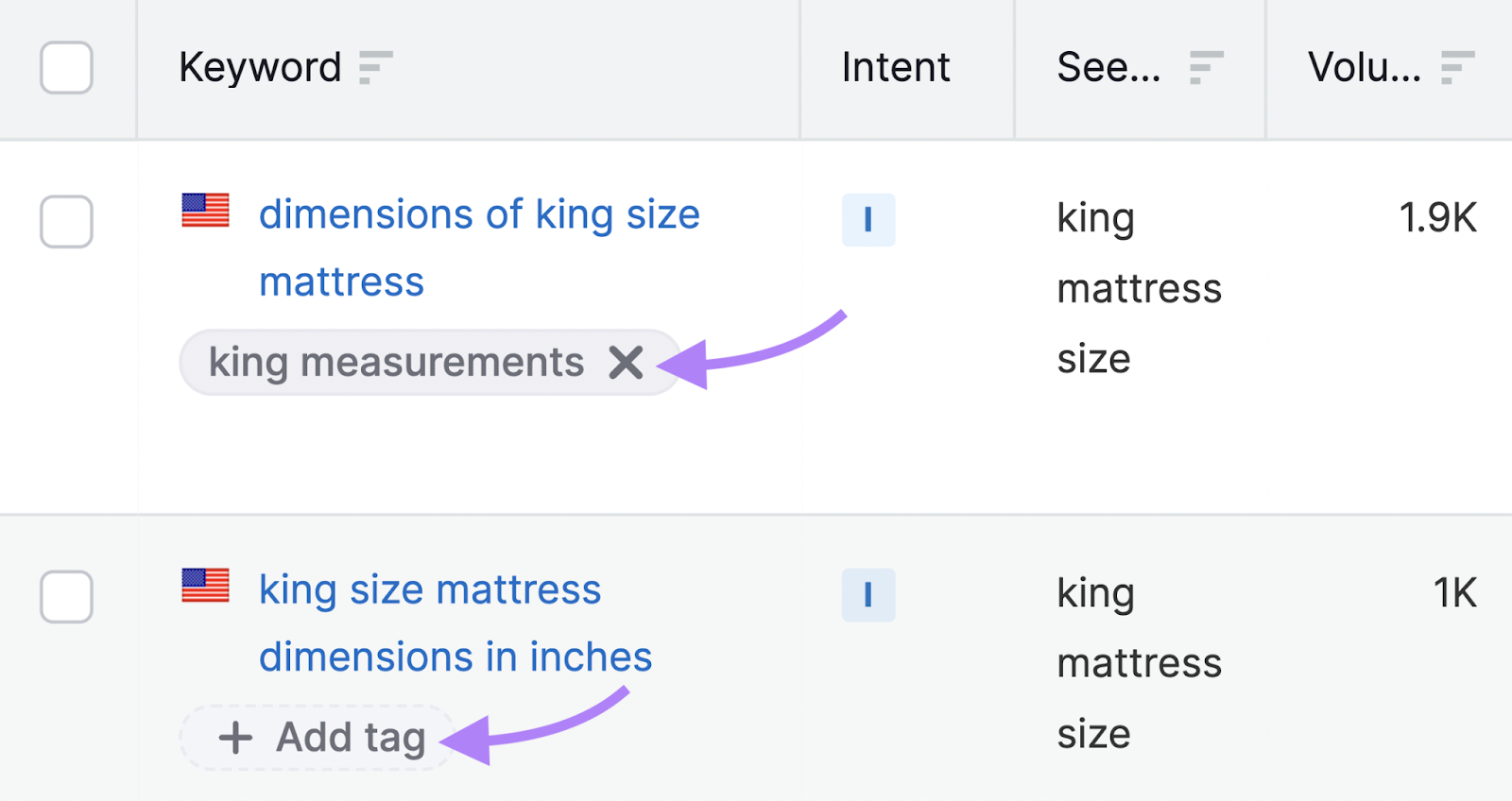 Or tag keywords in bulk using check boxes:
When you've captured the bulk of associated keywords, move onto the next keyword cluster. 
Pick a new (untagged) keyword. And start the process again. 
Once the majority of your keywords are categorized, sort through the stragglers. You can probably apply existing tags to many of them.
And make sure to combine clusters as appropriate. For example, "king measurements" and "queen measurements" could be targeted together in a "mattress sizes" cluster. (To later become a mattress size guide.)
For the purposes of this guide, we'll stick with our "king measurements" example.
Step 3: Plan Your Keyword Strategy
Once you've finished keyword grouping, apply a filter to view a cluster. Then, plan how you'll target these keywords.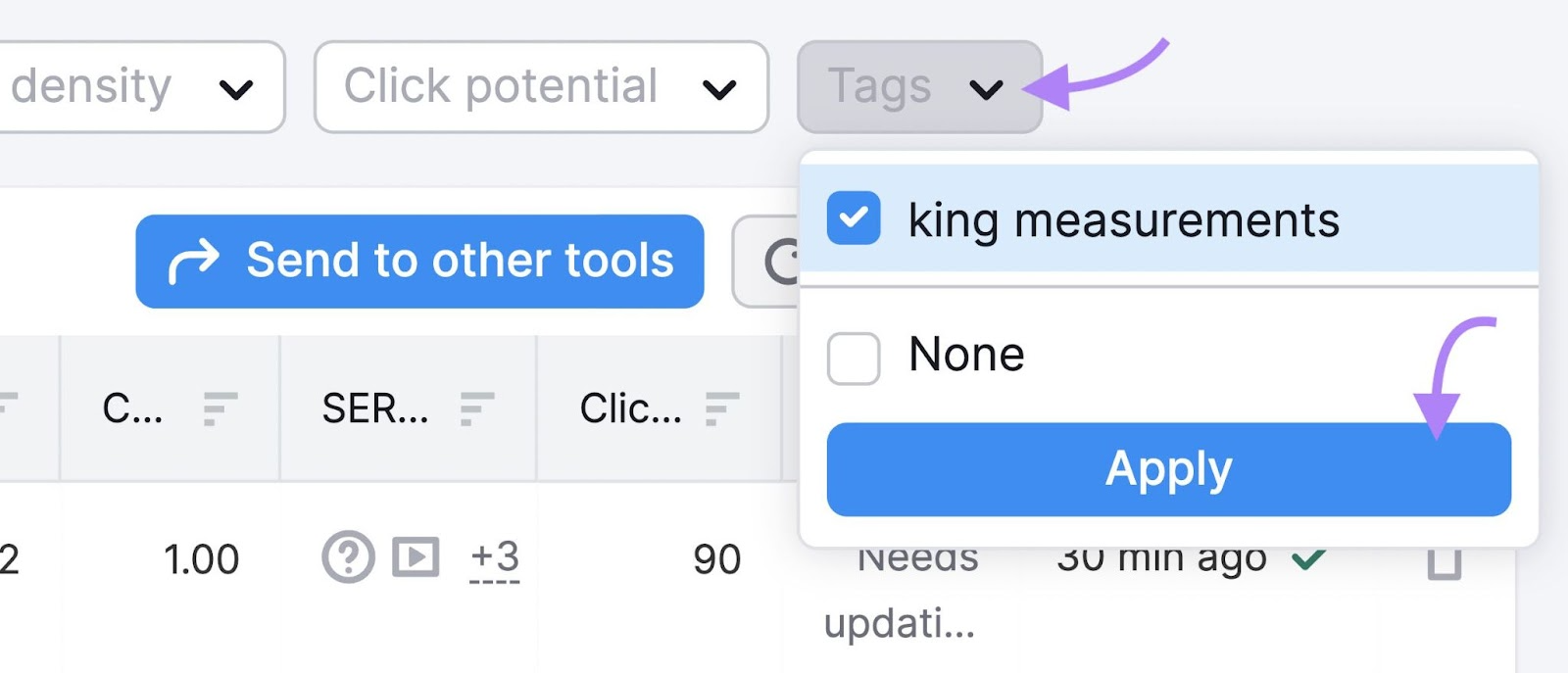 First, choose and tag the primary keyword—the main keyword you want to rank for. Base your decision on search intent and the following metrics:
Volume: The average number of monthly searches
KD %: How difficult it will be to rank organically in the top 10 Google results
Higher rankings generally produce more clicks. So it might be better to prioritize a lower-difficulty keyword, even if it has a lower search volume.

All the other keywords in your cluster are secondary keywords, by extension.
Next, check whether you have a page that could satisfy this keyword cluster's search intent. (In this case, a mattress size guide.)
If yes, optimize the existing page
If no, create and optimize a new page
Create a task in a spreadsheet or other tool. Making sure to note the target URL and keyword cluster.
Then repeat for your other keyword groups.
Also note the following keyword cluster metrics, which you can find in Keyword Manager:
Total volume 
Average keyword difficulty
Primary keyword volume
Primary keyword difficulty

If you're using a spreadsheet, you'll need to calculate total volume and average keyword difficulty using a pivot table or formula. AI tools such as Excel Formula Bot can help.

Finally, prioritize your to-dos based on business goals and resources. Also consider the page's SEO potential.
In our example, it makes sense to focus on the "king size mattress" keyword cluster before the "king measurements" cluster. Because: 
Optimizing a page is quicker and easier than creating a page
Total volume and primary volume are higher (indicating higher traffic potential)
Average keyword difficulty is lower (indicating better ranking potential—although primary difficulty is higher)
People visiting the product category page are lower in the purchase funnel (and therefore more likely to buy) than people visiting a measurements guide

Step 4: Optimize or Create Content
Ready to create or optimize content around one of your keyword clusters? 
The following are some of the most important on-page SEO tactics:
Include the primary keyword in the URL slug, title tag, meta description, and H1 tag
Mention the primary keyword within the first paragraph of body content
Naturally include primary and secondary keywords throughout your body content

If you can't include secondary keywords in full, use unique words from them (e.g., if you can't fit "mattress dimensions," try to at least use "dimensions")

Use secondary keywords within subheadings, where appropriate
Add internal links to related pages (e.g., from the king mattresses product category page to the mattress size guide)
Tip: To learn more about internal linking between related pages, check out our guide to topic clusters.
For example, here's a search result for Amerisleep's mattress size guide. 
Notice references to "mattress sizes" and "dimensions" in the title tag. The meta description includes keywords and specific measurements.

Here's a section of the optimized guide.  
Amerisleep has added keywords to the subheading and body content. And linked to highly relevant pages.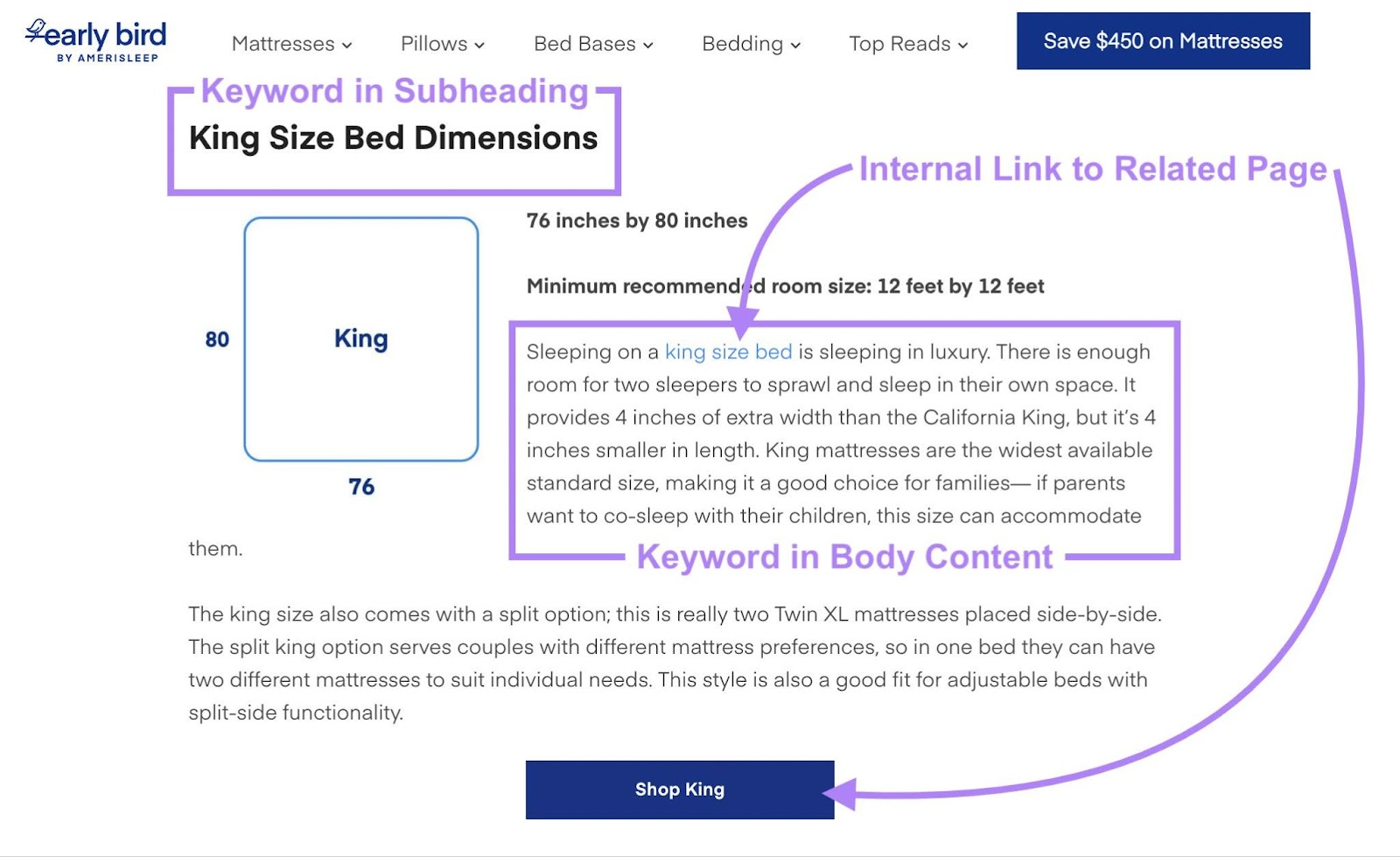 For additional guidance, use Semrush's SEO Content Template. The tool provides content recommendations based on the top 10 Google results for your target keywords.
Enter all the terms from the keyword cluster you're working on. Then, select your location and device and click "Create content template."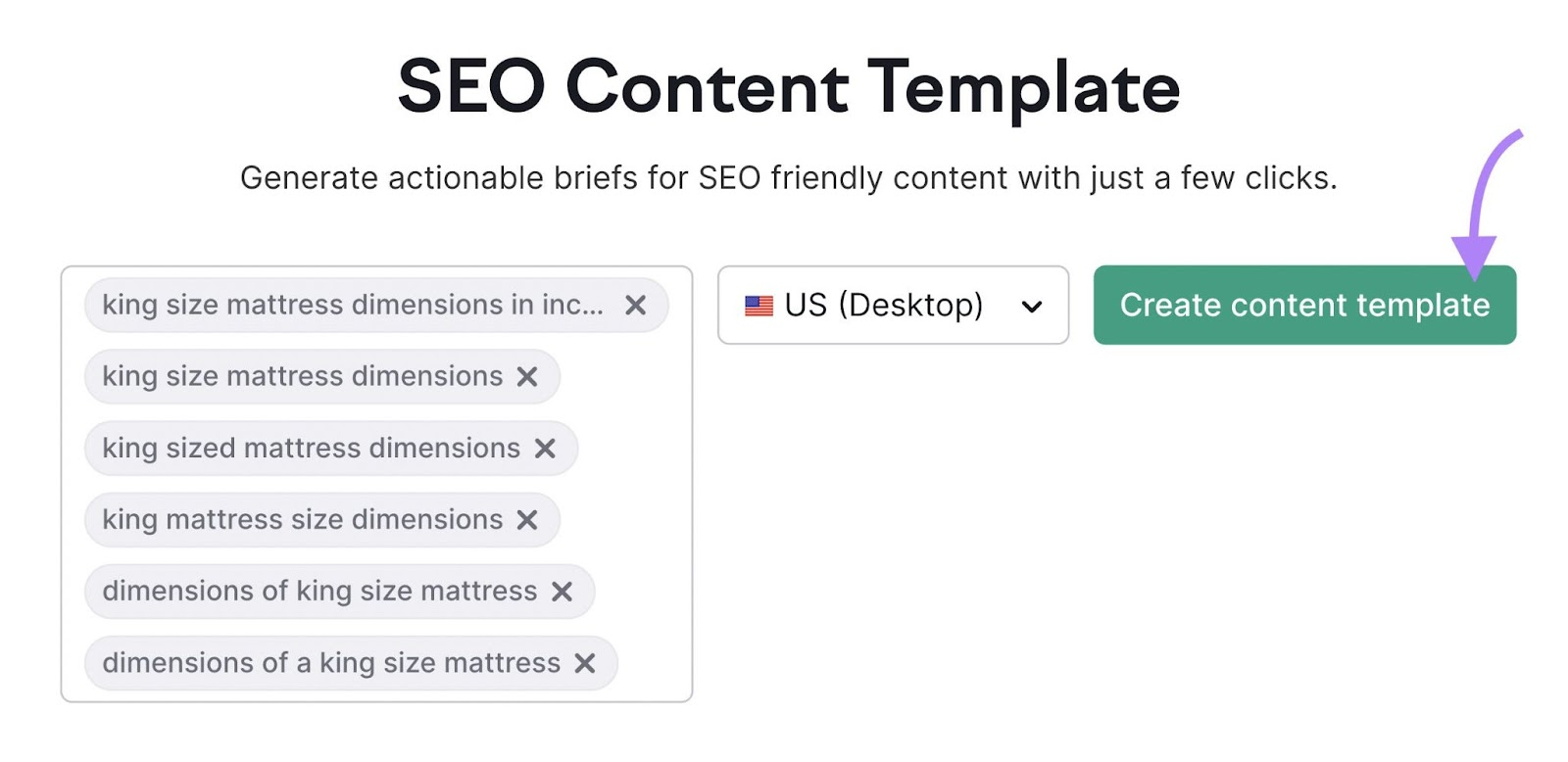 You will see recommendations for readability, text length, and more.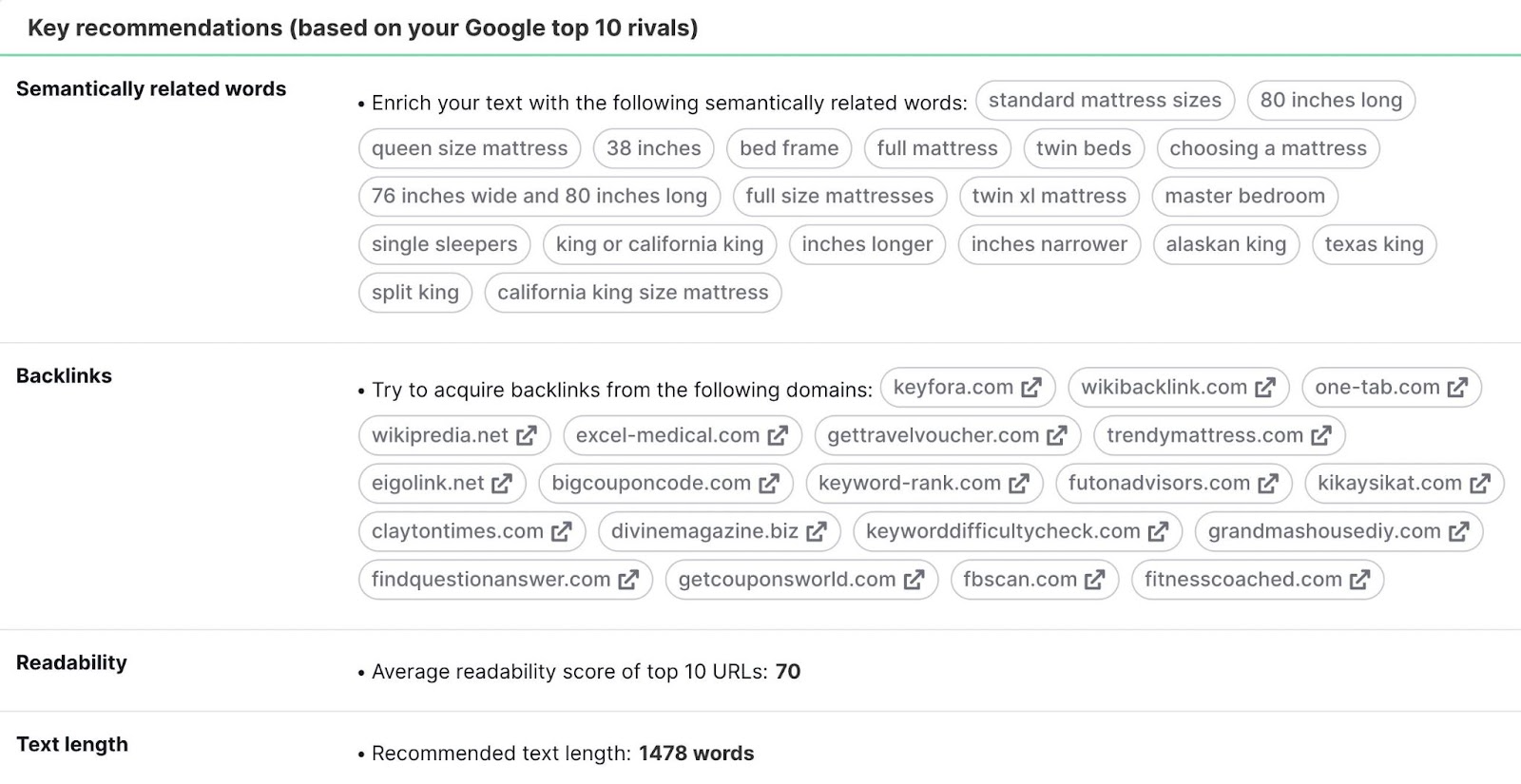 Plus, you can see how top rivals use keywords in their content.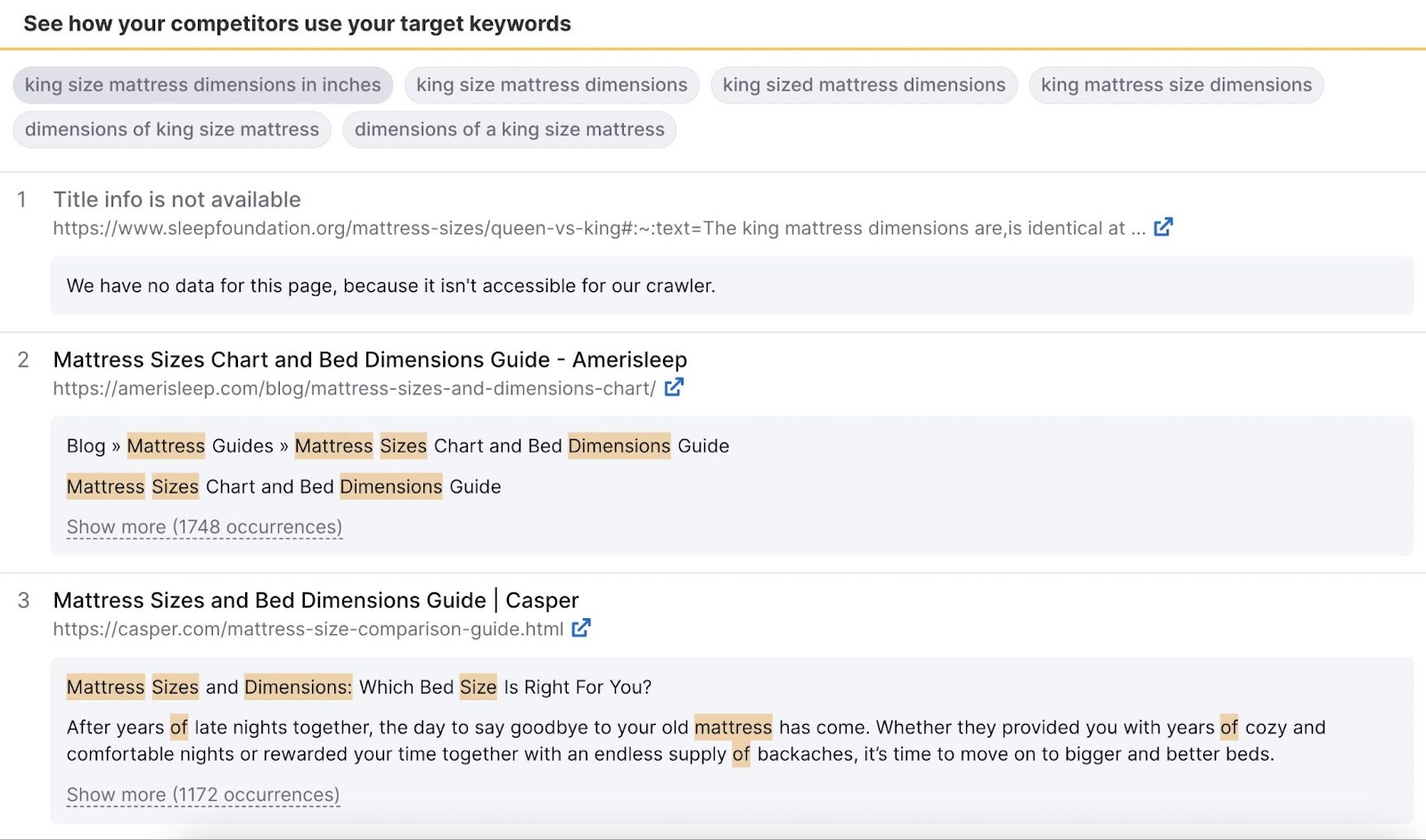 To start writing, go to "Real-time Content Check."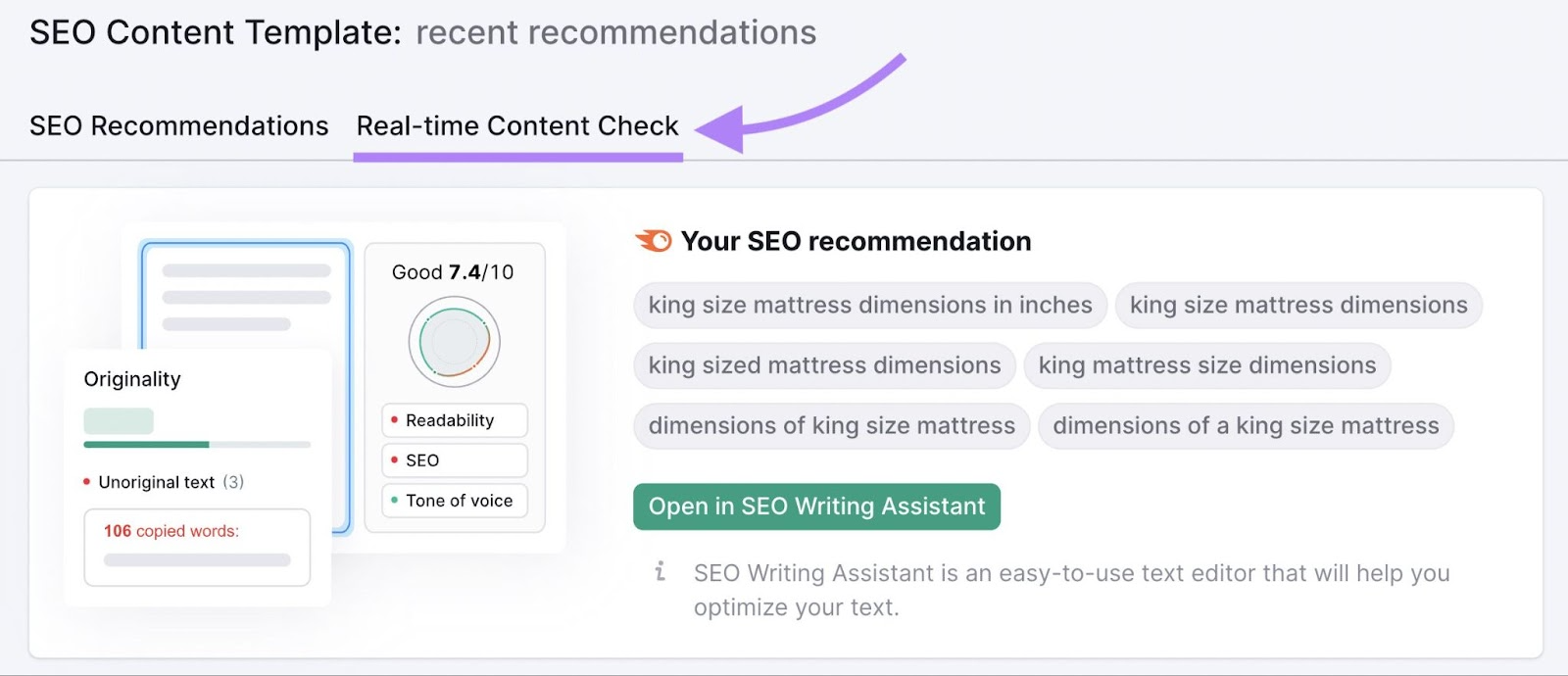 Then, "Open in SEO Writing Assistant."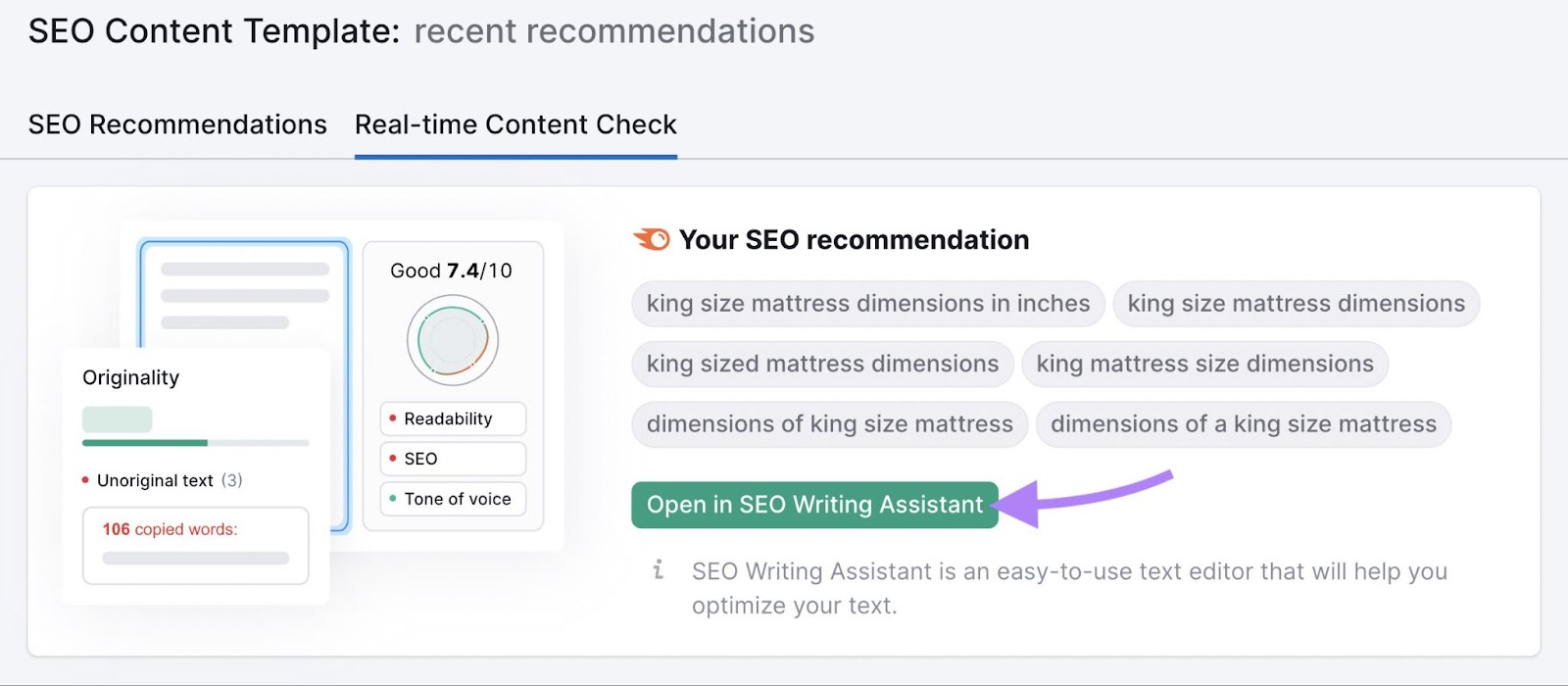 The SEO Writing Assistant scores your SEO, originality, tone of voice, and readability in real time. If you get stuck, use the built-in AI to compose or rephrase content.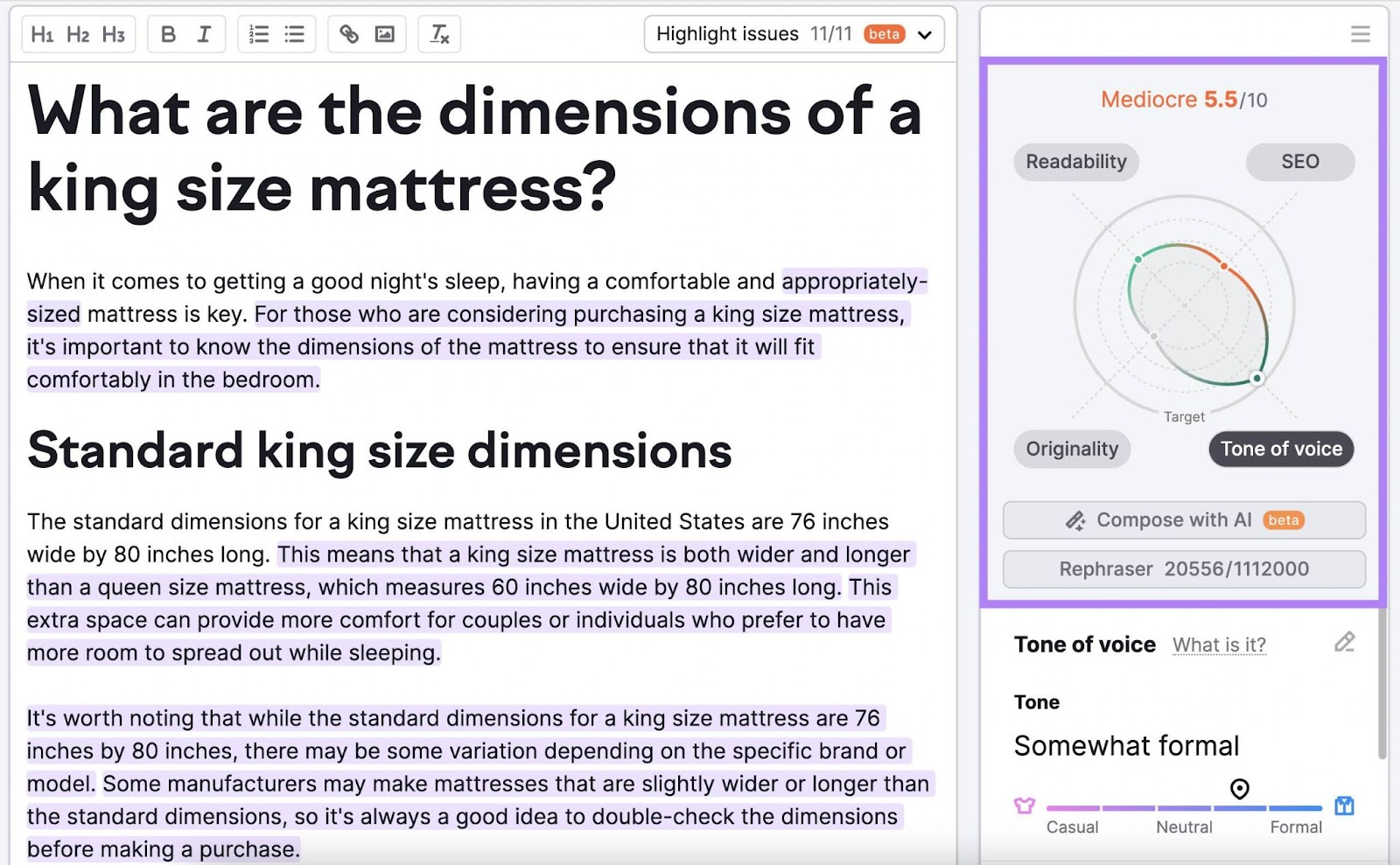 Don't forget to repeat these steps for your other keyword clusters.
Step 5: Track Your Keyword Rankings
Track your rankings to see whether your keyword clustering strategy works. If you don't establish or improve rankings for target keywords, take corrective action. By reviewing your SEO tactics.
With Semrush's Position Tracking tool, you can monitor key metrics for individual keywords and keyword clusters.
If you're using Keyword Manager:
Start by opening a keyword list.
Click "Send to other tools" and then "Position Tracking."

Choose an existing project or create a new one. Then, click "Send keywords."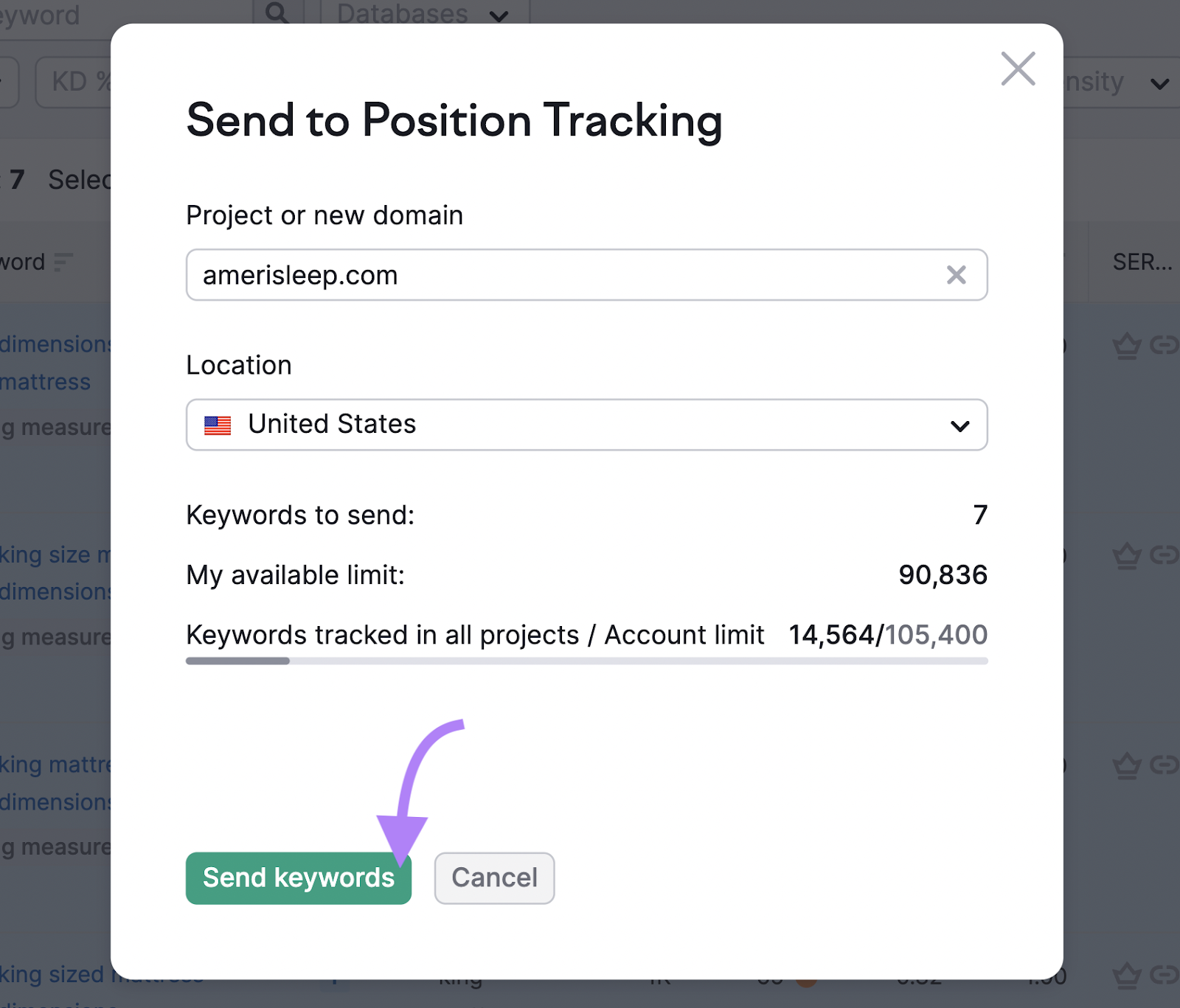 If you have more keywords to export, click "Return to Keyword Manager" and repeat the previous steps. Otherwise, click "Go to Position Tracking."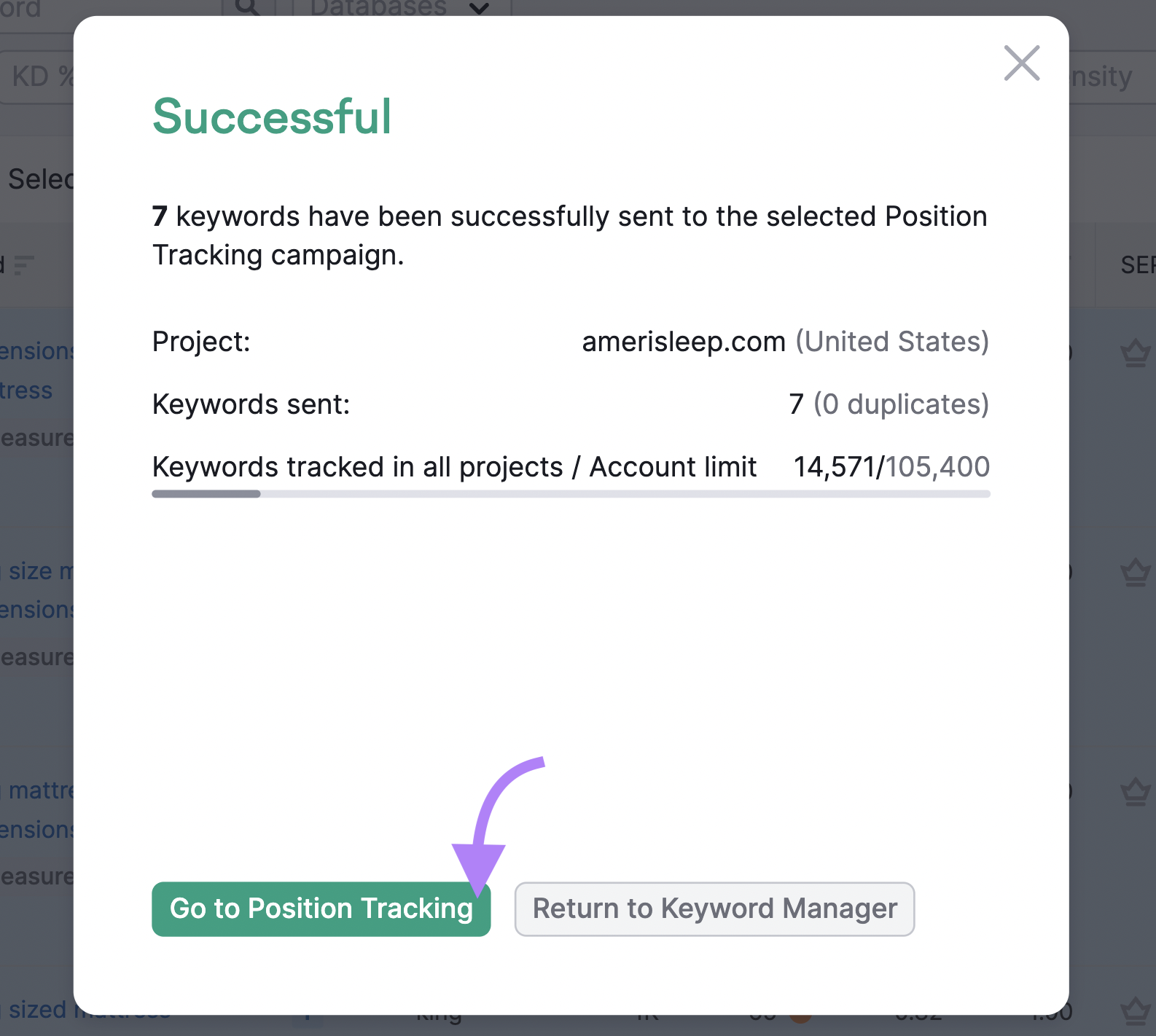 To see rankings (and other metrics) for individual keywords in Position Tracking, open the "Overview" report.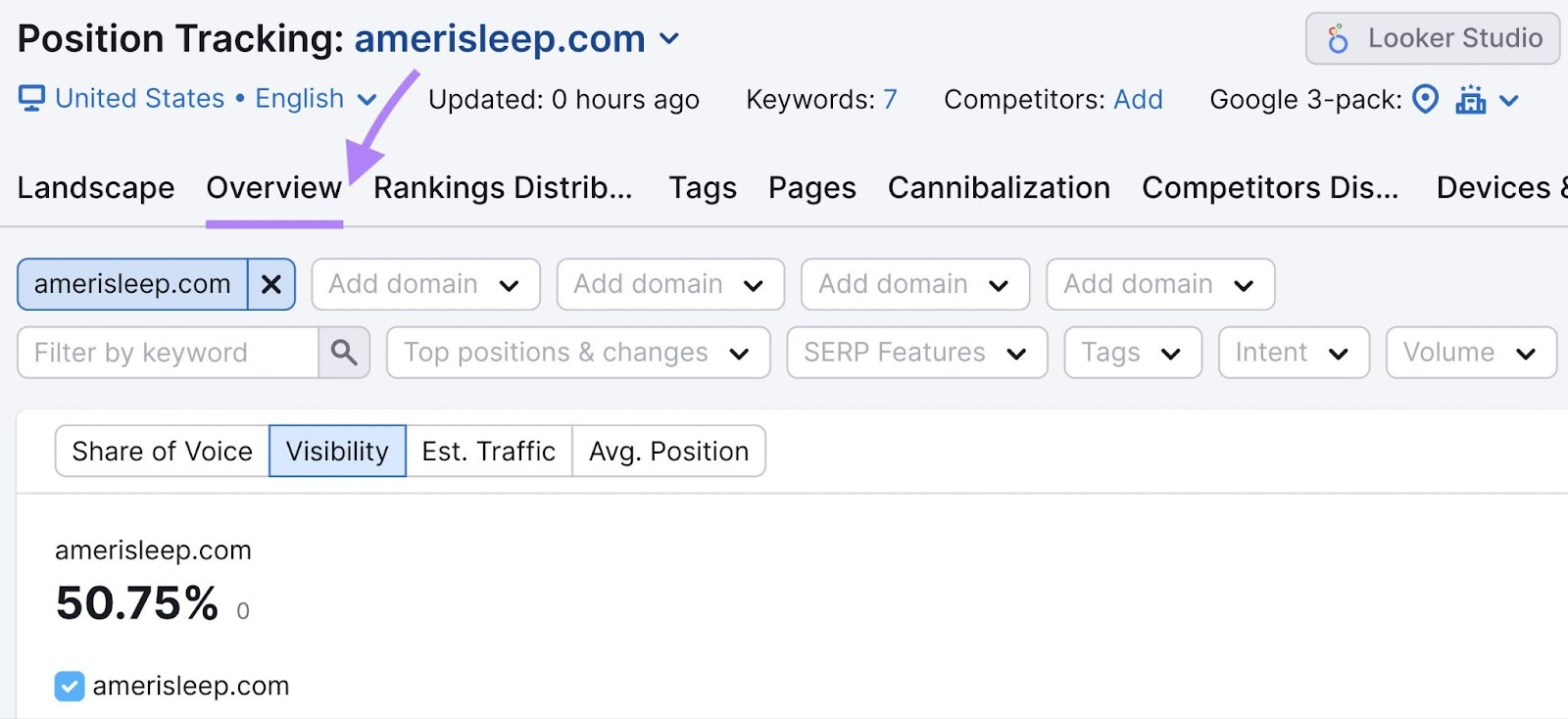 Then scroll down to "Rankings Overview."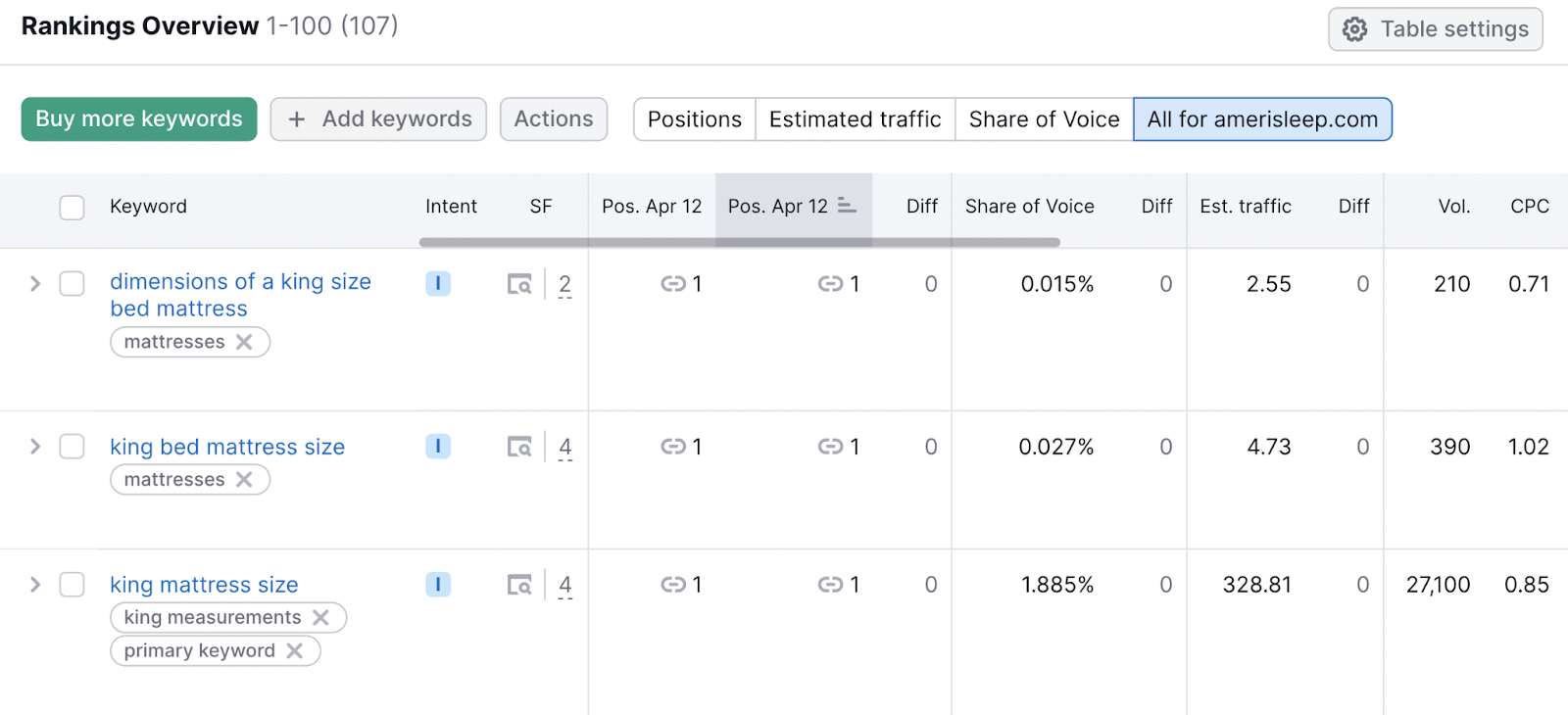 To see average rankings (and other metrics) for keyword clusters, open the "Tags" report.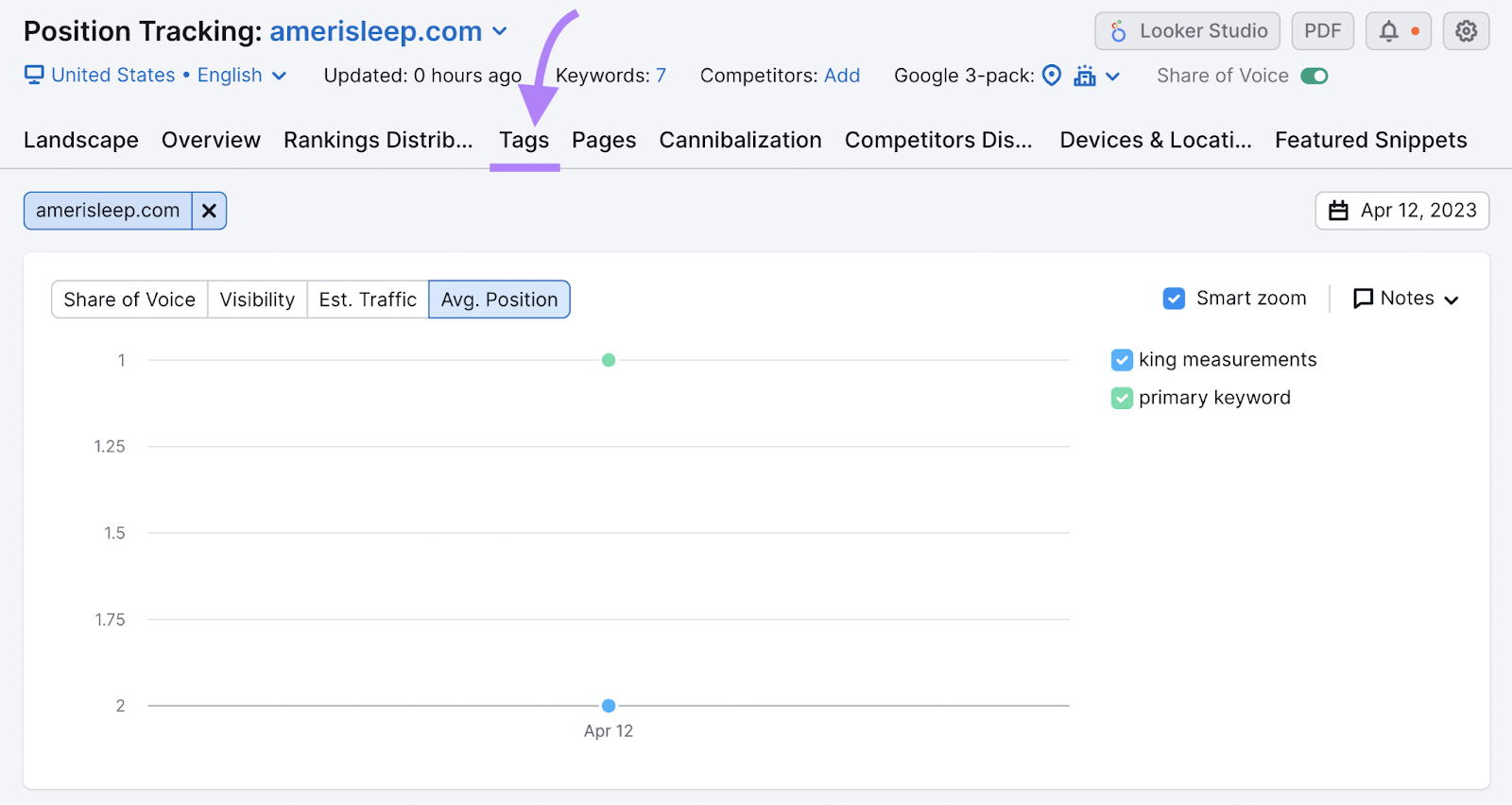 Then scroll down to "Tags Overview."

If your keywords are saved in a spreadsheet:
Make sure your keywords are in the left-hand column, then save as a CSV file.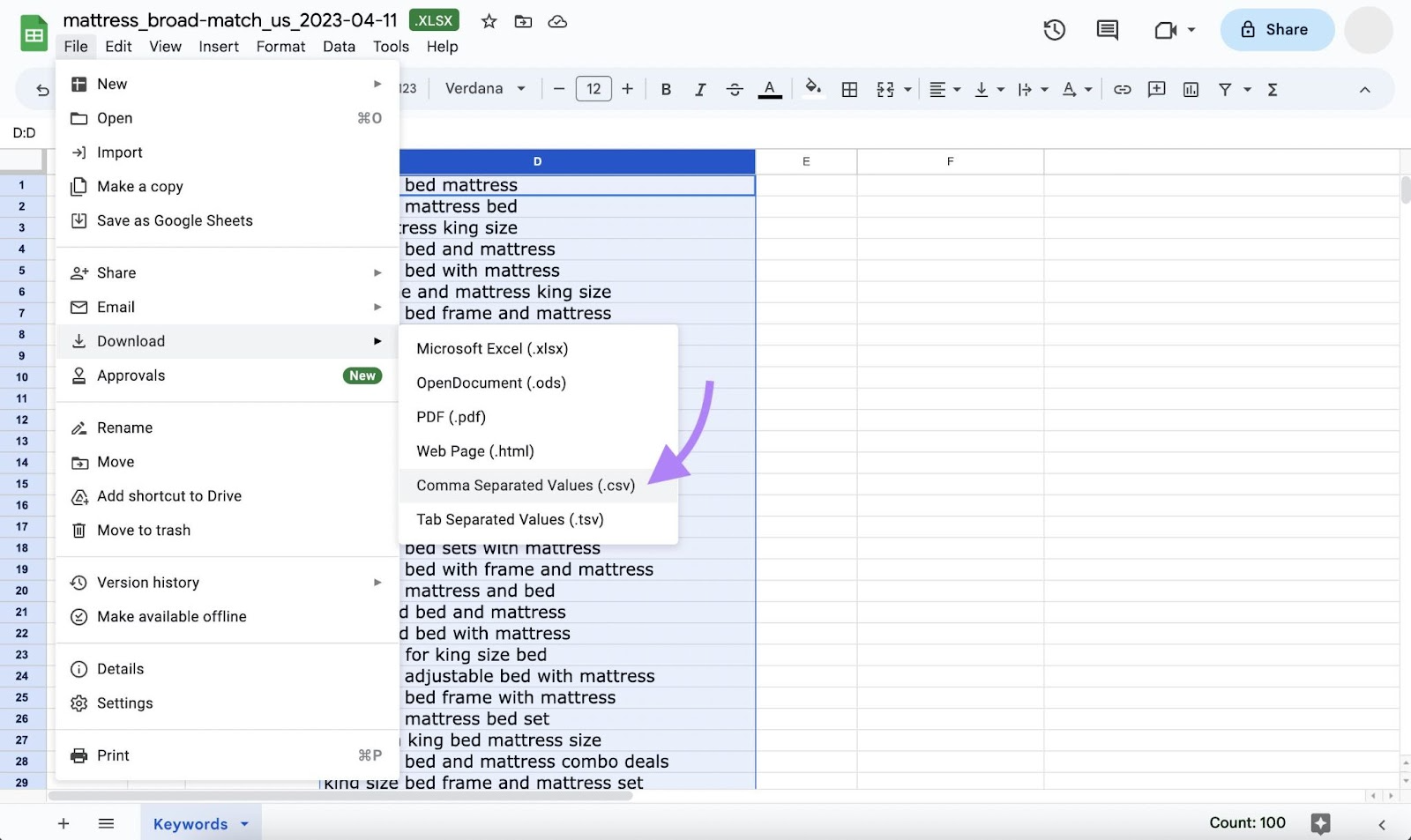 Next, go through the Position Tracking setup process. Make sure to import your keyword file.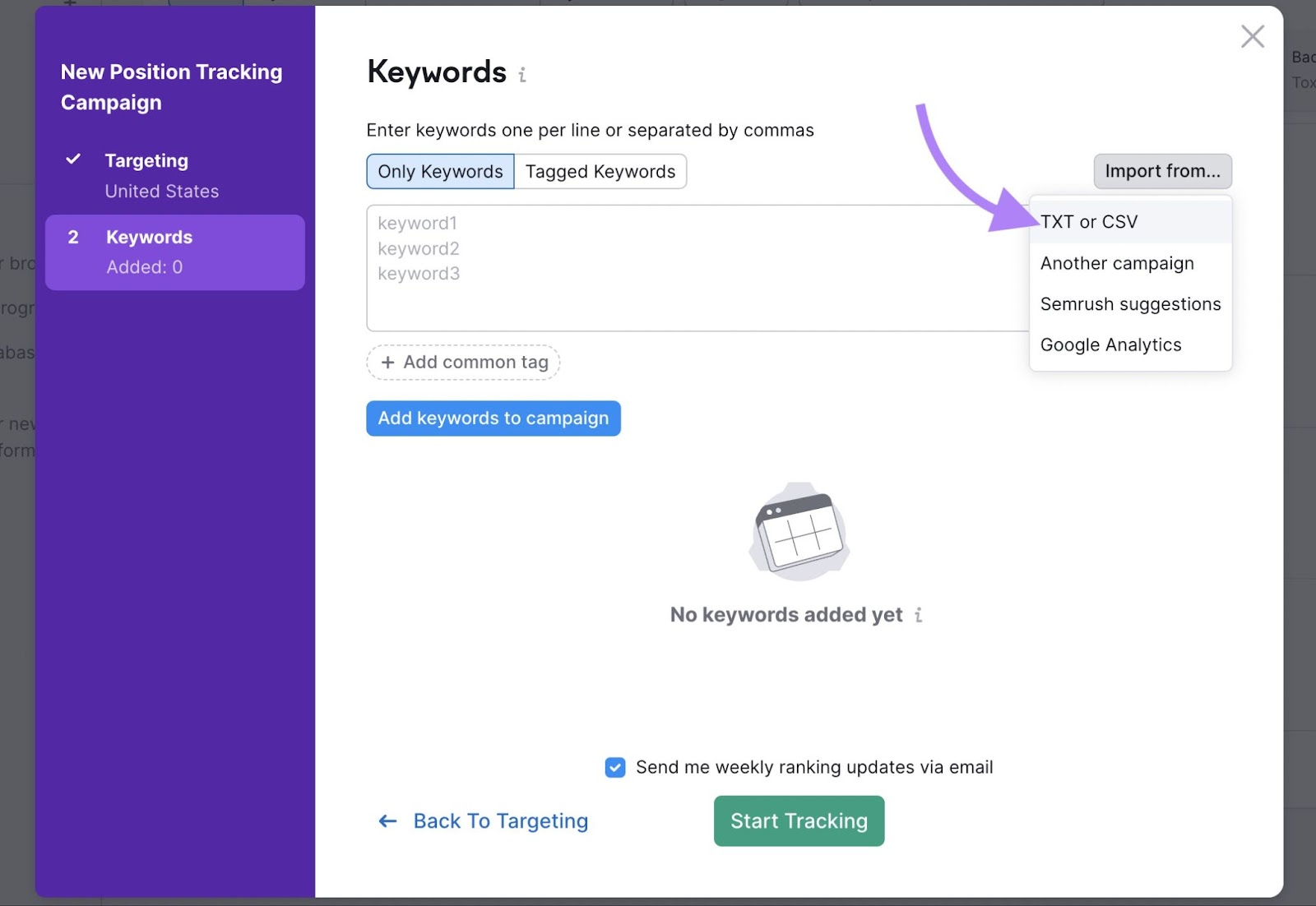 Once you're finished, you can view your keyword rankings in the "Overview" tab.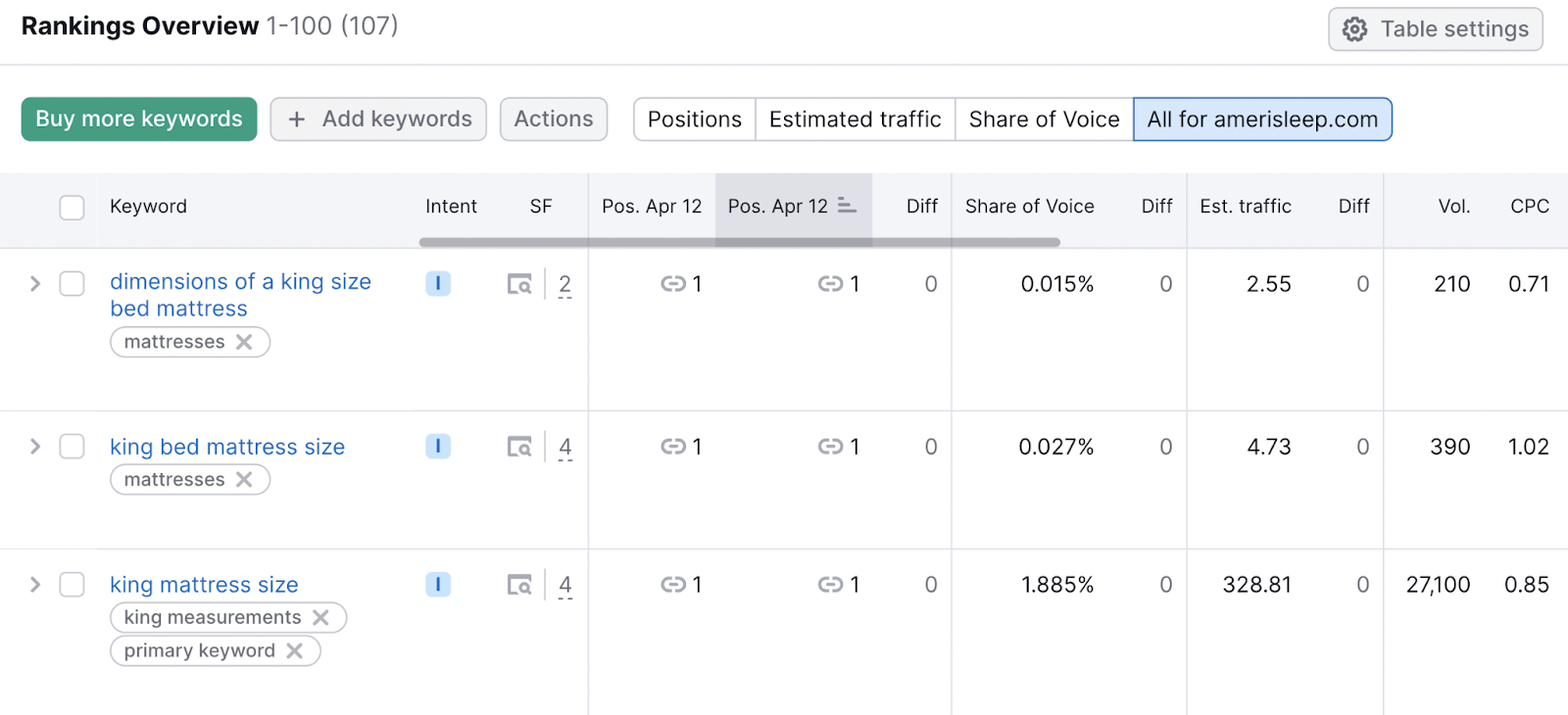 To monitor metrics for keyword clusters, group your keywords using tags. 
Select related keywords using check boxes, then click "Actions" > "Add Tag."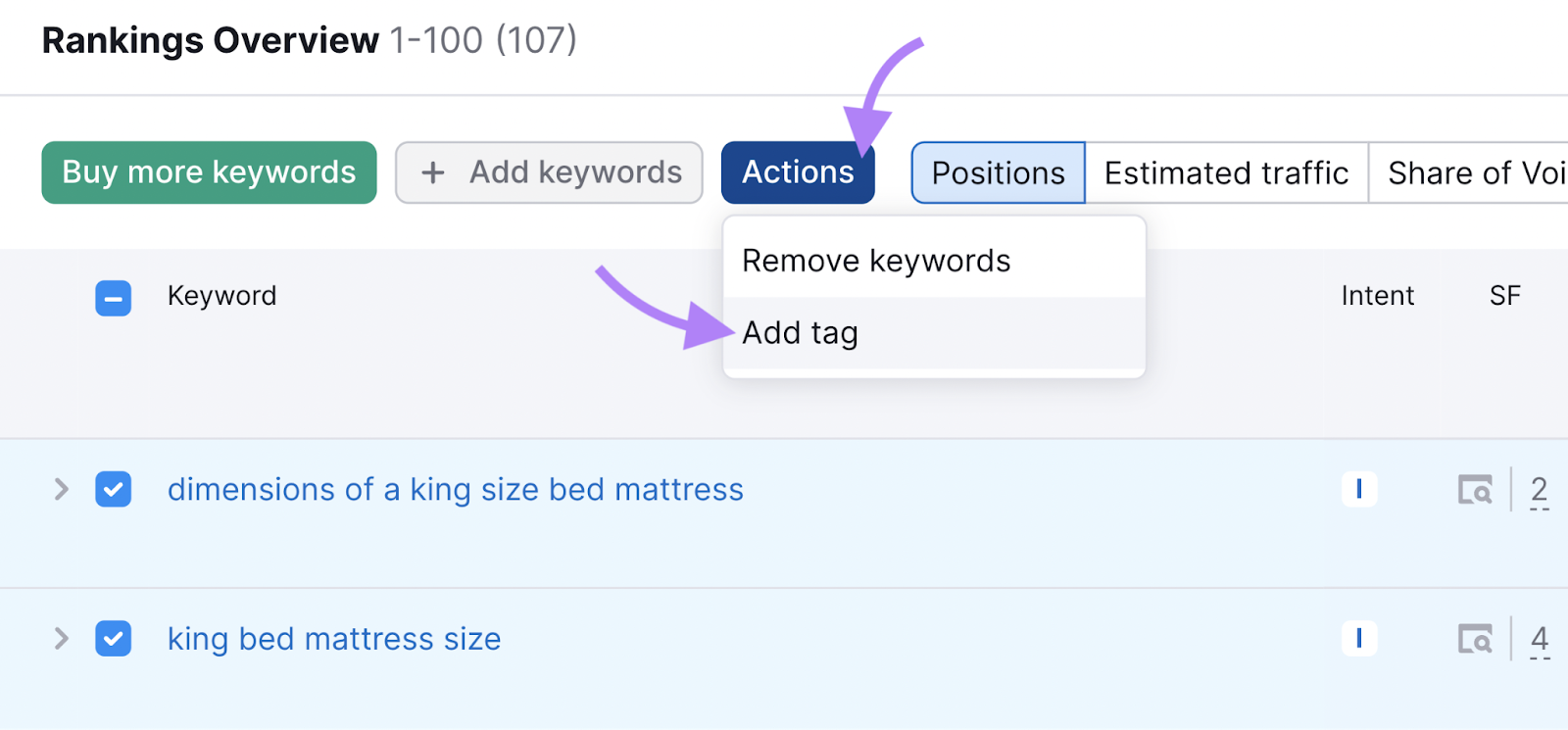 Enter your category name, then click "Apply."
Then, visit the "Tags" report to see metrics by keyword cluster.
Tip: Not getting the rankings you want? Check out our on-page SEO checklist for actionable advice.
Target Keyword Clusters with Semrush
Semrush has all the keyword clustering tools you need to establish and improve rankings:
Find keywords with Keyword Magic Tool and Organic Research
Categorize keywords in Keyword Manager
Create optimized content with the Content Marketing Platform
Monitor SEO performance in Position Tracking
Create your free account to get started.
Source link