Want to know which of your social media accounts contribute to business results (and which ones don't)? 
Run a social media audit.
In this article, we'll explain what a social media audit is, provide a step-by-step guide on how to conduct an audit of your social accounts, and share some useful social media tools.
Download our free social media audit template so you can follow along.
A social media audit tracks, measures, and analyzes your existing social profiles and the performance of the content you publish.
Social media audits are important because most companies have multiple accounts across different social media channels.
For example, tech company Lenovo has accounts on Instagram, Facebook, X (formerly Twitter), TikTok, Pinterest, and LinkedIn.
All these accounts seem uniform and updated, right? But here's what their Reddit account looks like (as of September of 2023):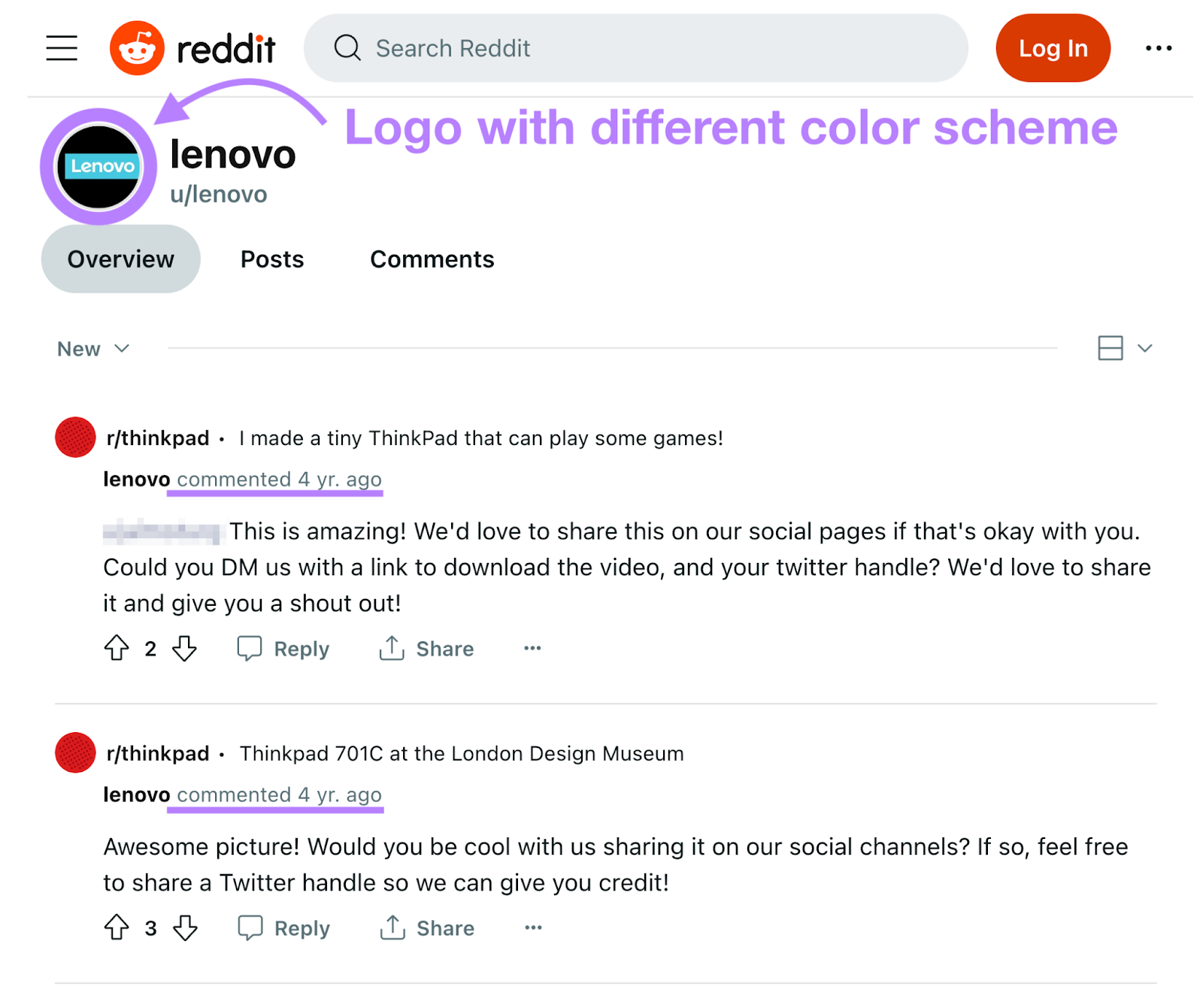 Not as updated. Their profile picture features their logo in a different color (blue, not red), and their last comment was about four years ago (at the time of writing).
Conducting social media audits regularly ensures you always know the following:
Which platforms you have accounts with so you can keep them all updated
Which platforms your target audience interacts with most
Which types of content your audience relates with the most
Which accounts are contributing the most to your business's overall marketing success
We recommend conducting an audit at least once every quarter. Especially if you have accounts on all the major social media platforms.
Luckily, we've got the perfect template for you to use. So you can start (and finish) your social media audit today.
Download the template today to follow along.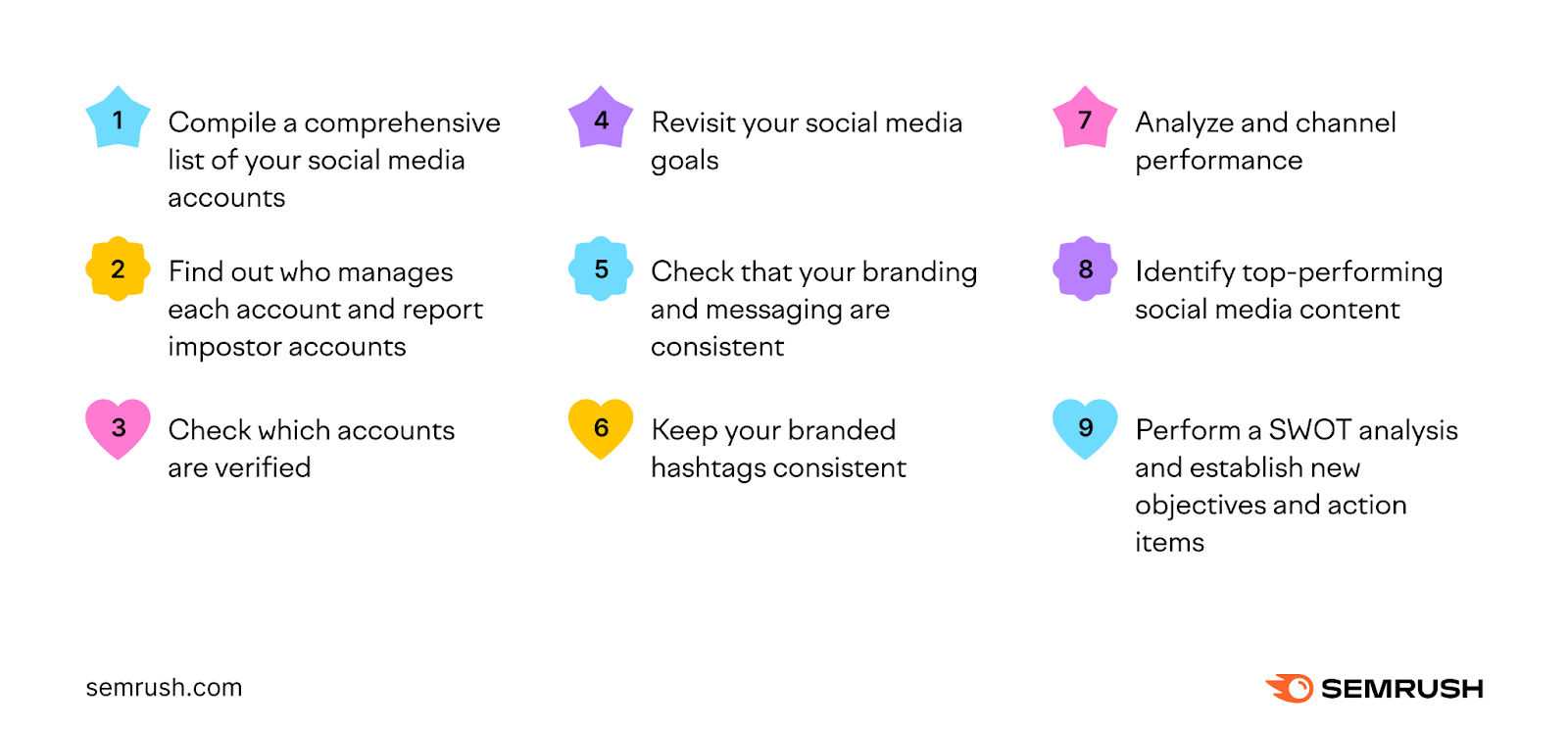 1. Make a Comprehensive List of Your Social Media Accounts
One goal of a social media audit is to take inventory of all the accounts you currently run. So you can figure out what's working and what can be improved.
Start your audit by listing all your company profiles. That way, you know which accounts are claimed and under your control. And which ones need to be deleted.
If you're unsure whether your business is active on a social media channel, search for your brand name or products to see if there's an active account.
Here are the platforms we recommend checking:
Facebook
Instagram
X (formerly Twitter)
TikTok
Snapchat
Pinterest
LinkedIn
Reddit
Quora
Tumblr
Action: Now go to your social media audit template and add the accounts to the "Profile URL" column on the "Summary" page of your social media audit.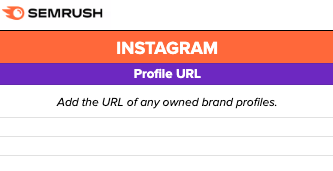 Note: If you find accounts you (or your team) don't remember creating, add them to the list anyway. And move on to the next step.
2. Find Out Who Manages Each Account and Report Impostor Accounts
Now that you have a list of all your accounts, it's time to find out which ones are official, which are duplicates, and which are impostors (if there are any).
If you're a one-person team, this step is easy. You are the only person handling your social media accounts.
But if you're part of a larger team, knowing which of your employees is in charge of each account keeps your accounts secure.
Action: Ask your social media team who is in charge of which account. And then add their names to the "Summary" page of your social media audit.
If you find duplicate accounts, delete the ones you no longer use. Duplicate accounts can confuse users. And even make your account look outdated.
If you find malicious or spammy accounts with your brand name, report them to the appropriate social media platform. These accounts can hurt your brand reputation by posting incorrect information or scamming your followers.
Pro tip: Add your owned accounts to Semrush Social. It'll give you a single dashboard for all your social media needs—scheduling and publishing posts cross-platform, analytics, and competitor research.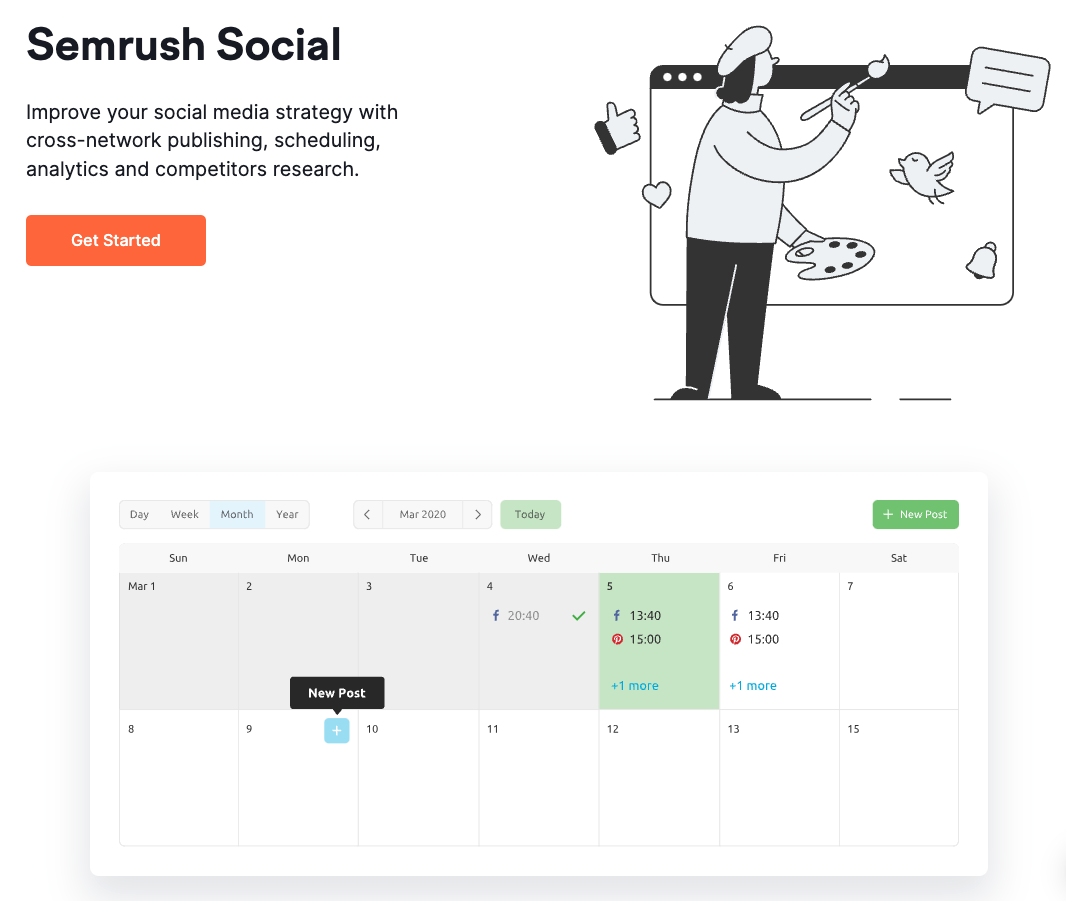 3. Check Which Accounts Are Verified 
Verification on social media means the platform confirms your brand identity.
This helps prevent fraudulent or imposter accounts, protecting the authenticity of official brand accounts.
Verification is typically displayed as a check mark on your social media profile. 
Here's an example of a verified Instagram account. It belongs to the Scandinavian cycling brand Pas Normal Studios.

Action: Go through your accounts and note which ones are verified. And add that information to your audit sheet.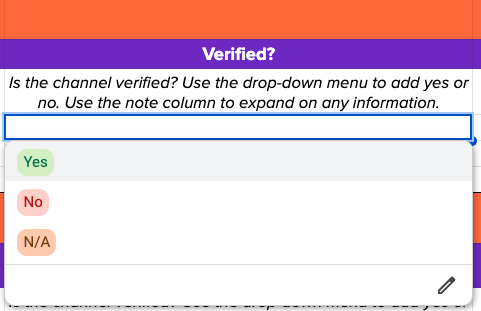 If you own any unverified accounts, make a note to start the verification process as soon as you finish the audit.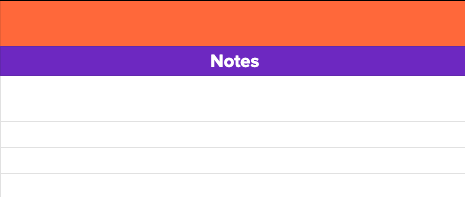 4. Revisit Your Social Media Goals
Your social media goals need to align with your business's wider objectives and marketing strategy.
That way, you can keep all your marketing channels focused on contributing to your company's mission.
For example, if your company wants to "increase sales by 10 times within the quarter," your social media goal could be, "Get at least 100 clicks on our link in bio every week."
Ideally, you already have a goal for each social media channel.
Action: Add your goals to the "Goal" column in your audit's "Summary" page.
But if you need help creating your social media goals, we suggest using the SMART framework.
That way, you can ensure each goal is Specific, Measurable, Actionable, Relevant, and Time-bound.
Action: Once you have your goals, add them to your social media audit sheet.
5. Check That Your Branding and Messaging Are Consistent
Consistent branding creates a unique, memorable brand identity representative of your business, culture, and mission.
This helps consumers relate to your company. Which strengthens emotional ties, leading to long-term customer relationships. And increased revenue.
Here are the key elements of your profile that you should check for consistency: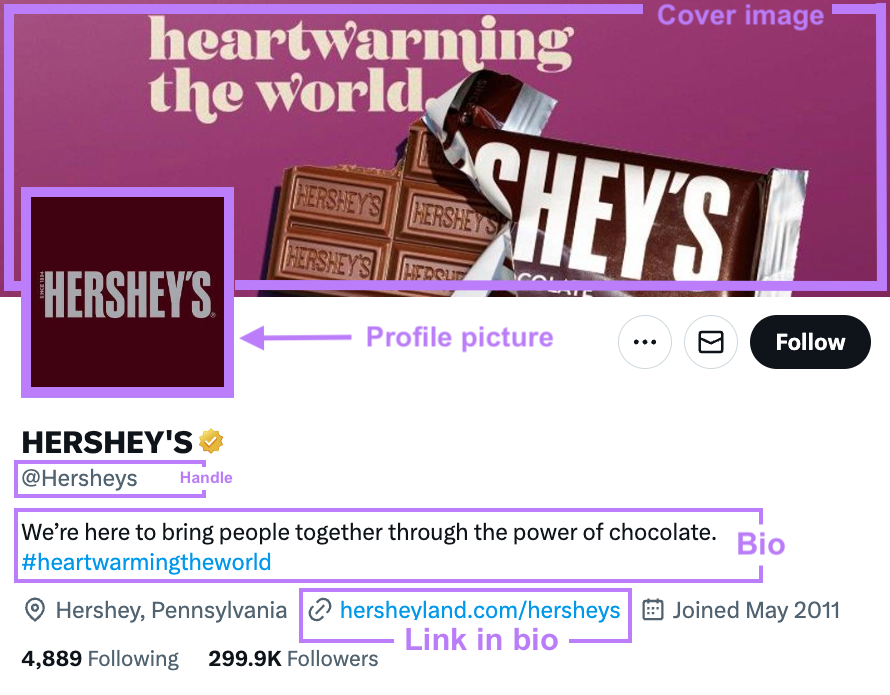 Profile picture. Your profile picture should visually represent your brand. Companies usually use their logo, while personal brands usually use personal pictures.
Cover or banner image. Your cover image gives you another opportunity to communicate your brand identity. It's usually cohesive with the profile picture, as they appear together.
Bio or description. Your social media description should communicate important information in your brand voice. It should tell potential customers who you are, what you do, and how you can help them.
Username or handle. Your username should be or include your brand name to make your accounts easily searchable on all platforms.
Link in bio. Link in bio refers to the clickable URL on your social media profile. Not all social media accounts have this, but most do. Make sure the link still works.
Action: Check each element listed above. And make sure the information is the same across all of your social accounts. Add those pieces of information to your social media audit sheet.

If one of your accounts has a different profile picture or link in bio, make a note in your audit sheet to edit those accounts later.
6. Keep Your Branded Hashtags Consistent
Branded hashtags help organize your social media content. And are an opportunity to build brand identity and search for user-generated content (UGC). 
For example, Calvin Klein created the brand hashtag #MyCalvins. 
The hashtag is instantly recognizable as the Calvin Klein brand. And encourages audiences to tag social media posts using the hashtag to show off their purchases. 
This not only helps Calvin Klein's brand awareness, but also gives them instant access to UGC, which builds audience trust and drives purchase action.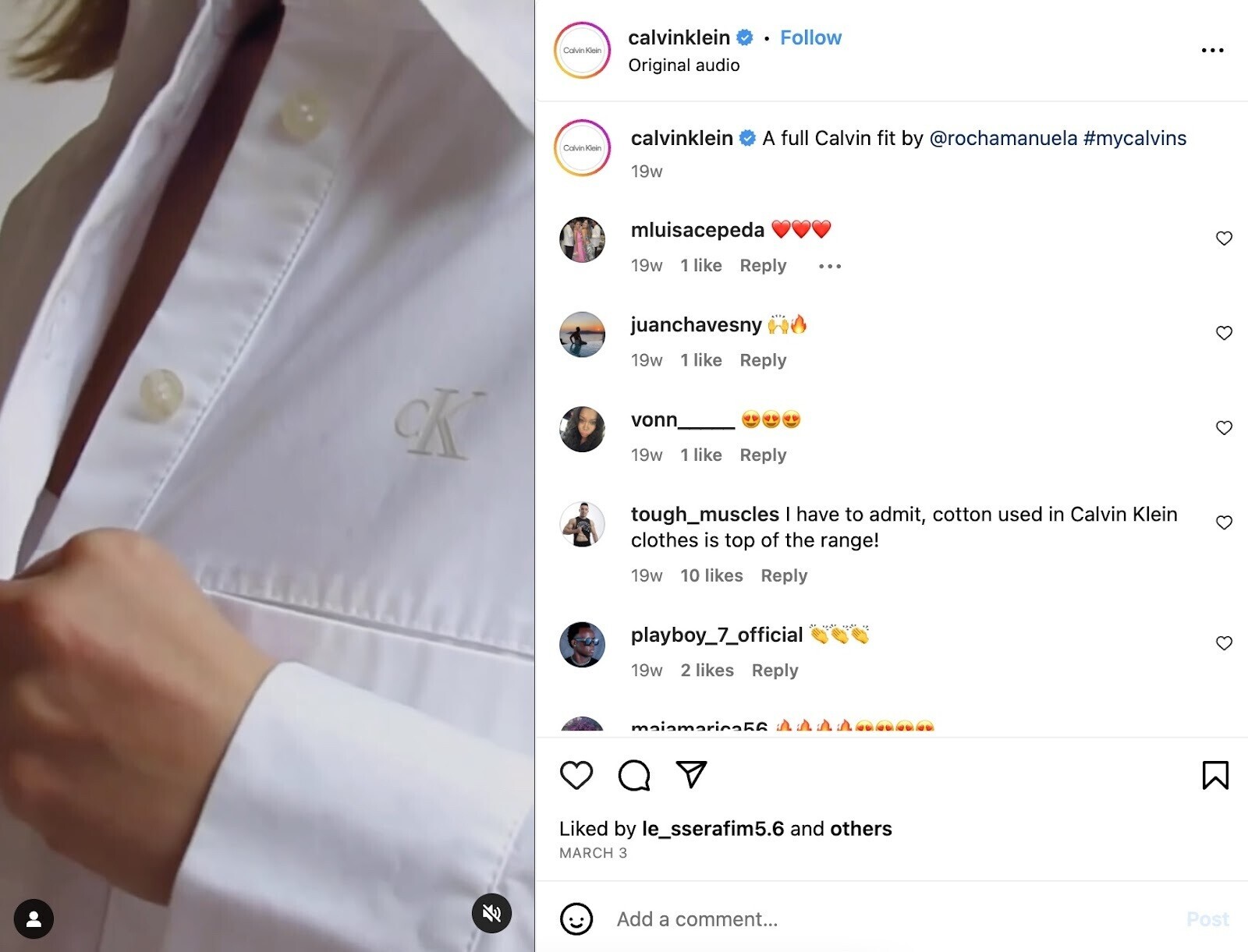 Action: Review your branded hashtags across your accounts. Update or refine as needed. Add any used branded hashtags to the social media audit template.
7. Analyze Channel Performance
Looking at social media analytics helps you identify successful strategies and areas for improvement. 
Understanding how you're performing against your social media KPIs helps you do the following:
Know the channels and content types that achieve your social media goals
Determine the most effective channels for your brand strategy
Discover the posts that drive engagement and resonate with your audience 
Learn what is and isn't working in your social media campaigns
Develop an understanding of audience targeting and funneling 
Pro tip: Skip the manual calculations with the Social Analytics Tool.
Simply connect your social account with Semrush to get audience insights, including when your target audience is online, where they are, and a bit about them.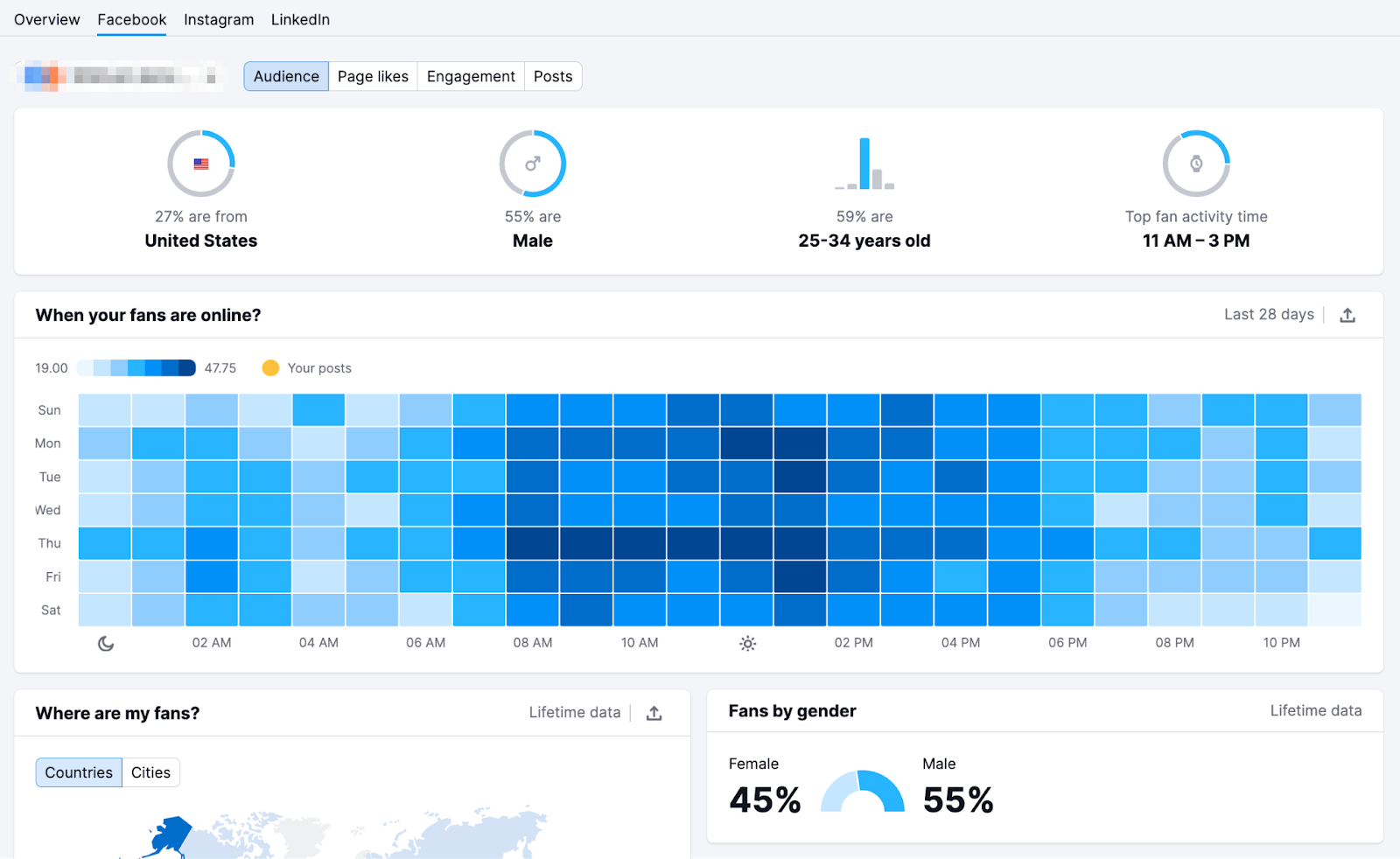 You'll also get engagement data. Like how many impressions you get, what your post reach is, and what your engagement rate is over a period of time.

Here are the key metrics to track, whether you're using the tool or doing it manually.
Impressions
Social media impressions are the number of times someone sees your post. Whether they perform an action or not.
For example, you have 50,000 followers on Instagram. They each see your content twice. That's 100,000 impressions. 
You can find this number within the Social Analytics tool.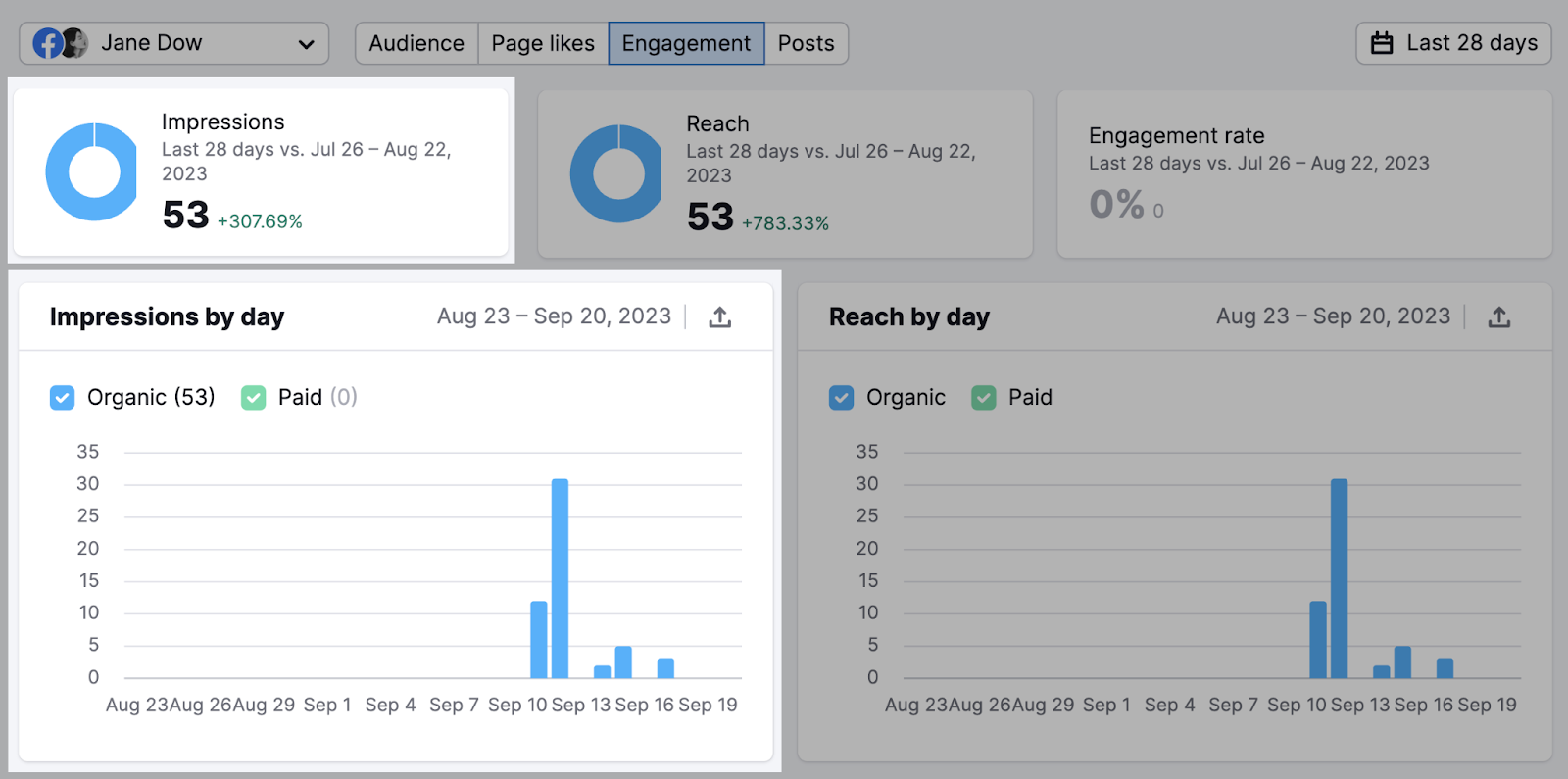 Or within each platform's analytics page. For example, this is where you can find the number of impressions in YouTube Studio's Analytics tab: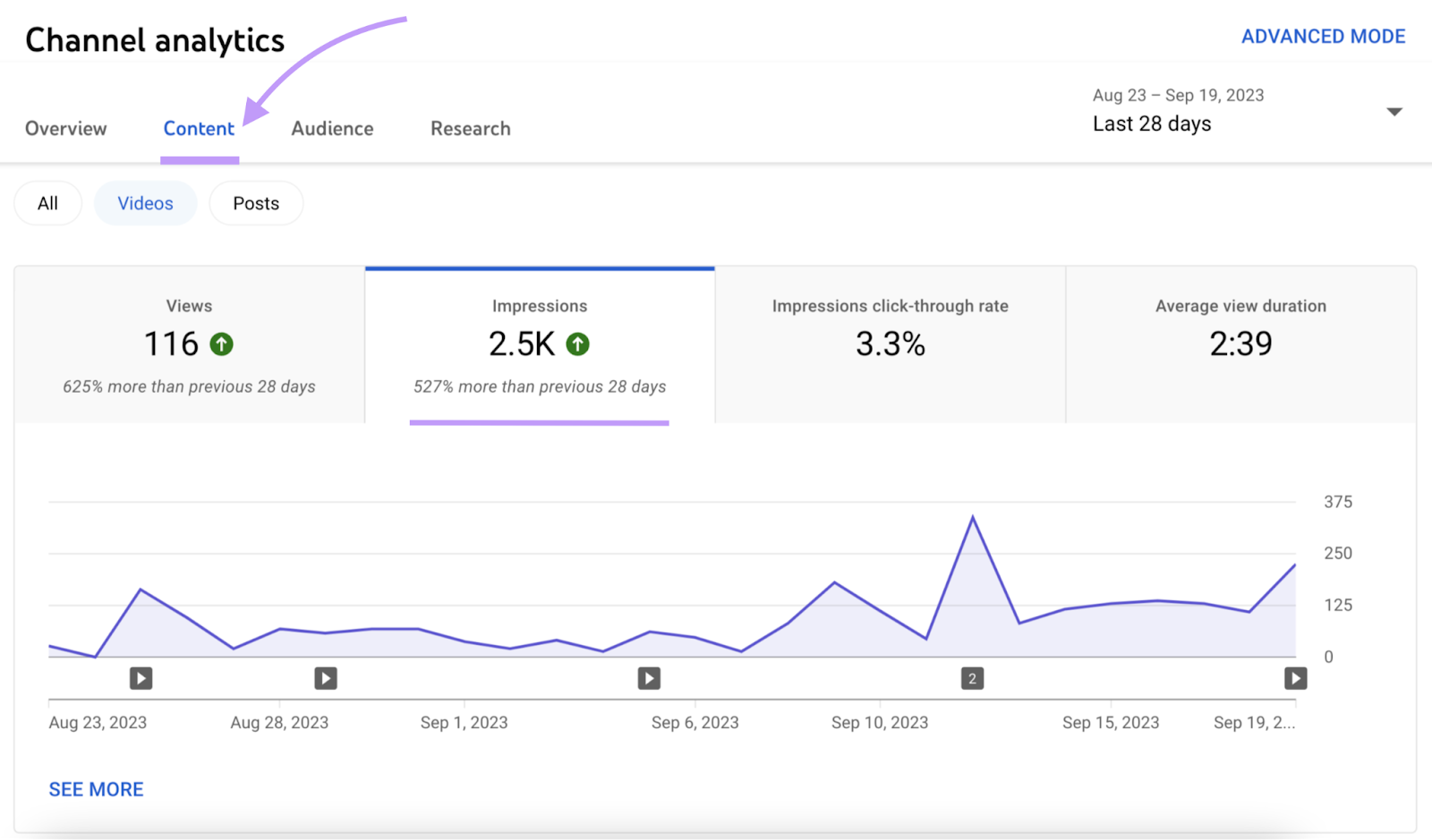 Action: Add your number of impressions across all owned platforms to the "Profile Performance" section of your template.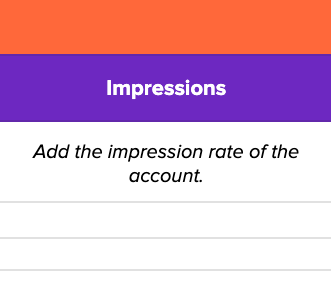 If You Have Few Impressions:
Add relevant hashtags to your posts to increase visibility
Create engaging content that encourages repeat viewings
Maintain a regular posting schedule and share content at peak times
Pro tip: Add your social accounts to Semrush's Social Poster to pre-schedule up to 2,000 posts for Instagram, Facebook, X (formerly Twitter), LinkedIn, Pinterest, and Google Business Profile.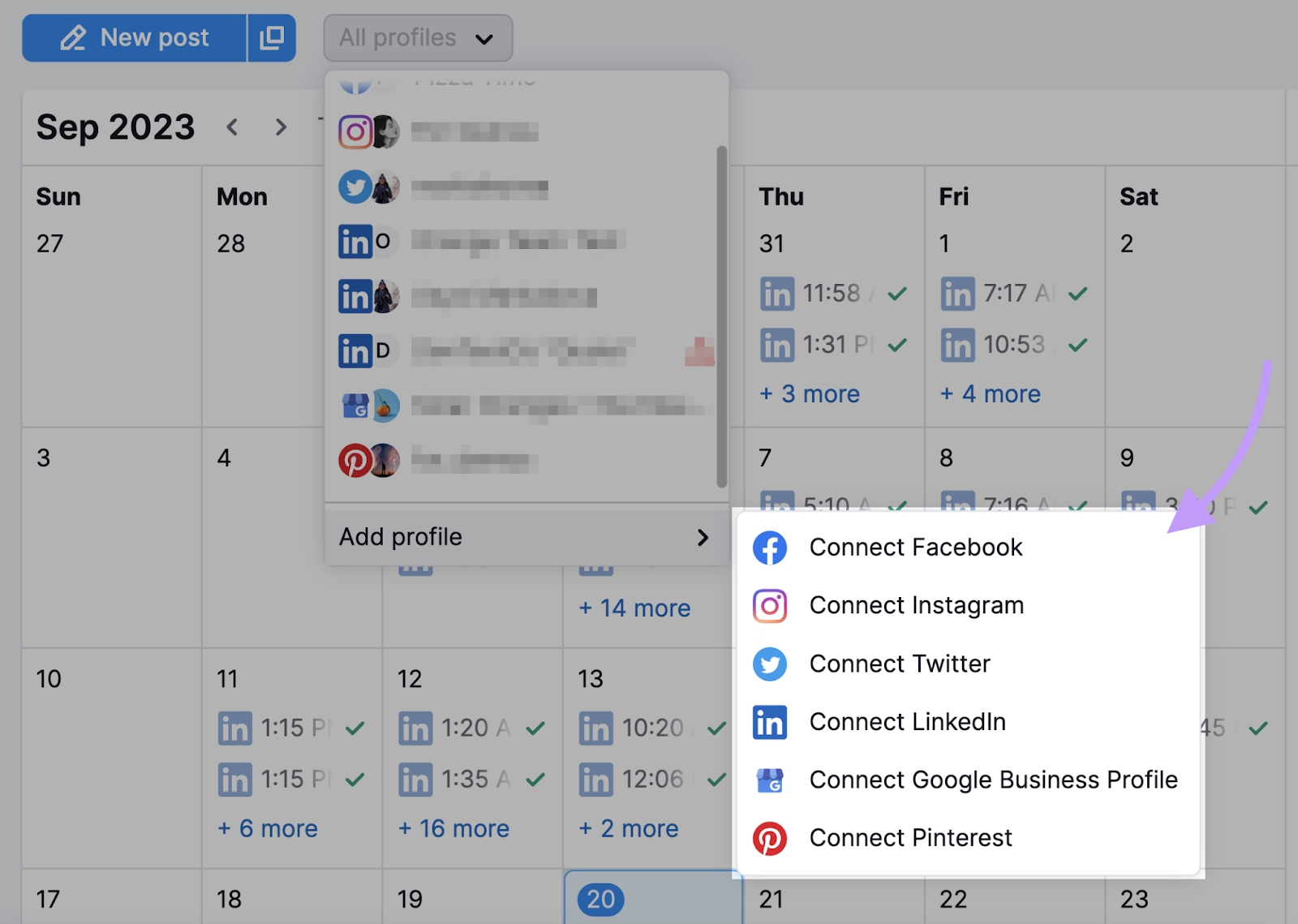 It also tells you when your target audience is most active.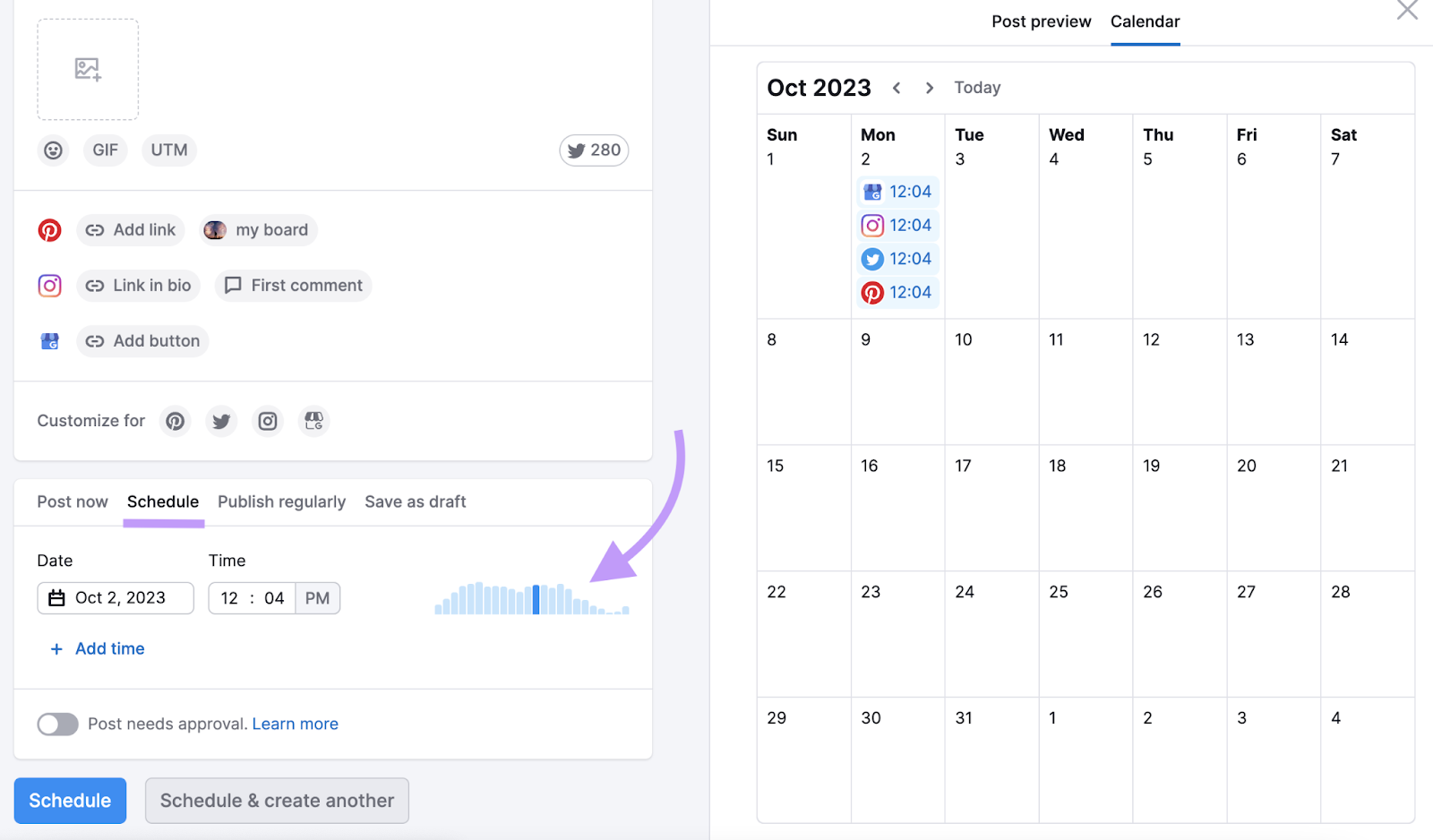 Reach
Social media reach indicates how many unique views your post generates. 
For example, if the reach of your Instagram post is 33,000. This means that 33,000 unique users saw the post.
Reach and impressions sound similar, and it's easy to confuse the two terms. Think of the two metrics like this: 
Impressions: The number of times your post was seen.
Reach: The number of unique users who saw your post.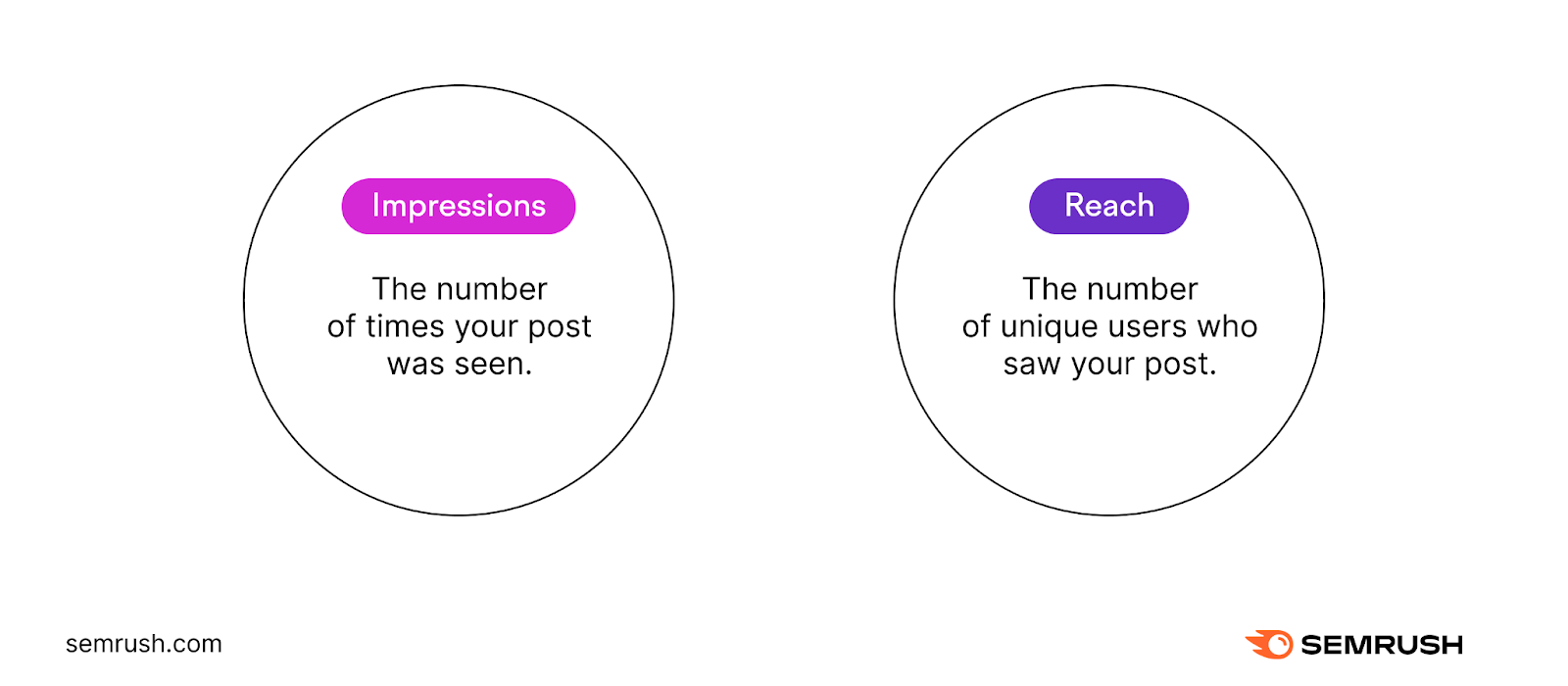 Impressions are typically higher than reach. Because one user could view your post multiple times.
Action: Add your social media reach across all owned platforms to the "Profile Performance" section of your template.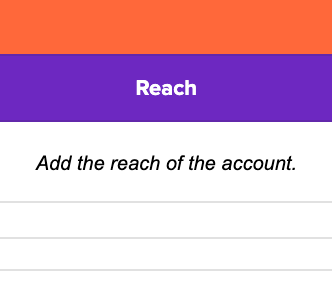 If Your Reach Is Low:
Share high-quality, visually appealing content
Assess whether the platform is the right fit for your target audience
Share evergreen content relevant to your niche
Engagement Rate
Engagement rate measures audience interaction on your social media posts. For example, how many times your audience likes, comments on, shares, or saves your posts.
A higher engagement rate tells you that your audience is interested in your content.
The formula for calculating engagement rate is (Total Engagements / Reach) x 100.

For example, if a post receives 600 engagements and the reach was 15,000 people, the engagement rate is 4%.
You can find your total engagements and reach for all your social accounts in Semrush's Social Analytics Tool.
Or by going to each individual social media channel's analytics pages. 
To view your Instagram analytics page, first you'll need to switch to a Business Account or Creator Account. Then, click on the hamburger icon in the top right corner. Choose "Insights."
And you'll see something like this: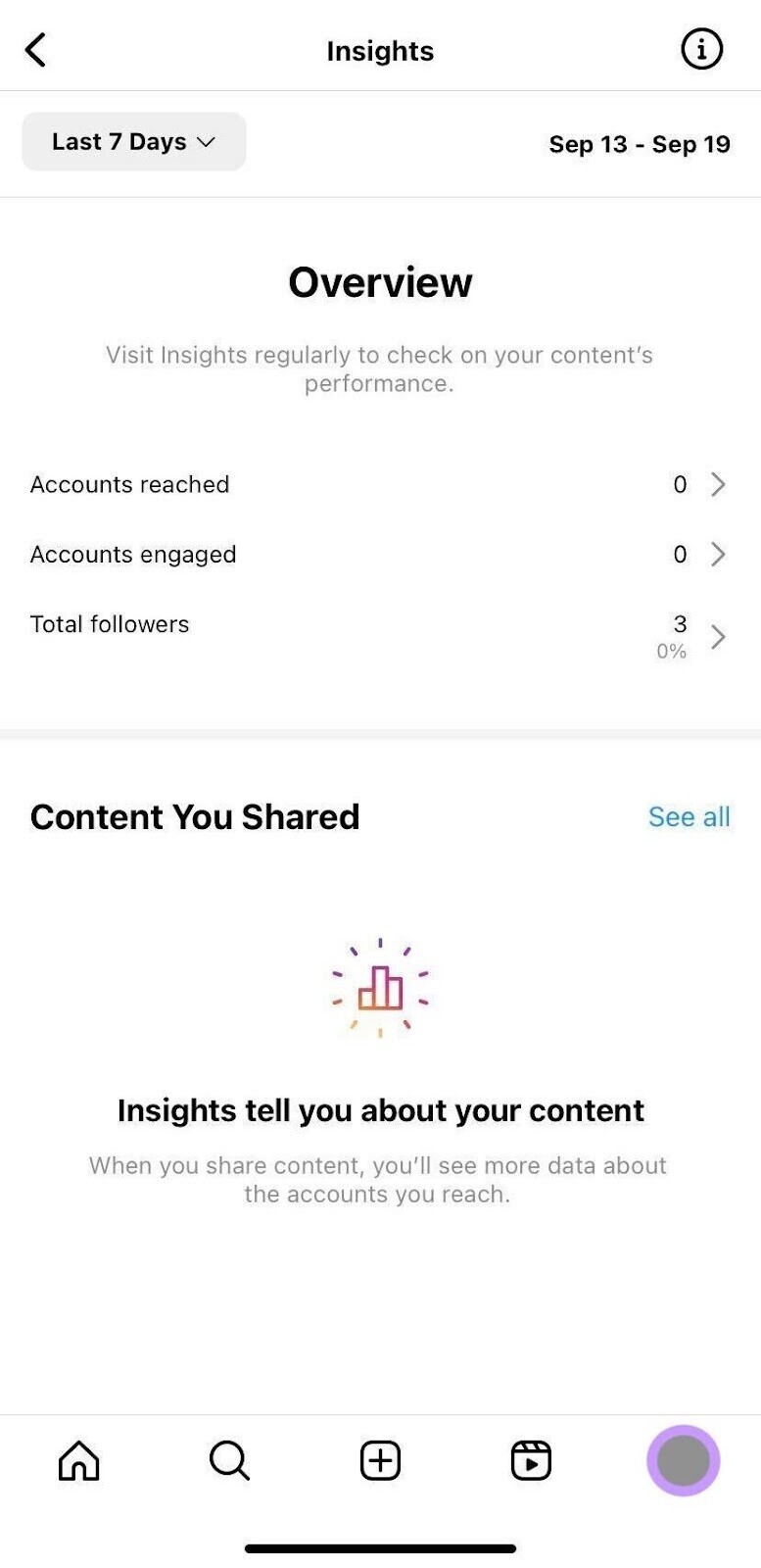 Action: Add your engagement rate to the social audit sheet as soon as you've calculated it.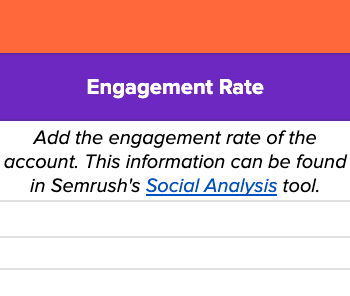 It's important to analyze engagement rate in relation to your social media goals and the size of your audience. 
A larger social media following typically means a lower engagement rate. Additionally, different industries and platforms vary in average engagement rates.
For example, a B2B audience on TikTok is less likely to engage than a B2B audience on LinkedIn.
If Your Engagement Rate Is Low: 
Make sure your messaging resonates with your target audience
Perform a deep dive on your audience. Do you understand their preferences, pain points, and interests? 
Engage with your audience, respond to comments, and ask questions
Followers
Follower count evaluates the potential reach of your social media efforts. And analyzes the growth of your social media presence over a specific period of time.
However, the quality of your followers is more important than the quantity. 
If you build a social media audience of followers who aren't interested in your brand, your engagement rate will suffer. 
Additionally, fake or bot followers are easy to obtain, further troubling the relevancy of this metric. 
Remember: 
Followers should be more than just a number. Dive into demographic data and audience insights to ensure your follower count is adjacent to your target audience. More on this later. 
Action: Add your social media follower count across all owned platforms to the "Profile Performance" section of your template.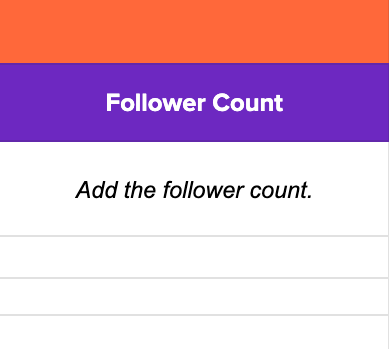 If Your Follower Count Is Low:
Share compelling, entertaining, or inspirational content to drive audience interest
Optimize your social media to ensure a clear brand identity
Collaborate with relevant social media influencers from your niche to expand your brand awareness
Referral Traffic
Referral traffic measures the volume of traffic directed from your social media profiles to your website. The metric tells you the platforms that drive the most visitors. 
And helps you understand the posts or campaigns that perform well—if you correctly use URL parameters to measure your campaign traffic. 
Head to Google Analytics > "Reports" > "Acquisition" > "Traffic Acquisition" to analyze your social referral traffic.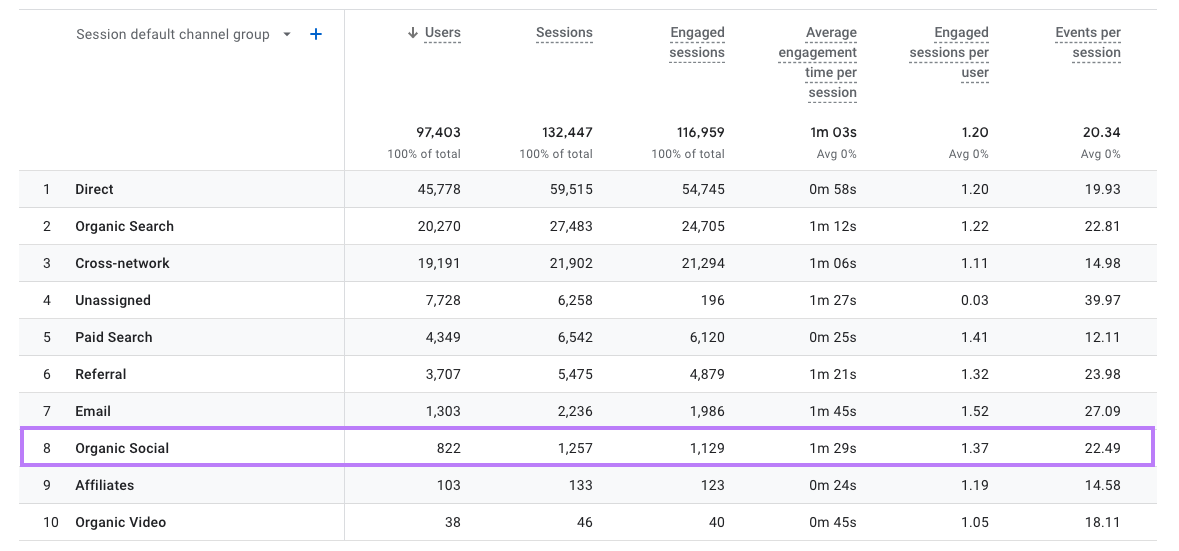 Action: Add your referral traffic metric across all owned platforms to the "Profile Performance" section of your template.
If Your Referral Traffic Is Low:
Include a relevant link and call to action (CTA) in your social posts and profile
Encourage social shares 
Focus on improving your impressions and reach
8. Identify Top-Performing Social Media Content
Your top-performing post is the post that contributes the most to your social media goals.
For example, if your goal is to drive more traffic to your website, then your top-performing post is the one that got the most clicks.
Not (necessarily) the one that got the most likes.
The easiest way to find your top-performing posts is with the Social Analytics and Social Tracker tools. Which let you track your posts on Facebook, Instagram, and LinkedIn.
Go to the social dashboard. And then click on "Social Analytics" in the sidebar menu.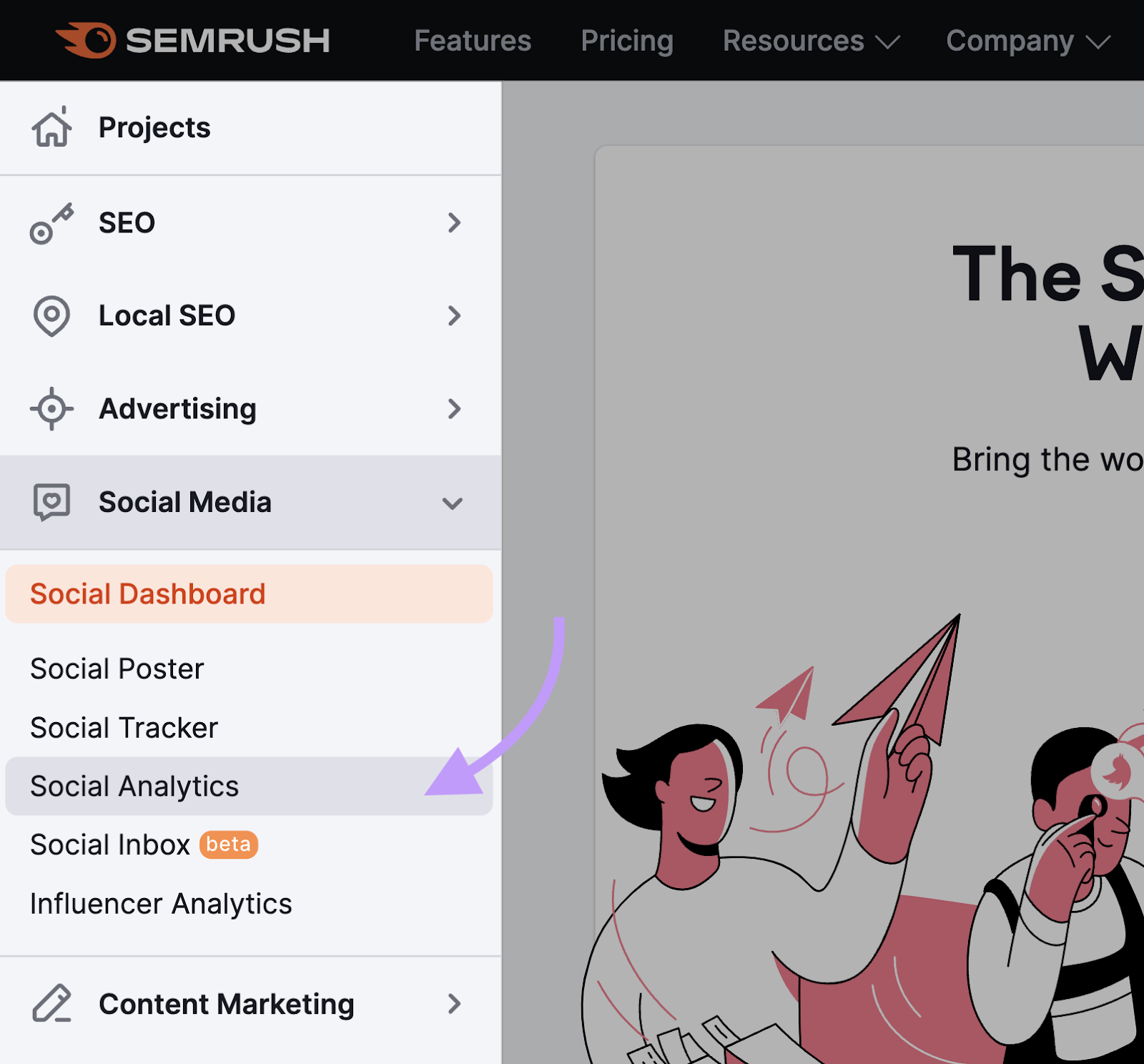 Then, click "+ Add profile."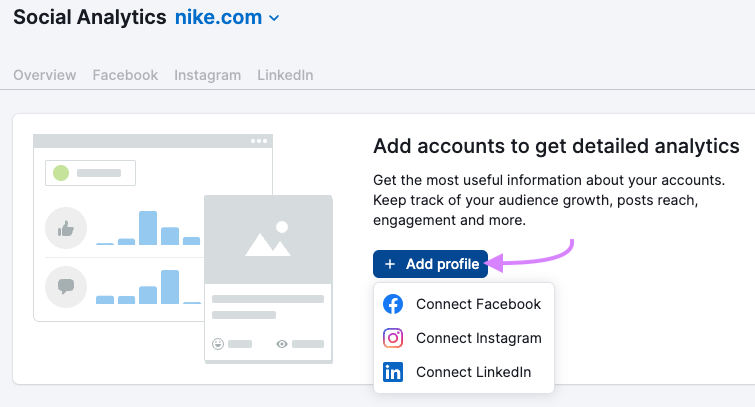 Next, follow the prompts to connect your different accounts. Like this:
After you've connected your accounts, open the tool to the "Overview" tab. To take a high-level look at metrics across each of your social channels: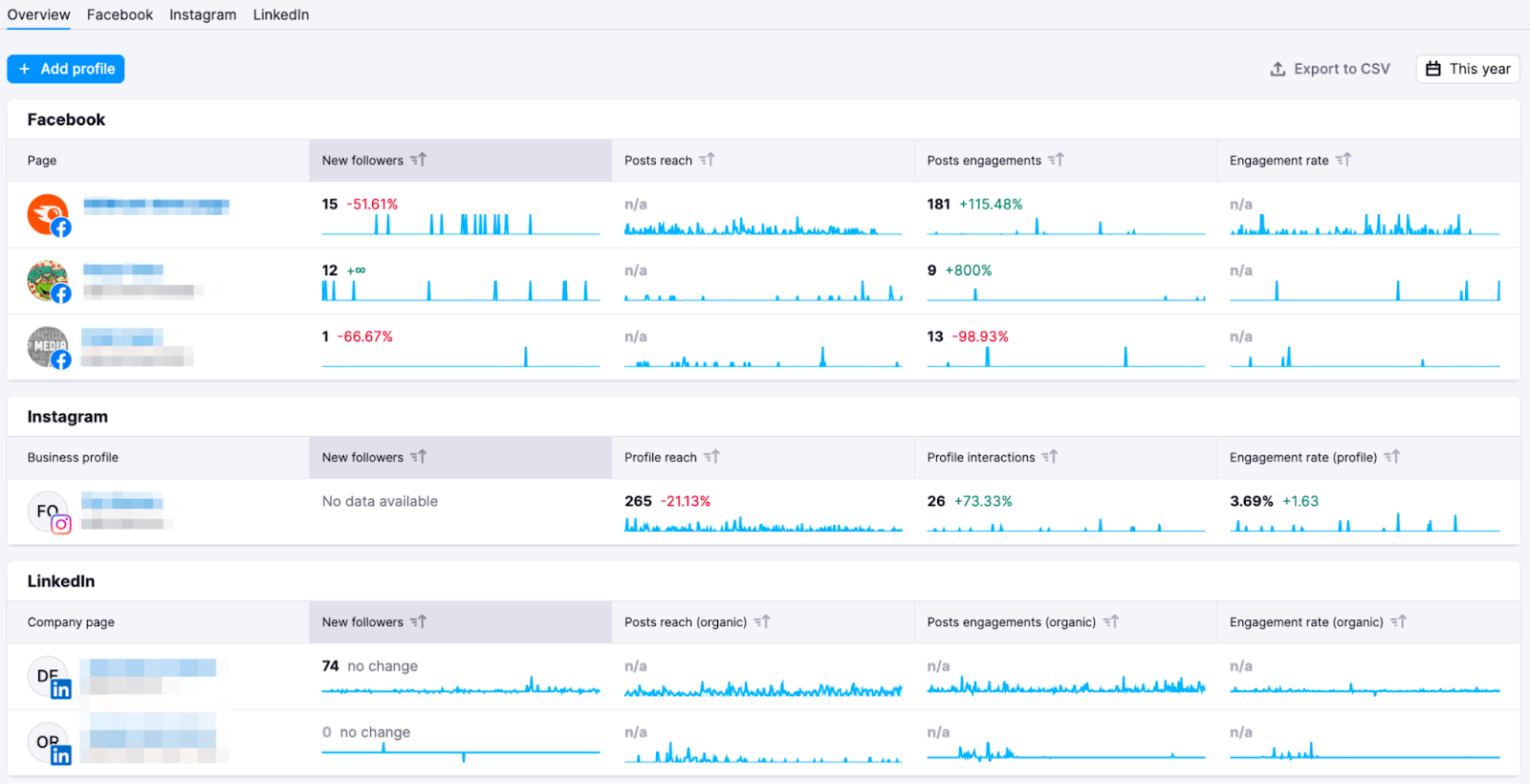 Then, go to the "Facebook" tab and select "Posts" to see your Facebook-specific post performance.

Click on one of the gray column names (e.g., "Eng. rate") to sort your posts in ascending or descending order based on the selected metric.

In the example below, you can see which posts had the best engagement.
To see your performance on X (formerly Twitter) and YouTube, go to the Social Tracker tool instead. By clicking on "Social Tracker" in the sidebar menu.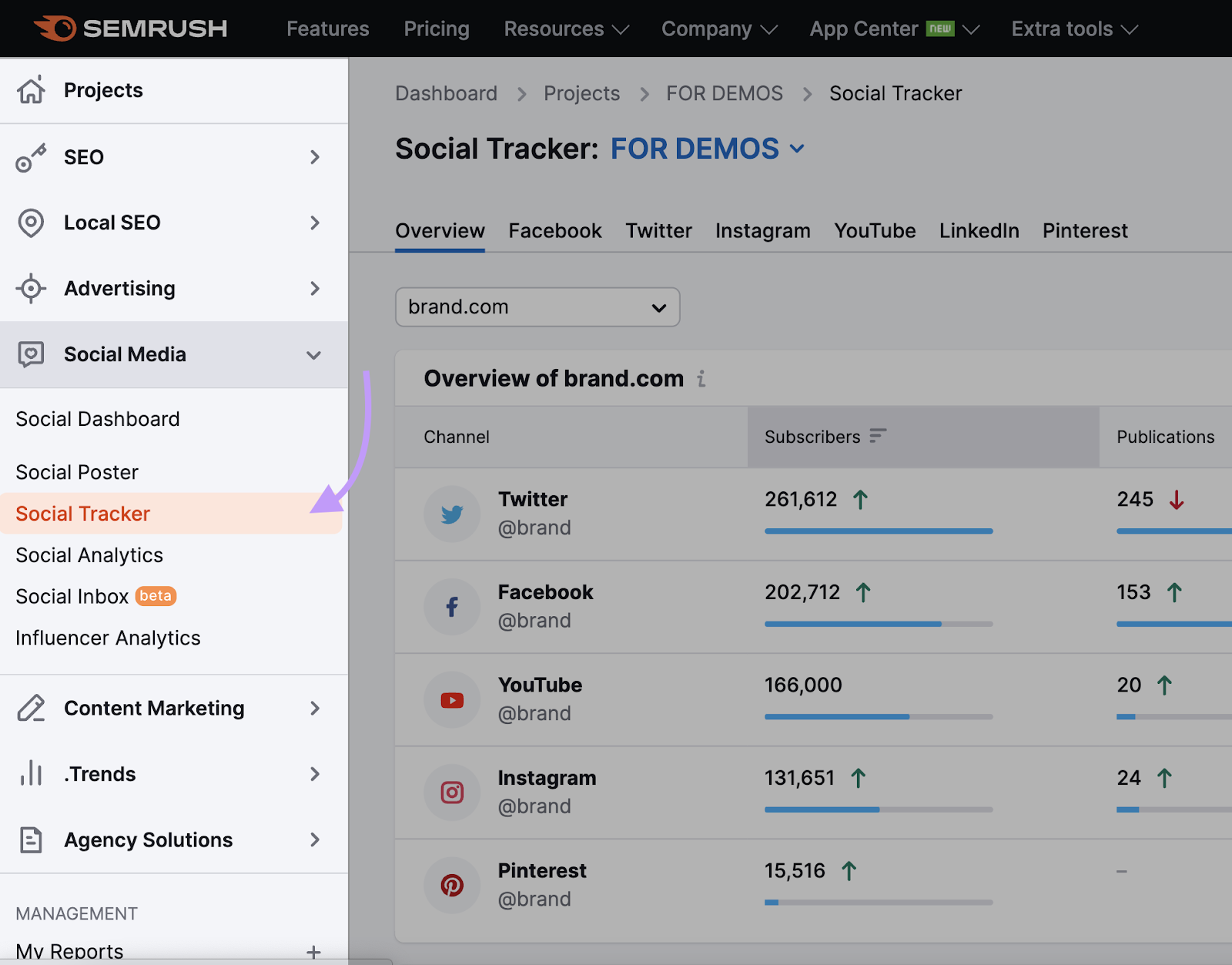 Then, click on "Twitter" or "YouTube" to see individual post performance.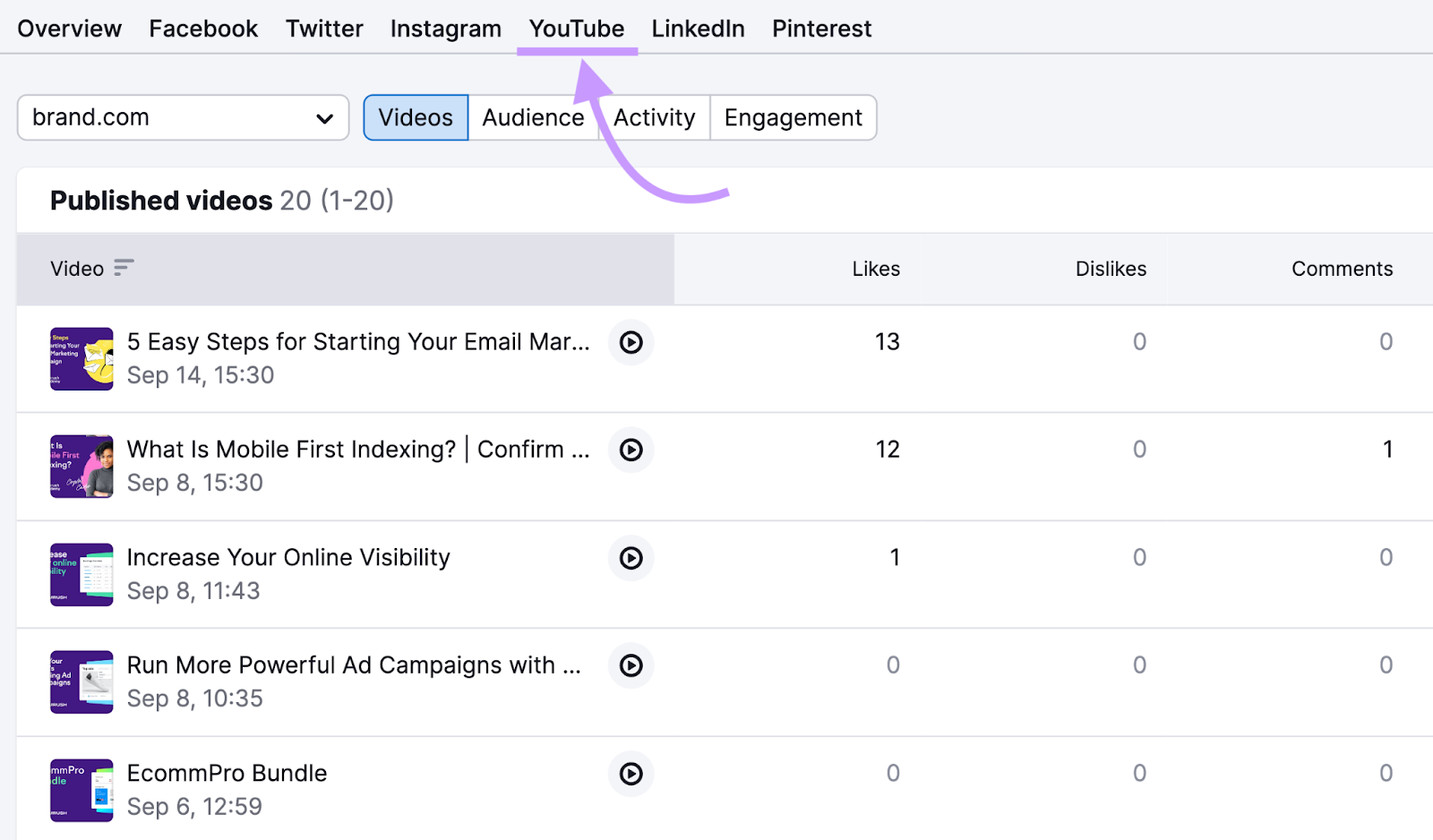 You can use this information to determine the campaign strategies that led to high performance. 
And replicate those strategies for future campaigns.
Action: Add the URLs of your top five best-performing posts to the social audit sheet under "Top Performing Posts."
9. Perform a SWOT Analysis and Establish New Objectives and Action Items 
A SWOT analysis analyzes your and your competitors' performance. To help you uncover missed opportunities and points of improvement.
That way, you can update your existing social media strategy as needed.
SWOT stands for strengths, weaknesses, opportunities, and threats. And here's how you perform a SWOT analysis.
Strengths
Identify the areas where you perform highly and meet your social media goals.
For example, video content drives a higher CTR, campaign X increased signups to our app by 10%, and TikTok was the best-performing channel for engagement. 
Weaknesses
Identify the areas where you need to improve. 
For example, responding to comments faster, keeping the social media calendar up to date, and improving the visual elements of your content.
Opportunities 
Consider external factors for new opportunities. 
Like the launch of a new social media platform.
You can also explore what your competition is doing to uncover new opportunities. 
Use our Social Tracker tool to analyze the strategies and tactics your competitors use—and the channels they use them on.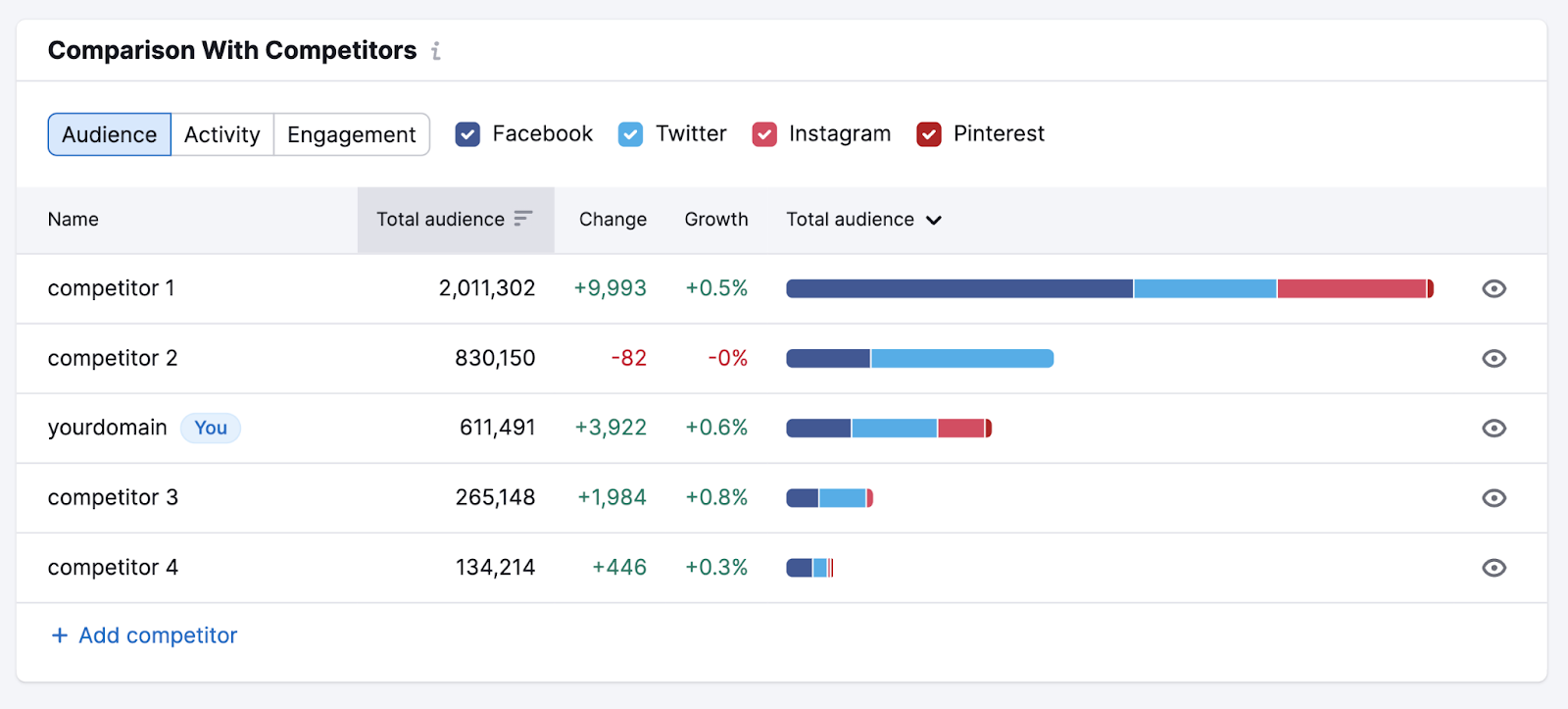 This helps you identify new opportunities for your own business. 
Threats
Consider potential external threats to your social media plans.
For example, a new Snapchat algorithm update is planned for the fall, Meta is under fire in the European Union for privacy laws, and your main competitor has just launched an innovative new product. 
Action: Use the SWOT analysis tab to list out your findings. And then make a list of action items. Add these to your social media audit.
Track Social Data with Semrush Social
If you haven't already, grab your copy of our social media audit template.
And add your social accounts to Semrush's Social Media Tool. That way, you can get the following data on autopilot:
Engagement rate
Impressions
Reach
Follower count
Referral traffic
High-performing posts
Ready to make strategic decisions about the future of your social media strategy?
Subscribe to Semrush Social to get started.
What Is the Definition of a Social Media Audit?
A social media audit analyzes your business's social media activities and aims to uncover strengths, weaknesses, and opportunities for growth and improvement. 
The process involves exploring social media goals and metrics to ensure your social media strategy contributes to wider business goals.
Is It Necessary to Conduct a Social Media Audit?
Yes. A social media audit helps you understand the channels and posts that resonate with your target audience and drive results. 
The data-driven process also helps you identify specific areas of improvement and uncover new opportunities for social media growth. 
This improves your overall social media strategy. 
When Should You Do a Social Media Audit?
Social media audits should be done quarterly. This allows you to measure and track performance on a regular basis effectively. And adjust your strategy accordingly.
If you plan to change your social media strategy, conduct an audit before implementing any changes.
At a minimum, analyze your social media strategy annually. But quarterly is typically best.