What is Twitter SEO?
Twitter SEO is strategic actions to increase the visibility of your tweets on Twitter and search engines such as Google. 
Note: Twitter is now officially called X.
These actions include optimizing tweet content, user profile info, and engagement tactics to increase discoverability and exposure to new and relevant audiences.
We'll address two strategies for Twitter SEO:
Twitter SEO for Twitter search: How to increase visibility of tweets in Twitter's own search feature
Twitter SEO for Google search: How to increase the visibility of your tweets in Google search engine results pages (SERPs) 
1. Twitter SEO for Twitter Search
When you enter a query in Twitter's search bar, an internal process prioritizes what tweets you see first. 
Click the "Explore" tab on the left sidebar of Twitter (or click on a trending topic from the right sidebar of the home screen).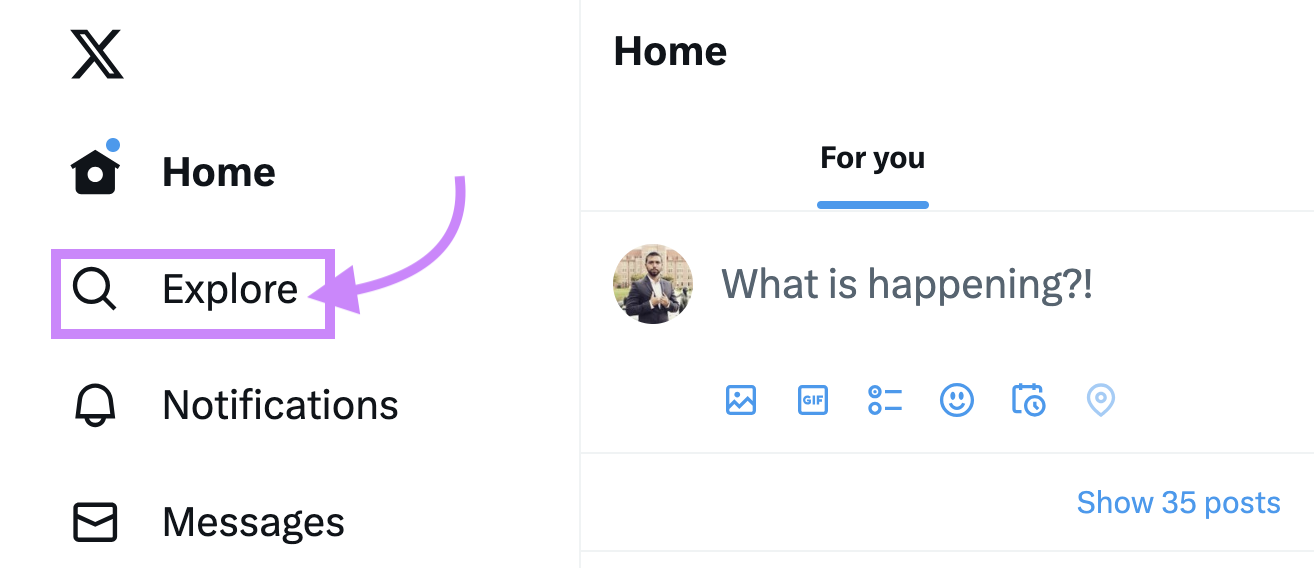 Using the search bar at the top of the screen, enter a search query and hit "Return" on your keyboard to see the results. 

From there, you're able to filter the search results by: 
Top (default)
Latest
People
Photos
Videos
Top Tweets results (tweets that X believes you are most likely to care about) are organized and ranked by an algorithm. According to its help documentation: 
We determine relevance based on the popularity of a tweet (e.g., when a lot of people are interacting with or sharing via retweets and replies), the keywords it contains, and many other factors.
2. Twitter SEO for Google Search
When you conduct a search on Google, you may see a Twitter-specific SERP Feature. It appears as a tweet, a Twitter carousel, or a Twitter account.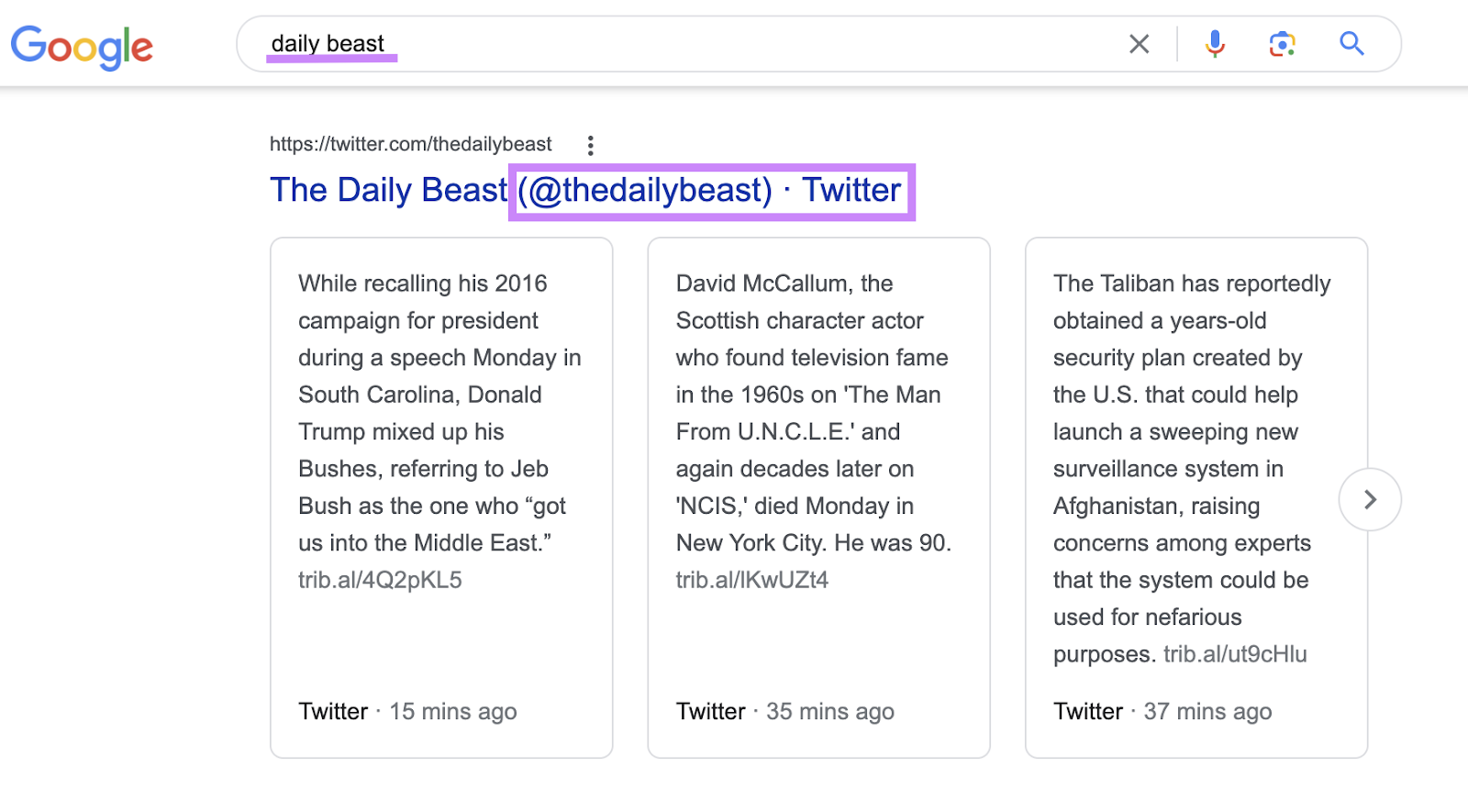 If you click on any of these results from Google, you're taken to the associated Twitter account—whether the individual tweet or the profile of an account. 
So why would anyone care about their tweet or account's position in search? 
The Benefits of Twitter SEO
Just like standard SEO, there are numerous benefits to SEO on Twitter. 
More Impressions
If your tweets rise to the top of searches, more people will see them. 
Impressions are necessary to produce high-value, engagement-oriented actions such as likes, retweets, and clicks. Therefore, your first step toward earning those coveted user actions is to earn impressions. 
More Engagement
If more people are seeing your tweets, there's a better chance that they will also receive more engagement by virtue of larger exposure. Note that impressions and engagements don't necessarily scale in equal proportion. 
Tweet engagement includes these actions taken by users: 
Like
Reply
Retweet 
Quote Tweet
Bookmark
Share
URL click
Hashtag click
Media views
In SEO, and digital marketing in general, engagement is considered a universally positive indicator. 
Since tweets can also contain links to more valuable owned assets (like blog posts and landing pages) on a website, engagement on Twitter can also lead to additional standard engagement metrics like pageviews and conversions. 
More Twitter Followers
The more people who see your tweet, the higher your chances of converting those impressions into new followers. Again, don't expect increases in impressions, engagement, and followers to scale proportionately. 
More Traffic
Public Twitter profiles and tweets are indexable by Google, which means effective Twitter SEO can feed into and enhance your larger SEO and marketing strategy. This can increase traffic, improve your digital footprint, and raise brand awareness.
Ranking Factors for Twitter SEO
Twitter uses an algorithm to choose what tweets to display in your feed and in what order. It switched from a purely chronological system in 2016.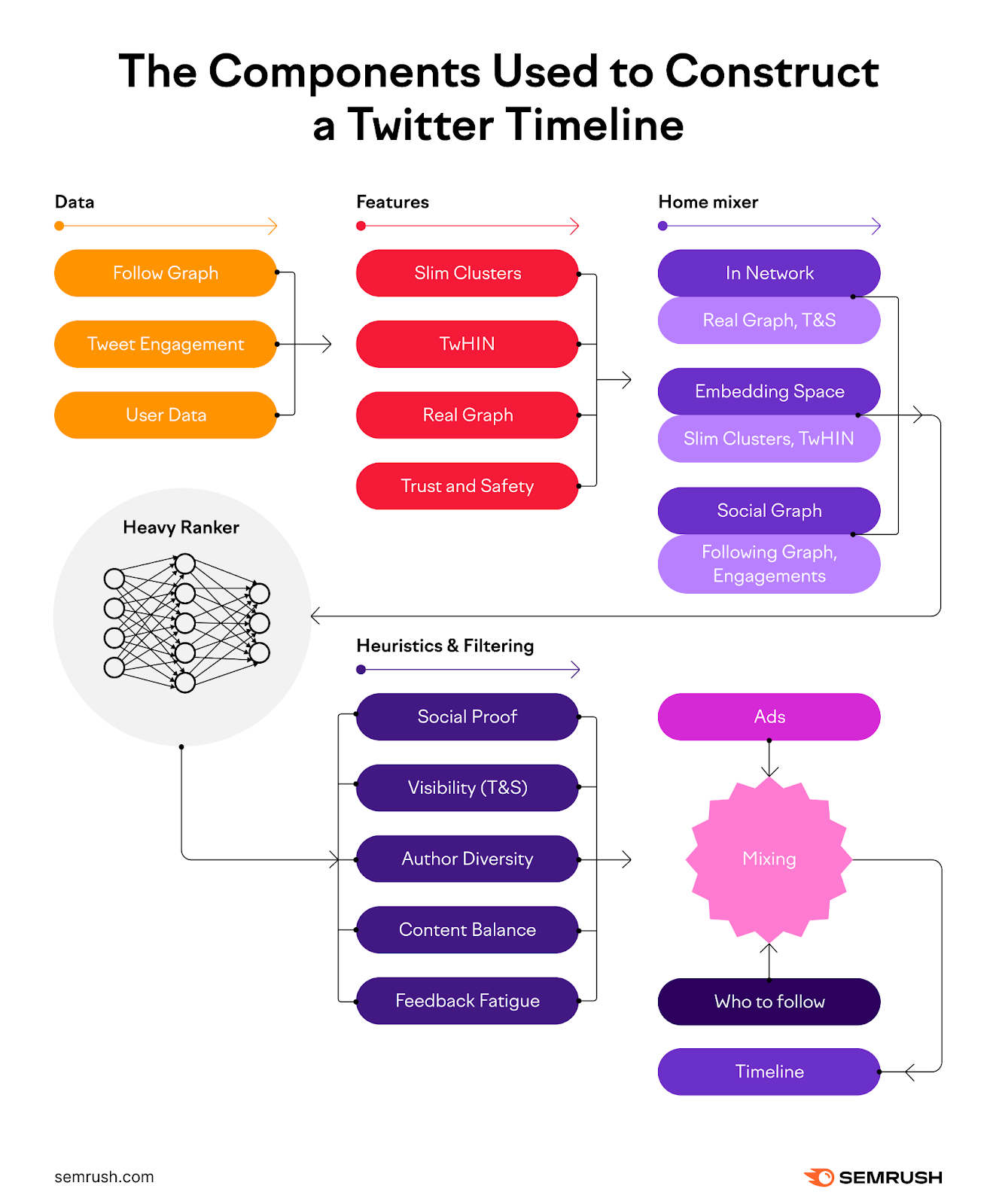 While the algorithm is not public, there are several published ranking factors analyzed by third-party sources that send specific tweets to the front of your feed. 
Note: The following ranking factors are listed in no particular order.  
Recency
The date and time when a tweet was published impacts its ranking. In the feed, the majority of tweets shown are within a few hours of posting. Use the "Explore" tab with keyword searches to find older tweets. 
Relevancy
Twitter's algorithm prioritizes tweets that are deemed most relevant to you. Relevancy is determined by how well it matches your interests, behaviors, and previous interactions. 
Engagement
The amount of engagement a tweet receives influences its position in your feed. This includes likes and retweets, plus any of the engagement actions listed under More Engagement. High engagement levels tell Twitter that an account's content is interesting and valuable. 
Hashtags
Hashtags are used to categorize your tweets and make them discoverable to users interested in specific topics. Use trending and relevant hashtags to boost your tweet's visibility. 
Pro tip: Limit yourself to one or two hashtags per tweet to ensure readability. 
Account reputation
The perceived credibility of the account that posted the tweet affects how it ranks in the feed. Factors such as the age of the account, the consistency of posting, and the average amount of engagement received indicate that an account has achieved a favorable reputation.  
Previous account interactions
If you have a history of engaging with a specific account, tweets from that account will be scored higher in the ranking system and be shown more prominently in your feed. 
Multimedia
Similar to other social media platforms, tweets with images and video seem to achieve more prominence in your feed. There is speculation that tweets with links to websites configured with Twitter Cards might receive even more favorable positioning. 
Language
Tweets in your native language or a language you speak can affect their position in your feed.  
While these are determining factors for Twitter, remember that Google indexes and displays tweets in SERPs. That said, it's important to add a few ranking factors more commonly associated with standard SEO. 
Google SEO Factors to Keep in Mind
If you're trying to rank your tweets in Google SERPs, here's a refresher on some SEO basics that also apply to tweets. 
Search intent: The Google algorithm prioritizes search results that most accurately match the user's search intent. If your tweets and profile information match the intent of typical searches in your industry or field, it can improve their SEO ranking.
Quality: Google analyzes content quality on Experience, Expertise, Authoritativeness, and Trustworthiness (E-E-A-T). Content that demonstrates E-E-A-T is more likely to rank favorably in Google SERPs. 
Usability: Google tends to favor content that provides a user-friendly experience. It's important that any links you share on Twitter lead to mobile-friendly, fast-loading, and easily navigable web pages. 
Now let's take a look at five tactics you can implement to boost your Twitter SEO. 
7 Tactics to Improve Twitter SEO
1. Use Keywords in Your Tweets and Profile
Incorporating relevant keywords into your tweets and profile can increase your visibility in search results on and off the Twitter platform. 
For example, Semrush helps businesses with online visibility management. By using that keyword in our Twitter profile, we're the first result for that search on the "Explore" tab. 

Start your Twitter SEO efforts by conducting keyword research to identify the terms and phrases your target audience is looking for. 
You can find your own keywords relevant to your business with the Keyword Magic Tool from Semrush. 
First, type in a keyword relevant to your brand or industry. 
Next, discover a huge range of related keywords, questions, and phrases that people are using for their searches. 
Select relevant keywords and add them to a list to track their position over time.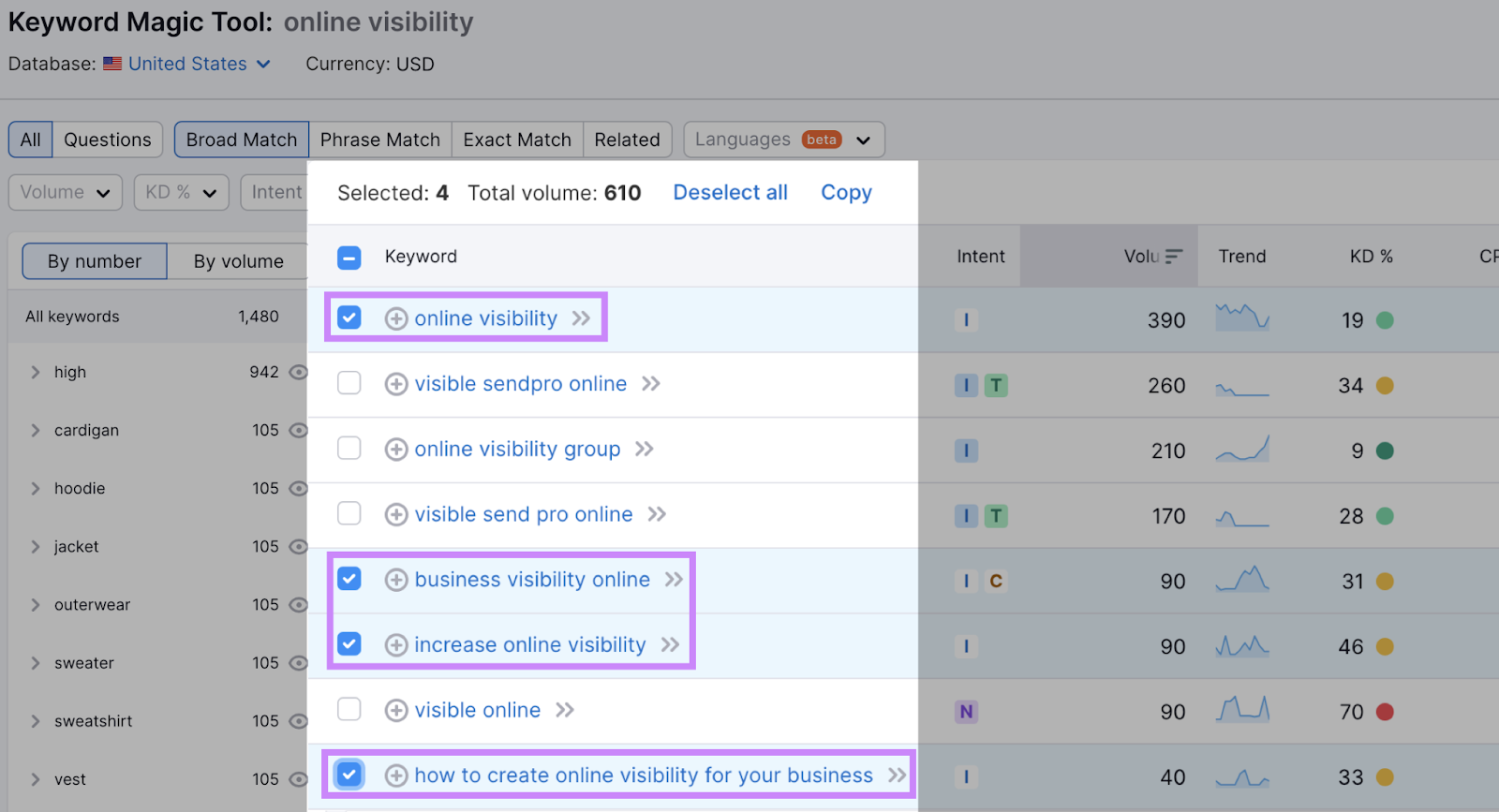 This data is intended for Google search, but is helpful to include in your Twitter SEO strategy to help ensure that you're using the most effective and relevant keywords in your tweets.
Also, include these keywords into your Twitter profile (including your bio and display name, if applicable).
2. Identify Existing Keyword Searches with Twitter SERP Features 
Analyze existing search queries that contain Twitter SERP features to better understand when Google will include them. 
Find out the keywords your competitors' sites already rank for and what keywords trigger these Twitter SERP features using the Organic Research report.
From the Semrush app, click "Organic Research" under "Competitive Research" in the left sidebar.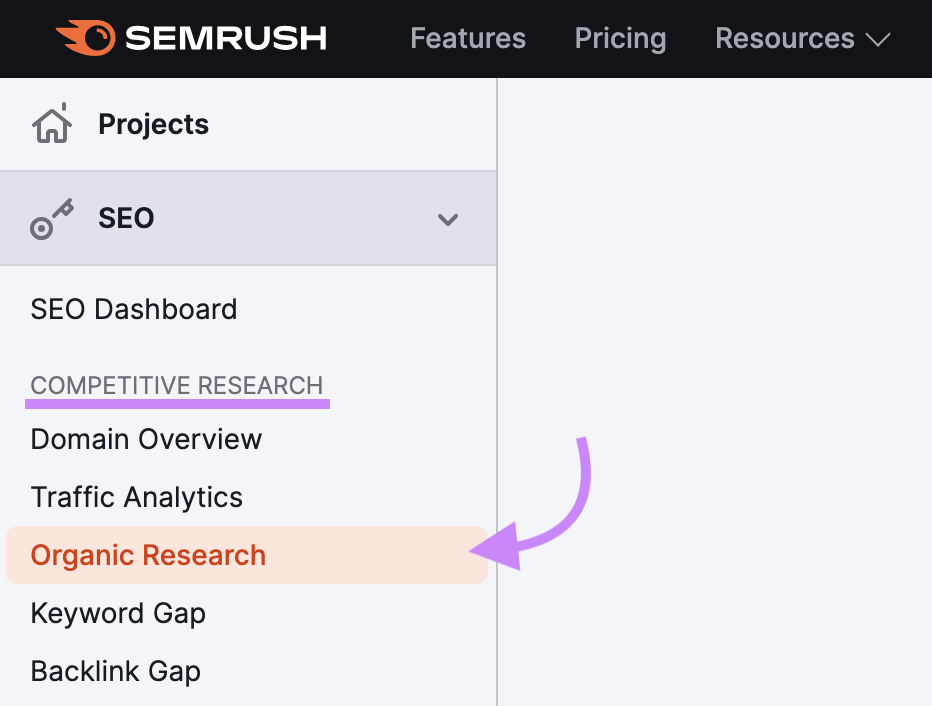 Paste your competitor's URL into the search bar and click "Search." 

After the report loads, click "Positions."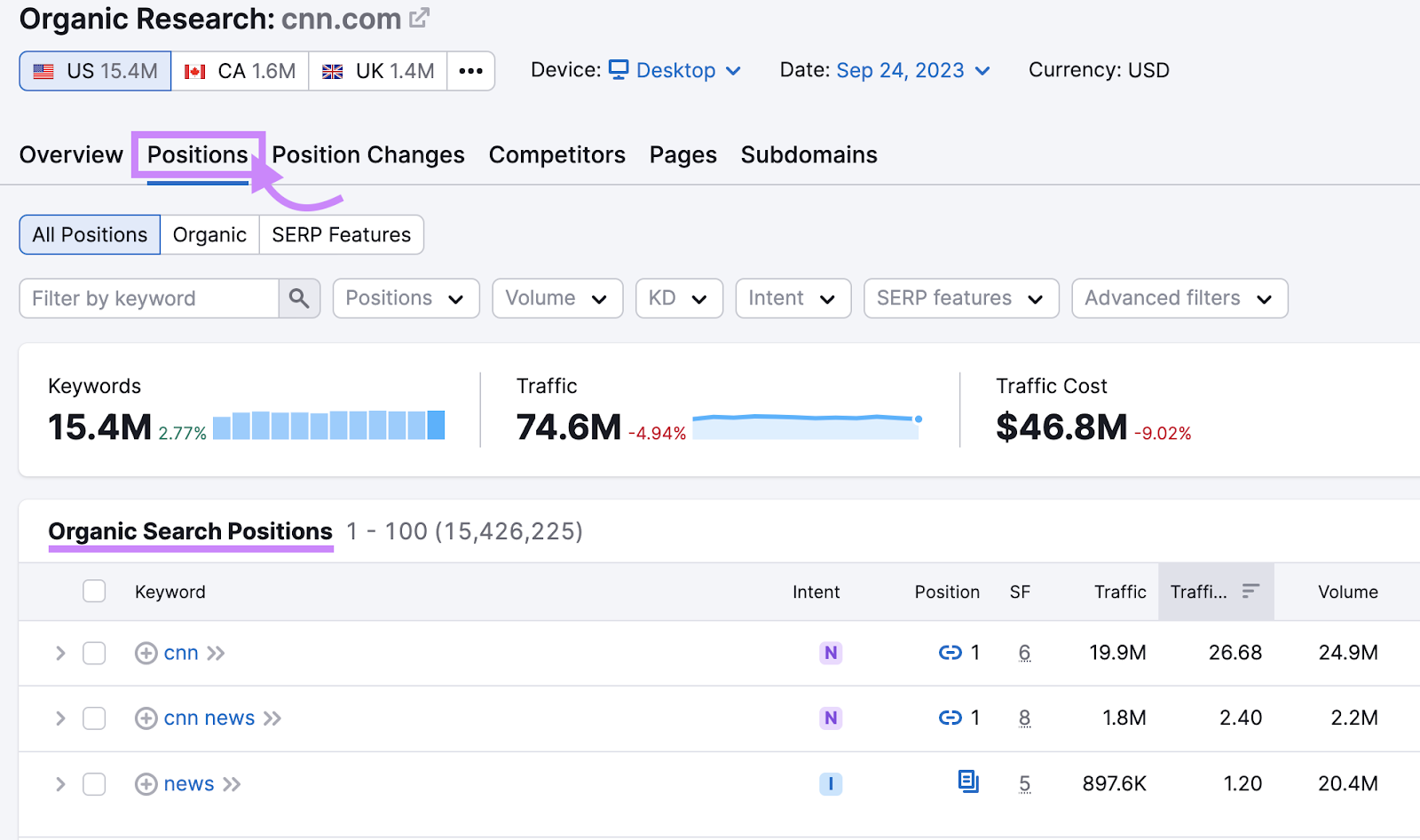 Next,click the "SERP Features" drop-down menu. Hover over the "SERP Features on SERP" menu, then click the "Twitter carousel" SERP feature.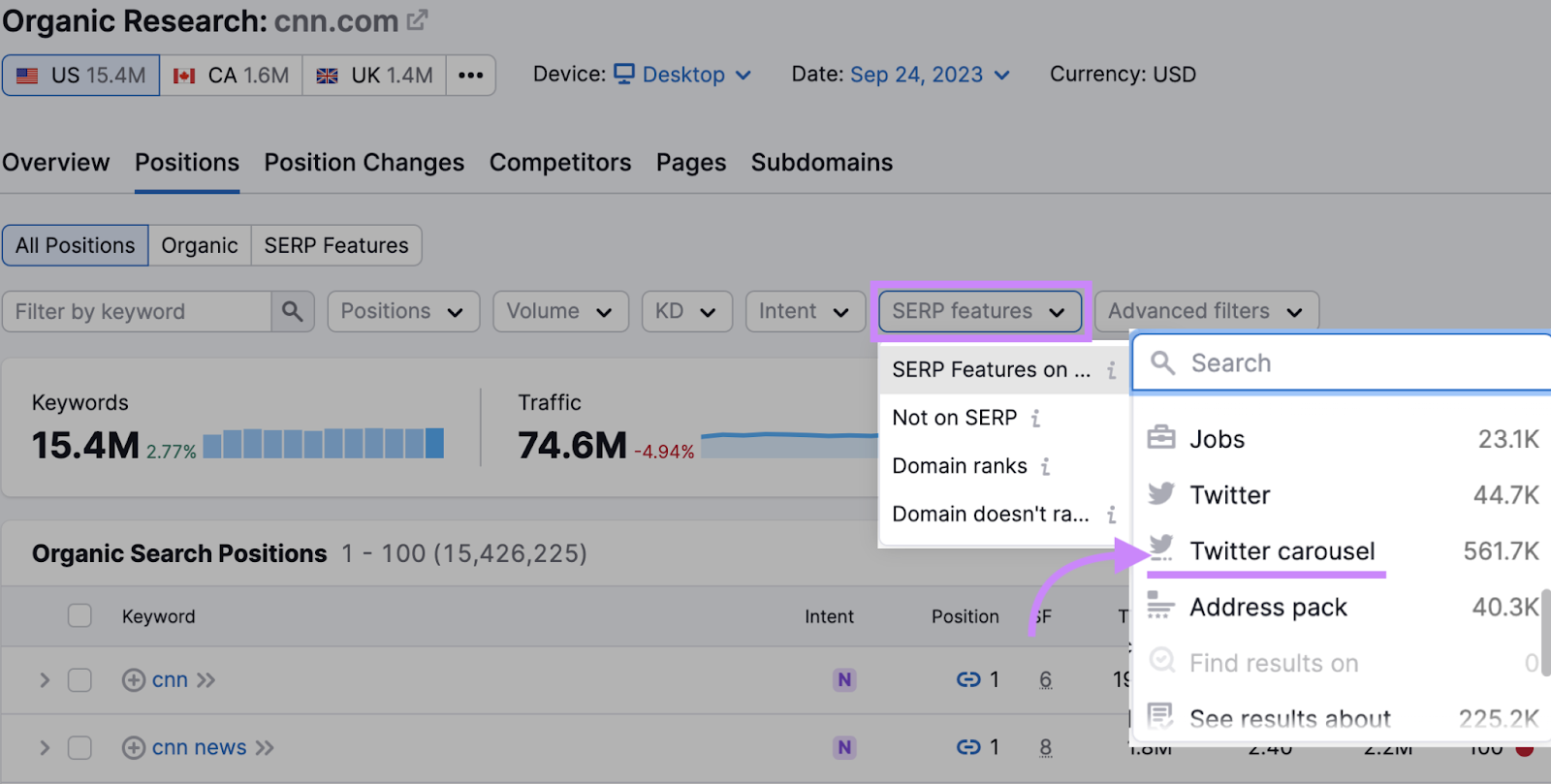 This screen will display a list of keywords that your competitor ranks for that also have Twitter SERP features.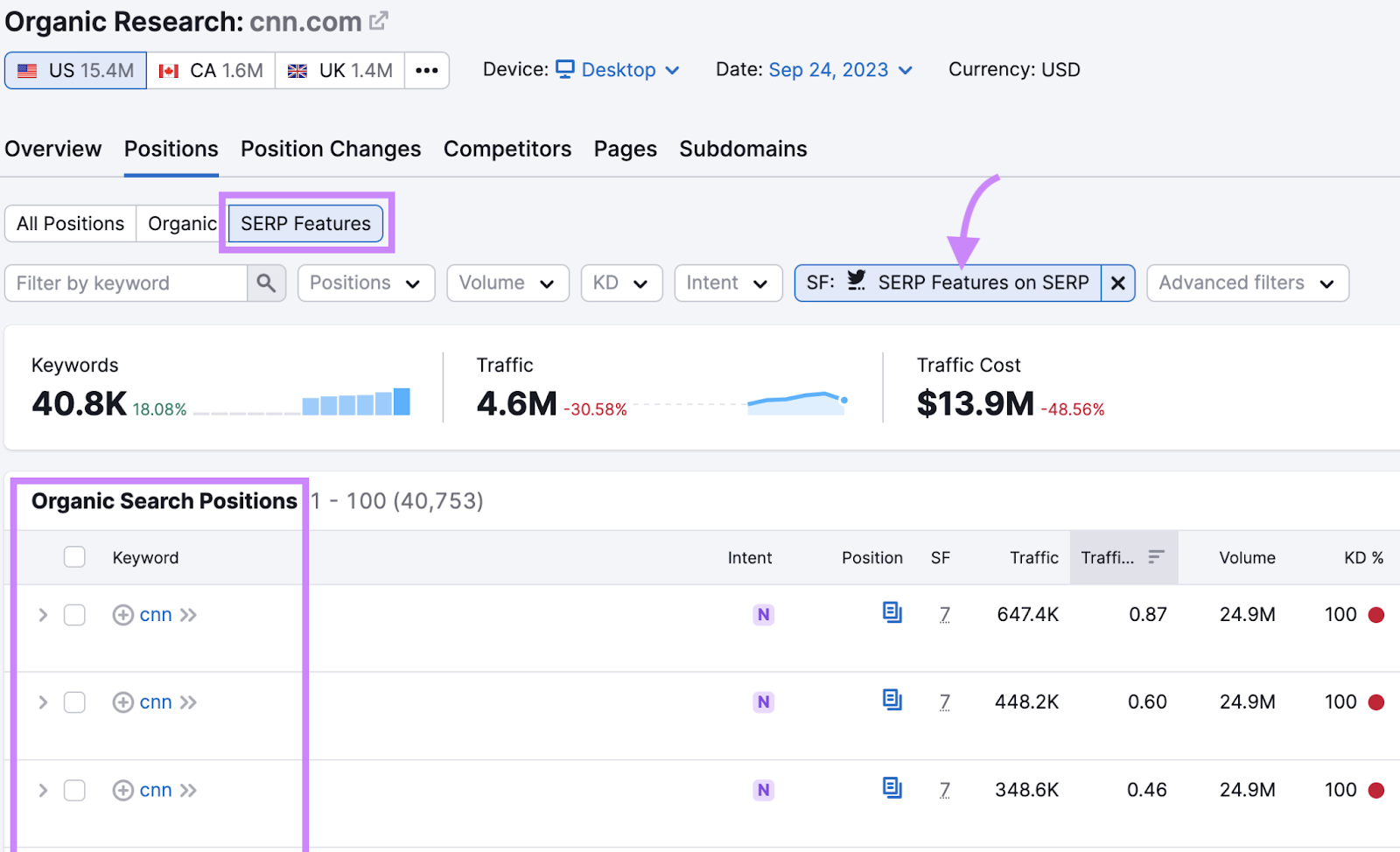 3. Tweet about Relevant Topics
Twitter categorizes tweets based on content related to your demonstrated interests. Consistently posting tweets relevant to your audience, brand name, and industry helps to increase your visibility among Twitter users who regularly engage with those topics. 
4. Engage with Other Accounts
Engagement isn't just about your own metrics. When you engage with other users on Twitter (especially those with similar interests) it can increase your account's visibility. Interactions with other accounts can also expose your brand to a wider audience and lead to more engagement for your content. 
5. Make Use of Twitter Threads
Threads are a series of connected tweets from one account. They are often used to provide a more detailed explanation of a specific topic or to tell a story.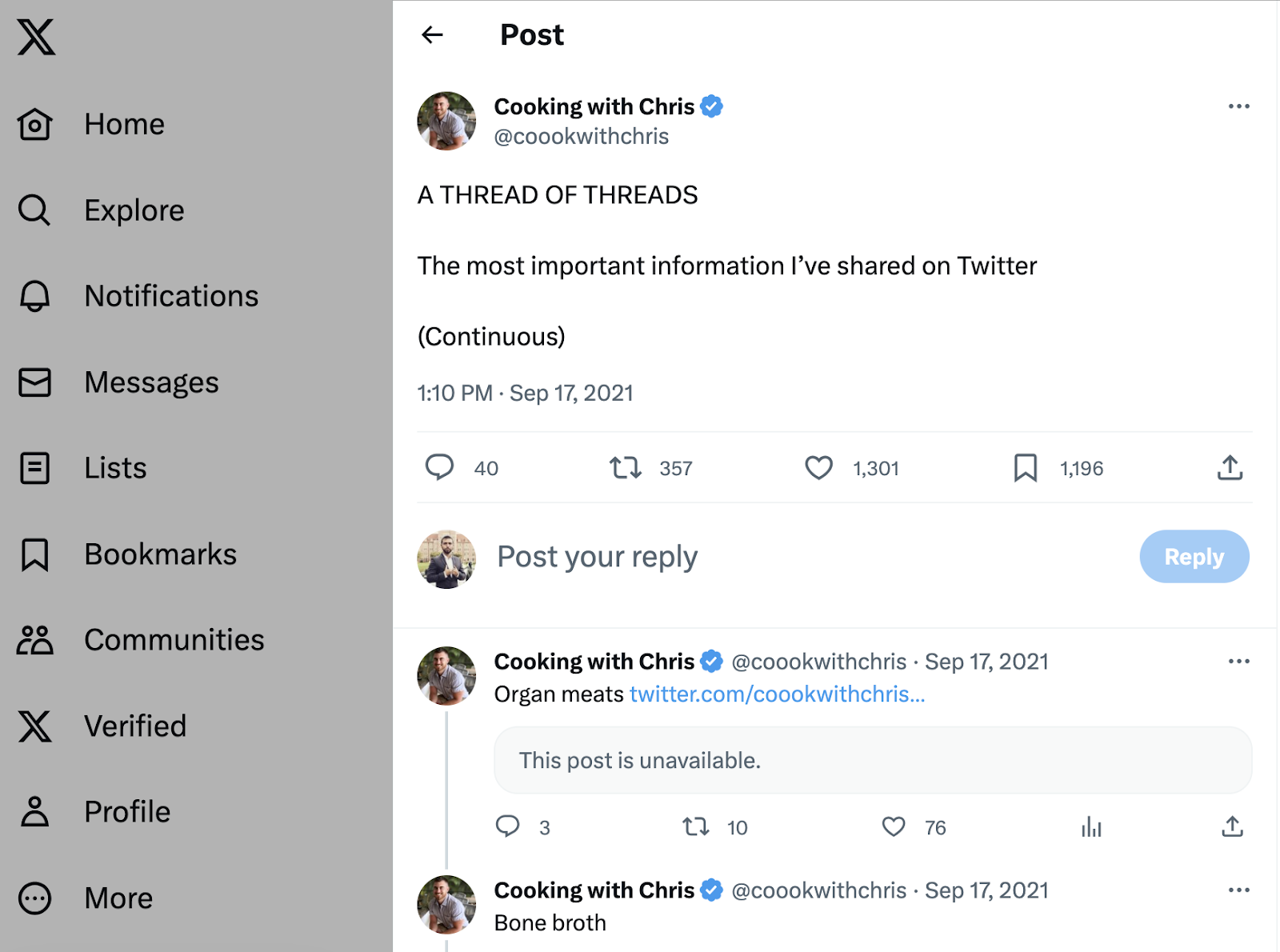 When you create Twitter threads, you have more space to use target keywords, but you also provide detailed and in-depth content that can drive more engagement, potentially boosting your visibility.
6. Take Advantage of Alt Text
Alt text is a description of an image. It's not visible on a screen, but is read by search engines and by software for visually impaired users. 
Including alt text with your images improves accessibility. It also enhances SEO because it provides additional context that search engines use to index your content.
7. Analyze Competitors on Twitter with Social Media Tracker
Social Media Tracker is a Semrush tool that allows you to monitor Twitter metrics such as:  
Engagement (likes, retweets, replies)
Audience growth
Tweet performance
Just enter your Twitter handle and any competitors you'd like to track.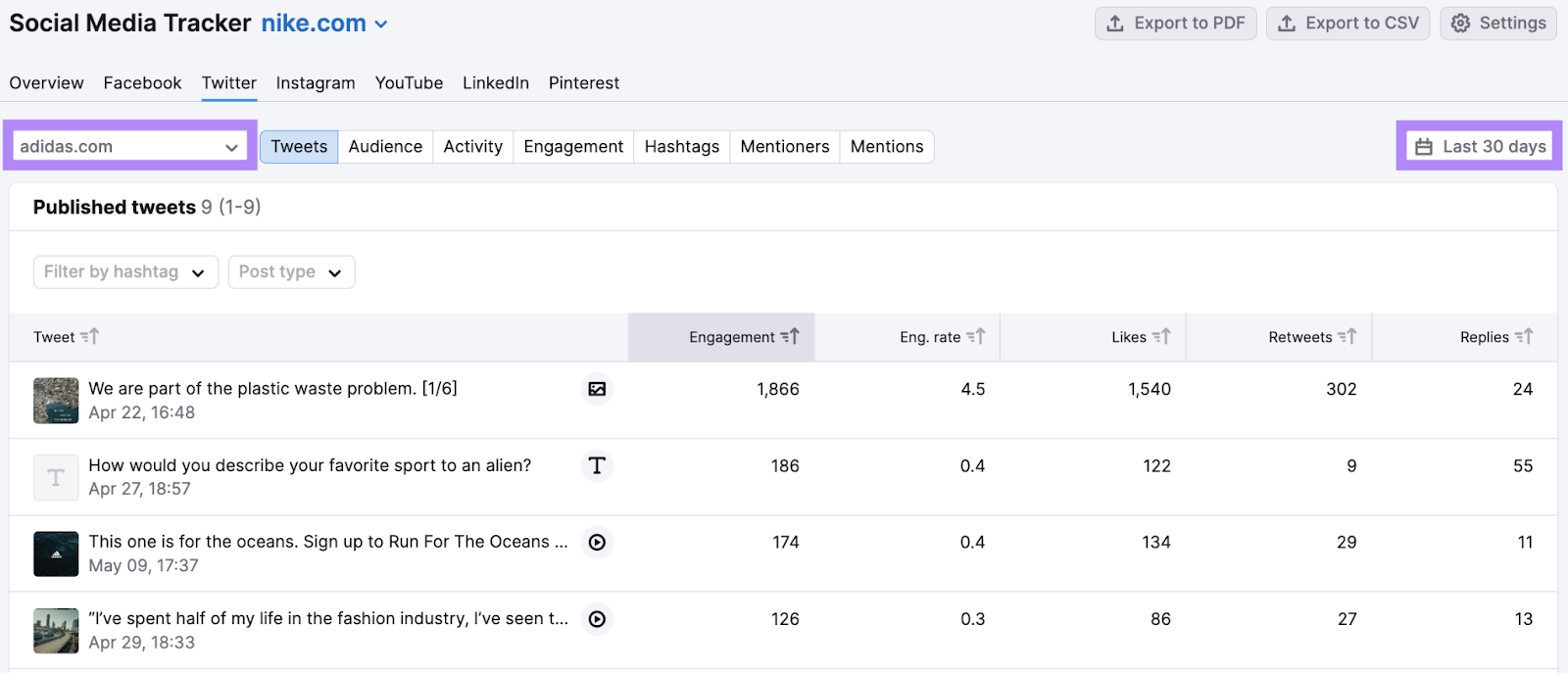 With these insights, you can better understand how your content compares to your competitors' and how it resonates with your audience on Twitter. Double down on content that works well and prune what doesn't to continuously optimize your Twitter SEO strategy.
Frequently Asked Questions about Twitter SEO
How long does it take to see results from Twitter SEO efforts?
Similar to SEO on the web, it may take weeks or months to see measurable results from your efforts with Twitter SEO. It takes patience and consistency to measure the results of your strategies.  
What is the impact of visual content on Twitter SEO?
Multimedia content such as images and videos helps to increase engagement on Twitter. Remember to add alt text to your images for accessibility and to provide additional context that can be indexed by Twitter—both contribute to your SEO efforts.
Does Twitter engagement improve SEO of your pages?
In short, no. 
According to Search Engine Journal, social signals (including Twitter) are not a ranking factor. SERPs that have tweets, Twitter carousels, or Twitter profiles can drive traffic to your site, but they are not a direct ranking factor.