What Is B2B Content Marketing?
B2B content marketing is creating and distributing content to earn the attention of other businesses. And ultimately convert them into loyal customers (or clients).
Some of the most popular types of B2B content are blog posts, white papers, templates, case studies, videos, webinars, and podcasts.
The most successful B2B content addresses the target companies' needs and goals. Which may include professional challenges employees face.
(This differs from B2C content marketing, which focuses on consumers' personal interests.)
For example, Xero publishes small business guides. To attract audiences that might be interested in its accounting software.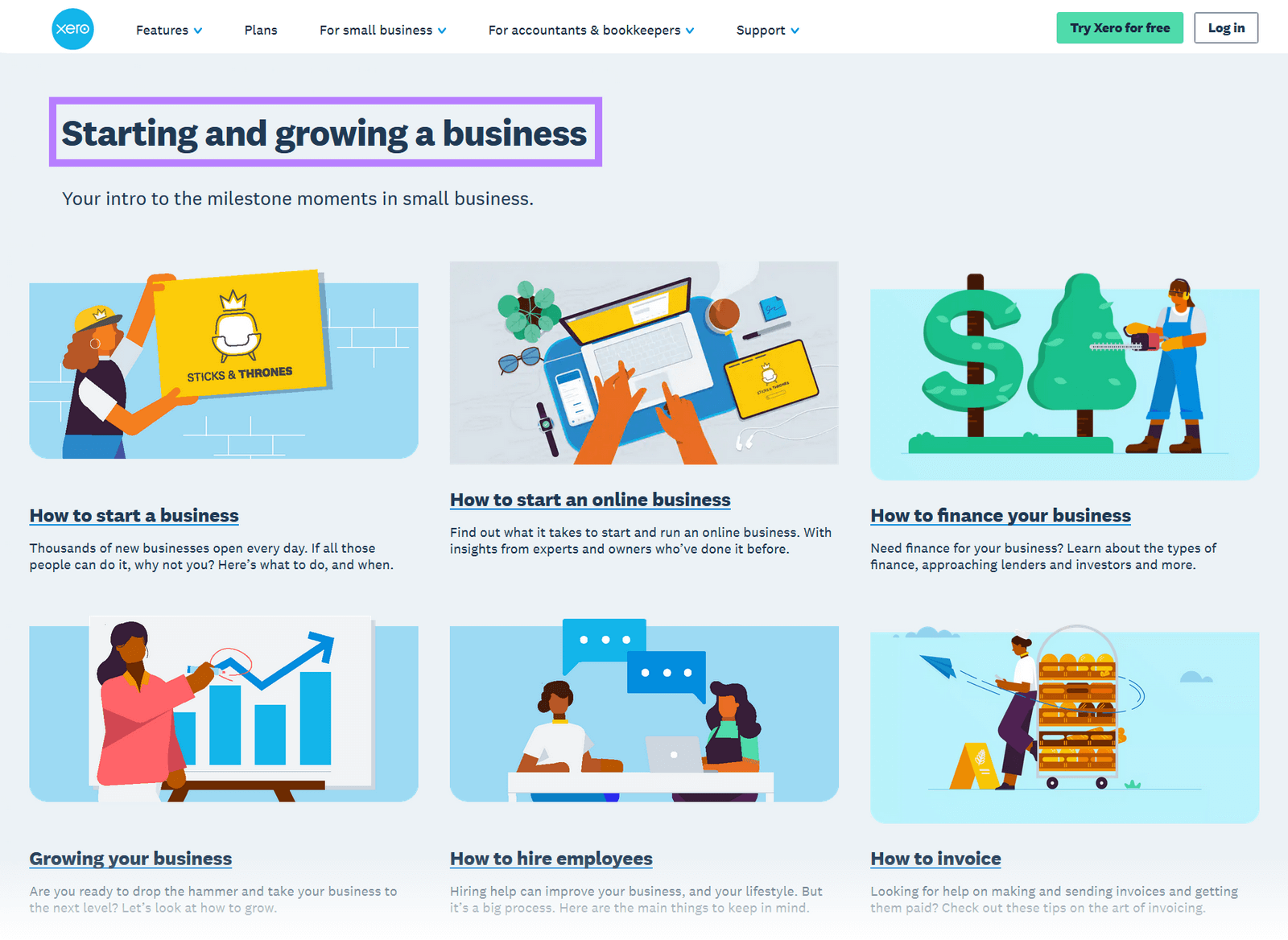 Some companies have an in-house marketing team or specialist to manage their B2B content marketing. Others work with external freelancers or content agencies.
But even solopreneurs can benefit from B2B content marketing.
Why Content Marketing Is Important for B2B Businesses
Content marketing is important for B2B businesses because it can deliver a high return on investment (ROI). This is partly because it's a relatively low-cost channel.
You need to account for labor costs. And potentially budget for content creation tools. But content marketing rarely incurs large financial investments (like those you can face with advertising and events).
Plus, content often has a long life span. It can continue to deliver value for months or even years after it's published.
By creating content your target audience values, you can:
Earn search engine rankings that drive valuable traffic to your site
Generate social media shares that boost brand awareness
Earn backlinks that drive traffic and benefit your SEO
Establish your brand as an industry authority
Build trust with prospects and customers
Educate prospects about your brand and solution
Gain a competitive edge over your rivals
B2B content marketing is an inbound marketing channel that aims to pull in leads naturally. It attempts to earn audiences' attention (and business) by delivering genuine value.
Best Practices for B2B Content Marketing
Engage business prospects with these best practices for B2B content marketing.
1. Conduct Audience Research
Audience research is the number one factor that marketers and business owners say leads to success in content marketing, according to Semrush's State of Content Marketing 2023 report.
Only by understanding your target audience can you create content that appeals to them. And distribute it effectively.
In B2B content marketing, your target audience encompasses businesses that might buy your products or services. More specifically, the relevant decision-makers who work at those companies.
For example, a commercial bank might target financial directors at manufacturing firms.
You can learn about your existing website users in Google Analytics.
Go to "Reports" > "User" > "User Attributes" > "Overview."
Then look at the breakdown of users by country, age group, gender, language, and more.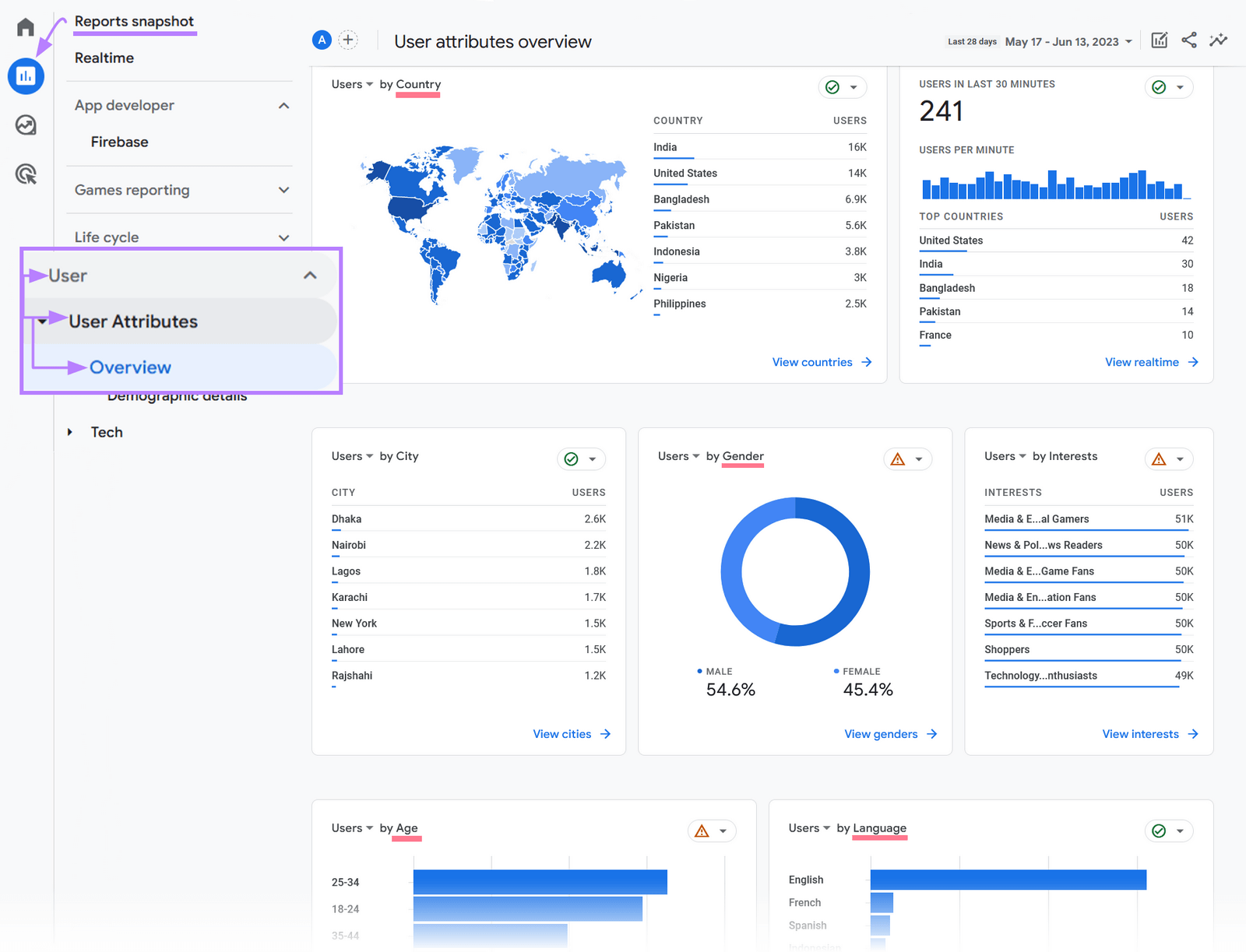 For further insights, investigate your competitors' audiences in Semrush's One2Target tool.
Choose a location, enter the domains of up to five rivals, then click "Analyze."

You'll see the "Demographics" report first. Which provides demographic data like age and location.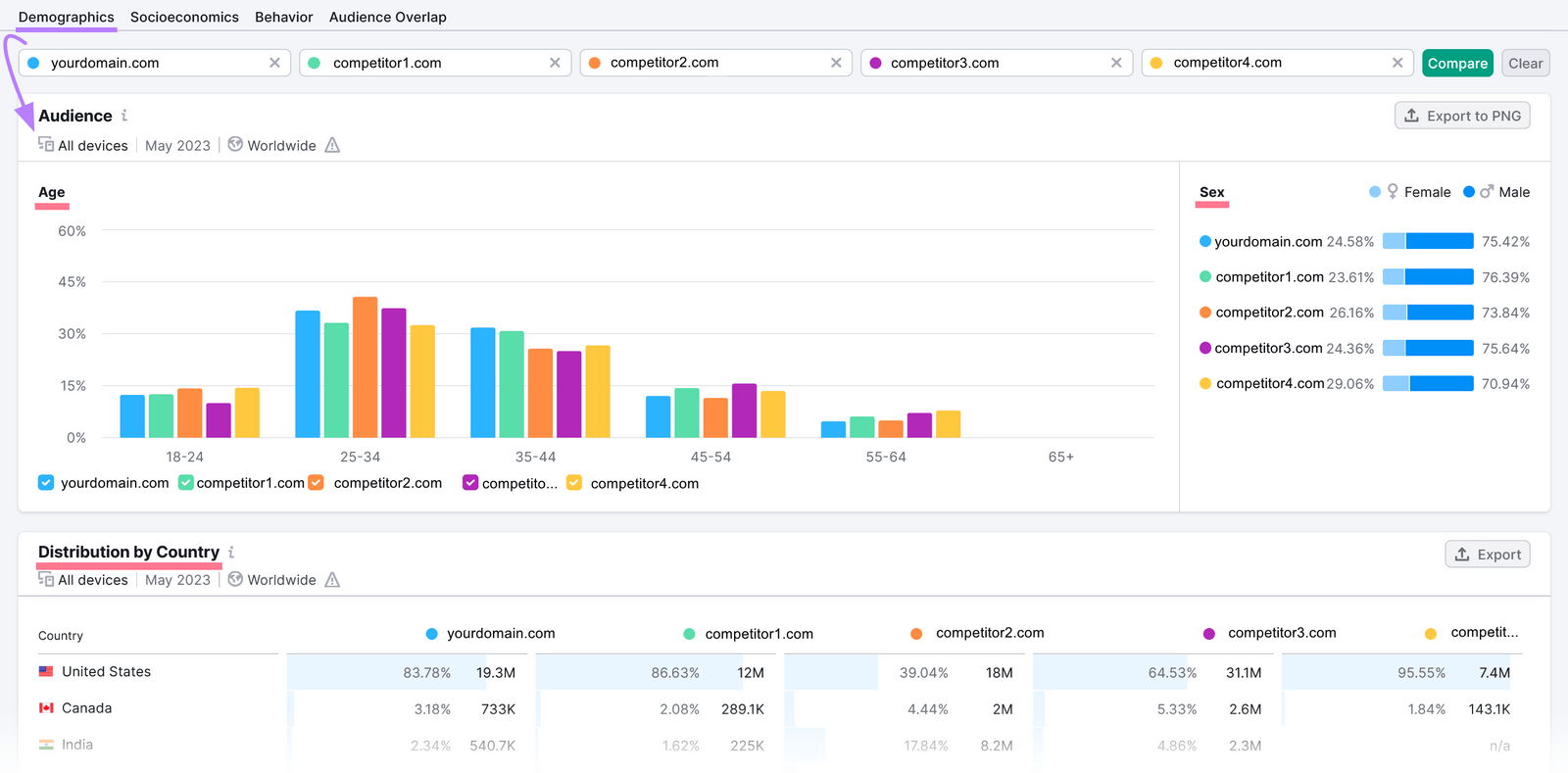 Next, head to the "Socioeconomics" tab.
The "Employment Status" and "Education Level" charts can help you learn more about the audience's professional status. Which is particularly useful in B2B content marketing, because it helps you understand their job roles.
Those charts look like this: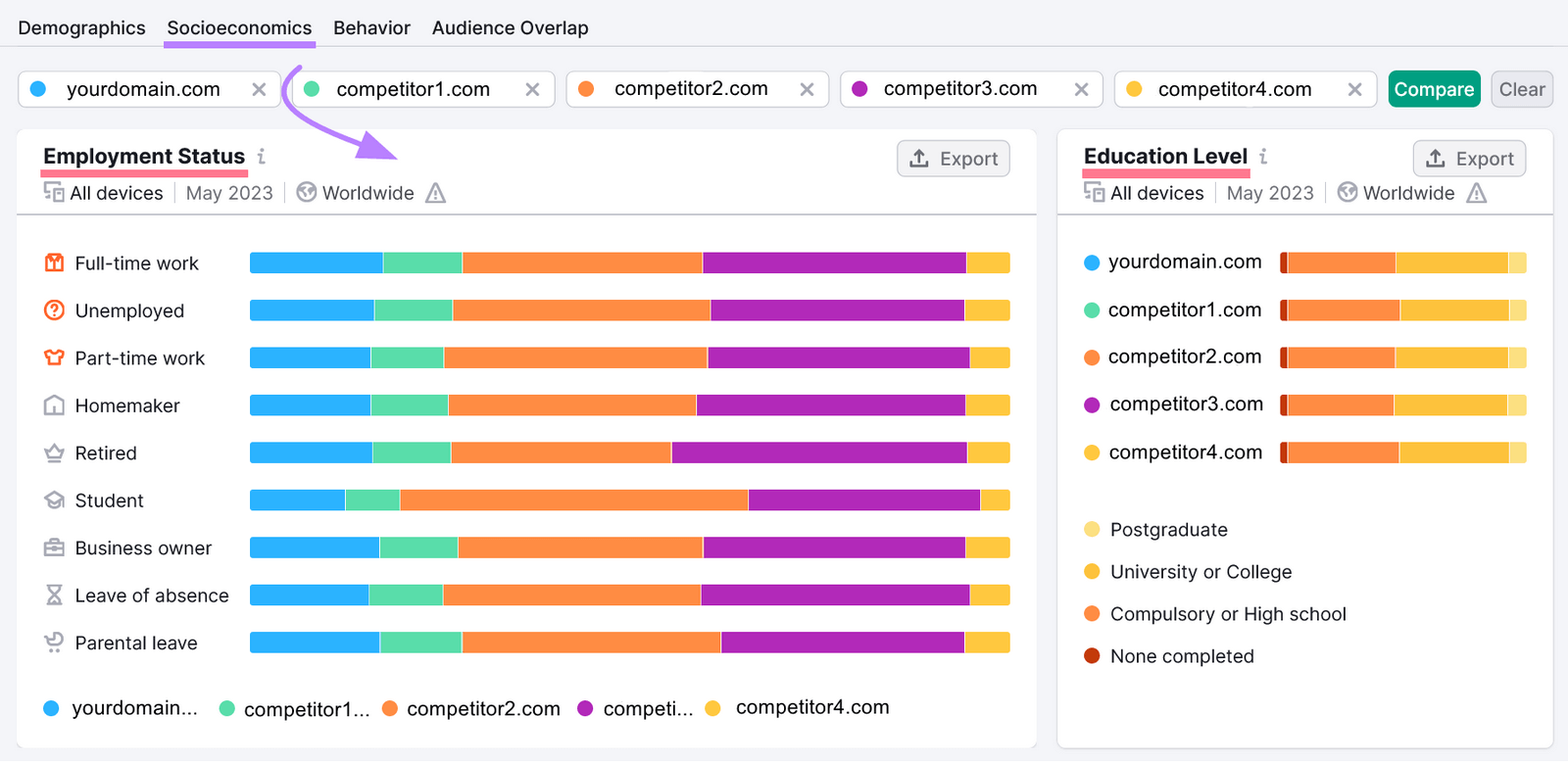 In the "Behavior" tab, you can see which social media channels your competitors' audiences use most. 

These channels can be great places to distribute your content.
Whatever audience research methods you use, try compiling your findings into buyer personas. These are profiles that represent different segments of your target audience.
With Semrush's Persona tool, you can build B2B buyer personas step by step.
Follow the instructions to create profiles like this: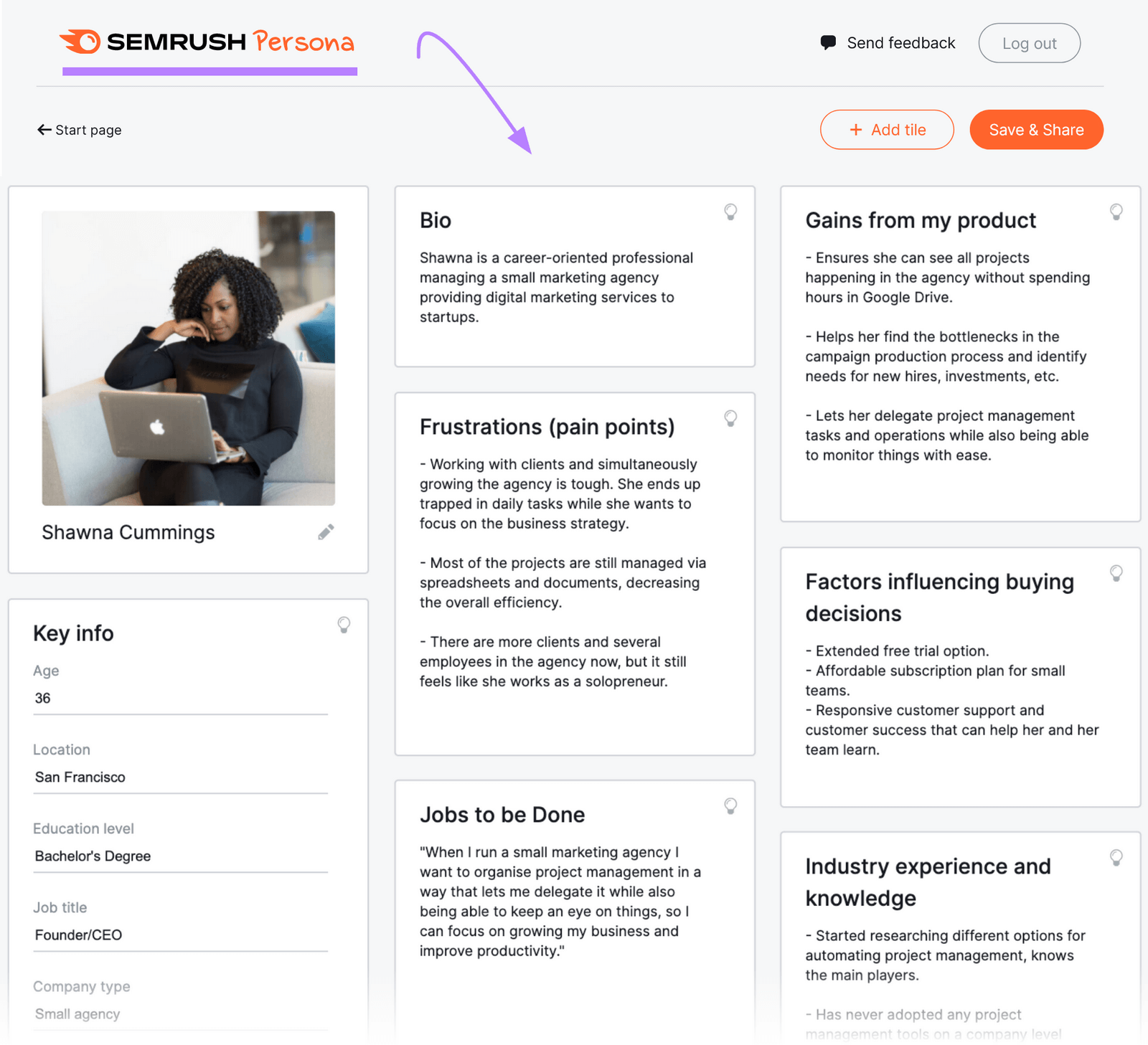 Then, reference your personas throughout the B2B content marketing process. The information will help you decide what content to create for different audiences and where to share it.
2. Perform a Content Audit
A content audit is an analysis of your existing content. This helps you spot opportunities for improvement. And gain insights to guide your B2B content strategy.
Generally, it's a good idea to improve existing content before creating new content. Because:
Existing content may have untapped potential
Updating content is generally quicker and easier than creating from scratch
Poor-quality content can harm your brand's reputation
Large amounts of unhelpful content can harm your site's performance in Google Search
You can analyze your website content for free using Google Analytics.
Go to "Reports" > "Life cycle" > "Engagement" > "Pages and screens" to see the pages on your site alongside key engagement metrics. (The report shows data for the past 28 days by default.)
Like this:

Depending on the nature of the page, a comparatively low number of views, users, or conversions could indicate that there's room for improvement.
Also pay attention to the average engagement time. A low number suggests that the content may not provide what your audience wants.
You can see these metrics in the table at the bottom of the page:

To see how your pages perform in Google Search, use Google Search Console.
Go to "Performance," choose the "Search results" report, and check all the boxes.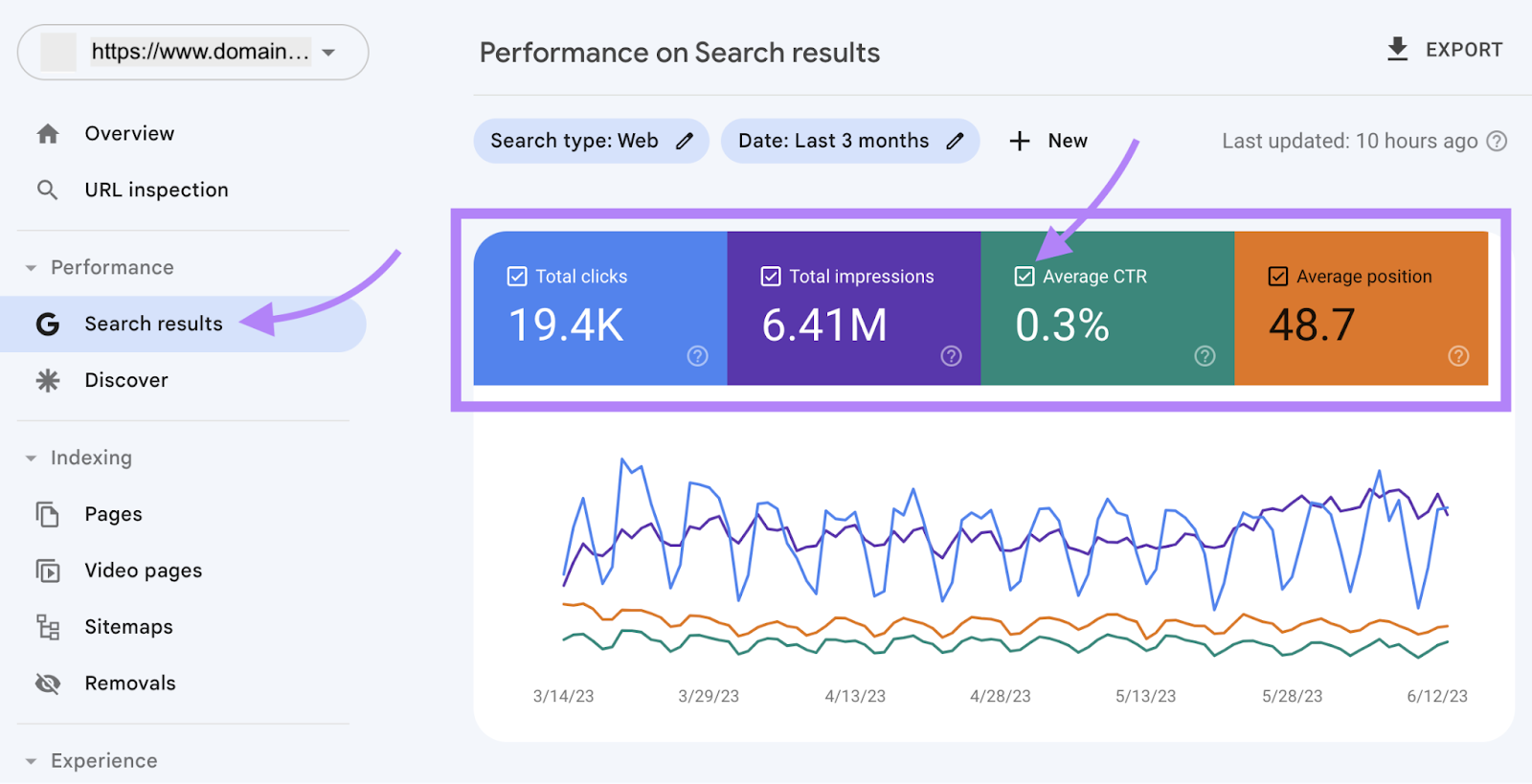 Then, scroll down and click the "PAGES" tab.
You'll see the following data for each page on your site:
Clicks: The number of organic (unpaid) clicks from Google Search
Impressions: The number of times the page appeared in visible search results
CTR: Click-through rate—the percentage of impressions that resulted in clicks to the page
Position: The average position of the page's organic rankings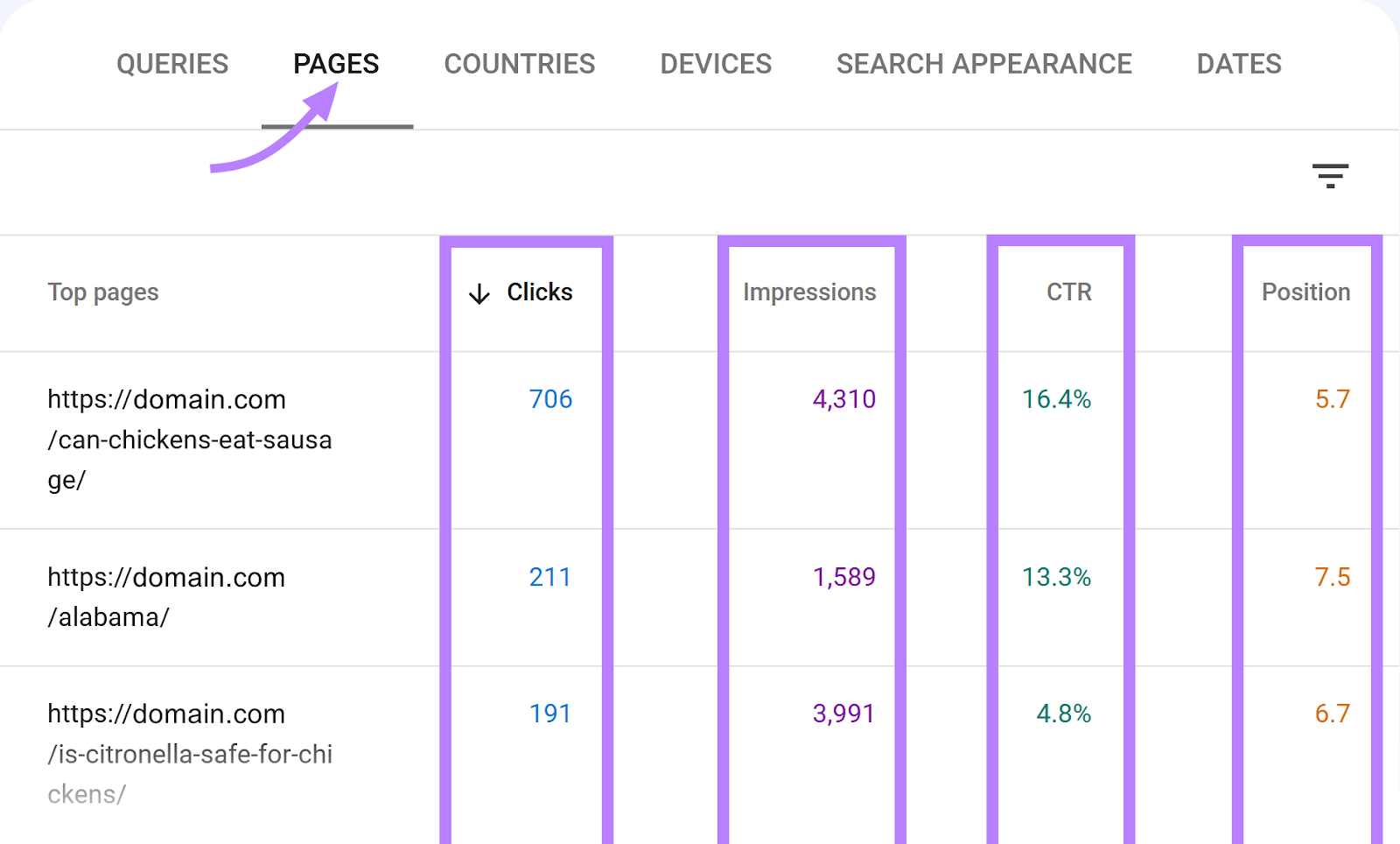 Click any page URL and then "QUERIES" to see the search queries (keywords) it ranks for. And each query's individual metrics.
Alternatively, use Semrush's On Page SEO Checker.
The tool analyzes your landing pages and target keywords to provide tailored suggestions.
These recommendations may relate to content, user experience, and more.
After setting up your project, go to the "Optimization Ideas" tab to access suggestions by page.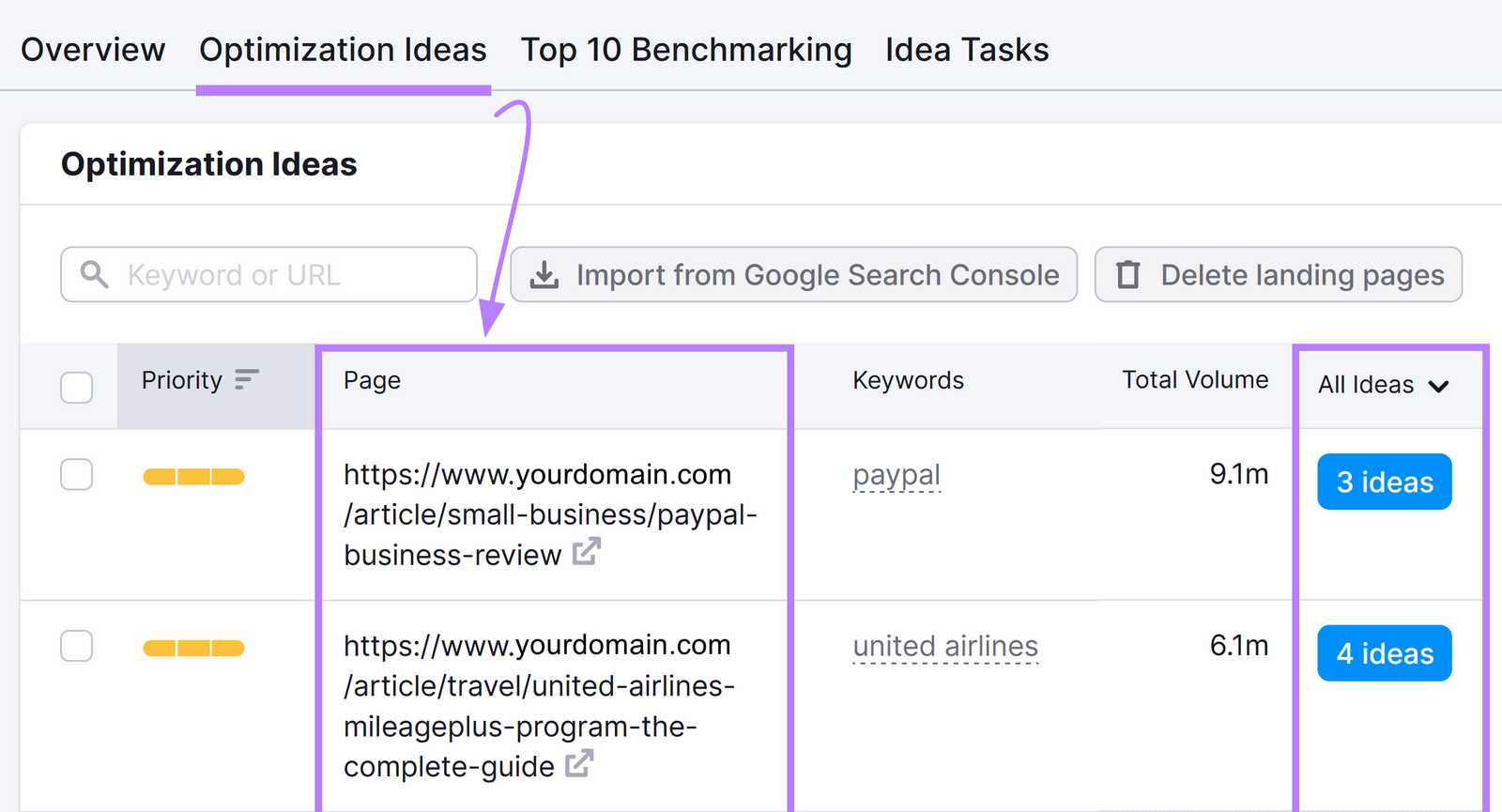 To focus on pages that need content improvements, select the arrow next to "All Ideas."
Then, choose "Content" from the drop-down menu.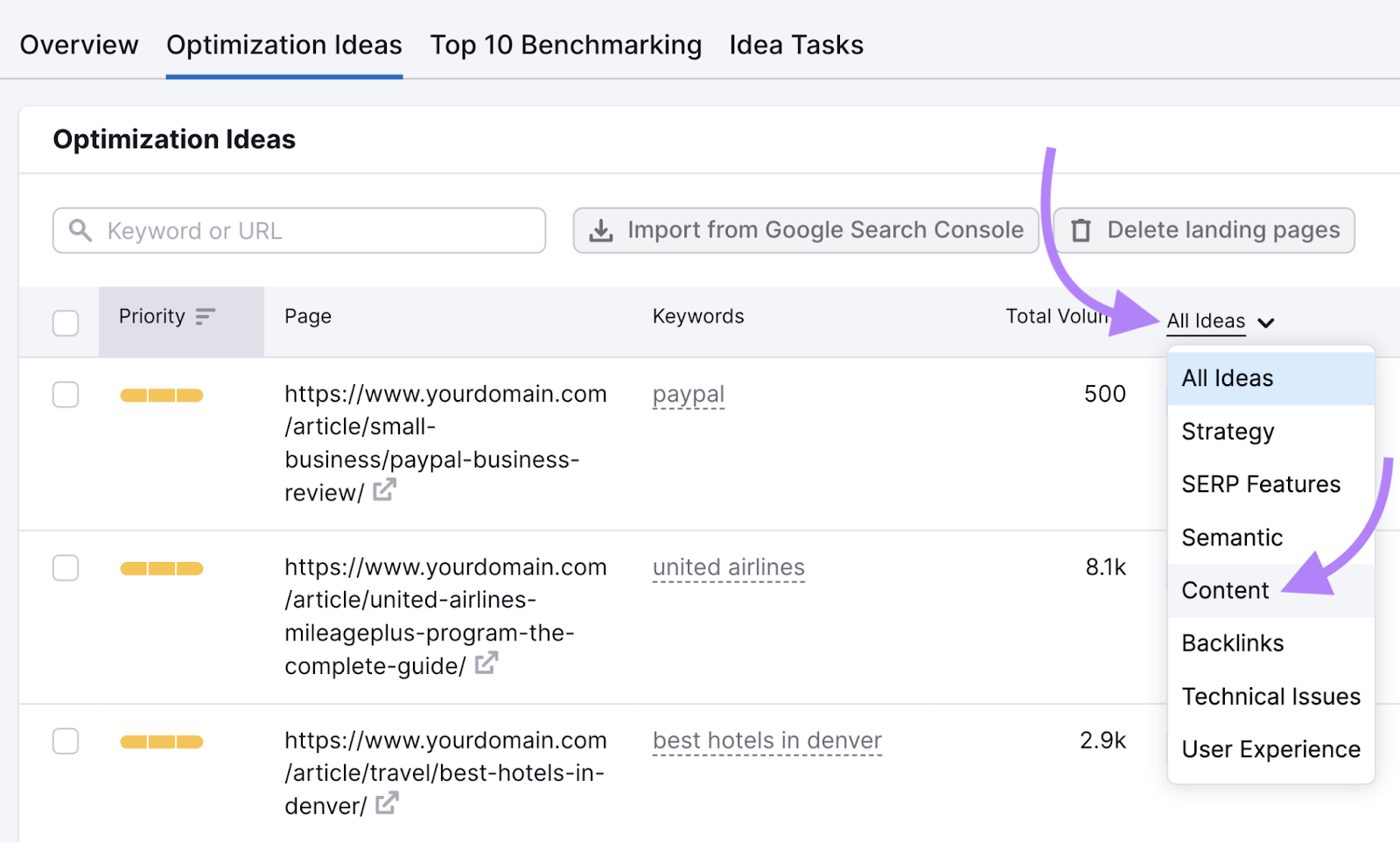 The tool prioritizes pages for you. Based on the potential traffic gains.
Click "# ideas" to see detailed recommendations for any URL.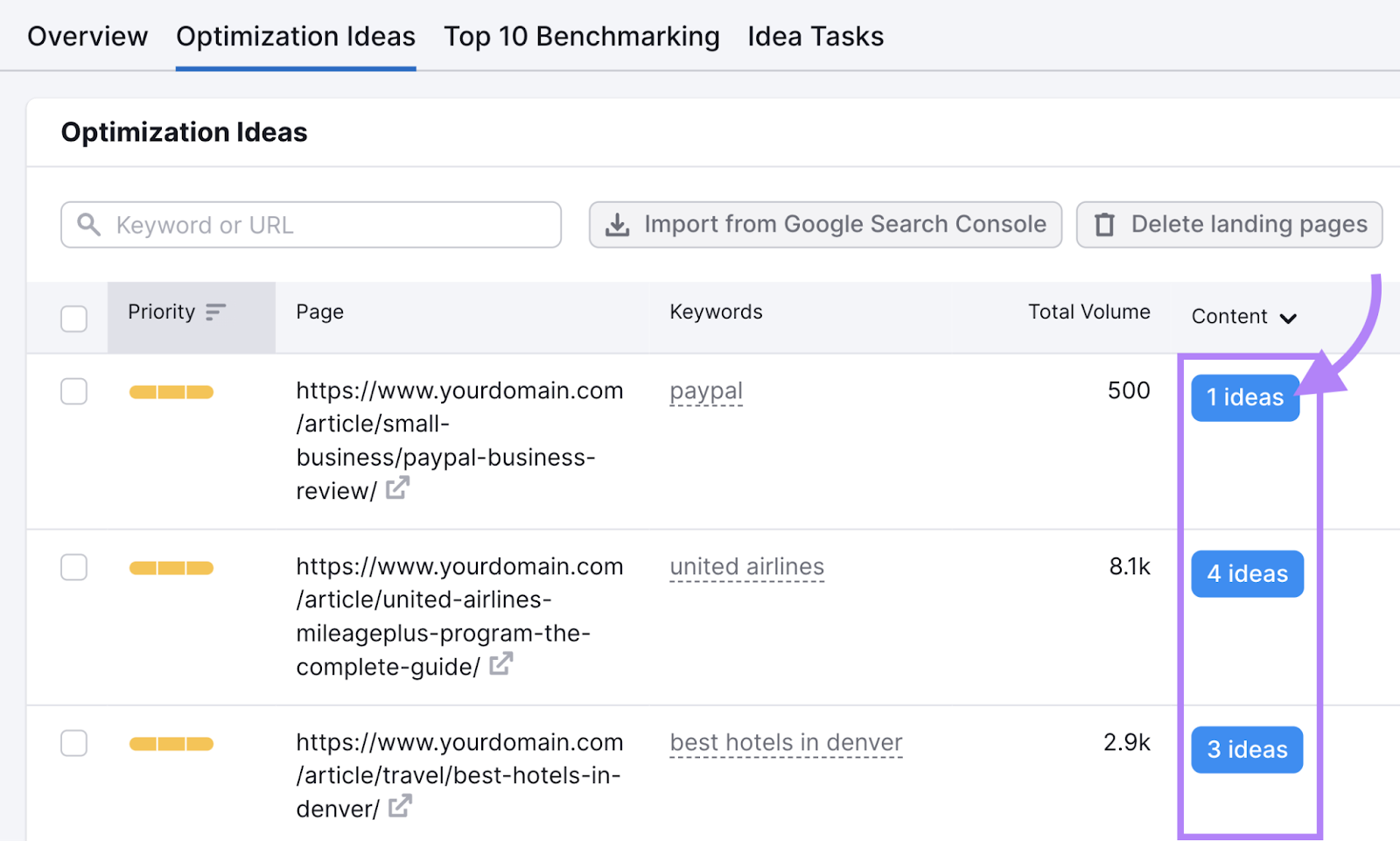 For example, "Focus on creating more informative content" suggests that your rivals have more comprehensive content on their pages. And you could benefit from increasing your word count to cover the topic more extensively.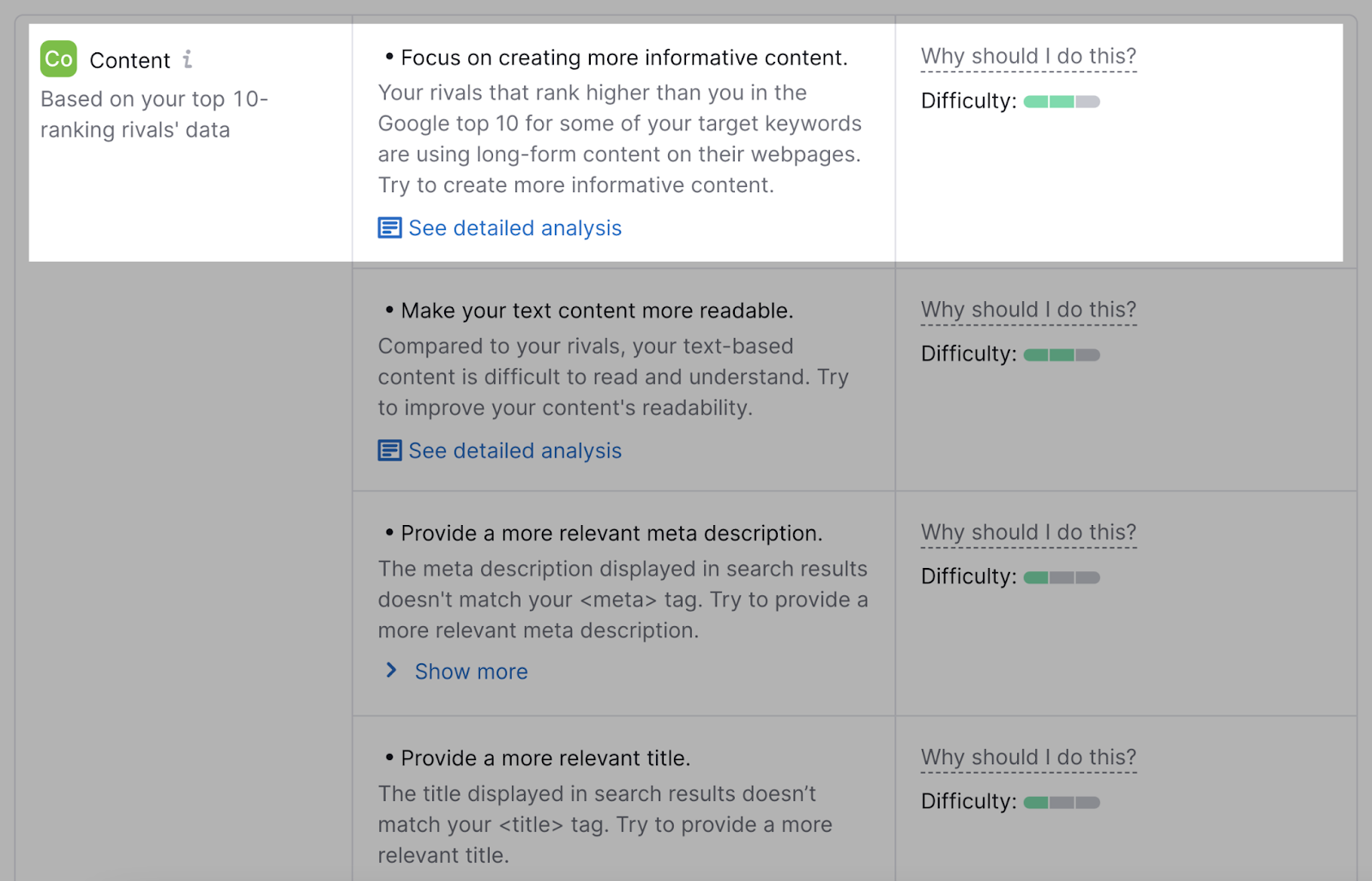 3. Create Content for All Phases of the Marketing Funnel
Understanding the customer journey is crucial to creating content that supports it. But B2B journeys are complex and varied.
That's where the content marketing funnel comes in. It's a simplified model of the customer journey that can guide your B2B content strategy.
The funnel shape represents the audience narrowing as their journey moves toward purchase (and beyond). It's typically split into three sections:
Top of the funnel (ToFu): People become aware of the problem you can solve
Middle of the funnel (MoFu): Prospects want a solution and consider their options
Bottom of the funnel (BoFu): Prospects decide on a solution and become customers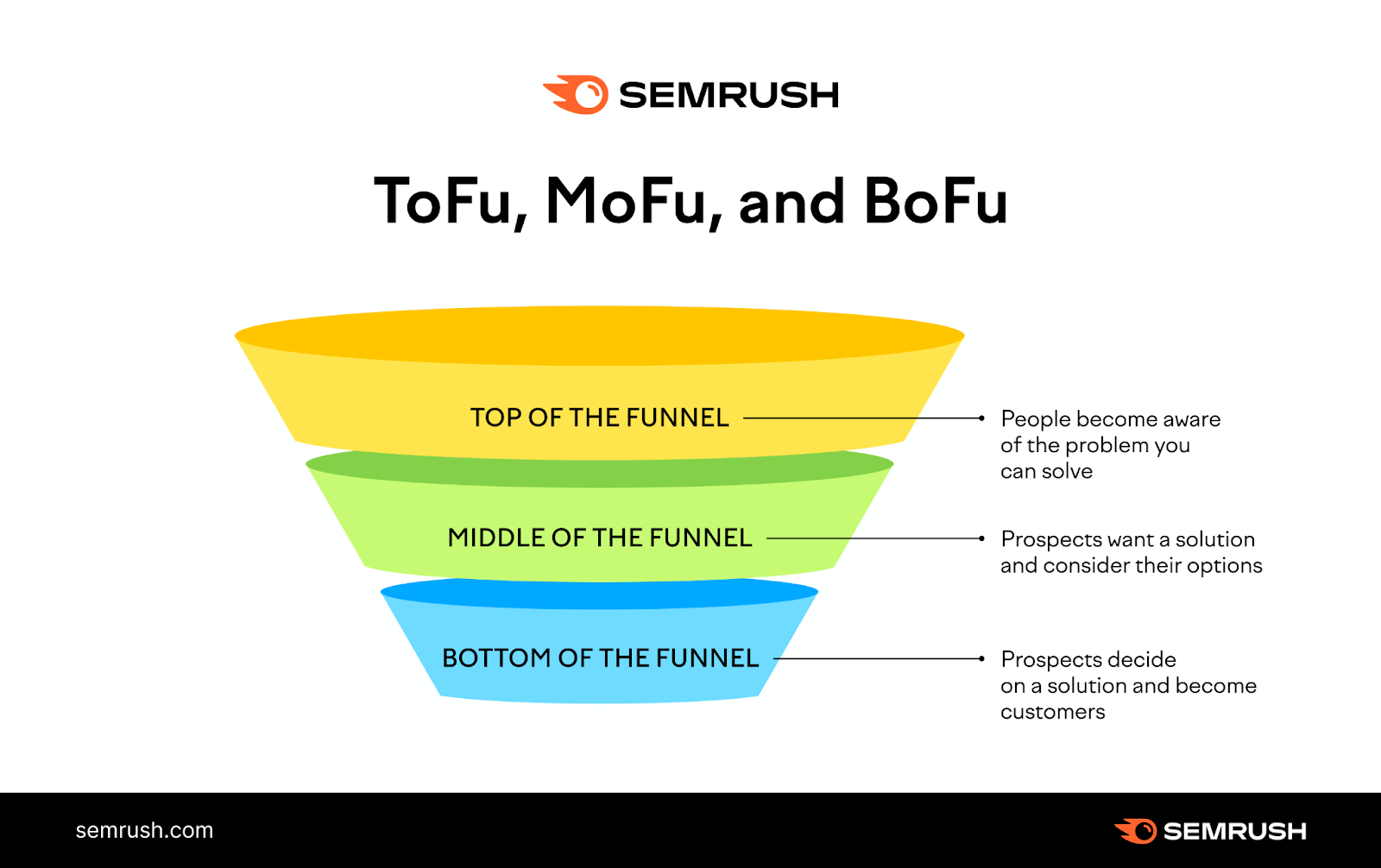 By creating content for users at each stage, you can reduce the risk that they'll drop out of the funnel. And ultimately turn more prospects into loyal customers.
ToFu content should generate brand awareness. Typically, the main goal is attracting more visitors to your website.
For example, online payments provider Stripe has a guide to corporate structures. It's not designed to sell Stripe's services directly. It's designed to attract early-stage prospects. Specifically, people starting a new business.
The page gets around 12,400 organic visits per month from Google users in the U.S. alone, according to Semrush's Organic Research tool.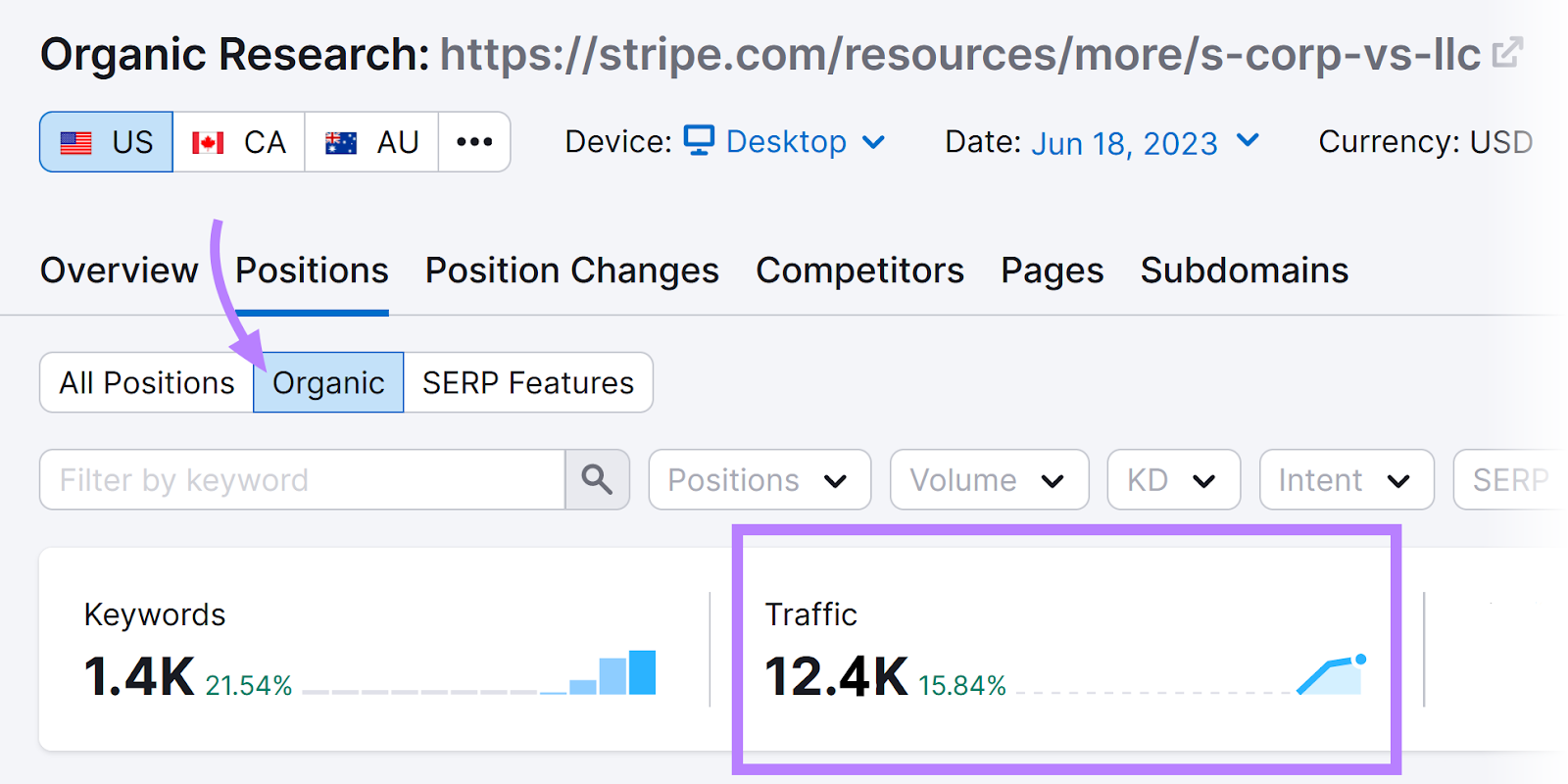 MoFu content is aimed at people who are researching your solution. It should educate and guide them through the decision-making process.
At this stage, Stripe offers more product-focused content. Like this guide to monetizing payments: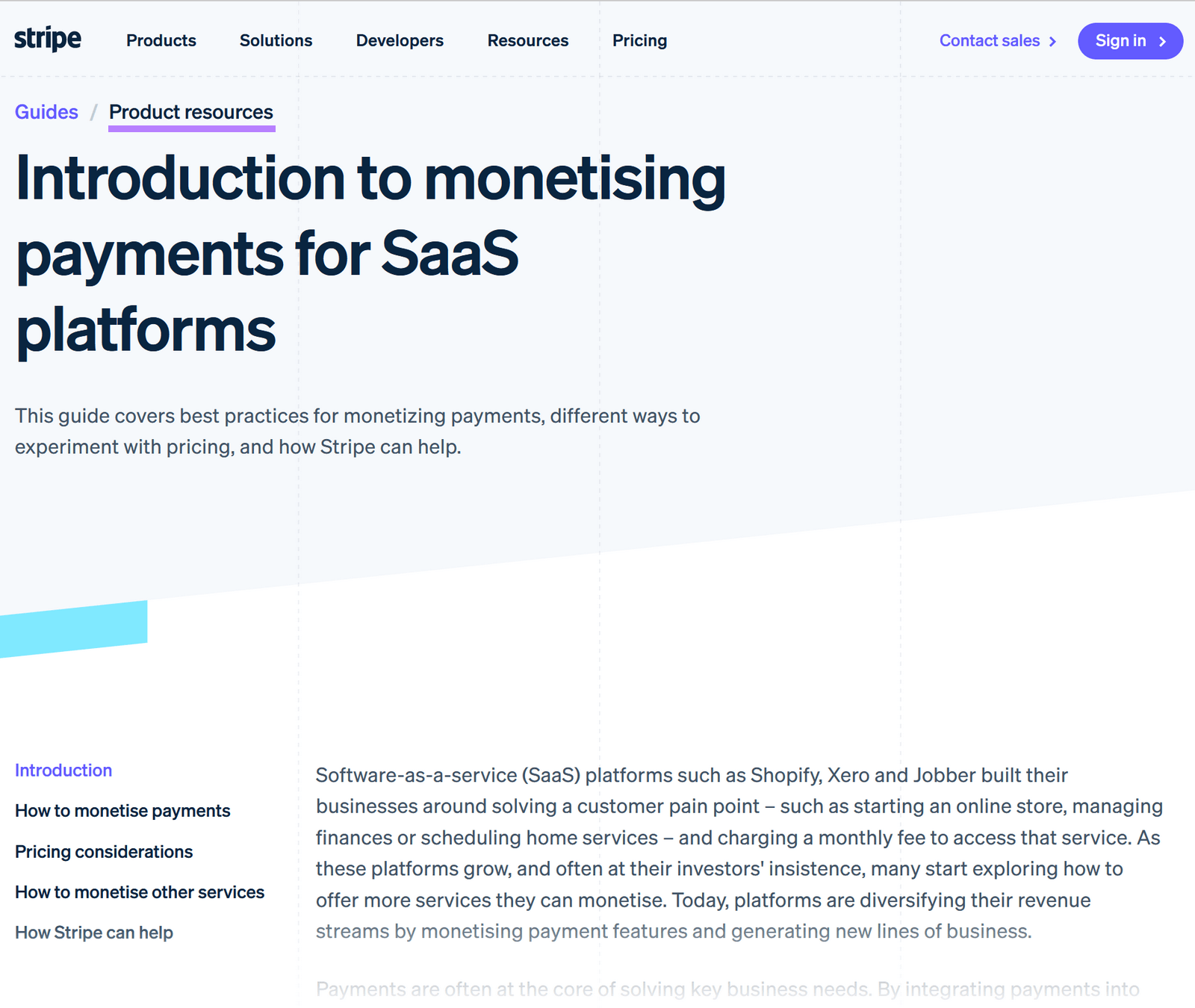 BoFu content should propel conversions.
Product overviews, customer reviews, and success stories (also called case studies) are the most popular content formats at this stage, according to a Semrush survey.
Notice how this Stripe case study features a "Contact sales" button. This call to action nudges leads toward the all-important contact page.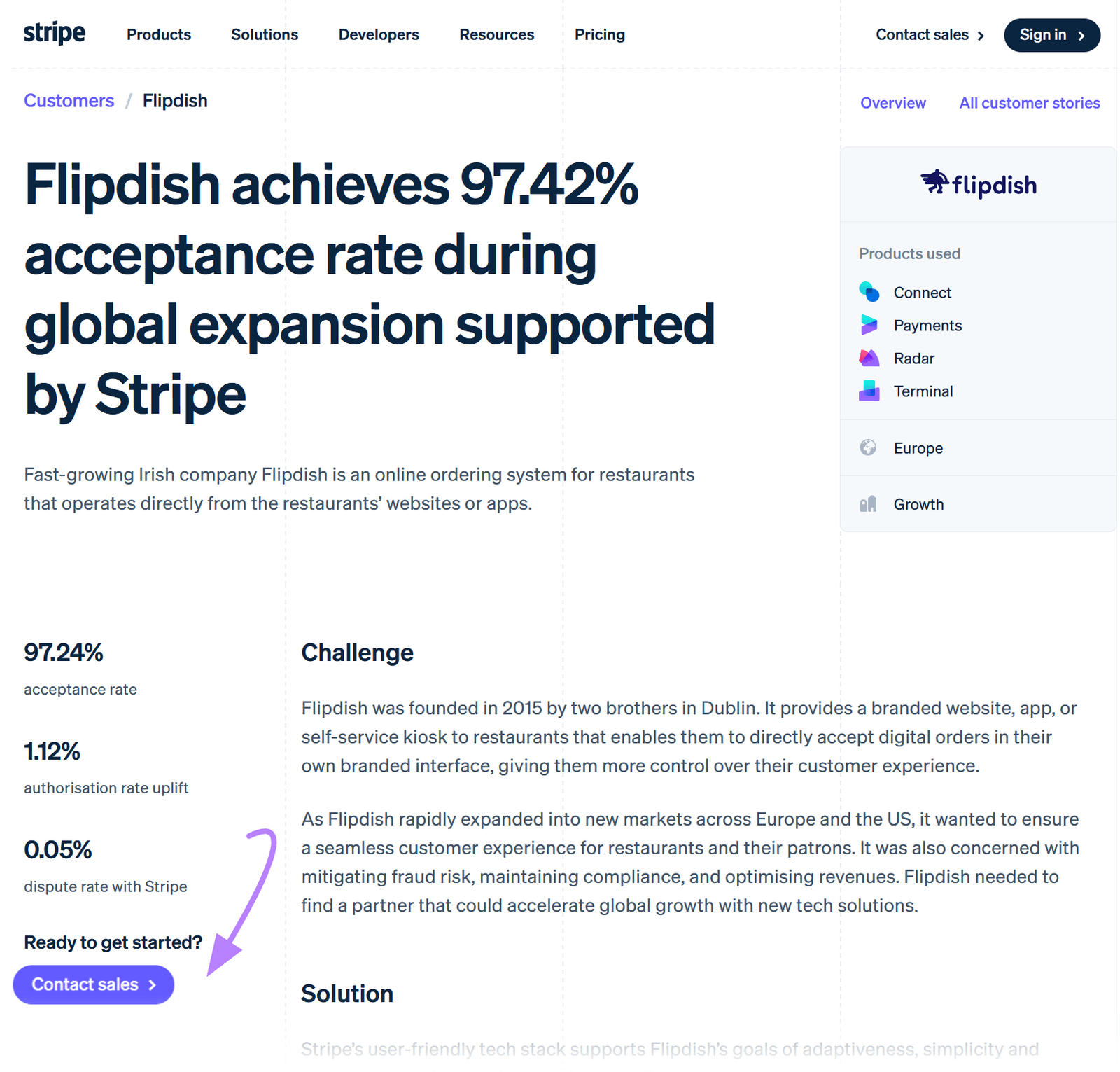 The bottom of the funnel should also encompass post-purchase content. 
Effective aftercare can create loyal customers—people who purchase again and advocate for your brand. It can also reduce strain on your customer support team.
Stripe has a support center full of useful content. But it also publishes industry news, product updates, and other content to keep customers happy and engaged.
4. Experiment with Content Types
Publishing different types of B2B content helps you engage people with various needs and preferences. 
Plus, new formats can give you access to new distribution channels.
For example, creating podcasts allows you to engage audiences on platforms like Apple Podcasts and Spotify. While videos can help you tap into YouTube's user base.
Let's look at some of the most popular types of content marketing in the B2B sector:
Content Type

Description

Blog posts

With the right blog topics, you can establish your brand as an authority in the field. And nurture leads through the marketing funnel.

 

Perform keyword research to find the most-searched questions and queries in your niche. 

Success stories

Also known as case studies. These are detailed accounts of customers' success with your business and solution.

 

Lots of people look for their peers' approval (called "social proof") before doing business with a brand. Or testing a new solution.

Research reports

Publishing original research can help establish your brand as a thought leader in its niche.

 

Plus, interesting findings can generate press coverage and links. Which help drive traffic to your site.

Podcasts

Long-form audio recordings distributed on platforms like Apple Podcasts and Spotify allow you to cover topics in depth and in a conversational way. 

 

Podcasts are popular among busy professionals because they can be consumed on the go.

Videos

Marketers and business owners say video is the best-performing content format, according to Semrush's State of Content Marketing report. 

 

Videos can help users absorb a large amount of information in a relatively short amount of time.

Webinars

Webinar hosting is a popular lead generation strategy because it allows you to collect attendees' contact details.

 

Webinars provide a low-cost alternative to in-person events. 
Whatever content types you choose, it's a good idea to repurpose content—i.e., convert it into different formats. 
This can help you maximize your investment in content creation. Because it's generally quicker and easier than creating from scratch.
Try starting out with simpler formats so you can cost-effectively test and develop concepts.
Let's say you're interested in hosting a webinar on trends impacting your industry. 
Instead of jumping right in with a webinar, write a LinkedIn post about the topic first. This will help you gauge interest. And potentially gather useful feedback.
5. Build Topical Authority
When you build topical authority in your niche, you become a go-to source of information. This helps increase brand awareness and trust. And it can lead to higher Google rankings.
One of the best ways to build topical authority is to publish a variety of helpful content related to a particular subject.
In other words, accurate, comprehensive, and insightful content that delivers genuine value to users. And showcases your expertise.
Some of these pieces may take the form of thought leadership. This is content that demonstrates a unique insight or opinion on a topic. With the goal of influencing others.
To come up with strong content ideas, you should:
Keep up to date with industry news and trends
Perform keyword research to see what people search for
Monitor relevant conversations on Reddit, Quora, and social media channels
Speak to other influencers in your niche
For a data-driven approach to idea generation, use Semrush's Topic Research tool.
Enter a topic, choose a country, then click "Get content ideas."

By default, the tool prioritizes subtopic ideas by "Topic Efficiency."
This is a measure of search opportunity, which considers:
Click the "Show more" button to see headlines, questions, and search queries related to each subtopic.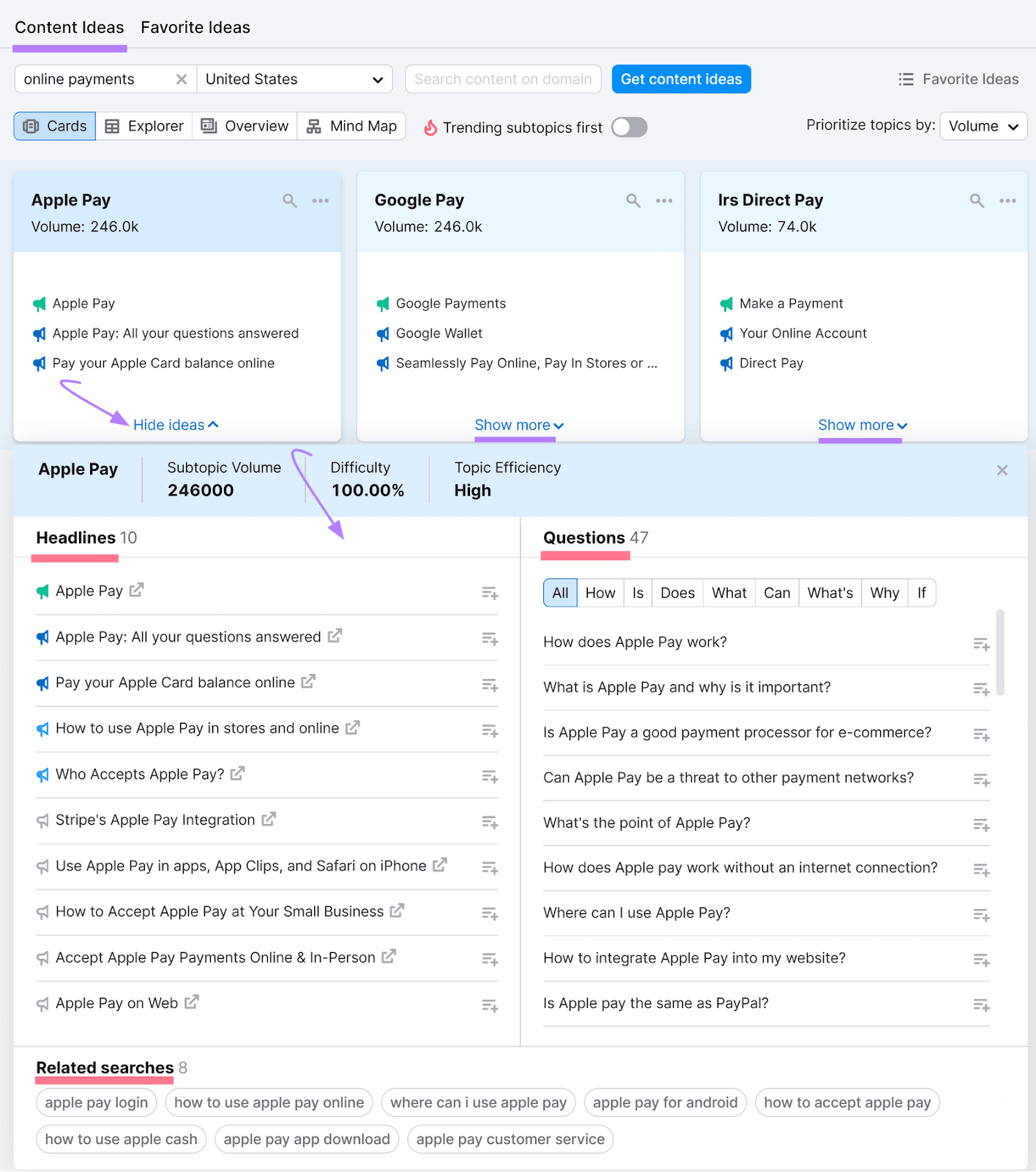 When you're ready to proceed with an idea, click "…" and then "Create SEO template."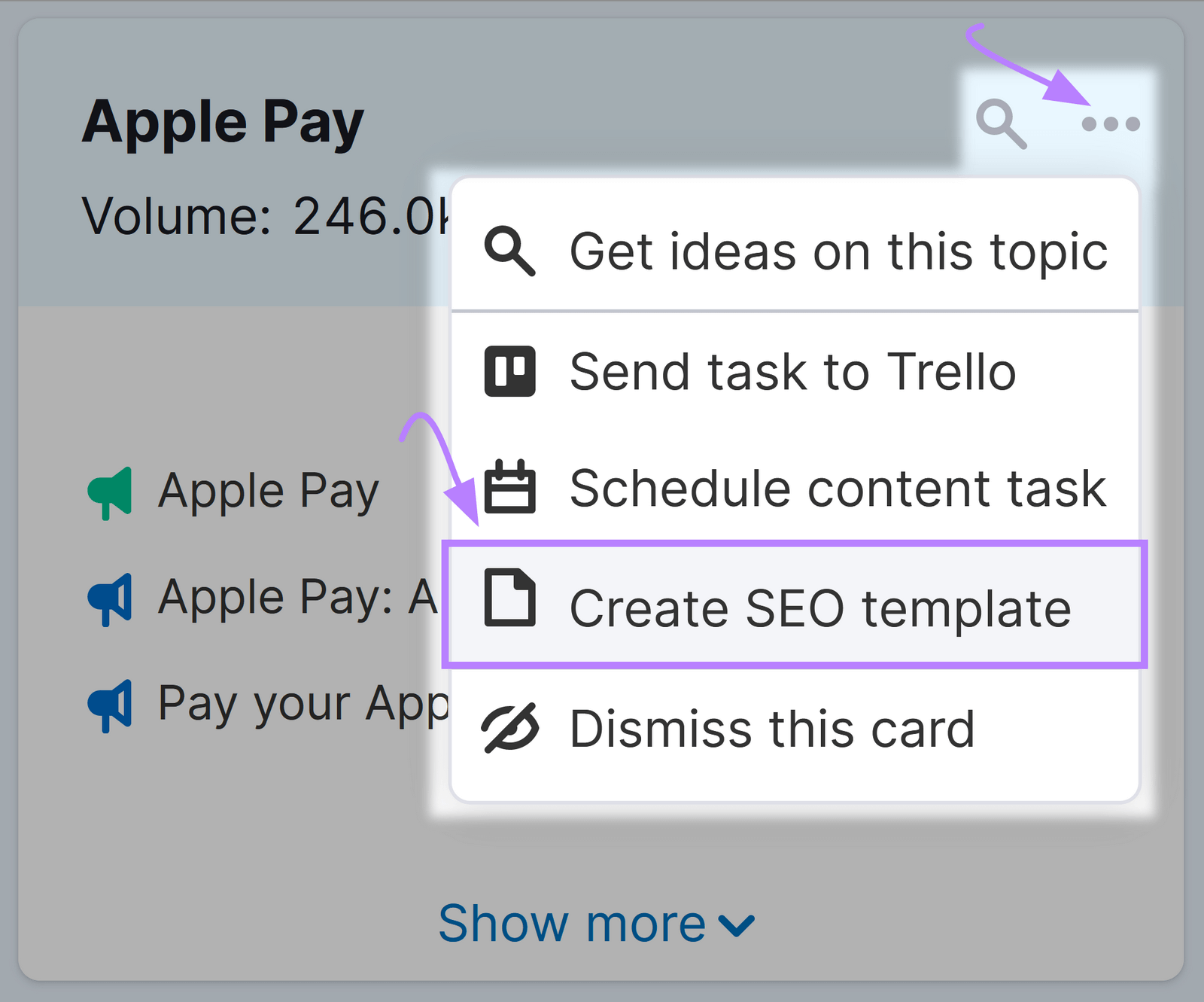 This will import your keywords to Semrush's SEO Content Template tool.
Adjust your settings if you want. Then click "Create content template."

The tool will provide content recommendations based on the top 10 results for your target keywords. This includes readability and text length suggestions.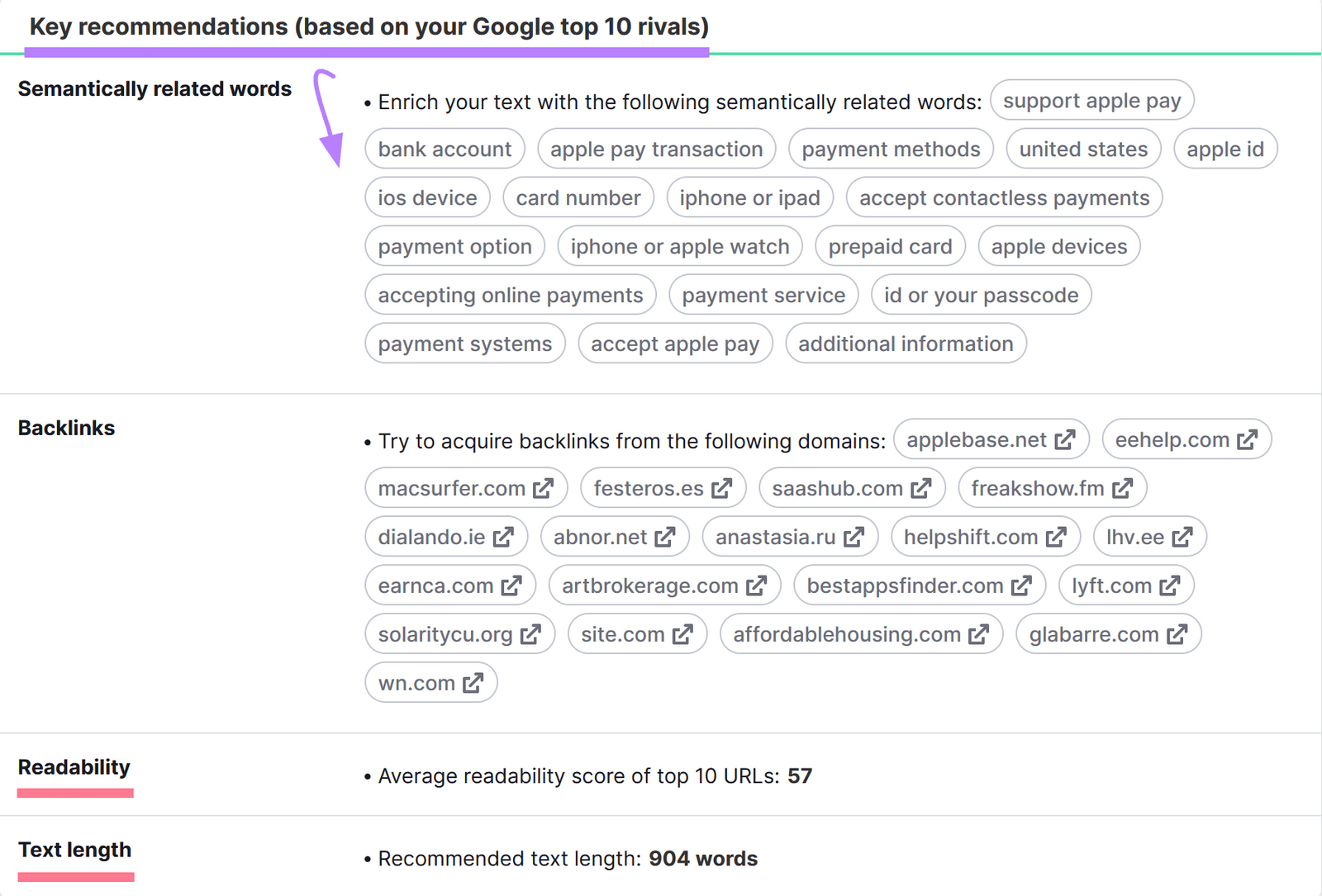 When you're ready to start writing, go to the "Real-time Content Check" tab.
Here, you can open the SEO Writing Assistant.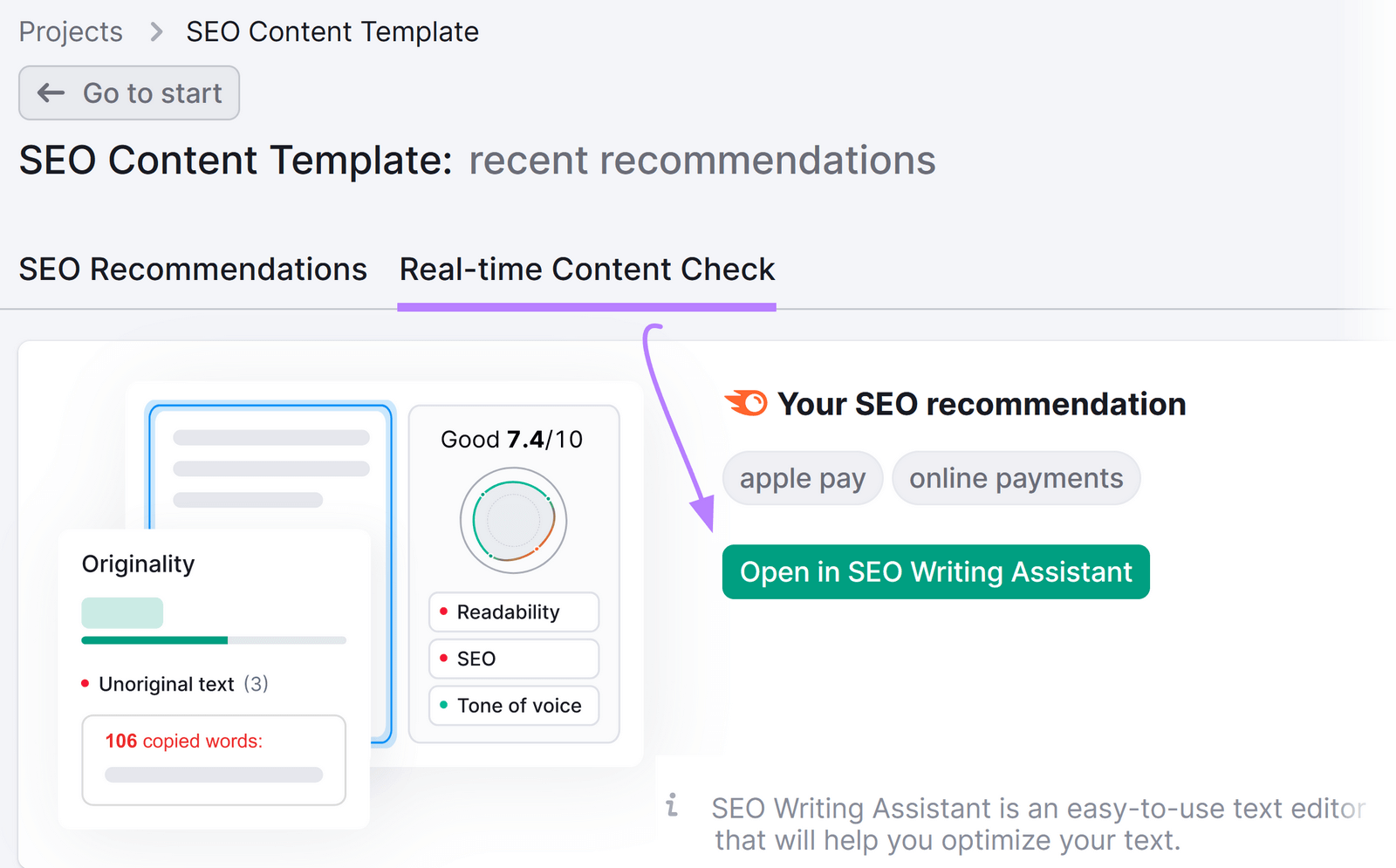 The SEO Writing Assistant provides real-time recommendations related to SEO, readability, originality, and tone of voice.
If you get stuck, you can compose or rephrase content using AI.
6. Distribute Your Content Effectively
An effective content distribution strategy helps ensure that your target audience discovers your content.
Let's look at some of the most popular distribution channels in B2B content marketing:
Distribution Channel

Description

Blogs

Publishing high-quality blog posts can be a great way to generate organic traffic (unpaid search engine traffic).

 

You can optimize your content for search using on-page SEOtactics. Try using our on-page SEO checklist.

Email marketing

Email marketing is a great way to maintain contact with leads. 

 

You can link out to your content from your emails. But you may improve engagement by placing content directly within the email.

Social media

LinkedIn is a professional networking site, so it's one of the most popular social media platforms among B2B businesses.

 

You can publish articles and posts, share videos and images, and much more. Check out our dedicated guide to learn more about LinkedIn marketing.

Content syndication

Content syndication is the process of getting your content republished on other sites or platforms.

 

The publisher should always credit you with a mention and a link.

Paid channels

If you have an advertising budget, you may wish to promote your content through paid channels.

 

PPC can be a great way to generate search traffic while you're working on organic rankings.
Whatever distribution channels you use, track metrics that align with your B2B content marketinggoals.
This allows you to see what's working. So you can make adjustments as necessary. And use resources more effectively in the future.
For example, Semrush's Position Tracking tool makes it easy to track your Google rankings.
After configuring the tool, head to the "Overview" tab.
The "Visibility" graph shows your search visibility over time.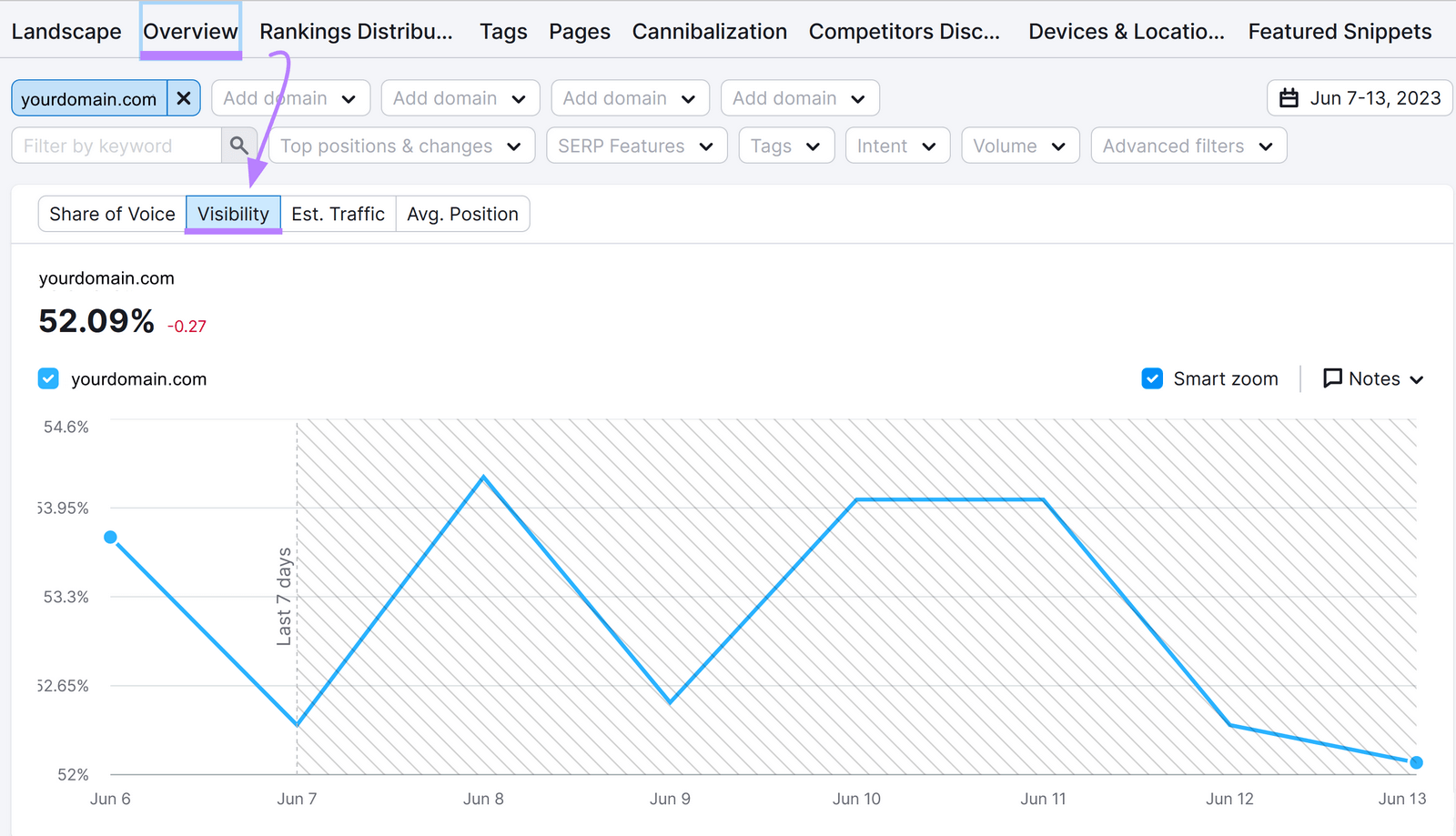 Scroll down to see how you're performing for each target keyword you're tracking.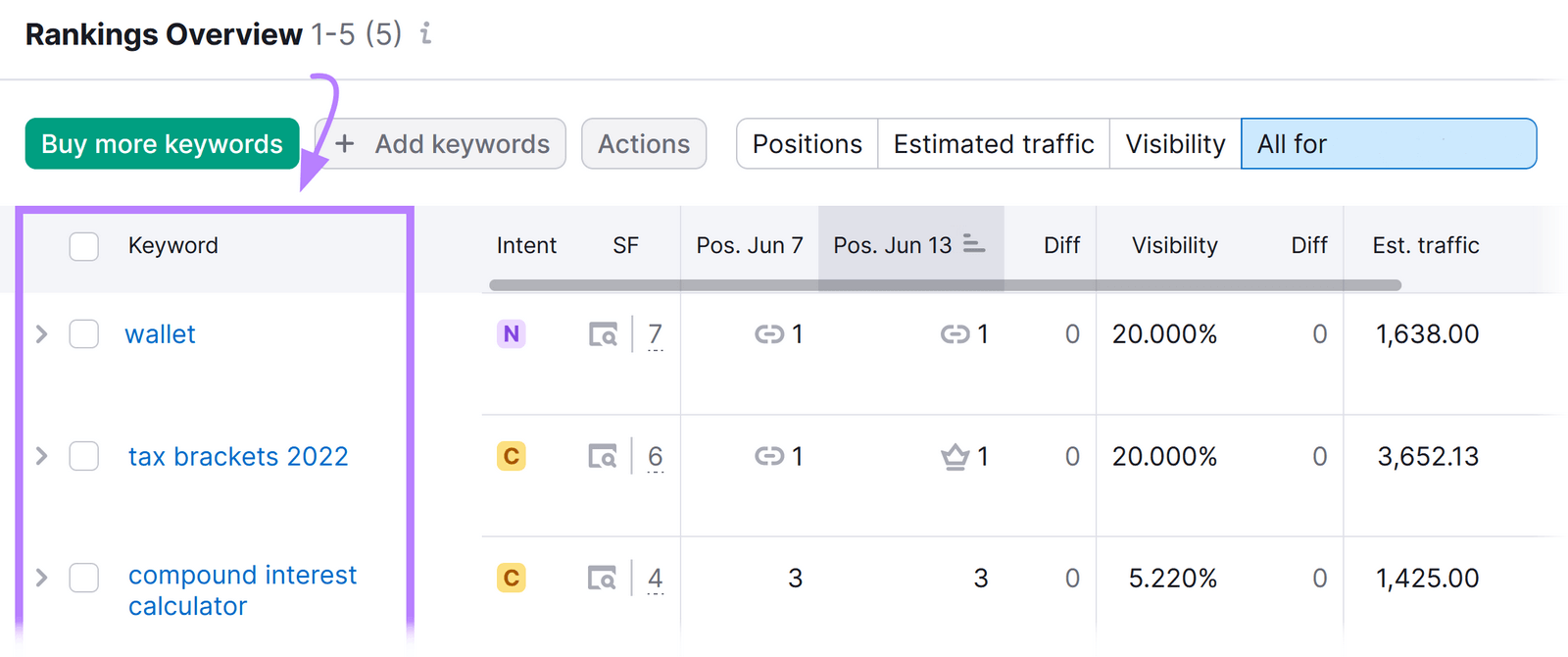 To learn more about content marketing metrics, check out our guide.
7. Document Your B2B Content Strategy
A B2B content marketing strategy is a long-term plan that outlines how a business will attract their business customers through content.
When creating a B2B content strategy, you need to define your goals and consider:
What content you will create
Why you will create it
When, where, and how you will distribute it
Referencing this strategy helps keep your B2B content marketing efforts focused. And ensures everyone on your team is on the same page.
For more advice, check out our content strategy guide and use our content strategy template.
B2B Content Marketing Examples
Need more inspiration? Check out these B2B content marketing examples:
American Express
The Business Class hub on the American Express website features a variety of content for prospective and existing business customers.
Trends and insights are spread across four main topics:
Managing Money
Getting Customers
Building Your Team
Planning for Growth
Users can find in-depth articles written by topical experts.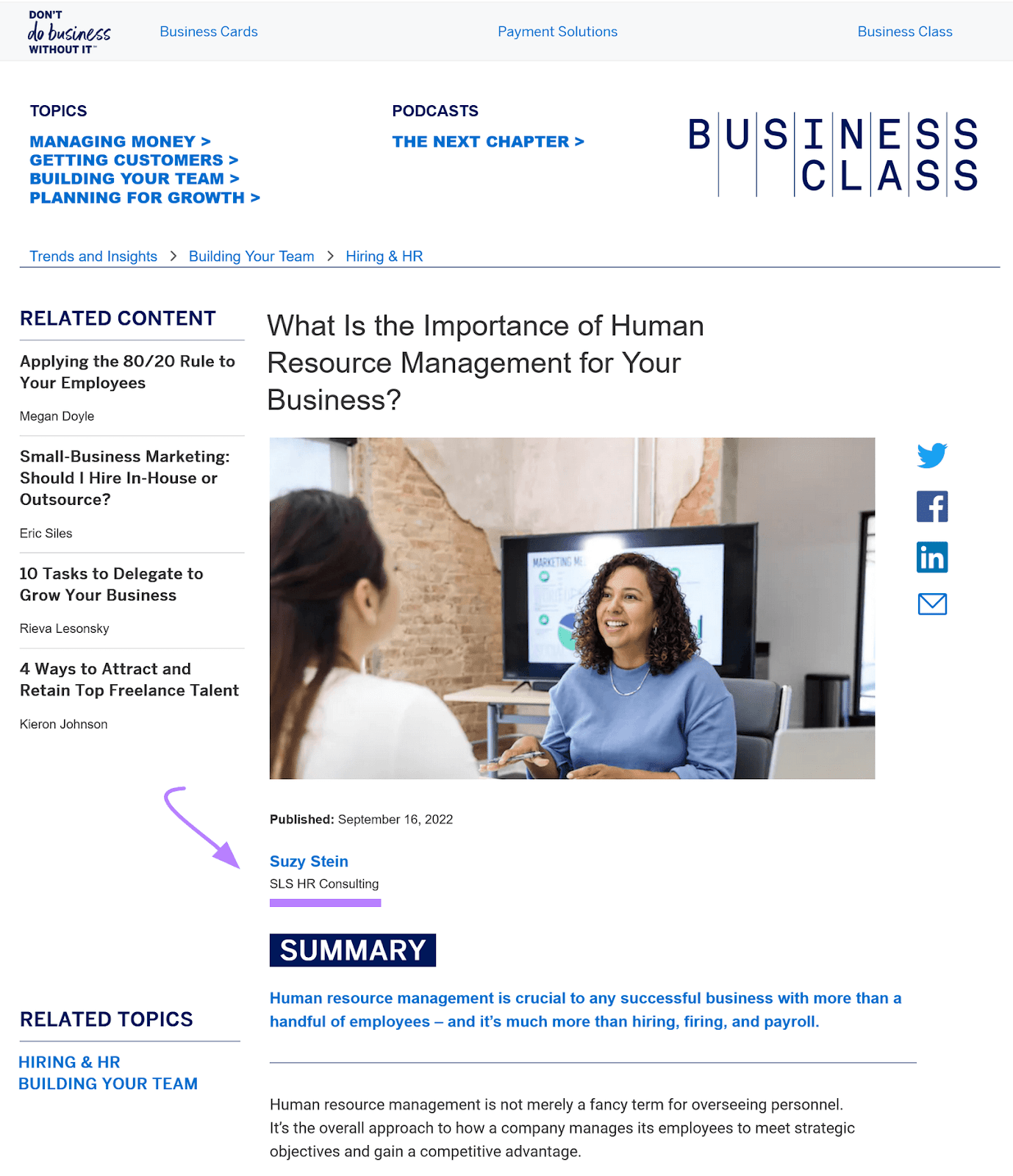 Videos that are hosted on YouTube.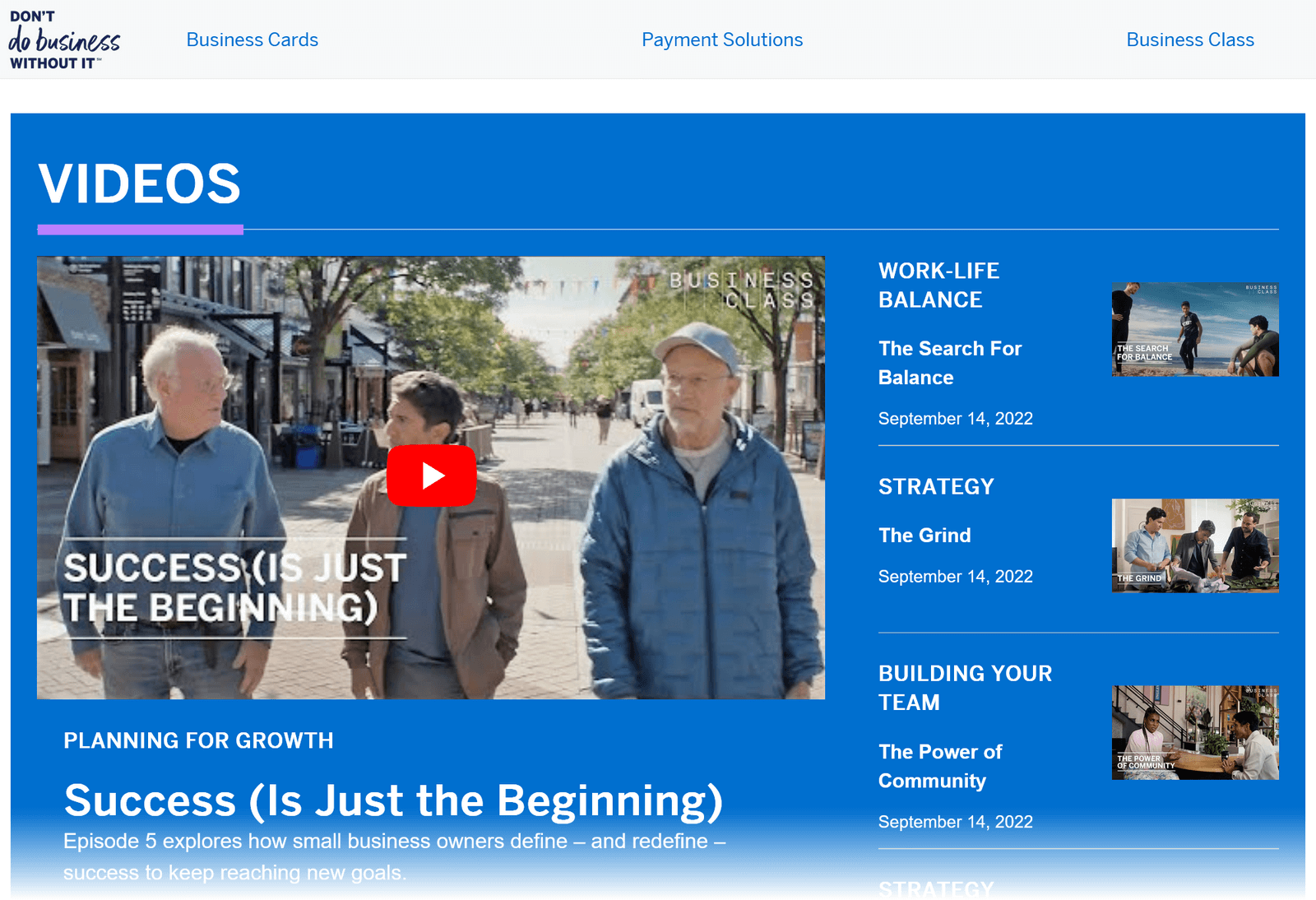 And podcast episodes. Which are also accessible via podcast platforms like Spotify and Apple Podcasts.

Slack
The Slack Resources Library includes guides, ebooks, and reports. 
Users can easily filter according to their sector and job role.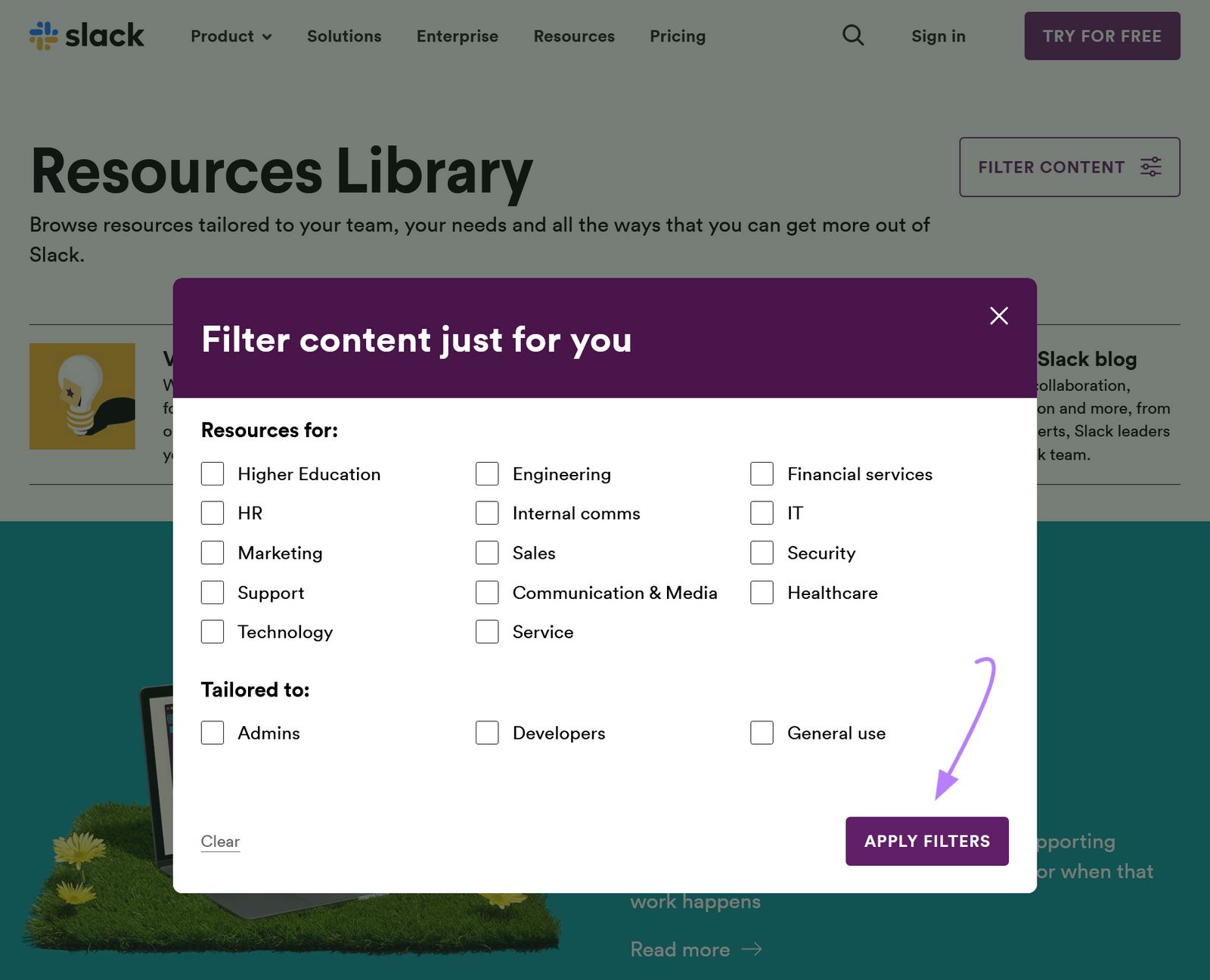 Slack also has an events page, where users can sign up for live events. Or view on-demand webinars.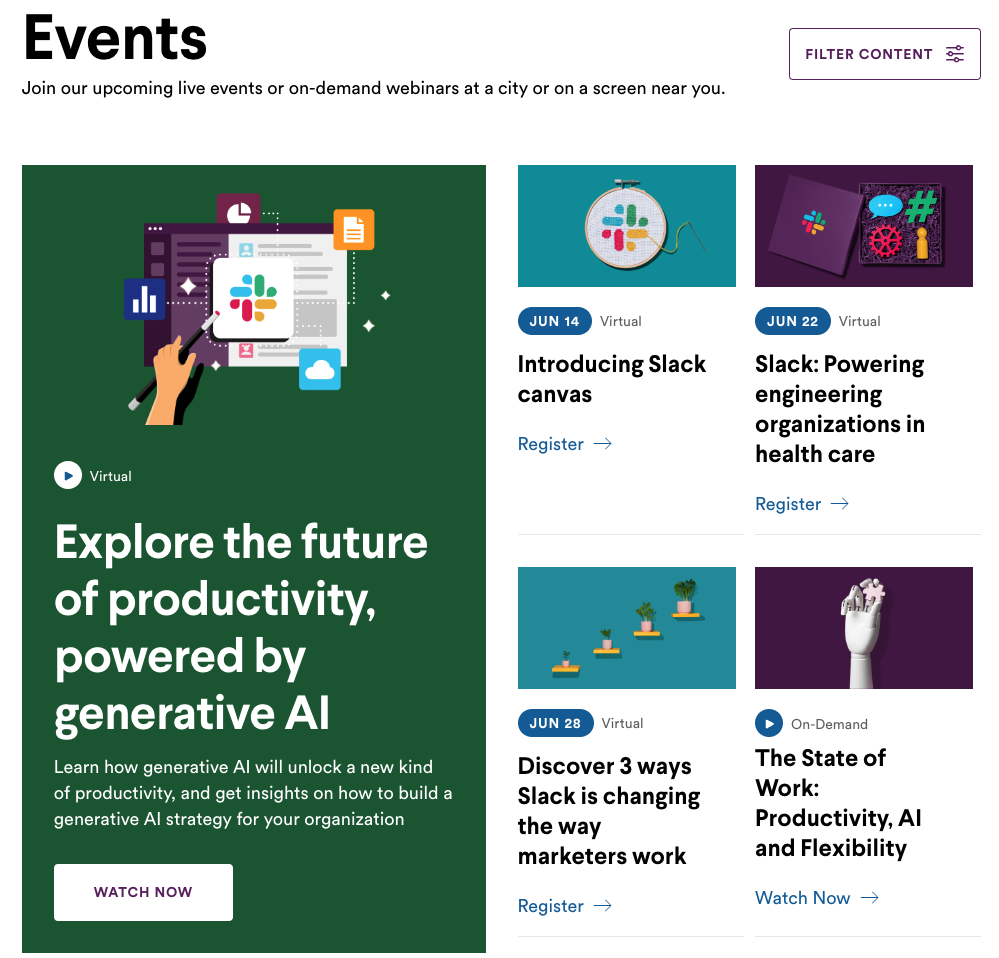 The website has a blog and help center, too.
Canva
Canva is a graphic design platform that provides a wide range of online business resources, including design templates.
These help attract a wide range of potential business customers through search. (And other channels.)
For example, the "/business-cards/templates/" subfolder gets an estimated 46,100 organic visits from Google users in the U.S. per month. According to Semrush's Organic Research tool.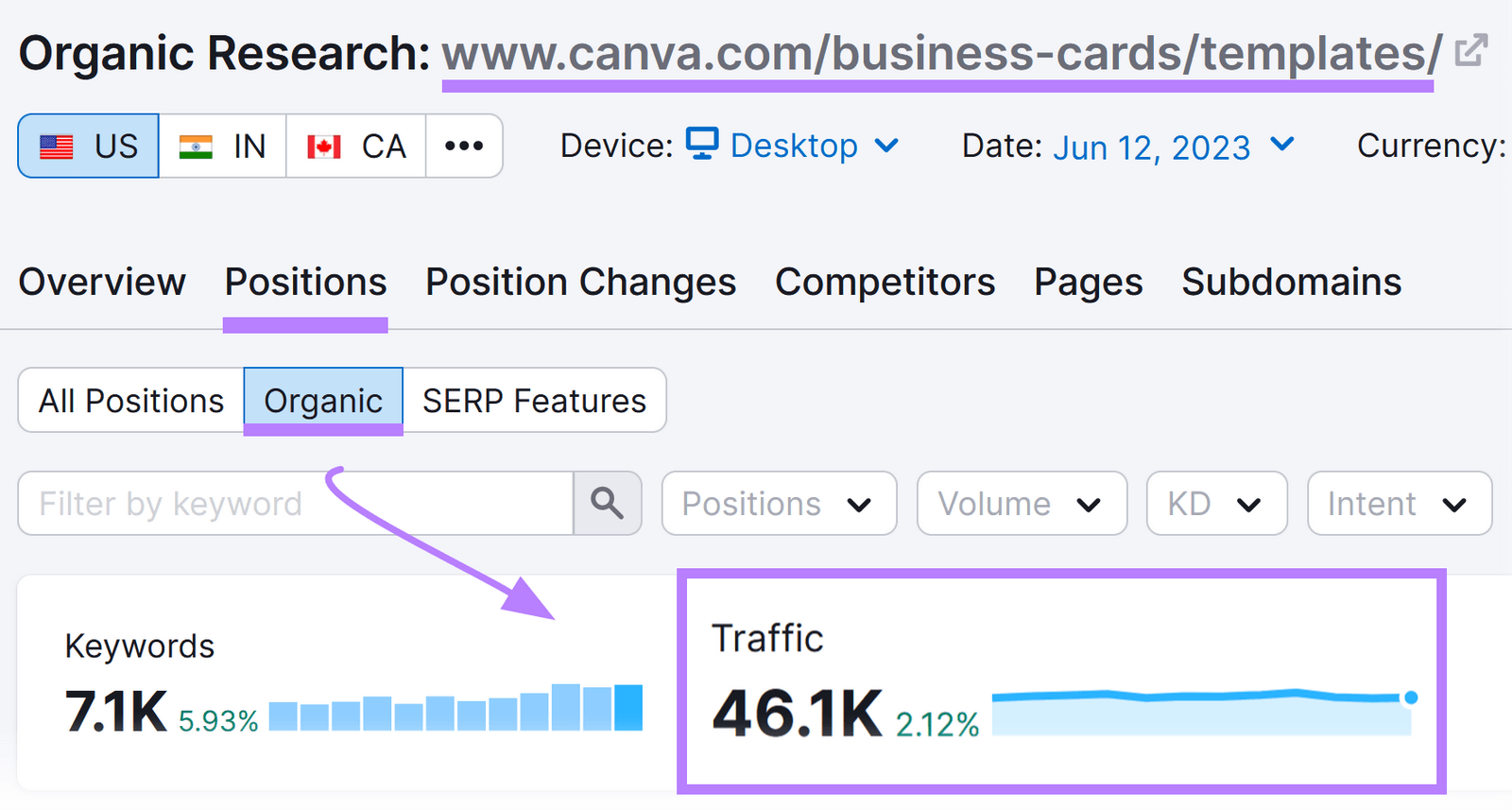 Canva's Design School also attracts and engages professionals who need help with graphic design. And introduces them to the value of the product.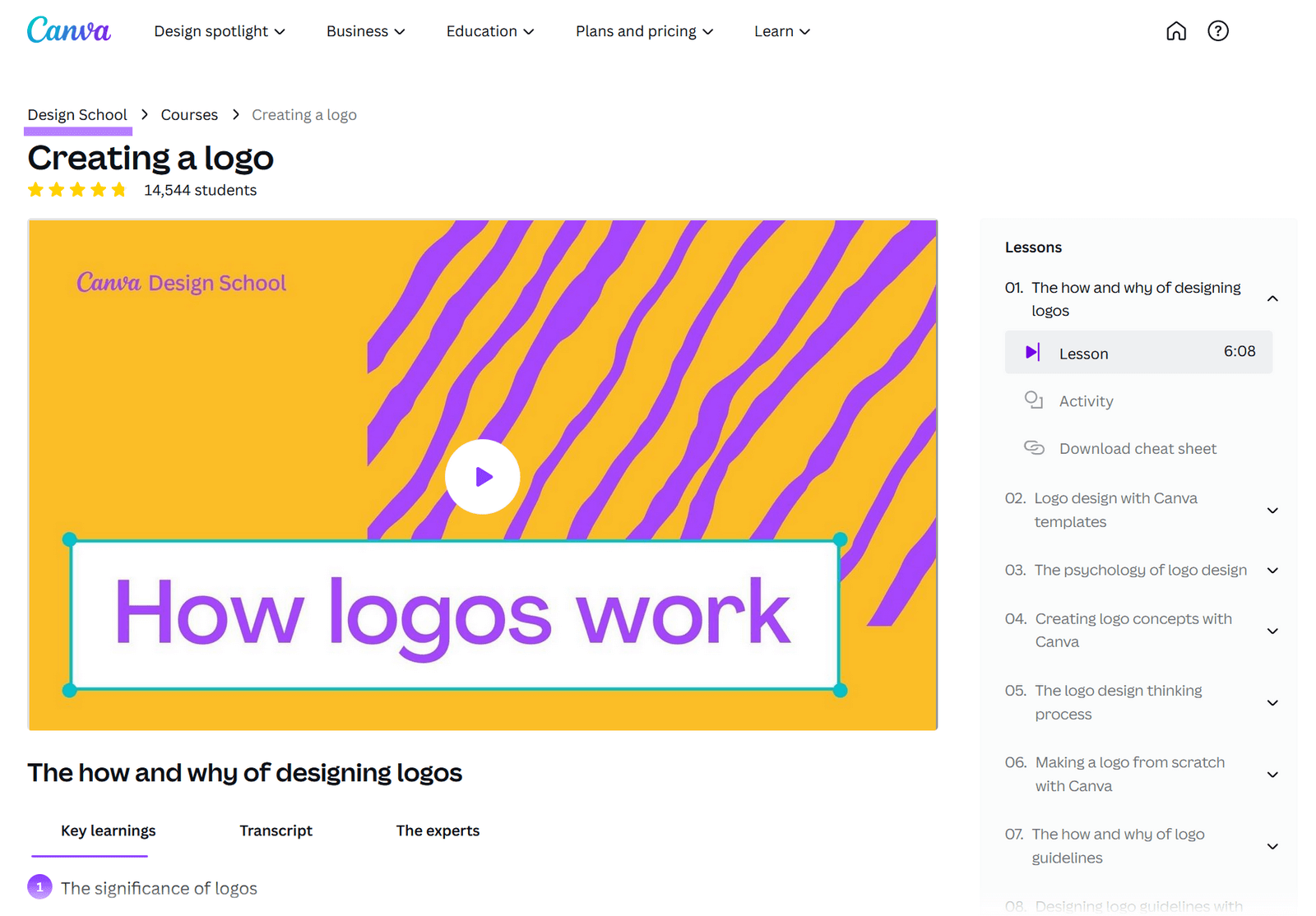 The website offers a wide range of case studies, too. Which users can filter according to their region and industry.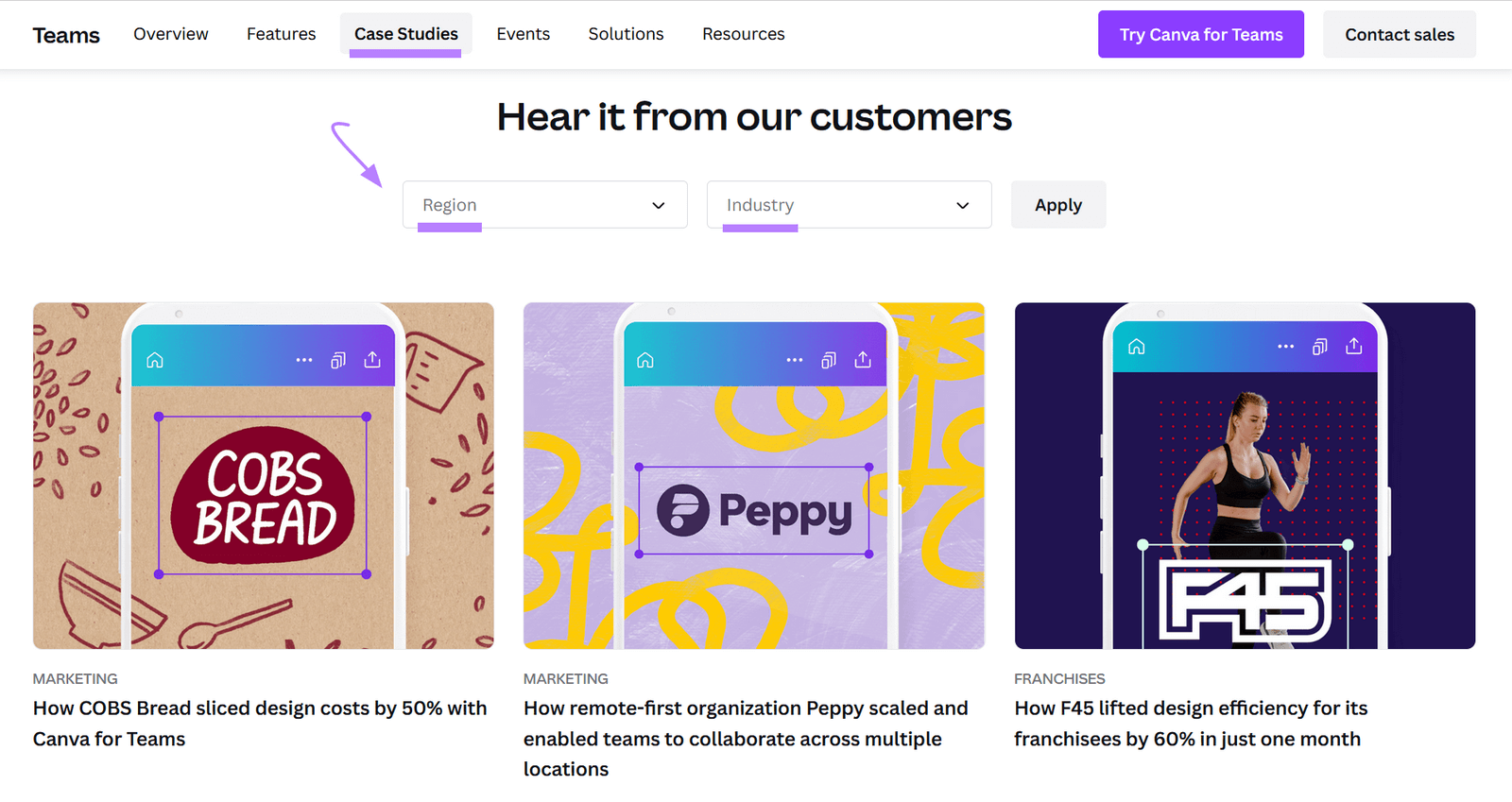 Semrush
At Semrush, we don't just talk about content marketing for B2B businesses. We have vast experience creating useful content that businesses love.
Keep exploring our resources to learn more about digital marketing. And get B2B content marketing inspiration for your own site.
Or learn more about our content marketing tools.
Source link