Social signals are not a Google ranking factor.
But they can increase your brand's visibility in search results, generate traffic to your website, and build brand awareness. This is why social media should be part of your overall marketing strategy.
Do Social Signals Affect SEO?
In 2015, Google's John Mueller stated unequivocally that social signals are not a direct ranking factor.
He explained how social content can sometimes make its way into search engine results pages (SERPs), which could drive traffic to your social media profiles or your website.
In other words, generating more likes, shares, or reposts (formerly retweets) for your article will not help it rank higher in Google. But it can still benefit your brand. 
How Social Signals Could Affect SEO Indirectly
Despite not being a direct ranking factor, social media signals can play an indirect role in SEO.
But it can help your overall reputation, which can improve your site's search performance over the long term. 
Google's Search Quality Rating Guidelines mention social media posts and profiles as one of the factors that manual search evaluators should use to assess the reputation of both content creators and websites.
Note: These guidelines are used by manual search evaluators hired by Google to give feedback on the overall quality of the search results. Google uses this feedback to make changes to search algorithms and improve quality of the results over time.
Social posts can also align with Google's focus on experience, expertise, authority, and trust (E-E-A-T).
This means that, though not a ranking signal that can improve your page's position in the SERPs, Google does use social media (and social signals) to try to improve the overall quality of its search results. 
Are Social Posts Good for Building Links?
Links from social media posts will not improve your site's SEO the same way links from most other websites can.
Most links shared on social media are marked up with the nofollow tag.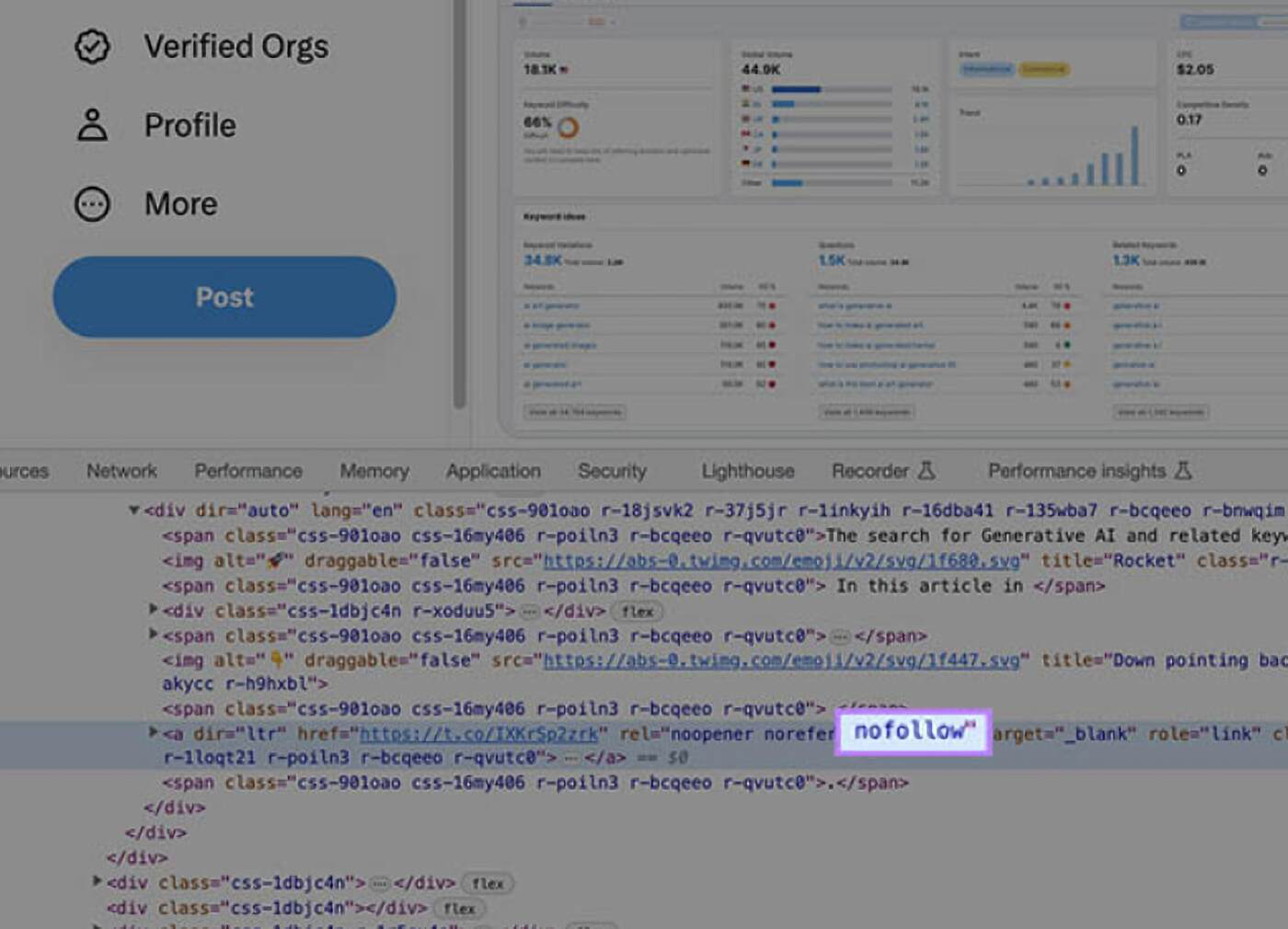 This tells search engines not to pass link equity to the destination page.
Those links won't carry the same weight in the PageRank algorithm as a link without this tag will. And they won't have the same effect on your search rankings and organic traffic.
But nofollowed links can still drive traffic and increase brand awareness. 
Plus, there's the chance that your content being shared on social media sites such as X (formerly Twitter) or LinkedIn could lead to backlinks from people discovering your website and then referencing it within content on their own websites.
Using Social Signals in Your SEO Strategy
The effect of social signals is still relevant to your SEO and content marketing strategy. 
For some searches, Google will display special SERP features, some of which highlight content from social media sites. Like a carousel feature that displays recent X posts from a specific person or brand.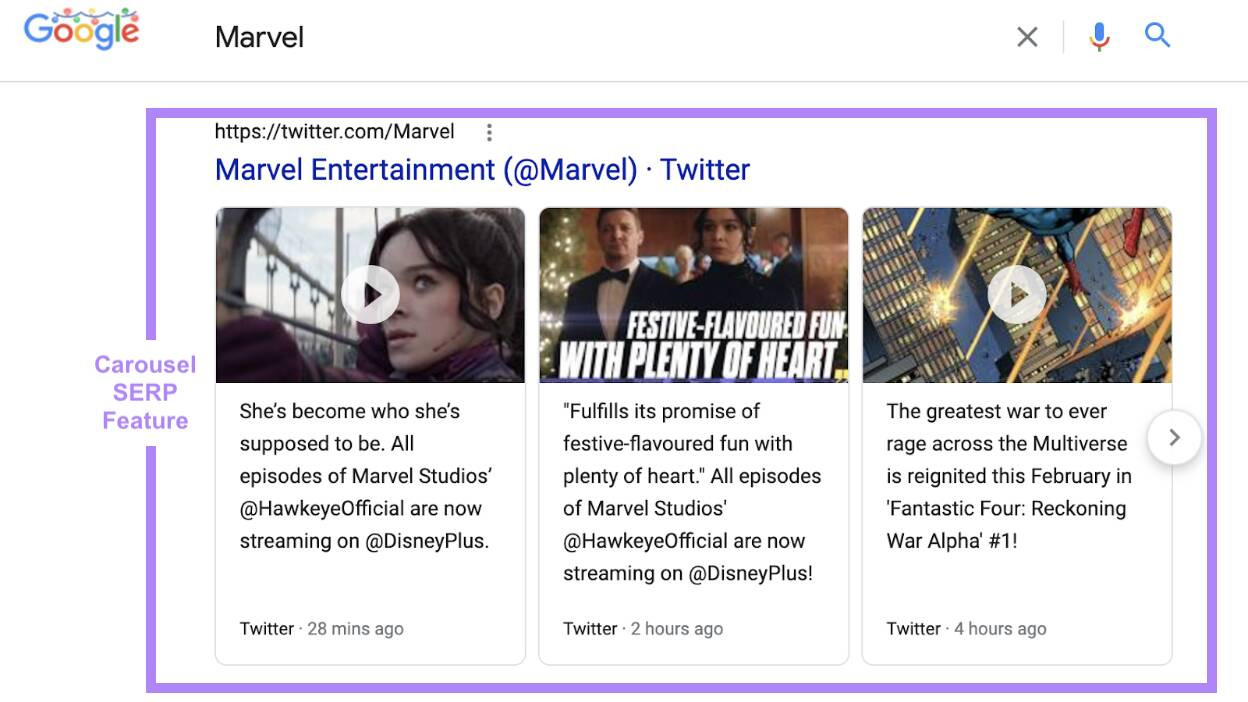 There's also a video feature that shows relevant content from social platforms such as YouTube, Facebook, and TikTok.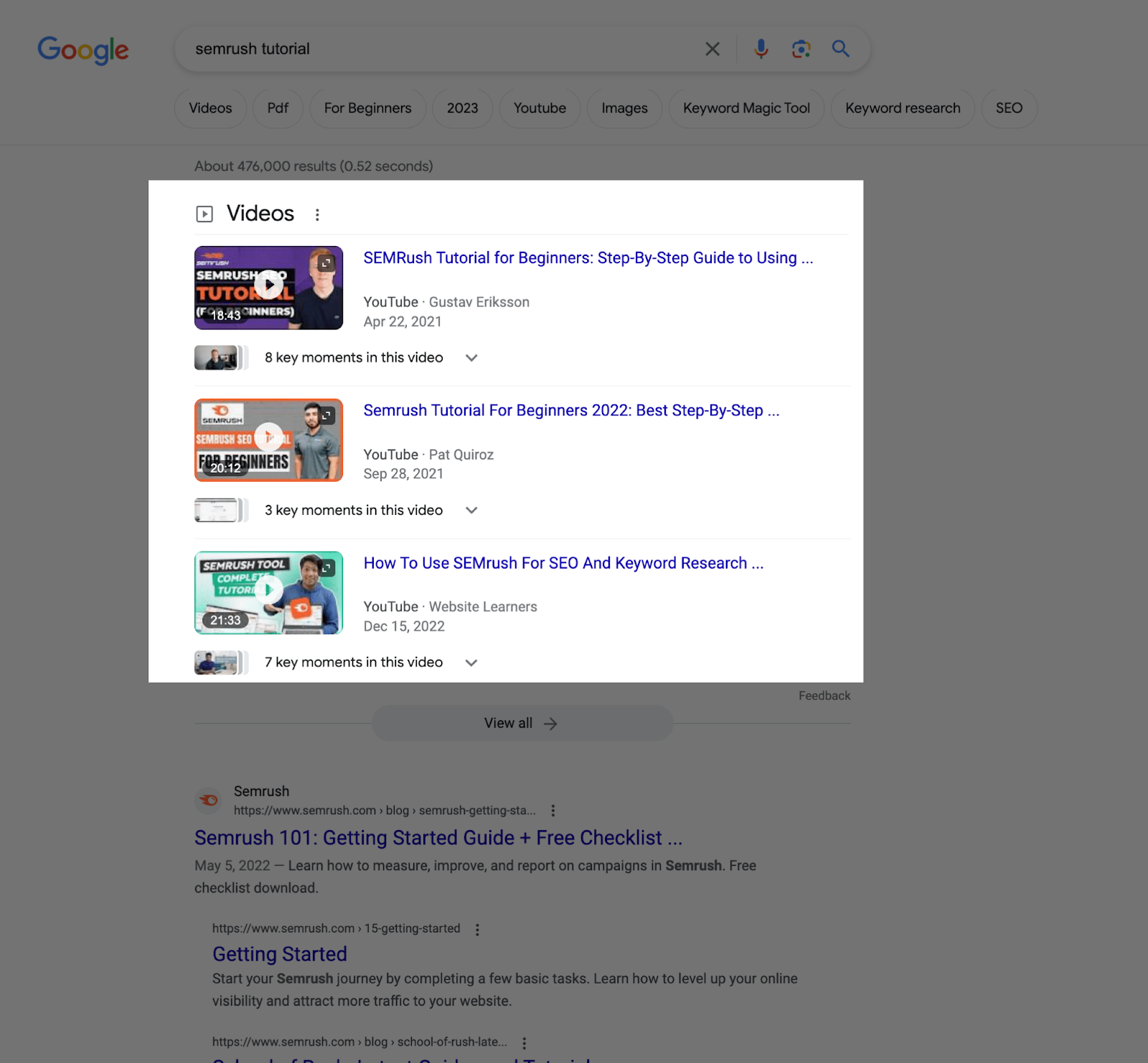 Posting relevant content to your social media profiles and appearing in these SERP features can drive organic traffic to your social media content. This may, in turn, lead visitors to your website. 
At the very least, it builds your brand's visibility.
Social Proof
Social signals are often a sign of high-quality content.
When a piece of content receives shares, likes, and comments on social media, it can signal to the reader that the content is popular and trustworthy.
We often refer to this effect as "social proof."
Many sites use this to their advantage by prominently displaying a count of social metrics on content pages.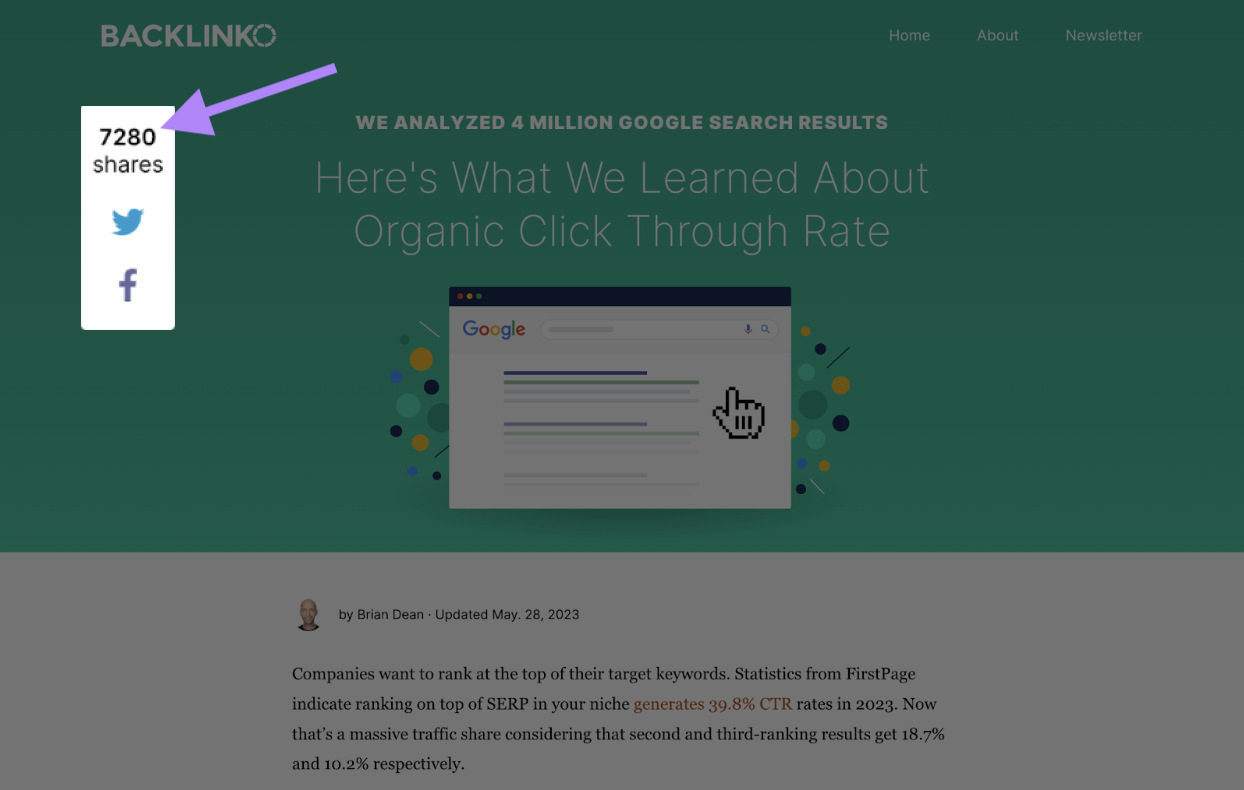 This can help improve engagement or conversions on your website. 
It can also work in the opposite direction:
Your content is shared and liked on social media
People see the content being liked and shared by prominent social media accounts or influencers, which increases click-through rates from other users
They now think of your website as credible and trustworthy
When they see your website in the SERP, they may be more likely to click on it
Increased Online Visibility and Traffic
Content distribution is the act of sharing and promoting your content across various platforms and channels. 
Digital marketing strategies often rely on social media channels like X, LinkedIn, and Facebook to drive website traffic via content distribution. 
By sharing blog posts, videos, and branded images you're putting content directly in front of potential customers. This broadens the potential for people to click on your content and increase visitor traffic to your website. It's allowing you to cast a wide net (or broadcast) to a larger audience. 
People who may not know your blog or product exists. 
But it also increases your potential for customer engagement. 
How? 
Each share, like, or repost magnifies reach. 
The content isn't only seen by your followers, but becomes accessible to their communities, friends, followers, etc. This "friends of friends" visibility can eventually foster a dedicated following and bring new eyes to your posts, and by extension, your website. 
This represents a growth flywheel that helps increase your visibility and brand awareness.
This type of engagement serves as social signals and indicators of your content's value. While these signals do not directly affect SEO, they underscore the effectiveness of your social media strategy. 
This represents a marketing flywheel that helps increase your visibility and brand awareness.
That's why social media marketing is a cornerstone of a company's online presence. 
Social SEO and Link Building
Social signals can also help your content get discovered on those social media platforms.
Let's say a blog writer is creating an article of curated Italian recipes. They hop on X and search for "stromboli recipes." 
The results often correlate with the number of likes and reposts the message received.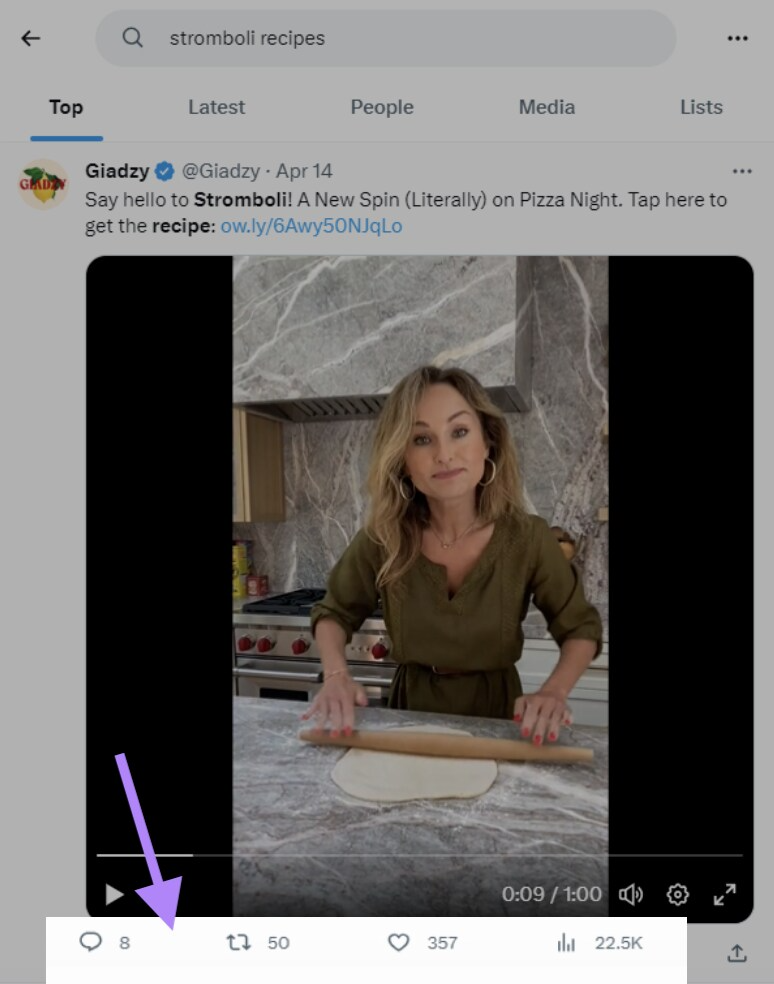 Higher engagement. Higher visibility. 
So, if your post sharing your stromboli recipe is near the top, there's an increased likelihood that the writer will link to either: 
The social post: Increasing visibility and engagement (the flywheel) 
The original article on your website: Meaning a backlink for you and the potential to increase visitors to your blog 
That's how ranking higher in social search can lead to more website traffic. 
Boosting Social Signals
If your goal is to increase the engagement your brand and content receive on social media, you can use several tactics to boost your social signals.
Implement Schema Markup
You can connect your social media profiles to your website and company using schema markup. 
Correctly implemented schema markup allows your social profiles to show up in the knowledge panel in the SERPs. It could make it more likely for your social content to appear, too.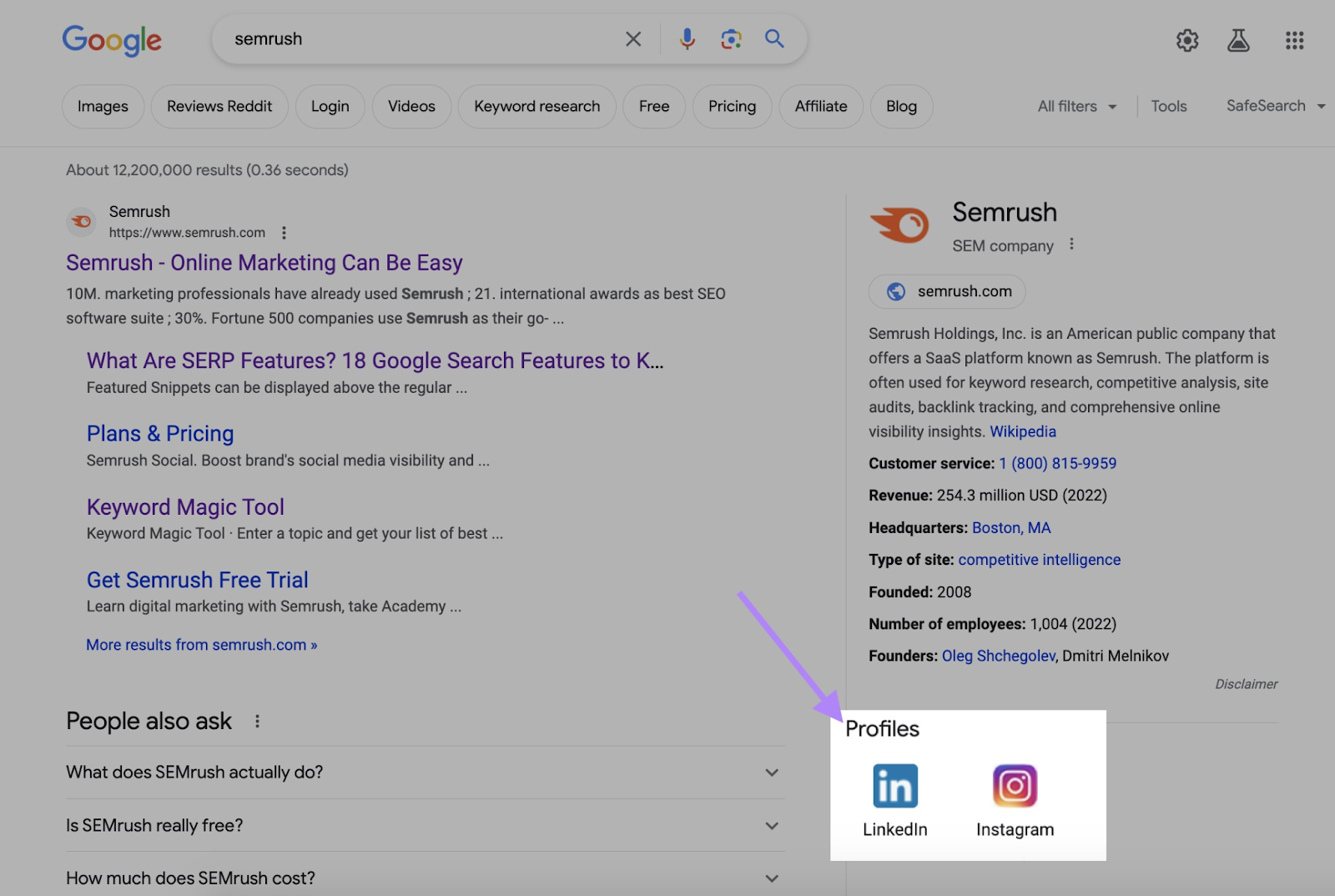 You can use the sameAs schema property to connect your website and social media pages, and help Google and other search engines understand that they're connected. 
The sameAs property signals to Google and other bots that the website they're visiting is controlled by a person or company that is "the same as" the person or company who controls those social profiles. 
In other words, you're telling Google which social media profiles are owned and controlled by the people who own and control your website (you or your company).
This allows Google to create a relationship between you, your website, or your company, and your associated social media profiles. 
By far, the easiest way to accomplish this is to use a plugin.
If you use WordPress, consider SchemaPro, Rank Math, or Yoast.
Any of these plugins can implement the proper code with just a few clicks. 
You can also accomplish this by manually implementing schema markup on your website. 
If you want to do this, read our guide to Organizational Schema, which covers the sameAs attribute. 
Further reading: What Is Schema Markup & How to Implement Structured Data
Ask for Engagement
Ask your followers, readers, and fans to share your content on social media.
A well-placed and compelling call to action (CTA) can significantly boost user engagement.
Trello's blog, for example, features CTAs with pre-written social posts that encourage readers to share content excerpts. When the pre-written post appears on the social platform, it will also include a link to the content the excerpt came from.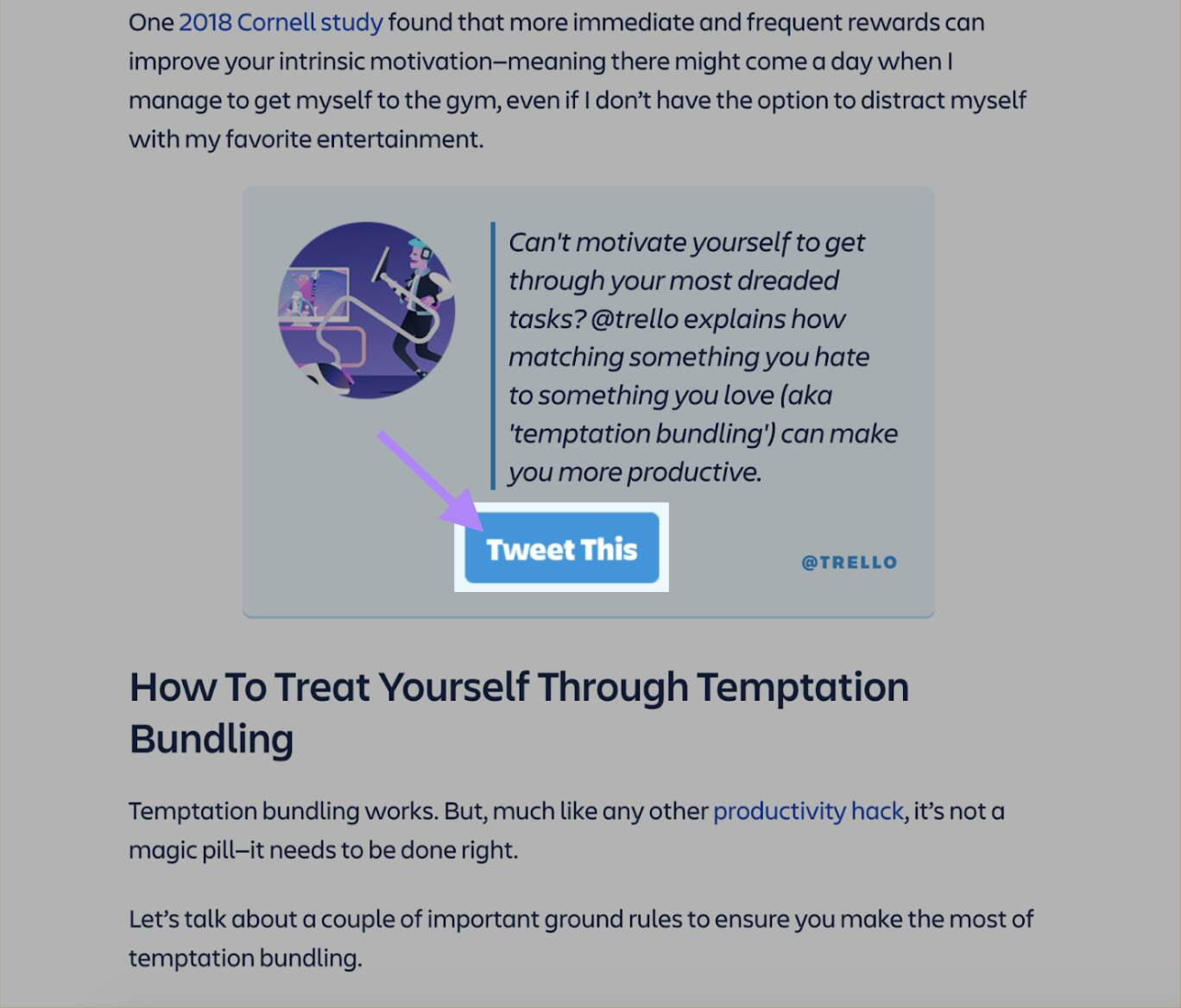 Build a Strong Social Media Presence
Interact with your target audience on the social media platforms where they spend time.
We've already discussed the value of using social media as a way to promote and distribute content (i.e., broadcasting). 
But really, it should be about conversation. 
Beyond sharing content yourself and asking for others to share on your behalf, you can also engage with others to spark discussion or debate on a topic. 
A 2022 study from Orbit Media found that social media users are nearly three times more likely to follow someone on social media to "keep in touch" than to see the content they share.
If your social media strategy is primarily focused on pushing messages out, you may have more success connecting with individuals and pulling them in.
Frequently Asked Questions (FAQs) About Social Signals
What is a Social Signal?
Social signals are a range of metrics on social media platforms used to quantify the level of engagement with and popularity of a post. Social signals include Facebook likes, reposts on X, pins on Pinterest, aggregate shares across social platforms, and more. 
Will More Social Signals Help My Content Rank Higher in Google?
No. Google representatives have repeatedly confirmed that social signals (likes, shares, reposts, etc.) are not direct ranking factors. More social signals will not improve your page's organic search ranking position.
Do Paid Social Media Campaigns Boost Social Signals?
Yes, by increasing your content's reach. This can lead to higher engagement rates, more shares, and potentially more visits to your site.
How Do You Track Social Signals?
A variety of tools can help you effectively track social signals.
Google Analytics provides insights into how much traffic your site receives from social media. 
The Semrush Social Media Toolkit is a comprehensive solution for tracking social signals, and offering insights into engagement, audience growth, and the success of individual posts.
Source link