Internet marketing is the best way to build brand awareness, nurture leads, and turn customers into loyal advocates.
In this article, you'll learn what it is, which tactics are the most effective, and how to build your first strategy. 
We'll also explore three excellent internet marketing tools to streamline your journey.
What Is Internet Marketing?
Internet marketing, also known as online marketing, is the practice of using online channels to spread a message about a brand, product, or service to a target audience.
It encompasses various techniques designed to attract, engage, and convert potential customers.
Unlike traditional marketing channels such as TV and direct mail, which have limited reach, internet marketing connects companies with local, regional, national, and even global audiences. 
Brands can forge and maintain profitable relationships by reaching these audiences where they spend the most time, such as social media sites and search engines.
Internet Marketing vs. Digital Marketing
The difference between internet marketing and digital marketing is that digital marketing extends to some offline channels (e.g., SMS and electronic billboards). 
Otherwise, they include most of the same methods. Many people use the terms interchangeably.
Why Invest in Internet Marketing for Your Business?
Internet marketing offers businesses many benefits that traditional marketing can't match. 
Here are the most significant pros to consider.
It's Far-Reaching
Almost two-thirds (64.4%) of the world's population is online. That equates to 5.16 billion users who could engage with your internet marketing.
Your reach is much smaller when using traditional marketing channels like direct mail and billboards.
For example, a $2,500 billboard can only reach people who pass it. That tends to limit its audience to the people of one town or city. And even then, you don't know who will see it.
Alternatively, you could spend less than $7 on an Instagram CPM (or cost per thousand) ad that achieves 1,000 impressions (i.e., users see it 1,000 times).

What's more, Instagram's targeting features (more on those below) ensure you reach people actually interested in your product. 
It's Cost-Efficient
With careful planning, creativity, and data-driven targeting, you can get significant results from modest internet marketing investments.
That means small businesses with tight budgets can challenge larger competitors.
For example, tech startup LiberEat grew traffic by 1,000% in a few months using a thoughtful, inexpensive search engine optimization (SEO) campaign.
If you're working with a smaller budget, invest in what's already working and focus on critical marketing objectives. 
For example, the immediacy of pay-per-click (PPC) advertising makes it ideal for driving traffic to a new website. If you're starting out, you may want to put a big chunk of your budget toward that tactic.
It's Measurable
There's plenty of software that can measure the performance of your internet marketing campaigns.
The metrics in Google Analytics and Google Search Console will show you what works and what doesn't. That'll enable data-backed decisions that improve your return on investment (ROI).
It's Versatile
Internet marketing allows you to connect with different audiences on different platforms, so there are plenty of channels to consider.
The best results come from using a variety of tactics on multiple channels. That will help you connect with and nurture different types of buyers at each stage of the marketing funnel.
For example, ads on your ideal customers' favorite social media platforms will increase brand awareness and drive traffic to your website. 
You could then use video marketing to introduce and explain specific products, case studies to reassure hesitant leads, and email marketing to convert new customers into loyal followers.
You can also repurpose internet marketing content for use on multiple channels. 
Your priority, whether lead generation, nurturing, or trust-building, will determine which tactics you should use.
For example, if you're getting plenty of leads but few convert (i.e., your conversion rate is low), you could:
Create case study content to reassure hesitant buyers
Build a promotional email campaign with coupon codes
Target visitors to your e-commerce site with social media ads
Whichever tactic you choose, consider what success would look like.
Say you create a podcast about your industry to keep loyal customers engaged. You could publish accessible sound bites of each episode on TikTok to get new leads' attention.
It's Precise
Internet marketing allows you to target specific audiences so you can deliver personalized, highly relevant content.
That'll help you win prospective customers' trust.
McKinsey reports 71% of consumers expect brands to personalize interactions. And 76% get frustrated when that doesn't happen.
Clothing brand Uniqlo uses email subscribers' locations to recommend relevant products based on the weather: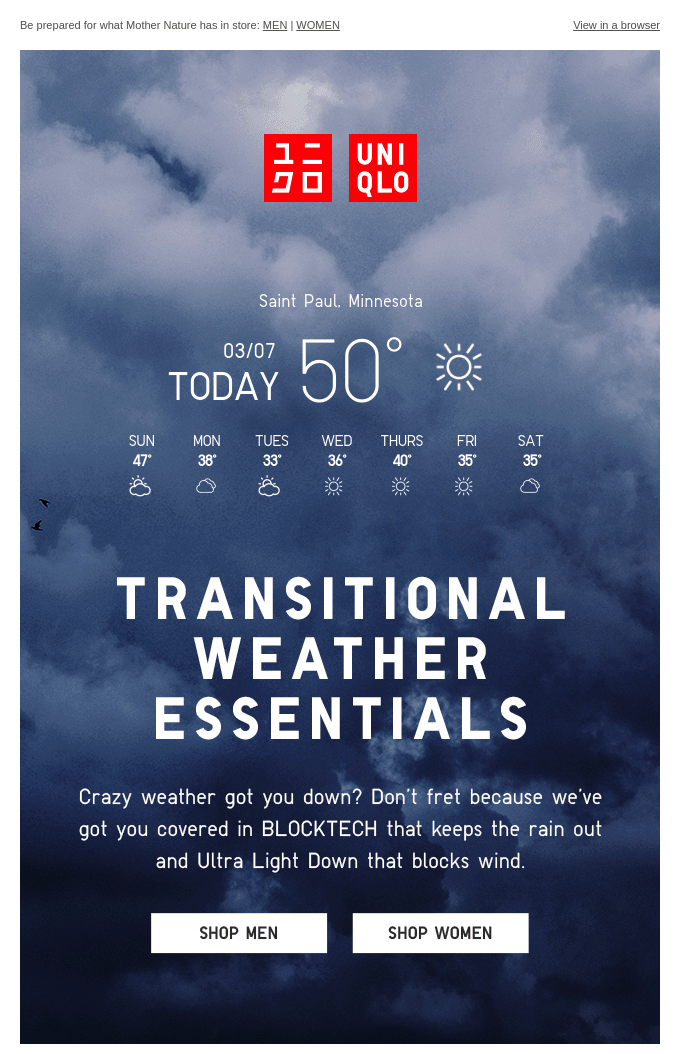 This kind of personalization makes buyers feel important. But it isn't possible through traditional advertising channels like TV and radio.
7 Internet Marketing Channels for More Awareness, Conversions, and Loyalty (with Examples)
There are many ways to market an online business. Each has advantages and suits different circumstances.
Here are seven of the most impactful types of internet marketing for your website:
1. SEO
SEO is the process of improving a website's visibility on search engines like Google, Bing, and Yahoo. The aim is to rank as highly as possible in search engine results pages (SERPs) so that users are more likely to click through to your content.
Because many buying journeys begin on search engines, SEO is critical to building an effective online presence.
At the highest level, it involves: 
Choosing and targeting strategic keywords 
Creating relevant, valuable content
Forging relationships with other sites and publishers to establish your brand as a trustworthy information source
World Soccer Shop and SoccerPro clearly target the term "soccer jerseys" with their SEO efforts, as they're the first two organic (i.e., non-paid) sites to appear at the top of the SERPs: 
By ranking first and second, these brands are likely to get the majority of clicks from Google users. First Page Sage reports that the SERPs' top listing gets a typical click-through rate (CTR) of 39.8%, while entry No. 2 drops to 18.7%. The rate keeps decreasing after that. 
Although SEO can be technical, your main goal should be to fulfill users' search needs by crafting high-quality, relevant content. Find the best keywords to target and questions to answer using Semrush's Keyword Research tools.
2. Social Media Marketing
Social media marketing involves using social networks to promote a brand or its products.
As part of a wider digital marketing plan, companies can use sites like Twitter, Instagram, LinkedIn, and TikTok to:
Post relevant pictures, videos, stories, and live broadcasts
Respond to comments, shares, and likes to maintain their reputations
Engage with followers and other users to build a community around their brand and products
For example, Mint Mobile uses Facebook to engage with followers and update them on new products: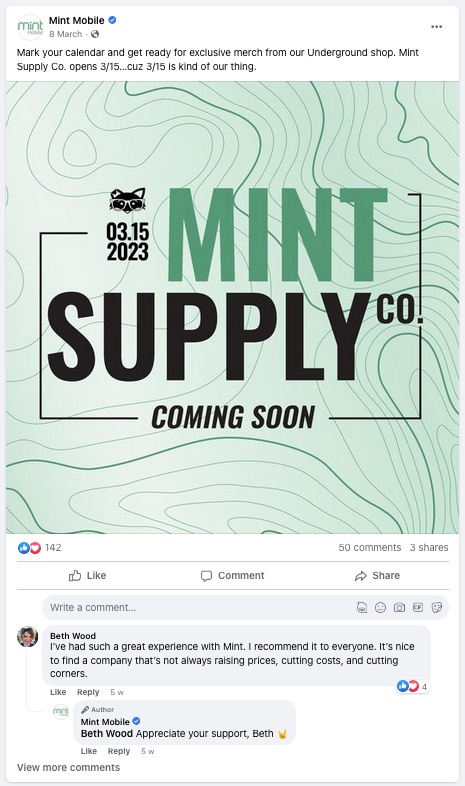 Social media marketing also involves social media advertising, where brands pay to put their content in front of relevant users.
3. Email Marketing
Email marketing is the practice of sending messages to willing subscribers' email addresses.
Consent is essential in email marketing. So this channel works best for nurturing leads toward purchasing decisions and strengthening relationships with existing customers.
Homeware brand Floyd uses the medium to introduce new products: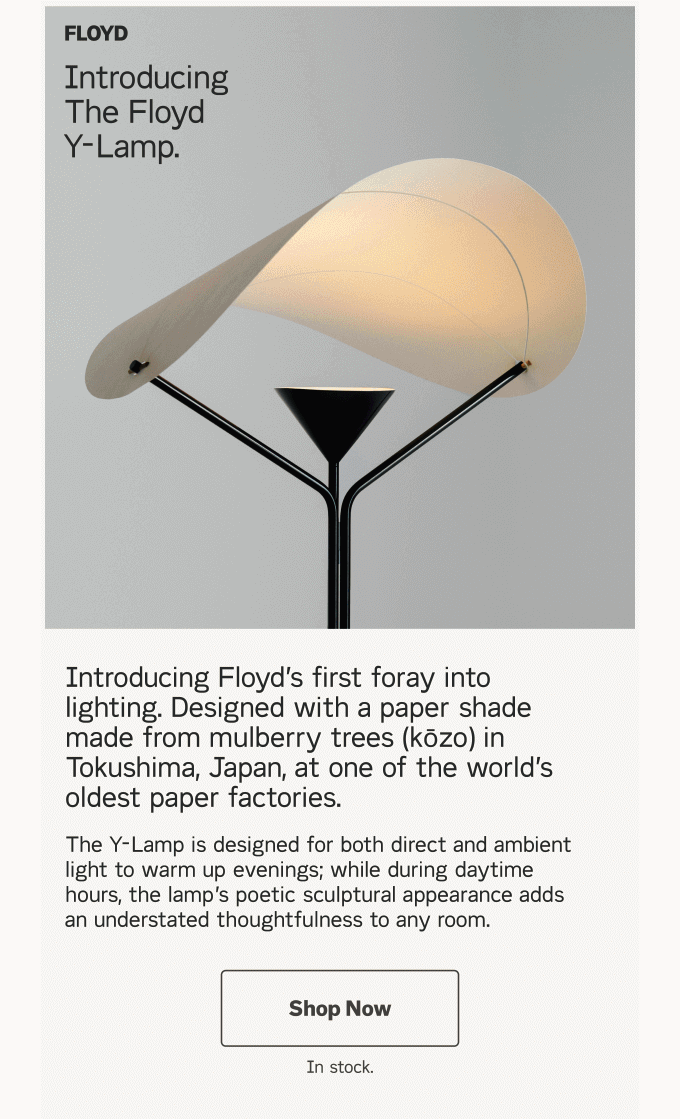 You can build brand awareness by sending high-quality content that recipients can forward to friends and family. This subject line cheat sheet from Flodesk is a great example:
It's a classic example of highly shareable content: to the point, visually appealing, and immediately useful.
4. Online Advertising
Online advertising means paying to put your brand and products in front of targeted users on search engines and social media platforms. 
The umbrella term encompasses paid search, social media ads, display ads, and shopping ads. 
Within those channels, there's also PPC advertising–a model where, rather than paying a fee upfront, you pay every time someone clicks on your ad. The cost depends on your target term; competitive terms are more expensive.
On social media, paid ads appear throughout users' feeds and look like organic (i.e., regular) posts, like this one from Zapier: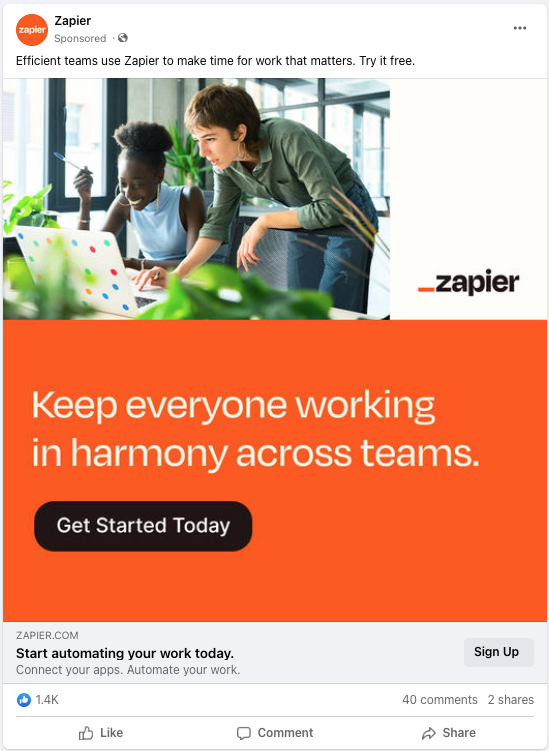 Search engine ads are more prominent. They tend to show above and alongside organic results: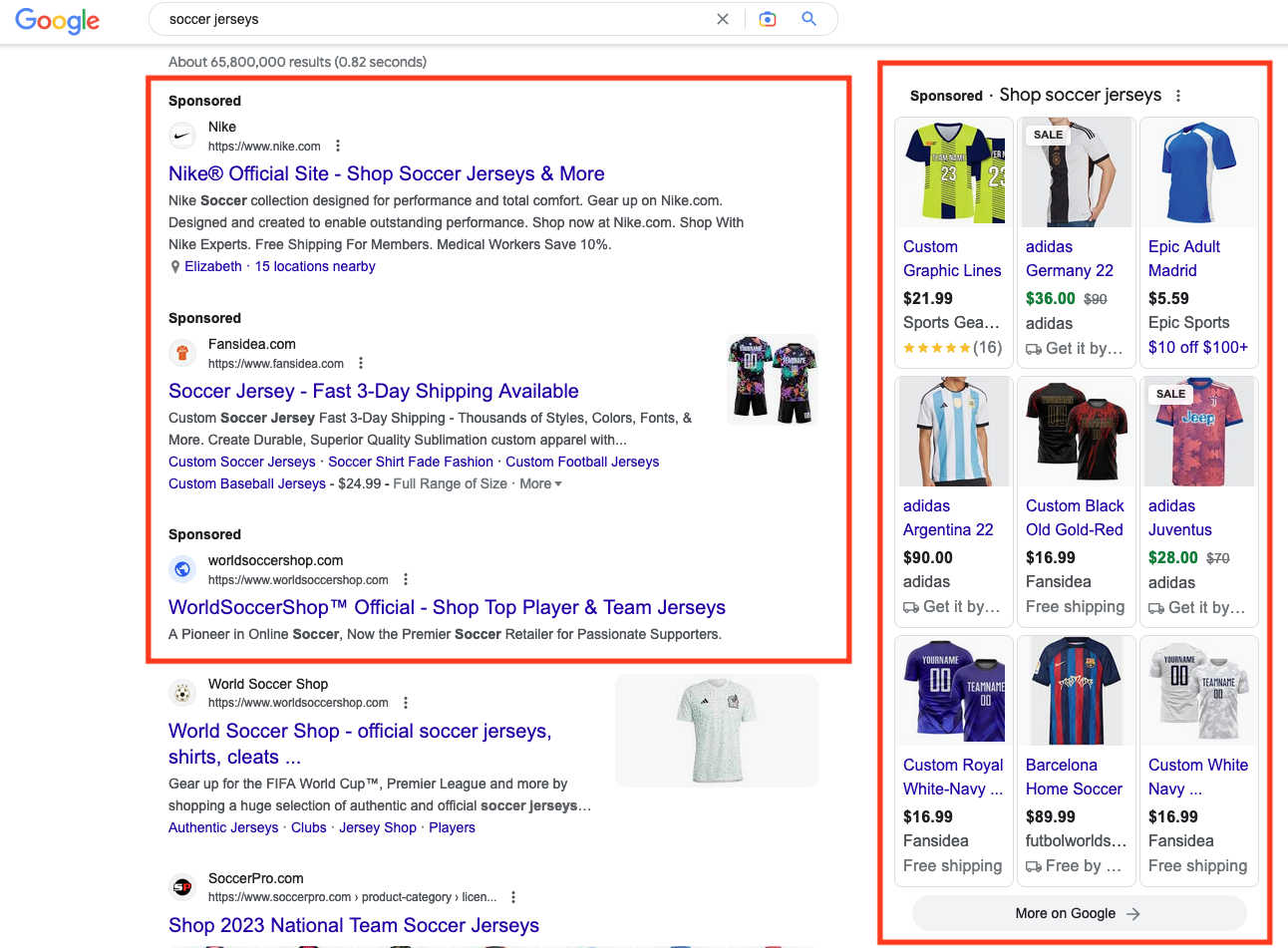 Whichever channel you use, online ads can help you reach specific audiences quickly. That makes them ideal for:
Highlighting new product launches
Promoting flash sales
Building brand awareness
Growing your email list
All the major search and social channels have ad platforms, as do community sites such as Quora and Reddit. Learn where your ideal customers spend time to determine which ad platforms will be most valuable to your business.
5. Content Marketing
Content marketing is when businesses create and share valuable, relevant content to expand and engage target audiences. The aim is to build lasting, profitable customer relationships.
Popular content marketing formats include:
Blog posts
Reports and whitepapers
Infographics
Videos
Podcasts
For example, 37Signals (the company behind the project management tool Basecamp) has a podcast series called The Rework. 
Each episode offers firsthand insights on running a business: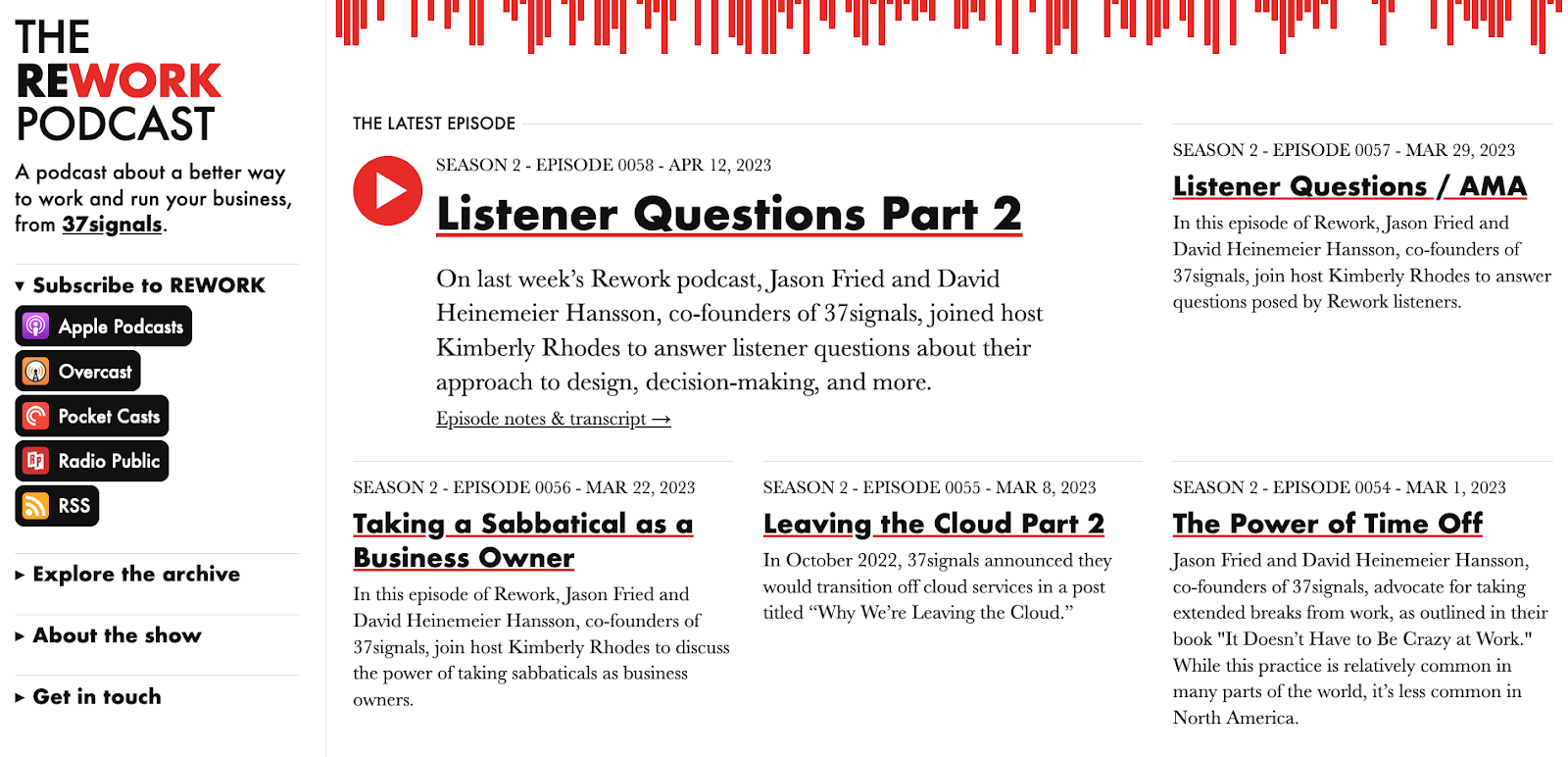 By providing unique, valuable advice to small business owners, 37signals presents as helpful, relatable, and authoritative–all characteristics that contribute to trust. 
Moreover, its listeners act as a community where users and industry influencers can learn from one another.
Content marketing also contributes to the results of other types of internet marketing. 
For example, your social media posts and Google ads are forms of content marketing. And optimized blog posts can help you improve organic search performance.
6. Influencer Marketing
Influencer marketing is when businesses use high-profile figures to promote their brands, products, and services online.
For example, cell phone accessories brand CASETiFY works with influencers to promote products on Instagram: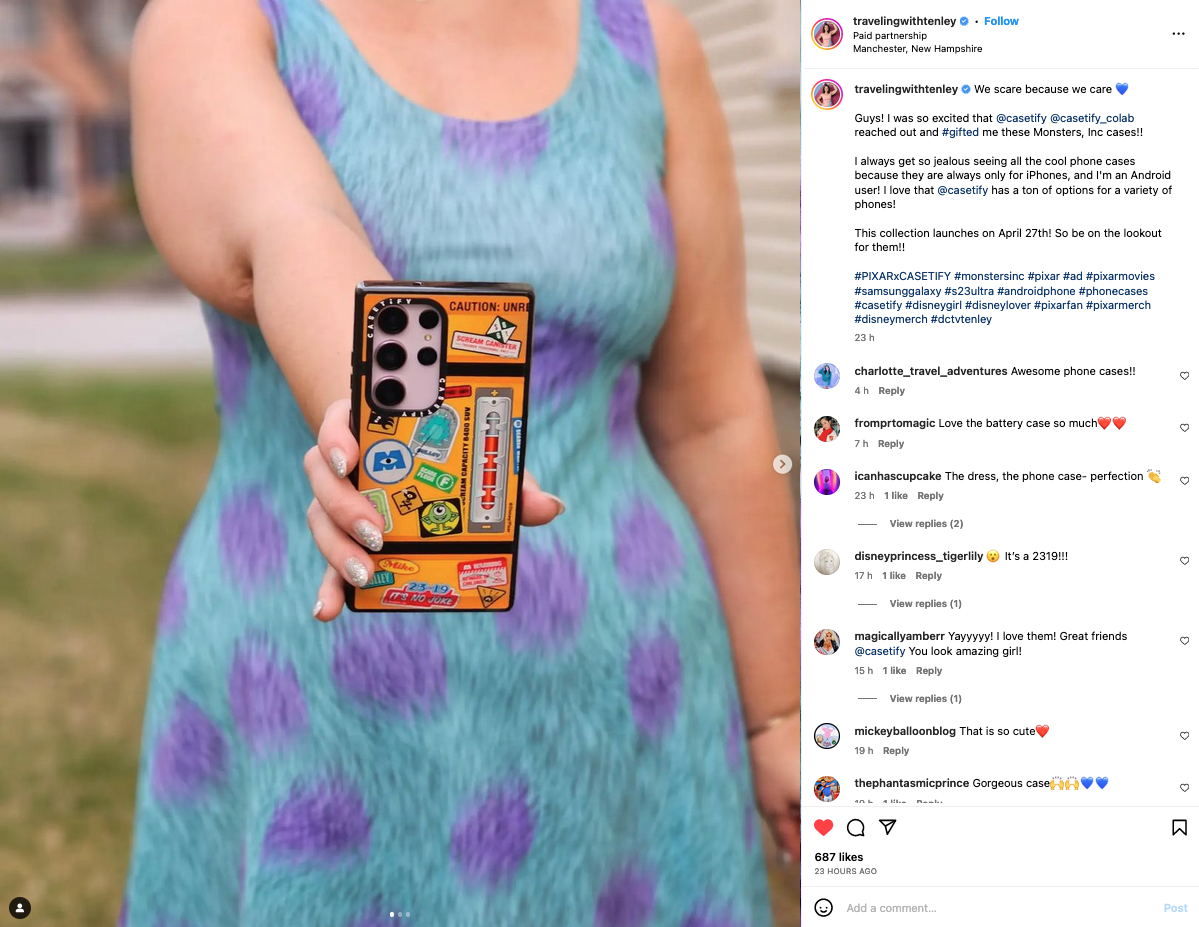 Through this collaboration, CASETiFY borrows the engaged following and trust of travel influencer Tenley Columbare (@travelingwithtenley). 
Start by searching for and reaching out to social media users in your market with significant followings. You'll typically need to pay them. And they make it clear your posts are sponsored. Notice how the above example uses "Paid partnership" and "#Ad."
7. Affiliate Marketing
Affiliate marketing involves paying a commission on conversions to an affiliate that promotes your product. It's a cross between PPC and influencer marketing since brands don't typically pay affiliates up front.
Common affiliates include:
High-profile social media users
Industry media publishers
Podcast hosts
For example, the gaming site Kotaku earns commissions through links on its review pages: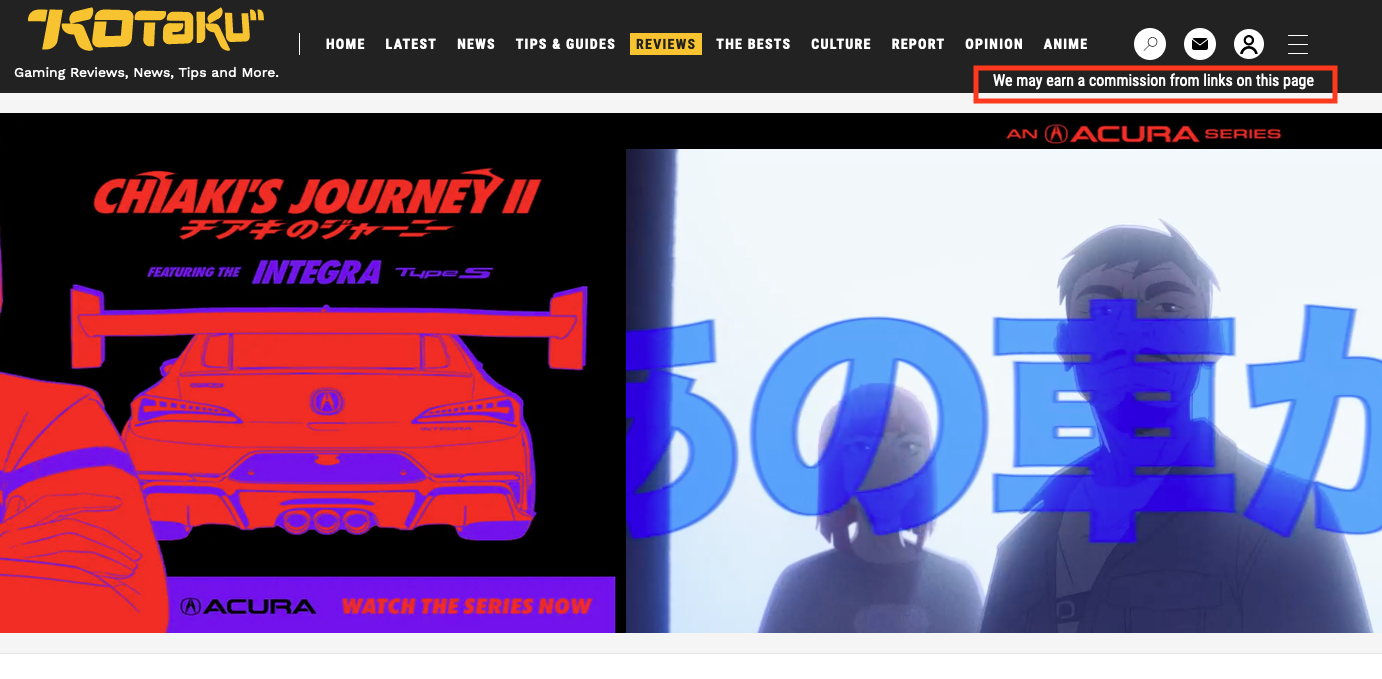 That means businesses like yours have arranged with Kotaku to promote their products. 
As with influencer marketing, using affiliates is an easy way to borrow the engaged following of a popular brand or individual in your field. Consider who your ideal customers trust most when building a shortlist of potential affiliates.
How to Develop Your First Internet Marketing Strategy
Marketing on the internet allows businesses of all types and sizes to build loyal, engaged followings.
Starting from scratch can be daunting, however. Especially if you don't have marketing experience.
Here's a basic step-by-step guide that any beginner can use to build their first internet or digital marketing strategy.
1. Identify Your Goals and Key Performance Indicators (KPIs)
Start by laying out your objectives and working out how you'll achieve them.
Broadly, your marketing campaign should aim to do one or more of the following:
Turn your ideal customers into leads by capturing their attention and intrigue
Convert leads into first-time customers
Encourage customers to make follow-up purchases and advocate for your brand
If increasing conversions is the goal, your KPIs are straightforward: higher conversion and win rates.
If you want more organic traffic on your site, check out your traffic sources in Google Analytics to see where visitors come from.
If you don't get the expected results, it's a sign to revisit your strategy.
2. Define Your Target Audience
You already know on a fundamental level who your ideal customers are. But it's worth redefining your target audience when working on a new marketing strategy. 
That's because:
You may have collected more audience data since you last built a customer profile or persona
There are ways to dig deeper that you may not have considered before
Start with the basics. Using data from sales and analytics tools, note your typical buyer's:
Location or region
Age range
Gender
Budget
Add detail by conducting consumer surveys and interviewing existing customers. Choose loyal customers if you can, as they better reflect the type of people you want to attract.
Aim to find out each interviewee's:
Roles and responsibilities (for business customers)
Jobs to be done
Biggest challenges
Communication habits
Interests
Favored social media platforms
Use this data to spot shared characteristics (the more interviews you do, the easier that will be). The insights will help you tailor your marketing efforts for future customers.
For example, if you sell marketing services to small businesses and learn that budgeting is a common challenge among existing customers, you'll know to highlight pricing and ROIs in your content.
You can also use Semrush's Market Explorer to learn about your target audience. Here's a snippet of the info you'll find:

3. Choose Your Tactics
Identify the digital channels that best suit your audience and objectives.
Based on your research in the previous step, where do your ideal customers spend the most time? And who do they trust?
An audience of regular TikTok users won't respond well to (or even see) a Facebook PPC campaign. But they value recommendations from the influencers they follow.
As for objectives, it helps to think about where your target customers are in the marketing funnel.
To engage people who don't know your brand yet, you can build awareness with search engine ads and shareable social media content (infographics and video content work well here).
On the other end, your job is to convince people they should buy your product. Do that with value-packed, easy-to-navigate landing pages and inspirational real-world success stories.
4. Track and Refine
After choosing your channels and crafting the relevant content (e.g., blog posts, ad copy, or landing pages), hit publish and wait for the data to roll in. 
By monitoring internet marketing performance, you'll learn what engages your audience so you can tweak each campaign for better performance.
Use the KPIs you set in step one to identify the most suitable analytics tool.
For example, if you aim to shorten your sales cycle (the time it takes for a new lead to convert), you could look to a sales performance reporting tool such as a customer relationship management (CRM) solution.
You can use internet marketing technologies in e-commerce, B2B sales, or any other sector to:
Make better decisions
Stay organized
Keep data secure
Increase productivity
Here are three affordable, accessible, and helpful tools that all internet marketing beginners should consider:
1. Semrush
Semrush provides all the data you need to boost visibility in search engines, optimize content marketing campaigns, and build loyal social media followings.
Users have access to more than 55 tools and reports for measuring results in all areas of internet marketing, including content, social media, and PPC.
The growing Semrush database currently has:
Over 25 billion keywords
808 million web domain profiles
43 trillion backlinks
500 terabytes of traffic data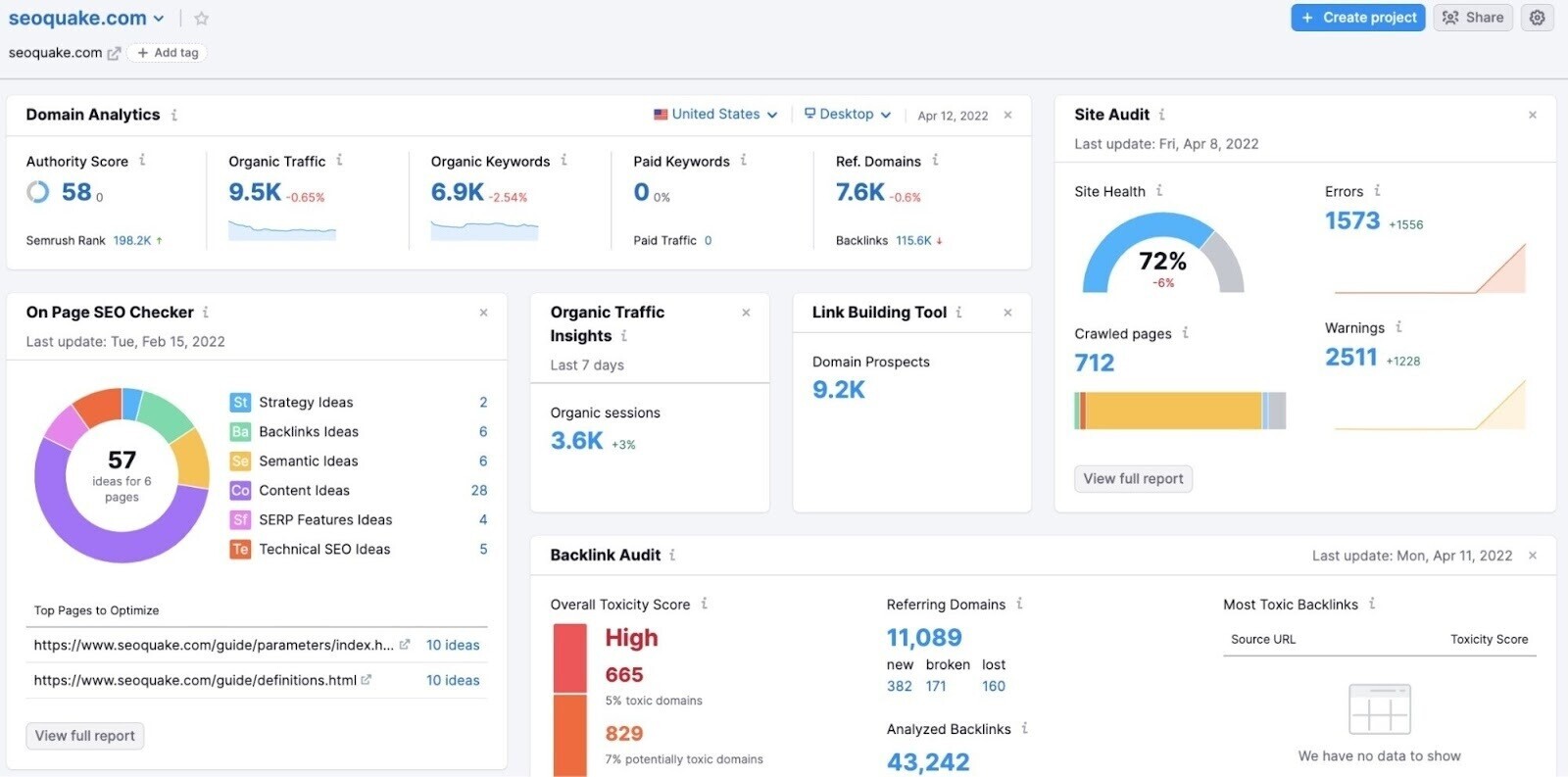 The platform's data helped one online learning platform provider increase organic traffic by 59.5%.
2. Google Analytics
Google Analytics is essential for tracking the performance of your content marketing campaigns. Its data helps you understand how people interact with your website.
It'll also help you gauge the effectiveness of ad and social media campaigns by showing where visitors' searches originated. For example, if traffic spikes after you launch a new PPC campaign, that shows the ads are working.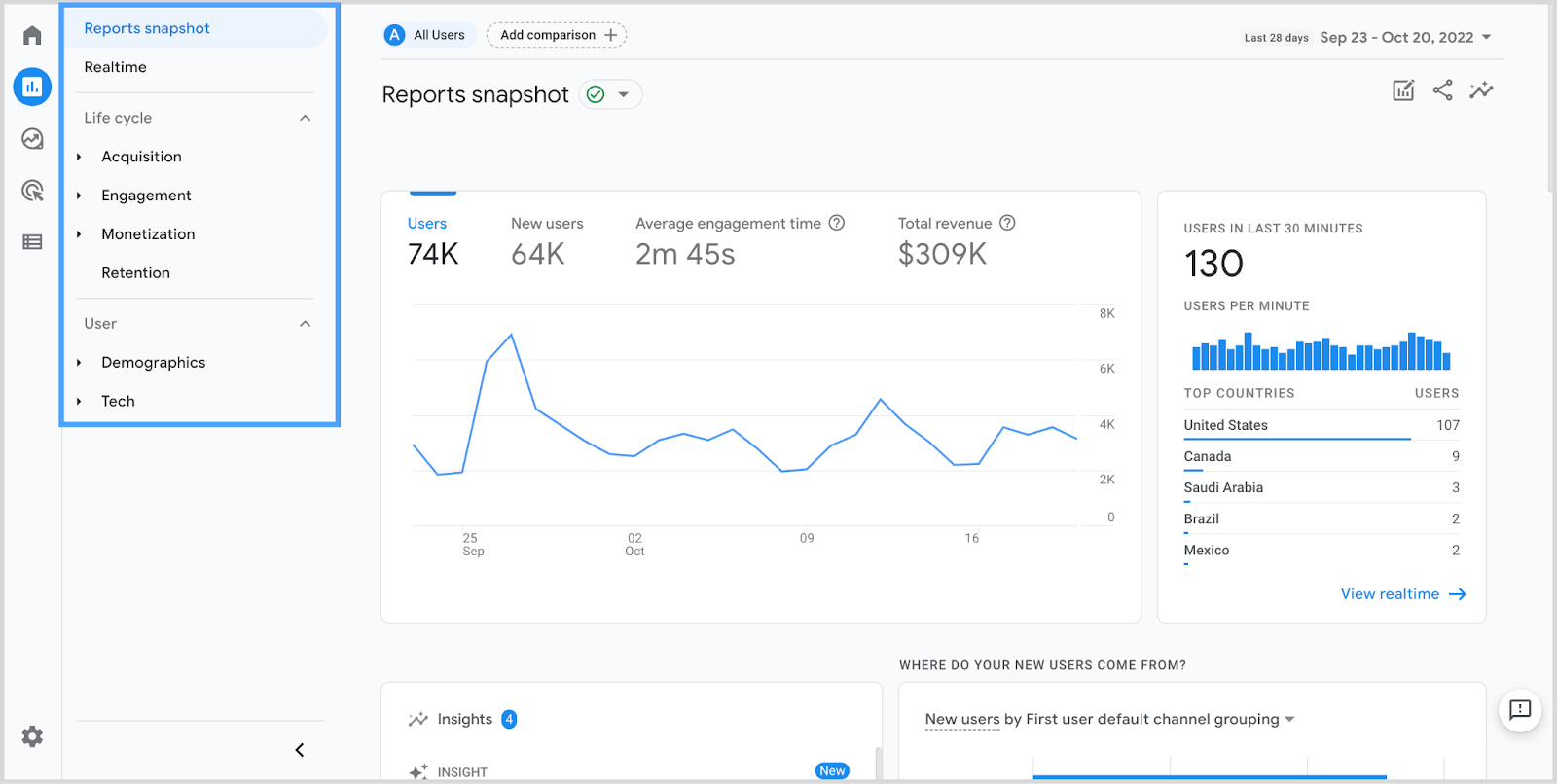 You can use Google Analytics' behavioral data to enrich customer profiles, refine personalization efforts, and determine if your content reaches the right people.
3. Trello
Trello is a project management tool that can help you organize internet marketing campaigns, communicate effectively with the rest of your team, and be more productive.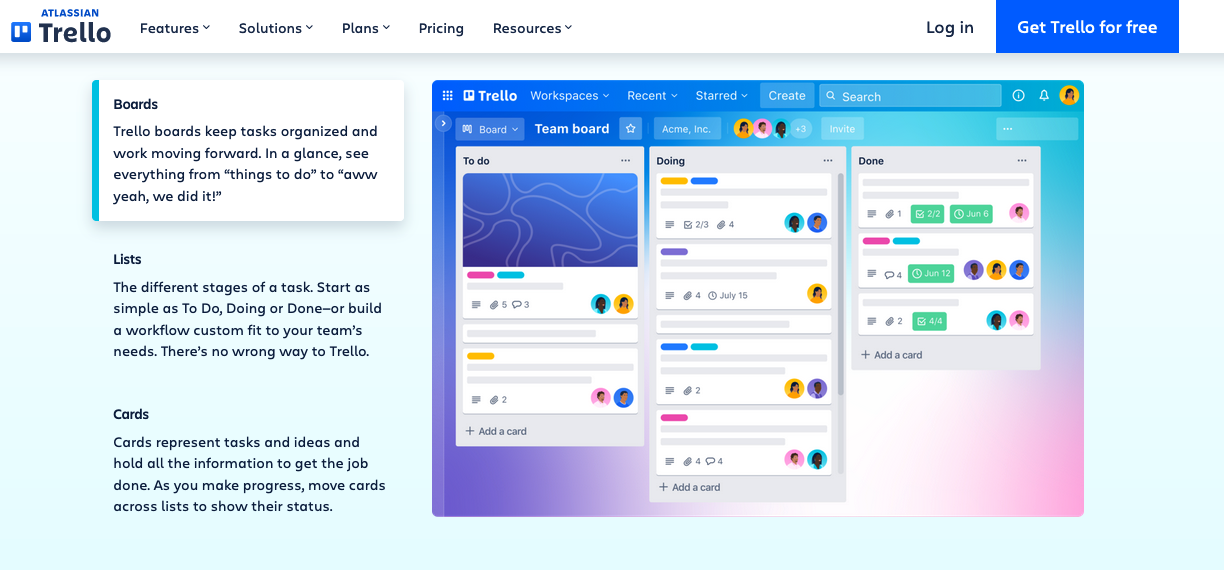 The software's simplicity makes it particularly useful for anyone who's never used a project management tool.
Rather than using text-based lists, Trello utilizes cards, boards, and tabs to make task management a breeze.
Dive Deeper Into Internet Marketing
It pays to dive deeper into specific internet marketing strategies and techniques to learn which will deliver the most significant returns for your business.
Start with our guides to content marketing and search engine marketing (SEM).