What Is CRM Marketing?
Customer relationship management (CRM) marketing is a strategy that includes mindfully managing interactions with prospective and current customers throughout the sales process to promote positive perception of your brand. 
With CRM marketing, you can leverage data to create personalized communications. The goal is to build lasting relationships with the recipients. This helps you drive sales, improve customer retention, and increase revenue throughout the customer lifecycle. 
CRM tools are often leveraged by sales teams. But marketers—especially those with small businesses and agencies—also use specialized CRM marketing software to aid in the creation of those personalized campaigns. 
Marketers have many responsibilities. But two of the most important include:
Establishing profitable relationships prospects and customers
Nurturing those relationships to keep them coming back
Let's explore four of the ways marketing CRM software can help.
1. It Centralizes Contact Data
A CRM acts as a centralized repository for customer data. 
When marketers, sales teams, and customer support specialists all reference the same customer data in a single CRM, they are empowered to make better decisions.
A typical CRM contains information like a customer's:
Name, email, and phone number
Physical location
Website address
Industry
Budget
You can also keep track of who is assigned as their current account manager. 
Some solutions go further by including customer contact timelines, purchase histories, sentiment, and lead status. Like in Semrush CRM.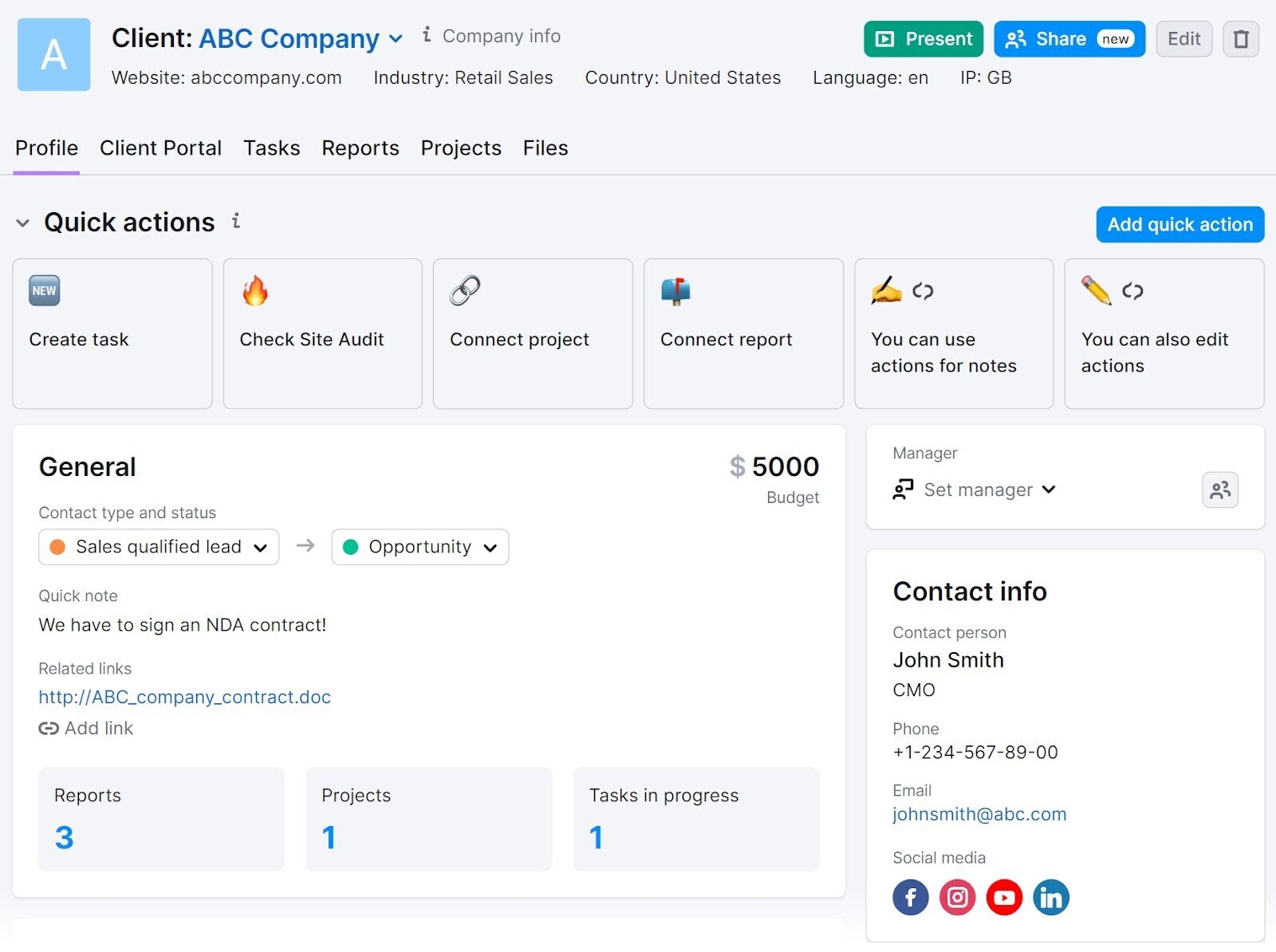 Having all this data in a single location allows anyone on your team to:
Quickly understand the status, stage, and priority of any customer
Build a clear picture of who to target with specific messages
Segment audiences for personalized interactions
Why does this matter?
Say you want to focus on closing new leads that have more spending power than your average customer. 
CRM data will show which clients have higher budgets and what characteristics they share.
You might learn that retail business clients typically spend more than those with services in transport. And that their primary contacts are usually chief marketing officers (CMOs) or similar.
This lets you tailor your lead generation strategy to that audience to attract more high-value customers. And everyone who interacts with them in the CRM can get instantly on board with the plan.
2. You Can Track and Manage Customer Experiences
Tracking a buyers' journey helps marketers understand what stage a prospect or customers is in as they become aware of, consider purchasing, and commit to a product or service from your brand. 
Tracking the customer data helps marketers predict what messages might be helpful for that customer to receive. They can then use the marketing CRM software to customize the messaging that goes out.
For example: A CRM can be used to send automated email nurture campaigns to reactivate existing, inactive contacts after a certain amount of time.
Pipedrive is a CRM marketing tool that lets you send automated email as a sequential drip. This allows you to nurture your contact slowly over time. You can either utilize a template or build out your own automation.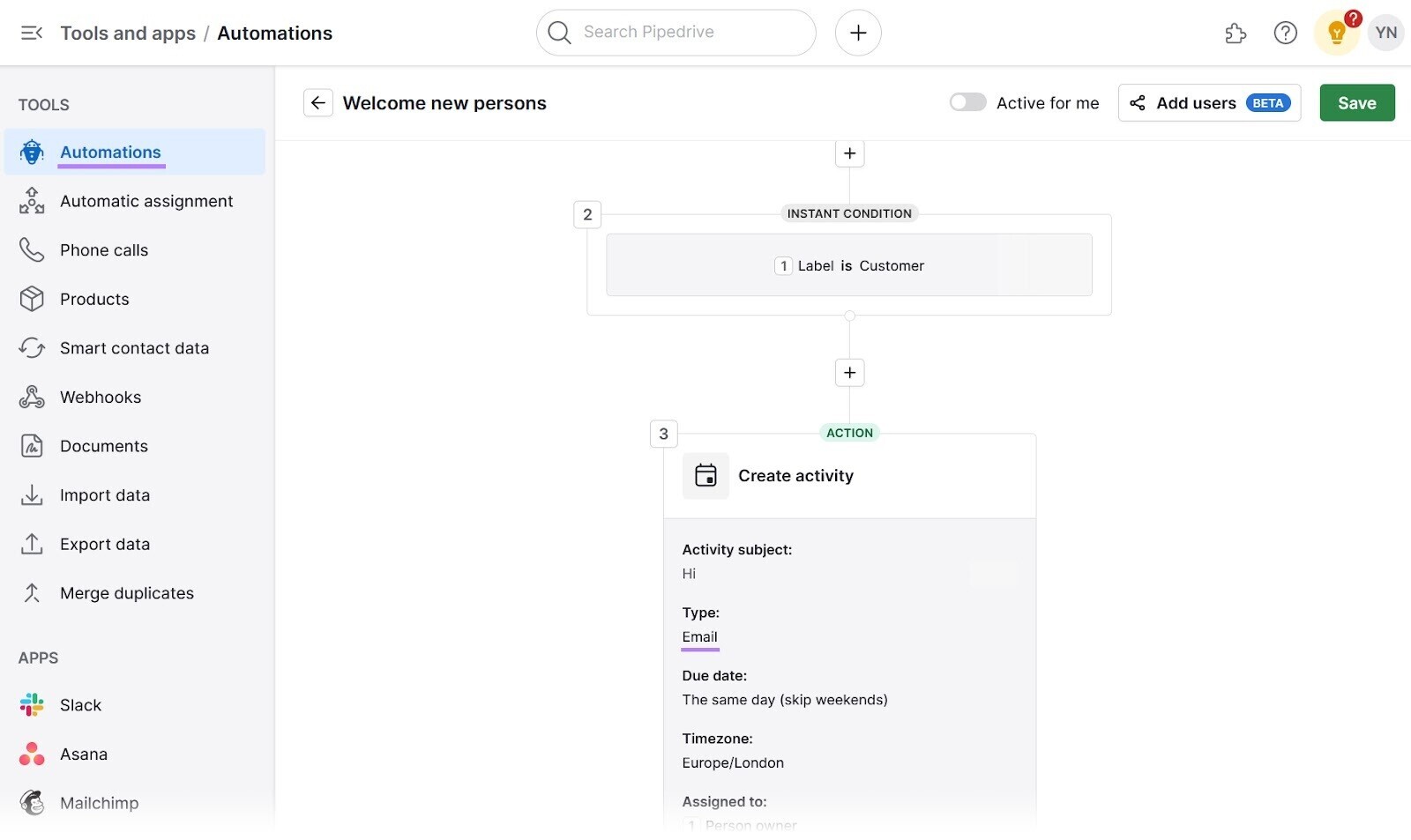 Pipedrive lets you configure a sequence of events, each triggering a specific email campaign. You can also add delays between events and touches if needed.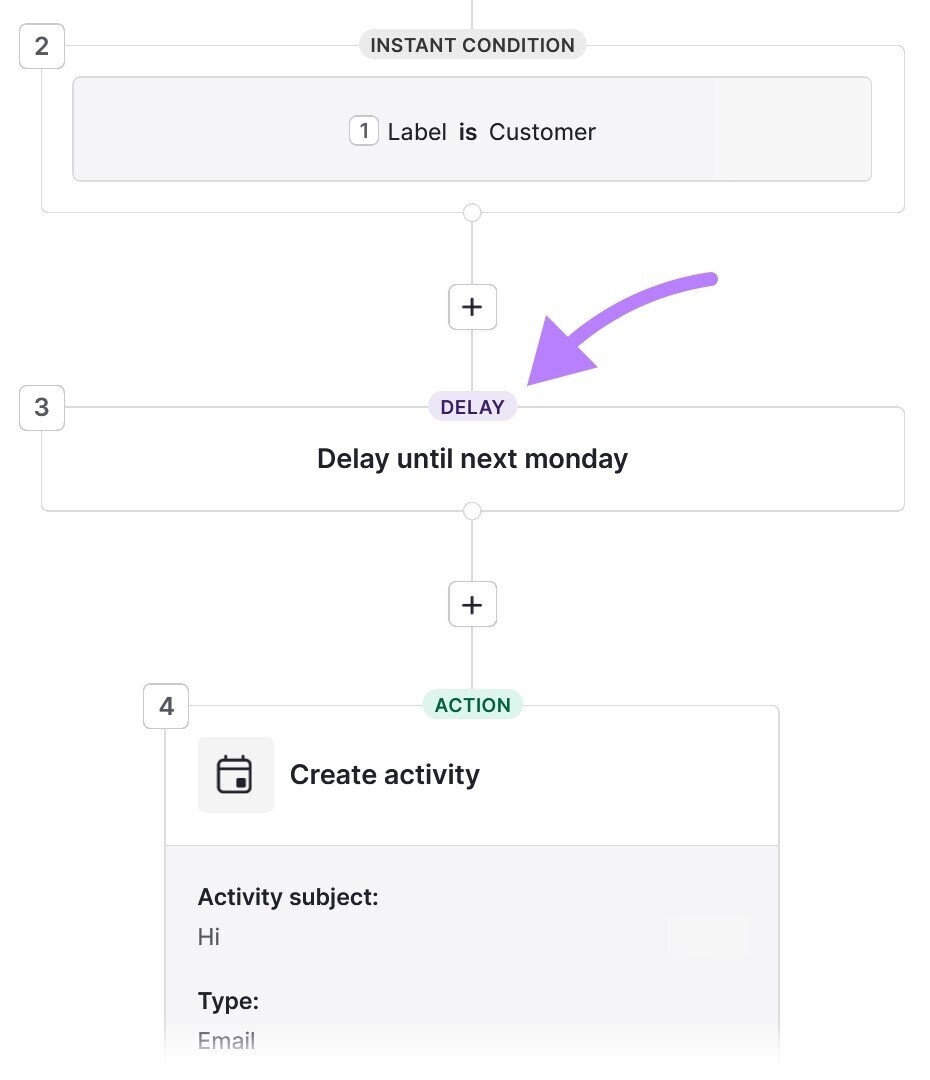 By building out the right sequence, Pipedrive can tailor offerings to meet individual needs without annoying new or existing customers.
3. It Streamlines Project Management 
The best CRM marketing tools can streamline your entire client and project management routine.
For example, in Semrush CRM, you can: 
Establish projects
Add tasks
Set deadlines
Clarify priorities
Estimate timelines and costs
Track progress
Share status with teammates and clients
Keeping a project well organized increases your team's efficiency and helps you maintain accountability to important milestones. That helps build client trust, making it easier to nurture and grow those relationships.
4. You Can Easily Collaborate with Clients
Particularly useful for marketing agencies, a CRM with a client portal allows you to share data, deliver progress updates, and work on tasks alongside your clients with ease.
Smooth collaboration leads to stronger relationships and greater efficiency, making your efforts more fruitful and your business more profitable.
For example, here's what the Client Portal looks like in Semrush CRM:
Pop into this view to give clients a real-time view of campaign performance and reduce the need for regular updates. 
With fewer meetings to attend and details to relay, your team can focus on refining your clients' strategies to achieve the best possible returns on investment (ROI).
CRM Marketing in Action: UR Digital's Story
SEO agency UR Digital already used Semrush to plan, organize, and measure client campaigns. But the team wanted a more efficient way to manage their customer relationships. So they started using Semrush CRM.
The tool allowed UR Digital to allocate time and resources more effectively. Team members used it to automate time-consuming tasks like report creation so they could focus instead on optimizing campaigns.
Keeping client data in a single location also meant that all team members could access the information they needed to collaborate and make stronger relationship-building decisions.
All that extra insight and productivity benefited UR Digital's clients, whose campaigns saw significantly improved ROIs.
A great CRM solution helps you at all stages of the marketing process, from lead management and landing page creation to getting the right messages to the right people.
Here are a few ways you can use a CRM to build effective marketing campaigns:
1. Integrate with Other Tools
It's not rare for today's marketing teams and agencies to have dozens of tools in their marketing technology stack.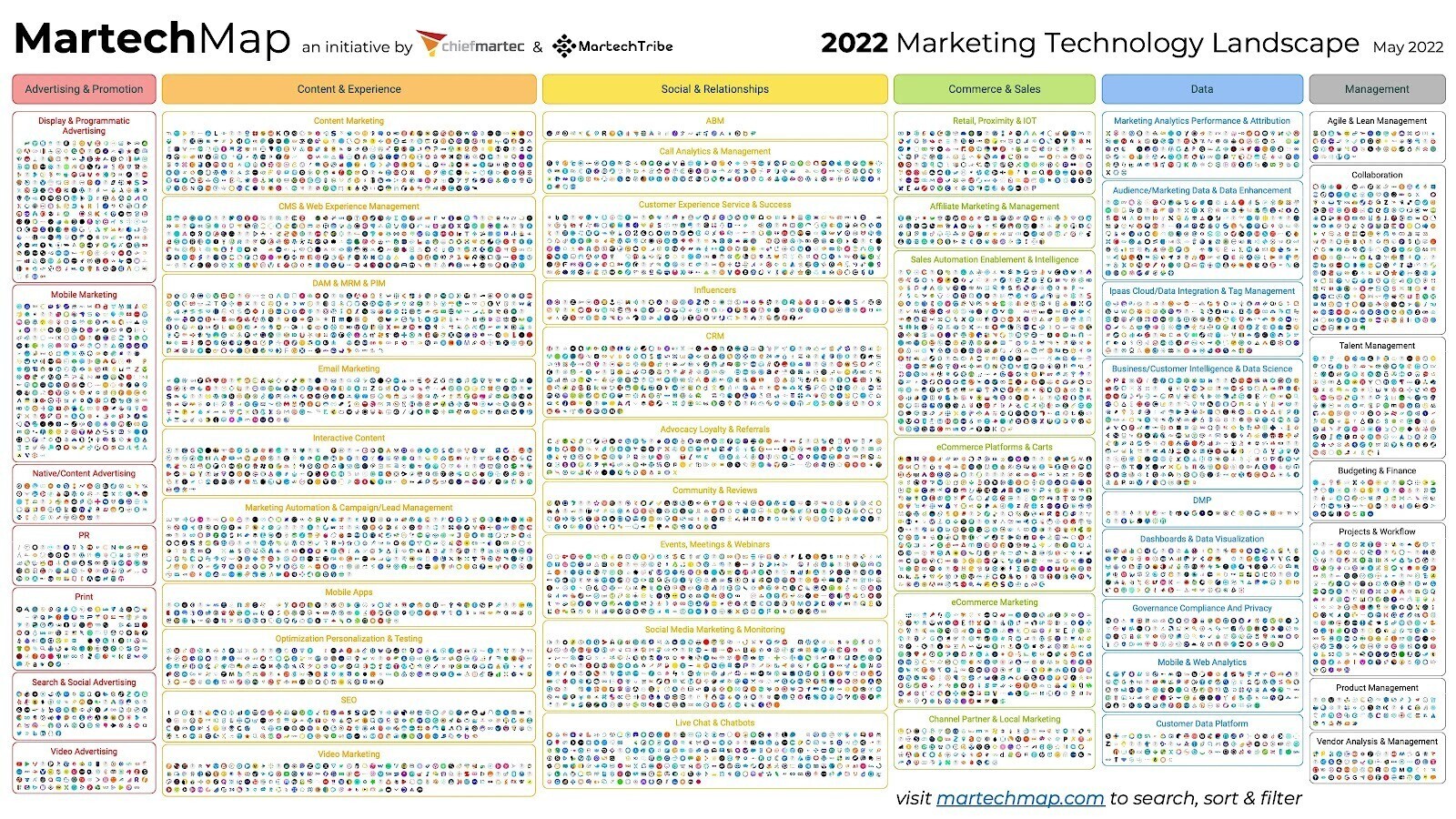 Source: Marketing Technology Landscape 2022
Connecting your marketing CRM solution to your other sales and marketing tools will reduce administrative tasks and keep contact data consistent across your business.
Picture this:
Your email marketing software generates a list of high-value leads from your last campaign. 
To get the information to salespeople for follow-up, you can:
Send it via email
Copy it manually into your company's CRM
Give your sales team access to email marketing software
All three options are time-consuming and prone to human error. Even a single typo in a potential customer's information could jeopardize a deal.
Connecting your email marketing software to a compatible CRM lets it pass lead data on automatically. 
The best CRMs have plenty of useful integrations. For example, the integration library for Salesforce includes marketing team staples like Slack, MailChimp, and LinkedIn.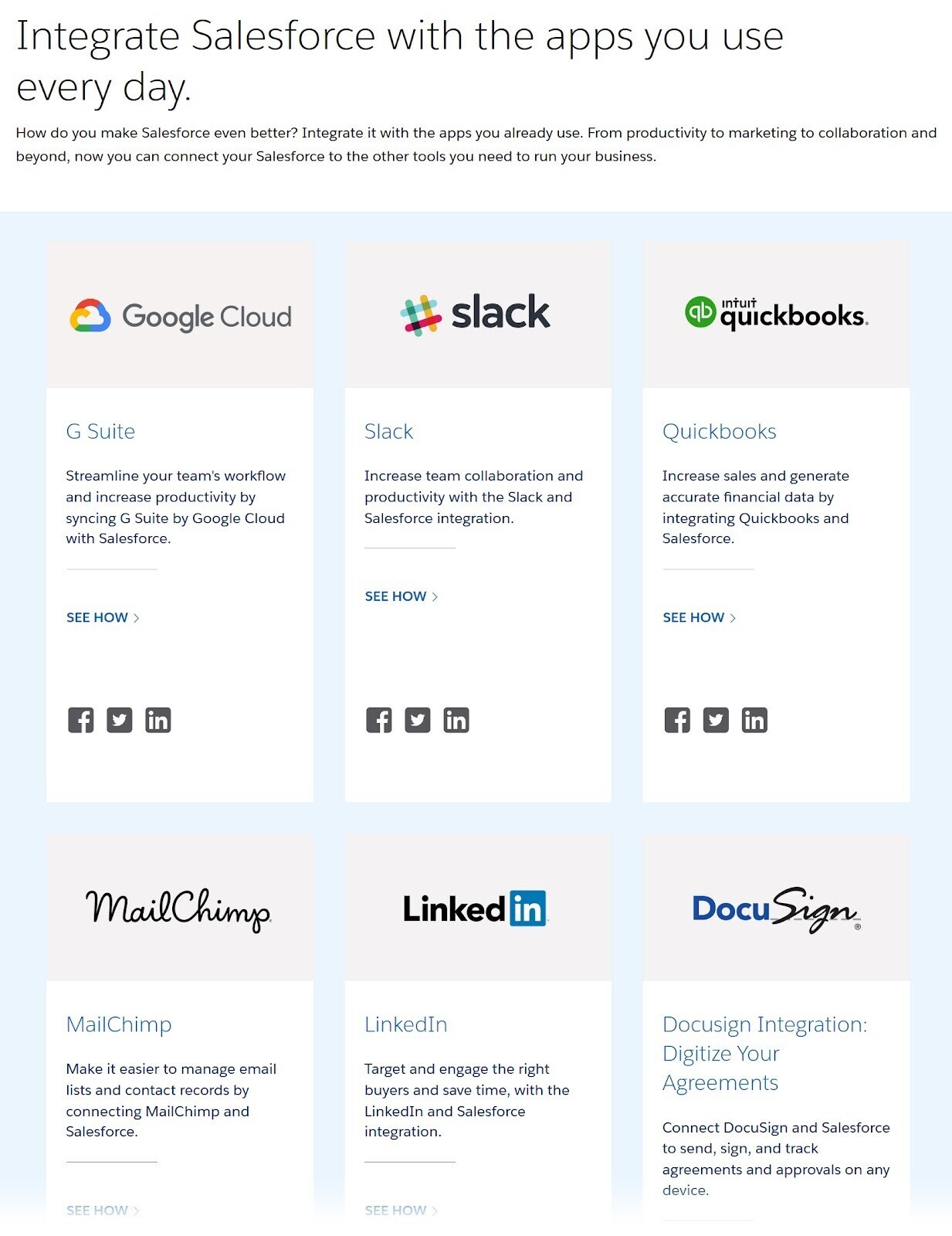 The LinkedIn integration logs InMail Messages automatically and adds notes in Salesforce to enrich customer profiles. It also adds a widget to the Salesforce interface that allows reps to view a contact's LinkedIn profile data without switching apps. 
You can imagine what a help this would be for any LinkedIn marketing strategy.
2. Personalize Marketing Interactions with CRM Data
By personalizing marketing interactions, you'll make prospects and customers feel more valued. That can mean they convert more often, spend more, and stay loyal.
On the other hand, a lack of personalization can be detrimental. Case in point: 71% of consumers expect brands to deliver personalized interactions according to a McKinsey study. And 76% get frustrated when that doesn't happen.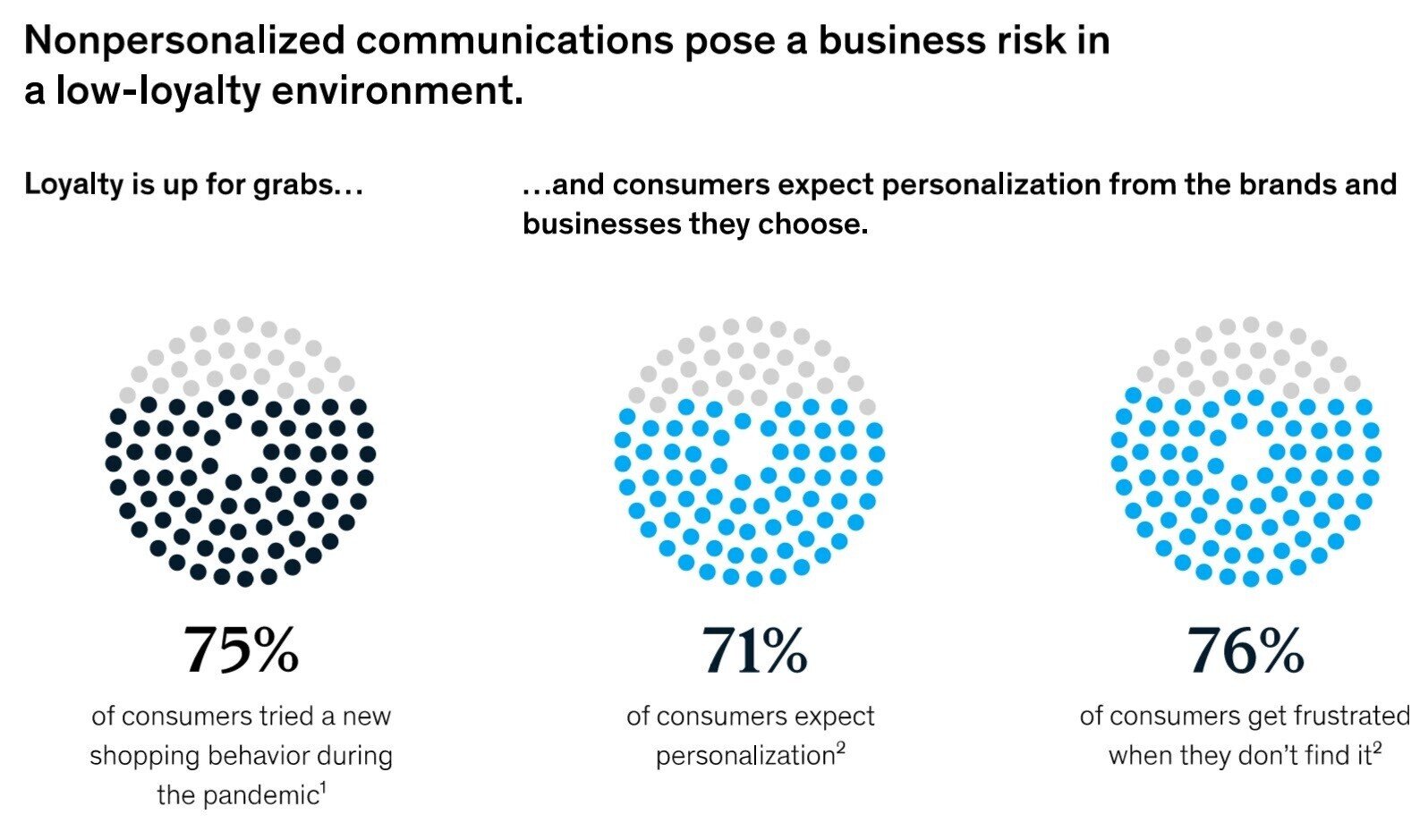 You can personalize almost all marketing outputs. But email marketing is an easy and effective starting point.
How to get started?
Begin by splitting your audience into broad groups with shared characteristics. This segmentation allows you to send relevant messages to the right people.
Experiment with high-level groups first. For this example, we'll use potential customers, existing customers, and inactive subscribers.
Once groups are identified, list the types of content people within these groups will likely find helpful.
For instance:
Potential customers need nurturing emails, encouragement to make a first purchase, and information about your company
Existing customers benefit from welcome emails, offers on accessories for their purchased products, information about loyalty programs, and requests for feedback
Inactive subscribers should receive personalized offers and rewards, new product information, and significant company updates
Build marketing campaigns around these types of content. Use recipients' names and personal details in messages where possible. This is practically a baseline expectation now. 80% of email marketers said they personalize content with individuals' names, business names, or similar profile information according to a Litmus survey.
You might even combine demographic data and purchase history to target subscribers in one location who bought two or more products. 
The more relevant customer information you get, the more trust you'll build with precise targeting and personalized messaging.
3. Automate Repetitive Tasks to Free Up Valuable Time
Marketing automation uses technology to complete repetitive, time-consuming activities. It frees you up for more focused and creative work, like strategizing and supporting clients.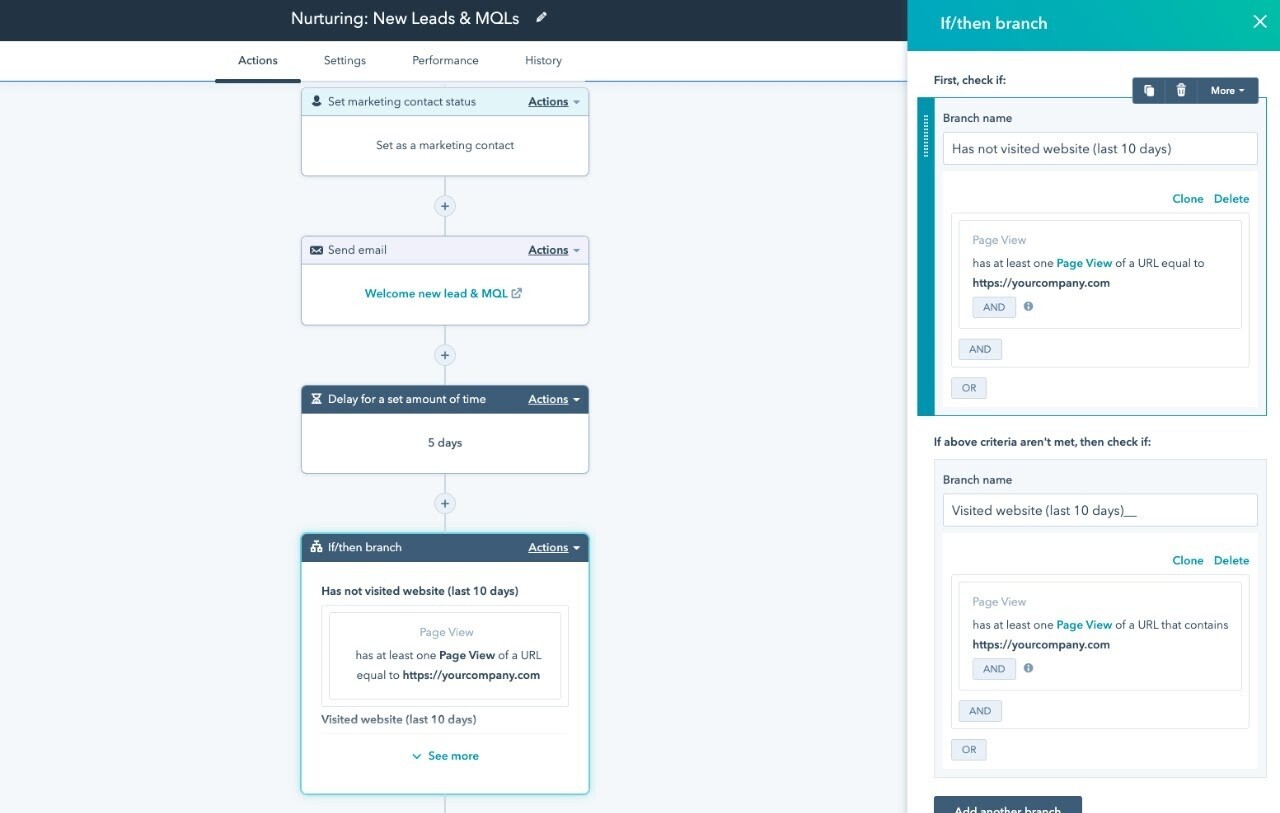 Source: HubSpot
CRMs with marketing automation tools can handle simple tasks, like publishing social media posts at specific times. 
They can also tackle more complex workflows. 
For example, when a website visitor expresses interest in a product, your system could trigger a new email campaign to nurture that lead. Meanwhile, the visitor's data flows to a sales rep—providing them all the context they need to follow up with personalized customer interactions.
While all this activity happens in the background, you can focus on your core responsibility: generating more leads for your company's sales team. Using your time more effectively helps you achieve more significant returns on the same marketing investments.
4. Measure the Impact of Your Marketing Efforts
CRM data provides a big-picture view of marketing effectiveness. It allows you to learn from successes and spot opportunities for improvement.
Sales performance metrics like conversion rates, average deal values, customer retention rates (CRR), and customer lifetime value (CLV) all indicate whether your campaigns: 
Attract the rightleads
Convert often enough to sales
Contribute to broader business objectives (e.g., growth)
Take this sales performance dashboard from Pipedrive's CRM: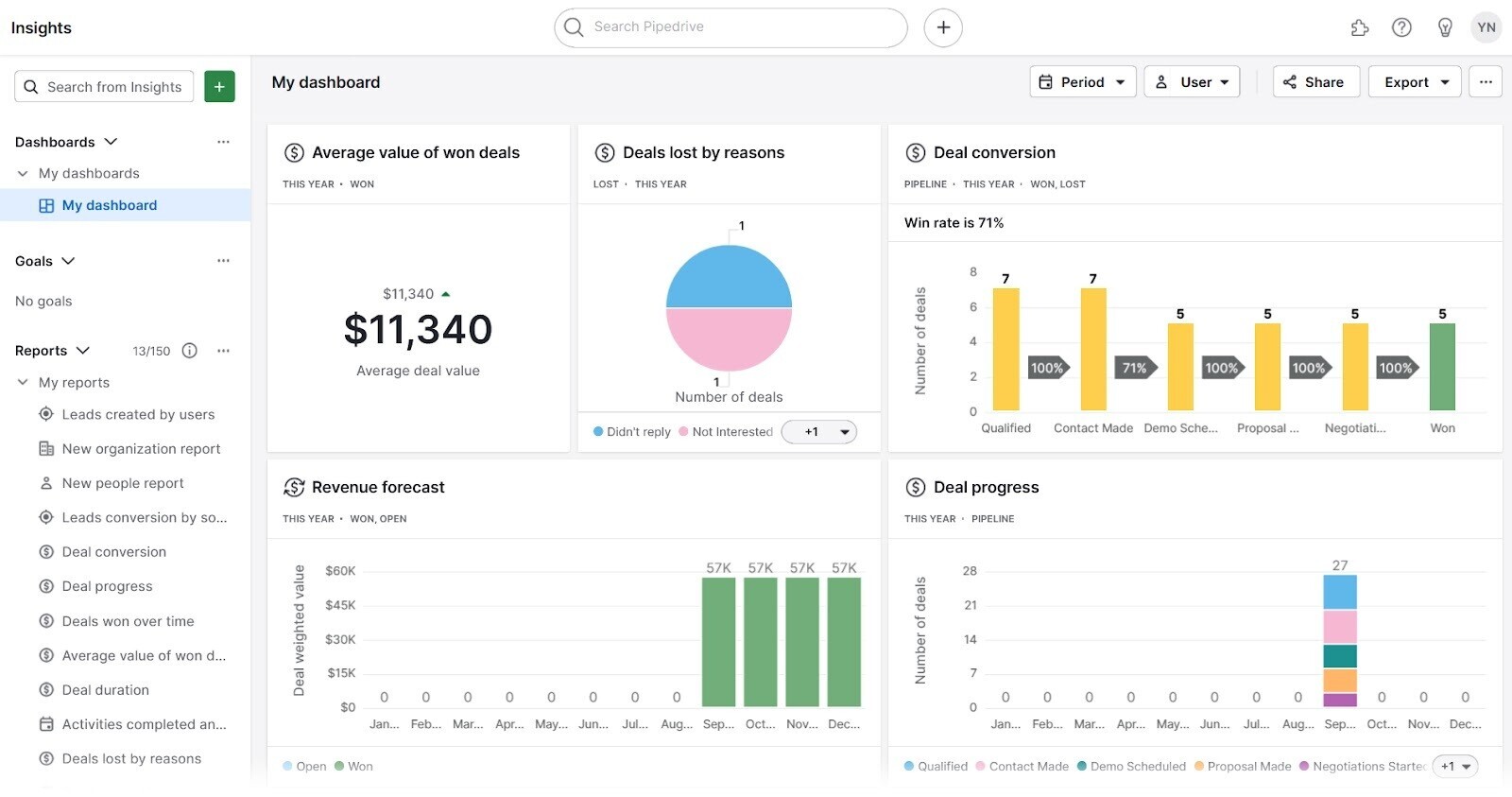 Many of its metrics help measure the effect of the company's recent marketing campaigns.
For example:
If "average value of won deals" increases, it suggests the marketing team is generating high-valueleads
If "deals lost" goes up, the marketing and sales teams could work together to refine their ideal customer profile
Reviewing data like this often will help you and your sales team align on goals. 
Pay close attention to new campaigns and changes to your marketing strategy. You'll learn quickly what works best for your audience.
The Best CRM Marketing Software to Use in 2023
Choosing the right marketing CRM solution can be daunting.
It helps to focus on three things:
Ease of use
Marketing CRM features
Affordability
With those factors in mind, here are four of the best marketing CRM tools available in 2023.
1. Best Overall: Semrush CRM
Semrush CRM is perfect for digital marketing agencies, freelancers, and consultants.
It enables you to:
Track and manage new and existing customers
Maintain and organize customer data
Set and manage client tasks and activities
Create client portals for closer collaboration
The CRM's connections to the wider Semrush platform make it especially valuable to marketers.
You can track multiple projects for each client within the CRM interface. That means you don't need to keep switching screens to access search, ad, and social media data.
You can then share the most relevant performance insights with contacts through the Client Portal. That helps you maintain strong, transparent relationships. 

Cost: Semrush CRM is free, although some features require an Agency Growth Kit subscription.
2. Best CRM for Aligning Multiple Teams: Salesforce
By aligning your marketing, sales, commerce, support, and IT teams around each customer, Salesforce can help you maximize the value and efficiency of every interaction. 
Salesforce is one of the original software as a service (SaaS) CRM tools. Its Customer 360 approach allows users to download apps that address different stages of the customer journey. 
Features include:
An artificial intelligence (AI) system that suggests next steps and helps with decision making
Real-time analytics and easy-to-understand data visualizations
A single, shared view of each customer for easier cross-team collaboration
Source: Salesforce
The fact that Salesforce has a strong library of helpful integrations makes it a compelling choice for larger companies with broad toolsets.
The platform can share data with many tools that marketers already use, including:
Google Workspace
Slack
LinkedIn
MailChimp
DropBox
DocuSign
Cost: Salesforce's pricing varies based on the apps and features you choose. Its small business solutions start at $25 per user per month.
3. Best CRM for Marketing Automation: HubSpot
HubSpot began as a sales CRM. But has since evolved into a well-rounded sales, marketing, and customer service automation platform.
It features five hubs, each targeting a different business function:
Marketing Hub helps businesses generate quality leads, convert them into customers, and retain them for optimal profitability
Sales Hub helps salespeople manage their lead pipelines, nurture relationships, and close more deals
Service Hub deepens customer relationships at scale with multiple ticket pipelines and onboarding features
CMS Hub provides content management software that includes blog and content creation tools
Operations Hub syncs and curates customer data while automating business processes to save time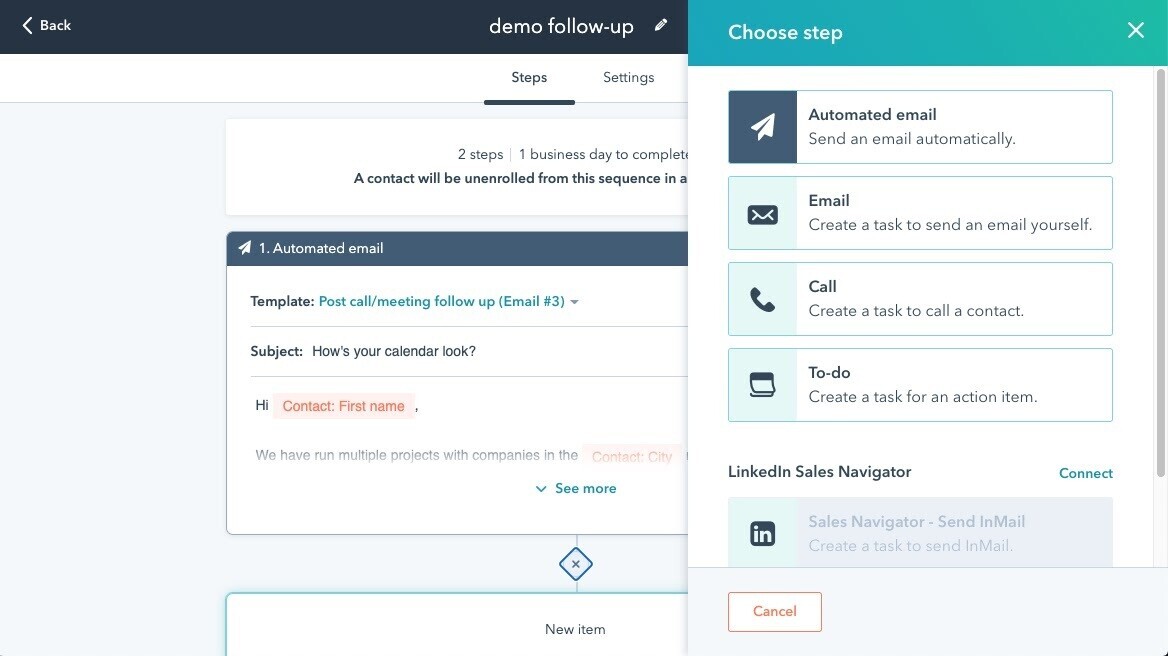 HubSpot's Marketing Hub is ideal for creating personalized customer journeys at scale. 
It has templates for blogs, social media posts, email content, and sales funnels to help you create large volumes of targeted content without compromising quality. 
Cost: Hubspot's free version has some limited foundational tools, but more powerful features can rack up a considerable price tag. Subscriptions go as high as $800 per month. 
4. Best CRM for Email Marketing: Pipedrive
Pipedrive's cloud-based sales CRM also boasts some powerful, beginner-friendly marketing capabilities.
Campaigns by Pipedrive is the best example. It guides small businesses through the email marketing process, from segmenting audiences and designing templates to distributing content and measuring engagement.
Combining CRM and email marketing software in Pipedrive allows you to:
Enrich customer profiles with email interaction data
Segment audiences for effortless personalization
Trigger automatic emails at specific stages of the sales process
Pipedrive also offers a lead-gen add-on called LeadBooster that has live chat, web form, and prospecting capabilities.
Cost: Pipedrive plans range from $19.90 to $119 per user per month.
Deliver More Valuable Customer Experiences
Keeping track of customer data is essential for all businesses, from ecommercestartups to multinational enterprises. 
Whatever your business size, a quality CRM will help you understand your target audience so you can deliver more thoughtful, relevant customer experiences. 
The results are lasting, profitable relationships that help your company grow.
Explore our CRM examples to learn more about the broader benefits of these tools or start using Semrush CRM for free today.
Source link