Despite operating in your local community, not everyone knows your business. Even if you're the best at what you do, there are hundreds of people living in and visiting your area that haven't discovered you yet. That's why it's important to focus on local search engine optimization (SEO).
Local SEO will help you put your business on the map, so more locals and visitors can find your business.
In this all-inclusive local SEO guide, we'll cover everything you need to know, including:
Keep reading to learn more!
What is local SEO?
Local SEO is a strategy that involves optimizing your website for local searches. These are searches people conduct when they want to find a business near them. Local SEO helps you optimize your business's presence so you appear in more of these searches.
How does local SEO work? Local vs. traditional SEO
When looking into local SEO, you might wonder: How does local SEO work? Is it similar to traditional SEO?
For the most part, yes. Local SEO focuses on targeting keywords just like traditional SEO, and providing a good experience is important. The biggest difference is the ranking signals.
Local SEO takes a few different ranking signals into consideration when ranking for local searches. Some of those signals include:
Location of the searcher
Name, address, and phone number for your business
Check-ins to your location
Claimed Google Business Profile
Keywords used in Google Business Profile
Star rating and reviews
All these factors get considered when Google generates a local 3-pack, which is the box that appears at the top of local results.
When optimizing local SEO, it's critical to optimize for the factors listed above.
Should I use local SEO?
Next in this local SEO guide, let's talk about who should use this strategy. You might be wondering: Do I need to invest in local SEO?
If any of the following apply to you, you'll want to invest in local SEO:
Your business serves local customers
If you serve customers in your local community, you'll want to invest in local SEO. Now, I know what you're thinking — I already have local customers frequenting my business… why bother?
Even though you have local customers already, you don't have every local in your business. Not everyone knows your business. Not to mention, people continually move to new locations, which means new potential leads are always arriving.
Having a local presence is a good way to keep your brand top-of-mind for local customers.
You want to earn new customers
If you want to earn new leads that turn into customers, local SEO is a way to do it. Local SEO helps you rank for searches where people want to find a business in their area.
People move to new areas or visit them for the first time. They may be looking for a business like yours, and having a local presence helps them find you.
Imagine that you're traveling out of state and your car has trouble. You need to find a reliable mechanic in the area. You're going to turn to Google to help you find one, and you'll likely pick the top-ranking (and top-rated) result.
So, optimizing for local SEO is a key component to helping you earn new customers.
You have a lot of competition in your area
If you have a lot of competitors in your area, you'll want to invest in local SEO. This strategy can give you a leg-up on your competition if they aren't optimizing for it.
Think of it like this: Imagine you run a burger joint. Someone visiting your area decides they want to grab a burger to eat. They search for a local burger place near them, and your business appears in the local 3-pack.
The searcher sees your glowing reviews and mouth-watering photos, so they decide to visit and try your food.
Now imagine if you didn't optimize for local search. That searcher would have found a competitor's place and visited them instead.
So, if you want to remain competitive in your market, optimize for local SEO.
Local SEO guide: 4 local SEO strategies to use
Let's dive into the local SEO basics so you can see how to optimize for local searches.
Here are four strategies you can use to reach more local searchers:
1. Claim and optimize your Google Business Profile
A key component of this local SEO guide is your Google Business Profile. Since this profile only appears when people conduct local-related searches, it's crucial that you spend time optimizing this feature.
First, start by claiming your Google Business Profile. Once you claim your profile, you'll want to start optimizing it to rank in search results.
Here are some ways to optimize your Google Business Profile:
Add your business's proper name: Don't use a nickname for your business profile. Even if everybody calls your place "Kirk's," your listing should say "Kirkland's Pub."
Verify your hours: Having the wrong operating hours leaves people annoyed with your business. Make sure your hours are accurate and that you update them if they change.
Add photos: Did you know that Google Business Profiles that have 100 or more images get 1065% more website clicks and 520% more phone calls? Adding photos of your products, team, and business will help boost engagement.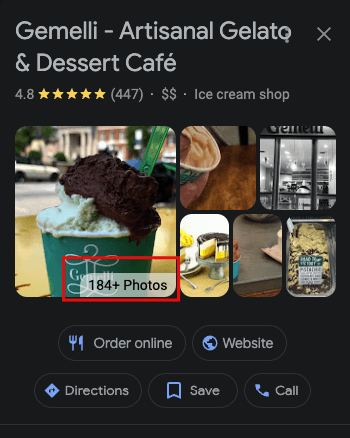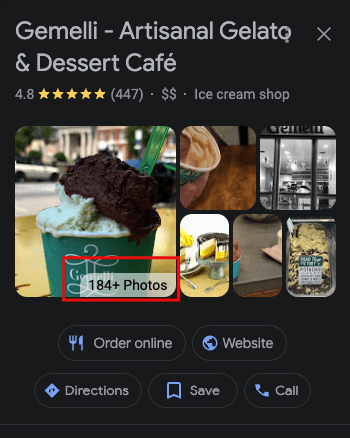 2. Identify local keywords
Next in this guide to local SEO, let's talk about local keywords. Local keywords are a crucial component for driving leads in your area. So, what are local keywords and how do you find them?
Local keywords are keywords attached to a location. If you have an ice cream store, for example, a local keyword would be "ice cream shop in Austin" or "ice cream near Austin." Local keywords can also end in "near me," so "ice cream near me."
These keywords help local searchers find your business when they need your products or services.
The best way to optimize for local keywords is to conduct keyword research. Use a keyword research tool to help you identify the right local keywords. Once you identify those keywords, you can integrate them into your website and your Google Business Profile.
3. Verify your name, address, and phone number are consistent across the web
One of the local SEO basics you need to know is that you should check your name, address, and phone number (NAP) across the web. This core information is what people need to know about your business.
Your personal information appears numerous places on the web. It's important that, no matter where people find you, they get accurate information.
That means you need to check every platform and directory where your NAP information is shared so you can verify it's correct.
Or, you can opt to use a tool, like LocalFX, that will help you check across the web and fix any mistakes.
4. Earn reviews
To wrap up this guide to local SEO, let's talk about earning reviews. Reviews play a critical role in convincing people to choose your business. They tell people whether you're a good choice for what they need.
Reviews also impact your Google Business Profile. When you have more reviews and more positive feedback, you have a better shot at appearing in the local 3-pack.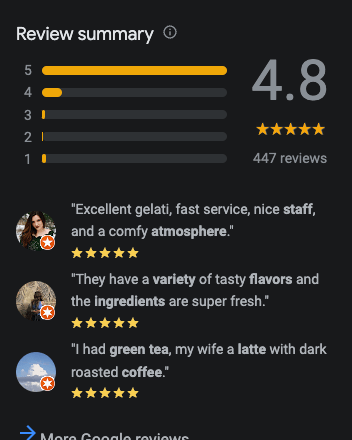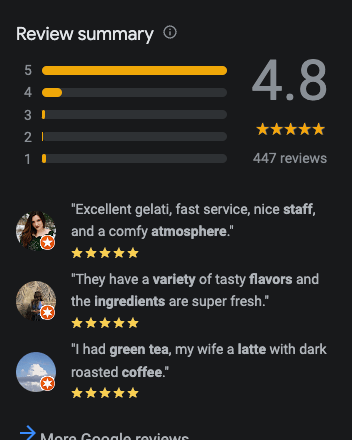 So, how do you earn reviews?
When customers buy from your business, you can invite them to leave a review about their experience on Google. If they follow you on social media, you can also direct them to share their experience. It's a great way for you to build up your reviews.
Going beyond this local SEO guide
Local SEO is an important strategy to use to drive local customers to your business. If you want to learn more about local SEO and other related topics, check out our SEO blog!
Source link