What Is Growth Hacking?
Growth hacking tests various marketing techniques to identify rapid expansion opportunities. 
In other words, you try different ideas quickly to see what works. Then you scale the ones that do and abandon those that don't.
This is how effective growth hacking strategies play out.
For example, PayPal grew to over 100 million members rapidly thanks to one simple idea: 
Incentivize current users to bring in new users.
The company offered $20 for signing up. Then another $20 if you referred a new customer.
This amount dropped to $10 (then $5) because of its popularity and cost. Plus PayPal's value as a service became the pull as it grew.
Here's what the offer looked like on the homepage in 2000: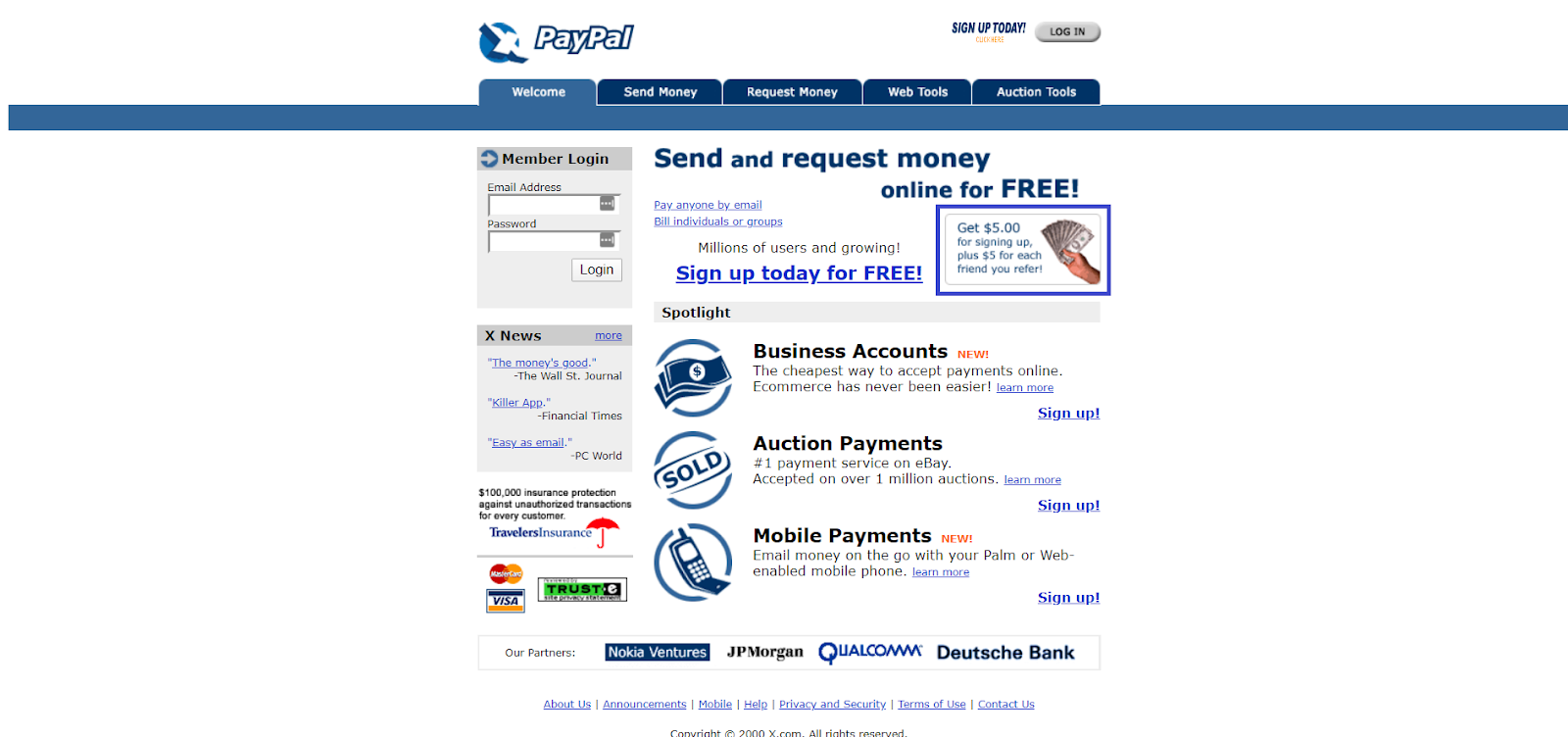 Image Source: Viral Loops
You can still refer friends today on PayPal. But it works a little differently. 
They have to sign up and spend at least $5. Then you both earn $10 cashback.
Your business likely doesn't have millions to spend on signup and referral bonuses. But PayPal is only one example of a successful growth hacking strategy in action.
Here are nine growth hacking strategy ideas and brands that used them to succeed:
1. Implement Referral Marketing When Customers Love Your Product
A referral marketing strategy rewards current customers for inviting friends and family to try out your product. 
But this growth hacking technique will only work if customers already love your product and find it valuable.
For example, PayPal's "$10 cashback for each referral" offer mentioned above.
Want to know the best part?
A Nielsen report found that 88% of people trust recommendations from those they know over any other advertising channel. That's why referral programs work so well.
Referral marketing works in three stages:
Ensure customers are happy with your product
Offer them an incentive to invite new customers (e.g., money, discounts, and freebies)
Promote the offer on your social networks and other marketing channels
You can save money by only rewarding the person who makes the referral. The new customer can bring in someone else and get their incentive. And so on.
When to use it: You have a solid base of satisfied customers. But you want to expand while working on retention, loyalty, and advocacy.
What you'll need: Happy customers, some kind of incentive, and a promotion plan.
Growth Hacking Example #1: Dropbox
According to founder Drew Houston, Dropbox's referral program helped increase signups by 60%. And it's still ongoing.
The file hosting service allows you to refer a friend so you both get more storage space:
Basic plan users get an extra 500 MB per referral. While Plus plan holders get 1 GB.
Instead of paying extra for money or merchandise, Dropbox offers more of what people already use the platform for.
2. Tweak Content Marketing So Users Understand Your Product's Value Faster
Content marketing involves creating and sharing valuable content to convert web traffic into customers. You use it to prove the value of your paid product and encourage signups.
For example, the Semrush blog is full of content marketing material that (done right) increases our conversion rate.
We write about topics that relate to the SEO tools we offer.
In this case, a listicle of 12 SEO tips: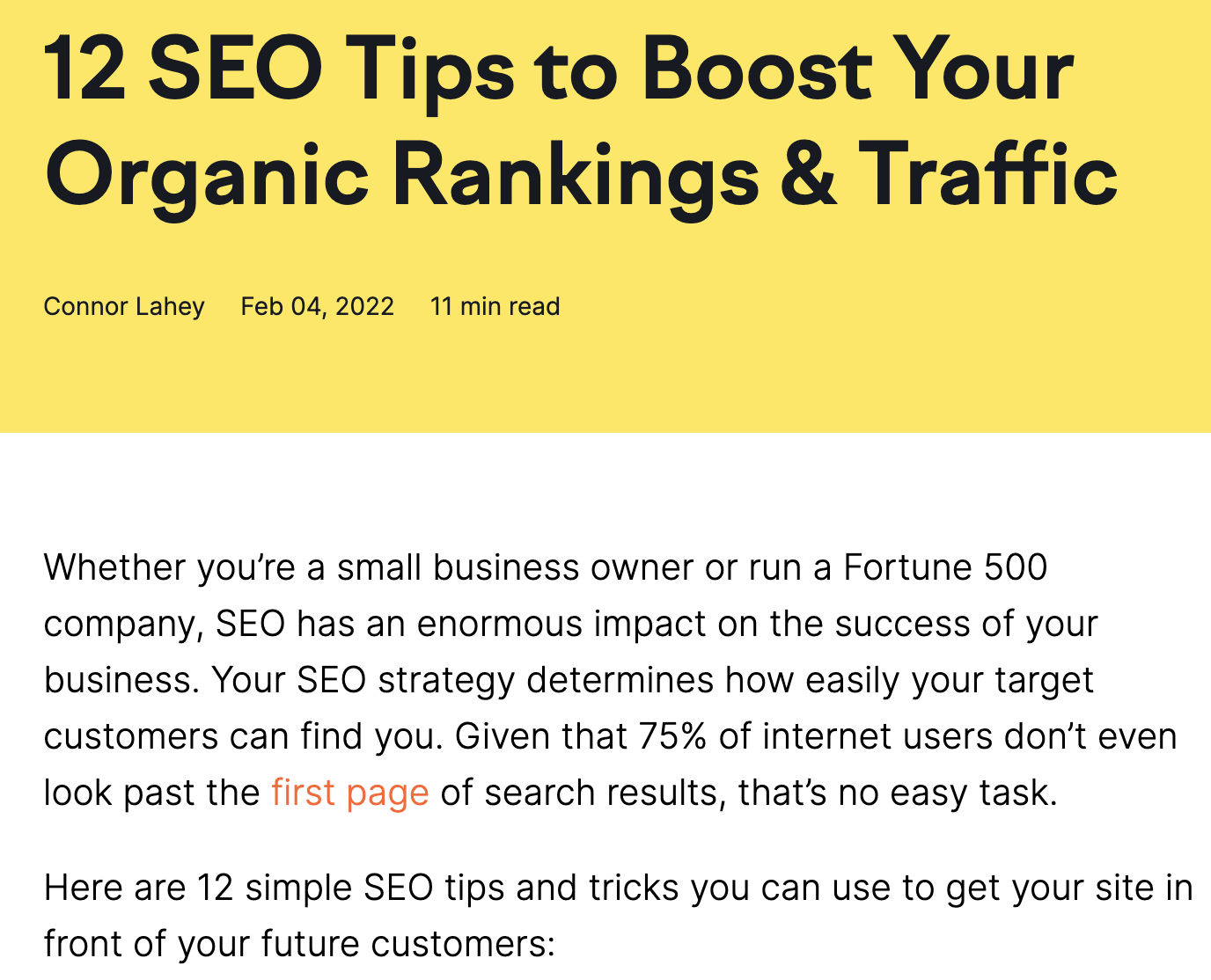 Writing about relevant topics helps people understand more deeply why your product is valuable. Because of those "aha moments," some may sign up.
Content marketing can also come in the form of:
Podcasts
Videos
Ebooks 
Whitepapers
Case studies
Webinars
Infographics
The more helpful content you create, the more people see you as an expert in your niche. And the more likely to trust you and consider what you offer.
You can use Semrush's Keyword Magic Tool to help you find the terms to include in your content marketing efforts. 
We call this process "keyword research." It helps you create content around topics people are already searching for.
Let's say you own a coffee shop. You need to start with a phrase related to your industry.
Type in "coffee beans" and click "Search."
Here, you'll see every potential keyword idea that relates to the term "coffee beans."
Filter these by using the tabs at the top. For example, click "Questions" to see what people are asking about coffee beans.
Then check out your list of narrowed-down options.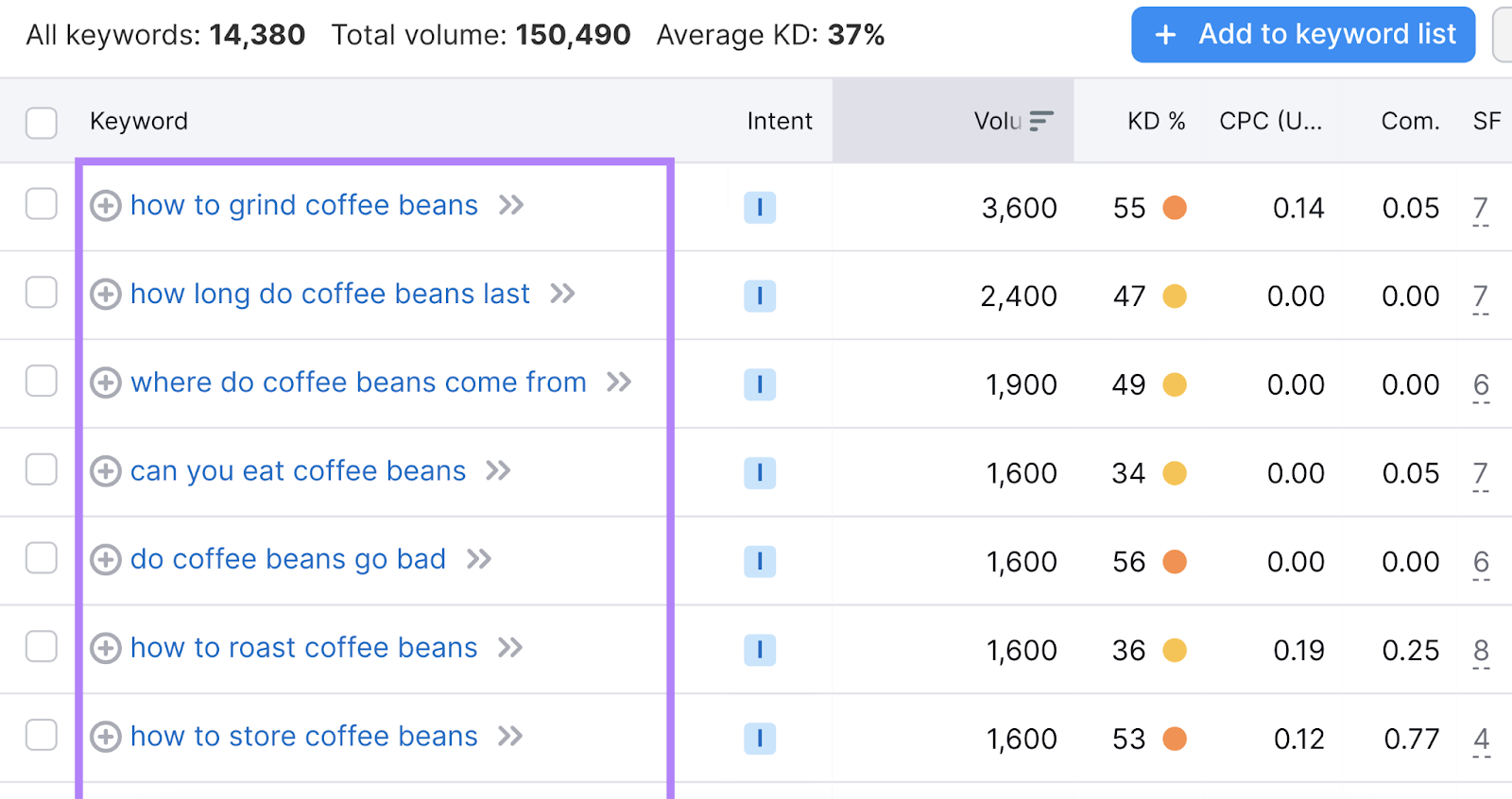 Using the above suggestions, you might go on to create a popular video that demonstrates how to grind coffee beans. And the traffic from that will act as a growth hacking strategy for your coffee brand.
When to use it: Throughout all stages of the buying cycle. From awareness to activation and purchase.
What you'll need: A website (try WordPress) and an online document editor (try Google Docs). Both are free.
Further reading: Optimize your keyword research process with our handy article on How to Do Keyword Research for SEO (A Detailed 3-Step Guide).
Growth Hacking Example #2: Copyblogger
Copyblogger founder Brian Clark used content marketing to turn his site from a one-person blog to one that generates eight figures in annual revenue. 
He also managed to reach this goal without advertising or taking venture capital.
Here's one of his earliest posts: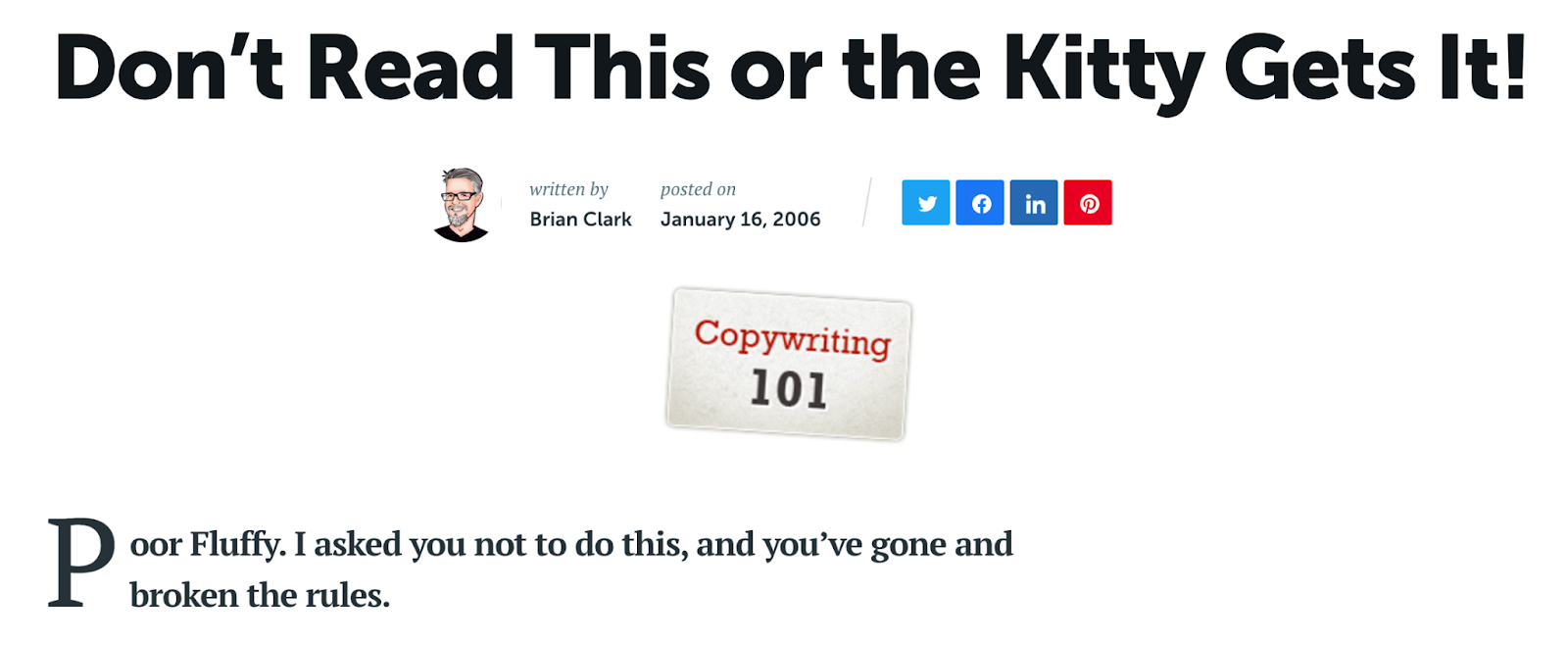 The high-quality writing and free advice proved to prospects how valuable the paid courses would be. 
Thousands signed up and continue to do so.
3. Harness the Power of Influencer Outreach to Increase Brand Awareness
Companies use influencer marketing to collaborate with individuals who have larger, more engaged online followings. 
Partner with the most relevant personalities to earn the trust of their audiences and boost your sales.
You can pay influencers or send free products in exchange for a post like this:
Mega and macro influencers (with over 200,000 followers) may want significant investment. 
However, micro and nano influencers (with under 60,000 followers but higher engagement rates) are more likely to accept this type of swap.
Here are six steps to build your first influencer marketing strategy: 
Set your campaign goals: Do you want more reach, traffic, or sales?
Define your audience: Which segment will you target?
Choose your campaign messaging: Are you building brand awareness or highlighting a new feature?
Set a budget: How much do you want to pay the influencer?
Find the right partner and reach out: Which type of influencer will fit your values best?
Track your campaign's performance: Which tool will you use to monitor traffic or sales?
Every campaign, influencer, and audience is different. And you may not see the results you want the first time.
According to a Harvard Business Review study, seven variables affect influencer marketing ROI:
Number of followers
Posting frequency
Follower-brand fit
Influencer originality
Positivity of the post
Posts that include a link to the brand 
Posts that announce a new product
For example, posts that announce new products tend to perform worse than those with a link to the brand.
This isn't an exact science, however. It's all about trial and error.
Spend time choosing a best-fit influencer with a segment of the same target audience as you.
When to use it: After you've optimized your marketing funnel and reviewed your site/social channels to maximize retention. 
What you'll need: A willing influencer to partner with, an incentive, and a product or service that intrigues the influencer's followers.
Further reading: Learn about the six steps of influencer marketing in more detail by reading Influencer Marketing: What Is It and How to Build a Solid Strategy.
Growth Hacking Example #3: Gymshark
Global gym apparel brand Gymshark started as a small startup in 19-year-old Ben Francis' garage. Thanks to influencer marketing, it's now a billion-dollar business.
Francis would send athletes free sportswear in exchange for a photo and tag on social media: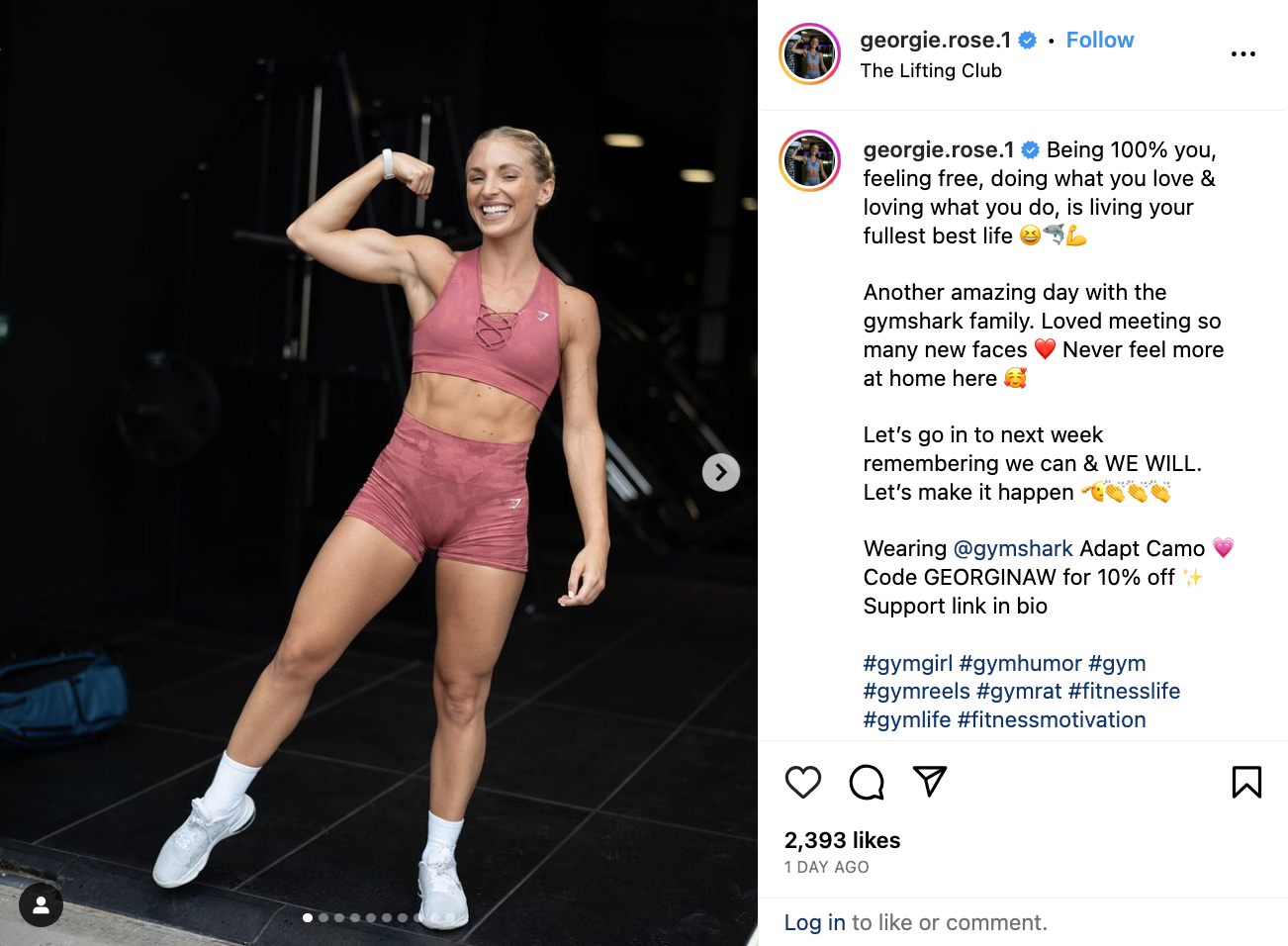 When people saw their favorite athletes in this new clothing, they wanted it too.
The brand still relies heavily on this strategy on Instagram and TikTok. And pays 80 influencers around $6,000 to over $100,000 a year to promote the Gymshark lifestyle.
4. Create a Pre-Launch Email List and Keep Subscribers Engaged
Entrepreneurs and startups can drum up interest for their new companies with a pre-launch email list. 
Create buzz and direct people to your signup page through social media posts, cold emails, guest blogs, and podcasts.
Once you've enticed people to sign up, fulfill whatever you promise. And keep them engaged to retain their business.
Established companies can also use this growth strategy for new product launches. Like Brewbike: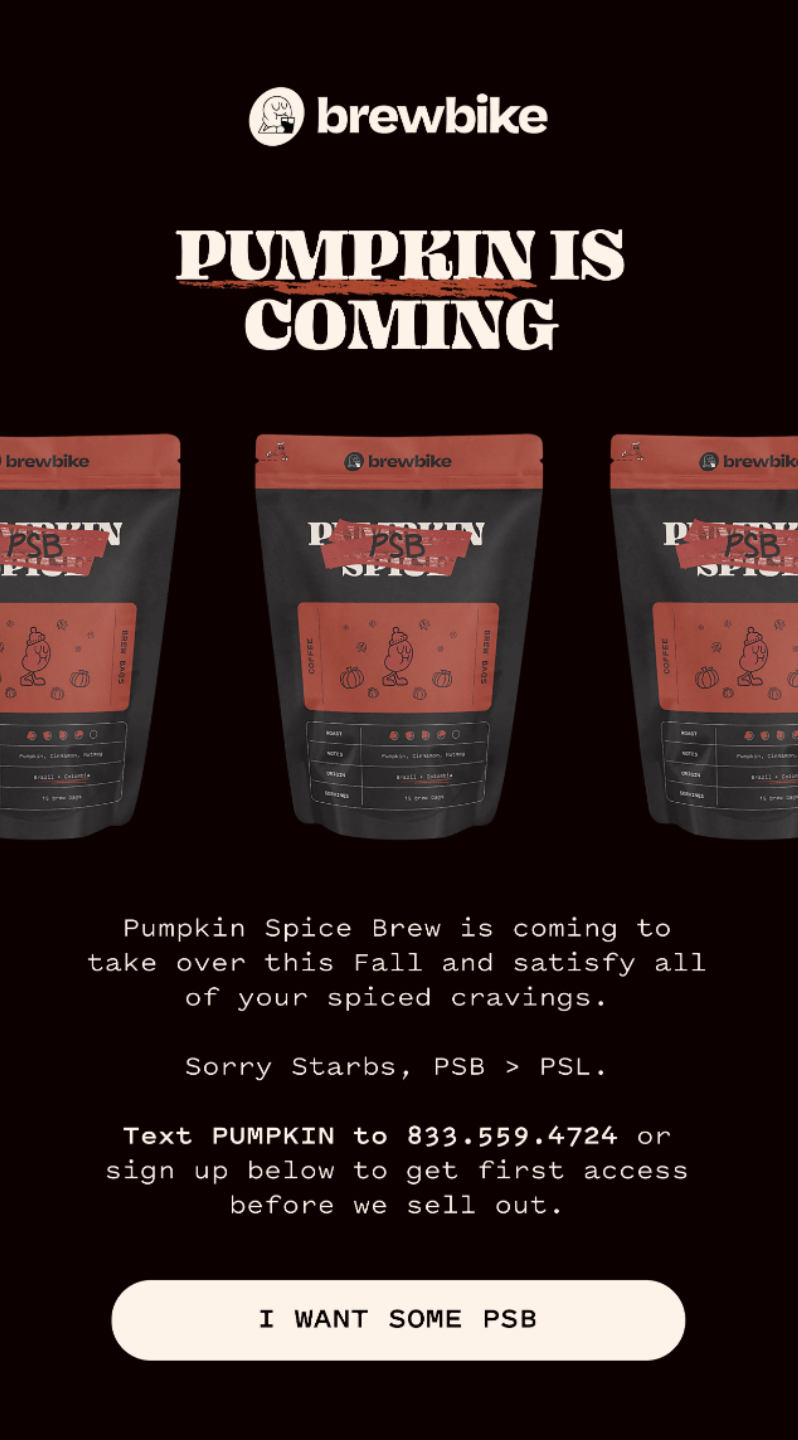 Combine email marketing with referral marketing to give people a reason to sign up. Such as offering free products in exchange for an order when you launch.
Here are some growth hacking tactics for getting people to submit their email addresses:
Send personalized emails (not templates)
Create an exciting presence on social media platforms
Build a "coming soon" landing page (AKA a splash page)
Guest post on popular blogs or appear in podcasts
Ask friends and family to send your offer to their contacts
After you launch, you can use your email list to encourage retention and advocacy for continued growth. 
For example, continue to offer value with helpful content, ask subscribers for feedback on updates, and send special offers.
When to use it: You have a new product to launch with excellent product-market fit.
What you'll need: An email provider (like Gmail or Hotmail), an email marketing tool (like Mailchimp), and a bunch of time for writing.
Growth Hacking Example #4: Harry's
Thanks to its pre-launch campaign, men's grooming brand Harry's collected almost 100,000 email addresses in one week.
It used a variety of tactics. Including personalized emails from each team member to all their contacts, referral marketing, and a mysterious splash page.
Image Source: Tim Ferriss
However, the heavy lifting started post-launch with reward fulfillment. 
So, make sure you can follow through on whatever you promise people to get them to sign up. Otherwise, you'll lose their trust and business.
Stay organized and manage your stock and signups to prevent this. 
5. Encourage Customers to Write Reviews and Create Content for Social Proof
User-generated content (UGC) is any content about brands that regular people and customers create. Use it on your site and social media platforms to build trust and drive awareness.
For example, this makeup artist tagged Benefit Cosmetics in an Instagram post:
And the brand reshared it on its main feed: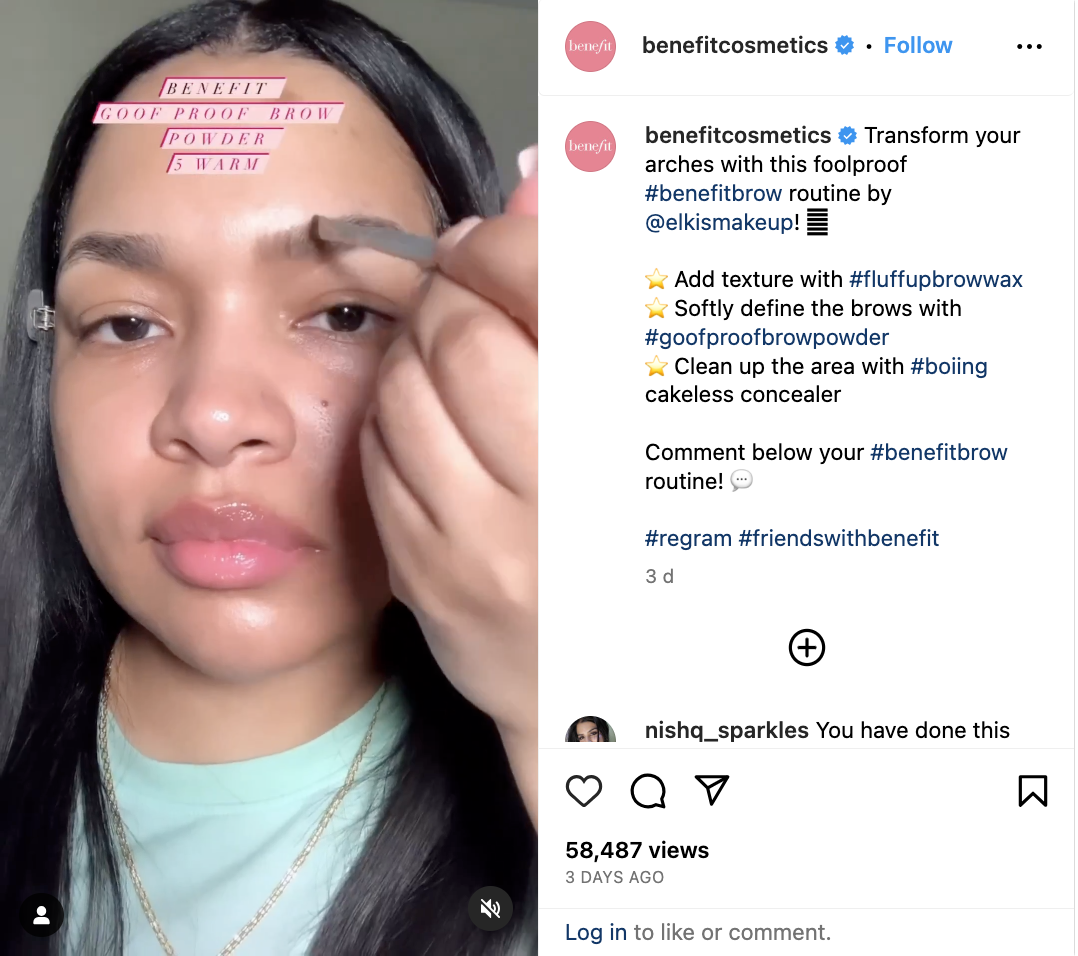 Because the post wasn't a paid ad (those normally use #Ad), it counts as UGC. It also results in a psychological phenomenon known as "social proof."
When we're not sure how to act in a situation, we look at what others are doing.
In this case, users see that a real person bought and is using the new product. They can then determine that it's good quality and worth purchasing. (The same process works for reviews.)
This digital form of word-of-mouth marketing feels more authentic. Especially compared to overly polished images that brands design to show the product in its best light.
When to use it: UGC is most effective in the final stages of the buying process. Because social proof gives prospects confidence that an item is worth the money.
What you'll need: An image or review from a customer about your product, permission to share it, and marketing channels to distribute it on.
Further reading: Learn more about the rules of UGC in our guide to How User-Generated Content Can Help Your Content Strategy.
Growth Hacking Example #5: Away
Travel luggage brand Away shares user-generated content on its site to build trust. It also used this strategy on Instagram to grow its follower count to 622K.
On Away's site, each product listing comes with an array of customer reviews and images: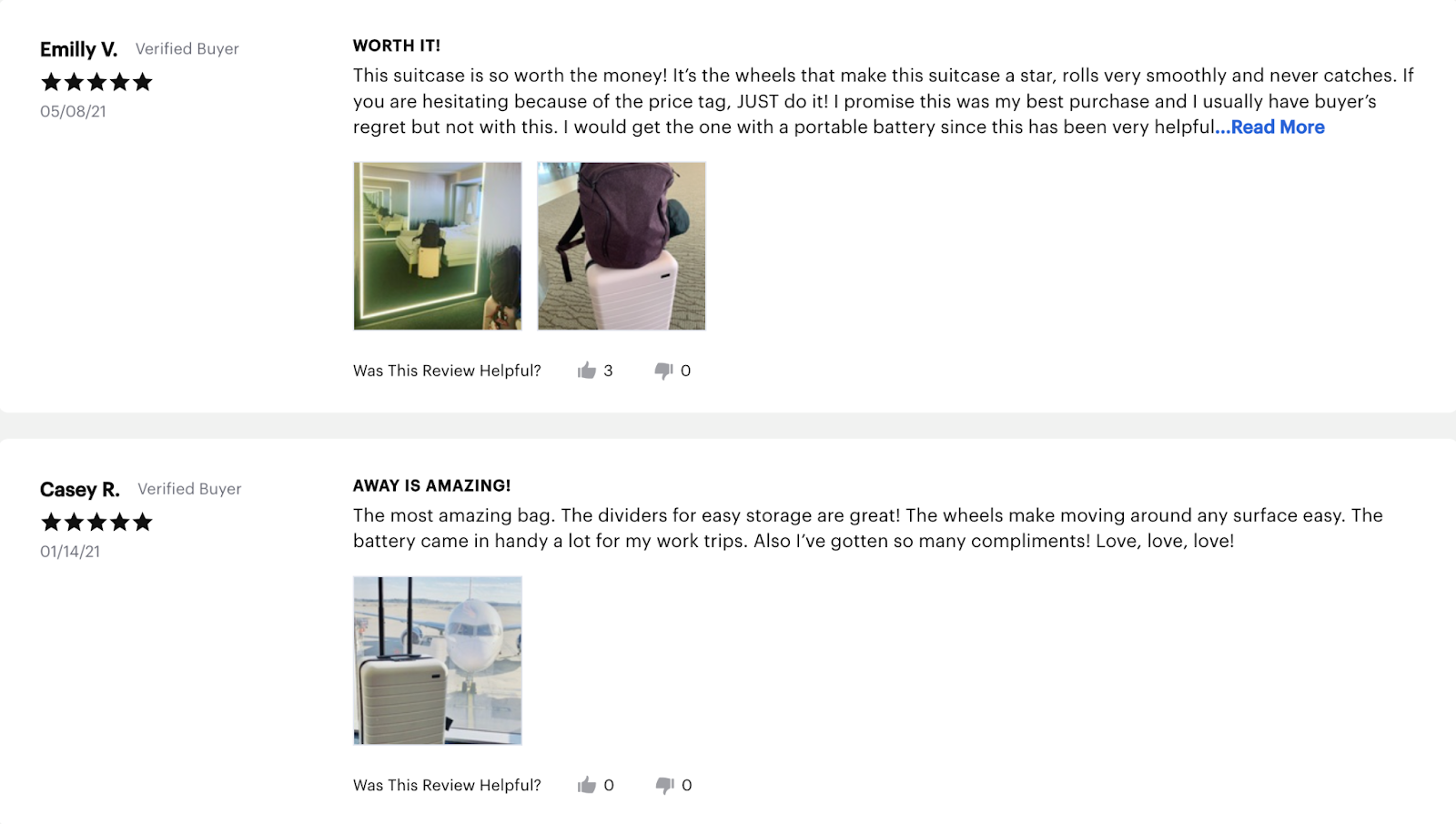 While its Instagram posts show the luggage in action during travel.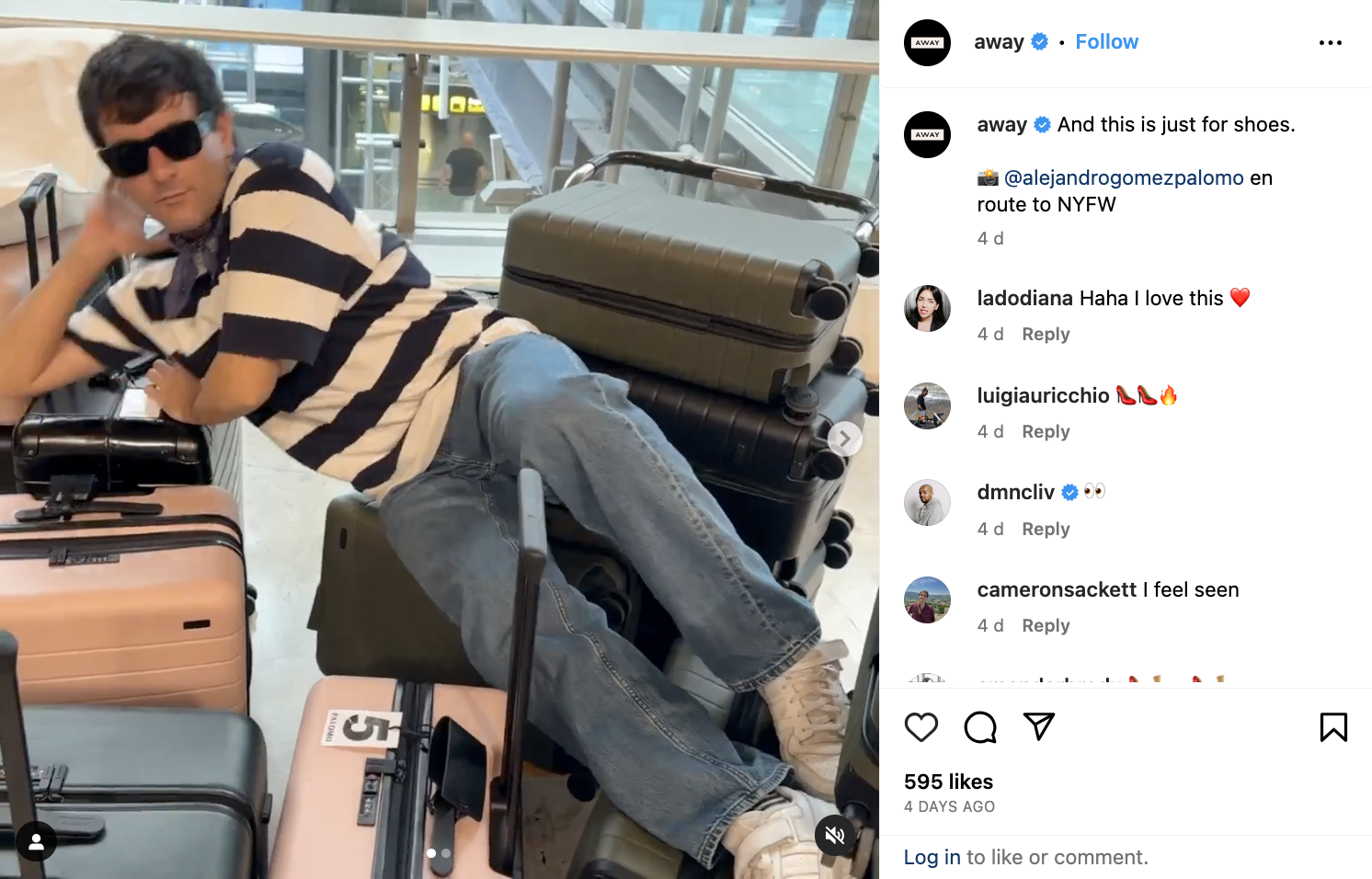 It's one thing when a brand tells you how valuable or high-quality a product is. It's another when they show you that hundreds of customers agree.
This shared enthusiasm can give prospects confidence and help your sales grow.
Create an engaged network of advocates to give you feedback and spread the word about your brand. Give them an exclusive space to connect directly with your team and each other, building trust and loyalty.
For example, the WordPress plugin Elementor has a Facebook Group with over 145K members: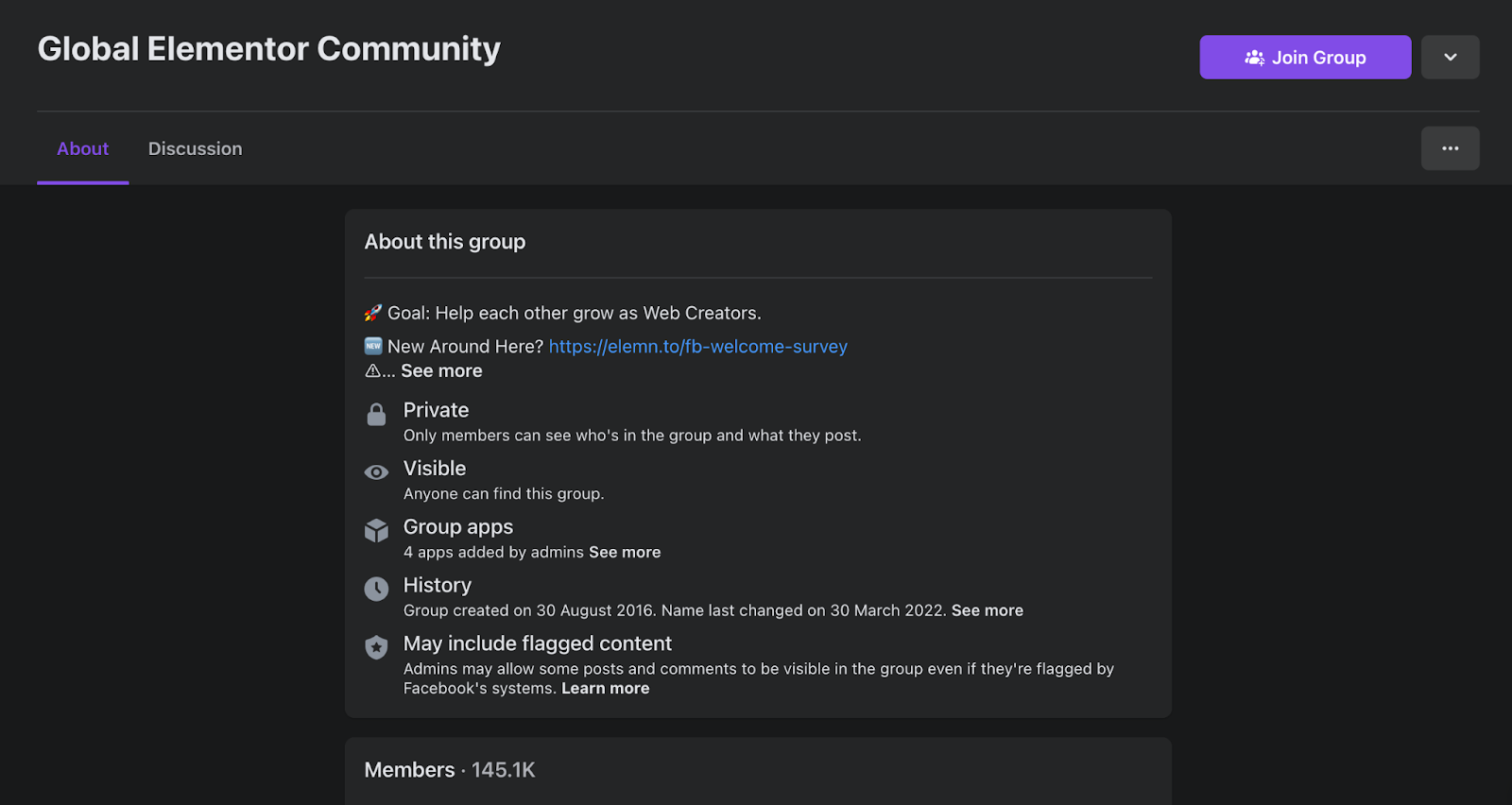 Here, Elementor users discuss how to use the tool and help each other resolve challenges.
Use your group to engage with your audience and customers meaningfully. And allow prospects to get to know your product or service while they consider signing up.
Here are some tips for growing your community group:
Post the link wherever you have a presence (e.g., your site and social media platforms)
Track where most of the traffic to your group comes from (then double down there)
Reach out to podcast hosts and mention your community during an episode
Ask members to tell their friends
Welcome new members and reward loyalty to make everyone feel included
Give members a reason to be active in the group and post regularly to keep everyone engaged.
If you don't have time to monitor it yourself, ask for volunteers. Or incentivize people with discounts or free products. 
When to use it: Customers are generally happy with your product. And you want to improve retention, loyalty, and advocacy.
What you'll need: A platform (like Facebook or Discord), marketing channels to promote it, and time to communicate with members.
Growth Hacking Example #6: Jasper
Jasper's 76K member Facebook Group shares tips and tricks, peer support, and the latest updates.
Some dedicated users even got the logo tattooed on themselves thanks to the strength of the community: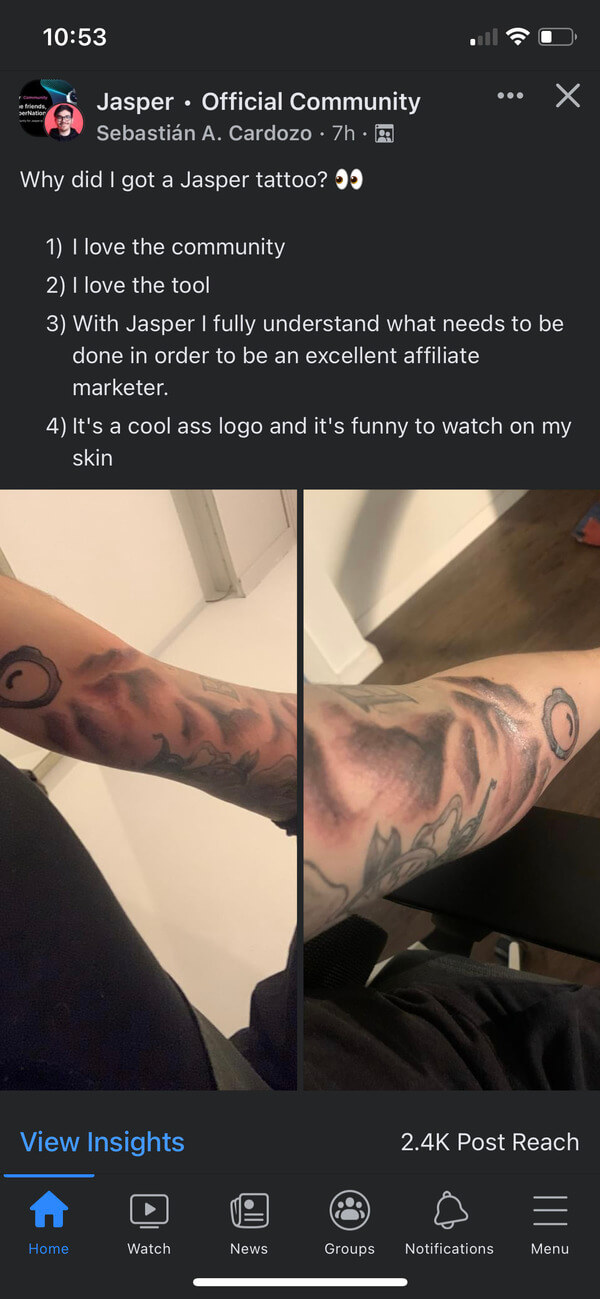 Image Source: Jasper
Creating an exclusive community also means you don't have to worry about algorithms hiding your posts. Everyone can chat in real time and see all relevant posts in one place.
7. Look for Brand Collaboration and Integration Opportunities
Collaborate with other brands and integrate with bigger apps to extend your reach and access extra resources.
For example, Spotify and Uber ran a joint growth marketing campaign in 2014. 
When Spotify users booked an Uber, they got to choose the music for the ride: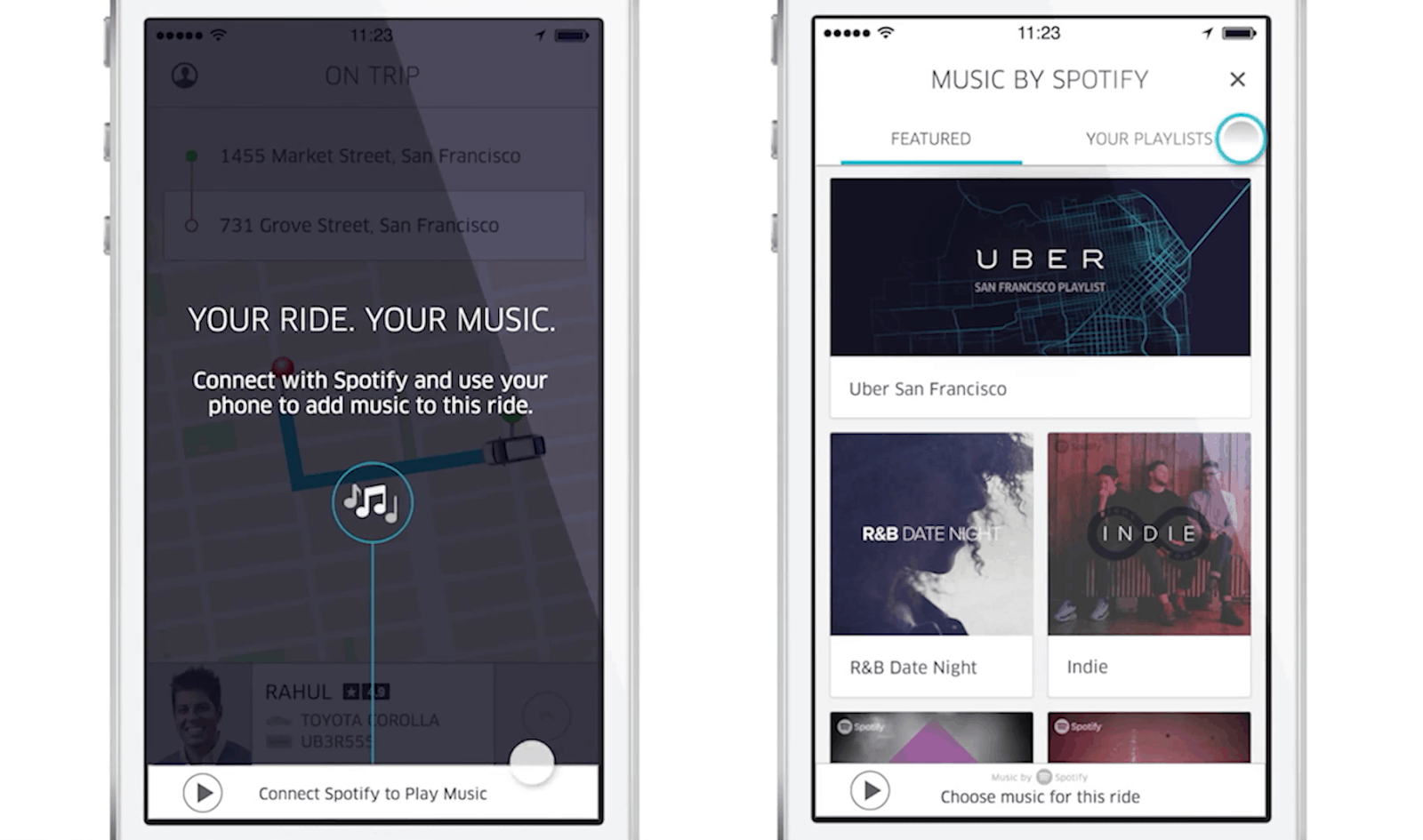 Uber was able to offer a tailored music experience. While Spotify was able to entice its Free customer base to upgrade to Premium subscriptions.
It was also an unexpected partnership that got media outlets talking, resulting in more good PR.
Here are some more benefits of brand partnerships:
You split any costs
You get to use another team's skills, ideas, and resources
You access an audience that shares some of the same interests
You double the reach of co-branded content
You start and develop new industry relationships
Startups that are still trying to find their feet may struggle. Most brands want to partner with a company that's sure of its values.
If you happen to be a pivoting startup with an app, look for more prominent apps you can integrate with. (Established businesses can do this, too.)
For example, HeyTaco is a social recognition platform that found it would work well within Slack and Microsoft Teams:
Because it's in both of their app directories, it gets more promotion without any extra effort.
When to use it: You're already pretty established and want to focus on customer acquisition.
What you'll need: A company that overlaps with a segment of your audience, a mutually beneficial offer, and a promotion plan.
Growth Hacking Example #7: Airbnb
Homestay service Airbnb partnered with multiple companies over the years to build its brand. Including nonprofits, music festivals, travel companies, and environmental companies.
It uses these partnerships to direct its growth focus at the time. Whether serving the public, connecting communities, or saving the environment.
For example, it partnered with the American Red Cross in its early years to train Airbnb hosts to prepare for emergencies.
It repeated this partnership a few years ago in Los Angeles: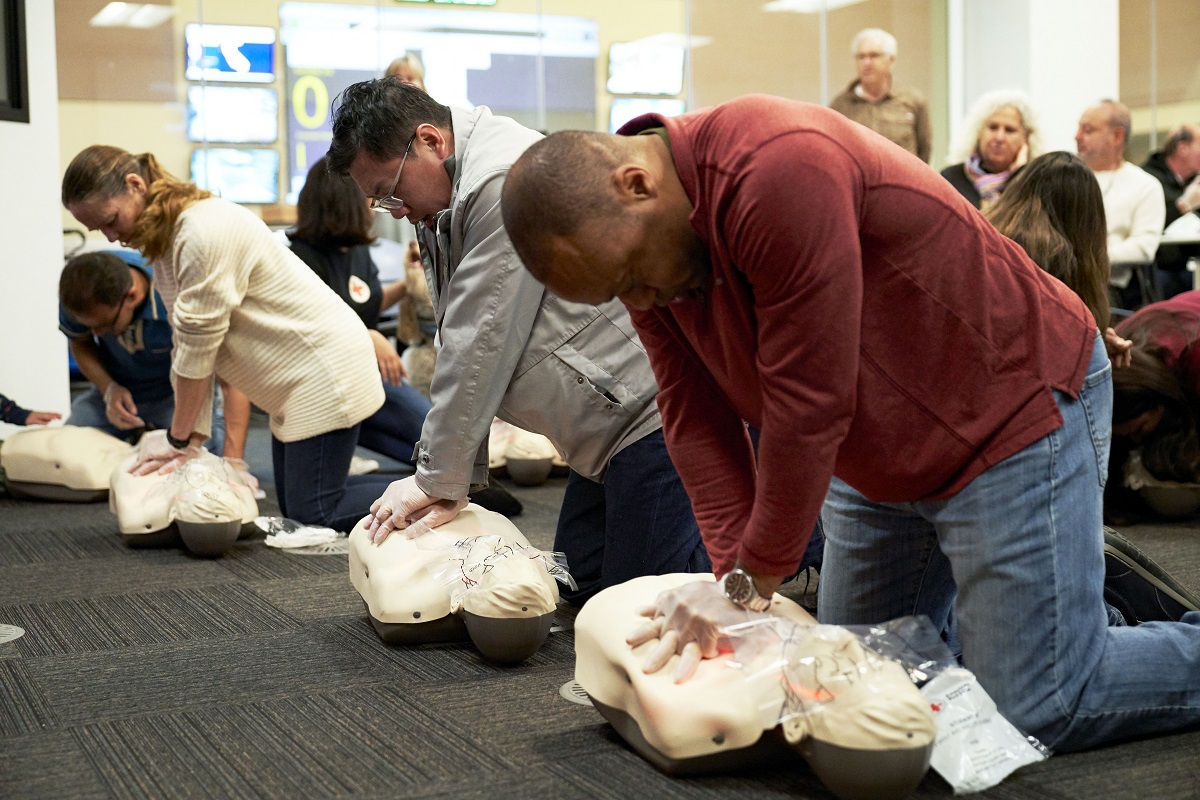 Airbnb also reverse-engineered an integration into the enormous Craigslist user base when it launched. In other words, anyone who created a listing on its site could cross-post it to Craigslist.
This was another growth hacking strategy that propelled it into the huge brand it is today.
8. Offer a Unique Selling Point to Make Your Offer Stand Out
Create a unique selling point (USP) that helps you stand out from your competitors. Try cost-effective and unconventional marketing strategies to see what resonates with people.
For example, Airbnb (again) focused on growth by providing free photographers in the early days of its service. Nowadays, it still offers them from time to time:

Airbnb promotes this offer by saying, "Hosts with professional photos may earn up to 20% and receive 20% more bookings than other listings in their area."
It's a win-win for the company. The limited hosts who get the offer feel special. And the company gets more people using its service thanks to higher-quality images.
A USP like this will take more upfront investment but could lead to more revenue in the long run.
Your USP could involve:
Pricing
Quality
Delivery speed
User experience (UX)
Customer support
Whatever you offer that people find most valuable
Ask yourself (or your customers) why people choose you over your competitors. Then use that knowledge to inform an effective growth-based USP.
When to use it: You offer something that addresses a specific group's needs better than any other company.
What you'll need: A creative mind or a marketing and copywriting expert to perfect your ideas.
Growth Hacking Example #8: Saddleback Leather
Saddleback Leather offers a lifetime (or more) of guaranteed satisfaction. This promise of quality led the company to eight figures in annual revenue.
This USP begins with the line, "They'll fight over it when you're dead." And continues with a 100-year warranty:
You don't have to spend any additional money for a USP like this. But it's funny, unconventional, and true. 
So it works.
If you want to try something similar with a big promise, ensure your product meets expectations. Otherwise, customers will lose confidence in you.
9. Use Growth Engineering and Rely on Data-Driven Experiments
Growth engineering is a data-driven strategy pioneered by Facebook. Use it to track metrics, experiment with new ideas, and let hard data unearth the best growth shortcuts.
For instance, you could test two variations of your landing page (known as A/B testing) to see what gets more clicks. Having more than two variations is called "multivariate testing."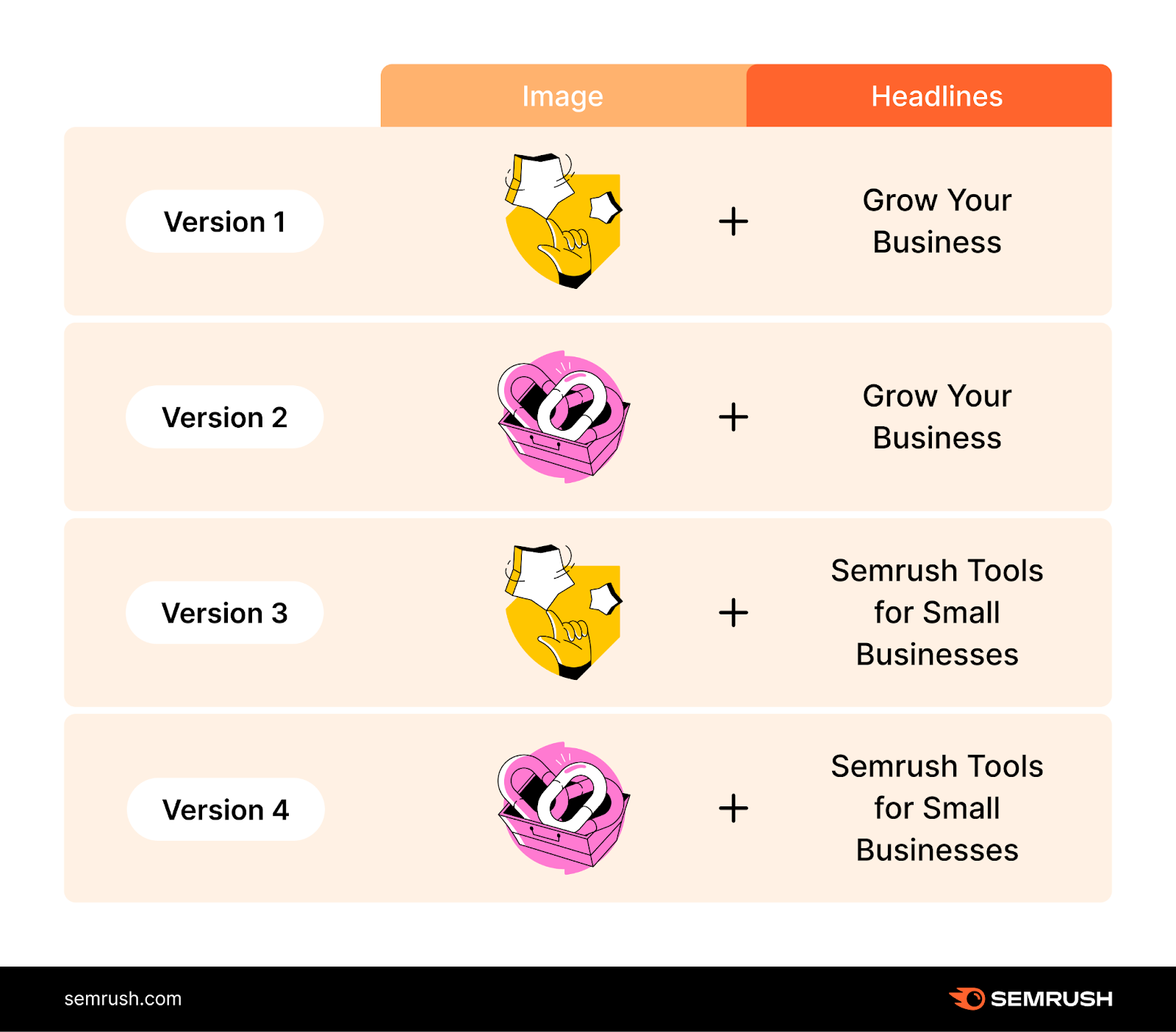 One small change in your copy or images can grow your click-through rate (CTR).
You can also use growth engineering as part of your search engine optimization (SEO) strategy. 
Here's an idea. Track the backlinks of two types of lead generation content and see which ranks better. Then make more of it.
You can measure this with Semrush's Backlink Analytics. 
Head to the tool and enter the URL you want to analyze. Let's take this high-ranking HubSpot listicle for free digital marketing courses:
Copy and paste the URL into the tool and click "Analyze."
Track referring domains, backlinks, and organic traffic on the dashboard that appears.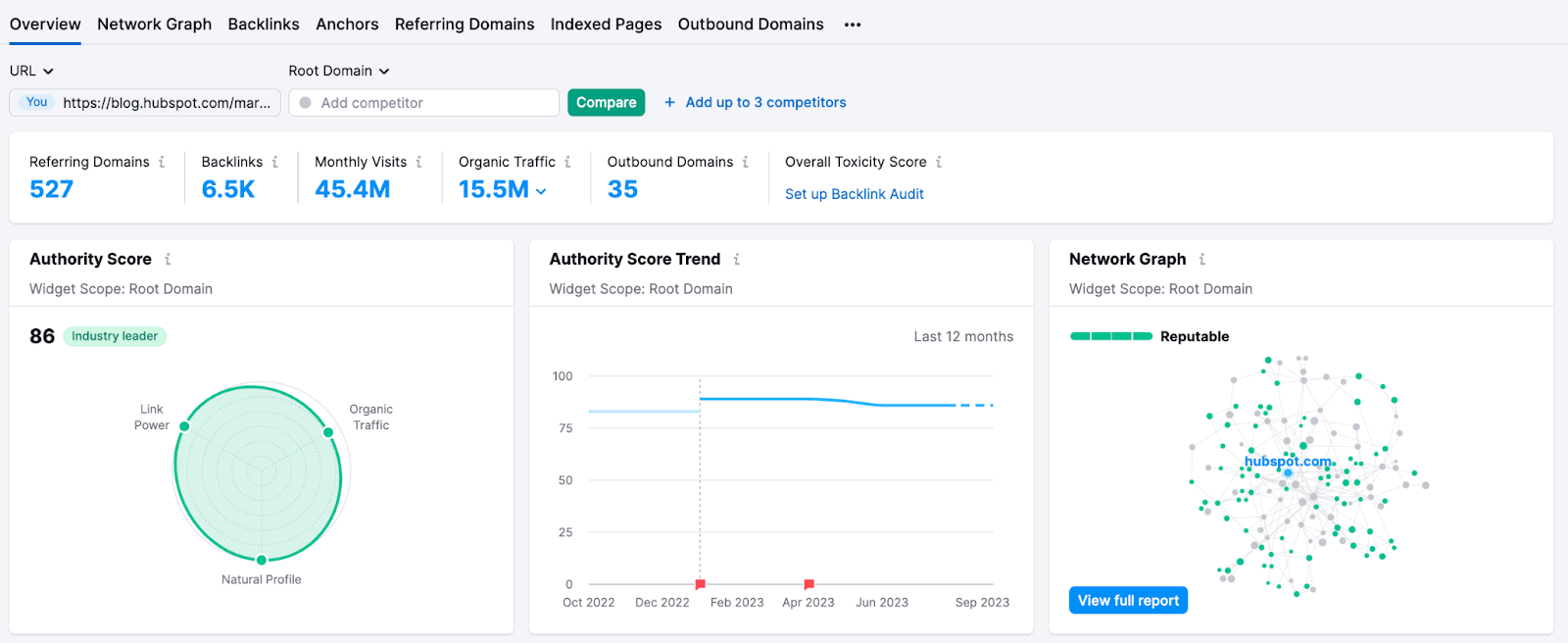 Repeat for the other piece of content so you can compare.
If the metrics for one URL rise quickly, note the content type as a successful growth hacking tactic you can try to replicate.
Pro tip: You can also use Semrush's Position Tracking tool to see when a growth hacking strategy spikes your traffic.
When to use it: You're a software as a service (SaaS) company, ecommerce brand, or any seller with an optimized website.
What you'll need: Automated tools to track metrics. And if you have the funds, a growth engineering team.
Growth Hacking Example #9: Facebook
Thanks to its growth engineering techniques, Facebook now has more than three billion monthly active users.
It tests constantly throughout the development process to understand how new features perform or how fixes improve performance. 
As Facebook expanded, the growth team also built a free tool that allowed users to translate pages: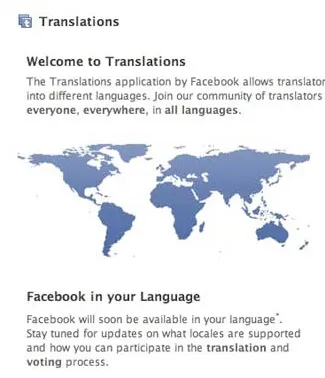 Image Source: TechCrunch
Delegating this task saved the company time, money, and resources since employees didn't have to do it themselves.
According to a former Facebook Product Manager of Growth, a major factor in getting the product to 500 million users was making it available in almost every global language.
Start with the Lowest-Cost Growth Hacking Strategy
Here's a tip: Anyone can create and share content for free to grow their business.
Adding keyword research into the mix means you'll make content about topics your audience is already searching for.
The more you do that, the more likely you are to create something that resonates, spikes traffic, and encourages rapid growth.
So try the Keyword Magic Tool for free and start building profitable campaigns today.