Local online marketing is how you promote your business to an audience in a specific geographic area using online digital tactics. 
And it can be extremely effective.
In this guide, we'll discuss the different local digital marketing tactics you can use. And the importance of measuring your results.
9 Local Online Marketing Tips to Grow Your Business
Local online marketing can help you gain visibility in search results, increase sales, and compete with larger companies.
Here are some techniques you can include in your local online marketing strategy.
1. Optimize Your Website for Local SEO
SEO stands for search engine optimization. It involves making improvements to your website (and some off-page activities) to increase your visibility in search results. 
And local SEO is the process of optimizing your online presence to increase visibility on a local level.
A key part of that is using the right keywords (terms people enter into search engines). So, you need content that uses keywords locals are searching for. 
The Keyword Magic Tool can help you find local keywords that are a good fit for your business.
To get started, open the tool and enter a seed keyword (a broad search term related to your business) along with the geographic area you're targeting. 
(We're using "ac repair tampa" as an example for a company that provides air conditioning services in Tampa, Florida.)
And then click "Search."

You'll now see a list of potential keywords. 
Including the location in the keyword helps to refine the results. But you can narrow your results even more by using the suggested groups and subgroups in the column to the left.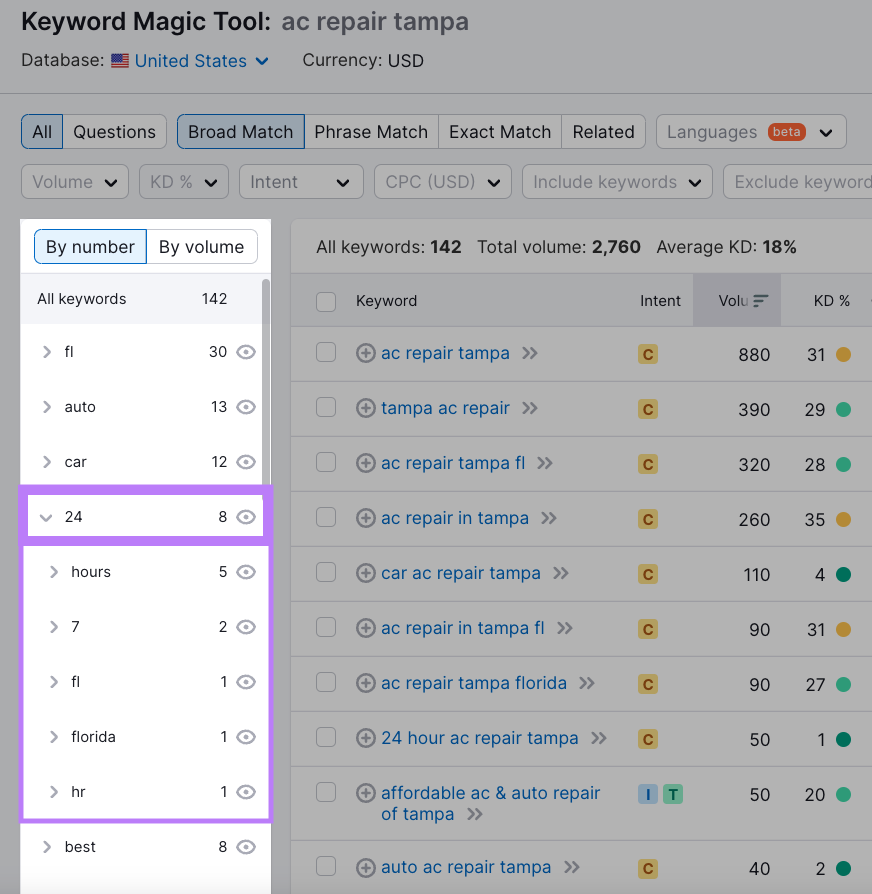 Or try filtering by keyword difficulty. This is a metric out of 100 that indicates how difficult it would be to rank in the top 10 results for a given keyword.
Go to the "KD %" drop-down menu and set a custom range from 0 to 29 to show only keywords that are categorized as "Easy" or "Very Easy."
You probably don't want to only focus on keywords with low difficulty scores. But this is a good starting point for local businesses that don't have much online visibility.
You can also get ideas for keywords that people are searching in your area using Google's autocomplete function. Because the suggestions are partially based on your location.
Start entering a seed keyword and then see what suggestions Google offers.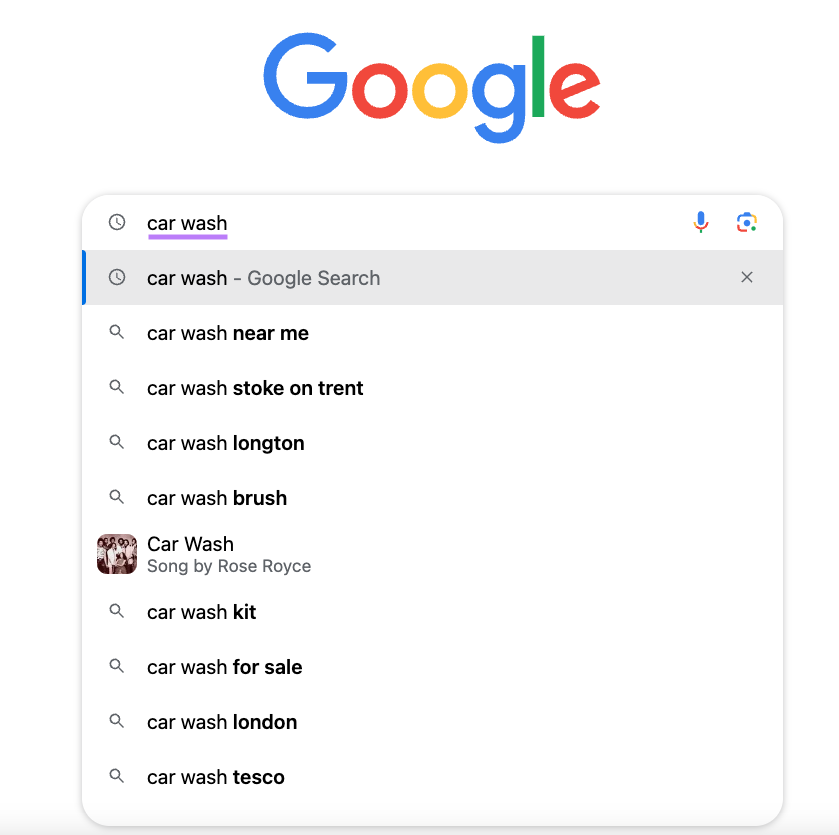 You can then use Keyword Overview to look into the specifics for those keywords. And even find data specific to the location you're interested in.
In the tool, enter the term you discovered using Google autocomplete (which might not contain a location name). Then set your location and click "Search."

Now, you can see location-specific information about the keyword. And determine whether you want to include it in your content plans. 
And here are some types of pages that are great for using keywords you want to include in your local SEO plans:
About us: A page about your business, who you are, and how you got started. Locals like to get to know more about the companies they intend to do business with.
FAQs: A page with FAQs about your products or services. Your local audience will often have questions they need answered before they'll do business with you. Example: "Do You Charge Extra for Service Calls After Hours?"
Service pages: A page about a specific service you offer. These can rank for keywords related to services you offer and where you offer these services. Example: "AC Repair in Tampa, FL."
Location pages: A page about your business's physical locations. These can rank for your main business category and where your locations are. Example: "HVAC Contractors in Tampa, FL".
Service area pages: A page about an area that you service but don't have a physical location in. These can rank for your main business category and where you service customers. Example: "HVAC Contractors Serving Tampa, FL".
Blog articles: Educational pieces of content that can rank for keywords related to your business. These can help locals discover your business when they're looking for a solution to their problem. Example: "How Often Should I Service My AC in Florida?"
Your site's user experience is also important.
So, focus on the mobile aspect and consider both layout and speed. 
Why?
Because many people make local searches on mobile devices when they're out and about.
You can verify whether your site is mobile-friendly using Google Search Console.
Go to "Experience" > "Mobile Usability" to identify any pages that aren't mobile-friendly. And identify the specific issues you should address.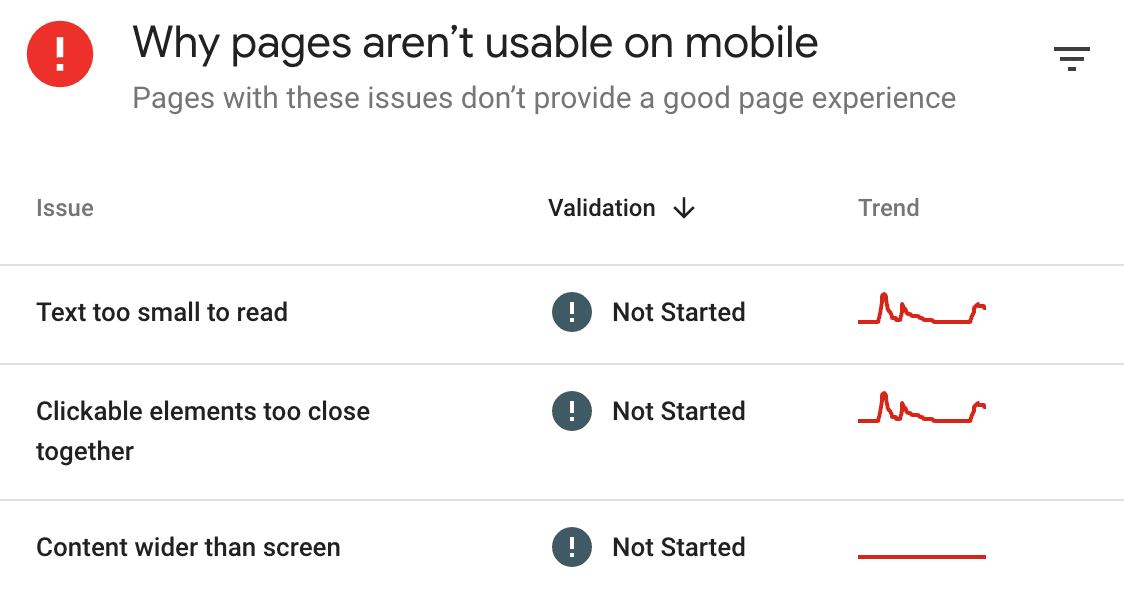 Further reading: Learn more about technical SEO and how it can impact your website.
2. Create a Google Business Profile and Bing Places for Business Listing
Google and Bing listings give you the opportunity to show more prominently in search results—which is huge when you consider how frequently people use search to find local options. And also help you generate online reviews.
Google Business Profiles (GBPs) show up in Google searches in a knowledge panel (an information box about a local business).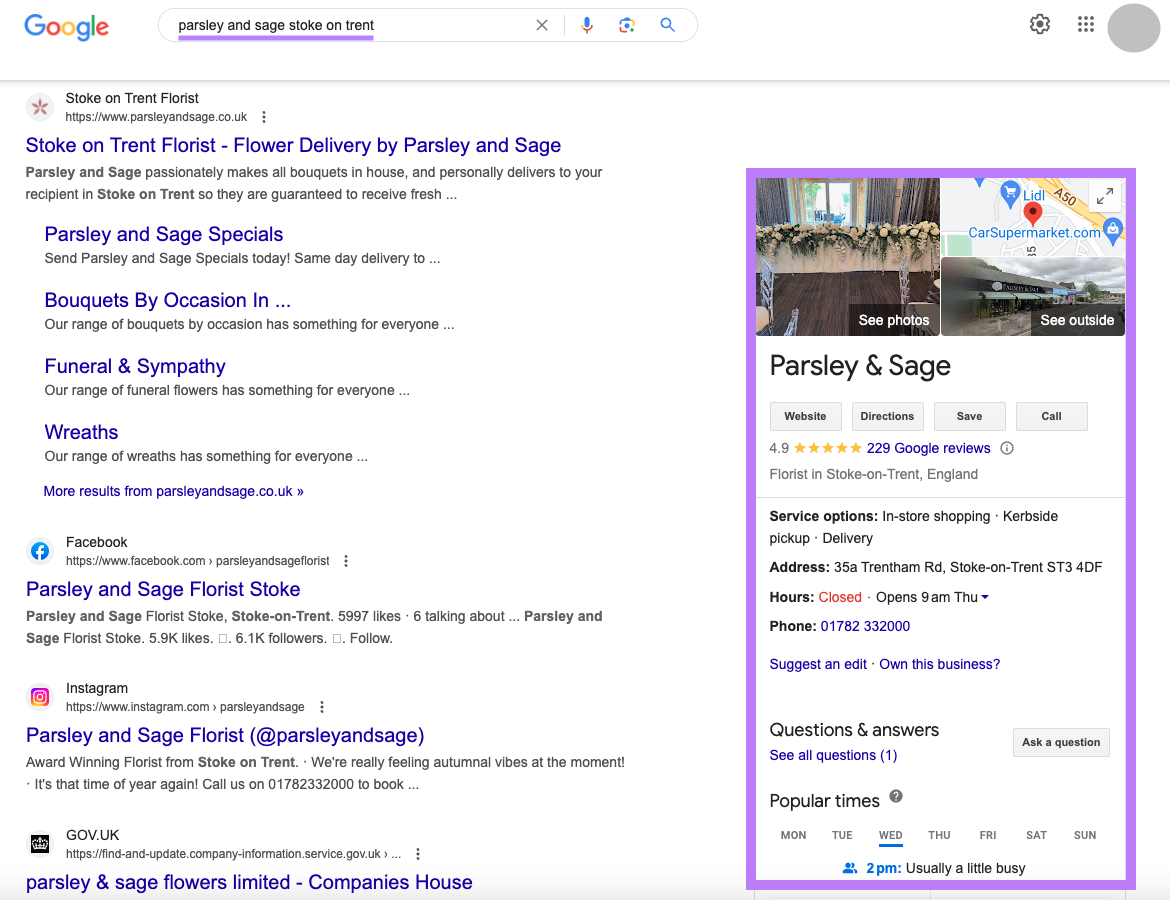 They can also appear in Google Maps and the local pack (the top GBP listings for a given keyword).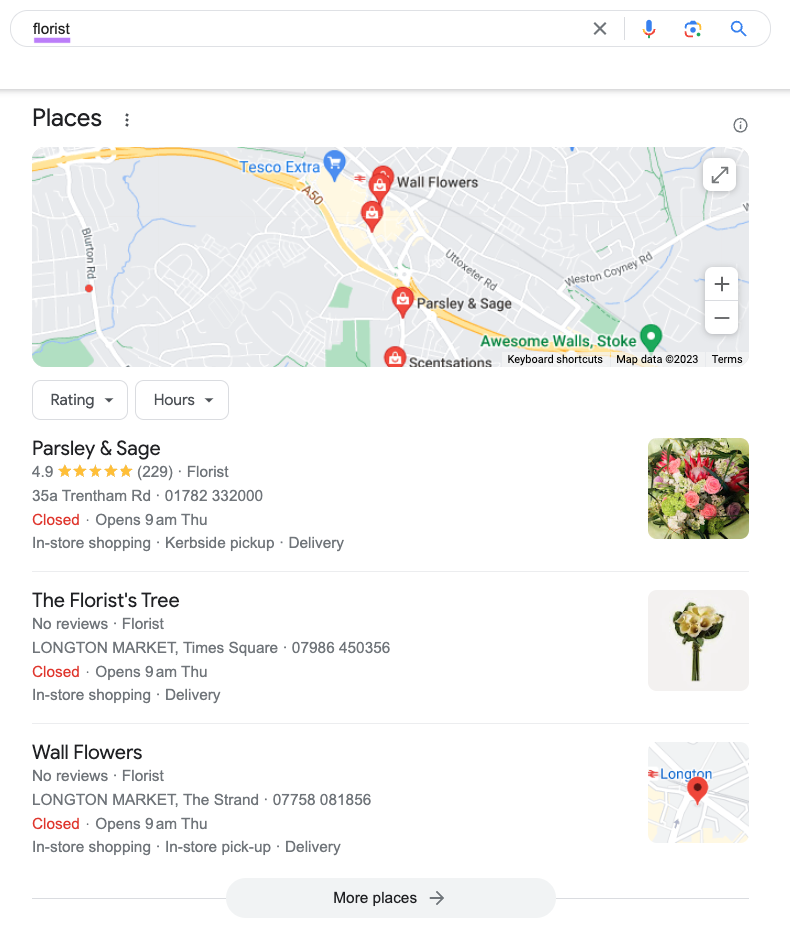 Bing Places for Business listings show in Bing search results and Bing Maps.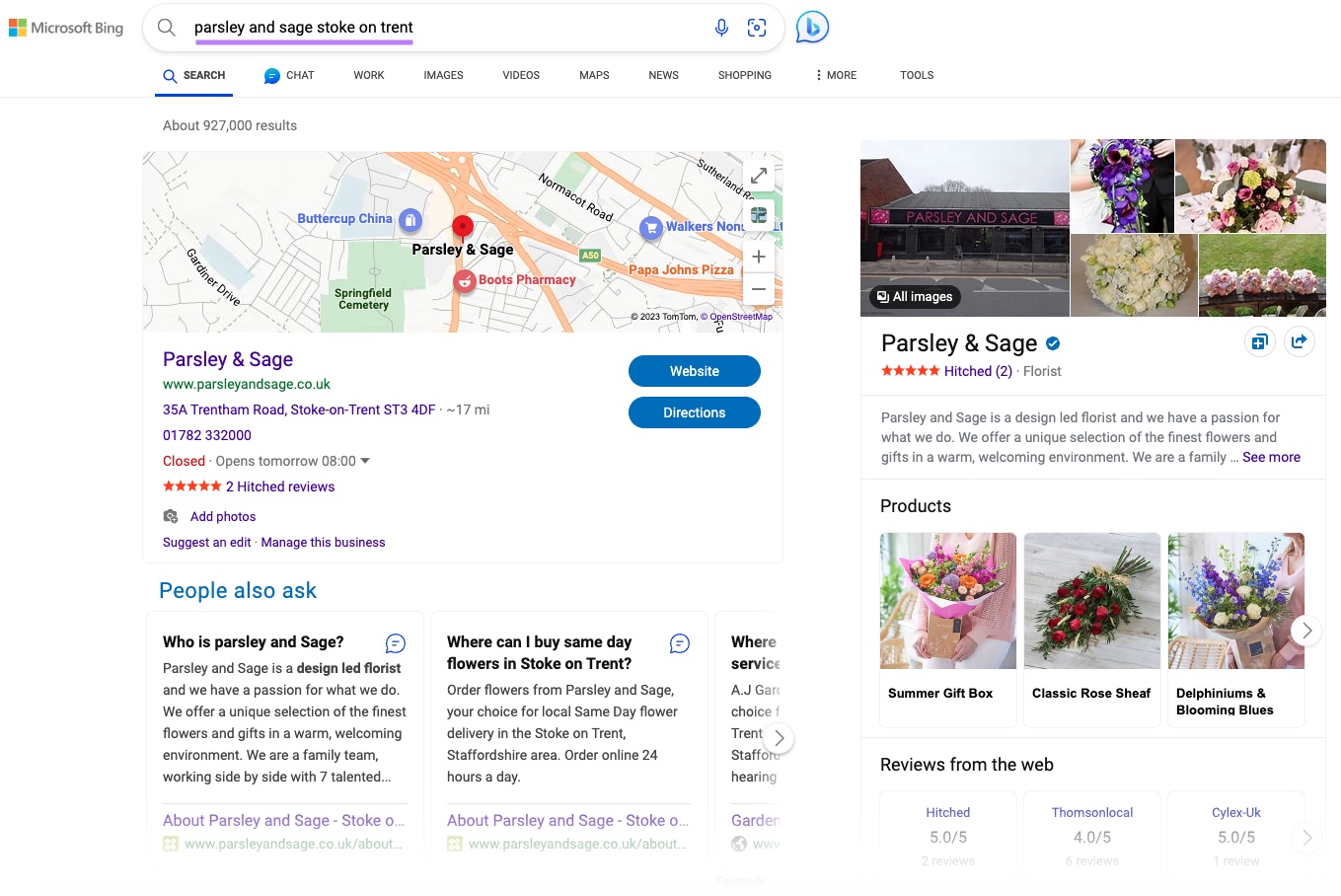 These listings will show your business:
Name
Address
Phone number
Website link
Hours
Primary category
Description
Best practices are to fill out each available field in your listings. This includes high-quality, helpful photos. We also recommend keeping your listings up to date.
For Google Business Profiles, go to Google Maps, open the left-hand menu, and click "Add your business."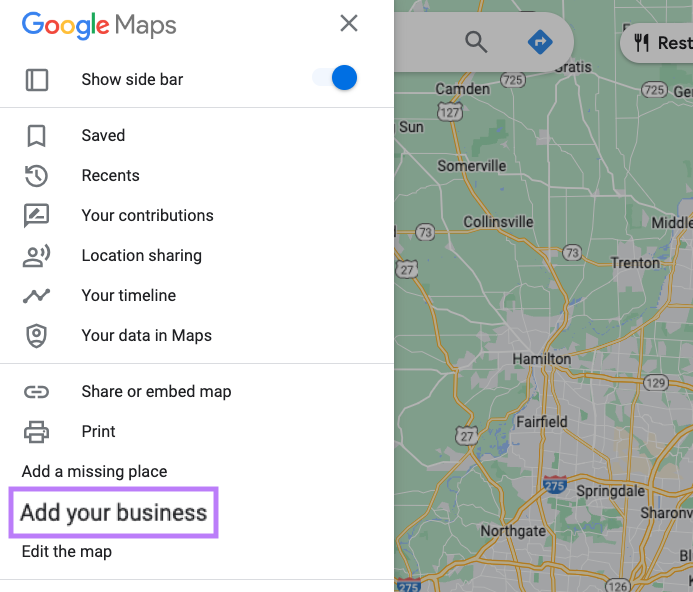 Then, enter your business name.
If you see your business show up here, a listing already exists. You just need to claim it. You can start this process by clicking on your business and then following the prompts to verify your business.
If your business doesn't show up, create the profile by clicking "Create a business with this name" and then following the prompts to create your business listing.
For Bing, create an account or log into Bing Places for Business.
Click on "Claim or add your business manually" to start from the beginning. Or click on "Import from Google Business Profile now" if you've already set up and claimed your GBP.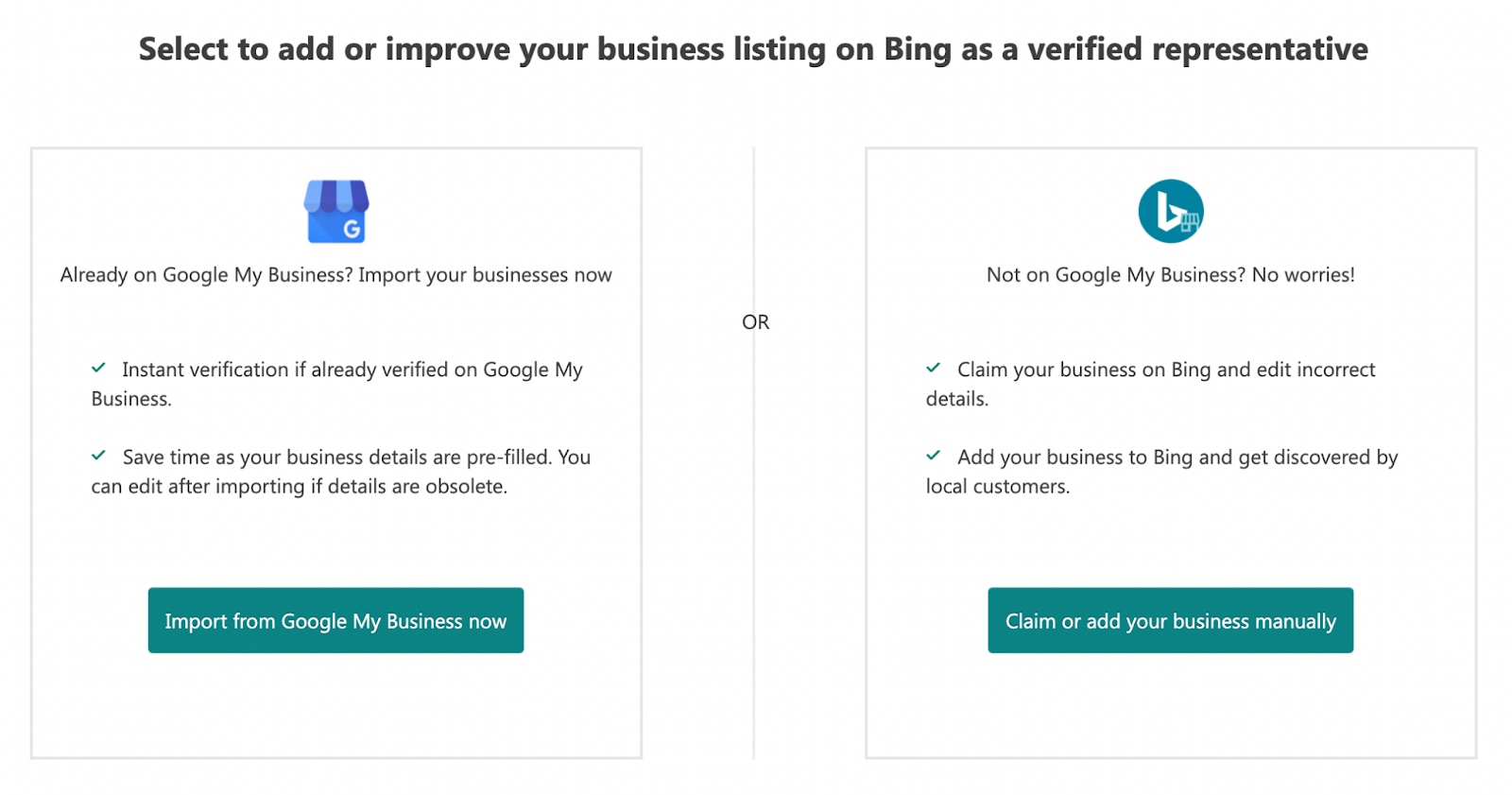 If you don't have a GBP listing yet, enter your business information and click "Search."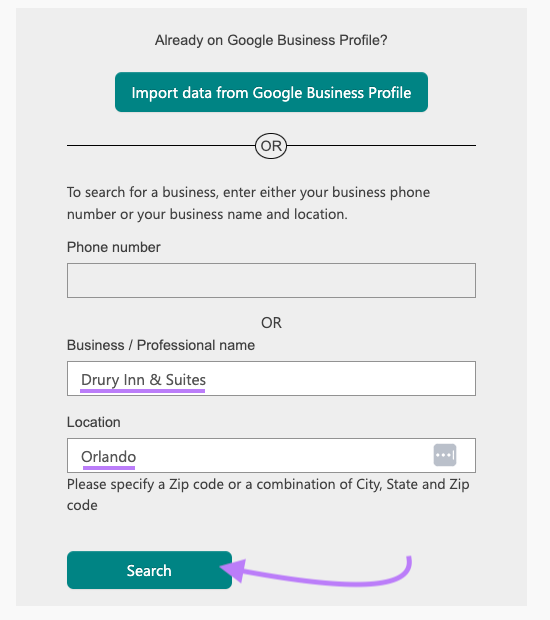 If your business already exists, click on "Claim Business" and then follow the prompts to verify your business.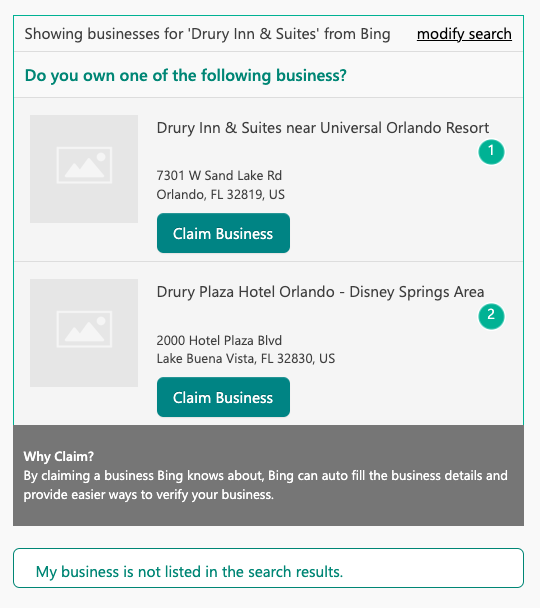 If your business does not show up, click on "My business is not listed in the search results" and then follow the prompts to create your business listing.
3. Get Listed in Local Directories
It's important that all of your business listings have consistent information to make sure everything customers are seeing is accurate and up to date. This includes your business name, address, and phone number (NAP).
One way you can do this is by creating business listings (also called citations) in other local directories such as:
Yelp
BBB
Apple Maps
Citysearch
MerchantCircle
Superpages
The Real Yellow Pages
You'll want to scan your listings across these directories to see whether they're consistent. Then, you'll know what needs to be added or corrected.
This can be done easily with Listing Management—which also works for Google Business Profile and Bing Places for Business.
Look up your business by entering your business name, phone number, or website into the tool.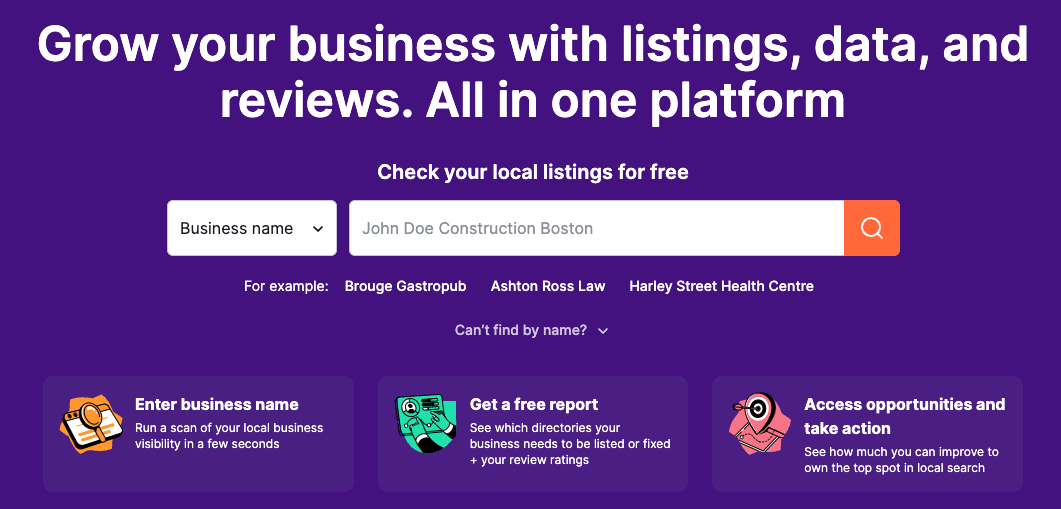 You'll be brought to a screen showing you a summary of how your listings look across directories. That includes this information:
Online presence: A grade of how healthy your citations are overall
Listings to fix: How many listings need to be fixed
Average star rating: Your average review rating
Total reviews: Your total number of reviews
It will also show you a snippet of which citations are missing or have incorrect data.
You can export this list and use it to start addressing issues manually.
Or click "Try it now" to test out the tool's enhanced features for automatically updating your listings.
4. Create Social Media Business Pages
Social media profiles are important because they're a source of traffic. And they allow you to engage directly with your audience.
The first step in creating social media profiles is to determine which social media channels your target audience uses.
One2Target can help you do this.
To get started, open the tool, choose your location, and enter up to five competitors' domains. Then, click "Analyze."

Click on the "Behavior" tab to see which social media channels your top competitors' audiences are using.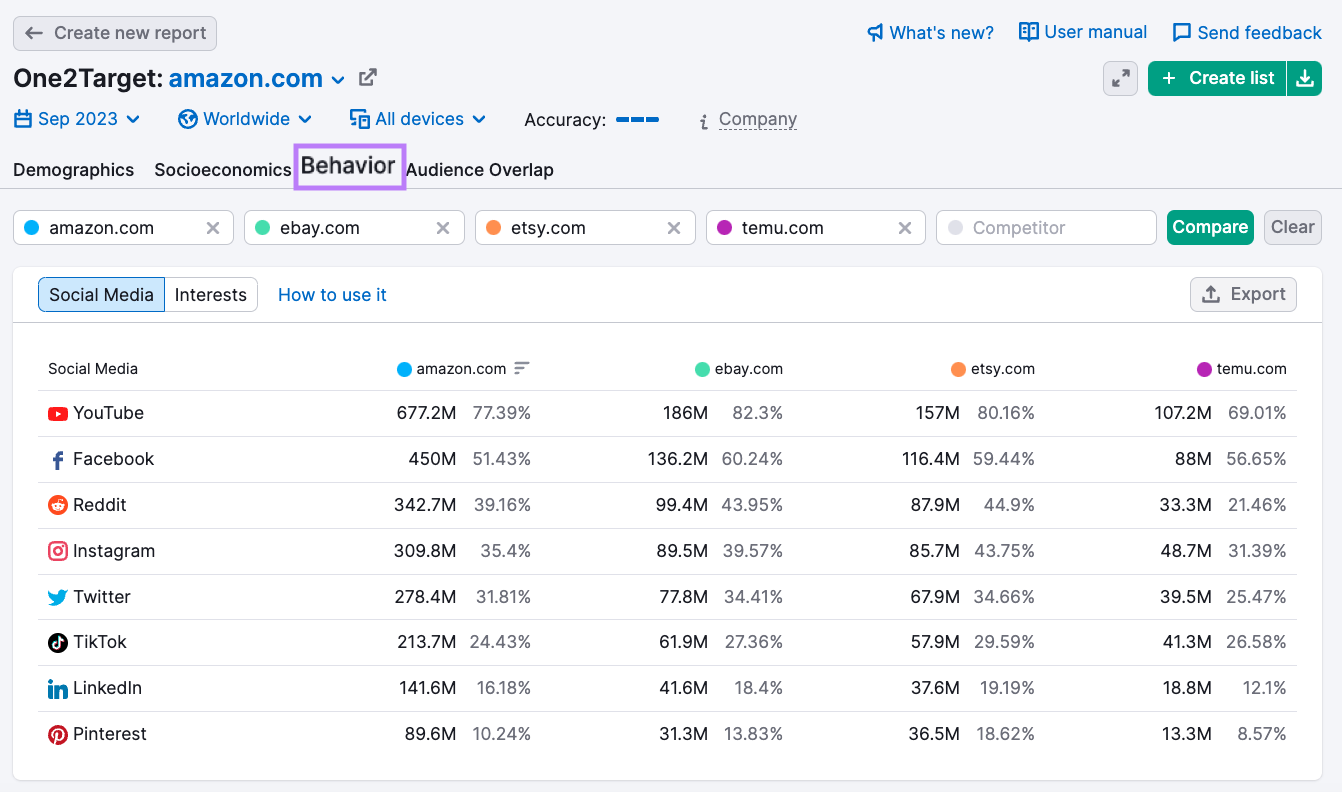 Let's say you see that Instagram is one of the top social media channels your competitors' audiences are using. It would be a good idea to create a social media profile there also.
Start by creating your business account. 
Note that Instagram requires you to create a personal profile first. But it takes just a few minutes.
You can then easily complete your business account. And include information about your hours, location, and more.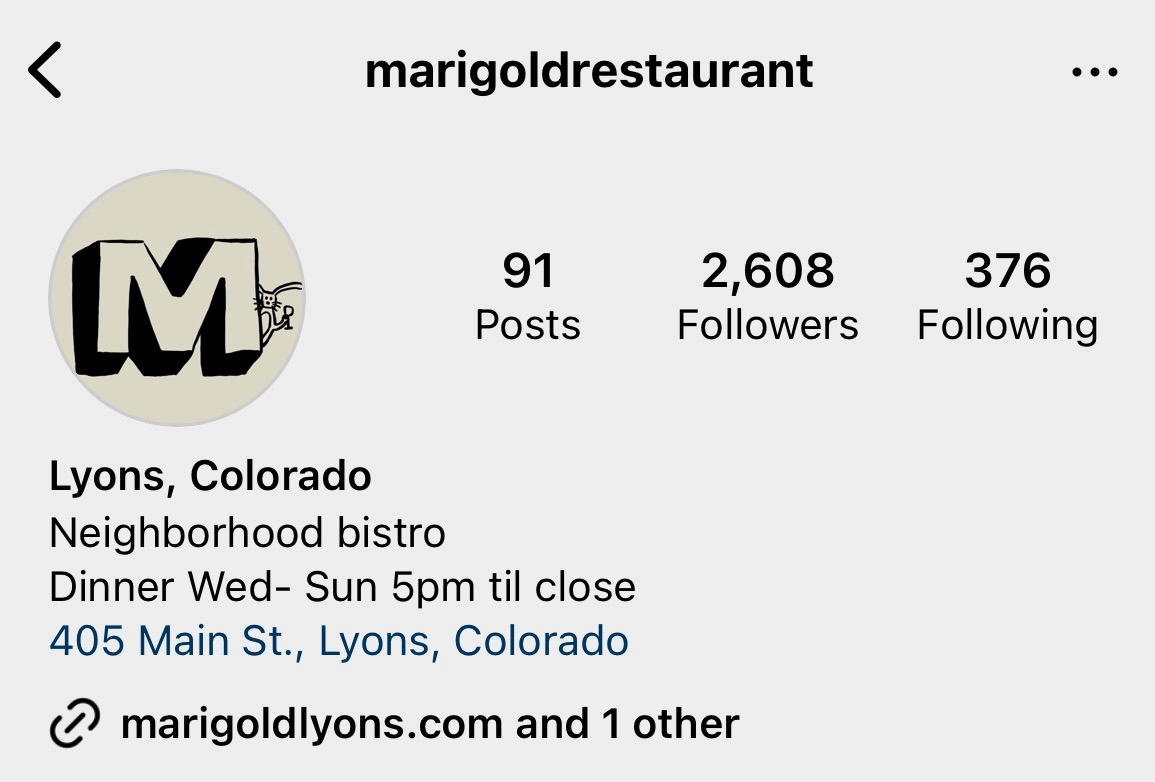 Show your location and contact information. So people nearby will be able to see that you're close and easy to reach.
Some social media platforms allow you to hide your business information as well. This can be helpful if you have a service-area business or if you have a very small client base and want to keep that information on a need-to-know basis.
5. Monitor and Respond to Online Reviews
Monitoring and responding to online reviews can help improve your online reputation. And alert you of issues that need your attention.
When people leave reviews it's very important to reply to them for two reasons:
It makes the customer who left the review feel appreciated and noticed
It can build trust with other potential customers who may be reading your public replies
It's easy to monitor your online reviews with Review Management. You can see what people are saying about your business across different online directories.
Enter your company name and click on the search icon.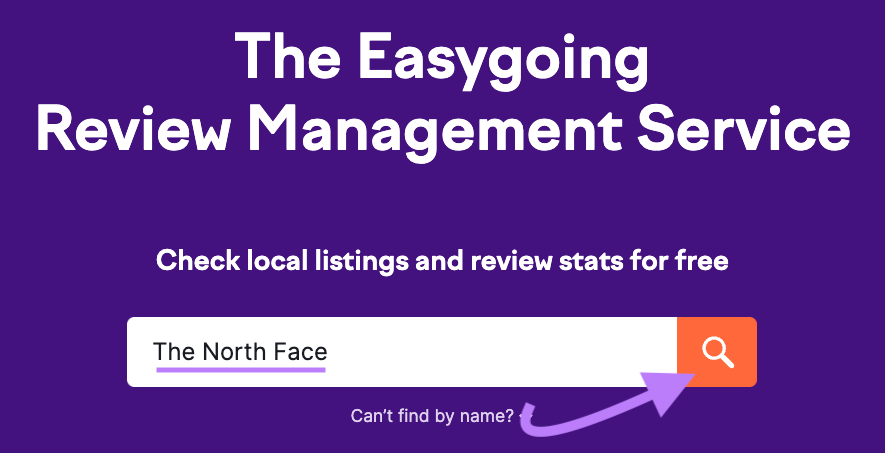 Now, scroll down to where it says "Manage reputation & track competitors."
You'll be able to see your average rating. As well as your total number of reviews.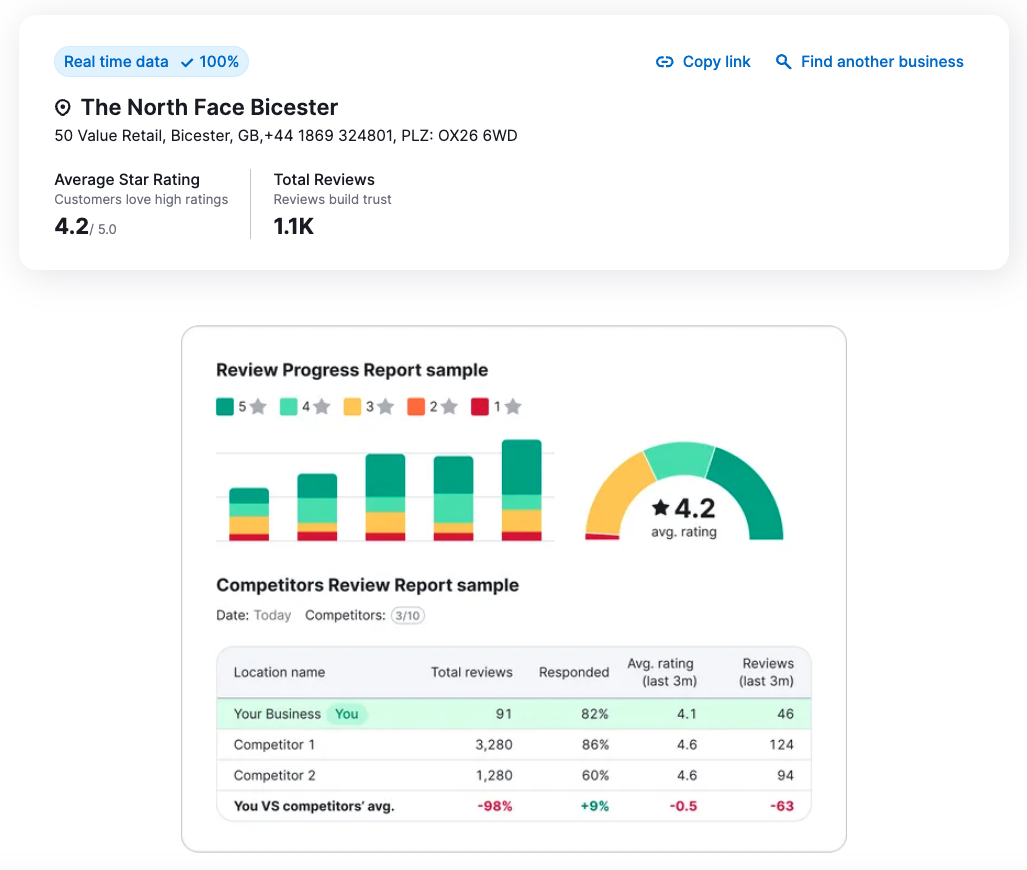 Click "Manage reviews now" to subscribe to use all the features. Including the ability to respond to Google reviews directly within the tool.
The goal is to reply to as many reviews as possible (positive, neutral, and negative) and to keep an eye out for important customer feedback.
And remember that negative reviews can be valuable for identifying ways to improve.
6. Set Up Geo-Targeted Search Ads
Targeting search ads (ads that show up on search engines) by location puts you in front of nearby people actively searching for topics related to your business.
You can target your audience by a specific location directly within Google Ads. 
When you get to "Campaign settings," scroll down to "Locations" and enter a relevant location (city, state, ZIP code, etc.). And select "Target."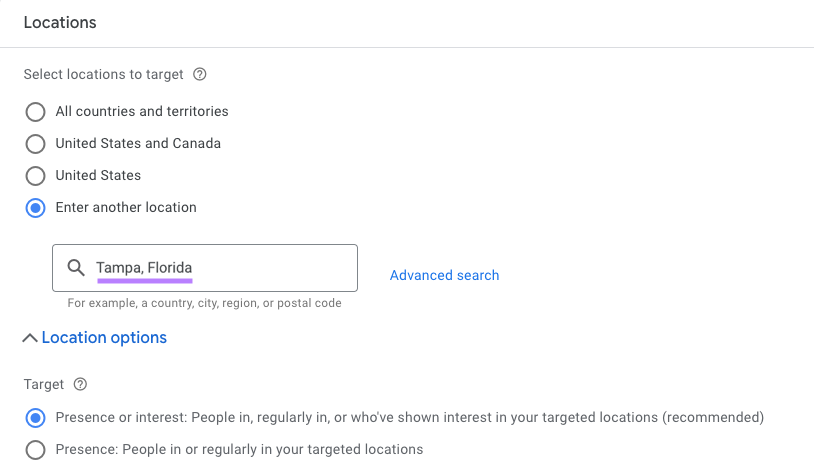 You can also set a specific radius (in miles or kilometers) around a location if you choose the "Advanced search" option.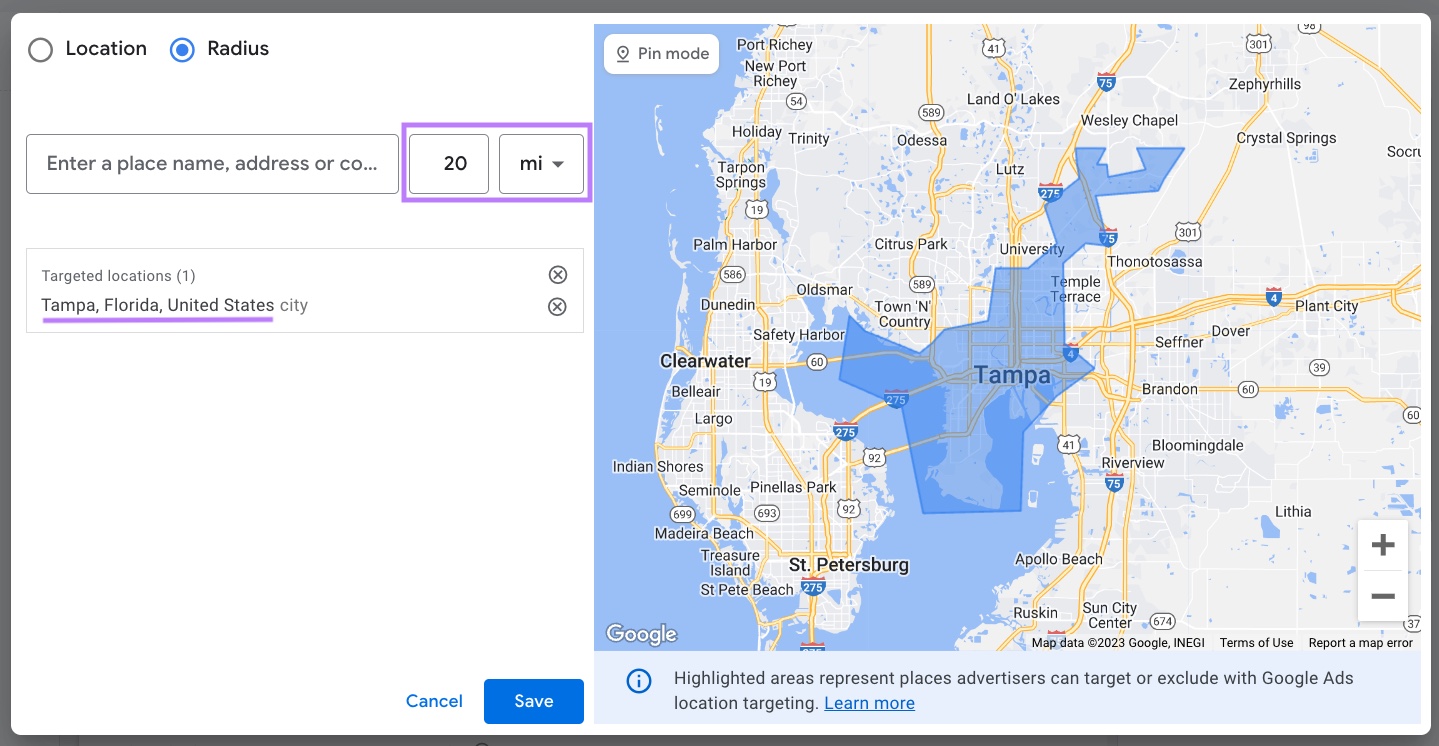 Social media ads can also be targeted by location. Which puts you in front of nearby people who are active on social media.
For example, you can target Facebook Ads by location.
Start by opening Meta Ads Manager and setting up your campaign. 
When you get to the "Audience" section, scroll down to "Locations."
Here, you can specify countries, states, cities, ZIP codes, and more.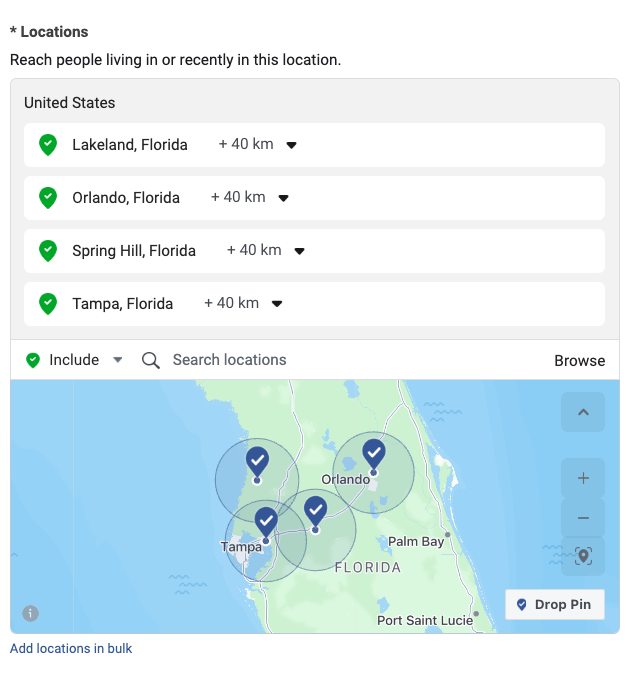 8. Create Content Focused on Your Local Audiences
Creating content specifically intended for your local audience helps you appeal to their specific needs. And can boost your local SEO efforts.
You can identify which of your topics are already most popular with your local audience in Google Analytics 4 (GA4).
Log into Google Analytics and go to "Reports" > "Life cycle" > "Engagement" > "Pages and screens."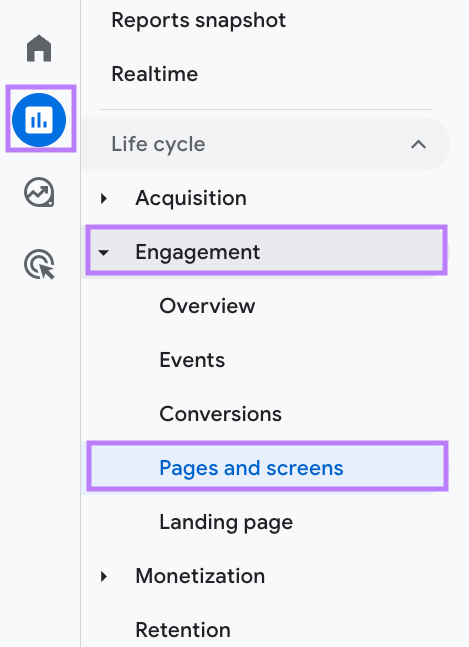 Click on "Add filter." Under "Dimensions" in the right-hand menu that appears, select a relevant option under "Geography." 
For "Match Type," choose "exactly matches." And then check the boxes for the location you want to include in the "Value" drop-down menu.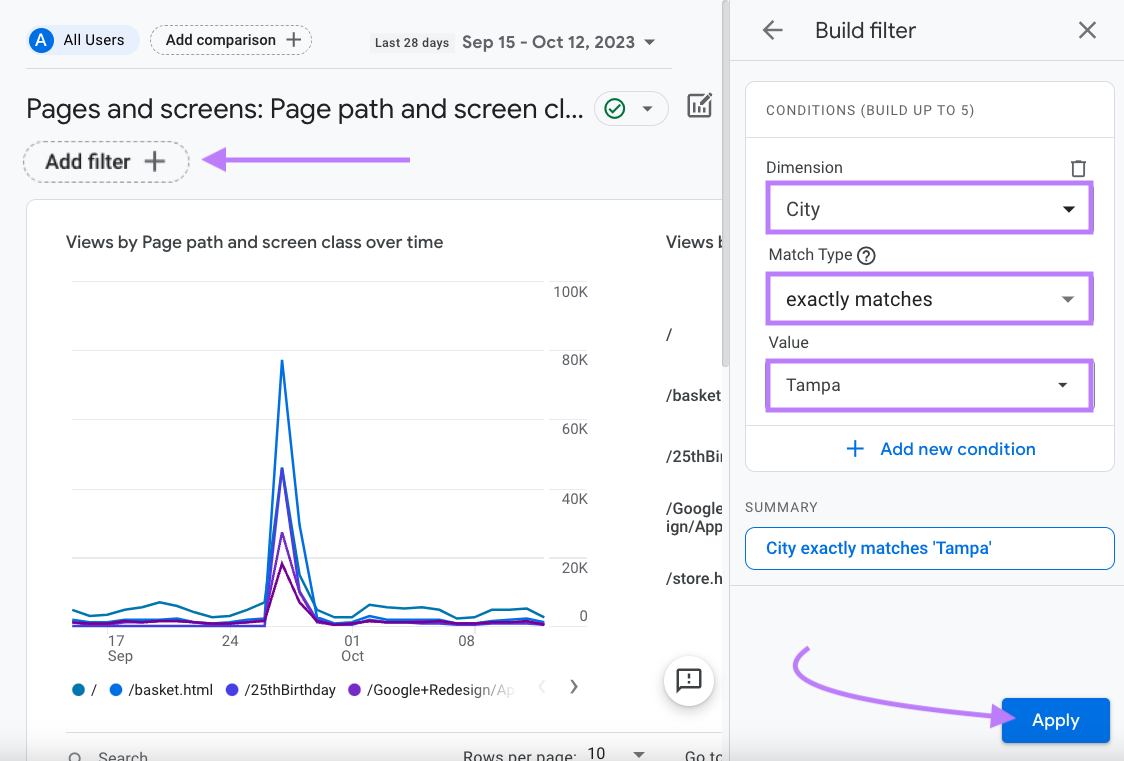 Now, you can see which pages are most popular for this specific location. To help you understand which types of pieces you might want to create more of.
You can also generate new content ideas that are likely to appeal to locals using Semrush's Topic Research tool.
To do this, open the tool, enter your topic, select your country, and click "Get content ideas".
Next, you'll be shown content ideas. On this screen, you can drill down to the region or city level by clicking the drop-down menu that lists your country. And choosing a relevant region or city.
In this example, we're using Tampa, Florida.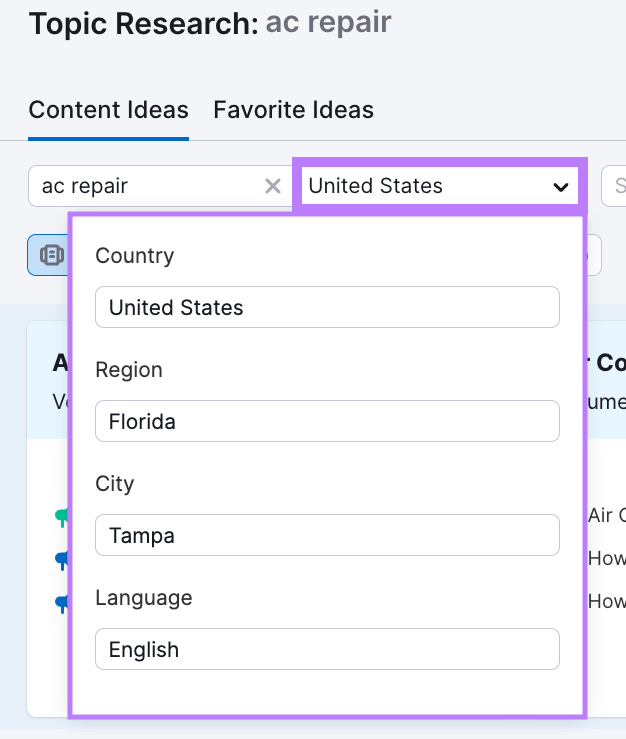 You can browse these results to see which topics might be a good fit for your local audience.
Further reading: Looking for more ideas? Read our guide on content creation for proven tips on how to create quality content.
9. Send Targeted Emails
Email is still one of the most effective marketing channels for local businesses. Because it puts you in direct contact with locals who've agreed to be on your mailing list.
You can collect email addresses in many ways. Like by allowing users to subscribe to your newsletter, offering special content to those who submit their information (this is called gated content), and asking for email addresses when someone makes a purchase.
Once you've collected email addresses and other useful information about customers and prospects, you can segment your email lists by geography to target specific locations. It's simple to do with just about any email marketing software.
This tactic can be very powerful for brick-and-mortar businesses running promotions. Because it can entice people to come in and become customers.
Tracking the performance of your marketing activities allows you to see what is and isn't working. 
You can also look for optimization opportunities, troubleshoot drops in traffic or conversions, and calculate your return on investment (ROI).
The first step is to identify your key performance indicators (KPIs). Which are valuable metrics you should track to see how you're performing based on your goals.
Then, you can monitor your performance tools like these:
Google Analytics: Allows you to evaluate the overall performance of your website and content. Common metrics include views, users, conversions, and average engagement time per session.
Google Search Console: Gives you an overview of your website's SEO performance. Some of the most useful metrics are clicks, click-through rate, and impressions. 
Google Ads: Provides an overview of your performance across Google Ads campaigns. Some of the most common metrics marketers measure are click-through rate (CTR), cost per click (CPC), and return on ad spend (ROAS).
Meta Ads Manager: Lets you review performance for campaigns across Facebook and Instagram. Some of the most commonly measured metrics are CTR, CPC, and ROAS.
Listing Management: Enables you to evaluate whether your listings are correct and consistent. And simplifies responding to reviews. Some metrics you might want to keep an eye on are listings to fix, total number of reviews, and average review rating.
You can even keep tabs on your local SEO performance using Position Tracking.
Follow the Position Tracking configuration guide to start your project. And make sure to specify your specific location during setup. 
Then, click "Start Tracking."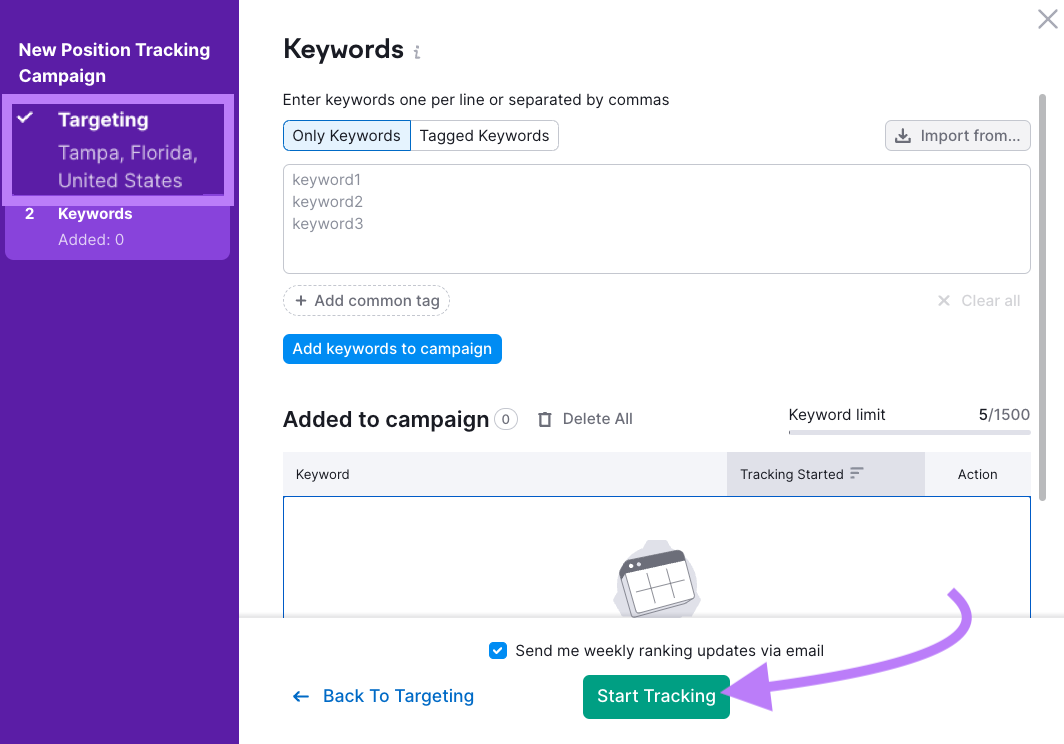 Then, go to the "Overview" report to look into your specific rankings. And how they're changing on a local level. 

Further reading: If you'd like to see more metrics that might be helpful to track, read our guide on marketing KPIs.
Start Reaching Local Audiences
There are many local online marketing tactics to choose from. But you don't have to use all of them. Especially if you're just getting started.
For instance, maybe you want to start by getting local listings and managing your reviews.
Listing Management can help with both. Try it today.