SEO helps your website reach broader audiences online. And using an efficient content management system (CMS) will increase your chances of success. 
In this article, we'll review features to consider when choosing a CMS for SEO. We'll also recommend the top nine CMS platforms to jumpstart your website's SEO efforts.
Features to Look for in a CMS for SEO
When searching for SEO-friendly CMS platforms, focus on features that increase your site's visibility and ranking.
Each platform should include or integrate with tools that help you optimize your on-page and technical SEO.
On-page SEO: Includes elements you can see, like keywords, headings, internal links, and meta tags
Technical SEO: Includes metadata elements you can't see. Think XML sitemap, robots.txt files, and canonical tags.
Here are six top CMS features for SEO:
1. Customizable Page Elements
On-page SEO elements help search engines interpret and rank your content.
So, look for a CMS platform that allows you to fine-tune these elements for greater online visibility.
Tailor on-page SEO elements to incorporate online best practices.
For instance:
Page titles should match user intent and incorporate the correct target keywords. This can boost your content's search engine visibility
Here's how a page title looks on a search engine results page (SERP):

2. Internal Linking
Internal links help search engines understand your website page hierarchy. And they improve the user experience (UX).
An SEO-friendly CMS will have built-in features to help automate your link building.
Linking from one page to another lets search engines find all the related content you offer on a given topic. 
Like this: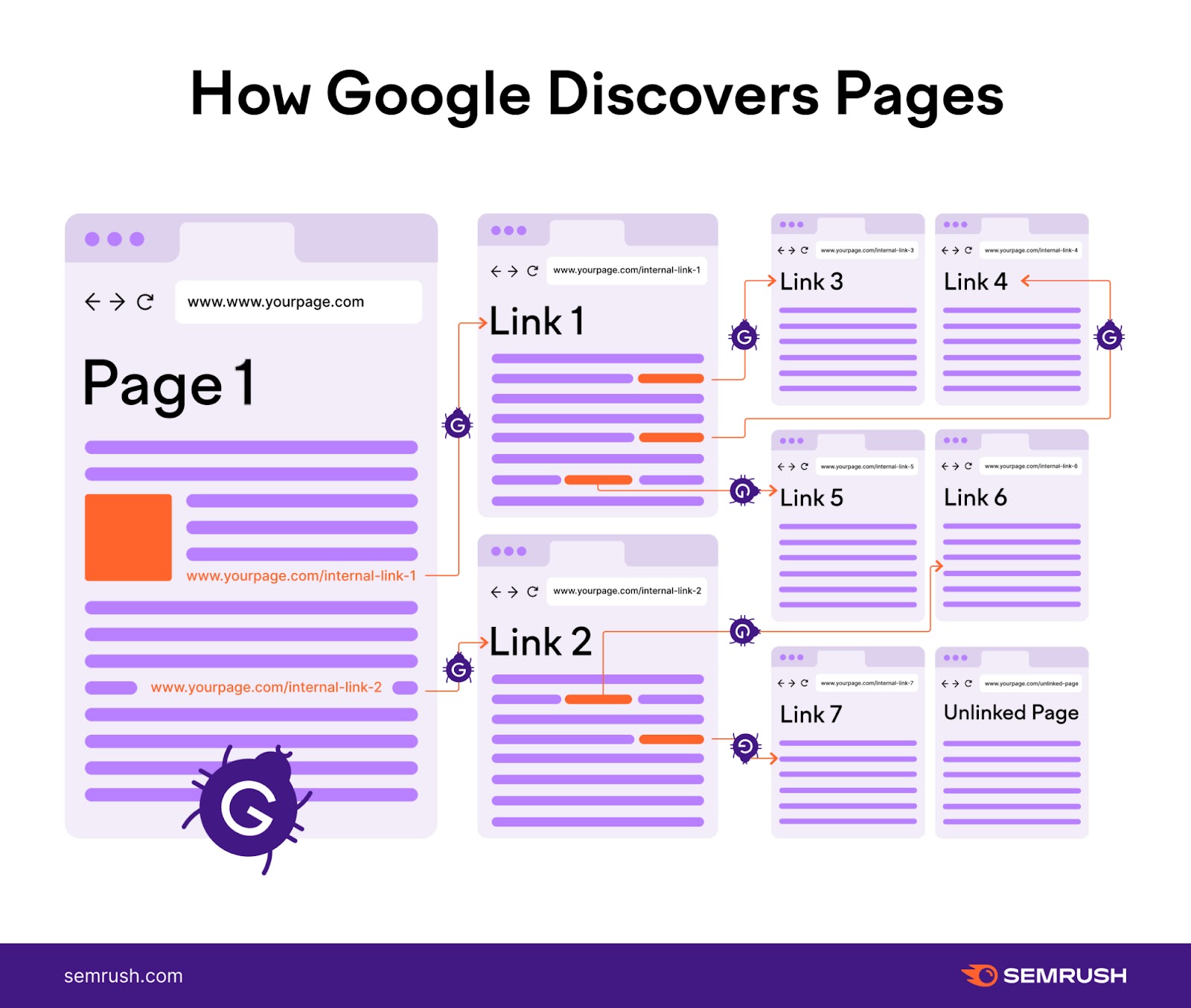 Connecting all related content improves your chances of ranking for relevant keywords. 
Plus, internal links enable users to navigate helpful content easily. Good UX means visitors are more likely to stay on your site for longer.
3. Analytics Tools
Tracking and analyzing key SEO metrics helps you see how well your SEO strategy is working. 
Look for a platform with a dashboard that tracks these metrics regularly. You'll be able to make decisions based on data. And identify areas for improvement.
Understand whether your SEO efforts pay off by looking at metrics around:
How your website performs in search engines
How users interact with your content
How your SEO efforts translate into traffic and conversions
For example, analytics tools like the GA Google Analytics plugin provide real-time tracking and metrics reporting.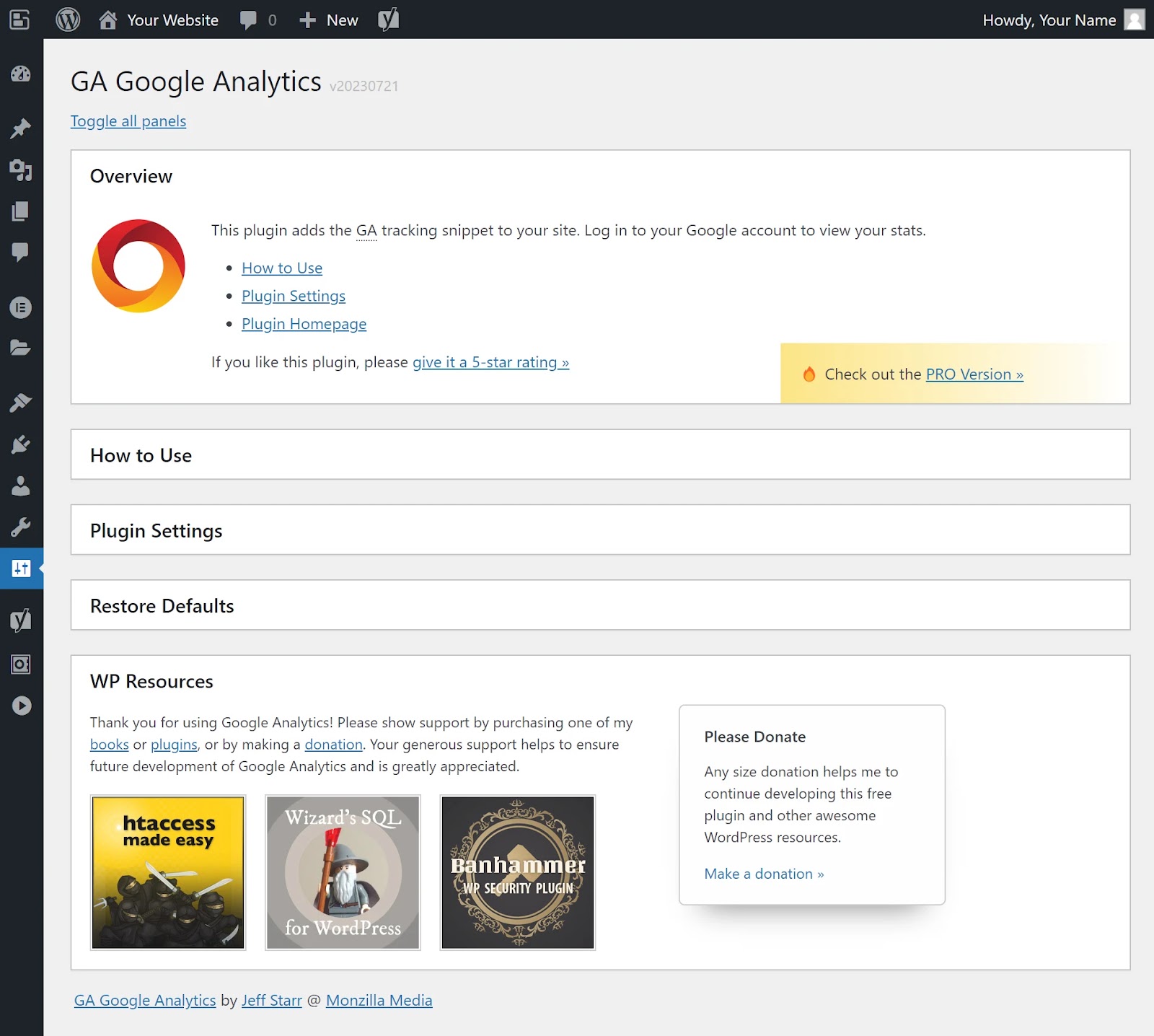 This GA4 plugin from WordPress allows you to track user engagement, traffic sources, conversion rates, and more for your website's content.
4. Mobile-Friendly/Responsive Design Options
A mobile-friendly website adapts some features of your website to mobile devices.
A mobile-optimized website does as much as possible to make your site mobile-friendly.
A responsive website can adapt to any screen size.
Choose a CMS with mobile-optimized or responsive themes and templates. This retains your website's layout and functionality across mobile devices. 
It's also an SEO ranking factor. Google says this about mobile-first indexing:
While it's not required to have a mobile version of your pages to have your content included in Google's Search results, it is very strongly recommended. These best practices apply to mobile sites in general, and by definition to mobile-first indexing.
Google prioritizes mobile versions first when crawling your site. 
And since most internet users access content through mobile devices, you want to ensure your site is equipped to help you capture mobile organic traffic.
5. SEO Plugins
Plugins are extensions that add functionality to your CMS. They give you more control over your site's features without having to tweak the code.
Semrush's SEO Writing Assistant plugin for WordPress helps you create easy-to-read content that's optimized for search engines and UX.
It uses AI to ensure that website visitors find your content readable with a consistent tone of voice.
It also checks your content for plagiarism. Then suggests areas you can rephrase to improve your content's quality and originality.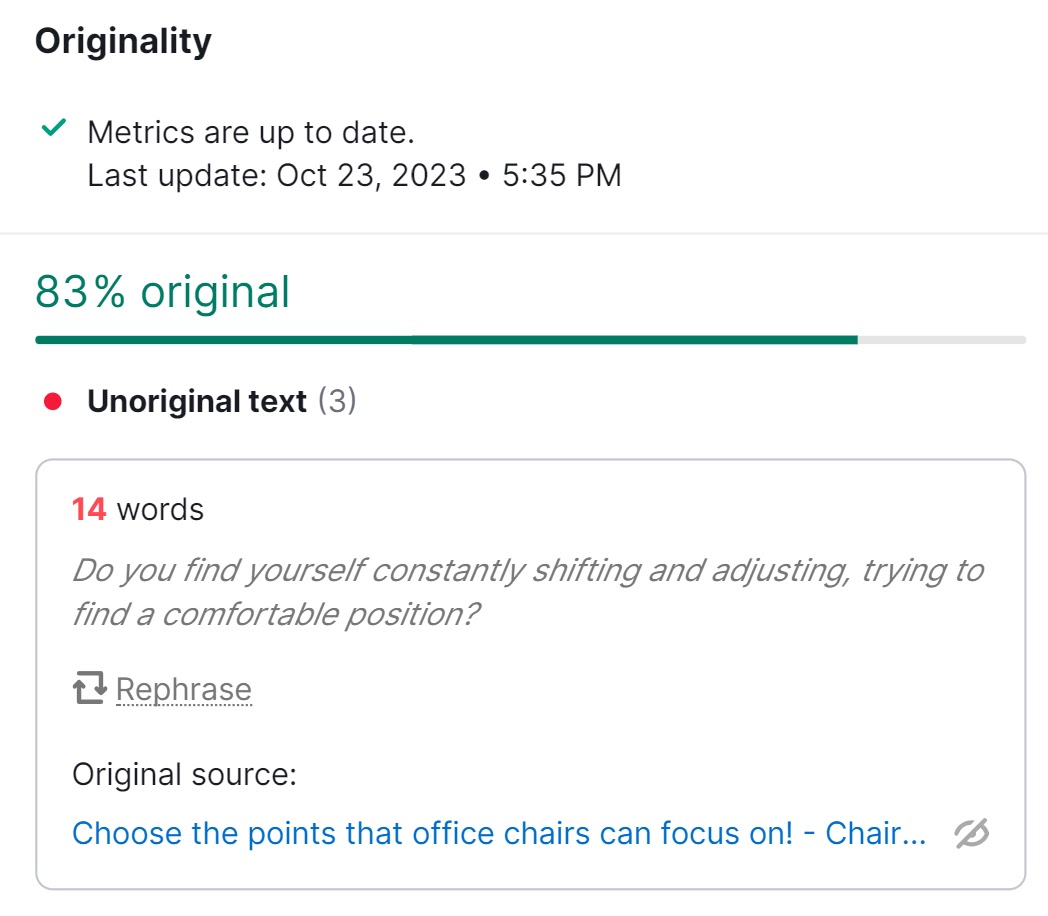 6. Easy Redirection Tools
Redirections improve UX by rerouting outdated or redundant links to existing pages on your site. 
Make sure you look for a CMS with easy ways to redirect one page to another. 
Why? 
So users (and search engine crawlers) don't land on broken or duplicate content. 
Crawlers can't crawl broken URLs. You risk losing your keyword rankings if there's no redirection.
And users who land on an outdated or broken page will likely bounce to another site.
A CMS that uses a plugin like Yoast SEO's Redirect Manager lets you set up a redirect. Like this:
Next, we look at how the top SEO CMS platforms out there incorporate these key features. 
The 9 Best CMS for SEO in 2023
We've compiled the list below to help you find the best SEO CMS for your needs.
We based our nine top picks on the key SEO functions outlined above and listed them in no particular order.
The CMS platforms included cover a variety of business needs. Whether for beginners, small businesses, or ecommerce platforms.
1. WordPress
Best for: Bloggers, small to medium businesses, and non-technical users
WordPress is the go-to CMS with a 64.2% market share over other platforms. It's known for its:
Flexibility
User friendliness 
Extensive ecosystem 
WordPress has over 58,000 plugins. Which means you can customize it to suit most needs. 
For example: 
Semrush's SEO Writing Assistant WordPress plugin helps you write content optimized for users and SERPs.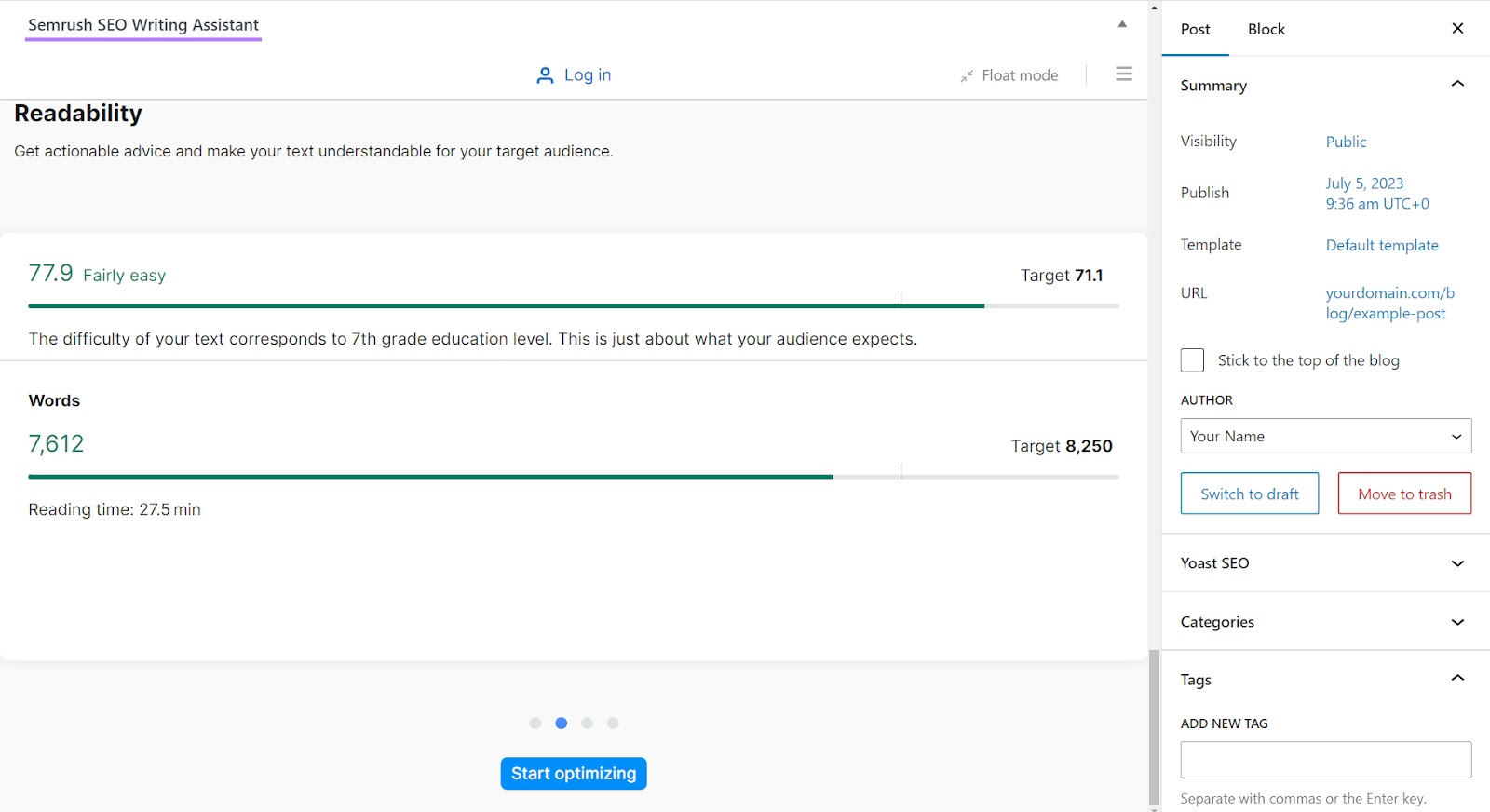 The software can give you some pretty useful SEO content data. Like how well you use target keywords. Plus, it offers additional recommended keywords to rank for.
If you overuse keywords in your text, Google may penalize you. The SEO Writing Assistant also checks your text for keyword stuffing.
Other WordPress SEO plugin options include:
Further reading: 13 Best WordPress SEO Plugins
Advantages of WordPress for SEO
Massive user and developer community provides valuable support, tutorials, and forums
Extensive SEO plugin support
All WordPress themes are mobile responsive
Open-source so users can modify and customize the code
Disadvantages of WordPress for SEO
Can be resource heavy, affecting site speed
Plugin code can conflict with the website's code and cause functionality issues
Big learning curve for beginner CMS users
2. Drupal
Best for: Developers and large-scale websites looking for:
Sophisticated CMS customization 
High security standards
Drupal is both a CMS and a CMF (content management framework). Developers can use it to create a custom CMS.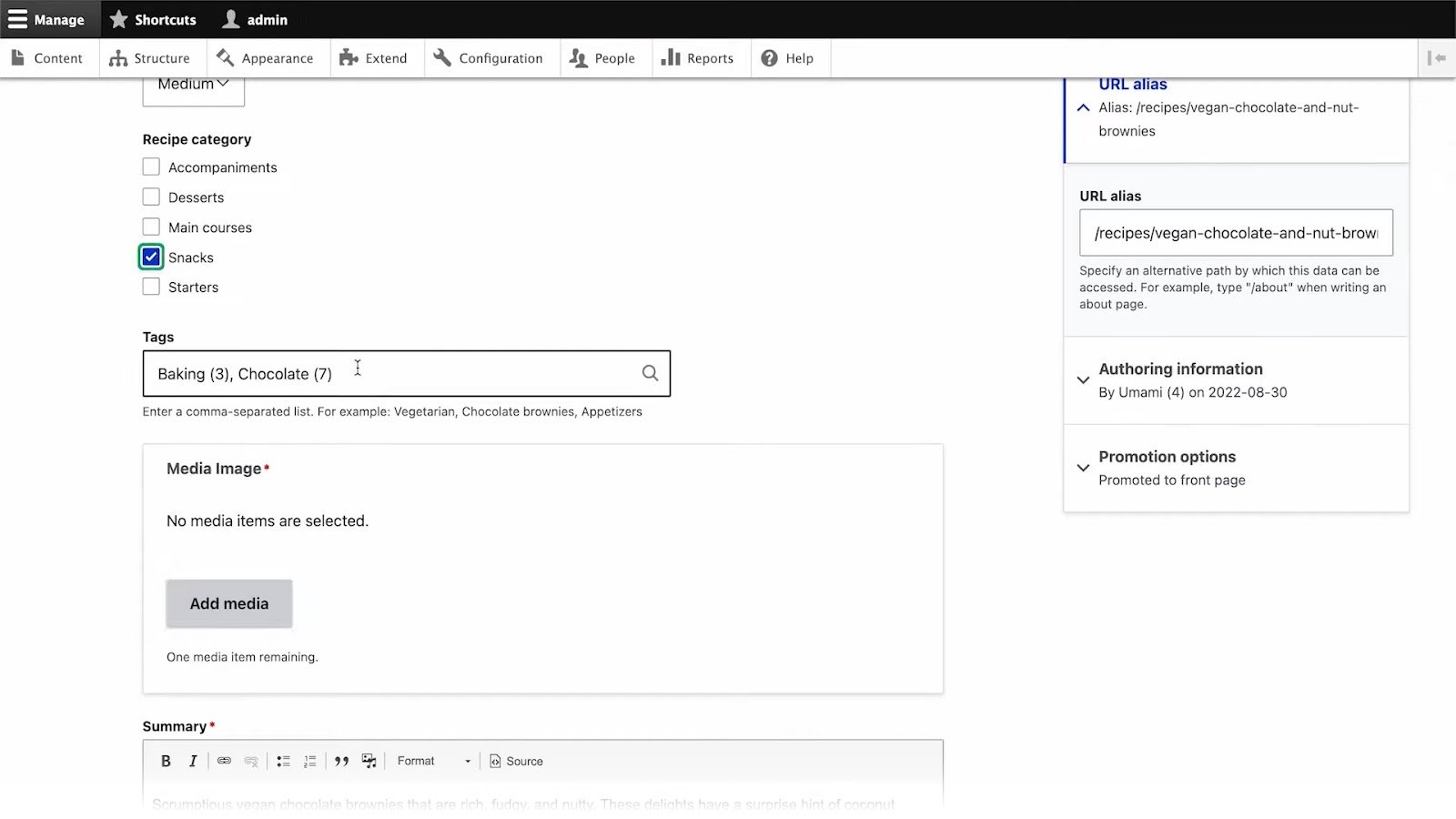 How is this useful?
For instance, when a company has a specific compliance requirement that existing platforms don't offer. And might be interested in building its own CMS.
For expert SEOs, Drupal is the perfect playground for technical SEO. It has modules (Drupal's equivalent of plugins) to help with optimization, including the Metatag module. This lets you create and modify different metadata elements on your website.
Metatag supports many commonly used meta tags. Including the page title, canonical URL, and description.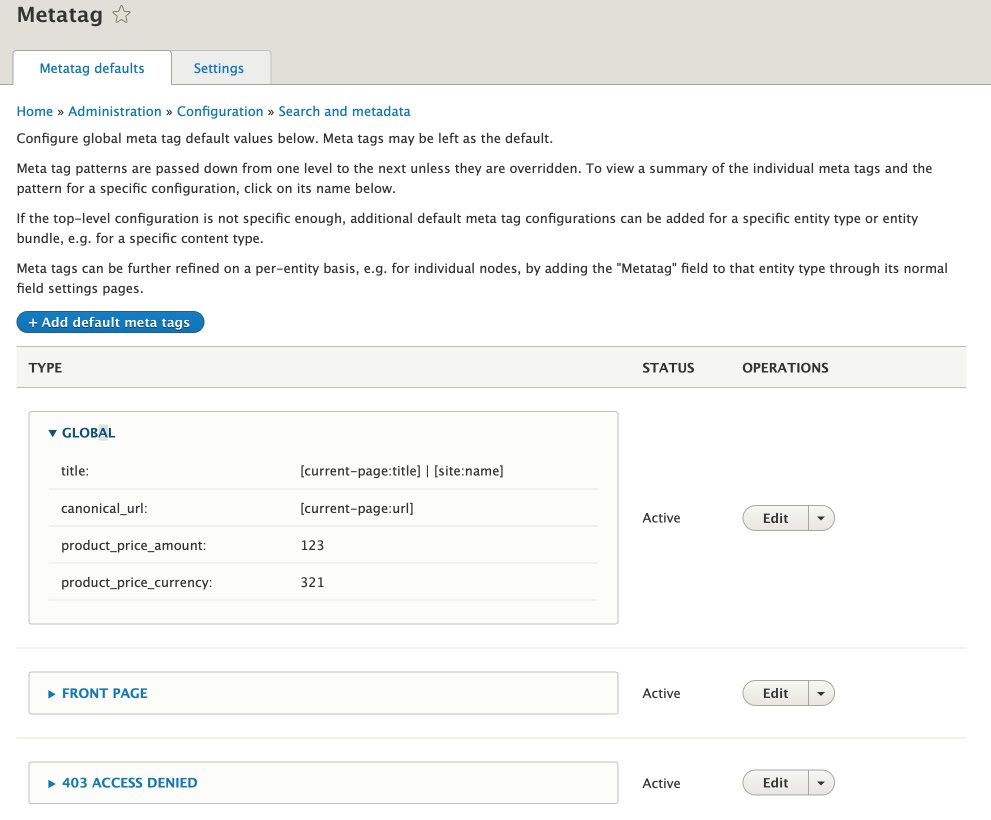 Image Source: Drupal
Further reading: How to Change Meta Tags in Drupal
Drupal also has the Real-time SEO module. Built using Yoast SEO, it includes SEO optimization suggestions.
Real-time SEO checks things like: 
Whether your posts are long enough 
If you've used subheadings in your post
If your metadata contains your focus keyword 
Image Source: Drupal
Advantages of Drupal for SEO
Great for advanced software developers who want to customize their CMS
Mobile-friendly themes
Integrates with various third-party analytics and SEO tools
Disadvantages of Drupal for SEO
Steep learning curve for beginners
Lacks some SEO features out of the box. These must be added through Drupal modules (code that alters its functions or adds new features).
3. Webflow
Best for: Designers and those looking for visually driven, responsive designs that don't require deep coding knowledge
Webflow's intuitive platform lets you create websites without writing extensive code. Its visual-first approach blends design freedom with technical prowess. 
Webflow prides itself on being "all the power you need, without plugins." It offers limited native SEO features, like fields for adding meta tags and descriptions.
For added SEO functionality, use a workflow automation tool like Zapier to connect Webflow to Semrush.
Advantages of Webflow for SEO
Manage SEO settings visually within the Webflow designer
Inject custom code for precise SEO adjustments and integrations with various SEO tools
Superior web hosting and performance optimization for fast page speed (a search engineranking factor)
Disadvantages of Webflow for SEO
Some advanced SEO capabilities require external integrations through API or custom code
Powerful visual design interface may require time to get to know—particularly if you're accustomed to traditional coding
Visual-first approach might present limitations for highly customized coding solutions
4. Squarespace
Best for: Creatives, entrepreneurs, and professionals seeking to create SEO-friendly websites through a drag-and-drop interface
Squarespace's host of stylish templates and integrated SEO tools are easy to use.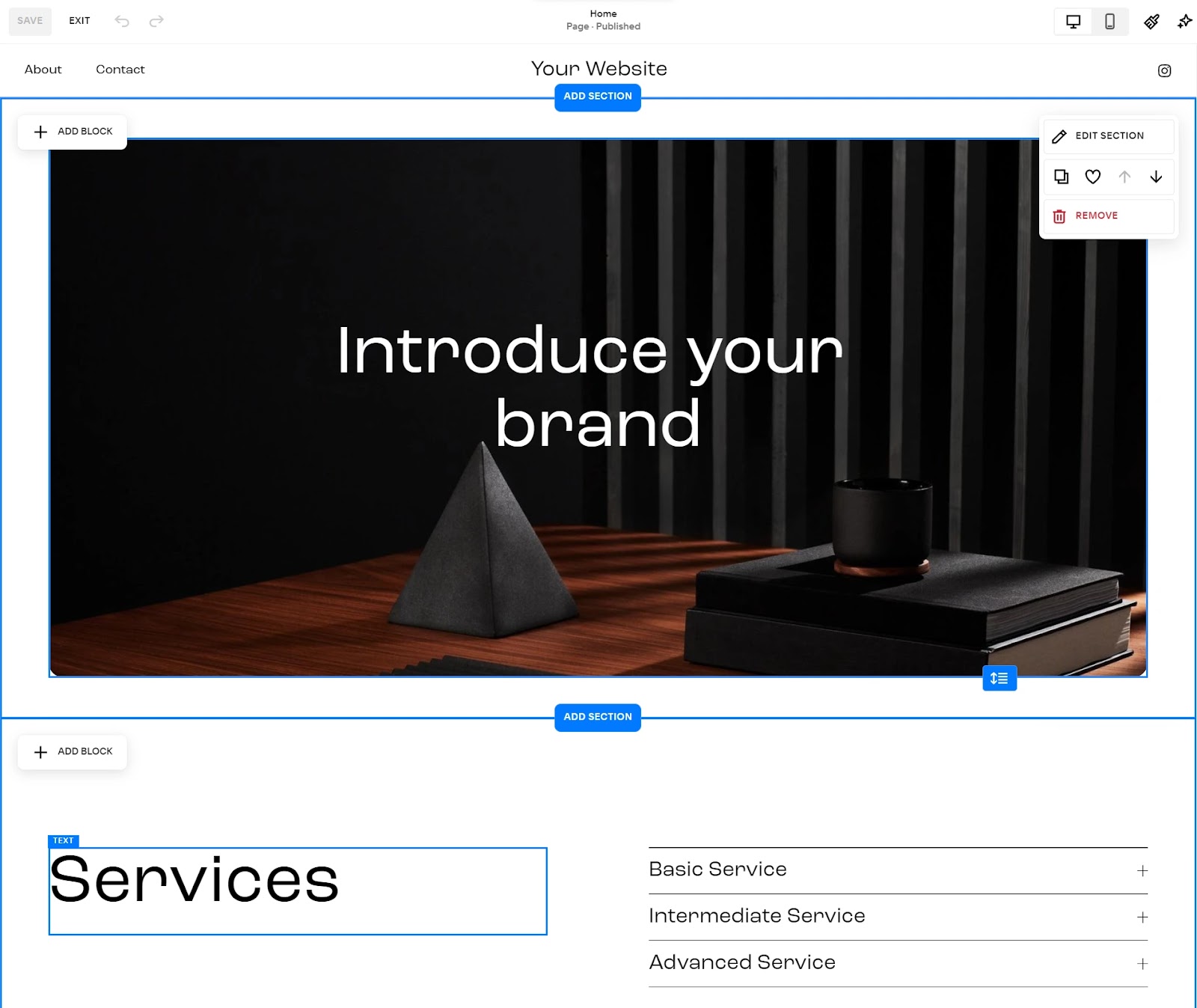 A drag-and-drop website builder caters to users with no coding experience.
The Squarespace SEO Plugin provides advanced SEO features. Including real-time SEO audits, meta tag management, and structured data support. 
Advantages of Squarespace for SEO
Built-in SEO tools accessible to non-technical users. These promote good SEO practices without requiring expertise.
Optimal UX design at its core
All templates are mobile responsive and fast-loading
Disadvantages of Squarespace for SEO
While user friendly, built-in tools lack advanced SEO customization options
Template-driven approach may impose limitations on site structure, potentially impacting
SEO
Premium features like some SEO plugins and editable HTML come at an additional cost
5. Adobe Commerce (Formerly Magento)
Best for: Enterprise-level ecommerce stores
Adobe Commerce, formerly Magento, is a leading ecommerce CMS. It handles complex online stores for small businesses and multinational corporations alike.
Being open-source, it offers extensive customization and secure payment processing.
Adobe Commerce comes with highly advanced native technical SEO tools. 
It also has extensions you can add. Like the URL rewrite tool. This lets you change a URL attached to a product, category, or page.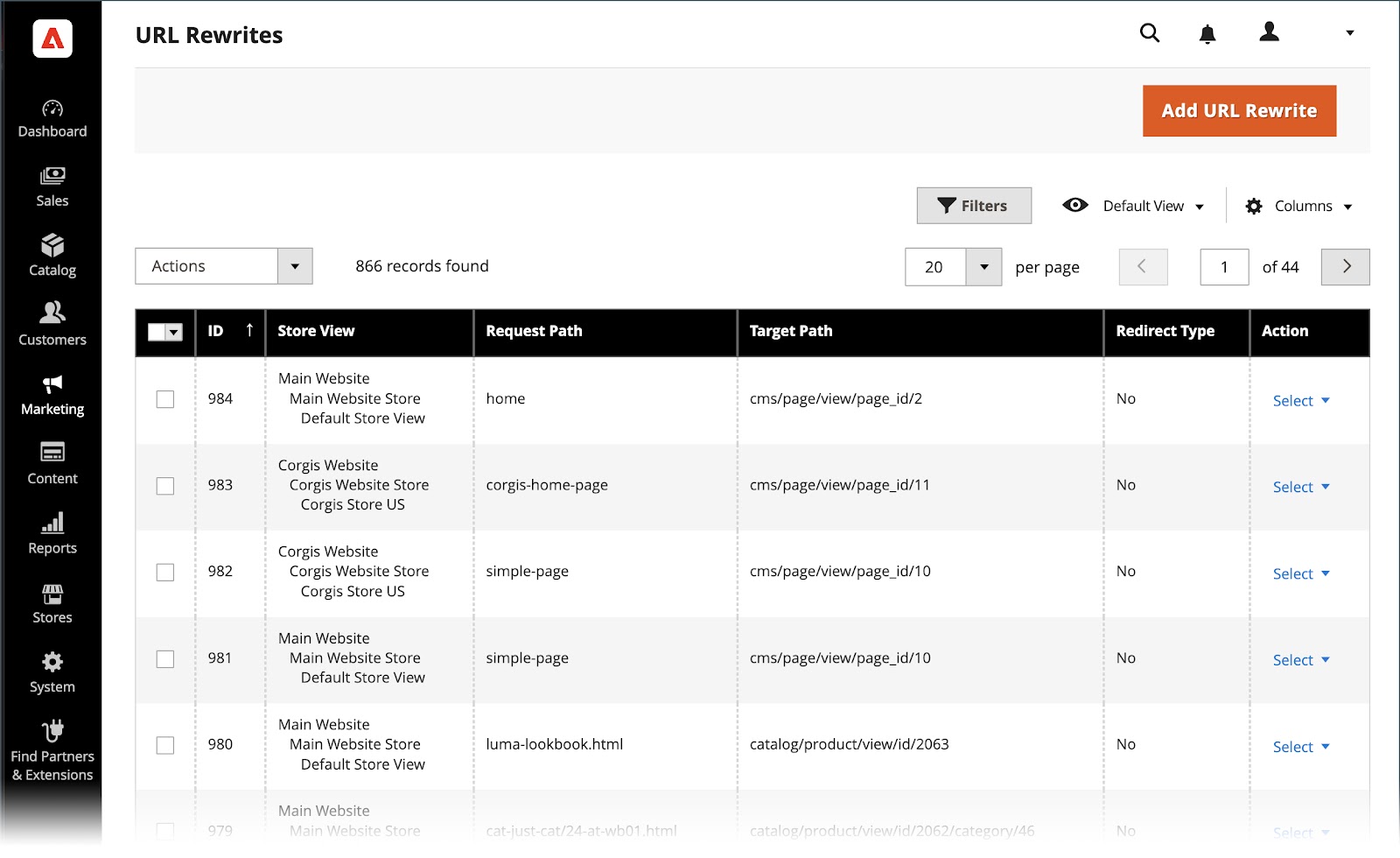 Images Source: Experience League
Advantages of Adobe Commerce for SEO
Open-source nature and plugin support offer many SEO optimization strategies
Can handle large-scale SEO strategies for big ecommerce businesses
Support for multiple stores and languages benefits international SEO strategies
Disadvantages of Adobe Commerce for SEO
Can be complex and may require technical expertise to utilize fully
It's resource intensive. May need specialized hosting solutions that can impact SEO if not configured properly.
Regular updates, security patches, and performance optimization may require ongoing maintenance from skilled developers
6. Shopify
Best for: Small startups to large enterprises looking to launch and manage an online store with minimal technical knowhow 
Shopify is a leading ecommerce CMS platform. Its intuitive drag-and-drop interface allows users to design, customize, and manage their store without coding skills. 
Because it's fully hosted, you won't need an external web hosting provider for your store. 
Shopify comes with essential SEO features, such as customizable URLs, meta tags, and responsive design. Meaning it's SEO friendly out-of-the-box.
The Shopify App Store also has over 7,360 different plugins available. Giving you options for even more SEO functionality.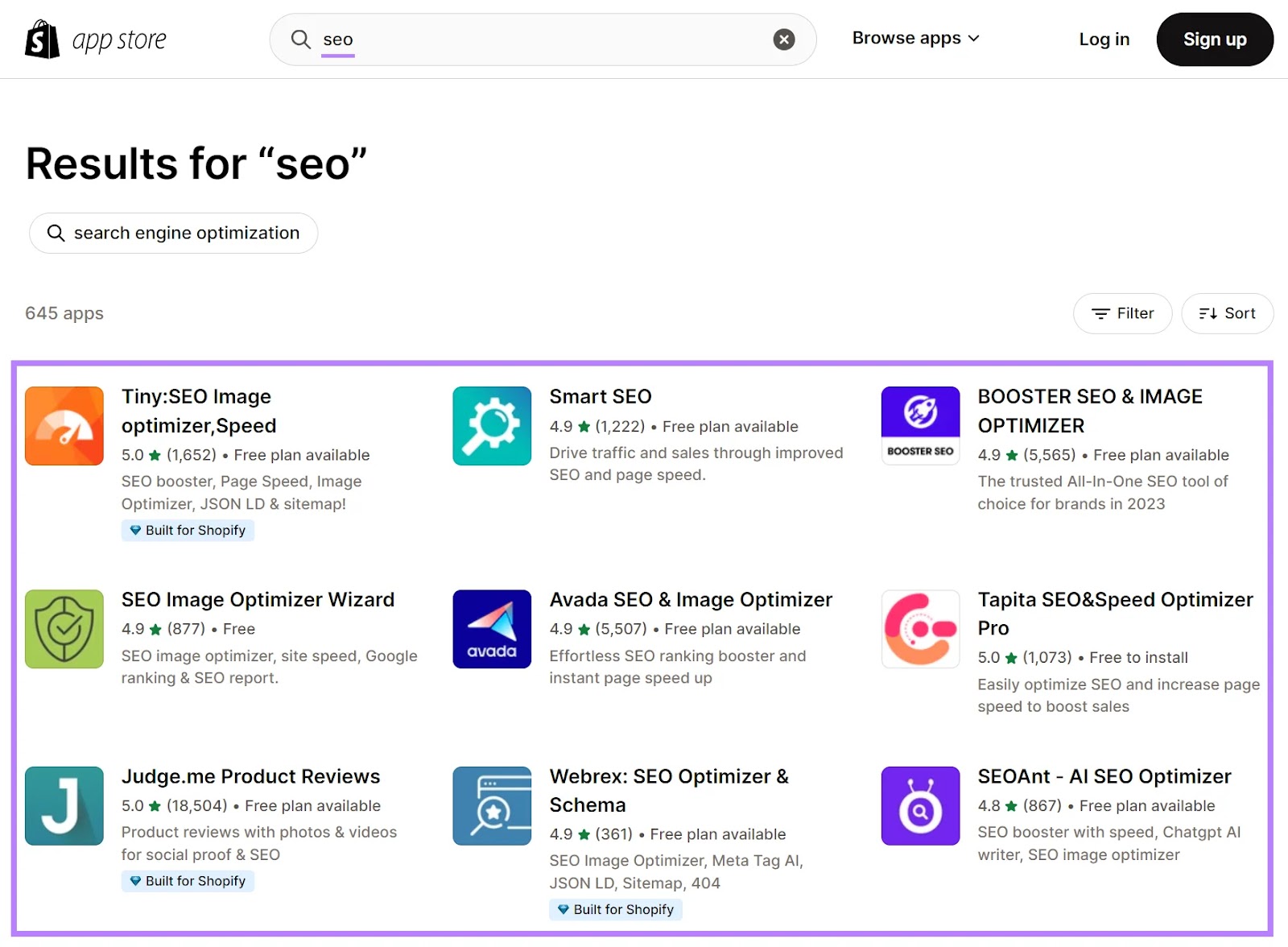 Advantages of Shopify for SEO
User-friendly design makes it easy for beginners to set up an SEO-optimized store
Scalability means it keeps supporting you as your business grows
Extensive selection of plugins available
Disadvantages of Shopify for SEO
Some advanced SEO customization features require higher-tier plans or additional plugins
Limited URL customization options
7. Wix
Best for: Small businesses, creatives, and individuals who want to build a visually appealing website without technical skills
Wix isknown for its drag-and-drop functionality and hundreds of pre-designed customizable templates. This combination makes website building especially accessible to accommodate various industries and purposes.
In addition, Wix's SEO Wiz checklist designer helps businesses optimize their websites right away.
Wix guides you through each step, including connecting to Google Search Console and Google Analytics. Both are very straightforward processes.
There's also a Semrush integration to help you conduct keyword research.
Once you set it up, enter a keyword related to your business and click "Analyze."
The tool provides a list of keyword options with four metrics: 
Volume 
Trend 
Difficulty to Rank 
Searcher Intent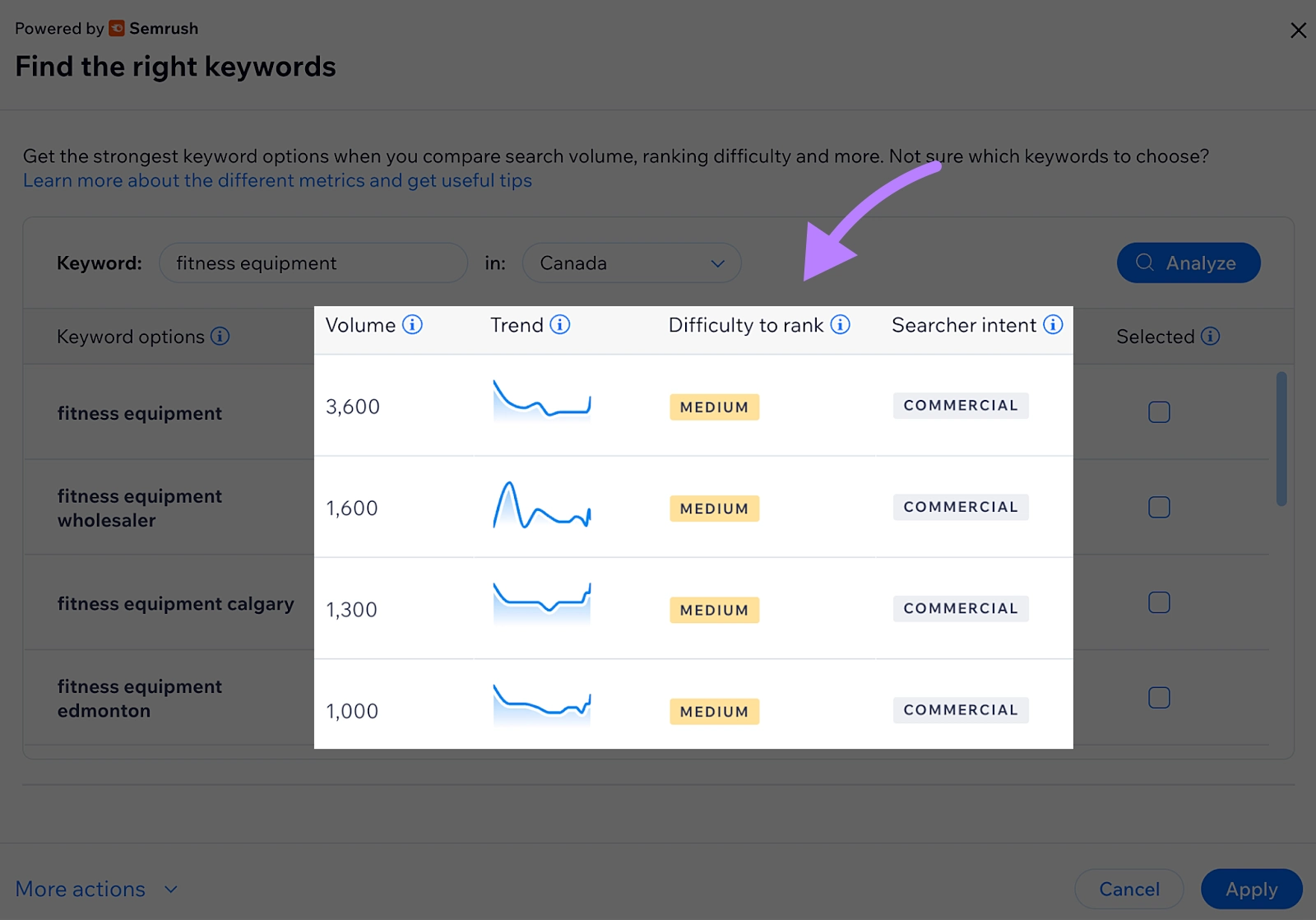 Advantages of Wix for SEO
SEO Wiz's step-by-step guidance makes SEO accessible to beginners
User-friendly interface enables quick website creation without compromising on SEO fundamentals
Various affordable pricing options for individuals and small businesses
Regular updates and customer support keep your site running smoothly 
Disadvantages of Wix for SEO
Lacks advanced SEO customization options, like editable code
Some users report site speed issues that could affect SEO rankings
Transferring a Wix site to another platform can be challenging, posing issues for businesses looking to scale
8. CMS Hub
Best for: Medium to large businesses seeking a comprehensive platform for their content, customer relationship management (CRM), and marketing needs
CMS Hub is an all-in-one marketing platform combining content management with CRM and marketing automation.
It also has built-in SEO tools to guide your content creation. For example, it will recommend long-tail keywords for titles. Along with other suggestions for optimizing your content.
CMS Hub's analytics feature provides useful insights on how your individual posts and pages perform.
Image Source: HubSpot
Advantages of CMS Hub for SEO
Combines CMS, CRM, and marketing tools for cohesive SEO and marketing strategies
User-friendlySEO tools are accessible to marketers without deep SEO expertise
In-depth analytics and reporting functionality
Disadvantages of CMS Hub for SEO
Advanced features come at a higher cost
Platform may restrict advanced customization for developers
Extensive feature set may be overwhelming for small or simple projects
9. Joomla
Best for: Developers and those with technical acumen
Joomla is suitable for a wide variety of websites. Ranging from personal blogs to complex corporate sites. 
Joomla requires manual setting configuration to boost SEO. Making it more complex to use than systems like Drupal and WordPress.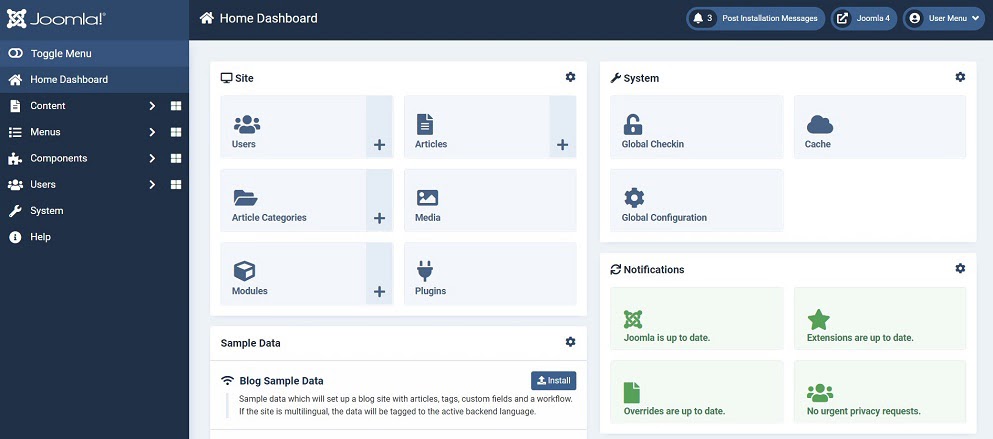 Image Source: Joomla
Joomla comes with helpful SEO features like URL rewriting and SEO-friendly URLs.
Its community-driven nature has fostered a rich ecosystem of over 8,000 extensions. Popular SEO extensions include: 
EFSEO (Easy Frontend SEO): Allows users to manually edit and add meta information directly from the frontend 
JSitemap: Lets you create sitemaps in various formats, including XML and HTML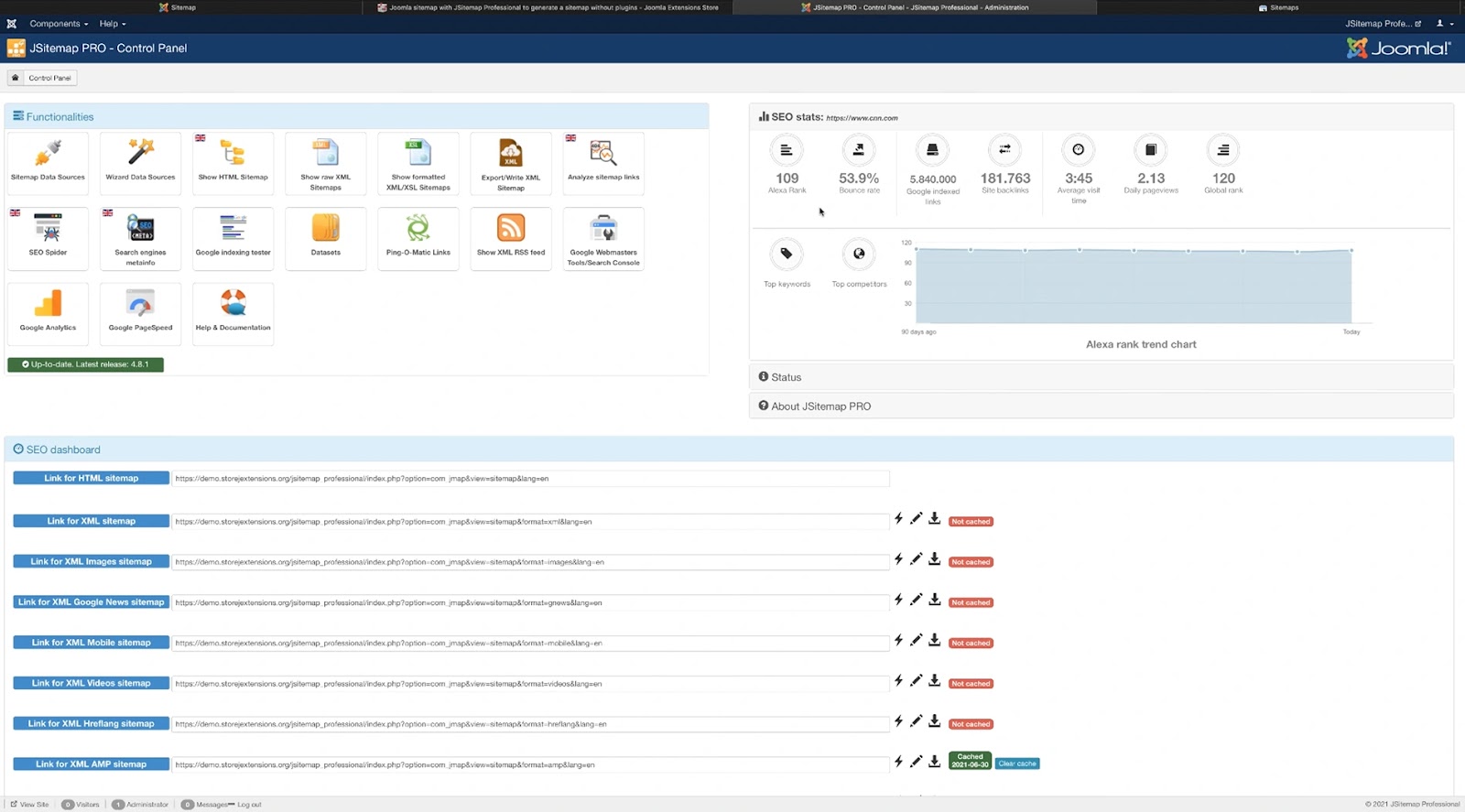 Advantages of Joomla for SEO
JoomSEF can improve your site's ranking with more readable and relevant URLs
Availability of numerous SEO plugins enables tailored SEO strategies
Disadvantages of Joomla for SEO
Advanced features may present a steeper learning curve for new users
Extensions for advanced SEO beyond Joomla's basic SEO capabilities can add complexity
The Best CMS for Your SEO Needs
Ultimately, the best website CMS for SEO depends on your specific needs and goals. 
Select one that offers the right features and enables useful plugins for fine-tuning your website or ecommerce platform. 
The most effective SEO software helps you gain deeper insights and monitor advanced analytics to achieve exactly that. 
If you opt for WordPress, Webflow, or Drupal, you can easily integrate Semrush tools with your chosen CMS. 
Sign up to Semrush today to give your SEO efforts a competitive edge. 
Source link