SEO doesn't have to break the bank. Many free and affordable SEO services can help your small business succeed online.
This article will review why you should invest in SEO and compare the costs of standard SEO services. We'll also share essential and optional services to get you started. 
Why Should Small Businesses Invest in SEO?
Search engine optimization (SEO) is a set of processes aimed at improving your ranking on search engines to increase traffic to your website. 
For small businesses, budgeting for the high cost of traditional pay-per-click (PPC) advertising may not be feasible. SEO offers a way to reach your marketing goals on a smaller budget.
While traditional advertising services can boost your small business immediately, SEO is a long-term digital marketing strategy.
The time frame is different for every company, but SEO can take 6-12 months to show results. This slow build leads to lasting results, and once your strategy takes off, you can sustain SEO results with minimal maintenance costs.
How Much Do SEO Services Cost? 
SEO is technically free because you don't pay for placement on search engine results pages (SERPs). 
However, if you want to achieve specific results, you will need to budget for SEO services.
On average, small businesses spend just under $500 monthly on SEO.
That may seem like a lot. But the same study also found that small businesses spending over $500 a month are 53.3% more likely to be "extremely satisfied" with their results than those who spend less. 
The cost of SEO depends on several factors including type of service, website complexity, and support included. 
It also varies based on who you hire. You can work with SEO agencies or freelancers. You can also learn to use SEO tools yourself or hire an in-house specialist.
Let's look at the cost of hiring an agency or freelancer versus using an SEO tool. 
Hiring an Agency or Freelancer
According to an SEO services report by Credo, 85.49% of SEO agencies charge between $50-200 per hour, with the most common range being $100-200.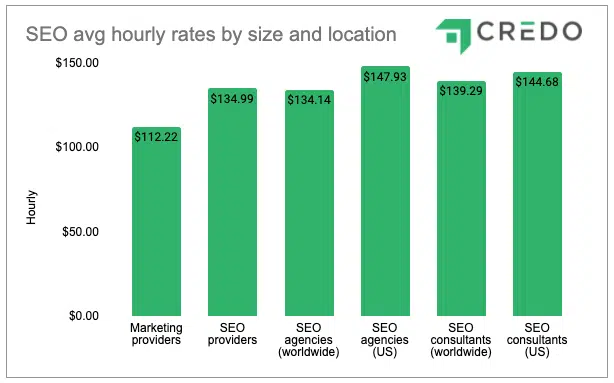 Just over 60% of consultants or agencies have a monthly retainer minimum of over $1,000. If you can't afford that much, many agencies offer affordable SEO packages at an introductory price so you can test their services with minimal risk. 
SEO Tools
SEO tools can provide a cost-effective solution for businesses with smaller budgets. They offer SEO functionalities like keyword research, site audits, backlink analysis, website rankings, and traffic tracking.
Semrush offers a free account that lets you perform keyword research, analyze competitors, run a website audit to identify technical SEO issues, and more.
Paid subscriptions give you access to added features like advertising and social media tools, content templates, and competitor analysis.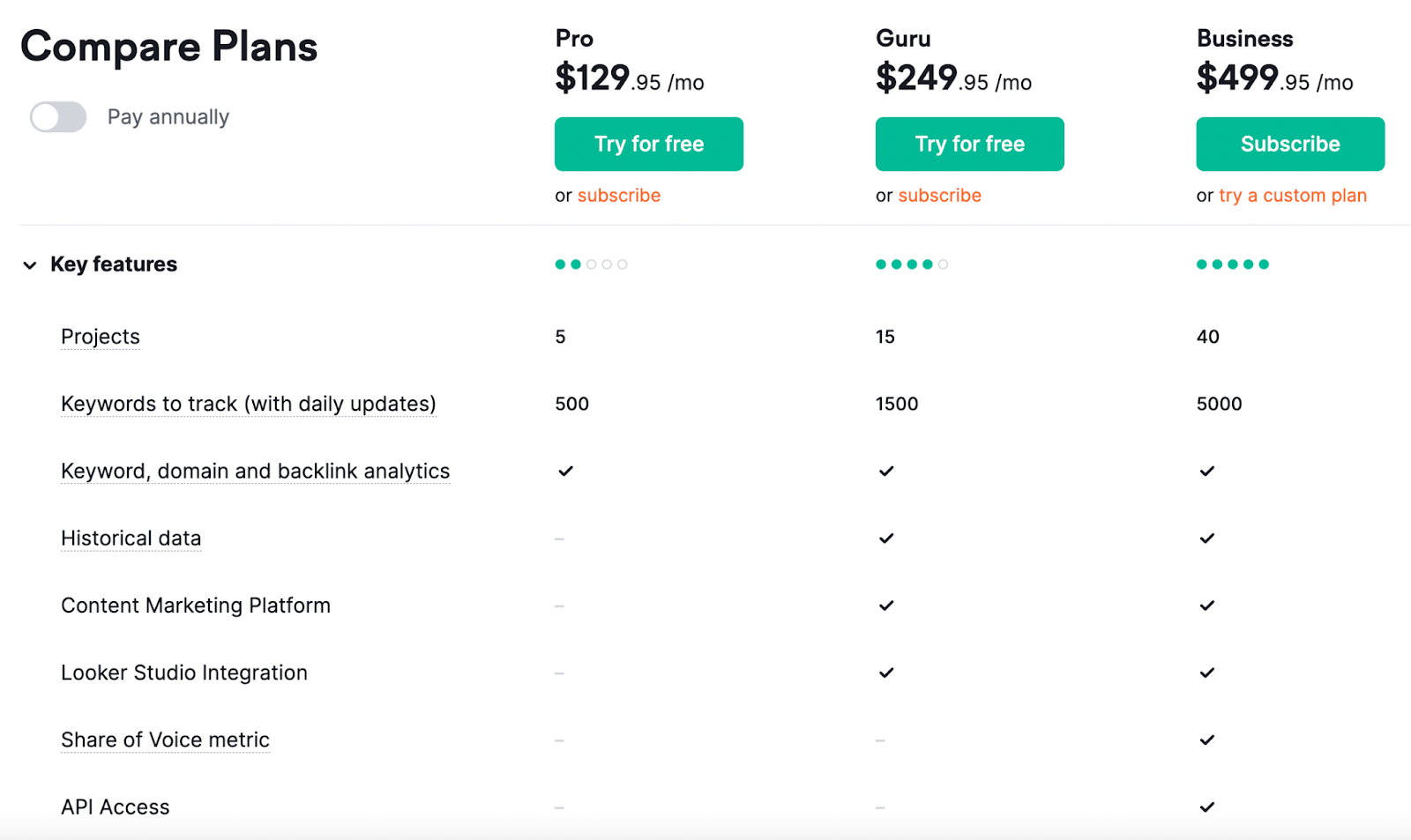 Plans vary based on features offered, but all are significantly cheaper than hiring an agency or a freelancer.
4 Basic SEO Services to Start With
Whether you choose to keep your SEO efforts in-house or work with an outside expert, the following four services are a great place to start. 
SEO Audit
An SEO audit is a starting point for any SEO strategy. It evaluates your current website and determines how well it's optimized for search engines.
Audits typically include:
Competitor benchmarking
Indexing and crawlability
Backlink profile
Keyword research
Site architecture
User experience
On-page SEO
An audit will highlight any performance issues so you can improve them.
Two SEO audit tools you can use are:
Semrush: Offers a comprehensive all-in-one SEO toolkit to improve the optimization of your website
Google Search Console (GSC): A free tool that provides data about your website's performance in Google search results 
To use the Semrush Site Audit tool, you'll need to start a new project for your website and set up your audit. You can use the default parameters or learn how to configure a site audit for customized results.
When you run the audit, your dashboard might look like this: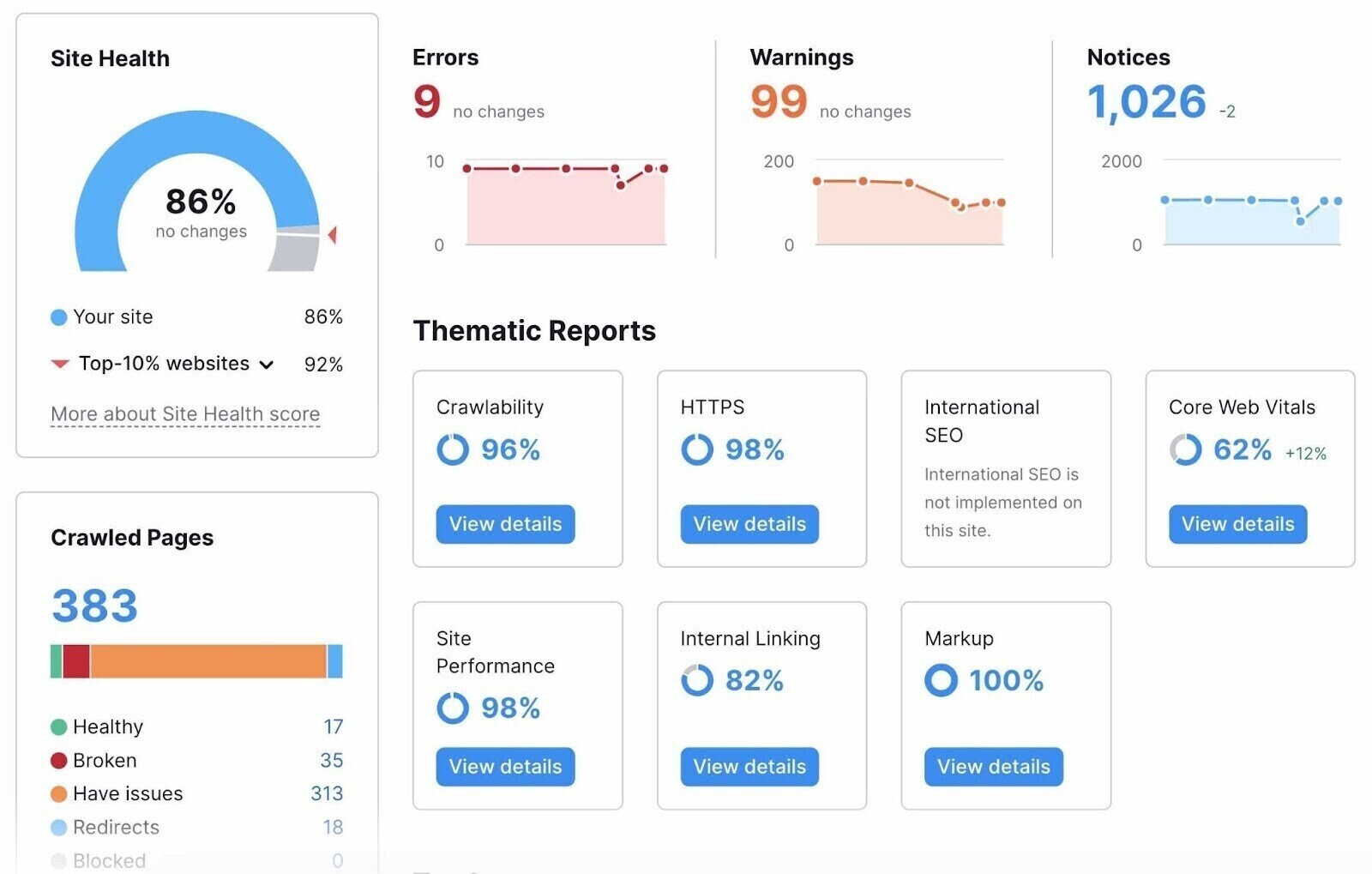 The Site Health score shows your website's SEO health based on the number and seriousness of issues found. 
From here, you can use the Issues tab for a complete rundown on problems with your site.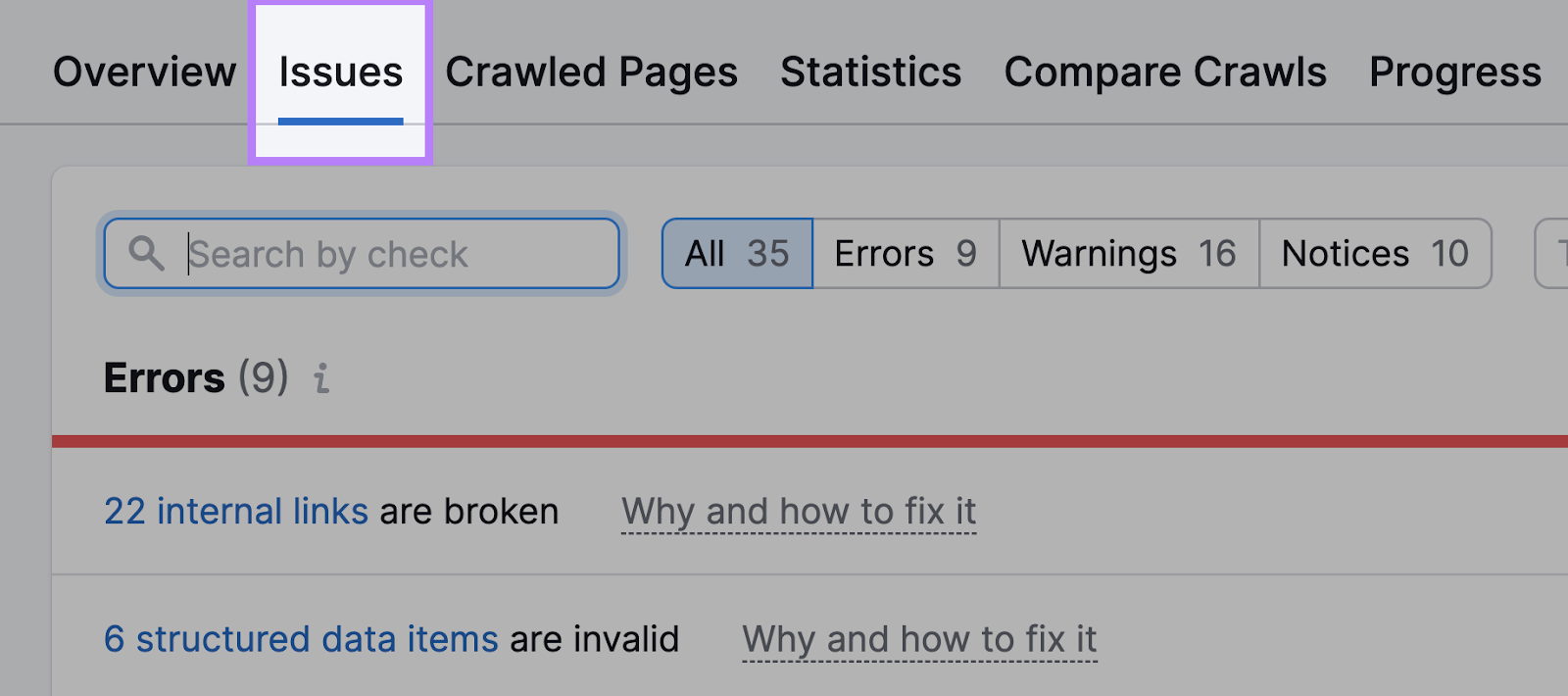 Each issue will provide you a list of URLs that are affected and how you can fix it. Many are easy enough to do on your own.
This is just the start. A complete SEO audit will help you optimize your entire site.
Keyword Research
Keyword research helps you find and analyze the keywords your target audience types into search engines. Doing so allows you to tailor your content and get more relevant traffic to your site.
Three keyword research tools you can try are:
Semrush's Keyword Overview Tool and Keyword Magic Tool can help you discover and rank thousands of ideas automatically. That way, you can prioritize the easy opportunities first. 
Start by entering a seed keyword. This is a common phrase or word from your industry that you'll use as a starting point to find more terms.
Let's say you're a ski shop business owner. You might type "skis" into the Keyword Magic Tool.

Once you click "Search," the tool displays an extensive keyword list to inform your targeting, content creation plan, and content optimizations. 
For example, you may write articles that center around:
Ski masks
Skiing
Ski resorts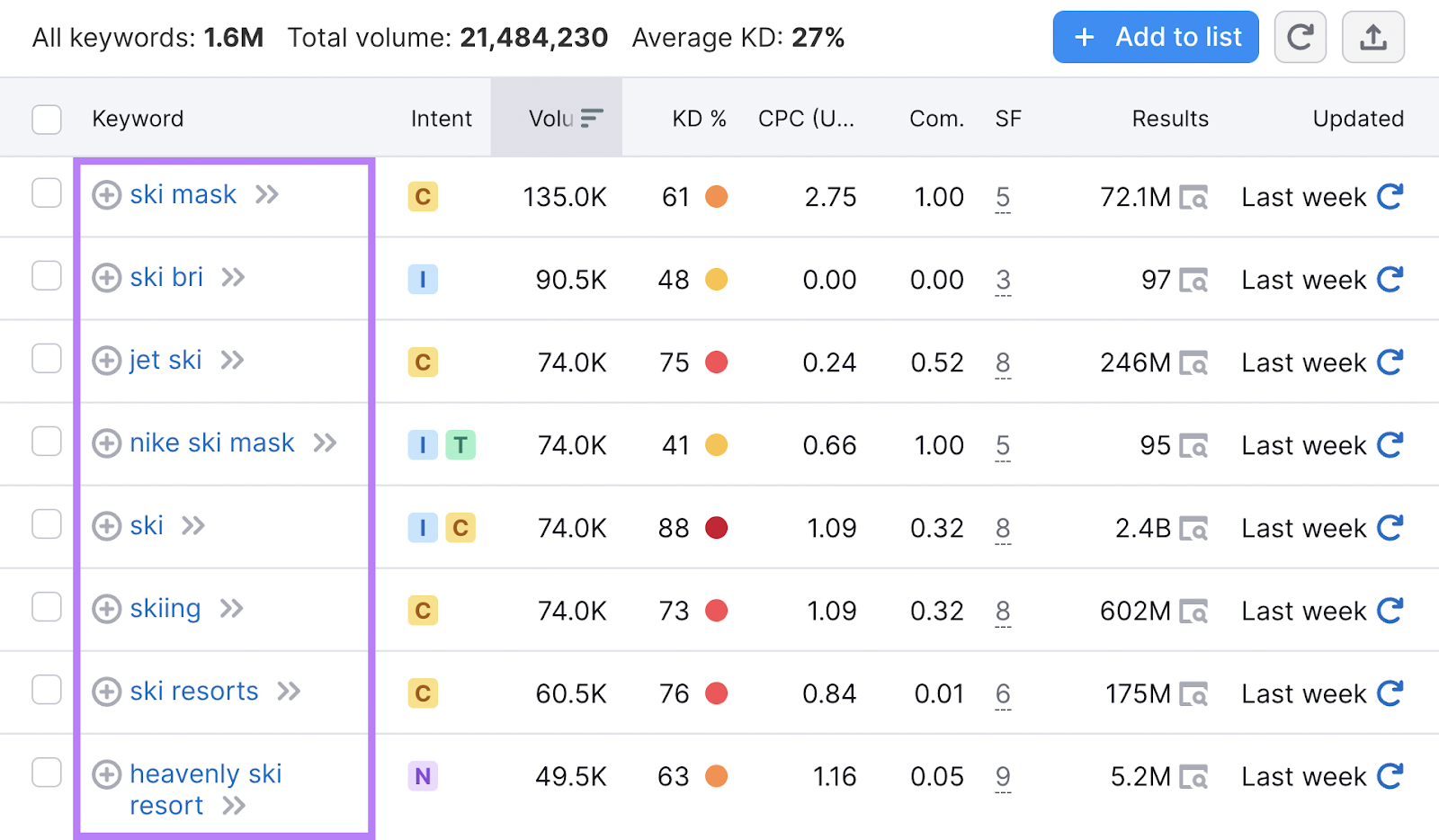 When you click on a keyword, the Keyword Overview tool will show you the volume of searches for this query and other valuable information. For example, keyword variations or related keywords.
With these insights, you can understand the demand and relevance of a particular keyword based on filters like:
Volume: The number of searches performed for a particular keyword or phrase
Keyword difficulty: How hard it is to rank for a specific keyword or phrase (e.g., Very Hard: 85-100%, Hard: 70-84%, Difficult: 50-69%, Possible: 30-49%, Easy 15-29%, and Very Easy 0-14%)
Search intent: The reason behind a user's search query and what they hope to achieve

This process will help you prioritize keywords to create valuable content around.
For example, in the above screenshot the word "skis" has a volume of 33.1k and difficulty of 73%. 
While the term has a large search volume, there's a lot of competition for it. In other words, it'll be difficult to rank for. Especially if you're just starting out. 
But the Keyword Magic Tool can filter keyword difficulty (KD) in the sweet spot between Very Easy and Easy (0-29%).
Although the search volume is lower for these suggestions, you're more likely to rank for them. 
With the free Semrush account, you can run 10 keyword searches per day and get 10 results for each.
You can also use Google Keyword Planner. This free tool helps users find industry-related keywords for ads. However, you can also use it to find search volume and competition for organic content.
Further reading: 
Technical SEO
Technical SEO involves optimizing the backend elements of your website to help search engines understand and rank your site.
For example, Google has confirmed your site's speed is a ranking factor on both mobile and desktop. So faster loading times can help your site rank higher.
Without technical SEO, search engines can't crawl and index your website's pages. In other words, they can't navigate your site or understand the content on it.
That means your pages won't appear in search results and you'll lose out on valuable organic traffic.
Three technical SEO tools you can use to help are:
Semrush: Offers many technical SEO tools, like site auditing, backlink analysis, and keyword tracking that help identify issues and opportunities for optimization
Google PageSpeed Insights: Identifies technical issues affecting page speed (e.g., large images) and provides suggestions to optimize site speed
Google Search Console: Provides insights into site indexing, crawl errors, and security issues so you can monitor and improve your website's technical health
Poor site performance (like slow page speed or poor mobile display) can lead to user dissatisfaction. 
If visitors to your site arrive and quickly leave, it can indicate your website lacks a positive user experience (UX) to search engine algorithms.
The more this happens, the more your search rankings can drop.
To find out how your website performs, check its speed with Google's free PageSpeed Insights tool. 
Type in your webpage URL and click Analyze.

On the results page, you can toggle between Mobile and Desktop users to see how your website handles each device type. 
Then, head to Google's Core Web Vitals Assessment in the Search Console. Here, you can see how your website performs across various UX metrics like loading speed, interactivity, and visual stability.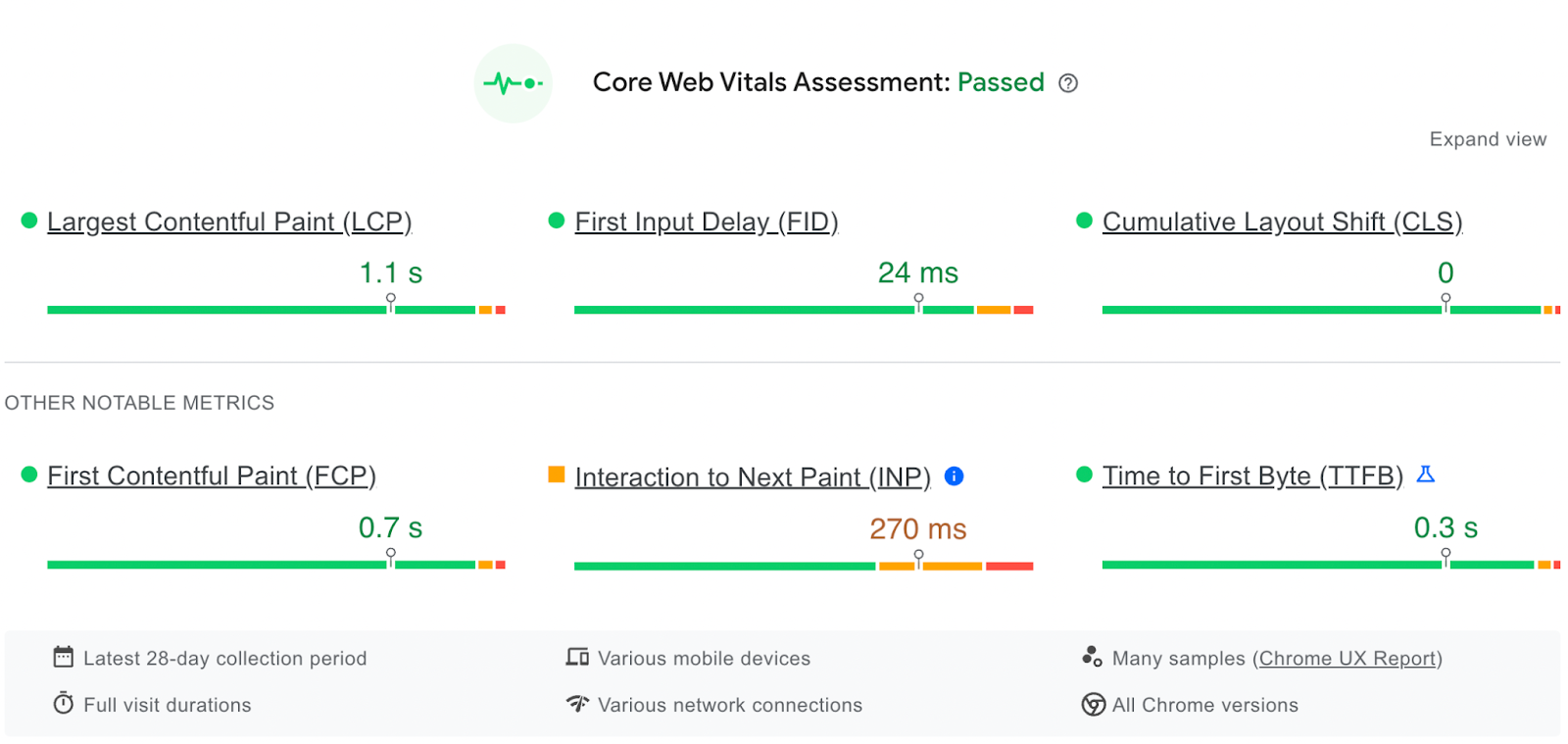 Google will show you how to fix these specific elements (e.g., background color) to improve the user experience.
Google Search Console also offers a mobile usability report to check your website's compatibility with mobile devices. From here, you can see which pages aren't compatible and the specific issues you need to fix.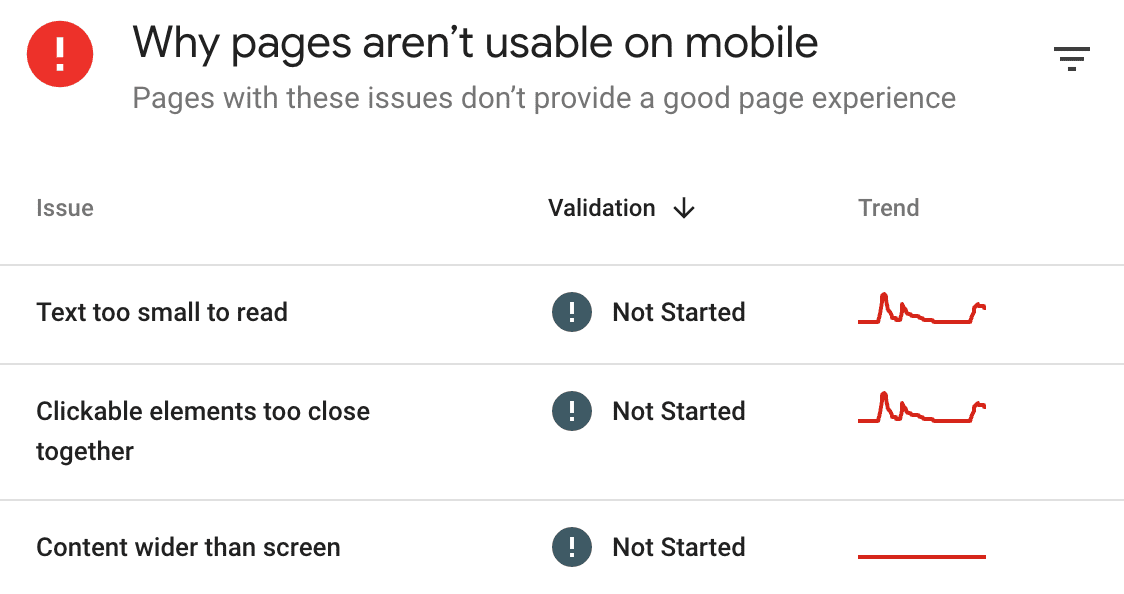 Google uses your site's mobile version for ranking. So it's important to prioritize it. 
Don't want to jump between tools? Semrush's Site Audit tool monitors over 140 technical SEO issues for your site on one dashboard.
Under "Projects" on the left side of your Semrush dashboard, click "Site Audit." (To set up a project for the first time, follow the steps in this guide.)
Then click "Issues."
This view shows you how many errors your site has and offers suggestions on why and how to fix them.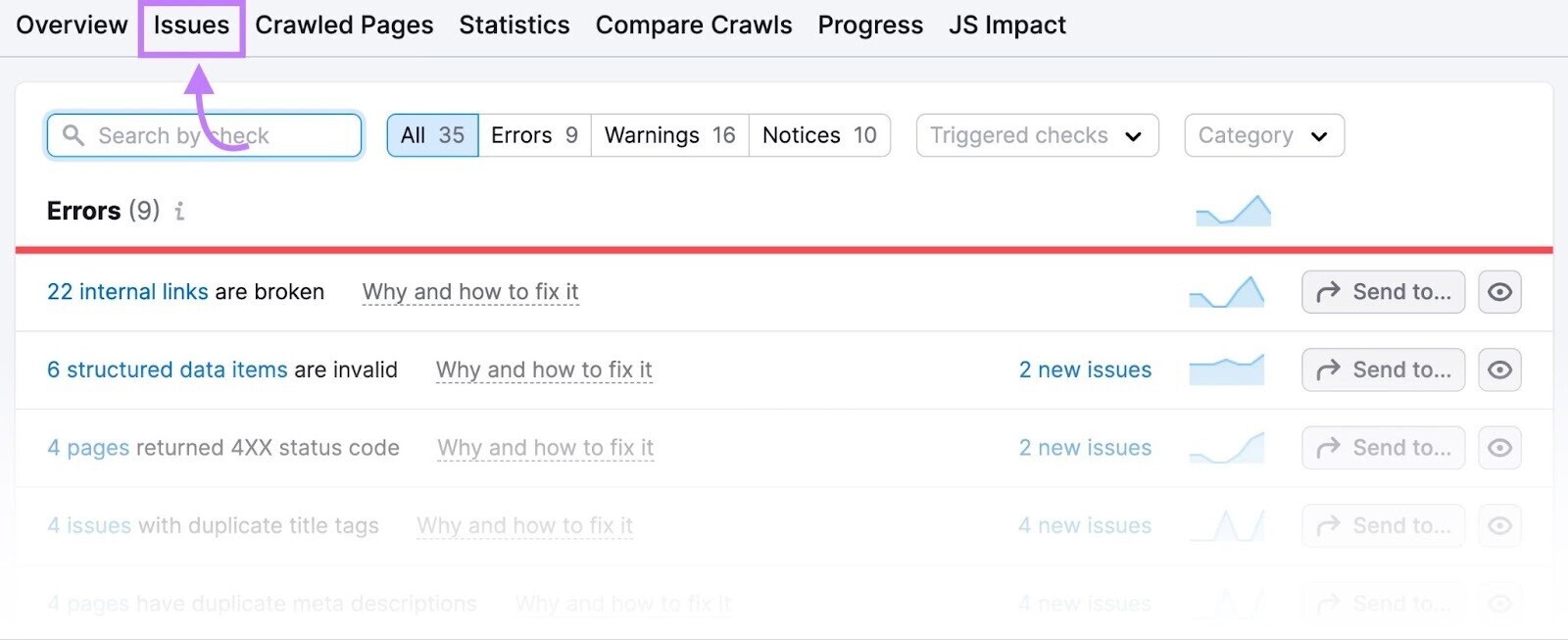 Technical SEO isn't a one-and-done process. So, complete a Site Audit regularly to stay on top of any problems as they arise.
Further reading: 
Local SEO
Local SEO tactics optimize your website to be found in local search results. This includes having a Google Business Profile, researching location-specific keywords, and creating locally relevant content.
Two local SEO tools you can use are:
For example, users in Detroit who search for "best Mediterranean food near me" may find these results: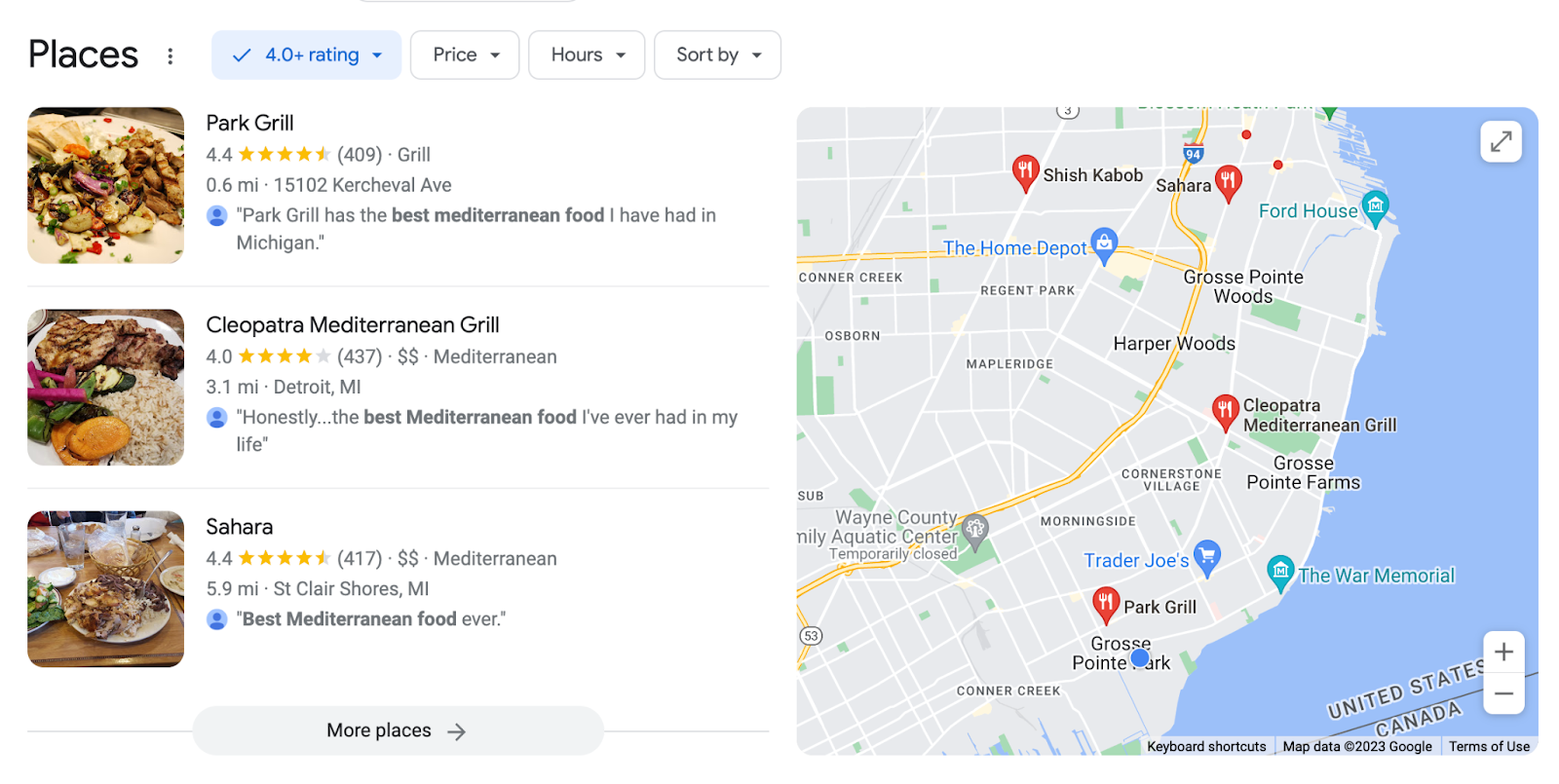 Let's say you own a restaurant in the area. 
You can type a competitor's website—Park Grill, in this example—into Semrush's Organic Research tool to see all the keyword positions it ranks for.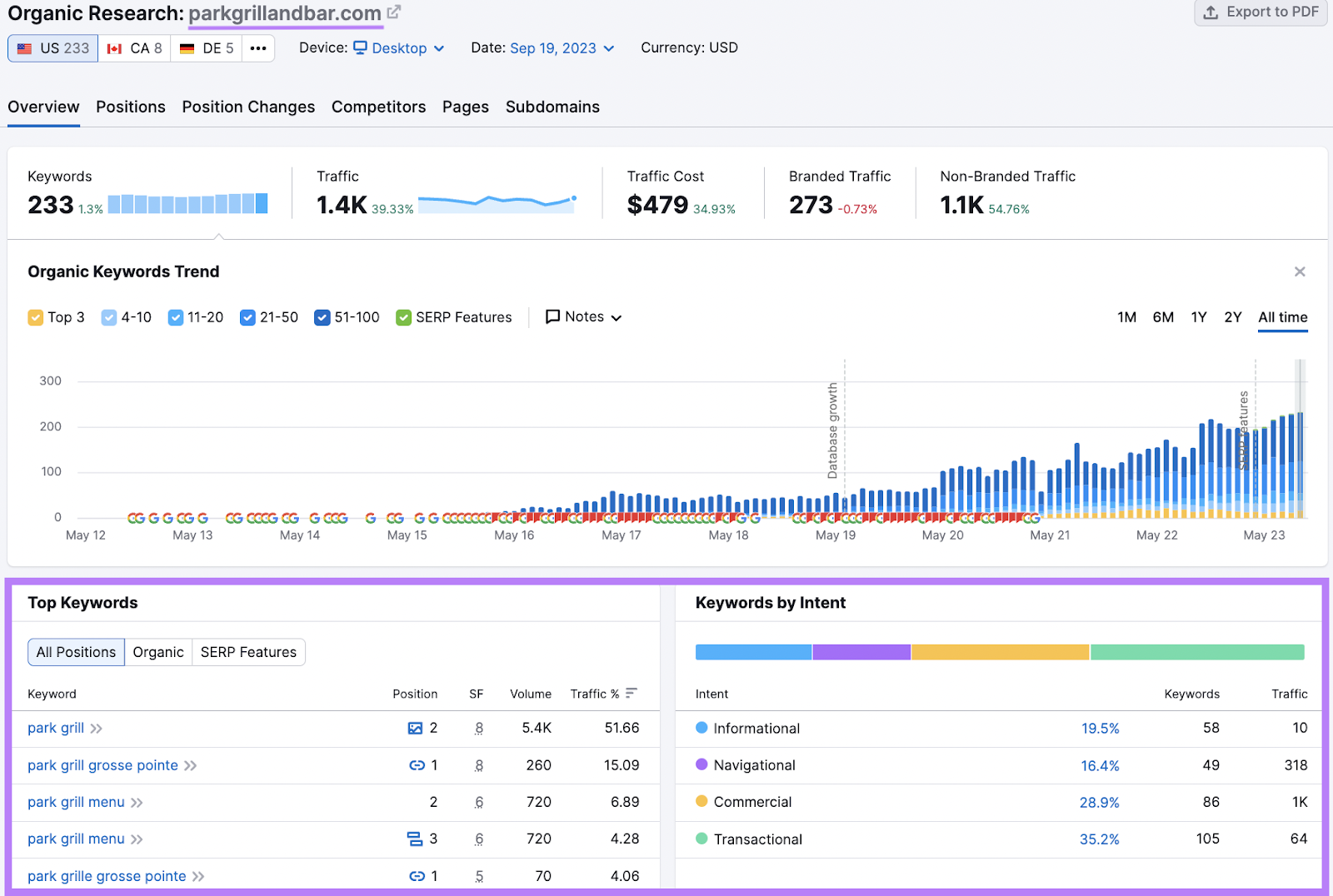 Using advanced filters, you can exclude branded keywords (words and phrases containing your competitor's business name). Because these won't apply to you.
You can also sort results by keyword difficulty to identify business-relevant keywords that are easier to rank for.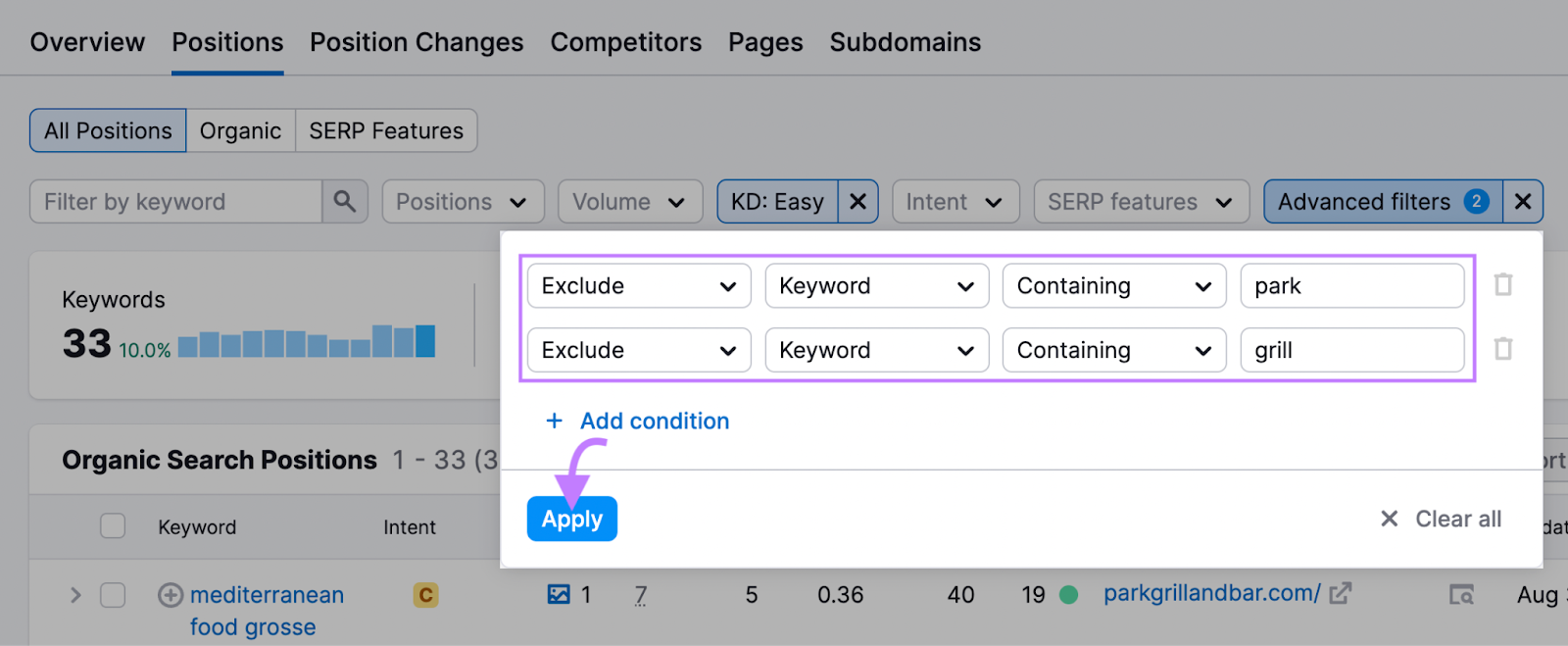 For example, you could target "Greek restaurant Michigan" or "best Mediterranean Detroit." Both have a KD of 22.

Using these keywords, you can create a guide of the "Top Greek Restaurants in Michigan" or the "10 Best Mediterranean Eats in Detroit" and include Sahara as an option.
Semrush's Listing Management tool allows you to check the status of local listings in over 70 authoritative directories in the U.S. Including Google Business Profile, Yelp, Bing, and Trip Advisor. 
Enter your company name to generate the report. In this case, we'll use Sahara.
Here, you'll see the level of your online presence. Including your total reviews on Google, how many listings you need to fix, and your average star rating.

Scroll down to find your listings with specific errors and missed opportunities.
For example, you can see Facebook is showing the wrong business name. And you don't have a listing on AmericanTowns.com which has around 745.3K monthly visitors.
Update these to improve and expand your company's mentions in the directories that matter. For a little effort, you could see a lot more local traffic and in-person visits.
4 Nice-to-Have SEO Services That Are Still Budget-Friendly
Once you have the above basics in place, consider these four additional options to further enhance your online presence.
While these are more time-intensive, you can always outsource them if your budget allows.
Link Building
Link building is the off-page SEO practice of getting other sites to create links to pages on your website. 
The more high-quality backlinks a page has, the higher it can rank. Google considers backlinks high-quality when they come from authoritative websites.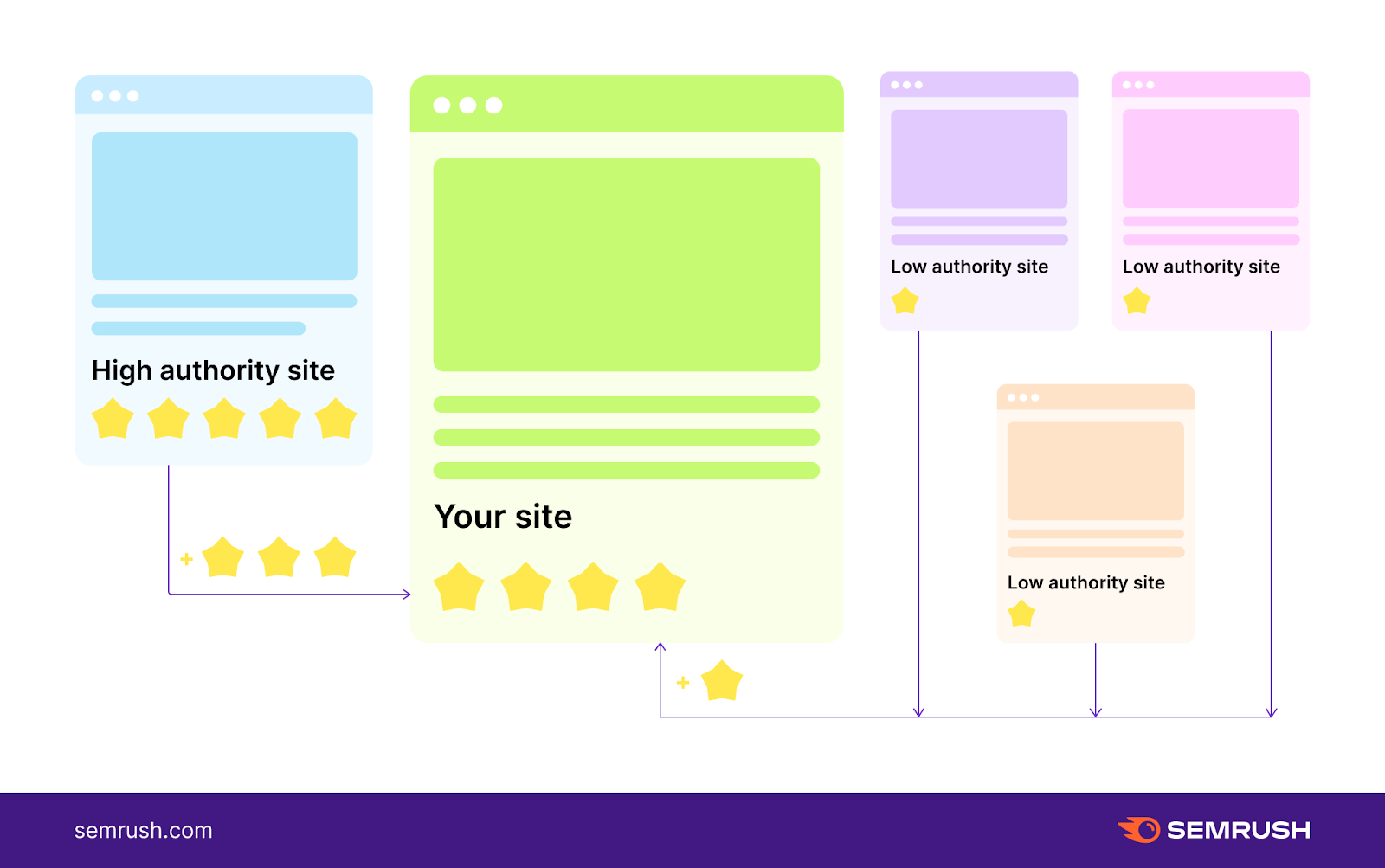 To find a website's authority, use Semrush's Backlink Analytics tool.
Type in a domain and click "Analyze." That reveals the domain or page's Authority Score (depending on the specified settings), which reflects the website's overall credibility and trustworthiness in the eyes of search engines.

An Authority Score uses three factors: the quantity and quality of backlinks pointing to the page, estimated monthly average of traffic, "spam factors" to determine the authority level and potential ranking strengths in the SERPs.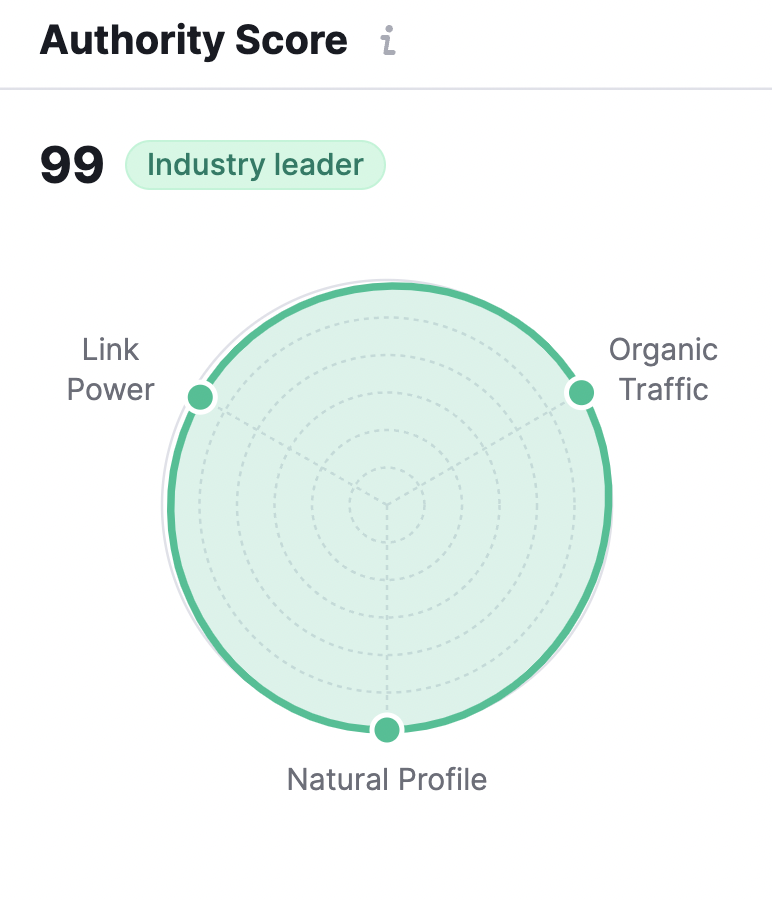 The Authority Score is based on a scale of 1 to 100. The higher the score, the more trusted it is. 
Building backlinks takes time. One strategy is using outreach or asking others for a backlink.
Semrush offers a Link Building tool to help you find prospects. 
Start a new Project or create a new campaign for an existing Project. 

Add the keywords you want to rank higher for after using the Keyword Magic tool to research.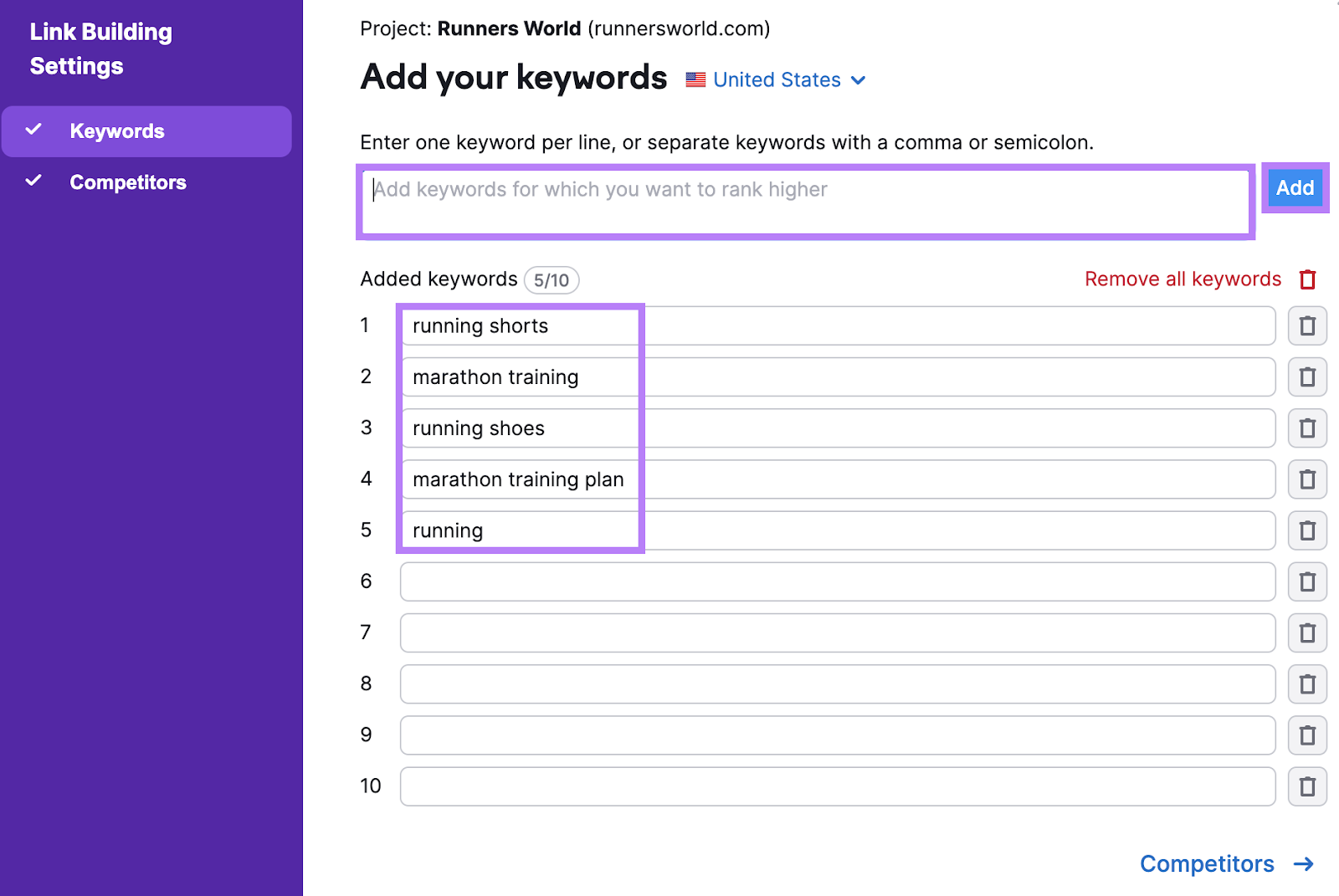 Then add URLs of competitors you want to outperform. When you're done, the tool will generate a report. 
This report takes you to the Overview dashboard to track your campaign's performance, overall prospects, received replies, and monitored domains.
Clicking "Go to Prospects" will take you to the Prospects report where you can see link building opportunities and their sources.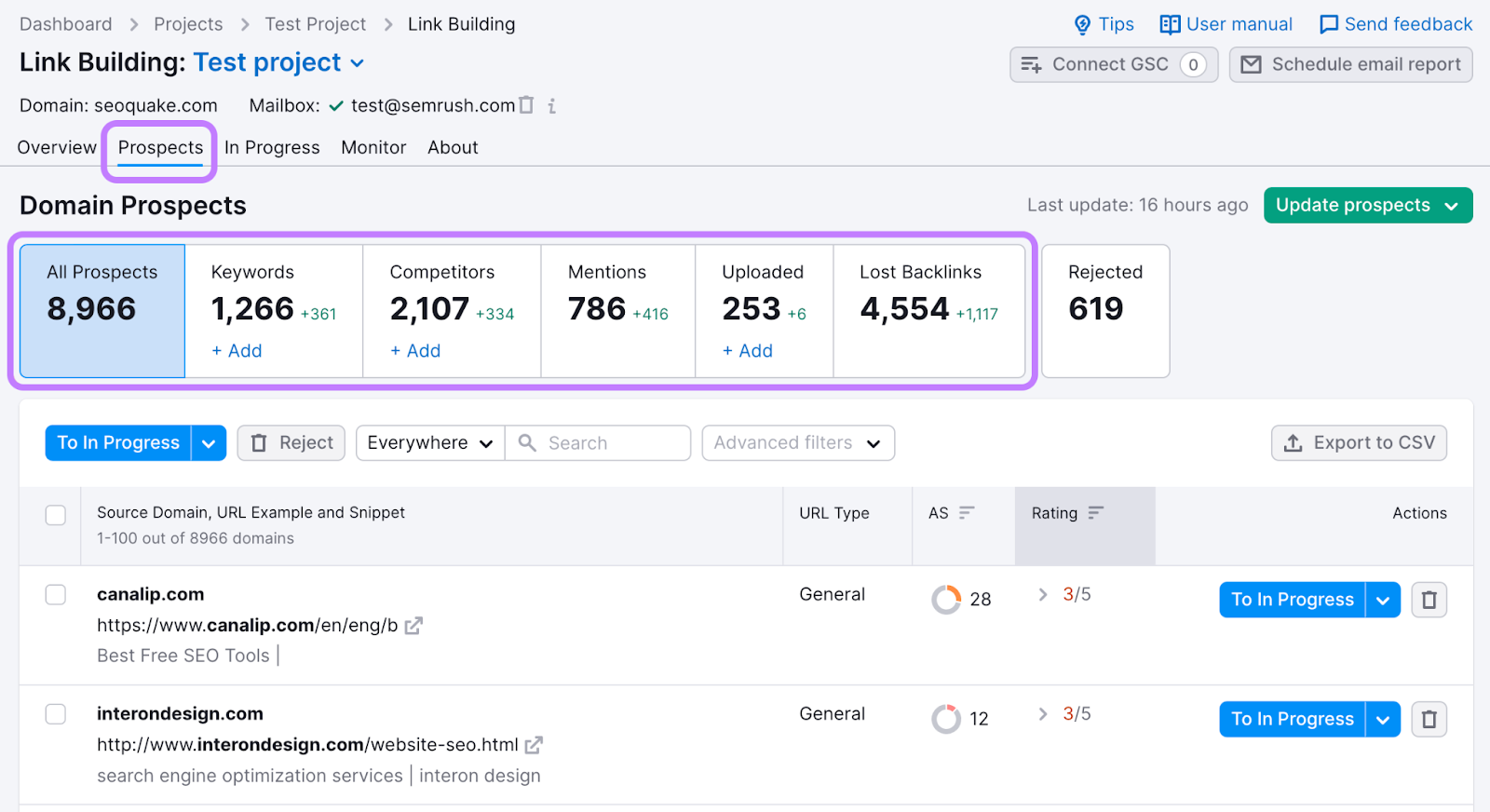 From here, you can: 
See detailed information about the website and people affiliated with it (including contact information, social web info, and links)
Use the outreach module to send personalized, relationship-based messages that get results
Link building can be a long process, but it's one of the fastest ways to build your website's authority. 
Further reading:
Video Optimization
According to Statista, over three billion internet users watched streaming or downloaded videos at least once in 2022. So incorporating video SEO should be on your radar. 
Some best practices for video SEO include:
Creating eye-catching thumbnails
Relating the title tag of your video to its content
Optimizing your description with context (not just forcing in keywords)
Tagging your video accurately to ensure correct categorization
Uploading a transcript along with your video for SEO and UX purposes
Let's look at a couple of these in more detail.
Your video thumbnail acts like your meta description in the SERP. And it can affect whether a user clicks on your video.
If it looks relevant and high-quality, you're more likely to get more clicks.
If you don't choose one yourself, Google will choose it for you. And a mistimed slide or awkward facial expression won't represent your video's content and could look unprofessional.
That's why we make the topics of Semrush videos clear with well-designed, eye-catching thumbnails:

Pro tip: The YouTube Studio app can suggest three thumbnail options or help you create your own.
But what about the content itself?
Transcribing your video's audio to text has two main benefits:
Those with hearing difficulties can follow along (resulting in a better user experience)
Google uses the transcribed text and keywords for SEO ranking purposes
By transcribing your videos, you're helping both humans and search engines understand its context and relevance. Sites that do this well (and often) tend to rank higher.
Further reading: Learn about these tips in more detail with our guide Video SEO: How to Get Your Videos to Rank
Social Media SEO
Social media SEO involves optimizing social media profiles, and content to increase your visibility in search engine results.
Social media doesn't directly contribute to your SEO ranking. However, you can share the same link across platforms to increase your exposure.
This helps you:
Amplify your content to a wider audience on other channels
Build familiarity around your brand as people see it more often
Boost trust and credibility (thanks to social proof)
Increase your chances of link building as you're more discoverable
Build your local presence when you share your location and business profile
For example, you can build your brand's authority on a platform like Instagram. 
Instagram has over 2 billion monthly active users. Around 50% of them say they discover new brands, services, and products there.
We use our Instagram account to send relevant traffic to our blog posts: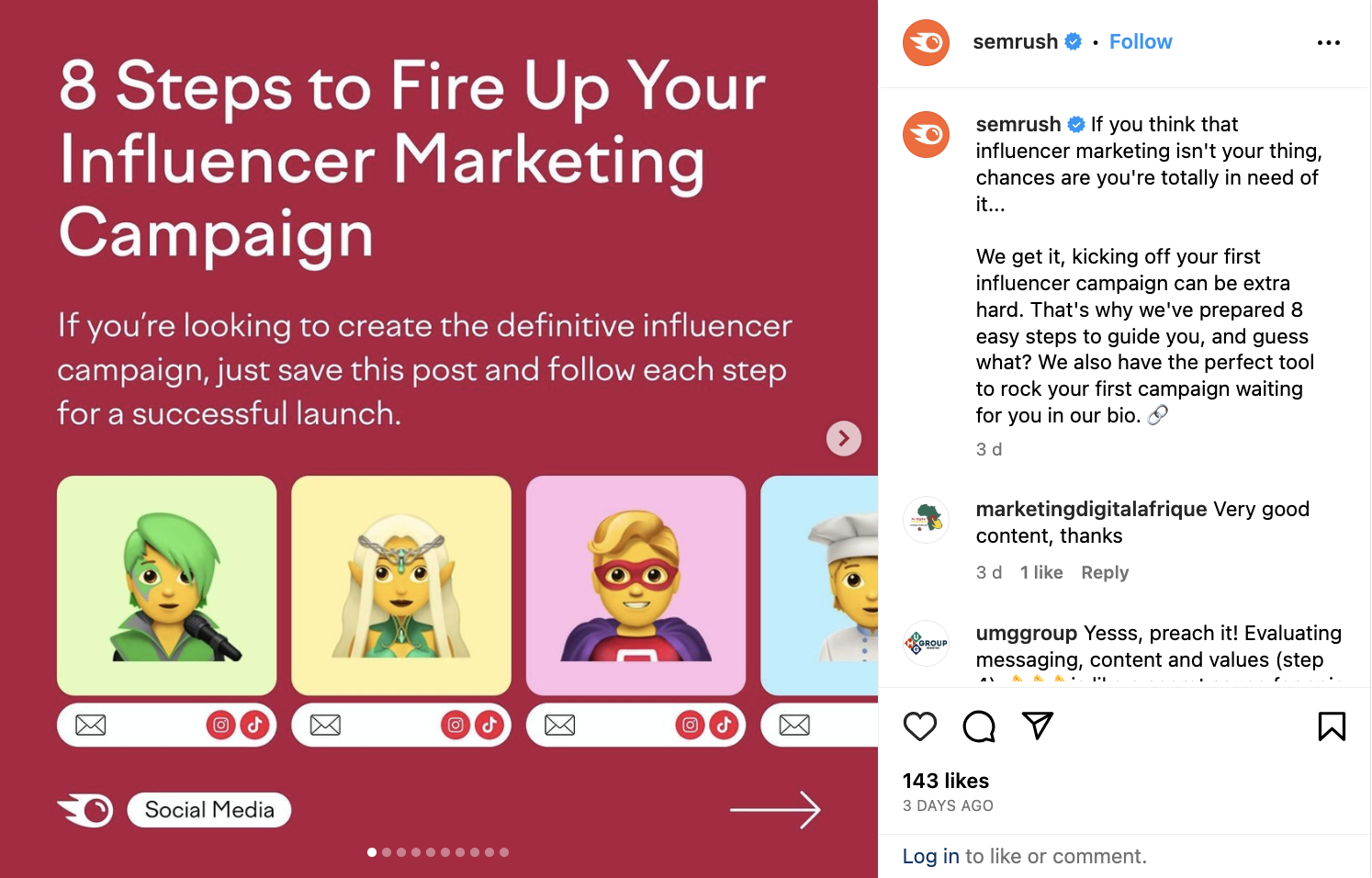 Instead of sharing it in one place (your blog), you can get it in front of more people by sharing on different platforms.
Semrush Social can help you create an effective social media strategy.
The toolkit includes four tools:
Social Poster
Social Analytics
Social Tracker
Social Inbox
The Social Poster tool can help you draft, schedule, and post social content directly from Semrush.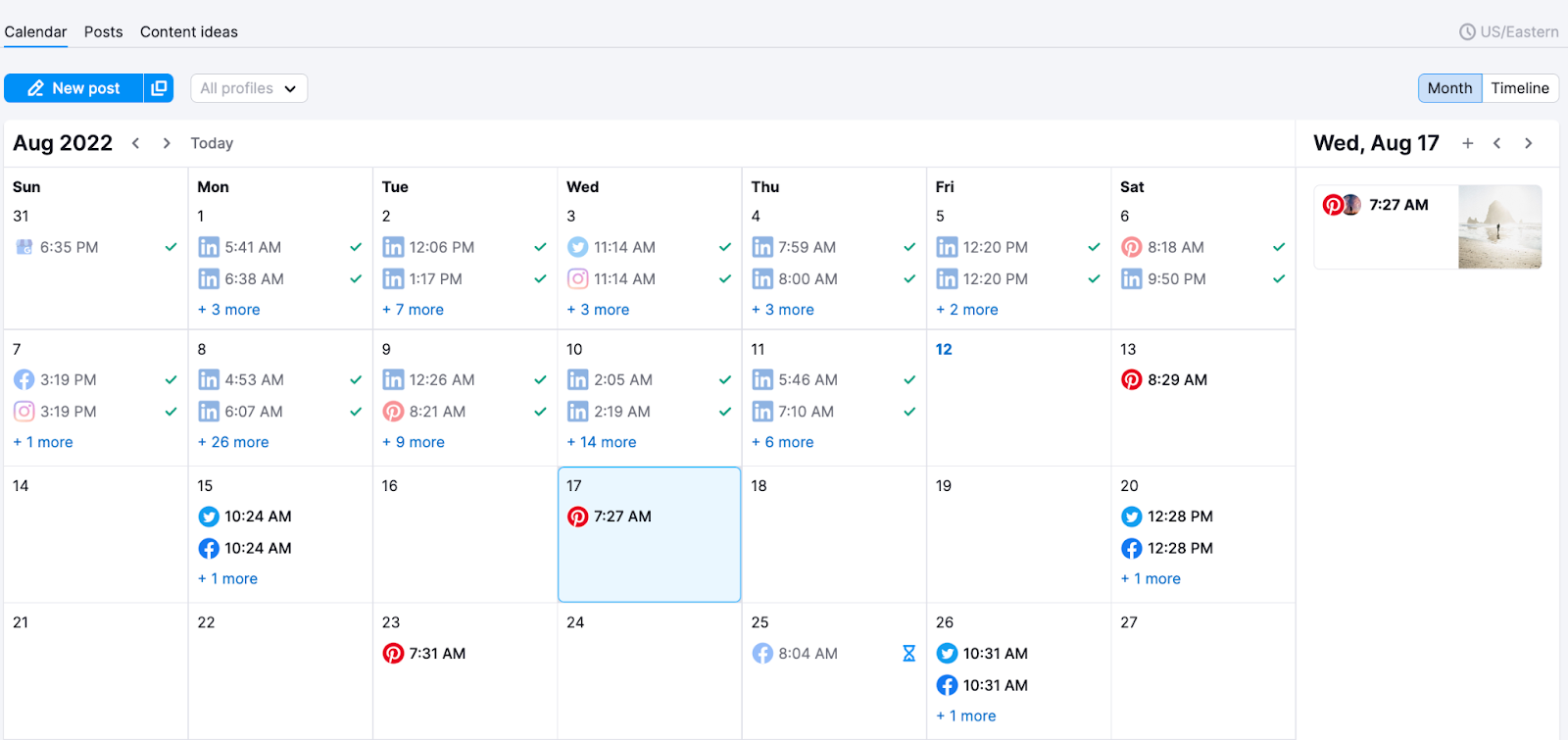 Use this interactive calendar to plan out your year on Facebook, LinkedIn, Twitter, Instagram, and more.
The Social Analytics tool allows you to see internal metrics for your social channels.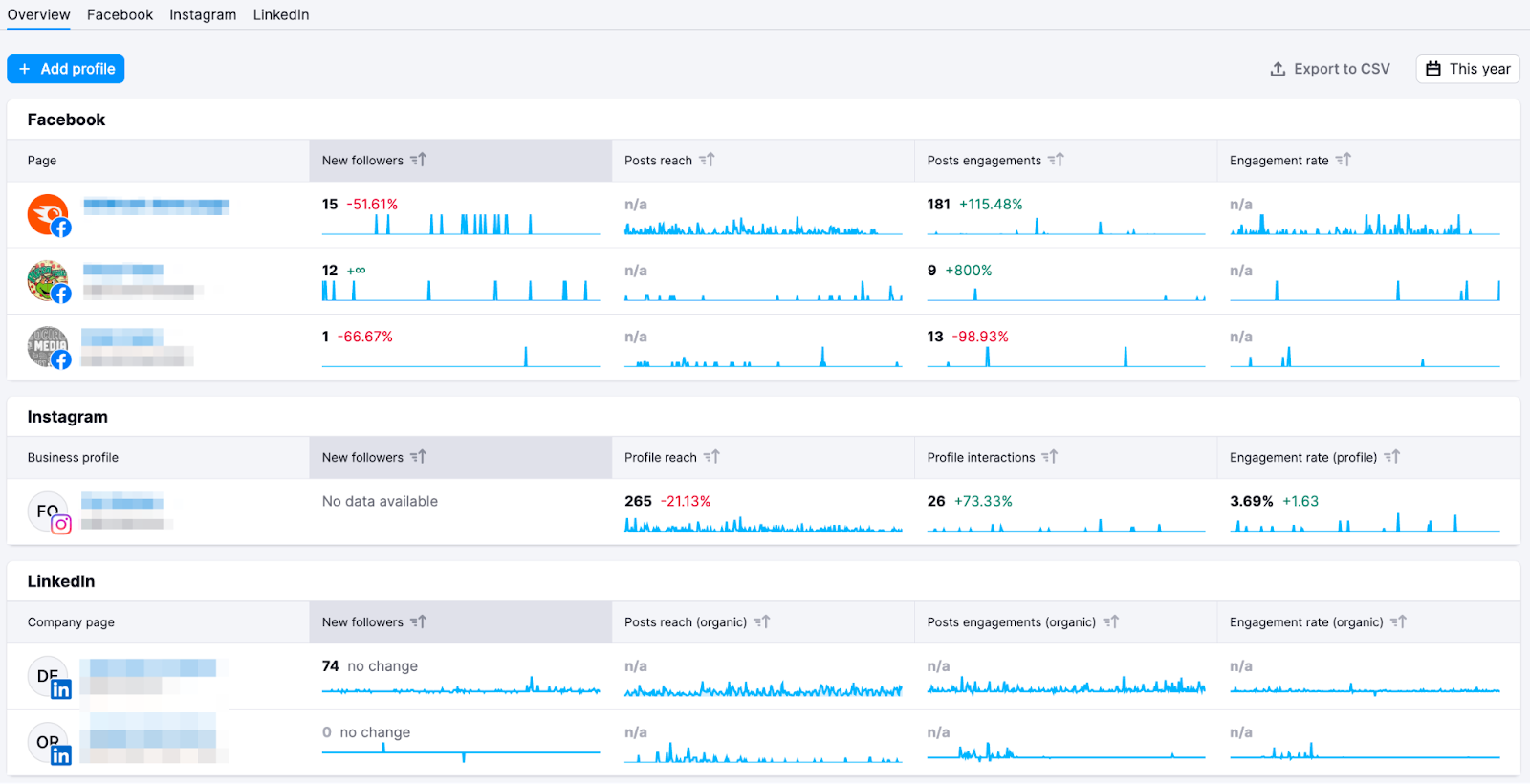 Use it to track metrics like new follows, post reach, and engagement to see how effective your efforts are.
You can also keep an eye on your competitors with Social Tracker and even see how specific posts performed. 
Type in a URL for a competing site and you'll get an overview of which posts got the most buzz.

Understanding what works best for your competitors helps you create your own engaging content that is likely to perform well. 
Finally, Social Inbox collects comments, direct messages, and mentions all in one place.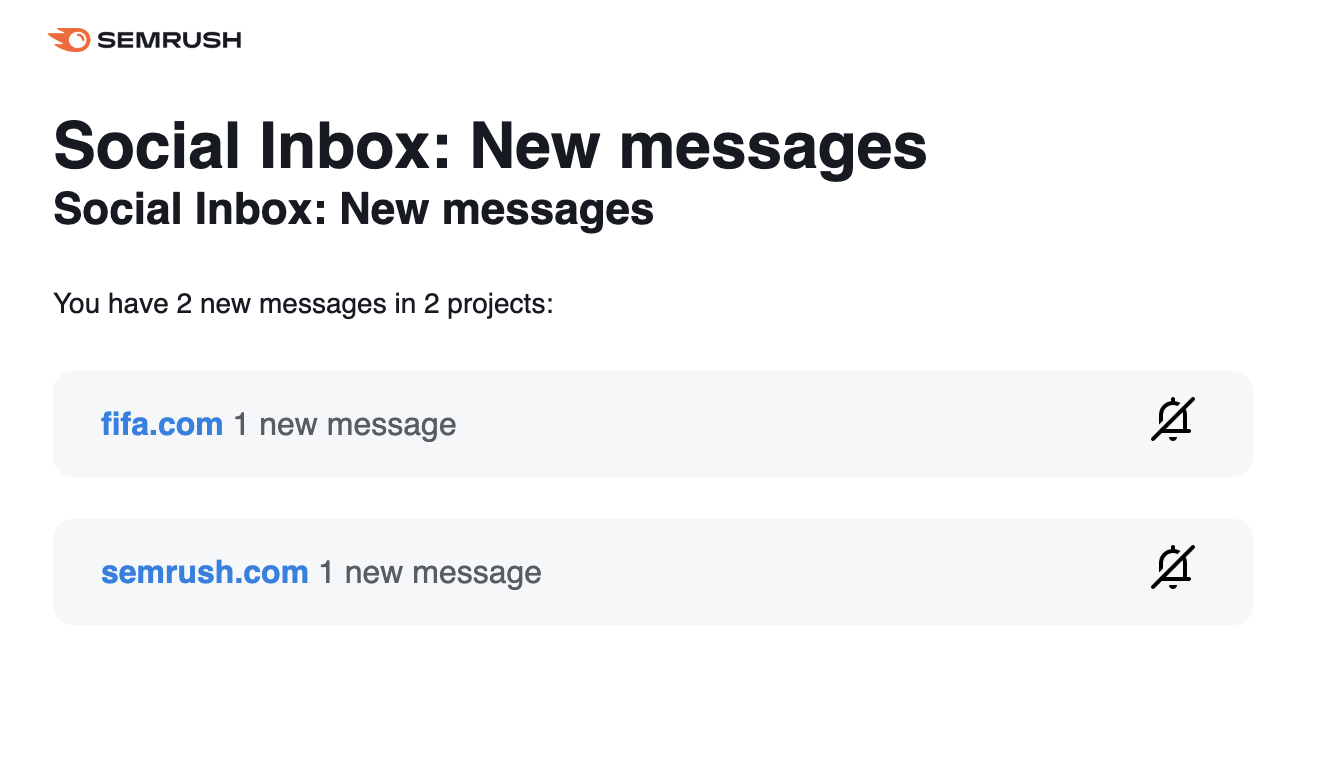 Instead of jumping between channels, always reply promptly from the same dashboard and never miss a message. 
Ecommerce SEO
Ecommerce SEO optimizes online stores to improve their rankings on search engines. 
And since 33% of overall ecommerce traffic comes from organic search, ecommerce SEO is an important way to drive customers.
Here are some tactics to improve your store's SEO efforts: 
Optimize your ecommerce site for mobile users (this type of traffic dominates in 2023)
Use title tags to encourage sales (e.g., add "free shipping")
Use pagination tactics to divide your product pages and avoid deep site structures (which are bad for SEO)
Encourage reviews and ratings from customers
Keep out-of-stock pages live to maintain rankings but add recommendations to similar products
Redirect discontinued product pages or turn the page into a comparison guide for other products you stock
Let's look at a couple of these in more detail.
Your title tag is the blue link that appears in the SERPs:

Google uses this information (along with the content) to categorize and rank it. So it should accurately explain what your webpage is about. 
But ecommerce sites can take these further. 
For example, you could:
Mention a deal or sale (e.g., "25% off")
Include a compelling benefit (e.g., "one-day shipping")
Describe why your product is unique (e.g., "best," "cheapest," "fastest," etc.)
Here's what an optimized ecommerce title tag could look like:
But what if that product runs out of stock? You don't want to get rid of a page that's ranking well.
In this case, keep the page live but add a "get notified when this item is back in stock" field.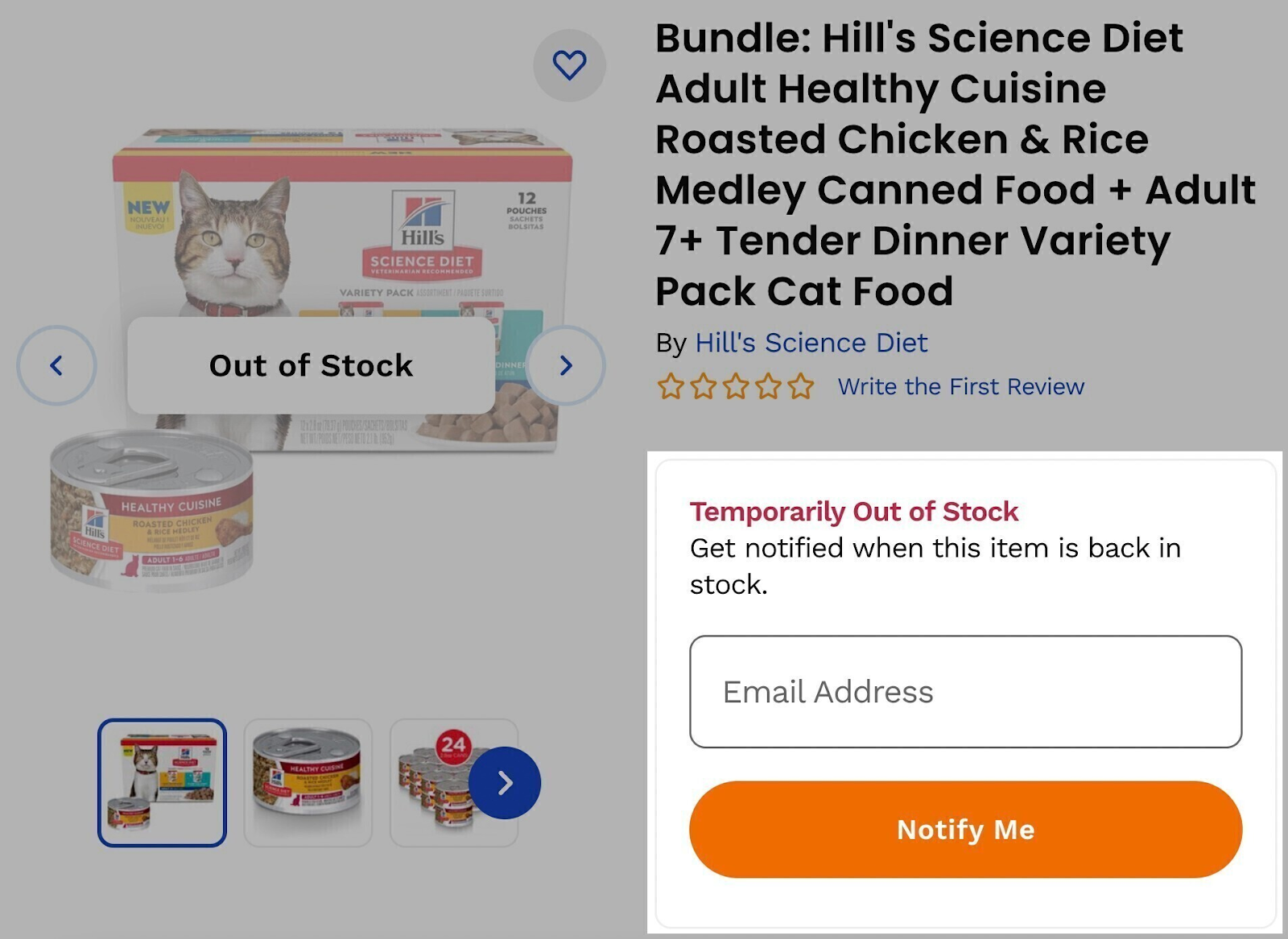 You can also add recommendations for similar products underneath.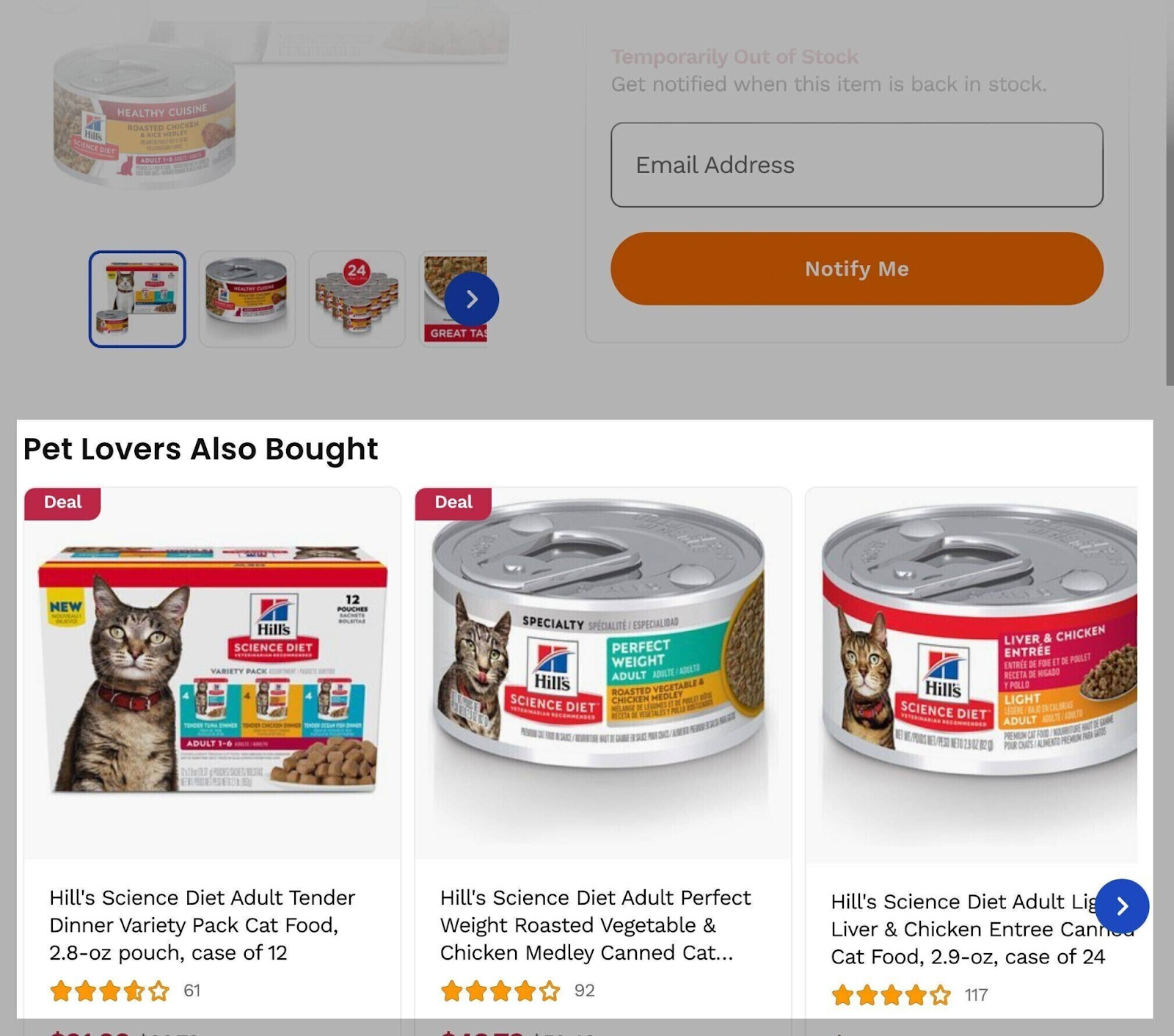 When you get new stock, the page's content can return to normal.
Pro tip: Check out Semrush's ecommerce solutions for stores looking to simplify their marketing and grow. 
How to Choose an Affordable SEO Company
If you don't have the expertise or resources to handle SEO services in-house, you can find an SEO expert to work with.
The right partner can help you achieve your small business goals by filling the gaps of specific skills and experience you may lack. 
Here are six steps to help you choose the right SEO company for your business.
1. Determine Your Business Needs
Before you enlist the help of an SEO partner, you have to know what your goals are. What do you want to achieve with your SEO strategy?
For example, a B2B business might want to generate quality leads and nurture them through the sales funnel. Or a B2C e-commerce business may want to increase sales and improve customer retention.
Once you know your goals you can search for SEO services that will help you meet them.
2. Find Reliable Partners
Finding an SEO partner is like any other service. You can ask friends, colleagues, or other small businesses who they recommend.
LinkedIn is also a great place to find reputable SEOs. Search for "SEO services" and filter by posts to find affordable SEO experts in the space: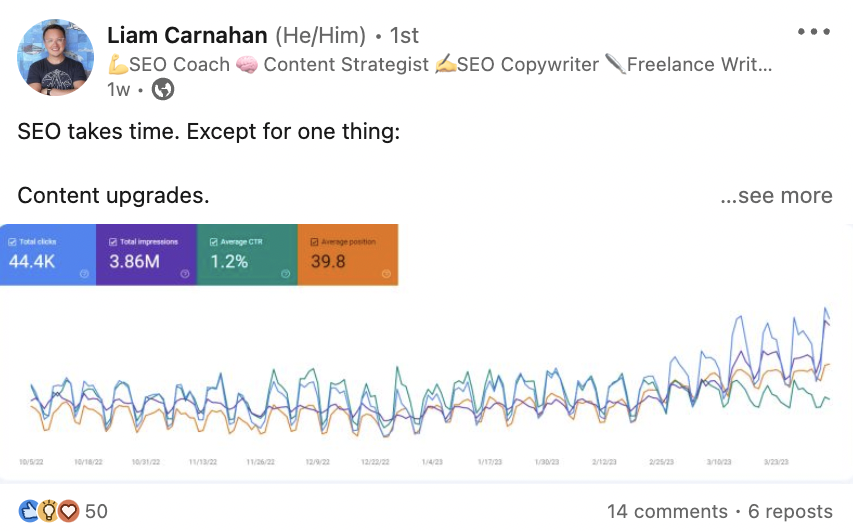 You can also find local SEO service providers by searching for "SEO services near me." 
With any providers you find, be sure to check out what services they offer and whether they align with your goals. 
3. Check Their Experience and Track Record
Once you've found potential partners, make sure they have a proven track record of success in the industry. 
Check their portfolio and case studies to see if they have experience in your industry or niche.
Also look to see how recent their case studies are. The SEO world is constantly changing, so results they garnered five years ago may not be achievable today.
You can also ask for reviews or recommendations to see how past clients have benefitted from their service.
4. Look for Transparency and Communication
Find an affordable SEO consultant who is upfront about their process, strategies, and results. Even better, ask for a consultation and have them walk you through their plan for your business.
Also ask if they provide reports on their progress and how often you can expect them.
5. Consider Pricing and Services
SEO services can vary significantly in scope. Before choosing a partner, consider their pricing and services carefully. 
Look for a company or consultant that offers a range of services aligned with your needs. 
6. Evaluate Their Customer Service and Support
Find an SEO partner who values customer satisfaction and provides excellent service. Test the waters by contacting the team and asking questions about their services, response time, and communication channels.
Grow Your Business with Affordable SEO
Investing in cheap SEO services can help small businesses achieve their marketing goals at a fraction of the cost of traditional advertising. 
Semrush's all-in-one SEO Toolkit can help you perform SEO tasks and organically grow your online presence. 
The best part? You can sign up for a Semrush account and get started for free!