With the rise of Alexa, Siri, and Cortana, people expected voice search to change SEO monumentally. 
While the industry hasn't experienced the massive shift everyone thought it would, there's still a lot to learn about optimizing for this way of searching.
In this article, we'll share seven of the most up-to-date voice search statistics. 
We'll explain what they indicate and finish with some best practices that capitalize on the most recent evidence.
7 Up-to-Date and Verified Voice Search Statistics
Marketers rely on up-to-date statistics to make strategic decisions. 
Unfortunately, most top-ranking guides cite old or invalid studies when it comes to voice search.
So we did our research.
Here are seven of the latest voice search statistics to help focus your digital marketing strategy:
1. 62% of Americans Use Voice Assistants and 36% Are Smart Speaker Owners
According to NPR and Edison Research, 62% of Americans 18+ use a voice assistant on any device. The latest Edison research also shows that 36% of Americans own smart speakers. 
From Amazon's Alexa to Apple's Siri, voice assistants include:
Voice-activated speakers
TVs and remotes
Smartphones
Computers
Laptops and tablets
In-car systems
Voicebots (artificially intelligent software within telephone systems)
Virtual assistants within search engines (like Microsoft's Cortana)
So why has over one-third of the U.S. population invested in these home devices? Here are the top three reasons:
Entertaining kids
Discovering new music
Listening to podcasts
The last one is especially interesting for marketers. 
Why?
Because podcasts are growing in popularity.
Around 42% of Americans listen to podcast content every month.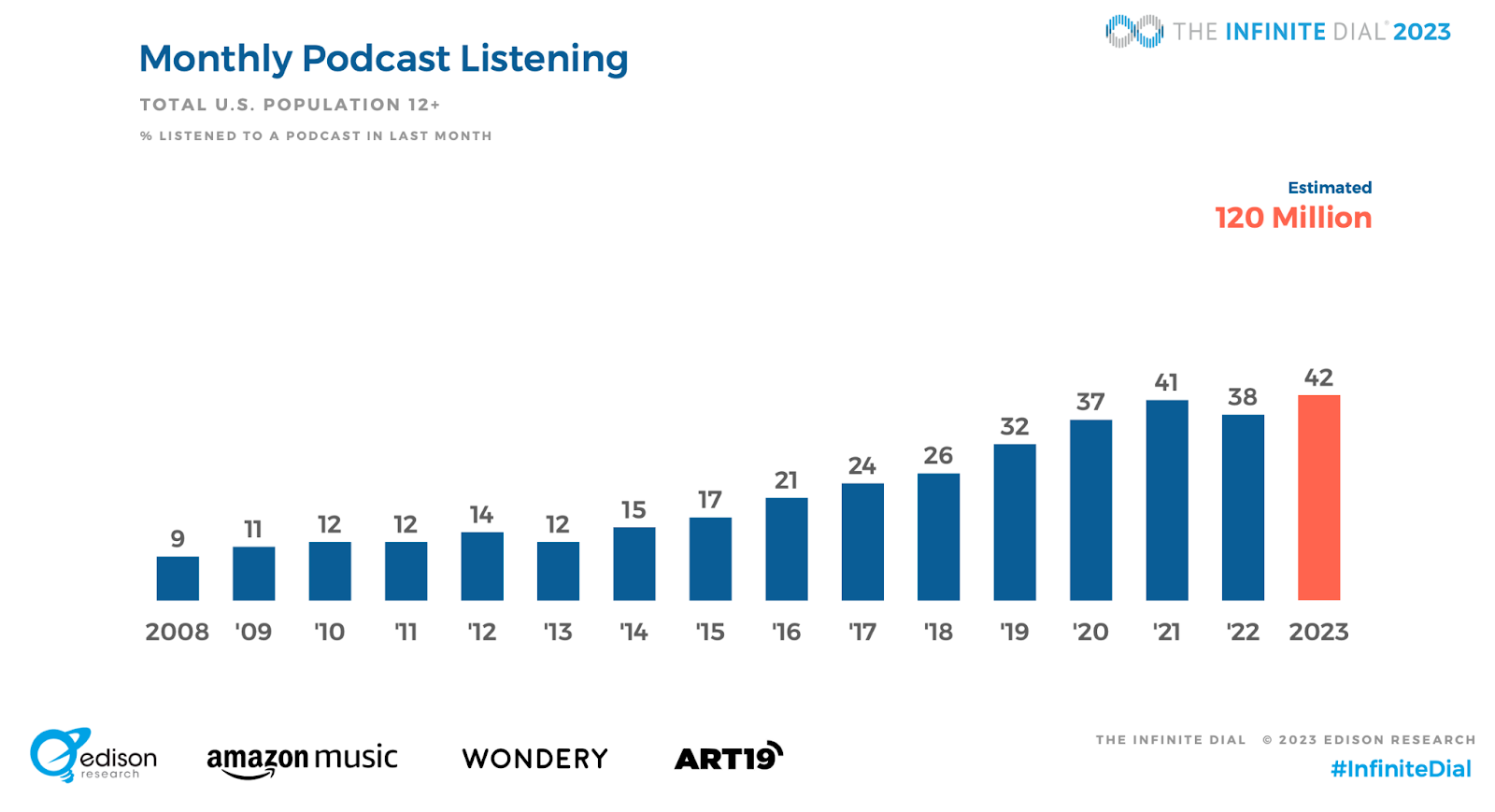 Image Source: Edison Research
Been thinking about a podcast as part of your content marketing efforts? Optimize it for smart speaker listeners to capture a wider audience.
For example, say a person asks their smart speaker to play a podcast about sharks. 
It's likely that Discovery's "Shark Week: The Podcast" will be a top suggestion.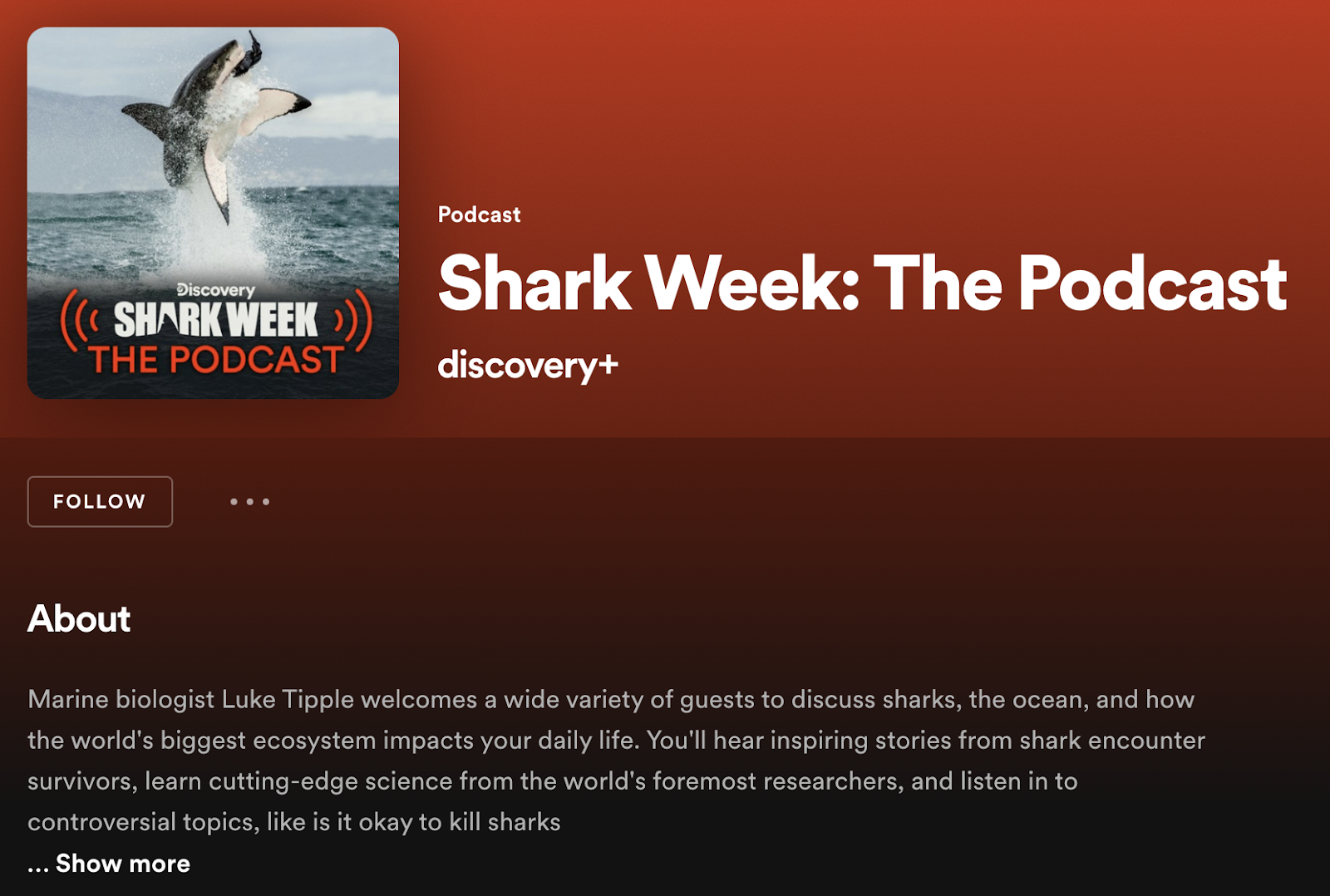 Their title and description include the primary keyword "shark."
To increase the chances of voice searchers discovering your content, ensure your title and descriptions include relevant subject keywords.
That way, you're more likely to appear in hosting platform search engines when people ask for specific podcast categories.
2. Amazon Dominates the Smart Speaker Market in the US, But Siri and Google Assistant Reign on Mobile
According to a study by Vixen Labs, the most popular smart speaker in the U.S. is the Amazon Echo and its personal assistant Alexa. Apple's Siri tops mobile device usage, however, with Google Assistant close behind.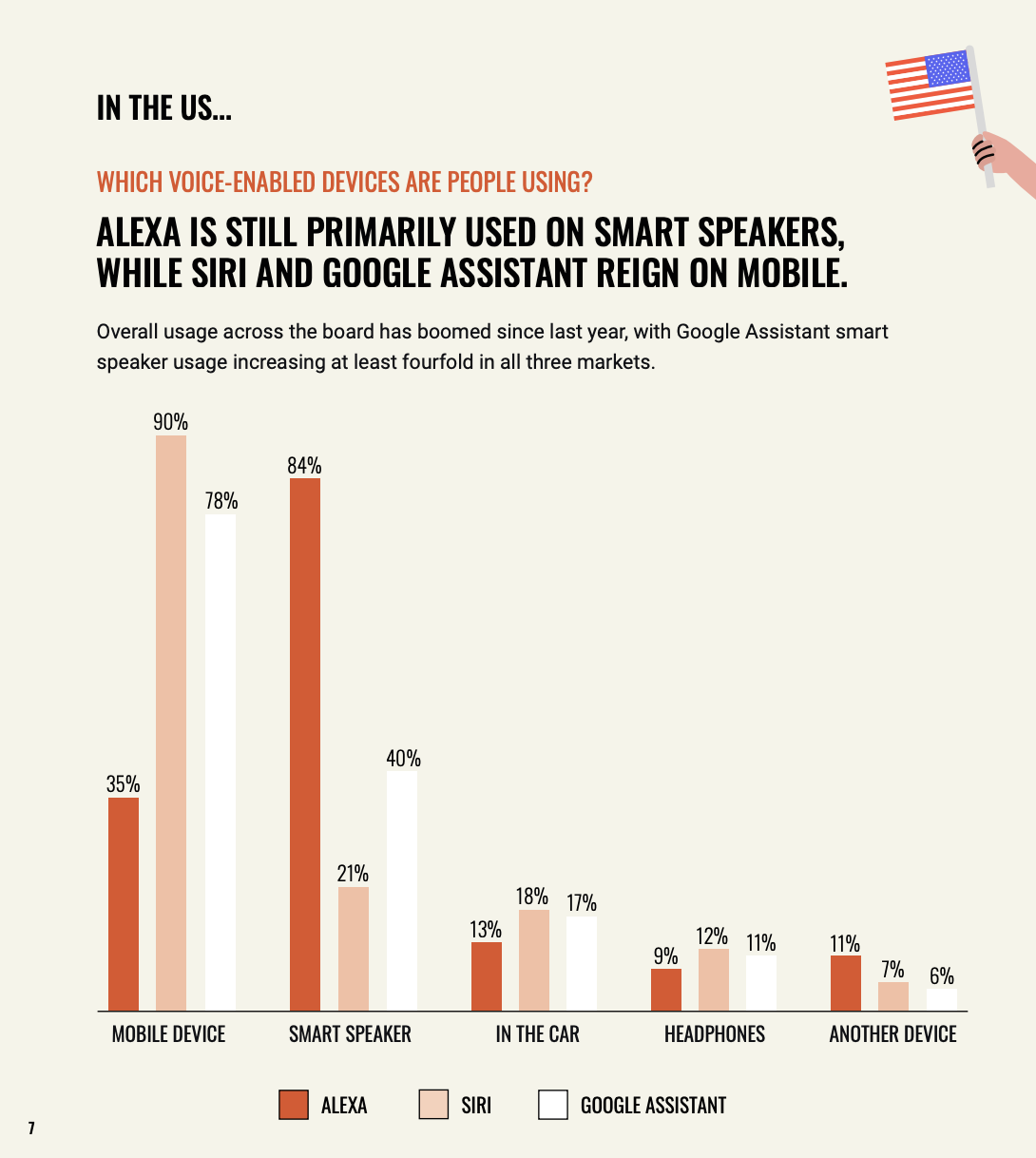 Image Source: Vixen Labs
Let's take a closer look at smart speakers and the voice assistants they use.
According to Statista, the most popular smart speaker brands in the U.S. after Alexa are:
Google Home
Apple HomePod
Google Nest
Sony
Image Source: Statista
So, the three main technologies in the market are:
Google Assistant
Apple's Siri
Amazon's Alexa
What does that mean for you?
You must consider each of these assistants when building your voice search strategy. And understand their varying algorithms.
For example, in the case of local searches:
Google Assistant's algorithm relies on Google Maps
Apple Maps (which takes information from Yelp) powers Siri
Alexa relies on Microsoft Bing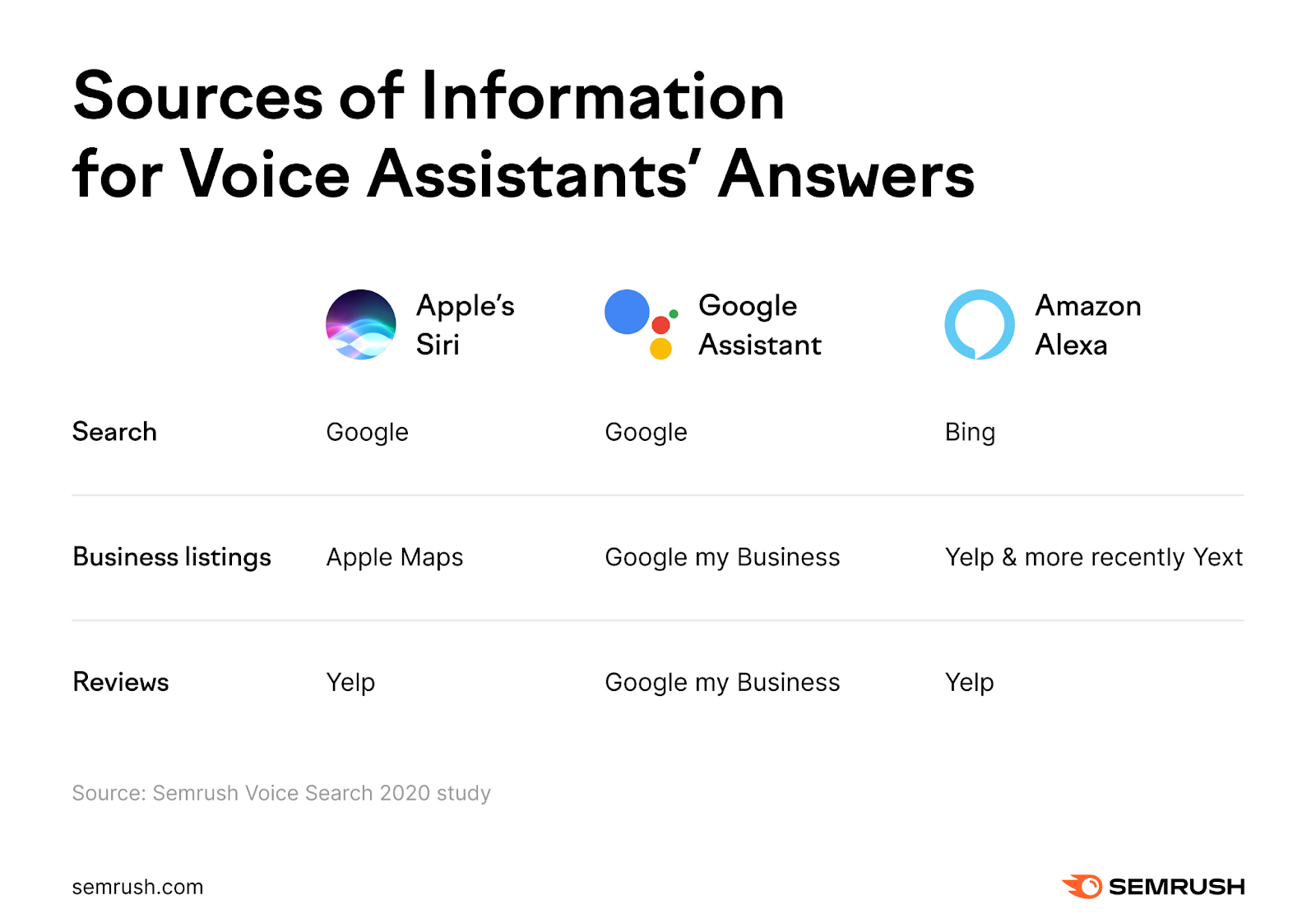 So, aim to adapt your strategy depending on which assistant and algorithm you're targeting. 
Like polishing your Google Business Profile (for Google Assistant users). Or optimizing Yelp reviews (with Amazon Alexa users in mind).
3. Half of US Consumers Use Voice Search Every Day
In 2022, 50% of U.S. consumers said they use voice search every day. 
But this trend hasn't climbed steadily. Instead, usage has ebbed and flowed over the years.
In fact, The Manifest reports voice search declined by 35% in the U.S. between 2018 and 2021.
So what's to blame for the drop?
According to the study, it was likely:
Security issues
The COVID-19 pandemic
Low-quality results
Voice recognition challenges in noisy environments
From 2021 to 2022, daily usage increased by 8%, signaling a change in tide.
Adoption is also highest for millennials who grew up with technology. Some 58% of this age group (around 25-40) use voice search daily.
There isn't sufficient research on Gen Z usage yet. 
However, this demographic is known for adapting easily to new technologies. They were born into a digitally sophistical world of 24/7 internet access with connected devices.
The takeaway? 
If you're an online business, consider these demographics when building your marketing strategies. 
Let's say your ecommerce store targets women in their 30s. 
You may want to consider integrating voice assistant support within your site or app.
This will let searchers using an assistant ask questions like, "What sizes do you have of your black, off-the-shoulder mini dress?"
Supporting voice search provides a faster, more convenient way to search. 
It also improves your site's user experience (UX). And a great UX entices customers to visit often, spend more, and tell friends and family about your brand.
4. Around 45% of Americans Use Voice on Their Smartphones to Discover Information
Some 45% of Americans and over a third of people in the U.K. and Germany use voice search technology as the basis of their buyer journeys. 
In other words, it's part of the "awareness" stage of the marketing funnel, where people research products and brands.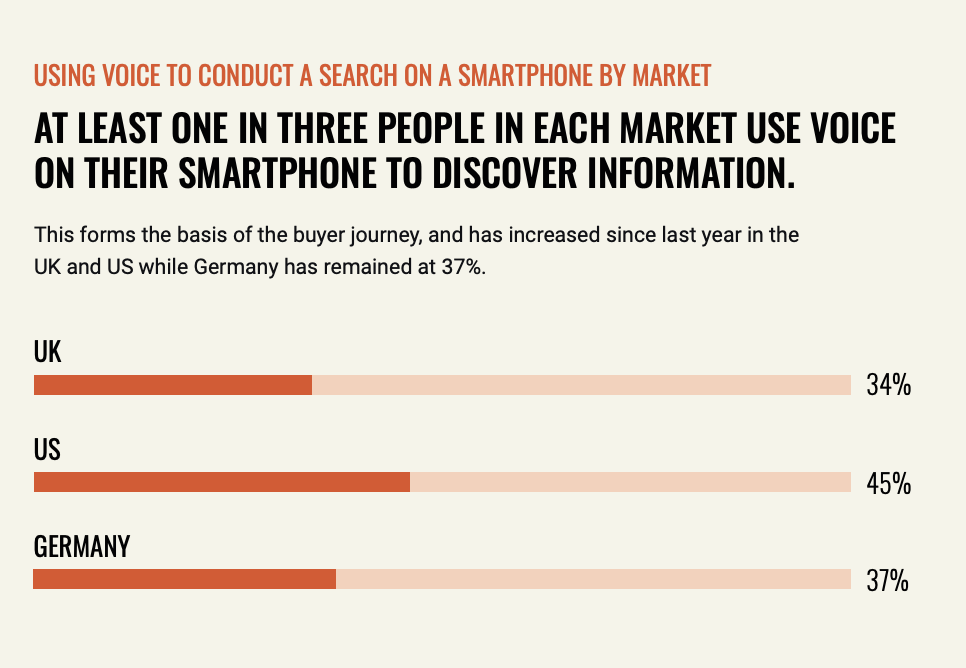 Image Source: Vixen Labs
Also, 58% of U.S. smartphone users use voice to search for information about a product or service. This indicates people use voice at the consideration and conversion stages of the funnel as well.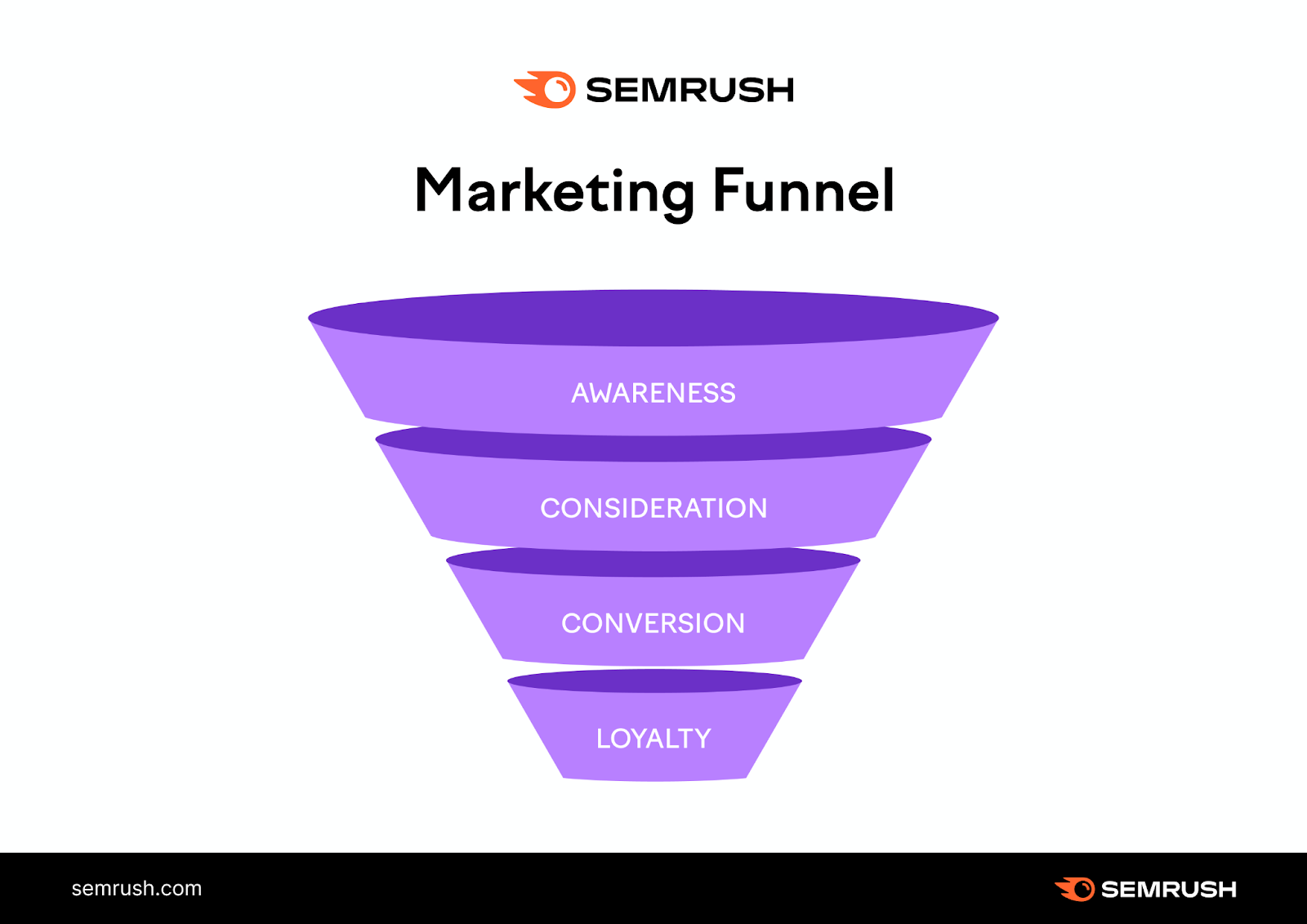 So, why is this important for marketers?
If you don't optimize your content for voice search devices, you could miss out on a chunk of the market.
Voice search optimization will help make sure you don't. This is a set of tactics to make your site and content appear higher in voice search results.
For instance, say you own a pizza restaurant in New York City. 
If an Apple user in your neighborhood asks Siri for the "Best pizza near me," you'd want your restaurant to top this list: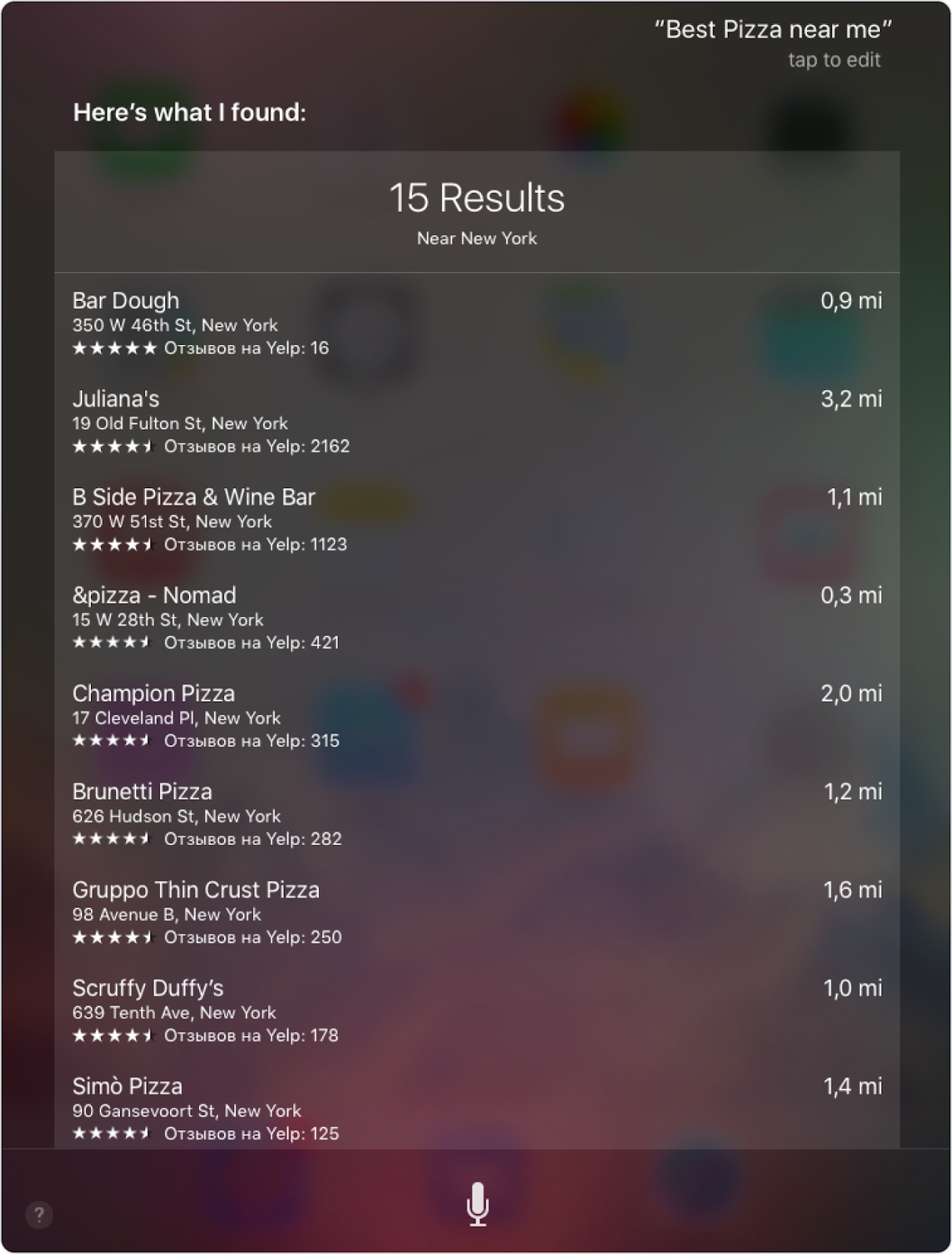 To do that, you'd use local SEO techniques like creating a Yelp profile and getting high-star ratings. 
Like Prince Street Pizza and Juliana's, which top Yelp's list of best New York pizzas: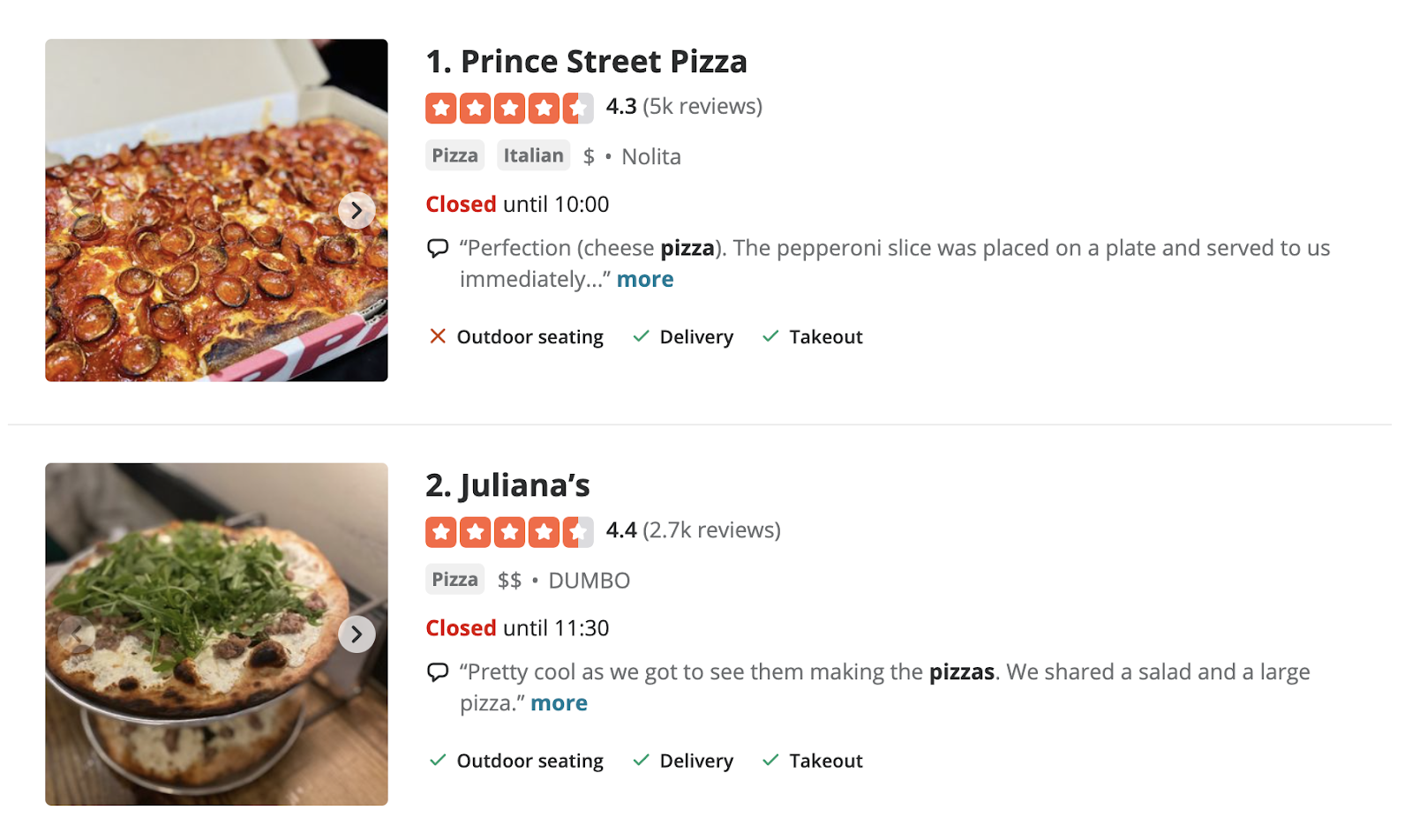 We'll cover both of those tactics in more detail soon.
5. Weather Queries and "Near Me" Searches Are the Most Popular Uses for Voice Assistants
According to UpCity, voice search users mostly ask questions about the weather and local businesses.
After that, the most popular categories for voice search usage are:
Search assistance while driving
Definitions and fact-checking
Online products and services
Communicating with others
News
Work-related information
Other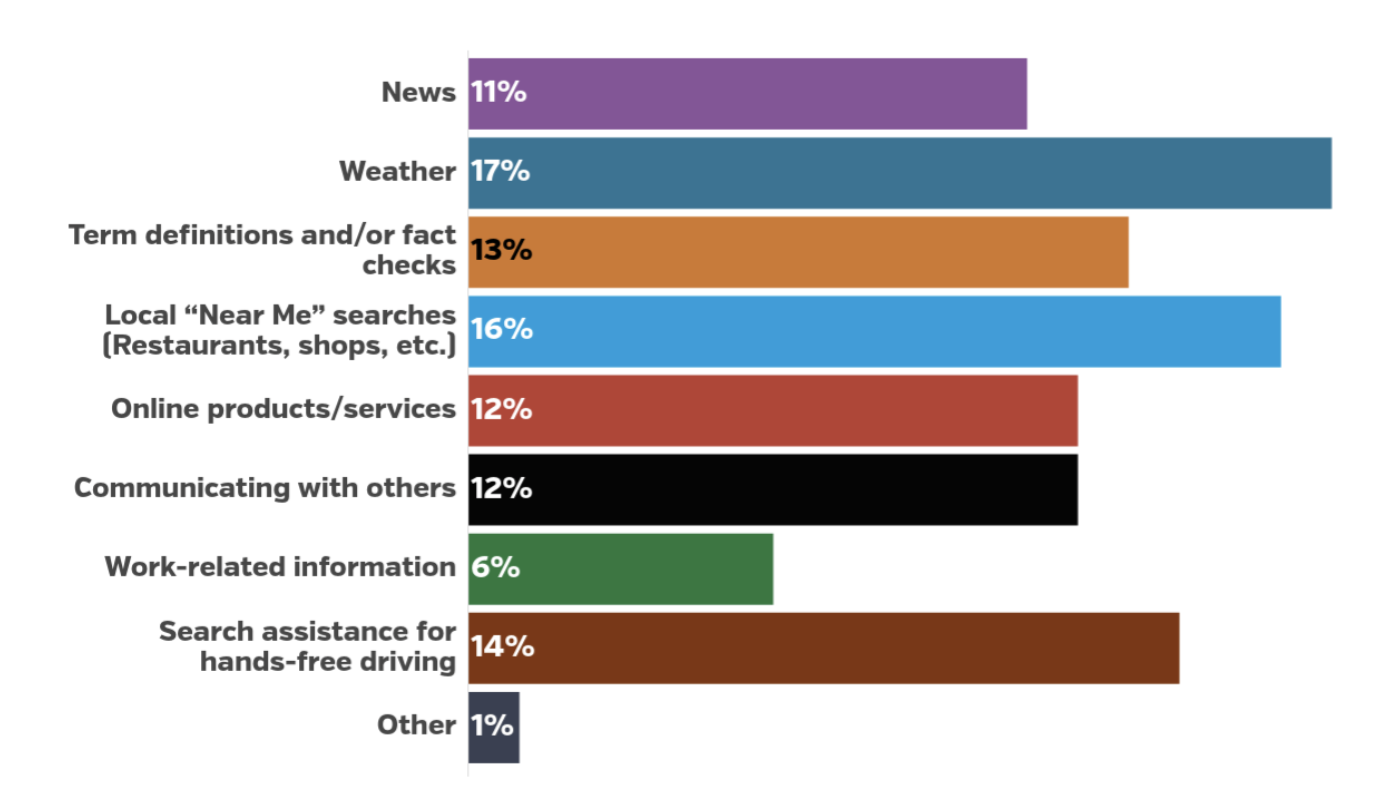 Image Source: UpCity
What does this mean for you? 
Unless you own a weather channel, keep your focus on local search.
Local SEO is a set of tactics that boost your visibility in local search results. This helps increase local traffic and brand awareness. 
One of the most crucial tactics is creating and optimizing your Google Business Profile (previously called Google My Business).
These are the listings displayed next to Google Maps in the search engine results pages (SERPs) for local results.
We'll cover more best practices for local SEO in the last section.
6. Health and Beauty, Electronics, and Household Supplies Are the Top 3 Smart Speaker Purchases
According to Comscore data, smart speaker consumers mostly buy health and beauty products, electronics, and household supplies with their devices.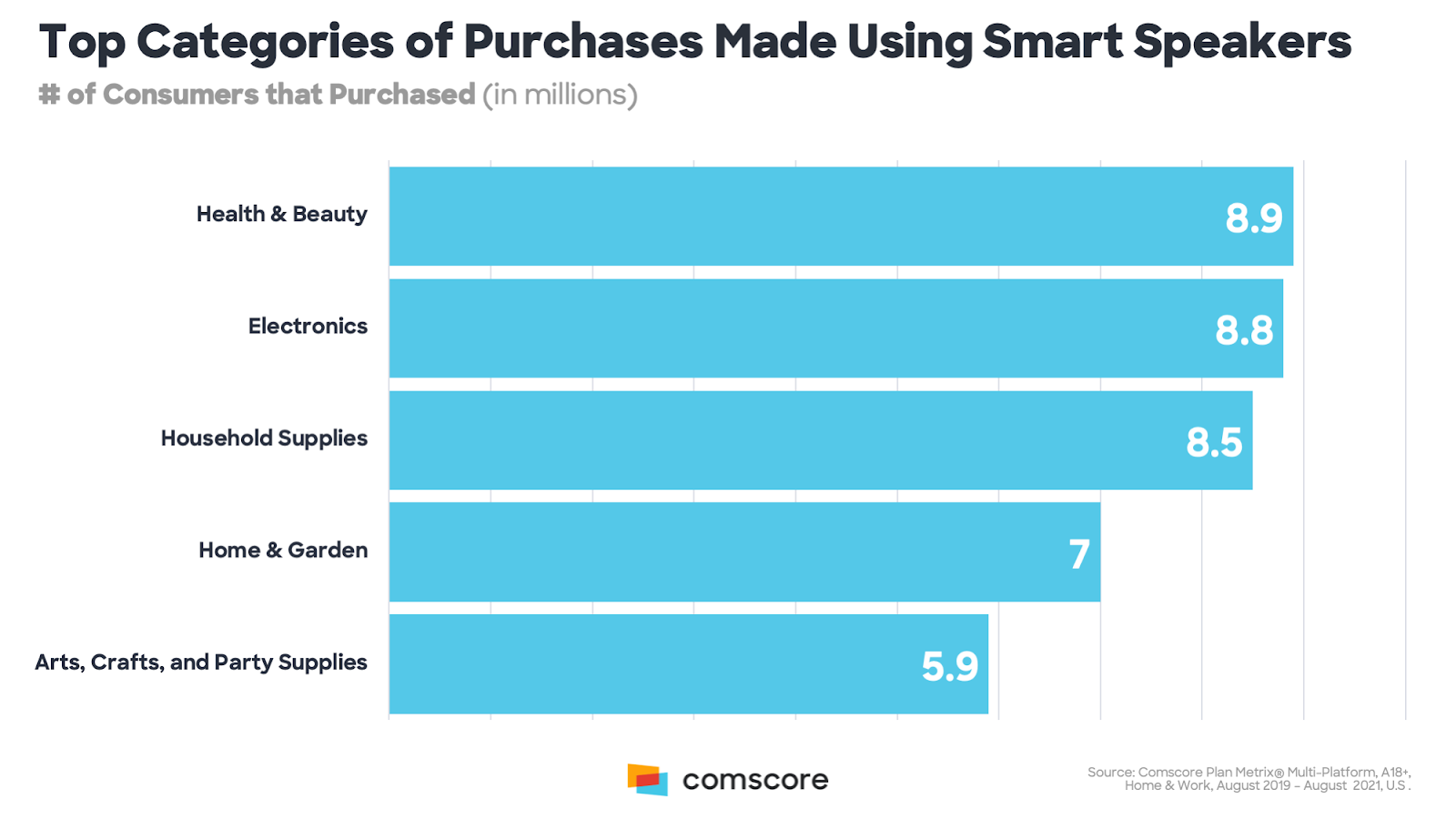 Image Source: Comscore
Between 2019 and 2021, consumers used voice search features to purchase approximately: 
8.9 million health and beauty items
8.8 million electronics
8.5 million household supplies
7 million home and garden items
5.9 million arts, crafts, and party supplies
Younger millennials ages 25-34 are also most likely to use voice to purchase in the U.S., U.K., and Germany. But 45-to-54-year-olds aren't far behind.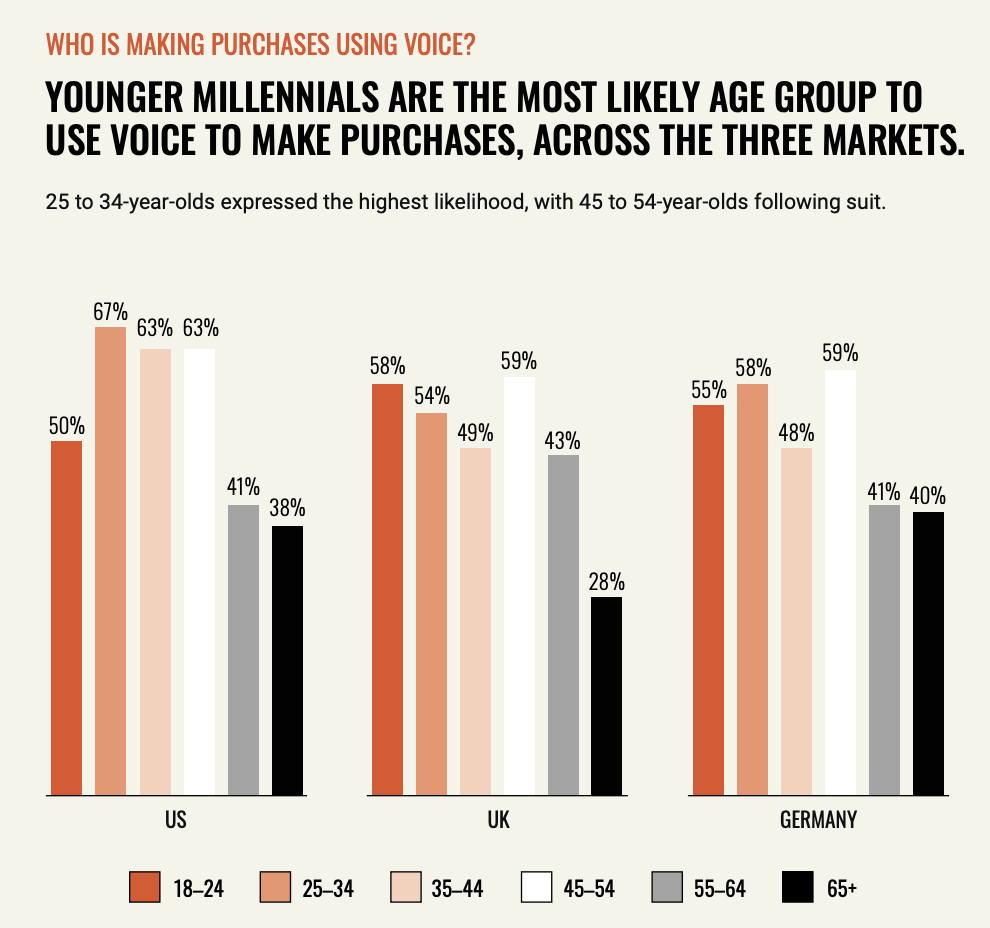 Image Source: Vixen Labs
That's why all ecommerce businesses need to optimize their online presence for voice-based purchases. It's a fast and convenient way for any demographic to shop. 
You may be far from your living room speaker. But you likely always have your smartphone nearby.
This accessibility means consumers can shop via voice at home or on the move.
Voice assistants can store earlier purchases to personalize the shopping experience. And recommend similar products based on these patterns.
If you're a retailer with an app, consider adding a voice shopping option. Or integrate your ecommerce platform with Alexa, Google Assistant, or Siri.
7. Companies With Higher Yelp Ratings and More Positive Customer Reviews Show Up in Apple's Siri Replies
Do you have a 4.5/5 Yelp rating and tons of positive reviews? Our research discovered you're more likely to appear in Siri's local results.
Our study found four main factors (in order of importance) that influence Siri's algorithm:
Distance 
Number of Yelp reviews
Star rating
Pricing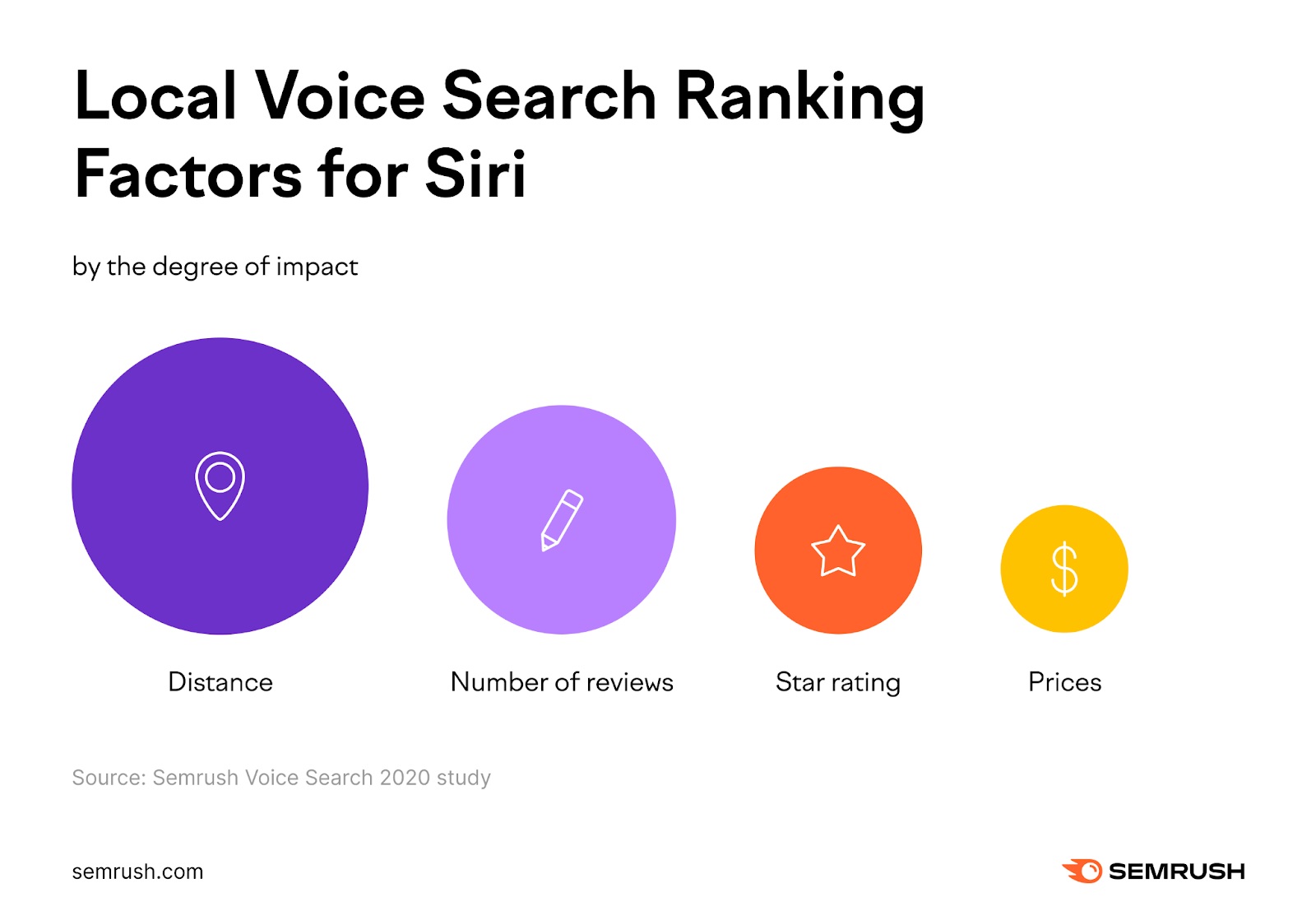 Distance seems to play the most significant part in "restaurant near me" searches. Not so much for "best restaurant near me," however.
In those cases, Siri prioritized the highest average star rating.
While you may lose out on distance, you can optimize your Yelp listing by:
Filling out all sections of your Yelp profile 
Choosing the most relevant category (using an irrelevant one affects Siri visibility as it hurts Yelp rankings)
Adding images to stand out among other profiles
Including relevant keywords in a way that feels natural
Replying to customer reviews to build relationships
Keeping a refreshed listing with up-to-date business information
Then, focus on generating as many high-rating reviews as possible.
Further reading: Our online reputation guide contains more tips to encourage positive reviews.
3 Best Practices to Make the Most of These Voice Search Stats
You can use these recent stats to make data-driven decisions about your voice search strategy.
Here are three best practices the research suggests:
Have a Fast, Mobile-Friendly Site
Make sure your site loads quickly and optimize it for mobile use to capture voice search traffic. 
How do speed and mobile accessibility affect search results?
A recent Portent study relayed the impact of site speed on conversion rates.
Pages that load in one second have a conversion rate of almost 40%. For two seconds, it drops to 34%. Then, 29% for three seconds.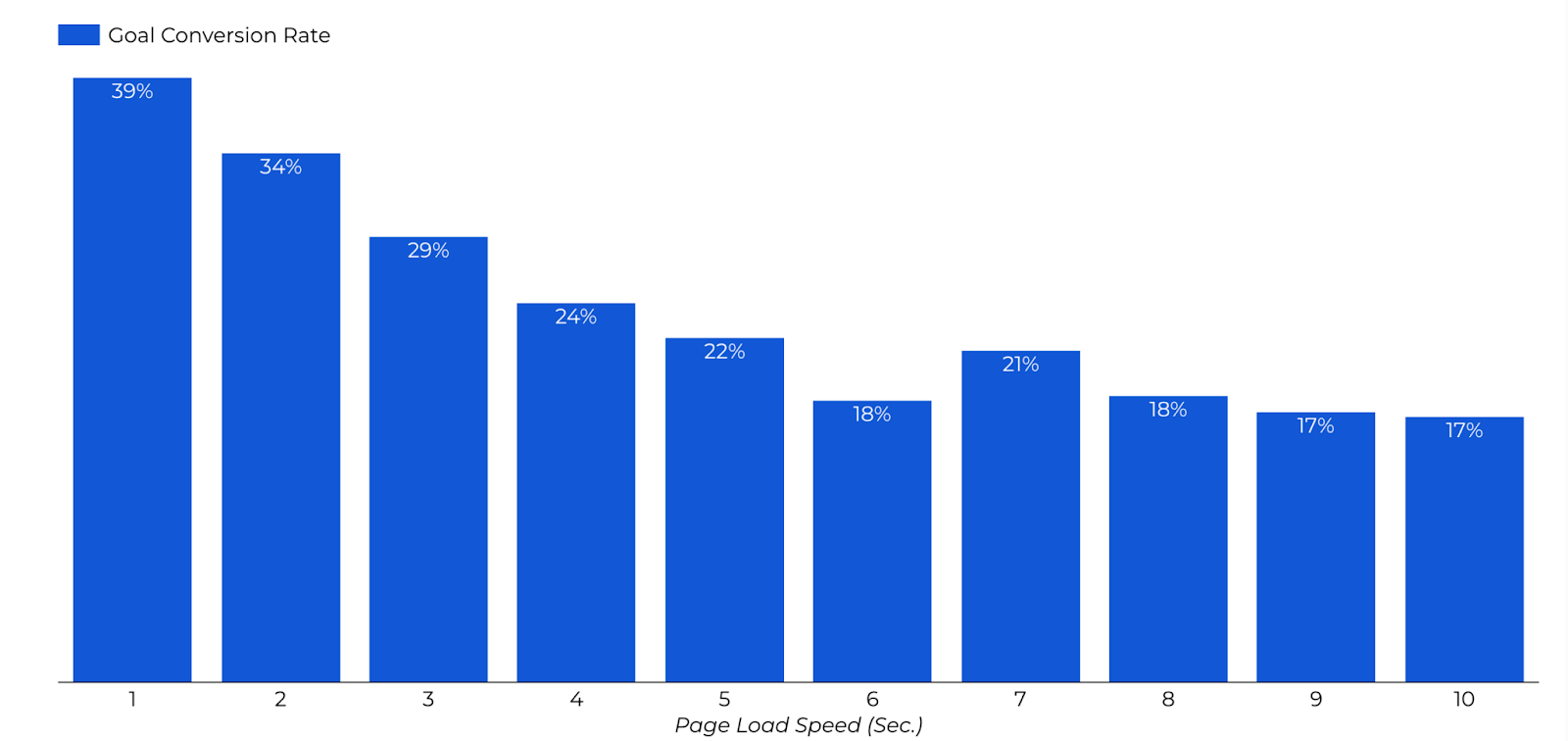 Image Source: Portent
Voice assistants may disregard sites that load too slowly. And the 45% of Americans who use their smartphones for voice search may never see your content.
Google mainly uses the mobile version of your site to index content. To rank highly and show up in voice mobile searches, you must optimize your site for smartphones.
Searches from mobile devices also make up the majority of web traffic. And 76% of shoppers use their phones to buy online.
Mobile device usage is growing (especially for purchases). The sites that prioritize mobile search will stay competitive.
So, how do you know how fast and mobile-friendly your site currently is?
Open Semrush's Site Audit tool, head to the landing page, and create a project.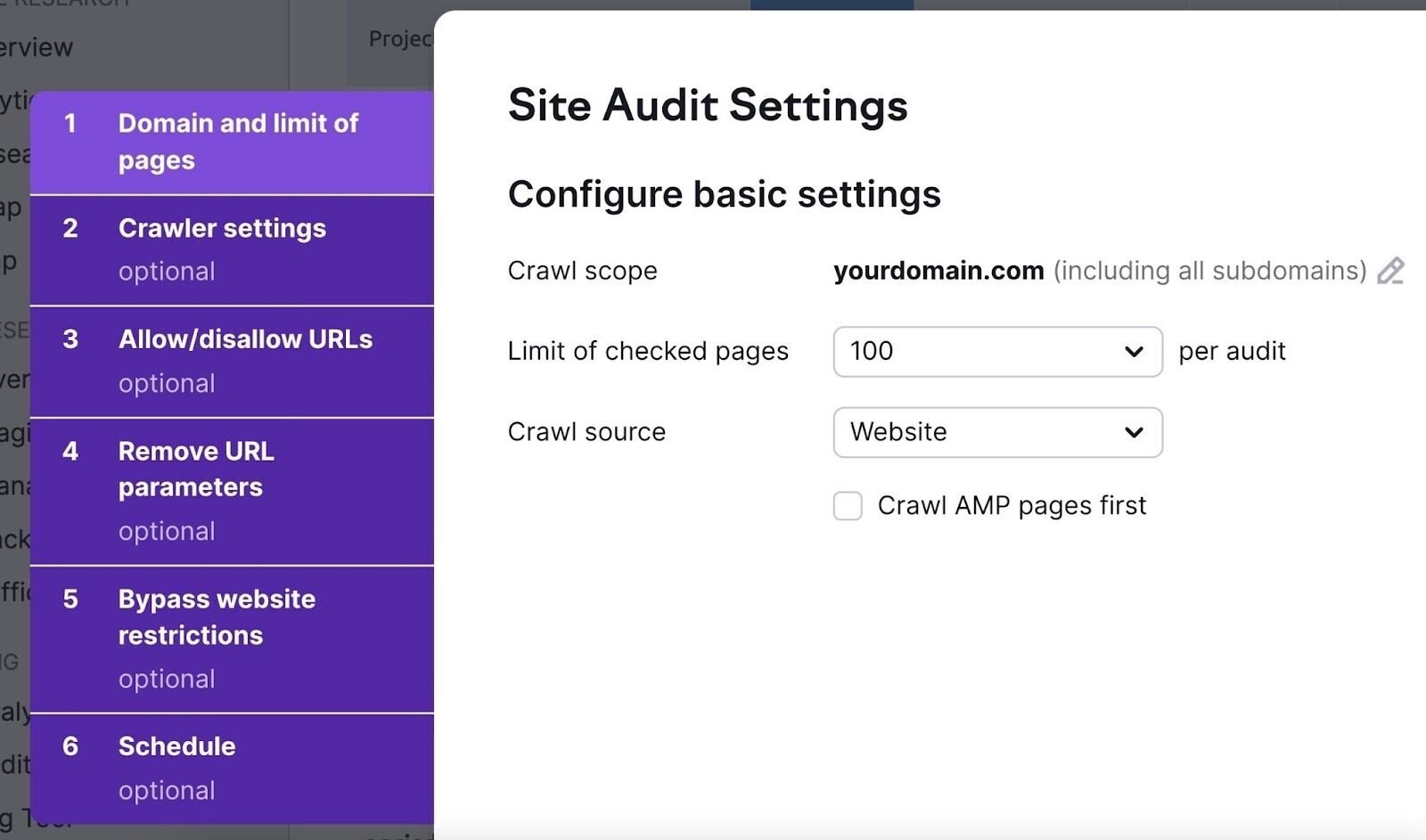 Read our full walkthrough to configure the tool.
Then, click "Start Site Audit" to see a dashboard like this: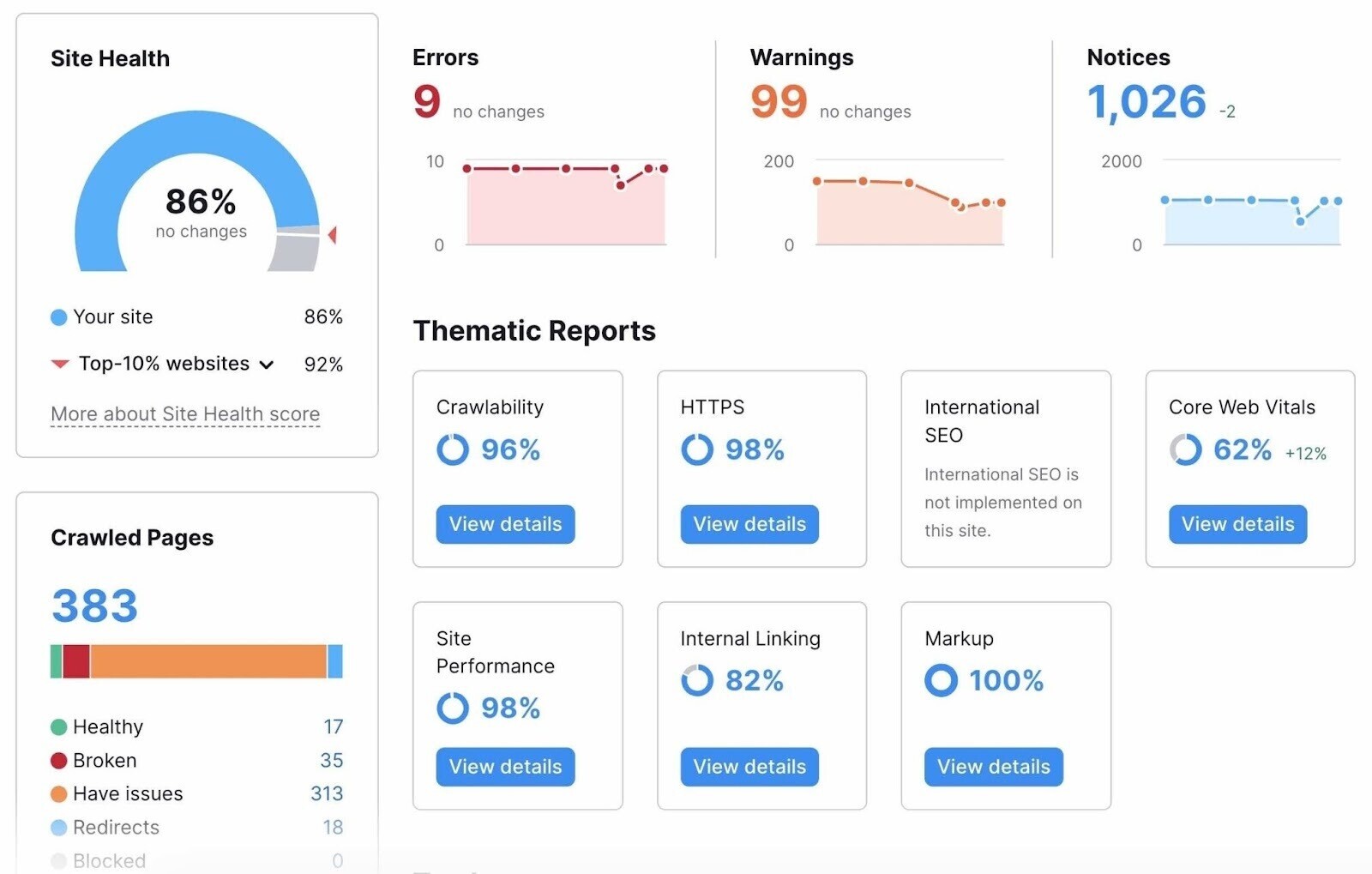 "Site Health" rates how your site is performing. It considers the number of errors, warnings, and notices you have.
The tool also prioritizes your issues by category:
Errors need urgent attention
Warnings are next
Notices can wait until last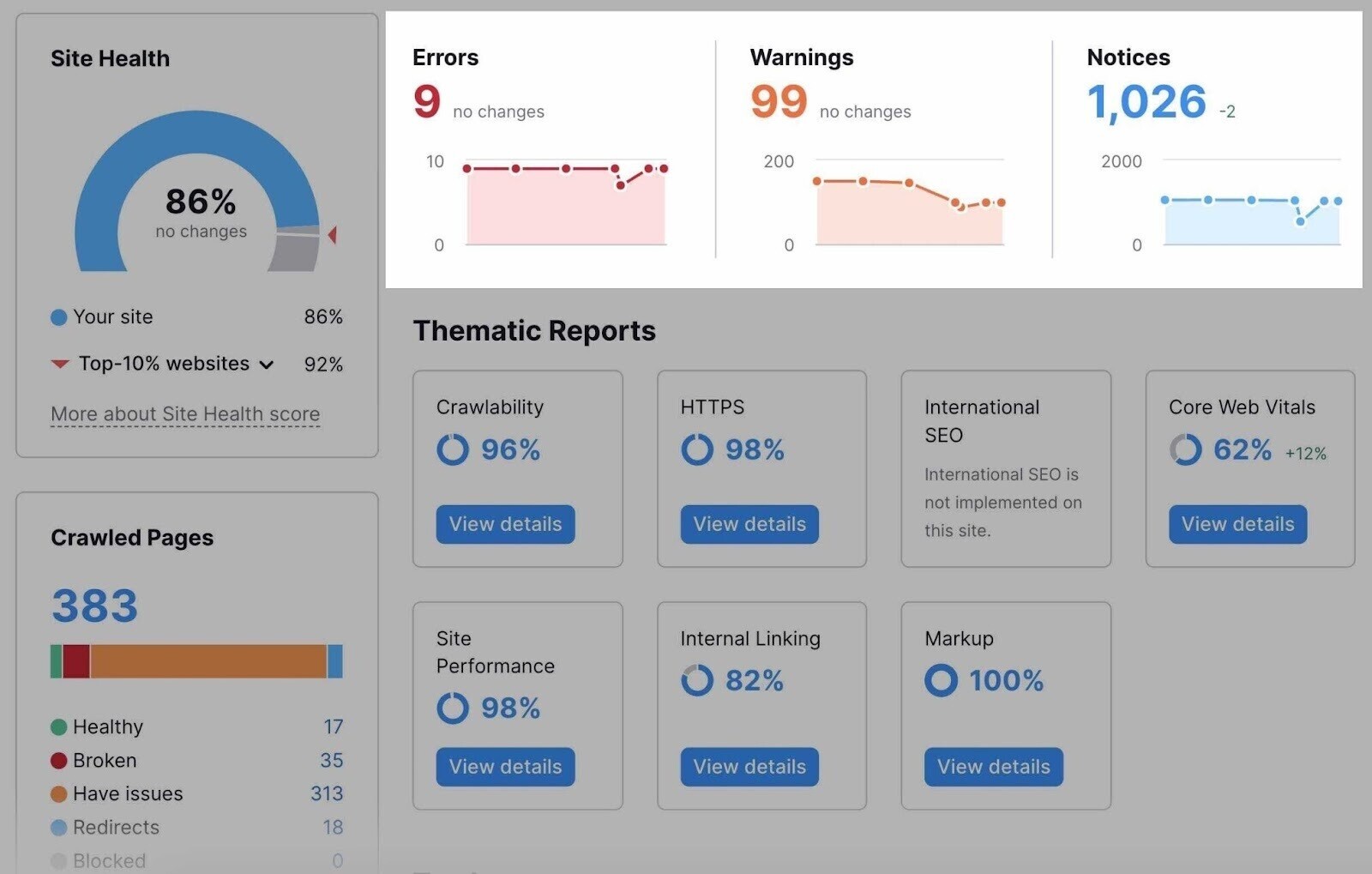 Click the "Issues" tab for a list of everything: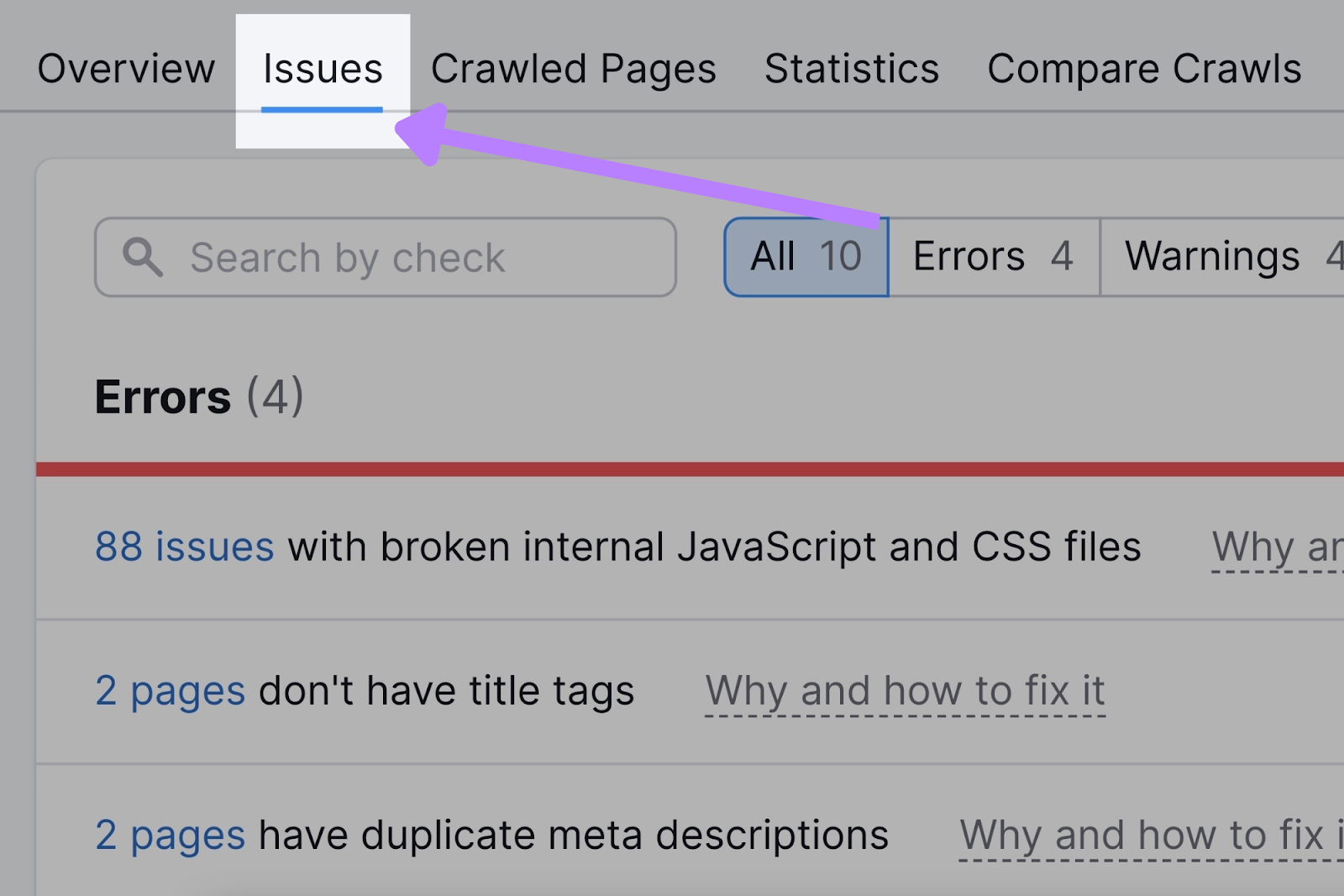 Then, click the "Why and how to fix it" link next to any issues where you're unsure.
You'll see a pop-up with a detailed explanation and instructions to correct the error.
Once you complete the full list, your site and all its functions will be ready for voice search users.
Create Simple Content Using Natural Language
When people ask Siri or Alexa questions, they use natural speech patterns. 
So, aim for conversational and question-based titles. And content that includes short, fast answers.
Unlike traditional searches, voice commands aren't usually keyword-focused. The average voice search result matches the exact phrase people say.
For example, here are the answers to, "Hey Siri, can dogs eat pineapple?"
Each top result title matches the search query exactly. So this tactic is perfect for questions with simple answers.
But how do you find your own questions to target?
Target long-tail keywords (longer, more specific keyword phrases with lower search volume). There's not as much competition to rank for them.
Questions also tend to be long-tail. 
You can find relevant long-tail keywords for your brand using the "Questions" filter in the Keyword Magic tool.
Head to the landing page. Then enter a term related to your business. We call that a "seed phrase."

Then click "Search."
On the following dashboard, click the "Questions" tab. You'll see all question-based keywords that relate to your seed phrase.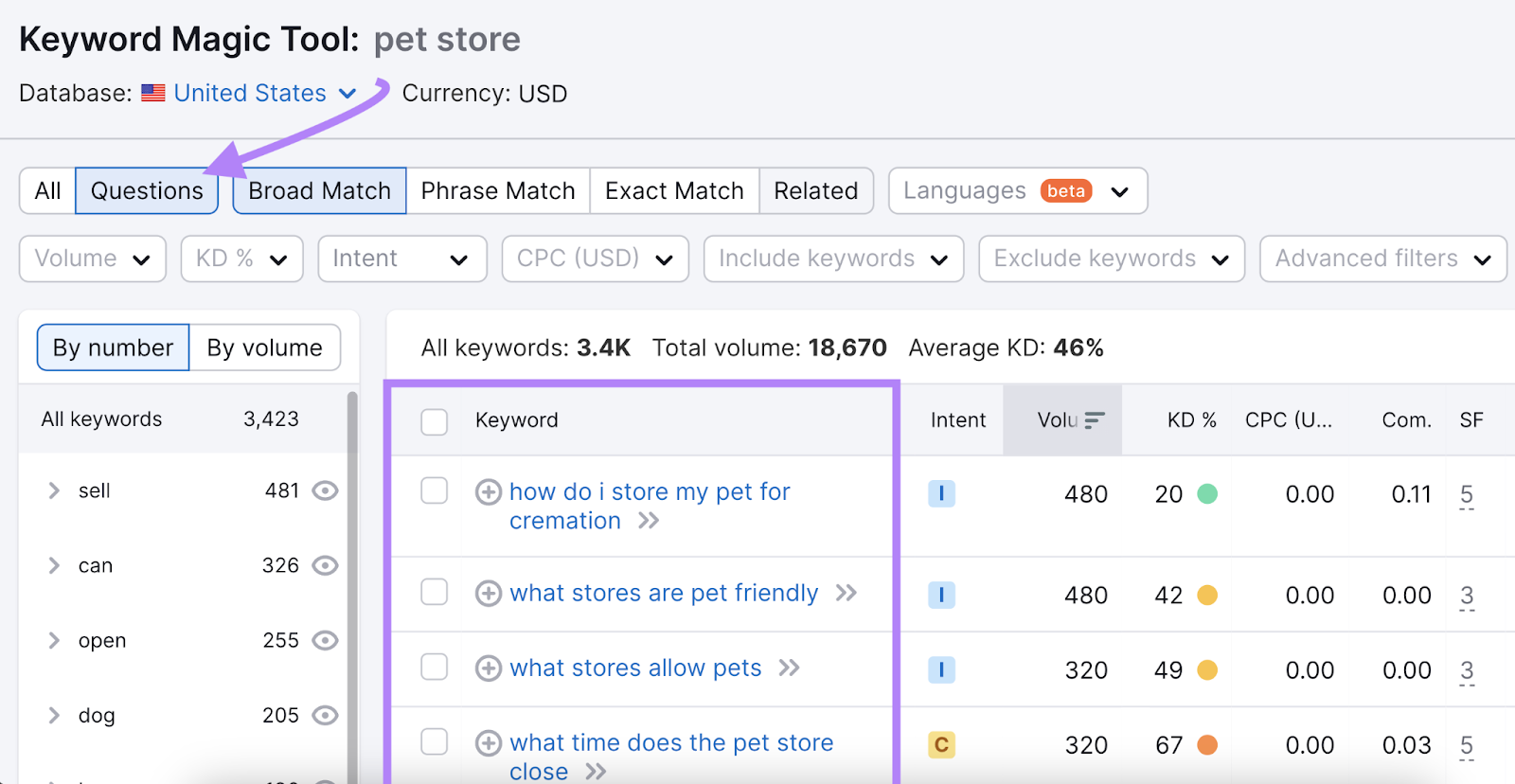 Once you have a keyword question, make sure your content answers the title question concisely.
Let's go back to our dog and pineapple example. You could start the article with, "Yes! Dogs can eat pineapple but in moderation."
A section like this within your content is ripe for ranking as a featured snippet (the content that tops the SERP) because it's direct, snappy, and answers search intent.
Here's the current featured snippet for that question: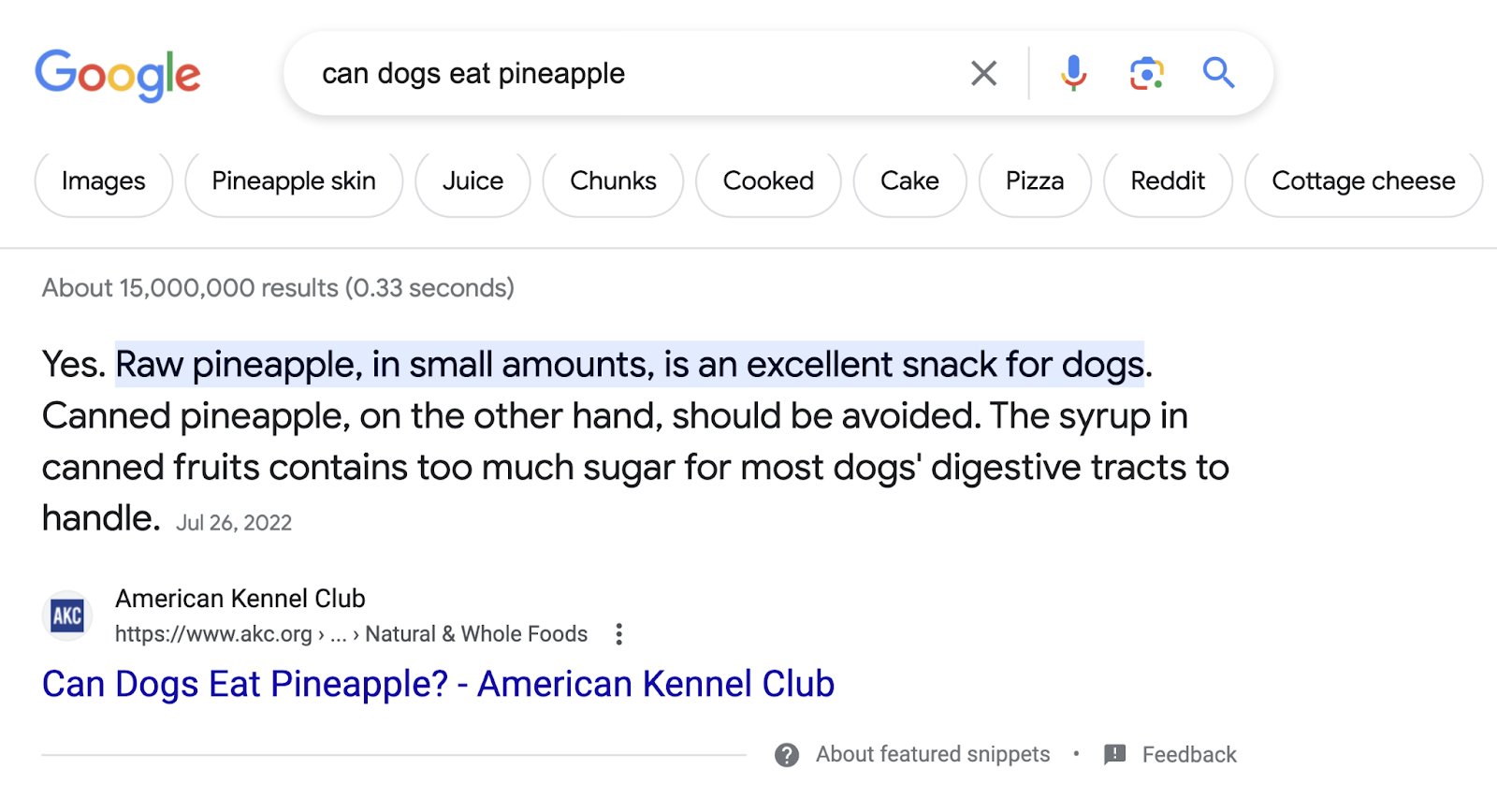 As you can see, it's similar to our suggestion and answers the question in one line.
You can also employ the same strategy by creating a Frequently Asked Questions (FAQ) page.
If someone's searching for something about your business, an FAQ gives a short, sharp answer.
Let's say you have a pet store called "Ahead of the Pack." Someone may ask their voice assistant, "What are Ahead of the Pack's hours?" 
Because you've optimized your FAQs for this purpose, the device can grab a one-line answer: 
"We're open 9-5 Monday to Friday."
This strategy also works for more complex topics. Instead of cramming relevant info into the main copy, add some FAQs to the bottom of the page or article.
These can hit your target keywords and make it easy for voice assistants to pull the information they need. It could also make the perfect rich snippet for search engines.
When searching for these kinds of conversational long-tail keywords, weed out those that don't sound natural.
Don't waste your time or effort if a suggestion doesn't sound like a question a human would ask.
It's also interesting to note that 90% of voice search queries are in English.
If you don't already create English versions of your content, now could be the time to start.
Optimize Your Local SEO Strategy
Customers find businesses with a Google Business Profile (GBP) 2.7x more reputable. They're also 70% more likely to visit and 50% more likely to purchase from companies with profiles.
Here are a few examples of pet stores with GBP profiles in Orange County, California: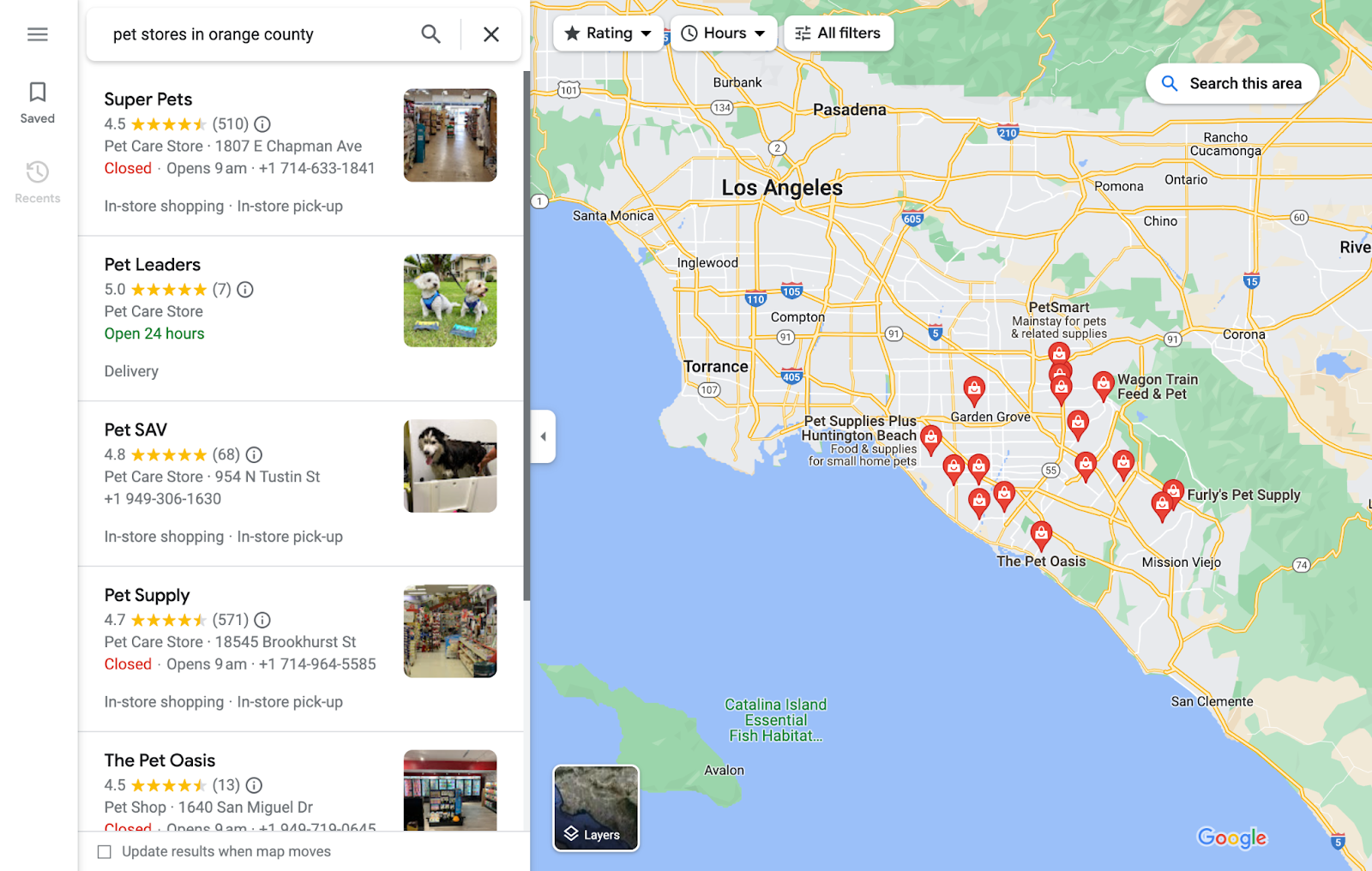 Those in the top results range from 4.5 to 5 stars, so they appear more trustworthy. 
This bias is due to a psychological phenomenon known as "social proof." When people are unsure of how to act in a new situation, they tend to copy the actions of those around them.
In this example, the user is looking for a new pet store. And they're much more likely to choose one that others have already experienced and rated.
Plus, people trust other people more than brands.
Google prioritizes local listings through a combination of relevance, distance, and prominence to find a searcher's best match. However, these aren't in order of importance.
If the search engine thinks a business farther away meets your needs better, it'll suggest that over the nearest one.
Complete all sections in your GBP profile and add images to stand out. Then read all your customer reviews and reply to each.
Doing so proves you value people's feedback and their business.
If you don't have any reviews yet, reach out to your customers or social media followers. 
Send an automated email requesting a review after you deliver someone's order. Or link to your GBP or Yelp profiles on your social accounts to increase their visibility.
You should also set up business profiles on other relevant industry sites and directories. 
Prioritize those with a high Authority Score (AS) within the industry. 
For example, on Semrush, Yelp has an AS of 100:

Check how that compares to other directories you're considering to decide which profiles to spend your time and effort on. 
When you build up citations on multiple relevant sites, you're more likely to rank in voice-based local searches. 
That's because several authoritative sources agree you're an official, trusted business. 
So, do some digging into industry or niche-specific sites that will host your listing.
Pro tip: Semrush's Listing Management tool can also help you distribute your business information.
Don't forget to add your essential contact details (like an email or phone number) to your profile so potential customers can get in touch.
If you can include relevant SEO keywords, ensure they fit in naturally. But keep in mind that your priority readers are humans, not search engines.
Incorporate These Voice Search Trends Into Your SEO Strategy
Search engines want to show users the highest quality websites and content.
So, start with a Site Audit to make sure yours is easily accessible to digital assistants.
Then use the Keyword Magic tool to create content that answers voice searchers' questions.
Source link