There's more to search engine optimization (SEO) than the technical aspects most people think of, like keywords and backlinks. There are a variety of creative ways to help your site rank that are ethical, inexpensive, and help boost your business's authority and credibility in the process.
Creative SEO strategies don't mean you need to go and re-invent the wheel or start a new trend — they just mean thinking outside the box a little. Specifically, looking at what makes your business unique and using that to your advantage.
Learn how to do more with your website and content by diving into these five creative SEO strategies with examples, and start getting those creative juices flowing.
Leverage custom visual content

Be transparent about your company

Use coding to create tools

Elevate your PR strategy

Create content through thought leadership
1. Leverage custom visual content
When developing a creative SEO strategy, start by getting creative with your images.
Often, images are an afterthought in SEO. When you put a lot of time and effort into creating SEO-driven content for a page, it's almost too easy to grab a random stock image from Unsplash or Pexels and call it a day.
In reality though, images are vital for SEO and users. Think about it — what grabs your attention more when you open an article? An image of nameless business people pretending to discuss something in a boardroom or unique illustrations that help your content tell a story?
For example, Screaming Frog leverages custom blog images for their creative SEO strategy to add personalized flair to their content.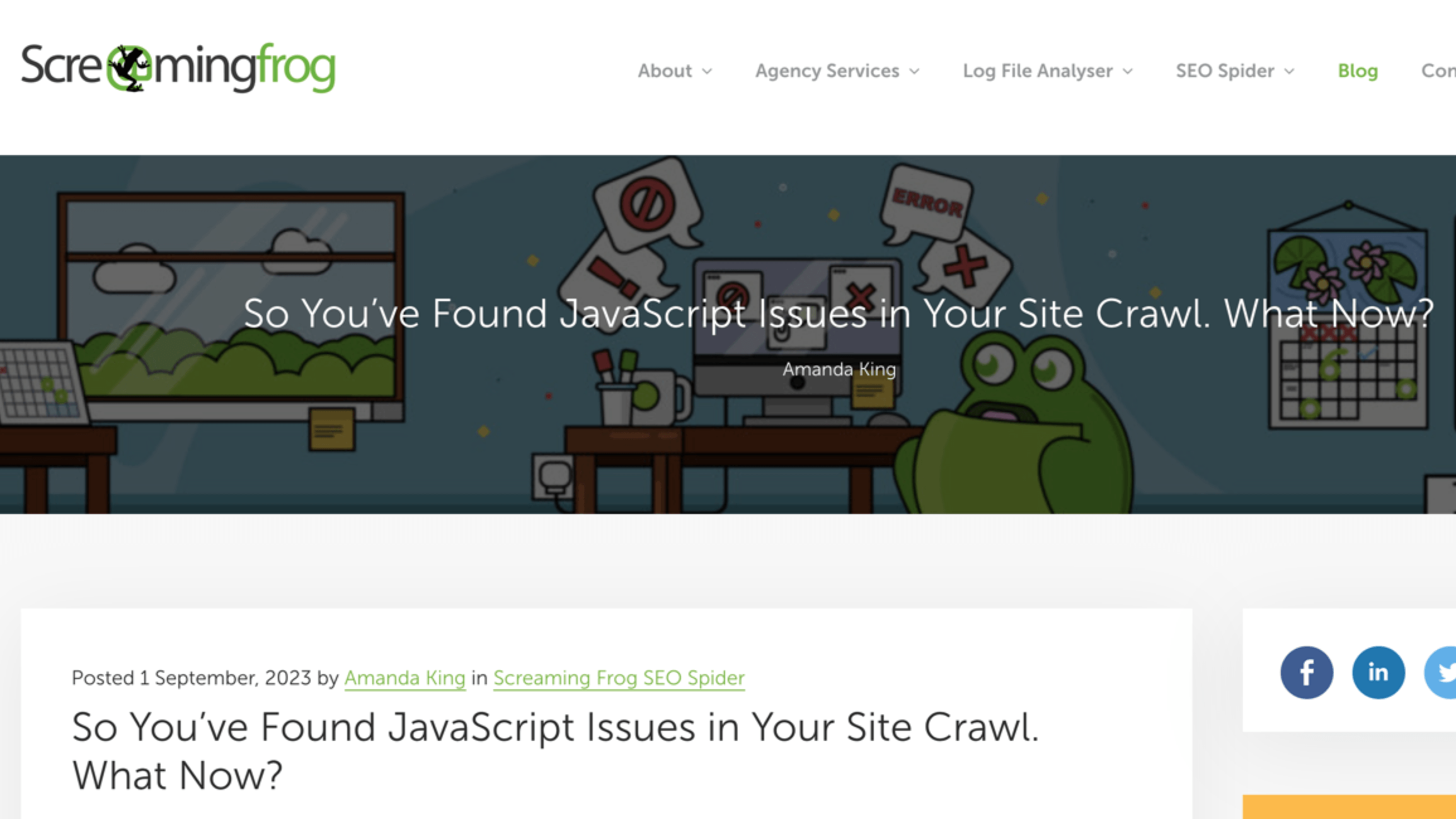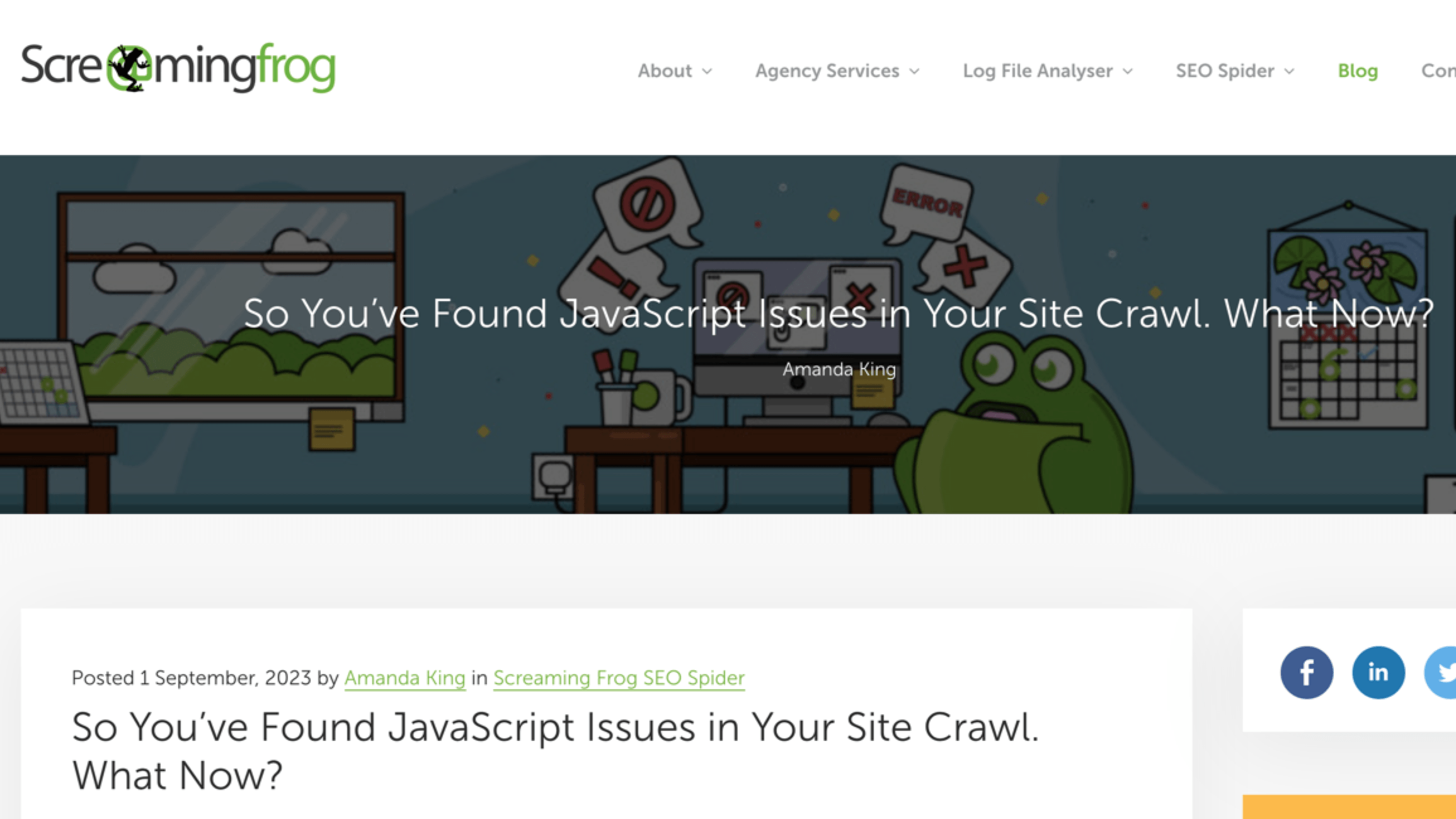 Get creative with your SEO efforts by leveraging visual content like blog images, graphics, tables, and more. Creating your own unique visual content can attract more users, effectively illustrate points your content makes, and help further your business's branding and identity. 
2. Be transparent about your company
Another way to develop a creative SEO strategy is to be transparent about different aspects of your business to inspire new and insightful content for users. 
For example, write blog posts or articles about the inner workings of your company or make certain company documents available as open sources of information, like company or employee handbooks.
For example, Buffer offers complete transparency about their social media analytics company, going as far as providing insights about financial updates on the company.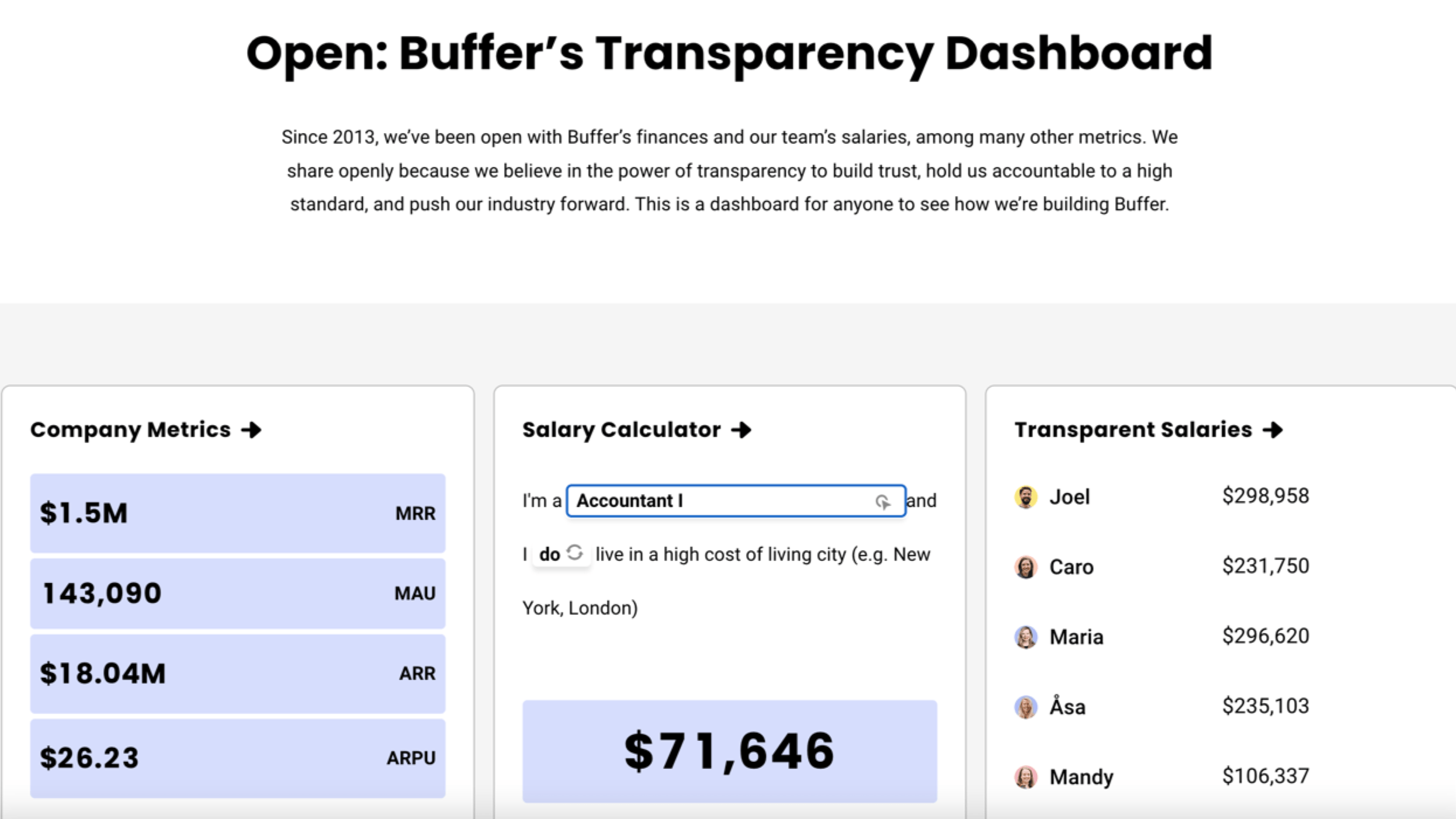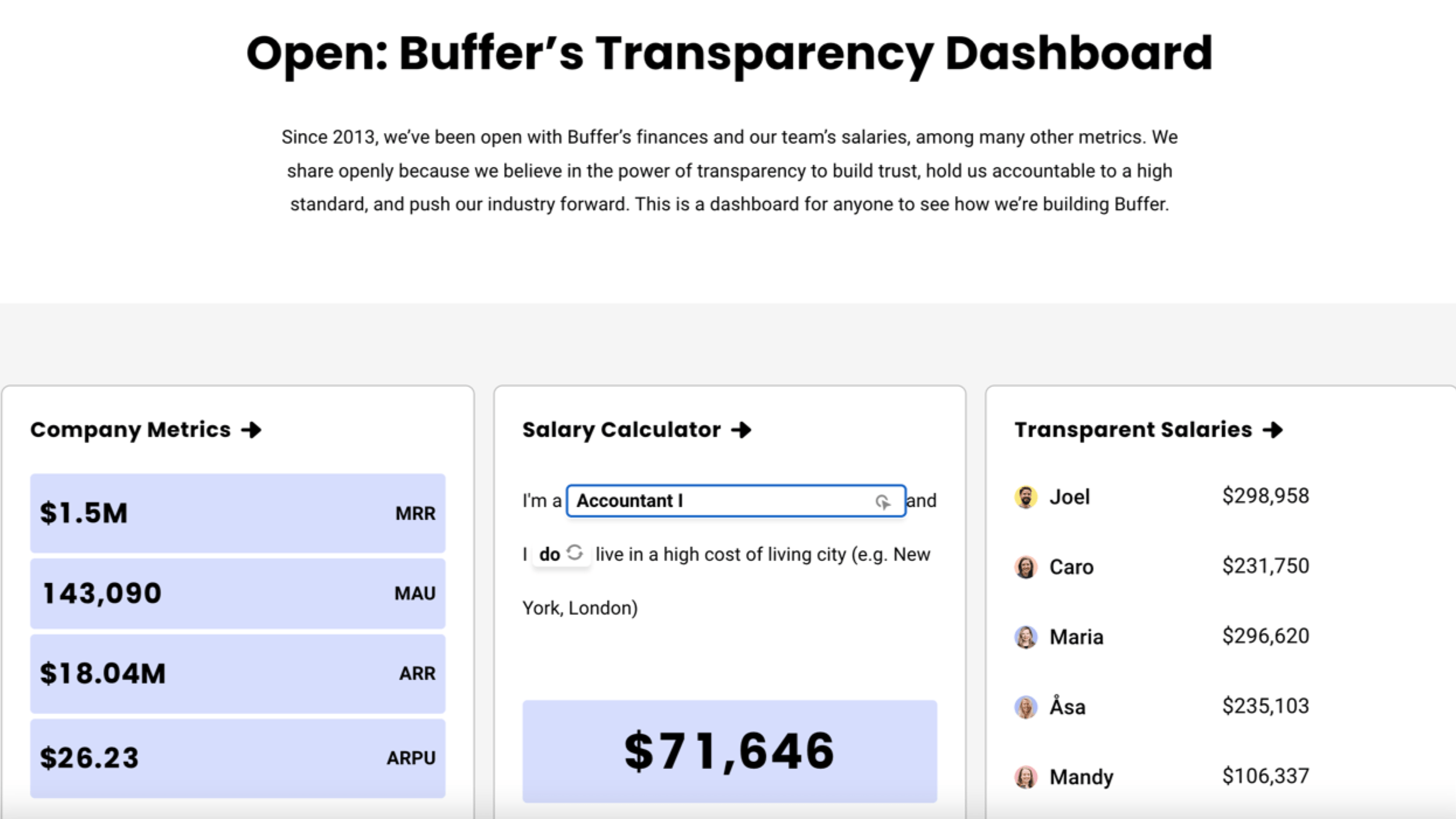 Another idea to get creative with your SEO is to turn customer questions and support tickets into public help documents. Whether you repurpose them as robust articles or simple blog posts, you can capitalize on the fact that other people likely have these questions and begin funneling that subsequent traffic to your site.
3. Use coding to create tools
Tech-savvy businesses can develop creative SEO strategies by using coding to turn internal tools into free, public-facing tools to benefit customers and site visitors. These tools can range from cost calculators to personalized widgets that assist users while visiting your site.
Within Buffer's transparency dashboard, Buffer incorporates this innovative SEO strategy by offering a nifty widget that calculates salaries based on title and location.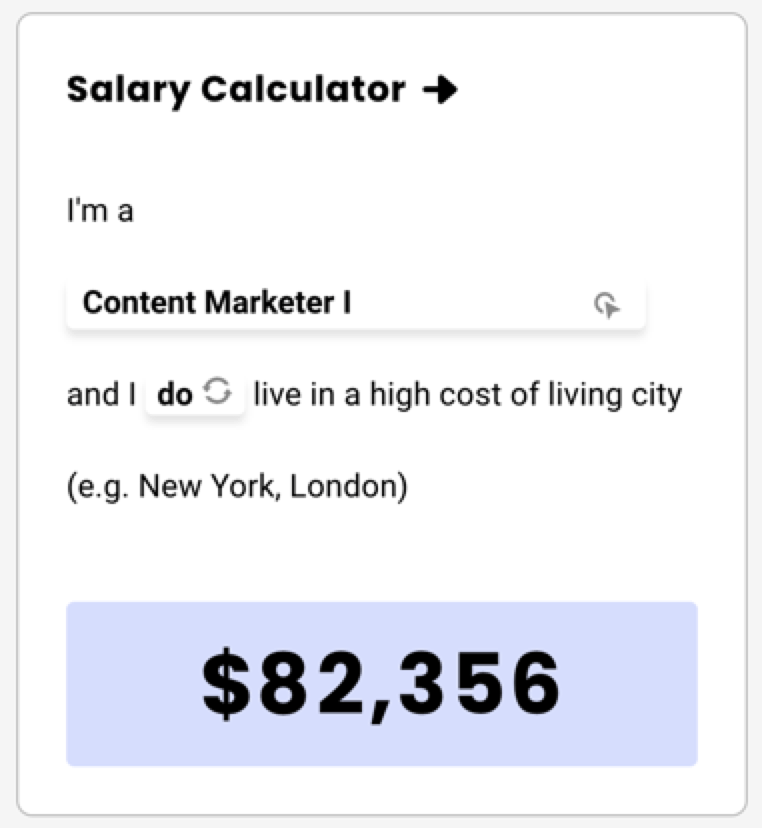 Whatever you choose to do, use your coding skills to optimize your website in a way that adds value for your customers while also benefitting your business by acting as creative SEO content.
4. Elevate your PR strategy
Did you know you can use PR to boost your SEO? It's true! 
Starting a PR campaign for your business is a great way to generate buzz and excitement around your company while garnering opportunities for social media and news mentions. 
For example, start taking advantage of relevant news in your industry by making yourself an expert source. 
Websites like Help a Reporter Out (HARO) connect reporters with sources who have expert knowledge on different topics. You can join the site as a source and start offering your unique insight on stories related to your industry and, with luck, appear in articles as a source, putting you and your business on the map as an authoritative source of information.
Another creative SEO strategy for PR is newsjacking, where businesses take advantage of breaking news and topics to introduce ideas and opinions. When done correctly, newsjacking can generate a massive boost for your SEO.
For example, Spotify puts their creative spin on newsjacking by combining breaking news with playlists of custom music recommendations.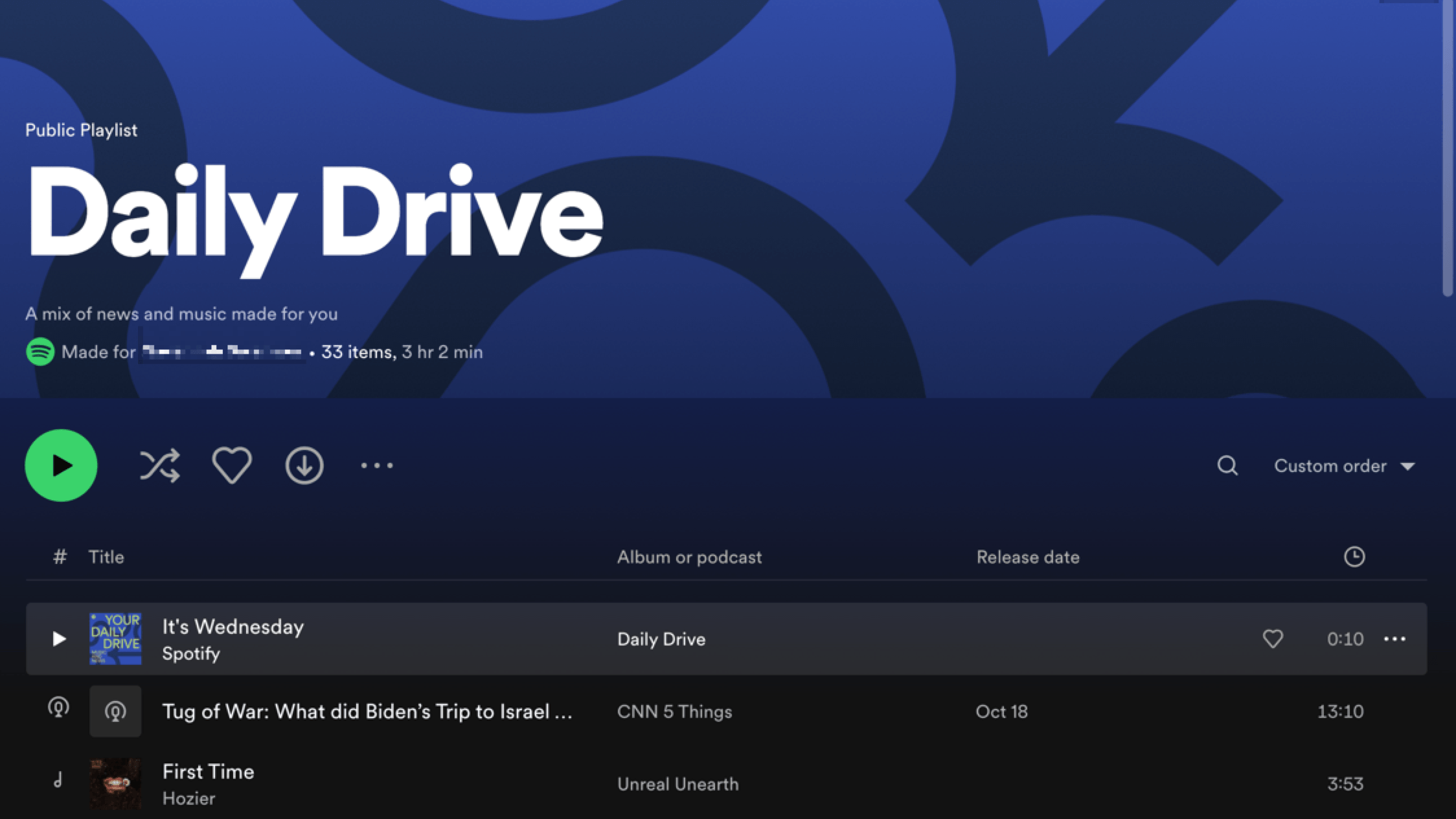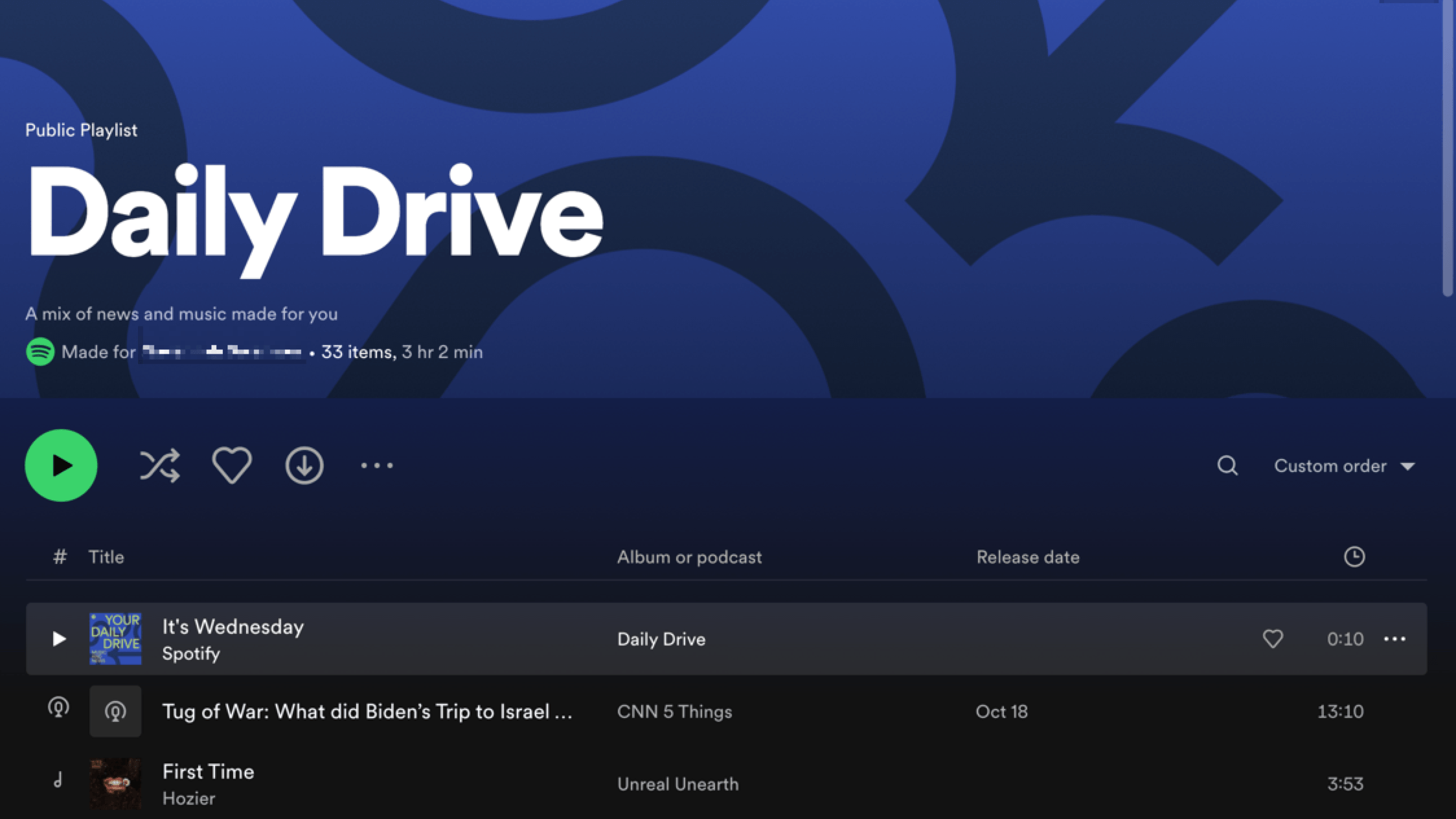 5. Create content through thought leadership
Maybe you're looking to publish content on your site rather than appear on other sites via HARO connections. In that case, write creative SEO content through thought leadership. If you're an expert in your industry, let your voice be heard!
Thought leadership is a tactic businesses and marketers use to build credibility and authority. One of the ways they do this is by creating and publishing content that shares their experience, authority, and wisdom with readers. 
Thought leadership is an effective SEO technique for businesses looking to build up credibility and present themselves as reliable sources of information in their industry. By doing so, you can see benefits like:
Attracting potential customers

Generating backlinks

Reinforcing your brand's story and values
A great example of thought leadership in action is REI. Their blog features insights and tips from outdoor experts in running, hiking, camping, and more, all to help customers choose the right products and enrich their outdoor experiences.
[thought-leadership-rei.png]
Partner with a team of innovative and creative SEOs
At SEO.com, we're all about taking basic SEO tactics and turning them on their heads to build strategies that are creative, innovative, and most importantly, drive results for our clients' bottom lines.
Contact us online to learn more about how the strategists at SEO.com can help you build a custom, creative SEO strategy that generates results that matter.
Source link