If you want more people to visit your website from search engines, you need to rank among the top results when people search for your business.
We've put together 14 actionable SEO hacks to help boost your search visibility and get more traffic. Even if you don't have a lot of time or resources.
1. Identify Long-Tail Keywords
Long-tail keywords are specific search queries that often have lower search volumes but clearly defined intents. 
Targeting them instead of broad "head" terms is an effective way to compete with established brands in organic search results.
Take the keyword "dog toys," which has high search volume and keyword difficulty. You might think it's an obvious primary keyword choice if you sell pet toys. 
But it's a difficult one to rank highly for against big-name brands like Pets at Home and Amazon.
Creating content around long-tail keywords gives you a better chance of getting your site noticed among the big competitors.
For example:
Search for "dog toys for teething labrador puppy" and you'll see small, niche websites outranking well-known brands.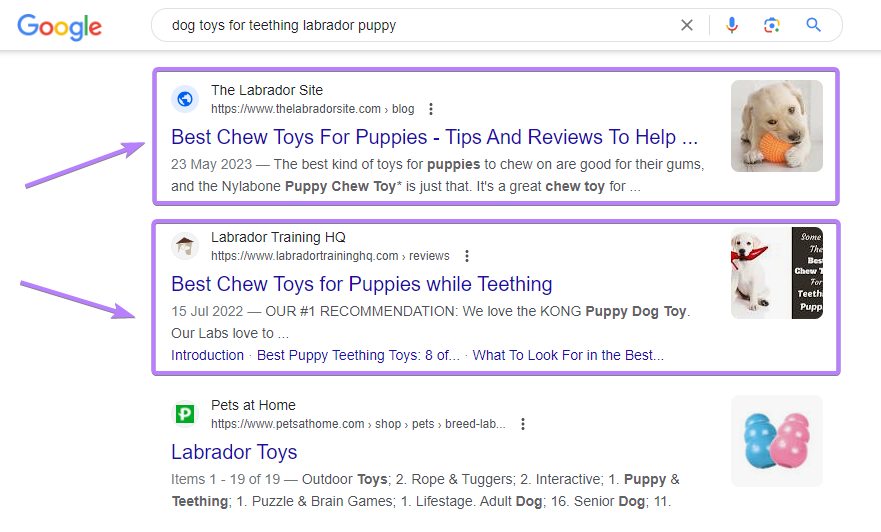 Better still, these specific terms match a highly specific search intent. So, you can meet the needs of potential customers. And potentially get more conversions.
To find long-tail keywords, type a broad "seed keyword" into Semrush's Keyword Magic Tool and hit "Search."
A seed keyword is a word or phrase you can use to kickstart your keyword research. It should be closely related to your business.

The Keyword Magic Tool returns a list of broad-match keywords. Top results have a high search volume and keyword difficulty (KD).
To narrow your search to show only easy-to-rank keywords, click on the "KD" drop-down and select "Easy."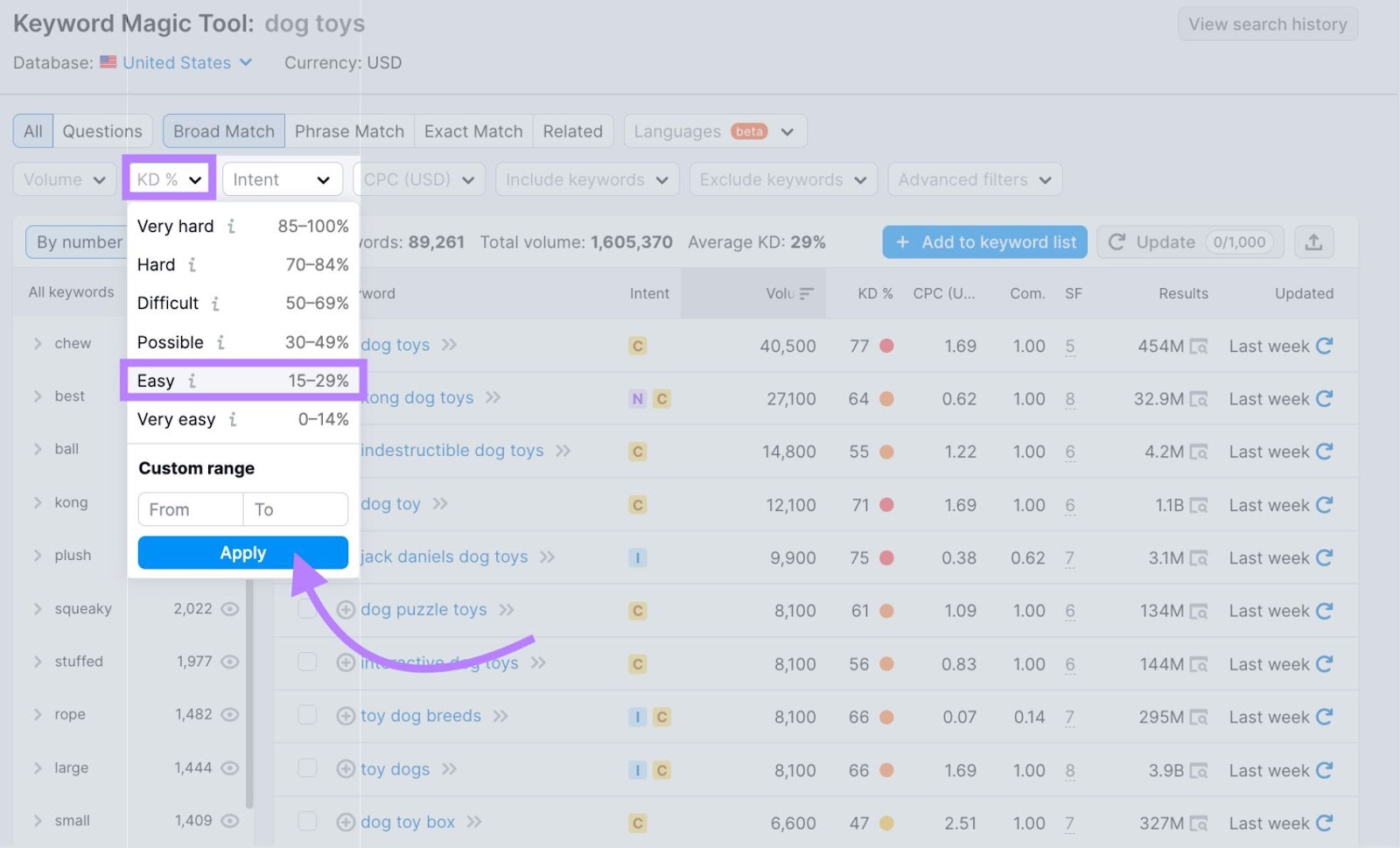 Now, you get a list of long-tail keywords.
Review the list for keywords that are most relevant to your business and core product.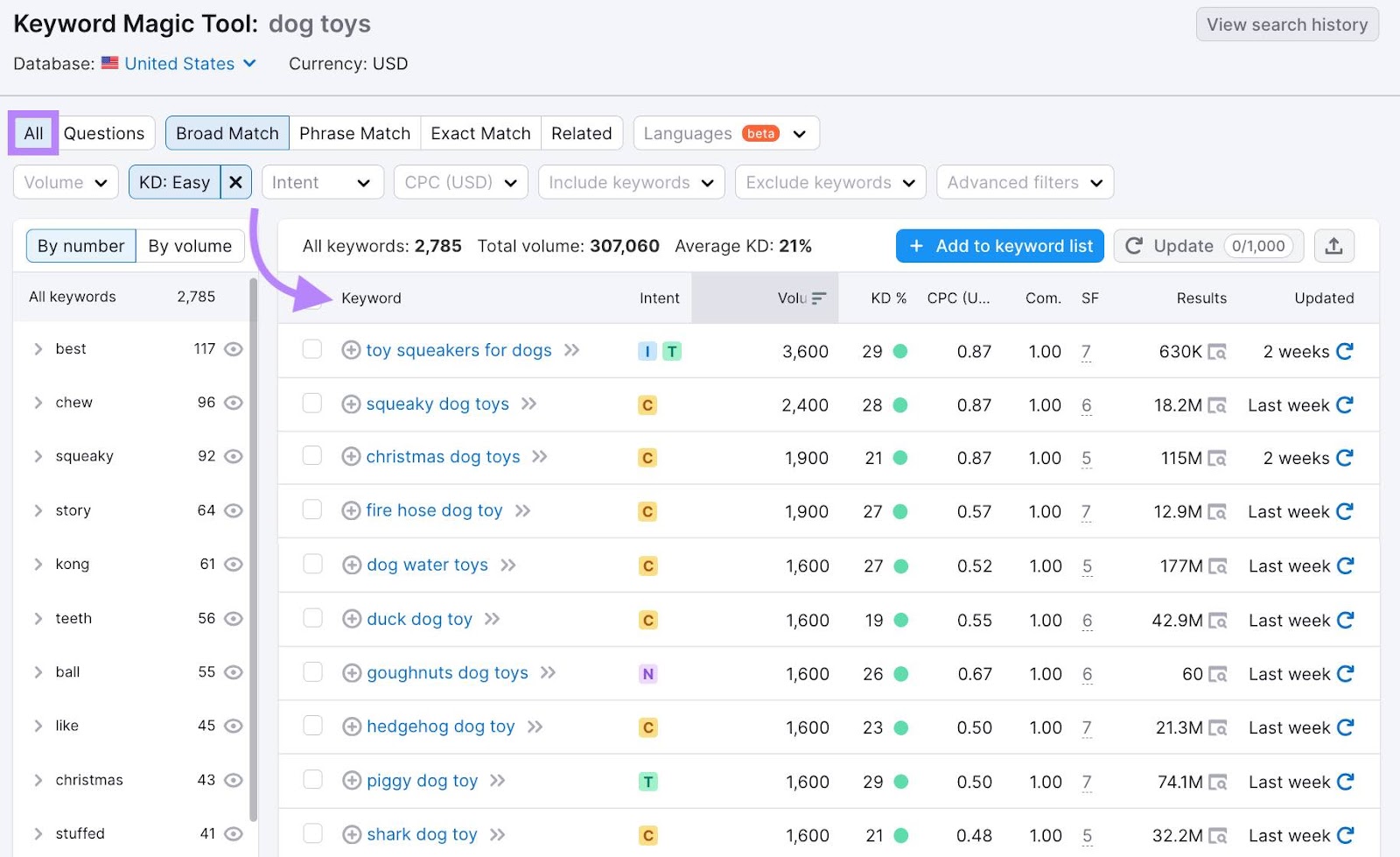 Target those relevant terms in your website content to boost search visibility.
Further reading: Long-Tail Keywords: What They Are and How to Use Them in 2023
2. Place Keywords in Page Titles, Descriptions, and Headers
Including keywords in page titles and headers helps Google determine what your page is about.
The better Google understands your content, the more likely it is to appear when a potential customer types your keywords into the search bar.
Place your target keyword at least once in your title tag and meta description.
Note: Meta descriptions are not a direct ranking factor, but they generate useful snippets that encourage searchers to click. Google also tends to bold the search query: 
Place your target keyword in your URL slug:

Finally, place your target keyword in page headers and early in your content, along with variations of your main keyword: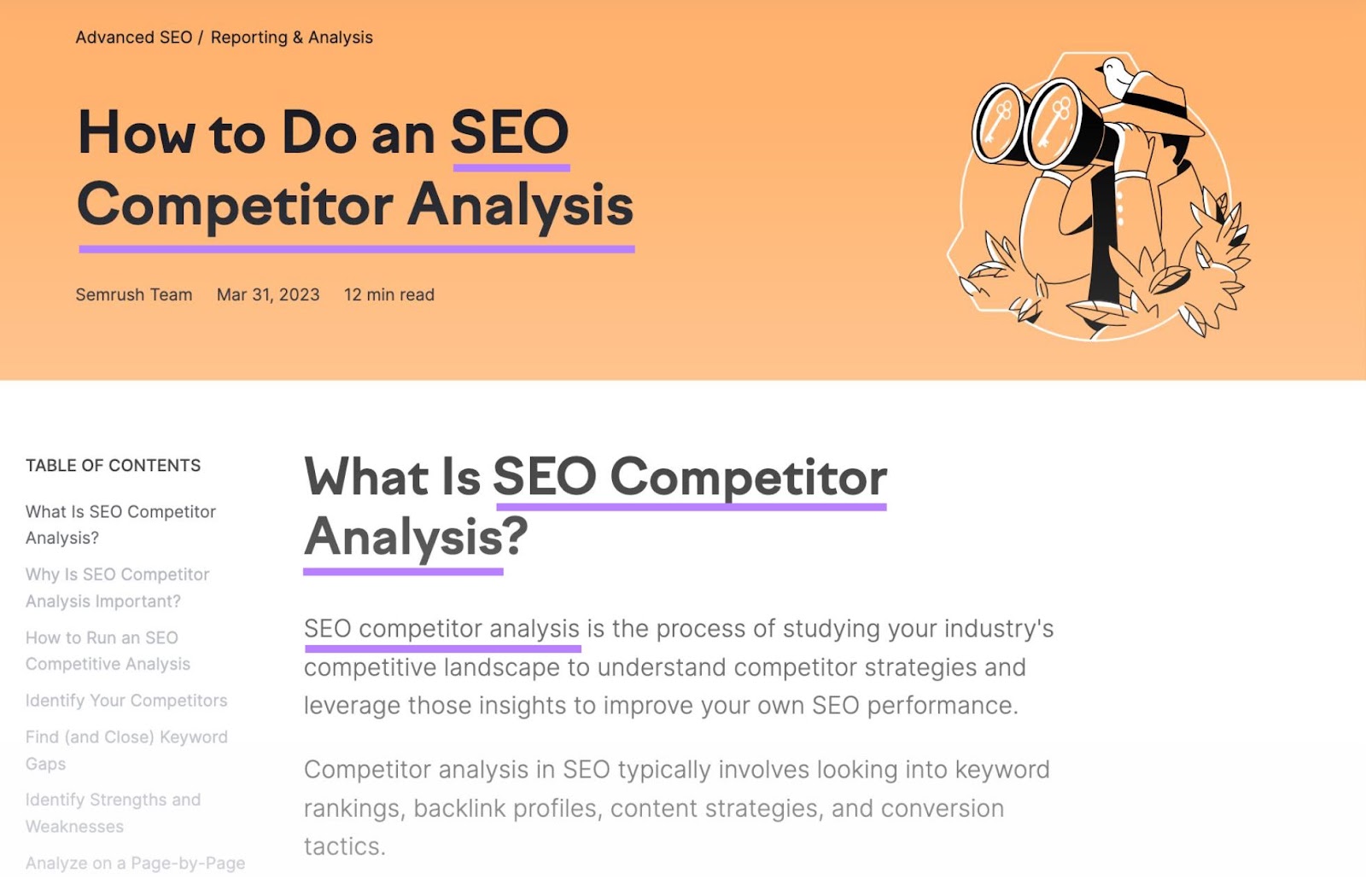 In addition to these elements, add your main keyword to image alt tags (more on this soon). And place related keywords naturally (not shoehorned in) throughout your content.
Further reading: Want to learn more about keyword research and best practices? Read our 6 Keyword Optimization Tips for SEO.
3. Optimize Content for Google Voice Search
Optimizing for Google Voice Search can put your content in front of a huge audience who use "Hey, Google" to begin their search via Google Assistant.
Use questions people ask in everyday conversation to reach your target audience.
The Keyword Magic Tool will help you find what search users want to know.
Once again, type your seed keyword into the tool and hit "Search." Select the "Questions" tab and keep the "KD" filter set to "Easy."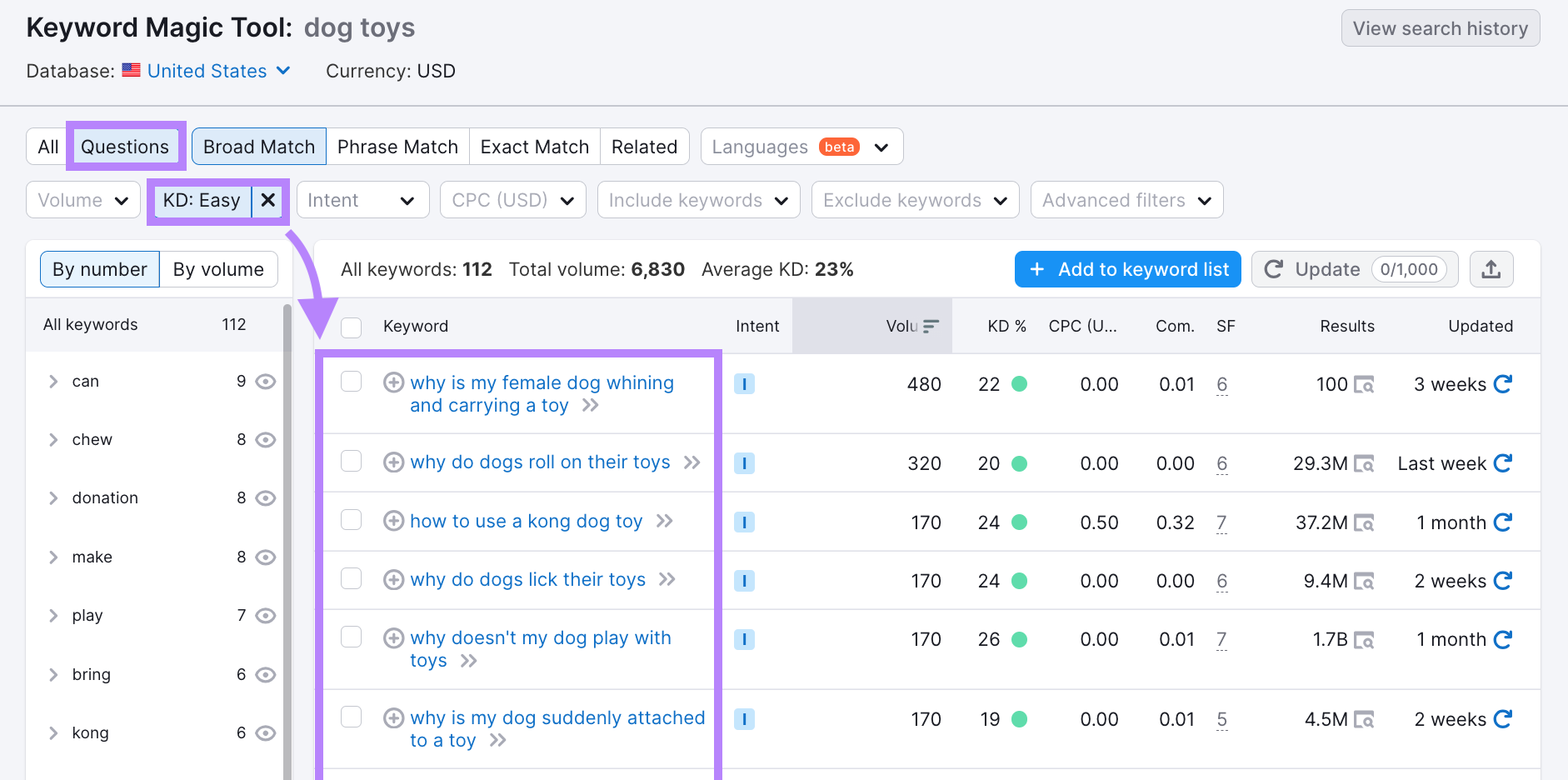 Review the list for relevant questions to answer in your content.
For example:
Google Voice Search reads the below answer by PrideBites for the question "Why is my dog suddenly attached to a toy?"
Google features PrideBites' answer in the featured snippet in search results (more on snippets in hack #9). But it comes from part of a longer blog post on why dogs get attached to toys.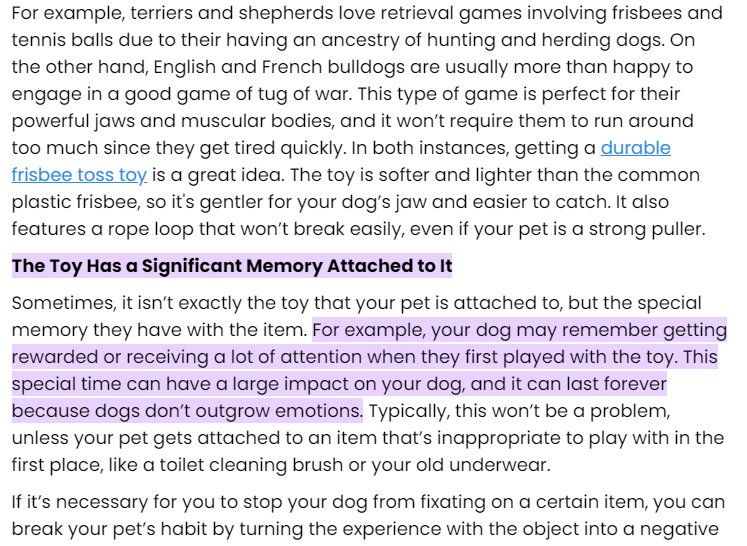 Short (but complete) keyword-friendly answers within your content gives you a good chance of securing the voice search spot. And getting more traffic from organic search results.
Further reading: Want to learn more ways to optimize for voice queries? Read our guide on Google Voice Search 101.
4. Run an SEO Audit to Fix Technical Issues
Technical SEO errors can negatively affect your search rankings and organic traffic.
These include:
Slow page speed
Sitemap issues
Duplicate content
Broken links
Website security problems
Webpages that Google can't crawl or index
To flag issues and make the necessary fixes, run your site through Semrush's Site Audit tool.
Type in your domain and hit "Start Audit."

In the pop-up, it gives you optional steps to configure your audit. After applying the necessary settings, click "Start Site Audit."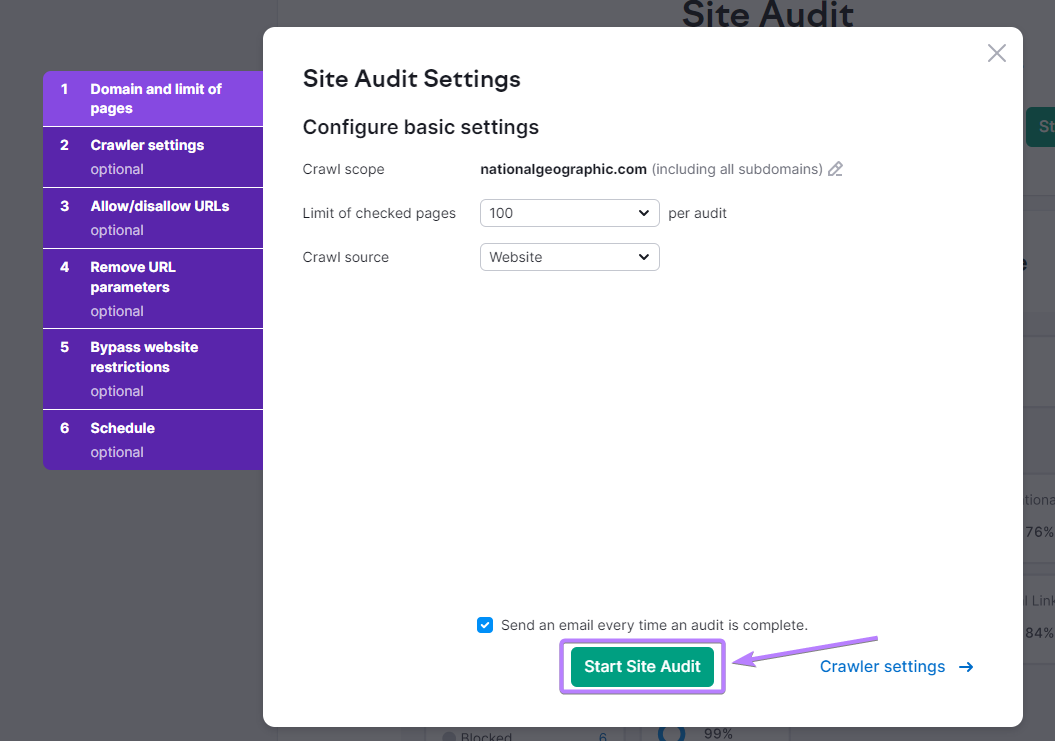 When the audit is ready, click on your project to see the results.
The Site Audit dashboard shows you the issues the tool found on your website.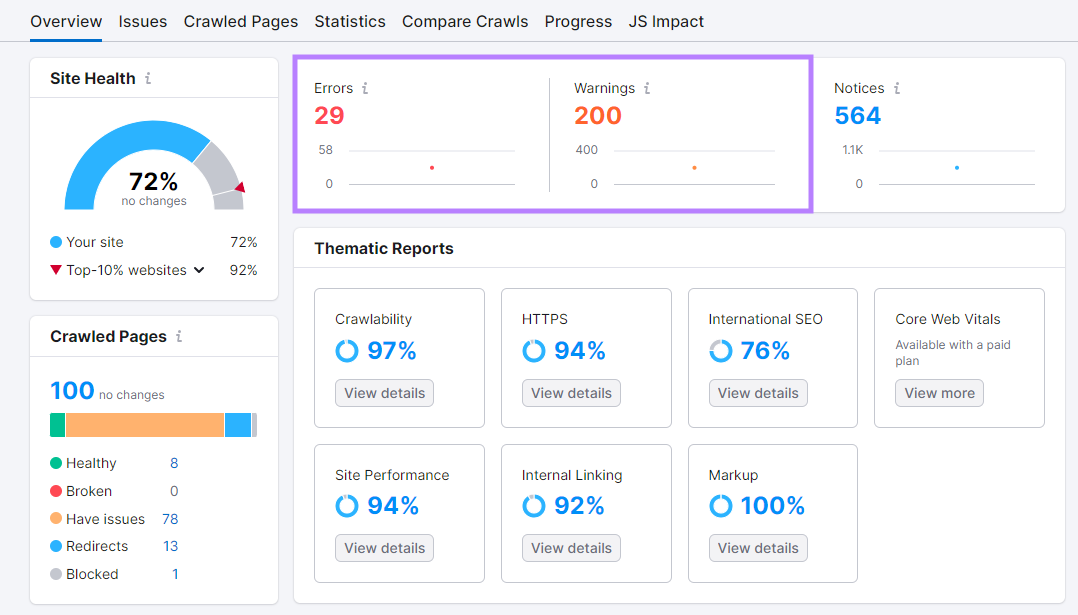 Click on the number in the "Errors" or "Warnings" box to view the full list.
Then, hit "Why and how to fix it" next to any issue to see detailed information and what you can do to make it right.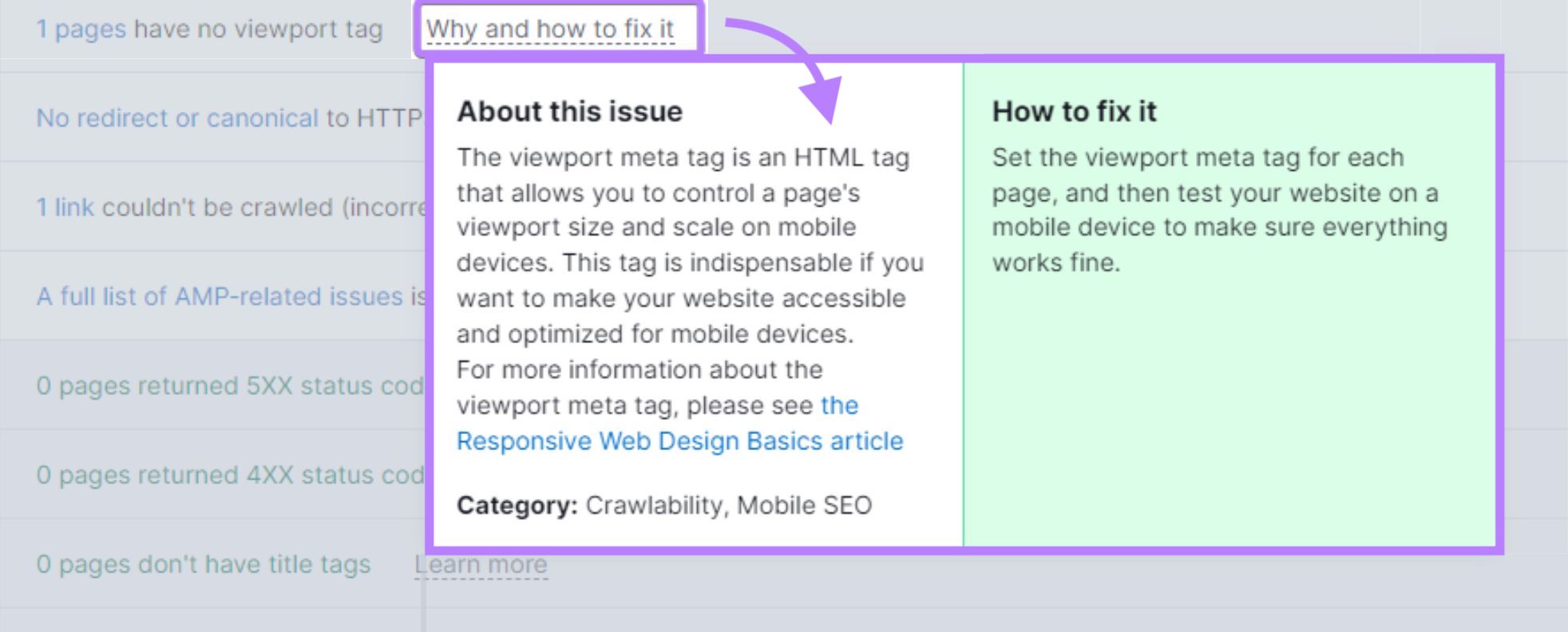 Run audits periodically (and whenever you make changes to your website) to keep it technically sound.
Further reading: How to Perform a Complete SEO Audit
5. Refresh Old or Outdated Content
Search rankings are transient. At some point, your content will become less relevant and something fresher will replace it.
So, you need to periodically refresh it to retain value and maintain visibility.
Our 2023 State of Content Marketing Report shows that 53% of marketers say updating their content helped increase engagement. And 49% saw a boost in traffic and/or rankings.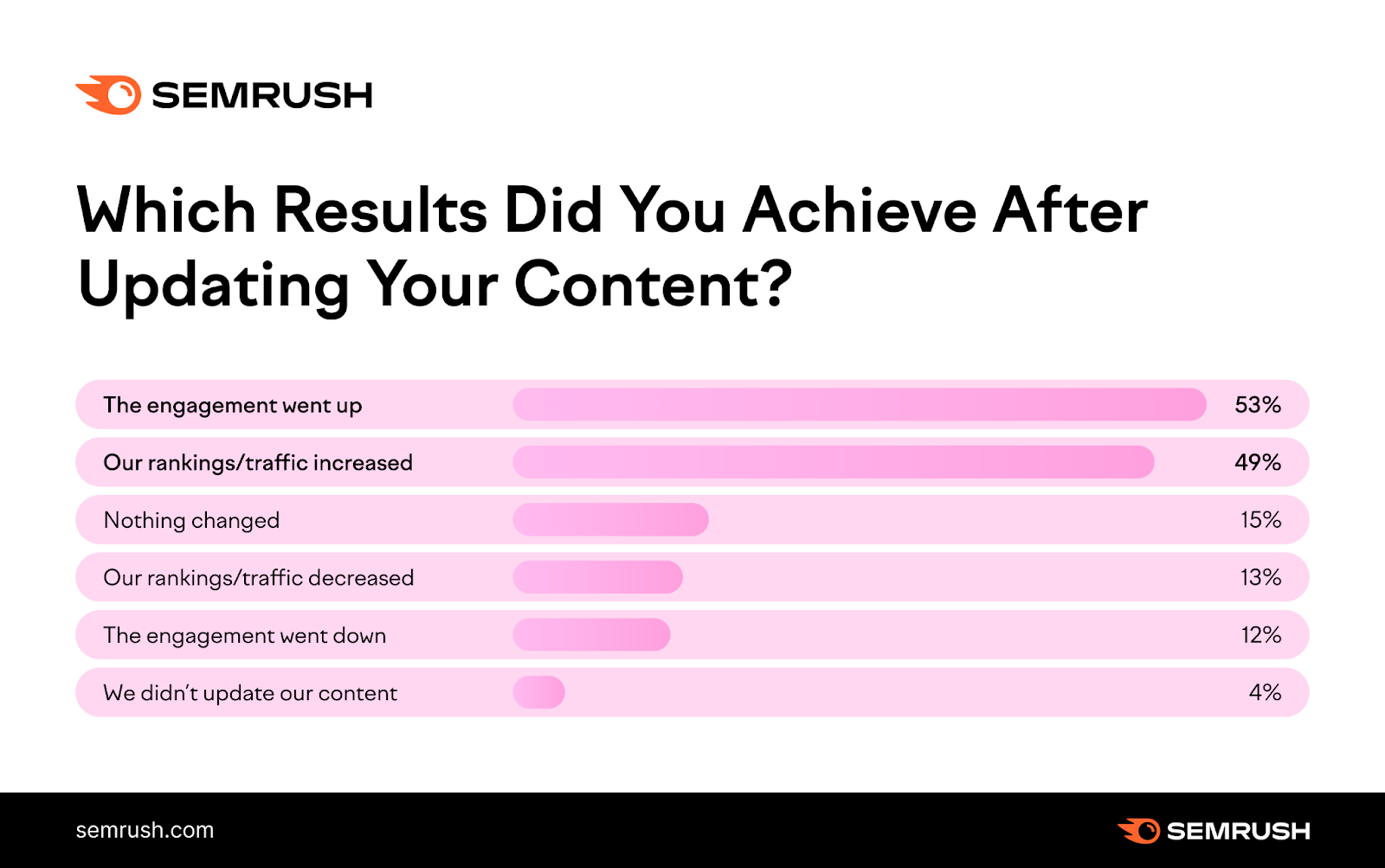 You can find content in need of an update with Google Search Console.
Log in and click "Performance" to view your search performance report.
Click "Date." Then, set the date range to "Compare" and "Compare last 6 months to previous period." To confirm, hit "Apply."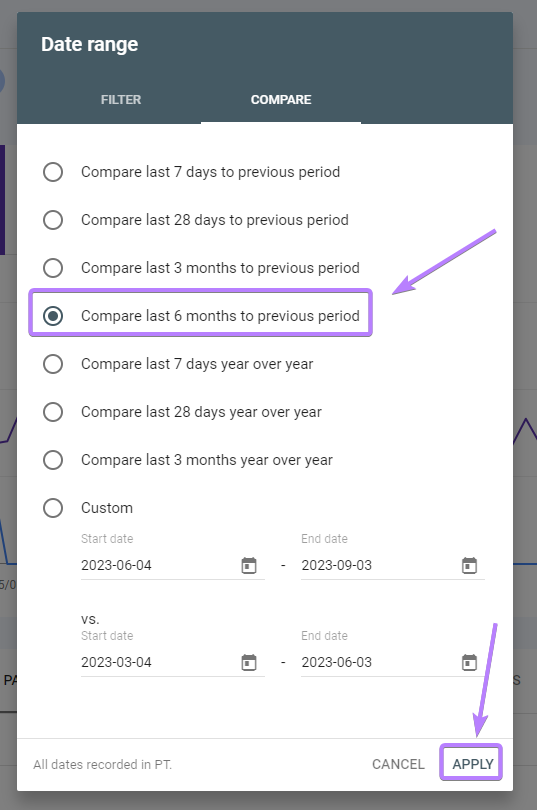 In the performance report table, click the "Pages" tab. Look at "Clicks Difference" to find declining pages.
Refresh any pages where visitors would expect up-to-date information. 
You should:
Refresh outdated tips
Update old or broken links
Change dates to current
Format content so it's easy to read on mobile devices
Pro tip: Run your website through Semrush's On Page SEO Checker to get optimization ideas for your top landing pages.
6. Compress Images to Improve Page Speed
Large image files negatively affect page speed, which makes for a poor user experience. This harms your search performance.
To avoid this, compress images before uploading them to your website.
Use a tool like TinyPNG or Optimizilla to reduce image file size without compromising quality.
Or, if you're a WordPress user, try the WPSmush plugin.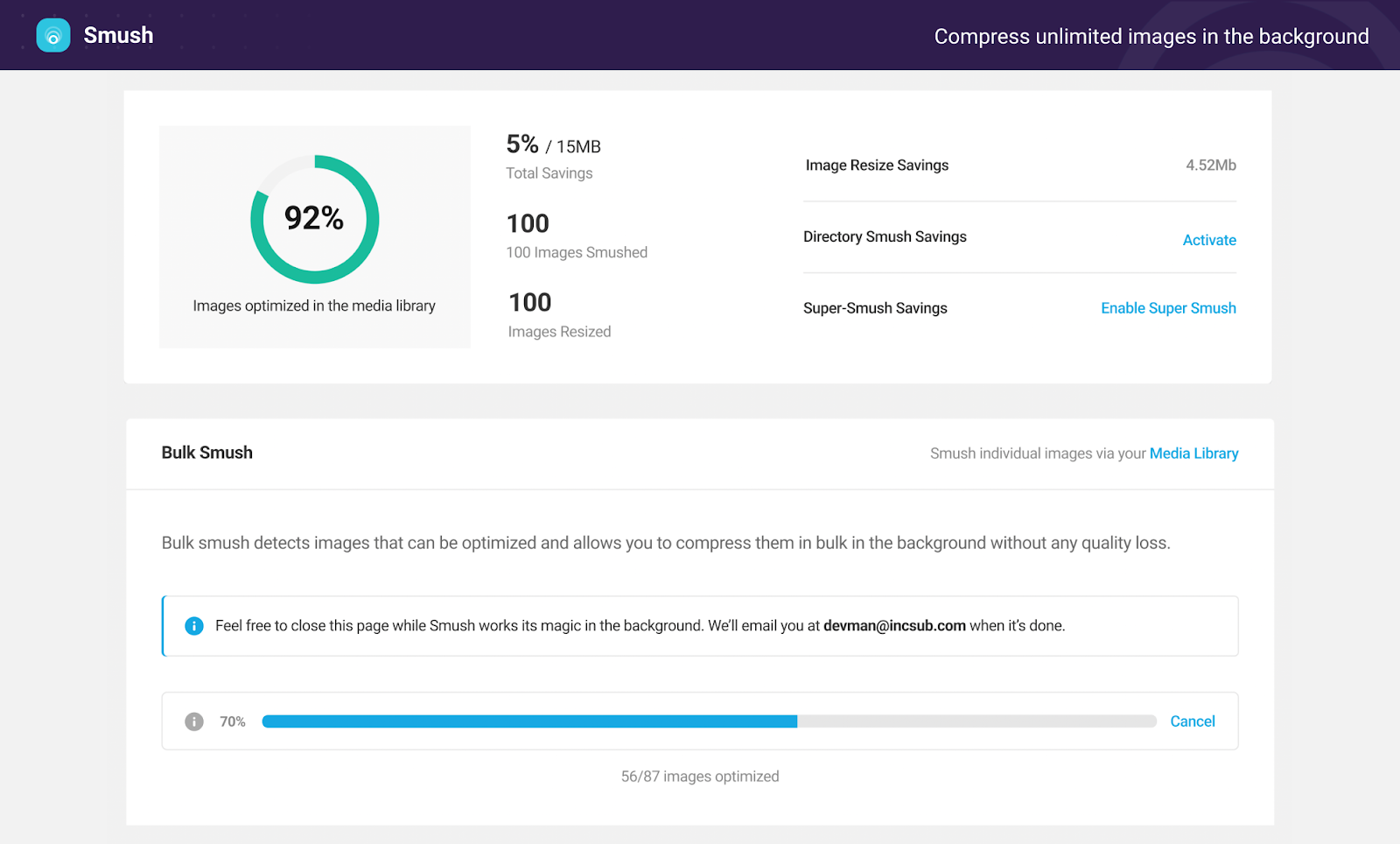 Image Source: WPSmush
To check if images affect site speed, type a page URL into Google's PageSpeed Insights tool.
Under "Opportunities" in the "Diagnose performance issues" section, look for a notice to "Properly size images."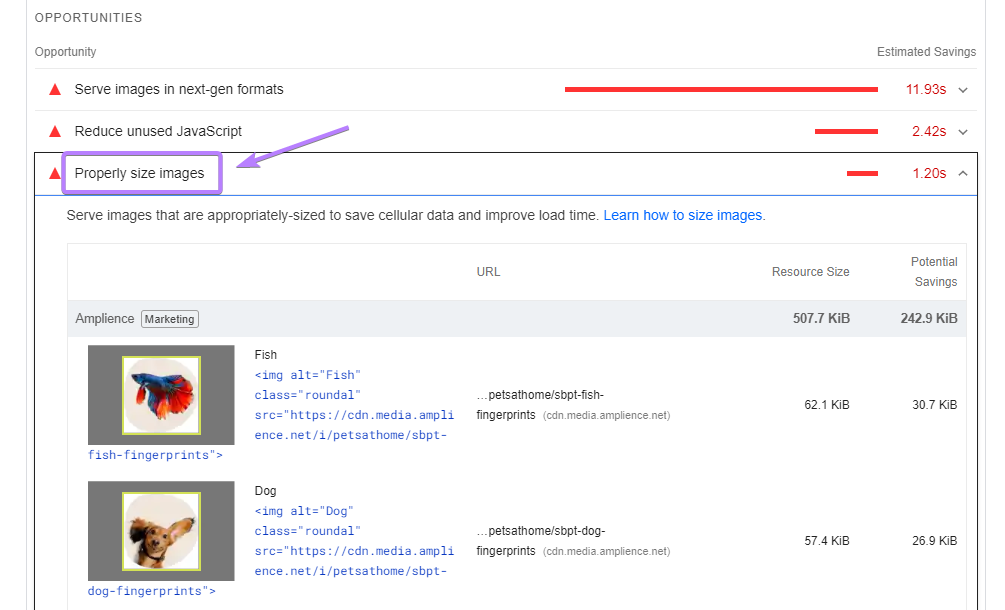 Image Source: WPSmush
Resize any images Google flags to improve page performance and boost search rankings.
7. Use Alt Text to Describe Images
Adding alt text (or alternative text) to your images, GIFs, and infographics increases your chances of ranking well in Google Images.
How?
It describes to Google what the image contains.
For all its ingenuity, Google can't interpret visual content. So, it relies on alt text descriptions to understand context and determine how to rank your page. 
For example:
This stock image on Pexels describes the photo as "Dog with ball in mouth jumping over a fallen tree trunk:"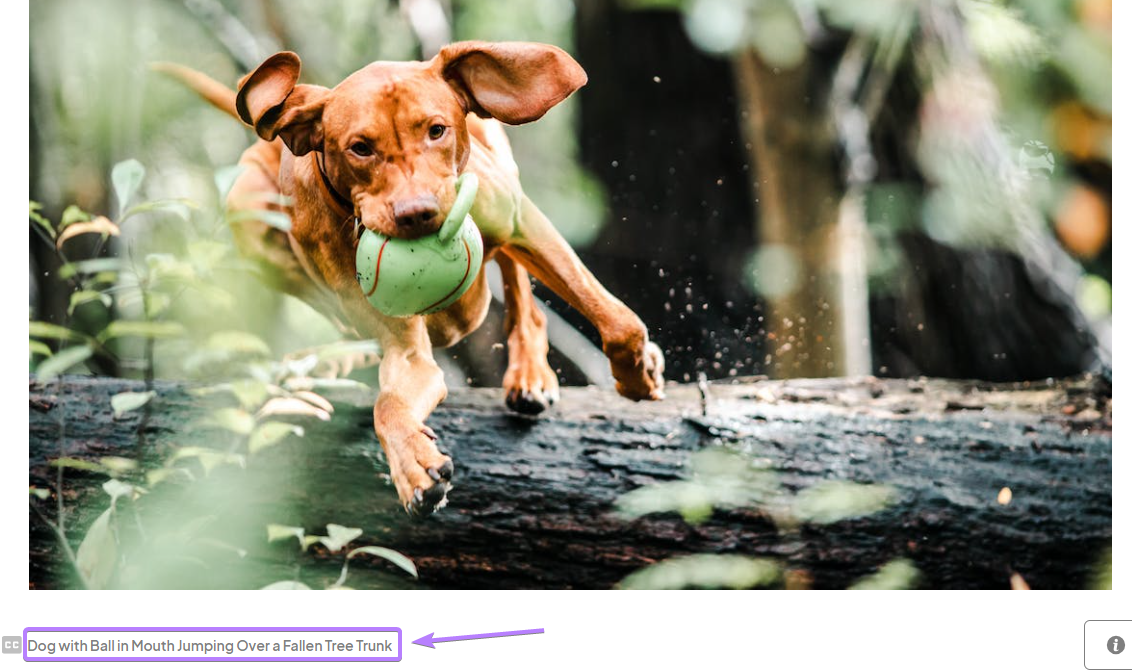 The more descriptive and keyword-friendly your alt text, the more likely Google Image searches will rank it highly.
But alt text doesn't just help with search visibility.
Alt text improves website accessibility for visitors who use screen reading software. Not only does this help create a better user experience (which Google likes), some countries legally require it.
If you use a website builder like WordPress, Wix, Squarespace, or Shopify, you can add alt text when you upload an image.
Follow these best practices to write effective alt descriptions:
Describe what the image shows
Stick to 125 characters or less to avoid truncation on screen readers
Include relevant keywords
Further reading: Image SEO and Alt Tags: 10 Image Optimization Tips
8. Claim and Optimize Your Google Business Profile
If you serve customers in a specific area, a Google Business Profile (GBP) is the best way to increase visibility on Google.
GBP is a free business listing that helps users find and learn about your business.
Here's what a profile looks like: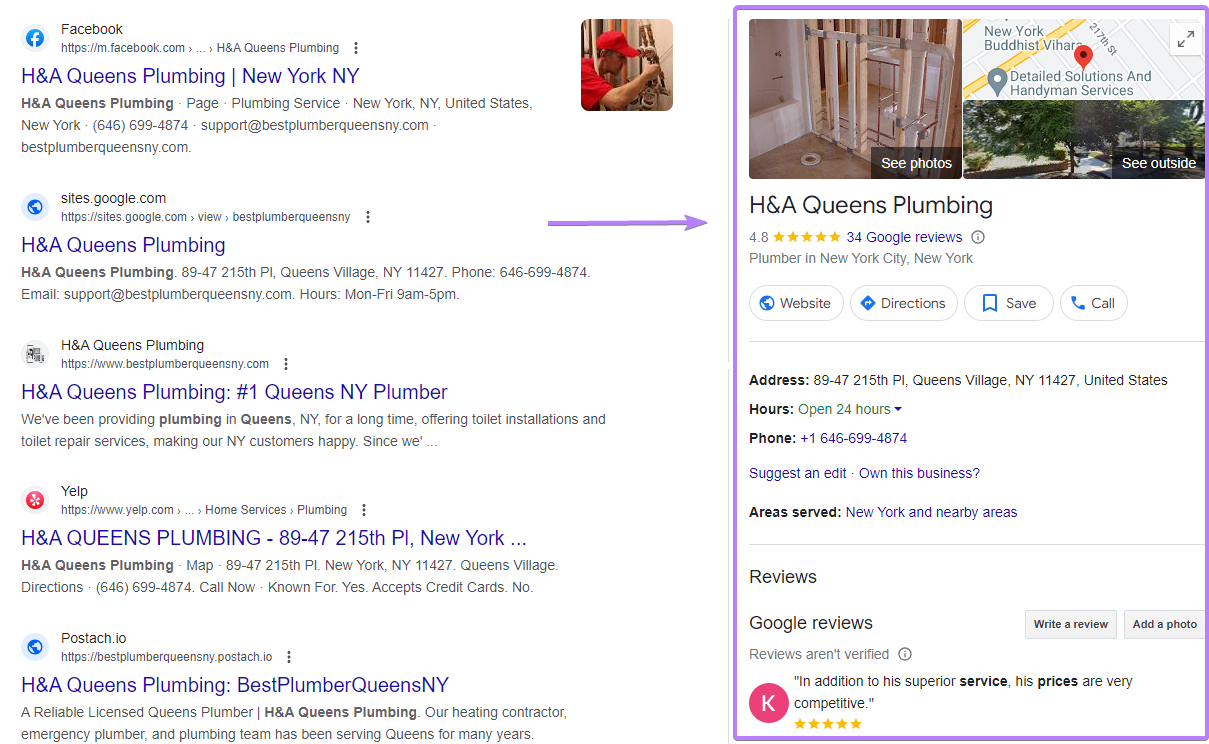 Google uses these listings to serve the most relevant results for geographic searches (e.g. "plumber Queens, New York" or "plumber near me") in a local pack (or Google 3-Pack):
With a well-optimized profile that includes correct business information, photos, services, and reviews, you stand a good chance of appearing in a local pack.
The result?
More visibility and more clicks.
Research by SOCi found that listings in the Google 3-Pack earn 126% more search traffic and 93% more conversion-oriented actions (calls, clicks, and driving directions) than businesses ranked 4-10.
Further reading: Ready to set up and optimize your GBP? Follow the steps in our Google My Business guide.
9. Target Featured Snippets to Grab the Top Spot
A featured snippet is a short excerpt of text that answers a user's query and appears at the top of the SERP (search engine results page).
Google pulls the information from content that ranks in the top 10 and places it at the top of the first page of search results, or position #0.
Here's the featured snippet that Google serves up for the query "how to start a conversation:"
Google includes featured snippets as part of its mission to give users the best possible search experience.
It's also a shortcut to the top of the SERP.
Why?
Win the featured snippet, and you'll get more eyes (and ears via Google Voice Search) on your content.
You also get a credibility boost. If Google chooses your content as the featured snippet, it's a good sign that it's valuable to readers.
To earn featured snippets, answer the questions your audience asks.
Our research shows keywords that trigger snippets are mostly longer (six words and over) questions that start with "why," "can," "do," "are," and "how."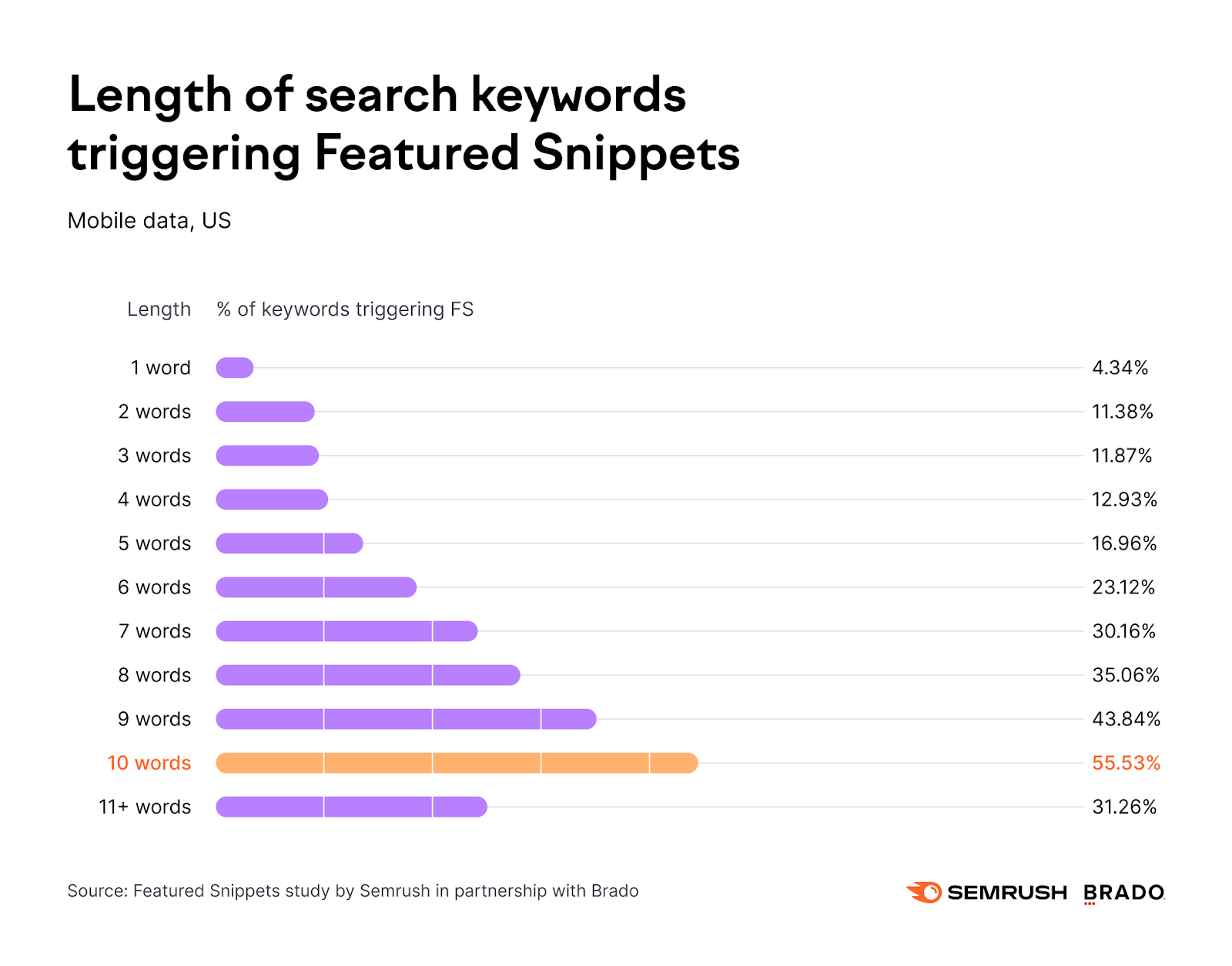 If you already optimize for voice search, you're halfway there.
To find new opportunities for featured snippets, use Semrush's Position Tracking tool.
Type in your domain and hit "Set up tracking."

To configure your tracking, set your targeting (search engine, device, location, etc.) and keywords. Our Position Tracking setup guide walks you through the steps.
When you're done, hit "Start Tracking."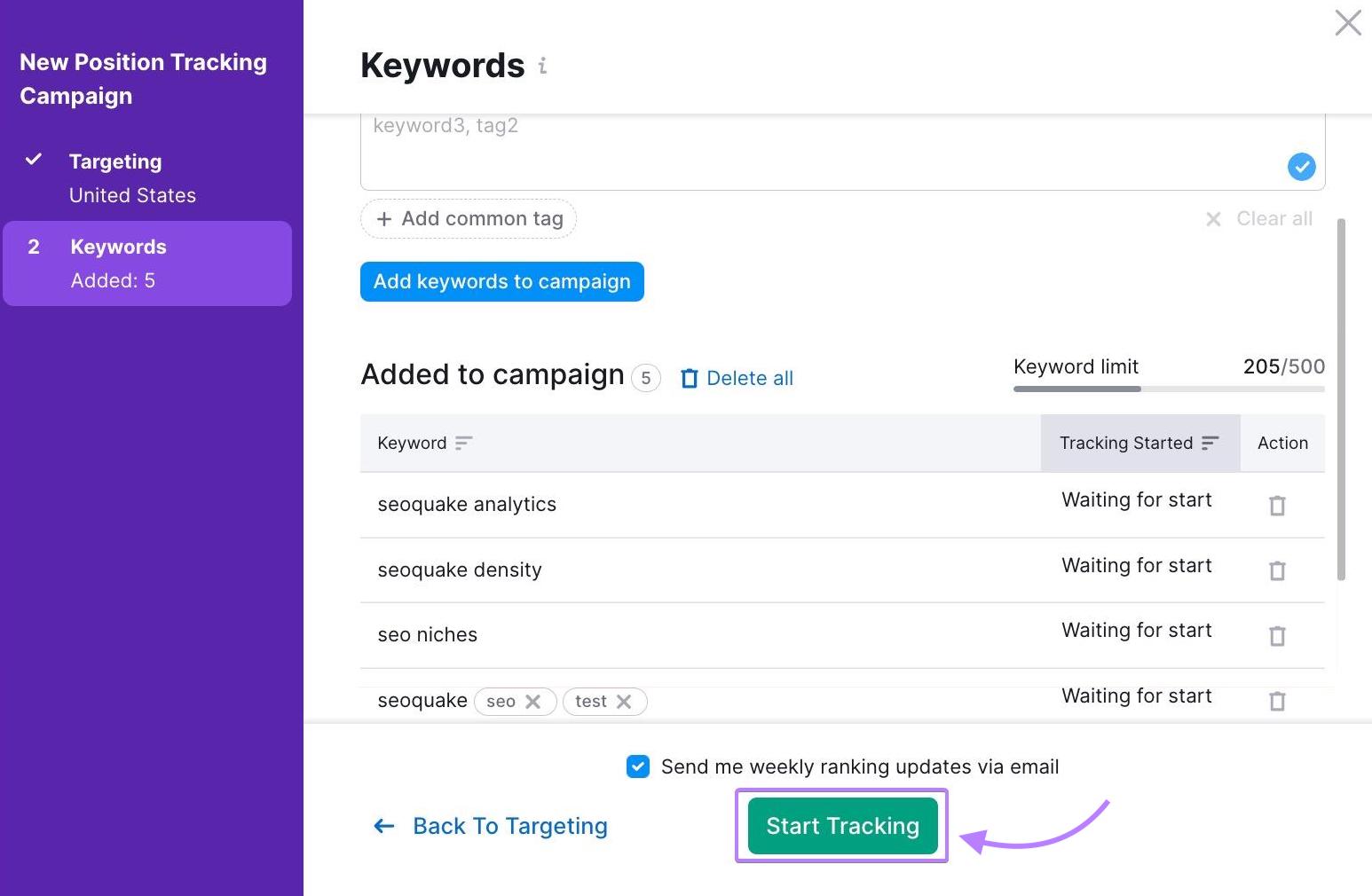 Click the "Featured Snippets" tab to see how many of your target keywords have featured snippets.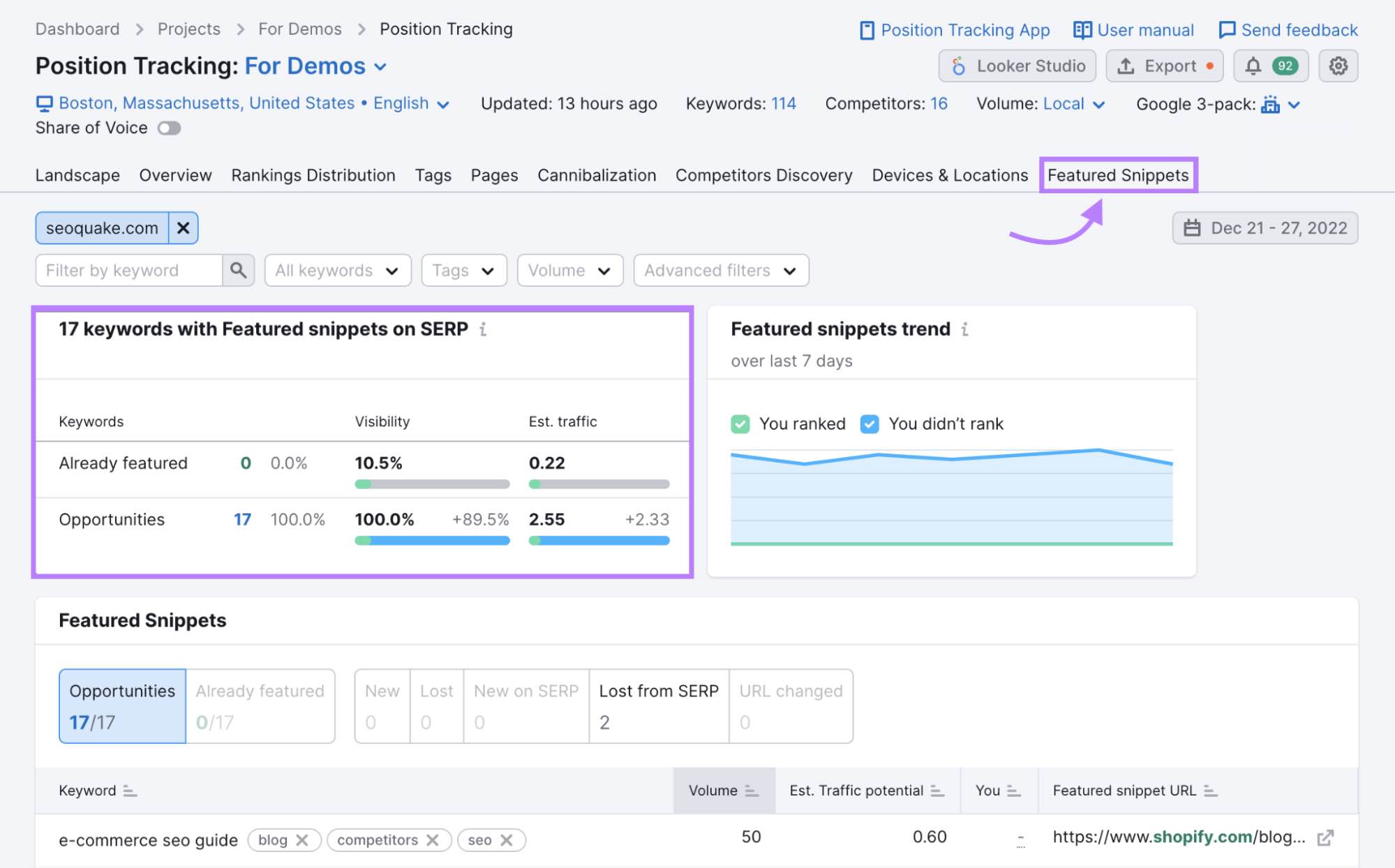 Use the "Opportunities" tab in the "Featured Snippets" table to see keywords that have featured snippets.
It sorts results by the difference in organic positions between your domain and the URL that currently holds the featured snippet.
Look for any keywords where you outrank or come close to the competition. Target these keywords in your content and FAQ sections to earn the featured snippet.
To increase your chances, look at how snippets appear in search results.
Click on a number in the "You" column. Then, hit "View SERP" to see the result page for the target keyword.
This will give you an idea of how to format your content to best meet search intent.
Further reading: What Are the Different Types of Featured Snippets?
10. Build Backlinks with HARO
HARO (Help a Reporter Out) is a website that provides great opportunities to get backlinks (or external links) from media outlets.
It connects journalists and professional bloggers to sources who can provide expert insight.
If a journalist uses your answer in a piece of content, they cite you as the source. And you get a link to your website.
As these links are from trusted sources, Google views them as votes of popularity and confidence.
So, lots of quality HARO citations can improve your search rankings and boost your credibility.
Here's how it works:
Sign up as a source on HARO and choose which industries you want to subscribe to. HARO sends you journalist pitches via email three times a day, Monday to Friday.
They look like this example from The Content Factory: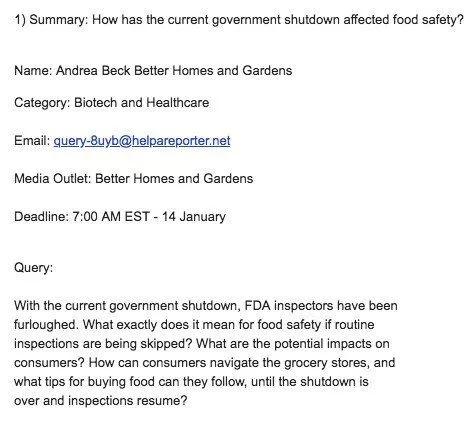 If a pitch is relevant, respond with a comprehensive answer. Use your own experience of a topic to provide an original take.
Saying something original increases the likelihood a journalist will choose your answer.
If they do choose your quote, they'll feature you when the story goes live:

You won't always be successful with your answers. But responding consistently can help you build high-quality backlinks.
Further reading: HARO is one of several link-building tactics to boost SEO. Check out our guide on How to Get Backlinks for more.
11. Use SEO Writing Assistant to Improve E-E-A-T
E-E-A-T stands for "Experience, Expertise, Authoritativeness, and Trustworthiness." These four qualities are the hallmarks of high-quality content.
E-E-A-T isn't a direct ranking factor, but Google's Search Quality Raters use it. These are real people who assess the quality of search results and help Google improve its algorithm.
Essentially, Google wants you to create with E-E-A-T in mind so it can present "helpful, reliable, people-first content" to users.
Draft your content in Semrush's SEO Writing Assistant to get readability, originality, SEO, and tone of voice suggestions based on the top 10 ranking pages for your keywords.
The tool gives your content an overall score out of 10. And makes it easy to improve text so that visitors find it valuable.
Click on a metric in the table to learn more and see how to increase your score.
Then, follow the tips to make your writing more helpful.
Pro tip: Connect SEO Writing Assistant to Google Docs, Microsoft Word, or WordPress to get recommendations as you work.
12. Improve Internal Linking to Boost Page Authority
Internal links point to other pages on your website. In doing so, they send authority to that page. Get them right and they can help boost your Google rankings.
For example, say we want to give our local SEO guide a boost. We can find a high-authority page on Semrush and add an internal link.
Our guide to Google My Business has a high Authority Score and is relevant to our local SEO content.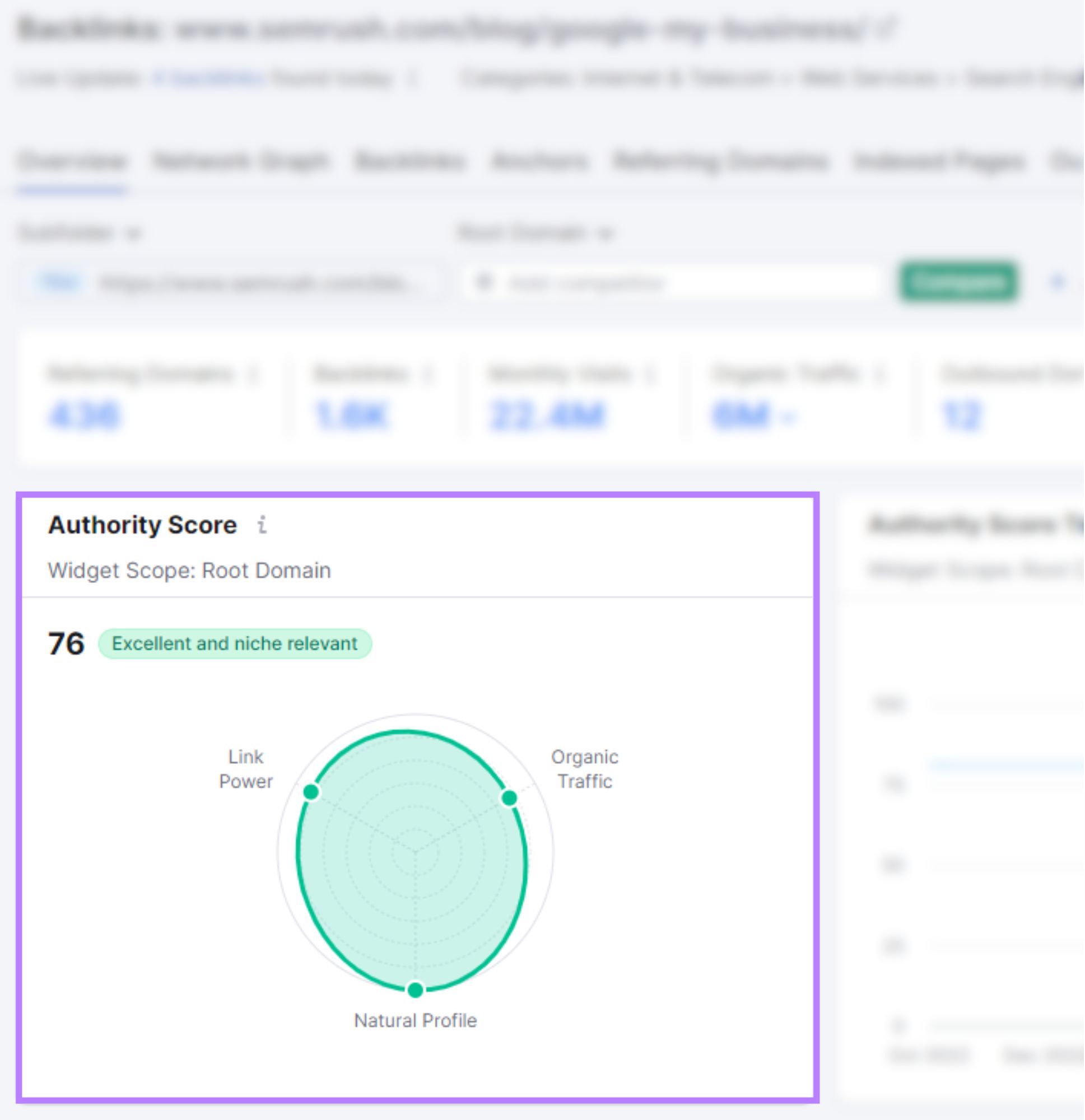 So, we can add a natural internal link from the Google My Business guide to the Local SEO guide that includes the keyword "Google My Business" in the anchor text. This will help boost authority for the Local SEO guide.
To find internal linking opportunities, use Semrush's Backlink Analytics.
Enter your domain and hit "Analyze."

Click the "Indexed Pages" tab to see your pages in order of number of referring domains. 
Link from a top-performing page to another page that needs an authority boost. Rinse and repeat to boost your rankings.
Further reading: Internal linking also helps Google and visitors navigate your website. Learn how to build your internal linking strategy in our beginner's guide.
13. Add Schema Markup to Your Website for Rich Results
Schema markup (also called structured data) is website code that gives search engines more information about your page.
It's another way to help Google understand your content so it can give users the most relevant results.
If Google recognizes the schema markup on your page, it provides rich results that give users more than just a page title and meta description.
Here's what Google serves up for Walmart:
The extra links help guide users. But even if a user doesn't find them relevant, the search box lets them find what they need and interact with Walmart's website that way.
The rich results also give Walmart more SERP real estate. It's the only link visible before the scroll. This can help increase click-through rate.
You can use schema markup for:
Sitelinks
Business information
Reviews
Product details
And more
Don't worry if you don't know how to write HTML code, free tools like Google's Structured Data Markup Helper make it easy to generate and add schema to your website.
Further reading: What Is Schema Markup and How to Implement Structured Data
14. Study and Learn from Your Competitors
If you want to outrank the competition, do what they do but better.
Study your rivals to learn which keywords they target and what kind of content they create. Then, replicate winning strategies and capitalize on weaknesses to outperform them.
Semrush has SEO tools to help.
To find your competitors, head over to Organic Research
Type in your domain, then click the "Competitors" tab.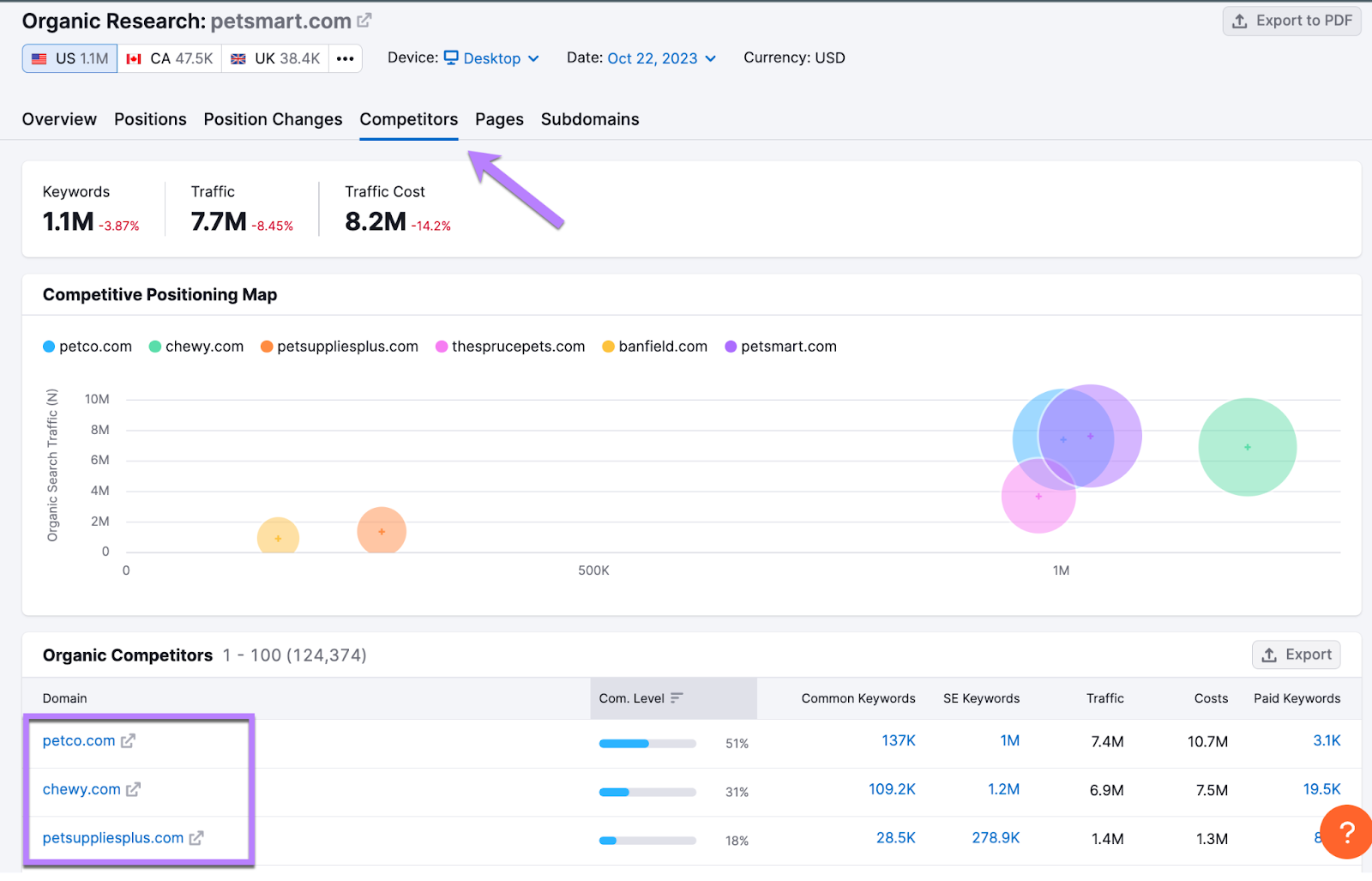 To learn more about each competitor, click on the competitor's domain in the list below the positioning map.
In the competitor's "Overview" tab you can see how many keywords they rank for, how much traffic they get, and their top keywords.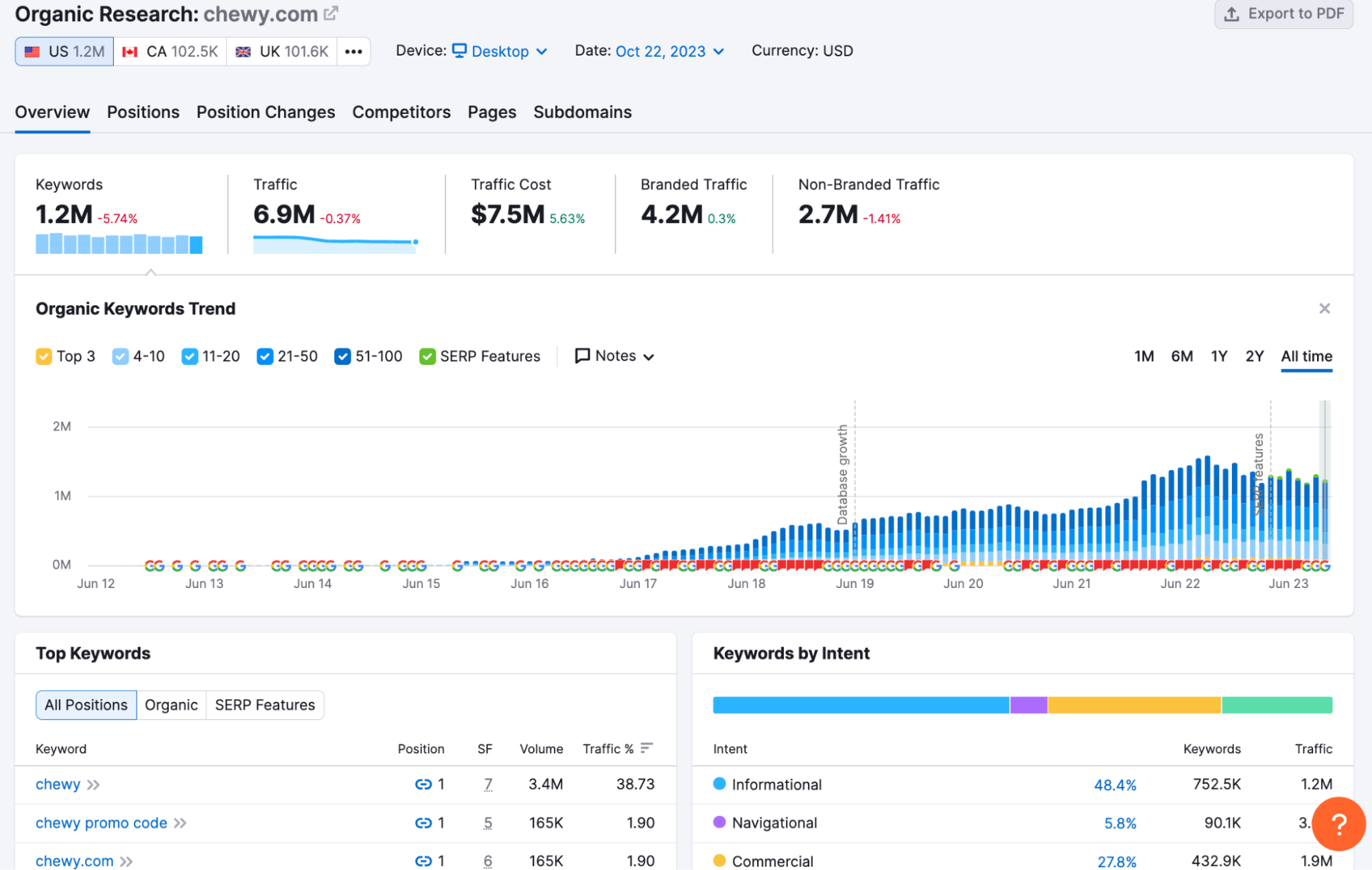 Click the "Positions" tab to see which keywords your competitor ranks for. Identify any relevant keywords that you should also target.
Look for keywords with high search position and traffic, but a low keyword difficulty. These are your best opportunities to outrank a rival.
For more opportunities, use the Keyword Gap tool to find keywords that competitors rank for that you're missing out on.
Further reading: How to Do an SEO Competitor Analysis
Keep Practicing SEO
You can complete these SEO hacks without too much time and effort. Especially if you use the featured tools to take care of the heavy lifting.
Tick off all 14 hacks, and you'll see a lift in your search performance.
But like any other aspect of digital marketing, SEO is not a one-and-done thing. You need to keep performing these tasks. And tracking your results.
Follow SEO best practices consistently and you can achieve long-term success.
Want to keep learning SEO? Brush up on the basics with Greg Gifford's SEO Fundamentals Course.
Source link