Competition for bookings on Airbnb is fierce. But Airbnb SEO can boost your visibility and ensure you reach more guests.
In this article, we'll share what Airbnb SEO is and how it works. We'll also provide tips for improving your Airbnb SEO strategy.
What Is Airbnb SEO?
Airbnb search engine optimization (SEO) is a way to improve a listing's visibility in Airbnb search results. It involves making changes to your listing to satisfy Airbnb's search algorithm.
SEO is most commonly associated with general internet search engines like Google. But it's applicable to any search engine, including Airbnb's internal one.
And there are two ways to increase listing visibility on Airbnb:
Broaden the number of searches your listing appears for
Make your listing appear higher in the results for relevant searches
To achieve these goals, you need to pay attention to Airbnb's search ranking factors.
How Airbnb SEO Works
Airbnb SEO is comparable to SEO that aims to improve a website's rankings on Google's search engine results pages (SERPs). It involves improving your listing page to be as relevant and useful as possible to searchers. 
The better you optimize your listing to suit Airbnb's specific ranking factors, the more visible it will be.
Good news: Airbnb has openly explained how it generates its search results. They say:
Airbnb uses an algorithm to generate search results that appeal to guests. The algorithm sorts through the millions of listings on Airbnb to find the right listings for each search. Guests enter search criteria and the algorithm returns listings that reflect those criteria. 

The algorithm considers many factors to determine how to order search results, but some factors have a larger impact than others. In particular, the quality, popularity, and price of a listing heavily influence how a listing appears in search results.
Here's how those three main factors are defined:
Quality: The nature of the listing's photos, reviews, and other characteristics
Popularity: How frequently and deeply users engage with the listing and how often it's booked
Price: How competitive the listing price is compared to similar listings
But to get to the top of results pages, you need a comprehensive strategy.
Let's get into what that involves.
12 Airbnb SEO Best Practices
These Airbnb SEO tips can improve your current rankings and broaden the range of searches you appear for. 
1. Offer Competitive Amenities
Adding more amenities to your property can increase your visibility because guests often filter their searches by amenities. So, your listing will only show up if it includes what searchers are filtering for.
Here's a look at what types of amenities guests want in the Houston area: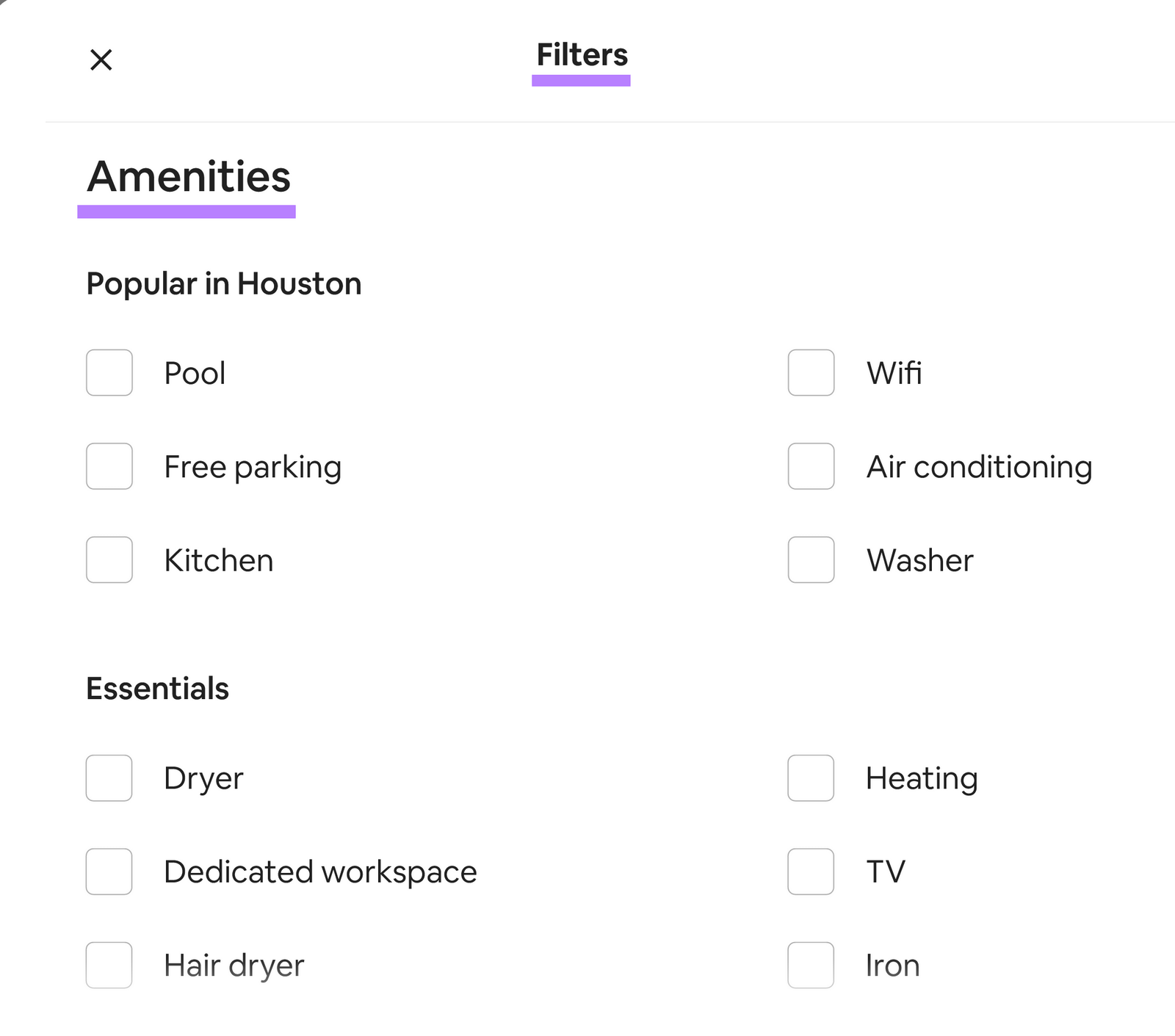 Consider which amenities are popular in all locations, too.
According to Airbnb, the top 10 amenities guests filter for are:
A pool
Wi-Fi
A kitchen
Free parking
A hot tub
A washing machine or dryer
Air conditioning or heating
Self check-in
Laptop-friendly workspace
Pets allowed
If you don't have these amenities, consider whether you can add them. 
This will open you up to more filtered searches. And improve your listing's visibility.
2. Complete Your Profile
While profile completeness is not a confirmed Airbnb ranking factor, Airbnb listingswith a complete host profile look authentic and trustworthy.
For a strong Airbnb profile, the brand recommends that you focus on:
Verifications: Multiple forms of identity verification make it clear that you are who you say you are
Description: At least 50 words about yourself and your interests can make your profile more personable and appealing
Profile photo: A recent profile photo that clearly shows your face means guests will recognize you when they arrive
This is what a completed profile looks like: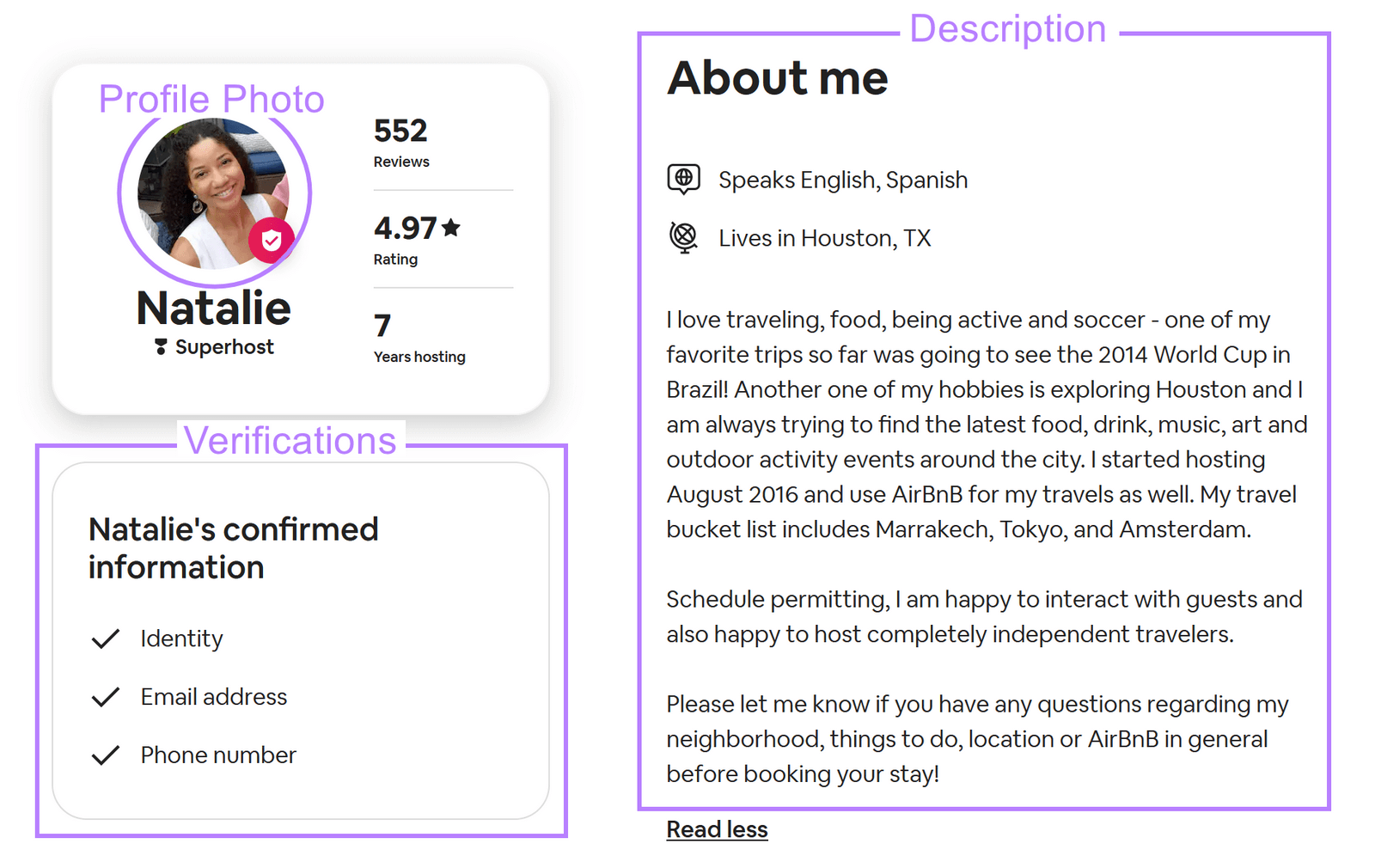 You can edit your profile at any time, so make sure to revisit yours to keep it updated.
3. Write a Comprehensive Listing Description
Creating a detailed and unique listing description can help you meet the search algorithm's quality standard needed to rank highly. And it'll grab guests' attention.
Your Airbnb listing has four description sections:
About this space (the main description): The main section for explaining what your property is like and describing different features
The space: Details about the property, the location, and specifics of individual rooms
Guest access: An explanation of how guests can access the property and amenities
Other things to note: The area for going over anything else that the other sections don't cover, like friendly reminders
You can see each of these sections when you click "Show more" under the description in the main listing: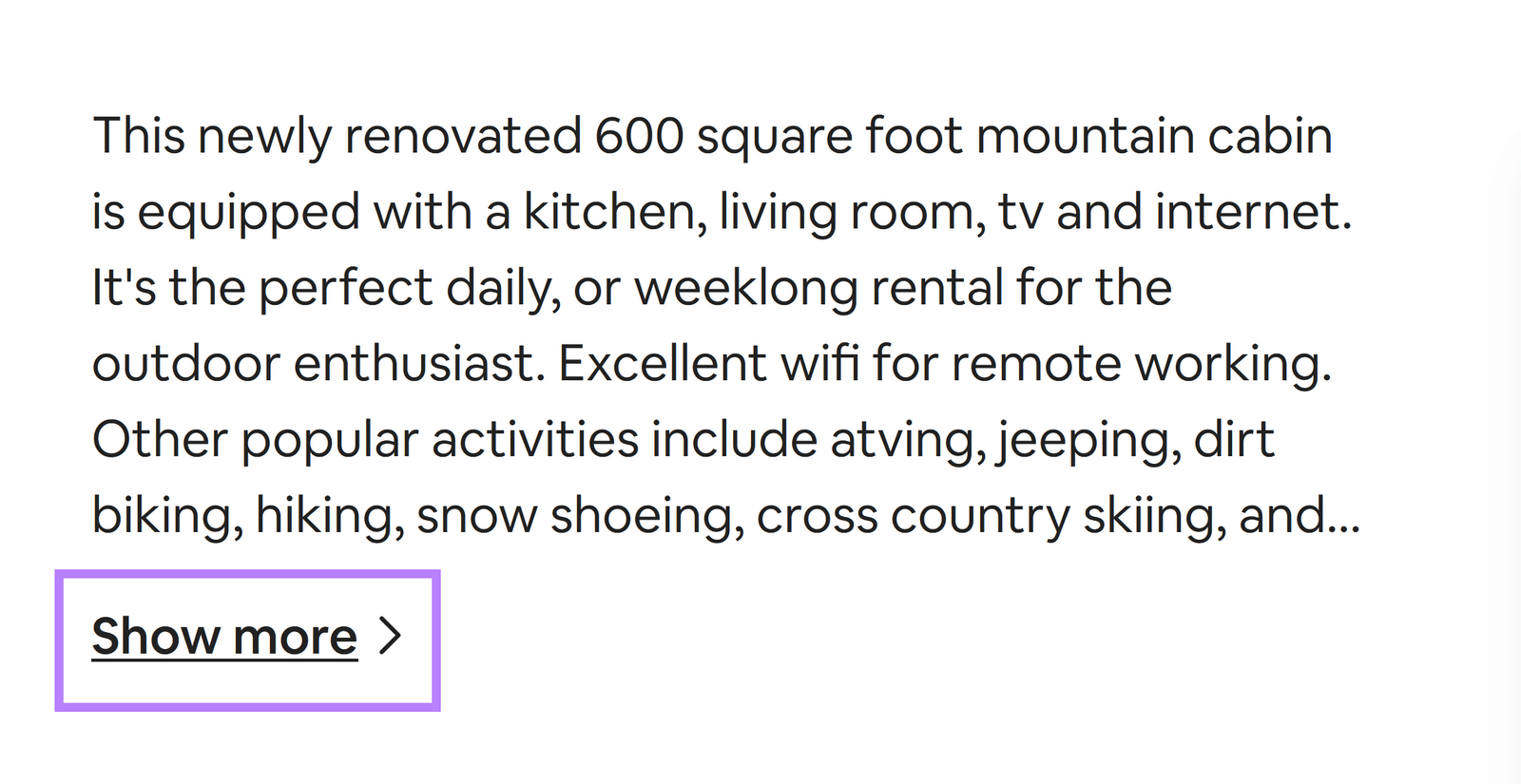 Fill out all four sections with detailed information to give yourself the best possible chance of ranking. And don't be afraid to use your storytelling skills to make the descriptions more engaging.
You can also follow Airbnb's advice for writing an effective listing description.
4. Optimize Your Listing Title
A listing title that showcases your property's best features can grab guests' attention to maximize traffic and engagement. And remember that popularity is a ranking factor for Airbnb's search algorithm. 
One of the best ways to optimize your listing title is to highlight what's nearby. Guests want to know how close they'll be to local attractions.
Apply that in your listing title by mentioning the area the property is in. 
For example, if your Airbnb is near the Louvre in Paris, you could title it "Quiet apartment near the Louvre."
Airbnb outlines some other tips in their guide to writing listing titles. They include keeping titles short, writing in sentence case (only capitalizing the first letter of the first word and proper nouns), and avoiding emojis.
Here's a good example of a title that highlights the specific location and a nice feature:
5. Feature Professional Photos
Good photos play a huge role in impacting your listing's quality, meaning it can increase your rankings. 
The image below shows how visually driven results are: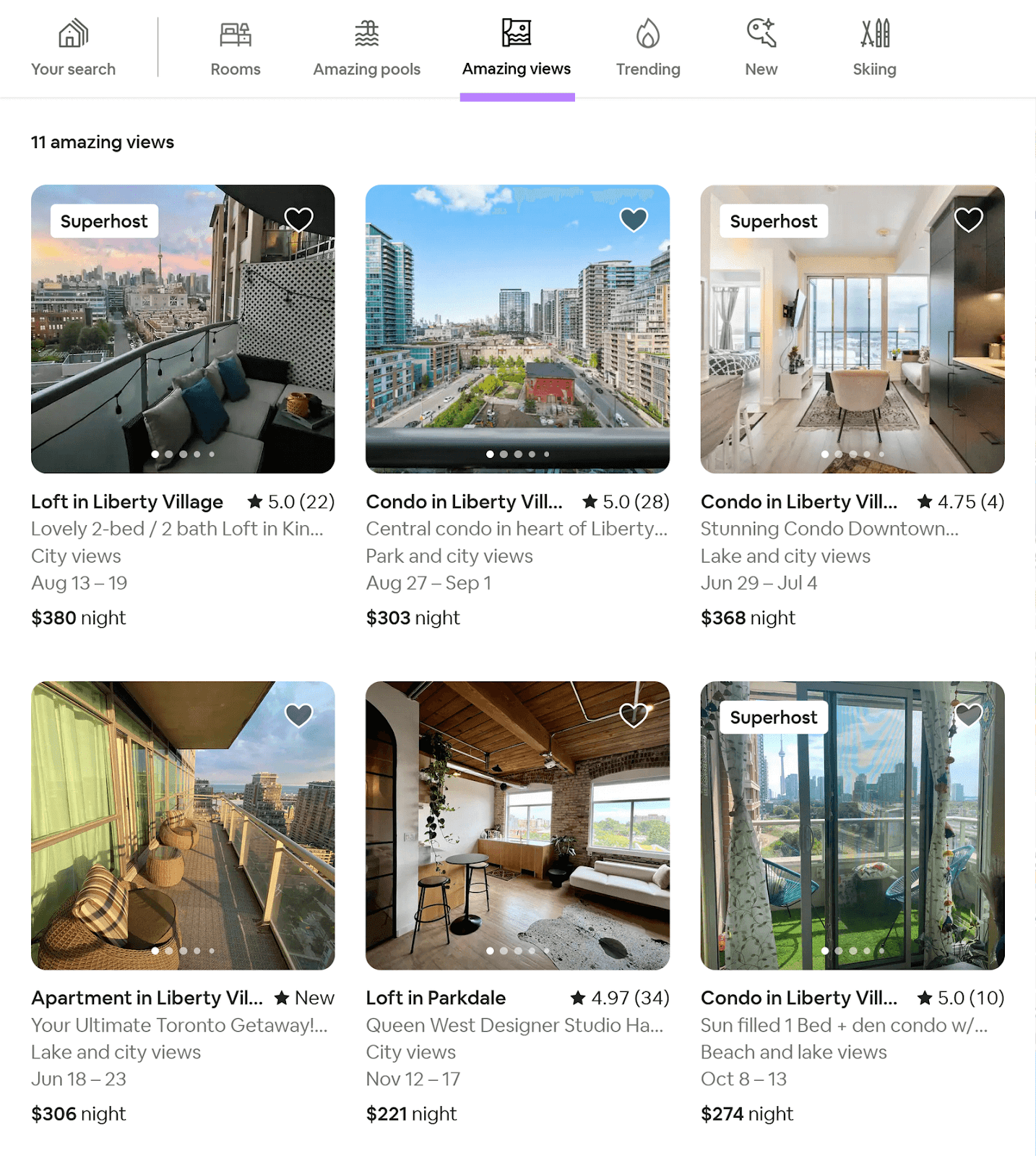 Eye-catching photos can also increase engagement, which may boost your rankings.
The best way to ensure quality photos is to hire a professional photographer. But that's not necessary if you make sure to follow Airbnb's listing photo tips. 
They include:
Preparing your space so it looks at its best
Taking photos with the proper settings
Focusing on image composition
Ensuring key amenities are on display
Also pay attention to what order your images are in. 
The first image will be your cover photo, which shows up in search results. And the first five images appear as a collage at the top of your listing.
6. Minimize Rejections and Cancellations
The fewer rejections and cancellations, the better your odds of ranking highly.
Why?
Because Airbnb SEO prioritizes Superhost criteria (factors that demonstrate exceptional hospitality) like a low percentage of cancellations. A small portion of rejections also matters. 
This is also good practice from a customer service point of view. And fewer rejections and cancellations can drive repeat bookings.
7. Speed Up Your Replies
Airbnb's search algorithm factors in the speed of host responses. So, the quicker you get back to inquiries, the more likely your listing is to appear higher in search results.
Airbnb considers two metrics related to replies:
Response rate: The percentage of new inquiries and reservation requests you responded to within 24 hours over the last 30 days
Response time: The average time it took for you to respond to all new messages over the last 30 days
Improving your response rate and response time can also help you become a Superhost. Something many guests look for.
They can even filter for Superhosts like this image shows:
You can find your current response performance on your Dashboard to see how you're doing. And figure out how to improve.
8. Turn on Instant Book
Turning on Airbnb's Instant Book feature—which lets guests book without you having to manually approve—speeds up your response time dramatically. And makes your listing show up in searches filtered for Instant Book.
This trick helps you appear in filtered searches and achieve higher rankings.
But think about whether it's right for you. 
You won't get the chance to vet your guests before confirming their stays. If you have strict rules, it might not be the best option.
9. Offer Competitive Pricing
Airbnb prioritizes listings that are priced below comparable ones.
So, set a competitive price compared to similar listings nearby to increase your visibility and drive more bookings.
Remember, guests can also filter by price. Like this: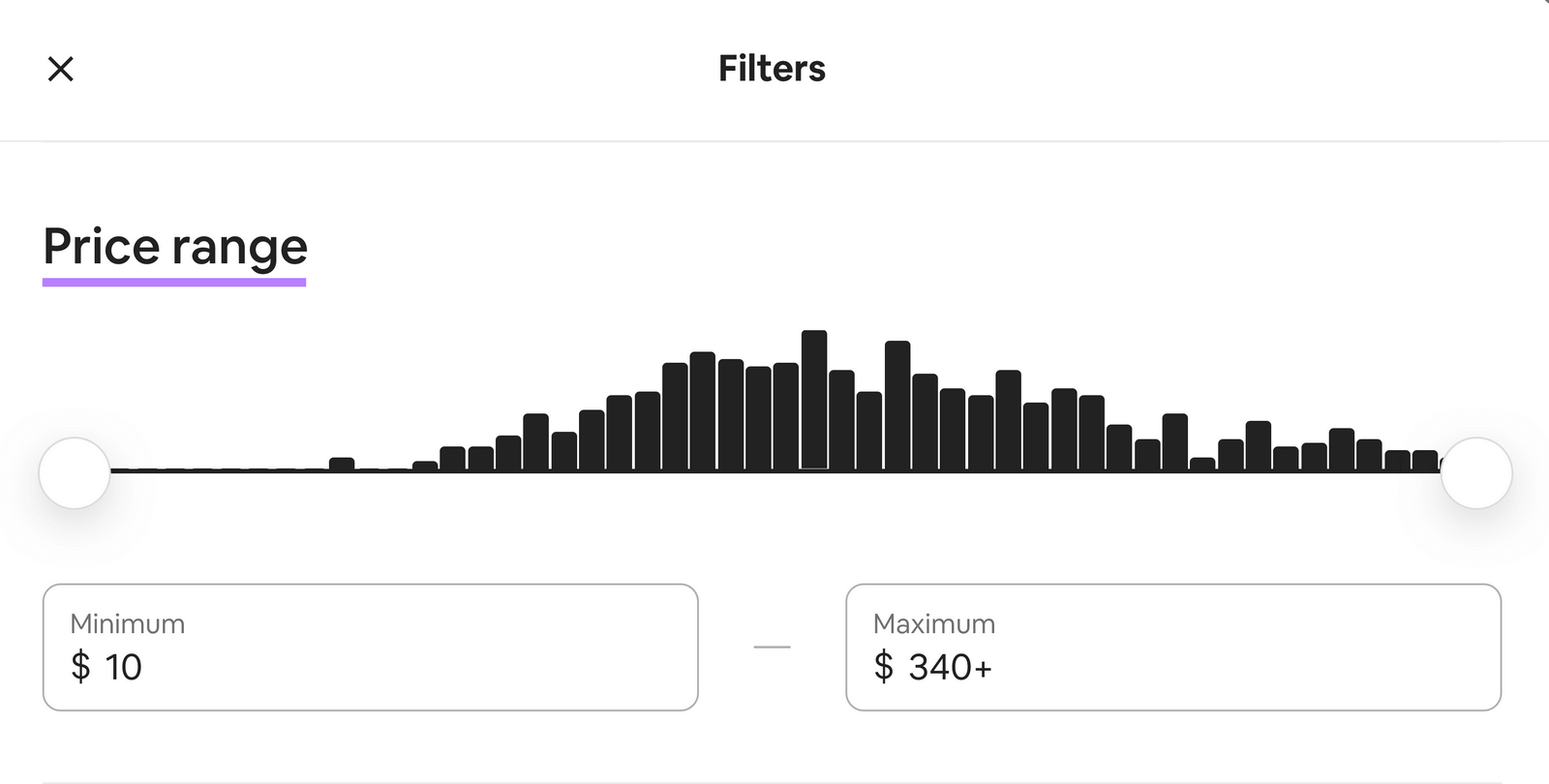 You can test pricing changes or discounts to see how they impact bookings. 
Alternatively, you can let Airbnb do the work for you by turning on Smart Pricing. This feature automatically changes the price of a nightly stay depending on demand. 
You can set upper and lower limits to Smart Pricing to have more control.
10. Keep Your Booking Calendar Up to Date
Keeping your booking calendar updated helps you maximize visibility and minimize how many guests you have to reject. That affects your Airbnb SEO performance.
There are two specific tips for managing your booking calendar:
Display availability for as far as possible into the future to accommodate for early bookings
Block out periods of unavailability as soon as you're aware of them, so you don't have to turn away anyone
Stay on top of your calendar by reviewing it every day.
11. Reduce the Minimum Stay Length
Decreasing or removing your minimum stay length can increase your listing's visibility by making it available to short-term rental guests.
This is particularly useful if you tend to only host long-term vacation stays and find yourself with gaps between bookings. 
For example, you'd end up with the gap in the calendar below if your minimum stay length were more than three nights.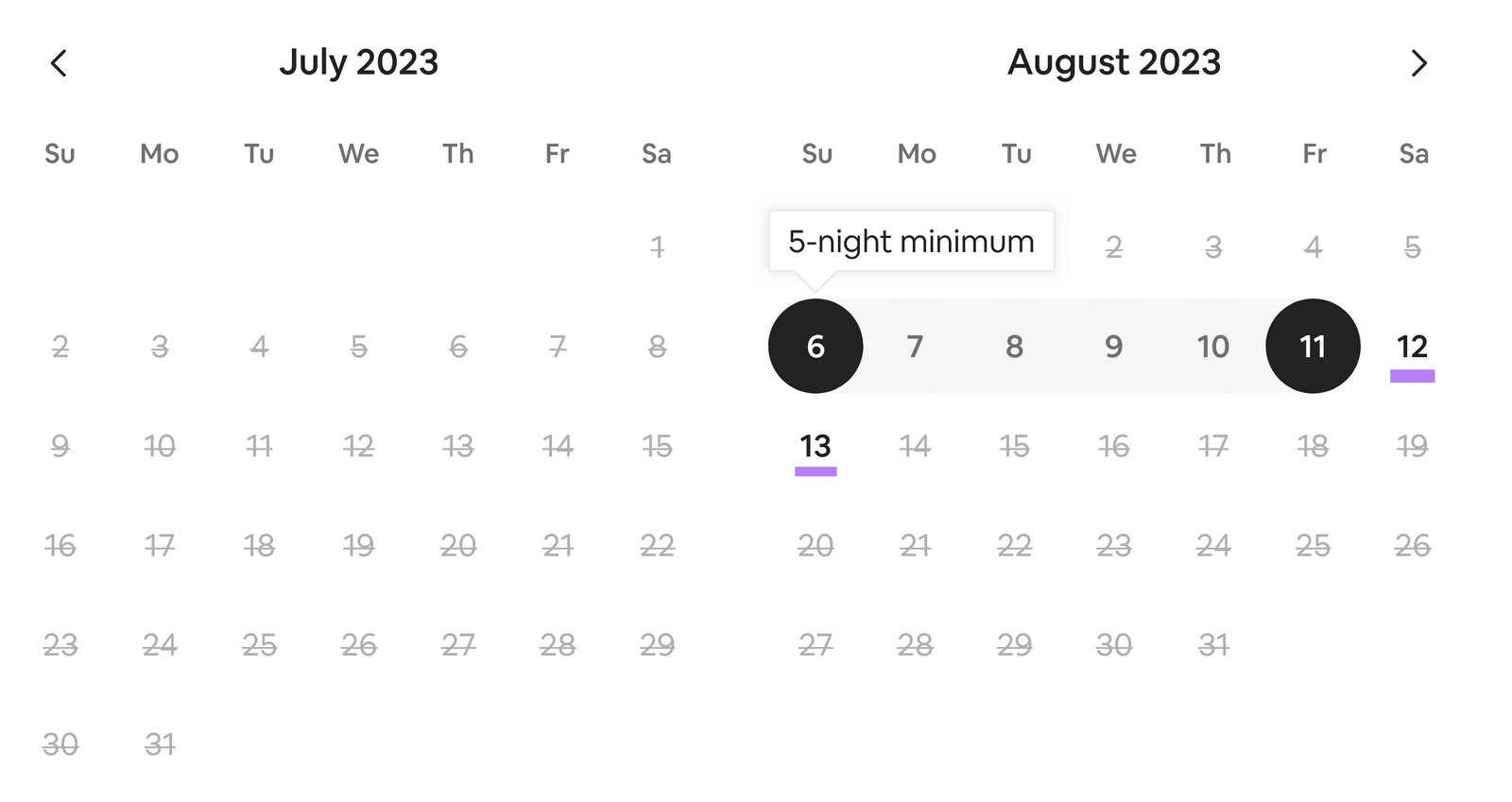 A minimum stay length hides your property from some potential guests' search results.
You can manage your minimum and maximum stay lengths using Airbnb's instructions. And consider whether custom rules for specific parts of the week or year would be helpful.
For example, you could limit stays around Christmas to shorter periods to minimize gaps in your booking calendar.
12. Provide Exceptional Hospitality
Airbnb data shows guests are more likely to book a listing with a high rating. And those ratings also play a role in a listing's ranking in Airbnb search results.
Use the specific categories that guests rate as guidelines for improvements. These categories include:
Check-in: Make check-in quick, easy, and clear for guests
Cleanliness: Keep your property in the clean and tidy condition shown in the listing photos
Accuracy: Ensure features, facilities, and amenities are exactly as described in your listing
Communication: Communicate quickly and clearly with guests, responding promptly to any issues
Value: Price your listing fairly to avoid dissatisfying guests
Aside from focusing on these key areas, treat the reviews you receive as opportunities to learn. 
Positive reviews show what you're doing right. Negative reviews can highlight areas for improvement.
Traditional SEO Tips to Improve Your Airbnb Listing
Using traditional techniques can improve your listing's ranking on general internet search engines like Google. This opens you up to a broader market of searchers.
Start by optimizing your listing to include relevant and valuable keywords. To help you attract traffic from outside the Airbnb platform. 
You can find the right keywords by using Semrush's Keyword Magic Tool.
Open the tool, enter a seed keyword (a short phrase related to your listing), and click "Search."

For example, if you host an Airbnb in Tampa, Florida, you could enter "airbnb tampa" to get a list of terms.
Like this: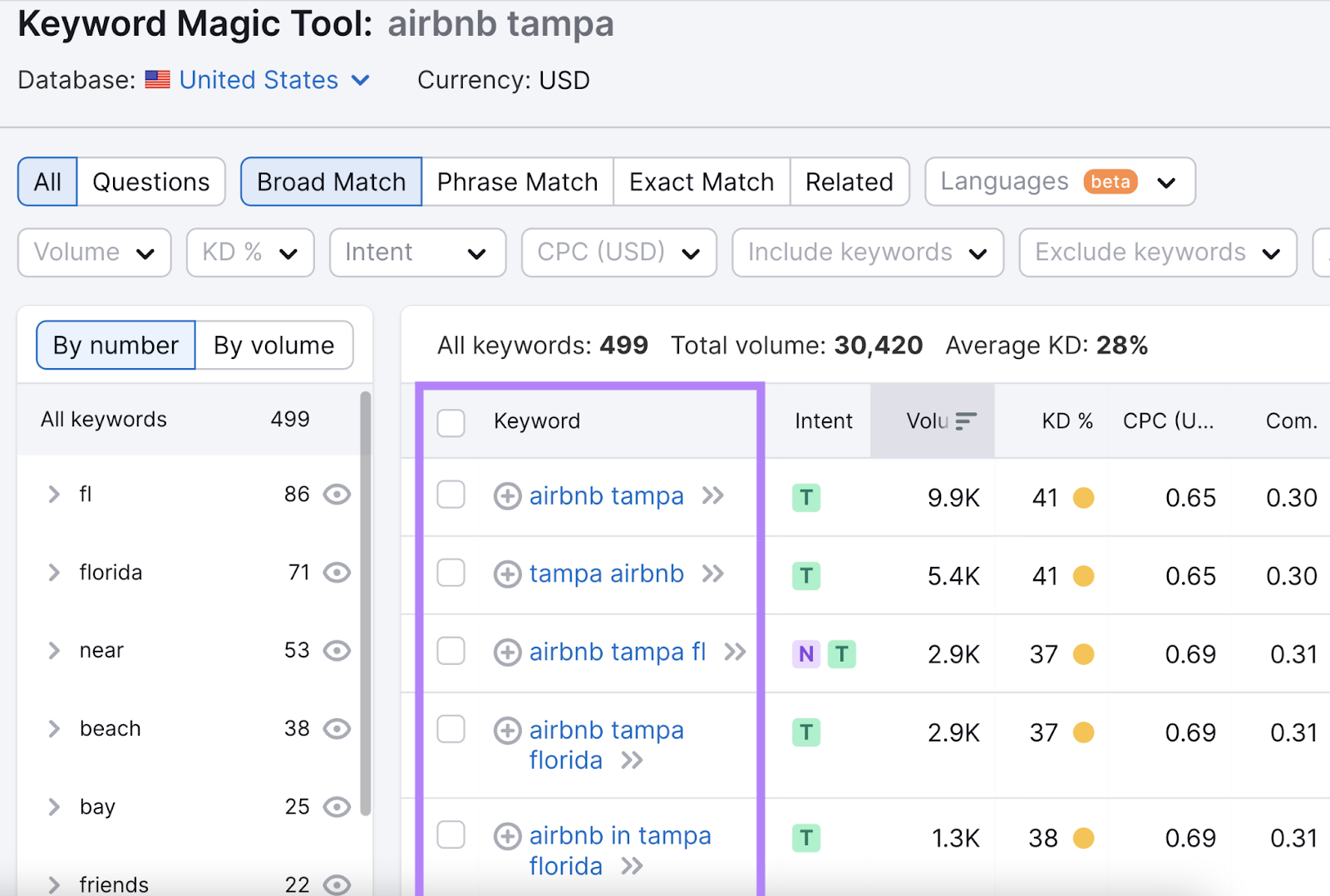 You can then find long-tail keywords (typically highly specific queries) that are relevant to your property.
If your property has a pool, you might click the suggested "pool" subgroup to the left. 
You'll then get a list of all corresponding keywords with that modifier:
The keywords you discover using this process will guide your listing optimization. 
Use them in your title and description where possible. But don't overuse them. It's important that your listing still reads naturally.
If you optimize well, you have a chance of ranking among the top listings in Google's search results: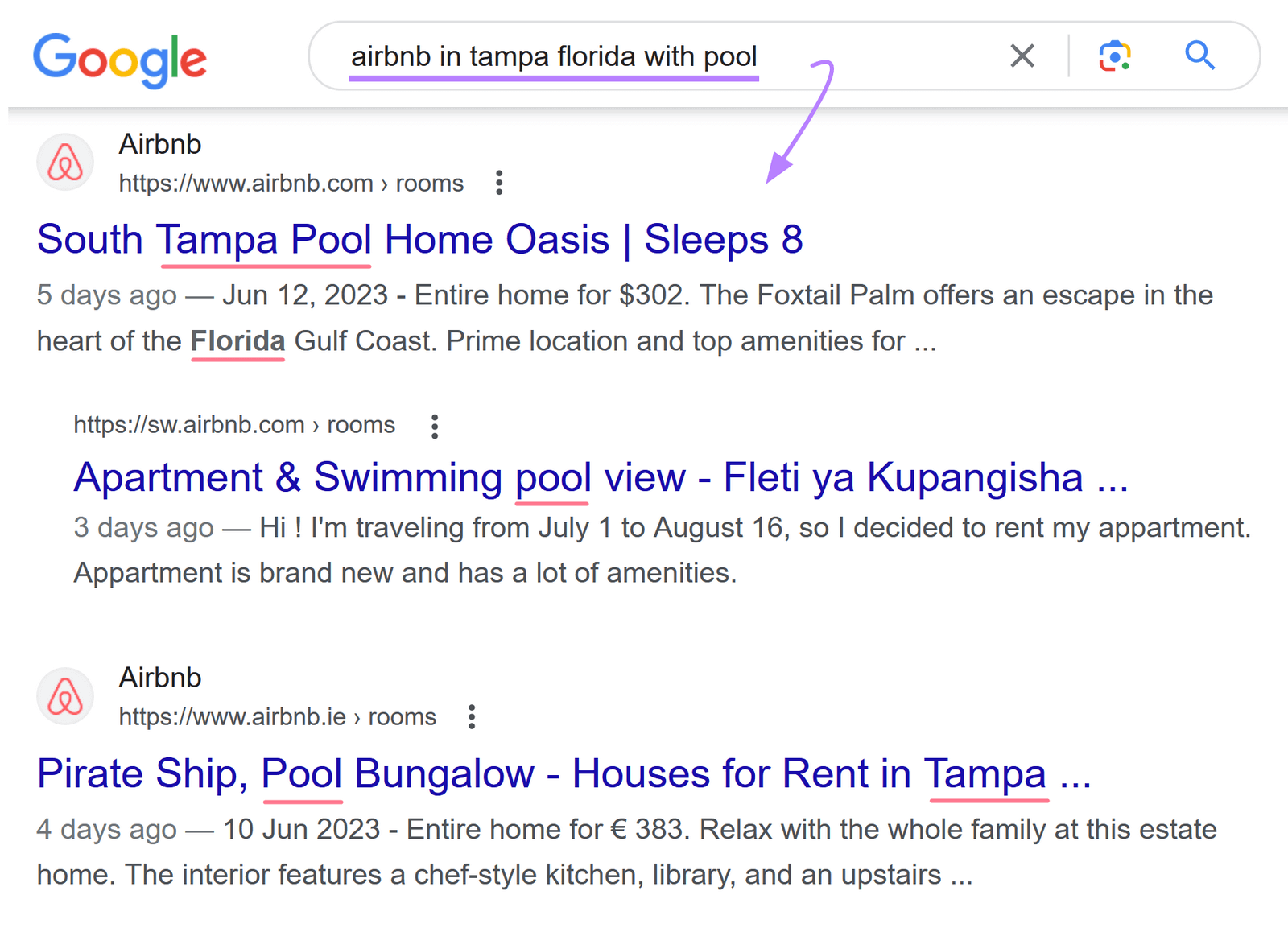 Use SEO for Airbnb Listings to Drive More Bookings
Airbnb SEO is one of the most effective ways to maximize your listing's performance. But SEO and Airbnb listings go together even off the platform. 
Optimizing for traditional search engines is also important.
To find the most relevant keywords you can use in your listing, check out our overview of long-tail keywords. And sign up for a free Semrush account.
Source link