AI rewriting tools can be used to quickly create alternative versions of existing text while still preserving the original meaning. These tools make it easier to repurpose your content and save time. 
For example, you could turn your blog posts into slides, infographics, social media posts, or even online courses. You can also rewrite articles for other websites and platforms without sacrificing originality. 
So how do you find the right tools for the job? 
Let's look at 11 of the best AI rewriting tools available today. 
1. Semrush Smart Writer
The Semrush Smart Writer is a key component of the SEO Writing Assistant. It leverages AI to generate unique content and rewrite text in the same tone of voice as the original version. 
You can use the Smart Writer as a desktop app and then paste the text to your website or blog. 
To access the tool, log in to your Semrush account and click "Content Marketing" on the left side of the screen. Select "SEO Writing Assistant" and then click "Analyze my text."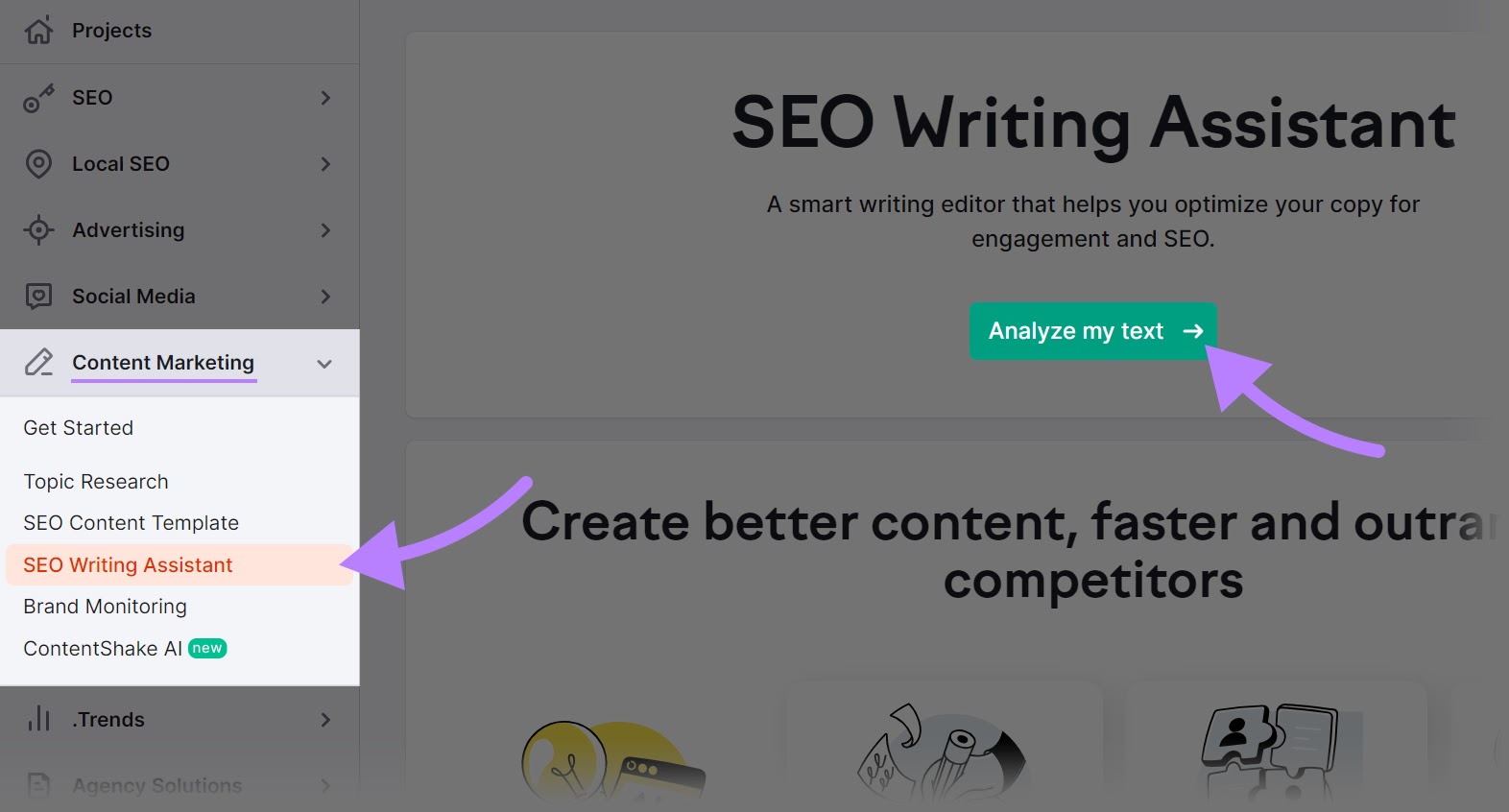 Next, paste your text in the designated field. You can check writing recommendations displayed on the right side of the screen. The Semrush Smart Writer analyzes and scores your content based on four factors:
Originality
Readability
SEO
Tone of voice
You can rework your content (if needed) at this stage.
To create a variation of your existing text, click "Rephraser" under "Smart Writer" on the right side of your dashboard. 
The Rephraser menu will open in a new window. 
Paste your content into the designated box and click "Rephrase."
The Smart Writer will generate at least one new version of your content while keeping the same readability and tone of voice. If more than one version is created, you'll see the option to view "Idea 1," "Idea 2," and so on in the upper right. 
You can click "Rephrase" again to generate further versions. 
When you're done, click the button with the "Copy Text" icon. Then paste the content into a new document, on your site, or wherever you'd like it used.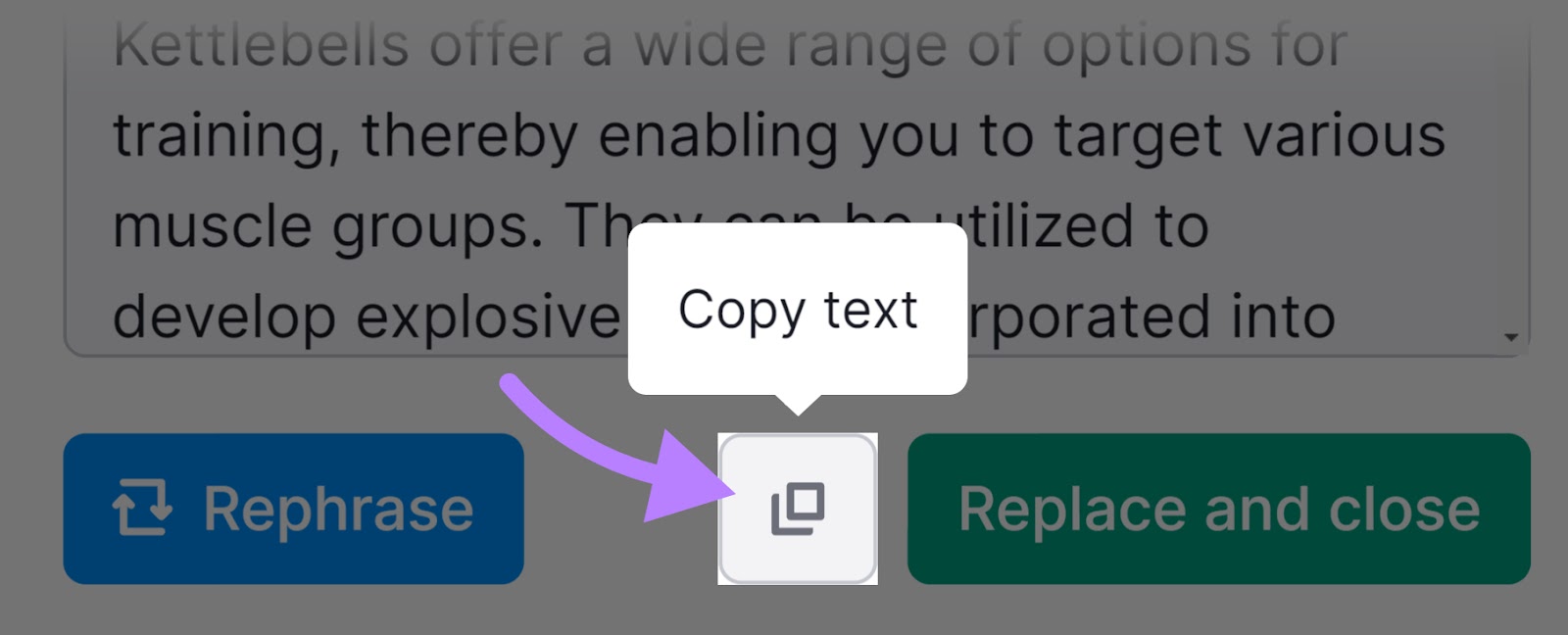 This user-friendly tool can also simplify, expand, or summarize your content. 
If, say, you want to turn your content into a tweet, click "Summarize." The Smart Writer will extract the main points and then generate a summary of the text.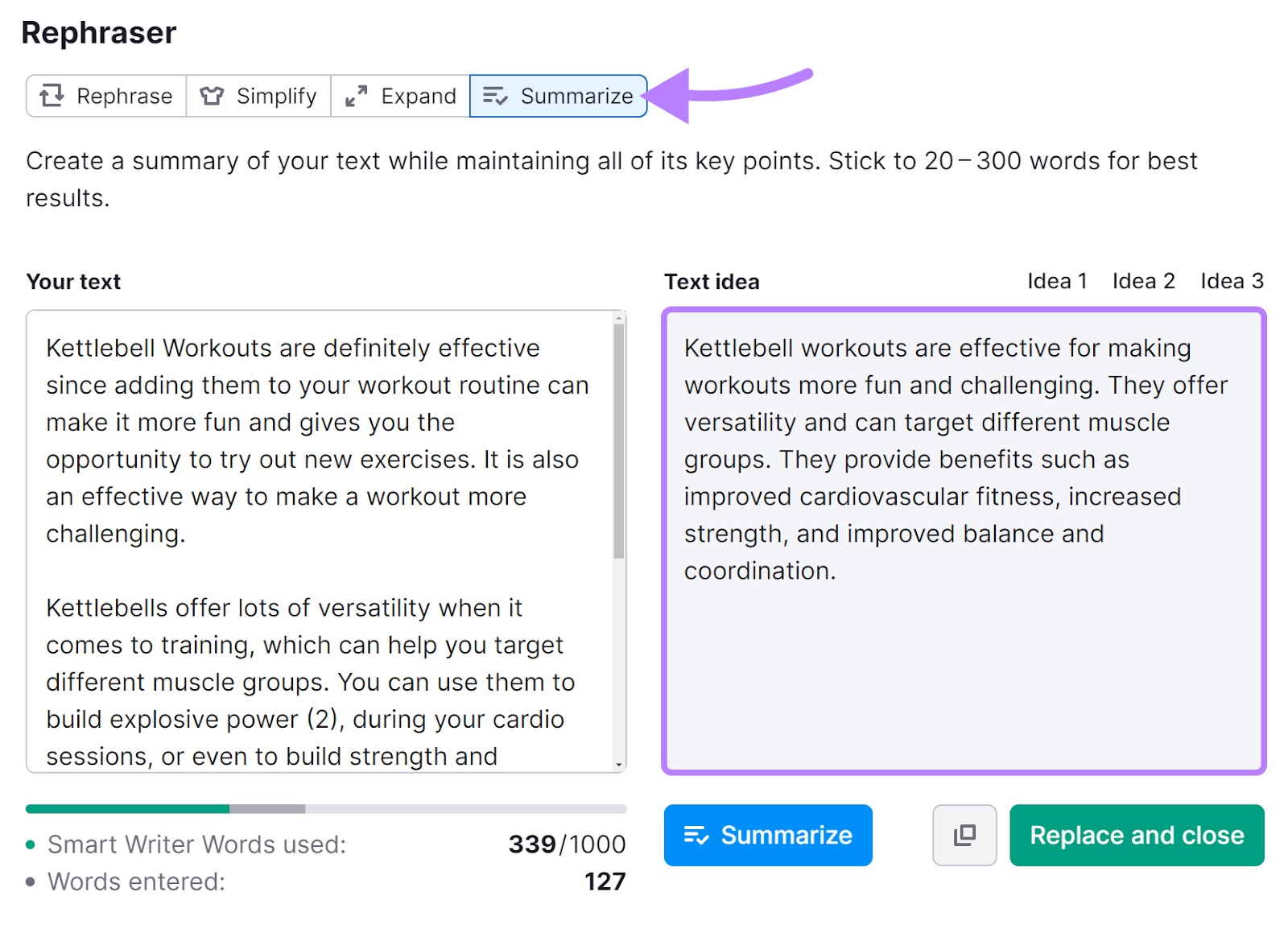 What We Like
The Semrush Smart Writer can automatically generate original content based on existing copy. Most importantly, it maintains your brand's tone of voice and ensures your content is plagiarism-free. 
Plus, you can use it along with the SEO Writing Assistant to boost organic search rankings and site traffic. The SEO Writing Assistant optimizes your content for the target keywords, improves its readability, and makes personalized recommendations. It includes a next-gen AI content generator and a plagiarism checker too. 
Plans & Pricing
The SEO Writing Assistant with the Smart Writer feature is available as part of the Semrush Guru plan, which costs $249.95 per month. It is also included in the Business plan, which appeals to large enterprises and costs $499.95 per month. 
Note: Semrush offers a seven-day free trial, so you can test the rewriter tool before committing to a membership.
2. Jasper 
Jasper is an AI-powered content creation tool for freelancers, marketers, and enterprises. It supports over 30 different languages and works with both Microsoft Edge and Google Chrome. 
This online tool uses artificial intelligence to create, optimize, and rewrite content for social media, websites, and ads. It can also generate outlines, blog content ideas, and subject lines, freeing up your time. 
Other key features include:
Plagiarism checker
Document editor
Copywriting templates
Keyword suggestions
Third-party integrations
Voice commands 
Jasper also includes a paragraph rewriter that changes the sentence structure, length, or tone of voice to create unique content. 
For example, you can use it to rewrite your content for readability or to target a different audience. Some marketers leverage its capabilities to turn blog posts into social media copy, tutorials, guides, and other types of content.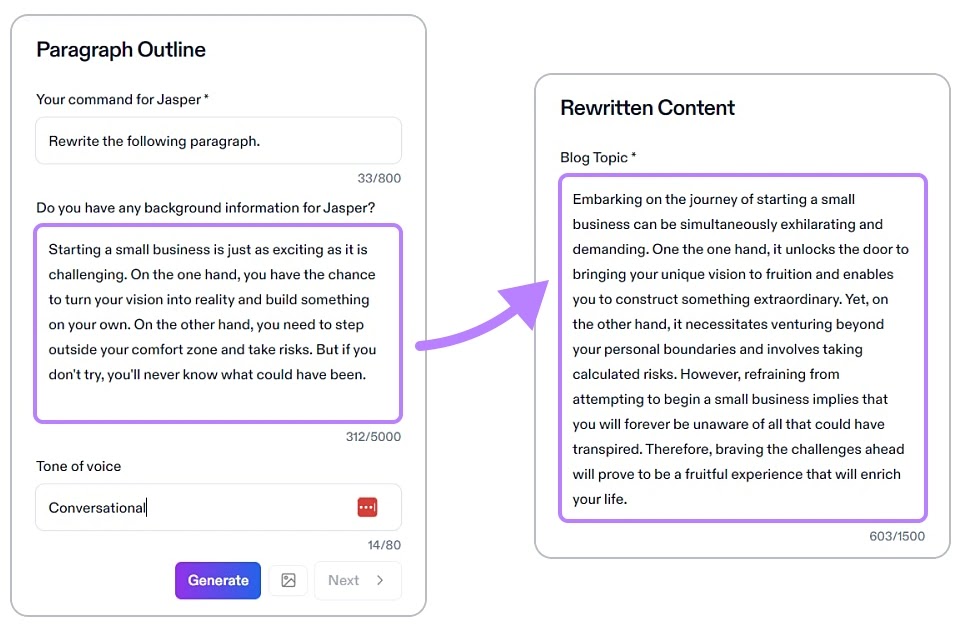 What We Like 
Jasper's AI paragraph rewriter generates plagiarism-free content. This is especially important if you're creating that content for SEO, since search engines penalize content that isn't original. This feature minimizes the risk of that penalty, which could affect your search engine rankings. 
Moreover, Jasper uses machine learning and advanced natural language processing (NLP) to create content that reflects your brand's style and tone of voice. Plus, it can rewrite entire paragraphs without changing their original meaning. 
Plans & Pricing 
Jasper offers three membership plans starting at $49 per month. All three plans include the paragraph rewriting tool. 
Further Reading: The Top 15 AI Writing Tools and Apps for Any Content [2023]
3. QuillBot 
QuillBot is an AI paraphrasing tool, grammar checker, and summarizer. You can also use it to generate citations, check your content for plagiarism, and translate text into 23 languages. 
Note that paraphrasing isn't the same as rewriting. This practice involves rewording someone else's ideas without changing their meaning. 
For example, you can paraphrase an existing article to make it more digestible or highlight its key points. The paraphrased text will sound similar to the original version. 
On the other hand, rewriting a piece of content will result in more obvious changes. The meaning of the text will remain the same, but you'll use different words. 
QuillBot's paraphrasing tool allows you to shorten or expand the text or change the tone of voice. You can also adjust the amount of synonyms used. 
Marketers can use QuillBot as a Microsoft Word add-on or Chrome extension, as well as via the company's website. There's also a version for Mac users. 
What We Like 
QuillBot's AI paraphrasing tool is intuitive and easy to use, offering a wide range of options for creating high-quality content. 
For example, you can use it to turn your blog content into Facebook posts and then rephrase those posts and share them on other social networks. However, you'll still need to edit the text for readability. 
All in all, QuillBot is a solid choice for students, freelancers, and creative professionals. It's far more basic than similar tools, but the results are good. 
Plans & Pricing
With QuillBot's free plan, you can paraphrase up to 125 words at a time. The Premium plan doesn't have this limitation in place, and starts at $9.95 per month. The Premium plan includes a three-day money-back guarantee. 
4. Grammarly 
Marketers can use Grammarly to spot and fix typos, grammar mistakes, readability issues, and other problems affecting their writing. 
This cloud-based tool leverages AI to improve content based on four factors:
Correctness
Clarity
Engagement
Delivery 
For example, it highlights passive voice sentences and shows you how to switch to active voice. It can also spot unclear or wordy sentences, passive voice misuse, and poor word choices—and then make relevant recommendations. 
But that's not all. 
Grammarly's algorithms can also help you rewrite the text in a different style or tone of voice. This feature makes it easier to repurpose your content and write in a language your audience understands. 
What We Like 
With Grammarly, users can rewrite and edit articles, whitepapers, or even ebooks to make them clearer and more engaging. The tool can check your content for plagiarism, fix formatting issues in your citations, and help you convey your message more effectively. 
We also like that Grammarly works with all the major web browsers and popular apps like Google Docs, Skype, Slack, and Gmail. Therefore, you can use it to improve your content on most platforms, whether you're writing a blog post, email, or tweet. 
On top of that, users can leverage the app to make their content sound friendly, confident, diplomatic, formal, or more inclusive. There's also the option to automatically generate citations and format them according to the style guide you use. 
Plans & Pricing
Grammarly offers three membership plans, including a free subscription. 
The Premium plan starts at $30 per month, while the business plan costs $15 per user per month. The latter also offers team-specific features, such as account roles and permissions.
5. Chimp Rewriter
This AI-powered tool can "spin" existing content into something new. Basically, it replaces words or phrases with synonyms to add an element of uniqueness. And it can do it in multiple languages, too, including English, French, Spanish, Norwegian, Slovak, and others. 
Bloggers use Chimp Rewriter mostly to generate content for niche websites. The app can also improve content readability and simplify complex sentences, making your writing more engaging.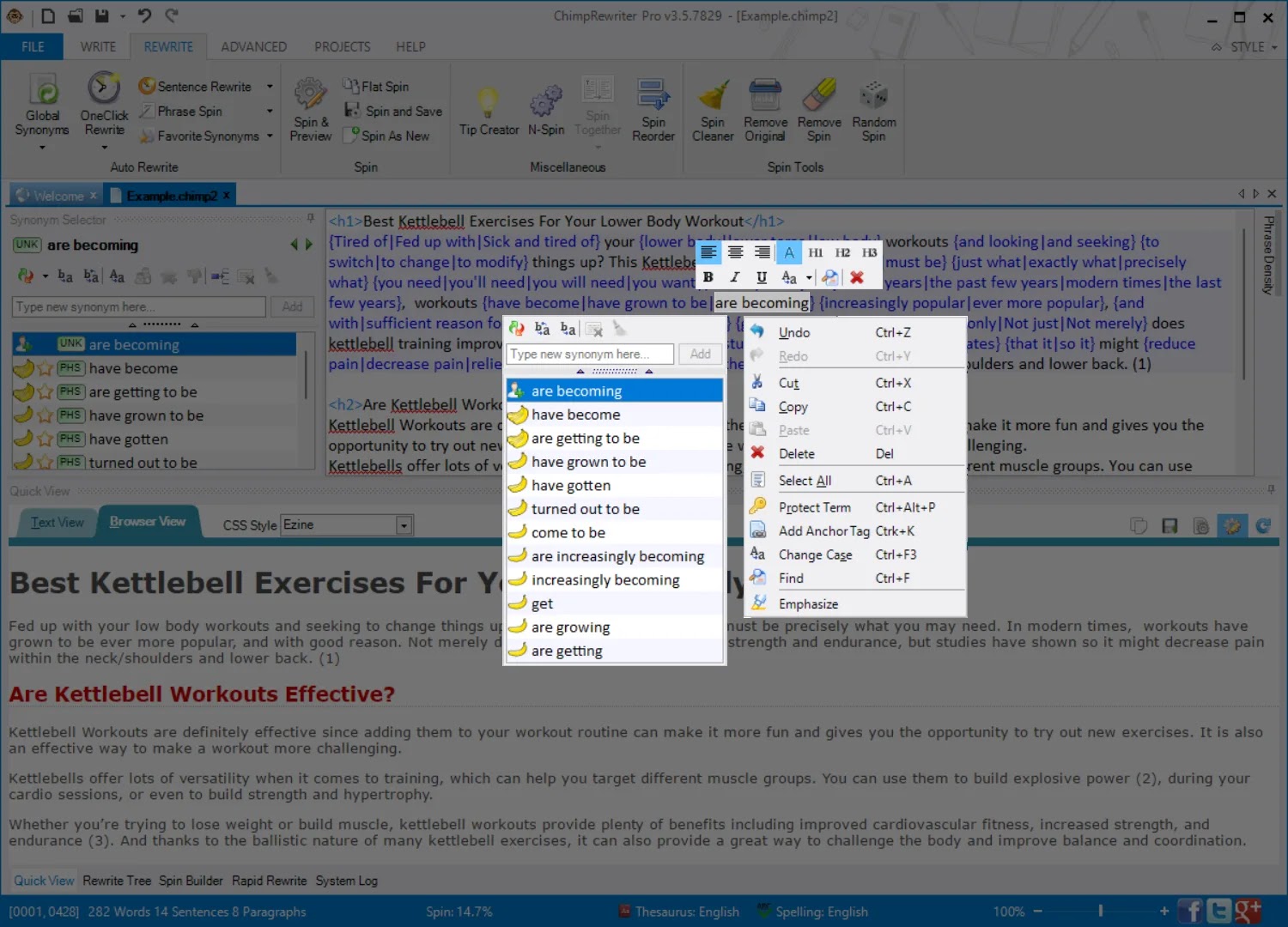 The risk of spinning is that your content could get flagged for plagiarism, especially when you spin someone else's work. 
To avoid these issues, use Chimp Rewriter to reword your own content. And opt for small tweaks instead of spinning entire articles. 
What We Like 
Chimp Rewriter can streamline the content creation process and free up your time. Its strength lies in its ability to suggest synonyms, paraphrase sentences, and reorder paragraphs to make your content unique. 
This article rewriter can be a good choice for creating SEO content. For example, you can use it to rewrite a series of blog posts and then bundle them into an ebook or in-depth guide. 
Plans & Pricing
Users can register for a 14-day free trial to see how Chimp Rewriter works. After the trial expires, they can sign up for a Premium membership plan starting at $15 per month. 
6. WordAI
WordAI can generate human-like content based on existing blog posts and articles. It's one of the few tools in its category that can rewrite articles in bulk.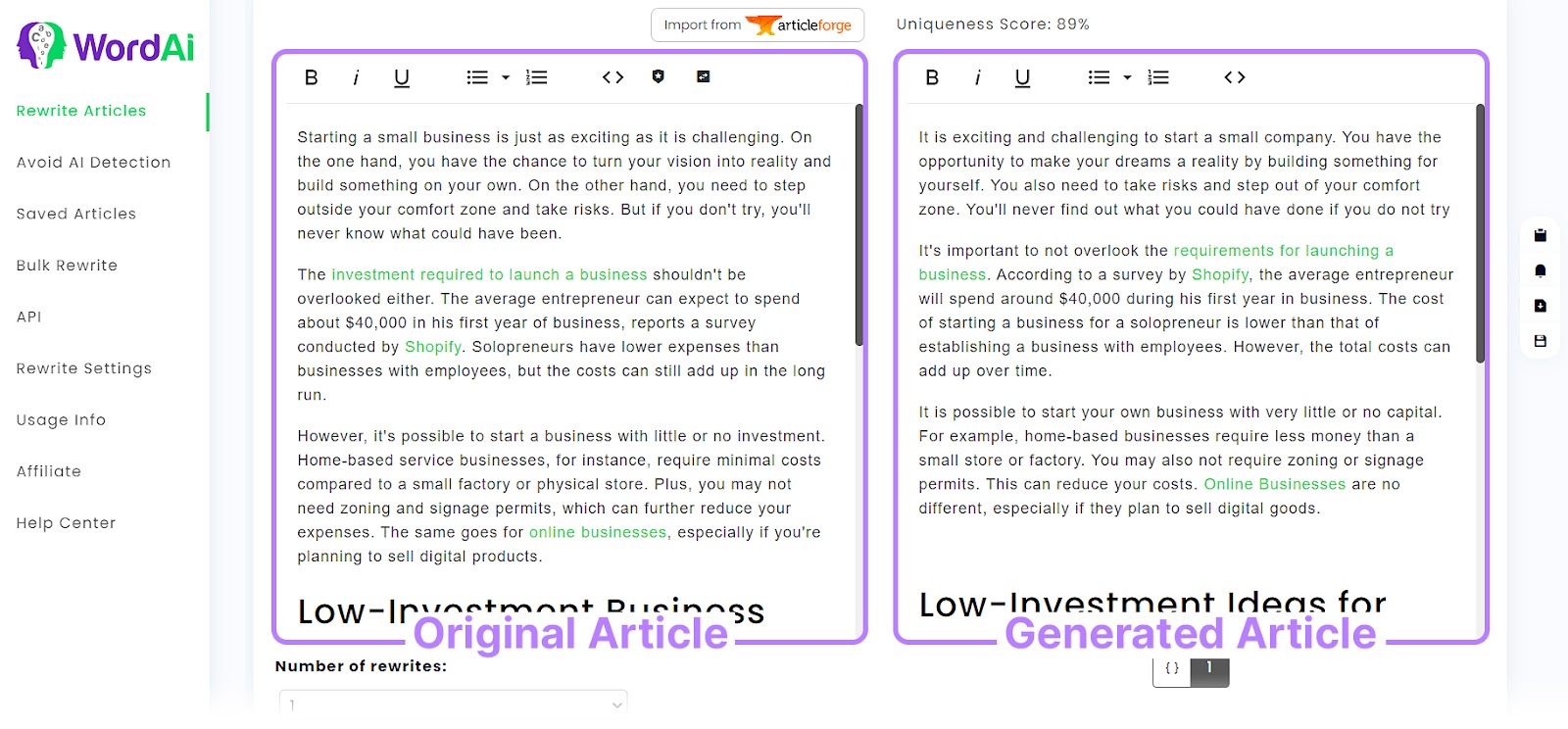 The rewritten content will pass AI detectors at the same rate as text created by humans. However, its uniqueness depends on the settings you use when pasting your text into the editor. 
For instance, enabling the option "Protected Words and Custom Synonyms" may result in less unique content in the rewrite.
Like other AI writing tools on our list, WordAI can generate multiple versions of an article. You can also specify to what extent you want to rewrite your content, such as "regular," "more conservative," or "more adventurous."
What We Like 
WordAI uses natural language processing to ensure your writing sounds natural and human. This feature makes it suitable for content creators, digital marketers, and journalists. 
We also like its ability to rewrite articles in batches, which can be helpful for those running multiple websites or blogs. 
Additionally, it improves content clarity and quality while maintaining its original meaning. Plus, it helps ensure the rewritten content will pass originality verification with tools like Copyscape. 
Plans & Pricing
Subscribers can choose from three membership plans starting at $17 per month. 
The Starter plan allows you to rewrite up to 50,000 words each month. With the Power plan, you can rewrite up to three million words monthly. And the Enterprise plan has additional features, such as multiple user accounts, custom rewrites, and increased content quality. 
There's also the option to sign up for a three-day free trial or request a refund of a paid subscription within 30 days if you're not satisfied with the results.
7. Article Rewriter Tool
The Article Rewriter Tool is a free tool made for bloggers and other creatives in the digital space. It doubles as a paraphrasing tool and article spinner, enabling users to repurpose existing content in a variety of ways. 
An account isn't required to use the app. All you need to do is visit the homepage and paste up to 10,000 characters in the designated box. You can opt for a basic or advanced rewrite. 
You can also enter words you want the app to ignore. 
If, say, you want the rewritten content to exclude certain keywords, such as "solopreneurs," click "Ignore words" and enter them in the box below the text editor. 
If you opt for a basic rewrite, plan for some manual editing. Many of the original words will be replaced with synonyms that may not fit the context as well. 
What We Like
This free app can be a good starting point for those who are new to AI writing. Think of it as an opportunity to play around with words, expand your vocabulary, and save time on brainstorming. 
Plans & Pricing 
The Article Rewriter Tool is free to use, but you'll have to register on QuillBot to access the higher-quality results. 
8. AI Article Spinner
The AI Article Spinner can be a great tool for rewording articles, product descriptions, or social media posts. The app features five spinning modes and a built-in plagiarism remover. 
Although it's pretty basic, it can spin or paraphrase your content without changing its meaning. 
The free version of the AI Article Spinner allows you to spin blog posts and articles up to 5,000 characters long. 
Premium users can spin articles of up to 10,000 characters in one go. Plus, the Premium version can generate human-like text in over 20 languages, such as German, Hindi, Dutch, or Korean. 
What We Like
The AI Article Spinner makes it easy to reword your content for social media, forums, Q&A websites, and blogs. It's also one of the few spinning tools that will check your work for plagiarism. 

Another advantage is the large number of languages supported in the Premium version. This feature allows you to write for a global audience and expand your reach. 
Plans & Pricing 
Content creators can use the AI Article Spinner's free version or sign up for a premium plan, which costs $10 per month.
9. Copy.ai
Copy.ai is an all-in-one tool for content writing and paraphrasing. 
Depending on your needs, you can use it to brainstorm blog post ideas, draft content outlines, or rewrite articles. Other features include:
Paragraph/sentence rewriter
Email subject line generator
Business name generator
Ad copy generator
Over 90 prompt templates
Integrations with GPT-4, Slack, Zoom, and other apps
Unlimited brand voices
Copy.ai can also generate content for marketing emails, cold emails, Instagram captions, and social media bios. Plus, its AI-powered chat can save you hours of research. 
Let's say you want to write a paragraph. 
Simply open the live chat window and enter a prompt or command, such as "Rewrite the following paragraph." Paste the content or attach it as a document. Then click the "Ask" button. 
Copy.ai will rewrite the text, as shown below: 
After that, add the rewritten content to Copy.ai's editor and create new prompts or use prompt templates to complete your article. 
What We Like 
Copy.ai has more features than its competitors, including the ability to generate content in over 95 languages. It also comes with prompt templates that enable users to create copy for social media, emails, ads, and other marketing channels. 
Plans & Pricing 
Users can use the free version or choose from four subscription plans starting at $49 per month. All five versions have similar features, but paid users can generate, paraphrase, or rewrite a larger number of words. 
Further Reading: 10 AI Content Generators to Make Great Content in Minutes
10. Frase.io
Frase enables users to generate SEO content, blog titles, outlines, meta descriptions, slogans, and more. It also doubles as a paragraph rewriter and paraphrasing tool. 
As far as its rewriting capabilities go, the app analyzes your content to understand the topic you want to address. After that, it uses AI to reword and optimize the text.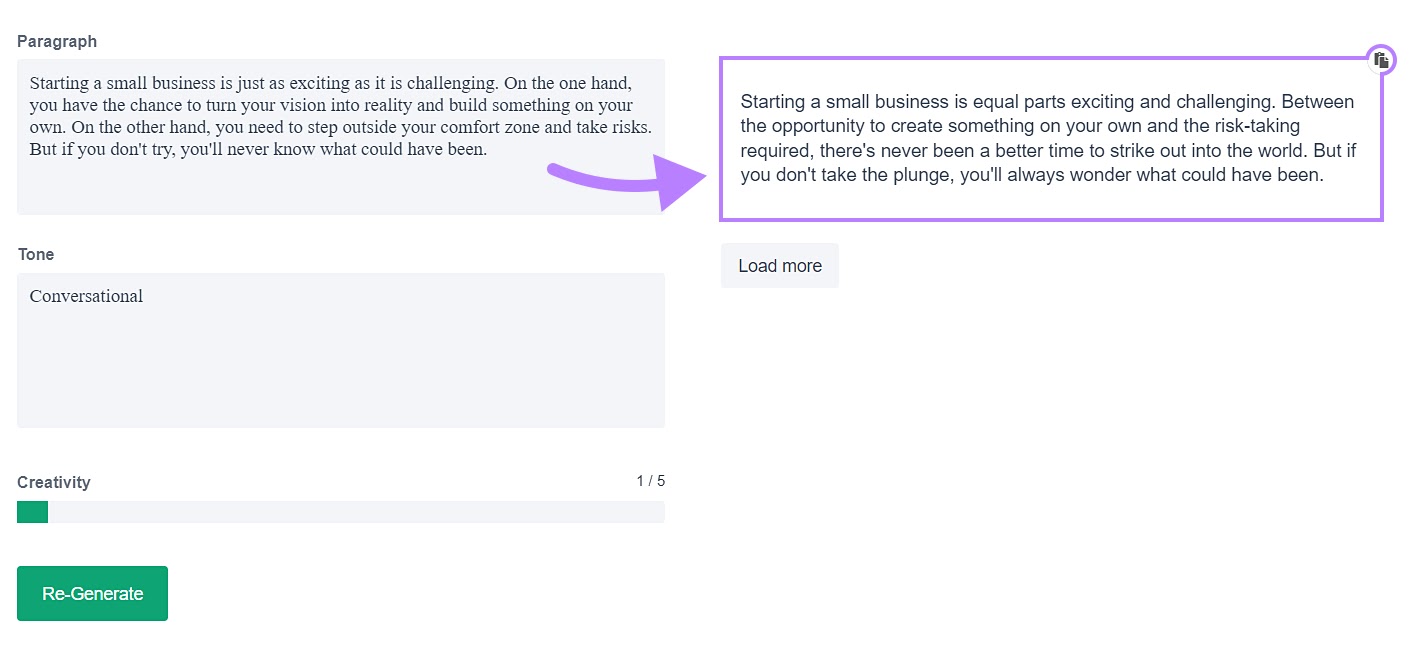 Frase can also identify gaps in your content, suggest relevant keywords, and provide actionable insights. To access these features, you'll need a paid subscription and the Pro Add-On, which costs an extra $35 per month. 
What We Like
This AI content writer can make your articles more SEO-friendly. What sets it apart from other tools is its ability to generate outlines, conduct keyword research, and analyze your competitors' content. 
Its rewriting capabilities are good, but not great. However, you can act on its suggestions to make your content easier to read and navigate. 
Plans & Pricing 
Frase offers three subscription plans starting at $14.99 per month. Users can pay $1 to try out premium plans for five days before committing to a monthly subscription. 
11. Spinbot
Spinbot is a free article rewriting tool. Marketers can also use it to spin or paraphrase content, depending on what they plan to do with the text. 
The app can spin or rewrite up to 10,000 characters at a time. However, the newly generated content is prone to grammar mistakes and the writing may sound unnatural. That's especially true if you opt for a "Basic Spin."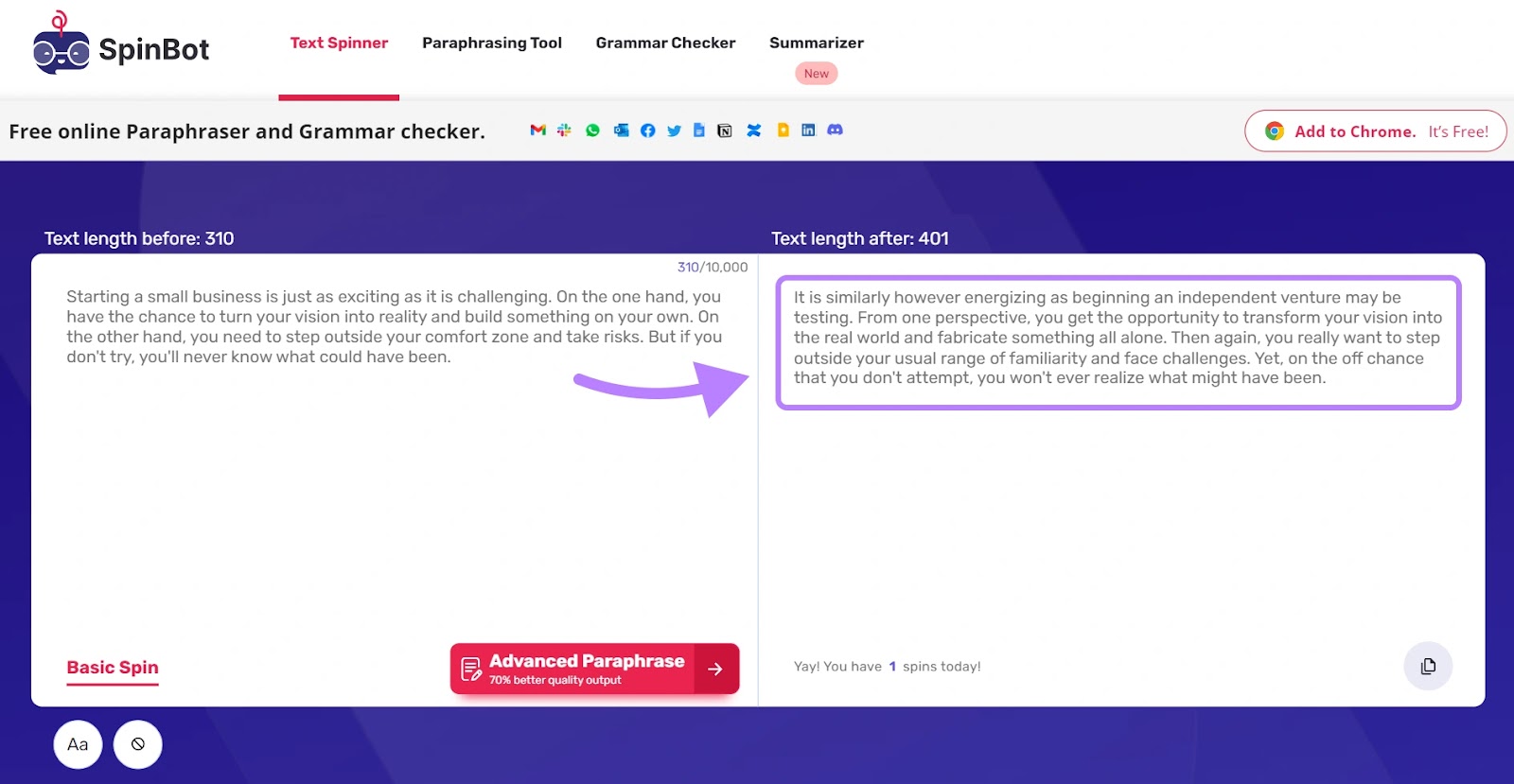 A better option is to select "Advanced Paraphrase" after pasting your context in the text editor. When you do that, Spinspot will redirect you to QuillBot. 
As mentioned earlier, QuillBot offers both a free and a paid version. The latter generates up to 70% higher quality results than Spinbot. 
What We Like
Spinbot is super easy to use and doesn't require an account. The simple interface makes it suitable for those who want to experiment with article spinning before upgrading to a more advanced tool. 
Plans & Pricing
You can use Spinbot for free, but you'll have to subscribe to QuillBot to get higher-quality content. 
AI rewriting tools use artificial intelligence to analyze original text to understand its meaning, purpose, and target audience. Then they change the tone of voice, add synonyms, or reorder sentences to generate a new version that retains the same meaning as the original. 
Some tools will rewrite your content based on specific prompts, such as:
Rewrite this article about the benefits of yoga from a scientific perspective, emphasizing its impact on mental health 
Add a new perspective to this blog post about the future of AI
Use humor to make this travel guide more engaging
Other AI writers have built-in prompts so users aren't required to give specific instructions. 
Generally, AI rewriting tools rely on a language model like Chat GPT-1, BLOOM, or WuDao 2.0, which has been trained using vast amounts of data from the web. 
This process allows Chat GPT-1 and other language models to learn the patterns, grammar, and semantics of human language. That way, they can rewrite your content in a coherent manner.
When Should You Use an AI Rewriter?
Marketers and bloggers often turn to AI to generate content ideas. 
AI rewriting tools, in particular, can provide alternative phrasings and viewpoints you may not have considered before. Plus, they can speed up the writing process, which may come in handy when you have a tight deadline. 
These apps can also help with the following: 
Enriching your text: AI rewriting tools can generate new ideas, draft outlines, and fill content gaps, adding value to your content
Improving sentence fluency and structure: Leverage AI to reword your sentences for better readability 
Communicating your message in different ways: Express the same idea in different ways for different audiences 
Identifying and addressing less obvious grammar mistakes: Clean up your writing and streamline tedious tasks like editing and proofreading
Making your writing more concise: Use AI rewriting tools to eliminate fluff and get your point across more effectively
Let's say you're writing an article about credit decisioning. And you plan to publish it on multiple platforms. 
It makes sense to use an AI rewriter to tailor your content for each audience. For example, you could publish an in-depth guide on your website or blog and a more simplified version on LinkedIn. 
That's the perfect use case for the Smart Writer feature of the SEO Writing Assistant tool. As described in the steps provided earlier, you can paste your content into the text editor and click "Simplify" to translate complex concepts into plain language.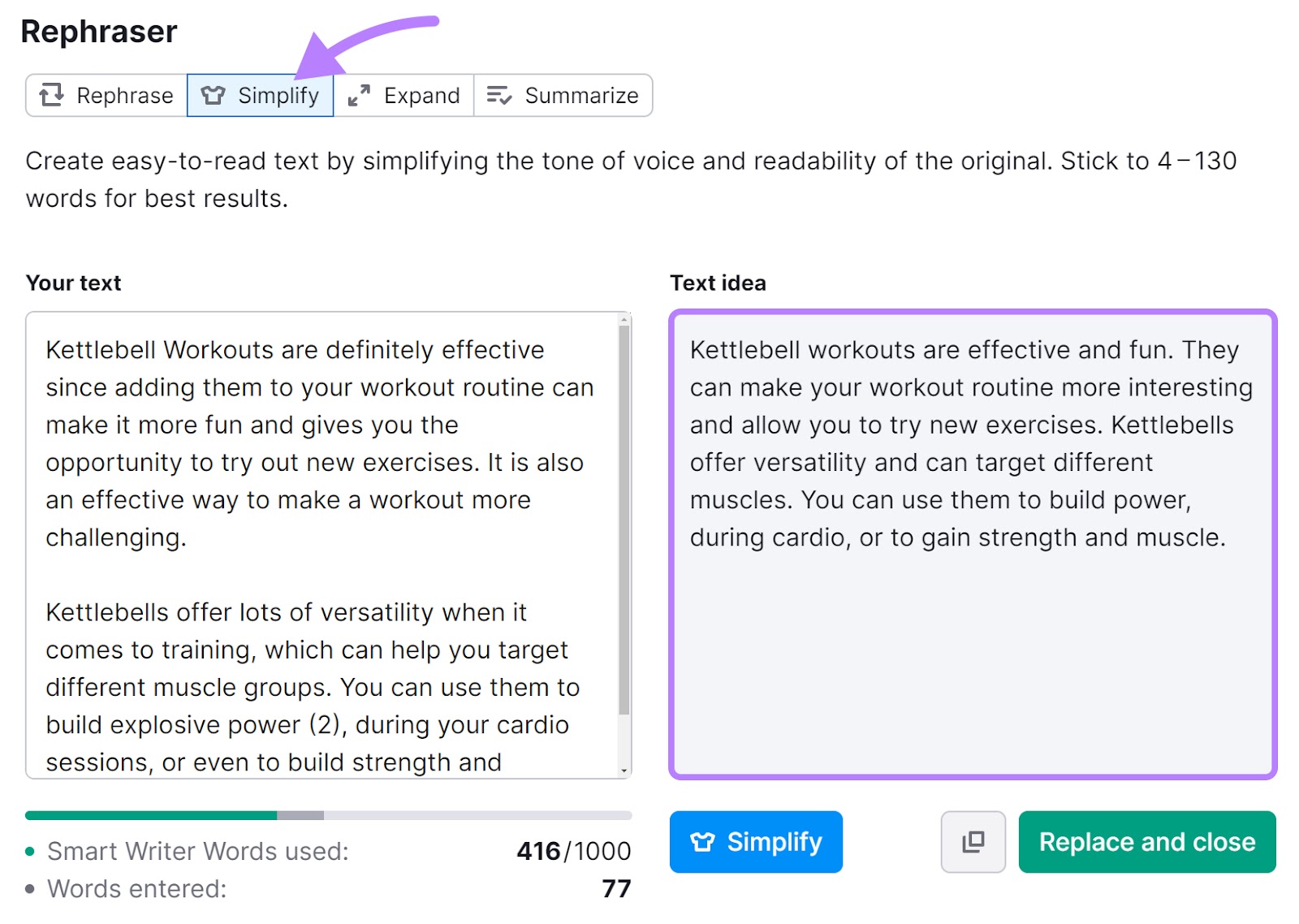 Frequently Asked Questions (FAQs)
Is it legal to use an AI rewriter tool? 
The law doesn't forbid the use of AI rewriting tools. 
However, it's illegal to repurpose someone else's content without giving them credit for their work or obtaining their approval. This is called plagiarism and you could face legal (and ethical) consequences. 
Does using AI to rewrite content affect your SEO? 
Google Search's guidelines don't forbid the use of AI rewriting tools. It matters more that the content you create is valuable, even if that means turning to AI for help. Using this technology to generate content for the sole purpose of manipulating search rankings, however, is against the rules. 
Can rewritten AI content be detected?
It's unclear whether or not Google and other search engines can detect content rewritten by AI. But even if they can, they won't penalize your site if the content is accurate, useful, and relevant. 
The key is to write for people first and provide value to the target audience. For content AI had a hand in creating, it helps to add a human touch to the final draft and make small tweaks to improve its flow. 
Further Reading: How to Detect AI-written Content and Plagiarism
How much does an AI rewriting tool cost?
You may use basic AI rewriter tools for free, but the results can be substandard. 
Premium tools vary in price from $10 to $60 per month, depending on their features. Some tools, such as the Semrush Smart Writer, are available as part of a package. This aspect can drive the price up, but you get more value for the money.
Leverage AI to Write Faster and Better 
AI rewriting tools can help you create better content for audiences with different needs. At the same time, they make it easier to diversify, refresh, and optimize your content. 
As the saying goes, work smarter, not harder. Whether you're a blogger, marketer, or entrepreneur, you can leverage AI to streamline content creation. The key is to put the reader first and provide genuine value in all your assets. 
The SEO Writing Assistant, including the Smart Writer feature, can help you create quality content for both readers and search engines. Put it to the test, and watch your writing become stronger, sharper, and more polished.
Source link