Cold emailing can feel intimidating. And if you're not hearing back from recipients, the effort may not feel worthwhile. 
It doesn't have to be that way.
We put together 11 cold email templates that will save you time and help attract the leads your business wants most.
How to Write a Cold Email That Actually Gets Responses
Before we dive into the pre-written cold email templates, let's first understand what makes a great cold email. 
This way, you'll know how to customize each template to ensure you get the best possible response.
1. Research Your Recipient's Pain Points
Before crafting your cold email, thoroughly research your recipient's pain points. Understand their unique challenges and struggles. 
Why?
Because then you can include content that answers them.
Dive into social media posts, explore relevant online forums, and stay up to date with industry news. 
Personalize your message in a way that resonates with their needs.
2. Write a Short Introduction
Your email recipient is busy. So keep your intros short.
Introduce who you are and what you do. Then, dive straight into the meat of your cold email.
3. Personalize Your Pitch
Your recipient shouldn't feel like they're one of many people to get a cookie-cutter email. 
Take the below email: 
The recipient isn't addressed by name, there's no personal reference, and worst of all, the pitch isn't relevant to the business.
Make sure every email you send is unique. Customizing each one might take a few extra minutes, but it's worth the effort.
4. Define a Clear Value Proposition
Your value proposition—how your offer benefits the email recipient—is crucial.
Clearly state what the recipient gains from accepting your pitch. You'll be most effective when you tie your value proposition to their pain points.
For example: Let's say you want a backlink from a blogger. 
That blogger's biggest pain point might be driving traffic to their blog posts. A value proposition you include in your email could be an offer to share their blog post in your next newsletter. They'll get more traffic in exchange for your ask. 
Bottom line: Help your recipient understand how they'll benefit by helping you.
5. Include a Strong Call to Action (CTA)
By the time your recipient is done reading your email, it should be super clear what you need from them.
Should they click a link? Book a time to meet? Email you back?
Spell it out with a clear call to action (CTA).
It helps if you include just one CTA. 
And make it super easy and simple for the recipient to do. If you want them to visit a landing page, provide just one link, not three. If you want to schedule a meeting, suggest a time and ask them to simply email back yes or no. 
This email asks the recipient to respond if they change a link: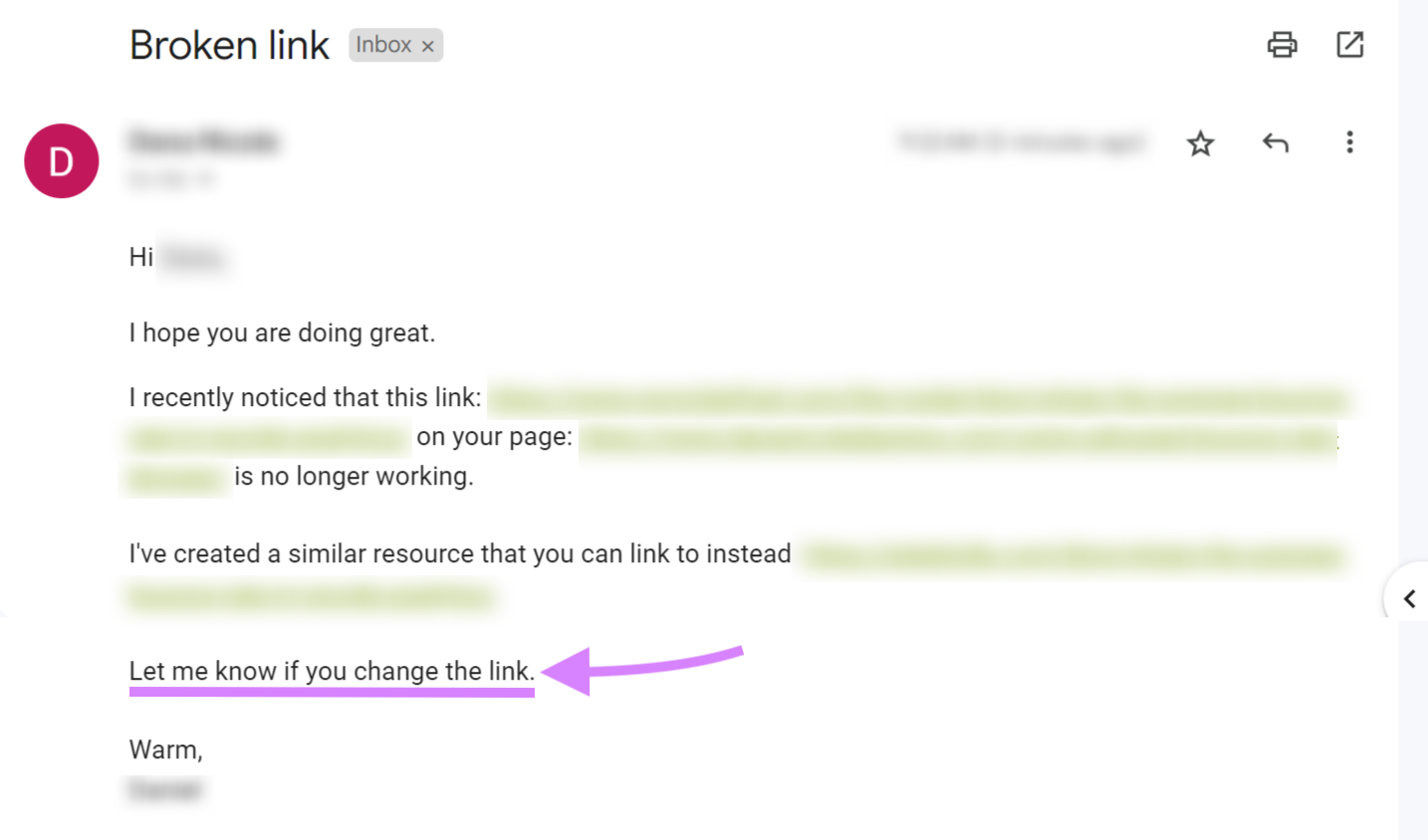 Make it as easy as possible for them to do what you ask.
6. Finish With a Professional Email Signature
Wrap up your cold email with a sleek email signature.
A polished signature gives you credibility and makes you come across as trustworthy. 
A photo and a few relevant details helps the recipient get a sense of familiarity, too. That real-human touch can help inspire a reply. 
To create your custom email signature, you can use tools like WiseStamp.
7. Write a Compelling Subject Line
You want people to open your email. For that, you need a clear and compelling subject line.
Here are a few tips:
Keep your subject lines accurate (clickbait will irritate your recipient and might get your message marked as junk)
Use around 45 characters—or less—to avoid truncation on mobile (this happens when the subject line is shortened due to space limitations)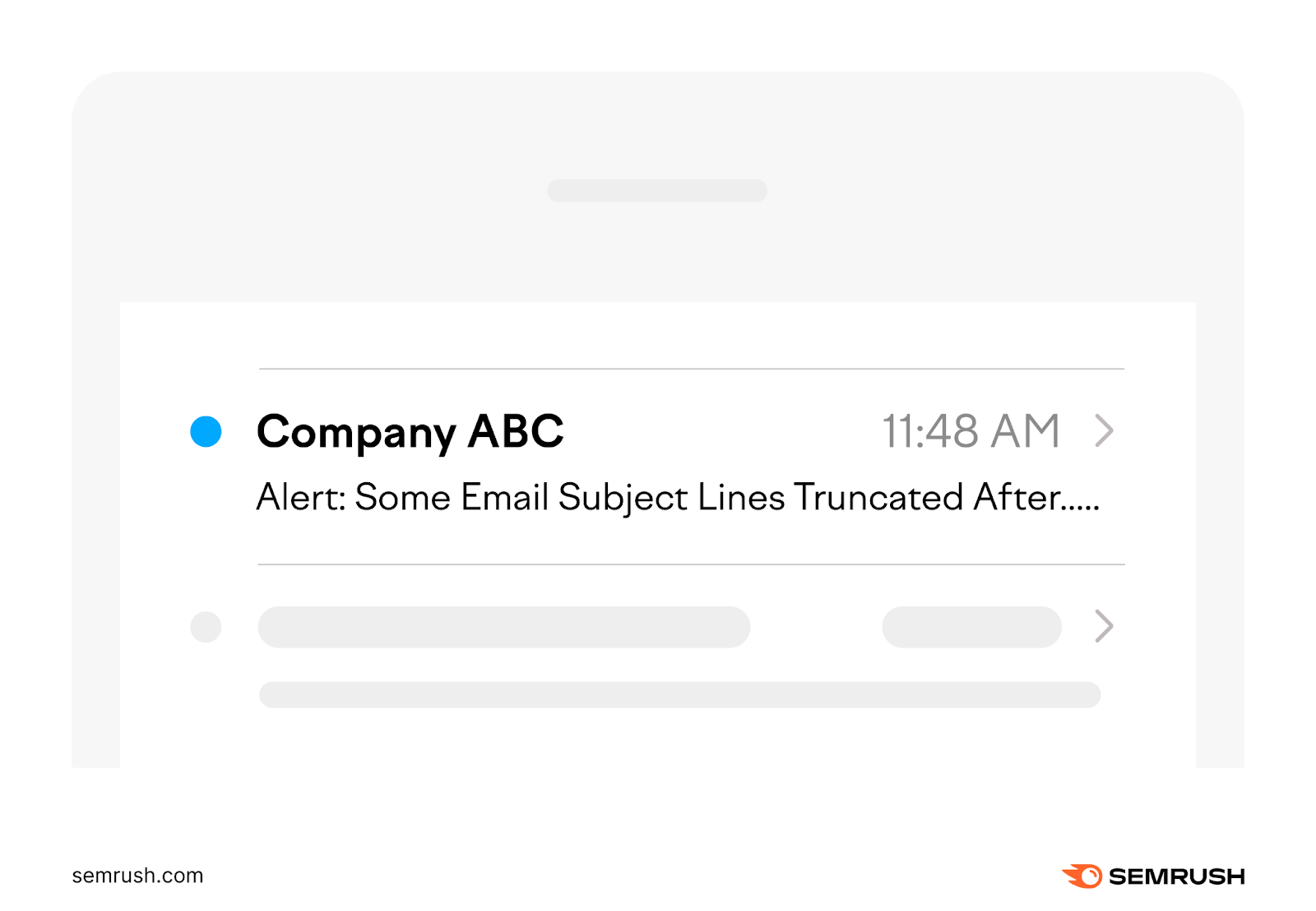 Make it personal by adding a name or referring to the industry your recipient works in
Avoid spammy tactics like capitalized words or excessive exclamation points
8. Review Your Email's Format
Make sure your email is readable.
Long paragraphs and large walls of text are overwhelming to read. 
Introduce white space by breaking up paragraphs and trimming long sentences. It makes emails feel more approachable and makes it easier for recipients to scan.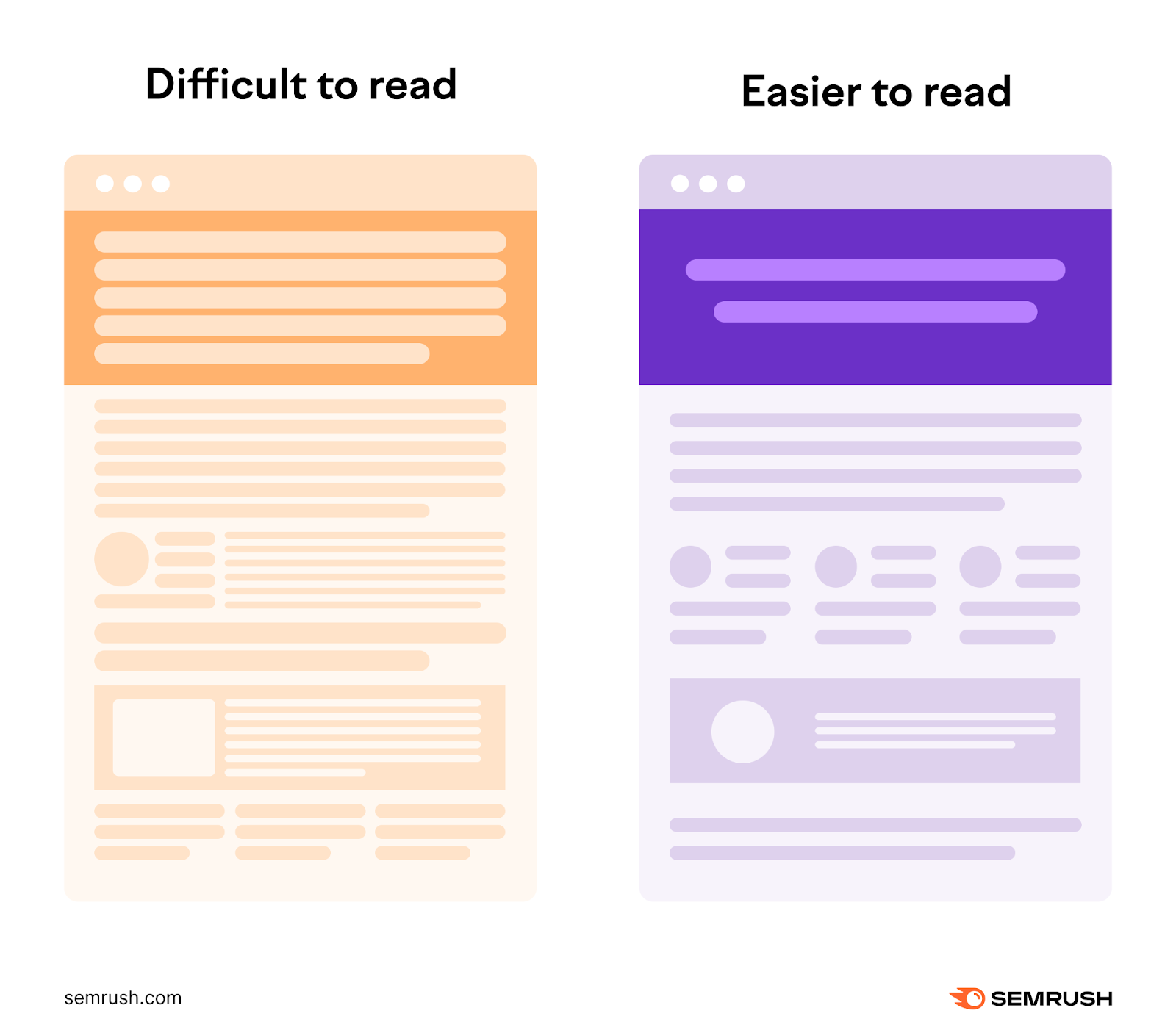 11 Powerful Cold Email Templates You Can Use Today
Now that you know how to write a compelling cold email, let's dive into our cold email templates. With the above tips, you'll know how to customize each template to meet your needs.
1. Guest Post Outreach Email Template
This template is for: Landing guest blog posts.
Subject: I can help you rank for
Body:
Hi [name],
I'm [name], the [job role] at [company].
I want to discuss writing a guest post for your blog. 
I noticed you aren't ranking for [a keyword they aren't ranking for but should], but [the name of their competitor] is. 
This keyword gets [number of searches per month]. Ranking for it will [explain why it's important they rank for this keyword].
I wrote an in-depth piece about [the keyword]. I've optimized it with my SEO tools, and it's ready for you to publish if you'd like. All I ask is you attribute the article to me.
You can see examples of my other work here: https://www.semrush.com/blog/cold-email-templates.
Let me know if you're interested in moving forward.
Best,
[Email signature]
Download this template:
Tips for Guest Post Pitches
Check the publication's website to see if there's any information about whether they accept guest posts. You don't want to appear poorly prepared or set up your email to be marked as spam.
To find which keywords your prospects aren't ranking for, use Semrush's Keyword Gap tool. 
Enter your prospect's domain along with the domains of up to four competitors. Keyword Gap will make competitor suggestions if you aren't sure who their competitors are: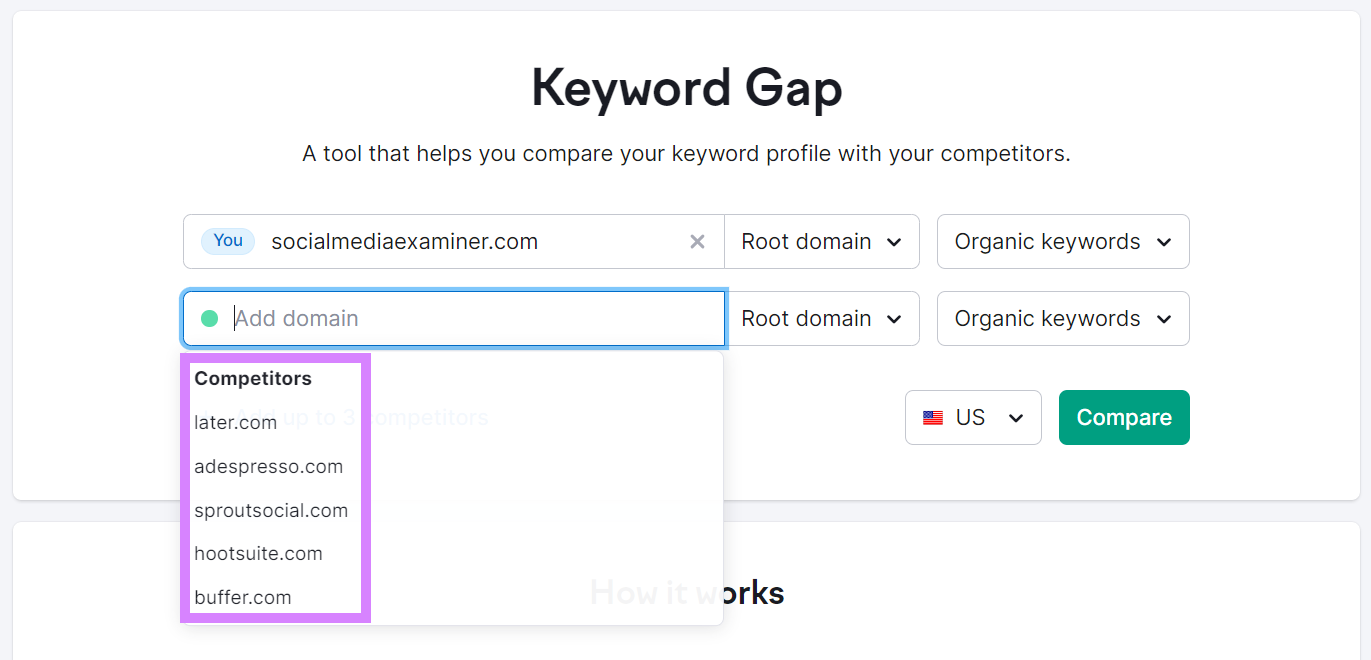 Scroll down and click into the "Untapped" tab. This shows you which keywords your prospect doesn't rank for but at least one of their competitors do.
Find a suitable keyword, click ">>," and jot down one to two related keywords: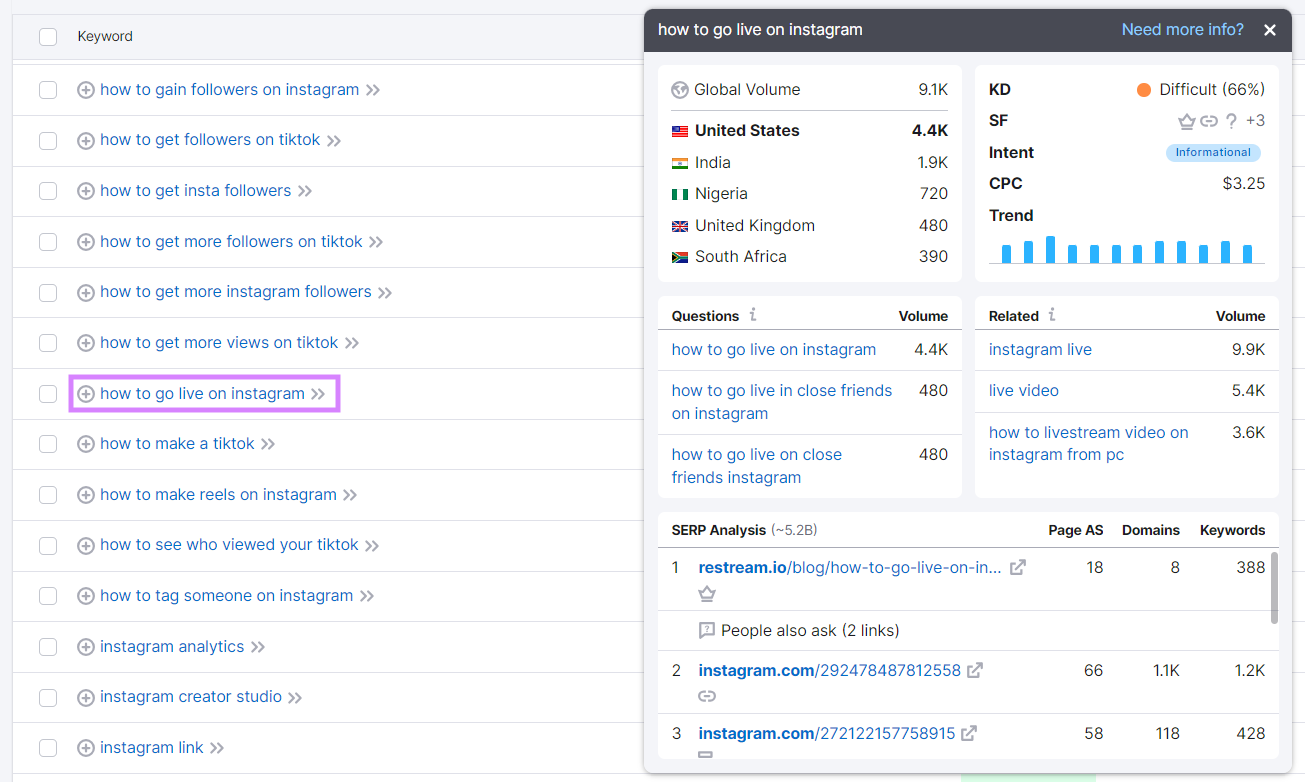 Use what you learn from the keyword analysis to create content that will be valuable to your prospect. 
One easy way to get started is with the SEO Writing Assistant. 
Click "+ Analyze new text."
Click "Set a new goal" and enter your keyword and the related keyword(s) from earlier.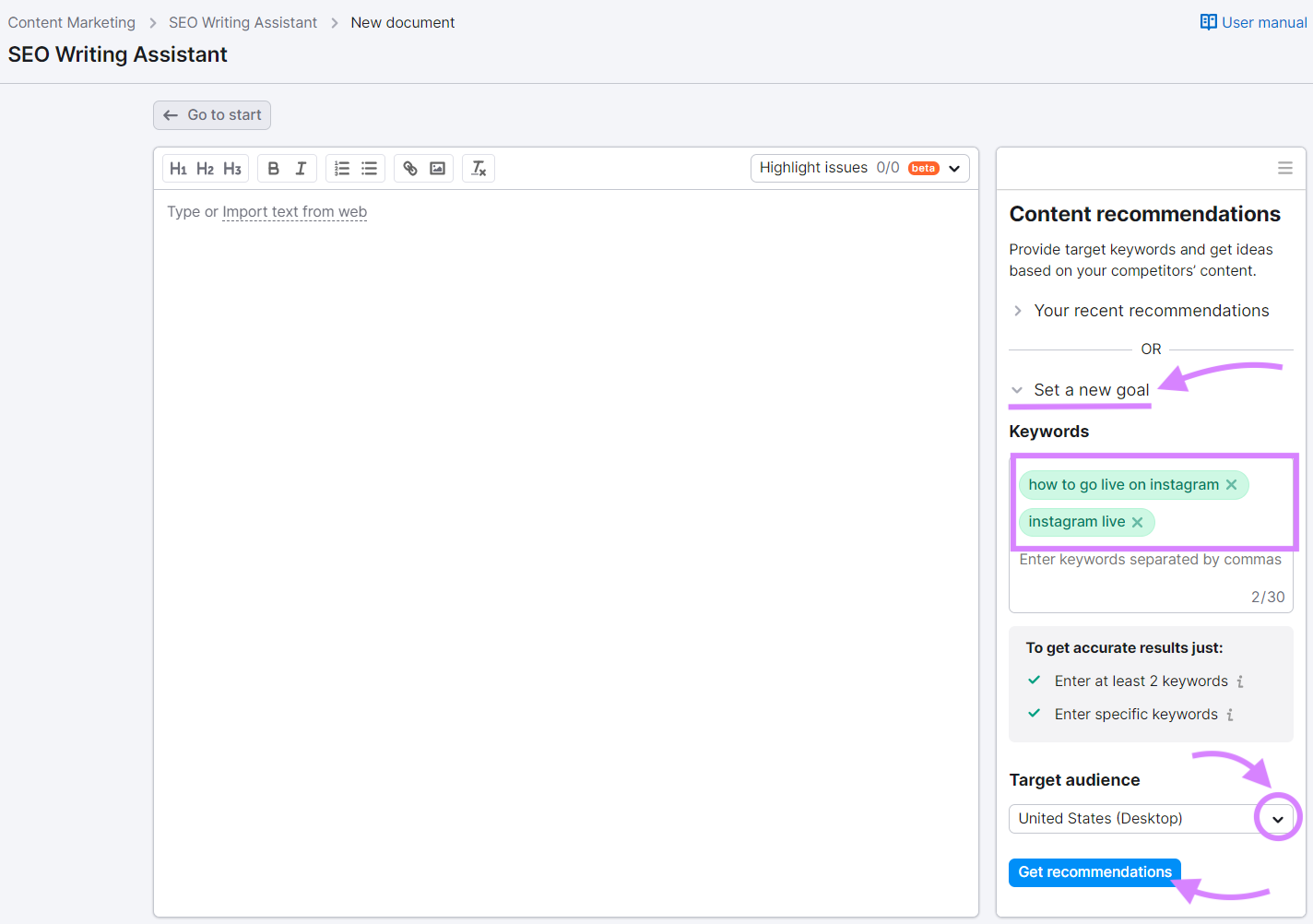 Choose whether your target audience is on desktop or mobile. Then click "Get recommendations."
Paste your content in or write in the editor directly. The tool will analyze your text and give you tips to rank high in the search results. 
2. Press Outreach Email Template
This template is for: Convincing a journalist to cover something newsworthy in your business.
(In our example template, our newsworthy item is a research report. You can switch up the structure for other campaign formats.)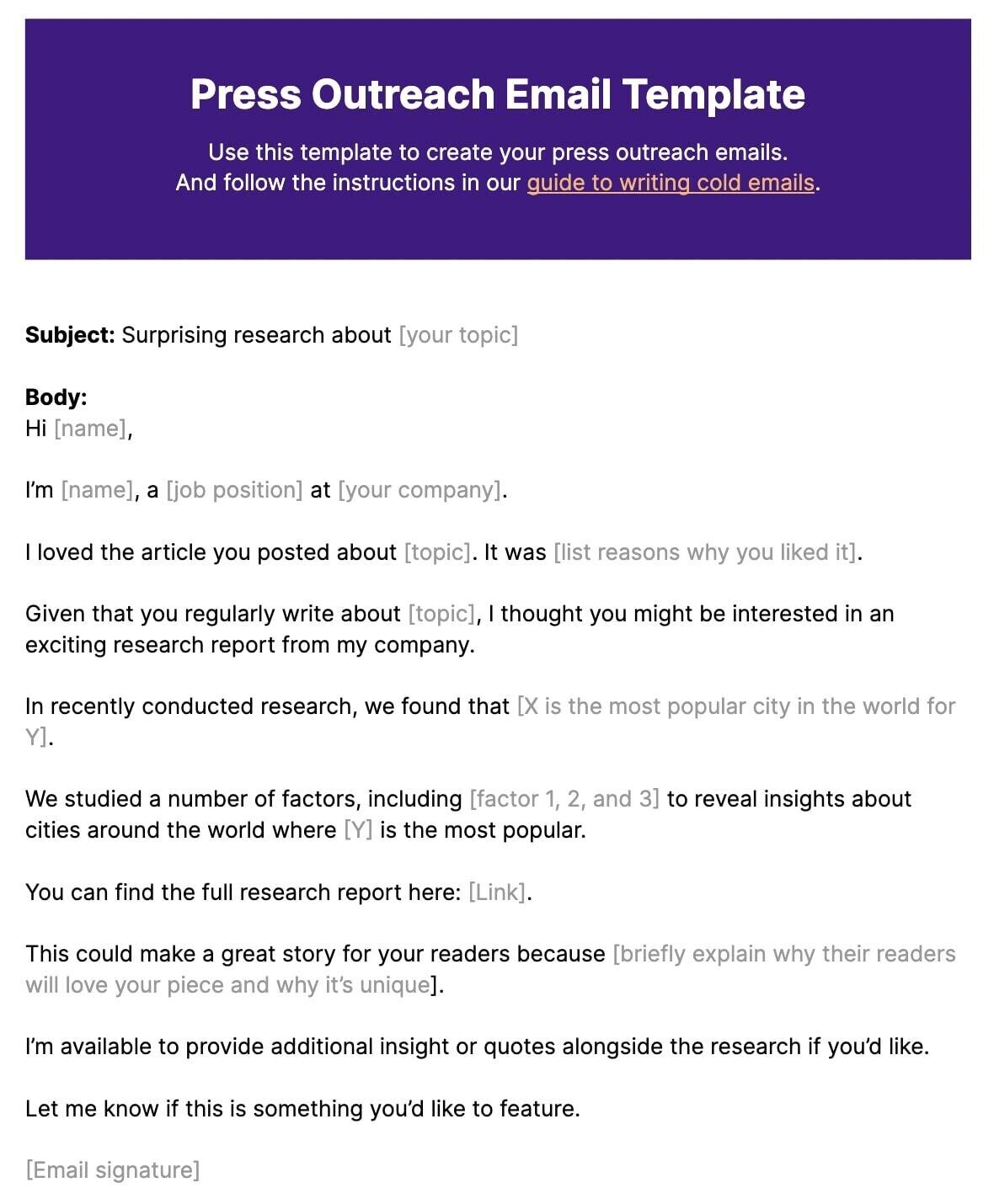 Subject: Surprising research about [your topic]
Body:
Hi [name],
I'm [name], a [job position] at [your company].
I loved the article you posted about [topic]. It was [list reasons why you liked it]. 
Given that you regularly write about [topic], I thought you might be interested in an exciting research report from my company.
In recently conducted research, we found that [X is the most popular city in the world for Y].
We studied a number of factors, including [factor 1, 2, and 3] to reveal insights about [cities around the world where Y is the most popular].
You can find the full research report here: [Link].
This could make a great story for your readers because [briefly explain why their readers will love your piece and why it's unique].
I'm available to provide additional insight or quotes alongside the research if you'd like. 
Let me know if this is something you'd like to feature.
[Email signature]
Download this template:
Tips for Pitching the Press
Sending your media pitch to the wrong person can lead to missed opportunities. 
To find who to pitch (and how to contact them), use a tool like Prowly.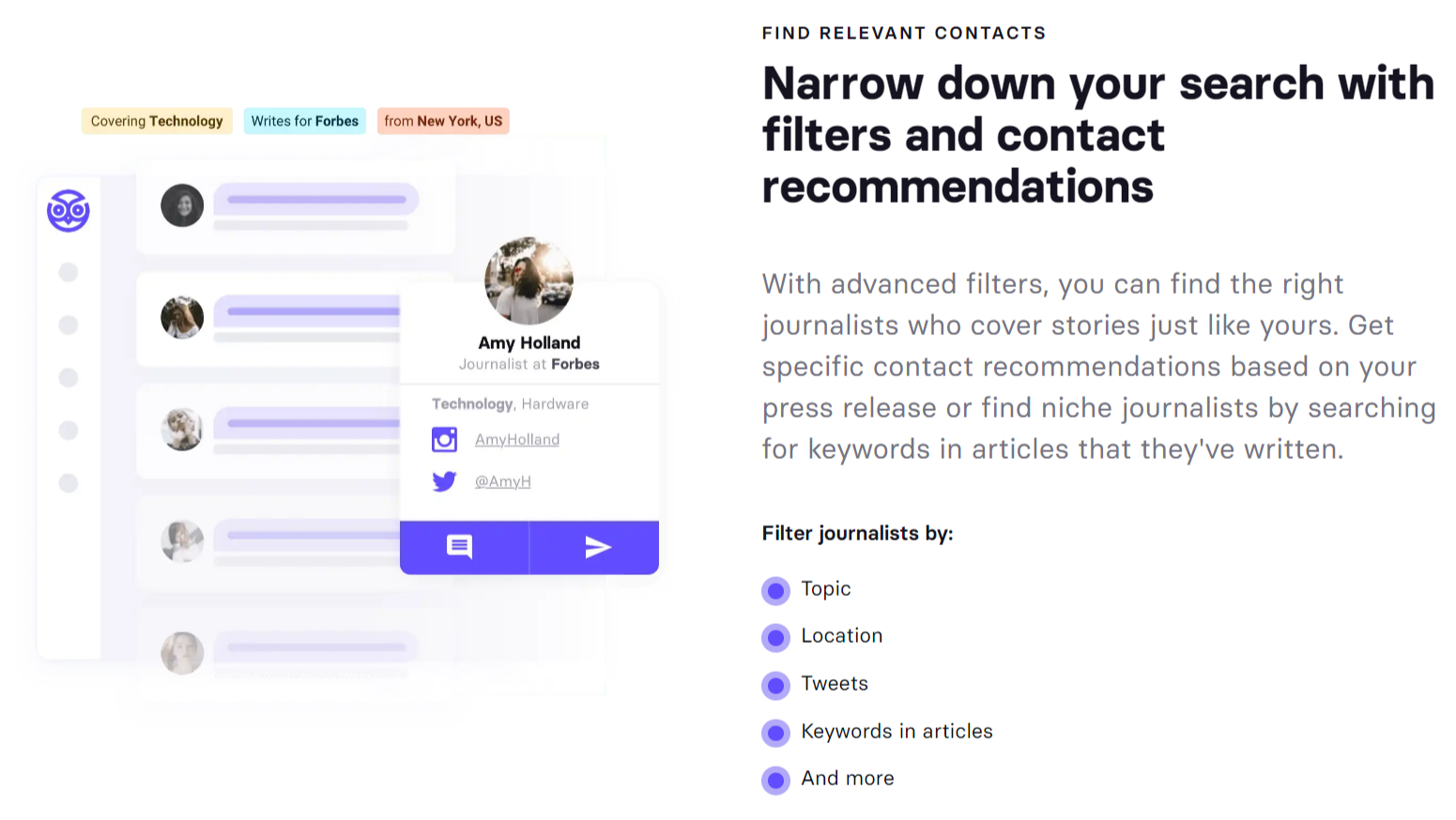 Prowly offers a media database that helps you get in touch with relevant reporters. This way, you don't need to scour the web to find contacts. Plus, you'll be confident you're emailing the right person every time.
3. Link Building Email Template
This template is for: An outreach campaign to build links to a resource you wrote. Link building helps with your site's SEO.
Subject: Can I share your article with my audience?
Body:
Hi [name],
I loved your article about [insert topic]. I found it especially interesting the way you discussed [insert specific part of the article].
My name is [your name] and I recently published an article on [relevant topic].
I noticed you link to other great resources in your article, and I thought my article could be a great addition too. 
Would you be willing to add a link in your article to [your hyperlinked article title]? 
If you do, I'd be happy to share your article with our audience of [describe your reach, i.e., X subscribers, X followers].
Let me know.
[Email signature]
Download this template:
Tips for Link Building Pitches
Crafting Your Value Proposition
For a lot of prospects, a link back to your content can be a big ask. To make it worth their while, ensure you have a good value prop to offer back to them.
Don't have a big audience or fair trade to make with them? Share the more human side of your story. Include details about what you admire in them. Sometimes the chance to help someone it matters to is a value prop all in itself.
Identifying Link Building Opportunities 
The fastest way to find link building opportunities is with Semrush's Link Building Tool. 
Start by clicking "+ Create project."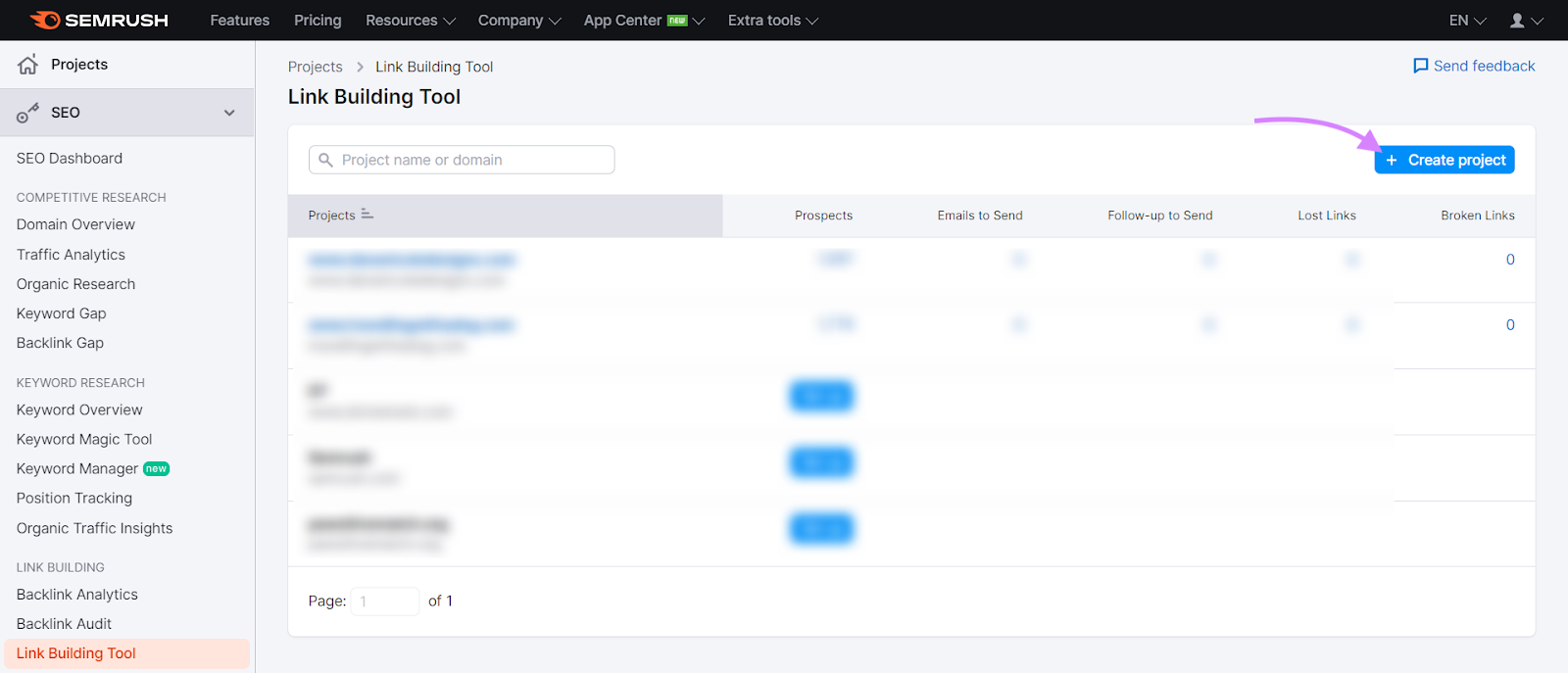 Enter your domain. Then give your project a name. Click "Create project."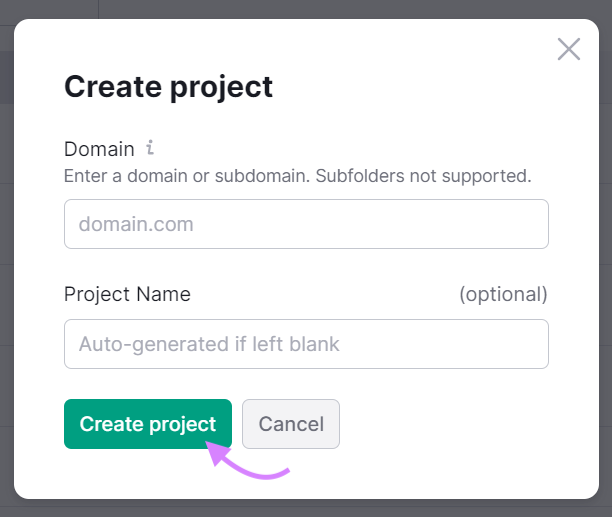 Semrush automatically inputs keywords relevant to your business (below). You can remove or add to them. 
Make sure you add branded keywords—keywords that mention your brand name or a variation of it—and other keywords you want to rank for. 
When you're done adding keywords, click "Competitors."
Next, Semrush will populate your competitors. 
Like the keywords page, you can remove or add to this list. 
When you're done, click the green "Start Link Building" button.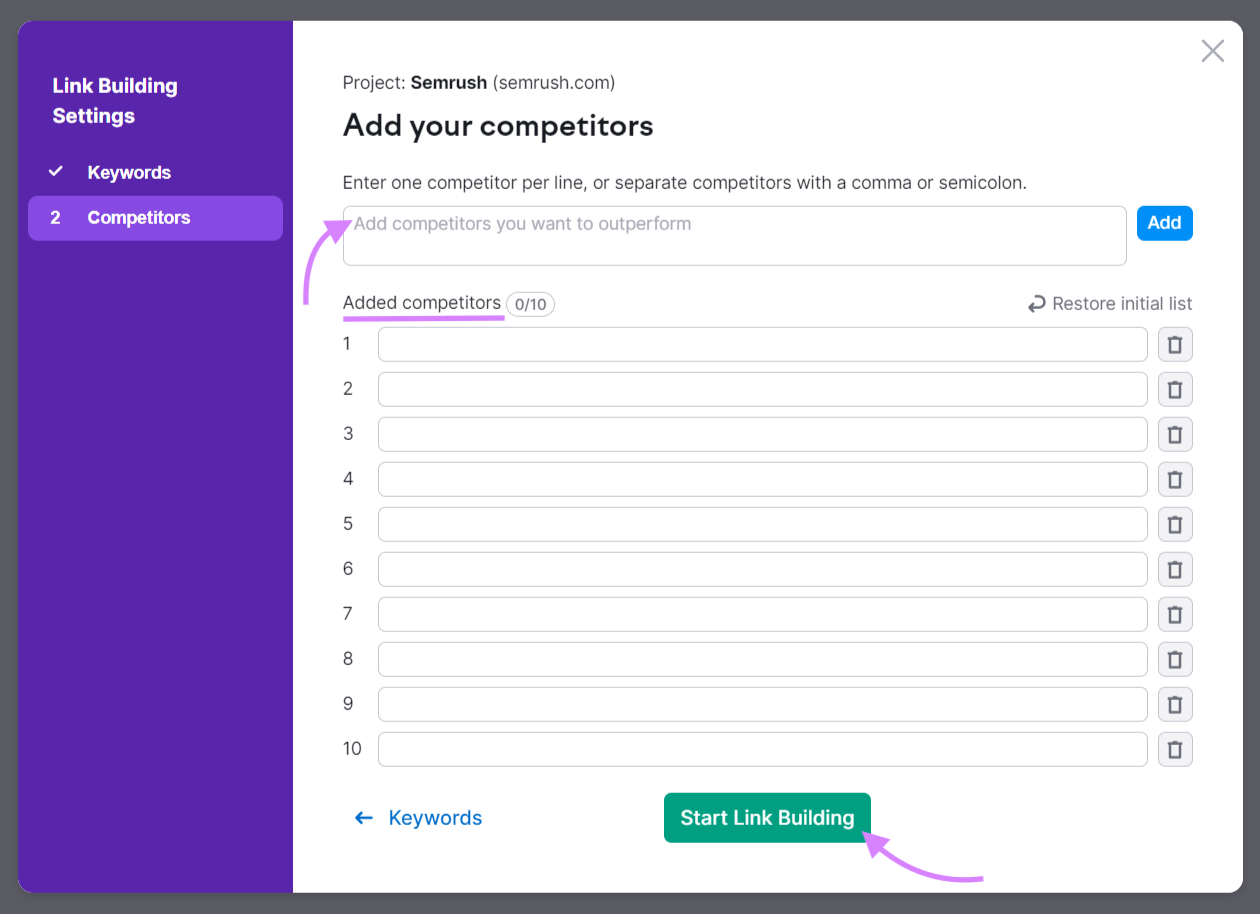 The report will populate with opportunities for backlinks. 
Go through the sites in the "Prospects" tab. 
When you find a site you'd like a backlink from, click "To In Progress."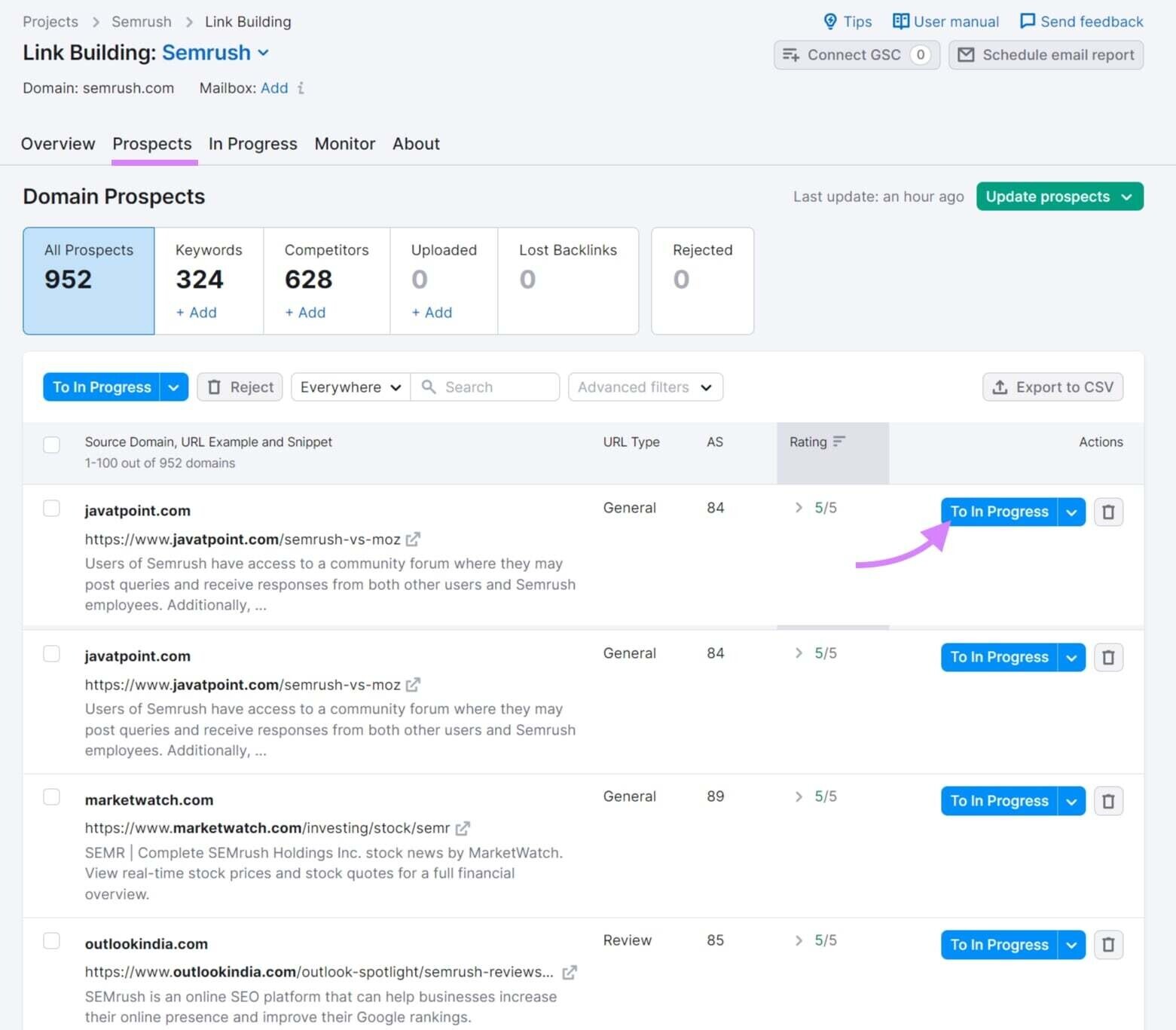 After selecting all suitable sites, click the "In Progress" tab to view the sites you saved earlier.
Time to send your cold email. 
Click the "Contact" button.
Select who to send the email to, change the subject, and paste your cold email. Click "Send and proceed to next."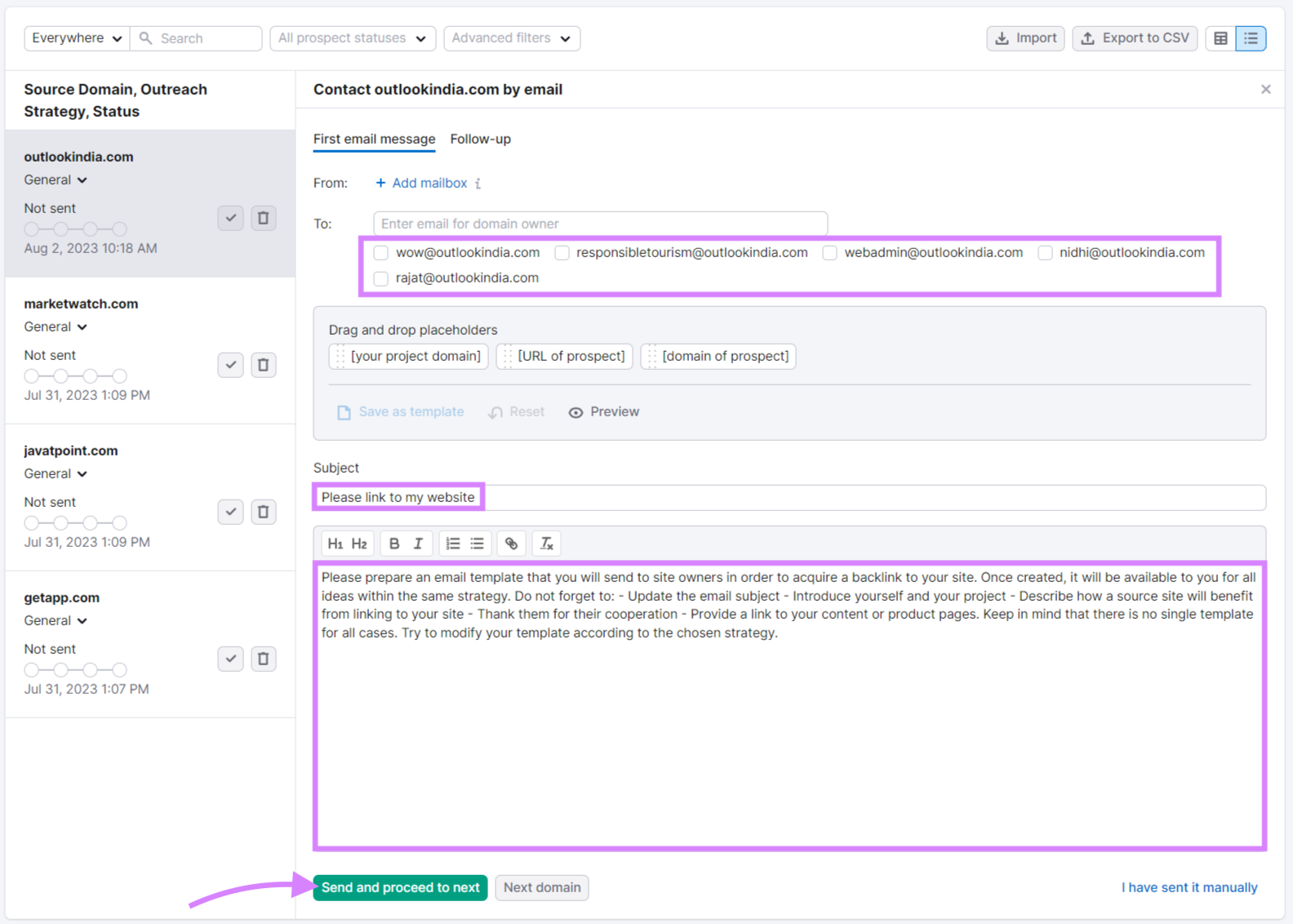 Semrush will prompt you to connect your email: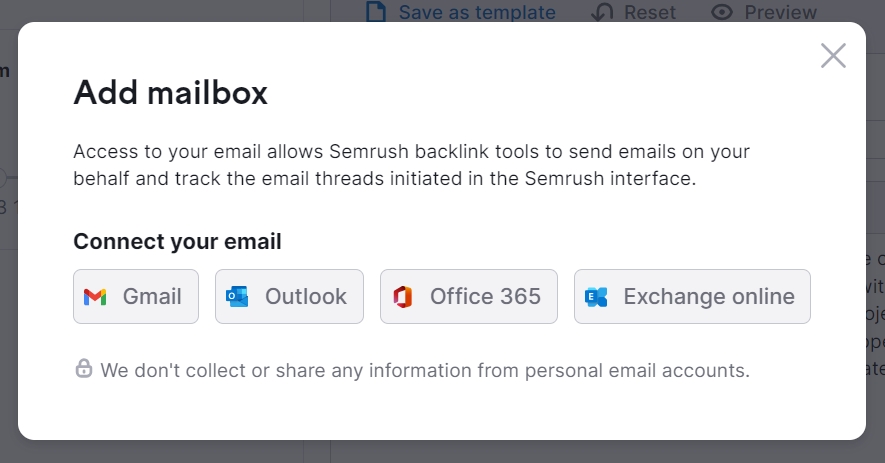 You can keep track of each cold email you send in the "Status" column. 
This column tells you whether your email was sent, received, opened, or replied to.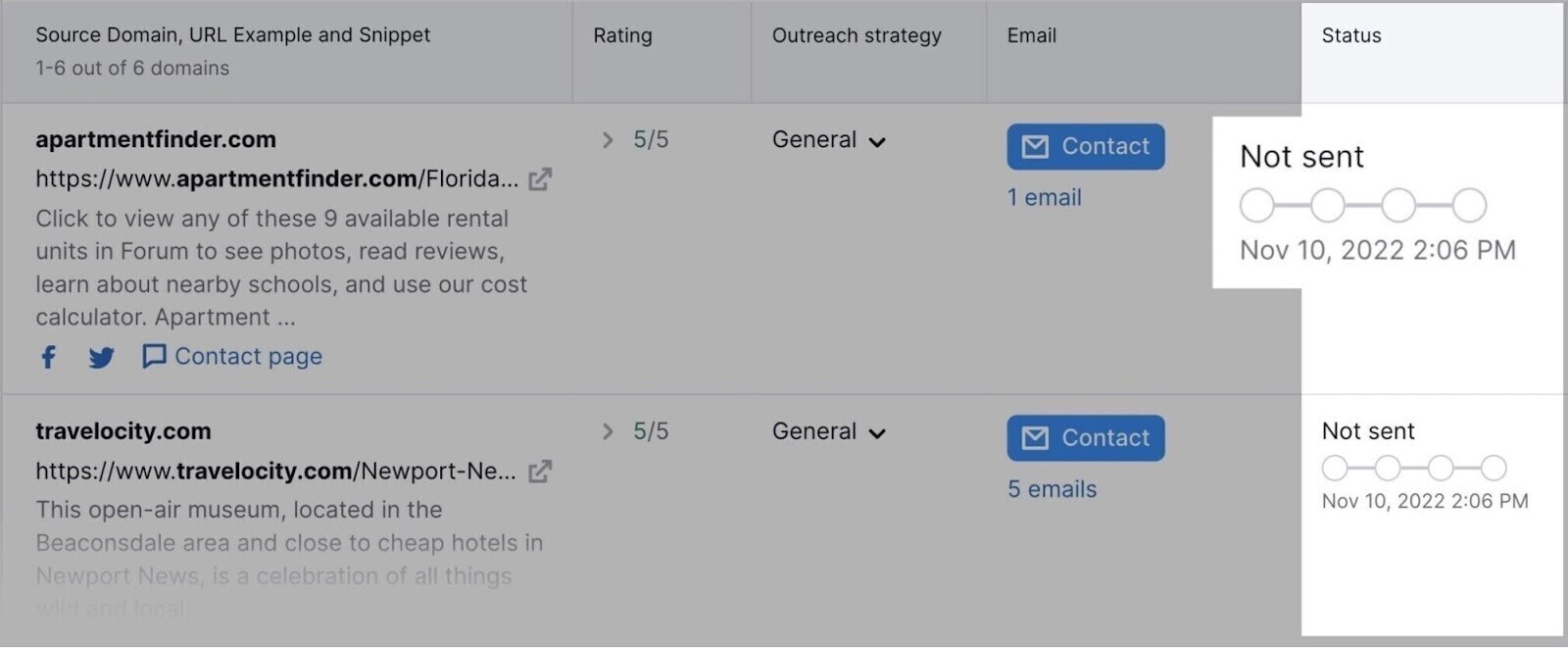 4. Influencer Collaboration Email Template
This template is for: Finding influencers for your next influencer campaign.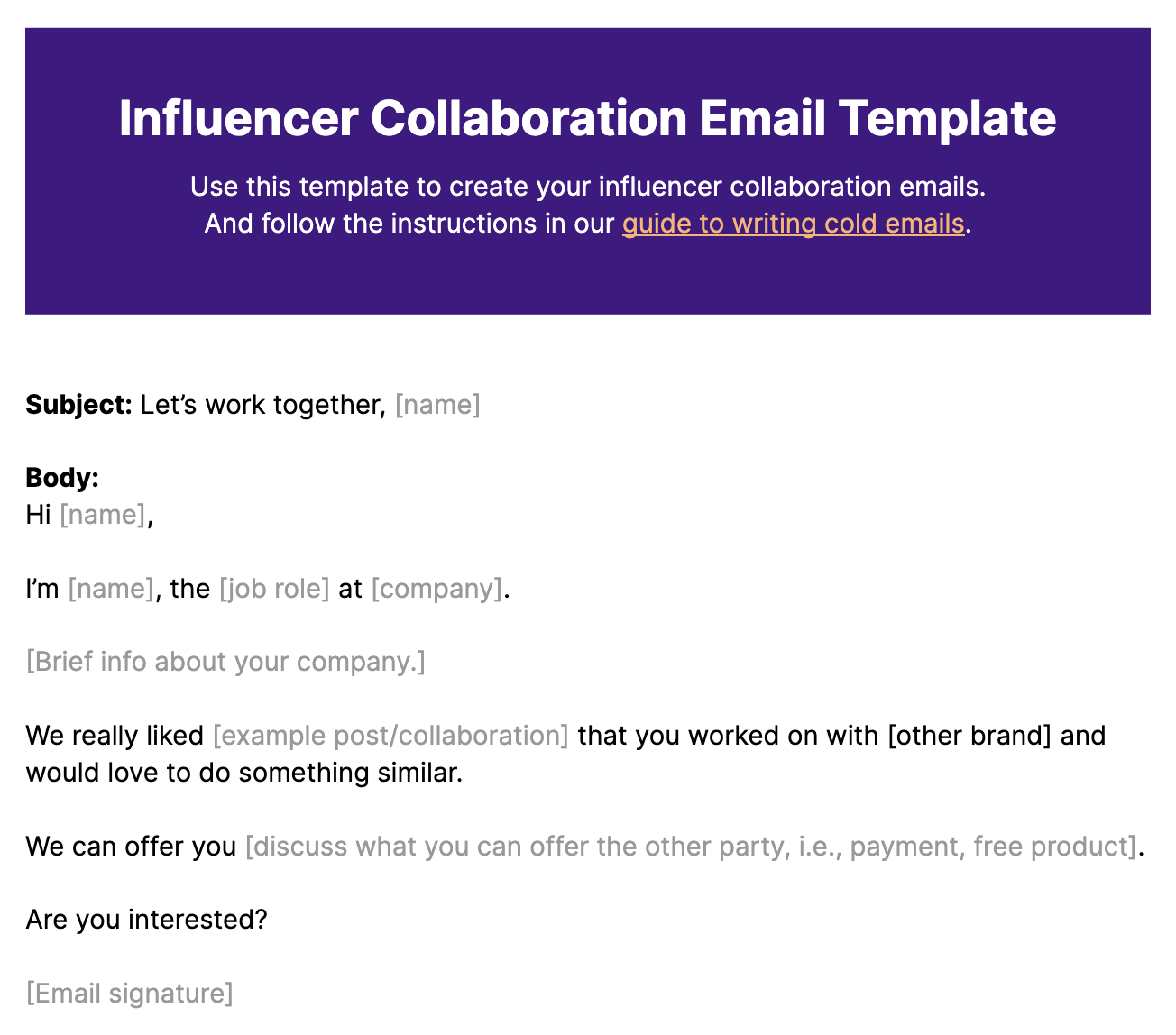 Subject: Let's work together, [name]
Body:
Hi [name],
I'm [name], the [job role] at [company].
[Brief info about your company.]
We really liked [example post/collaboration] that you worked on with [other brand] and would love to do something similar. 
We can offer you [discuss what you can offer the other party, i.e., payment, free product].
Are you interested?
[Email signature]
Download this template:
Tips for Influencer Collaborations
Make sure the influencers you contact are in your niche. This way, you can be sure their audience will care about your offerings.
Tools like BuzzGuru were made specifically for finding influencers. Use its influencer database to find an influencer to partner with: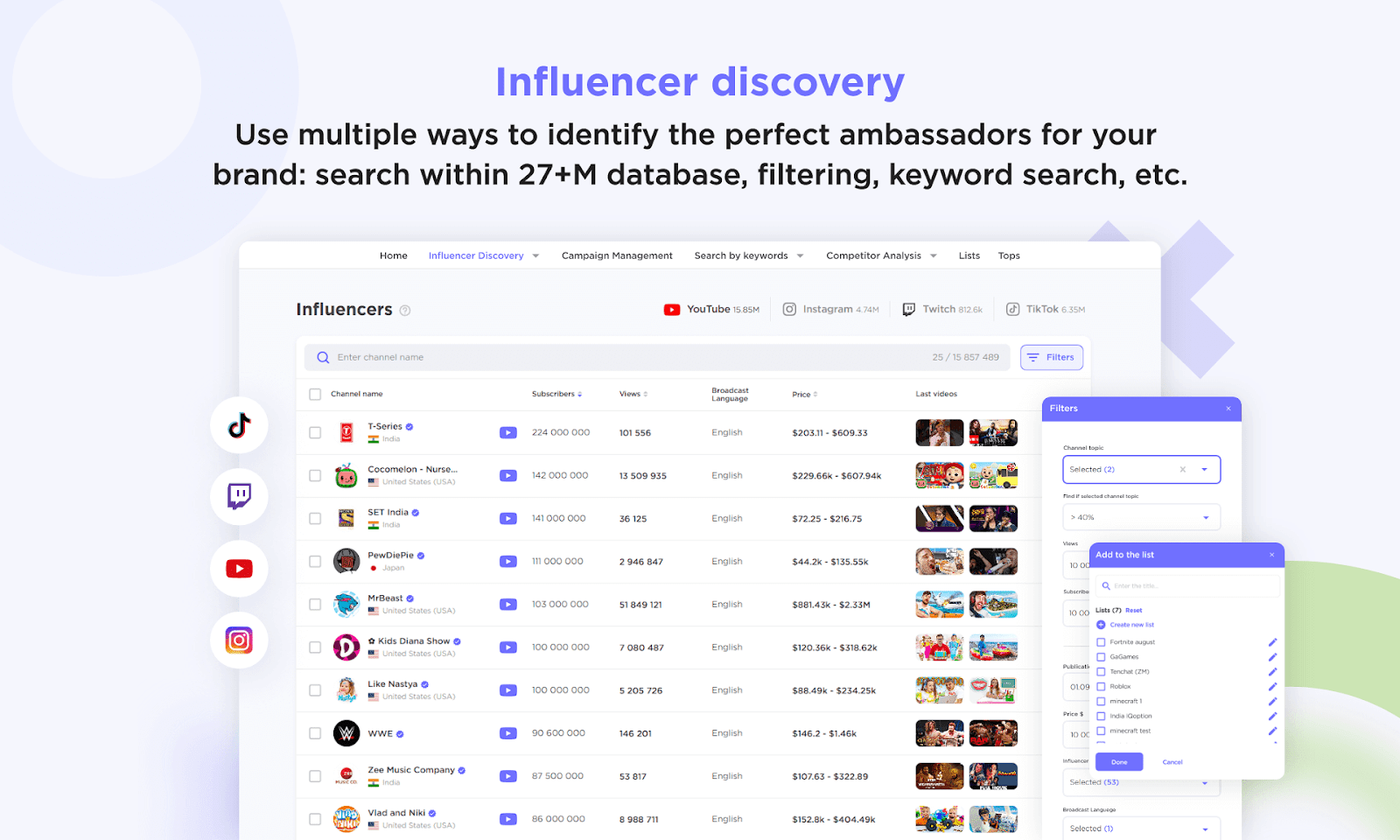 Or, you can Google "[your niche]" + "this post is sponsored" to find sponsored blog posts: 
5. Cold Sales Email Template
This template is for: Generating new business through cold emails.
Subject: We'll help you [a relevant pain point your product or service can help with]
Body:
Hi [Name],
I'm [name] at [your company]. Based upon my experience working with other businesses in the [sector] industry, is it fair to say you struggle with [pain point]?
I've been working in the [industry] to overcome [above pain point] for the past [X] years. 
Recently, our team at [your company] put together a free guide on how to [overcome pain point].
You can find the guide here: https://www.semrush.com/blog/cold-email-templates.
I thought you might look it over and see how our approach compares to what you are currently doing. 
Please let me know if you think our approach might work for you. If so, we can arrange a call to talk more.
[Email signature]
Download this template:
Tips for Sales Pitches
When sending your resource to a prospect, make sure it's relevant and addresses their pain points. 
If it's not, the recipient won't see the value in working with you or buying your product. 
Here are some examples:
Highly detailed case studies that show an improvement a past client of yours received as a result of your work 
A personalized video message of you sharing what you can help with and how you'd improve a specific pain point for them
Interactive tools or calculators they can use to improve something they do day-to-day (the tool should complement the services you're pitching; not replace them)
A guide with relevant insights they can use to improve areas of their business that showcases your expertise
Just make sure what you send is easy to digest. 
As founder Ali Schwanke notes, the appeal of something free becomes unappealing when it feels like a chore to consume: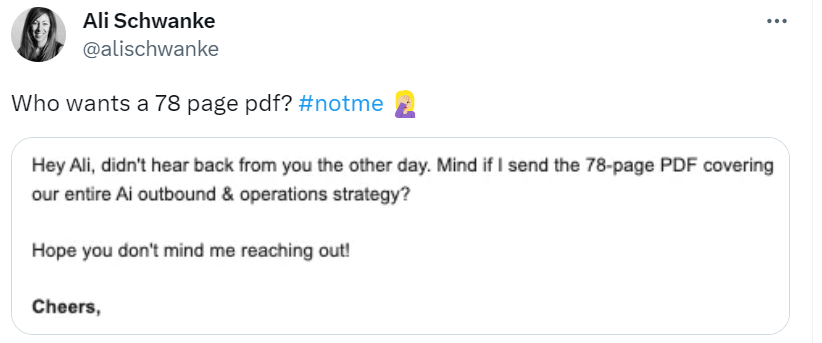 6. Do Me a Favor Email Template
This template is for: Asking someone for a favor.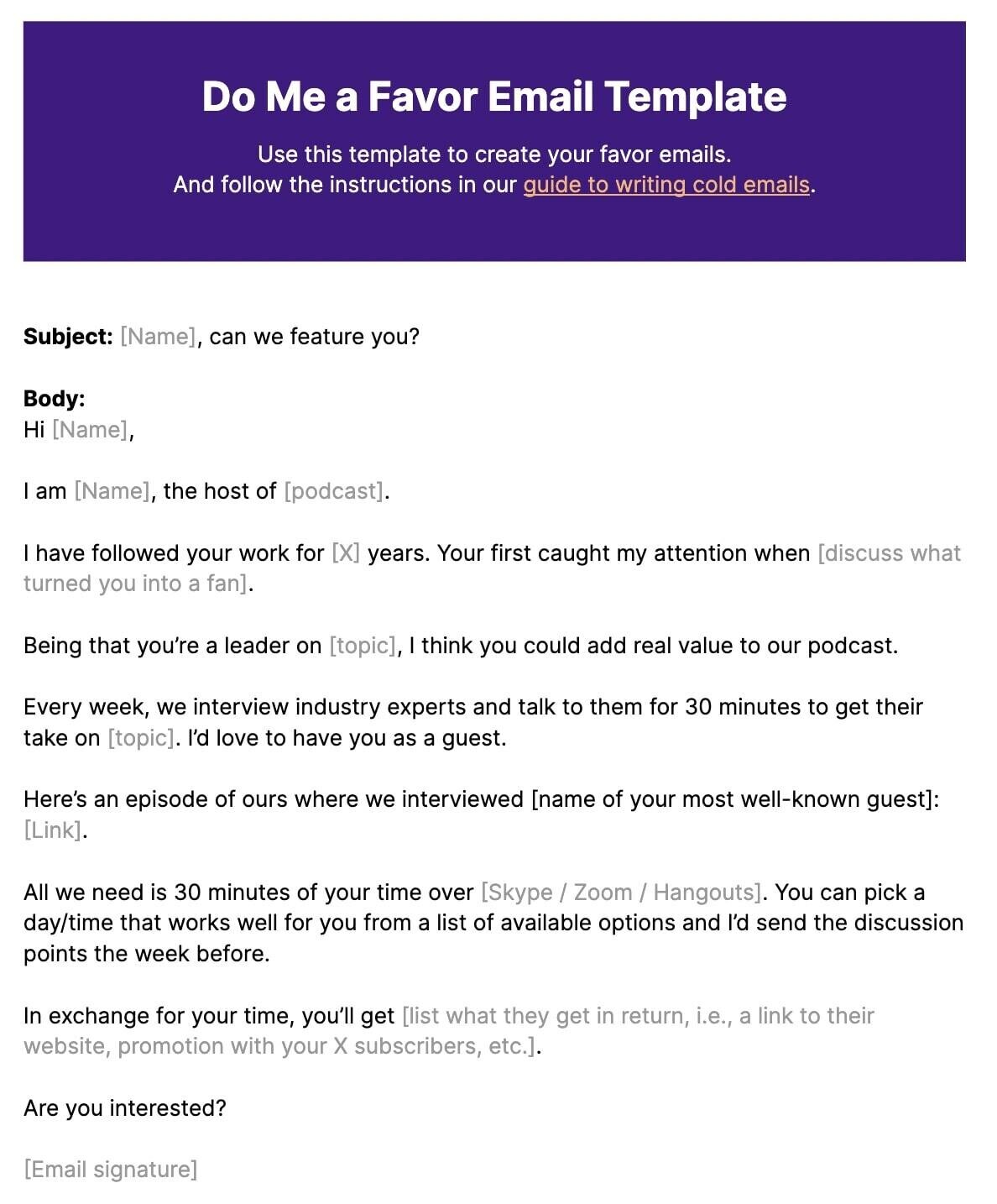 (In our example below, we ask someone to be a guest on a podcast. You can switch up the structure for other favors.)
Subject: [Name], can we feature you?
Body:
Hi [Name],
I am [Name], the host of [podcast].
I have followed your work for [X] years. Your first caught my attention when [discuss what turned you into a fan]. 
Being that you're a leader on [topic], I think you could add real value to our podcast.
Every week, we interview industry experts and talk to them for 30 minutes to get their take on [topic]. I'd love to have you as a guest. 
Here's an episode of ours where we interviewed [name of your most well-known guest]: [Link].
All we need is 30 minutes of your time over [Skype / Zoom / Hangouts]. You can pick a day/time that works well for you from a list of available options and I'd send the discussion points the week before.
In exchange for your time, you'll get [list what they get in return, i.e., a link to their website, promotion with your X subscribers, etc.]. 
Are you interested?
[Email signature]
Download this template:
Tips for Favor Pitches
Clearly outline what your prospect gets in return for helping you out. The more enticing, the better. 
When thinking about what they might like, recall their pain points.
For example, a well-known blogger might understand the value of—and appreciate—a backlink. Whereas someone popular on social media might want social shares and mentions. 
7. Link Reclamation Email Template
This template is for: Asking someone who's mentioned our brand to also link to it—or for work you've done to be linked to its source.
Subject: Thanks for featuring us, [their company name]!
Body: 
Hi [Name],
I'm getting in touch regarding this article: https://www.semrush.com/blog/cold-email-templates. 
It was fantastic to see you mention our
. Thank you for the coverage. It's really appreciated.
Is it possible to add a link to the page where our
is mentioned?
This would enable your readers to [demonstrate the editorial value] and view the suggestion in more depth. As well as provide full credit to us for our work.
You could link to our
here: [provide a sentence or title as anchor text].
If you have any questions or I can help in any way, please feel free to get in touch.
[Email signature]
Download this template:
Tips for Link Reclamation Pitches
When asking for links, make it as easy as possible for the recipient to add your link to their piece.
Rather than expect them to write additional copy to add your link, give them existing text they can use as anchor text—the text for the link. 
And reiterate why it's important to add your link in. For example, if they're a company who values their readers, mention how adding the link will improve user experience. 
8. Testimonial Request Email Template
This template is for: Asking past customers/clients for reviews and testimonials.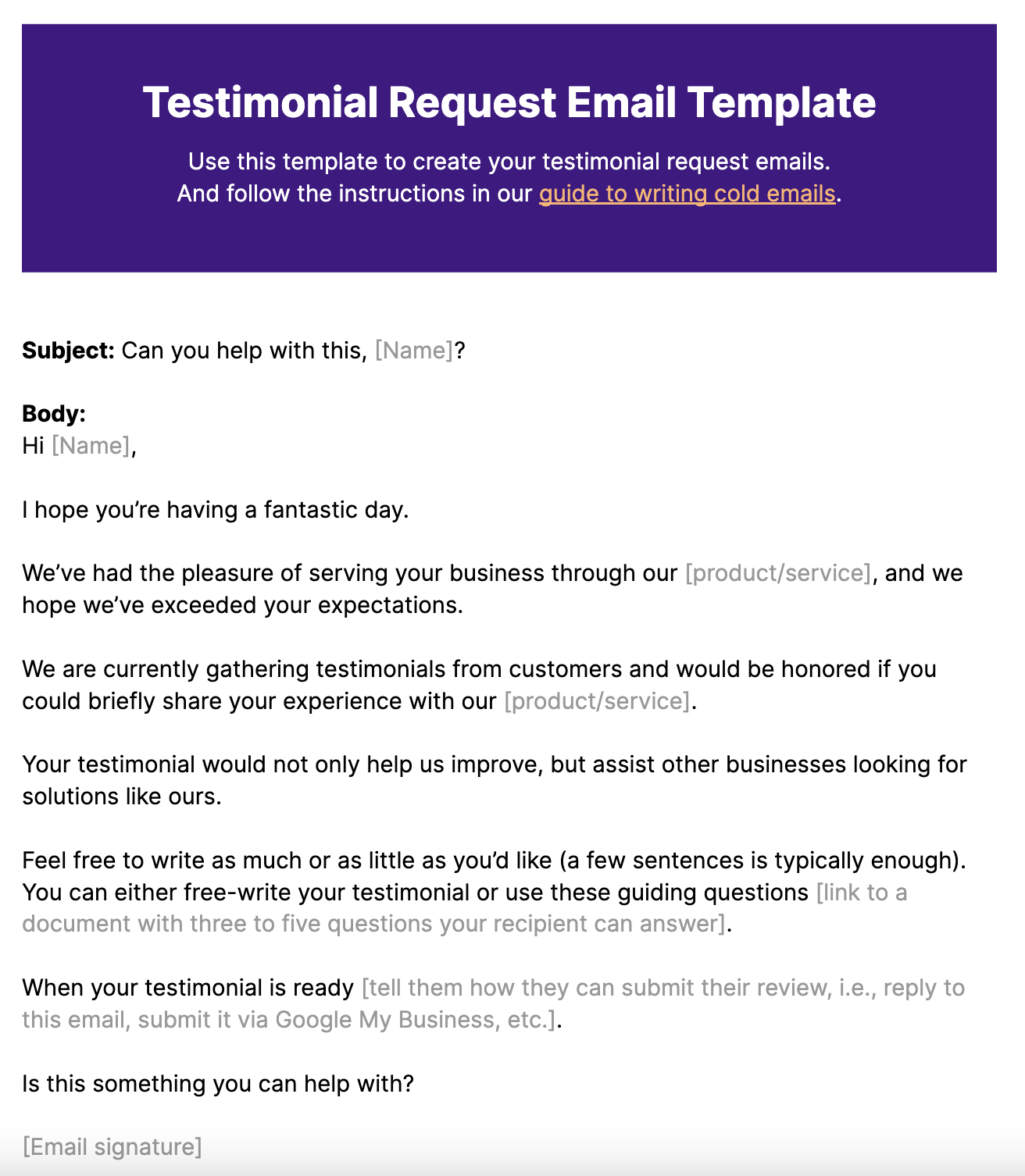 Subject: Can you help with this, [Name]?
Body:
Hi [Name],
I hope you're having a fantastic day. 
We've had the pleasure of serving your business through our
, and we hope we've exceeded your expectations.
We are currently gathering testimonials from customers and would be honored if you could briefly share your experience with our
. 
Your testimonial would not only help us improve, but assist other businesses looking for solutions like ours.
Feel free to write as much or as little as you'd like (a few sentences is typically enough). You can either free-write your testimonial or use these guiding questions [link to a document with three to five questions your recipient can answer].
When your testimonial is ready [tell them how they can submit their review, i.e., reply to this email, submit it via Google My Business, etc.].
Is this something you can help with?
[Email signature]
Download this template:
Tips for Testimonial Pitches
Asking for reviews and testimonials can help grow your business.
But your customers and clients are busy. Make it easy for them to write a testimonial by giving them questions to answer or letting them free write. 
Then, tell them exactly how to submit your testimonial/review. Should they reply to your email? Submit it to Google? Make the submission process clear, simple, and easy to do. 
9. Collaboration Email Template
This template is for: Collaborating with other businesses in adjacent niches.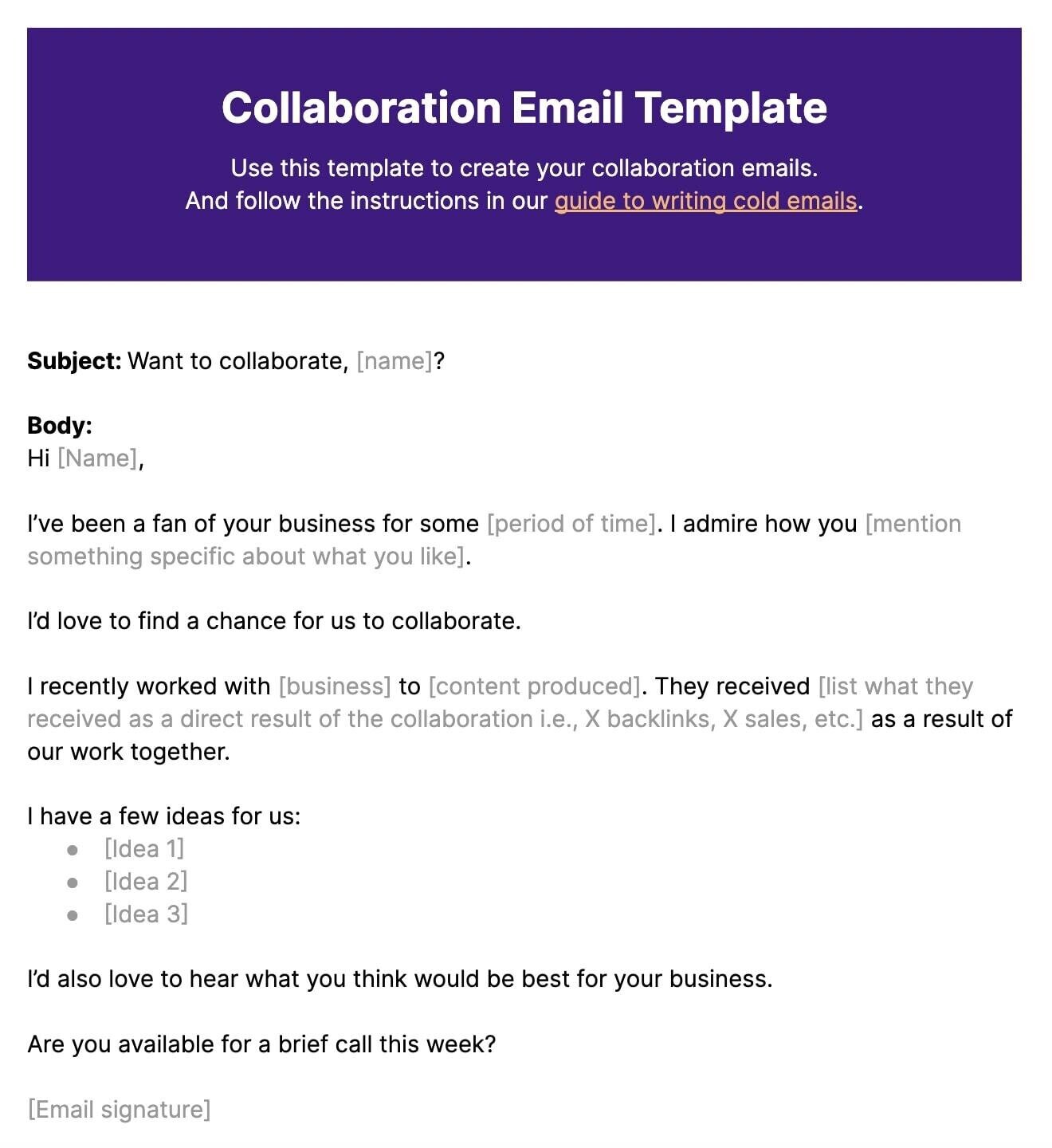 Subject: Want to collaborate, [name]?
Body:
Hi [Name],
I've been a fan of your business for some [period of time]. I admire how you [mention something specific about what you like].
I'd love to find a chance for us to collaborate.
I recently worked with [business] to [content produced]. They received [list what they received as a direct result of the collaboration i.e., X backlinks, X sales, etc.] as a result of our work together.
I have a few ideas for us:
[Idea 1]
[Idea 2]
[Idea 3]
I'd also love to hear what you think would be best for your business.
Are you available for a brief call this week?
[Email signature]
Download this template:
Tips for Collaboration Pitches
Make sure to pitch businesses adjacent to yours. This way, you both benefit from the collaboration.
Next, mention your past collaborations and how they've performed. If this is your first collaboration, find a case study from other businesses in your niche that have collaborated and experienced tangible results.
This gives your recipient the incentive—and confidence—they need to move forward.
10. Customer Referral Program Email Template
This template is for: Asking past customers for referrals.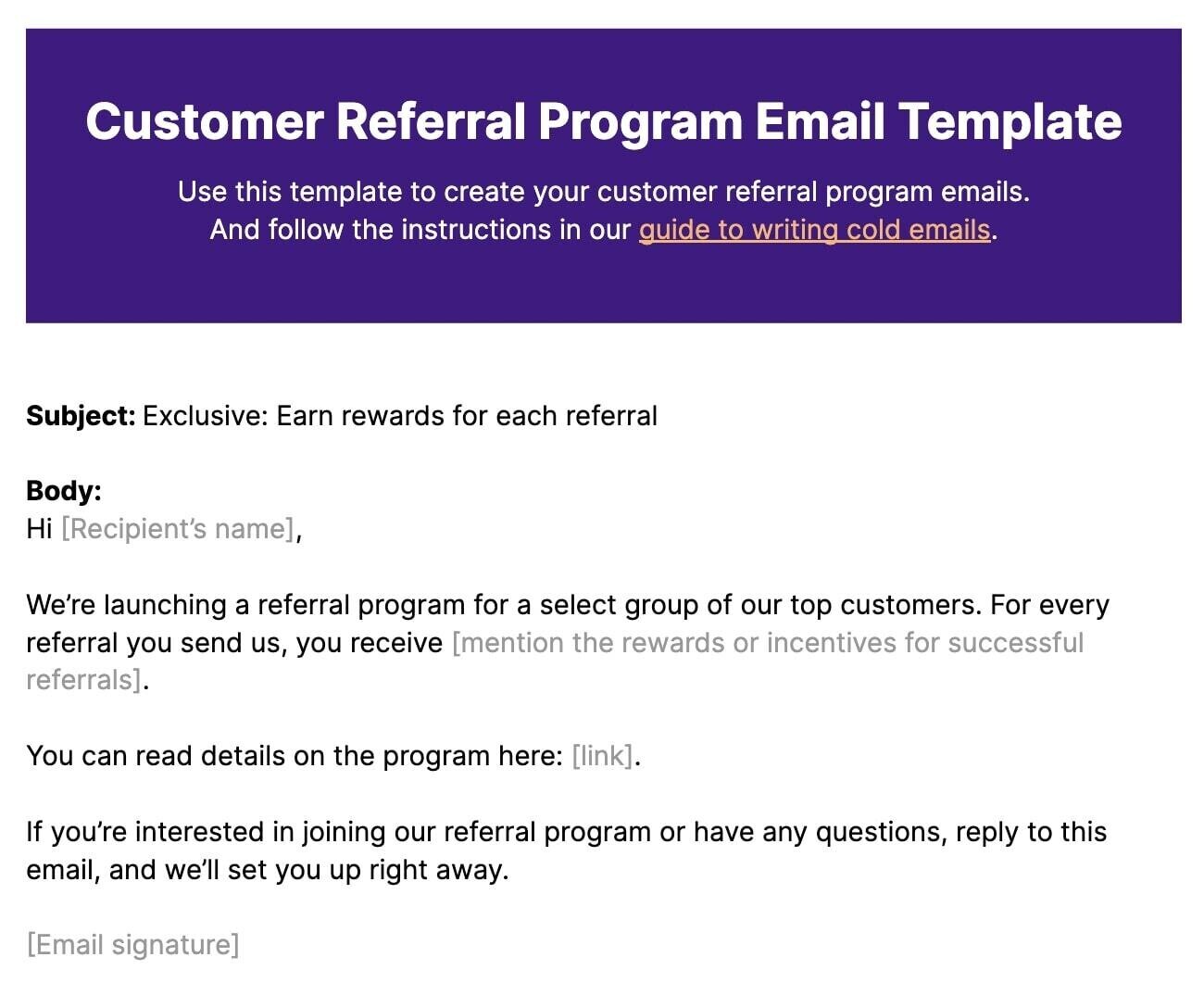 Subject: Exclusive: Earn rewards for each referral
Body:
Hi [Recipient's name],
We're launching a referral program for a select group of our top customers. For every referral you send us, you receive [mention the rewards or incentives for successful referrals].
You can read details on the program here: https://www.semrush.com/blog/cold-email-templates.
If you're interested in joining our referral program or have any questions, reply to this email, and we'll set you up right away.
[Email signature]
Download this template:
Tips for Customer Referral Pitches
Since your customers are the beating heart of your referral program, you need to figure out what they want before putting the program together.
Take time speaking with your customers to see what incentive is most meaningful to them. 
Here are some ideas:
Discounts and coupons
Cash
Loyalty points
Donations
VIP events
11. Follow-up Email Template
This template is for: When you've sent an outreach email but haven't heard back.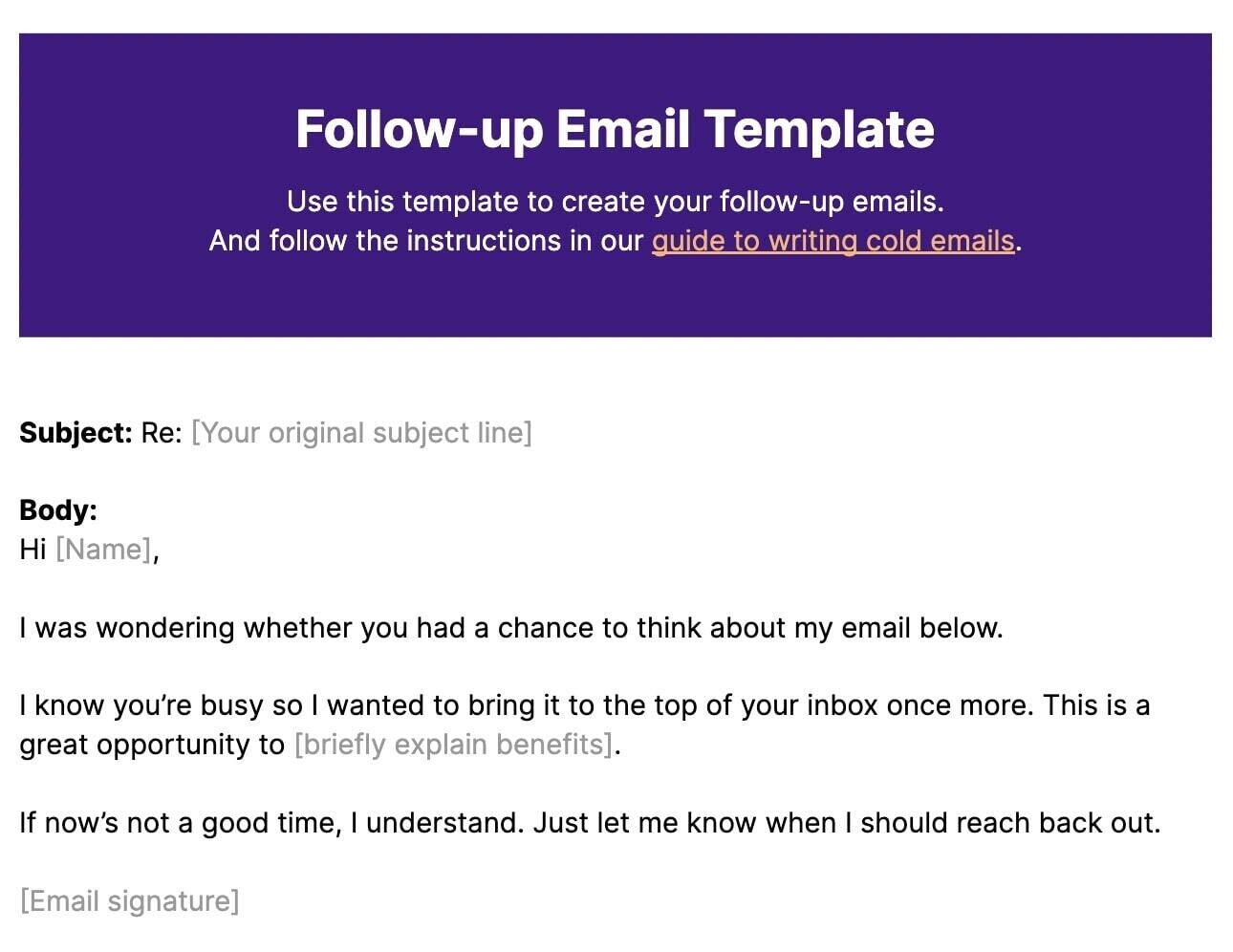 Subject: Re: [Your original subject line]
Body:
Hi [Name],
I was wondering whether you had a chance to think about my email below.
I know you're busy, so I wanted to bring it to the top of your inbox once more. This is a great opportunity to [briefly explain benefits].
If now's not a good time, I understand. Just let me know when I should reach back out.
[Email signature]
Download this template:
Tips for Follow-Up Emails
Track each cold email you send so you can follow up at an appropriate time. 
The number of follow-up emails you should send varies. We advise waiting three to five business days between messages. And we suggest stopping at three (i.e., first follow-up, second follow-up, final follow-up). With only three, you can avoid irritating the recipient.
Make sure to modify your message each time you send one. It might help if your emails get shorter each time. The recipient can always scroll down to earlier messages for additional information. Your goal is to capture their attention.
Taking Your Cold Email Outreach to the Next Level
You don't need to worry about low response rates with our expert-crafted cold templates. 
And each template is flexible enough to personalize and make it your own.
With the right strategy, cold emailing can be a big help for attracting quality leads for your business. And with the Semrush Marketing Calendar to organize your outreach ideas, it's a snap to get all your campaigns in a row.
Ready to try it for free? Organize your marketing calendar with Semrush today.